22860000
22860000
(`@`````````
266
263
5
110185200
110185200
BA= Color Box Art Available for an additional $3.00
FL= Film is in Foreign Language
Lbx= Letterboxed or Widescreen format
Subs= Film is subtitled
aka= Also Known As (alternate titles)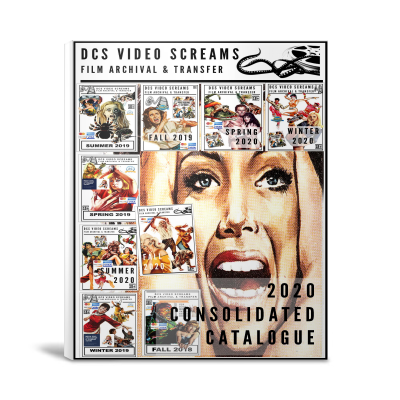 APOCALYPTIC
Q289 1984 (56) aka: Nel 2000 non sorge il sole Donald Pleasence returns in this version (he also appeared in the 1954 version with Peter Cushing). George Orwell's accurate description/vision of a future world gone wrong. A murky old British production of a dystopian society concerning two citizens of the New World Order involved in illicit, illegal, love. Not a completely accurate adaptation of the novel, but still chilling, and considering the workings of government today.... Pleasence has a substantial role, but the stars here are Edmond O'Brien, Michael Redgrave and Jan Sterling. BA
5932 I Am Legend (67) aka: Soy leyenda Rare 36 minute version of Richard Matheson's classic, the second filming of the tale, this time from Spain! Robert Neville (Moisés Menéndez) is the last man on earth. Or is he? The virus has reduced the walking populace into vampires. The next filmed version of the story was the excellent 'The Omega Man' a few years after this. The final version with Will Smith was an atrocity. In Spanish and with English subtitles.

CLASSIC HORROR AND SCI-FI FILMS
X651 Isle of Forgotten Sins (43) aka: Monsoon Two South Seas island treasure seekers arrive at a seedy dive and brothel, looking for a sunken ship with a big payoff. Barroom brawls, sunken treasure, an underwater grotto, a treasure map, double-crosses, fistfights, restless natives, beating drums, beautiful girls wearing sarongs... and Gale Sondergaard and John Carradine playing against type. Throw in Veda Ann Borg and able direction from Edgar G. Ulmer and we have a good old fashioned low budget pot boiler. BA
7712 Kronos (57) aka: War of the Universe A huge robotic energy sucking accumulator is sent to Earth by angry aliens to absorb every ounce of power on the planet. It's just weird enough to work this film. With everything we are doing with batteries, trying to develop new technologies. What would stop another more advanced world from such an enterprise? The more energy Kronos absorbs, the larger Kronos becomes. Starring B-Movie star Jeff Morrow as the scientist that just may have the answer in defeating Kronos. His girlfriend played by the lovely Barbara Lawrence. Wait until you see Kronos in action! Jeff Morrow, the only actor in Hollywood who battled a giant magnet, and a giant puppet bird 'The Giant Claw' the same year! On a side note, look for Richard Harrison (who would later star in many ninja films) as a pilot! Widescreen BA
7703 Monster from Green Hell (57) aka: Il pianeta dove l'inferno è verde Color tint version. A wasp on an experimental rocket survives when the rocket crashes in Africa. The Queen Wasp has grown giant and has formed a giant labyrinth hornet's nest at the base of a volcano known as Green Hell. When we first see it, it looks over 100 feet high. The wasps ravage the countryside. The special effects include stop motion animation. One of the lesser of the giant monster films from the 1950's (who can compete with Harryhausen?) but still worth a look. It's like a Tarzan movie with monsters instead of Tarzan. BA
2432 Omoo-Omoo the Shark God (49) From the Herman Melville novel. A ship full of men head for an uncharted Pacific island to steal treasure, or to return the cursed pearls? . In this case the rare black pearl eyes of a sacred shark god are cursed. But their is voodoo afoot, and it is used on thieves through a sickness that afflicts whoever possesses the black pearls. Stock footage, some narration, and a budget of about one dollar and fifty cents. BA
7676 Track the Man Down (55) Republic Pictures film made in England. A dog-track racing heist. One of the gang (Kent Taylor) makes off with the loot. He leaves it with his girlfriend, but the police are soon on to her, so she manages to give it to her innocent sister (Petula Clark) to deliver it to him as he flees from his fellow crooks and the law. BA
7678 Wild Blue Yonder, The (51) aka: Tonnerre sur le Pacifique Training Boeing B-29 Superfortress Crew. The introduction of the bomber in the Pacific during WW2, mainly following the crew of one particular B-29 from 1943 to the end of the war. Some pretty good footage here of these planes, amazing really. Forrest Tucker, Wendell Corey, Vera Ralston and more star. BA
DINOSAURS, LOST LANDS, SWORD & SANDAL, PEPLUM & FANTASY FILMS
7710 Aliens are Coming, The (80) I actually want the aliens to come. Another pilot film for a proposed series. Mankind against aliens intent on taking over Earth. Their dying planet can no longer sustain life. Led by Vector, a greenish liquid creature, millions of years advanced in evolution, who needs daily charges of energy to survive, they begin to take possession of humans in order to infiltrate and colonize Earth. To gobble up the energy. Tom Mason, Melinda Fee and Ed Harris star, as long as Gerald McRaney as Patrolman Ashley. One of the first films with Ed Harris. BA
7718 Android (82) Dr. Daniel (Klaus Kinski) experiments with androids at an outer space station. Max 404 is his assistant android, who wants to see the world, and, maybe meet a girl. Dr. Daniel is hard at work creating a female android. Into this scenario comes a band of escaped convicts on a spaceship badly damaged in their escape. A is for Android, and if you missed this low-budget Klaus Kinski classic, now is your chance. Cheap special effects, but completely effective and entertaining. Don't want to go on a rant. But sincere cheap science fiction made with love is better than zillion dollar cynical audience insulting CGI any day. BA
7711 Brain 17 (77/82) aka: Daitetsujin 17 Join Mammoth Robot Brain 17, ten year old Stevie and the Heroic Defenders! Together they battle the forces of darkness. An evil scientist steals the world's smartest computer (The Brain) and reprograms it to do his dastardly dirty work. Creating destructive mechanical monsters who wreak havoc.... Live-Action science fiction dubbed into English from Japan
7612 Collector of Brains (76) aka: Le collectionneur des cerveaux Based on the story 'Thinking Robots' by George Langelaan (the writer of 'The Fly'). A young concert pianist is shockingly surprised when she witnesses a bizarre chess tournament with a robot, and the man in this strange setting, is a fan. Here in his rich-looking mansion, he is up to some pretty strange experiments. When he talks her into playing the piano in front of the robot, it's eyes glow and it collapses. Has he lured her to be the next brain in his robot? Then it is time for the robot to enter into a high society chess game..... We will learn the secret of the 'collector of brains'! Remember all of the shows (and 'Westworld') with all those face-removal robot types? Here, there's even a robot dog! With English subtitles.
7707 Conqueror of the World (83) aka: I padroni del mondo aka: Master of the World Alberto Cavallone directs (one of his last). Cavemen. Bears. Fire. Bok wants supremacy over his rivals. In the opening we already have two severed heads and the head of a bear being paraded around. When Bok is injured and left for dead, he is rescued by another tribe. Familiar territory for this type. She is no Raquel Welch. A bear attacks! Outdoor rugged terrain skirmishes continue. Bok snarls at stock footage of two harmless monkeys. A waterfall area would be a nice chance to bath that woman into at least something presentable. Seriously. But no. More mini-battles. Bok wields a mean sling, dinging his opponents with well aimed rocks. The Bear Returns..... and a cannibal tribe that likes to scoop brains from skulls! BA
7706 Crossbow: The Movie (89) Edited from the 1987 William Tell television show. Johnny Crawford, Robert Forster, Guy Madison and more star in this mix with Will Lyman as the famed arrow marksman who split the apple on his son's head, enraging the tyrannical Gov. Gessler. Set in the 14th century.
7701 Dagolisus vs. Bolioas (7?) On an island, a strange giant monster walks around, while on the mainland, an exhibition is staged for a man in a crazy flying contraption. It looks like a bicycle with wings. He pedals and pedals, takes off and crashes into a tree. Later on the island, the giant monster sleeps lazily on the beach, wakes and stares curiously at two humans watching him. Meanwhile, another giant monster (lizard like with a blonde wig) wreaks havoc on an industrial area, while jets fly overhead trying to take him out. Later island monster (let's cut to the chase, this must be Dagolisus!) watches as yet another giant monster (a horned beast) rises from the depths and they start to fight. Pretty hilarious and fun. Japanese language only with no subtitles.
7717 Destination Moon (50) aka: Uomini sulla luna aka" Con destino a la Luna After Up Up at seven miles a Second.... They miscalculate the fuel and have to strip the ship bare after landing on the moon. Still too heavy. Someone will have to stay behind. They spent a lot of time trying to make this realistic and believable. It worked in 1950. NASA actually used some of these techniques when science fiction became science fact. From the Robert A. Heinlein novel. BA
7709 Destination Space (59) A pilot for a proposed series, the most high tech of it's time. They rip some of the special effects from other (better) projects, and assembled a cast of worthy actors to complete the bait and switch. Of the veteran actors, Cecil Kellaway and Edward Platt stand out, with John Agar commanding as one of the military leaders. It uses footage from 'Conquest of Space', specifically 'The Wheel' and the spaceship. Platt would go on to be the Chief in 'Get Smart'. He killed himself in 1974 at age 58 in California. Since this was a pilot, it runs under an hour.
7700 Drifting Classroom (87) aka: Hyôryu kyôshitsu An international schoolroom in Japan is catapulted into the future after a time slip occurs. When it happens some of the kids float and spin in the air... the teacher trying to save them is Taggert (played by Troy Donahue, can you believe it? A very long way from 'A Summer Place')! Time slip is a difficult concept... dealing with the link between time and space. When the balance is disturbed... a time slip occurs... Only time will tell who survives and makes it back. We may lose some, and there will be tears of sadness, and tears of joy (maybe). Cool special effects and yes, weird monsters. LBX and with English subtitles. BA
7716 Encounter with the Unknown (72) Three eerie tales supposedly based on actual events. all played out for this trilogy. First. Three college students play a prank that goes horribly wrong. The vengeful mother forecasts the death of the three. One by one her predictions come true. Next, a creepy sounds drifts from a mist-covered hole in the Earth where a Missouri boy has lost his dog. The boy's father is lowered down. Bad idea. Next: a senator returning home from a party meets a lost girl on a bridge and later finds out she has been dead for many years. This scared me to death when I was little. And with Rod Serling narrating, it works. Although maybe not for young adults raised now who watched the 'Saw' and 'Hostel' films when they were seven. I was scared by 'Boggy Creek' too, so sue me. BA
7720 Exile, The (47) aka: La conquista de un reino Charles the Second, the King of England (Douglas Fairbanks Jr.), finds himself in exile in Holland, and finds refuge in the house of a flower girl and a farmer. It's the early 1600's. Apparently somebody writing about this film was whining about the costumes worn were not in style until the 1630's. Maria Montez completes her contract with barely an appearance, well 10 minutes maybe. Obscurity, well played. Henry Daniell also stars and Nigel Bruce as Sir Edward Hyde. BA
W69 Fighting Cossacks, The (62) aka: Taras Bulba, il cosacco Taras Bulba with Yul Brynner was a huge film for 1962. Not to be undone, the Italians went to work and got their version out at the same time as the big-budgeted Hollywood version. Vladimir Medar plays maybe a more realistic Bulba, a monster of a man, without the grace of a Brynner, but more a savage. Of course the tale is of war and conquest with Taras Bulba planning to conquer neighboring Poland and her Tartar allies. But his son falls in love with the Polish Governor's daughter and is imprisoned...... Lorella De Luca gets a spear in her back during the exciting castle battle. BA
5983 Gamma (75) Part One and Part Two - The story of a brain transplant on a young race car driver and it's ethical implications. Music from Enrico Simonetti, the father of Claudio. The soundtrack he has created here is considered his masterpiece. Full frame and with English subtitles
5984 Gamma (75) Part Three and Part Four - The conclusion of the saga of the young race car driver and possibly a resolution to his dilemma? With English subtitles
5955 Golden Falcon, The (55) aka: Il falco d'oro In 1600's Europe, two warring families decide to bury the hatchet by having two of their grown children marry. But another girl (Anna Maria Ferrero) loves the proposed groom, and will do anything to stop this arranged marriage. Castle Costume Swashbuckler fun, quite obscure and surprisingly entertaining, finally bright sharp colors and English subtitles! BA
W67 Hercules vs. Maciste in the Valley of Woe (61) aka: Maciste contro Ercole nella valle dei guai aka: I 2 pretoriani Boxing promoters time travel back to the days of Hercules and Maciste, and find themselves menaced by Genghis Khan and his Mongol hordes. Silky female beauties, bronzed and oiled muscle-men, a Minotaur, a Cyclops, a blue-haired witch named Circes who can turn men into talking pigs (and her two buxom red-headed helpers, and animal headed minions), dwarf wrestling, human candles and more! Kirk Morris is Maciste. Frank Gordon is Hercules. Franco Franchi and Ciccio Ingrassia, Liana Orfei and more star. BA
5961 Mystery of Piskov (69) aka: Das Rätsel von Piskov Another example of a German MFTV science fiction. In the small town of Piskov, all clocks, and even time, stops! A being from the future arrives in Piskov. Some inhabitants are in denial. Two journalists investigate... With ideas from H.G. Wells 'The Time Machine'. With Hannelore Elsner. English subtitles.
5999 Queen of the Nile (61) aka: Nefertite aka: Nefertite, regina del Nilo 1300 B.C. Astonishing New Widescreen print! Better than 'Cleopatra' and you won't fall asleep! Although the story is closer to Hollywood's 'The Egyptian' from 1954. Jeanne Crain is Nefertite and we see her rise and fall. Tutmosis (Edmund Purdom) is in love with Nefertite. The prophet sees the death of the Pharoah. The prophecy comes true. The father of Tenet, Amon Ra priest Benakon (Vincent Price in his least known film) plans a marriage of his daughter with a new Pharaoh. Finally a Widescreen that does this film justice. Huge production. Also with Liana Orfei and more! BA
7702 Return of the Bionic Boy, The (79) aka: Dynamite Johnson Because of a car accident (caused by gangsters) that killed his Interpol family, this little boy is now a Bionic Boy. Mechanical limbs, a super new eyeball.. He is stronger... faster... and ready for revenge! Moog synth galore punctuated by punches that sound like megaton explosions. The Return of the Bionic Boy takes place in the same universe as Cleopatra Wong, and she (Marrie Lee) is here as his partner in ass-kicking, playing Cleopatra Wong! The Bionic Boy goes around performing feats of strength, jumping twenty feet into the air, and using some basic martial arts skills to beat down bad guys. Watching a little kid beat the shit out of a group of grown men (in various ways) is always entertaining. An overplayed stereotype gay guy, a giant robot dragon and a whole lot more. One guy gets thrown into a basketball hoop and is stuck up there. Loads of action! Sequel to The Bionic Boy 1977 # A418 LBX BA
7708 Science Fiction Monsters from Beyond (98) aka: From Beyond: Science Fiction Monsters Interesting documentary (hosted by John Travolta's brother- Joey Travolta) focused on 50's and 60's science fiction monsters with some Harryhausen and much more. Loads of clips and pieces from The Robot Monster, Five Million Years To Earth, color footage from Invaders from Mars, Queen of Outer Space, The Cosmic Man (released as The Cosmic Monster). Phantom from Space, Rodan and Gorgo footage. Almost makes the Giant Claw look good! Good fun! BA
7746 Singing Ringing Tree, The (57) aka: Das singende, klingende Bäumchen Colorful Fantasy from East Germany about a prince who can only win the affections of a certain beautiful (and very spoiled) princess if he can find the magical singing tree. Finally, there in the realm of a weird dwarf it lies, and the mini-creature offers the prince a deal. He can keep the tree if it starts singing before sundown, which will prove the princess truly does love him. But if the tree does not sing, he will be turned into a bear. Really interesting fantasy sets, amazing really, with awesome colors. Dubbed into English BA
7627 Song of Roland, The (78) aka: La chanson de Roland aka: Die Leiden der Pilger The legendary 11th century knight from the age of chivalry in France, played by Klaus Kinski. It's a hard intellectual effort to historical detail, trying to show us an accurate depiction of the European Middle Ages, with respect to the text it is based upon. That is one interpretation. But what really happened is anyone's guess, as history is rewritten and updated yearly now. This is more of a filming of the epic poem. The locations are excellent, production values high... It's different, sure, but Kinski manages to elevate this with the help of Dominique Sanda and Alain Cuny among others. English subtitles.
W66 Star Pilot (66) aka: 2 + 5 Mission Hydra The island of Sardinia has visitors when aliens from the constellation of Hydra, crash land. They capture a scientist and others to help rebuild their spaceship. Once the spaceship gets off the ground, we're treated to stock footage from 'Gorath' as a number of space stations and satellites try to pretend they are star forces for Hydra. Then there's the time travel thing, female characters with fishnet body stockings with feather or leather bikinis... It's an interstellar espionage film. A blending of the two popular trends in cinema at the time. Upgrade! BA
7690 Starship Invasions (77) aka: Project Genocide Along with 'End of the World' Christopher Lee showed up for this one, made the same year. The robots look like trash cans. 'Look, there's a flying saucer! Don't make them angry!' Mind-controlled people, space battles, hysterical costumes, telepathy... The aliens take over by forcing mind control which makes humans commit suicide. Goddamn aliens. Always wanting to kill us. Thing is, there are some astonishing sequences, and inventive moments, so well, I think it is a must see. I am so tired of 'Star Wars' I enjoyed this much better. If you are into UFO lore of the 1970's, this rings some bells (and blows some whistles). Didn't mean to knock 'Star Wars', but really, I am so over it. Give me bad sci-fi any day. Robert Vaughn and Helen Shaver also star! BA
7656 Swiss Made (68) aka: Das kleine Fernsehspiel: Zurück in die Zukunft Switzerland 1968. H.R.Giger co-directs a tale of the near future, where the fate of mankind is clearly mapped out. The borders of our totally democratic Brain Center State, there are two settlement areas. The normal state where the majority of the population lives, and some small reservations in which a radical and brooding minority (us) ekes out an existence. These people, whose personality structure still dates from the time before the great upheaval and can no longer be remolded, live there at the expense of the integrated majority of the population, that is, we ensure their material existence, we 'tolerate' them. We do not care about them, they have nothing to contribute. They cannot cross our borders. So we have created a final solution for this minority issue, so to maintain peace and order.... Brrrrr. English subtitles.

EXPLOITATION FILMS
5924 Bedside Head (72) aka: Danish Bed and Board aka: Motorvej på sengekanten When the headmaster of a boarding school needs funds, he rents out the student's rooms when they are on holiday. The main reason to raise the funds is so they can construct another building to house girls, so the growing boys can have ... options. The place turns into a love hotel of sorts. There is some saucy nudity in this Dutch comedy, but could have used more. Birte Tove of 'Swedish Fly Girls' is always a treat, as are the other ladies scattered about. In Dutch and with English subtitles. LBX BA
7632 Best Bit of Crumpet in Denmark, The (72) aka: Bordellet aka: Das fröhliche Bordell Sweet Lena comes from rural Seeland to find her happiness in Copenhagen, Denmark. Happiness means whoring in a brothel where she learns how to get it on with various horny men, some of prestige. This is Denmark's first hardcore feature, and the women are magnificent. Interesting because you think it is just one of the standard sex comedies, and it goes hardcore on you. With English subtitles. BA
7661 Brief Affair, A (93) aka: Divorce Law Trash fun with lawyers and their clients defending, banging each other, loads of nudity... hell.... lawyers have to have sex too! Was surprised by the sex and nudity in this. I really enjoyed it. Monique Parent, Patricia Skeriotis, Tamara Landry and more. John Henry Richardson gets some nice stuff, and is still working to this day! The sleazy lingerie of the foxy ladies is eye-ball poppin'. It's getting late. Three women are on the bed, ready for action. I am taking a cold shower now before bed... signing off!
W59 Calendar Pin-Ups (66) Behind the scenes of the creation of a sexy calendar, the kind usually found in any mechanic's garage or man cave from over 50 years ago. The prep. The prop. The sets. And finally, the ladies! Yes, they are nude. And each and every one is drop dead gorgeous, these are Miami's top models after all. Bottoms Up!
5982 Enslaved Justice (13) A smoking hot lesbian slave is dominated by the judge in her prison of women where escape is only possible by satisfying the erotic dreams and desires of the judge. Whips, scissor sex, bath tub orgasms, car lighter ass-branding... hot lesbians Bound Heat style. From the Czech Republic- in English LBX
7635 Enslaved Justice 2 (13) If you loved the first one (as we do, so will you) this one wastes no time. Our blonde victim is stripping for her mistress and touching herself. Others enter the room. Time for the whip. No men only women. Orgasms and Submissions. A bizarre world of orgiastic fantasy and sexual bondage slavery. Irresistible. Surprise ending. From the Czech Republic - in English LBX
5929 Fever (72) aka: Fiebre Sandra (Isabel Sarli) is married to a racehorses landowner. They do not love each other. One day, while walking, she meets Jose Maria, a hard woodsman. They become lovers, and the basis of the relationship is unrestrained sex, irresistible to both.... But, as usually happens, the husband finds out the relationship.... Classic trash listed before... But now with English subtitles! Finally, the motivation of the characters, the story unfolds wonderfully (and her sexiness pops out hotter than ever!) When she rides a horse, boobs bouncing as she goes, it's mesmerizing I tell you. Upgrade! BA
7616 Flying Sex (80) aka: Sesso profondo Jennifer (Stefania D'Amario, straight off the set of Fulci's 'Zombie') cannot get off with her husband (Al Cliver) in the traditional sense. Due to a past trauma, she can only get off while on flight in an airplane!. While with her husband, unable to get aroused, the husband goes out and bangs an island wench, right in front of her. Separating from her husband, Jennifer gets a job as an airline hostess and starts getting the orgasms she wants (and deserves!). She becomes a regular nymphomaniac when the plane is in flight, finally convincing her husband to give her a go in the mile high club. Lots of nudity and hardcore sex, yes, this Euro trash flick has XXX so be warned, clear, bright, hardcore. If these are inserts, I'm a monkey's uncle. LBX and with English subtitles Uncut XXX version. BA
7747 Hollywood High (76) aka: Die heißen Teens von Malibu Beach These four high school girls are looking for guys, and fun! It's about four young and very hot (usually scantily clad) ladies whose sole goal is fun and sex with young men. A meatball-headed cop, sensual beach sexcapades, goofy hijinks, cool vans, lots of nudity, a spooky movie star mansion in the hills..... These girls are intent on a good time, and their bad biker boyfriends, all in some dream-like world... when we face the realities of today in 2020, this looks sweet as hell. Happy stacked and giving friendly chicks. A damn rare thing these days (at least where I live). Love the scenes where the girls are showing their breasts in class to the guys, even letting them squeeze them! Hilarious! BA
7748 Hollywood High Part 2 (81) Another year and a new batch of hot babes in this lowbrow trash sequel. Not to be unkind. I like lowbrow trash. The obviously adult cast goes through the raunchy moments with jaded dedication. The fun loving students taunt an asshole cop who just cannot stand it when anybody is having fun boozing, smoking a bit of weed, making out on the beach... No new ideas here, but who cares. Sometimes topless gals living and loving. Nicole Scent (here as 'Bunny') also starred in hardcore features like 'Taxi Girls' and 'Delicious", the only one involved in this film that I can tell had any more of a career. BA
5986 Holy God, Here Comes the Passatore! (73) aka: Fuori uno... sotto un altro, arriva il Passatore It's a comedy of course. Stefano (George Hilton) is an Italian Highwayman known as 'the Passatore', a Robin Hood of sorts, a bandit. All women lust for him. All lawmen loathe him. He will always return home to his lovely wife Mora (Edwige Fenech), who wants him to go straight, but the lustful lures of the road, the rewards.... too much for a man to ignore. Close scrapes, fooled you disguises, slight of hands, and hazardous escapes are the name of the day in this costume cat and mouse with authentic period details and locations. Fenech shows some skin, and we also get the lovely Lucretia Love and Helga Line. Fantastic Widescreen English dub BA
5956 Hot Dreams in School (79) aka: Heiße Träume auf der Schulbank aka: Seduzione sui banchi di scuola Hot for Teacher! Super-Hot-Soft-core! A teacher (Linda Clemens) is exposing herself to her students on purpose, a hot and bothered type. (Keep in mind all of these 'students' look like adults.) When a student peeps at her while she is home getting undressed, she catches him. They play, but another student snaps photos for blackmail purposes. More of course, lots of nudity and sexual situations. Eventually both students will have their way with the sexy teacher, and she will be into it! Sleazy and Erotic Uncut version, but in German language only. BA
5992 Intimate Moments (81) aka: Madame Claude 2 Riding in the tabloids of a scandal involving a Parisian Madame's tax evasion scandal, and the names in the little black book exposed. Government decides to have Madame Claude (Alexandra Stewart) killed to keep her quiet. She survives, and sends her girls out for one last score. Most of the film is around these scenes. English dub
5934 Joy (83) aka: Joy - 1 1/2 Stunden wilder Lust Finally a nice Widescreen version of this Sergio Bergonzelli directed trash classic, released in a butchered version here in the early 1980's. Luckily for us the restored stuff (20 minutes or so)is all sleazy trash! Hooray! Supermodel Joy (Claudia Udy) and her search for orgasms. Or in art terms... 'sexual fulfillment'! Magnificently photographed, but make no mistake, Bergonzelli delivers the goods in the sleaze department. Uncut, Widescreen and in French language with English subtitles. BA
5958 Licentious Stories of Virgins Wanted (73) aka: Novelle licenziose di vergini vogliose aka: Sun Above, Death Below Five sex stories from director Joe D'Amato! Opening sequence in Hell where nuns and the naked are led and whipped as a demonic fellow lurks about. The tales begin when the demon points at individuals in hell, telling what they did to get there (boy am I in trouble!). Medieval times. Two couple agree to swing, things go awry. Then, a friar uses deception to take advantage of a young bride. Next: A merchant is away and his wife seduces her nephew. Next: A husband has a gay relationship with his worker, so his wife screws the worker to death. Finally: A music teacher seduces a man's wife and daughter after being entrusted under his care. Plenty of sleaze and beautiful women, some you will recognize, but I've rambled enough, this rare film comes in excellent quality but in Italian language only with no subtitles. BA
5990 Little Virgin (75) aka: La verginella Sonja Jeannine is a beautiful chatty high school girl named Cinzia. She meets a fashion photographer who convinces her to be a prostitute. The other characters in this film are busy getting it on as well, it is a sex film from Italy, what do we want and expect? Her dad finds a naked picture of Cinzia, posing on a bed. Pisses him off. Oh well. Cinzia is not all that ready to give it up though. She comes close, these teen dances and parties get pretty hot. When she catches her best friend riding her boyfriend who she has never put out for.... Maybe Cincia was just holding out for this pimp looking red-jacketed Romeo? Don't worry, 19 year old Sonja Jeannine is naked a lot, and in sexual situations as well as her cute friend. There is also a bloody killing near the end. Anita Strindberg also stars. In Italian language only BA
5959 Love, Sex and Fantasy (77) aka: Sexy... amor y fantasía Overworked housewife, Angela (Agata Lys- a hot blonde from Spain and in numerous films) is married to Gerardo (Víctor Israel), who is a real jerk and neglects her... Her nephew Toni (David Rocha) comes to live with them. Neglected Angela pays him a "visit" - which continues. Toni then decides his girlfriend Adela isn't quite up to snuff now and tries to break up with her. She flashes him to get him interested, but her parents also see it and punish her by beating her with a LOG! Meanwhile the town men are fawning all over Piluca (Lynn Endersson), a prostitute who has just arrived and sets up "shop"... They each have fun with her, but start roughing her up and she runs into the woods- right into Toni... Who promptly falls for HER and doesn't seem to understand her profession.... Geraldo beats his wife Angela with a belt... Adela finds Piluca's hooker clothes and puts them on in hopes that her boyfriend Toni will appreciate it, but instead the town women see her and decide she must be punished.... The final film for director Juan Xiol who started in the forties. In Spanish only, but mesmerizing and colorful with LOTS of nudity (including rare full frontal nudity from Agata Lys) F.L. BA
7648 Scandalous Gilda (85) ) When a wealthy socialite (Monica Guerritore as Gilda) catches her husband in bed with a younger woman, she leaves him, and embarks on a road trip of erotic discovery. She begins a torrid affair with a cartoonist. He woos her with an animated pornographic sequence. Gilda likes saliva... she spits on her husband, spit is a lubricant, and she's also called a whore a lot by her new lover. She proves him right when she flags down a horny trucker and does him right in front of her lover. Perverse Euro trash of the highest order. Now LBX upgrade with English subtitles! BA
5968 Serie Rose (86) French Erotic Series in English dub! Here are the three tales, set in decadent Marie Antoinette times, or even Arabian Knights settings (the episodes vary). Love Struck: Greek city states during the Peloponnesian War with one woman's mission. To deny all men sex in both warring cities, until the men stop warring. A battle that inflames the war between the sexes. Then - The High Class Libertine - A man endowed with virile power uses it to get ahead with the richest ladies in the region who lust for his body and reward him with money. And finally: The Expert Halima: Kamar arrives in Bassa and falls for Obeid's Young wife..... All on one disc! More to come!
7601 Serie Rose 2 (87) Three more erotic tales dubbed into English. The first one 'The Golden Lotus' is directed by Walerian Borowczyk and is an erotic tale from the Far East. Then .. La Serre: Old landlord Gustave, is after beautiful maid Celestine, but is terrified of his dominant wife Jeanne, who never puts out. Celestine however, wants the baker's teenage son! The old man peeps on Celestine and The baker's son getting it on in the greenhouse. He tells his wife in graphic detail. They peep together and get turned on. And finally... Bucciolo's Lesson - Lots of nudity and English dub
7651 Serie Rose 3 (87) Three more erotic tales... First... The Spanking: Young and dissatisfied wife behaves badly to her husband's cousin and also has an affair. The cousin plans her revenge. Then... A Well Deserved Punishment: An abused wife takes advantage of a gap in the wall to meet her lover. And finally... The Pupil: The French Erotic series, another segment directed by Walerian Borowczyk. Stars include Marina Pierro and more! The other two segments directed by Harry Kumel. English dubbed!
7603 Skin of Roses (78) aka: Dan Oniroku bara no nikutai Censor pusher film that tries to pack as much sex as it can into the picture without getting banned! Cleverly placed objects blocking naughty bits is a technique employed. The first sex scene has a woman getting it on with a guy and a group of people are watching. That would be Ritsuko, having sex in front of men as payment to the Yakuza since her husband has been imprisoned. She has been doing it for almost a year, and her debt is almost paid off...... But she is quite popular. Will she be allowed to stop giving these private sex shows to the club VIP's? Sexual torture and drama. LBX and with English subtitles.
7630 Valentina, the Virgin Wife (75) aka: At Last, At Last aka: La moglie vergine Valentina's (Edwige Fenech) honeymoon has left her unsatisfied. Probably because nothing happened. She is so horny, others want to help and try to seduce her. But Valentina works it out with a virile French tourist. Meanwhile her husband gets it on with his mother-in-law! Moral of the story? If you have a problem related to performance screw your mother-in-law! Now uncut with three extra minutes of nudity! LBX BA
7607 When Love is Lust (73) aka: Quando l'amore è sensualità A young girl (Agostina Belli) marries a handsome and successful but brutish local butcher (Gianni Macchia) at the behest of her contessa stepmother. The new wife turns out to be frigid on their wedding night, and the couple have a big fight. The wife goes out of town to stay with her older, married sister (Ewa Aulin) and gets involved with her sister's jaded swinger friends. The husband consoles himself by picking up prostitutes and carrying on with a sexy, voluptuous neighbor (Femi Benussi) right in his new mother-in-law's villa. For some reason the mother-in-law considers this a turn-on and becomes sexually drawn to her loutish son-in-law. . . A cast of Italian beauties and they all have nude scenes. Agostina Belli, Francoise Prevost, Ewa Aulin, Femi Benussi..... Fine Eurotrash! Now new Widescreen version with English subtitles. BA
5945 Wife on Vacation (81) aka: Il marito in vacanza A stud has an organized vacation retreat for his colleagues and manages to get embroiled in various sex-related shenanigans involving sexy Lilli Carati in her prime, another cute gal is an unfaithful wife, and a saucy maid. Obscure and sexy but no English subtitles in Italian language only. LBX BA
5985 Wife on Vacation.... Lover in Town (80) aka: La moglie in vacanza... l'amante in città aka: His Wife's Lover on Holiday in the City Valeria (Barbara Bouchet) is on vacation so her husband plans to spend time with his demanding mistress Giulia (Edwige Fenech). Valeria is also planning a little action, with her husband's assistant, who is in disguise. Turns out they are all together in one building in this bedroom farce, where the beautiful women obviously hold all the cards of power. Nice (but brief) bit of cat fighting with Bouchet and Fenech, and of course they both do nude scenes! You ever wonder why the most rich and famous Hollywood actress's almost never do nude scenes? Because none of them can measure up to the Euro babes of yesteryear, and they know it! In Italian and with English subtitles. LBX BA

EXTREME HORROR AND GORE FILMS
7609 Abnormal Blood (67) aka: A Lunatic's Blood aka: Nihon bôkô ankokushi: Ijôsha no chi A detective discovers he has a lot in common with the serial rapist he is hunting through his blood lineage. We see four different incarnations of the abnormal blood throughout the ages with the same guy and girl, going through the motions of sexual assault and depravity. Thoughtfully shocking. LBX and with English subtitles.
5948 Bedroom, The (92) aka: Unfaithful Wife: Disgraceful Blame aka: Uwakizuma: Chijokuzeme Previously released as 'The Bedroom' from a heavily cut U.K. release. Here this version is over 10 minute longer! Set in an underground Tokyo club called 'The Bedroom'. A place that let's the customers indulge in 'extreme' fetishes. The female clientele are drugged into a trance-like state and subjugated to sexual kink at the whims of horny perverted males. Explores the nature of voyeurism and alienation, but gets darker and yes, there is death. LBX and with English subtitles.
5919 Blood Delirium (88) aka: Delirio di sangue After the death of his beloved wife, an unhinged artist (John Philip Law), tripping out thinking he is the reincarnation of Vincent Van Gogh, digs up his wife (with help from his necrophiliac butler played by Gordon Mitchell) for inspiration. Later he meets his wife's double (played by same actress Brigitte Christensen) and brings her home to his castle. She soon will find out his secret paint is blood from kidnapped murdered women! Here we go again, another version of the twisted Sergio Bergonzelli trash classic. Just about his last film (he made only one more after this) and one of his best. At least for people like me. This is labeled as 'Director's Cut' and is 'window-boxed'. Like a LBX, with the black bars bottom, top and sides. Sharp. clear, and with a 90 minute running time, so look at yours and make your decision. Not listed as an 'Upgrade' since this came out in so many versions. Excellent and with English subtitles. BA
W64 Body Beneath, The (70) aka: Vampire's Thirst Prissy priest Algernon Ford (Gavin Reed) is really a vampire who is organizing a gala annual feast for his fellow bloodsuckers. Assisted by dreadful hunchback Spool, and a trio of ghastly green-skinned vampire women, Ford plans the fate of two unwitting female relatives. Pregnant Susan is the lucky one, she is chosen to breed vampire babies, to stop the inbreeding that is threatening the families existence. Cute redhead Candice however, will be a blood donor for the vampires to suckle when they need sustenance. Gothic horror with a climactic vampire's ball that is both entertaining and gruesome. Surprise ending too in this(Andy) Milligan stew. Some say one of his better films. BA
7739 Circle of Power (81) aka: Brainwash aka: The Pit: A Group Encounter Defiled Based on true events. It is a company 'employee motivational weekend' that goes horribly wrong. It is based on flawed psychological theory that includes abuse perpetrated upon participants. Yvette Mimeux is excellent as the cold-as-steel eyed Bianca Ray, leader of the corporate empire. The location is desolate and heavily staffed. There they endure various emotional, physical, sexual and psychological torture. What? You do want to keep your job don't you? They will be broken.... But someone will finally crack! Cindy Pickett, Leo Rossi, Julius Harris, John Considine and many more star in this.
7745 Crocodile Men, The (83) aka: Tian e When his master is gone, religious disciple Chui Lung defies rules and reads ancient scriptures. He ends up turning his master into a crocodile, but cannot turn him back into a human... Chui Lung is then falsely accused of the death of his master.. Based on a legend in Buddhist mythology, this tells the story of a religious disciple who defies rules and reads from an ancient scripture that turns him into a huge crocodile. The special effects will make your jaws drop! Colorful scenes and song and dance make this naïve and fun... LBX and with English subtitles
5980 Dark Story of a Japanese Rapist (67) aka: Zoku Nihon bôkô ankokushi: Bôgyakuma After making 'Violated Angels' to capitalize on the Richard Speck murders the previous year, the same director turns his attention to another real life criminal. The rapist who terrorized Tokyo in the post WW2 era. Depicted as far more perverse than the actual rapist (how is that possible?). Well, he likes to whip and mutilate as part of his bag of wicked tricks. The politics of the director come into play as well. If you liked 'Violated Angels'.... English subtitles and LBX
7614 Dead of Summer (70) aka: Heat Wave aka: Ondata di Calore Set in Morocco. Jean Seberg is Joyce, the lonely and sexually frustrated wife of a very busy architect. She wanders here, and there, trying to cool down (it is very hot). The film is pretty much focused on her mental decline, as she goes to a beach party, meets with her shrink, and is temporarily committed. Basically a showcase for her as an actress. Love her or hate her. But where is her husband? In retrospect on Seberg as a person... maybe she got a raw deal? LBX and with English subtitles Apparently, this is pretty obscure BA
5925 Death Falls Lightly (72) aka: La morte scende leggera aka: La muerte desciende ligera When a man finds his wife brutally murdered he has no alibi and under the advice of his lawyer he goes into hiding in an eerie and old nearly abandoned hotel, with his mistress in tow. There, strange things happen at odd hours. He discovers the elderly owner of the hotel has killed his wife and needs help burying her, and the strange but attractive daughter is trying to seduce him. Another obscure Giallo from the director of 'Byleth' the same year. Plenty of wide-eyed moments and nice kills (with a nod to Argento). A hippie hard rock soundtrack and nudity from the female leads delivers. One scene reminded me of 'The Shining'! Stelio Candelli, Patrizia (Amuck) Viotti and more star. The reveal will surprise you. Now, for the first time ever. An alternate version of the film. Death Falls Lightly in Italian language, with English subtitles, Widescreen, in Excellent Quality. BA
7615 Death in the Afternoon (68) aka: Mort dans l'après-midi In the open, we see a man that is suffering a knife wound. A woman gives him a cigarette, and tries to help him. Or is it his memories and fantasies tumbling around in his dying brain? It is his voice we hear, describing and interpreting in the third person. Nudity from 'the beloved woman' as he calls her. So we do get some breasts, even a little lesbian action. The story involves a killer/mutilator of women.... a nightmare in blood. A rescue, a nightmare..... a death march through a cornfield... oblivion and red skies, the last thought... a kissing of breasts.... With English subtitles Runs a bit less than an hour.
5981 Death of a Scorpion (76) aka: La muerte del escorpión A love triangle involving a former actress who has a relationship with her husband, a film producer, her lover, the screenwriter of the films he produces, and a criminal lawyer... Atmosphere drenched and obscure Spanish Giallo type with Teresa Gimpera. LBX and with English subtitles
W65 Dr. Frankenstein on Campus (70) aka: Flick 'Turned On' Canadian sex-shocker as our young (and very weird) mad doctor (Robin Ward) attends college and in no time is up to diabolical scientific avocations, and finds trouble with the faculty who want to expel him. Chaos and killing sprinkled in amongst the soft-core sex scenes. Mind control experiments involving the 'tri-genital' areas of the brain. He uses it on a cat first, and it kills a dog as a result. What a sequence! Later he gives it to a tae kwan do expert, and forces him to kill his enemies. Nice Upgrade!
7715 Eden and After (70) aka: Oltre l'Eden aka: L'Eden et après A hypnotic maze of psycho-sexual insanity. French students are drawn into a series of sexual and psychological games wielded by a mysterious Dutchman. At first, it was just fun and games. But the 'fear powder'? Let's just say it does the trick. Starting off in a labyrinthine, mirror-lined nightclub called Eden, moving on to an unused industrial factory with vats full of sperm (?) ending up on the Tunisian island of Djerba, with a detour through a jet-set torture chamber where hot sexy women are crucified or suspended in cages (well... why not?). Our wide-eyed waif -like heroine (Catherine Jourdan) is on a spiritual journey (or something). Apparently something to do with transcending the limits of rational Western consciousness. Bizarre, Erotic, Disturbing. Now Upgraded and LBX + English subtitles. BA
7681 End of the World (77) aka: El último día del mundo aka: Destruction Planete Terre When Christopher Lee (as Father Pergado) wanders despondently into the diner in the opening, while a guy is playing pinball, my first impression was Dracula's car broke down and he needs to call for roadside assistance. But no, he is Father Pergado, the good father of a church of nuns. But he is also Zindar, an alien who (along with other outer spacers) wants to destroy mankind. Only a smart scientist and his wife can stop them. Don't look for monsters. 'The planet Earth has emitted an over-abundance of diseases. They are contaminating the universe. All the planets light years away from here will suffer unless it is destroyed!' So, Lee as a satanic alien priest and gnarly-armed computer savvy creepy nuns. Not unlike his last Hammer role (though here dual!). Sue Lyon also stars as the wife. She died last year in 2019 at age 73 after a long illness in Los Angeles. Adios Lolita. BA
7696 Eurotika 1 (99) Virgins and Vampires: Overview of French filmmaker Jean Rollin with clips, snips and interviews with Rollins himself, and some others involved. + The Diabolical Mr. Franco: Jess Franco speaks with clips and snips of his output (plenty of nudity and sleaze scenes every segment) Brigitte Lahaie speaks! + Blood and Black Lace: A Short History of the Italian Horror Film: Clips and snips with loads of players weighing in and giving their two cents. Incredible. + From Barcelona... to Tunbridge Wells: Jose Ramon Larraz and his films are featured, and these 'Vampyres' actors remember! Lots of English spoken, English subtitles when needed. What a great first disc! LBX
7697 Eurotika 2 (99) French Blue: An overview of French erotic movies since the 1960's. We see the evolution or should I say sexual revolution of what can be seen... and it is good. With some of the best porn ever filmed with just incredibly beautiful women, they discuss the films, the directors, Brigitte Lahaie speaks and more, with clips and snips that cover hard and soft-core, although there is nothing XXX here, more informative, and plenty of nudity. + Jose Benazeraf: A life in four chapters. Overview, informative, clips snips and nudity. You won't believe it! So Sweet, So Perverse: A profile of the some of the leading actresses of European sexploitation, and as of 1999, some of them still looked damn good! Strange Behavior: A look at Eurocine pictures, A family run business that dealt some of the best, and trashiest films ever made (including Naziploitation and Jess Franco films). LBX and English subtitles when needed!
7698 Eurotika 3 (99) Is There a Doctor in the House? Mad Doctors and Medicine gone wrong with Paul Naschy clips Jess Franco and much more. + I Am a Nymphomaniac: The Erotic Films of Max Pecas: Overview of this controversial filmmaker and his great trash films. Great stuff all! + Blood and Sand: Spanish Horror with Paul Naschy and Caroline Munro interviews, Amando De Ossorio films (more) and plenty of clips + The Blood Beast: The Films of Michael Reeves. He only made a few, She Beast, Witchfinder General and The Sorcerers, all good films, although Witchfinder was his masterpiece. Ian Ogilvy and Hilary Heath (who died of COVID-19 in April 2020 in England) also give their memories. There you have it, the complete series on three discs. LBX
7692 Fatal Pulse (88) aka: Killer's Run The women of this one particular sorority house are so sexy it seems our serial killer has no need to look elsewhere for potential victims. At least those who fit his criteria. Red herring Joe Estevez lurks about (when not having PTSD flashbacks), peeping at the girls as they undress. The police are clueless. Blatantly misogynistic, as the women are all pretty much naked when they are murdered. Well, if Tom Savini is not around to offer extreme gore effects, than go for the next (cheaper) titillation, and turn up the volume! One girl is electrocuted, topless, for several boob bouncing moments. Another is bound and suffocated with plaster, the killer takes the time to plaster her breasts, I don't know why. Stephanie gets her bra pulled off by the killer before being strangled by a stocking. Sheila gives us an eyeful before being drowned by the leather-gloved maniac. The chick that plays Ann is Roxanne Kernohan, she was in a couple pretty memorable movies. She died in a car accident in 1993 at age 32 in California. Porn star Herschel Savage is the Detective. BA
7682 Final Destinations (8?) Strange Tales... Bus: When a young lady comes home to find a woman going down on her man in the bathtub. Ooops! Later she goes on vacation with him on a bus. So does a recently escaped serial killer. The lady steps up, and gets the total respect of her man. The next story reminded me a little of 'Mad Max', being set in a similar world, where we are going maybe, and has a striking conclusion. More.... Some glitches
7636 Fleisch (79) aka: Spare Parts Released here on video in the 1980's, this is the 108 minute version! Honeymooning in New Mexico. Beautiful country. The innkeeper is a little too friendly. Husband and wife have sex, so there is nudity. An ambulance kidnaps the husband the following morning at gunpoint. The innkeeper claims to not even know she rented them a room when the wife pleads for help. The wife, helpless at this point, finds herself the target of the ambulance, she runs into the road and hitches a ride with trucker Sierra Bill. So you have this good old boy, helping a cute blonde German woman, hunt for her Princeton husband, and maybe get to the bottom of things? What is the secret of the inn and the ambulance? Well, I think the American title gives up the game a little. This type of plot has been used many times since, but the location atmosphere, sharp colors, paranoia, suspense, truckers etc. make it worth a look. This is English language dubbed, with some parts in German with English subtitles.
5930 Flower in His Mouth, The (75) aka: Gente di rispetto A female school teacher is implicated in a murder in a Sicilian town only hours after her arrival. The dead man insulted her on the bus on the way into town. As the mystery unfolds, it becomes clear that the town is hiding some very sinister secrets. Fascinating murder mystery set in Sicily and starring Jennifer O'Neil (straight off the set of 'Peter Proud'). This is a vastly improved letterboxed version. Also with Franco Nero. Upgrade! BA
7691 Fraternity Demon (92) When some goofy college kids accidentally summon a horny sex demon from the other side, she infiltrates a frat party and has everybody spinning in their tracks. The actress Trixxie Bowie that plays the sex demon looks kind of hot in this, her only film, kind of like a burned out hooker almost past her prime. Luckily there are some young hot chicks in this as well. Stereotypes, you know the kind, the 80's sex comedy blending into the 1990's. Heavy metal guitar chicks a nice touch. Breasts aplenty! BA
7618 Game for Eveline (72) aka: Un gioco per Eveline Here another obscure giallo type LBX and with English subtitles. A road accident and then a couple wakes in a villa by the ocean where they are hosted by a young couple who want them to stay indefinitely. The days pass. What strange game is at hand here? There are others, all strange. There is some sex too. A nightmare, yes? No. A dream then. Hmmm. Could it be both? Or neither. The denouement may surprise you. Erna Schurer is amazing. Also with Rita Calderoni during her Renato Polselli phase. LBX and with English subtitles.
5928 Hidan of Maukbeiangjow (73) aka: Invasion of the Girl Snatchers Six girls have been abducted. Investigators, a Christian spiritualist and a wizard guy named Aph are all involved in one way or another. A blonde used as a decoy gets possessed by an alien. The creature is fascinated by this new female vessel, and runs around topless! And what about the Black Mass/Alien Induction ceremony? A delightfully zany tongue-in-cheek drive-in spoof. And as for the tiny review? Just staying with the total off the wall incoherency of the subject matter.
7622 Hot Month in August (66) aka: O zestos minas Avgoustos Original Greek version. Jason meets two women, Hope and Alexis. He falls for Hope, but has sex with Alexis. But Alexis is being watched by a private detective, hired by her husband, who learns that Jason has just bonked his wife when the detective gives him the news. The husband kills Alexis. Jason is the suspect. With the help of Hope, Jason works on clearing his name. This film was released here with a bunch of inserted soft-core scenes, inserted by Doris Wishman. This is the original version. LBX and with English subtitles.
7639 I Changed My Sex (77) aka: Forbidden Love Now Uncut at 113 minutes! From the director of 'The Blood Spattered Bride' Vicente Aranda. Shot in Spain, follows the life of a 17 year old boy (Victoria Abril) who is bullied at school, his mannerisms are not masculine etc. His father takes him to a strip club to 'straighten' him out. One of the female performers has a penis, a 'shocking' moment (remember, this is 1977) the boy sees this and no sooner then you can say 'Wham' he realizes he is a 'transsexual'! Relief after so much pain, humiliation and frustration. He/She has a dress on within the next 10 minutes of film. One of the first to show in not-too-graphic detail the 'sex change'. The transsexual on stage is Bibiana Fernandez, billed here as Bibi Anderson. LBX and with English subtitles BA
5950 I Stand Alone (98) aka: Seul contre tous The story of a horse meat butcher who has lost his job and his descent into madness. He is trapped in a loveless relationship with his pregnant girlfriend, living with her mother, and his mute daughter. Misery. Throughout, we hear the thoughts of the butcher, which are angry, hurtful and horrifying. He loses his mind. Completely. Things get out of hand. Brutal, dark, disturbing. There is a warning near the finale, giving you one last chance to back out, just in case the grim bleak violent conclusion is too much. Beware! LBX and with English subtitles BA
7738 Inn of the Damned (75) Australia, 1896. American bounty hunter Cal Kincaid is determined to apprehend the wanted murderer Biscayne. After a long pursuit, he finally succeeds in capturing and shooting Biscayne. Kincaid's partner Trooper Moore travels on alone in search of a missing English traveler Cummings. Moore comes to an inn on a remote backcountry station run by Austrian immigrants Lazar and Caroline Staulle. However, the Staulles kill all who stay there and Moore becomes their latest victim. Kincaid then comes to the inn in search of Moore and discovers the Staulle's grisly secret.... This film is available in a couple versions. This version however is the longest at 1 hour and 57 minutes. BA
5987 Island of Evil Spirits (81) aka: Akuryo-To The killing of John Lennon is on the news. This triggers the memories of one man, and his ten days on one particular island from his past. Then the story of what happened starts as we go back. He was a hippie grifter drifter. Coming to grips with pollution and long hair. A dead old witch woman leaves a note behind about a dark secret she has kept for 24 years fearfully. Apparently, she feared for her life. Now she has been killed. Later hippie man is approaching the haunted island where two beautiful twin sisters and the mystery will finally be revealed. In Japanese and with English subtitles LBX
7666 Ivan Cordoso's short films (various) Brazilian director... here is what you get: Nosferato in Brazil (68) His first film. Caped hippie vampire on the loose, biting scantily clad women. After finishing off one woman, he attacks a guy with a piece of wood. Meanwhile, two dogs are humping. Now he is chasing another girl. Now, a swordfight with a challenger! Later he hitches a ride. + well... these films are not very good at providing titles, so I'll improvise.... A mummy strangles a woman, a man runs around in a Speedo, a woman dances topless on the beach... a swimming man is attacked by a gang of topless women... + A carnival funhouse, a dancing hippie man with his ass hanging out of his pants, a chicken is decapitated by a cloak wearing guy and the blood poured onto the hippie who writhes in the blood....somebody sticks something up some bodies... another hippie cuts off his... well, he castrates himself! Lots of nudity, no dialogue, just weird voodoo music throughout. Crazy.
W62 Kannibal (01) aka: Head Hunter Homage to 'Hannibal Lector" in many ways. Opens with the discovery of a bunch of bloodied mutilated victims, as if crucified, lined against a corridor. A splendid tableau, accompanied by classical music. Enter the ambulance. Georgina Thereshkova (Linnea Quigley stretching it with an accent) is the sexy head of a mob family controlling porn, drugs and other criminal activities. Quinn (Richard Driscoll) has arrived from her past, cutting a gory bloody path through her allies. The police are also on her case. Leads to a gory climax between the three. Georgina's assistant is Tanya (Eileen Daly). Georgina has Tanya's top off and is fondling her breasts in the first 10 minutes. Sex, drugs, gore and more. One scene has Linnea's character watching a Nazi porn scene being directed by a sleazy director. The movie is a bloodbath, with some gruesome mayhem and disgusting autopsy footage. LBX.
5936 Kofun! (69) aka: Naked Pursuit Rape and sexual coercion is the order of the day in many of these Japanese films of the era, and this is no exception. Caught up in the riots and student protests, a young man causes the death of a policeman. Handcuffed and en route to jail, he escapes, and proceeds to stalk a woman across the beach, yea, naked, as in naked pursuit. In color and in black and white. Brutal and incorrect in so many ways. I liked it. In Japanese and with English subtitles. LBX
5989 Lady Kills, The (71) aka: Perverse et docile aka: L'ho sorpreso a letto con un'altra - Perversa e docile I was not ready for the pre-credits scene when I hit play. A woman is being gang raped, she is screaming, as her young daughter watches in horror. Now I know what the film is, I am glad for the opening, This is one of the first of the rape/revenge flicks of the 1970's. The daughter is now grown. She (Carole Lebel) will spend the rest of the film hunting down and murdering men as she travels, leaving a trail of dead bodies in her wake. From Swinging London to the eternal city of Rome, if you are man she has targeted, you are toast. The Lady Kills. Carole Lebel was 'Olga' in the 'Golden Claws of the Cat Girl'. She quit the industry after this film. Plenty of nudity. LBX and with English subtitles BA
7640 Larraz on Larraz (15) Okay, let's watch the archival interview with Jose Ramon Larraz that was filmed in the 1990's. His career is covered in detail. Remember, this is the guy who brought us 'Deviation', 'Symptoms', 'Vampyres', 'The Coming of Sin', and many more, including some late 80's slashers. Thank-you!
7613 Las Crueles (69) aka: The Exquisite Cadaver Opens with a woman putting her head on the railroad tracks as a train approaches.... Then Carlos gets a parcel, inside is a severed hand. Sent by a mysterious woman named Parker (Capucine). Later Carlos gets a telegram, his wife Esposa (Teresa Gimpera) reads it to him. It wants to know if he 'wants' a forearm. Parker's lesbian lover Esther (Judy Matheson) is an ex-lover of Carlos, and never has recovered being spurned by Carlos. Hell hath no Fury...? No. Parker has Esther's corpse. She killed herself you see. Parker, wants to avenge her... honor? We will see. Carlos frantically buries the hand out of sight, deep in the dirt. Wait, is that another (larger) parcel? Rare Uncut English dub BA
5957 Lips of Lurid Blue (75) aka: Labbra di lurido blu Now Uncut 114 minute version! Sex, Despair and Death! Damaged as a child Marco harbors homosexual desires that he represses, and his wife Elli is a nymphomaniac. When an old friend makes a play for Elli, Marco discovers another part of his personality.. the desire to kill! Bloody killings! But the Elli (Lisa Gastoni) stuff is the main drive here. She bangs everybody in sight. In the opening sequence she is gang-raped in a fantasy. Her lust is insatiable. She has public sex in a bell tower, she gets gang-banged in a night cafe, she saves another girl from getting molested by a pervert by having sex with him! The film belongs to Gastoni, and she has no problem with the sleaze and nudity. Just try getting an actress to do this role today! Downbeat ending. Good score from Ennio Morricone! Italian language with English subtitles and LBX BA
7743 Lost and Found #7 (various) Prepare for another assault of the senses. Inappropriate clips, pathetically bad music clips... Opens with a hip-hop 'how to cook a hamburger' clip. Because cooking a hamburger is so... hard. A bearded lady sings Pasty Cline's 'Crazy'. Public access girl dances to 'Fame'. Turkish mummy attack. Goofy Goth kid and his fat aunt. Cardboard swordfight to the death. McDonald's training video clip, Winston cigarettes commercial, nudist soul singing Scopitone, Welcome to Virginia, Richard Simmons in drag having sex with a vacuum cleaner, television destruction, bad comedy, a man setting himself on fire with a simple fart and a lighter, more and more. Near the end we get the great clip, 'Grape stomping gone terribly wrong'! I laughed pretty hard there. DVD-R only and adults only
7744 Lost and Found #8 (various) First, a con recruitment video. Fabio. Hot strip girl. Filipino laser beam battle. fast-motion chaos, electric boogie with a low-rent Michael Jackson wannabe, robot guitar band, scene from 'Voyage of the Rock Aliens', the 'Balloon Man' speaks, a shady preacher tells us how metal music like Iron Maiden is making kids kill each other, a chick metal band sings a ballad (I have no idea who this is), a cool G. I. Joe commercial, a fight scene where two guys dance fight, Union commercial, Jiffy Pop it just goes on and on, and gets more ridiculous as it goes. DVD-R only and adults only
7674 Manhunt: The Search for the Night Stalker (89) The true story of the sadistic satanic killer Richard Ramirez. This 'Night Prowler' managed to get away with terrorizing Los Angeles with a string of horrific rapes and murders from June 1984 to August 1985. This works as not only a serial killer film, but also as a detective film with detailed examination of the facts. Richard Jordan is Sergeant Frank Salerno, and Gregory Cruz as the 'Night Stalker'. Also with A. Martinez, Julie Carmen and Lisa Eilbacher. The actual killer Richard Ramirez died in prison in 2013 of liver failure. He shared a birthday with serial killer Aileen Wuornos. Isn't that sweet. Creeps.
7695 Mysteries (78) aka: Evil Mysteries aka: Knut Hamsun's Mysteries Netherlands film with a lot to offer. Rutger Hauer as an agronomist who finds himself in a small town near the ocean. The people are puzzled by him. He befriends a midget (played by Michael (The Bride, Time Bandits) Rappaport who the locals actually call 'Midget'!), and falls in love with a wealthy vain woman who rejects him, Luckily there is a fall back woman who lives in hovel on the side of a hill. But his character is weird, and acts desperate. The mystery is real, and I am not sure if I figured it out or not. I liked the cast. Rita Tushingham and Sylvia Kristel also star, and there is nudity. Rappaport was a troubled man in real life. His third suicide attempt was successful when he shot himself in the chest with a .38 caliber revolver in 1990, California. He was 38. BA
7643 Nero (92) aka: Maldito Creme de Celulite Very dark comedy from Italy, produced by Dario Argento's brother Claudio, and written by the creator of 'Dellamorte Dellamore' Tiziano Sclavi. Frederico's new girlfriend has sent him to her apartment to get her cellulite cream (not that she needs it, this is the gorgeous Chiaro Caselli we are talking about). Once there, Frederico finds her old boyfriend dead, and assuming he has been sent to take care of the body, he cuts it up for disposal. A bloody mess. But where to put the suitcase full of body parts is a problem. One thing leads to another, and comically, Frederico realizes he has more corpses to get rid of. So... what to do? With English subtitles
7644 Next Victim, The (83) aka: A Próxima Vítima A TV reporter tries to find out who is killing the prostitutes of in a Sao Paulo neighborhood. Turns out it is a serial killer, ripping up the hookers. The reporter clashes with his publisher as he gets closer to the truth. The police seem to be willing to make an agreement with the press. And the reporter seems to be caught between the two to incriminate an innocent. The streets are filthy. Can they save the beautiful prostitute Luna from being the next victim? The reporter accuses a black guy of being the killer in a bar, the black guy knocks him on his ass, whips out his stuff and pisses all over him. Perfect treatment of a reporter maybe, at least sometimes, but not on this particular occasion. Nudity and Hookers, politics, hundreds of extras, a fascinating film from Brazil. Horrified and saddened by the ending. In Portuguese with English subtitles for the first time.
5963 Parapsycho: Spectrum of Fear (75) aka: Parapsycho - Spektrum der Angst An Austrian horror film with three stories. Each tale deals in some way with the then popular phenomena of extrasensory perception, telepathy, reincarnation, and other similar paranormal manifestations. Enjoyable and also let's mention the full frontal female nudity (why not?). Telepathic bloody murders, ghost of the dead and more! Marisa Mell, William Berger and Debra Berger star. Also with the fat man Leon Askin. Despite his weight, he lived until age 97, dying in 2005 in Austria. He was not only a regular on 'Hogan's Heroes', he was also in over 100 films. In German with English subtitles.

5939 Passionate Lovers (82) aka: The Ambitious Lover aka: La amante ambiciosa aka: I eromeni Deep in debt, a man plots with his lover to kill his wife, to inherit her fortune. Of course his lover is on board, (doesn't want to share). It's a Greek film, with some minor thriller moments, but some nice extended sex scenes. Maria Jose Cantudo (of 'Horror Rises from the Tomb') and Ajita Wilson (quite hot here). Always enjoyed these twisted sex Greek tragedies. What a fun sordid world of wild film those days were over there. English dubbed BA
7626 Petrified Forest, The (73) aka: Kaseki no mori When a medical student (who has access to exotic poisons) runs into an ex-schoolmate, they fall in love. But she has another lover, who is also her employer, which makes things kind of complicated. Our medical student also has two other women in his life. His mother with a reverse Oedipus complex, and a wacky woman, who is desirable and sexually deviant, and has a medically-deranged boy under her care. Well, there are a few things that need to be handled before he can have his girlfriend all to himself. Luckily, he has the tools. Dark and twisted, with plenty of nudity, sex, and murder. 'Someday, we'll hate each other to death.' LBX and with English subtitles.
7645 Pleasure Campus, Secret Games (80) aka: Kairaku gakuen: Kinjirareta asobi Don't worry. Everybody is having fun here. The zenith of offensive absurdity. A slapstick rape comedy. Not likely to be the featured midnight movie at any campus...ever! It's dark, twisted, evil people made this, I am sure. So brutal and nasty I am not even going to try to describe or defend it! The flippant attitude intrigues me, the mindset of the people making the movie, not worrying, it is all in good fun. There is a mad doctor too, a home invasion rape, unspeakable acts.... all shot competently and professionally... disturbingly... a must see. "Husband! What are you doing with that golf ball?" LBX In Japanese with English subtitles. BA
7646 Portrait of a Province in Red (76) aka: Al piacere di rivederla Ugo Tognazzi is Ministry of Internal Affairs, sent to his native town of Bologna to investigate a suicide. In the opening pre-credits sequence he is banging a woman who is bent over his bed, but cannot finish because the damn phone rings and she leaves. Politics, the church, real estate, mayhem, murder and greed. A home invasion results in a rape, but no it was staged by the woman, this is her thing. Another scene has a woman humping Ugo on the bed and they are having conversation as they have sex, while another woman watches. Ugo will get to the bottom of it, and maybe even into some bottoms. Francoise Fabian, Miou-Miou, Maria Monti and more star. Plenty of nudity English subs
7647 Respectable: The Mary Millington Story (15) Uncut 115 minute version. Stories and photographs of Mary Millington as we zip through her life from childhood to her tragic suicide. You will see clips from her films, she was gorgeous, a stunner. Some of the porn loop moments may cross into X territory so be warned. She was very brave, and it destroyed her. There are many who knew her, worked with her, and still remember. They are featured here, survivors of an industry that is so needed, yet at the time, so reviled. A great documentary that even features her relatives talking about her. LBX
5943 Serial Rape of Fifteen Women (84) Fifteen women, returning from a meeting, see a woman being raped by three men. They pass on by, not even interfering. 'Try to Scream. 'Try Calling for Help.' The woman who was raped, was pregnant. She commits suicide in despair. Her fiancé finds out about the women who walked on by. He plots his sick revenge. Woman are abused in spades here, so be warned. In Japanese and with English subtitles. LBX
7602 Sex Crime Coast: School of Piranha (73) aka: Nikutai hanzai kaigan: Piranha no mure A seaside community is being terrorized by piranha. Not the swimming kind, but a gang of punks who call themselves 'Piranha'. They target anybody that has something that they want. A boat? They'll beat you up and take it. Your woman? If they want her, they will kick your ass and take her, then gang rape her. They have a lair where they dance around and act stupid. When a new, innocent girl wants to join, the leader strips her down and rapes her in front of the others. She digs it, and the others get turned on and start going at it. The new girl is filthy fucking rich. Her mother dopes her husband and bangs the help. The daughter listens to her mother getting nailed. Meanwhile the gang plans a home invasion on the new girl. They put on Kabuki make-up, break in, and rape the girl and her mother in front of the husband and the mother's lover. Lots of nudity and rape, although in every case the women enjoy it. Until the gang takes over the house that is, Excellent trash, a violent shocker, with a great ending! LBX In Japanese with English subtitles BA
7652 Sex of the Witch (73) aka: Il sesso della strega A student discovers a strange medallion that is inhabited by a female succubus, who possesses him and forces him to commit a series of murders in a creepy old mansion where heirs attend a 'reading of the will'. Lots of sex spices things up and we also get Camille (I Spit on Your Grave) Keaton in a small role. Fun Giallo type. This print is the best ever, a great Widescreen Upgrade with a Very Sharp and Clear Picture here with English subtitles. BA
7653 Spiral of the Mist (77) aka: Una spirale di nebbia Unhappily married Maria Teresa (Claude Jade) (her husband can not get it up) suspects maybe her husband is the killer of the beautiful Valeria, who has been killed during a chase in the woods. Bed-hopping murder mystery with liberal full frontal nudity from most of the main players, male and female. We see long flashbacks detailing the fate of Valeria. Obscure sleaze and LBX with English subtitles. BA
7628 Spontaneous Combustion: The Rough Cut (90) aka: Fire Syndrome Here the salvageable remains of Tobe Hooper's original vision of the film, taken and sutured from a VHS of rough cut elements, edited to include some inter-titles denoting missing and/or un-filmed scenes, with the shooting script used as a source. At three moments, using my own judgment, with overlaid script excerpts over the image to assist in understanding. BA
7654 Strange Story of Naziploitation (19) Feature length documentary with loads of brutal sadistic clips and snips on this cult sub-genre featuring interviews with Dyanne (Ilsa) Thorne, Malissa Longo, and more. Many like to pretend or forget that these offensive films were ever made. I myself however are very glad that they were. You will not see the likes of them again. At least, not in this lifetime. It is cool to see the extremes these filmmakers would go to not so long after the horrors of WW2. For me, the latest comedy from Hollywood is far more terrifying. Dyanne Thorne still looks like Ilsa, just older. This is a great documentary on the genre, a nice starter kit for the uninitiated. LBX
7693 Terror at Sutterville (89) aka: Family Reunion Opens in the past, with a satanic ritual being interrupted by shotgun blasting locals. A family vacation goes dark when they make a stop in Sutterville. The cops have a creepy (and possibly evil) vagrant in jail. The family tries to leave, and the car takes them deep into Sutterville, trapping them. In this ghost town, terror awaits. And a special surprise. Satan has a special way of bringing families together! Starring martial arts star Mel Novak. BA
7605 Them (70) aka: Ils Weird, just about unclassifiable. A young painter, hostile and confrontational, finds a friend in an old man who has moved into his boarding house. The aging guy has invented a machine that can make people recognize their unconscious dreams. Things get very bizarre, entering and leaving other worlds of existence. Nudity With English subtitles.
7657 Traffickers of Pleasure (74) aka: Giuda uccide il venerdì Director Stelvio Massi trash masterpiece now with English subtitles! Magdalena (Sophia Kammara in her last film role, I think I know why) is a high-priced hooker who meets some hippies and falls in love with one of them. She tells the sordid tale of being raped when she was younger. She loved it. Ever since, she wants to have sex with any man she is attracted to. And she did... does. Will. But things are different now, and her pimp is pissed. 'Listen, I'm done! I can't keep selling myself!'. Rape, a woman is beaten brutally in a long sequence, then pissed on. This is some cold-hearted stuff! Bleak. Dismal. Horrifying! Angelo Infanti, Leonard Mann, Franco Citti and more star. You will not see a motion picture like this in 2020! From a scratchy PAL source that has glitches at times, but is mostly sharp. In Italian with English subtitles for the first time. BA
7658 Unsatisfied (72) aka: L'insoddisfatta Stéfanie (a sexy nurse) is caring for an old man in a nice country villa... He tries to rape her... She ends up falling off a cliff and dies (but that's NOT what actually kills her!). The old man feels guilty, so naturally he decides to find another girl to have plastic surgery and substitute for Stéfanie before the town finds out... They find a prostitute that fits the bill, but the scheme goes awry..... Amazing Upgraded LBX version! Director Jean-Marie Pallardy BA
7606 Vice Squad (85) aka: Brigade of Death aka: Brigade des moeurs Max Pecas sleaze classic upgrade! The opening sequence where the transsexuals are gunned down by guys on motorcycles and then we see their naked bloody corpses laid out in the morgue is striking and horrifying, setting what is to follow. A vice cop has a full plate. A policewoman has been killed by a pimp. A gangster is doing bad things. A guy is making porno movies and is squeezed for information. Hookers, clubs, brutality, alley beatings, sleazy bloody offensive topless torture, knife to the eye, hatchet to the face... This movie is great! And what an ultra-violent ending! Now Upgrade LBX and with English subtitles BA
7662 Weekend of Horrors (86) Fangoria was huge in 1986, so were horror movies. Maybe the absolute best decade for horror, ever. People actually cared about the actors, the special effects technicians, the writers and creators etc. Now, things have been very different for a long time. Every now and then a new horror film comes along and knocks my socks off. But not very often. In the 80's, it would be almost all the time. Join John Carl Buechler (special effects on many films including 'Reanimator' and 'The Beyond'), Forrest J. Ackerman, Rick Baker, Wes Craven, Robert Englund, Alex Gordon, William Katt, Dick Miller, Elvira, Tobe Hooper and more for this celebration. Many of these guys are dead now. Most recently John Carl Buechler in March 2019 at only age 66 of prostate cancer.
5946 Woman in Revolt, A (70) aka: Hanjo: mugen jigoku Kazuko's mother forces her daughter to sleep in various copulation tests in front of her mother. After another such fuck-fest-test, Kazuko can no longer go along with this constant debasement, and murders her mother with a log. She is a woman in revolt. Her lover whom she has been bonking (in front of her mother, remember?) dumps the worthless carcass of her mother in the river. Kazuko's lover, has a lover, who strangles Kazuko, leaving her corpse in the closet, stinking up the place. Strange dark and rancid. In Japanese with English subs below Italian subs. LBX
FRANCO FILMS

7610 Bizarre World of Jess Franco (91) 185 minute interview with Jess and Lina at his side
5949 Crazy Nuns, The (75) aka: The Ticklers aka: Les Chatouilleuses aka: Le sexy goditrici Four prostitutes (including Lina Romay and Pamela Stanford) are on the run from a group of bandits and hide in a convent pretending to be nuns... Full frame and with English subtitles and uncut version at 96 minutes
5978 Fifteen Year Old Captain (74) aka: Un capitán de quince años Jules Verne rewritten by Jess Franco (and others) A young boy becomes Captain of the whaling ship 'Pilgrim' when the Captain and some of his men die trying to harpoon a whale. He had left the boy in charge before embarking into the dark waters. Can the young man control the crew and make it to their destination? One amazing scene is when the sailors realize they are in Africa instead of America. Oops. Slavery, betrayals, treason... with real ocean, ship and exotic locations. Howard Vernon, Doris Thomas, Edmund Purdom and William Berger just a few of the familiar faces here. Spectacular locations and pretty decent photography (though the typical Franco touches are evident). How he managed this period adventure in the same era he was making erotica and adult horror is a testament to his multiform genius. LBX and with English subtitles BA
7623 I Burn All Over (78) aka: Je Brules de Partout Opens with Lorna (Brigitte Lahaie) dancing at the disco with a guy and they are watching another girl (Susan Hemmingway). They pick up the girl and Lahaie watches the guy mount her on the bed before stripping down and joining in. The young girl is sold by Lahaie and the man to a whorehouse warden and she is enslaved on a whore ship. This film was so down and dirty that even Jess Franco had to go undercover when he filmed it in this Lisbon underworld. The whores are kept dirty and enslaved, moaning in orgasmic nymphomaniac ecstasy as some sort of sex-gas is pumped into their quarters. Lina Romay would not come here, prior obligations. With English subtitles and loads of nudity and sexual situations
7611 Revenge in the House of Usher (85) aka: Die Rache des Hauses Usher Dr. Usher (Howard Vernon) is insane, and uses the blood of prostitutes in his attempts to reanimate his dead sister. He lives in an old castle with his housekeeper Helen (Lina Romay) and of course his regular henchmen. A dungeon full of hooker's await their fate. This is not the recent Blu-Ray release, but a different version with more violence and sleaze! Check it out and compare! This version has a few prostitute murders that Vernon and Franco filmed 9 years previous that did not make it into other versions. We have other versions of this film as well. This one, LBX and with English subtitles. BA
5944 Shadow of Zorro (62) aka: L'ombra di Zorro aka: La venganza del Zorro Brothers Billy (Robert Hundar) and Dan head to California,, determined to track down and kill Zorro (Frank Latimore). He doesn't wear a mask around his eyes, a bandana covers his nose and mouth instead. Covid Zorro? Except for one very brief sword battle, firearms are the weapons of choice. This is Uncut and Widescreen, with English subtitles. Jess Franco did not direct, but was one of the writers. BA
5969 They Do Everything (78) aka: Elles font Tout Three couples with sexual issues are all staying at the same hotel. Enter one professional Porn star (Lina Romay, who else were you expecting Candy Coster? Oh.) who arrives hot and ready to show everybody how it is done. This hardcore film also manages to have some comedy mixed in. So.... regardless of the quality of the hardcore, you have to put these things in perspective, Jess here is directing his main squeeze in a porno. And Lina Romay's 1970's stuff, is her best work. Susan Hemingway also stars. In French and with English subtitles. Four minutes longer than the Italian version! With English subtitles!
7659 Virgin for St. Tropez, A (75) aka: Une vierge pour Saint-Tropez Paul Muller (who stars in this along with others) claimed that Jess Franco helped out Eurocine and directed parts of this. So, we are giving him credit. I am guessing he heard a film was being made with 'virgin' in the title, and came running to see what one looked like. All joking aside... A young woman gets drunk with a rich young man in a villa (owned by the parents of the rich young man if you are interested) and lets him be her first. Later they rob the villa, she gets caught and raped, the guy makes a run for it, leaving her to her fate. This is just the beginning of her sexuality. But she is smitten with the first man, and hitchhikes across the country with him. Sex action and sleaze in a world of sex shows and extreme horniness and orgies with people of all ages. Yea, I can see Franco here. It's a classic. Erotic as hell and English language dubbed. LBX BA
HAMMER AND BRITISH FILMS
7741 Alive and Kicking (58) aka: Munter und lebendig Three old ladies escape from the old folks home and end up on an island off the Irish coast, where, with the help of the locals, including a young Richard Harris in his film debut, set up a business knitting sweaters for the fashion market. Harris was then well on his way, starring with Charlton Heston the following year in 'The Wreck of the Mary Deare'. BA
3524 Last Reunion (55) The crew of a bomber gets together once a year to remind themselves of the good old days, and current affairs. The climax of the movie presents a plot twist which I did not see coming, as I was not informed in advance. It is rather fun to be surprised. Know too much about some of these old chestnuts, it ruins even considering a view. Not in this case. Didn't Rod Serling use this (at least a little) at some point a little later? Michael Gough, Eric Portman and more star. ITV Television Playhouse
7730 Nº 1 of the Secret Service (77) aka: Her Majesty's Top Gun Charles Bind (Nicky Henson) is fearless, irresistible to women, and licensed to kill. A madman is killing international financiers through the deadly and dreaded criminal organization K.R.A.S.H. (which stands for 'Killing, Rape, Arson, Slaughter, and Hit' !) Sounds like a bunch of fun guys. Bind is on the case, with his tongue planted firmly in cheek. Bind Bond spoof from the director of 'Big Zapper' delivers with high production values and a familiar cast. Milton Reid as 'Eye patch' gives one of his usual brute man roles with gleeful menace, Geoffrey Keen (whose last 3 films were James Bond films from Roger Moore to Timothy Dalton), Jon Pertwee (Who?), Richard Todd and a bevy of bodacious babes. Nicky Henson was in 'Witchfinder General' and many others. He died in 2019 at age 74 of cancer. Upgrade! BA
7686 Underworld Informers (63) aka: The Informers Nigel Patrick is the 'tough cop' Scotland Yard investigator trying to catch a gang of robber crooks and more importantly, catch the man who killed his 'snout' (that means 'snitch' or 'informer' in English). The well-executed safe robberies are the work of professionals. Surprisingly tough, brutal even, one of the best of this type from 1963. Harry Andrews always adds an air of legitimacy to his 'man-in-charge' roles, and Derren Nesbitt, Katherine Woodville contribute as well, amongst many others. BA

MISCELLANEOUS FILMS CRIME, ACTION, MARTIAL ARTS, WAR, DRAMA AND MORE
7723 Afraid to Die (60) aka: Karakkaze yarô Begins with a botched assassination. The wrong guy was killed. The real target is in hiding. He broods, schemes, and rapes a girl, who, then falls in love with him when he shows her his vulnerable side (what?). Throughout the rest of the film he treats her like garbage, and she follows him like a lost puppy. He even tries to force her to do an abortion. Meanwhile his cover is close to being blown, as the Yakuza and criminals go about their usual operations of dirty deeds. LBX with English subs BA
5947 Agent X-17: Operation Ocean (65) aka: Agente X 1-7 operazione Oceano The revolutionary formula this time involves the manipulation of the oceans. To direct catastrophe at will. Who holds this power will have other nations on their knees. Special Agent George Collins (Lang Jeffries) must get into the mix, and save the world. Somebody has to do it. In Italian language with English subtitles for the first time! Also with Aurora de Alba of 'Frankenstein's Bloody Terror'. BA
7670 Black Belt Karate (77) aka: Hei dai kong shou dao Moving to the big city from the country, a young man finds his once peaceful existence shattered when he finds himself challenged by an arrogant upstart. The young man kicks shit out of the punk at almost every turn. The fight choreography is outstanding. The competitions, realistic and hard-hitting. Fantastic Widescreen and English dubbed.
7727 Cop in Blue Jeans (76) aka: Squadra Antiscippo A robbery ring in Rome gets in way over their heads when they rob big time mobster Norman Shelly (Jack Palance) of 5 million in cash. Or did they? Shelly has his hoods track down one of the robbers at a pool hall where he is savagely beaten to death. Like most films from Bruno Corbucci, there are serious political elements mixed in with all of the rampant violence. Tomas Milian (in one of his 'hairy' maverick cop roles) is trying to catch the snatch and grabbers, but finds they are being murdered. Excellent Italian crime. LBX + English subtitles BA
5921 Cross Shot (76) aka: La legge violenta della squadra anticrimine With the recent passing of John Saxon (July 25th 2020 at age 83), we thought this upgrade would remind of his many contributions. Here he plays a pissed off cop that smacks bad guys around when he takes them in. He gets even angrier as he hunts four young hoods who, while attempting an armored car robbery, killed a cop. All but one has been dealt with, but the other is on the run. There is more to the plot, sure, but the main point is, there are some brutally violent scenes, like when a poor women who has been taken hostage is thrown out of the speeding car. Cat and mouse, with Lee J. Cobb in an interesting role as a blind mafia boss, and some plot twists that may surprise. Saxon was in FIVE (count 'em) of these types in 1976. This version of 'Cross Shot' is Uncut and LBX, with two missing scenes reinserted! Upgrade! BA
5923 Curse of the Black Ruby, The (65) aka: Thirteen Days to Die aka: Der Fluch des schwarzen Rubin aka: Agente S3S: operazione Uranio The prince of Thailand is being blackmailed. A stolen necklace (with stones arranged in a treasure map 'code' of sorts) leads to a hidden uranium mine. Everyone is after it (of course). Filmed in exotic colorful Thailand, the jungle adventure is deep as well as the 60's spy elements. There's a goofy monkey, a crocodile attack, a tiger attack, a black body builder, an elephant parade and a cute Thai girl. Will the criminal organization prevail? Horst Frank, Peter Carsten and more star. Beautiful Colorful LBX BA
7668 Deadly Roulette: International Police (76) aka: Gugje gyeonchal aka: Deadly Kick Bobby Kim is sent to investigate the killing of two international policemen. His girlfriend is suspected of leaking information, gets locked up, and Bobby Kim goes on a drinking binge. But he straightens up, and in no time people are flying through the air in high jumps and beating hell out of each other. Bobby Kim really kicks the crap out of one of the main villains on the stairs. But the big fight is the one he has with Lieh Lo, who not only stars here, but also directed. They battle atop a building. The cops watch from below. LBX BA
5926 Dominici Affair, The (73) aka: L'affare Dominici Based on facts. Three English tourists ( a lord's family) are murdered on a country road. The Dominici family are the main suspects. their family farm is close-by, and the patriarch of the family (Jean Gabin) is inflexible. He confesses, then recants. There is no evidence, but still he is sentenced to death. This was world news, Google it first, then watch the film. Also stars a young Gerard Depardieu as a half-wit. Interesting and well done murder mystery, about a forgotten and never fully resolved crime. In French and with English subtitles. LBX BA
7633 Double Target (87) aka: The Heroes Never Give Up Bruno Mattei and Claudio Fragasso action with a new Widescreen Upgraded print! The United States Army calls upon former commando Bob Ross (Miles O'Keeffe) after several American and British military men are killed in suicide attacks throughout southeast Asia. It really does not matter how or why. The only thing that matters is the violent action and explosions, red tape and betrayals.... jungle mayhem with entertaining dialogue, bamboo huts ablaze ... a thrill-fest Rambo rippin' spaghetti war vehicle that also stars Donald Pleasence, Bo Svenson and more. BA
7673 Dragon Lord (82) aka: Lung siu yeh A prequel to 'Drunken Master'? He is Dragon, and he loses his best friend over female trouble, only to regain him later when they two discover a smuggling plot. Ultimately an all-out knockabout comedy with loads of action and hundreds of extras. Jackie Chan displays his versatility and there are starting point glimpses of what was to come in his latter films. This was one of the last of his old school kung-fu films, and one of the first he actually directed. LBX BA
7634 Electric Widow, The (58) aka: Seventh Heaven aka: Le septième ciel In the mood for a French dark comedy? A gorgeous 40 year old woman named Brigitte (Danielle Darrieux) pulls the arsenic and old styled scam on unwitting scoundrels. Brigitte is always ready to give money to the needy, everyone sings her praise and calls her a saint, even suggesting erecting a statue of her. She runs a brewery, luring bad guys. The only way to redeem their souls and send them to heaven, is for them to give their money to her to distribute to the poor. So she helps them die with the help of her henchman, who is in love with her. They are buried in her garden. Darrieux lived from 1917 to 2017, 100 YEARS! In French with English subtitles. BA
5951 Fear Runs Deep (76) aka: Duel of the Deep aka: Sfida sul fondo A new special alloy for the construction of submarines is developed by a hot-shot engineer (Frederick Stafford). Boy, he's going to be rich. Let the bidding wars begin! But some want it a little more than others. So they kidnap his son. A super-intelligent German shepherd steals the show. Lively action and good underwater footage. Frederick Stafford's last film. He was just starting to rack up quite the resume when he died in a plane crash in Switzerland in 1979 at age 51. Also with Dagmar Lassander. Stunning Widescreen English dub BA
7721 Flower and the Sword, The (68) In his quest to control the entire Kanto region, Tokuzo from Sawara ordered a surprise attack on the Yuki clan. After being challenged to a fight by Tokuzo, Ryuji Oshima, hoping for peace, urged him to surrender with dignity. Tokuzo refuses, and as Ryuji is about to deal the final blow, Tokuzo reveals to him 'Wait! I am your Uncle!'. Then Tokuzo is run over by a passing train. That was the past. Now clan meetings and talking still cannot resolve conflict. Bloody sword slashing battles will be the order of the day. LBX and with English subtitles.
7679 Forbidden Area (56) Playhouse 90! Superb drama that offers a 'what if?' scenario of the Cold War era. The intelligent script from Rod Serling is a cut above the usual for 1956 I am sure. The narrative revolves around decision making within the U.S. Joint Chiefs of Staff offices after the air force weakens as their futuristic planes keep crashing, putting us all at a disadvantage militarily. Eye-patch wearing Col. Jesse Price (Charlton Heston) convinces almost everybody of the threat, but cannot get through to Clark Simmons (Vincent Price). Tab Hunter, Victor Jory, Jackie Coogan, Diana Lynn and more star. Directed by John Frankenheimer. Interestingly, Charlton Heston's Moses was under Vincent Price's lash the same year in 'The Ten Commandments'!
7728 Foxbat (77) aka: Woo fook When a Russian fighter pilot defects to Japan with his revolutionary aircraft, C.I.A. agent Michael Saxon (played by Henry Silva) is tasked with smuggling photographs of the plane out of Japan, that he has taken with a camera hidden in his glass eye. But when an innocent man eats the film, thinking it is candy, several parties are after the guy. Silva tangles with a sumo wrestler, kills a guy with a toothbrush, a hospital shootout, vehicular mayhem and more. LBX and Upgrade! BA
5953 From Corleone to Brooklyn (79) aka: Da Corleone a Brooklyn When a chief rival is gunned down in a small Sicilian town, a mob boss flees to the United States. Brooklyn, New York City to be exact. Back in Italy, a top copper Berni (Maurizio Merli) has to escort a lowlife snitch from Corleone to Brooklyn so he can testify against the mob boss. The mafia has set traps along the way, making things difficult for the boys. The mobsters are armed to the teeth, and watch out for the street punks! Little bit like Clint Eastwood's 'The Gauntlet'. Umberto Lenzi directs. Listed before, but this is a new incredible Widescreen English dubbed version so Upgrade! BA
5954 Godfather's Godson, The (73) aka: Il figlioccio del padrino Man in the mafia falls for the boss's daughter. Since the poor girl has been married four times already, the goal here is to keep the man alive, so she does not have to go through that again. Laura Belli - Amazing colorful Widescreen and with English subtitles. BA
7637 His Day of Glory (69) aka: La sua giornata di gloria From the radical underground. In a dystopian town that is under the threat of police repression, a group of left-wing radicals gather to discuss how to organize their 'resistance'. They plan their terrorist attacks on the establishment. Very low budget, but no matter, because they have access to the ancient city locations of Italy. The police run around like storm-troopers, although in very cheap uniforms which include helmets, shooting dissenters in the open. The radicals, affected, cowed, angry, left with no choice but to fight back. Even now how little we have learned, on all sides, as history plays out again and again, over and over. With English subtitles BA
7684 House of Gamblers (70) aka: Bakuto ikka For gamblers who operated under the law's grey area, police raids were a huge blow. Increasing in frequency, these raids forced the public to avoid the secret gambling houses. The Yakuza needed to find a new way. New leadership. There will be a meeting of clan leaders... and we will take a trip back 5 years, when the 'House of Gamblers' is in full swing. LBX and with English subtitles.
7624 Jet Generation (68) aka: Jet Generation - Wie Mädchen heute Männer lieben Pretty American Carroll travels to Munich in search of her missing brother. She falls for an egotistical bedhopping fashion photographer who has something to do with it. When she finally gets his version of the story, which may or may not be the truth, she accepts him, strangely. Incidentally, a disguised gay melodrama develops around the photographer's bitter assistant. Music, a crescendo that resembles an unbound pathological effect, induces a sound surge of fever, it keeps coming at different points in the film, some message to our minds that we are in some weird territory here. LBX English dub BA
5988 Killer on the Loose (76) aka: Boomerang aka: Il figlio del gangster Eddy is on drugs when he shotguns a cop outside the window. His father is trying to get Eddy free, and even has the widow of the cop on his side. But Eddy's father (Alain Delon) is an ex-gangster, and the press is digging deep, trying to distress him, smear him, making it difficult for him to hang on to the new legal life he has created for himself. His life will boomerang. And the judge will have no mercy on his cop killer son. Nice Widescreen English dub BA
7713 Kook's Tour (70) The last film made by the surviving 3 Stooges. Moe Larry and Joe DeRita, featuring the exploits of the 'retired' Stooges. Intended to be a pilot episode for a half-hour weekly travelogue series. But in real life, Larry Fine suffered a debilitating stroke and was unable to continue with the project. What we have is still good, they managed to piece together a one hour pilot. But it never aired. The Three Stooges in color! Larry Fine would die at age 72 in January 1975, followed by Moe Howard at few months later in May at age 77. Joe DeRita, the last Stooge (although not an original Stooge) would pass in 1993 at age 83.
5991 Last In, First Out (78) aka: L'ordre et la sécurité du monde aka: Bez skrupułów The theme is economic exploitation in Africa with competing multinationals. A dossier is passed in the opener. A clock is running. Passed here and there, the dossier ends up in the possession of a blonde, she is not even aware. Is that Dennis Hopper following her on the train? Yes, it is. This suspense/mystery also stars Joseph Cotton, Donald Pleasence and Bruno Cremer. LBX and with English subtitles. BA
7625 Lenin: The Train (88) aka: Il treno di Lenin Uncut 206 minute version! During the first world war, March 1917, a sealed train with Russian emigrants is heading from Zurich through Germany, Sweden and Saint- Petersburg. The Bolsheviks on the train are led by Vladimir Lenin (Ben Kingsley). Conflict between excited socialists and workers concerned about the apocalyptic doom and gloom cloud hanging over them all. Lenin, disgusted by the non-Bolshevik socialists is single minded and cynical, and is also in the process of ditching his mistress, as his wife accepts him back. Finally, the triumphant arrival in Saint Petersburg. 'Gandhi' plays 'Lenin'! Some interesting cast choices. Jason Connery (Sean's son), Leslie Caron, Dominique Sanda and more. English! BA
5972 Living Together (73) aka: Vivre Ensemble Anna Karina stars and directs. She plays Julie Anderson, a free spirited hippie girl. When a nerdy professor bumps into her, they fall in love. Immersed into her world, he falls into drugs. There is an interlude in New York, we get a fascinating outsider's perspective of the Viet Nam war, drifting lifestyles etc. Back in France (they are now a couple with a child) the professor and Julie find themselves heading in opposite directions..... Not bad Anna Karina, not bad at all. She died in 2019 at age 79 after surgery complications in France. In French and with English subtitles. LBX BA
7685 Loose Ends (75) Set in the blue collar Twin Cities before the collapse of America's manufacturing and filmed in Minneapolis, which as of 2020, is a city of constant unrest. It's about a couple of working class friends (played by a young and muscular Chris Mulkey (in his debut) and John Jenkins) who are sick and tired of the daily grind. Filmed in a stark crisp black and white, the diners pop, street music timely, the cars divine. The story, as played by the characters, as about as real as it gets.
7667 Loot, The (80) aka: Zei zang A gang of ex-bandits are joined by Yang Wei. A series of robberies look to be caused by their supposedly dead master (known as 'The Spider'), who they double-crossed. Yang's job is to find out if The Spider is indeed alive, and still out there. But members of the gang are being killed......The ending has an extended hand and weapon battle that must be seen. Crash! Bang! LBX and English dub
W60 Lovers and Liars (79) aka: Voyage avec Anita So, this is when Goldie Hawn goes to Italy and makes a comedy. Paired up with Giancarlo Giannini as her love interest. He is married, but that doesn't stop Goldie from going on a trip with him to his dying father's house. He is sex crazed, everything that can go wrong does go wrong on the trip and they fight like cats and dogs before (finally) he beds her. Goldie however does not have the goods of her costars Laura (Bay of Blood) Betti, Claudine Auger and Lorraine (Cannibal Ferox) De Selle. This would be Goldie's only foray into Italian (slightly comedic sexual) cinema. BA
5994 Mafia Triangle, The (81) When a retired Camorra boss's wife is killed, he springs back into the fray. Off to the United States to assassinate those responsible. Violent and bloody, with some comedy thrown in for good measure. When Interpol steps in.... From the director of 'Beast in Space' and dozens of others Alfonso Brescia. Chubby Mario Merola plays the vengeful Camorra boss. With English subtitles BA
5960 Man Called Rocca (61) aka: Un nommé La Rocca aka: Quello che Spara per Primo La Rocca (Jean-Paul Belmondo) travels to Paris, moving in on the gambling and bar scene, shooting one guy, and tossing others around. After tangling with American deserters he winds up in a cell. Xavier, his friend is inside as well. Together they volunteer for a land mine clearing team assignment to reduce their sentences. Later free, Xavier's sister (Christine Kaufmann), farm property, and the old shady connections lead to tragedy. Nico of 'The Velvet Underground' is in here as well as 'Villanova'. Nico was a fascinating character. In July 1988, while bicycling in Ibiza, Spain, she had a minor heart attack which caused her to collapse, fall from her bike, and suffer a brain injury that ended her life. She was 49. LBX and English dubbed! BA
5993 Manipulator, The (71) aka: African Story A powerful producer (Stephen Boyd of 'Ben Hur') is dismayed when he learns his singing star Rex Maynard (Michael Kirner), after completing a number of shows, has eloped to Africa with his daughter. So angry is he, that a fake kidnapping is staged. But later, real kidnappers are after Rex as well. They try to make Rex a badass, his martial arts moves are laughable at best, but fun! There is one high speed car chase, and some pretty cool African locations. Sylva Koscina stars. Not to be confused with the Mickey Rooney movie that has the same title. BA
7714 Monocle, The (64) aka: Le monocle rit jaune Paul Meurisse plays Major Theobold Dromar aka: The Monocle, a fey secret agent who wears a monocle (hence the nickname) and cultivates an array of other odd mannerisms. He is more than moderately successful with his work, putting up with the vulgar heathens on both sides of the law that surround him. The jazz is from the same guy who scored the Fantomas films. Locations in Hong Kong and Macao are used to great effect. The Monocle goes after a gang of Asian terrorists who are planning to blow up an American aircraft carrier. The curiosities are tossed at the viewer with nonchalance. Barbara Steele is Valerie straight off the set of 'Castle of Blood'. BA
5915 Mystery of the Red Jungle (64) aka: Operation Hong Kong aka: Weiße Fracht für Hongkong A good cast in another obscure spy film. Opens with two ships off the coast of Hong Kong full of gangsters. One, jumps ship with a suitcase full of heroin, into another boat driven by a guy dressed like a ninja. They escape, hit a desolate shore, and the first guy is shot for his troubles. Now the hunt is on for the dope, and master agent 077 (Horst Frank) is on the move. A bloody whipping of two men, basement fisticuffs a shoreline brawl, incredibly colorful sharp locales, kidnapped blonde, all culminating in an explosive, violent blazing finale with multiple participants and deaths. Quite right. Also with Brad Harris, Maria Perschy and more. Excellent LBX alternate version BA
7642 Naked in the Night (58) aka: Madeleine Tel. 13 62 11 A beautiful post graduate student decides to do her thesis on prostitution and joins Madame Clavius and her stable of hookers. She is shocked to discover her old friend from high school Madeleine (Eva Bartok) who works for the Madame, has been turning tricks in the streets and in luxury apartments for the last three years. There is more of course, including a sex, booze and drug party, plenty of nudity for a late 50's film, attempted rape of a 15 year old belly dancer and more. English dubbed version
5938 Night of Fury (74) aka: La noche de la furia A gang of forgers is infiltrated by a sturdy policeman. He and their leader served together in Viet Nam, and he even saved the guy's life. When a gang of deranged hippies arrives at the California coast mansion gang headquarters, things go off the rails. It will be a 'Night of Fury'! Glen Lee, Maria Perschy and more star. From the director of 'The Werewolf vs. the Vampire Woman' Carlos Aured. English language dub
7675 Nights in White Satin (87) A Cinderella story set to modern fashion modeling and photography with a fantastic musical soundtrack that includes 'The Moody Blues' and 'Pat Benatar'. Jordan, the photographer, turns to Stevie (Kim Waltrip) the smoking hot cocaine-snorting model, because he finds himself falling in love with good-hearted Lisa (Priscilla Harris), this being against his usual cold-hearted code. Filmed in 1986, you can hear and see a bit of MTV influence. Also on the soundtrack. Animotion, The Knack, The Thompson Twins and more. Source a foreign PAL tape, not as sharp as usual.
7663 Of Mice and Men (81) We have all seen the Lon Chaney version, and the John Malkovich version. We all know the story. Steinbeck, a classic. This one is quite fascinating as we have one Robert Blake as George Milton, and one Randy Quaid as Lenny Small. Then it gets even more interesting. Ted (Jesus Christ Superstar) Neely as hotheaded tough guy Curley. You know he really did not do very many movies, this is one of the few. If you are a familiar with the source material, this may stray a bit from that, and some of the other filmed versions as well. But who wants a word for word remake? On a final note, Robert Blake and Randy Quaid were doing quite well for themselves in 1981. In 2020, both careers in complete doomed ruin. Sad.
5962 Others, The (75) aka: Les autres A Paris bookseller investigates the suicide of his son. He meets the girlfriend, and his son's rival for her affections. They become lovers (he and his dead son's girlfriend). When she is found murdered, he is accused. Will we get to the bottom of the mystery in this surreal French film? Nudity and sexual activity. LBX and has English subtitles.
5964 Power (71) aka: Il potere Beginning with 'The Origin of Power' we find ourselves in the stone age. Wild looking cavemen are trying to catch a white chicken. The dynamics of the acquisition of power throughout periods in history are played out before our eyes. A lot of work went into this one as we travel through the totally forgotten periods of time, learning maybe? 'Duce! The Anti Fascists are on the Rise!' Masks are used for the faces of the dictators. Eventually we reach modern times, where all hell is breaking loose..... From Italy with English subs.
5940 Probability Zero (69) aka: Probabilità zero Henry Silva is Major Duke. He is assigned with a rag-tag team of allies sent to blow up an underground Nazi factory where the Germans have taken a crashed Spitfire that contains a new radar system that the Germans want to copy. The "odds" are the title in pulling it off. Spaghetti war 'Dirty Dozen' meets 'Guns of Navarone'. Dario Argento is one of the writers on this one. Plenty of action and now LBX Upgrade! BA
W61 Promise of Love, The (80) The movie is set in 1967. Kathy (Valerie Bertinelli) gives up college to marry her Marine boyfriend. He gets killed in action. Now she is a widow. Shelley Long plays another Marine's wife, raising two children while he is away. Kathy refuses to give up her home and be treated like a pampered child. She gets a job at the base's rec center and maybe she will begin anew with Sam Daniels (Jameson Parker). Dramatic anti-war kind of film, dealing with realistic issues. Craig T. Nelson and Joanna Miles also star.
5998 Purloined Letter, The (74) aka: Le Chevalier Dupin: La lettre volée The tale about an incriminating letter stolen in full view of the owner. From a short story by Edgar Allen Poe. A detective story of sorts, on deductive reasoning. With Laurent Terzieff and Horst Jansen. With English subtitles. (runs a bit under an hour)
7724 Rainy Dog (97) aka: Gokudô kuroshakai A local crime boss employs a Japanese assassin who is stranded in Taiwan. A woman from his past deposits a boy on his doorstep, claiming the child is his. The boy follows him, even as he is about killing. The assassin gives little attention to the boy. When the assassin starts having a relationship with a prostitute, they form a sort of family. The film is about life, death, and hate. The consequences of violence...... LBX and with English subtitles.
7725 Retaliation (68) aka: Shima wa moratta Out after an eight year stint in prison. Once outside the prison walls he finds the brother of a man he killed. This man has vowed to kill him in return. They start fighting by the railroad yards, and are stopped by a woman, who objects, knowing this vengeance will end her, and him (the guy wanting revenge). Later they become allies, but the vow for retaliation is still on the table for later. Some incredibly violent fights, and some bright red gory spurting blood. The last sequence full of gory bursts of violence were a surprise. Several women are also attacked in a variety of scenes, and their is some brief nudity. LBX and with English subtitles. BA
5941 Rififi in Amsterdam (66) aka: Rififí ad Amsterdam An ex-con and a thief must allude the authorities and the criminal underworld as he attempts to locate a stash of jewelry stolen by the Nazis. Includes some sexy super spy girls, nice locales and plenty of action. Roger Brown, Evelyn Stewart and more star. Look for a cameo from Erika Blanc. Directed by Sergio Grieco. Widescreen and a much improved print. LBX and English dub BA
7600 Safari Rally (78) aka: 6000 km di paura Busy over here with 'The Gumball Rally' it didn't take long for an Italian made alternate shot in Kenya. Joe Dallesandro is Joe Massi, car racer contestant in the African Safari Rally. Two weeks before the big race his ex mentor and fellow driver Stark, runs him off the road. Joe is down, but not out. He will still compete. Maybe Joe should not have had sex with Stark's wife? Racing cars, abusive cops, cool cars speeding through awesome landscape trails, stampeding wild animals crossing their path during the race... Also with Olga Bisera and Eleonora Giorgi. Now excellent LBX BA
7726 Salamander, The (81) aka: La salamandra A political thriller involving secret plans to re-create a Fascist government in Italy. Franco Nero as a high ranking officer leads the charge in obtaining the documents to spoil the deal. He pursues the truth through a series of interviews, and that is where we get our marquee of names ... Christopher Lee, Eli Wallach, Claudia Cardinale, Sybil Danning (as Nero's love interest), Martin Balsam.... Anthony Quinn. At one point Nero is captured by 'The Surgeon' (Paul L. Smith, who starred in 'Pieces' as his next film!) who straps him to a chair.... Expensive production with a great cast, outdoor action oceanside, machine guns, soldiers, explosions... Also with Cleavon Little adding his lively personality and Anita Strindberg. LBX BA
7649 Scientific Cardplayer, The (72) aka: Lo scopone scientifico Bette Davis plays a wealthy American with an addiction to card playing and to winning in this dark comedy. She is an expert, bound to a wheel chair, she travels, plays and manipulates. Winning at what cost? One of the most hilarious card games ever filmed. This money goddess will not stop, it is an addiction. Wait until you see at what lengths she will go! Joseph Cotton, Alberto Sordi, Silvana Mangano and more star. I also cannot resist pointing out Dalila Di Lazzaro in what really is just a cameo as a nurse. This is during her 'Frankenstein' phase. Can you name the two films? Nice LBX and with English subtitles BA
5971 Strike Commando (87) aka: Kobra commando Bruno Mattei directs! Russians are operating behind enemy lines in Viet Nam, and Sgt. Michael Ransom (Reb Brown) is sent in to get proof. He's a war machine on the warpath! Shameless rip-off of Rambo in some ways, but so goddamn entertaining and full of charm, you won't care! Non-stop action, stunts, shootings, high quality explosions, waterfalls, tower blow-ups.... The dialogue is priceless at times, and even emotional, though you'll be laughing a little... Also with Christopher Connelly. Now Upgrade and Widescreen BA
W58 Trailer Trailer (various) A collection of trailers that includes: Prisoner of the Jungle, To Catch a Spy, MMM 83, Lost Treasure of the Aztecs, Stranger from Hong Kong, Duel of Fire, Musketeers of the Sea, Hercules of the Desert, Agent of Doom and many more!
5937 Viva Italia! (77) aka: The New Monsters aka: I nuovi mostri Star-studded Italian homage to the segmented comedies of yesteryear with an all-star cast and many short tales of interest. It's a satire, an anthology, an omnibus, and so much more. Ornella Muti, Vittorio Gassman, Alberto Sordi and more star. Various directors and various writers. In Italian language and with English subtitles. Letterboxed Uncut with 26 extra minutes BA
7660 Wolves, Pigs, and Men (64) aka: Ôkami to buta to ningen Sabu and his pals hold a pauper's funeral for Sabu's mother. His brother has just come home from prison, Sabu doesn't want him around. But his criminal brother has a big job lined up with a big cash payout. Sabu joins up, and the score is a success. Greed. The hell of it. Double-crossing begins almost immediately. Sabu feels that he, along with those he brought into the scheme, are being screwed out of their share. So he does what anybody would do, he hides the loot. The BIG boss, well...... Widescreen, Amazing, but I warn you guys, leave the dogs alone! LBX and with English subtitles. BA

MODERATE AND MADE FOR TV FILMS
7775 Beasts (76) Disc One: A short-lived horror series from England. Three episodes per disc. Here we have: 1. Baby: A pregnant couple moves into an old farmhouse. Hidden the wall they find an urn with a strange mutant creature's body inside. They then fear something is lurking in the woods, and in the night, the woman hears the cry of a baby in the forest. 2. Buddyboy: Hubbard wants to sell his dolphinarium after his prize dolphin dies. he has a buyer, but what is Hubbard's real reason to sell? 3. The Dummy: A horror film actor, famous for playing a monstrous character known as 'The Dummy' is about to play the role for the 7th time. But something is different. He is acting strange. And the cast is getting knocked off one by one. DVD-R only
7776 Beasts (76) Disc Two: A short-lived horror series from England. Three more episodes: 1. Special Offer: Clumsy shop girl Noreen is convinced something lurks behind the walls of the shop where she works. Her manager blames her for the damages the shop suffers, thinking she is the one responsible. Noreen returns to the shop and finds the true culprit.... 2. What Big Eyes: A man experiments with a theory that he believes explains an evolutionary link between wolf and man. 3. During Barty's Party: Alone in an isolated cottage, a couple is set upon by an army of rats. DVD-R only
W63 Colony, The (95) Living in a crime ridden suburb is no longer a reality when Rick Knowlton and his wife and kids get a nice huge house in 'The Colony' courtesy of 'God-Complex' billionaire Philip Denig, who has hired Rick to do an overhaul of their security systems for the complete development. Things seem okay.. at first. But Rick soon realizes that maybe moving into 'The Colony' was not a good idea, when he finds out people are missing, and maybe even dead. They even kidnap his dog and then return it, minus vocal cords (!) because barking is not allowed! With June Lockhart as 'Mrs. Billingsley' and many more.
W70 Crowhaven Farm (70) Deliciously Satanic reincarnation slow burn with Hope Lange (who remains perpetually distraught throughout the film) as a reincarnate. In her previous life from the 16th century, she betrayed a coven of Satanic witches, which led to their executions. Now that she has inherited Crowhaven Farm, the site of the executions, the Satanists have returned reincarnates themselves to (finally) get their revenge. Spooky as Hell with a twist ending with William Smith. Also with John Carradine. Upgrade!
7621 Horror (63) aka: The Blanchville Monster The best it has ever looked. Crisp Great Quality, Amazing Widescreen. Gothic Horror from director Alberto De Martino. Only a couple days away from her 21st birthday, a beautiful girl travels back to her family castle. One hell of a classic horror setting. Strange things are happening. Her father is dead. Everybody is new as far as the help goes. Her brother is weird about his sister about to be 21. Why? And what the hell are those blood curdling screams in the night that seem to be coming from the castle's darkest tower? I can't give up the game now can I? Fear inducing thunder storms, ominous vaults, period costumes, and some tasty female cleavage...... Suspenseful and intense, finally the way you were meant to see it! Helga Line, Ombretta Colli and more. Filmed in Spain. LBX BA
7774 Nightmare Man, The (81) On a Scottish island off the mainland, a mutilated corpse is found. The body count rises. The authorities are baffled. A monster is on the loose. And 'it' will have blood. Bizarre and gruesome horror from England, wildly popular MFTV over there, causing quite a stir. Atmospheric and claustrophobic, even by today's standards. Is it an alien? A bog monster? Or maybe 'Russia' is responsible? There are some frightening scenes in this Highlands Mystery Thriller. James Warwick, Celia Imrie and more star.
7604 Strange Case of the Man and the Beast, The (51) aka: El extraño caso del hombre y la bestia aka: Il dottor Jekyll Argentina Jekyll and Hyde. A fascinating version, with some interesting make-up effects, and decent transformations scenes. As we know, the beast inside is waiting to get out of all of us at any given time. Here our miserable Hyde kicks a child in the first ten minutes! If I am not mistaken, as a doctor he has a beard, but when he changes the beard disappears and he turns into a gnarly big-tooth ugly brute man. Where did the hair go? So he grows back the beard when he changes back? Yes. No matter. A pretty decent version of Dr. Jekyll and Mr. Hyde. And with English subtitles. BA
W68 Stranger, The (73) Another pilot for a proposed series. What just happened? An astronaut named Neil (Glenn Corbett) finds himself back on Earth. But it is not Earth. Not exactly. A duplicate Earth called Terran! But here, though the same, it is also very different. First, three moons! Second, an Orwellian Government (well... maybe not so different). Mix 'Journey to the Far Side of the Sun' with '1984'. They think he is an alien from Earth (he is too). In this totalitarian world, security and policing is minimal, because compliance is expected. Cameron Mitchell, George Coulouris and Sharon Acker also star. Upgrade!

MONDO FILMS
7688 Turkish Death Wish (75) aka: Cellat aka: The Executioner This guy can make an okay Bronson type, why not? Liberal intellectual goes on a killing rampage after his wife and sister are raped and mauled by a pack of doper scumbags that follow them home and force their way inside. Now his wife is dead. His sister is in shock. It is time to hurt 'bad' people. I can understand that. A gun purchase, a little target practice. Meanwhile, the 'Cuckoo's Nest' shock treatment does not seem to be the most effective method to help his sister. He kills a lot more guys than Bronson did, (at least from the first film). He's also a hell of a good shot! Later he gives a guy a light in the bar... it is the gang that did the deed. He doesn't get them yet.... Excellent and Bloody! With English subtitles. BA
PROPAGANDA FILMS
7683 Kreuzer Emden (32) Partly docu (because of the amazing footage, mixed versions) but containing a story about the dispute between two sailors and love! (but not between the two sailors). For those days it was showing the respect for the enemy and chivalry of war on both sides. The German Cruiser Emden sunk about 23 ships in two months until finally meeting it's fiery end (and descent into the darkest deep) after the Australian H.M.A.S. Sydney blew it to hell in November 1914. Fantastic, not quite as much propaganda as others from Germany at the time. With English subtitles. BA
7687 Stalingrad (49) aka: The Battle of Stalingrad Soviet Propaganda designed to praise the Russians for their WW2 victories. To be fair, they did help defeat the Germans in WW2. But we really never have gotten along. The goal with this film released just three years after the war, was to 1. Glorify the Russian War Effort. 2. Warn the Free World of the folly of opposing Communism. 3. Give credit to Joseph Stalin for being the mastermind behind Russia's WW2 victory. Thousands of extras and action. Churchill, Hitler, Roosevelt and others, all are here. Joseph Stalin's genocides resulted in more people starving to death than were killed in WW2. He also had nearly a million of his own citizen's executed. Yet he did help us defeat Hitler. Still a very bad guy. With English subtitles.
SOUTH OF THE BORDER AND MEXI MONSTER FILMS
7732 Hellish Spiders (68) aka: Arañas infernales In the Arachnea Galaxy, where the fearsome Arachnids originated, the Queen Arachnea feeds on the brains of beings from other worlds. Now Earth is on the menu. The Queen needs to feed. The spiders must transform into humans, wrestlers. The wrestler with the spider hand is effective. The flying saucers a little above Ed Wood. The spiders also have a death ray that turns people into bones. Blue Demon is called into play. Monster Spiders and Large Webs! Now with English subtitles. Upgrade! BA
7665 Narcos Satanicos (91) aka: Narcosatanicos diabolicos A man makes a pact with the devil, which demands he have sex with a bevy of beautiful women, He is 'hard' at work with one of them in the opening sequence. He has already lived 5000 years, now he wants more time, more women. Some blood, some kung fu (he is an expert by now). Most of the many women featured have nudity in the sexual situations. The last segment features a huge costume party. This is a sex comedy from Mexico! F.L.
5965 Rocambole vs. the Harpy Women (67) aka: Rocambole contra las mujeres arpías A masked vigilante makes his living as a cabaret magician 'The Hindu'. There is also a group of wicked women who owe their youth and beauty to a serum of youth. Wicked because they perform criminal deeds for the villainous couple who supply the potion that keeps them beautiful. When the potion wears off, they become ugly monstrous hags. Obscure Mexican Horrors! With English subtitles.
7655 Superzan and the Space Kid (73) aka: Superzan y el niño del espacio When a gold painted Mexican space boy arrives from outer space, a mad scientist tries to exploit the technologies that come with. The golden Mexican space boy reveals he is from the Andromeda Galaxy. The powers involve being able to turn people into weird cape wearing super hero types, smarter too I suppose. Space boy objects to this misuse of power. But the villains in colorful wrestling outfits are too much for Superzan to resist. In no time they are fighting Lucha Libre style! Now with English subtitles.

WESTERNS
5916 Acquasanta Joe (71) aka: Holy Water Joe Using a union army cannon, robbers hit a bank. But this bank holds the savings of the dangerous and famous bounty killer 'Acquasanta Joe' (played by Lincoln Tate). Naturally this new bounty is personal. Unique certainly for the soundtrack, a bizarre progressive rock adding a 'Hawkwind' sounding zest to the gunfights. The finale places a cannon against bow and arrows, another original idea. Ty Hardin (as Jeff Donovan) leads the group of renegade soldiers, and Richard Harrison (as Charlie Bennet) also adds grit to the mix of double crosses. Excellent Amazing LBX in this alternate version that is supposed to have three extra minutes. BA
5917 All for All (68) aka: All Out aka: Copperface aka: Tutto per tutto In the wild frontier of Texas and Mexico, 200 grand worth of gold bars has been taken from the El Paso bank. Enter an assortment of characters on the hunt for the cache, which when found will change hands, and turn friends into enemies. 'Copperface' (played by Jose Torres), 'The Owl' (played by John Ireland), and 'Johnny Sweet, the Ace' played by Mark Damon, are the primary players. The Owl and the Ace have a knock down drag 'em out brawl that may end in a draw, but I can't tell you that. Sidewangers and Bangbusters! (How's that for a Tagline?) Monica Randall, Frank Brana and more star. Nice LBX upgrade. BA
5977 Boldest Job in the West (72) aka: El más fabuloso golpe del Far-West In the muddy, dirty Nevadan town of Sun Valley, the safest most secure bank in the land is about to be robbed by a gang of gnarly outlaws. A heist at impossible odds, not unlike similar heist films of the era, though usually set in another time, another place. When they finally manage to pull it off.... greed and betrayal rears up. Gold always does this for some reason, and as usual, there is no honor among thieves. Carmen Sevilla, Charly Bravo, Fernando Sancho, Barbara Caroll and Patty Shepard star. Exquisite LBX English dub print
5920 Charity and the Strange Smell of Money (73) aka: And They Smelled the Strange, Exciting, Dangerous Scent of Dollars aka: Sentivano uno strano, eccitante, pericoloso puzzo di dollari Butch 'Charity' Jenkins (Robert Malcom) is supposed to orchestrate the delivery of the railroad payroll. Dirty Mexican robbers and a saloon owner have other plans for the loot. And the robber turned padre. Bronco Kid teams up with Charity in this whimsical farce (it would have to be with a title like that!). From the scriptwriter of loads of Italian horrors dating back from 'The Playgirls and the Vampire' to Fulci's 'Demonia', Piero Regnoli. A welcome appearance (albeit a short one) from Rosalba Neri is a treat here as well. Nice LBX BA
5922 Cursed City, The (78) aka: La ciudad maldita aka: La notte rossa del falco Here a very different spaghetti that comes late in the game, mixing murder mystery giallo with other elements of surprise. Here in an isolated town in the old west, comes a lone investigator, smack dab into terror territory, where death is frequent, lawlessness is the law, and no one is truly safe. Still, there is a sheriff, and things try to be normal. Can the investigator catch the killer? Hangings, stabbings and slashings of the giallo variety, making this one unusual addition into the genre. Good cast includes Diana Lorys, Antonio Mayans and more. Director Juan Bosch was no stranger to a plate of spaghetti and a giallo proper, mixing both here. LBX and with English subtitles. BA
7773 Gentleman Killer (67) aka: Gentleman Jo... uccidi The fate of a small border town hangs in the balance as the United States and Mexico dispute territorial rights. It's a savage free-for-all as bloodthirsty bandits take over the town, and chaos reigns until a mysterious figure rides in to avenge the murder of his brother. For pleasure, for money, for revenge it doesn't matter. The killing comes easy. Gentleman Killer (Anthony Steffan). Also with Silvia Solar as Vicky, the Saloon Girl. BA
5918 Jesse James' Kid (65) aka: Alone Against All aka: El hijo de Jesse James aka: Solo contro tutti Bill James (Robert Hundar) struggles as an adult, because he looks just like his father, the infamous robber/killer. Opens in the past with pop getting shot in the back while hanging a picture. Bill gets a job at as a ranch foreman, impressing the beautiful (but cold) owner Dorothy (Mercedes Alonso). He has replaced 'Stitch' a horse thief who has been stealing from the ranch, giving the take to rival rancher (and all around bad guy) Bat Masters. Of course a battle between the ranches is inevitable. Bill was made for this, and he has no qualms about pulling the trigger. This spaghetti has meatballs. From the director of the 'Mark of the Devil' films, and also an actor himself (he is even in this, directing himself) Adrian Hoven. Very nice LBX BA
5933 Magnificent Three (63) aka: Implacable Three aka: Tres hombres buenos aka: Tre uomini buoni Left alone at their hacienda, a rancher's wife is home invaded and strangled by villainous, thieving gun slinging baddies. The rancher returns home and is soon on the revenge trail. He is joined by two others who have similar goals. Together, they will be merciless in their pursuit of justice. Spectacular outdoor locations now Widescreen and Uncut! BA
5995 One Dollar Too Many (68) aka: I tre che sconvolsero il West (Vado, vedo e sparo) A trio of outlaws (Antonio Sabato, John Saxon and Frank Wolff) in the old west form an uneasy alliance in their mutual quest for 400,000 in stolen money. Each of these men are different in many ways, so there is some slapstick involved. When things turn violent, it is a surprise! As far as I can tell, this is the only spaghetti western with John Saxon. Another incredible Widescreen and English dubbed BA
7631 Saguaro (68) aka: All They Know is to Kill aka: Sapevano solo uccidere Pedro and his vicious gang are the scourge of the land between Mexico and Arizona. Jeff Smart (muscle-man Kirk Morris) is after them because they killed his father. Gordon Mitchell is a cheating card player who gets killed by Morris. Alan Steel is effective as Pedro, the leader of the Mexican bandits. Larry Ward is Saguaro. Interesting with three (count 'em) sword and sandal guys playing cowboys and Mexicans. And nobody got angry about it! Nice Widescreen action and English language dubbed BA
5966 Sartana in the Valley of Vultures (70) aka: Sartana nella valle degli avvoltoi Smooth and lethal gunfighter Lee Calloway (William Berger) helps three bandit brothers escape from jail under the condition that they give him fifty percent of the stolen gold they have hidden. Of course, the brothers have no plans of keeping the deal as agreed. Alternate version of 'Ballad of Death Valley'. This version is in Italian language and with English subtitles, and is seven minutes longer than the other English dubbed version. LBX BA
5974 Son of a Gunfighter (65) aka: Mezzo dollaro d'argento Tortilla western from Spain with two American actors, Russ Tamblyn as Johnny Ketchum and James Philbrook as Johnny's father, Ace Ketchum, hunted by Johnny for killing his wife, Johnny's mother. Johnny trespasses Rio Grande frontier and battles bounty hunters, running into a deputy (Kieron Moore) with the same goals. Collect the reward on Ace's head. But then they are besieged by a Mexican bandit. Johnny falls in love with Pilar (Maria Granada). A guy is staked to the ground, meant to slowly strangle with rawhide around the neck in the hot sun. Sleaze director Renato Polselli is Sheriff Litton. Also with Aldo Sambrell and Fernando Rey. Russ Tamblyn's next film would be 'War of the Gargantuas' followed by 'Satan's Sadists'. The man is 86 as I write this in 2020. Astonishing Widescreen BA
5970 Stagecoach of the Condemned (70) aka: La diligencia de los condenados aka: Prima ti perdono... poi t'ammazzo Bandits take the passengers of a stagecoach hostage and stop at an inn for travelers. Walton (Richard Harrison) the owner, is a retired former gunman. His guns are hidden away. But when the bandits start killing their hostages and threatening his wife (Erika Blanc) and his son, time has come to return to his darkness of killing. But things get worse before they get better..... Noisy action and hard riding, shootings and fighting... the works. Fernando Sancho and more also star. Now Widescreen excellent quality and English dub BA
5927 Strange Tale of Minnesota Stinky (71) aka: Giù la testa... hombre aka: Adios Companeros (This film has too many alternate titles to list!) Sharp colors enhance this familiar pasta plate standard 'revenge for murdered friends' tale. Certainly the cast helps with Klaus Kinski as 'Reverend Cotton' and Hunt Powers as Butch Cassidy. Jeff Cameron as 'Macho Callaghan' and Gordon Mitchell as 'Ironhead Donovan' (one cold-hearted greedy bastard). Now that the testosterone and manly names have been laid out, mix in another dozen or so men and know damn well no one gets along very well. So let the hard stares, grit and violence begin! BA
7608 Ten Killers from Afar (74) aka: Il mio nome è Scopone e faccio sempre cappotto Dallas (Anthony Steffen) has lost his father's farm in a card game with Kelly. But Kelly is now dead, and his daughter (Gillian Hills of 'Demons of the Mind') holds the deed, and she can't play poker. There is treasure in that mine somewhere. Everybody wants a piece of it. Not a very rough spaghetti, but held my interest with all of the eccentric characters involved. Ricardo Palacios, Fernando Sancho, Robert Hundar and many more star. In Italian language, Widescreen, and with English subtitles BA
5931 They Believed He Was No Saint (71) aka: The Gold Hunter aka: La caza del oro aka: Lo credevano uno stinco di santo An old gold miner is waiting for release from prison after 20 long years. It is believed he has hidden 28 sacks of stolen gold. Outlaws gather, all of them wanting a crack at the man, but too many people are involved in the lust for gold, without a scrupulous soul in sight. The miner is immediately kidnapped upon release... Pleasantly violent with some neat touches of humor. Anthony Steffan and Daniel Martin star. Juan Bosch directs. Amazing Widescreen English dub BA
5973 Whiskey and Ghosts (78) aka: Fantasma en el Oeste Protected by the ghosts of Davy Crockett, Pecos Bill and Johnny Appleseed, a snake-oil salesman need not worry about the Mexican bandits that are pursuing him. The ghosts appear, there are comedic gags, bad jokes, and some of the weirdest action scenes committed to film. The ghosts try to convince him to join them as the Ghost Riders in the Sky. Yippie I Yay! Yippie I Oh! Director Antonio Margheriti tries something a bit different as the spaghetti fades and the pasta platters empty. He doesn't quite hit it out of the park, but I liked it. Now, a new Widescreen Upgrade English dub BA

---
---