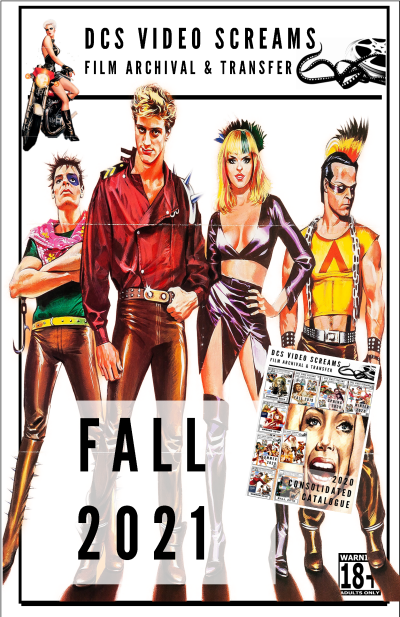 FALL 2021 UPDATE
22860000
22860000
(`@`````````
266
263
5
110185200
110185200
BA= Color Box Art Available for an additional $3.00
FL= Film is in Foreign Language
Lbx= Letterboxed or Widescreen format
Subs= Film is subtitled
aka= Also Known As (alternate titles)
APOCALYPTIC FILMS
W242 Atomic Attack (54) From the 'Ford Motorola Television Hour', running under an hour. Made during the Cold War, a time of fear, much like today. This is a sort of PSA on how to survive a nuclear disaster, at least for one family featured here. Watch this before you watch 'Testament' the nuclear war film from 1983. This is an earlier stab at similar material, probably quite effective at the time. Most of the action is portrayed through grim radio reports. Here the attackers are referred to as 'the enemy', so no countries are explicitly stated. 'Listen carefully! This station is now leaving the air!' Little Patty McCormack is one of the kids. Hell, maybe she did it! Phyllis Thaxter and Robert Keith also star, as well as a young Walter Matthau in a small role as a doctor. Boom!
7109 Time Troopers (84) aka: Morgengrauen aka: Morning Terror A special police force is supposed to pull what is left of society out of the chaos and back into civility after nuclear war. Energy units have replaced money. Everybody lives and dies by their 'Lifecard'. Lenn is part of the force, his job is to terminate civilians who have misused their 'energy-chips'. But when he is ordered to kill the woman he loves, things change. They'll read you your rights. Your Last Rites! In a nightmarish future world there is only one punishment. Death! From Austria, English language BA

CLASSIC HORROR AND SCI-FI FILMS
W212 Five Cursed Gentlemen, The (34) aka: Moon Over Morocco aka: Les cinq gentlemen maudits Five men on vacation in Morocco. One tries to take off the veil of a Moroccan woman. This is forbidden. They are cursed by a sorcerer under the full moon. They begin to die in various horrible ways. Is the curse for real? For a movie this old, the photography is superior to many American productions. The camera moves fluidly outdoors, and the landscapes and wide shots are used to full effect, getting much into the limited frames of the times. The picture is one of the first where guys are cursed and start to get knocked off. With English subtitles BA
W239 Jaws of the Jungle (36) Filmed in Sri Lanka. Centuries ago the island of Ceylon was densely populated by a highly civilized people, who erected splendid temples to pagan gods, built great cities and royal palaces, spanned mighty rivers with wide stone bridges and skillfully turned the courses of mighty rivers with aqueducts and canals. Today, Ceylon's cities and palaces are nothing but scattered ruins, buried in the jungle swamps. The millions of people vanished. Still, will the history repeat itself with the last of the tribes? The alleged story, is that a horde of bloodthirsty vampire bats are attacking the helpless villagers, as told in voice over narration. Stock footage, real natives, topless savages and more...... BA
W206 Song at Midnight (35) aka: Ye ban ge sheng Chinese Phantom of the Opera - The first Chinese horror film resembles our popular 'Phantom of the Opera' with a disfigured musical genius lurking behind the scenes in a traditional Chinese Opera house, and it's curtains for anybody who opposes him! The face reveal moment is quite effective, as is the use of light and shadow, and effective creepy sets here and there. The object of his desire is quite fetching as well, a long black haired Fay Wray type with expressive eyes and a sparkling smile. Fascinating monster type movie that I never knew existed. Like one of those poignant Universal Horrors, which were obviously a huge influence on this. In Mandarin with English subtitles! BA
W240 Wolves of the Sea (36) aka: Jungle Island A young woman (Jean Carmen) is marooned on an island after her ship sinks. Stock footage and fake backing screens. A tramp steamer to the rescue. Emeralds in the wreckage, salvaged by man in weighted diving gear suit. Rough ship's crew plots to steal the salvage. A roving quest for wealth and romance... man's terrific struggle against nature's unleashed fury and unchained human emotions. Watch somewhere around the 48 minute mark and we see Rondo Hatten as the bartender, and he even has a line or two! BA

DINOSAURS, LOST LANDS, SWORDS AND SANDAL AND FANTASY FILMS
W215 Adventure Girl (34) Joan Lowell returned from her trip to the regions of Central America with a tale of well-nigh incredible adventures. So lurid and exciting was the story of her exploits, she was persuaded to duplicate them -- only this time with a motion picture camera. Adventure Girl is a re-enactment of Miss Lowell's fantastic 'adventures' and we see her 'actual' experiences in this tropical land noted for it's bewildering equatorial beauty. With acknowledgement from the President of Guatemala. More narrated docu-style fun. This was based on Joan Lowell's childhood recollections that were made into a book. It was later proven to be a work of pure fabrication. She was a fraud. But I will admit, she was a hot dame!
W195 Amphitryon (35) From Germany in 1935 with no propaganda (one of the last?). Thebian women are waiting for their men to return from war. Jupiter is attracted to one of them and lands to Earth to seduce her. Failing, he disguises himself as her husband Amphitryon, and tries again. Meanwhile the true Amphitryon returns with his men. He suspects adultery. It will take Jupiter's wife Juno to land on Earth and clear this mess up. Cool costumes and set designs rival the best of Hollywood for the era. The dialogue, while spoken in German, is musical and full of rhyme. With English subtitles. BA
W194 Andriesh (54) Young shepherd Andriesh heads off to the steppes. She'll be sleeping with the sheep. 'Take good care of the sheep, the whole village will be ruined if you lose them' she is told. One wonders why a child is tasked with such a responsibility. Later another sheep herder encounters a woman in the fields who plays flute, a magical sound. Meanwhile, Adriesh is tending her sheep, drawing water from a well and filling a large trough. The man comes, and they exchange flutes. The sound reaches a gold painted villain high up in the caves. "I will burn all the villages, and silence will reign!" He does not know that Andriesh is the player of the melodies. Villages burn. All hell breaks loose. But what of Andriesh, the sheep, and the flute? Fantastic visuals highlight this Russian Fairy tale, with a great third act filled with surprises for fantasy film fans. English subtitles
W211 Brides of Sulu (34) Produced in its entirety in the Sulu Group of the Philippine Islands with a native cast of Mohammedan Moros (a tribe). A simple love story, based upon fact and the rites, rituals and ceremonies portraying the hatred of the tribe for the Unbeliever. A belief that is not fiction. Us infidels would be dead in an instant amongst them. This is what happens when two members of opposing religions escape and find refuge on a remote island, and the lengths the tribe will go to hunt them down for punishment. Truly bizarre world, real people. Narrated in a docu-style.
W214 Conqueror of the Desert (55) aka: Fortune carrée Escaping from a Middle Eastern conflict, a convict sneaks aboard a ship from France that is loaded with weapons for sale. They encounter a raging storm on the Red Sea and then..... This was the first French feature in Cinemascope, here, I would say slightly Widescreen. Starring Mexican actor Pedro Armendariz. He was in 'Captain Sindbad' and many more including 'From Russia with Love' (his last film). He died in Los Angeles at age 51, blowing his brains out when he learned he had terminal cancer. Dubbed into English BA
7143 Dimension 5 (66) A group called Dragon plans to detonate a nuclear device in Los Angeles if the United States fails to withdraw it's forces from South East Asia. Agent Justin Power (Jeffrey Hunter) uses a time travel belt and the knowledge he gains in the future to affect the events in the present. Don't get stuck in the time shift! Bond science fiction type with Harold Sakata as Big Buddah in a wheelchair. Justin Power becomes almost a bumbling fool when teamed up with his partner Kitty (played by France Nuyen). Widescreen BA
7071 Flashing Blade, The (67) aka: Le chevalier Tempête Originally aired in France in four 75 minute segments. This version has twelve 25 minute episodes and is the complete deal. One or two of the episodes were not dubbed into English like the others, but have English subtitles. Each episode gallops along with horses and music to stir the blood. The story revolves around the Franco/Spanish war in 1630, and the Spanish attempts to take the pivotal garrison town of Castle. Lovely countryside and swashbuckling skirmishes galore. There was nothing quite like it on television back in the day, and this show never reached these shores as far as I know. This version did make it to England however, which is how it arrived here. Excellent period design, and of course, they still have well maintained ancient structures! Three disc set counts as 3 selections.
W213 Frosty (65) aka: The Crystal Star aka: Morozko aka: Jack Frost Another fantastic fantasy film from Russia. Ivan (a smart and attractive man with a big ego) is punished for his arrogance by a mushroom pixie who turns him half-bear. He must stay that way until he does enough good deeds... Nastya (a beautiful Cinderella type complete with evil stepmother and stepsister) is frozen and awaits her "prince" to awaken her... Problem is- it is Ivan who is busy being a half bear in the woods... Will Ivan redeem and save Nastya in time? This is all pretty common to Russian fairy tales. Jack Frost is the Russian Santa type character, an impersonation of Winter itself. A kind of a Pagan lesser God. Here, evil is punished, and good prevails. In English BA
7178 Hercules in the Valley of Woe (61) aka: Maciste contro Ercole nella valle dei guai aka: I 2 pretoriani This came across the desk. Just listed in Fall 2020 update. This is a Widescreen version in Italian language with English subtitles. I must add, the quality is amazing, startling even, and complements all players involved. Kirk Morris, Liana Orfei and more star. See more information in other listing. BA
W196 Jungle Bride (33) Doris (Anita Chase), with a reporter, chases a man she thinks can clear her framed brother. The ship sinks, and she finds herself on a deserted island off the African coast with the man who may be a killer, and two other men. Implications of unmarried sex, unwanted pregnancy, a woman's bare back and almost a full boob (no nipple)... Pre-Code entertainment! The uncharted jungle is full of stock footage of monkeys, rhinos and countless other animals. Anita Page retired in the 1930's, and then mysteriously reappeared for some horror films in the 1990's. Her last appearance was in 2010's 'Frankenstein Rising' as Elizabeth Frankenstein. She died in 2008, before the film was released, at age 98. This is the girl you would have wanted to date if you were around in 1933, along with Fay Wray of course, well and maybe Barbara Stanwyck and..... BA
W197 Mystic Prophecies and Nostradamus (61) Presented by your host, Basil Rathbone, known for his deep smooth voice and dramatic readings. There he sits and reads, while we see images, stock footage from various sources, making the point. The second half is reserved mostly for Nostradamus, and Rathbone drives it home in an almost apocalyptic fashion. As a news of today item, I may be losing my skepticism at this point. Okay, where are the aliens? I am ready.
7075 Three Superguys, The (75) aka: Zwei Teufelskerle auf dem Weg ins Kloster These are not the red-suited wonders this time, but a trio of scoundrels in Columbia who are always on the take, looking for ways to get rich quick. And they have acrobatic skills. They betray one another, argue, fight. In the opening, after being soaked in oil, they bathe by walking through a car wash fully dressed, even being toweled down by the workers! Time to plot a new scheme, but first some slap-stick fighting after swindling a meal! The local authorities are always one step behind them. It's a chase film with crazy stunts, guy in drag, hot babes, nuns, fights.... Politically incorrect fun. Dubbed into English, some scenes in Spanish have English subtitles. LBX
W205 Walk into Hell (56) aka: Walk into Paradise aka: L'odyssée du capitaine Steve A savage story filmed on a wild trek into the jungles of New Guinea. See... the jungle erupt with the mystic rites of the savage warriors of the ancient spear of the poisoned arrow! See... the stamina sapping day-long dance of 40,000 natives tramping down an emergency airstrip! See... a slithering cobra sink it's fangs into a waiting throat! See... mystery, menace, burning passion intense as the merciless tropic sun! BA

EXPLOITATION FILMS
7077 Bathhouse 911: Jellyfish Blues (78) aka: Toruko 110-ban: Monzetsu kurage Miura secures fresh young meat to a brothel to make her living. Enter young runaway Choma, her latest acquisition. Soaped up, and taught the ways of sexual pleasure, and how to satisfy a man. Choma comes to the brothel bathhouse where she begins her new career as a whore. Choma is used by a Yakuza gangster. But Miura wants more of Choma. And Choma reciprocates. I got the Jellyfish Brothel Blues. Sexy sudsy fun. It's a sex movie with a plot! "Do you like my ass?" Choma asks her client who has his face buried in it. "Yeah. It looks delicious." he answers. Later the gangster beats Miura. Choma rescues him and has sex with the gangster. Miura, watching, covered in blood, goes for his sword..... Later, the enema ending I did not see coming. LBX in Japanese with English subtitles.
7161 Cassie (83) This is the soft-core version of the hardcore film 'Up 'n' Coming' which stars Marilyn Chambers as a rising country and western singer named Cassie being hired as a backup to a star (Lisa De Leeuw) who gets jealous real fast. You see, Cassie is willing to screw anybody to make it. Giving head to get ahead if you will. Spreading her legs for anybody that takes her up. Some hot scenes here, as soft-core goes. If you want to see all of the naughty bits get the XXX version which is #9722.
7172 Dear Sweet Niece (77) aka: Cara dolce nipote Daniela moves in with her Uncle Corrado, who instantly is attracted to her because Daniela reminds him of his wife, now deceased. He starts to peep on her, lust after her... but is frozen when it comes to actually making a sexual move in her... er..ON her. She is like a stick of dynamite. He is easily twenty years or more her senior, and very shy. Corrado's friend Riccardo gets a look and he too is smitten. She goes to a hipster party and gets wasted, then is almost gang raped but Corrado arrives just in time. The thing is, Daniela would have slept with Corrado (not a blood relation) or Riccardo, who both lust after her, but both men are too intimidated by her beauty to just 'go for it'. Eventually she laughs at them and sets out with a sailor closer to her age. Or does she? Also starring Femi Benussi. Just enough nudity with these lovelies to keep your spirits up. Directed by sleaze master and horror expert Andrea Bianchi. Widescreen in Italian with English subtitles. BA
7088 Desiring Giulia (86) aka: Desiderando Giulia Serena Grandi's sex masterpiece! When Emilio falls in love with her, the sexually liberated Giulia (Grandi) starts the game playing. His sister takes care of him, cooking him meals etc. But Giulia. She is really something. Those eyes, that figure. She lures him and like a wild cat, toys with him. He finds her, she backs away, she bites him, she is his. But wait! His sister is sleeping with his best friend. Giulia is much hotter. He spies Giulia taking another man into her apartment for sex., goes home and sees his sister through the window with his business associate/friend. He sees they like to play rough. Was this Giulia's intention all along, to get him to see his sister getting it on? Later Giulia brings in another man, bewildering Emilio even further. A tragic end. LBX in Italian with English subtitles.
7199 Divine Nymph, The (75) aka: Divina creatura Italy in the 1920's. Manoela (Laura Antonelli) has a fiancé and seems to be a middle-class girl, a respectable beauty. Enter Dany Bagnasco (Terence Stamp) who is obsessed with Manoela, and finds out she is a high-class whore in her spare time. His obsession takes a darker turn when he infiltrates the brothel, and, posing as a client, gets Manolea into a twisted sexual triangle with his Fascist cousin. A dark, decadent, and faintly nasty story with Laura Antonelli as a man eater. Excellent attention to period detail, and full nudity (but not nearly enough) from the lead actress make it an instant classic. Also with Marcello Mastroianni and more. Widescreen in Italian with English subtitles. BA
7174 Fire Under the Skin (85) aka: Le feu sous la peau aka: Flesh and Fire Jaded, cold-hearted, studly Raphael (Kevin Bernhardt) moves into an estate wealthy family setting (amazing house), and seduces every member of the family, vengefully, with humiliation intentions for those he screws. Raphael has a bone to pick, so he uses his, on everybody, irresistible he is you see. Even the other help wants to have a go. Back in time we learn his mother was once a maid on this estate, and her death in a car accident may have been caused by this horny families negligence. Or someone. The mother is the first to flirt, she wants her a piece of Raphael, you can tell right away. She gets it. He bangs her in the horse stables with the horses about. 'On your knees, that is how I like to see you!'. She holds onto a horse as she takes it, the horse, who has not given consent, is neighing and acting pretty uncomfortable. Hah! Raphael's games are just getting started. He rapes the wheelchair bound daughter (who objects for about two seconds before he forces himself upon her), screws and insults the son's girlfriend..... Eva Czemerys, Lydie Denier and more. Porn director Gerard Kikoine directs. English dubbed BA
7175 Fleshy Doll (95) aka: Bambola di carne Uncle Frank (Aldo Sambrell) has this girly doll he carries around. His redhead Tawny Kitaen look-alike girlfriend is given a castle, even though she is a whore. He sends his daughter there as well, and tells her to get used to it after smacking the hell out of her, and tells her he is going to marry the whore. Daughter and whore, now rich, with a castle, go to nightclubs with strippers and snake, and also shower together. Enter Lucas, the young man also sent to the castle. A more unworthy group could not be available for such extravagance, as is usually the case. Renovations on the castle begin. The daughter flashes the working men and giggles. 'Enough' the redheaded whore yells. The daughter and the whore get aroused by a horse, a female 'Equus" scene, the redhead rides and orgasms. Then returns and ... Wow! The redhead tries to be good, she calls Uncle Frank, doesn't want to cheat, but he is in the process of being blown by a hot naked blonde. She screws Lucas. Later the daughter watches her future mother-in-law screw Lucas. It's a set up! With Pilar Orive, Sonia Franco and more. English language
7176 Girls of the Golden Saloon (75) aka: Les filles du Golden Saloon aka: La ragazza del Golden Saloon Eurotrash western from Belgium from the director of 'Women's Prison Massacre'. If you like some hot naked women in the old west, then this is for you. Hilariously dubbed, beautifully photographed... A lone masked gunman rescues a redhead from being raped by two men. Later at the saloon, women strip down for a group bubble bath. Then the women, line up for inspection. It's a whore house, with old time piano, card playing, even one woman not so sexy, the fat chick of the bunch. Meanwhile the masked man and the redhead are chased by gunmen. These whores are prisoners, hooking against their will. Is there hope for any of them? Clearly many enjoy the sex, but not much else. Later a blonde woman is tied to a tree topless. The girls eventually arm up and fight back. Move over 'True Grit', this may be the best western ever made. Lots of nudity and sexual situations. Alice Arno, Evelyne Scott and more star. Widescreen and English dubbed.
7181 Little Virgin (75) aka: La verginella New version with English subtitles for the first time! No worries, all of the girls are 18 or older. Read about it in the 2020 consolidation page #56. Starring Sonja Jeannine, she of 'Teenage Playmates', 'Secrets of Sweet 16' and many more. BA
7212 Morbid Adolescence (78) aka: Adolescenza morbosa Filmed off the coast of Greece, we follow (boy do we) the sexual adventures of three (count 'em') carefree (and also very dangerous) sexy ladies (Evelyne Traeger, Ingrid Steeger and Ajita (almost) Wilson) as they live their lives ripe with struggle, love, and of course, sex! Voyeurism, sex on the beach, apple-biting Lolita-type erotica, lust and jealous moments etc. Finally a nice Widescreen Italian language version with English subtitles! BA
7076 Nympho Girls (80) aka: Three Swedish Girls on the Repperbahn aka: Drei Schwedinnen auf der Reeperbahn In the 'Porky's' style opening, the girls crash a guy's shower and spray them with a hose. All male full frontal nudity. Later in class, one horny girl daydreams about her teacher. She wants him. In fact, all of these girls in the story are coming of age, and they are all ready to pursue sexual pleasure. Plenty of opportunity too in this co-ed setting. Later in the girl's shower, we get more than an eyeful of all that is female. Thank God. Sex peep shows, voyeurism, comedy, blackface, sexual fantasies.... and tons of nudity. These gals are uninhibited and fun. LBX In German with English subtitles. BA
7215 Other, The (69) aka: Le altre Two women (Erna Schurer who was in 'Doll of Satan' the same year, and literally looks like a gorgeous doll, and Monica Strebel of 'Asylum Erotica') are your typical two lesbians next door, with the same desires as any couple, including that of having a child. Perhaps this normality is what drove the critics and censors in 1975 so crazy, repressing the film for decades. Ridiculous of course, that they did this. The women are gorgeous, but they need a man to knock one of them up and he has to be the perfect specimen. One of them is knocked up, and they have a child. Years pass and all is well. They become a poster for lesbianism, with the child at their feet. Again, pissed off the censors of a 'normal' society. Guess what happens next? Love the scene with the boys playing with fake guns in the street. Innocent times. Widescreen and English subtitles. BA
7218 Schoolmates, The (77) aka: Italian Porkys aka: La compagna di banco Bumbling dimwit teachers are the butt of jokes committed by students. The biggest practical jokers are three boys, complimented by three girls. Class beauty Simone (the luscious Lilli Carati) is supposed to lure local Casanova Mario into a (honey?) trap to dish out some payback. Mario and his buddies spy on women as they undress through a hole in the floor. Hijinks, slapstick, and most importantly, nudity from the females players, including a shower scene. I am guessing the makers of 'Porkys" saw this, although there is not a lot to compare. Widescreen, In Italian with English subtitles. Lilli Carati took the road to porn in the 1980's and also had a heroin problem. She died of brain cancer in 2014, Italy, age 58. BA
7219 Secrets of a Windmill Girl (66) aka: Das Skandalgirl von Soho Pat Lord (Pauline Collins in her film debut) is a dancer in London's real life historical and infamous striptease nightclub/nudie film theater, known as 'The Windmill'. As soon as she steps through the doors Pat leaves her morals on the mat. Dated in the sense that things were on the verge of getting much sleazier in only a few years. The men are all sleazy middle (and older) aged men trying to score with young women, the men clearly out of their league. Of course they are not offering movie contracts to these young starlets, otherwise.... the girls would be all over them. Cracking colors, beehive hair, buxom babes. awkward dancing and more. Also with April Wilding. BA
7089 Sensual Classroom: Techniques in Love (72) aka: Kanno kyoshitsu: ai no tekunikku Sexual puberty has nearly driven young Isao mad with unfulfilled lust. He wants his gym teacher in a desperate way, but she not him. The only plan he can concoct? To set off her fiancé from her tasty scent. But how? He goes about it, failing at each step taken that he had hoped would lead to his ecstasy. But maybe a more radical plan is the solution? A violent booby trap perhaps? Eyes on the ball! Widescreen In Japanese with English subtitles
W198 Third Sex, The (57) aka: Bewildered Youth aka: Anders als du und ich (§ 175) aka: Processo a porte chiuse From the Nazi director of the anti-Semitic 'Judd Suss', Veit Harlan. Yes, a film directed by a real Nazi, that ended up being one of the first 'gay' themed films. The gay boys are bullied in school. An interest in abstract art and electronic music are indicators of gayness. The parent's try to cure the son with a maid seduction. A German film ratings board rejected the original version for promoting 'homosexuality'. Let's get something straight (sorry). The message is not really pro-gay (see how the gay art dealer is filmed in a sort of demonic light) nor does it paint broad brushes of anti-gay. It is 1957, and maybe for the time there in Germany, this is sort of how it was. Or maybe it wasn't? Remember, many Nazi's were gay. Who the hell knows anymore what they were thinking back then. BA
7038 Too Good To Be True (97) aka: Gefährliches Vertrauen Soft-core sex is the primary plot, the girls are very nice, and prance around naked most of the time. Hallie has quit the police force after her partner/lover is killed. Now she has found Jack, a new man to make love to, and to trust with her heart. But she sees him with another woman. And then again... the woman ends up dead. Maybe Hallie don't know Jack. (I could have said doesn't, but 'don't' sounds better) Hallie decides to use her skills and get to the bottom of Jack and what is really going on. Also with Kira Reed Lorsch.
7100 Topless Contest (90's) Here they come, baring their boobs, trying to be number one. Sometimes docu-style, but we see over 20 exotic dancers showing their tits for your viewing pleasure. Have your own party, and all judge for yourselves, have a pot and predictions as you go along. A pit of debauchery! Make it a drinking game! Order a stripper over! Hide the kids! Nice Gams!
7135 Watch the Birdie (65) Four girls get caught up in a vice trap with no escape in sight. Miss Killin has a lesbian scene where she dominates Ursula where we see the one woman in throes of ecstasy, while the other is off-screen, but obviously there. Miss Killin spanks the behind of another. Deflowering, candles, rituals, uncomfortable sexual situations and more. One lengthy sequence has a couple of the models dancing around in their lingerie, garter belts.... With Richard B. Shull and a cast of unknowns. BA
7193 Wild Attraction (92) aka: Mélange Music conductor Georgio moves to Italy with his wife Anna (American porn star 'Raven') into a large villa in Florence. The husband is older than Anna. He invites a man (Rocco Siffredi) to paint a fresco in their bedroom. Then, the husband acts jealous. But he wants her to bone the painter, and he wants it to be something she does for him, not behind his back. Giorigio leaves them alone. Rocco and Raven get to work. Girorgio returns and insists on going down on her before she washes. Near hardcore. More sex follows. But the painter (Rocco) is smitten. We are talking prime Raven here, in her twenties. This all may just backfire on Giorgio. English and very erotic with fantastic Italian locations.

EXTREME HORROR AND GORE FILMS
7195 Ape Woman, The (64) aka: La donna scimmia Based on a true story about a 19th century carnival performer. From director Marco Ferreri. This was listed before, but this time, a few details, since there are more than two versions of this apparently. This version, the best one out there, begins with the 88 minute cut. Then it is over. Another ending starts, runs 6 or 7 minutes. Ends on a grim note, different than the grim first ending, but still downbeat. Then, a third ending begins and runs almost 20 minutes changing the other two endings completely with an entirely alternate outcome for 'The Ape Woman'!! Widescreen in Italian with English subtitles. BA
7136 Black Leather Club (97) aka: Shadow Dancer Narina (Gabriella Hall) is the undisputed star stripper at an L.A. club. One night, when she is getting down on stage with her friend Dee, the place goes dark and Dee is stabbed and killed. Was it Narina? She has killed before. More killings occur and Narina soon realizes she may be on the kill list. Plenty of nudity, these girls don't mind showing it. So many newer Hollywood actress's don't show it because they don't have it. These girls do. Some bloody good set pieces. BDSM thriller mystery
7120 Bloodmoon (90) aka: Pesadilla en la medianoche In the small town of Cooper's Bay, an all-boy school is situated near an all-girl school, separated by woodland. The students seek each other out for fornication, using the woods as a go between. Enter a maniac that loves to strangle the teens with barbed wire before he removes their eyes and buries them in the dark soil. A rather nice stalk and kill Aussie slasher with cool locations, topless shots from the hottest chicks, sometimes raunchy dialogue and more, like the oversexed biology teachers affairs with some of the students. Looks like a jar of pickled fingers and eyeballs might be all that is left of some of the dead kids. Soundtrack from Brian May (not the 'Queen' guitarist) who also scored the Mad Max films, Patrick, Thirst, Steel Dawn, Road Games, Turkey Shoot and so many more. BA
7167 Blue Nude (78) aka: Nuda Prohibida This version is supposed to be longer by 6 minutes, more of the good stuff deemed inappropriate the first time around. A great film, look on page #135 in Catalogue Book #1 for more information. Midnight Cowboy meets Taxi Driver. This one longer, in Italian language with English subtitles. BA
W230 Candle for the Devil, A (73) aka: Nightmare Inn aka: Una vela para el diablo The plot involves a small Spanish hotel, run by two very religious women (sexually repressed sisters) who do away with those they deem immoral. If you are a 'bad' girl, it would do you well to steer clear. When one girl is murdered, her sweet pretty Brit sister (Judy Geeson) shows up and confronts the sisters.... Gruesome fun, with creepy atmosphere, nudity and blood. Also with Aurora Bautista, Esperanza Roy and more. This print is full frame and nine minutes longer than the 'It Happened at Nightmare Inn' version (which we also have). BA
7168 Commissioner General and the Cabaret Case (75) aka: El comisario G. en el caso del cabaret Opens with a construction crew finding human remains as they dig. This is maybe a five years ago corpse, part of a larger picture of local murdered girls, whose one commonality is their association with a Vegas styled cabaret. The place is swimming with hot dancers who are all fancied up with high feathered head pieces and swirly sexy outfits. The Commissioner gets clues from one of the dancers who is now a nun! Later we see a woman hoisted by rope, having her top torn off, and beaten with a chain. To death. Chains hurt. Go ahead, hit yourself with one if you do not believe me. The cabaret has more women, ripe for the taking. Will the killer be stopped? One name I know you will recognize from this, Perla Cristal. There is a twist in true giallo style along with some cold blooded killing. The ending is fantastic and very Argento-like. LBX In Spanish with English subtitles.
7131 Copperhead (83) The Randalls have moved into a rundown church in the Ozark Mountains, turning the place into an even worse dump then it already was. These off the grid type folk are radical, and they have a secret. Smuggled treasure from Peru. The mother is a religious fanatic. When their neighbor pays them a visit, he is met with intimidation and threats. The copperhead snakes are also the enemy, and the leader of this low class family is determined to kill them all. The local Copperhead population takes umbrage at these actions, and fights back with a venomous vengeance. SOV horror, with a lengthy opening sequence where a snake swallows a rat. Aww, ain't that cute. Almost as if a group moved into an abandoned rundown property and made a horror movie. Some good snake footage, make a double feature with 'Stanley' or 'Fangs'.
7105 Cosmic Slop (94) Funk recording artist George Clinton is your host for a series of science fiction tales that would never be made today. Controversial even then for the 'racist' stories. It's an anti-white, anti-Jewish diatribe. Here is an example of one of the jokes the white people tell. 'The American dream is all blacks swimming back to Africa with a Jew under each arm'. Another story remakes 'To Serve Man' from 'The Twilight Zone' but in this, only blacks are forced onto the spaceships to be eaten by the aliens, by evil whites (all of us). A movie I want to take lightly, with an obvious hate filled agenda towards half of America. Or maybe this is just a film that points out the nature of humanity and the absurdity of racism? It may seem cynical, but you will laugh!
7078 Crazy Desires of a Murderer (77) aka: I vizi morbosi di una governante Family members and friends gather at a Gothic castle owned by a wheelchair-bound older relative of one of the girls. Drug dealers and other assorted characters fill out the guest list. Meanwhile a deranged killer who enjoys to cut the eyeballs out of his victim's head's is loose on the grounds. This giallo plays like an old-fashioned sixties Italian horror movie. With Isabelle Marchall. This is the best quality, and the longest print of this one that we have seen. M485 for instance, while a decent print, runs only 83 minutes. This new version, the print is decidedly sharper, pristine even, and running a full 87 minutes. LBX and with English subtitles. BA
7160 Damned River (89) A rafting trip down the Zambezi river in Africa turns deadly when the five Americans realize that their guide (Stephen Shellen), also an American, is an unhinged madman. Things get uncomfortable when they spot his AK-47. Things get nasty when he violently rapes the only girl (blonde Lisa Aliff) and hunts down one of them who is trying to go for help. Later he shoots to hell many law enforcement officials who are trying to stop him. A splendid mixture of 'Deliverance' meets 'The Naked Prey'. Also with John (Deathstalker 2) Terlesky and Bradford Bancroft (the guy in 'Bachelor Party' that is trying to cut his wrists with an electric razor). BA
7045 Dark Rider (91) When mobsters start buying up the land surrounding a quiet town in Desert Springs Nevada, they violently force law-abiding citizens to flee their homes. A highway has been designated, and they want in on the prime property. The people are neutered, the sheriff as well (or is he truly?). But vigilantism is still alive and well in the area, left to a lone black-clad man on a motorcycle. He is Dark Rider. And many of the bad men are about to meet their maker. An Unstoppable Stranger on an Impossible Mission. Doug Shanklin is Dark Rider. Joe Estevez is a mean son-of-a-bitch. Also with Alicia Kowalski, straight off the set of 'Bikini Island'.
7082 Dark Story of a Sex Crime (69) aka: Gendai sei hanzai ankokuhen: aru torima no kokuhaku After spying on a rapist, a young man learns. He bangs the class whore. Now he is has a knife. He finally gets the girl he really wants in the tall grass by the river. But two guys kick the shit out him and they rape her! Things get even darker later for the class whore who gave him the knife in the first place. Filmed in black and white, and then when some bloody gore sequence is approaching, bright color! A story of dark sexual obsession. LBX In Japanese with English subtitles
7170 Daydream (64) aka: Hakujitsumu A young man arrives at the dentist, where a beautiful cabaret singer is also being treated. The drooling dentist has some real quirks and seems to enjoy taking advantage of his patients' discomfort. Once the girl patient is suitably anesthetized, he begins to strip her and applies a tender vampiric bite while the hygienist looks on approvingly. Or is it all a hallucination? This is on page #143 in Catalogue Book One, although I do not recall much interest in it. Maybe because that version #G809 is in Japanese language and has no subtitles. This new print has English subtitles. A dark effective surreal shocker. This version is the original Japanese version and does not contain the XXX inserts from the foreign language version. Widescreen with English subtitles.
7079 Death Penalty (74) aka: Pena de muerte aka: Vita Privata di un Pubblico Accusatore A seaside resort is where magistrate judge Oscar Bataille (Fernando Rey) and his beautiful wife Patricia (Marisa Mell) are vacationing when some of the locals and guests of the hotel start getting butchered, the same way a man he had sentenced to death had killed his victims. But the man was executed, or was he? Is the judge going mad? Released here under the title 'Violent Blood Bath' at 92 minutes and English dubbed. This has the title 'Violent Blood Bath' on the screen. Violent Blood Bath is longer than the 'Death Penalty' version, and better quality as well. A solid thriller with giallo touches. Not sure differences in versions, they can be ordered under either title, and that is the version you will receive. From the director of 'Let Sleeping Corpses Lie" Jorge Grau. BA
7080 Decameron '69 (69) Seven directors deliver unto us mere mortals their vision selected from the works of 'The Decameron', bringing their stories into modern day. Each vignette gets more nudity as we build to the climax. The tales begin and end going nowhere fast each, before another invasion into our senses begins. Set in modern day, with no dialogue, but spoken English describes where we are, and you will see where we are going, mostly into the gutter where we are most comfortable (sometimes). Entertaining, you will want to know how each story ends (or doesn't!). Hookers with issues, adulteress, mistress.... more. Could art be divorced from reality?
7081 Demon Pond (79) aka: Yashagaike Listed before, but found the film so interesting that we have it here again in a Super Upgraded Version, finally for the first time. Quite fantastic and Widescreen In Japanese with English subtitles BA
Q986 Devil's Men, The (76) aka: Land of the Minotaur This horror filmed in Greece reminded me more of a late 60's horror like 'Curse of the Crimson Cult' or other devil cult horrors, with a mixture of the Blind Dead sort of locations and culture. Peter Cushing leads the Satanists who meet in the catacombs beneath the ruins of ancient Greece and are inspired/led by a large stone Minotaur with smoking nostrils and the ability of speech (apparently) 'Those who enter the forbidden chamber of the Minotaur, must die!'. Smart. We get some sacrifices and some nudity, Donald Pleasence as the Priest who teams up with an American friend to stop the horrors and Luan Peters (of 'Twins of Evil', 'Lust for a Vampire', 'The Flesh and Blood Show' and more) plus Jane Lyle (in one of her only films) of 'Island of Blood' infamy, her very next film. Nice nudity, Cushing with a shotgun (hide the clocks!) and exploding priests! This version is uncut and runs 90 minutes, I do know the 'Land of the Minotaur' version has trimmed bits. Amazing Widescreen. What follows the film is an interview with Christopher Lee, even though he is not in the film! BA
7173 Diabolical Women (87) aka: Dangerous Women aka: Le diaboliche Saddled to a wheelchair, a woman (Lisbeth Hummel) sits on the rocks, high above the crashing waves below. Her chauffer watches, with a hint of wickedness in his eyes. The maid back at the mansion also seems to have a look on her face that makes you uneasy, looking at the chauffer, their eyes lock, as she guides the wheelchair woman back to her rich life of luxury. As good as can be for a cripple that is. The chauffer and the maid have plans to drive the woman mad, kill her, whatever it takes to claim the inheritance. Mix some 'Diabolique' with Hammer's 'Scream of Fear' (well, and countless others) and you get the idea. Director Luigi Russo (who also directed other sleaze classics) throws in a few surprises that makes it different than the others. This upgrade has no Japanese hard subs and no censoring of the nudity like the other version we used to feature. Shock Ending! English Dubbed.
W190 Disciple of Death (72) aka: Once Upon a Time There Was a ... Disciple of Death aka: Das Monster mit der Teufelsklaue Set in an 18th century Cornish coast area where a young couple pledging their love for each other spills blood on the grave of Satan's Disciple. He rises (Mike Raven). Masquerading as the lord of a long abandoned manor, he blends into the community. He needs virgins for sacrifice to Satan. One scene the evil one interrupts a couple having sex by stabbing the man in the back, who then spits up blood onto his hysterical lover's cleavage, and all over her dress. Next a woman finds herself bound and gagged on an altar. 'Die and be my slave!" He rips out her heart and drinks her blood from a chalice. Mike Raven was also in the atmospheric horror 'Crucible of Terror'. He channels his best Christopher Lee here. He was also in 'Lust for a Vampire'. Neither film was well received. Both are excellent British based R rated horrors dripping with atmosphere made at the height of the Satanic film period. Not Hammer, but if Andy Milligan had made it to the Cornish coast, he may have made something like this, although this is a notch higher, complete with ghoulish female accomplices. Mike Raven retired from film at this point and became a sheep farmer and sculptor. He died in Cornwall, England in 1997 at 72, not far from where this was filmed. BA
7041 First Surrender (71) aka: You'll See I Killed in Self Defense aka: Dirai: ho ucciso per legittima difesa Two miscreant robbers (played by Franco Citti and Glenn Leer) plan their next robbery. They have targeted a rich couple, both men lusting after the wife (Emma Penella), both planning to have their way with her. One of the men has stress because he thinks his partner in crime will get in her pants before he does. He rapes her. Neither of them realize the woman is not so innocent, neither is she cowardly. The husband is away. Will the sex lead to ecstasy or death? Both? These two scumbags are in over their heads. Widescreen In Spanish with English subtitles
7155 Grass is Singing, The (81) aka: Killing Heat aka: Gräset sjunger An American city bred woman named Mary (Karen Black) gives up the comforts she is used to for her husband, moving into the dark regions of colonial Africa, a sweaty area of strife and hardship. Struggling with the sticky heat, Mary gets horny, and starts to have sex with their black servant. This proves to be an awful idea for Mary, and the look of horror on her face when her lover appears with a machete is a dreadful thing indeed. Mary may just be another husk of dead meat thrown on the back of a truck like road kill. Retitled 'Killing Heat' here in America because with all the sweat and a horny woman, they were trying to somehow compare it to the very popular 'Body Heat' from a couple of years earlier. One of Karen Black's most obscure films.
7117 Honeymoon (85) aka: Lune de miel For many women, marriage is a long awaited dream come true. For Cecile Carline (Natalie Baye) it is about to become a nightmare. The only way she will not be deported from America is if she is married. But her lover is in jail for drug trafficking, so she signs a contract of marriage, but the deal is, she will never meet her husband. Until he shows up at her door and pretty much reveals himself to be an unhinged psychopath. Suddenly, her marriage of convenience becomes a honeymoon of horror! With John Shea as the husband. BA
7210 I, Gilda (89) aka: Io Gilda aka: Dangerous Love - Lust und Begierde Directed by Andrea Bianchi, and if you are like me, you need to see all of his films! Soft-core sleaze thriller. In the opening scene, a woman is having sex with two men when suddenly, a strap is placed around her neck for strangulation. Bam! Valentine Demy is astride a man who is laying on his stomach, rubbing her breasts on his sweaty body. We see full close-up nudity from behind, the kind we usually only see in XXX films. Valentine is not shy. Oh, the plot. A New York Mafia boss blackmails the women who work in his nightclub. A treat in store for all lovers of this trash. Not only do we get the magnificent Valentine Demy. but also 'Gilda' is played by Pamela Prati, she of 'Ironmaster' and 'The Adventures of Hercules'. With English subtitles.

W192 Inn of the Frightened People (71) aka: Terror Under the House aka: Revenge aka: Il passo dell'assassino A family is devastated when their daughter is raped and murdered. The perpetrator of this fowl act is released by the police due to lack of evidence. This cannot stand. And it won't. Vigilantes! Together with another father who has lost a daughter the same way by the same (presumably) man, they capture the bastard and lock him down in the basement of the local inn/pub, planning to beat a confession out of him. But they start to turn on each other when they begin to question if he is indeed the guilty one. Some effective shocks and surprises. Emotionally brutalizing. Joan Collins (as Carol) is the adulteress wife of the innkeeper, and gets herself raped in front of their cellar captive. The suspected killer rapist pedophile escapes. Shock ending. BA
7030 Inner Scar, The (72) aka: La cicatrice intérieure Experimental French film that only has 23 camera shots total, long shots, like Depalma's wet dream. The star of each segment is Nico from Velvet Underground. portraying a different person in each. The first three are her rescues from three places, Death Valley, Iceland and Egypt. Later she recites various texts in various languages with English subtitles. My childhood be not so blind. If you are looking for high brow arty experimental gibberish, with some amazing Widescreen photography, then maybe through all of the symbolism, surrealism and mystic images you can make some sense of the thing. Nico was heavily into heroin, not sure about the cast and crew. About 60 minutes long.... BA
7179 Last Emotion, The (89) aka: L'ultima emozione Wonderfully sleazy trash from Italy written by Mario Bianchi. Pianist George Valli (Leonard Mann) has arrived to perform a concert in South Tyrol. There he meets the spectacularly hot Chiara (Valentine Demy). Demy is 26 here, before her hardcore years. He is seduced almost immediately and takes her up against the wall at the 15 minute mark. Later he goes down on her in bed. Later they fight and she leaves. He is smitten and brings her flowers to a country chateau she is staying at, winter setting, snow capped mountains. There seems to be some kind of game being played here by Chiara. George goes out for a bottle of booze. Then her angry ex-husband arrives and starts yelling and she pulls out a gun.... George returns and she shows him that she has just shot and killed her ex. Now What? Lots of nudity and sexual situations. In Italian with English subtitles
7180 Life Size (74) aka: Grandeur nature Dentist Michel has just picked up and brought home a crate. Inside, his life-sized woman doll. The doll looks real, he squeezes the breasts. The silence of the doll begins to haunt him, like the women who have rejected him in the past. Insane, he tries to placate the doll, dressing it up, taking it out. He takes the doll into the shower and washes and almost gets it on. Things get weird when his mother finds him in bed with the doll. Later he finds his mother having tea with the doll and talking to it. His real woman tries to placate him, strips naked and acts like the doll. Later he has a private ceremony and takes the doll to bed, finally boning the doll. A shock on the sheets. The doll was a virgin. Things get darker and creepier as Michel and the doll 'role play'. Later the doll is stolen by partiers. The drunken men gang rape the doll while poor Michel watches from a window. The doll is rescued..... Tragic and ironic ending by the Eiffel Tower. Widescreen with English subtitles BA
7182 Memories of a Blonde Strangling Psychopath (71) aka: Memórias de um Estrangulador de Loiras Wonderfully macabre twisted insanity from Portugal. No Dialogue. Just a bearded man stalking and strangling as many blonde haired babes as he can with misogynistic hatred and disregard, all magnificently photographed at mostly outdoor locations. Every now and again he looks like he in a state of guilt, contemplation, or maybe just twisted resolve. Take your pick. Whatever motivation drives the wheels of madness in his mind, it ends the same for every blonde he encounters. A nice quick stealth attack strangulation. Many have no idea it is happening until they find themselves dying. Twenty four strangled blondes in 71 minutes, How is that for a body count? Strange music and sound effects enhance the already doom laden atmosphere.
7214 Naked Beast, The (71) aka: La bestia desnuda From the director of 'The Curious Dr. Hump'. The act at the nightclub includes a vampire seduction of a busty woman, and a horror hunchback with makeup and mask. Plenty of starlets use the stage to ply their wares. But now the women are being murdered for real, and the womanizing pop singer Rolo is the prime suspect. 'Guilty conscience' finale involves the bloody ghosts of all of the victims appear as a hallucination to torment the killer. An Argentine road show version of 1934's 'Murder at the Vanities'. Now Widescreen In Spanish with English subtitles for the first time. BA
7033 Night of High Tide (77) aka: La notte dell'alta marea Richard Butler (Anthony Steel) is looking for the 'perfect ass' to participate in his latest ad campaign. He spots a nice ass, and he has her, Dyanne is her name (Annie Bell). She teases and encourages him, even though she is supposedly 'taken'. Richard already is busy with multiple models, the lucky guy. Much later he joins Dyanne with her boyfriend and another model (played by blaxploitation queen Pam Grier!) to an exotic island where they find themselves stranded. Things start to boil over. There is also a mongoose and snake battle, adding a little Mondo feel. They lay around on the beach, no water, waiting to die. Night of High Tide. Annie Bell was in two Emanuelle films. Luigi Scattini directs. Look how close we got to having Pam Grier and Laura Gemser in a film together! But not quite. Does not end as you would expect it to. A film of an older man, wanting what he can have sex with, the young hot stuff, but can never truly have. Nice Widescreen with English subtitles. BA
7216 Perverse Crimes of a Pretty Lady (76) aka: MitGift aka: Giochi perversi di una signora bene Mitgift is usually understood to be a gift to the bride by her own family, typically in the form of household goods, and sometimes, money. After collaborating in the assassination of Alice Young's a bit older senator husband, Edgar (Mario Adorf) finds he may just be slated for elimination as well. Alice (Senta Berger) is just a one of those women who plays with men, makes a profit, and moves on. She is constantly running around with Dr. Kurt (Ron Ely, his next film after the disappointing 'Doc Savage'), and he may just be the patsy this time out. Will our femme fatale get away with murder (or a framing) yet again so she can move on to her next conquest? In German with English subtitles. BA
7112 Robo Vampire (88) aka: Hong Kong Robo Cop Now that he has been killed, narcotics agent Tom Wilde is given a second chance as a reconstructed Robo Cop clone, using what looks like high school production costumes. He is sent to rescue a woman who has been captured by a drug lord, who has vampires, including a 'monster' vampire with an ape face (the really dangerous one) as protection. Shoot-em-up film that is all over the place like Godfrey Ho, with splice and chop edits from what may be other films. Wait. This is a Godfrey Ho film (under the pseudonym Joe Livingston)! A total blast! BA
7187 Serial Killer (75) aka: Ryakushô: renzoku shasatsuma In 1968, a man (Norio Nagayama) killed four people in four different cities in Japan, using a stolen handgun, which he later buried in a Yokahoma temple. The director takes a different approach to the material surrounding the cause of this young man's homicidal nature. The theory of landscape. The narrative is sparse as we see what he saw, from youth, up into his spiral of despair, hopelessness, and then, his very bad decisions. P.O.V. life of a serial killer. Up till the deeds of death. Hundreds of shots in various scenic locales, like a moving picture book in crystal clarity, with a jarring free jazz soundtrack. In Japanese but English subtitles direct us. (The real Norio Nagayama was executed in 1997 for the murders.)
7189 Sex Crimes (67) aka: Seihanzai Two guys roam the sleazier areas of Tokyo, one masturbates as they watch violent porn in a theater. Pee Wee is nowhere in sight. One of them gets a hooker. She waits in a dark place while he gets his friend. But will they pay her? Later, one of the guy's get angry when his friend is having sex with his girlfriend. The other guy knocks him down and this gentle fall is fatal. Oops. They burn his body and hang out on the beach. More sex offenses before the downbeat finale. More sordid mean-spirited madness from Japan. Widescreen In Japanese with English subtitles. BA
7043 Strange Tales (86) From an old 1986 release VHS. Horror stories compiled here are as the following: 1. The Visitant (81) A man grieves at the grave of his dead son. He is then terrorized by his dead son, and other ghouls, in a hallucinatory hell. Daddy! 2. Desire in a Public Dump 3. A Day in the Life of Snidley Carmichael 4. Twilight Journey and more! This tape is impossible to find these days. Go ahead, try. Award-Winning Anthology of bizarre, amazing, terrifying and imaginative films.
7055 Terminal Entry (87) Teenage computer hackers mistake a terrorist network named 'Terminal Entry' for a complex computer game. The commands they issue in play erupt in real life bombings, assassinations, and other acts of terrorism. An anti-terrorist strike force race against time to stop the terrorists and their deadly commander. The young hackers find themselves stuck in the middle between two deadly forces, and find themselves playing for their lives. Paul Smith, Yaphet Kotto and Edward Albert star. Guest starring Kabir Bedi. Sandokan himself BA
7114 W.A.R.: Women Against Rape (87) aka: Lethal Victims aka: Death Blow: A Cry for Justice The law is useless in prosecuting a rapist, leaving the female victims very unhappy. Time to do the right thing. The prey is united in their shocking resolution. Nudity and Rape in what looks like a P.S.A. as far as this type of film goes. Martin Landau is a judge. He complained that this was a role he regretted most. Low-budget trashy fun with a great cast that makes you forget the cost. Not only do we get Landau, but also Terry Moore, Jerry Van Dyke, Jack Carter, Henry Darrow, Lisa London, Donna Denton, Leslie Scarborough, Don Swayze, Frank Stallone and more. When Rage Becomes Outrage... the Only Solution is Revenge! If you cannot find justice. D.I.Y.! BA
7191 Woman of the Sweetest Skin (71) aka: Questa libertà di avere... le ali bagnate aka: Dolce pelle di donna Psycho-sexual Insanity! Failed writer Pierre (Mark Damon) gigs as a gigolo in a large villa owned by his aging lover who is currently in America. Miriam (Femi Benussi) has just left her lover and Pierre picks her up. Her former lover Robin (Franco Silva) gets invited by Pierre to the villa, where he has Miriam drugged, stripped naked, and body painted. Pierre has told Robin that Meriam has had a heart attack, so Robin brings a faux cardiologist. A plot is underfoot here, and there will be murder and suicide before the end. Since this is so much like a Renato Polselli film (you'll see) we also get Rita Calderoni in a substantial role here. Well how about that! This was written by Renato Polselli! From the director of 'The Skin Under the Claws' Alessandro Santini! Widescreen In Italian with English subtitles from a sometimes splotchy damaged film print, the only surviving? BA

FRANCO FILMS
7209 House of Cruel Dolls (74) aka: La maison des filles perdues aka: The House of the Lost Dolls Co-written by Jess Franco! New Widescreen English dubbed version and 9 more minutes of footage than the other version! What we get is an even more amazing cut and paste than before, this assembled from others, and spliced into one wonderful mess with many recognizable faces, and nudity/sexual situations. A woman is forced into prostitution, and later, a spy film angle with Jack Taylor... and wait, back to the sleaze... what? Great locations and photography. Sandra Julien, Silvia Solar, Evelynn Scott, Catherine Laurent, Magda Mundari and more. BA
7217 Queen of the Tabarin Club (60) aka: La reina del Tabarín aka: Mariquita, La belle de Tabarin A family of traveling gypsy musicians arrives at the home of a wealthy Marquis where pretty gypsy Lolita (Mikaela) falls for Fernando, he of noble (or perceived aristocratic) blood. When Lolita finds out that Fernando is engaged she travels to Paris and makes her glamorous debut at the Tabarin club. Fernando later learns of her success and travels to Paris to find her. Amazingly, this film also has a small part for Soledad Miranda at the age of 17, a stunner, in her debut. Her first film was directed by Jess Franco in 1960, and also her last in 1973. One of the first films Jess Franco directed. It is possible Mikaela was Franco's first on film muse. She also turned up in his film 'Vampiresas 1930' made in 1962. Mostly forgotten, Mikaela's last film was 'Red Hot Zorro' (after about eight others). Mikaela died in 1991 at age 55 in Spain of leukemia. Sharp clear colors, Widescreen In Spanish with English subtitles. BA

HAMMER AND BRITISH FILMS
W224 Castle Sinister (48) The atmospheric brooding 'Castle Sinister' is a WW2 spy murder things-that-go-bump-in-the-night thriller which sports a threadbare plot and runs under an hour. A government official is sent up to the Scottish castle to investigate the suspicious goings on of the place, where a local agent has been killed, and another recently gone missing, due allegedly to the presence of a supernatural being that manifests itself with hostile intent. But is this the reason, the cause... the truth? Maybe. (about 50 minutes long)
7091 Kid for Two Farthings, A (55) Young little kid Joe is on a quest to find and buy a unicorn because he has learned unicorn's grant wishes. Joe wants to wish to see his father again, who is always away prospecting. He also wants to help Sonia (Diana Dors) and Sam (Joe Robinson) obtain things they need but cannot afford. And there's more. Wandering the market, Joe finds a farmer who is trying to sell a goat with only one horn. Joe thinks it is a unicorn and buys it. Most of the wishes come true! But at a cost. The film captures the cockney humor and sharp wit of the community where people practically live on top of one another. An innocent, sparkling gem. BA

MISC
W241 Ann-Margret on The Tonight Show: Airdate January 22nd, 1975 (75) From the Master Tapes and including commercials. Watch late night as it once was- actually funny! The guests for the night are Ann-Margret, Bruce Dern and Art Carney. All of the unrehearsed mayhem of a live show is present. Margret discusses her latest special in which she does skits with a troupe of gay dancers, and gives us her interpretations of notable Hollywood actresses like Rita Hayworth and Esther Williams. We see a preview. Then, after a commercial break, Ann-Margret, braless, nipples smiling at us from under her thin shirt, does a show-stopping performance in which she wiggles, gyrates, shakes her booty and goes all around wild on stage, oozing sexuality like a wild cat in heat. Johnny and Ed are in shock as their jaws hit the floor. The good old days.
7106 Bachelor Flat (62) Terry Thomas is an English-born college professor with woman problems. To complicate things further, his fiancé's long-lost daughter (Tuesday Weld) appears posing as an escaped school girl. His young roommate is very attracted to her (and who wouldn't be?). What follows is a series of misadventures that include women doing anything for Terry, they love him you see. The acquisition of a dinosaur bone, a weird Mr. Hyde-like change, even a dog has a storyline. Great fun! Terry Thomas- Babe Magnet! Tuesday Weld is 19 and smoking hot here. Widescreen BA
6802 Battle of Neretva (69) aka: Bitka na Neretvi Another version of this violent epic war. German forces in 1943 launched a great offensive against the Yugolsav Partisans in Western Bosnia. The only way out is the bridge on the river Neretva. Best version for those who want English language and a faster plot. Franco Nero, Yul Brynner, Orson Welles, Anthony Dawson, Sylvia Koscina and many more! . English dubbed Widescreen version with foreign subtitles running two hours and 6 minutes. We also have a 158 minute English subtitled version. So whatever you prefer. This dubbed version really puts you into the action, wildly editing down the story, making it roll along at a faster pace. BA
7056 Blind Rage (76) aka: The Blind Mafia Kung Fu action amidst a devilishly daring plot to steal 15 million from a secret bank vault in Manila. Five determined criminals have their eyes on the loot, sort of. You see, each of the five are blind. And, if you read the title, they are plenty mad. Amazing Anderson is a sightless magician, The Blind Matador's eyes were gored by a bull, ex-syndicate men, blinded in clashes with the mob. A sultry femme fatale trains them for the heist. No one will suspect them. Filmed in many countries all over the world. BA
7058 Blood Debts (85) aka: Eliminator aka: Ninja Jäger Vengeance in the tradition of 'Death Wish'! Following the brutal gang rape and murder of his daughter, ex-Viet Nam vet Mark Collins (Richard Harrison) becomes a one man vigilante squad hell bent on putting an end to any and all criminals who cross his path. When his wife disappears, he is contacted by her kidnappers and told that there are numerous unpunished criminals on the loose, and she will be released unharmed if he kills them. This sets Mark Collins into a frenzy of death. Richard Harrison delivers the goods! Filmed in the Philippines BA
7063 Brotherhood of the Rose (89) aka: Geheimbund der Rose Romulus (Peter Strauss) and Remus (David Morse) are raised and trained by C.I.A. handler John Eliot (Robert Mitchum) to be the absolute best in the games of espionage and subterfuge, deadly assassins. The years pass. Later through current circumstances and an international incident involving a botched hit, Eliot orders they be eliminated as they are no longer needed, and their existence could threaten the international order. But Eliot trained them, and Romulus and Remus have other ideas of how things are going to go. Political thriller from the author of 'First Blood' David Morrell. Also with M. Emmet Walsh, Connie Sellecca, James Hong and more. An excellent film, running around 3 hours on two discs counting as 2 selections. BA
7133 Chain, The (96) The Defiant Ones, Black Mama White Mama, Certain Fury? Now another remake. This time a renegade cop (Gary Busey) is wrongly imprisoned in a Filipino hard labor camp and winds up chained to an arms dealer (played by Cuban star Victor Rivers), the same man he was trying to bring to justice. Together and on the run, they face many perils. First the prison camp, then when they escape, snakes, cliffs, killer ants and the constant pursuit of the military. The whole affair is wildly entertaining and filmed on location in the Philippines. Also with Ken Metcalfe. who cut his teeth on some of those John Ashley Filipino horror films. Also with TV actress Jamie Rose. BA
W209 Coast to Coast (80) Madie (Dyan Cannon) escapes from the crazy house where her doctor husband has kept her captive to avoid divorce. Scrappy truck driver Charlie Callahan (Robert Blake) drives a 30-ton 13-gear charger and becomes her knight in shining armor. A road trip, with Madie and Charlie against the world, pursued by bounty hunters and a repo man. Big wheels rollin' gotta' keep 'em goin'. BA
7134 Dangerous Encounters of the First Kind (80) aka: Don't Play with Fire aka: Di yi lei xing wei xian The most nihilistic movie ever made? Modern day Hong Kong looks like hell on Earth with it's grimy streets and claustrophobic apartments. The beautiful teenage sister of a cop is in fact a fiery, sadistic psychopath who blackmails and dominates three spineless students, enlisting them to participate in her violent deadly schemes. What follows is cold-hearted fun. If you like animals, humans, or are politically correct, steer clear. The soundtrack borrows heavily from Goblin's 'Dawn of the Dead' and Jean Michael Jarre. Gloomy, sinister.... a must see! This is dubbed into English language and has foreign subtitles. Look, I'll admit it, the opening scene is disturbing as hell. BA
W204 Devil's Pass, The (58) aka: Savage Orient aka: La passe du diable aka: El desfiladero del diablo Filmed in Afghanistan. Rahim's older brother Mokhi refuses to take him to Kabul where a big game is being held. He embarks on this journey alone, guided by the angel of death, Azrael. The path is hazardous, and this is a rare glimpse of a somewhat functioning society with landscapes, structures, statues and sheep, instead of the butchering gore soaked world they live in today. BA
7197 Diary of a Telephone Operator (69) aka: Certo, certissimo, anzi... probabile Claudia Cardinale and Catherine Spaak are roommates, trying to make a living at menial jobs, notably the telephone operator gig (for Claudia) and apprentice hair dresser (for Catherine). As this unfolds, they steal boyfriends from one another. Claudia is kind and loving, Catherine is the mean-spirited one. The film is a comedy, and more a series of vignettes than anything else. The girls appear in various stages of undress, but keep their clothes on. This was meant to be a sexy comedy. Very colorful Widescreen and English language dubbed. Also starring John Phillip Law, Robert Hoffman and Antonio Sabato. BA
7050 Eagle in a Cage (72) aka: Ein gewisser General Bonaparte In 1815, a soldier (Ralph Richardson) becomes the Governor of the island of St. Helene where Napoleon Bonaparte (Kenneth Haigh) has been exiled. From the moment Napoleon reaches the island with the last of his loyal followers, he is in denial of his situation. Authentic period costumes, impeccably acted. Intrigue in the fictional account includes a British Lord (Sir John Gielgud) who is conspiring to put Napoleon back on the throne. Historical fiction. A pathetic swan song interpretation of Napoleon's last days. Eagle in a Cage? Billie Whitelaw (always scared me after 'The Omen'), Moses Gunn, Ferdy Mayne and Georgina Hale (of 'The Devils') star. LBX BA
7200 Escape to Nowhere (73) aka: The Silent One aka: Le silencieux aka: Ich - Die Nummer eins A French scientist (Lino Ventura), who was forced to work for the Russians when he was kidnapped 16 years earlier, is arrested in England where they ask him to denounce English spies who work for the KGB. He knows that when he is released, his days are numbered, whether he talks or not. He has turned, and the Russians are everywhere he goes to take him out. If they can. On the run, his attempts to recover his stolen life and reconcile himself with his own conscious is similar to the type situation a Hitchcock character would find himself in. Excellent Widescreen English language dub BA
7139 Esupai (74) aka: Espy minaccia extrasensoriale Killer psychics who use telepathy to kill are employed by an evil organization as assassins to eliminate their enemies, and manipulate the populace. The movie has ideas that remind one of 'Scanners' although this was made first (psycho-kinetic empowered mutants who are societal outcasts). 'We are super-humans who were born into this world.... to destroy the weak'. The plan of these psychics is to force a massive war because they hate mankind. 'We must let them kill each other' is the plan. One man with powers wants no part of this evil, but is needed. They begin to torture him into submission..... Pretty violent with some incredible sequences. Widescreen in Japanese with English subtitles BA
7201 First Love (78) aka: Primo amore The maid/waitress Renata (Ornella Muti) is sort of adopted by a retired vaudeville man named Picchio (Ugo Tognazzi), who believes he can use her for a comeback. She has the right stuff. But once they try, he realizes there is no longer interest, and many have passed on or quit. She sleeps with him, even though he is more than twice her age, and they make out as well. 53 year old Tognazzi laying in bed and smooching on 21 year old Muti gives hope to us all. Turns out as far as getting a gig in show business, Renata has a lot more to offer than Picchio. Her looks would wake a dead man. A sleazy TV producer hires her and we finally see her dressed the way we want to see her! Of course, how long could an old fart like Picchio hold on to such a prime piece of ass as Renata? Widescreen In Italian with English subtitles BA

7093 Fools in the Mountains (57) aka: Fjols til fjells In Norway, a porter tries his best to accommodate an assortment of guests, which leads to an assortment of comedic problems. High speed comedy, with all of Norway's top comedy stars of the era, and some gender bender as well. A farce with no meaning made to make people laugh. With English subtitles. BA
7202 Friends of Vincent (83) aka: L'ami de Vincent A conductor (Philippe Noiret) of a music hall orchestra is stunned when after an evenings performance a woman enters the dressing room and starts shooting at Vincent (Jean Rochefort), one of the trumpet players. Luckily for him, she is a bad shot and misses. She says the trumpet player ruined her sister. She escapes. The trumpet player swears he does not know her, and goes into hiding, enlisting the conductor with task of looking up his past lovers and trying to find out just who he has allegedly wronged that would lead to such action. 'Friends' of Vincent. Anna Karina, Jane Birkin and more star. Nice Widescreen and English dubbed.
7057 Galyon: The Indestructible Man (80) Soldier of fortune Galyon tackles the jobs nobody else can handle. This time, he is recruited by oil tycoon Willard Morgan (Lloyd Nolan) to locate and rescue his daughter and son in law who have been captured by South American terrorists. Morgan is willing to pay the ransom. But the government won't play ball. Galyon penetrates the jungle with his superhuman skills of combat and survival. A double-cross, a cold-blooded plot.... Galyon will need all he is and more to be victorious. Stan Brock is Galyon! Stock footage of wild cougars, wild horses, armadillos and big snakes. Also with Ina Balin. Directed by Ivan Tors. BA
W210 Godfather Squad, The (74) aka: Xiangang xiao jiao fu aka: Little Godfather from Hong Kong This is what happens when you mix the Italian crime film genre with the kung fu genre. When pesky Interpol agents threaten the world drug trade, the dealers hire mafia hit men to take them out. But they did not count on a kung fu star, who is vacationing in Italy with his family, to get involved in stopping them. He is a man of action! He is maybe fooled into being in a kung fu movie so they can make him disappear for good. But as usual, things go awry. An exploding dog, a chase sequence in the snow outside Rome, the fight at the Coliseum where our star Bruce Liang channels his inner Bruce Lee and so much more make this a worthy entry. Also with Gordon Mitchell, Shirley Corrigan and more! BA
7177 Hell Below, The (72) aka: The Big Shots aka: Les caïds aka: Il clan dei francesi Two older burglars need one last heist to retire on. One of them has a daughter, who falls for a bum, who he then takes under his wing to show him the ropes so the guy can support his daughter. Now, all together, the bank job. It goes badly, and one of the older men is killed. Loverboy is captured. The daughter uses a gun at the head of a guard to help him escape with her father's help. All of the inmates escape in the chaos. Things are going to get worse for the crooks though, they are not yet home free, and may never be. Good action, violent car chase, shootings, carjacking, amazing car show rodeo with stunts and fire, nail-biting suspense.... The young couple is eventually hunted by a helicopter and busloads of soldiers in the countryside, trapped by the ocean. This version is new and runs 97 minutes in the uncut version. The old version was only 82 minutes. When the film is not English dubbed, English subtitles appear. Widescreen BA
7113 Hunting Express (88) aka: American Commando 2: Hunting Express This time a cut and paste from director Philip Ko mixing the plight of one particular prostitute, with footage of an elite American Commando who is out to rescue her, help her, do her some good maybe? This leads from Viet Nam to Japan and involves a lot of fighting and shooting. Even if the movie is a bit of a mess, I admire the effort and would rather watch this than the new 'Wonder Woman 1984' where I couldn't make it through the (near the beginning) mall sequence. This one, I made it all the way through! BA
W187 Labyrinth (59) aka: Labirinto Georgia (Nadja Tiller) was once a great poet, but is now a full blown alcoholic. She has violently aggressive attitude and feels as if she is being persecuted. Now she is in a clinic somewhere in Switzerland. Time for her medicine! One drug traded for another. Why am I locked up here? Dinner is ready. She panics. This is some type of weird rehab. A convalescent home for people who are unable to adjust to their environment. The others are as neurotic as she, with strange rules and odd behaviors, some controlled, others.... well. But where does this all lead to? Peter van Eyck and more star. BA
W199 Ladies First (63) aka: Les femmes d'abord aka: F.B.I. agente implacabile This time Eddie Constantine is F.B.I. agent Bobby Carao. Juliette's (Christiane Minazzoli) husband has been murdered by his partner who used his firm as a cover for his drug trafficking. They have to track a woman in France who has evidence. Carao becomes Juliette's bodyguard as the road trip begins. A transport strike forces them to take passengers. Now Juliette and Carao have to drive a chic family whose daughter is wrapped in furs. Gangsters are on their trail. An accelerated pace throughout. BA
7031 Lady Dynamite (73) aka: La Padrina (which translates into 'Lady Godfather') An unknown little Poliziotteschi! A monstrous politician from Italy is behind the assassination of a Mafia woman's husband. With the name of the man responsible for his death on his lips, he whispers to Costanza Cavallo (Lidia Alfonsi) his Mafia Boss wife, the name. She now is to travel to Palermo to track the powerful man down, and end him. He is dangerous, and has many on his side, but she is Lady Dynamite, and knows a few tricks of her own. Some bloody moments and brutal 'hit' killings, including a hot blonde getting snuffed out by strangling, blood coming form her mouth. A cake delivery brings horror with a dismembered hand on the cake..... Later, a great bloody moment at sea.... more. No nudity, no romance, just violence! Lidia Alfonsi was in some notable films like 'Black Sabbath' and 'Hercules'. Also with Venantino Venantini and look for Orchidea De Santis, Anthony Steffen, Robert Hundar (another henchman) and Pietro Torrisi. Nice Widescreen and English language dubbed. BA
7104 Last of the Secret Agents?, The (66) aka: Questi pazzi agenti segreti! Marty Allen and Steve Rossi team up (a variation of Abbot and Costello, or whatever comedy duo you want to apply) and their characters are recruited by a very secret organization to help stop the evil force known as 'THEM'. Gags galore, and even if some of them bomb, you'll admire their blatant disregard as they went for it anyway. Marty Allen and his buggy eyes and whining, has some pretty funny moments. Nancy Sinatra sings a song. Look for cameos, including Edy Williams! You good do worse for your spy farce fix. Also with John Williams. Marty Allen lived to be 95, dying in 2018 of pneumonia in Las Vegas. BA
7032 Lifeguard, The (79) aka: Il maestro di nuoto aka: Le maître-nageur Marie (Stefania Sandrelli) dreams of being rich. She marries a man and they leave for France. There, she encourages her husband to take the job of a lifeguard, offered by a rich oil tycoon. But this rich wheelchair-bound bastard only wants somebody he can pay so he can push them around. The interview process for the job is quite hilarious. Now he has the job, and is subjected to humiliations by the rich man and his weird butler. Absurdities galore, including a dolphin in the pool. In French with English subtitles BA
7156 Mafia vs. Ninja (85) aka: Hong men jue e zhe Martial arts Mayhem is viewed at its ultimate as the forces of good battle mobsters who are attempting to take over a city! Sewage workers Jack and Charlie get involved in an International Gang War when they save a mafia boss. A Shanghai gang, Yakuza, Ninjas, Mercenaries.... Bloody fun with fake dummies and wires employed for maximum Mayhem! BA
7064 Many Wars Ago (70) aka: Uomini contro Northern Italy WW1. Men of an Italian infantry division have been given one objective. Retake a commanding height from the enemy. But the tactical skills of commanding General Leone, consists of supplementing frontal attacks against machine guns with medieval fighting schemes. As casualties mount, the low morale troops must be prodded with even harsher measures into storming the Austrian positions. They fought by the rule book.... and died by the thousands! Yugoslavian/Italian collaboration. In Italian with English subtitles BA
7068 Michael the Brave (71) aka: Mihai Viteazul Before 'Braveheart' there was... Michael the Brave! The first ruler to overcome the adversity of the Ottoman and Austrian Empires to unite Wallachia, Moldavia and Transylvania, into one country. Successfully combining the battle scenes amidst the politics, sweeping landscapes, extras and authentic costumes, the movie cruises along with swords in hands, delivering a majestic display of historical significance. This type of film is long dead, they will never again be made. Excellent Widescreen on two discs (it is epic) counts as two selections.
7049 Minikillers (69) What is this exactly? Diana Riggs simply glows in the lead of this entire thing, devoid of dialogue, filmed in Spain in 8mm. This is so complex, you can read about it somewhere else. Spys, killer dolls, a bald villain... and Diana Riggs in various forms of attire, in her prime, captured, escaping, repeat. Nice locations., and at the end of the thing, she does some karate. I read she starred in this to be able to keep her residence in Spain by proving she worked there or something to that effect. In the end, she never discussed it, or acknowledged 'Minikillers', but here it is! Looks complete to me, including 'The Diadem'. This is listed at 28 minutes online, but runs closer to an hour, in odd 10 minute parts, each starting and ending with music and credits.
7110 Mission War Flame (87) In the Viet Nam War, the Viet Cong occupies a strategic point causing severe casualties. The National Army seems to be losing the war. Paul, a Lieutenant (and a doctor in civilian life), is called back due to his success in previous battles, to lead the charge in driving back the enemy advances. The goal is to recapture the hill. His wife Dorothy, wants him to quit. Battle action hell and many deaths in this impossibly obscure Godfrey Ho directed action. BA
W201 Naked Flame, The (64) aka: Deadline for Murder Filmed in Canada in 1963, arrived in the U.S. in 1970. In the wilds of Canada, their is a small town located near a mine. Two groups live uneasily, and their adult children want to marry. Based on true events around the turn of the century with land seizures by corrupt British Columbia government officials causing conflict with isolationist Russian Christians. They protested against Canadian policy and materialism with acts of mass nudity and arson. So here we do get torch carriers surrounded by pretty naked women with large breasts for us to enjoy. Great scenery, in more ways than one. BA
7154 Night of the Cyclone (90) Comoro Islands locations provides some interesting views. This is where beautiful young Angelique (Alla Korot in her debut)) is on a photo shoot and fallen in love with her photographer, a man with dangerous connections and a shady past. Enter Lt. Stan Wozniak (Kris Kristofferson) arrived to retrieve his rebellious daughter, Angelique, and in the meantime Stan finds himself in deep with a sexy French woman (Marisa Berenson). Stan also finds an undercurrent of crime and murder. A hurricane gathers force on the horizon and is about to hit. This may be the least of his worries. BA
7034 Oscar (67) Complications arise when a neurotic man scrambles to find a man who will marry his pregnant daughter. His maid wants to resign to marry a Baron. His masseur treats him like an executioner of the Holy Inquisition! The script is jam-packed with manipulations, stupid characters, lies and surprises. A genuine laugh fest. John Landis remade this film with Stalllone in the lead role! French humor pinnacle. Nice Widescreen in French with English subtitles. BA
7102 Play It as it Lays (72) Follow up to 'A Safe Place' (also with Weld) made a year earlier (sort of). Tuesday Weld and Anthony Perkins together again in this tale of mental illness. They are the idle rich with little else but money. Jaded, bored, depressed. She lives in gloom, only letting her suicidal gay friend (played by Perkins) get close. She holds all the aces, but what is the game? Brilliant, excruciatingly accurate, subversive. Tuesday Weld's character is not unlike Patty Duke's in 'Valley of the Dolls' with her superior attitude, she's just quieter. She is better than everybody, therefore, unaccountable for anything she thinks or does. But in this case with no stop signs or speed limits, she can only help Anthony Perkins find oblivion and then stare madly into the camera. Downbeat and disturbing. Nice LBX here + as a bonus! Tuesday Weld on The Dick Cavett Show (a 17 minute interview which includes old commercials). Then the trailer for 'The Girl on the Motorcycle'. BA
7186 Policeman of No Importance, A (73) A gang of worthless (borderline idiot, woefully pathetic) drug-addled hoodlums kidnap one policeman (apparently, he of little importance) in order to use him as collateral in a trade for the brother of the gang boss who has been caught and is behind bars. How this plays out may remind you a little of 'Dog Day Afternoon' which came out a few years later. Nice Widescreen and English subtitles.
W203 Question 7 (61) East Germany, just before the wall went up. The struggle of religion within a communist environment. A Lutheran Priest (tall man Michael Gywnn) fights for his freedom to worship God as he sees fit, against the rules of communist ideologies and rules. His son is given seven questions to qualify for music school. The seventh, denouncing his faith. The film makes clear how Communism takes over every facet of life. School. Work. Sports. Music. Either with a friendly gentle hand, or... more forceful ways. Stand up for what you believe? Or take a knee? Michael Gywnn would play a priest again in 'Scars of Dracula'. He is probably best known for his portrayal of Peter Cushing's Dr. Frankenstein creation monster type in 'Revenge of Frankenstein'. He had a heart attack in London, January 1976, and dropped dead at age 59. BA
7035 Question of Rape, A (67) aka: Le viol A wealthy couple living in a luxury apartment. The husband leaves for work. A man with a trench coat and shades, gets in, and ties up the wife (Bibi Andersson) leaving her on the couch. 'If you stay calm you have nothing to fear. I only carry out the orders.' They talk a lot and soon know everything about each other. They have a meal. They talk some more. Some cat and mouse? There is no question of rape. She insists upon it. The man leaves. The husband returns. The wife obsesses with the experience. In French with English subtitles
7153 Rainy Day Friends (86) aka: L.A. Bad aka: City Hawk Neekos Valdez (Esai Morales) is a street punk, involved in criminal activity. In an aborted attempt to steal a car, he gets dragged for miles, ends up in the hospital and diagnosed with cancer. Neekos in denial, disrupts the hospital routine and has countless run-ins with the head nurse (Carrie Snodgress), the cancer specialist (Janice Rule) and the social worker. He escapes from the hospital and finds a friend. A war hero who is also suffering from a deadly disease. A street-wise teenager discovers that society isn't his only enemy! Janice Rule's last movie. Look for Gary Kent (who also directed) as a Hot Dog Stand Man. John Philip Law is Dr. Stephen Kendrick. BA
7051 Riding High (81) Dave Munday (Eddie Kidd) has heard the news. Judas S. Chariot, the legendary daredevil motorcyclist, is going to jump treacherous 'Devil's Leap' in a giant televised competition. Dave enters the competition, shifting the film into high gear. Dave's team includes his wacky English grandmother, and an aging 1950's rock 'n' roller who's an ace mechanic. He now must beat the boozing redneck Chariot in a series of awesome mind-blowing stunts! Soundtrack includes The Police, The Pretenders, Dire Straits, Madness, Boomtown Rats, Squeeze, Joe Jackson, Lene Lovich, Gary Numan, NRG, Tunes, Cliff Richard, Jerry Lee Lewis, E.L.P., Re-Flex and more. Eddie Kidd himself is on the soundtrack with the original song... 'Heavy Metal'! BA
7188 Serpent, The (66) aka: Ormen aka: Ormen, la frusta del sesso Half naked soldiers bully the weakest among them. One of the men meets a blonde woman and starts a relationship with her. The combat exercises are harrowing. The soldiers plan a get together including some girls. One of the soldier's tired of the sergeant and his constant badgering, catches a snake and dangles it in the face of the sergeant. The sergeant is terrified. Later, snake boy is busted with another man's girl, Vera, and the sergeant comes to retrieve him. In the mean time, the blonde from earlier is raped by a delivery boy, although they stay dressed, a dry hump, and a healthy beating for good measure. Snake boy, under guard now, jumps out a window. The party has a naked blonde. Snake boy arrives with his snake. Later snake boy runs off with the other blonde who was assaulted earlier. In Swedish with English subtitles BA
7137 Sorrel Flower (67) aka: Colour Them Dead aka: Fleur d'oseille aka: La signora non si deve uccidere New mother Catherine (Mireille Darc) goes looking for the money her gangster boyfriend buried before he was murdered. Along for the ride, another woman who has just given birth (Anouk Ferjac). The place where the loot is supposed to be reminded me of one of those big places Bava (or somebody) would set a thriller around, with various people lurking about, everybody looking for the same thing. It is a treasure hunt movie, and people get knocked off, plus, there are babies. The ladies provide some light nudity as they bath in tubs outdoors and play footsie! This is the rare English dub with foreign subtitles. BA
7157 Super Dragon (76) aka: Feng qi yun yong dou kuang lung The United Bodyguards headed by Cyma, Kwei, Teng, Chiang and Symon accept a mission to ensure maximum security, the five decide to conceal the pearls within a steel flag staff. Teng was chosen as the leader of the mission but along the way the pearls are robbed. The whereabouts of the pearls is top secret. There must be a traitor among the five... but who. Old school chop-sockey! BA
6942 SuperSeven Calling Cairo (65) aka: Superseven chiama Cairo SuperSeven need to track down a rare radioactive material hidden in a camera in this spy action directed by Umberto Lenzi. Off to Cairo (where most of the film takes place) to compete with villains for the prize. Fattah (Rosalba Neri) is being blackmailed into helping the wrong side to pay off a debt, her role ambiguous and uncertain, but substantial. Action, treachery, femme fatale, fisticuffs, a racy (almost) striptease to a jazzy drumbeat, pyramids, camels, Arabs, women and more. Roger Browne, Fabienne Dali, and look for an uncredited Paolo Bonacelli, who was in both 'Salo' and 'Caligula' (not many can claim this!). Beautiful Widescreen English dubbed version. BA
7159 Sweet Country (87) Anna (Jane Alexander) and Ben (John Cullum) have settled in isolated rural Chile in the early 1970's. Ben is stranded in Santiago on the Eve of a military takeover. Watch what happens when fascism violently comes to power by an overthrow of government by hostile forces. No one is safe when a government goes rogue on the people they are supposed to be protecting through taxation and representation. It happens so fast, disbelief and denial, unable to process until it is too late. There are books on this situation on Amazon, this is based on factual occurrences. Joanna Pettet, Irene Papas and more also star. Then there is one Randy Quaid as a soldier with a heavy accent, clearly not his native tongue. If any actor could take such serious subject matter and inject it with unintentional humor, this would be the one. 2 hour version BA
7164 Three Nights of Violence (66) aka: Web of Violence aka: 3 notti violente Walter (Brett Halsey) is feeling down after losing his job. It gets worse when his girlfriend Lisa (Iran Eory) vanishes. Walter, using his skills of espionage, investigates with the help of Christina (Margaret Lee) which places him directly into a tangled web of violence in the underworld. Christina, who is interested in Walter romantically, may have questionable motivations. The mystery angle will keep you guessing until the end with car chases and shootouts. Fantastic Colorful Widescreen version in Spanish with English subtitles. BA
7192 Trapped by Fear (60) aka: Les distractions Paul Frapier (Jean-Paul Belmondo) has lived through deadly situations in Algeria with his friend Porte (Claude Brasseur) and the squad. They meet again years later in France. Frapier is now a newspaper reporter and one day finds Porte surrounded by the police after the theft of a car and the accidental death of a police officer. He helps Porte escape and shelters him with his girlfriend Vera (Alexandra Stewart). Frapier also plays around with Arabelle (Sylvia Koscina). I mean seriously, if you can get both of these Eurobabes in the sack, more power to you! But Frapier may have gone too far, somebody will, and the results will be bad for one, if not all, involved. Also with Mireille Darc. Jean-Paul Belmondo was quite the character. He performed his own stunts up to 1985 (an accident stopped that). Ursula Andress called him the love of her life. He died in September 2021 in Paris age 88. Widescreen In French with English subtitles. BA
7127 Trespasses (86) In a small peaceful Texas town, two drifters (Adam Roarke and Lou Diamonds Philips) passing through, rape a man's wife in front of him, and kill another man's son. The raped woman hooks up with the man who's son was murdered, hubby did nothing to stop her rape. The two in an affair now, plot revenge against the drifters. After first playing a Terrorist, then a Punk, and next a Sidewalk Thug, Lou Diamond (as billed) gets his first large role in this obscure film, only one year before landing the lead in La Bamba in which he became a star. A different roll for him, sporting a mustache, tearing off the woman's top and raping her at knifepoint, and then brutally stabbing a guy over and over. There are still two things a man will die for. Love and Revenge! Also with Ben Johnson. BA
7098 Tuesday Weld Spectacular (various) This is dedicated to Tuesday Weld, the precocious sex kitten of (mostly) the 1960's. First trailers in some movies she was in. Rock Rock Rock, Sex Kittens Go to College and Because They're Young. Then the 'Naked City' episode with the title 'A Case Study of Two Savages' with Tuesday Weld and Rip Torn as a sort of Bonnie and Clyde' type with robbery and murder on their mind. Then, 'The Dick Powell Show' with the episode 'Run Till It's Dark" where we find Tuesday Weld as 'Stacy', a girl on the run, stalked by a mystery man as she tries to hide out in Vegas. The episode also stars Fabian. Then, finally at the end of the disc, commercials from the 1950's.
7039 Violent Face of New York, The (73) aka: One Way aka: La faccia violenta di New York Dark, cynical and grim little film depicting the whole bleak reality of illegal immigration culture. Opens with border crashers and coyotes on the Rio Grande. One of the Mexicans makes his way to New York City, but he does not find Midnight Cowboy life. Instead, a life of crime, and extra danger added when he falls for the wrong woman (Mimsy Farmer). New York City is a horror show as seen here (some would say now as well) with violence and unsavory characters everywhere. Fernando Rey and more also star. Widescreen
7037 Web of Deception (71) aka: Smile of the Spider aka: Il sorriso del ragno An International Crime Syndicate has stolen five million in precious jewels. Tony Driscoll (Thomas Hunter), a private investigator, is on the case. It then becomes a murder case. And Tony Driscoll is the number one suspect. Now, in the thick of it, Driscoll must dodge cops and criminals alike as he ventures into the subterranean world of beautiful (but dangerous) women, fast cars and exotic ports. Also with Gabriele Tinti - Excellent quality English dub BA
7116 Where the Lilies Bloom (73) Their mother is dead. Their father is dying... Now a group of Appalachian children must band together in the deep holler (woods for you city folk) to hold the family together. North Carolina locations are beautiful. The hardships devastating. The resilience of the children and their ability to work hard to survive, inspiring. Harry Dean Stanton as Kiser Pease in a standout performance. Julie Gholson (as Mary Call) in her only acting credit. Music by Earl Scruggs. A favorite of the early 1970's that is forgotten today. Based on the best selling book. BA
7094 Zapper's Blade of Vengeance (74) aka: The Swordsman Opens with a modern day sword duel, which is won by Reynaud Duval (Alan Lake). Duval is a very rich man with a large estate, and he will do anything to keep his power. His preferred weapon of elimination, his trusty sabre. Linda Marlowe returns as Harriet Zapper, this time hired to locate the true heir to the Duval fortune, which leads her into direct conflict with the murderous Reynaud Duval. Nudity and violence, even better than it's predecessor. Also with Edina Ronay. Alan Lake was married to Diana Dors when she died of ovarian cancer in 1984. Five months after her death, he killed himself with a gun at age 43. LBX and with foreign subtitles, the film is in English language.

MODERATE AND MADE FOR TV FILMS
W193 Bat, The (60) Dow Hour of Great Mysteries - Stolen securities are hidden in the old mansion owned by Cornelia Van Gorder (Helen Hayes). On a stormy night as they search, a masked criminal known as 'The Bat' is also on the prowl, stalking them. This is the 4th version I know of, just the previous year their was the Vincent Price version. This one may have lower production values, but may play better than the theatrical version, as it is considerably darker in tone, like a 'Thriller'. . The story is condensed into the hour format, and the great actors featured include Margaret Hamilton (Wizard of Oz Witch), Jason Robards Jr., and Shepperd Strudwick. This is kinescope sourced. The only print available.
W237 Cat on a Hot Tin Roof (76) Maggie (the Cat) (Natalie Wood) needs to get knocked up, and fast, by her in-the-closet (maybe) homosexual alcoholic husband Brick (Robert Wagner), before her father-in-law Big Daddy (Laurence Olivier) dies of cancer, and cuts her/him (or both) out of the will. This one filmed like a play, with a bit more of the details determined to be too controversial when the same story was made into a movie in 1958 with Paul Newman and Elizabeth Taylor. Some say Wood and Wagner were too old for these roles. I disagree. The pot boils in this southern saga sizzle trash story from Tennessee Williams. Remade once again in the 1980's with Tommy Lee Jones and Jessica Lange.
7220 Cruel Doubt (92) When a masked man assaults Bonnie von Stein (Blythe Danner) and her husband, killing him, and leaving her to die bleeding in her bed, the suspects start to pile up. Her daughter Angela (Gwyneth Paltrow, in fact Danner's real daughter) was only a door away, and did not hear the screams. Bonnie's son had gone back to college earlier that day. Lewis Young (Miguel Ferrer) is on the case, although, clueless. Turns out her son is indeed involved. Or is he? Bonnie will not accept this. MFTV true crime used to be a thing. This 3 hour production is quite the nail biter, well acted, with a great supporting cast. Never on DVD. G.D. Spradlin, William Forsythe, Neal McDonough, Dennis Farina, Adam Baldwin, Ed Asner, David Arquette and more star. DVD-R ONLY NO VHS
7111 Cry for Love, A (80) With no alimony and two kids to support, Polly Harris (Susan Blakely) struggles as she plunges headfirst into the nightmare world of drug and alcohol addiction. Her new man Tony Burrell (Powers Boothe) has problems of his own. Polly is addicted to amphetamines while Tony's weakness is booze. Neither can admit it, to each other or themselves. The road back from this nightmare may not have a happy ending..... MFTV also starring Gene Barry. Severn Dardin, Patti Deutsch, Lin Shaye, Edie Adams and more.
W229 Dallas Cowboys Cheerleaders (79) Undercover goes one Laura Cole (Jane Seymour) into the world of the Dallas Cowboy Cheerleaders. Her mission, to find out what it is really like behind the scenes. Are these sex bombs happy hoppers or disgruntled she-breasts of burden and exploitation. Join the best days of the sexiest girls on the field... although these gals starring were never actually Dallas Cowboy Cheerleaders. Some of the girls here auditioned to be, but did not make the cut! But you will see the actual Dallas Cheerleaders in action. Laura is supposed to supply a hatchet job report to her sleazy editor (Bert Convy), but finds more in this world than she ever imagined. Cheesy and full of sexy jiggle and short shorts. Also with Pamela Susan Shoop, Laraine Stephens, Ellen Bry, Lauren (Love Boat) Tewes, Kathrine Baumann and baseball great Bucky Dent.
W246 Dallas Cowboys Cheerleaders II (80) A return, this time the focus on the actual cheerleaders and their chief Suzanne Mitchell (Laraine Stephens, the only actress returning for the sequel) in their day to day life and struggles. The good news is we get to see the 'real' girls doing their stuff on the field. Ray Wise and John Davidson are in it, but not the reason anyone would watch. It's about the women, and only about the women. The cast includes Julie Hill, Roxanne Gregory, Candy Ann Brown and more. The All-New Sequel to Last Years Smash-Hit Movie! Awkward overdub, Cowboys lost, do the research.
W243 Fall of the House of Usher, The (56) Tom Tryon of 'I Married a Monster from Outer Space' stars as Roderick Crawford in this adaptation of the Edgar Allen Poe classic. David (Marshal Thompson) arrives to the Usher estate. His friend Roderick is acting very strange, his senses, painfully acute. His sister Madline (Joan Elan) is spiraling into a catatonic state. We all know about 'The Fall of the House of Usher'. This color version of the story is atmospheric, and worthy of Poe. Tom Tyron would go on to become an author. He wrote 'Harvest Home' and 'The Other', both excellent horror stories and both made into movies. He died of stomach cancer in 1991 at age 65 in Los Angeles.
7204 Glamorous Ghost, The (64) aka: Sanpo suru reikyusha aka: L'amore scotta a Yokohama From the director of 'Ghost of the Hunchback'! Modern day Japan. A man with an adulterous wife has finally had enough so he kills her after a rough and tumble fight, by strangulation! Then he sets out to extort all of her lovers. The bastards will pay. Twists and turns and some spooky atmosphere including the score. But is there a ghost? Suspense thriller that you may have missed. Ultimately greed may be his undoing. Plays out like a long 'Tales from the Crypt' episode with dark karma. Widescreen In Japanese with English subtitles. BA
7129 Graveyard Story, The (91) John Ireland is Dr. McGregor, a lonely old man who visits the cemetery frequently and becomes intrigued by a grave that has a two foot statue of the deceased little girl on the tombstone.. Obsessed, he determines to learn of her demise. The spirit of the girl haunts him as he seeks the truth. Gorgeous fall ambience throughout this Canadian film, with cemetery scenes to die for. You can almost smell the fall air, hear the sound of crispy leaves underfoot. They exhume the coffin of the little girl. Empty! The plot thickens. We learn the truth. This was the 202nd project John Ireland was involved in, he would only appear in two more films. He died in 1992 of leukemia in Santa Barbara, California at age 78. BA
W202 Haunted: Poor Girl (74) Florence Chasty (Lynne Miller) is taken on as Governess to the child of Louise Wilson (Angela Thorne) and Oliver (Stuart Wilson) to continue his home education. Florence begins to have visions which appear to be of the future. Gothic little spook show, with amazing locations and excellent photography. Probably because the director, Michael Apted was such a class act. He would go on to direct 'Gorillas in the Mist', 'The World is Not Enough' and more.
7046 I'm a Fool (77) A short story written by Sherwood Anderson adapted for the small screen. It involves a horse trainer named Andy (Ron Howard) and his attempts to woo the beautiful Lucy (played by man-eater Amy Irving). Narrated by Henry Fonda. Irving netted 100 million in her divorce settlement with Steven Spielberg in 1989. She knew what she was doing there don't you think? (about 40 minutes long)
7148 Jennie's Drowning (91) aka: Death Dreams Marg Helgenberg is Crista Westfield, a widow trying to get on with life with her young daughter and new wealthy husband George Westfield (Christopher Reeves). Then her daughter is found drowned in their small pond. Everybody thinks it is an accident, but when Crista is in a car accident and is clinically dead for a few minutes, her daughter reaches out. 'I am still here.' Crista meets with a Psychic Physician (Fionnula Flanagan). They begin to get closer to the truth and the terrifying finale. A ghost story with thrills and suspense. From a foreign disc, this is in English language but has foreign subtitles.
7097 Merlin's Shop of Mystical Wonders (96) A boy is watching a horror movie on television when suddenly, there is a power outage. It is up to Grandfather (Ernest Borgnine) to entertain, and he begins to tell spooky stories. He tells of Merlin's Magical Shop in a strip mall. A shop full of magical wonders, and two customer experiences with items bought there. The first involves a man who gets his hands on Merlin's spell book. The second is scraps bits and pieces inserted from the film 'The Devil's Gift' from 1984, the one with the monkey toy that beats those cymbals and resembles a Stephen King story. Nicely done since it was aimed at children, and probably scared them.
7128 Original Sin (89) Sharon Roberts (Ann Jillian) is in a panic when her son is kidnapped. Her husband John is the son of Mafia Don, Mancini (Charlton Heston, who declares war on the opposition like it's Moses laying out the word of God). Sharon and John go to the compound of Mancini. Is it the rival crime family responsible for the kidnapping? Family war erupts. Maybe they will not like what they find.
7130 Power Passion & Murder (87) aka: Tales from the Hollywood Hills Natica Jackson's (Michelle Pfeiffer) fender bender with a married man brings an attraction that can only lead to disaster and heartbreak. All the while, Nathan (Darren McGavin), a well known movie producer's life is about to take an unexpected turn which will involve all three. Lies Deceit and Betrayal. Cut and Paste of a few Tales of the Hollywood Hills episodes. Also with Stella Stevens and Steven Bauer.
7042 To Catch a Killer (92) This is the story of serial killer pedophile John Wayne Gacy as played by Brian Dennehy, a daring role for him. He was a respected businessman, he dressed as a clown to entertain children, and oh yea, he also raped and murdered thirty young boys. Intense and chilling, Dennehy knowing exactly how to show the menace beneath the man. It's a disturbing film, and no gore is needed. The movie is driven on suspense. Margot Kidder is a clairvoyant, Meg (those eyes!) Foster an attorney. Imagine for a moment if you will, if it had been one of your children that he entertained in his clown gear back in the day. Whatever you do, never tell them. There are enough nightmares these days already. BA

MONDO FILMS
7083 Curse of the Red Butterfly (84) aka: Kirmizi kelebek Uncut and now with English subtitles that are easier to read! The legend of a priceless ancient diamond amulet known as the Red Butterfly. The creation of the Red Butterfly is unknown, it's first appearance was in 65 B.C., so many centuries ago. Every owner has suffered blood and death since, and there have been many. We see the past, some battles and chaos. Forward to the present. A sheik lives in luxury with his trophy blonde Veronica and his big strong black chauffeur. Villains chase them, their chauffeur is behind the wheel, the sheik passes a jewel to Veronica and instructions on what to do with it. Now he is killed. Veronica and the chauffeur wind up in travel and intrigue together. They deliver the jewel, and receive a map that will lead them to Red Butterfly. Gordon Mitchell and his henchmen go after them. Fantastic locations, and the blonde can actually fight (sort of). Nobody can stop the big black guy, he pounds the crap out of any villain who gets in his way (with swell sound effects!). Plenty of brawls, a catfight, Gordon Mitchell shows his physique at age 61 putting most men to shame (you bastard!), caves and labyrinths, rooftop running, stunts and rope climbing, amazing cars and outdoor action sequences, a fight under a waterfall, motorcycle stunt riding.... Quite cool. Not a moment wasted in the 76 minute running time.
7070 Shocking Asia 2: The Last Taboos (85) A travelogue. The Hobbit House still exists in Manila. The prostitution scenes look exaggerated. The shark fishermen are missing arms. Topless beaches can be nice, if only the cutest of women practice it. Sacred monkey shrine, public cremation, eastern sex shops, faith healers, midgets who run their own bar.....

SOUTH OF THE BORDER AND MEXI MONSTERS
7207 Hell... After Death (93) A religious life after death film with a bit of a Christian slant. A man and a woman are arguing like idiots right in the middle of the street and get hit by a truck. The woman gets up and walks away, while the man begs her to stay. Meanwhile, their bodies lay in the road, dead. She is for sure, but is he? The man is in some kind of purgatory as he walks alone, the demons of hell nipping at the bit for his soul. Images of suffering in hell. With English subtitles.
7066 Macabre Legends of the Colonies (74) aka: Leyendas macabras de la colonia An ancient painting of a demonic, skeletal woman lying on a bed, is haunted, and transports Mil Mascaras and his friend El Fantasma Blanco, along with two lovely ladies, back to colonial times, the 16th century. There they must face the mighty Spanish Conquistadores, Aztec warriors, and a wicked witch who has a living dead mother who feeds on human sacrifice, who is also in fact, the woman from the painting. In Spanish with English subtitles
W184 Phantom of the Red House (56) aka: El fantasma de la casa roja Greedy relatives arrive at the mansion for a reading of the will. To see who gets what. But the will reveals a sinister game in which they all have to stay on the spooky mansion for three days, and on the third, they get to search for the hidden fortune. Meanwhile a cloaked phantom is roaming the secret passageways, and sticking knives in backs of the gold diggers. Played for laughs, everybody that gets it has it coming. There are actually some pretty clever lines, and laugh out loud scenes, especially that round the table chase with an axe. Atmosphere for miles.
W189 Resurrected Monster, The (53) aka: The Monstrous Dr. Crimen aka: El monstruo resucitado While horror lapsed in America and abroad, it was still alive and well, growing even, in Mexico. The movie inverts the usual tropes of the mad scientist/Frankenstein type film, making the monster attractive, and the mad scientist hideously disfigured. A young female reporter named Nora (played by one name Czech beauty Miroslava) gains the confidence of the bad doctor by answering his 'lonely hearts' ad, but little does she know what he is prepared to do when he learns of her selfish intent. 'With your betrayal you woke up the monster inside me!" A sneaky corrupt broad, like many reporters are by nature. Ripper murders, a wax museum, a spooky fog-enshrouded cemetery, mind control, sub-human dungeon creations and a bullwhip to keep them in line... more. Miroslava was just about done at this point. Apparently her lover in 1955 was a Matador who left her for Ava Gardner (no bull!). After a life of failed romances this was the final straw, the humiliation too great. She poisoned herself at age 30. In Spanish with English subtitles. BA

WESTERNS
7152 Bad Men of the West (74) aka: The Meanest Men in the West aka: Quel dannato pugno di uomini aka: Il était une fois 2 salopards An evil kid (played by Lance Kerwin, the character supposed to be Lee Marvin as a young boy in what I think may be added footage) and his life of being bad. Imagine if Godfrey Ho was given bits and pieces of western shows featuring footage that included Charles Bronson, Lee Marvin, Charles Grodin, Albert Salmi, James Drury and more. He would come up with a mess like this. Cut and paste a conflict between Bronson and Marvin, two brothers who are deadly to the general public, and each other. BA
7196 Bullets Over Dallas (70) aka: Plomo sobre Dallas aka: Prendi la colt e prega il padre tuo The purchase of farms is necessary as a railroad is coming. But within that land is a gold mine and many are not too keen on the idea of taking the unfair offer. A stranger comes to town and inquires about a man named Ralston and his ranch 'Three Crosses'. No one will tell him anything. Threats begin. Later a beautiful saloon singer (Claudia Gravy... indeed!) succumbs to the charms of the stranger. The clues she provides lead him into danger. Bright sharp colors and Widescreen in Spanish language with English subtitles. BA
7085 Colt in the Hand of the Devil (67) aka: Devil Was an Angel aka: Una colt in pugno al diavolo The opening credits alone blew my mind. I'm easy. El Condor (George Wang) is a Mexican bandit who leads a group of miscreants making trouble. Pat Scotty (Bob Henry) is enlisted to infiltrate the gang, gain their trust, and then expose them all for execution or prison. In the process he becomes friends with El Condor, genuine respect. They knew each other before? Now what? Finally excellent quality Widescreen English dubbed version. Also with Marisa Solinas and Lucretia Love. BA
7171 Death on High Mountain (69) aka: La morte sull'alta collina An idiot revolutionary bandit General secretly works with a crooked town boss who is planning a robbery. Enter one young gunslinger named Loring Vandervelt (Peter Lee Lawrence) and a stranger, who find themselves in the middle of the whole mess. After the gunfight many of the bandits have been killed. They claim the loot for themselves. But the General has escaped. The town boss is the next target when we learn that the stranger is really a federal marshal. Finally a very nice print of this Widescreen and English language dubbed. Colorful Upgrade! BA
7084 Death Rides Along (67) aka: Con lui cavalca la morte Idaho Kent (Mike Marshall) works for the pony express and is tasked with delivering information to Sacramento that will prove that the local politician is dirty. Enroute, he learns rather quickly that the road to Sacramento will be fraught with peril, as the dirty politician has a host of bad hombres on his trail meaning to silence him forever. His route becomes a journey of death and bloodshed. Now Amazing Sharp Widescreen In Italian with English subtitles. BA
7086 Fat Brothers of Trinity, The (72) aka: None of the Three Were Called Trinity aka: Ninguno de los tres se llamaba Trinidad Familiar faces galore in this farce tortilla taco plate which features three burly brothers who assault and rob a bank, and then kidnap a beautiful girl, who turns out to be the girlfriend of the sheriff. Later our not so bad trio find themselves pursued by a couple of Marshall's who are well fed up with their outlaw antics. Twists, turns, shoot-outs, betrayals, stunts... plenty of action. This is tongue planted firmly in cheek, so don't look for anything serious here. Just big fat fun. Now, Widescreen and English language for the first time! BA
7096 Five Giants From Texas (66) aka: Five For Revenge aka: I 5 della vendetta The other version is full frame and is the video release version from the 1980's. THIS PRINT looks to have the same running time, but is Widescreen. See review in 2020 Consolidated Mini Catalogue. BA
7194 Five Thousand Dollars on One Ace (65) aka: Pistoleros de Arizona aka: 5000 dollari sull'asso Jeff Clayton (Robert Woods) wins a ranch in a card game. Clayton unties a Mexican bandit (Fernando Sancho), freeing him, who rewards him by stealing his horse. Later at the ranch he gets to work with others, and soon learning their are other mean bastards to worry about. A powerful lawyer has hired henchmen on the prowl who are stealing land under threat of death. The bad guys are led by Jimmy el Negro (Helmut Schmid) who wields a whip. Amazing Widescreen version in original Spanish language with English subtitles. BA
7203 Get A Girl Out West (72) aka: Vente a ligar al Oeste Railway worker (and all around bumbling idiot) Benito is stunned when he hears a bugle call and sees approaching American riders. An attack! He tries to get help but... Boom! Dynamite! Wait. People are making a spaghetti western! Benito is in! He quits his job, he quits his girl, now, he is an actor! A spaghetti western spoof from Spain Widescreen and with English subtitles. Mirta Miller, Alfredo Landa, Josele Roman, Tina Sainz and more star. BA
7205 Great Adventure, The (75) aka: Il richiamo del lupo Spaghetti set during the American Gold Rush era in the Yukon filmed in Mexico and Spain. Here, another variation of sorts on the tales of Jack London, specifically, 'The Call of the Wild' and 'White Fang'. A plucky young tyke saves a wild dog from a trap out in the snow and they bond right away. This wolf dog saves the day at every turn. He is an orphan. Add a frontier town with a ruthless boss (Jack Palance) and a pretty saloon girl (Joan Collins), scenery to die for, wolf versus dog fights and various other perils and adventures... well you get the picture. The outdoor locations and the wonderful Widescreen photography is something to behold. Mostly English dub, sometimes English subs, and noticed a scene with no subs and spoken Italian, albeit brief. Pretty violent for a kids movie, that is why it is so good. Jack Palance speaks his lines in English, as does Collins. This Uncut Widescreen version is supposed to have 5 minutes more action that was cut in other, tamer versions. BA
7206 Headless Rider, The (73) aka: Vsadnik bez golovy Perogi-western (made in Cuba with the Russians) as they try to cash in on the dwindling genre (by this point). Americans begin their full righteous conquest of Texas after a bloody war with Mexico in this film adapted from the Thomas Mayne Reid novel. Interesting portrait of the American experience from another perspective, complete with racist stereotypes, slavery, action, great sets and outdoor locations, and fantastic sharp colorful Widescreen with English subtitles. Don't be looking for the 'Headless Horseman' riding or anything, maybe a bit more like 'El Cid' than anything supernatural. Russian language is spoken, English subtitles are featured.
7087 His Colt, Himself, His Revenge (72) aka: They Called Him Trinity aka: Allegri becchini... arriva Trinità A mysterious figure cloaked in black. looking like he escaped from an Edgar Wallace movie on a horse and landed in Italy in a pasta western, orchestrates the kidnapping of a beautiful woman (one of his henchman is played by Gordon Mitchell). The men paw at her, then the cloaked man arrives, she escapes and through a series of mishaps, shoot-outs and scuffles winds up dead as a doornail. Her brother arrives, and swears revenge as he leans over her corpse. He will kill them all. One by one. Mean-spirited dark violent fun. Widescreen BA
7029 His Name Was Pot ... But They Called Him Allegria! (71) aka: Il suo nome era Pot, ma lo chiamavano allegria! Kid 'Pot' Potter (Peter Martell) and his brother Ray (Gordon Mitchell) are bank robbers. When Pot is captured, he escapes, and, undeterred, then teams up with Steve (Lincoln Tate) to go rob another bank with Ray, along with a gravedigger guy that knows his way around dynamite. Using a drawn out saloon brawl as distraction, the safe is taken by night. There will be treachery and betrayal. Amazing Widescreen Sharp colors. Daniela Giordano so mesmerizing in Naschy's 'Inquisition' is a Mexican Girl, and look for Erika Blanc as Girl at Fiesta. English dubbed BA
7067 Hudson River Massacre (65) aka: Canadian Wilderness aka: Rebeldes en Canadá Colorful Paella/Spaghetti with Canadian Mounties versus fierce trappers in the wilderness. A young frontier man named Victor DeFrois (played by George Martin) travels to a fort where his brother is being held for some transgression. His brother is executed by firing squad. Victor attempts to take justice into his hands, fighting the abusive conditions and regulations put upon the pelt trade, He gets others to join the vendetta, one, a wanted man. From 'Blind Dead' director Amando De Ossorio. Also with Pamela Tudor and Diana Lorys along with many other familiar faces. LBX BA
7099 Jesse James' Women (54) aka: Le amanti di Jesse il bandito This Technicolor variation on the experiences of Jesse James (Don Barry) is a pleasant enough diversion. Here he is on the down-low, holing up in a small Mississippi town where he horn dogs his way into the lives of multiple women. Gorgeous Marilyn Monroe look-alike Peggy Castle, Lita Baron and more. Plus there is a catfight! Don Barry was only 5'4" and he managed to be quite the ladies man here. Peggy Castle drank herself to death by age 45 in 1973. Don 'Red' Barry managed to keep himself busy in television up through the 1970's, but for some reason he shot himself dead in 1980 at age 68. BA
7211 Kid Rodelo (66) Shot in Spain with an American cast, directed by and starring Richard Carlson. Hamburger Paella! Two convicts have arrived to search for the gold they hid near an old frontier town. A town populated by God fearin' wholesome folk. But another ex-con is also after the loot! Things get more complicated as a group of bounty hunter Indians go after them. Unusual western, unique. Richard Carlson of some very notable science/ monster movies takes the reins and adapts a Louis L'Amour to the screen. Also with Broderick Crawford and eye candy Janet Leigh. BA
7036 Longest Hunt, The (67) aka: Shoot Gringo Shoot aka: Spara, Gringo, spara Criminal and swift-shootin' Chad Clark ('Flipper's Brian Kelly) escapes from prison by pretending to have leprosy. Finding himself at the wrong end of the rope, he agrees to bring home the son of a wealthy Spanish landowner, who has fallen in with outlaw Keenan Wynn and his gang of misfits. Back to the landowner, son in tow, they bond and have adventures. But the father is not wanting his son back as an act of fatherly love. He has anger issues, and once he gets his hands on his son, he tries to crucify him on a large wooden 'X'. The mother objects and begs. Chad Clark is not having it. Keenan Wynn (as Major Charlie Doneghan) steals every scene he is in. Also with Erika Blanc (though briefly) and the doomed Krista Nell. Widescreen BA
7213 My Gun is the Law (65) aka: La Colt è la mia legge Gold robberies trouble a small frontier town. Two strangers arrive with different intentions. One is clearly going to be up to no good, while the other is a prim dandy. But look out, they are really just a facade, two federal agents, after the land baron who may be behind the robberies. Enter a masked hero who is bound and determined to throw a wrench into the plans of the gold robbers, winning the heart of the pretty leading lady (Luciana Gilli) in the process. Fantastic sharp and colorful Widescreen presentation dubbed into English. BA
7185 Poker With Pistols (67) aka: Un poker di pistole Losing all in a poker game, an indebted man agrees to deliver a wagon to the town of Chamaco for the five thousand dollar payment. Bandits, the town kingpin and a pretty saloon worker are all about to change his world. Money, forgery, gun fights, betrayals. Interesting cast includes George Hilton, George Eastman and the sexy Annabella Incontrera who would go on to star in some significant giallos. Toss the old full frame prints of varying quality. Finally a very nice Perfect Widescreen English dub of this one. This is the one BA
7165 Seven Pistols for a Gringo (66) aka: Río maldito aka: 7 pistole per El Gringo Dan Harrison, the son of a framed and executed man arrives in town to hunt down the dirty bastards responsible. The same bandits now terrorizing this new town he has now found himself in. They frame him. With the help of a traveling dentist, he clears his name. Game on. Double! This spaghetti was a troubled production. Reportedly, Dan Harrison got so angry on the location he split, leaving a stunt double to finish the scenes involving him. Nice Widescreen print with beautiful surroundings and color. Marta May and Gerard Landry also star. In Spanish with English subtitles. BA
7074 Two Crosses at Danger Pass (67) aka: Due croci a Danger Pass Youths survive a massacre of all they hold dear, and then they grow up. The male survivor has sworn vengeance. What follows is routine fun, hitting Leone-type protocols with brutal violence and sadism blended with dirty and mean grit faces. I think the widescreen photography is utilized to the maximum here, capturing fantastic vistas throughout, splendid sharp magnificent colors. Peter Martell is grand in a usual role (for him) as the avenger of past misdeeds perpetrated upon him. Revenge is coming! Two Crosses at Danger Pass! Also with Mara Cruz. LBX BA
7163 Two Pistols and a Coward (68) aka: Il pistolero segnato da Dio Young gunman Roy Kerry (Anthony Steffan) works in a circus, noticed by no one. When he is witness to a slaying of some bad hombres, Kerry is thought to be the avenger, gaining admiration from many. But the leader of the outlaws is the killer, wanting the loot for himself. Kerry is a pacifist. But when a young boy, who knows where the loot is stashed, needs his help, Kerry is shaken from his cowardly paralysis and sets out to rescue the now kidnapped boy, taking on the whole gang with the help of his circus friends. The soundtrack is unusual for this type, a little more American sounding than the spaghetti I am used to, but still interesting. Also with Gia Sandri and Richard Stapley. Now, fantastic Widescreen English dub, and Uncut for the first time. BA
WIP FILMS
W188 And the Wild Wild Women (59) aka: Nella città l'inferno aka: Die Hölle in der Stadt A prison for women in Rome, a wonderful establishment. Here you will find the protocols of this type of film, minus the nudity and sex. A naive young woman is unjustly accused, convicted and imprisoned, falling under the wing of a seasoned inmate named Magnani. Several characters are introduced as side-plots spin out. Prostitutes, murderers and thieves, all under the control of matron nuns. Intriguing, tragic. A look at some of the people of a lost war, a lost country, poverty and despair. Before the rebirth. BA