---
HOME | SECURE ORDER FORMS | ONLINE SPECIALS | CATALOGUE | NEW ARRIVALS | CUSTOMER SERVICE | PRICING & ORDERING INFO
---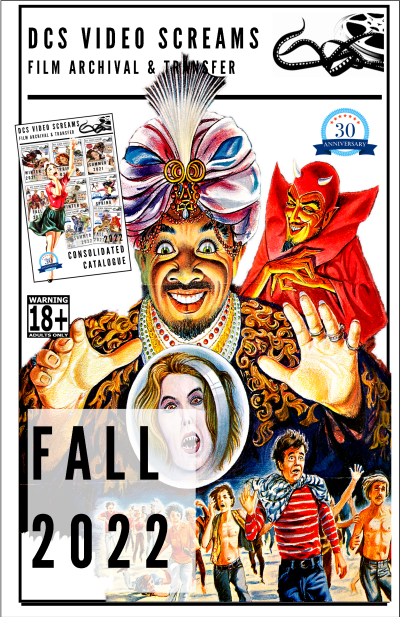 FALL 2022 UPDATE
BA= Color Box Art Available for an additional $3.00
FL= Film is in Foreign Language
Lbx= Letterboxed or Widescreen format
Subs= Film is subtitled
aka= Also Known As (alternate titles)
22860000
22860000
(`@`````````
266
263
5
110185200
110185200
BIKERS, BITCHES AND BABES
7095 Bloody Slaying of Sarah Ridelander, The (73) aka: Cycle Psycho aka: Savage Abduction Attorney Richard Ridelander (Tom Drake) hires dirty Harry (Joe Turkel) to murder his adulterous wife. The thrill of the kill intoxicates Harry. Harry also keeps and makes out with mannequins in his alone time. Creepy bikers kidnap two girls, holding them until the murderous sex-crazed psychopath Harry arrives with money to take them off their hands. They make the girls smoke pot, strip to their underwear, and lock them in a closet. One of the bikers struggles with his conscience whether or not to go through with the trade. Joe Turkel played the ghost bartender in 'The Shining'. He died in June 2022 at age 94 in Santa Monica, California. BA

CLASSIC HORROR AND SCI-FI FILMS
AR2 Face in the Fog, A (36) A hunch-backed killer known simply as 'The Fiend' is hell bent on murdering the members of a Broadway show. The dead have no mark on them. Frozen bullets! Is the killer using a disguise? Spunky reporter Jean Monroe sees the face in the fog of a mirror and becomes another target for the killer. BA
AR3 Fugitive Road (34) An Austrian border guard officer (Eric von Stroheim) detains different people with questionable passports. One, an American gangster, the other, a Hungarian woman named Sonya (Wera Engels who would later date Gary Cooper). It all comes down to a question of honor. There are claims Stroheim co-directed without credit. BA
X717 Hypnotic Eye, The (60) aka: The Torturer! Pretty women are self-mutilating their faces. As if in a trance, they are only shaken from their state when the pain hits. Finally some realize they all have something in common. Each has participated in the stage show of one hypnotist, Desmond (Jacques Bergerac). And now the police inspector is afraid his girlfriend is falling under his spell. Gruesome and quite graphic for the time period. B movie queen Allison Hayes has the best role as the hypnotist's assistant, Justine. BA
1516 I Eat Your Skin (71) aka: Voodoo Blood Bath aka: Zombie aka: Invasion of the Zombies The film was complete in 1964 and sat on a shelf for seven years. Then, it was paired with 'I Drink Your Blood' on a double bill. Playboy/writer Tom Harris (tall man William Joyce) goes to visit 'Voodoo Island' in the Caribbean (with others) for research on his latest. There he finds a madman with a world domination plan, a mad scientist using radioactive snake venom on the natives in his attempts to cure cancer, and a hot blonde to seduce and conquer. The zombie's are creepy enough in a 1960's horror type of way, fast moving zombies with gnarly scabby skin and sunny-side up egg eyes. Directed by Del Tenny five minutes after his 'Horror at Party Beach' classic. Great junk food for the schlock movie lover. BA
AR6 Illicit (31) A young couple fools around out of wedlock and word gets around. Illicit behavior. Pressure builds and marriage is the outcome. Will this holy matrimony kill the love they once had when things were more how do we say, daring? Thrilling? Wrong? Hell, wear the shoes for awhile before you buy them I always say. Characters with a behavior seemingly out of time and not quite mainstream, although that would all change very soon. Can a man hold a woman without marriage? Barbara Stanwyck
AR7 Last Woman on Earth (60) Eve and her husband Harold scuba dive with their friend Martin in Puerto Rico. When they surface, the world has ended due to a temporary oxygen depletion. Martin wants Eve. Two men and one woman is not a very good mix. Will the marriage be ruined? An apocalyptic drama with three people fighting. Nice location shooting and a jazzy score. Two versions on this disc, one is the color version, the other the black and white version. BA
AR8 Master Minds (49) Bowery Boys rips off 'Abbott and Costello meets Frankenstein' with some different flavorings. Mad scientist (Alan Napier) wants the brain of Huntz Hall to put into his man beast (Glenn Strange as 'Atlas the Monster'). Hilarious when this comes about as the monster Glenn Strange has Huntz Hall mannerisms and talks like him as well. This turns the body of Huntz Hall into a monster, equally funny. The jokes work. A winner in the series. Also starring Jane Adams. She told me in the 1990's that her grandchildren would not watch her old films because they were in black and white. BA
Y128 Millerson Case, The (47) aka: The Crime Doctor's Vacation Crime doctor Dr. Robert Ordway (Warner Baxter) vacations in the Blue Ridge Mountains district of West Virginia when an epidemic of typhoid breaks out. Wrong place wrong time, or the opposite? He is the doctor after all. The disease kills but there is a poisoning, another is shot by rifle. The mystery deepens. 8th in the series. BA
X390 Murder in the Private Car (34) aka: Murder on the Runaway Train Godfrey Scott (Charles Ruggles) is a 'deflector' (one who stops a crime before it starts) riding on a train. Ruth (Mary Carlisle), also on the train, has recently learned that she is the long lost daughter of a very rich man. On the train she hears a voice that tells her she only has hours to live. People start to be murdered as the train rolls along... A train chase, disembodied voice.. Remade about ten years later as 'Grand Central Murder'. Walter Brennan is one of the men at the train switch. Also with the voice of Winnie the Pooh, Sterling Holloway, as an office boy. Mary Carlisle lived to be 104, and died in California in 2018. BA
AR9 Night in Paradise (46) The mad king of Croesus in 560 B.C. reigns over the kingdom of Lydia. Ambassador of Samos, Aesop (Turhan Bey), falls for the kings intended bride Delerai (Merle Oberon) and she for him. But the high priests have urged the mad king to attack and conquer Samos. And let's not underestimate the sorceress Attosa (Gale Sondergaard)! The temptatious tale of a queen who would rather romance than reign! BA
AR10 Night of the Blood Beast (58) aka: The Creature from Galaxy 27 Alien embryos resurrect the body of an astronaut whose rocket has crashed. He also has brought a visitor from outer space along with him who he shares a mental connection to. Being a human alien incubator ... where have I heard that before? Despite the goofy parrot/bear monster alien suit, the film delivers a creepy score and an ominous atmosphere with light dashes of grisly gore. Downbeat and dread inducing, my favorite! Look for the same monster suit with modifications in 'Teenage Caveman'. BA

DINOS, LOST LANDS, SWORD AND SANDAL, PEPLUM, FANTASY FILMS
F739 Dark Planet 2: Rebellion (09) aka: Obitaemyy ostrov. Skhvatka The saga of Maksim continues. Maksim leads a rebel army that challenges the five corrupt rulers. One needs to watch both films back to back as it is a continuous story. In a post nuclear war ravaged world, a totalitarian society has risen. Wind farms have survived. A dirty grimy dystopia. Advanced human Maskim has come to liberate the people from their wicked masters. A lot to digest philosophically, but the special effects are fairly spectacular. Are the current powerful leaders of the world in 2022 trying to make science fiction, science fact, with unrealistic and unsustainable suicidal decisions that could lead to genocide? From Russia Widescreen with English language
F738 Dark World: Inhabited Island (08) aka: Obitaemyy ostrov The 22nd century has found mankind in a better place. No wars. Illness cured. Technology reaching far into outer space, claiming distant planets. The young believe themselves invincible. Blonde pretty man explorer Maksim (member of the Free Search Group) crash lands his space ship on an unknown planet (not unlike Earth) where the people are stuck in the 20th century. This world is enveloped in nebula gasses. Oligarchs have brainwashed the population to fear and despise surrounding nations. Maksim is aloof in his physical and mental superiority, and sets out to free the land of oppression and paranoia. Russian Widescreen with English subtitles.
0491 E.Y.E.S. of Mars, The (93) For the next generation' message opens this science fiction anime from Japan. Earth has colonized Mars (sort of). Two teenagers, a boy and a girl, may be the key to saving what is left of Mars ecosystem. This is a pro-green-anti technology movie, but I won't get political here. I like fast cars, the smell of diesel/gasoline and a dependable internal-combustion engine, always will. The only era I understand. There is an unexpected surprise ending here that I will not ruin. Metaphorically maybe for us all, who can tell? BA
Q56 Forbidden Island (59) aka: Il tesoro dell'isola proibita Dave (Jon Hall) better get his hands on that emerald in the sunken wreck before the others. But divers are turning up dead after one of them discovers a skeleton at the ocean floor. Who killed who and why? Revenge? Is there a frame job coming? An adventure crime film with decent underwater photography. Also starring Jonathan Haze. Hall would only be in one more film 'The Beach Girls and the Monster' from 1965, which he also directed. Suffering from bladder cancer in North Hollywood California in 1979, Hall shot himself in the head, ending his life on his own terms at age 64. BA
0523 Hurricane Smith (52) aka: El capitán huracán A great film for a Sunday afternoon. Hurricane Smith (John Ireland) is marooned on an island with Dan McGuire (Forest Tucker) and Brundage (Richard Arlen). When Captain Raikes slave trading ship lands, they steal his ship. Hurricane Smith has a treasure buried on one of these South Seas islands, and Gorvahlson (James Craig) Captain Raikes, and the sexy Luana (top-billed Yvonne DeCarlo looking so fine) are also looking for it. Luana is almost devoured by a rubber shark. the crew are mutinous brutes, Luana sings and dances. Fast-moving and filmed in Color. BA
0481 Icarus XB 1 (63) aka: Voyage to the End of the Universe aka: Ikarie XB 1 Cold war era Czechoslovakia was watching American television and along came this classic. This is the original Czech version set in the year 2163. Star ship mission? To search the galaxy for life of course! The crew is comprised of a co-ed international pool. This is a future full of blasters, video screens, turbo lifts, personal transmitters, artificial gravity, weird dancing to strange Beatnik-like music, even light-up boots that look like hip hop disasters. The 22nd century finds a pessimistic relic from the 20th century. Let's just say, we were not the greatest generation, the way it looks, we may not get out alive. But what generation ever did? Widescreen Science Fiction Classic with English subtitles and some parts English language dubbed. BA
C994 It's a Bird... It's a Plane... It's Superman! (75) In the 1960's a campy Broadway musical depicted the Man of Steel, his friends and enemies. It also dealt with his issues about how he saw himself. The play was a total bomb! Finally, this made it to a TV adaptation in 1975! Such a mess I couldn't look away! Maybe they should have cast Paul Lynde as Superman, hell, this was a farce after all. The mismatched clusterfuck they produced is up there with the absurdity of the Star Wars Holiday Special (which ruined Star Wars for me forever, taking it seriously at least). It's a Bird... It's a Plane... It's .... shit! (but entertaining shit if you know what it is in advance) Loretta Switt and Lesley Ann Warren try to save the thing. Kudos.
F141 Jungle Siren (42) aka: La sirena della giungla aka: Baytekin Ormanlar Hâkimi Another female Tarzan copy. The pretty Ann Corio is 'Kuhlaya', raised by natives in the jungle. She teams with Captain Gary Hart (Buster Crabbe) to fight against the Nazis who are trying to start a native uprising. Politically incorrect fun. Ann Corio was a striptease artist making a thousand dollars a week in 1940, plus 25% of house receipts. In 1940, many people were thrilled to see her in this sexy jungle girl outfit. Wow! Or should I say, Va Va Voom! BA
S89 Master of Flying Daggers (83) aka: The Demon Fighter aka: Wu ye lan hua First, an amazing trailer to 'Tai-Chi Master'. The Demon Fighter is possibly a Taiwanese attempt to emulate the success of 'Zu Warriors from Magic Mountain'. One man rescues a woman and sets out, along with his drunken partner, on a mission in which they confront acrobatic ninja assassins, loud exaggerated sound effects, and a mysterious black-clad figure called 'The Orchid' who kills assorted women, including a cave-dwelling sexy Indian woman. Many non-Chinese cultures are represented through a mixture of costumes and motifs. Loads of special effects, funny video game sounds..... English language dubbed
X500 On the Isle of Samoa (50) Crandall (Jon Hall) robs a safe, steals a plane, flies it into a storm, and ends up on an island in the South Pacific. There he meets and falls for island hot girl Moana (Susan Cabot). Moana huh? Mmm. Will Crandall turn himself in and be a new man? Susan Cabot was 'The Wasp Woman' in 1959. Her career was over. In 1964 she gave birth to a dwarf out of wedlock. She began taking his growth hormone drugs which drove her mad. Her son the dwarf bludgeoned her to death with a weight-lifting bar in Encino, California in 1986. A gruesome death straight out of a horror film. She was 59. And the dwarf? He claimed physical and mental abuse and was let off with no jail. If you see a little guy about 60 years of age or so lurking about your local gym, beware! BA
0470 Pirate of the Black Hawk, The (58) aka: Il pirata dello sparviero nero Towards the middle of the 15th century, a usurper of the throne forced the legitimate Duke into exile. That man dominated the Montefore dukedom with an iron grip, with the help of the Saracen pirates who terrorized the Italian coastline. The pirate leader of the ship Blackhawk, sets to reinstate the rightful Duke, and he and his band of pirates attack! Amazing color Widescreen, great countryside shots, amazing scenes. (this was released decades ago in America in black and white, this version is also ten minutes longer here). English language dubbed BA
0529 Playing with the Devil (57) aka: Hrátky s certem Colorful fantasy film from Czechoslavakia! Deep in the cardboard forest, walks a goofy soldier. A double barreled robber appears and is turned to stone by a green dressed man (the Devil?) who makes a proposition (and a plate of tasty chicken!). A bearded old man eats large bugs. Country devils (men with horns and fuzzy clothes) live in a barn. They are to seduce the women, a pair of beauties walking in the forest at night. They are taken to hell. Now the goofy soldier must go to hell and rescue them. At first, I thought this whole thing was going to be really cheap, but sets actually improve as the film goes on, and the color tints and complete over-the-top insanity of the ambitious, seemingly endless supply of backdrops will impress fans of obscure fantasy films. English subtitles BA
5051 Song of India (49) Prince Gopal (Turhan Bey) and Princess Tara (Gail Russell) hunt animals in the forbidden jungle, much to the chagrin of jungle boy Ramdar (Sabu). Ramdar liberates the wild beasts by kidnapping Princess Tara, promising to return her only if Prince Gopal stands down. The natives live in harmony with the animals. Sound stage with matte paintings blend well with the stock footage of panthers, exotic birds, and crocodiles. BA
8564 Space Probe Taurus (65) aka: Space Monster In the year 2000 (as if!) the spaceship 'Hope One' (hah) is off to search for new galaxies to colonize. Forced to land on a strange planet they are attacked by crusty humanoid sea creatures and have an encounter with 'giant' crabs that look like they are moving around in your grandpa's aquarium. Filmed on sets mostly, a part of the last gasp of the surge of American outer space films. Reminds of 'Angry Red Planet' another classic stinker that plays like a badly drawn comic book. Great with a 12-pack. Starring the amazing Francine York.
1011 Sputnik (58) aka: À pied, à cheval et en spoutnik! A Russian space capsule has fallen in France. The Russian ambassador wants the passengers returned, a dog and a mouse, both creatures now displaying strange behavior. Early sci-fi, a comic strip, a film made in an era of unknowns. Blonde bombshell Sophie Daumier one of the stars here. BA
3772 Star Odyssey (79) aka: Sette uomini d'oro nello spazio aka: Metallica Strutting heroes, brainy super-scientists, sickeningly adorable robots and an alien overlord intent on domination of the human race. The overlord unleashes black and white stock footage of buildings being destroyed as a warning, in the middle of this colorful science fiction movie. The destruction is suppressed by the Earth government. There is only one man who can stop the aliens from enslaving all the black people. (The only race you see being rounded up, but don't worry, they tell us others are being captured as well). Just so it's fair. Don't need no racist aliens. Another hilarious ten dollar 'Star Wars; inspired space slop from under the warped direction of the great Alfonso Brescia. The following year he would take outer space films in a new direction with 'Beast in Space'. BA
A297 Story of Chinese Gods (75) aka: Feng shen bang Bruce Lee is resurrected with a third eye on his forehead and is pitted against men and monsters. An epic battle between Good Gods and Evil Demons! I am sure Bruce Lee had no idea this was going to be made quickly not too long after his mysterious and tragic death in 1973 at age 32. Rare animated Taiwanese film. BA
Y439 Struggle on the Nile (59) aka: Seraa fil Nil Upper Egypt boatmen pool their resources to buy a faster motorized barge, giving the village elders a chance to be more competitive in trade. The rival business owner has no intention of letting this happen, and sends his henchmen out to rob them. To make matters more complicated, a femme fatale (Hind Rostom) is found hiding out in the cargo bay. Omar Shariff stars. BA
T21 Submersion of Japan (73) aka: Nippon chinbotsu A disaster movie like no other, and makes one think if it happened today. It will never be about climate, but by the power mad freaks who are ruling the earth and their nukes. Here, the social questions come up like.... where do all the people go if Japan sinks into the sea? About 40 minutes into the film a 15 minute earthquake strikes Tokyo and kills three million people. Maybe the largest body count in any film up to this point. Oil refineries exploding, cars crashing, people running around on fire, even some graphic gore as glass rains down on civilians. America answered with 'Earthquake' the following year. This is the original 2 hour 20 minute uncut version. The American version is called 'Tidal Wave' and is an entirely different experience at 82 minutes. English subtitles BA
2249 Supersonic Man (79) Spanish made 'Superman' inspired is actually better than 'Superman' for all the wrong reasons (maybe some 'Star Wars' inspiration too!). Goofy music, awful songs, dime-store effects, cheesy flying scenes, rubber-suited enemies, Cameron Mitchell madman villain..... Supersonic Man is boring mustache man in his day job, but presto magico wrist watch gadget turns him into Supersonic Man. Mustache is gone, because it is a different actor. Supersonic Man can stop bullets and lift heavy objects but when faced by human thugs, he keeps getting his ass kicked! Don't get me started on the robot. BA
0507 Swashbuckler (71) aka: Les mariés de l'an deux aka: Gli sposi dell'anno secondo A costume picture set during the French Revolution! Nicolas kills a French aristocrat and flees to America, abandoning his bride Charlotte (Marlene Jobert). Nicolas (Jean-Paul Belmondo) returns and finds his bride wooed by two nobles, and he wants her back. Huge production, some humor, but serious. We see the reign of terror, kangaroo courts, drowned corpses in rivers and royalists carted off to the guillotine. This is what happens when a country goes tits up. Belmondo is excellent as usual in this historic film. He died in Paris in 2021 at age 88. Also starring Laura Antonelli, another favorite. BA
Q619 Swiss Family Robinson (71) Animated version of the story of the ship wrecked Robinson family and their able ability to build something out of nothing on an uncharted island. Light-hearted family fare for a change. The animation is not bad. Maybe a little below the Johnny Quest standard.
0476 Sword in the Shadows, A (61) aka: Una spada nell'ombra aka: L'épée du châtiment Middle Ages: The Rocca family completely annihilates the Altavila family in the open in costumer swashbuckling style complete with last stand battering ram door slam. The doomed Duke and Duchess have hidden heir Fabrizio, who grows up with gypsies. Meanwhile the evil Contessa (Tamara Lees) has taken pity on the bastard son of the murdered Duke. The reckoning is set into motion. The daughter of the Contessa comes home after years at a convent school and falls for Fabrizio. Double cross(-ed swords), action and treachery follow. English dubbed with what looks like Greek subtitles. BA
N97 Tartars, The (61) aka: I tartari aka: Les tartares Irresistible sword and sandal starring Victor Mature, Orson Welles and delicious Liana Orfei with plenty of absurdities that contribute to the entertainment factor. From the North, the Russian Vikings are lead by Oleg the Brave (Victor Mature). From the East, the dreaded Tartars are lead by the local Khan Togrul (a fat Orson Welles). Togrul demands Oleg join him in the destruction of the Slavs. Oleg refuses. Joining forces is not in the cards, women are kidnapped and used for leverage.... Short shorts Mature (panties? I mean like dude, what the hell are you wearing?), funny lines, great epic battle scenes, amazing scenery, erotic dancing, implied rape... Better than you would think, a real hoot. Don't anger the Gods, he'll hide your pants. BA
Q627 They Were Called Three Musketeers But They Were Four (73) aka: Li chiamavano i tre moschettieri... invece erano quattro Rabble rousing fun for the whole family as the last four royal swords to the king join forces, sort of, with a kung-fu clan that wandered in from an Antonio Margheriti film by the looks of them. A minimum of dialogue as the plot flies forward with slapstick and Tony Kendall spoofing D'artangan and Stan Cooper taking a pie in the face. Various subplots weave together in a whirl wind of derring do, oaths of loyalty, and some brief potty humor. BA

EXPLOITATION FILMS
0553 Bourgeois Drama, A (79) aka: Un dramma borghese Young Mimmini (Lara Wendel) on holiday from boarding school has the hots for her widower father Guido (Franco Nero) that borders on the obscene, and then almost steps over the line. Mimmini even brings herself to orgasm while lying next to him in bed. Therese (Dalila Di Lazzaro) arrives, an older more suitable woman for Guido's growing... er passions. So Therese and Guido have an affair, and young Mimimini goes mental. Tragedy. Widescreen with English subtitles. BA
0600 Futz (69) Overboard counter culture flick about a farmer man, fed up by how he is treated by women, decides to marry his pig, an action so taboo that even his hillbilly kinfolk go arms-up in horror against him. The film opens with a scene rooted in absurdity, a preview that we are not going to be operating on a sane playing field. Then we arrive in the land of hatefully stereotyped country folk. This is some weird art film. An oiled up greasy orgy ends in a nod to a painting. Hee Haw meets Fellini. Two Thousand Maniacs meets Godspell. No bestiality. Not that type of film, more a farce, a journey into satire, meant to shock and offend. BA
L543 Games of Desire (91) aka: Impudicizia Florence (the very hot Malu who supplies plenty of nudity) needs affection. Her husband is not up for the job. Florence seeks out lovers for brief encounters. But husband Jake is watching with his secret darkrooms and two-way mirrors. Jake is now aroused. But Florence has another plot to make her seduction move on Jake, beginning a new phase of sensual desire in their relationship. Sex borders on hardcore. BA
9493 Getting Wasted (80) aka: I ragazzi dell'accademia militare Set in a military school in the 1960's. Deals with a group of young cadets who are more interested in getting high and having fun than anything even remotely serious. Influenced by 'Animal House' and even includes Stephen Furst as the typical fat loser he would usually play. Nice recreation of the era, music and all, for what it's worth. Toilet gags and low brow antics, although the microwave and the dog may offend some. A young David Caruso has a small role as 'Danny'. BA
L314 Homework (82) aka: Growing Pains Tommy (Michael Morgan) can only think of sex with foxy fantasy chicks. The girl next door is hot (Erin Donovan) but only interested in making the swim team. But her hot mother Diane (Joan Collins), gets nostalgic, and decides to help Tommy lose his virginity. A bit messy, but good stuff! Carrie Snodgress is the school Dr. Delingua. Lee Purcell is Ms. Jackson. Wings Hauser is 'Reddog'! Annie Ample, Michelle Bauer, Lindsay Freeman, Barbara Peckinpaugh are 'fantasy girls'. Peckinpaugh killed herself in Hawaii in 1987 at age 27. Annie Ample was once offered twenty grand by Al Goldstein to do a hardcore loop with John Holmes. She refused. She died with M.S. complications in Las Vegas in 2008 at age 57. Hell, even Michael Morgan died young at age 39 in Los Angeles in 1999. BA
9727 Honky (71) Inter-racial relationship between cute black Sheila (Brenda Sykes) and white boy Wayne (John Neilson) in this era of 1971 'hippie' America. Wayne's mother is played by Marion Ross. Sheila gets Wayne into dealing dope. After a drug run, they wreck a car and later flee to California. A group of rednecks they meet on the road have a brutal agenda in store for our mismatched pair. Will they escape this fate? Tensions ensue ending with bitter resolve. William Marshall is Sheila's dad. The following year he was 'Blacula'. BA
0462 Hot Girl Juliet (82) aka: La caliente niña Julietta From the director of 'Dawn Rapists' and 'Bloody Sect' Ignacio F. Iquino. Considered one of the best Spanish erotic trash films, which really means a lot in my book. Juliet (the irresistible Andrea Albani) is in a boring marriage and starts playing around with her former lesbian lover Sylvia (Eva Lyberten). When the ladies discover that Juliet's husband is screwing around with a beautiful lover, they decide to seduce her. Orgasmic and near hardcore. The women are top notch. Now with English subtitles for the first time! BA
0463 Hot Potato (79) aka: La patata bollente Not to be confused with the Jim Kelly film. An ex-boxer known as 'Ghandi' with street cred and communist union leanings saves a young gay man named Claudio (famous Italian pop singer Massimo Ranieri) from a 'fascist bikers beating'. Ghandi takes Claudio home to nurse his wounds. Claudio calls his boyfriend and breaks up with him. But Ghandi has a girlfriend named Maria (Edwige Fenech). When Ghandi is sent to Leningrad, Claudio starts to redecorate. Maria and Claudio battle for the affections of Ghandi. The secondary gay characters are played as stereotypes, but not hatefully. Communism is not pushed hard either. Some nice nudity from Edwige Fenech! Widescreen and English subtitles BA
0581 I am Caterina (80) aka: Io e Caterina Enrico is tired of his wife (and she of him). Enrico is also tired of his lover. In a travel to America he returns with Catarina a robot that acts like a maid. Caterina seems to be the solution for Enrico's cold heart. But Caterina has a defect. Feelings. Enrico now has a very ugly metal robot. A very good worker and conversationalist, but I am pretty sure the forceful Caterina will be faithful to Enrico. Caterina wants what all women want in life. Enrico brings home Elisabetta (Edwige Fenech in tight pants). Caterina watches and gets jealous. Nice nude scene of Fenech in the shower. Caterina has had enough and starts trashing the place. Widescreen and English subtitles BA
S392 I Like the Girls Who Do (73) aka: Liebesjagd durch 7 Betten aka: Seven Days of Plenty - The Girls Who Do When the uncle of a young man dies in a car accident, he receives the terms of his potential inheritance. He must bed seven selected women in seven days, and he is currently a virgin. Are you up for the challenge? Some funny scenes in this English language dubbed German sex farce comedy. Like the outdoor scene with the peeping construction workers. Tasteful ta ta's with beautiful women as they were intended by nature (not surgically enhanced, although that is okay too!). BA
0558 Impotent Seducter, The (75) aka: Il Gatto Mammone Lollo (Lando Buzzanca) wants a son but his wife Rosalia (Rossana Podesta) is barren. She's such a babe you would think he would just keep on trying and forget about an heir. A surrogate mother he will have to inseminate the old fashioned way. But she is ugly as a bulldog. But then he meets Marietta (Gloria Guida) and hires her as a maid. So would I, and I don't even need one. She thinks the couple is just trying to adopt her, but after a huge bit of misunderstanding (a hilarious conversation between Marietta and Lollo).... Confused Lollo gets in bed with the wrong woman, another hilarious scene. Finally Marietta agrees to have Lollo's kid and they sleep together for some time to accomplish this. But then the impossible happens! Widescreen and English subtitles BA
0506 Innocent Sally (73) aka: The Dirty Mind of Young Sally Porn actress Colleen Brennan in her debut using her 'Sharon Kelly' porn name. She is the sexy owner of a pirate radio station constantly dodging the police who are trying to shut her down. But mainly just lots of humping. I just realized that there is actually some hardcore in this version! Soft-core mostly with a splash or two of hardcore. Adults only- this ain't high school! BA
0582 It Pays to Make Love Well (75) aka: Conviene far bene l'amore aka: The Sex Machine During a worldwide energy shortage in 1997, scientists try to harness the power of sexual passion as an energy source. He experiments on the injured who end up in his hospital. There lies a man and a woman (Agostina Belli) side by side, both with casts. When they get it on, the scientists in the other room watch as the wiring and lights go back on through the sexual energy! The couple is married, but not to each other, and Agostina Belli's character has an obscene number of kids (perhaps a hit on Catholicism?). No no, I am faithful to husband! She hotly breaths in passion as she gives in to adultery. She certainly doesn't look like a woman that has had a lot of children, this is prime Agostina Belli here. There are complications. But ultimately, sex cures the energy crisis. Hear that you mothers? Get Humping! Comedy science fiction. Widescreen and English subtitles BA
8969 Jane Bonda's Bizarre Workout (84) Michelle Bauer as Mistress Jane Bonda spoofs Jane Fonda as a dominatrix with a sense of humor in what can only be described as a sexed up erotic workout complete with spikes and leather, plastic balls in mouth, collars whips and bizarre fetish behavior, all played for great fun.
0565 Love and Sex in Rome (71) aka: Roma Bene An assortment of characters are introduced at a party. Wilma, a closet lesbian, is married to Nino, who is more interested in business deals than anything else. Lando and Vivi are the spoiled children of Silvia and Giorgio. Elena is married to a rich old Greek. When Silvia's emerald is stolen, the accused is given castor oil to make him shit it out. A hunting party. Gambling debts. Later on Silvia's yacht, drugs drinking and sex. Fancy pants people with money and sex on their mind. Senta Berger, Virna Lisi, Michele Mercier, Irene Papas, Ely Galleani and more beautiful Italian starlets. Widescreen and English subtitles BA
0562 Love Beds and Betrayals (75) aka: Amori, letti e tradimenti Sex comedy (sort of) from Italy and starring Marisa Mell as Greta, the wife of Guido. Guido is trying to get young shepherd Baldo's land. Guido and Greta work out a deal where they get the land, but Baldo can stay. Unmannered horny Baldo tales liberties with Guido's wife Greta, and even Guido's daughter Paola (Sonia Viviani). The much older Guido is too busy fooling with Maria (Malisa Longo) to pay much notice. Baldo is smarter than he looks, you'll see how it all works out. Widescreen with English subtitles BA
L172 Lustful Mind, A (86) aka: Lussuria Joe D'Amato directs. Alessio has been mute since the death of his mother two years ago. His father (Al Cliver) sends him to the house of his sister-in-law where a trio of hot women are around to occupy his brain with numerous sexual fantasies. He spies on them having sex, his father gets his share as well. Lilli Carati is 'Marta'. More wonderful trash from the master. A great location, the Villa Parisi in Frascati where 'Hatchet from the Honeymoon', 'Blood for Dracula', 'The Murder Clinic' and more were filmed. BA
0466 Madame and Her Niece (69) aka: Madame und ihre Nichte aka: Mia nipote la vergine Michelle (Ruth-Maria Kubitschek) is wined and dined by the richest of men. Yvette (Edwige Fenech) is a fashion model, and is introduced as her niece. Yvette lives with young promiscuous people, but she remains a virgin until she meets the right man. Yvette falls hard for the son of a millionaire playboy (yea, and every other woman that lives and breathes). Fenech is simply stunning. I've said it before I'll say it again. They just don't make 'em like that anymore. The Go-Go club scene makes you wish you were there. Nudity and sexual situations. Widescreen with English subtitles BA
0557 Man-Eater, The (99) aka: La Donna Lupo A sexy she-wolf named Giulia (Loredana Cannata) goes through men like Madonna at a basketball convention in this top notch Italian made trash. Valerio stops by her place and before you can say aw shucks she's got her mouth wrapped around his... well, you know. Hey, that looked XXX in that scene, just to warn you. Valerio falls for her, hard (and on her as well, same details). Can he change her? Is there love and monogamy when you are dealing with a beautiful sharing nymphomaniac? The talk is sexual and realistic. One subplot has four young guys having no problem getting down with a trio of transvestites that look like the band 'Poison'. Meanwhile Giulia is getting nailed doggy style in a swimming pool. Later she takes on two guys in a tag team situation. Maybe this should be in the XXX section? But really, this is mostly drama (and sex). Sexy Loredana Cannata in her debut, catch her also in Tinto Brass's 2002 Nazi trash classic 'Black Angel'! Widescreen with English subtitles
S581 Miner's Wife... Takes Her Pick, The (72) aka: Lass jucken Kumpel German Sex Comedy! Heiner works hard daily, drinks beer, and beds sexy broads behind his wife's back. Heiner's wife tires of staying home and watching the toddler, missing out on all the fun. So she..... (see title).... The real skin in this game are the slutty goddess women on hand in sex and undress like Elke Boltenhagen, Birgit Bergen, Manuela Widman and more, all with points all their own sitting way up high. The kind that would seduce you away in an instant with their eyes and a smile alone. A great film and hey, everybody scores! In German language only but you won't need subtitles trust me. LBX
S582 Miner's Wife ... Takes Her Pick 2, The (73) aka: Laß jucken Kumpel 2. Teil: Das Bullenkloster Heiner is now divorced. His wife was a slut and so was he. She is now a prostitute. Living with a bunch of men, Heiner ends up in one sexual situation after another as they all lust after the local willing frauleins. These gals will strip for sex at the mere suggestion, perpetually horny nymphet's. All natural mufftastic beauties. Heiner meets up with his hooker ex. Is there a chance to start again? Slight LBX and German language only
0467 Novice, The (75) aka: La novizia Vittorio returns to his provincial home town to visit his dying Uncle Nini, a popular former cocks man (Lionel Stander). He is attended by a novice nun in her debut gig named Maria (Gloria Guida). Vittorio whores and parties while there, has hookers rub their bare boobs in her ailing uncle's face, like a good nephew. He even gets it with a horny married woman named Nunziata who cannot get enough (Femi Benussi), with her husband in the same room. Then he passes her off to his friends. Despite this Maria falls for Vittorio, she has been watching and is getting aroused. To hell with her vows! Finally Gloria Guida strips out of her habit and runs naked through a country meadow. Thank God! Widescreen with English subtitles. BA
0468 Nude Sexual Craving (82) aka: Sexually Inclined and Nude aka: Inclinación sexual al desnudo Now with English subtitles for the first time! The best simply the best. A lesbian couple makes and sells erotic tapes in a coastal town. A husband looks for his wife and gets laid for his trouble. The transsexual director tries to seduce a man. The guy flips when he realizes a penis is under that dress. Fantastic ladies, lots of sex and nudity. Listed in main catalog without subtitles. Finally Widescreen with English subtitles.
0563 Rimini Rimini (87) Episodic adventures on the beaches of Rimini with plenty of pretty women and loads of nudity! The thrust of the story involves a moralistic crusader magistrate named Gildo who aims to take down all of the red light activities. But he may be set up in compromising or embarrassing photos with a sex goddess named Lola (Serena Grandi)? I almost fainted along with the guy in the movie when topless Serena Grandi comes down from the hammock. Compared to literally all of what Hollywood has to offer in 2022, there is no match. We also get 2000 suicide casualty Elvire Audray (she was 40 when she killed herself) Laura Antonelli and Sylva Koscina. Widescreen with English subtitles BA

0566 Run, Virgin, Run (70) aka: Die Jungfrauen von Bumshausen The town of Falkenhousen has very sexually satisfied wives and high birth rates. Legend has it, the mythical 'Faun' delivers vigor and strength to the men in town. But truth be told, these hot babes are very busy with a fertile, studly young blacksmith, who takes it when he can get it, which is frequently, a lot, with many, all young and drop-dead hot sexy. It's hard work, but he is up to the task! Enjoy the past, the culture of the region how it was meant to be. Some of the hottest women, and no skimping on the nudity! Widescreen and English dubbed! BA
0255 Street Girls (75) aka: Crackers Before 'Hardcore' ... before 'Angel'... Street Girls! Happy Harlots turning tricks before they turn 18! A homophobic father (who enjoys strip-clubs) hunts for his runaway daughter in the dark underworld of sex and drugs. A lowlife tells the father he may know the location of his daughter 'Angel', and leads him around. Hell, he's proud of his town. A damn rare thing these days. Through the cesspool that is West Hollywood they encounter every manner of sleazy character imaginable. Gratuitous nudity and trashy, fun situations throughout, make this one a winner. The director would go on to direct 'Jackson County Jail' and one of the best Chuck Norris films 'Silent Rage'. BA
0567 Swingin' Models (72) aka: Bed Career aka: Bettkarriere Another nice lusty addition to sexual films with 'swinging' in the title, or in this case, 'swingin'. This one is about sex for profit, a series of scenes with the hottest of hot babes selling their poontang for the almighty dollar. As is the way of the world. Supply and demand. In the open, a photographer convinces his topless model that selling her ass is the fastest way to making a quick buck. He takes her to a party. The rich. Time to play. Rooms for sex, many nerdy men scoring with the ladies, because they have money you see. Voyeurism, Nudity and Sex! Nice Widescreen and English dubbed BA
W318 We All Go Down (69) Porn director Gerard Damiano's first feature is soft-core. Drugged out Pete uses Nancy (Alice Haley) for drug money. He splits to score and she hooks up with her hot lesbian roommate. Burt hosts a free-loving party where a large-breasted girl makes it with a guy in front of everybody. Later a beach house party adds more spice. Choppily edited and put together but who cares, the ladies are there to ogle, the movie succeeds on intent. Pete has a bad trip on LSD and imagines himself strung up in chains and shackles, then a woman thrusts a large hypodermic needles into his chest, the shot is done in an interesting way, that will blow your mind for 1969. BA
0571 Woman in the Mirror, A (84) aka: Una donna allo specchio A feast of (the perfect) Stefania Sandrelli nudity! Rival groups battle each other using oranges as their weapons of choice. Fabio meets Manuela (Sandrelli) and sparks fly. Three days of unlimited confessions and passions follow. They know their time together is short, so the quest for extreme experiences of a sexual nature have no boundaries. Sexy stuff, in Italian language with English subtitles

EXTREME HORROR AND GORE FILMS
0192 Abrakadabra (18) Magic is the art of making the impossible possible. Magic is chaos. It is curse, blessing and progress. The Great Dante, master magician, dies while trying to pull off a daring magic trick. His son Lorenzo becomes his successor, and thirty years later he is performing at one of the cities most prestigious theaters. A series of giallo bloody murders begin, all seeming to follow and point to Lorenzo. A throwback to the days of the 1970's giallo! Widescreen and English subtitles BA
9769 Blue Murder (85) aka: Pornografia i morderstwo Hard-nosed homicide cop and a crime reporter track a clown mask wearing serial killer who is murdering people in the porno industry. It seems the killer is angry that porn exists. By killing porn actresses he thinks he is stopping the movies. Not very bright. Many girls were born with looks but no brains, there is an endless supply of porn girls and always will be. But damn it he tries. Got to give him credit. He's on a mission. Misguided, but a mission all the same. This inept mess from Canada is about as sexy or intense as an episode of 'Quincy'.
4793 Bog (70) In a rural swamp stalks a bog beast Bigfoot type blood-sucking creature inspired by a certain 'Boggy Creek' success. An old swamp witch woman knows the secret of the swamp. Bog is bad, real bad. The ineptitude on display makes Ed Wood look like Sam Peckinpah. That's why I love Bog. Bog has the quality that zaps me back in time to those late night horror movie binges. The next day you would be on the floor with empty beer cans and vhs tapes all around you, barely remembering the last few films you watched before passing out. Familiar faces here include Leo Gordon and Marshall Thompson as doctors, Aldo Ray as the sheriff and Gloria Dehaven in a dual role! BA
6112 Born of Fire (87) A young flautist Peter discovers that he is unconsciously summoning up sinister, distorted melodies. A woman approaches and says she knows where these strange melodies originate. She is an astronomer, and sees a connection with an impending volcanic eruption in Turkey, where Peter's parents died violently, mysteriously. Off to the Turkish countryside where they encounter the Master Musician through distorted visions and dark occurrences eventually leading to a battle of good versus evil with the power of music. BA
X994 Boy Who Cried Bitch, The (91) aka: Bad Boy Story Tough to find thriller about a psychotic twelve year old named Dan (Harley Cross) who has issues of rage. He calls his mother awful names like bitch slut whore. He is almost raped by a nut job veteran. Later he ends up in a group home for disturbed boys. Potent, unnerving, uncompromising and downbeat satisfying ending. (That's the way you do it) This psychological thriller stays with you long after the credits roll. Jason Biggs has a minor role in his feature film debut (don't get excited he's thirteen) and Dan attacks him with a plastic fork. With Adrien Brody as Eddie. Karen Young as the sad but strong mother of Dan. Spot the boom microphone! BA
8208 Bridge to Nowhere (86) aka: Un pont vers l'enfer New Zealand in a more realistic light. It's not all hobbits and fairies you know. You cross the bridge, you cross the devil! Street kids head into the wilderness for a weekend of adventure. Before you can say 'Kia Ora' or 'Bro' they cross onto the land of a vicious redneck who wields a hunting rifle. Now it is all about survival as the fanatical madman, who is in his element, starts to hunt them down in the best tradition of 'Deliverance' and 'Southern Comfort'. They trespassed into his world, now they must survive his wrath! BA
0555 Cold Paths of Crime, The (74) aka: Los fríos senderos del crimen From the director of Paul Naschy horrors! In the opening, the killer strangles his fifth victim, a woman fresh out of the shower. Fred (Daniel Martin) meets Helen (Agata Lys) and they hit it off. But what about Fred's drunken wife Jane (Maria Perschy)? She is screwing around with an author of no talent named Gigi. Did I tell you Jane owns a publishing company where she has installed Fred as the boss? The killer offers to kill Jane, for a price. Bait and switch, at first... After more deceptions and dirty tricks, Jane does indeed become a corpse, and now the killer wants to make another deal to kill Helen, to insure Fred can live like a rich playboy forever. But there is never an end that you would expect..... Slight Widescreen and English subtitles. BA
Q11 Cross Country (83) aka: Gehetzt He kills his girlfriend in Philadelphia and goes cross country, picking up a blonde and her mysterious traveling companion. Twisted mind games and sexual manipulations build to a frenzy of wicked passion. But a tough Philly cop is on his trail. But who killed who and who knew? Nudity and Ghastly happenings combine in a mind-melting trip into intricate relationships and escalating tensions ticking like a time bomb in the best road trip thriller tradition. Michael Ironside is the detective. BA
6475 Death Mask (84) aka: Masque de mort Just days after the death of his daughter, investigator Douglas Andrews (Farley Granger) is given assignment to solve the murder of a ten year old boy. Andrews' obsession with solving the case turns into a nightmarish journey. Lee Bryant plays his wife. Danny Aiello is Captain Mike Grasso. Based on true events, namely 'the boy in the box' cold case that happened in Philadelphia in 1957 where still to this day in 2022 is unsolved. Not that they are trying, Philly is a town of murder and gore with no accountability running 200 homicides and counting in 2022 alone as of September. BA
1199 Demon, The (79) aka: The demon's nightmare - Il ritorno aka: Midnight Caller Cameron Mitchell is ex-marine turned psychic Bill Carson, investigating the brutal murder of a 14 year old girl, while the monstrous man responsible is busy stalking fresh victims, namely the cute 18 year old brunette Jo (Zoli Markey) and her pretty blonde cousin, nursery teacher Mary (Jennifer Holmes). Our killer wears clawed gloves, kills with a plastic bag on the head trick, and his obsession is killing pretty young women, who have no problem giving us an eyeful. He wears a white faceless mask, now you see it, now you don't. Boobs Disco is a real place! Loud erratic soundtrack plus lots of screaming. BA
0561 Devil and the Diabolical Mistress, The (71) aka: Devil's Ransom aka: Senza via d'uscita Michele (Marisa Mell) ignores her husband Gilbert (Philippe Leroy) who is screwing his mistress Britt (Lea Massari). He's got to get it somewhere you understand. But unbeknownst to Gilbert, Britt and her accomplice are up to something for the grift. The shakedown. They kidnap the son of Michele and Gilbert. Britt's helper also forces Michele to pose nude, while Gilbert balks at robbing his employer to pay the 'Devil's Ransom'. Marisa Mell in her most revealing role, a vehicle for her. A salute now these days. Widescreen and English subtitles BA
0558 Erotic Blackmail (74) aka: Le corps a ses raisons aka: Rivelazioni erotiche di una governante Wild French made swinger thriller now finally with English subtitles. Swinging usually involves some sort of blackmail, and this sexy couple plays the sex grift game well. But when they invite another unwitting couple to play with them in the country, other's want to get in on the 'action' as well. When the husbands step out, the women are attacked ... but who is playing who? A fire! People are trapped! Screaming! Yes, this ends badly for some of our horny evil doers. Or does it? Valerie Boisgel was also in 'The Blood Rose'. The pretty France Nicolas was in a few Jess Franco films. English subtitles BA
0578 First Surrender (71) aka: First Delivery to a Married Woman aka: La primera entrega Two murderous, women abusing, thieving thugs holing up in an abandoned villa observe a well off couple. The husband goes away on business. They both want her. When the wife learns her husband is with a mistress, she falls for the deceitful charms of one of the scumbags. This drives the other mad, and when the wife takes things into her own hands.... there will be blood. The husband returns home. What the hell happened? This version of the film is longer by eight minutes, some of the abuse stuff and violence were cut from other versions. Widescreen, in Spanish and English subtitles
R924 Girl Hell 1999 (99) aka: Shôjo jigoku ichi kyû kyû kyû Two maniacs go on a rape spree, brutally battering their victims with a baseball bat repeatedly before raping them and then battering them again until their victim is dead... but this time they picked the wrong girl..she extracts a harrowing and bloody revenge on the people that violated her Truly disturbing and offensive, but wow! that bloody revenge finale! F.L.
0560 Hard Women (70) aka: Perrak aka: Il cigno dagli artigli di fuoco Inspector Perrak is investigating the murder of a transvestite/prostitute which leads him to all sorts of red light establishments. Later when his son Joschi is kidnapped by some vicious villains, we really see what Perral is capable of. Male and female nudity, hall of mirrors, sex freaks and degenerates, drag shows (for adults), a contract killer, brothel, blackmail, martial arts, shootings, stranglings... more. Warning, a guy shoots a dog (but only acting I am sure). Transvestites show up at the police station for questioning. Some of this hard-hitting sexual crime thriller looked ahead of it's time. A violent classic with some great scenes, and bloody as well. Widescreen and English subtitles. BA
0579 High Crime (73) aka: La polizia incrimina la legge assolve 1 hour and 43 minute Widescreen and English subtitled print. Franco Nero - Also available as alternate widescreen English dubbed print Z807 BA
0580 Holocaust 2: The Revenge (80) Amazing Widescreen English dubbed Uncut version! Upgrade! Previously listed #J797 slight LBX and foreign subtitles, this is better, Widescreen and English dubbed with no foreign subtitles.
0358 Miami Golem (85) Action science fiction horror with David Warbeck, John Ireland and Laura Trotter. This version is a new Widescreen spectacular print!! Directed by Alberto De Martino. BA
0586 Mr. Wrong (84) aka: Dark of the Night aka: El enigma del Jaguar gris aka: Jag Meg (Heather Bolton) buys a Jaguar with a violent past. The car has problems not covered by any warranty. Human choking noises come from the back seat. Two hitchhikers she picks up disappear after getting into the car. A strange man seems to be following Meg. If you thought 'Christine' was mean..... David Letch of 'Death Warmed Up' is 'The Man'. BA
0469 Pebbles of Etretat (72) aka: Les galets d'Étretat aka: Improvvisamente una sera, un amore Eny (Virna Lisi) is raped by a very rich and powerful man. The rest of the film she is hell bent on revenge. She does not call the authorities. She cancels all of her appointments. She attends a huge Nascar like race. One of the driver's is the rapist. She seems to be stalking him. She seduces him, goes to the strip club with him, makes love to him. This is a long cold and calculated sort of revenge, not the kind from an American film. She leaves and he cannot get over her. Can she ruin him? Will she ruin him? Cool cars, amazing locations. Widescreen and English subtitles BA
7105 Post Mortem: The Call Girl Murders (97) aka: Post Mortem - Der Nuttenmörder A young woman, the daughter of a medical professor, living on her own for the first time, is brutally murdered in the opening sequence. The police say she was a call-girl because her murder fits the profile of a serial killer of hookers. The chief of police medical examiner opens his own investigation. Twists turns and suspense. The crazed puritanical killer eventually tries to get with the wrong hooker who puts a sharp blade to his neck and scares him away. But wait! Some nudity and some blood, not real gory, but a well made serial killer film. In German with English subtitles
0587 Quiet is the Night (78) aka: Wsród nocnej ciszy A Polish Giallo! Before WW2 in Poland, young boys are being murdered, shot to death by a black-clad killer, who leaves one clue behind each time. A small toy with the picture of a cat on it. A detective/cop is on the case and his frustration builds. Another part of the film is about the detective's son who is in finishing school. His son is not on board with the plans his father has for the future. To show his worth, the son tries to find the killer before the father.... The ending of the film is shocking and very downbeat and dark. A powerful moment in Polish film history. Do not miss this one! Beautiful winter shots. English subtitles BA
0473 Shadow of a Memory, The (78) aka: La sombra de un recuerdo Jose is an antique collector. But his real passion is reserved for women. Seeking them out and picking them up, you know, the usual. But there is one thing. He gets them alone and strangles them. Then Jose (say it isn't so Jose!) rapes their dead bodies. Yep. Jose is one sick fuck. He drowns his sister. He spied her making love with a strong black woman. He can't get it out of his head. But what he does to his sister after she is dead....sorry sis. More women he pursues, eventually leaving a clue that may be his downfall. One sick and sordid Spanish made trash masterpiece. Mirta Miller of some Naschy films has one grim fate (or does she?). More familiar Spanish women... Widescreen and English subtitles
0588 Smile Before Death (72) aka: Il sorriso della iena Violent Italian Giallo from the director of 'Amuck' Silvio Amadio. Not only is this Widescreen and Uncut, but the colors are sharper as well in a practically high definition print. New version with 4 minutes cut from most other prints, including the version we listed previously as M916! English language dubbed. See 2020 mini-catalog for more information.
L629 South Seas (74) aka: South Seas Massacre aka: Südsee Massaker A black dude has kidnapped a motorcycle man (Troy Donahue) and handcuffed him in a ship's cabin which is then attacked by pirates and taken over. Handcuffed together they jump overboard. The pirates rape the female passengers and our unlikely 'defiant ones' duo wash up on the shore of an island and are surrounded by natives who worship a large clam/pearl. The chief has some hot daughters, and promises our trapped pair an evening of island 'traditions'. The men, still handcuffed together, beat the shit out of each other. Finally the cuffs are off and the women are hard to resist. Wearing a flowered towel, Troy Donahue frolics with a topless babe in in the island jungles in slow motion! He scores! Or does he? The blood thirsty pirates have landed. They chase down and rape the island women. The natives arrive and decapitate one rapist immediately! Gore violence and death as the pirates kill, rape and destroy! The massacre has begun! BA
0479 Unfaithful Women #4 (16) In the opening, a woman is exposed in front of her kids that she is a slut. Her husband announces the videos of her screwing around have also been forwarded to her brothers and all of her friends. Then the opening credits. We are in for a ride. Or somebody is. In a hotel a maid finds hidden cameras. This is where the sex videos are illegally produced and uploaded onto the internet. The maid likes the videos, wants to watch them, help plant them. The cameras are bound to catch other compromising situations for blackmail. Crime and Passion, Lust and Murder! The possibilities... unlimited! Plenty of Nudity and Sex! Widescreen and English subtitles
0569 Victim, The (80) aka: Az áldozat Budapest: A serial killer has the detectives in a gridlock. They call in a former colleague who has insight, unusual theories that others doubt. Meanwhile the killer is busy deciding who's the lucky girl to be his next victim. The detective is Columbo smart, and may find the killer's mark before the killer does. English subtitles on this obscure Hungarian film. The police procedural is fascinating for 1980.
0597 Violated (89) aka: Violacion Women are raped in Mexico city every 9 minutes. Valentine Trujillo is Garrido, a social defender of women who have been raped. His fight is against the lenient authorities that go easy on the rapists. A woman is raped by mustache man and the doctor that examines her declares no harm no foul. When rape is not punished it only increases, something common sense used to dictate in a saner world. 'All of you are worse than the ones who assaulted me!' the rape victim declares to the idiot authorities. Do you think we're making enchiladas? This is serious stuff. One woman jumps out the window to her doom to avoid mustache man from raping her. We have the rape... will there be retribution?
FRANCO FILMS
0594 White Slave (85) aka: La Esclava Blanca Honeymoon safari time goes awry when white slave traders capture a young woman and trade her to primitive savages (some men with scanty leopard skin wedgies right up their butts! 'Wardrobe!') for sacrifice, in exchange for diamonds. If it sounds familiar, it is, but this is actually something more. Franco filmed this mostly in 1976, dusting it off later and editing here and there (adding?) until he had this masterpiece finished. 'Those who penetrate our world will die!' 'The time when passion flowers blossom has arrived, and we must sacrifice a white victim, and to offer that sacrifice to the God Pantos'. This said by cult/tribesman as they spy on the progress of the safari who travel deep into the jungle past the point of no return. Lina Romay of course makes her way in here somewhere, high points still if you get my drift, kung fu Lina this time. The tribes men worship a big green papier-mâché dinosaur. For the first time English subtitles!
0471 Woman's Ward (73) aka: Quartier Des Femmes This is the French version of the other release known as 'Lovers of Devil's Island', 99 minutes long, 22 minutes longer! A governor on his death bed informs a lawyer of two women wrongly convicted and doing time on Devil's Island, some South American dictatorship prison, run by a cruel lesbian. As he tries to arrange a release, the women are involved in a rebellion. More sex, more nudity, more depraved punishment. Get 'em both and compare! Jess Franco delivers! Howard Vernon, Dennis Price and a bevy of beauties. Regarding horror actor Dennis Price (the other Price), this would be his last film. He died at age 58 in 1973 Channel Islands U.K. of heart failure resulting from a fractured hip. Widescreen and English subtitles.

HAMMER AND BRITISH FILMS
0530 Baby and the Battleship, The (56) Seaman Knocker White (Richard Attenborough) and Puncher (John Mills) find themselves babysitting the brother of Knocker's Italian fiancé (Lisa Gastoni). Puncher is on his own, and he smuggles the baby onboard ship, enlisting his mates to assist. The ship sails, leaving Knocker AWOL. Puncher and his crewmates try to attend to the needs of the baby, while also keeping the baby hidden from their superiors. A warm hearted Naval comedy, filmed in color. Also in the cast Andre Morell, Lionel Jeffries, Michael Hordern, Thorley Walters, Ferdy Mayne, Gordon Jackson and look for Yvonne Romain as an Italian girl at 18 years of age, her adult debut. BA
1737 Blood Beast from Outer Space (65) aka: Night Caller from Outer Space aka: Madra... il terrore di Londra Medra (played by tall man Robert Crewdson) is an alien from Jupiter's third moon and is capable of transferring matter through space. He has arrived on earth to capture young fertile women to send back to help repopulate his planet. Not played for camp like other American made films of the era with similar themes, this becomes like a detective science fiction thriller, with sharp dialogue and serious performances. With John Saxon as Dr. Jack Costain. Also starring Patricia Haines who was married to Michael Caine in the 1950's. BA
9852 Confessions of a Pop Performer (75) Timothy Lea (Robin Askwith) swaps his window cleaner job for a microphone with a plan to make a fortune as a band manager. The band is awful, but opens up sexual opportunities for Timothy. Especially when he takes over the microphone, improving their sound. They find themselves on a 'Top of the Pops' type show called 'Star Knockers'. Speaking of knockers. Timothy beds a string of sexy women in scenes that are always played for laughs. Juvenile sex jokes give me the giggles. I miss this era of film. No balls these days for this type of fare. Pussies. More to come! BA
Y603 Confessions of a Window Cleaner (74) Val Guest directed this first 'Confessions' entry with Robin Askwith as Timothy. At the start of the film Timothy is a virgin, even after an encounter with a sexy stripper named 'Lil' (he gets it with her suspender belt by mistake so it doesn't count). Finally a customer named Jackie does Timothy up right, in a kitchen awash in soap bubbles. Talk about safe sex! Linda Hayden turns up the heat as policewoman Liz. Later Timothy spies schoolgirls taking a shower. What a perv! Hilarious fun, nothing like it these days. BA
0545 Deadly Record (59) Barbara Shelley stars as Susan Webb in this murder mystery about airline pilot Trevor Hamilton (Lee Patterson), falsely accused of killing his wife, setting out to find who really killed her, and why. Susan Webb is the mutual friend of Trevor and his (now dead) wife, who offers her support.
0520 Don Chicago (45) Don Chicago's mother was a notorious gangster and he wants to continue the tradition. But the Mulligan gang exiles him to England. There he finds himself entangled with numerous stage performers and Don Chicago finds himself at odds with a copper. Several strange scenes include Eddie Gray's stage act in black face, juggling and more. He was a famous English pantomime performer. Amy Vaness as 'Bowie Knife Bella' was in a number of film classics.
C467 Dual Alibi (47) Excellent British Noir about French twin trapeze artists (Herbert Lom great in dual role) who win a lottery. Enter a greedy femme fatale (Phyllis Dixey) hired to steal the ticket. Told in flashback, gloomy circus atmosphere. A very dark film, excellent trapeze work (Lom doubled by the circus act 'The Cromwell Brothers'). After seeing the awful 'Nightmare Alley' remake (a task I tell you) this film was quite refreshing. Look for Sebastian Cabot in a small role as a lottery official. Phyllis Dixey was known for being 'The Queen of Striptease' in London for some time before going bankrupt when sleazier acts came onto the scene. At the time of her death 1964 at age 50 in London, she was working as a cook. BA
0547 Dummy Talks, The (43) Hodge-podge of a backstage murder and a series of variety acts heightened by a midget going undercover as a fake ventriloquist's dummy to help catch a killer. Needs a remake with Peter Dinklage, just focus on that angle. Many long forgotten stage acts will Wow the viewer and make you understand why these acts were so fun and entertaining before television was a reality in people's living rooms. Not only that, but this was made during WW2 in a studio spared by the bombings apparently.
0550 Eight O'Clock Walk (54) WW2 is over. A schoolgirl is murdered and blame falls on cab driver Tom Manning (Richard Attenborough). The little girl had asked Manning to help find her lost dolly, leading him to an abandoned bomb site. Later she is found murdered. Wrong place at the wrong time? Once the corrupt legal eagles come into play, nobody cares if Manning is innocent or not. A pound of flesh.... Luckily his faithful wife Jill (Cathy O'Donnell) sticks by his side. But to what end? BA
0538 Friends (71) Rare film with a young Elton John doing the soundtrack. A rich English boy and a French girl turn their back on family and friends and end up in a small cottage on the south of France, now expecting. The law prohibits sex between minors. They did not comply (both actors are of age so don't worry). Travelogue-like images of South France. Their simulated marriage ceremony in nicely done. Finally she gives birth. The police arrive. Highly controversial in 1971. Very tame by today's standards. When French is spoken there are English subtitles, but the majority of the film is in English. BA
0537 Hiroshima (05) England made reenactment of this WW2 game changing event. No fingers are pointed. No blame assigned. This is a mixture of historical footage, survivor interviews and dramatic reenactments. Not a moralistic judgment but a matter of fact account through the eyes of the few people left to share their experiences. John Hurt narrates. One complaint is the lack of mention of the atrocities the Japanese were committing at the time, the slaughters and tortures were quite extreme. For 1945, Hiroshima and Nagasaki were necessary in most of American's minds. It is just too easy to judge the past from the perspective of today, and very wrong to do so.
0526 Life in Emergency Ward 10 (59) A new revolutionary heart lung machine has arrived from America, brought by a new doctor (Michael Craig) who is introducing it to a small country hospital. The story revolves on his bid for acceptance from the seniors of the hospital. Tragedy is covered by the death of a patient, Joan Sims as a mother expecting quads and Glen Owen in drag who says 'Oh Sh-!' almost swearing! Film version of an established popular British television show.
0465 Maroc 7 (67) aka: Maroc, dossier numéro 7 James Bond meets Alfred Hitchcock in Morroco. Simon Grant (Gene Barry) joins the hunt for stolen jewels and gets himself involved with fashion magazine editor Louise Henderson (Cyd Charisse), and top model Claudia (Elsa Martinelli). Vivienne (Tracy Reed) is also coming. In Morroco they meet cynical police Inspector Barrada (Denholm Elliot) and his sexy assistant Michelle Craig (Alexandra Stewart). Secret maps, robbing tombs and multiple double-crosses. Thieves and Models. Widescreen BA
C418 Night of Magic, A (44) In the mansion of a British playboy sits an ancient cheap looking sarcophagus. Inside he discovers a 3000 year old living princess when she pops out one evening, ready to party! The two of them go out to paint the town red as they fall for each other through romance and song. The princess is about as Egyptian as Marilyn Monroe, very blonde, very British. Princess Raviola. Maybe she's Italian? The songs are kind of fun. Another forgotten film from a bygone age. (a bit under an hour)
0544 Secret Place, The (57) aka: Faux policiers Innocent and cute redhead Molly Wilson (Belinda Lee) begrudgingly becomes involved with her brother Mike (David McCallum) with a gang planning a diamond heist led by small-time crook Gerry Carter (Ronald Lewis). Molly involves a teenager who unwittingly participates, an easy mark because he has a crush on Molly. The diamonds are hidden in his house. Everything goes wrong and the latter half of the film follows the 'child in peril' formula. Top notch photography and an intense climactic sequence make this a real sleeper. Also with Michael (Revenge of Frankenstein) Gwynn. BA
0551 Uneasy Terms (48) aka: Bigamie...? After being summoned to the country home of a Colonel, private eye Callaghan (Michael Rennie) finds the Colonel dead. He has been murdered. In this manor house of money lived the Colonel and his three daughters. Maybe two of them are screwing around with their father's will, he was not quite dead when one of the sister's contacted Callaghan. A British attempt at the hard-boiled Hollywood gumshoe type flicks of the same era. BA
0539 Up the Junction (68) Soundtrack by Manfred Mann! Working class London in the swinging sixties. A portrayal of women's lives the working class Battersea, through the eyes of a posh rich girl (Suzy Kendall) from the wealthier Chelsea, hence an outsider. Two sisters, Sylvie and Rube, are sweet as candy on the outside, but later on reveal their true nature when they mock a work colleague that is a little slow in the head. Except for Pete, all of the men are shown as sex-crazed selfish violent pricks. Abortion also rears it's ugly controversial head. Social commentary period piece. Susan George, Maureen Lipman, Adrienne Posta and more star. Widescreen BA
0534 When Knights Were Bold (36) In modern times, Guy De Vere, a young man of noble birth, has just been informed he has title to lands and castle. Arriving there he finds his sponging relatives unbearable. Except for cousin Rowena (Fay Wray) the lady who dreams of times when men were chivalrous knights. A falling suit of armor knocks Guy De Vere back into the times of knights and battle (although his headgear resembles my aunt's pot roast pan). Castle siege and more lightly play out. The odd assortment of bikes (including one with barrel's for wheels) is unbelievable. Look for Terry Thomas and MIchael Wilding as extras in battle.
0531 Who Killed the Cat? (66) A trio of kindly, prideful, proud old ladies find themselves the target of a younger woman (Vanda Godsell) with an attitude problem. They would never take a hand-out, that's how proud they are! The landlord is dead and they are in arrears. The landlord's widow is a wicked bitch. She kills the cute kitten. But who is to blame when the wicked widow is found murdered?
MISCELLANEOUS WAR, MARTIAL ARTS, SPY, ACTION, COMEDY AND MORE

0459 12 + 1 (69) aka: 13 Chairs, The aka: Una su 13 After selling his inheritance of thirteen old chairs, Mario (Vittorio Gassman) learns that one of them contained valuable jewels. Now he has to locate the chair, going through hilarious scenarios and characters to do it. Pat (Sharon Tate in her last film) helps him. She is witty and sexy, her breasts popping out unexpectedly in several scenes. Orson Welles is quite the character in this one. Also with Terry Thomas, John Steiner, Lionel Jeffries, Mylene Demongeot and more. You can tell Tate is pregnant and starting to show following her ride in the furniture mover's van. She had arrived in Rome for filming end of March 1969. We all know what happened in August. Upgrade! BA
0552 Agent Trouble (87) aka: L'ultima corsa Museum worker Amanda (Catherine Denevue) is looking in to the murder of her nephew, Victorien, who was witness to a government project that resulted in the deaths of fifty tourists who were eventually found dead in a bus at the bottom of a lake. Assassin Alex (Richard Bohringer) is supposed to clean up the mess, Victorien had to go, but what does Amanda know? Snowy, misty mountainous landscape when Amanda finds herself on a bus trip (in her quest for the truth) with tourists, and the killer who is secretly stalking her (also) aboard, watching her every move. English subtitles and Widescreen BA
0576 Camorra (A Story of Streets, Women and Crime) (85) aka: Un complicato intrigo di donne, vicoli e delitti Italian made crime/giallo classic with everything we love! Annunziata (Angela Molina) is nearly raped by a crime boss. Her rescue comes just in time apparently. Her attacker has been injected in the balls with a hypodermic needle, killing him, the needle sticking up down there. More killings as others end up the same way, needle shots to the nuts. The dreaded testicle killer! But the dead young men are all drug dealers, and this is elimination, extermination. Annunziata's young son is up to deal next, because the law is easy on juvenile drug dealers. But the groin killer could give two ... well you know... about your age. Don't deal or you might get sacked! Harvey Keitel in one of his sleazy mob guy roles as 'Frankie'. Widescreen and English subtitles BA
0568 Catch as Catch Can (67) aka: The Unchained aka: Lo scatenato Bob (Vittorio Gassman) does acting and commercials. His concentration is ruined when a dog pisses on his leg during filming. He develops a paranoia that the animal kingdom is out to get him. His next commercial has cows, he flips out! A bull shows up and attacks and now he is totally convinced. The getaway in the giant can with the actress is hilarious. No bull! A zoologist gives Bob a copy of 'Mein Kampf' to deal with his phobia. What? This is a racy, colorful, absolutely mad farce, and the ending is off the rails when he is outwitted by a chimp! English subtitles. BA
9819 Chaos (00) aka: Kaosu From the director of the original 'Ring' comes this crime thriller. An industrialist's wife is kidnapped for ransom. A deceptive thriller that relies on a tightly wound plot and keeps you guessing. There is always a sense of dread like someone will turn deadly at any moment. We have the hoodwinked sap, a questionable motives femme fatale, and the rich husband who has secrets of his own. Or does he? Bondage... Rape? English subtitles
0486 Chu Chu and the Philly Flash (81) Flash (Alan Arkin) was once a pretty decent ballplayer (known as 'The Philly Flash'). He has a chance for the minors, if he can get there. I guess he needs like $40 or something, and does windshields, sells stolen watches, small errands. He meets Emily (Carol Burnett), another down on her luck, she an entertainer and 'Chu Chu' her performing name (a sort of 'Charo' imitation). Together, they discover secret government documents. Two down and out wannabes finding fulfillment in each other, running across many zany characters. Cast includes Danny Glover, Danny Aiello, Jack Warden, Sid Haig, Vincent Schiavelli, Ruth Buzzi and more. A bomb, a disappointment at the time, never released on DVD. A cult film. BA
W314 Crystal Heart (86) Tawny Kitaen plays Alley Daniels, a supposedly up and coming 'rock star' in this unintentionally hilarious classic. Multi-allergic Bubble Boy Christopher, is desperate to meet Alley after seeing her music videos, and this is arranged through his rich parents. Alley makes love to him by rubbing through the plastic bubble, enraging her Spanish/Agent boyfriend. Later bubble boy feels used and escapes his bubble to go to Alley's house. Plenty of Tawny here, super sexy in various outfits including a bathing suit that fits just right. Is it tragic (the film)? Depends on how you look at it. Jay Ferguson of Thunder Island is responsible for lots of the music. This is the 1980's here in all of it's tear-jerking glory. BA
0482 Deathcheaters (76) Viet Nam buddies become stunt men (one Grant Page a real life stunt man) and are used by the Australian government to travel to the Philippines and spy for them. If you liked 'The Man from Hong Kong' this was made by the same group, using some of the same equipment, loaded with thrilling stunts. The director Brian Trenchard-Smith directed 'Turkey Shoot' a few years later. The other daredevil is played by John Hargreaves. Also starring 'Ziggy' as 'Bismark' (a basset hound). Stunts present plenty of action scenarios here including skyscraper stunt work, shotguns to the chest, getting hit by a car and more! John Hargreaves died of AIDS in Australia, 1996, at age 50. BA
0535 Dirty Cops (18) aka: Paris Pigalle The porn scene in the late 1970's and early 1980's France is infiltrated by two dirty cops. Flashy sexy and fun what more do you need. Plenty of voluptuous female flesh on display here with strippers, porn stars and sex. The lifestyles of the rich and horny. Widescreen and English subtitles.
0543 Discovering Peter Lorre (15) The best biographical film to date about the Hungarian actor known as Peter Lorre. He began his career in Vienna before moving to Germany. Discussion with film historians and film clips from some of his best work. + Terry Thomas: Comedy Legend (19) Looking back at the life of British comedy star Terry-Thomas before and after international fame. Two very interesting actors, two very interesting profiles.
0590 Flamboyant Sex, The (62) aka: Three Swedish Girls in Paris aka: Svenska flickor i Paris Speaking openly and loud about their experiences in Paris. Seduced by the scene, but low on francs (money), they pose as nude models in art school. What else were they up to you ask? Nudity and English subtitles. BA
0573 Gli Onorevoli (63) Toto returns! He mocks the political situation in Italy this time out, and spares no one. Toto makes several points here. Many that are still relevant today. The film is split into several small stories revealing the ironies/hypocrisies of politics and politicians. Sergio Corbucci directs. Some excellent footage of 1963 Rome. Widescreen and English subtitles. BA
W315 Goodnight Jackie (74) aka: Games Guys Play Robbie cannot get over his girlfriend Jackie (Lana Wood, damn, who can blame Robbie?) Housemate Paul (Gregory Sierra, 'Julio' on 'Sanford and Son') advises him to just get on with it. Robbie meets Donna (Christopher Nolan, the gorgeous blonde from 'Summer of 42') and they hit it off. They hit something. The both of them. But if Plenty (er... I mean Jackie) even looks his way we know he will fall to his knees in hopeless lust. Also in this R-rated who's who is Jim Backus as Robbie's boss, Ivor Francis and Barry Williams straight off the set of 'The Brady Bunch'. BA
0477 Horrible Obsessions: Terrifying Flesh Hell (72) aka: Narcotics/Prostitution G-Men aka: Mayaku baishun G-men: Kyôfu no niku jigoku The narcotic and prostitution trade is running rampant in Okinawa. Detective Kikuchi (Sonny Chiba) is sent after a particularly hot Japanese chick shoots herself full of junk and jumps from the 6th floor to her bloody doom. Kikuchi battles prostitution, drugs, and venereal disease in a world of underage prostitutes and slime ball gangsters, drug orgies and talent agency exploitation, even the generational divide. Widescreen In Japanese with English subtitles
Y435 Keep Talking, Baby (61) aka: Cause toujours, mon lapin aka: Sventole, manette... e femmine Ventriloquist Jackson (Eddie Constantine) is framed and sent to prison. He escapes and sets about finding the real culprits. In the meantime, he gives a huge stuffed rabbit to a young girl, and uses his skills to make it talk. A little ventriloquism mixed in with the action and intrigue. BA
0583 Kiss the Girls and Make Them Die (66) aka: Se tutte le donne del mondo... (Operazione Paradiso) Before 'Mannix', Mike Conners stars in this amazing spy film spoof, some would say a cut above others. With perhaps one of the deadliest villains ever created because his goal is to make the world sterile, and repopulate with his personal harem. The Brazilian locations are fantastic, the use of scorpions, piranha well placed amongst scenes of various henchmen and our super villain Mr. Ardonian (played by Raf Vallone). a really cool underground lair, exceptional women, snappy gadgets and tongue in cheek thrills and spills. Margaret Lee, Marilu Tolo, Seyna Seyn, Beverly Adams and Nicoletta Machiavelli. Terry Thomas comic relief. Nice alternate Widescreen version! BA
X492 Man and Child (56) aka: L'homme et l'enfant Eddie Constantine as Fred Barker, a boss man in the perfume industry in a twist filled romp filmed south of Paris. A young girl has been kidnapped and Barker finds himself in the dangerous territory of slave traders and drug dealers. S/M buffs might be interested in the scene where the sexy Juliette Greco (as "Nicky') whips one of her female employees with conviction (hell let's make that a thing if you want to get people back in the office!). Yummy! BA
0525 Melancholia (89) It has been ten years since David Kellar (Jeroen Krabbe) was part of a far left radical group. Now they want his help in assassinating a South American torturer that is visiting London. The film debates the use of violence as a means to an end. The answer of course depends on what side you are on, the side most likely to win, or the side most likely to lose. A gritty political thriller told from the perspectives of different individuals and generations. Largely shot on location in London. Krabbe's performance takes center stage as a man struggling with depression, disorientation, and the loss of his once radical ideals, now softened by self interference. Will he? Can he? Should he? Also with Susannah York.
0585 Nest of Vipers (78) aka: Ritratto di borghesia in nero Here we see the rise of fascism in 1930's Venice as the backdrop as we follow a music student as he becomes entangled with two decadent families. He falls for the young mother (Senta Berger) of one of his classmates, who himself has a strange relationship with mom, and acts like a jealous lover. The other family has beautiful innocent virginal daughter Elena (Ornella Muti) and a (presumably) gay son. Of course our young student falls for Elena immediately causing conflict in uncertain times. Elena is not so innocent he will soon find out.... murder, betrayals..... Berger and Muti have a lesbian scene just one of the erotic scenes in the period piece. Widescreen and English subtitles. Not to be confused with the Luke Askew spaghetti western. BA
X486 Operation Mermaid (63) aka: Pattern for Plunder aka: The Bay of St. Michel Post WW2. Skipper Nick Rawlings (Keenan Wynn) summons three former Royal Navy comrades to help him locate pieces of a map to put together so they can find the Nazi treasure of Gestapo General Von Kreisling. Their yacht takes them to several picturesque locations. Helene (Mai Zetterling) is the female they pick up along the way. Treacherous quicksand, dangerous thugs and a jaw-dropping amount of alcohol served at every opportunity. BA
0586 Perfect Killer, The (77) aka: Quel pomeriggio maledetto Harry Chapman (Lee Van Cleef) takes the fall for a dog race track robbery. Other inmates help him break out of prison, but now Harry is in their debt, and forced to be their assassin. But Harry wants to go after his former partners, and when he does his former break out buddies send another hit-man to put an end to him. Harry don't go down so easy though, see. All the women want to get with Harry, he is even stalked by some hot chick. The villain is attacked by razor-wielding transvestites. Two people having sex on the beach are about to get run over, A guy has sex with a woman and then shoots her in the crotch (wow, that bad huh?). All joking aside, this is a very sick scene. Now a splendid Uncut Widescreen version with 5 extra minutes of footage! Longest print out there of this obscurity. Widescreen BA
0240 Revenge of the Stolen Stars (86) aka: La maledizione dei rubini scomparsi Duncan McBride (Klaus Kinski) was the owner of a ruby mine on an island located in the South China Sea. Duncan is dead and his nephew Gene McBride has arrived, inheriting the mine, and the curse that comes with it. The curse that supposedly killed his uncle Duncan. Accompanied by Kelly (Suzanna Love) Gene searches for the missing rubies known as 'The Six Stars'. But so do other, dangerous adversaries. Duncan returns as a ghost to guide him, giving some classic Kinski moments. Romancing the stones? The shower sequence will bug you out! Also includes living 'attack' vines that crawl to strangle.
0575 Seven Deadly Sins, The (62) aka: Les sept péchés capitaux aka: 7 Capital Sins Seven deadly sins... Seven ways to win.... Seven different directors tackle the sins with seven different stories, seven different subjects, seven different scenarios… A varied cast, many you will know from other Italian films of the era. Anger, Sloth, Gluttony, Greed, Pride, Lust and Envy. Which is your vice? The stories are suggestive for 1962, but don't cross the line of bad taste, but maybe they do by standards of today. Who knows anymore? Widescreen and English subtitles. BA
0484 Smokey and the Good Time Outlaws (78) aka: J.D. and the Salt Flat Kid Dennis Fimple is 'The Salt Flat Kid' in this country western good ol' boys light-hearted surprise. His partner J.D. is a poor man's Burt Reynolds with a porn star moustache and a cheesy stage swagger. Together they take the music world by storm. Or rather, they sneak their way into the Grand Ole Opry to try to impress the audience. What happens? Slim Pickens as the excitable Sheriff Ledy. J.D. and the Salt Flat Kid made Smokey flip his lid! BA
0589 Somnambulists (78) aka: The Sleepwalkers Spain: Maria Rosa is in the fight to save anti-Franco militants from death. Along with her daughter they plan a protest. But there is illness. An unscrupulous doctor has a rare remedy to heal, but the side effects are bizarre. The patient becomes uninhibited and behaviors regarding right and wrong become ambiguous. Personal ethics and convictions once established no longer apply. The doctor will try to experiment on Maria's daughter altering her ideas and feelings. What could go wrong? Experimental, political. Widescreen and English subtitles
0485 Speedtrap (77) Car chase action classic with a pretty decent star cast! Originally they were going to call it 'Gone in 60 Seconds 2' since it shares some plot elements. Cannon Private Eye Pete Novick (Joe Don Baker) and a sassy spirited police lady (Tyne Daly continuing her 'The Enforcer' type character) join forces to catch a slick car thief known as 'The Road Runner' a swift clutch driver with a taste for the hottest slickest rides. Cops and crooks crime action thriller that relies more on fast and furious excitement than anything else. A good time. Check out more of the cast. Richard Jaeckel, Robert Loggia, Timothy Carey, Roberta Collins as a student driver and Lana Wood, in another role with a sexy name, this time 'New Blossom'! BA
0474 Splendor and Misery of Madame Royale (70) aka: Splendori e miserie di Madame Royale The gay community is targeted for murder in this light-hearted comedy farce. The investigation is handled by the debonair Commissario (Maurice Ronet). Madame Royale is played by none other than Ugo Tognazzi in drag, here in a dual role. Tognazzi is called upon by Ronet for information on his clique. This pisses off those in Madame Royale's circle, a number of them in illegal activities that land them in the slammer! Madame Royale (stay with me here, Tognazzi) also asks for help locating his missing teenage ward (Jenny Tamburi in her debut performance). The gay subtext borders on the offensive and absurd, just about reaching the level of caricature. But there is more to the film than that, a truly remarkable achievement in both pathos and tension. It's a comedy, lighten up! Widescreen and English subtitles BA
0516 Spy I Love, The (64) aka: Coplan prend des risqué aka: Agente Coplan: missione spionaggio An employee steals a prototype of a nuclear rocket propellant called the SR 712 from the National Defense. Coplan's judo techniques come into play during an action sequence on top of a moving train. Virna Lisi is a gorgeous Coplan girl. James Bond craze just beginning at this point. This is the third Coplan film as the series begins to finally get momentum in later films. English dubbed BA
0475 Stripper, The (03) Three interweaving narratives gives that 'Pulp Fiction" vibe. The first few minutes are eye-opening as a topless hooker goes down on a young man. Strip club setting (always a plus) in Santiago, Chile. Young Vittorio has a lustful crush on seductive erotic dancer/stripper 'Gracia' in the club, she, the boss man's girl. His older brother works for the boss man of the club, and has an eye on Gracia as well. Gracia however, simply wants out, but which of the three to pick/use? The boss has more than one unscrupulous business dealings, and a bad heart. Messing with three guys at once leads to tragic consequences. Dirty talk, full male and female nudity, sex and violence. Drugs and darkness of the Chilean crime underworld. Widescreen and English subtitles
F939 SuperGirl of Kung Fu, The (75) aka: Zhong jian jing wu men Judy Lee (Ling Chia) arrives in town to start up a school of kung fu in some Taiwan region. Brutal Chinese marauders harass and destroy and terrorize the villagers. Through training others and being smart, Judy Lee will kick shit out of her Chinese enemies, and maybe win the hearts of the villagers. Will Taiwan defeat China? Only time will tell. English dubbing + trailer! Ling Chia kicked punched and smashed her way through over 50 films. BA
0478 Time for Loving 2: One Year Later (83) aka: Sapore di mare 2 - Un anno dopo Back to the beaches of Tuscany for more colorful irresistible fun. I thought it was just a dream, but there's more! A continuation of fun in the sun with Karina Huff, Isabella Ferrari and even Eleonora Giorgi is along. Now, we know what lifeguards really use their binoculars for. It's important work! Beautiful Widescreen and English subtitles. BA
0591 Tough to Kill (79) aka: Duri a morire aka: Titanes de la Guerra New Widescreen English Dub Uncut version with 10 extra minutes! The last version of this Joe D'Amato directed action film was listed as full frame and ran 86 minutes. This alternate version of 'Tough to Kill' comes in a vastly superior Widescreen version English language dubbed and 10 full minutes longer at 96 minutes. May not matter to some, but we always try to get the longest most uncut versions of films whenever possible. But sometimes the only version available is what we find at the time we find it. And then sometimes a new version arrives that we present (as here). BA
W316 Town Like Alice, A (81) Based on an Australian soldier (Bryan Brown) who was a POW held by the Japanese and slaved on the Burma-Thailand railroad project along the river Kwai. Meanwhile his woman (Helen Morse) survives horrible conditions in Malaysia bound by her commitment to the virtue of productivity in turning a decrepit Outback village into a town like Alice. She is not an environmentalist, but a developer. She wants to help people survive. Romance is a part of it sure, but this is an epic production. Complete on three discs! Some say they were inspired to visit these areas of Australia after viewing this epic production that runs over 5 hours! 3 disc set counts as 3 selections.
0593 Versatile Lovers (70) aka: Les belles au bois dormantes aka: The Libertines aka: L'intreccio Petty gangster Serge (Robert Hossein) is on the lam from the cops and his traitorous gang. His girlfriend Isabelle (Marisa Mell) runs a home for ladies who are trying to kick various maladies. Isabelle offers refuge to Serge, hiding him in the attic of this strange house, along with his part of the loot. But all is not as it seems here and the staff may have ominous plans. The police are watching. Is there subterfuge? There are certainly some eccentricities here with these crazy bitches. Isabelle may find herself on the wrong end of a gun. Another for fans of Marisa Mell! English subtitles BA
0572 Wild Team, The (85) aka: Thunder Squad aka: I cinque del Condor Umberto Lenzi directs! Deadly fighters, all trained in guerilla warfare, are sent to rescue the son of a South American rebel leader who was overthrown by a brutal dictator. The dictator and his multi-national mining group are out to exploit and strip the country of valuable resources. Jungle action, double crosses, corruption and shootings. Over here we had 'Commando', 'Rambo' etc. In Italy, Lenzi was watching, and launched his addition. Hot stuff Julia Kent stars along with Antonio Sabato and Ivan Rassimov. Widescreen and English dubbed BA
0595 Yakuza Code Still Lives, The (76) aka: Hiroshima jingi: Hitojichi dakkai sakusen Corporate blackmail/ fixer is the new career choice for a former Yakuza who has just been released from prison. His life long friend however is still the head of one of the largest Yakuza groups in Hiroshima. Establishes all for first half, and then the film really takes off. Violent bloody fun. Widescreen and English subtitles
C157 Year of the Cancer, The (75) Pierre (Rutger Hauer) falls for the wild and flighty Toni (Willeke van Ammelrooy). They start having it on, you know, even though she lives with another dude and has a child. Foreign language only on this title. BA
MODERATE AND MADE FOR TV FILMS

0243 13 Demon Street (59) In the tradition of Boris Karloff's 'Thriller' (but a year earlier) came this lesser known horror anthology that was hosted by Lon Chaney. Two episodes on this disc. Some of this show was nicked for the release film 'The Devil's Messenger' which also has an episode not on any of these discs entitled 'The Girl in the Glacier'. Here we have #1. Secret of the Telescope: A man believes a telescope has the power to make him rich, receives a dire prediction instead. #2. Book of Ghouls: This particular book of incantations holds the key to untold riches. But dealing with darkness delivers doom. Both tales directed by Curt Siodmak.
0244 13 Demon Street (59) Four episodes on this disc. #1. Fever: A painter's model becomes a doctor's obsession, which leads to doom. #2. Black Hand: After an accident, a doctor loses his hand, and has it replaced with the hand of the other guy who was killed in the crash. #3. Vine of Death: Calcified bulbs from 4000 years ago are buried with a murdered archeologist. The plants grow and deliver revenge to his wife and her lover. #4. The Photograph: A photographer pursues a woman when she refuses to pose in front of a lonely Maine farmhouse in the snow. He kills her. Later, the pictures seem to have a life of their own as her image gets closer and closer.
0245 13 Demon Street (59) Three episodes on this disc. #1. Murder in the Mirror: A murder from the distant past reflects in an antique mirror. #2. Condemned in Crystal: A paranoid man obsesses about his uncertain future, not helped by the fortune teller he visits. #3. Black Nemesis: A phony spiritualist murders a doctor with the intent of bilking his wealthy widow of her fortune.
0508 Absolute Strangers (91) Here's a fun film for today's times, probably make a room full of people argue. 'Fonzie' Henry Winkler is Marty Klein. He is married to Nancy (Jennifer Hetrick). They have a young daughter, and are expecting. A car wreck throws Nancy into a coma. The only way to keep her alive is to kill the baby. Anti-abortion protestors start a campaign to gain legal custody of the fetus. Patty Duke is the Judge. Also with Karl Malden and James Karen. Commence the argument!
0495 Death in Small Doses (95) A whodunit based on an actual case. Nancy Lyon (Glynis O'Conner) is poisoned with arsenic. Her husband Richard (Richard Thomas) seems to be responsible, but is he really? Nancy was depressed, maybe she did herself in. This case will be argued in a court of law. Asst. D.A Jerri Sims (Tess Harper) is befuddled, but trying to prosecute the case. Did John Boy kill his wife? One of four films directed by Sondra Locke.
0542 Death is a Caress (49) Considered Norway's first film noir. This is the story of a working man, who's got a beautiful fiancé. He falls for an older woman, a femme fatale if you will. She breaks off her other relationship as does he, and together they marry. The problems begin almost immediately. She makes him paranoid and unsure of himself because he cannot control or understand her. The themes were scandalous enough at the time to result in the boycotting of the film, and a death threat to the director. English subtitles
P623 Death Ray Mirror of Dr. Mabuse, The (64) aka: Die Todesstrahlen des Dr. Mabuse aka: I raggi mortali del Dr. Mabuse Move over Nikola Tesla. The sinister Dr. Mabuse has developed a death ray in his goal to rule the world under threat. The last of the six Dr. Mabuse films, this last, heavily influenced by James Bond blended with Edgar Wallace. Peter van Eyck is back as Major Ken Floyd-Anders. Filmed in Italy and Germany. Yvonne Furneaux (of Hammer's 'The Mummy') is Gilda Larsen. Also with Wolfgang Preiss as Dr. Mabuse. Furneaux retired in 1984 after playing the title character in 'Frankenstein's Great Aunt Tillie'. This year 2022, Furneaux turned 96. BA
0487 Dummy of Death (62) aka: Hypnosis aka: Ipnosi When a ventriloquist/hypnotist is murdered in his dressing room, the line-up of red herrings plays out. A boxer/part time delivery boy is accused of the killing. The ventriloquist's dummy was in the room, but wha... no that would be ridiculous. Or would it be? One theater assistant named Katharina believes the murder was due to supernatural dark forces. Killings, thrills, twists and turns in the traditional krimi style, like an Edgar Wallace film. Eerie thrills and creepy chills. Now in an English language dubbed version for the first time! BA
AR1 Dungeon of Harrow, The (62) aka: Calabozos del horror A tale of gothic horror set in 1870. Shipwreck survivors wash up on the isle of the Count and Countess de Sade. Before they reach the castle, they find a female ship passenger dead and mutilated in a trap. Not liking intruders, the mad Count is keen on torturing visitors in the dungeon of his castle. He has a black slave administer the pain to his victims. Weird effects, blood, spider webs and torches, ghosts and ghouls, torture and more. Early color rural horror in the same vein as 'Carnival of Souls' and dare I say Andy Milligan plus a serving of 'The Most Dangerous Game'. Quite violent and a spooky ending. BA
0596 Future Cop (76) Officer Joe Cleaver (Ernest Borgnine) and Officer Bill Bundy (John Amos off the set of 'Good Times' and 'Roots') have a new rookie cop named 'Haven' that they need to show the ropes. When a bad guy unloads bullets into Haven but he is still okay, Haven reveals his secret. This is 1970's Robocop. Haven is an android. And he acts human. An almost father/son relationship builds with Officer Joe and Haven. Haven has a photographic memory and heightened sensory skills, but does not zoom around like a $6 Million Dollar Man. With Ronnie Claire Edwards. This movie was the pilot that spawned a short-lived television series that ran six episodes before being canceled.
0494 Hot Rod (79) aka: Rebel of the Road The corrupt town sheriff (Pernell Roberts) has already arranged for his son to win the local championship drag race. This might be a problem for drag-racer Brian Edison (Gregg Henry) who intends on winning the race. This is road racing and track racing. See it for the crashes, the speed, the stick shift burnout in the night... A timeless film for the genuine car enthusiast. The ultimate made for television car movie. Cooler cars than today, faster, better, stronger! For gear heads! Also with Robert Culp and Ed Begley Jr.. Filmed in just fifteen days.
W290 Leave Yesterday Behind (78) Paul (John Ritter) plays polo and is injured, paralyzed from the waist down. He retreats to his grandfather's ranch to sulk. There he meets horse trainer Marnie (Carrie Fisher, straight off the 'Star Wars' set) who tries to set him back on track. Love is in the air, but Paul worries about getting it up. There are some pretty intense scenes. Can Paul 'man up' when Doc (Buddy Ebsen) is pinned under a log. Which man? Carrie Fisher in a red bikini may give her fans a rise. Also with Rober Urich and more.
0499 Lies of the Heart: The Laurie Kellog Story (94) Laurie (Jennie Garth) is only sixteen when she hooks up with Bruce Kellog (Gregory Harrison, creepy as hell here). Now Laurie sits in prison, on trial for murdering him. Laurie's tough guy friend Denver (Alexis Arquette, I'm not kidding, actually, he's quite good) had gotten all riled up, there was some under age rape by Bruce of underage girls Laurie is babysitting and to top it all off, Bruce is one abusive son-of-a-bitch! One thing led to another. But is any of it true? Some say about one third of it is. The real Laurie Kellog looked nothing like Jennie Garth, she served 26 years and is now a free woman.
0496 Locked Up: A Mother's Rage (91) aka: The Other Side of Love Annie (Cheryl Ladd) is recently divorced and waiting tables, trying to support three kids. She meets a young hunky guy who gives her some money to hold onto. A bust. She is thrown under the bus and sentenced to fifteen years in prison. She has done nothing wrong. Exposes once again the corruption in the justice system. Defendants forced to plead guilty (even though they are innocent) to get a better deal in sentencing. Jean Smart plays the sister that looks after her kids while she is in prison. Also with Dean Morris, Diana Muldaur and Angela Basset.
0369 Matter of Justice, A (93) This disturbing account of a serviceman murdered for profit is based on a true story. His young wife 'Dusty' (Alexandra Powers) has something to do with it. Spoiled and tired of being an army wife, she takes the sleazy route. Chris (Jason London) was just not good enough for her. She takes off with her son after the murder. Mary Brown, the grandmother of the child, knows the truth. She will stop at nothing to liberate the child from her evil ex-daughter-in-law, and make sure Dusty pays for what she has done. Martin Sheen, Cole Hauser, Charles S. Dutton and more star. Interesting what happened in real life to these people/characters after all of this real life crime drama. Everybody has died and the kid is in prison.
0510 Murder C.O.D. (90) Alex (William Devane) is a hit man. He takes his payments in gold (just kidding). He kills somebody, and then sends the grieving family members a bill. If they do not pay up, he will frame them for the murder of the recently deceased. Using high tech surveillance equipment, Alex stays one step ahead of the cop on his trail (Patrick Duffy) who has been after him since Chicago. But eventually Alex will makes a careless mistake that may lead to his comeuppance. Also with Mariette Hartley, Chelsea Field and more.
0514 My Son is Innocent (96) Inspired by actual events. Margaret Sutter (Marilu Henner) is the mother of Eric Sutter (NIck Stahl). A woman is attacked by a guy with a knife in the night. She identifies Eric as her attacker and he is sent to prison. Margaret and her boyfriend David (Matt McCoy) set out to prove Eric's innocence. Their neighbors turn against them. Things start to fall apart with Margaret's relationship with David. Eric's girlfriend Donna (Michelle Williams in an early role) also has her doubts about Eric's innocence. So did he do it? Also with Gregg Henry, Barry Corbin and more.
0511 Shattered Spirits (86) Can Lyle (Martin Sheen) put down the bottle and save his family? Lyle is a drunk. An embarrassment to his family. A total disgrace. His wife Joyce (Melinda Dillon) thinks there may be hope for them. The film deals with alcoholism from the 'disease' angle. Cancer is a disease. Alcohol is a choice. Kicking the habit and staying on the wagon proves difficult for Lyle. That kid with big ears Lukas Haas is one of his kids. Also starring Jill Schoelen and that 'Prairie' kid Matthew Labyorteaux. Martin Sheen is excellent in this one. Sit out a bottle and take a shot every time he does.
0498 She Said No (90) Elizabeth (Veronica Hamel) is raped by Martin Knapek (Judd Hirsch), a charming creepy, high profile lawyer who is not used to taking no for an answer. The court fails her. Hung Jury (!). Knapek turns the tables on Elizabeth, and sues her for even this 'false' allegation. Hirsch is excellent as a manipulative asshole. Lee Grant is District Attorney. Also starring Mariclair Costello. 'Say Yes Say Yes...' 'No! No!' 'I'm getting very angry. When I get angry I get nasty.' Judd Hirsch scared me here.
0493 Stepford Husbands, The (96) The end of the trilogy. This new town posing as paradise has a mystery. Why are all of the men acting like pussies? Docile. Controllable. Boring. Passionless. But then, at any given moment, toxic hostility erupts from them, bursting testosterone! Mick (David Ontkean) and Jodi (Donna Mills) Davison have just moved in. Miriam Benton (Louise Fletcher) is the mad scientist experimenting/changing the men to be what a woman supposedly wants. But of course things go horribly wrong. Hilarious trash but great fun for fans of the other two. Also with Cindy Williams, Sarah Douglas and Caitlan Clarke. Caitlan Clarke died in 2004 at age 52 of ovarian cancer in Pittsburg, Pennsylvania, best remembered as the teenage ingénue Valerian in 'Dragonslayer' 1981.
W322 That Certain Summer (72) Nick Salter (Scott Jacoby) is confused about his father Doug Salter's split from his mother Janet Salter (Hope Lange, her first film after the great 'Crowhaven Farm'). When Nick visits dad for the summer he meets Gary (Martin Sheen), 'friend' of Doug. Janet struggles with how to tell Nick the truth of her (now) ex-husband's sexual preferences, she certainly cannot deal with it. The first made for TV film to really do a mature approach to gay. By today's standards there are points that may trigger some, while the intelligent will judge the film on the culture situation the year it represents. Archival, historical, with a good cast. Also with Joe Don Baker as Phil Boner... er Bonner and Marlyn Mason.
W319 To Catch a Killer (92) Brian Dennehey is almost too effective as John Wayne Gacy in this spine chilling true story of the cat and mouse pursuit of one of America's most diabolical and perverted serial killers. This is not a gore film, but profiles the man as he masquerades as a businessman/friendly clown, a respected public citizen. The real John Wayne Gacy raped and murdered over 30 young boys, and was finally executed by lethal injection in 1994. Brian Dennehy gives the performance of his life in this made for television thee hour epic thriller. Frightening. Also starring Margot Kidder, Michael Riley and Meg Foster (amongst others). dvd-r only
0497 To Save the Children (94) Richard Thomas is David Young, former cop, now an unhinged madman. In the opener he blows up an empty school bus. A test run for his hostage/ransom plan. Teacher Jake Downey (tough guy Robert Urich) has just relocated to this small Wyoming town to escape the urban blight of the big city. His class is the one taken hostage by the unhinged David Young and his evil wife (Wendy Crewson). This really happened in 1987 in Wyoming. A madman/brainwasher with a Messiah complex. Excellent, and damn it John Boy, you scared me for a change.
0480 Vampire Moth, The (56) aka: Kyûketsu-ga We know we are in for a treat when we hear the opening spooky music! This is a tale about lovely young 'nude' actresses at a risqué cabaret show who are being stalked by a masked killer. Even though this is a Japanese made film, the stalking scenes remind one of the later krimi and giallo. Here we also have snippets of nudity, similar to what some of the U.K. films were tinkering around with in some of their horror films of the day. A brief period of time Japan produced a few daring films like this, they called the 'Euroguro' movement, dealing with erotic and grotesque elements. English subtitles
0592 Vampirismus (82) Italian made 'Dark Shadows' looking Gothic Horror. A Baoness and her daughter Aurelia spend the night at the estate of a Count. When the Count realizes the Baroness is prone to seizures, he allows them to stay indefinitely. The Baroness reveals that she let her lover's rape Aurelia, since she was young. The Baroness vows to haunt Aurelia after she dies. She Dies. The Baroness marries Aurelia. Big mistake. Madness, misery and Horror follow. English subtitles for the first time!
0521 White Hot: The Mysterious Murder of Thelma Todd (91) A fictional/speculative account of one of the largest of Hollywood's unsolved mysteries. Thelma Todd was only 29 when she was found dead in her car, in her garage. Carbon monoxide poisoning. Thelma Todd (played here by Loni Anderson) was screwing so many shady characters (including Lucky Luciano, played here by Robert Davi) that rumors started to fly. It looks like she fell on the wrong side of what the mob wanted. Since the entire L.A. County District Attorney's office was corrupt as hell, we will really never know. Not sure if I believe Roland West confessed to her murder on his deathbed in 1952. This version of events is at least faithful to the Andy Edmonds biography on which it is based called 'Hot Toddy'.
0375 Woman on the Run: The Lawrencia Bembenek Story (93) Based on a true story, but like many MFTV movies, pretty loose with the facts, but that doesn't mean this is not entertaining. It is. Lawrencia (Tatum O'Neal) kills the ex-wife of her husband. Lawrencia was a cop, Playboy Bunny and a whistle blower. She marries a guy that sets her up to kill his ex-wife. An easy set up, she is so inclined. In her nature. Done it before. He is not what he seems. Based on her book. A book which twisted fact and molded public opinion for the masses who cannot divide emotion from solid evidence. Works better as a film, ignore the real story. Bruce Greenwood, Catherine Disher and more. Three hours! dvd-r only
0532 Young Woman is Missing, A (53) aka: Ung frue forsvunnet Mystery from Norway! A man returns home from a mountain trip and his wife is nowhere to be found. He remembers meeting her, and a secret she had, that he never wanted to hear. And he didn't. This secret may be the answer to why she is missing. A couple living on a boat find her hat floating in the river. Did she drown? Was she abducted? The truth may surprise you. English subtitles
MONDO FILMS

0420 Succubare (77) aka: She shan gu nu In a remote area of Northwest China lies a tribal state which adheres to the mystic rites and ancient superstitions of their forefathers. This state is ruthlessly ruled by four wicked princesses who possess powers that release evil spells on any lover foolish enough to leave them, and not return. Those who do not return face unpredictable violent death. Powerful martial arts action, wild locations and surprisingly gory footage! BA
0320 Whore Trap (81) aka: Sundelbolong A woman is brutally gang raped. The courts are lenient with the rapists. The woman is pregnant and has nightmares about the baby. She is found covered in blood on the bathroom floor. Suicide. In Indonesia we have the legend of the mythological spirit of vengeance. The woman rises from the crypt as a 'Sundel Bolong': translation 'Revenge Ghost'. Film icon Suzzanna stars, exploding onto the screen in all of her sexy glory. Synth-pop disco mixes in with the haunting score. The Bolong will take her revenge in a number of gory sequences drenched in horror movie atmosphere and above average cinematography. And the other star here? Barry Prima! Widescreen and English subtitles.
0215 Zagor (71) Another rarity, and an unlikely creation. A Turkish film adaptation of an Italian comic book depicting frontier life in the old American west. Zagor has arrived. He carries his trusty hatchet and also Chico, a chubby Mexican who sleeps, eats, and snores loudly (stereotype) throughout the film. Zagor is after treasure, and so are many others. Zagor goes to rescue the abducted Chico and ends up in a scrap with a bunch of guys, one who is wielding a large knife. Later a sweet senorita takes a swim in the buff, and Zagor rescues her from a guy that tries to rape her in the dirt by the river. More fights to come, and the treasure of the pirates! English subtitles Widescreen
SOUTH OF THE BORDER AND MEXI MONSTER FILMS

F574 El Destino Se Disculpa (45) What happens when we die? Is our path destined or our own free will? Two men debate, and agree, that whoever dies first will return to explain the answer to the riddle, and reveal the 'Fate' in store for the living man, giving him a chance to alter his course (if needed) to avoid an unpleasant outcome. F.L. BA
0464 Macabre Footsteps (63) aka: La Huella Macabra Sequel to 'The Incredible Dr. B' - Dr. B is resurrected. Dr. B makes the gravedigger take his place in the grave. Using a mask, Dr. B buys his former residence in an auction. The time has come to get his 'evil' on, again. Arriving is a large crate. Inside, a vampire boy. Dr. B names him 'Eric' and has him feed on a bound secretary. One creepy kid, with large gnarly fangs, at least when he's hungry. Dr. B gets Eric a train set. Dr. B hires his former lover to replace the secretary. Zombie albino dudes, a pair, he creates to help commit foul deeds. There is no end to his evil. Eric acts innocent and then attacks the fools who help him. Now for the first time, English subtitles for most of the film, although there are some parts there are no translations, but so much of the film has subtitles that it is easy to follow. One of the more obscure Mexican vampire films, and add a pinch of 'The Man Who Could Cheat Death'. English subtitles
0564 Robbery (75) aka: Rapiña When a plane crashes near a small Mexican town, two poor Mexican men decide to loot the dead and any contents they can from the wreckage. They have always struggled to survive, to make it in this harsh, hostile unforgiving environment in which they have found themselves the inhabitants. Now their plane has arrived. Two more men arrive willing to loot. But as these things usually go, greed rears it's ugly head. How much is too much, and how little is enough? They learn the hard way. Most notable is Mexican horror actor German Nobles as 'Evodio'. English subtitles
0500 Santo in the Vengeance of the Mummy (71) aka: Santo en la venganza de la momia Santo and friends have disturbed the long-lost tomb of Opache Prince Nonoc deep inside a creepy cave. Centuries ago Nonoc had been buried alive, sacrificed to the Gods. Members of the expedition begin to die one by one, but not without scenes of Santo battling opponents in the ring interspersed. Throw in a cool flashback, and a gnarly skeleton-faced mummy with that uses a bow and arrows. Widescreen and English subtitles
Q146 Santo vs. the Diabolical Hatchet (65) aka: The Diabolical Axe aka: El hacha diabólica Lobo Negro chases our hero Santo through the centuries. The 16th century offers up an origin story for Santo, but keep in mind, this is all in Spanish (which we maybe should all learn at some point by necessity). A time travel technique in the tradition of Corman's 'The Undead'. Colored like Bava, but a broke Bava, very cheap sets and effects. The satanic villain has the ability to pop up anywhere. He worships a bat demon in his Halloween nightmare lair. Despite having no English subtitles, I was entertained throughout. F.L. BA
WESTERNS

0533 Badlands of Dakota (41) aka: Il Terrore Dei Sioux-Odio Di Sangue Kitchen sink western with a great cast that manages to get a number of old west legends represented. Set in Deadwood. Robert Stack as Jim Holliday, Frances Farmer as Calamity Jane, Addison Richards as George Custer and also features a who's who of character actors including Lon Chaney Jr. as the villainous Jack McCall and Andy Devine as 'Spearfish'. Wild Bill Hickok's (Richard Dix) death is accurately portrayed. Broderick Crawford is Bob Holliday. BA
0577 Fabulous Trinity, The (72) aka: With Friends, Nothing is Easy aka: Los fabulosos de Trinidad Imprisoned in a Mexican labor camp after being accused of weapons smuggling, the three Trinidad brothers are waiting for rescue. The guy running the camp is a mean revolutionary colonel named Jimenez (Fernando Sancho). Jimenez has a weakness though. Women! Nora (Fanny Grey) teams with bounty hunter Scott (Richard Harrison). Nora flirts with Jimenez, frees the brothers. Their bounty is high. Scott now wants to collect. Fanny Grey is hot stuff. Widescreen and now finally with English subtitles! BA
0574 Five for Revenge (66) aka: Five Giants from texas aka: De red fra Texas til El Paso Amazing Uncut Widescreen Version English Dubbed (listed in Westerns main catalogue). BA
0548 Last of the Fast Guns, The (58) aka: The Western Story A gunfighter's (Jock Mahoney) search through Mexico (looking for the brother of a dying industrialist) has him facing off with various adversaries who have been hired to kill the man to insure he is cheated out of his inheritance that will be left to him by his dying brother. Excellent cast includes Gilbert Roland, Linda Cristel, Lorne Greene and more. Color Widescreen BA
0461 Raise Your Hands, Dead Man, You're Under Arrest (71) aka: Su le mani, cadavere! Sei in arresto Peter Lee Lawrence is 'Sando' the sole survivor of a massacre, swearing vengeance. A little comedy mixed in but when the violence hits expect deadly and bloody. Sweat, dust, tears and cold-hearted murder. The mentality is straight up good guys vs. bad guys, a killer score, and Helga Line as Maybelle. Sometimes Naschy/Horror director Leon Klimovsky directs. Nice Widescreen English dub BA
---
HOME | SECURE ORDER FORMS | ONLINE SPECIALS | CATALOGUE | NEW ARRIVALS | CUSTOMER SERVICE | PRICING & ORDERING INFO
---