---
HOME | SECURE ORDER FORMS | ONLINE SPECIALS | CATALOGUE | NEW ARRIVALS | CUSTOMER SERVICE | PRICING & ORDERING INFO
---
FALL 2023 UPDATE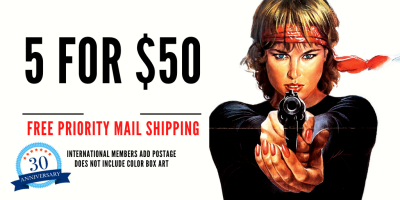 BA= Color Box Art Available for an additional $3.00
FL= Film is in Foreign Language
Lbx= Letterboxed or Widescreen format
Subs= Film is subtitled
aka= Also Known As (alternate titles)
BIKERS, BITCHES AND BABES
9781 Nam Angels (89) aka: Hells Angels - Verdammt in Vietnam Army lieutenant Calhoun (Brad Johnson) and his men are ambushed in Viet Nam by a tribal army led by a white mercenary who they see as a deity. Hello Apocalypse Now! Calhoun escapes, but his men are captured and considered expendable. Calhoun recruits some bikers to ride into the territory and kill everybody! Oh, and to rescue his men. A higher body count than 'Commando'! Heartwarming. The main biker baddie from 'The Road Warrior' (Vernon Wells) has a bleached blonde mullet behind his head in a pony tail. The poor man's Marlon Brando but who cares, this movie delivers what I expected it to do. Listed previously in the wrong section! BA
CLASSIC HORROR AND SCI-FI FILMS
E553 Bat Whispers, The (30) Dark stormy night isolated country mansion classic! The master criminal known as 'The Bat' stalks the night terrifying the occupants of the mansion with chills, thrills and laughs. Gimmick at the end as an actor asks the viewers not to reveal the identity of 'The Bat' to their friends. I promise I won't, but will you? Early talkie classic may have inspired one man named Bob Kane to create another 'Bat' character you may be familiar with. Kane would have been fifteen years old when this hit theaters. Chester Morris and Una Merkel star Upgrade! BA
B28 Escort Girl (41) A nightclub where men pay for the company of women. No big deal. But you know the government gets a little uptight when people are having sex, and they're not getting a piece of the pie, I mean, a taste, well, they hate it when people are having fun, that's it. An undercover infiltrates the operation. A poverty-row film, an early-grind house film, seedy. naughty, campy, a sexploitation film, a PSA for 1941 made for the equivalent of the raincoat crowd. BA
E549 Flight That Disappeared (61) aka: Flight That Vanished Finally Upgraded print of this science fiction classic modeled around the idea of 'The Day the Earth Stood Still'. More info in catalogue listing. BA
E630 In the Year 2889 you will find the Day the World Ended (69) and (55) - First, after the world ends, an excellent monster designed by Paul Blaisdell terrorizes the survivors. Richard Denning and Mike Conners star. Classic! At the time, there was no film like it! Next: The remake of the same film, this time directed by Larry Buchanan. Schlock with the same story, but one of the lamest monsters ever put to film. When I was five years old, I could have developed a cooler mask with ten dollars. The first film on the disc is the better of the two films, the 1955 version. If you make it to the end of the second film without taking a break you earn two stars.
E562 La Pica sul Pacifico (59) A goofball comedy. Older broad Adelaide (Tina Pica) inherits an island in the Pacific after her husband dies. On the island she is met with trepidation by the local Chieftain and his people, who will not except her because she is not married. A convict is her only hope, but will he marry her? Directed by Roberto Bianchi Montero who went on to direct 'So Sweet, So Dead'. Also starring a young Elke Sommer as 'Rosanna'. In Italian language and no subtitles. BA
B35 Road to Ruin (34) aka: Schützet Eure Töchter Pre-Code classic that hits on many of the taboos of society (at least, in 1933). Smoking and drinking in high school, nude swimming, pre-marital sex, older men with younger women, (although to be fair, that is the norm in many old Hollywood films), an abortion, sexually transmitted diseases and more. A young girl mixes with the wrong crowd and finds herself on the road to ruin. An early J.D. film that runs quickly by at 62 minutes. BA
F44 Shadow of the Silk Lennox, The (35) aka: L'empereur des bas-fonds Lon Chaney Jr. as Silk Lennox, a mob boss who claims to be a respectable businessman. The killings and robberies of his actions are protected by lawyers and others through witness intimidation. G-Men are out to get Silk Lennox, but he remains sly like a fox. Trivia: James Cagney never actually said 'You dirty rat' in a film, but here, Silk Lennox does indeed utter the immortal phrase. Early Chaney Jr. before his breakout a few years later 'Of Mice and Men'. BA
F34 Shot in the Dark, A (35) A suicidal student is found at the end of a rope. But further examination reveals that he was already dead when the rope was placed around his neck. Somebody penetrated the back of his skull with a needle. A creaky old mystery film on a budget, well played out, a mystery that will keep you guessing. Needle darts shot from a gun! Charles Starrett (one manly man I tell you), Edward Van Sloan, Marion Shilling (one hot dame in her day) and more star. BA
9901/L287 Slaves in Bondage (37) aka: Crusade Against Rackets Crooks use a beauty shop to recruit the prettiest into a life of vice, sent to a whorehouse to deliver their bodies into carnal sin in the world's oldest profession. What some may consider tame in 2023, was daring and shocking in 1937. The low budget actually works for the film. A crusading reporter, boarding house guys with goofy acrobatics, hookers in their underwear (Woop! Woop!) and more madness that pissed off grandma's and worried wives in 1937. BA
Q59 Smashing the Spy Ring (38) Spy smasher government man John Baxter (Ralph Bellamy) and helper Eleanor Dunlap (Fay Wray) are up against Dr. L.B. Carter and his army of thugs and goons. A local sanitarium is run by spies. John Baxter makes himself an amnesia patient (of sorts), in order to infiltrate the operation. Also with Walter Kingsford. BA
S897 Sorrows of Satan (26) A struggling writer makes a deal with the devil in this clever little film directed by D.W. Griffith. He is promised wealth and fame beyond his wildest dreams. But the price is he must obey only Satan. The opening of the film depicts Satan being cast from heaven. The film seems to have a little sympathy for the devil. An update of the Faust legend, even though it's about 100 years old. A relic of the Victorian age. Some creepy stuff later when he finds his new beautiful wife at the feet of Satan. BA
S18 South to Karanga (40) Pesky natives are uprising, like they do, at the African copper mines in Karanga. Once the journey to Karanga begins, the film becomes a sort of 'Murder on the Karanga Express' with the focus on three men, and an exotic nurse as they travel to the location of the native uprising (I myself would be headed in the opposite direction). A bomb threat interrupts their journey. Charles Bickford, James Craig and Frank Reicher (Captain Englehorn in 'King Kong'). About an hour long BA

DINOSAURS, LOST LANDS, FANTASY FILMS, SWORD AND SANDAL, PEPLUMS AND MORE
E505 Cartoon Intros: What do you want? Cartoons! These are intros to cartoons, the opening songs or music with title cards. See how many you remember, or, just see them for the first time to blow your mind! 1930's, 40's, 50's, 60's, 70's, Cartoon Intros, 1980's and 1990's Cartoon Intros, Top 20 80's and 90's Cartoon Intros, Top 25 80's and 90's Cartoon Intros, Nicktoons Shows Intros 90's to 2000's, Cartoon Network Intros 1993-2019, 2000's Kid Shows Intros..... Damn Son, this is cool as hell!
E549 Flight That Disappeared (61) This is fantastic! If only it would or could happen and stop this madness of 2023. Upgrade - See Review in 2022 Consolidated at #0262.
E645 Jacob Two-Two Meets the Hooded Fang (77) Jacob has to say everything twice. Even adults make fun of him. The Hooded Fang (Alex Karras) is a wrestler on television that now runs a prison for children. A prison Jacob gets sent to after be railroaded by a bad judge and a crappy lawyer named Mr. Loser. Start up the short bus. Start up the short bus. Is it all a dream? The evil wrestler must be watched, so Jacob's super hero siblings give Jacob a special tracking device to see if any children are hurt in prison. The costumes say 'Kid Power'. Things get even stranger. Creative off-the-wall oddity made for children that would definitely screw up a kid of this generation if they watched it. Remade later in 1999 with Gary Busey in the Hooded Fang role. Most say this version from 1977 is bad, but the 1999 version is a complete abomination. BA
E479 King of the Reindeer (70) aka: Korol-olen aka: King Stag Russian fantasy with no subtitles. Based on the musical play of the same name. A king wants a wife so he can produce an heir. Meanwhile, his minister conspires to take over the throne, because he is in love with the woman the king wants to marry. A spell goes wrong, and their identities are switched. Now the king cannot prove who he is! The bride knows, and the joke is on the king..... Lots of singing in this fantasy film. Russian language and no subtitles. BA
E595 Lady Godiva of Coventry (55) Maureen O'Hara, George Nader, Victor McLaglen and look for Clint Eastwood! Listed before, but the damn print was not in English! This one is! See #H861 in catalog. In English! BA
E581 Sea God and Ghosts (77) aka: Long wang san tai zi aka: Prince of the Dragon King Kung Fu Action Fantasy Epic from Taiwan. The flying dragon in the open looks like 'Reptilicus'! But this is trickery, the dragon turns into human form and embarks on a magical quest. Droughts, pearls, thieves and money. Comical scenes and wacky encounters eventually culminate in the weakening of the Sea God through wine, poison to him alone. The Night Pearl is sought by the wicked white bearded one. But wait! Back into giant snake goes the Sea God, and disappears into the sky! Kung Fu Fighting with the others. Finally, the Monster battle we all have been waiting for! A flying sword and presto magico abracadabra! Two flying snake monsters that look like somebody is whacking them around to make them look real off-screen! They wind up in the ocean causing catastrophic flooding! Will the good monster win? In Mandarin with English subtitles
E606 Seven Dwarfs to the Rescue, The (51) aka: I sette nani alla riscossa When the seven dwarfs learn that 'The Black Prince' is after the Princess Snow White (Rossana Podesta) after her Prince Charming is defeated in battle by a hostile Duke. Take one beautiful Italian starlet, seven midgets, a devil in tights, some hilariously entertaining special effects, cool kitschy sets, swashbuckling, and funny English dubbing and this is what you get! The Seven Dwarfs to the rescue! One of the dwarfs from this film would make his way into 1979's infamous 'Caligula' many years later. Rossana Podesta is sweet 17 in one of her first movies. Her last significant role after a career in many notable films was in 1983's 'Hercules' with Lou Ferrigno. BA
E485 Space Warriors: Battle for Earth Station S/1 (81) aka: Uchû senshi Baldios Polluting aliens plot to trash earth! Don't expect this fight to be clean! An enemy so dirty they've condemned their entire planet! Instead of cleaning up their own nuclear waste, Planet S/1 brings their dirty work to Earth! Their military rulers want to knock us all off so that their dying world can relocate here! Can they be stopped? Anime
E561 Unknown Powers (78) Three episodes of a canceled television series that featured hosts Jack Palance, Samantha Egger, Will Geer and Roscoe Lee Brown. Paranormal and mysterious wonderings and evaluations described includes a particularly eerie segment on Cult Leader Jim Jones and his victims as he led them to the Gates of Hell with his Kool Aid. An age where we were not as a people so jaded as we are today. The serious becomes the trivial over time I suppose.
EXPLOITATION & SEXPLOITATION FILMS
E499 Body Beautiful, The (97) aka: The Ultimate Attraction Gabriella Hall (as 'Linda') tries to rescue an exercise gym from bankruptcy using a remote control device that manipulates the hormones of the members into a sex-crazed state. A bit like 'Zapped', but far sexier, with large breasted women and soft-core sex. Also starring porn stars Stephanie Swift and Taylor St. Claire as well as more nubile naughties.
3683 Common Law Wife (61) After making her living as a stripper in New Orleans, Doll, moves in with her lech of an uncle, who throws out his live-in mistress, Linda (Annabelle Weenick of 'Don't Look in the Basement' and 'Keep My Grave Open'). But she says no way. Now he has two bickering women on his hands. But Doll has plans, the sexy little tramp is after her uncle's money. Lacey Kelly as Baby Doll is an absolute knock-out! Parts of this film were directed by Larry Buchanan! BA
7258 Diary of a Space Virgin (75) aka: Girl from Starship Venus aka: The Sexplorer The explorer from Venus (Monika Ringwald) has come to Earth to research sex. Unlike 'Wam Bam Thank You Space Man' which uses males, this time a horny female has arrived. She has transformed herself into a thing of beauty, complete with responsive sensory organs, ready to explore the deepest regions of her female anatomy. There is a planet full of willing male humans to guide her..... Claimed to be Quentin Tarantino's favorite British film. BA
E619 Dixie Dynamite (75) aka: Dixie Dynamite e Patsy Tritolo A moonshiner, protected by the local sheriff (Christopher George) is killed after being betrayed. His daughter's back on the farm are not very happy about it. Especially when the bank, run by the same dirty businessman who had their father killed, forecloses on the property. With nothing to lose, they go rogue and plot revenge on anybody or everybody that wronged them. Including the bank! The girls rob the rich to give back to the farmers. Like Robin Hood. Warren Oates, R.G. Armstrong and many more star in this backwoods redneck drive-in classic. BA
C161 Dr. Minx (75) After the suspicious bulldozer death of her husband, the now widowed Dr. Carol Evans (Edy Williams) is on a screw-fest and has just dumped her latest boyfriend Gus Dolan (William Smith). Now she is mounting a teenager who still lives with his parents, and trying to hide a dead body (who do you think she killed?) while dodging a 'Columbo' knock-off guy who is getting closer. Watch for the sheer pleasure of gazing at Edy Williams, still a sight to behold. In the opening we hear her orgasm and squeal as she gets it on with William Smith. + Trailers follow the film! BA
6171 Emmanuelle on Taboo Island (76) aka: La spiaggia del desiderio The movie that is not included in the recent massive box set regarding the Laura Gemser films. A shipwrecked sailor, marooned on a tropical island, inhabited by an elderly escaped convict and his two grown children, one boy and one girl (Laura Gemser). The son gets jealous when Laura Gemser shows interest in the sailor, and no longer will play their 'special game' with him. Somebody has to go in this twisted triangle..... but the ending may not be what you expected. Plenty of nudity with Laura Gemser in her prime. BA
P208 Erotic Zen (91) The husband beds the maid. His wife screws multiple men, and even the maid her husband is bonking is not safe from her sexual urges. Not that anybody is complaining! The couple are demons. The wife must orgasm ten times before she can regain human form. The husband hires a super stud to hopefully achieve that goal. For him, he needs a virgin. Luckily his beautiful new virgin servant may oblige! Widescreen and English subtitles
W411 For Love and Money (67) Co-written by Ed Wood! Concerning four hot-looking large-breasted models, and how they 'play' the game to reap the dollar benefits. Industrial espionage never looked so good. Of course the law meddles, but not before we see a whole lotta' love! Many films only tease, this one delivers. The girl scenes are worth seeing. Perfect specimens! Ed Wood wrote a pulp novel with the title 'The Sexecutives' in 1969, further expanding the idea. Color BA
C807 Gimme an 'F' (84) aka: T&A Academy 2 aka: The Big Cheer Incompetent cheerleaders compete with the talented squads at Beaverview Cheerleading Camp. Their training is very dance oriented, as is the cheerleading in this film. The songs and routines are better than what some of the girls do now. J.V. cheerleaders, always everybody's favorite, and not a yapper dog in the bunch, these gals are smoking hot. Remember when Victoria Secret almost crashed their brand with fat broads and buzzard-faced chicks? This isn't that! Girls Girls Girls! Meatballs III meets Porkys. BA
F594 Girl from S.I.N. (66) aka: 00Sex Joyana Frederics is Poontang Plenty and boy is she ever! While the opening strip and kill had me on the edge of my seat, I soon realized that there is no real dialogue in the film, instead a narrator who makes lewd and suggestive comments. Okay. There are uncomfortable moments of silence, and some weird dancing, a bit of pre-karate-sound effects technology karate, stripping down, and (the spy angle) invisibility! Three Femme Fatales!
E477 Girls Will Be Girls (80) aka: La settimana bianca Middle-aged men on a ski trip spend their time trying to one up each other, competing for the ample attentions of leggy blonde Angela (Anna Maria Rizzoli) and also a sexy servant girl. Sketches roll along at a steady pace with eye candy on display, even an indoor pool sequence, and snowy outdoor antics. Still, getting lucky proves to be a challenge for all involved. With so many interruptions we still get some decent nudity. In Italian with English subtitles BA
E629 Idlings of the Emperor, The (93) aka: Devil Woman of Tang Dynasty A sweet and attractive peasant girl catches the eye of an emperor who determines to make her his sole concubine. One look at her and you'll wish she were yours. But will the emperor be the only man who experiences what it is like to have erotic soft-core sex with this buxom tasty beauty? Torture, Sex, Nudity, Nymphomania. English subtitles (sometimes a bit tough to read, but most are easy enough) and Widescreen
X987 Loaded Guns (75) aka: Colpo in canna Floozy man-eating stewardess Nora Green (Ursulla Andress) arrives in Italy and finds herself involved with rival drug cartels, turning this situation to her benefit. She is beaten and abused by various lowly scumbags , and manages to fight back, holding her own against the thuggery. Ursulla Andress provides plenty of nudity, many highlights of the film, and at age 39, she has the body of a 25 year old. Terrific. A refreshing crime film with plenty of all-important nudity from one of the most beautiful women of all time. Woody Strode is a crime boss. From the director of 'To Be Twenty' Fernando Di Leo. Widescreen BA
E617 Love n' Leather Pants (75) aka: Zwei Däninnen in Lederhosen aka: La locanda dell'allegra mutanda This is a film from Germany dealing with a gigolo and all of the women he scores with. There is another film from 1979 labeled 'Love in Leather Pants' but this does not fit that description. This is loaded with soft-core sex and comic situations. The people who dubbed this movie into English erased the credits to the film, and applied their own fake names to the direction, writing and title. The spoken dialogue has American reference, while the sex scenes are mostly played for laughs. Don't let that stop you, having this film will mean you are one of the few who does. BA
E614 Oh! You Beautiful 'Doll' (73) Cleo O'Hara is 'The Doll', a self-deluded over-the-hill actress, and admitted whore. She is proud of her former status as the 'best c**cksucker in Hollywood!'. Now she takes on men in 'carnal acting courses'. Subplot involves a photographer guy who talks women out of their clothes. Soft-core that also stars Sandy Carey.
7522 Party Animal, The (84) Blundering college student Pondo strikes out every time he makes a move on a girl. Maybe it's the Confederate Flag shirt? Watching the girls go by with his buddy Studly, Pondo announces that he would sell his soul for a piece of tale. A woman is Mephistopheles, taunting him throughout the film. Before Pondo gets his wish, he will be dragged through some of cinema's most hilariously torturous vignettes, many crossing the line of decency. Thank goodness. Offensive Fun, would give a young teenager in 2023 a panic attack, but from my era, we laughed and laughed. In one scene Pondo crashes a black party and ends up with a hair pick stuck in his forehead! Dark and twisted comedy with a great soundtrack that includes The Buzzcocks, The Fleshtones, R.E.M., New Marines, Chelsea and more. Whores, Punk Rockers, Male Dancers, Sexy Ladies.... BA
E632 Private Passions (84) Mark (Gavin Brannan) goes to visit his uncle Albert and his cousin Toni in Austria where Toni tries to hook him up with hookers. Mark gets one look at this nasty blonde cow, and opts out. Mark prefers his uncle's stepdaughter, Claire (Susanne Ashley of 'The Party Animal'). The problem? His cousin Toni is also in lust with his stepsister. Mark is virgin, and Claire breaks his heart. Then Claire's mother Kathrine (Sybil Danning) takes pity, seducing Mark, taking his virginity. Happy endings? BA
K377 Rope Burn (84) Soft-core Bondage with Michelle Bauer, Cody Nicole and Margrette Patee. Are you man enough to watch them face the rope burn? (less than an hour long)
E604 Wham Bam Thank You Spaceman (75) aka: Close Encounters of the Fourth Kind (the VHS release title of the early 1980's) Two far-out space creatures from Uranus are sent to Earth to check out the sexual habits of our primitive culture. These horny spacemen check it out in every imaginable combination and position. Hookers, housewives, Hollywood starlets, belly dancers.... they all get 'checked out' if you know what I mean. From the ship, they look like Saturday Morning sitcom lizard-like aliens in cardboard sets. The space men have sex organs that are out of this world, and drive the women wild! Needless to say then that everybody comes, and comes again! Dyanne Thorne is a hooker. Haji is a slave girl. Also with Joyce Mandel, Tallie Cochran and Janice Karman. BA

EXTREME HORROR AND GORE FILMS
E612 Beyond Bedlam (94) aka: Nightscare A psychopath is being treated with an experimental drug that is supposed to cure him. But instead, it makes him more wicked, more evil. Not only that, now he can enter the dreams of his victims, like Freddy is so fond of doing. Now he will terrorize his doctor (Elizabeth Hurley) and anyone who gets in his way. A bizarre riff on what we have all seen before, from a very British angle, and Elizabeth Hurley tossed into the mix along with violent gore.
E459 Black Belly of the Tarantula (71) aka: La tarantola dal ventre nero Excellent Italian Giallo with some of the most beautiful Italian stars of the day. Spa member victims are paralyzed by the killer with an acupuncturist needle to the back of the neck, then a big blade driven into their bellies and cutting while they are still alive. The serial killer may be employed at the spa. He wears gloves and we learn who he/she is in the end. A persistent detective is on the case. Now, the women involved here. Barbara Bouchet, whose super perky buttocks automatically earn the film five stars, Barbara Bach, Claudine Auger, Annabella Incontrera and Stefania Sandrelli. Italian language with English subtitles (or English Dub, your choice!) BA
L163 Black Bible, The (01) aka: La Biblia Negra Simon is orphaned when his parents die in a car accident. He is sent packing to live with his aunt Maria (Monica Randall) in a small town in by the ocean, with cliffs and scenic views. A very nice area, a bit isolated and creepy. I would definitely live there. Simon shows off his chess skills and studies hard. His aunt is strict. She tells Simon he can see his mother if he does as he is told. She also seems to be talking to somebody who isn't there. Is she a witch? Simon finds a man walled up in the basement. A Fire. Mysterious books. Widescreen In Spanish with English subtitles
E484 Blue Jean Monster (91) aka: Jeuk ngau jai foo dik Jung Kwai A cop is crushed during a shootout after a violent bank robbery. Then a cat sits on his chest, lightning knocks a telephone pole on him, the electricity reanimates him with super powers, but he doesn't know it... yet. Fantastic spraying machine gun action, car chases and vehicular mayhem. He gets beastly on a woman in a red playboy bunny suit, aggressively squeezing her boobs which spray him with milk! A celebration goes off-the-rails. The money from the earlier robbery is sought by the brutal sadistic gang. They take the electric monster man cop's pregnant wife and daughter hostage, luring him into a trap, while she goes into labor! Brutally violent final act! In Cantonese with English subtitles BA
E466 Caligula's Slaves (84) aka: Roma. L'antica chiave dei sensi In the opening, toga people outside clap, while a man and a woman screw by a tree, while an effeminate Caligula watches. Caligula then reaches out to embrace the man and starts to kiss him, but he bites the man's face, tearing his lip. We see flashes of debauchery, the bit man smiles in ecstasy, hugging Caligula like a lover. Caligula then violently strikes the man, twice. Cue opening credits where we see crucified men, fire, and holier than thou talk, delivered by Caligula, who fancies himself a philosopher apparently. Cemetery swordfights, an arrow to the neck, loads of nudity..... Caligula rip-off that is much shorter than the original, black woman with whips, the staging of the fake invasion in the water and a different ending then the one endured by Malcom McDowell and Helen Mirren in the original. In English BA
W414 Carnival of Blood (70) aka: Death Rides a Carousel Three women are slaughtered in and around Coney Island during the carnival. The killer has a penchant for teddy bears. He decapitates his first victim in the ghost train. The second is eviscerated and the third has her eyeballs plucked out. There are red herrings all over the place. Gimpy (played by the recently deceased Burt Young) an impaired weirdo with burn scars, is just one of the many victims. Some over-the-top gore scenes and gags, odd electronica in the background, cool nostalgic carnival setting.... A perfect late night gore-kitsch-classic! BA
L311 Cruel Passion (77) aka: Marquis De Sade's Justine This is the one with Koo Stark as Justine, the innocent virginal beauty who finds herself fallen into a life of brutal sex and erotic torture. The more she resists, the more she is pursued. Juliette, sister of Justine, is a prostitute who rises to a position of power by freely indulging in vice, carnal pleasures of the flesh. Koo Stark is hypnotic. One of many films based partly on Marquis De Sade. - This is the 97 minute version, our last version was just 94... BA
E493 Cult, The (71) aka: The Manson Murders aka: Tochter des Satans - 69 minutes Uncut and now (ta da!) with English subtitles for the first time! Now we can finally see this 'lost' film and understand the plot! Listed before as #J350, and a lengthy description in the 2020 Consolidated Catalog! BA
Q177 Curse of Lola (05) aka: Zu zhou A dancer is murdered, suspicion falling to her young replacement, who then runs afoul of her coworkers. Not only that, but she is having weird visions and nightmares, and is beginning to question her boyfriend's loyalty. Some dreamy mystery in a setting like 'Black Swan' meets Argento, the film building strength through the music, and the silence, building mood. If you are impatient you won't enjoy it. A slow burn. In Cantonese with English subtitles
W415 Curse of the Headless Horseman (72) aka: Valley of the Headless Horseman A man inherits an old cowboy ghost town from his uncle. He grabs his girl and hippie friends and sets out to the town. The place has a spooky legend we hear about, and a (ghostly?) headless horseman starts knocking their heads off. The dialogue is so bad, it feels like they made it up as they went along. There's an acid trip, and I think the director was probably tripping as well. Uncreative narration, bad comedy sequence, wooden acting, stupid hippies. I wish I could have been there! With Ultra Violet as 'The Countess'! A Scooby Doo ending. BA
9875 Cy Warrior (89) aka: Cyborg - Il guerriero d'acciaio Impervious to bio-weapons, unaffected by heat or cold, the Cyber Warrior is America's hope for the future. Frank Zagarino as 'Trecibi' in this Terminator/Robocop knock-off. Trecibi has escaped from his freezer on a military research vessel. Soldiers are sent to destroy him, led by the sadist Hammer (Henry Silva). Hammer is fine using heavy artillery in places crowded with civilians. Who cares who dies! A kid finds Trecibi injured in the woods and takes him home to his kid sister (Sherrie Rose). The montage that follows is the cheesiest ever, as Tribeci learns how to eat hamburgers, and shop for clothes, and.. (gag) how to dance. Don't worry! Violent action to come! Director Giannetto De Rossi directs! He was mostly a makeup artist through his career, working with Fulci on 'Zombie' and Stallone on 'Rambo 3' even Swarzenegger on 'Conan the Destroyer'! BA
F171 Dark Rider (91) All hell breaks loose when vicious mobsters discover plans for a highway to be built through a quiet town. The goons invade the community, buying up all the land. If you don't go along, they will force you out at gunpoint. The sheriff is useless. A mysterious man in black emerges from the desert. He ain't Johnny Cash. He is a motorcycle riding avenger on an unstoppable mission, to throw live grenades at bad people! Action! Joe Estevez and more star.
4597 Dark Room, The (82) Obscure thriller from Australia! This film explores the relationship between a middle-aged doctor, his provocative mistress and his 'disturbed' son, who follows his father around, taking pictures of the infidelity. But his voyeurism turns psycho when he photographs them doing the nasty, exposing the pictures in his darkroom. He wants her. He'll ruin his father to get her! This leads to a terrifying and emotional climax! Anna Maria Monticelli is the mistress. She starred with Pierce Brosnan in 1986's 'Nomads'.
W410 Deep Crimson (95) aka: Profundo carmesí The Honeymoon Killers remake from Spain, based on the Lonely Hearts Killers! Obese and lonely Coral is robbed by gigolo Nicholas. She joins him, and posing as brother and sister they prey on lonely vulnerable rich women who are trying to find a connection. Coral loves Nicholas and starts to get jealous. The killings begin. Like the original (which was grim, scary and sometimes darkly comic) this one is straight up shocking! In Spanish with English subtitles BA
E628 Demoness from Thousand Years (90) aka: Qian nian nu yao aka: Chase from Beyond From beyond, the Demoness threatens to break into our world! Only Heaven's Sun Bead, combined together with the Bead of Hell can stop her. Sort of like, a glowing effects ball. A Taoist priest uses to fairies to obtain the crucial weapons, meant to counter the demoness, and presto, we are transported to the year 1990, where one of the fairies falls for a policeman. A cops vs. bad guys subplot emerges. Kung-Fu and Supernatural collide. Widescreen In Cantonese with English subtitles BA
T956 Demoniac Flash (05) aka: Piu yee hung gam Two men with delusions of grandeur, meet a frivolous young actress in an old house. The trio makes new friends with a couple who lost their son in a freak accident. They also meet up with a weird cartoonist in the neighborhood. Everyone is affected by nightmares. For them, the nightmares are about to begin! Starting with a fantastic 'Demoniac Flash'! Widescreen In Cantonese with English subtitles
8807 Demonium (01) aka: Outbreak of Evil The reading of a will in a lavish Italian castle. This could only mean a gory killing spree as the visitors meet their doom, one by one. Decapitations, throat-rippings (one big hook!), chainsaw dismemberment (a woman cut in half) and torture. At one point somebody throws a severed arm out of a window to alert attention that they may need help. The maid is dressed up as a dominatrix and has a chained up slave at her feet. As far as the 'castle' goes, you only see the front door, inside just a large modern house. But who cares. The film is a bloodbath! BA
E478 Diary of a Serial Killer (95) aka: Gwong Chow sat yan wong: Yan pei yat gei Lau Shu Biu is caught, and now he spells the beans. Biu cannot satisfy his wife. This makes Biu angry, and he takes it out on hookers, who he hates! We see him as he picks up prostitutes for violent sex, then ties them up before he kills them. His tortures on some of his victims may be tough to watch for some. God is nice to me! Damn you bitch! Based on a real guy who raped and murdered thirteen women between 1991 and 1996 in Wong Po village. This movie gets pretty nasty mixing violence and butchery with sleazy sex. Widescreen In Cantonese with English subtitles
264 Echoes (82) aka: Living Nightmare An erotic thriller about love and dreams and what happens to love when dreams start to rule someone's life. Michael paints by day, by night he has brutal nightmares. His days start to change as mysterious and terrifying occurrences destroy his relationship with his girlfriend Christine. And now, some kind of evil force has taken over his hands, forcing him to paint.... but what? A malevolent nightmare image from his nightmare world emerges from the canvas..... Echoes! They take you to a place where dreams can kill! Mercedes McCambridge, Ruth Roman and Gale Sondergaard in her last film! BA
6377 Erotic China Dolls (93) aka: Dances with Snakes aka: Tou se yi hung mou In 18th century China, oil wrestling is in. The climactic couplings of the lead players is essential to their survival. A deadly trio of sexy serpentesses are engaged in a perpetual struggle with the Yinsan monster, a nasty dude who craves their essence. The females need to collect the essence of virgin males as their only weapon against him. At a tavern, they are given choice of men, but a traveling Christian has something revitalizing stashed between his legs ... something they need! Widescreen In Mandarin with English subtitles
L882 Erotic Nights of the Living Dead (80) aka: Le notti erotiche dei morti viventi Horny John (Mark Shannon) travels with horny Fiona (the deliciously nasty Dirce Funari) on a yacht to an island that has been infected by a horde of man-eating zombies. Also traveling with them a macho man and a whore. There, they meet an old man and his mysterious daughter Luna (Laura Gemser). Maybe the most explicit sexual scene is where a woman opens a bottle of champagne with her genitalia! Gore and Sex, Top Notch Trash from Joe D'Amato, the likes of which we will never see again. The zombie footage is good, and there are other versions of this film. Two Hour Plus Uncut Nasty Version! This is the longest we have seen however, but another version might pop up in another update. In Italian with English subtitles BA
E646 Fruits of Passion (81) aka: Les fruits de la passion aka: Foreigner from Shanghai Brothel Under the whip of pleasure, this merciless torturer.... Rebellions are breaking out in Hong Kong and Shanghai. 'O' (Isabelle Illiers) is in love with the much older Sir Stephen (Klaus Kinski) who wants her to work in a brothel to prove her love to him. 'It's a challenge, we have an agreement' the sleaze Sir Stephen explains to the Madame. He watches her humiliations as she is taken, and even has another mistress. But then she falls in love with a male admirer. Obsession, perversion, sexual quest, rough sex, caste and political struggle. Klaus Kinski is rough and nasty in this one, obviously enjoying his sordid acts. You may see more of him then you are prepared to see! One story from his autobiography regarding Isabelle Illiers on the set of this film is shocking, and offensive. But you'll have to read his book. English subtitles
E643 House of Seven Belles (79) Andy Milligan directed, and never completed. Set in the post-Civil war south, seven sisters try to survive Southern Gothic Andy Milligan style. There is also a killer stalking about. There is gore and people die, bad over-the-top acting, high school level costumes meant to be from the period, and about everything you would expect from an Andy Milligan film. Looks to be pretty damn complete to me. Who's the killer? 91 minutes
E556 Kokkuri (97) aka: Kokkuri-san One year before 'Ringu'. Japanese schoolgirls decide to play 'Japanese Ouija Board' and they summon the evil spirit Kokkuri, a vengeful female ghost hell-bent on messing with them all in supernatural ways. Could it be the vengeful spirit of a friend who played the game and then drowned herself? A little 'pink', a little sleaze, the girl's are obsessed with sex, an early entry into the J-Horror Ghost Girl movies. Widescreen In Japanese with English subtitles
E487 Last Days of School Before Christmas, The (75) aka: L'Ultimo Giorno Di Scuola Prima Delle Vacanze Di Natale North Italy, Spring 1945. A trio of fugitive fascists kidnap a bus full of civilians and head for the Swiss border. During their journey, we see bloody violent flashbacks of what they were up to before fleeing. Approaching the Swiss border, they decide to murder the other passengers. Stripping down a young woman and her little boy for instance, marching them out naked into a straw patch, the blonde fascist woman shooting them to death with a machine-gun. Others, they put in a hole and toss in some grenades. Cold-hearted depiction of the loss of humanity during times of war. Macha (Deep Red) Meril, John Steiner and more star. Sadly, there are no subtitles for this repressed film. But the plot is simple. In Italian language only.
W413 Libidomania (79) aka: Sexual Aberration Regarding a variety of bizarre sexual practices, the only thing more offensive than the 79 minute cut of Libidomania is this version that features all of the things cut from the original film adding an additional 40 minutes! This is the longest print ever of Libidomania! Much of what you see here, things so repulsive and taboo, things so reprehensible the words cannot be found, are now being practiced in some parts of America! Hide your wives! Hide your children! Jacopetti, it is time for an update. No dice, he died in 2011. Uncut version with English subtitles runs almost 2 hours! BA
E494 Man, Woman and Beast (77) aka: L'uomo, la donna e la bestia - Spell (Dolce mattatoio) Previously listed #R895 in main catalog in a lengthy description, now you will know why these things happen, a very disturbing film with a total gross out final act. Seriously, don't be eating when you watch this! 99 minutes Full Frame and with English subtitles for the first time! BA

E627 National Mummy, The (81) aka: La momia nacional From the director of 'Vampyres' and 'Symptoms', Jose Ramon Larraz. A Spanish expedition to Egypt brings back a mummy princess. No one pays attention to the curse, but when this princess is unwrapped, she forcefully grabs the crotch of every man she sees! She's goes after a woman as well. She shatters a bath tub with a naked man rolling out and running for his life! She's wrapped and ugly, but a boob is out! As if having a werewolf and a mummy in the film is not enough, there is also a very Nosferatu-like vampire who has an army of ladies of the night. And lest we forget, a killer wielding an axe is in the house! Explosive! Comedy Horror with English subs for the first time. BA
E647 Outback Vampires (87) aka: The Wicked Traveling the Outback, two men pick up a hitchhiker. The vehicle breaks down after hitting a deliberately set trap, and they have to spend the night with a strange family in a small town. They are under the roof of a family of vampires, who use the villagers to trap their food for them, serving people up at their doorstep! The trio understands they are in danger, and plan an offensive move...... Later in the wilderness, a showdown with a giant vampire, graphic neck-biting, meat-cleaver decapitation, a ravenous attack crow and other creative bloody kills! BA
E555 Second Coming of Suzanne, The (74) Acid trip from hell story of a filmmaker obsessed with making a film about the second coming of Christ, but with Christ as a woman, inspired by the Leonard Cohen song 'Suzanne'. Obsessing over Suzanne (played by Sondra Locke, looking about as good as she ever did) three men reach different conclusions, all changed by her goodness and beauty. Pretentious? A little. Weird as Hell? Absolutely. Does Sandra Locke get crucified? Yes! Strapped up high on a cross on a hill, they put large nails through her hands and feet and leave her for dead. Also with Richard Dreyfuss, Paul Sand, Jared Martin, Gene Barry and get this, Penelope Spheeris, later the director of 'Wayne's World'. BA
E413 Short Night of Glass Dolls (71) aka: La corta notte delle bambole di vetro In Prague, a man is declared dead and sent to the morgue. But Gregory (Jean Sorel) is very much alive, just paralyzed! He recalls what lead him to this sad state of affairs. Gregory had found that not only his girlfriend (Barbara Bach) but other girls as well, had gone missing in Prague. His investigations have led him to a strange Satanic cult. They have orgies, the old devils living off the young. To stop Gregory he is injected with a paralyzing drug. Gregory is about to have an autopsy, and he is still alive! A perfect dark horror in the same vein as 'Rosemary's Baby' or 'The Tenant'. English Dub Widescreen BA
E501 Spectre (77) MFTV, but altered, this version contains nudity for the European theatrical release. Probably the creepiest story/screenplay from Gene Roddenberry. Criminologist/Occult Investigator William Sebastion and his old friend Dr. Ham Hamilton (Gig Young) stumble into a Satanic Cult. Demonic reptilian leader' Asmodeus', pentagrams, black mass (where the nudity comes in), a devourer of men succubus.... One of the best. Touches of Lovecraft and Hammer. 65 year old Gig Young met his future bride 31 year old Kim Schmidt on this movie (she is a 'Police Woman', uncredited). Kim married Gig in September of 1978. In October, the following month, Gig Young shot her to death, and then himself. A curse? Asmodeus? Upgrade! BA
E502 Summoned, The (92) aka: Demon Lover A séance conducted with the black arts, fire, and a huge pentagram, summons a demonic dream lover from beyond. The woman just wanted a lover that wouldn't drive her crazy. What she gets is an Incubus, the male equivalent to the Succubus, in the form of a normal -looking man with the libido of a sexual dynamo, but he can be a monster man as well! The Incubus is also very protective of what he considers his own! Gwen Somers, Lauren Hays, Ashlie Rhey, Michelle Bauer, Robert Z'Dar, Joe Estevez and more.
E557 Turn (01) aka: Taan Talented copper plate printing artist Maki, a perfectionist to detail, is hit by a truck and wakes up in an empty city. The utilities work, the water is okay, even the street lights still operate. But, no one except Maki seems to exist. Each day is a reset of the previous, like 'Groundhog Day' and Maki tries to hold on to her sanity. Then the telephone rings..... Widescreen In Japanese with English subtitles
FRANCO FILMS
W391 Barbed Wire Dolls (75) aka: Frauengefängnis Maria (Lina Romay) is sent to women's prison after killing her father (Jess Franco) who tried to rape her. The prison staff is more wicked than any of the inmates. Doctor Moore (Paul Muller) killed the 'real' Doctor, and has taken his place. His female assistants are sadists (including lesbian in leather hot pants Monica Swinn). Placing a naked inmate on a wire frame bed and sending electric shocks, or chaining them naked to a wall, just barely out of reach of food is considered a good time. Maria plans her escape. Sordid sex, female masturbation and Jess Franco's obsession with the zoom lens giving us a gynecologists view of the female anatomy. Also with Martine Stedil and more! Widescreen English Dub BA
W398 Blood of Fu Manchu, The (68) aka: Kiss of Death Fu Manchu (Christopher Lee, his fourth as Fu Manchu) uses ten women as his method of destruction, infecting them with a poison deadly only to men, and then sending them out to seduce and kill his enemies simply with a kiss of death! Scotland Yard agent Nayland Smith (Richard Greene), and others, explore the South American jungles for the antidote, and to end Fu Manchu's reign of terror (once again). Luscious Lips! Lethal in their Biting Sting of Death! Adventure thriller finds Jess Franco in fine form. Shirley Eaton, Maria Rohm, Tsai Chin, Widescreen + trailers for the film BA
E409 Bloody Moon (81) aka: Die Säge des Todes aka: Profonde tenebre Jess Franco slasher film set in an adult Spanish-language school which seems to cater exclusively to helpless-not-too-smart, sex obsessed and smutty, Scandinavian and German women. A burnt youth in a Mickey Mouse mask who killed a girl some time back has been released into the care of his sexy sister for whom he harbors incestuous thoughts. There is also a strange gardener, who laughs like a maniac while carrying what looks like the murder weapons! Gruesome Gore and Nasty Brutality. English language dub. BA
W399 Castle of Fu Manchu, The (69) aka: Le château de Fu Manchu Christopher Lee in his last turn as Fu Manchu. considered by some to be the worst in the series. I disagree. Fu Manchu has totally lost his mind making irrational decisions and clumsily still trying to control the world. Now he wants to freeze the oceans. Rosalba Neri is an assassin 'She fights like a man!". Richard Green (again as Nayland Smith), Maria Perschy, Tsai Chin and archive footage that would make Godfrey Ho smile. Widescreen + trailer BA
E407 Doriana Grey (76) aka: Die Marquise von Sade aka: La Porno Storia della Marchesa De Sade This version of Doriana Grey is in French language with white English subtitles. Beautiful color. Doriana Grey (Lina Romay) gives orgasms of death to her lovers in this lesbian classic. XXX Adults Only - See catalog for more longer description. BA
W402 Golden Temple Amazons (86) aka: Les amazones du temple d'or Beautiful but deadly Amazons live in a fortress atop a gold mine, guarding it at any cost. Years before, young Liana was spared after the Amazons killed her 'explorer' parents who got too close. Raised by jungle tribesmen, and now all grown up ( and my oh my) Liana (Franco regular Analia Ivers) runs around half-naked in the jungle. She learns what the Golden Temple Amazons did to her parents, and seeks revenge. Liana, along with her pet monkey, a goofy African witchdoctor, and some greedy explorers sets off to find the Amazons, the Temple, and most importantly, the Gold! Antonio Mayans, William Berger, Eva Leon, and Lina Romay as an Amazon guard. Cheap Sexy Fun. Screw you Indiana Jones! English Dub Widescreen with trailer BA
W397B Hellhole Women (81) aka: Wimp Edition of 'Sadomania'. Butchered version, the naughty (or too violent) bits cut out of the infamous Jess Franco classic 'Sadomania'.
W392 Love Camp (77) aka: Frauen im Liebeslager Hot women are kidnapped and taken to a jungle camp to be used as sexual entertainment for the soldiers who are fighting the 'revolution'. But that is the least of their worries. Isla (Muriel Montosse), the lesbian warden (Isla, not 'Ilsa') gives them an even rougher time in proper fashion, the routine for these types. The torture exists, sometimes women are killed. All in good fun hey? Luckily Jess keeps his mind in the gutter, the camera on naked flesh mostly, either watching these beauties bath or whatever it takes to provide nudity. Violence, Rape Depravity... and even some consensual sex! Monica Swinn and more star. Lina sat this one out. Widescreen English Dub BA
W400 Love Letters of a Portuguese Nun (77) aka: Die Liebesbriefe einer portugiesischen Nonne Period atmosphere and mood are dead on. You have no idea what you are in store for. Maria (Susan Hemingway) is sent to the convent after the convent leader convinces her mother that Maria is in league with Satan, and doomed to hell. Now inside the convent, Maria soon realizes that this place is not a House of God, but a den of Devil Worshippers! Maria is stretched out on a rack and tortured with metal tongs. A priest is sexually aroused by a girl's confession. Lesbian nuns, Satanic Ritual Sodomy, Masturbating Priests.... But there is a message here to learn. Jess Franco is using film to portray hypocrisy, absurdity, and well, just say 'Classic Nasty Nunsploitation from the Godfather of Eurosleaze' and leave it at that! Widescreen English Dub + trailer BA
W403 Oasis of the Zombies (83) aka: La tumba de los muertos vivientes The German army buried treasure in the African desert during WW2. Robert learned that his father died trying to locate it. Legend has it, the fortune is guarded by undead Nazis. The hell with the stories. Using his inheritance, Robert, along with three others, embark on their journey, to claim the gold....... Fools Gold. Have they not seen 'The Treasure of the Sierra Madre'? Different than the version listed #N657 'Tomb of the Living Dead'. This version runs 82 minutes and is dubbed into English or you can get Tomb of the Living Dead (83) 84 minutes which is Widescreen English subtitles BA
W397 Sadomania (81) aka: Sadomania - Hölle der Lust When a newlywed couple parks their car on a deserted part of an island for some hanky panky, they accidentally have trespassed. The husband is set free while his wife is sent to female prison, to serve hard labor. Kind of harsh. The lesbian warden (Ajita Wilson), along with the impotent governor and his bisexual wife wreck sexual depravity on the sexy inmates, who are naked much of the time. Rape, horny sadists, women are hunted as they run naked through the swamp, and a horny dog.... Trust me, this Uncut Franco is one of the sleaziest women in prison films of all time. The women are incredible. Especially Ursula Buchfeller and... see for yourself! Widescreen English Dub BA
W405 Sexy Sisters (77) aka: Satanic Sisters aka: Die teuflischen Schwestern aka: Frenesie erotiche di una ninfomane Edna von Stein (Pamela Stanford) picks up guys in clubs and takes them home to satisfy her nymphomaniac sister, Millicent (Karine Gambier), who she keeps chained to a bed. One man falls for Millicent and plans on freeing her..... maybe.... Chock full of nudity and sex scenes, this tale of two twisted sisters supplies a barrel full of crotch-hopping perversion with lingeringly lewd poon-packed shots so rewardingly ribald, so uproariously camp, you will be hitting the back button to see some scenes twice. A thing of beauty this, a thing of beauty. Thanks Jess! Also with Jack Taylor. Widescreen BA
W401 Virgin Among the Living Dead, A (71) aka: La nuit des étoiles filantes Jess Franco meets Jean Rollin, that is what this feels like. Christine (Christina von Blanc) has traveled to the rambling estate of her late father for the proverbial reading of the will. Her relatives are a bunch of weirdoes. Igor (Jess Franco) always muttering, her creepy Uncle Howard (Howard Vernon), he's got problems. Christine has an encounter with her deceased father, who warns her to leave or she will die. But Christine mixes daydreams with nightmares, and it may be too late. 79 minute version Widescreen and with English subtitles plus trailer to the film BA
E603 Virgin Among the Living Dead, A (71) aka: La nuit des étoiles filantes One dark stone-cold classic from Jess Franco. This version is dubbed into English and runs 90 minutes. I have read there are at least three other versions, with various alterations and bits and snips, inserts etc. For instance, #W401 is 79 minutes and with English subtitles, while this is 90 minutes and dubbed into English! BA
W404 Voodoo Passion (77) aka: Der Ruf der blonden Göttin When a woman goes to visit her fiancé (Jack Taylor) in Haiti, she finds another woman living in the house who claims to be her fiancé's nympho sister (Karine Gambier). Then the wife is haunted by dreams of voodoo where she kills people and a mysterious woman who warns her. The housekeeper Ines (Vicky Adams) seems to have something to do with it. Excellent Sex Voodoo Trash filmed in Portugal. Engaging. Mesmerizing. Widescreen BA
W396 Women in Cellblock 9 (78) aka: Tropical Inferno aka: Frauen für Zellenblock 9 Hiding in the back of a cargo truck in South America goes awry for six young women. Mercenaries have stopped the truck and discovered them. Now they all sit in the hellhole prison cellblock 9. Here our nubile lovelies will be forced to endure tortures, sexual assault, violent death and other humiliations at the hand of the cruel Dr. Milton Costa (Howard Vernon). In order to trick an idiot guard the females stage a 4-way lesbian orgy to get his attention so they can escape.... Susan Hemingway, Karine Gambier, Dora Doll and more star. English Dub BA

HAMMER AND BRITISH FILMS
E511 Alf's Button Afloat (38) In the past, Aladdin has his lamp buried. In present day, Alf Higgins (Bud Flanagan), along with six of his mates, gets recruited without realizing it. Rubbing a button on his uniform, a button made from the melted down lamp, a genie appears to Alf, ready to grant him his every wish. 'Strike me Pink!' Alf says. And the genie does just that! Using the genie for wishes goes awry nearly every time! BA
E513 Bachelor of Hearts (58) Wolf Hauser (Hardy Kruger) is a German scholar arriving at Cambridge to study for a year. Along with a friend they get up to no good, like all young men are supposed to do. Wolf becomes a 'human sacrifice' in his hazing, all in good fun of course. Righto. A road race with cool cars and more. Sylvia Sims (as 'Ann') is his girlfriend, and we also see other familiar faces in the cast like Barbara Steele, Catherine Feller, Ronald Lewis, John Richardson and more. Very colorful, full of outdoor shots of the area, as it was, maybe still is? BA
E530 Bad Lord Byron, The (49) During the Greek War of Independence, Lord Byron (Dennis Price) falls ill during a military campaign and begins to die. A heavenly court is convened to determine his eternal fate. The filmmakers have already decided just 'how bad' Lord Byron actually is. Will he be remembered as a poet and a liberator, or a misogynistic womanizer? Flashes of life, witness to his life and more. Lord Byron on trial for his life on his deathbed. Also with Mai Zetterling and Joan Greenwood.
E521 Borley Rectory (17) The past is a tapestry of secrets... and ghosts whisper them. The most haunted house in England is given the animated documentary-styled treatment tangled with acted vignettes covering those who lived there, and paranormal investigators experiences at the location. An eerie telling, the chills even more profound when you consider the narrator, Julian Sands, now a ghost himself after dying at age 65 while hiking in California.
E516 Cardboard Cavalier (49) aka: Ridder Bangebuks A comical treatment of Cromwell history in this amusing period piece. At first an almost serious drama showing how miserable the Protectorate was, then things go off the rails with a helpful ghost, a drag act and chaos and confusion. Margaret Lockwood plays the heroine. Also starring Sid Field. Directed by Walter Forde, his last. Also the last film of Sid Field, dropping dead of a heart attack at age 45.
S164 Carry On Emmannuelle (78) (spelled this way by the filmmakers to separate from the other series of films) Emile Prevert (Kenneth Williams) is just not doing it for his wife Emmannuelle (Suzanne Danielle). He lost his libido when he landed on a church spire during a parachute landing. His wife gets it on with everybody, the film replacing the usual smutty innuendo of the 'Carry On' films and replacing it with direct sexual references. Emmannuelle gets it with an entire team of football players, an Australian bodybuilder and others. No lesbian scenes, Emmannuelle here is strictly after man meat, in a wholesome (?) very English sexploitation style of course. This film infuriated fans of the 'Carry On' films. BA
E508 Chelsea Murders, The (81) A masked serial killer is racking up a body count in Chelsea. The mask is creepy as hell, and the killings and notes have an almost Victorian edge about them, theatrical, dark. A pretty good murder mystery, S.O.V. and obviously inspired by the 'giallo' and maybe even the slasher craze that was picking up steam here in the states. That being said, don't look for gore, but more suspense, although the stalking and intense music is there. Complete SIX part edition on TWO discs (counts as 2)!
E517 Don't Take it to Heart! (44) A bomb hits the castle and awakens a jolly old ghost. When word gets out about the ghost, tourists and newcomers flood the small town of Chaunduyt, not all with good intentions. A young professor is interested in ancient manuscripts, not to mention the current Earl's daughter, but he also gets involved with troublesome developers who want to update Chaunduyt to modern times. Patricia Medina, Ernest Thesiger, Richard Bird, Richard Greene and more. BA
E524 Fake, The (53) A gallery of London is robbed of Da Vinci's 'Madonna and Child', replaced with fake. American Paul Mitchell (Dennis O'Keefe) was safeguarding it when realizing this, and now he is out to catch the thieves and recover the painting. Also with the stunning Colleen Gray and many more. BA
E522 Funnyman (94) aka: Funny Man Max wins a large manor house in a game of poker (against Christopher Lee!) which is actually an ancient shrine to the 'Gods of Fortune', a temple of chance and fate. The spirit of the 'Wild Card' is 'The Joker' or if you please, 'Funnyman', and this is where he spends his time. Other guests wind up at the mansion. The Funnyman is thirsty for blood, creating a sort of mystical kaleidoscope of rooms, dressed like a jester, he batters bloody with a club, and one-liners. The Funnyman also uses different British accents, and takes on different personas. Funny gags and gore! BA
E559 High Jump (59) An ex-circus acrobat, who now works as a TV repairman, falls in love with a 'femme fatale' (Lisa Daniely) who coaxes him into a daring heist. Of course she is using him, her real lover is the killer behind the whole caper. Also starring Leigh Madison, Richard Stapley and more.
E482 How to Undress in Public Without Undue Embarrassment (65) From Victorian modesty to modern strip clubs, a comical look at nudity through the ages. Before he was Dr. Who, Jon Pertwee played a part here in this entertaining little British feature that runs under an hour, and does contain some nudity (although not a lot). Christine Child and more star.
S653 Inheritance, The (47) aka: Uncle Silas The classic story of young teenage Caroline (Jean Simmons), an heiress who is sent to live with her strange 'guardian' uncle who is secretly broke, and planning her demise, so he can swindle her out of her inheritance. Then she meets Uncle Silas's even creepier son. A Gothic Thriller set in a dark sinister mansion. BA
E535 Johnny Frenchman (45) March 1939... An old rivalry between the Breton and the Cornish fisher folk. The Cornish harbormaster is sick and tired of the Bretons poaching their waters, taking their catches elsewhere and denying the harbor dues. Things get more contentious with the marriage of a Breton son to a Cornish maiden. Only the coming of WWII can bring the rivalry to an end, and unite the people against the Nazis. Francoise Rosay, Tom Walls, Patricia Roc and many more star. BA
E510 Lionheart (68) A little boy has a small stuffed lion on a stand next to his bed. When he spots a real lion (Simba) in the family barn, he makes it his mission to protect it. The lion has escaped from the circus, and the overzealous trigger happy army men are on a shoot-to-kill directive for public safety. + The Battle of Billy's Pond (77) (described elsewhere in a double feature with 'Black Island'.
E585 Main Chance, The (69) Two Episodes of this show about lawyer David Main (John Stride) who commutes between London and Leeds. Includes the episodes 'What About Justice?' + 'Body and Soul'. Both episodes also star Kate O'Mara who also appeared in three very good Hammer films including 'The Vampire Lovers'.
E586 Main Chance, The (690 Two Episodes of this show about lawyer David Main (John Stride) who commutes between London and Leeds. Includes the episodes 'The Professionals' + 'Liar's Dice'. Anna Palk is in both episodes. 'Liar's Dice' also features Kate O'Mara.
9486 Percy (71) aka: Il complesso del trapianto A friendly man named Percy gets a penis transplant which causes him to suffer with identity problems. Searching for the donor's past, he hooks up with former lovers of the donor. Babes like Britt Eklund and Elke Sommer. Hywel Bennet is excellent as the recipient, the donor's back catalog of ladies are indeed luscious and Denholm Elliot as the ground-breaking surgeon, chews the scenery with relish. 'Percy' is the word they use for 'Penis'. The Kinks perform the soundtrack (and a hilarious misuse of 'Lola'). Also with Adrienne Posta and Julia Foster. Hywel Bennet (reportedly) regretted the role. BA
E526 Peter Cushing: For the Love of Helen (90) The immortal Peter Cushing talks to Peter Williams about his turbulent childhood, his career in theater and films, and the love of his life, his wife Helen, who died in 1971 leaving him distraught up until his death in 1994. + Peter Cushing: A One -Way Ticket to Hollywood (89) Amazing upgrade of this insightful documentary of the great Peter Cushing with interview footage and excellent clips to many of his films.
E531 Playing Away (87) A cricket team in a small English village invites a black cricket team from South London to a charity game and all hell breaks loose. Comic Hell that is. The game becomes one of anger and racial stereotypes. The only time a black and a white reach an understanding is a scene where one of the visiting players has sex with a local girl in a graveyard. Reflecting the political norms and attitudes of the period, mixing class struggles and all the rest into lighthearted comedy is a difficult task. Well done. BA
E506 Resurrected (89) A young soldier named Kevin Deakin (David Thewlis) is scarred by his action (or inaction) on the battlefield. The backdrop is the 1982 Falklands conflict. Kevin is missing and presumed dead (they have already had the memorial service for Kevin), and then he shows up freezing and frightened. Is he a hero or a deserter? His girlfriend leaves him, and his fellow squad members beat the crap out of him. PTSD? Since conflict was ongoing when this was made, the U.K. was not too keen appreciating this anti-war film. Rita Tushingham and Tom Bell play Kevin's parents. Something similar happened with an American soldier just a few years ago. BA
E587 Rockets in the Dunes (60) Two more one hour features from England! 'Rockets in the Dunes' concerns a group of kids who play on a beach in Devon, discovering the Army is taking over their beach for training. As they try to stop this from happening, the unearthing of diffused mines complicates matters. + The Cat Gang (59) A gang of children playing around the local harbor spy on a group of smugglers. Look for a young Francesca Annis (as 'Sylvia') in her debut!
E532 Runners (83) The grim and sometimes dirty manner of teenage runaways. Rachel (Katie Hardie) takes off and finds herself homeless. Her father goes to look for her in dilapidated London locations like dirty train stations, an empty indoor pool. How does Katie get her money? A desperate father searches for his wayward daughter in the seedier backstreet areas of London. Plot somewhat similar to 'Hardcore' with George C. Scott, but not as fun. Societal neglect?
E483 Screen Goddesses (04) Rita Hayworth, Ava Gardner, Greta Garbo and others, featuring narration, and some of their most provocative scenes. From unspoken symbolism representing sexuality, to raw sensuous lustful beauty, impossible to deny. Some scenes considered controversial for their daring scenes of sexual passion. + Talking Pictures: Marvelous Musicals: Whether dazzling us with dance or seducing us with songs, the films showcased here represent the musicals artistic peak. Where choreography and choruses lift us out of ourselves completely. Or something. The amount of clips and snips accompanied by narration packed into this special are certainly colorful, and still entertaining. Some clips have behind the scenes of 'Xanadu' and later Olivia talking about the disaster reviews.
E527 Talking Pictures (13-?) First, Talking Pictures remembers James Hayter, a British actor with 144 features to his credit including 'Burke and Hare', 'Blood on Satan's Claw', 'The Horror of Frankenstein'..... Interviews, clips and snips + Talking Pictures: Family Favorites - From Mary Poppins to Harry Potter, profiled here also some blockbuster American made productions.....
E533 Underground Guerillas (43) aka: Undercover Detailing the Yugoslavian guerilla resistance movement in German-occupied Yugolslavia in WWII. Yugoslavia Spring: 1941. A young teacher in a classroom of students in the beautiful countryside. A soldier arrives, her husband. A town gathering. Flyers from the sky. Bombs start to drop. A lot of politics behind the scenes of this film, made during the war. Very fascinating movie, no one knew enough just yet. What was really happening. A Guerilla Army in the mountains attacking Germans and blowing up mountain bridges and tunnels to slow the Nazi plunder. BA
E480 Wings Over Africa (36) A skeleton is found by two prospectors in Africa. A letter on the body is addressed to a clerk in London. A map, for his surviving brother, leading to a diamond mine. Others sniff out what is happening and various people are now looking for the mine. A deadly game of adventure, romance and death in the jungle. A notable player in this British film that mixes studio filmed footage with stock footage is Alan Napier as 'Redfern'. We know him as Alfred the Butler in Adam West's 'Batman'. BA

MISCELLANEOUS FILMS WAR, ACTION, MARTIAL ARTS, DRAMA, COMEDY AND MORE
E637 Bandits, Prostitutes and Silver (77) aka: Bo ming aka: Battle of Shaolin Shang Li (Don Wong) is a carriage driver who is in love with a brothel prostitute. He needs money to buy her out of the place, so he accepts an offer to steal some silver. Of course, a betrayal. Now Shang Li has bandits after him, and the most dangerous, the Bandit Queen (Angela Mao). One cool weapon has a chain with a handcuff type thing on the end that can lock onto people's body parts. Some great fights! Widescreen In Mandarin with English subtitles BA
E602 Black Dragon's Revenge (75) aka: The Black Dragon aka: Long zheng hu dou jing wu hun aka: The Black Dragon Revenges the Death of Bruce Lee Somewhere, the now deceased Bruce Lee's 'finger-fighting' manual is hidden. The Black Dragon (Ron Van Clief, real Martial Arts Champion from New York!) is hired to find out how Bruce Lee died, and is helped by Charles (Death Promise) Bonet. A wicked bald man isn't going to let that happen.... A nasty lady who brandishes poisonous snakes, wicked villains, nasty eye-gouging, homosexual subtext.... Incredibly Entertaining. Blaxploitation Kung-Fu Mashup! Widescreen and English language dubbed BA
E536 Blackcat 2: Assassination of President Yeltsin (92) 'Black Cat' is a microchip, installed into the brain of a hostile young woman (Jade Leung), supposed to control her violent impulses, and turn her into a calculating unstoppable killing machine. She is now emotionless, with a one track mind. Complete her mission. Will the Russian President be protected, or will he be killed throwing the former Soviet country in chaos. Violent Action! Widescreen and English subtitles BA
E598 Brawl Busters, The (78) aka: Dragon from Shaolin aka: Sa-dae-tong-iue-moon An entire Chinese Province is oppressed and dominated by the cruel and evil Tien Hu. Many he will kill. Years later, revenge will be sought by a female warrior with some mad skills. in one scene a hero is mired in a pool of tar and attacked by a squad of men using flying guillotines, which here look like circular saws, complete with sound effects. Smashing Chop-Socky, with funny English dubbing, great exaggerated sound effects and plenty of crazy action. Widescreen BA
E635 Bruce Tuan's Seven Promises (79) aka: Qi qiao feng huang bi yu dao Mang Fei is given the Jade Sword and instructions as he is off to travel to meet his bride. He promises his father seven things. Don't trust strangers, always be courteous to a monk, never display your purse, don't believe all you hear, avoid the woman who will be your weakness..... Off on his journey. The first night he interrupts a rape. Hilarious battles and loud sound effects, jumping and flipping all over the place. English language dubbed
E615 Bruce, Kung Fu Girls (77) aka: Five Pretty Young Ladies aka: Wu jiao wa Bod Squad Babes travel to Hong Kong to stay with their uncle who is a police superintendent. The gals run afoul of thieves and that is when their special kung-fu skills come into play. The story also involves a scientist with a secret formula, an invisible man (or woman) robbing the rich, and a kidnapping. A Taiwanese 'Charlie's Angels' knock-off with high-kickin' gals in studded leather outfits comprising of short jackets, knee-high high-heeled boots, and hot pants. In some of the fight scenes where the villains get their asses kicked, many hits obviously don't connect, but they fall down anyway. Great Fun and English language dubbed. BA
E599 Cause of Death (91) Drug Lord Ramirez is called to Los Angeles to pick up millions in cash no longer in the control of his brother, who has been killed. The money is supposed to be stored within a bank safety deposit container, in the form of a large block of rare United States postage stamps. One highly sought stamp has been used on a post card. There seems to be death, drugs and destruction everywhere Ramirez goes. Treasury Department in pursuit. Look for 'Day of the Dead' star Joseph Pilato as Harold McBain.
E625 Cocaine: Mixed Blood (84) Lower West Side Manhattan's Brazilian drug dealers start a war with Latino drug dealers for turf. The Latino kids are all underage, they can get away with things, like murder. As the war goes out of control, the German heroin supplier, his hot girlfriend, a Puerto Rican ex-cop and a Japanese police captain somehow have a part. Dirty cops, filthy junkies, racism and plenty of bloody killing, a kid is thrown off a high rooftop, not to mention a visit to a store dedicated to 'Menudo'! In the tradition of 'Sunnyside' or 'The Warriors'. John Leguizamo is a gang member in this, his debut. Marilia Pera, Linda Kerridge, Geraldine Smith, Angel David and more star. Directed by Paul Morrissey.
E551 Commercials of the 1970's (various) Nostlagia trip for many. Incredible bits and pieces of the 1970's includes clips from shows that aired in this era! Dyn-O-Mite! I am so there.
E550 Commercials of the 1980's (various) Nostalgia trip with hours and hours. Teri Garr in a Diet Pepsi commercial, long forgotten jingles galore, cool cars.... Every type of commercial imaginable. + Bonus! Cartoon All-Stars to the Rescue! George and Barbara Bush encourage you to stay away from drugs and alcohol through this 30 minute animated special. Starring Smurfs, Alvin and the Chipmunks, Winnie the Pooh and many more!
E580 Cool World, The (63) aka: Harlem Story Here we have an American Mondo of sorts, that rivals 'Mondo Cane'. Hitting the mean streets of Harlem with a camera crew in 1963 was a brave venture, and this was directed by a woman! Street gangs, drug abuse, brutal violence, prostitution, human misery and despair. No clear plotline, just a social realistic, gritty down and dirty, drama documentary through the eyes of a young black named Duke, who joins a gang called The Pythons, waging war against rival gang The Wolves. And who is to blame for this sordid atmosphere and dismal life? Everybody trying to find a way to beat the man. BA
M17 Daze Raper (95) aka: Mai gaan fan A corrections officer owes a large amount of money due to his gambling addiction. He makes some cash through the inmates, and gets canned when he is caught. He recalls a trick formula that throws people into a daze, and then you can rob them. He starts with a prostitute and has success. Then he moves on to a bigger score..... Widescreen In Cantonese with English subtitles
E525 Deadly Duo (62) Marcia Henderson plays twin sisters, one good and the other bad. So alike, yet unalike. A race car accident widows one, the other wants what she was getting regarding inheritance. If the widow signs over her child that is, so the grandmother can raise the kid. In-Laws and Outlaws, Double-Crosses and Plot Twists. Deadly Duo! Also with Craig Hill, Irene Tedrow and more. BA
8215 Deadly Passion (85) aka: Deadly Passion - Rache in Los Angeles Sam Black (Brent Huff) is a private eye with a lust for sex and violence. When he investigates a gorgeous, yet murderous heiress, you can feel the body heat! Her rich husband is dead... she wants his son... and as Sam closes in on the truth, she uses her irresistible sexy body to dig her claws into him! There will be a Deadly Passion! Ingrid Boulting and also starring 'Scampi', the dog from 'Haunted Honeymoon'! BA
E463 Dillinger is Dead (69) aka: Dillinger è morto Middle-aged gas mask maker Glauco (Michel Piccoli) finds an object wrapped in a newspaper containing an article of 1930's gangster John Dillinger's death, and (supposedly) John Dillinger's gun, which Glauco strips, oils and cleans. Then he shoots his sleeping wife (Anita Pallenberg). Why? Why not? Then he goes for a swim, as one does after performing such a deed, climbs aboard a private yacht where they are just burying the cook at sea, and applies for the vacancy of cook. Weird, strange existential film In Italian with English subtitles. BA
E518 Excalibur: Behind the Movie (80) Helen Mirren, Gabriel Byrne, Liam Neeson and Patrick Stewart talk about the making of one of the best of it's kind, the 1981 feature 'Excalibur'. Director John Boorman also has a lot to say. Vintage footage and never before seen behind the scenes. + Arthur Miller: Finishing the Picture (04) Three days with legendary American playwright Arthur Miller, as he discusses his life and work. Filmed within a year of his death.
E624 Flatfoot in Egypt (80) aka: Piedone d'Egitto A professor (who looks like Albert Einstein) has discovered an insect that has the ability to sniff out oil. He goes missing in Egypt. Commissario Rizzo 'Piedone' goes to Egypt with his sidekick Bodo, a little black kid. Spencer is a one-man army, the stunts and fights in Egypt are something to see, and Robert Loggia fighting side by side with Bud Spencer is a real hoot. Watch Spencer toss a midget plus there's a guy in drag Sock! Pow! Bud Spencer, a former Olympic swimmer in 1952 for Italy, also swims the Nile! Colorful splendidly filmed comedy adventure. BA
E631 Girl, The (87) Johan Berg (Franco Nero) is married, and is wealthy, being a successful lawyer. By chance, he meets a beautiful schoolgirl on the streets named Pat (Clare Powney). She's 14. She's on lunch break from school, and turns tricks during that time, offering herself to him for 300 crowns! The affair they engage in will put Johan Berg into the throes of lust and passion, murder and ruination, much like the fate of many men who pursue the Pretty Poison Lolitas. Meanwhile Johan's wife Eva (Bernice Stegers) is getting the old hide-the-salami treatment from a younger man. Lots of nudity and sex from both mentioned women. Clare Powney was 24 years old in real life, playing a juvenile, obviously, she is not. A police inspector comes in near the end of the film, and is played by Christopher Lee. BA
W418 Golden Globe Awards 1977: Featuring the best in film and television for 1977! Hosted by Charles Bronson and Jill Ireland. Charles Bronson seems very uncomfortable as a host. Because of this- the stars in the audience seem tense, nervous even! Maybe they were worried he was going to lose his temper? Kick back and watch a real awards show with worthy material getting the Golden Globes! Go ahead, you decide if you agree with the winners! Dozens and dozens of stars here!
E636 Hitman in the Hand of Buddha (81) aka: Jie dao sha ren A kung-fu man arrives just in time to help his brother with his rice business. He is already fighting before he gets there, rescuing a man from a robbery. But the rival rice company gets the best of him, and he needs more training, to get the upper hand. According to many, this film has some of the best non-wire kicking in the genre. Hwang Jang-Lee (who directs and stars) is the ultimate bootmaster! In real life a man attacked him and Hwang fired a kick to the man's temple, killing him instantly. Don't fuck with Hwang Jang-Lee! Many versions of this film exist apparently. This one runs 73 minutes and is dubbed into English. BA
E634 Hong Kong Superman (75) aka: Bruce: Hong Kong Master aka: Xiang Gang chao ren Kick-ass Kung Fu Man decides he has had enough! It is time to clean up the streets! When a couple is assaulted in a large parking garage, he is there to help, and kicks the crap out of numerous bad guys. The police are good for nothing. All talk, no action. Injured in battle, our hero has a meltdown at the hospital. He splits in the night, bandage-wrapped head and all. Hong Kong Superman is a one-man army, he will not stand for injustice, nor hesitate to jump into the fray, with action figures, he stuffs one in a defeated villains mouth. The film is hard to find. Although there is an English track, some crazy Russian also interprets, after every English line, sometimes overriding the dialogue. I followed it fine, although it was a tad annoying. The fights and sound effects are unmolested! Watch for a young Sammo Hung as one of the angry fighters! BA
E564 Inheritance, The (76) aka: L'eredità Ferramonti Passion, deceit and money in the end-of-the-century Rome. Italy: 1880. Retired bakery tycoon Gregorio (Anthony Quinn), alienates from his two sons and guards his vast wealth. Innocent acting young Irene (Dominique Sanda) manipulates Gregorio's sons into pursuing their inheritance. Her cunning beauty will move their lives on the board like a game of chess, seducing up to the bedroom of Gergorio, intent on claiming the fortune for herself. Dominque Sanda is sexual, seductive and electric, up until the shocking finale. Where there's a 'will' there's a way. Also with Fabio Testi and more. In English! BA
E593 Lady Ninja (96) aka: Female Ninjas: Magic Chronicles 6 aka: Kunoichi ninpô-chô: Ninja tsukikage-shô A Shogun lives a salacious life with seven mistresses who are now banned from the household. He vows their destruction to keep them quiet and the female ninjas are called to use their magic. Ball-bag lanterns, milk of kindness and the balls of five colors, usually with female nudity. The female ninja swordplay is prominent, with clashing steel. One female ninjas shoots balls from her crotch. An eight foot penis attacks, pleasuring a female ninja, but at the moment of release..... ? Unbelievable! Widescreen and Dubbed into English BA
W406 Love + Fear = Torment (67) aka: La peur et l'amour aka: La paura e l'amore This film exposes the secret world of French model studios, and the men who try to corrupt them. Uncut gems are stolen, and mobsters become involved. Loaded with pretty girls in a state of undress. Rape, blackmail, twists and turns and a stream of topless beauties. Widescreen English language BA
E601 Macho Man (85) With the smoking hot Bea Fiedler topless in the first two minutes, you will be drawn into this German made boxing/martial arts action film quite quickly, I sure was. Boxing man Dany (Rene Weller) and Karate Master Andreas fight their way through knife wielding crooks and drug lord goons, all the while protecting their oh so fine helpless (but beautiful) sweethearts. These heroin dealing scum have to go! Rene Weller was a German and European boxing champion during the 1980's. He was always being photographed semi-naked with thick gold chains and motorcycles. In 2014 he fell ill with dementia from too many hits to the head. Dementia eventually had it's evil way with Weller, killing him at age 70 in August, 2023 (very recently as I write this). English subtitles
W419 Madmen, Maniacs and Lunatics (1980's) Some of the bloodiest and the best of Memphis Wrestling from the mighty 1980's hosted by Lance Russell! Twelve matches from some of your favorites, or forgotten? In any event, this is the main event, and a real hoot to watch again after all of these years have passed by. Looks real to me.
E539 Manions of America, The (81) Part One: Rory Manion (Pierce Brosnan) is tired of the English repression and the Great Famine. He is a proud Irish farmer, who migrates to America to begin anew. He even finds the woman he loves. A great new world. A great new start. Then the American Civil War breaks out. Filmed almost entirely in Ireland. This runs over 4 hours on 2 discs. The cast is incredible, see Part Two for some of their names.
E540 Manions of America, The (81) Part Two: Pierce Brosnan, Kathleen Beller, Steve Forrest, Peter Gilmore, Nicholas Hammand, Simon Corkindale, Kate Mulgrew, Barbara Parkins, Linda Purl, David Soul, Anthony Quayle and many more. This runs over 4 hours on 2 discs.
E633 Master of Jeet Kune Do (77) aka: Bruce Lee's Deadly Kung Fu aka: Bruce Lee: A Dragon Story aka: Yong chun jie quan aka: Bruce Lee il maestro Bruce Li is Bruce in this classic Bruceploitation set in San Francisco, where he defies the waterfront underworld. Packed with fighting and a great range of martial arts techniques. No credits, crazy editing, they are obviously in San Francisco, so this is that film. The western members of the cast were all highly trained martial artists in their own right. Phil Cohen was a student of the real Bruce Lee, Roy Horan qualified in Shorinji Kempo, Allan Ellerton an expert in White Crane, Xingya and Tai Chi, Greg Talovec a Taekwondo instructor. I tell this because the fight scenes are fantastic. English dubbed, quality a little soft. The little kung fu kid in this will kick your ass! Watch Out! The final quarter rivals any Bruce Lee film (almost). BA
E582 Morðsaga (77) aka: Murder Story First full length crime thriller from Iceland filmed in color. A brutal tale of a rotten family with a horrific finale that still shocks today. There daughter works an office job that bores her. At home, the situation is dire. Her mother is useless, her stepfather, abusive. The mother listens while her daughter is raped before charging in and..... gruesome and dark. English subtitles
E623 Ninja Demon's Massacre (88) Ninja's involved in international espionage led by Willie, who the police are trying to corner. What just happened? Wait! Other thugs go up against the gang... resulting in a plethora of fistfights, gun duals, knives of death, double-crosses, political espionage and.... Ninjas with swords, in the greatest cut and paste fashion, (hey, where'd that guy come from) courtesy of the director, Godfrey Ho. I have a dream. A day when all of Godfrey Ho's cut and paste atrocities are edited together into one 2000 hour movie. On this day we will judge a movie not by the color of it's film reels, no no, but by the character of it's content. BA
E464 Operation Golden Phoenix (94) Villain Warlord Mr. Chang (James Hong) collects the sacred 'Golden Phoenix' medallions. It has been told whoever holds them, it will be revealed unto them a secret place where treasures will shower down. From Beirut to Toronto to Lebanon, where Princess Tara (Karen Shepherd) comes into play as another treasure hunter. A kick boxer (Jalal Merhi) is hired to protect the medallions...... Breath-taking fight locations with shoot-up's, explosions and pyrotechnics galore. Violent action, well-choreographed stunt work.... BA
E554 Police Tapes, The (77) South Bronx Police Precinct in the 1970's. You will see the South Bronx Gangs, interactions with the locals and the police and much more in ride-a-longs. Hill Street Blues was based on this documentary and if you are familiar with that show you will see why.
E563 Public Woman, The (84) aka: La Femme Publique In Paris, the beautiful Ethel (Valerie Kaprisky) is hired to play a role in Dostoyevsky's 'The Possessed'. The crazed Czech director has unusual methods and demands, driving Ethel quite mad, and unable to distinguish her character from herself. Directed by Andrzej Zulawski touching on some of the same mind altering panic-inducing elements of 'Possession' minus the monster. Kaprisky bares all. Show me Fear! Show me Agony! Show me Madness! In French language with English subtitles BA
E409 Raffle, The (91) aka: La riffa Hot and sexy Francesca (the one and only Monica Bellucci) loses her husband when he dies in a car wreck. Now, penniless, she has to pay his debt, and puts herself up for lottery. That's right, get your tickets now, you may just win Francesca's affections for pennies on the dollar. Buy a lot of tickets! Twenty of the wealthiest men in the territory, former friends of her husband, all have lusted for her. They enter into the illegal scheme. A judge is investigating. The bastard, can't he leave well enough alone? The Monica Bellucci nude scenes/sex are very special, don't you think? Italian language with English subtitles BA
E605 Rapid Fire (89) Terrorist Mustapha is helped out of captivity on a battleship by a former agent named Eddy Williams who is now a rogue mercenary assassin. Many men die at the end of Eddy's futuristic super-powered gun that uses quick-firing, armor-piercing bullets. CIA man Hansen (Joe Spinell) calls in bad-ass former agent Mike Thompson, Eddy's old nemesis, to locate Eddy and Mustapha, and put an end to them both. Action Unleashed! Dedicated to the memory of Joe Spinell, this was his last movie. Not to be confused with the 1992 Brandon Lee film. BA
E460 Rivals (81) After the death of his father, Adam (Stewart Peterson) moves from a Wyoming sheep ranch to Los Angeles with his mother, brothers and sisters. Right off the bat, he gets mixed up with Clyde, the local bully, now his rival. Adam gets a job at a service station. Adam makes a friend, Beamer is his name. Beamer's mo-ped is destroyed by Clyde. Clyde's girlfriend dumps him for the more gentle and sensitive Adam. Clyde has his sights set on Adam's little sister. Adam and Clyde, street race. Later they take it to the beach. Nostalgia for the right age group. Also with Dana Kimmell and Philip Brown. BA
E638 Roaring Fire (81) aka: Hoero tekken Opens with a foot chase and a very bloody shooting down of our main character. But no, it is his twin brother (Hiroyuki Sanada in a dual role)! Joji (Sanada) is told a secret by his dying father, he learns he has a twin. He arrives in Japan to find the truth, he meets his uncle, and finds out that his twin brother has been murdered. Mixing slapstick comedy, bloody violence, pro-wrestlers (Abdullah the Butcher!), a blind martial artist, hopping heroes, a Nazi fraulein with a whip, a fight on top of a moving bus and Sonny Chiba as a narcotics cop who doubles as a magician/ventriloquist. BA
E414 Rum Runners (71) aka: Boulevard du Rhum aka: La via del rhum Captain Cornelious (Lino Ventura) is a rum-smuggler who travels through the Caribbean Sea with the forbidden booze during prohibition, avoiding the ship patrols and delivering the goods to his thirsty customers. During this he falls hard for Linda Larue (Brigitte Bardot), a silent film actress, after seeing her on screen. Then he meets her in the flesh. Pieces of her silent films are played, she is usually a damsel in distress, being rescued one way or another. This is a Brigitte Bardot film that runs over 2 hours and she looks fantastic! No American actress comes close these days. Now with English Subtitles! BA
E565 Savages (72) In the beginning, a naked, clay-covered band of primitives are distracted by their sacrifices by the sudden appearance of a croquet ball. Searching for the origin of the ball, the primitives arrive at a deserted mansion, which begins having a civilizing affect on their savage behavior. Each takes his place becoming grand ladies or gentlemen of passions and politics. How much difference between savage man and civilized man? Ultimately not much I'm afraid. Take away electricity and cell phones we may just one day learn the truth. Here, the ending, which I will not reveal, is clear. Susan Blakely, Sam Waterston, Ultra Violet and more star. BA
E639 Snake in the Eagle's Shadow 2 (78) aka: Snakey Knight Fight Against Mantis aka: She xing diao shou dou tang lang aka: Die Rückkehr im Schatten des Adlers Rich Ah Fu was a very rich and famous fighter until he was taken by thieves. While trying to find more work, Ah Fu meets and old man who is a crook, and a kung fu master whenever his moustache is pulled. The fight may pause, but another is about to begin! A sidekick and a cute girl (of course) add to the story. This sequel to the Jackie Chan movie really is not directly connected to the first film. Maybe a fighting style. BA
8132 Starbird and Sweet William (73) aka: The Adventures of Starbird Surviving a plane crash in the wilderness, Starbird (A Martinez) must rely on his blood instincts of his Native American heritage to survive. Much of the film highlights the various creatures Starbird encounters. A raccoon, a raven, even a bear cub, all somehow becoming his allies along the way. Sentimental sure, with a really corny recurring song. You want to take things down a notch, this one will put you at ease, and you'll wish you were Starbird, if only for a little while. A Martinez has had one hell of a career, starring with John Wayne and Bruce Dern in 1972's 'The Cowboys,' well over a hundred more projects up to 'Longmire' and the 2023 show 'Dark Winds'. Also with Louise Lewis and Don Haggerty, the father of Dan Haggerty. BA
W408 Tell Me in the Morning (65) aka: Tell Me in the Sunlight Cargo skipper Dave (Steve Cochran) meets Julie the stripper (Shary Marshall) at Dirty Dicks and falls head over heels for her. Julie already has a boyfriend, but still returns the affection. But is she a working girl as well? A sailor, a stripper and a boyfriend. Who will she choose? Steve Cochran writes, directs and stars in this film, not playing the usual tough guy villain, but a man in love. He died before the film was released. Because of this, he did not get final cut. He was only 48 when he died of acute infectious edema while adrift in the Pacific with an all-girl crew. A gruesome story, look it up.
E584 Together? (79) - Liberated lovers Louise (Jacqueline Bisset) and Giovanni (Maximilian Schell) and the revelations of their complicated relationship in one highly emotional, sexually-charged weekend. Jacqueline is living with her boyfriend and his seven year old child after leaving her husband Henry (Terence Stamp). When Henry's appearance leads to a confrontation they all must decide is it lust or love? What does it really mean to be 'Together?'. Two versions 90 minute full frame or 97 minute Italian language Widescreen. Of course, the U.S. tape release from 1985 was missing six crucial minutes. But the 97 minute version is F.L., the 90 minute is in English. Choose either, or both! Also starring 'Scandalous Gilda' herself, the beautiful Monica Guerritore at age 20!
E560 Toy Soldiers (84) While on vacation in Central America, seven college students find themselves captured and surrounded by death squads and brutal violence. The government refuses to ransom them. A rag-tag group, lead by a seasoned mercenary (Cleavon Little!) becomes the 'Toy Soldiers' intent on liberating their friends. Unjustly maligned action film, may indeed have inept moments and bad one-liners, hilarious battles and explosions but the film manages to entertain, the cast all having fun, I think. Jason Miller and Tim Robbins are on board as well! Tim Robbins in his first 'real' movie! Cleavon Little went from 'Blazing Saddles' into a career spiral before dying at age 53 of colon cancer in1992. Not to be confused with 'Toy Soldiers' from 1991, a different movie entirely. BA
E408 Unchained (55) Hot-headed and now incarcerated prisoner Steve Davitt (Elroy 'Crazylegs' Hirsch) struggles with the choice of serving out his sentence, or an easy escape from prison. Effectively gritty, filmed entirely at Chino California Institution for Men. Elroy 'Crazylegs' Hirsch played only one season at the University of Wisconsin in 1942. Football. The song 'Unchained Melody' first surfaced on the soundtrack to this film, before it's huge 1960's success with other artists. BA
E567 Vixen (69) aka: Jotai aka: Indagine su una ninfomane Michi attempts to swindle rich man Ishida out of two million yen for her alleged rape by his son. Ishida's wife Akie offers her one million, but she ends up with what she has demanded. But it still is not enough, and now Michi pursues Ishida, seducing him into oblivion and he soon allows her insatiable passion to strip him of any decency he has left. Widescreen Japanese language with English subtitles BA
E538 Wayward Bus, The (57) Based on the novel by John Steinbeck. A stripper (Jayne Mansfield), a traveling salesman and an alcoholic wife (Joan Collins) embark on a journey by bus that will change all of their lives when the weather takes a severe turn. Other players flesh out the drama, including Delores Pritchard as the 'fast' daughter traveling with her parents. A character study as each has to deal with their own personal dilemmas. Widescreen BA
E616 Yin and the Yang of Mr. Go, The (70) aka: Touch and Go Directed by Burgess Meredith and he even plays character 'The Dolphin'. James Mason plays the ruthless Mr. Go, an international blackmailer who is trying to get his hands on a laser beam that he plans to use for nefarious purposes. Mr. Go ( a half-Chinese, half- Mexican drug lord) hires a young American deserter (Jeff Bridges!) to lure an American C.I.A. agent into a gay sex encounter, catching this on film for blackmail purposes. I could go on, but the gist of the plot involves Buddha himself who intervenes on the behalf of humanity, possessing Mr. Go, and turning him into a 'good' man. Lesbians, Chinese men wielding large cleavers, a go-go soundtrack at times, a man who just won't die... Eastern Philosophy meets Batman TV show. Be one who has seen the passion of Burgess Meredith. But this film and it's awesome badness may haunt you forever. Also with Jack MacGrowan (who died in 1973 after wrapping his scenes for 'The Exorcist'), Broderick Crawford and Irene Tsu.

MODERATE AND MADE FOR TV FILMS
E529 Amazing Howard Hughes, The (77) Unlike 'The Aviator', this film gives a more complete account of the billionaire's life. Tommy Lee Jones is excellent in his portrayal of this 'driven' man. Interesting characters in his story include Katherine Hepburn (played by Tovah Feldshuh), Billie Dove (Lee Purcell) and others. Genius, eccentric, innovator, billionaire. With Ed Harris as Russ, and Susan Buckner as Jean Harlow. Two hour version.
E411 Baby Sister (83) Phoebe Cates stars as drop-dead gorgeous dropout Annie, who falls hard for her sister's boyfriend David Mitchell (Ted Wass) when she moves in with them. Tough choice, but in the end a 19 year old Phoebe Cates beats out the also sexy (but pushing 30) Pamela Bellwood. Hey, sometimes things work out this way. Maybe he can have them both? If you are a fan of Phoebe Cates, you will love this! BA
E592 Between Two Women (86) Farrah Fawcett tearjerker never released on DVD. Val (Fawcett) marries Harry (Michael Nouri) after meeting her new in-laws. She likes father-in-law Teddy, but mother-in-law Barbara (Collen Dewhurst) is a bit overbearing, an unintentional (but well-meaning) meddler. The years pass, we see the story through Louise and her memories. The story takes a dark turn when Louise and Henry are the caregivers of Barbara in her last days. Get your hankies ready, the last part is a rough ride if you have family and know what it is like to experience such things.
E641 Blinded by the Light (80) Janet Bowers (Kristy McNichol) is upset that her brother David (real-life bro of Kristy, Jimmy) has joined a whacked out cult. She reaches out but he is sullen, vacant, morose. As Janet tries like hell to get him out, she too begins to fall under the hypnotic spell of the brainwashers. Coming soon after the Jim Jones headlines, and memories of Manson still ringing in our ears, this was a MFTV PSA warning of sorts. Now of course, multiple cults have sprung up all across the country in 2023, of various interests and varieties. Missing title, just a split second, but the movie is complete.
E445 But I Don't Want to Get Married! (70) Widower Walter Benjamin (Herschel Bernardi) and his two sons move to California to start again. Next thing you know Walter has several women trying to get with him, being newly single and all. Not a bad thing, but Walter and his sons are not ready for a new wife and mother. But boy, when the likes of Tina Louise, Shirley Jones, Sue Lyon, Nanette Fabray, June Lockhart (ehh) and well, he could score at least, IF that is, he is up to the task. Joyce Van Patton, I think he scores with her twice at least,. Walter is a chick magnet!
E610 Chaku Master (74) Bruceploitation from the Philippines! Nice guy Bruce Ly fights constantly, battles usually involving (very loud audio effects) swinging nun Chaka! Bad guys frame Ly but his problems are just beginning! Rey Malonzo is Bruce Ly, and he looks like the real deal, some funny mannerisms and snap-kick jumps. The battles escalate and before it is all over he will do battle with a fat Filipino diaper-wearing Sumo wrestler on the beach! And still more fighting to go! English language dubbed BA
E579 Child of Rage (92) Rob and Jill adopt a boy and a girl. The boy is fine, but the young girl sticks needles into the family dog until he bleeds, and she smashes the little boy's head, sending him to the emergency room. Then she tries to stab her adoptive father with a knife while he is sleeping. She is a child of rage. Time for therapy, but seriously, I would cut the little bitch loose if it were me. Mel Harris, Dwight Schultz, Ashley Peldon and Mariette Hartley star.
E451 Dark Secret of Harvest Home, The (78) Already listed the truncated version. This is an Upgrade of the complete version of this mini-series on two discs counts as two. See information on this title in the catalog listed as #181. Finally, a pretty decent looking full version!
E439 Deadly Whispers (95) The daughter of Tom (Tony Danza) and Carol Acton (Pamela Reed) has gone missing. The number one suspect is Tom. Carol is a down to earth loving wife who always depended on her husband for everything, supporting him in all manner of behaviors. The film follows the evidence in a classic whodunit style, as we get closer to the big reveal. Could a father murder his child? A very good, intense suspenseful, even chilling MFTV. Also with Ving Rhames and Amanda Fuller.
E444 Every Man Needs One (72) David Chase (Ken Berry) is a male chauvinist pig. Join the club! But what is the deal with those pineapple drinks David? Hmmm. He is pressured into hiring a feminist named Beth as his assistant (Connie Stevens). Of course, she is better and smarter than he is on all counts. David is exposed as a dumb idiot in the first few minutes of the film. Of course, this is a feminist fantasy, at least in the standards of 1972. Quality not as good as usual, but the only print we could find of this Connie Stevens film. I think Beth would make a fine assistant. Can I pick her chores? Also with Nancy Walker. This baby has commercials from whenever it aired back in the ... 1980's? The commercials are as entertaining as the movie, especially the one for the 'Gut Buster'! Rex Reed and Bill Harris promote 'At the Movies' ... We'll talk again.
E453 Feminist and the Fuzz, The (71) A comedy with elements of satire with a likable cast. The story-line pits two 'natural' antagonists, nice guy cop (David Hartman) and cute doctor Barbara Eden, against each other. Dialogue is woke circa 1971, easy to take because the confusion of changing times was innocent and non-threatening. Without going on a bloated rant of the film, space demands a star list instead. Although I do like the line from Eden when she is pulled over by Hartman. 'If I was a black man you'd have me spread eagled against that car!' I won't touch that one, she put the image out, not me. Great dialogue. Farrah Fawcett, Julie Newmar, Jo Anne Worley... Penny Marshall as one of the 'Liberation Ladies', Howard Hesseman as a hippie and many more familiar faces.
E441 Fight for Jenny, A (86) Kelsey (Lesley Ann Warren) shares custody with her ex, of their daughter, Jenny. But when Kelsey gets with David, who is black (Philip Michael Thomas), her ex sees an opening, to get full custody. Clearly Kelsey is a slut that lusts for black men. Surely the courts will understand. Outrageous entertainment of a bygone notion of prejudice put to film.
E456 Forgotten Man, The (71) After five years in captivity, Viet Nam POW Lt. Joe Hardy (Dennis Weaver) returns home. Things are different. His wife Marie (Anne Francis) thought he was dead so she got married to somebody else. Joe's father died while he was away. Joe has bad PTSD mixed with flashbacks of abuse by the Viet Cong. He struggles to adjust. He gets mixed up easily. A landmark film, and a kick in the gut for those unaware of what some of our soldiers can go through. Also with Lois (Deadly Blessing) Nettleton and Pamela (The Toolbox Murders) Ferdin. Some glitches in the print.
E442 Great American Tragedy, A (72) Brad Wilkes (George Kennedy), a middle -aged aerospace engineer, is fired without warning. 'I'm not with the company anymore. I've been fired. They let me go, I'm too specialized.' He is a victim of the great 'engineering recession' mainly caused because the government needed to fund the bullets for the war in Viet Nam. Now, from riches to rags Brad's entire life and marriage to Gloria (Vera Miles) falls apart. Also with James Woods in an early role, William Windom, Kevin McCarthy, Tony Dow and Natalie Trundy.
E438 Guilt by Association (02) Susan Walker (Mercedes Ruehl) previously lived with her boyfriend and her 4 children. When she found out he was a drug dealer, she kicked him out. The film opens with the cops kicking her door down and arresting her at gunpoint. Guilty by Association. She is sentenced to twenty years. This is based on a true story. Dirty cops, dirty system, dirty laws, dirty politicians. Intense and disturbing. Also with Rachel McAdams in one her first roles before she hit the big time.
E454 Hanged Man, The (64) MFTV noir filmed in color. Better than the original, tight as a drum, filmed during Mardi Gras in New Orleans. A gangster film in which Edmond O'Brien plays a corrupt 'Jimmy Hoffa' type character. Harry Pace (Robert Culp) is a gunman who believes his friend has been murdered and through his investigations Harry gets tangled in a web of shady labor union politics. Cute Brenda Scott is 'Celine'. She was married to the now deceased Andrew Prine three times. Also with Vera Miles, Norman Fell, Edgar Bergen and J. Carrol Naish. Seymour Cassel is a bellboy. I also spotted Al Lettieri in a small role henchman/bodyguard. Director Don Siegal would go on to direct 'Dirty Harry'.
E440 In Defense of a Married Man (90) Married lawyer Laura Simmons (Judith Light) is shocked to find out her husband Robert has been cheating on her with another woman. Especially shocked when her husband's lover is found dead. Now she represents Tom in a court of law to get him off. (The only way she could apparently). But what happens when love and betrayal collide? You tell me.
E455 Jennifer: A Woman's Story (79) Wealthy shipbuilding company executive Donald Prince (Bradford Dillman) dies, leaving his widow Jennifer (Elizabeth Montgomery) in charge of his interests. The board of directors tries to give her the shaft. The story of a strong woman, dealing with men who think they can roll all over her. But Jennifer is not having it, and her strength, spunk and moxie will show them all what a strong smart woman is all about. Was supposed to be a series, but the spark was not there to continue.
E452 Johnny Belinda (82) Belinda (Rosanna Arquette) is a deaf mute. William Richmond (Richard Thomas) is a visiting aid worker that gives Belinda hope, teaching her sign language. Kyle Hager is the town redneck (Dennis Quaid, excellent in the role) that hangs with Lowell (Mickey Jones) and Hes (Robert Dryer of 'Savage Streets'). Drunken Kyle rapes Belinda outside after a party, chasing her down in the woods. Belinda's father, John (Roberts Blossom), learns Belinda is pregnant and suspects William is the father..... Billy Drago is 'Cutter', Candy Clark is Julie. The word 'retarded' is used frequently, probably that word offends more people than the word 'rape' these days. Very good rural MFTV with a surprising outcome. A remake of a 1948 film.
E446 My Sweet Charlie (70) Patty Duke as 17 year old Marlene, a pregnant southern runaway, bigoted, uneducated, as played here by her character. A deserted seaside summer house on the Carolina coast becomes her refuge. Also on the run for killing a white man, a black educated attorney named Charles Roberts (Al Freeman Jr.). A relationship of dependence on one another between this odd couple develops. From mutual contempt and hostility, to love. Patty Duke won an Emmy for this one. BA
E609 Nightstick (87) aka: Police Story New York City cop Jack Calhoun (Bruce Fairbairn) is a cop with his own way of doing things. Results? You could say, dead on. A three-brother team starts to blow up buildings. They are using nitroglycerin. Calhoun is the only man who can stop them. But they kidnap his girlfriend Robin (Kerrie Keane). Action! Familiar New York City locations include aerial shots of the World Trade Center. It wouldn't be an 80's cop movie without some smooth jazz on the soundtrack. Also starring Leslie Nielson, Robert Vaughn and John Vernon. BA
E448 No Other Love (79) Another movie where well known actors play mentally retarded people who fall in love. Richard Thomas and Julie Kavner deliver top notch performances. They want to hook up, permanently. Don't get in their way! They are highly functioning. Language has changed, watch this with 1979 in your head, or you may have a panic attack if you judge by the language police rules of 2023. We don't give a damn. I'll watch the old stuff. Decent cast includes Robert Loggia, Scott Jacoby, M. Emmett Walsh and Billy Drago. Also look for Robert Wightman (the other John Boy!). I would have loved to see Wightman and Thomas duke it out. A missed opportunity that only comes once. Julie Kavner is the voice of Marge Simpson on that long running cartoon.
E450 Remo Williams: The Prophecy (88) Three years after the film, this pilot was made. Chiun (Roddy McDowell in full 'Chinese' mode) feels Remo Williams (Jeffrey Meek) is slacking off, and hires an assassin to teach him a lesson. The writers stuffed every stereotype, stock character and banality they could into the plot. Good, this runs under an hour, and I like the absurdities, what we call entertainment! Judy Landers stuns in an orange bathing suit. One hot bimbo! Watch Remo take on an entire biker gang while on roller skates! Roddy McDowell as a Chinese guy would give people panic attacks in 2023. Acting is acting, he does a great job. From 'The Destroyer' novel series.
E583 Retro Television Shows Disc One (various 1950's) Four different episodes. 1. Four Star Playhouse: Finale (53) David Niven in a dual role in this episode that also stars Martha Hyer. 2. Four Star Playhouse: Sound Off, My Love (53) Hard of hearing Martha (Merle Oberon) finds out her husband is having an affair, and planning her murder. Also with Barbara Billingsley and Gordon Oliver. 3. Hey, Jeannie! (56) Jeannie the Cab Driver - A carefree Scottish woman (Jeannie Carson) drives a cab in New York City. 4. Interpol Calling: Checkmate (60) David Baker and his girlfriend Diane (Barbara Shelley) rob a bank in Israel and flee to Spain and have money exchange problems as a trap is set for their capture. (This last show is from the U.K.).
E611 Robo Kickboxer: Power of Justice (92) aka: Rings Untouchable The opening ring battle between a boxer and our Robocop (who looks like a guy with a motorcycle helmet wrapped in aluminum foil) ends with it all being just a nightmare, induced by injections from a doctor, trying to enhance his fighting skills. Then another movie plot line cuts in, with an angry man busting up a woman. Back in the ring. The boxer has been let go because he refuses the drug. Now desperate, he agrees to deliver cocaine. Back to the other movie. The girl escapes. Is this two movies in one, or three? Co-directed by Godfrey Ho. Oh, now I understand! Take a shot every time you get confused! Have plenty of booze on hand. In English language, dubbing and actual spoken, although there are some foreign subtitles on the screen.
E443 Something for a Lonely Man (68) MFTV western. Dan Blocker is John Killibrew, an outcast in a small town. John had led the people to settle here, but the railroad passed them by. Now a train has lost a steam engine, submerged in a nearby pond. If he can only persuade the people..... A goof, with day-for-night shots, a cartoonish score, a town crier (did we really need those?), slapstick comedy, all cobbled together with a cast of known supporting players, probably all under contract. Still, the backbone of America was built on this type of determination and courage, a lost element of the 21st century, where problems are created by the same people who then claim to solve them. Don Stroud, Susan Clark, Dub Taylor, Iron Eyes Cody, Warren Oates and more.
E449 Stillwatch (87) Patricia Traymore (Lynda Carter) is a reporter interviewing a Senator named Abigail Winslow (Angie Dickinson) with secrets earlier in her life. Patricia needs answers to determine how her parents were murdered back in the day. Abigail knows, and I won't spoil the plot by giving away the game. Also with Don Murray, Barry Primus, Stuart Whitman and more. Based on the Mary Higgins Clark novel.
E447 Thief (71) Thief Neal Wilkinson (Richard Crenna) needs one more score to pay off his gambling debt. Neal is also trying to get custody of his son because clearly his ex is unfit. In between breaking into homes and ripping people off, Neal romances the very hot Jean (Angie Dickinson). Neal is best when he is on the prowl, particularly during the final big heist. Neal treads the line between hero, and villain. Also with Cameron Mitchell.
E457 Wake Me When the War is Over (69) Lonely German Baroness Marlene (Eva Gabor) hides Lt. Roger Carrington (Ken Berry) in her German mansion secret basement without telling him the war is over for almost five years. She literally convinces him that the war is raging wildly like never before, when in fact, Germany has surrendered, and the war is over. An amusing way to spend 74 minutes. Martin Kosleck is the butler. Also with Danielle De Metz, Warner Klemperer and Jim Backus.
E571 Welcome Home, Johnny Bristol (72) Johnny Bristol has returned home after being released from a North Vietnamese POW camp. But where is home? He cannot find it, nor can he locate his family. The brainwashing in the camp has shredded his mind. A nurse falls in love with Johnny, and begins to help him find the answers. This movie is straight out of 'The Twilight Zone' and I am surprised Rod Serling or somebody similar was not behind it. The movie was ignored at the time, much like the country ignored the plight of the returning American soldiers from the conflict the politicians created. As usual. Also with Jane Alexander, Martin Sheen, Forrest Tucker and more. Worth a look. What an ending! See also, 'The Forgotten Man'. God Bless Our Troops.
E558 Winchester '73 (67) MFTV remake of the Jimmy Stewart classic western. A famed repeating rifle is the prize in a shooting contest. Lin McAdam (Tom Tryon) and his no-good cousin Dakin McAdam (John Saxon) are in the contest. Lin gets the win but the rifle is stolen and we follow the rifle as it exchanges hands. The hunt for the thief and a shootout when he is finally cornered. Also with BarBara Luna (she lights up the screen), Dan Duryea, John Drew Barrymore and more.

MONDO FILMS
E589 Fire of Vengeance (82) aka: Perhitungan Terakhir After a brutal gun fight we are watching a drug deal featuring a man with a switch-blade arm. A honeymoon is interrupted and the groom is set on fire. That's just the beginning! Eye-balls are gouged, useless police, snake-pit peril, brothel scrapes, gore, a school for ninjas, women smacked around, kung-fu fighting ... A very strange and crazy Indonesian film starring Barry Prima. Widescreen and no subtitles, no English BA
E606 Tarkan and the Silver Saddle (70) aka: Tarkan: Gümüş Eyer Tarkan's origin story! Tarkan is raised by wolves after raiders kill his family, and take the all important 'Silver Saddle'. As an adult he seeks revenge, and to put the 'Silver Saddle' in the right hands. Sound familiar? Great (but admittedly hysterical) swordfights, funny outfits, brutal stabbings, and one cute as hell Dog (a German Shepherd) who is really part of the cast with his many scenes! Give that dog a bone! Starring Swedish blonde babe Eva Bender (a sorceress!) as 'Gosha' and Kartal Tibet as 'Tarkan'. Really beautiful outdoor Turkish locations. Very violent for a kid's film, maybe it isn't one. English subtitles BA
E591 Whispering Soul (88) aka: Basikan Arwah A green monster with a long tongue rips off faces in this gory Asian film which also features sorcery that causes guts inside humans to expand until they explode. Goofy looking guys, a princess-like girl in the fog, who turns into this Aswang-like succubus. Gory fun for all! F.L.

SOUTH OF THE BORDER AND MEXI MONSTER FLICKS
E594 Night of the Beasts (90) aka: Noche de Fieras Ernesto (Hugo Stiglitz) entertains his sexy wife Isabel as they engage in sexual relations. But his play is too rough for Isabel to handle. He scares her. They are in Isabel's deceased father's dark old house. After planting seeds of fear and paranoia, Ernesto hires two men to scare his wife insane in the old mansion. One dressed as a primitive man, the other, a creepy mummy. A shower gurgles green, and then weird plants sprout from the shower head. Other 'real' supernatural events occur within the mansion. In Spanish with English subtitles BA

WESTERNS
E514 Battle of Rogue River (54) aka: La battaglia di Fort River Epic looking, ambitious western directed by William Castle, and produced by Sam Katzman (!). This was Richard Dennings first film following his tangle with 'The Creature from the Black Lagoon'. Unscrupulous men looking to profit from the Indian conflict, sabotage negotiations between the Army and the Redskins in the Oregon territories. Martha Hyer plays a spunky frontier girl, full of sass. The Indian makeup is applied unevenly on the white actors, kind of amusing, but not offensive. It's a movie. George Montgomery and more also star. Beautiful Color Upgrade! BA
E523 Hellfire (49) In Trucolor! Man with his misdeeds kindles his own Hellfire! When gamblin' man Zeb Smith (Bill Elliot) watches as a preacher man takes a bullet meant for him, he reforms, vowing to fulfill the preacher's dream of building a church. Unable to gather donations, Zeb hunts down fugitive woman Doll Brown (Marie Windsor), also running into an old pal, Marshall Bucky McClean (Forrest Tucker). Both men fall for the hot wildcat Doll Brown. Also with Jim Davis, Paul Fix, Denver Pyle and many more. BA
E507 Hellgate (52) The title is named after a prison in the New Mexico desert where Gilman S. Hanley (Sterling Hayden) is sent, after administering aid to an injured man. In some ways mirroring the plot of 'The Prisoner of Shark Island'. The jail is set in a desert canyon with no water, which is brought in every month. Underground cells are carved right into the rock crevices. Hanley redeems himself when the prison is struck with the plague. Joan Leslie, James Arness, Ward Bond and many more star. BA
P581 Madron (70) aka: La valle dei comanches Western filmed in Israel! Grumpy gunslinger Madron (Richard Boone) takes Sister Mary (Leslie Caron) under his wing after she survives a wagon train massacre by marauding Indians. When Sister Mary takes off her head garb, she is a sexy babe! Some pleasing violence, a cheesy song and even Paul L. Smith in a small role. This film came out the same year as 'Two Mules for Sister Sara'. BA
E515 Rails Into Laramie (54) aka: Révolte à Laramie John Payne is a rebel soldier assigned by his commander to find out who is trying to stop the progress of connecting the railroad from East to West. Sabotage is afoot. He finds the rail workers in a town where the alcohol is plentiful and in easy supply to the men who want nothing more than to to drink drink drink. Jefferson Harder (John Payne), the man sent to sort this mess, falls for saloon girl Lou Carter (Mari Blanchard). Nice Color BA
E621 Sweet Creek County War, The (79) Final film of Richard Egan before he succumbed to cancer. A story of friendship and war. Good guys versus bad guys in the middle of a range war. Richard Egan and Albert Salmi did an excellent job portraying these very different characters who at first were on opposite sides of the law and later became buddies who have to depend upon each other. Also with Nita Talbot and Slim Pickens! Filmed in Wyoming. BA
P208 Trinity and Bambino (95) aka: Trinità & Bambino... e adesso tocca a noi! A resurrection of the team from series director Enzo Barboni, the last film he directed. The saga continues with the sons! Half-brothers Trinity and Bambino attempt to protect the small town of San Clementina. In perfect tradition Trinity is the gunslinger, and Bambino is a grumpy two-fisted man who enjoys his Frijoles and Beans. A rich man and his marauders are trying to clear the town out. A comic book made plainly as homage. Widescreen

Video Screams' errors and omissions policy: We try to list all titles correctly and completely with pertinent information. Occasionally we goof up— If this happens— let us know.
Our policy has always been 100% customer satisfaction and we'll make it right! In the event a title is listed incorrectly due to a typographical error and/or the title is discontinued Video Screams shall have the right to refuse or cancel any orders placed for title.
Video Screams may refuse or cancel any order whether or not the order has been confirmed and your credit card charged.
If your credit card has been charged for the purchase and your order is cancelled, Video Screams will immediately issue a credit to your credit card account in the amount of the original charge.
Titles may be discontinued at any time without notice. Placing your order assumes acceptance of terms of membership.
---
HOME | SECURE ORDER FORMS | ONLINE SPECIALS | CATALOGUE | NEW ARRIVALS | CUSTOMER SERVICE | PRICING & ORDERING INFO
---