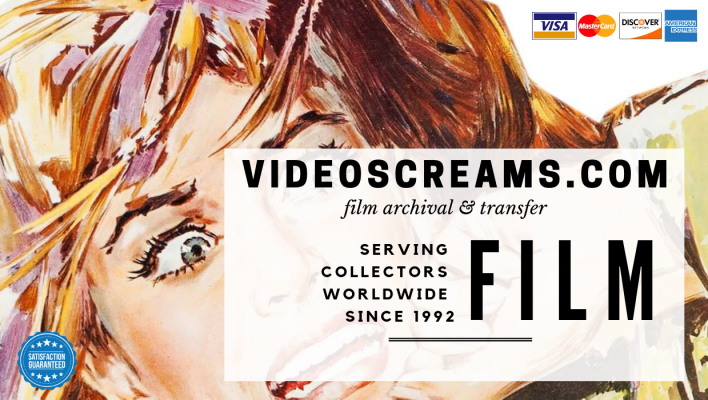 ---
HOME | SECURE ORDER FORMS | ONLINE SPECIALS | CATALOGUE | NEW ARRIVALS | CUSTOMER SERVICE | PRICING & ORDERING INFO
---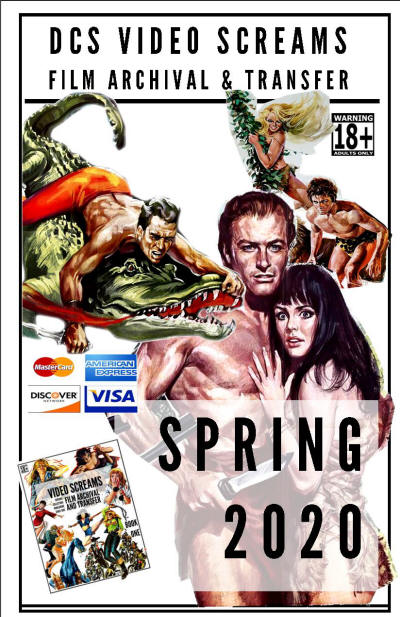 SPRING 2020 UPDATE
BA= Color Box Art Available for an additional $3.00
FL= Film is in Foreign Language
Lbx= Letterboxed or Widescreen format
Subs= Film is subtitled
aka= Also Known As (alternate titles)

22860000
22860000
(`@`````````
266
263
5
110185200
110185200
APOCALYPTIC FILMS
5495 Evening Travelers (79) Our future? Let's revisit this one, shall we? The previous review not good enough, so here goes. Similar in theme to 'Logan's Run', 'Clonus Horror' or 'The Lottery'. In a restrictive future, the citizen's are ruled by the 'Army of Public Health'. They also let kids vote. Bad idea. When a person reaches a certain age, he is sent to a 'retirement village' and can enter a bizarre lottery to 'win a cruise'. None of the winners of this 'cruise' ever make it back to the village. They are non-essential, and therefore systematically eliminated for the greater good. Here we follow what happens when a couple goes to village after a life of working. To drive they have to have permits. Service at tables in restaurants is outlawed. The man insults all of this 'new normal' constantly with snappy dialogue, denouncing all restrictions. Booze at the village is free. Materialism is discouraged. Orgies are encouraged. It's like a swingers club! The wife indulges in sex with others. Ultimately very downbeat. Excellent. Plenty of nudity. LBX and with English subtitles.

BATTLE CHICK FLICKS
5599 Battling Amazons (87) Watch how we do it in the good old U.S. of A.! A farce. A parody. Join us as Wanda the Mistress (Donna Stevens), Athena the Greek Goddess, Thespian the Viking Queen, Deidra the Brazilian Bombshell, Delilah, Peelar the Tiger Woman and more, roam the ring in ferocious catfights watched by toga wearing spectators, and regular guys, looks like a large bar hosting this. Holly Huddleston is the Ring Card Girl. Tamara Clatterbuck is a ringside commentator. Some foxy boxing and kick fighting. Is that Becky Le Beau as a ringside girl? Things are getting hot in here. Let me in the ring!
BIKERS BITCHES AND BABES
6316 Bitch Wants Blood, The (68) aka: La femme écarlate Eva (Monica Vitti) finds out her man is cheating on her and contemplates suicide. Then she figures, why kill herself when she can kill the cheating bastard instead? She steals a gun. After having dinner with her atop the Eiffel Tower, a young man discovers he is in love with Eva. She spilled the beans. Can he find her in time? Night club dancing, swinging styles.... Also with Maurice Ronet, Robert Hussein and Sabine Sun. BA
5494 Delinquent Girl Boss: Blossoming Night Dreams (70) aka: Zubekô banchô: Yume wa yoru hiraku Rika (Reiko Oshida) is released from reform detention and this time ends up at a lounge bar run by Junko with some other girls she is familiar with. The girls get into trouble with boys, drugs... and each other, while also having to contend with a bad crook boss who is trying to wrestle control of the lounge away from Junko. This one is somewhere between the 'Stray Cat Rock' series and the 'Terrifying Girls High School' series in the pinky violence scale. In Japanese language and with English subtitles plus LBX BA
W42 Girl in Gold Boots (68) aka: Treffpunkt Los Angeles Idiot (but sexy) Michele (Leslie McRay) leaves her home town behind, recruited by a sleaze bag hood named 'Buzz' to hot hit the big time in a larger city as a go-go dancer. Along the way they pick up a hitchhiker named 'Critter'. Michele is supposed to be the best dancer ever, but I have seen epileptics who can dance better. She shacks up with Buzz and his drug-addled sister. They get mixed up with a drug dealer. Critter goes to fight in Viet Nam. Lots of go-go dancing. Michele falls into a world of drugs, sex and despair. The songs will slay you. A seedy fun mess from Director Ted V. Mikels. BA
5521 Super Gun Lady (79) aka: Sûpâ gun redei Wani Bunsho Extension 82 is better known as 'The Gator Branch'. Undercover sexy and tough woman cop Mika is a sharp-shooting asset working with two gritty female investigators who conduct intricate sting operations. Mika is assigned to guard an executive accused of bribery.... but he is killed. Mika's job has just begun. Catfights, aggressive and openly hostile female law officers, kidnapping and plenty of nudity. Gunfight showdown in an office building. In Japanese and with English subtitles. LBX BA

CLASSIC HORROR AND SCI-FI FILMS CHOOSE ANY TWO CLASSIC TITLES TO CREATE YOUR CUSTOM DOUBLE FEATURE $14 ON DVD-R OR VHS - SINGLES AT REGULAR PRICE.
5575 13th Letter, The (51) aka: The Scarlet Pen Michael Rennie is a doctor whose wife cheated on him and then killed herself. He moves to a new area and restarts his practice. In no time malicious poison pen letters begin to circulate, implicating him in a series of deadly accusations, trying to ruin him. Meanwhile Linda Darnel is trying to get him for herself. Is she the writer or just a red herring? This will keep you guessing until the end. Constance Smith and more also star. BA
5518 Adventures in Paradise (50) Real life rich playboy Gardner McKay stars as Adam Troy in this series. Troy is a Korean War veteran that stayed in the Pacific after the war. Captain of the schooner 'Tiki 3' Troy drifts from adventure to adventure while carrying passengers from Hong Kong to Pitcairn. So here we have a few episodes. First 'Castaways' from Season One and then 'Treasure Hunt' from Season 2. The biggest takeaway is how hard they used to work to put on a good show. Gardner McKay retired early around 1968 and died in 2001 at age 69 in Hawaii of prostate cancer. Two complete episodes.
5570 An Angel Comes to Brooklyn (45) An angel appears on earth to help a Broadway producer put on a show so that a struggling young actress (Kaye Dowd) can get a job. As is the main priority of a visiting angel in 1945. With several energetic production numbers, this fantasy delivers on a 1945 Broadway level.. High up in actor's heaven, there is a bell named 'Minnie'. If an actor on Broadway (down on Earth) believes strongly in himself as an actor, the bell in actor's heaven rings, which means an angel is sent to earth to assist. Kay Dowd was only in ten movies. She died in April of 2020 in New Jersey at age 96 (which as of this writing, was last month!). BA
5615 Beast Man, The (34) aka: El Hombre Bestia A lost WWI pilot is has been living in the jungle for twelve years after his plane crashed. Another pilot lands in the jungle, the hairy Wildman pilot strangles him and flies the plane back to civilization. A scientist captures him but he gets loose, and starts to kidnap women out of their beds and take them to a cave for safe-keeping. He must have some plan for them. I guess we could assume we know what they may have been. Later he is captured and brought back to the lab. He strangles the doctor. A little bit of gory surgery may correct him? How weird is that? Rare horror from Argentina with no subtitles and no English (a bit less than an hour long)
W23 Blonde Captive, The (31) Truly bizarre one of a kind from 1931.The actual selling point of a white woman and her son living with an aboriginal tribe in the wilds of Australia is a good idea, but we don't realize this until the final reel. A group of archeologists expedition into the Aboriginal territories looking for modern Neanderthals. Plenty of topless natives can be called gratuitous, but they are just existing as they did. au natural, at least in part. The wildest part is the narration (written and read by Lowell Thomas, who would go on to narrate dozens of notable documentaries), a mixture of racism and corny jabs, meant to be funny, (and maybe it was in 1931, I wasn't there) but inaccurate and careless at times as well. The biggest takeaway (for me at least) was that a group of filmmakers went into the wild amongst savages, under threat of being eaten at any time (who knows who is a cannibal or not?) and interrupted the people of these regions, who some having never seen a white man or any sign of a civilized world up until then, probably had their minds blown. Who knows how many similar expeditions were never heard from or seen again? BA
W22 Bucket of Blood (34) aka: A Tell Tale Heart The classic tale of a young man that is driven mad by his obsession with the repulsive diseased eye of the old man who cares for him. Directing his debut, Brian Desmond Hurst, heavily inspired by the German Expressionism films like 'Caligari' and others, takes on Edgar Allen Poe, using what he learned watching those creepy German films, and what we get is not quite like anything else from 1934. The eyeball is pretty nasty (and creepy) while the atmosphere of the thing is just ghastly and downbeat. You know the (tell) tale I would guess, and if not, get a hold of Poe's works and journey into the darkness, deep into the night, alone. Essential. (Not to be confused with the Corman film) BA
W51 Criminal Within, The (36) aka: Murder at Glen Athol A popular detective on vacation with the plans to write his memoir, is invited to a party at a mansion of the rich. In attendance things get strange with the dysfunctional characters, and later in the night, two shots are heard, and three people are found dead. Part of a series of films called 'The Crime Club'. Not a bad 'whodunit'! John Miljan and more star.
W19 Death from a Distance (35) During a lecture by a famed Astronomer in a Planetarium, a shot rings out in the semi-darkness, killing an audience member dead. The audience, occupied staring at the stars projected on the dome above, see nothing. Enter the usual quirky assortment of characters who are out to solve the crime and catch the killer. Lola Lane and Russell Hopton star. BA
W57 Flight to Nowhere (46) A map containing nuclear secrets has been stolen from a Korean national (after they kill him that is). A charter pilot is transporting a group to a desert resort, and the plot becomes muddled, at times incoherent. Espionage, treachery, and a lot of outdoor filming instead of constant cheap sets. Evelyn Ankers is the main pull here, her 'horror' career already over for good. Also with Alan Curtis and Jack Holt. BA
5564 Great Morgan, The (46) It's an American musical comedy built around a slight plot line which becomes a series of short subjects edited in as the performances. Starring Frank Morgan the 'Wizard of Oz' himself. The King Sisters perform. One of the King sisters married Robert Clarke and sang the song 'Strange Pursuit' in 'The Hideous Sun Demon'. (runs slightly less than an hour)
W16 Haunted House (40) aka: The Blake Murder Mystery Okay, so honestly a misleadingly titled film as the actual 'haunted house' is not featured very long in this murder mystery, but it does exist. Like when you sit through an old monster movie waiting for the monster, and it finally reveals itself in the last two minutes, and you are like... what? Amateur wannabe detective types (played by Marcia Mae Jones and Jackie Moran) investigate the killing of Mrs. Blake. Their friend has been accused, and they know he is innocent. Let the sleuthing begin! A clue leads to the hidden fortune of Mrs. Blake. Briskly paced, snappy chat with likable characters. BA
W30 Lost Zeppelin, The (29) aka: Kapitän Halls große Liebe Decent early adventure film about an attempt to fly over the South Pole in a Zeppelin. Despite the slow first half, the film picks up in the second, with some great 1929 effects using miniatures mixed with real Zeppelin footage. A storm disables the Zeppelin and it crashes through the ice. A guy gets killed in an avalanche. A love triangle! The movie is over 90 years old and still better than many movies coming out of Hollywood today.
W25 Panther's Claw, The (42) Mysterious letters are being sent to various people, demanding money, signed only with a panther's paw print. Leave the money in requested place or die. The killer/blackmailer is known as 'The Black Panther'. A cheap mystery with a bit of murder and mayhem, comedic relief (including a black elevator operator doing the step and fetch it), cheap sets and a reasonable finale. Byron Foulger, Sidney Blackmer and Lynn Starr BA
5463 Phantom, The (31) This old dark house thriller opens with full blown action for a change. Cloaked killer, dark mansion, insanity, kidnapping, comic situations, brain transplants, secret labyrinth of ducts and concealed passages... the only thing missing is a gorilla. Sure, you know the drill with these types but remember, many of these scenarios were very new in 1931. A great double feature with 'The Old Dark House'. BA
5562 Ride a Crooked Mile (38) aka: Escape from Yesterday Akim Tamiroff is Mike Balin, a hard-fighting Cossack who is the head of a gang of thieves who hijack cattle. He finds from his ex-wife that he has a young son (Lief Erickson). He gets to like the young man after some problems. His son falls for a cafe hostess (Frances Farmer). Later Mike Balin is arrested, while his son has joined the military. He plans to bust out his pop, but is torn between loyalties. BA
W32 Scared Stiff (45) A comedic murder mystery about a lousy reporter ('Tin Man' Jack Haley) who fouls up his assignment and becomes involved in a murder, that happens in a bus as it is driving under a tunnel. The passengers end up in a spooky old tavern/bar where the mystery deepens, sort of. An assortment of eccentric characters, including cute vixen Ann Savage. BA
W13 Sinister Hands (32) A mansion, a séance, the lights go out...elderly millionaire Phillips Smalley is dead with a knife in his back when the lights come up. When the smarty-pants detective arrives, he learns that everybody had a motive to kill Smalley, but with the dark.... how will he catch the killer? The familiar murder mystery with a healthy dose of unsavory characters mixed with a splash of the occult. Spirit readings and the search for life after death was huge at the time, a nifty old dark house thriller.
5563 Those Were the Days! (40) aka: Good Old Schooldays The film is based upon a series of stories published in 1911 by George Fitch about a fictitious University. Twenty-two year old William Holden (as P.J. "Petey') could charm the teeth from the mouth of a lion, but he is also a felony committing trouble-maker, in a light-hearted way mind you. Martha (Bonita Granville) the love interest.
W37 Tomorrow's Children (34) Alice wants to marry. Her mom and dad are alcoholics. A doctor informs the courts that Alice's family consists of 'drunks, cripples, and idiots'. Because of this, they order Alice and her family members to be part of a sterilization program, so as not to add undue burden on society with their future offspring. When this movie was made 28 states had similar laws. Hard to believe this ever happened. You'll see rich people buy their way out of the program. Figures. Eugenics. The notion that the 'inferior' should be sterilized for the good of society. Fascinating and horrifying Pre-Code. BA
5523 Toto and the Women (54) aka: Totò e le donne Toto speaks to the camera, going on a tirade against the female gender, narrated and acted through a series of flashbacks. Wife, daughter, maid, lovers of the past, customers of his shop.... no one is spared. His future son-in-law joins in with similar stories. In Italian language and with English subtitles.
5548 Toto Looks for a House (49) aka: Totò cerca casa Moving to Rome, Toto and family find it difficult to find an apartment. First, Toto gets a job at the graveyard, but they think they see a ghost and flee. They try to live in the Coliseum. No dice. Finally they find a place. but wait! The same apartment has been rented to other people as well! Now what? In Italian language and with English subtitles. BA
5624 Water Magician, The (33) aka: Taki no Shiraito Kind-hearted intentions unravel disastrously for a woman who can make waters dance. Bizarre and stylish, it is almost hard to believe this was made in 1933. Rape, subsequent guilt ridden persecution, capture, trial, recrimination and final redemption. The ending is especially downbeat and tragic, a familiar ending though from the land of the Kamikaze. A Japanese classic with English subtitles.

DINOSAURS, LOST LANDS, SWORD AND SANDAL, PEPLUMS, FANTASY FILMS AND MORE
5526 Aelita (80) + The Counterfeit Man (77) Two short (under an hour each) science fiction shows from Hungarian television. Aelita: After discovering radio signals from Mars, an engineer and his assistant travel to Mars where they are attacked by giant tarantulas. The outfits are 'Flash Gordon' looking from the 1930's. The special effects are on par with Sid and Marty Kroft, only not as good. Ouch! The Counterfeit Man is more of the same, a science fiction tale with soap opera set special effects, well just a step above to be fair. The shows are well acted, and the acting is top notch, so even though it is not supposed to work, both shows do. Very colorful at times. In Hungarian and with English subtitles.
5598 Aladdin and the Adventure of All Time (00) One of the last from Philippine director Cirio H. Santiago is an animated musical. Here we have Aladdin (voiced by Danny Mann) and his new friend Paige (voiced by Elizabeth Daily) visiting English Kings and Egyptian Queens in time travel adventure that also puts them face to face with a tyrannosaurus rex! They also have a gang plank walk with Bluebeard as they try to regain control of the magic lamp. Fly Away on a Magical Trip Through Time!
5527 Ali Baba and the Seven Saracens (64) aka: Simbad contro i sette saraceni Omar (Gordon Mitchell) has plans to defeat all in a tournament to the death between the eight leaders of the desert tribes. Ali Baba is his most despised and formidable opponent. Not only is he a badass, he also is in love with the beautiful princess Fatima (Bella Cortez). Admittedly, the mass battles, if watched closely, are kind of funny. Gordon Mitchell chews up his meaty villainous role with relish. Cortez is bodacious, voluptuous, quite the eye candy. Despite the bad English dubbing, I had a good time watching this oldie. BA
5437 Bermuda Triangle, The (78) aka: El triángulo diabólico de las Bermudas People on a boat cruising around in the Bermuda Triangle find a weird doll floating in the water and bring it aboard. Cue the eerie music. Freak accidents, sharks, scary storms, a parrot attack, a girl who talks to dead people and constant distress calls from long lost ships and planes send the boat into 'Twilight Zone' territory. Unusually tame for a Rene Cardona Jr. film, but I think he was going for something a little bit different, maybe a little family friendly, but would not be considered as such today, still pretty scary. The cast is amazing. John Huston, Hugo Stiglitz, Gloria Guida (who keeps her clothes 'on' for a change, what a shame) and Bond girl Claudine Auger to name a few. LBX BA
W18 Black Eagle, The (51) aka: Revenge of Black Eagle aka: La vendetta di Aquila Nera Vladamir (Rossano Brazzi) is back from the wars and finds that since he was away, a tyrannical landowner has risen on his home turf. He will use a disguise to wreak havoc on the land of the cruel man, trying to put things right... but wait. The daughter of the landowner is Gianna Maria Canale (as Tatiana). Vladamir is smitten (and who wouldn't be?). Nice action-packed swashbuckler. Riccardo Feda directs. BA
5621 Day Time Ended, The (79) aka: Explosión Galáctica A solar-powered house is visited by aliens and sucked into a time warp, sending the family back to prehistoric times. Hey! Those monsters don't look like any dinosaur I have ever seen! Now wait, they are in the future! Flying saucers, stop-motion monsters, wild special effects by experts like David Allen and Jim Danforth. If you enjoyed 'Planet of the Dinosaurs'... With Jim Davis and Dorothy Malone BA
5607 Female Ninjas: Magic Chronicles #1 (91) In the 16th century.... Three attractive female ninjas (who get naked a lot) try to protect their master's unborn baby from assassins. These girls have special powers, like the acid milk rain they squirt from their breasts, and the deadly vagina bubbles from hell they send from their... well. Plenty of nudity, fantasy sleaze and sexual situations. A great start to a great series. With English subtitles
5608 Female Ninjas: Magic Chronicles #2 (91) The Vatican sends a load of gold as seed money to spread Christianity. One leader wants to get the gold and wipe out the Christians. The whereabouts of the gold is written on a collection of tiny bells which have been inserted, for safe keeping, into the vaginas of five attractive female ninjas. Who will take the job to collect them? There are some almost inquisition type topless torture scenes as well. With English subtitles.
5609 Female Ninjas: Magic Chronicles #3 (93) Worried that the Emperor will have problems conceiving a child because he cannot get an erection, the female ninjas must locate a sacred book. They face a stiff challenge. The girls battle in bamboo forests, meet a dog, skinny-dip in hot springs, have sex and special powers of magic are once again employed. Like when one of the female ninjas is taken by force sexually, after the man is finished, she shoots spider web out of her vagina turning him into a cocoon! Another bad guy melts before your eyes! In a cave the manuscript will be read, and the secrets to love-making will be revealed! A man reads it later to the Emperor as he screws a concubine. Success? After the downbeat ending of the second film, this one ends on a lighter note. With English subtitles.
5601 Jungle Freaks (69) aka: Macunaima - Monty Python meets Jodorowsky. A full grown black man is birthed by a white woman in drag in the middle of the jungle. A magical water fountain turns him white. He goes to the city and falls in love with anarchist who wears a magic stone necklace that brings good luck. An evil corporate cannibalistic rich guy steals the necklace causing a bomb to kill his wife and son... Part social satire, part serious political commentary. Endless memorable moments. A defecating goose, a pool of piranhas in which people swing above on a trapeze until they fall in and much more! With English subtitles. BA
5486 Kaloyan (63) aka: Kalojan cár Period historical film from Bulgaria, and boy do they have the locations and castles suitable for recreation! Still recovering from a century of Byzantine subjugation, King Kaloyan of Bulgaria must deal with the Romans. But the Fourth Crusade crosses the country.... Spectacular in one word. Excellently photographed. Elaborate costume design. Kaloyan wages the decisive battle at Adrianople, and wins. Flaming arrows, knights in armor, charging lancers on horseback etc. With a cast of hundreds, or maybe a thousand? With English subtitles! Kaloyan!
5623 Kung-Fu Wonder Child (86) aka: Ling huan tong zi aka: Kong-Fu Wonder Child The opening song is a toe-tapper! The essence of a clan leader is captured by an evil wizard. A corrupt priest, ghosts, spells, miniature sets, monsters, some laugh out loud scenes, killer battles of kung fu, a loud fart blows a guy against the wall, dismemberment, decapitation, bizarre weapons, a living dragon cartoon that attacks, a face growing out of a guy's forehead (with cool bladder effects) and much more in this incredibly entertaining supernatural action fantasy film! Dubbed into English too! BA
W53 Lure of the Islands (42) aka: Isleña seductora Nazi's clash with the F.B.I. on an island with real-life burlesque gal Margie Hart (as Tana) and regular actress Gale Storm (as Maui) starring as native women. Hilarious since they are two very American girls. It's a Monogram picture, so you know there are zero scenes shot on location. The title song will melt your brain. And you get it more than once. A bit of sexual tension. Gilligan's Island meets Hogan's Heroes with the German/Japanese mix stereotypes played as idiots. Also with Robert Lowery and Guinn (Big Boy) Williams. BA
5477 Lydia Bailey (52) aka: La rivolta di Haiti 1802: Haiti struggles for Independence from Napoleonic France. An American lawyer (Dale Robertson) is there to help Lydia Bailey (young Anne Francis) get off of the revolution torn island. Well researched for historical accuracy and actually filmed in (wait for it) California. Not Haiti. Action and intrigue with high production values, a love triangle, jungle pursuits, cannon-shooting ships, fire and drum-beating, battles and even a bit of voodoo dancing. William (Blacula) Marshall in his debut as 'King Dick''. I kid you not. Well-dressed and cigar chompin', cultured drinking with fancy accoutrements and 8 wives, his character having done quite well for himself. Anyway, Robertson's character has to don 'blackface' to blend in and get Lydia Bailey away from the black revolutionaries, who want all of the 'whites' dead (except her apparently, she is too damn cute!). Anne Francis never looked better (she's 22 here). Tough as nails, rich and snotty, she works her slaves hard on a plantation, using her dogs as a threat. Unusual, great color and very entertaining. BA
W12 Maria Magdalene (58) aka: The Sword and the Cross aka: La spada e la croce aka: Mary Magdalene Nice casting of Yvonne DeCarlo as the notorious harlot of the title. She is tormented with her choices of good and evil. When she meets Jesus (who only appears slightly here and there) she decides to ...well, what? Screw the whole lot of them at a banquet orgy.. or convert and give the viewers some kind of religious message. Make no mistake, this is a sword and sandal film, directed by a guy who knew his way around a toga party. No theology really, and DeCarlo looks about prime here, quite beautiful. Rossana Podesta, Terence Hill and more star. BA
5500 Mission Burning Sand (66) aka: Missione sabbie roventi aka: Misión arenas ardientes Rare Sword and Sandal type from director Alfonso Brescia. Those pesky Turks are close to getting complete control of Yemen. Enter shaved-chest muscle man (Howard Ross) who joins the Yemini resistance to fight the Turks, and falls for hot harem dancer, and, discovers a traitor to the rebel cause in their midst. A bit of dancing with Anna Maria Polani and also stars Helga Line. LBX and with English subtitles. BA
W45 Pathfinder (87) aka: Ofelas In 1000 A.D. , hostiles known as 'Tchudes' roam the snowy regions of Northern Scandinavia. The Tchudes slaughter a family, but a young man escapes, joining the tribe of the Lapps, who worry the Tchudes will track him to their safe home and kill them as well. Afraid, the Lapps flee to the coast, leaving the boy behind with a few others. He has a vendetta. But the Tchudes find him, and force him to lead him to the fleeing Lapps..... Gruesome violence, authentic and amazing dangerous looking location filming (no cartoon CGI!), a stunning film. Remade here in America, this is the original version dubbed into English and LBX. Unforgettable. BA
5536 Pirate of the Black Hawk (58) aka: Il pirata dello sparviero nero Intending to take over the Duchy of Montefort by force, Manfred (Andrea Aureli) enlists Saracen Pirates to kill the Duke and to kidnap the young heir. But loyal subject Richard (Gerard Landry) captures a Saracen Pirate ship, making things difficult for the usurpers in the long run. There is also the Duke's beautiful daughter who provides a love interest. From Italian director Sergio Grieco. Released in America way back when in black and white, this is the rare color version and LBX BA
5485 Prisoner of the Iron Mask (61) aka: La Vendetta Della Maschera Di Ferro Forget history, here the Iron Mask is the Duke's son in this mixture swashbuckler, a little bit of Robin Hood and the like. The mask is grotesque and clearly uncomfortable. In one scene, an innkeeper's pretty daughter has her face slashed by a rapier-wielding henchman of the wicked Duke. The Iron Mask may make an ironic twist much to the Duke's surprise. Actor's of note on hand here include Michel ('Seven Women for Satan' and many more) Lemoine, Andrea Bosic, Jany Clair and Emma Baron. LBX and with English subtitles. BA
W35 Shadows of Forgotten Ancestors (65) aka: Tini zabutykh predkiv A Visual Feast! The film introduces us to the world of the old Carpathian folk legends. Carpathian Ivan falls in love with the daughter of the man who killed his father. Ivan will have even more tragedy in the second half. Folk-life comes alive as you float down a river in a unique wooden raft, partake in Christmas festivities, encounter a sorcerer and much more, all against a backdrop of the beautifully photographed Carpathian Mountains, where the shadows of trees stretch for the skies and horses are dressed in tassels. Russia did not like this film, and banned it! Politics. Filmed in Ukrainian language and here with English subtitles. BA
5472 Temple of a Thousand Lights (65) aka: Jungle Adventurer aka: La montagna di luce Richard Harrison stars as a master thief (and master of disguise, spending much of the film in black-face!) who like Indiana Jones, attempts to steal a priceless jewel off of the head of a sacred statue. He has been hired to do this by Rajah (Daniele Vargas). The eye candy is Luciana Gilli as 'Lilimani'. Shot in Malaysia, the locations and sets are amazing, and in many cases not sets, but actual areas perfect for this type. Wall to wall jungle action, traps, crocodiles, snakes and intrigue from director Umberto Lenzi. Now LBX and with English subtitles in this alternate version. We also have the English dubbed version in the main catalog as #S5 BA
W27 Torawakamaru, the Koga Ninja (57) aka: Ninjutsu gozen-jiai Young effeminate wizard-ninja Torawakamura can run on clouds, teleport, and cause people to see things burning when they are not. He visits a neighboring kingdom and is surrounded. Using magic he makes his opponents obey his commands through manipulation and trickery. He seems to have taken a liking to the young boy of the kingdom. Seeing as he kind of looks like a Japanese version of Michael Jackson, I'm beginning to worry. Thankfully he is distracted by a girl, but at times I cannot tell them apart. She looks to be about his age, I should point that out. Later a sword battle in mid-air livens things up. Our hero is captured. He escapes. Now the final battle with the supreme leader. Torawakamura turns into a human sized toad, the bad guy ... a fire breathing snake! Then a lizard monster and a rat cat thing. It's a light-hearted fantasy film and with English subtitles. LBX
5460 Wonderful Adventures of Guerrin Mescino (52) aka: Le meravigliose avventure di Guerrin Meschino A fairly fanciful account of events, surrounding the fall of Constantinople, loosely based on the 14th century poem. What we see is a swashbuckling adventure with incredible massive sets. Guerrin (Gino Leurini), a servant of unknown parentage who works in the court of the Emperor while carrying on an illicit affair with the Emperor's headstrong daughter Elisenda (Leonora Ruffo), who has a habit of bursting into operatic song. He goes on a quest, she is kidnapped by the invading Turks, Guerrin pursues. Includes a wizard, a sexy wicked sorceress, and a giant killer alligator flaming torch battle. Obscure, expensive looking film. From director Pietro Francisci the man who pretty much started the whole Italian sword and sandal genre. In Italian language only with no subtitles.

EDGAR WALLACE FILMS
1148 Avenger, The (60) aka: Der Rächer aka: Le vengeur défie Scotland Yard Human heads are sent to the police in London. It's a solid mystery on who and why. We learn in the opening that there have already been a dozen decapitations. A perverted rich guy and his brutish servant? A simple minded gardener? An African raised in the wild? Red Herrings? And do the heads that roll so to speak deserve being separated from their mortal bodies? The last third things pick up and lead to the frantic finale. You'll see some familiar faces including Klaus Kinski. BA
5528 Case of the Krimi (18) Includes 90 minutes of trailers from movies like: The Strange Countess, The Fellowship of the Frog, The Crimson Circle, The Mystery of the Red Orchid, The Door with the Seven Locks and many more. ** Remember, if you need an Edgar Wallace film and do not see it listed just ask. We are in the process of listing and re-listing them with actual plots or descriptions. These trailers are LBX and with English subtitles.
EXPLOITATION FILMS
5593 Best Chest in the West (84) If you like naked boobs, you'll love this! Be glad these times happened. The male judges enjoy themselves immensely. Wouldn't you? The girls are divided into three groups. Depending upon breast size, with a winner of each group parading before the audience like 4-H. Now if you could only bid for keeps. Skin to Win Eye Candy. A full house cheers and ogles the female flesh on display. Candy Samples (indeed), Raven De La Croix and more... plus for a little balance, a stripping muscle man! + Harmony Theater (8?) 48th and Broadway sexy strippers (hookers?) of all shapes and sizes (no big fatties or farm fed huskies) strip and gyrate on the stage... and why not? Almost 2 hours of nakedness!
5509 Female Teacher: In Front of the Students (82) aka: Onna kyôshi: Seito no me no maede Rushia Santo is a teacher who the male students lust for. Innocent and weak, but also beautiful and sexy, she is raped in the shower by a masked rapist in the first ten minutes. Later, there is some lesbian shower action. Later still, an angry student lures her to his house with the help of his girlfriend. She is repeatedly raped and sexually degraded. Plenty of rape and sex mixed with the controversial theme of women's rape fantasies. LBX and with English subtitles.
W36 Filth Shop, The (69) A series of shorts running about an hour and 44 minutes or so. Susan Sex narrates as 'Lola Lust', a demon from hell who has come to Earth (with Satan himself) to watch sex scenes and make wisecracks. Body painting, dancing, heavy petting, two gay guys awkwardly dry humping, bikini girls... followed by a game of strip poker as two swinging couples strip down... + more naked shorts like, topless dancing girls, hot lesbians swimming with fat guy and more!
5510 Garden of Eden, The (80) aka: Eden no sono A young man lures a a young women to a secluded section of beach outside of Rome and convinces her they are stranded. Sounds like a good idea since they both seem to have growing pains in their individual home life. The girl is not happy and attempts to hike out. Fails. Back to the young man on the beach, where he has prepared a little love nest. Meanwhile they have been declared missing by the authorities. Back on the beach he feeds her fruit and they find a horse. He still hasn't scored. Did he rig his motor bike to trap her? They do it on the beach. A bit of digital fogging so be warned. Score! LBX and with English subtitles. 110 minute version! BA
W33 Groupies (70) The film you are about to see was shot at Whisky A Go-Go in L.A., Grande Ballroom in Detroit, Fillmore East and West and more. Hard-bitten whores, girl-next-door beauties, teeny-boppers, weirdoes and disturbed psychopaths.... all of these girls and more, want to get into the pants of any and all rockers for some hot love. Or hot something. We see a young gay teenager, abused bleeding and out of his mind, being mocked by those around him, plaster caster penis girl and some of her works and more. The seedy underbelly of rock and roll. Good music throughout. You'll also see Joe Cocker. Alvin Lee, Goldie Glitters of the 'Cockettes', Andrea (Whips) Feldman who killed herself in 1972 jumping from the 14th floor of her apartment in New York, Patty Cakes and Pamela Des Barres. You'll need a clinic visit to check for STD's after viewing, or to be safe, wear a rubber when you watch it. BA
W52 Hitchhike to Hell (41) aka: Highway Hell aka: Honky Tonk Girl The dangers of prostitution along the highways of America. Narrated by a guy who owns a bar/roadhouse tavern (with private cabins) that may be compromised by prostitutes and their sleazy pimp. The owner's own son is seduced by one of the whores, to get him on the side of the pimp. Hard to refuse. the line 'Going My Way Mister?' is the 1941 equivalent of 'Wanna' date Mister? The film is not as trashy as it could have been, but hey, this is an old film. Tainted Lives Sold Down the River of Sin for a Few Pieces of Silver! BA
5555 Labyrinth of Love, The (94) aka: Il labirinto dei sensi 32 year old Valerie (Monica Carpanese), a maid of French descent, comes to work for a rich family in Saigon in the early 1940's. She is amazing in all ways. Soon, everyone in the house lives by her rules as she becomes a sensual lover for just about the entire household. Joe D'Amato directs, with a strong emphasis on sex and nudity of course! Carpanese delivers in the female goods department. She starred in Bruno Mattei's giallo 'Eyes without a Face' the following year. This one is English dubbed and now LBX
5499 Listen, Let's Make Love (68) aka: Scusi, facciamo l'amore? When his father dies, young man Lallo travels to Milan to follow in his father's footsteps as a gigolo. Rich beautiful women are everywhere, bidding on him, competing for his affections. He indulges. But the life he leads will have consequences. Damaged forever or jaded to the point of apathy? The women are plentiful in fancy clothes and stunning in appearance. Pierre Clementi has a bit of a 'Dorian Gray' look going for him as the young man Lallo, looking and acting bisexual. He's even verbally bullied some. Sadly lacking in nudity, takes on a hedonistic, pessimistic slant. Beba Locar, Tanya Lopert, Claudine Auger and more. Clementi would die of liver cancer in 1999 at age 57 in France. LBX BA
5541 Love Circles (85) aka: La ronde de l'amour High quality natural beauties dominate this sex farce about a pack of cigarettes passed from one individual to another that manages to travel around the globe, tying in one sexual encounter after another. Includes a bit of 'mile high club' sex and more. A bit high brow in the way it was made, but there is no denying the ample amount of naked sexy women and soft-core sex on display. Dubbed into English from director Gerad Kikoine. BA
5513 Meat (68) aka: Meat Truck Love aka: Carne Delicia (buxom Isabel Sarli) poses nude for her artist boyfriend and makes love to him. Later she is assaulted and raped by two men by the railroad tracks. She works at a meat-packing plant with a bunch of tough guys. Later, in a room full of swinging frozen beef, she is once again assaulted and raped, right on top of a slab of frozen meat, icy air blowing out of her lungs, and also her attacker! Poor Delicia, seems she is raped no matter what she does. Now she is in the back of a refrigerator truck.... what? Raped again! At knifepoint this time. 'Please enough! Leave me alone I beg you!' she cries as she spreads her legs......Now another guy is taking her in the back of the meat truck..... Her artist boyfriend is about to blow a gasket! With English subtitles and lots of nudity from Isabel Sarli! Sarli passed in Argentina is 2019 at age 89. BA
W43 Meeting on 69th Street (69) A trio of women open an old house as a brothel to entertain the many sailors and horny men around the area. Kinky talk, topless girls and bedroom play galore. Finally two sailors torment their friend until he finally gets up his nerve and his (will, you know) to hump the Madame. In love, he buys her a diamond ring. Filled with kinky talk, sexual situations and lots of tits. BA
5534 Night, The (75) aka: La nottata The story follows a couple of fun-loving girls as they discover a priceless diamond ring and attempt to pawn it with their taxi driver friend, Their journey leads them to an encounter with dead bodies, a transvestite, and a mysterious couple with a dark side of erotic games. Let's not forget the open air shag in the car! From the director of 'Queens of Evil' the previous year Tonino Cervi. The gals he wrangles for this one (who by the way supply gratuitous full frontal, gee I should have mentioned that before!) are Sara Sperati (she went on to play Helga the Dominatrix in 'Salon Kitty') and Susanna Javicoli (who later had a role in two giallos 'Suspiria' and 'Body Double'). Javicoli died at age 50 of kidney failure in Rome. LBX and with English subtitles. BA
5596 Nudity Required (90) aka: Young Starlet Fake movie producers set up for auditions in a brazen pervy attempt to meet women and get laid. Why didn't I think of that Harvey? There will be contenders, and lots of skin. The auditions finally begin. Julie Newmar, looking swell in spandex, has a prominent role. The guy's are naked together in a large bubble bath. But where are the girls? Should I question their real proclivities? Finally the girls arrive. They were worth the wait. These hot babes cannot wait to get their hooters out and show their wares. God help me. Mindi Miller, Pamela Bach, Misty Regan, Gail Thackray, Debi Diamond, Becky LeBeau.. the boys find themselves in paradise. Yes, a few porn stars have cameos if you noticed the names. I'm fine with that.
5545 One Swedish Summer (68) aka: ...som havets nakna vind A young man returns to Sweden to spend the summer at his mother's house. Now an adult, he finds women in the area are easy. His half-sister has different feelings for him, and has four young sexy friends who are eager to explore their sexuality. The international version was cut, this is the uncut Swedish version with English subtitles. The version you will want believe me! Super colorful and window-boxed. In Swedish language and with English subtitles. BA
5550 Pleasure Masturbation: New Wife (93) aka: Kaikan onanie: Niizuma-hen Sexy erotic nudity and sex from Japan. A couple struggles with their sex because they both have a secret. He can only get off if he watches people having sex. His wife masturbates as she fantasizes about being taken by another man. When they finally confess through voyeurism.... Reminds a little of the Jennifer Welles classic from 1976 'Temptations' in some ways, where the husband watches his wife get it on. In Japanese language and with English subtitles.
5517 Private Tuition (86) aka: Cours privé Sent anonymously, scandalous letters threaten young teacher Jeanne (Elizabeth Bourgine) of having less than professional encounters with some of her students. But are they true? Could they have been written by the cute Zanon (Emmanuelle Seigner)? The dean investigates Jeanne. Jeanne confronts a topless Zanon and smacks her around. Jeanne dreams of a lesbian orgy where she is a participant. You'll know the truth from the last scene. Plenty of nudity. LBX and with English subtitles. BA
5600 Screen Test (85) aka: Come Around Often used sex comedy plot? Sex-crazy guys do porno movie screen tests with local beauties. Everybody is willing to strip. But is there actually going to be a movie? Monique Gabrielle and Michelle Bauer share a fantasy sequence that you will wish you were a part of. The gals are everywhere, so we hope they can get the production up, and get it on!. Look for Tracey Adams as a dancer. BA
W56 Seduction of Inga (68) aka: Inga and Greta aka: Någon att älska Marie Liljedahl returns as Inga! No, it wasn't true love with the young man she ran off with in the ending of 'Inga' from the previous year. Wearing a very short mini-skirt, she begins an affair with a writer, she being his 'secretary'. Back when a secretary would not file a lawsuit, but instead would do her job. which included some perks for her employer. and presumably vice versa. But she also likes a bad boy Swedish (soft) rocker, which pisses off Greta (blonde hottie Inger Sundh), who then seduces the writer for revenge. When Inga then refuses the writer, he kills himself on the highway. Some nudity and sexual situations. Liljedahl would go on to a rather short career in some notable films, at least one directed by Jess Franco. Her career started in 1967, and ended abruptly in 1970. Color and English language dubbed BA
5546 Stan the Flasher (90) aka: Stan, o Perverso Stan is an English teacher who cannot control his desires for the 16 year old student Natacha who ignores his advances as he tries to impress her with quoting Shakespeare. Stan is so frustrated he finds he is now impotent! So Stan, well his wife won't have anything to do with him.... so he turns into a weird pervert (see title). The dialogue is filthy at times. Being a French made film, I couldn't help but think of Roman Polanski. Stan's wife dumps him. Stan is a total creep. What is going to happen to Stan? English subtitles and LBX
5489 Two Queens and One Consort (81) aka: Two Queens and a King aka: Twee vorstinnen en een vorst When he was younger, Levian had the hots for his sensual aunt Coleta. Now, at his anarchist mother's deathbed, he recalls the times where he lost his innocence. Five minutes in, we are back in the past reliving Levian's youth through his memories growing up in the Netherlands as a sometimes bullied schoolboy. Coleta becomes an obsession. She's kind of flirty, and very kind. Coleta seduces Levian on the beach, and later in the bedroom. But will Levian be up to the task at hand? Full frontal both male and female. A daring film from the Netherlands. Reminds a little of 'Love Strange Love' from 1982. With English subtitles.
5525 Two Women in Gold (70) aka: Deux femmes en or Bored housewives in snowy Montreal have a series of affairs with various men while their husbands are at work. The milkman, the telephone repairman, deliverymen.... They figure their husband's are not giving them enough, so they might as well 'slut out'! One of them has a mistress so ... fair play, Later in the film, one of their targets dies after their lovemaking and they have to defend themselves for it. Plenty of nudity. In French language and with English subtitles.
W50 Walk the Angry Beach (61) aka: Hollywood After Dark Junkyard owner Tony (Tony Vorno), is a man about to engage in a heist, so he can help a stripper named Sandy (Rue McClanahan) get out of the biz before things get too sleazy for her. Sandy does her strip act, no boobs on display sadly (in the strip scenes), and later gets molested (was that a stunt boob?). The burlesque scenes are pathetically sad and not very erotic, forced it looks like, painful. A film so bad it leaves you with more questions than answers. McClanahan was embarrassed by her early sleaze roles. Surprising since her entire resume was exactly that! From the director of 'Grave of the Vampire'.
W46 We are all Naked (66) aka: Ils sont nus aka: Essi sono nudi On a seashore in France, a very dysfunctional family goes about their sordid daily lives. The mother of the house is horny, and throws herself at men. Their daughter is under constant threat of molestation by the local fishermen. The son is a mental retard and likes to catch and kill livestock for fun. The niece is one sexy piece. And into this sleazy scenario comes a harmonica playing stud that starts sniffing around the wife, intent on satisfying her illicit carnal desires. Dark and dirty to darker and dirtier. Re-dubbed into this presumably racier version (word-wise) in 1969. BA
W20 What's Up Front (64) aka: A Fourth for Marriage Homer is a salesman that gets the best gig ever. The bra (or for all you fancy ones, 'brassiere') selling business, door-to-door. Can you imagine if you tried this today? Lots of ogling, of course, it is a standard male response, I think it still is in most places, but not all. It's a tease of course, no boobies on display, but if you use your imagination.... Thing is, there is really nothing quite like it. Even though it is technically a bad movie, I enjoyed what it represented. The worship of the woman's form. The eloquence of femininity. The exotic erotic mystery of the natural female body. Tits. There I said it. Marilyn Manning is Candy Cotton. Also with Arch Hall Sr. and many more. BA
W31 Wild and the Wicked, The (56) aka: The Flesh Merchants Beautiful young girls are tricked into prostitution under the guise of becoming models. After being lured into a life of shame by organized vice lords... what is a girl to do? Why, her job of course! Hard-boiled dialogue, high-school play level acting, and a pleasantly sleazy atmosphere and feeling throughout, Was that a quick flash of buttocks? Oh. Fast paced exploitation.

EXTREME HORROR AND GORE FILMS
5487 A Name for Evil (73) aka: The Face of Evil Cocky Culp lets it all hang out. Robert Culp gets fully naked in this forgotten hippie weirdo counter culture faux horror. He and his beautiful wife (played by the lovely Samantha Eggar) are sick of the grind (in a kind of future world of capitalism) and move to his grandfather's gorgeous remote lake house. Things get strange and creepy. At one point Culp struggles with getting it up with his wife (?) and rides off on a white horse into a hippie hootenanny where he participates in an orgy. Heavy. The hippie chick (Sheila Sullivan) Robert Culp hooks up with was his real wife at the time. It's an acid trip, a ghost fever curiosity piece with a complete what the fuck ending and more! Look for Rene Bond at the orgy. Don't ask me if this is good. My taste says yes oh yes. Smokes the latest Marvel film. BA
5459 Attack of the Beast Creatures (85) aka: Hell Island Shipwreck survivors face off against a savage tribe of 'Beast Creature Cannibal Pygmies' who resemble the evil Zuni voodoo doll that Karen Black had such a hard time with in the 1973 MFTV horror 'Trilogy of Terror', and can gobble you down to a skeleton like piranha food in under an hour. Ferocious, they live in trees, have red faces, long black hair, glowing eyes and sharp pointed teeth. Their jaws open so we can hear their fear-inducing shrieks. Cheesy low-budget puppet horror fun from start to finish. Better than six dozen cheap CGI monster films. BA
5442 Banana Spirit (92) aka: Jing ling bian Chic and Che (Chang? Chung?) are in debt to a mobster. To earn they find themselves under the employ of a Taoist Master, who enlist them in the capture of the Banana Spirit. Wacky shenanigans follow when Chic and Che find themselves immersed in the world of the supernatural. Luckily there are a few cute girls around to keep them on the right path, but one of them may not be what she seems. Hocus-Pocus Lite. LBX and with English subtitles.
5440 Bell from Hell (73) aka: La campana del infierno Juan, after being sentenced to an asylum by his crippled aunt (Viveca Lindfors) in order to steal his inheritance, has returned to deliver sadistic revenge through wicked trickery. He will deflower her three sexy daughters (his cousins), using bees and hooks, hanging their bodies in the dungeon ... Juan (John) means business. Perverse, luridly colorful. Atmosphere reminds of an old 'Eerie' or 'Creepy' magazine. A parallel plot follows the arrival of a new bell for the town's church tower. An excellent piece of Eurotrash with elements of Hammer influence. The director Claudio Guerin fell (or jumped) from the bell tower constructed for the film during the final production process. Dead at 34. For Whom the Bell Tolls... LBX BA
5438 Black Room, The (82) aka: Deadly Heat Kammer der Schrecken Larry, a family man who needs an outlet, rents a gaudy black room in a Hollywood Hills mansion from a strange guy named Jason and his BDSM-loving sister Bridget (Cassandra Gava). The girls Larry brings to the room to fulfill his sexual fantasies deliver plenty of nudity and sexual spice to the lurid tale. Jason has a rare sickness, and later kills the women, draining them of their blood and injecting it like a drug into his own vampire-like body. But Larry's wife is now hip to what Larry is using the room for, and nobody knows what Jason and Bridget are really up to. They are about to find out! Sex and Blood. The mighty 1980's. Look for Linnea Quigley in a small part. Gorgeous Cassandra Gava played the seductive witch-demon that screwed 'Conan the Barbarian' the same year this was made. 'There is a price Barbarian.' BA
5578 Blackout (78) aka: Black-Out à New York The factual and notorious New York City blackout of 1977 was the inspiration for this one. Four crazed convicts (led by a crazed Robert Carradine as 'Christie') menace a high rise apartment. Jim Mitchum plays a cop who may be the tenants only hope. Wealthy Ray Milland owns the building. Urban paranoia drenched in hard-hitting violence. Carradine is effectively creepy scary. Equally so his slimy side-kicks. Balanced presentation of how a crisis brings out the best and worst in people. BA
5462 Blood Bride (82) aka: Death of a Nun Marie (Ellen Barber) is going to be an old spinster if she doesn't get a man soon. She does. But the man she is about to marry, is a sadomasochistic maniac, with a sick obsession with a nun named Sister Mary (of course) from his childhood. He looks for women who look like Sister Mary, gets them dressed up like a nun, and kills them. Marie fits the bill. But Marie may not be as easy a target as the others... Also with Jocelyn Javits. BA
5454 Bloodbath of Dr. Jekyll (81) aka: The Strange Case of Dr. Jekyll and Miss Osbourne aka: Docteur Jekyll et les femmes It's like a Victorian painting, a dream, a nightmarish decadent trip to hell with Mr. Hyde as our guide. Enter a one Dr. Henry Jekyll (Udo Kier),with Marina (of 'The Living Dead Girl') Pierro as his fiancé Miss Osbourne, who has no trouble in adjusting her character and going down the road of depravity with her soon to be husband. Howard Vernon is Dr. Jekyll's nosy friend. Murdered young girls. A sex harlot being spanked enthusiastically, a murdering maniac. Certainly the best of the sexy sleaze trash Dr. Jekyll films. I would guess Robert Louis Stevenson would have loved it! Wicked fun with plenty of boobs and blood. Patrick Magee also stars. Longer than last version by 5 or 6 minutes. LBX Upgrade! BA
5443 Bloodlust (92) aka: The Lion, the Leopard and the Wolf Three blood-drinking killers spend most of their time having sex (when they are not murdering people that is, but as you will find out, sometimes these two things go hand-in-hand). They are hunted by stake-carrying puritan-garbed fanatics. The killers decide to rip-off a casino in an amateurish heist so they can retire (at least financially). Now the cops, the mobsters, and the religious slayers are on their trail. Delivers the low budget raunchy and gory goods. If someone is not being mutilated or having sex, a tasteless joke is being spewed forth from one of the reprehensible characters. The enthusiastic fanatic slayers are hysterical. Low-budget horror on steroids from the land down under. BA
5529 Cat with the Face of a Man (09) Running under an hour this homage to all things giallo follows all of the rules of this particular genre, A man picks up a young female dancer, who invites him in for a drink. The plot spins. We meet a killer with a faceless guise while a riff on the score from 'Tenebrae' stabs your senses. Stylish kills and imaginative cinematography and atmosphere lighting remind us why we are here. They have clearly done the homework. Bravo! In French language and with English subtitles.
5491 Crazy Murder/Dr. Gore (85/09) Mix-up with the film 'Folies Meurtrieres' from 1985 about a masked killer who slaughters young women with various weapons (including a pickaxe to the head and more). + a docu on the director Antoine Pellissier, which comes across as a profile of a director who makes projects for very little money, but a lot of heart. He not only made 'Folies...' but also the fun gore film 'Maleficia'. With English subtitles.
9297 Dark Minstrel (01) aka: Tuno negro Students of the University of Salamanca are being mercilessly slaughtered by a black masked 'dark minstrel'. The victims are found on the internet, usually after exams, eliminating the worst students. The lousy student does not end the course, nor, have a chance to repeat it. A cool Spanish slasher/giallo with several good kills, and some pretty hot girls as well. Still riding on the heels of Wes Craven's 'Scream'. with more modern sexy young people facing death, and getting it. Sex and Violence, we miss you. With English subtitles.
5625 Day of the Beast, The (95) Special Edition aka: El día de la bestia A Catholic Priest must commit as many sins as possible to prevent the coming of the Beast in this horror comedy. He teams up with a Black Metal guy (played hilariously by Santiago Segura) who encourages him to head bang to death metal. A great sin! He has come to believe that by sinning with reckless abandon will get him a meeting with the devil. He will not be disappointed! And neither will you be! How the hell a film about Satan, the Apocalypse and Heavy Metal, loaded with black humor, could turn out so goddamn funny is a testament to director Alex de la Iglesia, who directed 'Perdita Durango' next. This 2 disc special edition features a LBX Spanish language version with English subtitles, and a second disc with a full frame English language dubbed version. Two discs count as one. BA
5464 Demon is on the Island (83) aka: Le démon dans l'île Macabre accidents caused by strange phenomena on a remote island. An oven attacks! A boiler pot strikes! Razors Chop! Watch out for the wind-up teddy bear! Inanimate objects (including appliances!) become animated objects for bloody destruction! So what and why? The investigation begins. Grisly fun. The female lead Anny Duperey played Al Pacino's girlfriend in the 1977 film 'Bobby Deerfield', among many other roles. Slight LBX and with English subtitles. BA
5553 Flesh Target: Rape (79) aka: Niku no hyoteki: Ubau Do you want politically incorrect? This is the right place. A sexually frustrated office worker gets out of line and is demoted. His response is to rape a number of hard-to-get women in his company in a sort of revenge. Surprisingly, the ladies are stimulated by his assaults, so much so that they aid him in getting a promotion. In Japanese and with English subtitles. LBX
5530 Ghost of the Fox (90) aka: Hu dao Taoist monks prepare a young warrior for a showdown. Spirit daughter of the god of foxes is forced into service with the god of snakes. Things go off the rails in this very 'adult' horror kung fu with sex and lots of nudity. Corny crazy effects, and nods to the original 'Conan the Barbarian' here and there. The music, well, you will recognize lifts from some more popular Hollywood films. Ghost of the Fox boasts some fine battle scenes with some worthy warriors, hot naked babes and much more. LBX and with English subtitles.
5496 Girl on Condotti Street, The (73) aka: Special Killers aka: La ragazza di Via Condotti Sandro (Frederick Stafford), a detective, finds his wife strangled. His girl-friend Tiffany (Claude Jade), who works as photographer, makes a "Blow up" from a photo, what Sandro finds beside the victim. Sandro and Tiffany are looking for the woman on the photo, Laura. They finds her in a Night Club in Rome... In Italian language and with English subtitles - LBX BA
5557 Gloria Mundi (76) aka: In Hell aka: Tortura An actress of political torture movies made by her husband has to finish his latest film and arrange a screening for distributors while the husband, who is also secretly an anarchist revolutionary, is away for some resistance operation... Sick, twisted, and always entertaining! Olga Karlatos delivers the greatest performance of her career in this twisted tale that deserves another look in this LBX almost two hour version. In French language and with English subtitles. Finally, a much longer version than the 95 minute version we listed as M351 in the main catalog! BA
5431 Golden Apples of the Sun (73) aka: Caged Terror City couple Richard and Janet take a weekend getaway in the wilderness, escaping from the polluted city. As they walk and talk they engage in hippie college kid conversation, the kind that would make you want to kick them out of any party. They even have sex and we get a close-up of her belly-button, ears, and nipples. Afterward, Richard smears Janet's nude body with what looks like blood, and they roll around in the dirt like animals. Somebody needs a bath. They crash out in a seemingly abandoned farmhouse. Along comes a couple of wandering minstrels/Viet Nam veterans. One black, one white. Janet is mesmerized when they sing. They lock Richard up in a very large chicken coop. Then, the black guy starts to make out with Janet, while the white minstrel sings and plays guitar. What the hell is gong on here anyway? Caged Terror?
W34 Jonathan (70) aka: Vampire sterben nicht The aristocratic, fascist, Nazi-like vampires, led by the evil Count Graf, have turned the peasant population into their own personal livestock and slaves, when they are not torturing or beating them that is. Enter Jonathan. He will infiltrate the vampire's castle to begin the plan to end their wicked reign. The plan is to drive the vampires into the ocean, where they will presumably all die. Vampire lore is not followed here, as they can go out in daylight, but there are some nice fangs! Fairly dark and violent with a large dose of politics. Finally, a nice print of this very different vampire film from Germany! With English subtitles BA
5619 Julie Darling (83) aka: Julia, ángel o demonio Innocent-faced teenager Julie is disturbed. Having witnessed the brutal rape and murder of her mother, Julie grows especially close to her father Harold (Anthony Franciosa). When Harold meets and marries Susan (Sybil Danning) jealous demented Julie begins to plot her demise, so she can have daddy all to herself. Susan has brought her (equally disturbed) son into the family as well. She looks innocent... she talks innocent....Sybil strips so there are a few reasons to see this along with the fact it is a pretty fine bratsploitation thriller. The Bad Seed meets Pretty Poison. Or something. Twisted ending too! retitled 'Daughter of Death' for video. BA
W49 Lonely Sex, The (59) Before 'Psycho' and 'Peeping Tom' ! Loner sexual deviant kidnaps an attractive woman and holds her captive in his shack in the woods. Gets points for trying to paint a sicko as someone that just cannot help it. What? He's nothing but a degenerate psycho stalker, unworthy of pity. And a peeping tom ends up the hero of the film? What (again)? The misguided message does nothing to take away the exploitation elements for the audiences of 1959. Our monster man is a boarding house lodger that may or may not be the Memorial Park Ripper. Some stylish touches here and there, nothing quite like it from that year (made in America at least). In the opening, Peeping Tom Wyler, peeps on a woman through a window as she removes her bra and we get a topless scene, also unusual for 1959. From the director of 'Violent Midnight' and 'I, Marquis De Sade'.
5603 Lost and Found #3 (various) You want more? Here is how we begin but I won't list it all. 50 or 60 Japanese schoolgirls throw themselves into a fast moving subway train resulting in a gory blood bath splash, a visit to a mad doctor's mountain lab, Night of the Bloody Apes eyeball pop, cheap gorilla suit guy battling cheap dinosaur, Turkish Ninja Assassins, Benny Hinn, classroom rundown of all the slang words for 'penis', a detailed demonstration of the Venus 2 the Goddess of Self Love for Men, Sheriff Slim Pickens asking a rape victim 'Did he bite you on the titties?, The Flintstones in German, William Shatner fat shaming someone, mentally challenged had a wet dream, girl does acid and her hotdog screams at her.... so much more more and more. Politically incorrect and adult material
5604 Lost and Found #4 : All Music Edition (various) Bikini Clad Beach Go-Go Girls, Jordache commercial, Bridget Bardot sings Contact, Butthole Surfers, Tom Jones, Bill Hicks and the Rainbows, Joy Division, Black Sabbath, Alice Cooper, Pink Floyd with Sid Barret Live, Hall and Oates, a drunken David Lee Roth insults The Clash... and much much more....
5475 Night Games (80) aka: Nocne gry Valerie (Cindy Pickett) is living in a mansion with her husband Jason (Barry Primus). She cannot have sex with him because she keeps having flashbacks of being raped when she was younger. So, when her husband is away, she creates a dream lover and hallucinates having sex with this stranger and getting off. She calls over a girlfriend and they swim nude in her luxury pool. Another sexual hallucination. More late nights alone in the mansion. More sex with fantasy lovers. But is someone in the dark mansion with her? Or is she just losing her fucking mind? Roger Vadim hoped Cindy Pickett would be his next big discovery. This is her debut. Plenty of nudity and uncut at 100 minutes. BA
5483 Night of Bloody Horror (69) aka: Nuit d'horreur sanglante Wesley (Gerald McRaney) is disturbed. He has terrible nightmares and periodic blackouts. Women are attracted to Wesley. Bad news for them. Love the ghastly solarization and that funky psychedelic whirlpool optical that flashes on the screen whenever Wesley loses control. Choppy editing, brutal, vicious bloody gore and more. The cops drag Wesley in at one point under suspicion of murder and demand to know if he's a 'fag'. A band named 'The Bored' plays in a bar to pad out the film some. Some curvaceous babes and even some (brief) nudity. McRaney's performance gives no indication of his future talent. Still a fun film though for people like me who like this stuff. BA
5482 Night of the Witches (70) Phony preacher Ezra Jackson (Keith Larsen) in a Model T (which he has stolen from a couple in the opening sequence) preys on the gullible. Strange songs... He stops at a shack/gathering place and lusts after a dancing woman, but the cops are closing in. We learn the story of the witches. Later, Ezra comes across the seaside mansion, run by the witches. He tries to pull a scam on them. Another 'Donovan' like song. Strange religious choruses. The witches are led by Cassandra who is played gorgeously by huge cat-eyed Kathryn ('The Big Doll House') Loder. Too bad she was not in more stuff, she's witch terrific. The Zodiac will decree who lives, and who dies, there is a reason, a sort of mercy. Cool surreal satanic sets and much more. The man in white is sacrificed. One of the strangest occult films out of the seventies. And that is really saying something! On a side note the quality is not as sharp as usual on this rare title (and there are a few glitches), but it appears to be uncut, but from an 80's broadcast with no commercials. Obscure. Double feature it with 'Blood Sabbath' from 1972. Kathryn Loder died in 1978 at the age of 38 from diabetes. 'The lord have mercy on your pagan souls'. Ultimately like a Tales From the Crypt episode with psychedelia. BA
5484 Night, After Night, After Night (69) aka: Night Slasher aka: Notte, dopo notte, dopo notte Gilbert Wynne stars as a no-nonsense East End copper (in London) who's out to catch a Jack the Ripper type killer who has been slaughtering the local prostitutes and assorted 'dolly birds' in sleazy Soho. It's personal. His wife was one of the victims. Could it be the transvestite judge who is fed up with the sordid nature of the women (and society in general) and wants to 'clean up' the streets? For that reason he feels 'compelled' to dress up in leather and a Beatles wig and slice up women. One of the darker films from England in 1969 from director Lindsay Shonteff. BA
5479 Nightmares in Precinct 7 (01) aka: Chat ho chai goon A cop goes into a coma after a shootout with some thieves. Awakening two years later, he now sees dead people. Good thing too, because a rapist/killer is on the loose, and the dead victim's are coming to him for help. Ghosts jump up here and there to scare, the hunt for the killer is entertaining, some sleaze as well. LBX in Cantonese with English subtitles.
5488 Nighty Night (90) A Japanese woman reads to her animal figurines and then tells them Nighty Night, then a series of tales unfold. The first involves a children's birthday party that gets bloody when one of the teenage girl's gets stabbed in the throat, and a deadly game of stab and go seek begins, resulting in a vicious bloody stabbing. Next a young boy s haunted by a girl with long black hair, who leads him out a window. Splat. The she goes after another victim. Next, a woman gets a floppy disc in a gift box and puts it into her computer. 'Survival Game' comes up. The game goes bonkers and starts to manipulate her sanity. Somehow, the game has produced a creepy and bizarre stop-motion monster (and other beasties), that is now loose in her apartment, and trying to get at her... Really cool special effects (and some grisly make-up effects as well) in this film that has a few glitches, and is in Japanese language only with no subtitles from a rare Pal tape.
5586 Nine Faces of Fear (95) aka: Las nueve caras de miedo Mexican horror and blood. A TV crew is filming a show in a haunted hotel, the site of murdered hookers and men in the 1950's. A medium is afraid, a doctor is incredulous, the cameraman and his girlfriend are angry with the producer, a female reporter is trying to do a good job and a young couple is more interested in sex to pay much attention to anything else. The friar is possessed by a the spirits of the past and a new gory massacre begins! No subtitles and in Spanish language only
5473 Nude Fear (98) aka: Jui hung 20 nin A little girl comes home to find the naked corpse of her mother in a bloodbath. 20 years later, she is now a homicide detective (the tasty Kathy Chow), and still has nightmares about it. Her new case involves a woman who has been raped and murdered, hands tied, tongue cut out... just like her mother from 20 years ago. In fact, she totally flashbacks when she sees the crime scene. The team tracks one suspect and finds human tongues in jars in the man's refrigerator..... He'll catch her and others, brutally stabbing and killing innocent young women in front of her with a large knife. 'I want to whip your corpse!' he exclaims. LBX and with English subtitles.
5476 One More Minute (79) aka: Snapshot aka: The Day After Halloween (the title you will see on the screen) Love the changed title, to trick people into thinking they are seeing a violent slasher. What we get is something else, but still a horror film. Angela's (Sigrid Thorton) first photo shoot has her topless on the beach... Nice... Sadly for her though, a psycho thinks so as well, and he begins to stalk her. He's already created the requisite 'shrine' room plastered with her pictures. She already has an ex-boyfriend (who drives a Mr. Whippy ice cream truck) keeping an eye on her, now this other lunatic. Bizarre unexpected developments galore make this one interesting. From Australia. Also with Chantal Contouri of 'Thirst' made the same year.
5515 Orgasmo (69) aka: Une folle envie d'aimer Rich widowed Kathyrn West (Carroll Baker) retreats to her secluded Italian villa to relax. Enter a slimy playboy (Lou Castel) who entices Kathryn into debauchery and uses his sister to drag her further into alcohol, debauchery and group sex, all culminating into a descent of near madness, blackmail, torture and self destructive depravity. This film is often confused with another okay but not as good Umberto Lenzi thriller called 'Paranoia' or 'A Quiet Place to Kill'. This was a ground-breaking film that helped to usher in both the giallo and the free-spirited sexuality of the Eurotrash film. Uncut, in English language and with a few scenes that are not dubbed English subtitles appear on the screen. LBX BA
5560 Paragraph 78 (07) aka: Contagion aka: Bunker of the Dead aka: Paragraf 78 In the near future, a rag-tag team of commandos is sent into a remote rocket site that is conducting weird experiments to find out what has gone wrong with the scientists working there. They find the crew has been infected with a contagion. A contagion that will eventually pit them all against one another in a deadly fight for survival. Who will survive the deadly virus? The military group reminded me of the group in 'Aliens' complete with a butch gal (she looks like Kristen Stewart). LBX in Russian with English subtitles. BA
5516 Penthouse, The (67) aka: La nuit des alligators Suzy Kendall plays a frustrated woman living in a high-rise luxury apartment with her dull boyfriend. When thugs break in, Suzy's inner nympho breaks out! While her man is tied up, they pull out knives and threaten her. Then they get her drunk. They want something from her boyfriend, but take liberties with Suzy in their off-time of menacing him. Martine Beswicke shows up as their wicked boss in the last quarter of the film. Upgrade that runs a bit longer, but does have foreign subtitles. In spoken English language. Updated from the main catalog! BA
5502 Rand Rover (79) aka: Trampa violenta A couple on a road trip to their beach house are followed by a carload of thugs as they travel the countryside. The leader of the thugs is trying to score with the wife (hot blonde Franca Gonella) as he was hitting on her in town earlier in the film. Followed every step of the way, the wife starts digging on the leader of the thugs. The roads gets dangerous and the thugs guzzle booze. The thugs wreck, but get a ride, getting back on the stalk. They catch up to the couple and overpower the couple, binding them to a pillar in an abandoned ruin. Let the sadism begin. But the husband is no easy victim. Plays like a Polselli film, but without the gore and sleaze. Still, a wild ride. You'll recognize actors from other obscure Italian made twisted thrillers we also carry. In Italian with English subtitles.
5434 Sars Wars (04) aka: Khun krabii hiiroh A zombie epidemic hits Thailand in this horror comedy loaded with gore and comedy in equal doses. Throw in a bungled kidnapping, a giant King Cobra that eats people but eventually swallows the wrong guy, some cool kick-ass school girl types, an acrobatic zombie baby, a magic sword and a building full of zombies. A 'Shaun of the Dead' meets 'The Story of Ricky' bloodbath of excess. Prepare for goofiness and you are in. Cool anime opening. Noticed a glitch in the master. The ending credits are hilarious! In Thai language with English subtitles LBX. BA
5447 Savage City: Angel Dust (91) aka: Yajutoshi: tenshi no sasayaki A corrupt cop teams up with an unlikely partner, his latest arrestee - a hitman to protect the city from a gang of ruthless drug addicts. Full frame with English subtitles. Japanese version of 'The Killers'.
5468 Savage Encounter / Demon Lust (80) A honeymooning couple is terrorized by redneck hillbillies deep in the wooded area (filmed in South Africa!). This is another rape and revenge film similar to 'Slashed Dreams' and 'Golden Apples of the Sun', both also in this update. This disc features both versions of the film. First, the longer version of the film with the 'Savage Encounter' title, followed by the cut version with the title 'Demon Lust'. For hicksploitation collectors! BA
5503 Skin Under the Claws (75) aka: La pelle sotto gli artigli aka: La piel bajo las uñas There are a series of murders taking place, in each case there are traces of decomposed flesh under the victims nails, how can this be? Is there a link to the brilliant scientist who is performing brain transplant experiments on baboons, who thinks he is close to cheating death itself.. Finally, forget that two disc set from before. This is finally the last word on this one. Not 76 minutes. Not 82 minutes. This one is LBX and with English subtitles and runs 86 minutes, a full 10 minutes longer than the listing on IMDB. Finally an uncut version of this nudity-filled mad scientist Gordon Mitchell classic. Upgrade!
5430 Skull: A Night of Terror (87) aka: Don't Turn Out the Light In a small Canadian town, two local cops are assigned to transport a killer (bald, he is known as 'Skull') and his two accomplices. Skull's girlfriend plays damsel in distress, they pull over, and the bad guys escape into the woods, making their way to one of the cop's farmhouse, where they proceed to terrorize his family. House under siege, cop turns vigilante. Don't turn out the lights, Skull is afraid of the dark! Some gruesome cold-hearted killings, nudity and sexual situations. You want strange? In one of the opening scenes we see our lead cop wake from a nightmare, and what a nightmare! He killed a girl, by accident, and this mixed with some weird sexual contact with his wife... well you see for yourself. In English language but does have foreign subtitles. Some glitches BA
5456 Slashed Dreams (75) aka: Sunburst I suppose they turned 'Sunburst' into 'Slashed Dreams' for the 1980's video release because Freddy Kruger was big, and Robert England had a role in this early film (although not a large role, and his character is pretty pathetic really). A couple out hiking to a friend's shack (for a pretty long time with a horrible song going round and round) are (like I said 'eventually') attacked by some weirdoes (one played by James Keach). They knock the guy and begin to slap around and molest his girl...... In some ways just like 'Golden Apples of the Sun'. Also with Peter (Inglorious Bastards) Hooten and Kathrine Baumann.
5496 Special Killers (73) aka: The Girl on Condotti Street aka: La ragazza di Via Condotti Sandro, a detective, finds his wife strangled. His girl-friend Tiffany, who works as photographer, makes a "Blow up" from a photo, what Sandro finds beside the victim. Sandro and Tiffany are looking for the woman on the photo, Laura. They finds her in a Night Club in Rome... Previously listed as an 84 minute English dubbed version with foreign subtitles and full frame. This is an alternate composite print of the film put together from various sources. 93 minutes, which is 9 minutes longer than the last print, this one is LBX, foreign language with English subtitles, and some glitches in the print here and there. Still, the 9 minutes put context into the film with a longer opening sequence. In the shorter version, the girl is killed by her lover rather quickly. Here, there is a lot of what led up to that as she cheats on her husband and meets her fate. You get a better idea of her character. BA
5435 Specters (87) aka: Spettri aka: Catacomb aka: Specters - Mächte des Bösen Professor Lasky (Donald Pleasence) and his research team have just discovered an ancient pagan tomb on their current dig in the catacombs. Located under the mausoleum of a real life Roman Emperor, it looks to be one of the finds of the century. But they have unleashed an archaic evil that harbors a grudge against the desecraters of the tomb. When we finally see the creature it is a pretty cool monster that resembles 'The Creature from the Black Lagoon, (designed by Sergio Stivaletti) except nastier. Dark and dreary atmosphere throughout. BA
5446 Spiral (9?) A man with a special gun, uses a woman named Aki to lure his victims so he can shoot them in the head. She begins to fall for the assassin. It's a revenge plot where people are killed for past transgressions, wrapped around some good Cat III soft-core sex and violence. Meanwhile a photographer with mother issues is getting women to strip, so he can mutilate them and cut out their naughty bits. The girls want to strip and have their picture taken. This drives the psycho mad every time, and out comes the blade when he puts down the camera. Turns out our 'assassin' is also a 'Columbo' styled cop as well. A 'Vigilante-Columbo'! Lots of nudity and sexual situations sprinkled with cold hearted violence. The last 20 minutes are unforgettable plus, stay tuned after the closing credits for a surprise. LBX and with English subtitles.
5433 Stepmother, The (72) aka: La matrigna An odd and somewhat sleazy murder mystery thriller. When jealous Frank (Alejandro Rey) comes home he sees a guy he suspects is having sex with his wife Margo (Katherine Justice), and strangles him in the driveway, burying him on the beach. Four friends show up to party the following day. Another guy gets the blame when the cops find two bodies, a man, and a woman, but the lead cop (John Anderson) is suspicious of Frank. Later Frank kills his business partner Dick (Larry Linville) by shoving him off a rooftop. Frank denies Margo sex, she still doesn't know he knows she was with the other guy. Claudia Jennings in her debut has a nude scene. Horny Margo seduces Frank's son from another relationship, while Frank is sleeping with his dead business partner's wife. Frank catches his son in bed with his wife. A sordid mess with no happy endings. The theme song was actually nominated for an Academy award! Losing out to 'Morning After' from 'The Poseidon Adventure'. BA
5610 Sweet Home (89) aka: Sûîto Homu Haunted House Horrors from Japan! Dick Smith special effects highlight this excellent Japanese horror with practical effects and manipulated lighting that reminds of Bava. Also the first 'Horror' movie made in conjunction with a video game. Manages a touching message about the bond between mother and child in the midst of terror and special effects (like 'Poltergeist' managed). Spectacular, a good amount of grue that includes dismemberment and melting faces, fast-paced, engaging characters... a must see! In Japanese with English subtitles.
5450 Tanya's Island (80) aka: La bête d'amour Vanity (before she was 'discovered' by Prince) stars as Tanya, a woman dangerously involved with an asshole artist named Lobo. She has an extended dream that puts her on a deserted island paradise with Lobo. But there is also a horny ape on the island (courtesy of Rob Bottin and Rick Baker) that is after some Tanya tail. Well, don't expect anything as graphic as Bororwczyk's 'The Beast'. The ape suit is incredible and little Miss Vanity in her birthday suit, What more do you want? Vanity's career hit the skids when she became a drug addict. She cleaned up later and got holy roller. Vanity died in 2016 of kidney failure, a mere two months before her mentor Prince died of an overdose. They were both 57. BA
5585 Taxi Hunter (93) aka: Di shi pan guan After his pregnant wife is run over by a careless taxi driver, a mild-mannered businessman (Anthony Wong) gets a new call on life. To kill all bad taxi drivers anywhere he can find them. Plays like a Hong Kong 'Falling Down'. The man finds out that there is an incredible amount of soulless greedy taxi drivers who only care about themselves! To be fair, he does spare a few drivers who he judges are 'good'. But if you are bad.... you better watch out! LBX and with English subtitles. BA
5572 Terror on the Menu (72) aka: Terror at Red Wolf Inn aka: Secrets Beyond the Door Regina (Linda Gillen) wins a getaway vacation to Red Wolf Inn. Run by an old couple (Arthur Space and Mary Jackson), Regina joins Pamela (Janet Wood) and Edwina (Margaret Avery) in the large mansion, sucking and slurping down the cooked delicacies served to them by the proprietors of the Red Wolf Inn. Eating and drinking sounds. A boom mike is spotted in a kitchen breakfast scene. Also a creepy grandson lurks about named Baby John. He is triggered by a baby shark he hooks, and beats it mercilessly (the shark). Regina freaks out when she finds the severed heads of Pamela and Edwina in the walk-in refrigerator. This version includes a scene cut from 'Terror at Red Wolf Inn' print in which we see 'foot soup' and a special treat of fingers served to the old man of the house. Yummy! BA
5547 Total Therapy (96) aka: Die totale Therapie Nine people sign up for a self -awareness course at an isolated country estate run by Dr. Romero who has a penchant for using sadistic methods, and may be a rapist. Cut off from society, the therapy casts a spell, they are mesmerized.... but then a week into it, Dr. Romero is (rightfully?) murdered. The group panics, and the psychotherapy course flips the switch into an exercise in real terror! They lose their minds in suspicion and accusations, until the spiral of hysteria overwhelms. Total Therapy is a tragic comic thriller and with a metaphor that stings for a world gone mad. In German with English subtitles. BA
5449 Twilight Garden (00) aka: Yau guk yeuk wui aka: Eerie Valley Appointment Screw-up detectives are reassigned to a remote region where they meet an old woman afflicted with dementia and her granddaughter, who replants a desolate garden to hopefully cure the old woman. One of the detectives offers to help, and eventually realizes the girl is not what she seems to be. In Cantonese with English subtitles. LBX
5622 Vampire of Quezon City (06) aka: Aswang of Quezon City Young women are raped abused and tortured by a very sick religion-obsessed sicko (think the psychosis that made Romero's 'Martin' character) serial killer. Over a sometimes loud Hammond organ we see his grisly deeds (he also devours his kills). The matter-of-fact dialogue is disturbing and insane. In the end he viciously rapes a man. Man Bites Dog without the humor? Filmed in black and white. With English subtitles.
5539 Village of the Eight Gravestones (77) aka: Yatsuhaka-mura The heir to the house of Tajimi and the family fortune in Japan (of the 1970's) finds to his dismay that it comes with a potentially lethal price. A curse has been put on anyone who takes control if it. Includes a gory flashback in which we see the massacre of the eight warriors whose spirits may (or may not) be taking revenge on the descendants of their betrayers. The new heir must unlock the secret to his new found wealth or die. Family clashes, mysterious deaths, dark secrets.... even some Gothic atmosphere in scenes. Fun creepy Japanese horror. Japanese with English subtitles. LBX BA
5524 Wizard's Curse (92) aka: Yao guai du shi A monstrous wizard steals the bodies of two slain criminals and creates a monster using their brains. The creature is part female, and part male. It kills it's creator and goes on a rampage, eating the brains of his victims. The creature seeks immortality by eating the brain of the Taoist Priest's virgin daughter. Bit of steal from the 'Terminator' films, you'll know when, but it doesn't matter. This is a different film, and goes off the rails! Uncut too, with the sex scene in the beginning and a few longer boobie squeezes. Hey, don't blame me! Nice! You'll want to see this one! In Cantonese with English subtitles LBX BA
5549 Woman Chasing the Butterfly of Death (78) aka: Salinnabileul ggotneun yeoja A depressed young man finds himself in trouble with suicidal woman, an immortal bookseller, a resurrected female mummy that turns into a gorgeous woman, and an archeologist and his unstable artist daughter. He has a night of passion with the mummy woman that's punctuated by them getting blasted with dough from an automatic bread-making machine. There is also a masked desecrator of graves, a cop on the trail of the murders, and yes, a beach dance party! Out of control and over the top horror from South Korea. English subtitles and LBX BA

FRANCO FILMS
5467 Jungle of Fear (93) Unfinished unreleased Jess Franco workprint (but it does have the full story including an ending!). Opens with a funny fake snake decapitation! Then we see some guys in the jungle, and a giant gold beetle is on a woman and she screams Then a man is stung in the face by a scorpion. Now we are in a cave with our 'exploring group. The leader has taken the huge gold bug back home. Now we are at a club with a leather clad blonde wielding a whip! She smacks one guy, and kicks another in the face, then laughs! Lina Romay shows up! This is a Jess Franco mind trip. Never finished. Never edited. Mostly English language, a little Spanish language, some silent. Everybody wants the gold beetle. One of the most hilarious catfights ever committed to film. Plenty of colorful locations. A weird jungle temple with strange worshippers... caves... quest for gold...... a treasure.... a riddle.... Now the blonde with a whip is flogging Lina! Don't worry, she'll be okay! A Jess Franco cameo where he sings (sort of). William Berger as Dr. Quasimodo. Berger was actually dying of prostate cancer during filming, and passed away in October 1993 in Los Angeles. Lina speaks English (this is not dubbed!). Charlie S. Chaplin also stars. That's right, the grandson of Charlie Chaplin! Also with Antonio Mayans, Christopher Mitchum and Howard Vernon! There is a small time code at the bottom on the left side of the screen. Over 2 hours long! Better than 'National Treasure'!

HAMMER AND BRITISH FILMS
5561 An Englishman's Castle (78) Alternate history from England. Germany won WW2. This is England many decades later. A television show soap opera runner revisits 1940. As they collaborate, tensions, guilt, and paranoia rule the day as the people of England have been under German rule for so long, how do they present things to the viewing audience? Keep your head down and go along with the status quo? Or throw in a wild card or two. There is an uprising of sorts in the air.... Or is that 'on the air'? Certainly unusual, and dark. Complete and over 2 hours.
5508 Big Switch, The (68) aka: Strip Poker First full length from director Pete Walker! Walker wastes no time, heading to the gutter immediately during the opening credits with a hot black stripper (who looks like a young Tina Turner), fondling her greased up breasts, grinding the air, flapping her legs like a bitch in heat and slapping herself with some sort of yellow whip. This goes on for over five minutes! A man is accused of killing a hot blonde. We see who really does the deed. Hysterical in all ways with goofy dialogue, strange music and a clunky plot but boy oh boy do we ever get a healthy dose of full frontal female nudity by some very natural and healthy looking young ladies! Colorful shootout in a gaudy carnival spook show ride finale. Virginia Wetherell, Erika Raffael. BA
5566 Master Plan, The (54) aka: Geheimplan 701 A German facility shared by the British and the Americans leaks military information. A U.S. Major (Wayne Morris) flies in to assist a British colonel (Norman Wooland) who is head of security. Things get pretty suspenseful as they close in on their quarry 'the leaker'. Tilda Thamar also stars, Her last film was 'Faceless' in 1987 by Jess Franco. BA
5576 Night Flight (02) A WW2 aircraft crew now in old age. come to terms with their past in the twenty first century. 'Flash' Harry Peters (Christopher Plummer) and Vic Green (Edward Woodward) look back to the past, we see it, and their young selves played by other actors, and the classic Lancaster Bombers. Flash piloted the bomber at age 20. Now old and grey, his world is thrown into disarray when his former comrade Vic Green brings up ghosts from the past that should have stayed buried. First class. first rate performances all.
5567 Philby, Burgess and Maclean (77) Recruited by the Russians during their Cambridge days eventually turns out to be a very bad idea for three young Englishmen who rise in the ranks becoming secret agents for the enemy. Anthony Bate, Derek Jacobi and Michael Culver play the traitors to their country. Sticks to facts, a classic spy drama. A few years after this came out a fourth spy was found! If this was remade, there would be another name in the title I suppose.
5565 Secret Venture (55) Ted O'Hara (Kent Taylor) is an American visiting England and discovers he is in possession of a briefcase that spies from every country is after. Murder, kidnapping, spies, fake codes, wrestling, secret formulas and Big Ben striking midnight. Michael Ripper shows up as does Michael Balfour and Kathleen Byron. BA
W10 Too Hot to Handle (60) aka: Playgirl After Dark Jayne Mansfield, free from the American studio, split for England and starred in this one with Christopher Lee, Leo Genn and Patrick Holt. She plays stripper Midnight Franklin, and let me tell you, she's got some moves. Beautiful brunette Danik Pattison has almost as much screen time as Jayne, and has a nice faux-strip number that will raise your blood pressure. Barbara Windor is the 'jailbait' showgirl named Ponytail. The story deals with extortion, with Genn as the club owner, and Lee as his right-hand man. But you'll likely be more interested in more important questions like... how did they squeeze those puppies into that tight outfit? Black and White version. BA
MISCELLANEOUS FILMS WAR, MARTIAL ARTS, DRAMA, COMEDY AND MORE
5507 Adventures in a Motel (63) aka: Avventura al motel From sleaze master Renato Polselli before his madman phase! He already has a bevy of beauties on display in this, a series of sketches about various people who have illicit affairs in a motel. Eva Bartok, Helene Chanel, Margaret Lee, Claudia Mori, Liana Orfei plus Anthony Steffan and Ciccio Ingrassia. In Italian language and with English subtitles. LBX BA
W29 Battle of the Mods, The (66) aka: Crazy Baby aka: La battaglia dei Mods This Italian/West German production's focus is on the lead Rocker named Ricky. In the open, he is playing guitar and singing to a bunch of dancing hippies in a bar. Enter the Mods, who have it in for the Rockers. They attack the bar and everyone in it, trashing the place, a girl is killed. Ricky is damaged mentally. Ricky heads to Rome where he has an affair with his father's mistress, and falls in love with another girl. Is Ricky a self-centered asshole? He runs into trouble with a tough guy and his boyfriend who ride a motorcycle together. More badly faked rock and roll in a club follows. With Orchidea De Santis, Elga Anderson and more. Edgar Wallace actor Joachim Fuchsbereger also stars. LBX BA
5584 Charles Manson: The Man Who Killed the Sixties (95) Join attorney Vincent Bugliosi and a couple of crazy 'Manson Family' members and do the Manson talk, complete with archive footage. Regardless of the listing on IMDB, this is a 1990's documentary with the likes of hippie 'Wavy Gravy' and others offering their take on the effects Manson had on the changing culture.
5540 Christmas Present (86) aka: Regalo di Natale Poker. Five men sit around the table. An erotically insatiable older man, a bald and pudgy man, a slobby man, a handsome man and finally, a bearded and spectacled fellow. Here this character study from director Pupi Avati plays out intensely as we watch these five men destroy one another with mind games. You may never want to play cards again. Or, hell, maybe you'll learn a new 'winning' technique. Avati implicitly acknowledges that in silence one savors another man's pain, a hidden mute cruelty, maybe in some ways most men (and women) are capable of enjoying another's pain and destruction, finding it secretly enjoyable? Pupi Avati taps into the psyche here. George Eastman ('Anthropophagous' himself!) is one of the guys. The whole film is not only the guys in the room, we see scenes from some of their lives in a dreamy bright light manner. In Italian language and with English subtitles. LBX BA
5492 Criminal Who Stole the Crime, The (69) aka: Zbrodniarz, który ukradl zbrodnie A young blonde woman falls to her doom. A retired Captain discusses the case with a reporter. In a dark sordid world of whores, young men with no jobs, small time con men, drunken women, there are no easy answers. Almost a bit of a documentary feel as we get down to the business of solving the mystery. Polish made noir shot in crisp black and white. LBX and with English subtitles.
5531 Dangerous Cargo (77) aka: Anomalo fortio The crew takes over a huge smuggling vessel, locking up the captain when the crew finds out they are transporting nitroglycerin and enough guns to level a city. Now vulnerable on the ship is the Captain's wife (Deborah Shelton). Drop-Dead Gorgeous. If you want to see Deborah Shelton naked a lot and in sex scenes, then this is the one. The leader tries to rape her. Later she seduces him for a good humping. She'll do what she must to survive. Finally the crew tries to abandon ship when they reach land. Ends with a bang! Shelton is explosive here. Her best? Yes. This Greek film has English subtitles. BA
5574 Death and Glory in Changde (10) aka: Die xue gu cheng WWII horrors as the Chinese battle the attacking Japanese. Not a straight propaganda piece, only hints of Nationalism. This is more about the story of the Chinese soldiers trying to defend the city of Changde from the Japanese invaders. Brutal epic scale war action that goes for the throat, and a bit of drama. Full of brutal cold-blooded killing. In Mandarin with English subtitles. LBX BA
5520 Emergency Squad (73) aka: Squadra volante Tomas Milian plays a tough as nails copper named Ravelli instead of a villain in this one. A violent hold-up in the city leaves a cop dead. Ravelli finds out the same people responsible may be the ones who accidentally killed his wife with a stray bullet during a robbery. Ravelli's only concern is catching or killing them to avenge his wife. Led by their cigar-chomping leader, the gang takes up various disguises to accomplish their criminal schemes. Car chase. shoot-outs, etc. Also with Ray Lovelock and Stefania Casini. With English subtitles. BA
5554 Fist of Justice (95) aka: Ballistic Marjean Holden is Jesse, part of an elite police team, trained in martial arts, and able to handle herself in almost any situation. When assignment goes bad, she soon realizes she has been set up. But why? With the help of her father and her boyfriend, she peels back the layers of corruption that have placed her in such deadly danger. Amazing punch-fighting action with some killer battles including girl-to-girl scrapping when Marjean Holden takes on body builder Ms. Olympia winner Corinna Everson. You'll fall out of your chair. Also with Joel Beeson, Charles Napier and Richard Roundtree. Joel Beeson, a former Chippendale dancer, died mysteriously in a Virginia hospital at age 51 in 2017. BA
5532 Hangup (74) aka: Los Angeles squadra criminale aka: Super Dude The last film from the director of 'True Grit' Henry Hathaway. Here, he makes what seems like a blaxploitation, with a sharper style. I mean he directed 'Kiss of Death' right? A heroic black cop (William Elliot) falls for a soul sister (Marki Bey of 'Sugar Hill') that has been turned into a junkie and forced to be a hooker. The hunt is on for a ruthless pusher/killer. The black/white relationships are dealt with more subtly than usual. Here the cop's black superiors argue for more objective police work (for a change). The tensions and conflicts seems more real, less contrived. LBX BA
5497 Holy Year (76) aka: L'année sainte aka: La gang dell'Anno Santo Master thief Max is patiently waiting his time in prison so he can go claim a sizable amount of hidden gold he has stashed in Italy. But his prison partner can't wait, so they dress as priests and escape. But the plane is hijacked. The terrorists are no match for Max, but the delay has the cops on his tale. Twists, thrills and humor add to the fun. Jean Gabin and more star. In French and with English subtitles. LBX BA
W14 In the Fall of '55, Eden Cried (67) Strange little J.D. film here, looks to be older than the release date indicates. The picture is clumsily narrated for comic effect, ridiculing the characters, who engage in typical for the time, teenage activities like rock and roll dancing, surfer boys and bikini girls, fighting and fu... umm... sex before marriage (nothing explicit), drag races and more. But why did Eden cry? Maybe due to the tragic race car accident? Tom (The Astro- Zombies) Pace and Victor Izay star. BA
5478 Jenny Jenny (66) aka: Tzeni Tzeni Sexy Jenny (Jenny Karezi ) is torn between family and the unfortunate reality of the complicated politics of her 'arranged' marriage, which gets interference with a faux marriage to the political rival of her father. Filmed in the glorious sea and sun of 60's Greece, plays out almost like an American comedy. Except the heroine does not remain a virgin throughout. Color, Greek culture dancing and more. A marriage of Lust? Love? Or Convenience? Or no marriage all? With English subtitles.
5512 Mafia Docks (92) aka: Desperate Lives aka: Il ritmo del silenzio Italian made sleaze and crime! A pissed off boyfriend is after whoever is responsible for the killing of his young girlfriend. Seems she is a casualty of two warring families, fighting over the drug and prostitution trade. Entering this seedy underworld... Crime and hookers with Denise Crosby, Rena Niehaus, Elizabeth Kaitan and Traci Lords. Also with bodybuilder Franco Colombu who drowned in Italy in 2019 at age 78. Rape at gunpoint and a little bit of gore courtesy of Sergio Stivaletti. BA
W9 Marie Chantal contre Dr. Kha (65) aka: Blue Panther Marie-Chantal travels by train to her cousin's place to spend a winter holiday, when a stranger - apparently a fugitive from someone aboard - entrusts her with a jewel in the shape of a tiger with ruby eyes. Unknown to her, these false jewels contain a virus powerful enough to destroy all humankind. Doctor Kha is just one among many spies from different nations trying to get their hands on the tiger, or Marie-Chantal... Colorful French spy spoof now in full frame and English language dubbed version. Also available in a LBX version with English subtitles #G278 BA
5533 Monsters, The (63) aka: I mostri Vittorio Gassman and Ugo Tognazzi star, amongst many others, but these two in most of the segments. The Monsters is a masterly comment on the rot, dignity, suffering, forbidden pleasures and good and evil at the heart of society. Sounds serious, but this is a comedy! Michele Mercier, Daniele Vargas.... more. This is a film for people with short attention spans. Each part starts and is over in under 10 minutes. Satire of the early 1960's told in 19 episodes. It's like watching 19 movies in 2 hours! Runs just over 2 hours by the way. In Italian language and with English subtitles. LBX BA
5470 Murder in Africa (87) aka: Kunyonga Mord in Afrika aka: Black Buster Complications arise when a tabloid reporter arrives in Kenya to help set a man free who is being held for murder. Not a safe place to do any kind of business, Africa. We get an air balloon with riders that gets machine-gunned out of the sky, pretty Julia Kent as Rita (and a few more hot dames), many city locations and also jungle adventure with elephants and water buffalo. a battle inside a plane as it takes off... and finally the solution to the mystery. Ron Williams also stars. Hubert Frank's last directed film. Quality a bit softer than usual. BA
5568 Murderers Among Us: The Simon Wiesenthal Story (89) aka: Recht, nicht Rache A biographical portrayal of Simon Wiesenthal the famous Nazi hunter. From the beginning of the film where he is liberated from a Nazi death camp, to his rise to becoming one of the most celebrated Jewish men of the world bringing some of the most evil Nazi's to justice and their deserved fate. He had cheated death several times, now we know there was a decided fate, a purpose for Wiesenthal to carry out, though it came with a personal cost. He lived to be 96. This is the uncut version told in two parts on one dvd (no VHS).
W40 Nothing But Blondes (57) aka: Blonde in Bondage aka: F.B.I. New York intercetta Stoccolma A reporter goes to Sweden and meets a strange man and his sexy young blonde female friend, who has a semi-strip act as a means of income. Turns out the man keeps her injected with morphine so he can control her. The reporter learns this is regular protocol in this part of Sweden, thuggish mobsters keeping the kittens subjugated with the needle, using them as prostitutes and whatever else they can get. He finds himself in the center of the 'debauchery' in a bar called 'The Golden Calf'. Swedish noir with a side dish of sleaze. Many pretty girls. Look for Anita Strindberg in her debut as a telephone operator. BA
5596 Nudity Required (90) aka: Young Starlet Fake movie producers set up for auditions in a brazen pervy attempt to meet women and get laid. Why didn't I think of that Harvey? There will be contenders, and lots of skin. The auditions finally begin. Julie Newmar, looking swell in spandex, has a prominent role. The guy's are naked together in a large bubble bath. But where are the girls? Should I question their real proclivities? Finally the girls arrive. They were worth the wait. These hot babes cannot wait to get their hooters out and show their wares. God help me. Mindi Miller, Pamela Bach, Misty Regan, Gail Thackray, Debi Diamond, Becky LeBeau.. the boys find themselves in paradise. Yes, a few porn stars have cameos if you noticed the names. I'm fine with that.
W21 Of One Blood (44) Negro Youth Runs Wild! Two orphaned black brothers find out that an old friend is now the leader of a criminal gang who kidnaps the daughter of a local black leader to force him to lay off their case. You see them young as children, what they go through, into young adulthood. Some black slang and some dancing in 10 minutes or so, give an authentic flavor to the times. Interestingly, this film also deals a little with race relations, and how individuals must be held accountable for their own actions, not blaming them on others. Written and directed by Spencer Williams who went on to fame in the excellent 'The Amos 'n Andy' show.
5595 Off the Wall (83) aka: Canyon Prison Two young hitch-hikers are picked up by a speed crazy young woman named Pam Smith (played by Rosanna Arquette). She speeds the car into a small town with the cops on their tail and creates pandemonium. When she wrecks the car, she escapes and leaves the young men in the car. The judge throws the book at them. Paul Sorvino runs the prison. As the boys adjust to prison life and have madcap adventures behind bars, Pam is plotting to spring them. Boxing brawl prison style, in the ring, finds one of our heroes in a smack-down with Professor Toru Tanaka! Pam lands in a helicopter... Off the wall comedy with Russell Johnson, Mickey Gilley, Patrick Cassidy and more. BA
5514 Operation White Shark (66) aka: A.D.3 operazione squalo bianco Secret Agent AD3 (Rod Dana) looks for a kidnapped scientist and comes across a criminal organization known as 'The Third Eye'. One of the rival gangs is headed by Janine Reynaud (as 'Freda') who belts out a heavily over-dubbed rock tune in a club with a cool band behind her. Underwater photography, underground cavern suspense, shoot-outs on the seas, hand to hand combat on the beach and a trio of knife throwing women in black tights. Nice LBX and English dubbed BA
5535 Phantom of Morrisville (65) aka: Fantom Morrisvillu Czech made parody of cheap crime mystery tales (krimi?) partially taking place in an old gothic mansion filled with typical pulp fiction characters, some being grotesque, others simply ridiculous. Villains, dark secrets revealed, a Swami with a bed of nails, a guitar strumming troubadour lover type (but is that a cover?), a lurking luridly masked phantom in underground catacombs, tigers and more. In Czech and with English subtitles.
5559 Rebellion (11) aka: L'ordre et la morale Dramatization portrays the events on a forgotten island in May of 1988. The famous and bloody affair of the Ouvea cave where the French army elite troops annihilated the local rebels known as the 'Kanacks' who had unwisely taken a bunch of soldiers as hostages, in open rebellion to French rule. This movie is a fist to the face, A kick in the gut. And will make you hate the (many times) 'unsound' decisions that some people in charge make, and then demand the enforcement of by (sometimes) smarter men who know better but are under orders. The French flexed their muscles and slaughtered/martyred many of the Kanacks because they would not fall in line with being subjugated. Was it justified? You be the judge. I wasn't there. The finale is a nail-biting intense battle. Google it. LBX with English subs BA
5589 Shogun's Ninja (83) Excellent action! Two warring ninja clans have left piles of dead over decades of battle. In the middle of the 16th century, Hideyoshi, a power hungry warlord, sets out to destroy the Momochi clan. He sends his war commander in the search of the clan's hidden gold only to find two daggers are the key to finding it. The quest for the missing daggers over time takes Shiranui through war and ancient tradition! With Sonny Chiba! BA
W44 Shogun's Shadow (89) aka: Der Schatten des Shogun aka: Shôgun Iemitsu no ranshin - Gekitotsu A child is about to become the heir of the next shogun. But the villains want his older brother to take power. He has to be at a certain temple at a certain time. The journey will be treacherous, and full of action! Sword-fighters will jump from trees 100 feet up, sword-slashing ronin, epic standoffs... Hell of an action picture with an interesting soundtrack. Sonny Chiba and Ken Ogata star. With English subtitles. BA
5469 Silver Spoon Set (60) aka: I Delfini A writer ponders, and then narrates us into the story. It's about a Royal family, the 'Dauphins', who are above all the rest of the people in the town, because of their wealth and beauty. The main male Alberto (a young Tomas Milian) goes one from party and love affair after another. Fedora (Claudia Cardinale) is a working-class girl who wishes to be part of the Dauphin family, dreaming of their privileged existence. She uses a doctor to get into a Dauphin party. Alberto sweeps her off her feet, introducing her into the world of sports cars and illicit sex. Peyton Place, Italian style. LBX and in Italian language only BA
5552 Skip Tracer (77) aka: Deadly Business Canadian 'Repo Man' but not very similar to that later film. David Peterson is John Collins, a hard-nosed skip tracer (you know, a repo man) who develops a conscience after years of successful cold-hearted work. Of course, someone had to do it. But what a shitty job. He begins a journey of moral redemption as his self doubt and guilt increases, after he gets his ass beat by a client. Meanwhile, his raw, rookie sidekick is on the rise. This is a study into power, developing into empathy and ultimately, redemption. Sadly overlooked, a startling good film from Canada.
5504 Slut Society (78) Depiction of an idealistic worker's downfall in a world of drug abuse, leftist public protests and whorish women. Young worker Paul meets socialist Michela at a protest. In between protests, Michela makes porno films for the mob, and takes a bath with her prostitute girlfriend (ugh, rinse the tub!). Paul begins smoking weed, reading Lenin and hanging with radicals. He blows off his 'capitalist' job. Protests turn to riots. The cops move in. Now what? In Italian language and with English subtitles.
5522 Symphony for a Massacre (63) aka: Symphonie pour un massacre aka: The Corrupt Five men collaborate to buy drugs, but one steals the money and all the rest are killed as they make mistakes. Listed previously as Z360 in a LBX subtitled version. This is the same film except in an English language dubbed version, still LBX. BA
5538 Target Frankie (67) aka: Feuer frei auf Frankie aka: Misión en Ginebra When an international scientist discovers a new fuel for outer space, he is murdered by a criminal organization. An easy-going playboy super-agent look-a-like is employed to appear as the scientist's assistant brother. He allows himself to be captured so he can infiltrate their operation. After many car chases and action sequences he starts to make away with the stolen plans.... Gadgets, strange artifacts, simple helicopters, explosive women.... here we have another Euro-Spy film I had never seen. Colorful photography and a great cast that includes Joachim Fuchsberger, Erika Blanc, Rik Battaglia, Rosalba Neri, Karin Field and more. In German language with English subtitles and uncut composite from various sources. LBX BA
5505 Travel Girl Travel You Have Music in Your Veins (73) aka: Viaggia, ragazza, viaggia, hai la musica nelle vene aka: La musica nelle vene From the director of 'Vengeance is a Dish Served Cold' and 'Violent Naples' Pasquale Squitieri! Nice fun downbeat portrait of a woman (played effectively here by Victoria Vinney) on the search for her husband after he runs off after 16 years of marriage. She finds a world of sordid perversions instead loaded with drugs and sex. She shoots dope into her upper thigh, ripping her hose to get access. She lets guys bang her up against a wall, desperate for cash to get her fix. The men are all sadistic cruel slime balls. Her downfall is riveting, depressing and dark. Take a drink every time somebody calls her a 'bitch' or a 'whore'. Begging on her knees for drugs? Yes. Boom. With English subtitles. BA
5558 Tully (75) Australian MFTV which stars Anthony Valentine as Tully, an opportunistic bounty hunter, Here he goes to Australia with a beautiful insurance agent (Barbara Nielsen) to recover some millions in art objects stolen by a performing theater group while in London. A colorful outing with interesting locations. Valentine would have a role in Hammer's 'To the Devil a Daughter' the following year.
5453 Turning, The (92) aka: Pocahontas, Virginia Notable for being the film debut of Gillian Anderson and her notorious semi-nude scene. She has a very limited role in the actual film. A disturbed young man with a white supremacist bent, returns to his rural home to help his parents hopefully patch up their family problems. Where has he been for the last 4 years? Why, living with Neo-Nazis, that's where! A series of soul searching and redneck confrontations in the Virginia scenery ensues. Karen Allen, Raymond J. Barry and more star.
W38 Unmarried Women (53) Irene has a one night stand on a blanket in the woods with a man she is attracted to. Wakes up in the morning alone on the blanket. Wham Bam. Later Irene finds out she is pregnant. He told her he was a doctor, so she goes about looking in hospitals, asking around... no luck. Irene finds herself in a special home for expectant unmarried mothers where she learns that the good doctor who knocked her up, knows many of the women here. Several sexy subplots include the behaviors from some of the girls that got them into this jam in the first place! Sometimes erotic Swedish drama with English subtitles.
5468 Venus the Ninja (82) aka: Wolf Devil Woman 2 aka: Jin fen you long aka: Matching Escort A prince (Fei Meng) wants to marry a commoner, but that's a major no-no in feudal China. When the girl's parents are brutally murdered, however, a kung fu master known as the Silver Fox takes the girl under his wing and teaches her some choice killing techniques. Soon, the girl learns that the prince is being threatened by the same marauders who killed her parents. Now, it's time for revenge! English language dub version
W41 White Beast (50) aka: Shiroi yajû Yamamura leads an institute (women's prison?) full of disturbed reforming prostitutes, some who carry the dreaded 'White Beast' which is also known as syphilis! The film supports the notion that sin arises from error, rather than nature. The women seem to be sewing, a form of rehab... okay. Watch at how the main female character reacts when she realizes she is infected with syphilis. Part exploitation, part maybe some kind of social message, although maybe not... Catfights, slutty actions, lecturing, heavy guilt trips, unwanted pregnancies and more. BA
5461 Will Our Hero Manage to Find the Biggest Diamond? (71) aka: Riuscirà il nostro eroe a ritrovare il più grande diamante del mondo? Ray Danton is Jimmy Logan, a detective who is trying to retrieve the British Crown diamond that has been stolen by the traitorous chief of the English Secret Service. Adventures with a comedic bent in Monte Carlo, Beirut ... Hamburg... on he goes, eventually finding the villain's headquarters in a metal hospital. Some hilarious colorful slap-stick in this, including some (harmless) black face Jimmy employs to fool his way along. Don't forget the women! Dishy Agnes Spaak, pouty Pamela Tudor, luscious Luciana Gilli and mmm mmm good Monica Pardo. In Italian language only and no subtitles. Ray Danton directed the Robert Quarry cult hippie vampire film 'Death Master' and 'Crypt of the Living Dead'. He died of kidney failure in 1992 at age 60. BA
5506 You Only Die Once (67) aka: Si muore solo una volta Mike Gold (Ray Danton) is actively pursuing a group of terrorists responsible for the murder of his partner. Femme Fatale Jane (Silvia Solar) suckers him with the helpless female act in Beirut when he starts getting close to the bad guys. But the story swiftly cruises along and there are some nice twists and turns amidst the action which includes one humdinger of a car chase. The title, obviously a rip on Bond, gives you an idea of what is in store. Probably 10 or 15 of these could have been made for the budget used for the actual Bond film with the similar title. Rarest of the Eurospy? Pamela Tudor, Rossella Bergamonti, Mirella Pamphili and more star. LBX and with English subtitles. BA

MODERATE AND MADE FOR TV FILMS
W26 Drauga Saga (85) aka: Draugasaga aka: Ghost Story Spook show from Iceland! A young medical student takes a job as a night watchman. The place is a large TV broadcasting studio that many believe to be haunted by a red-haired female ghost. The other older night watchman warns him, and explains the job before leaving him to it. At night, on the job, he and the makeup girl dress up. She as the red-haired woman, he as a vampire man. They walk the halls with a candelabrum, toying with the supernatural. Later naked, we know they are into each other. He falls asleep, she hears something. A flashback to the 1940's with the red-haired woman and her lover. Another night the red-haired woman goes after the older watchman with a sledgehammer. The medical student has gone mad, and using what he learned by makeup girl, he makes himself up in drag like the red-haired woman. He's become a deranged transvestite! But the ghost? A jolting finale that will have you jumping out of your chair before the ending revelation. With English subtitles.
5511 Ghost of the Hunchback (65) aka: House of Terrors aka: Kaidan semushi otoko aka: Il pozzo di Satana A hunchbacked caretaker presides over a forlorn mansion inhabited by the ghosts of his previous masters. An unbelieving trio (a doctor, his assistant and his niece) fail to heed the caretaker's warnings and are slaughtered horribly by the jealous occupants... Already listed but this time the complete 81 minute version. The last one #B846 was 78 minutes. Not sure of the differences, but this is a crisp black and white LBX with English subtitles. BA
5626 Snowblind (78) aka: Ski Lift to Death Trying to match make for a couple of ski champions, a sports promoter gets trapped in a derailed ski lift car, along with a gangster and a hit man sent to kill him. Hot shot skier Mike Sloan (Don Johnson) ends up saving the day.. or does he? Filmed in a National Park in Canada, the locations can be breath-taking. And as far as MFTV disaster films go, this one delivers the suspense, and the stars. Veronica Hamel, Deborah Raffin, Clu Gulager, Gail Strickland and more star. I love the snowbound locations, hitting on women in the lodge bar, the music, the dancing.....
5451 Thrill Killers, The (64) aka: The Maniacs Are Loose! Three psychotic murderers escape from a mental institution and stalk women in Los Angeles. An axe-wielding maniac, a pretty hilarious decapitation and a frantic feel that is similar to 'The Sadist'. A dark affair but exciting and over-the-top. 'I Hate People!' 'I'm Going to Kill You!". Liz Renay, Gary Kent. Carolyn Brandt and look for an Arch Hall Sr. cameo. Pioneering example of shock cinema from Ray Dennis Steckler (using his 'Cash Flag' pseudonym, he even plays one of the psychos). BA
5452 Twisted Nightmare (82/87) aka: Ancient Evil aka: Reise ins Grauen Filmed in 1982, released in 1987. First an opening that takes place in the distant past on this site where an Indian Witch Doctor is burned at the stake by cavalry troops. The Present: A free weekend getaway at Camp Paradise turns deadly for a group of young adults. The camp was built on an Indian burial ground. You know. A retarded guy was burned alive in the barn two years ago. The young adults have all been here before. Time to have Sex and Die! Enough bloody (and painful looking) creative kills and female nudity to satisfy slasher fans (um, that includes me!). Filmed at the same site where they filmed the 3rd 'Friday the 13th' film. BA
W24 Writer's Gold (various) The Pit (62) Edgar Allen Poe's 'Pit and the Pendulum' was nothing like the Vincent Price film. This short does it justice (although the Price film is great in other ways). Dialogue free atmosphere of dread as a prisoner is condemned by monks in black to the tortures of the damned. A masterpiece that runs under a half hour. + The House Nobody Wanted (53) From a story by Frederic ('Bird with the Crystal Plumage') Brown, who also authored a lot of science fiction. Newlyweds get a deal on a house where a murder was committed. Things go bad fast. + The Lottery (69) Great short of Shirley Jackson's short story about a small American town that has a tradition not unlike 'The Wicker Man' situation, but even more violent. They showed this in school to students in the 1970's. Some glitches in the film print. + Long, Long Ago (54) More spooky fun from a story by August Derleth. It's a ghost story and deals with an 8 year old boy that hears a voice from beyond in the new house the family has moved into.
MONDO FILMS
5471 Eyes, The (98) aka: The Eyes-The Hunt Has Begun A teacher shows his class of adults a map of some remote jungle region. Then they travel there in a travel van that holds eleven people. They reach rough terrain, get out and begin to walk through the wilderness area, arriving at a raft that carries them to the other side of a river. Locals survive and thrive in large huts and tree houses. They visit. Later around the fire, one of the men sees a woman in white in the dark. He also sees a wild man. In the night, a man is lured out (through supernatural means?) and assaulted by one of the women. She drinks his blood as he kicks and struggles. Then she morphs into the previous women in white! Strange tribal rituals, jungle cops, and the shaman that must vanquish the evil. F.L.
5587 Jungle Virgin Force (88) aka: Perawan Rimba An expedition into south east Asia searching for treasure turns into a journey into adventure, kung fu Indonesian styled horror, and real jungle locations. They run into cannibals in a lethal jungle on a remote island who are fighting over leadership. A funky-thumping score, over-the-top fights with exaggerated sound effects, pit of spikes, skewered by spears, hot pants females, beautiful jungle babe queen (Lydia Kandou) and cheesy special effects all add up to a good time! Dubbed into English
W28 Masters of the Congo Jungle (58) aka: Les seigneurs de la forêt Man and beast struggle to survive in the Belgian Congo, sometimes horrifically. Scenes of unique behavior on display throughout in a remote area with some of the last tribes untouched by the modern world. I would say for the most part this one pulls back a bit and tries to be serious-minded, respectful even, to the region and the many inhabitants, man and beast, who dwell there. Orson Welles voices the sturdy narration as we witness the horrors of this culture and celebrate our place on the couch as we eat our steaks and drink our ice cold beer. Savage. BA
5465 Moja Luda Glava (71) A Yugoslavian farce/spoof of the James Bond movies and a little bit of the then recent 'Dirty Harry' maybe (this is the same year). A young inspector with a bad reputation goes after the bad guys and pulls out all the stops, legal or not, to deal them his brand of justice. It's a comedy! It's a crime film! It's one-of-a-kind! F.L.
5606 Pontianak vs. Orang Minyak (12) aka: Ponti vs. Omi A nervous groom throws a fit before the wedding when he sees his woman with her ex-husband. In montage, he cries. Hilarious! Then to Karaoke bar. Later he is on the brink of suicide when 'The Black Figure' arrives. A 'Wishmaster' type. He is there to grant wishes. The Black Figure turns him into a black man. They call it 'Oily Man'. Meanwhile in the forest, a Vampire Queen. Oily Man gets wild in the forest with hot gals and flying vampires. Lots of Malaysian's in black face and body, no memo from Unites States to scold them. Wild and wacky LBX and with English subtitles.
W11 Samarang (33) aka: Shark Woman Indonesia. Ahmang joins others on a small ship to go diving for pearls. Bravely they land on the cannibal island to replenish their water supply. A tiger runs by, a large snake appears to threaten, a baby elephant, an orangutan, komodo dragons and more! Also, the battle of an octopus and a shark! And a shark kills Ko-Hai! Later, woman vs. shark! Malaysian filmed part documentary in a way, but a full story, utilizing the local talent, and also with gratuitous shots of topless native women. Meant to educate? Okay. The female lead spends most of the picture topless, and these are firm and supple, nothing like the 'to-the- waist' droopy boobs from old copies of National Geographic! With English translations to explain the story. Cool.
5588 Warrior and the Blind Swordsman (83) aka: Si Buta Lawan Jaka Sembung More Barry Prima. Saw an interview with him once. He seemed very angry. Prima was like Jackie Chan mixed with Rambo. You'd know if you saw him. This one has almost non-stop action. These warrior films are some of his best. Cultural fantasy insanity includes.... a severed human head turns into a goat, invisible people fight, magic bolts that burn, battle packed sequences with explosions, bad women that explode in mid-flight, three heads fly off in unison, horny women... I could go on. But where did Barry Prima go? Nowhere, he is still in Indonesia. Madness dubbed into English language BA
5620 Warrior and the Ninja (85) aka: Warrior III aka: Jaka Sembung & Bergola Ijo Barry Prima returns as Jaka Sembung in the end of the trilogy and once again we are entertained with an impressive combination of martial arts action and black magic weirdness. Here Jaka teams up with a female ninja to take action against the Dutch oppressors. Scene after scene of white knuckled kung-fu action! Jaka almost gets sliced in half in a torture chamber. The villains are especially vicious. One character, after praying inside a volcano for years, emerges as an unstoppable man of iron! The finale is outrageous, and gory even! Not to be missed! Don't get angry with me Barry!

NUNS
5501 Nun and the Devil, The (73) aka: Le monache di Sant'Arcangelo Kingdom of Nipples 1577 (uh... err Naples): Sister Giulia (Anne Heywood), pretending to save the Mother Supreme from her sickness, is secretly trying to kill her and take over her role. The Cardinal suspects something isn't quite right here, and raids the cloister, persecuting the accused. Her lesbian lover also wants the gig, and she plots to frame her with her by catching her with her boyfriend (surprise, bisexual). Ornella Muti is here as well, sent to the convent to dissuade her from her carnal nature. Set during the Roman Inquisition. Corruption, cruelty, torture, nudity... some meet a just fate, while others equally evil, get away with it. More serious than some of the more exploitative nun excursions, authentic locations and structures, impressive costume design. LBX and uncut at 1 hour and 43 minutes. English language Upgrade! BA
PROPAGANDA FILMS
W15 Narcotics Story, The (58) aka: Goofballs and Tea In this new world where many of our rulers encourage the general public to be drug-addled so they are easier to control, a film like this could only be labeled as propaganda. Because drugs are good for you, right? Set in a small town in the 1950's, a real culture shock for how things are today. We get a lesson on reefer, plenty of underworld jargon, lots of misinformation, I mean there is a middle-ground somewhere, but not here. The girl starts with weed, moves on to hard stuff, then the pains of withdrawal. It's a police training film, a precursor to 'Dragnet' with narration from a more serious sounding Jack Webb kind of voice. More serious. Considered hard-hitting and intense in 1958. With drug-injection zones being debated and some even open for use these days in the U.S.A., I think we know how this drug war ended. Surrender. Oh, and pass the bong. BA
W39 Red Hell (62) aka: Two Before Zero Docu-drama time capsule of a film, that manages to be very relevant today in the early months of America's 2020. Set in a netherworld, 'survivors' discuss the horrors of communism, and we even get to see the aftermath of such a venture with stock footage repercussions of communism. Basil Rathbone, stands authoritatively, speaking, indeed. lecturing, warning of the Red Scare. It's all pretty heavy-handed, but on a historical level the Bay of Pigs/Cuba Missile Crisis/Berlin Wall were all happening in real time. So if you can put yourself back about 60 years, it makes sense! Not only that but we are literally teetering on the edge of socialism/communism in America... Be careful what you wish for.

SOUTH OF THE BORDER
5490 Blue Demon (65) aka: Demonio azul Blue Demon in his first starring role! A mad scientist who turns himself into a werewolf and his brutal henchman are challenged by our hero and professor assistant. Drenched in classic black and white atmosphere. The werewolf is at large in the opening sequence, attacking a couple in the woods, killing the man and chasing the woman, then killing her as well. Nice. Cobwebbed castle, full moon, and a kind of Lon Chaney Jr. styled werewolf. And of course, Blue Demon gets some time in the ring, before the final smack down with the werewolf in the forest. With English subtitles. BA
5493 Crying Woman, The (60) aka: La Llorona The tale of the 'bad' mother, a woman who betrayed her people by becoming the mistress of a conquistador, and she kills the children she has with him. Set in contemporary Mexico in 1960, we see the centuries old tale in flashback. Reincarnated, she has returned to kill the first born of a descendant who punished her in the past. Spooky atmosphere. This Spanish language version of 'The Crying Woman' is longer than the English dubbed version. In Spanish with English subtitles, alternate version. BA
5592 Enemigos (56) aka: Los valientes de Jalisco Martin (Victor Parra) takes his girlfriend Chabela (Linda Cristel) away to his house (by donkey!) to use her by having her take care of his ailing father. Martin later shoots her brother. Martin plans to marry but not to Chabela! He wants his brother's fiancé for himself! When a fire kills his father, Martin blames Chabela and beats her up. She cannot get any respect! Then he goes to his brother's wedding and demands his brother's woman to leave with him! Yes, Martin is an asshole! Londa Cristel would go on to some good roles like working with Charles Bronson as his love interest in 'Mr. Majestyk' and from 1967-1971, 96 episodes of 'The High Chaparral' with Cameron Mitchell. F.L. In Spanish- no subtitles
5591 Remolino (61) Silvia (Sonia Furio) with her older man Don Francisco (Jose Elias Moreno) arrive at the estate of Juan Antonio (Luis Aguilar). Juan sings and rides a horse at a celebration gathering. Silvia aches for him, lusts for him, and gets him to bed when Don Francisco is away. Lupiat is Juan's woman, and he feels guilty. Later Silvia seduces a young Jose (Augustin de Anda, who was shot and killed in Mexico before this was released) after she almost drowns. Nice color! A wise old lady is on to Silvia's wicked ways. Juan is trying to leave and Silvia frames him for rape. Finally, confronted by all she has wronged, they lead her to the pigs, and toss her into the muddy pen with them. Nice. Many of the Mexican actors were featured in good films. Jose Elias Moreno had practically just finished his gig as Dr Krall in 'Night of the Bloody Apes' before a road accident in Mexico in July 1969 took his life at age 58. Both of the female leads would turn up in a Santo movie. In Spanish and with no subtitles.
5590 Se La Llevo el Remington (48) It's a gathering. One man holds his cock as he sings. Other men also hold their cocks. One man pulls his cock forward facing the other man, who does the same. Then they toss their cocks on the ground. Now that's a cockfight. It's over quick, and the wounded one is shot quickly, with a smile. The audience is thrilled. Especially the lead actress, who later goes to a fortune teller, who tells her of trouble ahead. Card games, a shooting the revenge leads to a showdown with a man that is hard to kill. Enchilado Sombrero Tango with a side of tacos and burritos. F.L.
WESTERNS
W47 Call of the Wild, The (72) Much better than the recent Harrison Ford cartoon. This is the real deal, filmed in Norway! Such an odd mix. Charlton Heston, Raimund Harmstorf and George Eastman in the same film! Harry Alan Towers involvement! As close to a Heston spaghetti as you are ever going to get. He hated it, and complained about his involvement later. That makes it even better! You could do a lot worse with Jack London's classic. This is pretty uplifting and ultimately downbeat and heartbreaking. Plus a real dog, not a computer generated cartoon. Excellent location filming. Michele Mercier and Maria Rohm also star. Excellent depiction of the Great Gold Rush and the Perils of Adventure! BA
5498 In the Dust of the Sun (72) aka: Dans la poussière du soleil aka: Il sole nella polvere Hamlet done as a western. Sort of. It's dry and dusty this town of San Angelo. Joe Bradford kills his brother and marries his brother's widow Gertie (Maria Schell). Gertie's son Hawk (Daniel Beretta) smells a rat, and plans his next move. Splashes of Shakespeare fit perfectly into the western protocols here. Perla Cristal appears as a saloon owner. A very natural and realistic feel in this one, with a classic finale. Finally uncut with nudity and no subs! BA
5571 Two Guns and a Badge (54) Wayne Morris stars as an outlaw (fresh out of prison after serving time for a robbery) mistaken for a gunman and made a deputy by the sheriff (Morris Ankrum). What the hell he goes for it. Cleaning up a nest of villains, he likes this feeling, and becomes a changed man. Decent old western in a scratchy old print. Wayne Morris died at age 45 of a massive heart attack in 1959. His co-star in this, the Roger Corman gal Beverly Garland, died in 2008 at age 82 in Hollywood.

WIP
5579 Randale (83) aka: Girl's Riot aka: Randale: Junge Mädchen hinter Gittern Rare German girl's reform school thriller drama dubbed into English. When a new tutor arrives she is introduced to the girls, who all seem to have problems. The people in charge want to drug the girls into compliance of good behavior. The new tutor objects. She is overruled. Wrist slashing, awkward visits, breakouts, nasty talking teens, catfights, dances, fireworks, at the beach, death... amazingly well dubbed. But I did not see an actual riot. Uncut
---
---