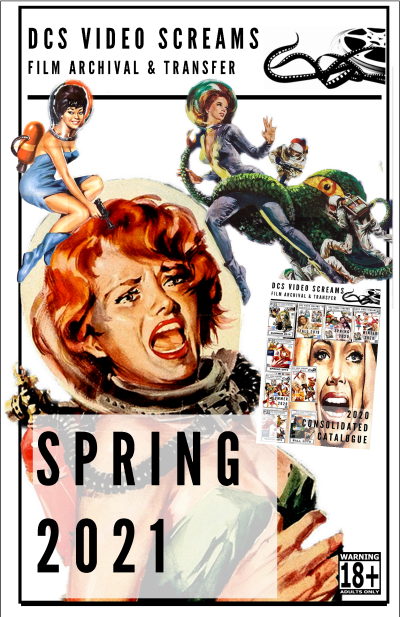 SPRING 2021 UPDATE
---
BA= Color Box Art Available for an additional $3.00
FL= Film is in Foreign Language
Lbx= Letterboxed or Widescreen format
Subs= Film is subtitled
aka= Also Known As (alternate titles)
---
22860000
22860000
(`@`````````
266
263
5
110185200
110185200
APOCALYPTIC FILMS
6708 Terminus (87) Another alternate version! This time Uncut at 1 hour and 55 minutes and Widescreen! The international sport of the jaded future is to observe a computerized truck, driven by a chosen driver, cross country to a designated terminus. Things go way off course. A dystopia where control is all. A young boy, bred for the future perfection of the species (and the weeding out of 'human' characteristics) is the genius programming the computerized truck named 'Monster' who guides a tough ass named Gus (played convincingly by Karen Allen) as she tries to make it to the end of the line. What happens to her may surprise you. Johnny Hallyday in white hairdo an anti-hero fighting not only the system but the powerful denizens of the outside world (looks like Eastern Europe) in whose territory the truck-driving game is being played. Free-thinking is not allowed. A message is given that free-thinking, hope and love, is the greatest threat to the corrupt government's power. Mix Blade Runner with Mad Max, a few others. Jurgen Prochnow has three roles. The other print we have of this is the U.K. cut, 80 minutes. Now with 35 more minutes of footage, you will understand this movie! English language dubbed and also Widescreen. BA

BIKERS, BITCHES AND BABES
Q869 Golden Lady, The (79) aka: Los ángeles de fuego Some sort of 'Charlie's Angels'/'James Bond' hybrid from a U.K./Hong Kong collaboration starring Ina Skriver (she's Danish, so billed here as 'Christina World') as Julia Hemmingway. Julia, along with her elite (ahem) group of three other female mercenaries (nice) are hired to screw up a deal between an oil sheik and another corporation. Industrial spies for hire who will spy, seduce, steal... and kill when they are betrayed by the men that have hired them. The music is catchy, the girls are steamy, sex and violent murders... and a blink and you'll miss it cameo from Desmond Llewelyn, presumably to tie in with the James Bond theme. Interestingly the eccentric (narcissistic ?) Skriver insisted on her pseudonym Christina World, so she could be known as 'Miss World'! BA
F604 Seven Black Heroines (82) aka: Golden Queen's Commando aka: Hong fen bing tuan - Women with various skills are thrown into prison in WW2, escape, and then make it their mission to destroy a chemical lab in a well fortified valley. It's a female 'Dirty Dozen' rip-off made in Taiwan! Fun, cheesy, bloody, music ripped from other movies (Morricone westerns). The movie comes alive this time with the English language dubbing! Join Black Fox, a warrior woman amazon, gambler and sharp shooting Black Cat, drunken swordswoman Brandy, murderous prostitute Sugar Plum, cat burglar Quicksilver and explosives expert Dynamite Sally. Seven women, spectacularly English dubbed, who are not going to take it anymore. Better than any Marvel film. Slightly LBX (there are foreign subtitles, but the movie is English dubbed). BA
6790 Seven Black Heroines (82) aka: Golden Queen's Commando aka: Hong fen bing tuan - Alternate version of the film here in a full frame and no subtitles at all + still English language dubbed. BA
CLASSIC HORROR AND SCI-FI FILMS
W105 Amazing Exploits of the Clutching Hand, The (36) A formula for synthetic gold? The International Research Center agrees to finance the development. Now the genius with the idea has been disappeared. A newspaper reporter, and the inventor's doctor, team up to find him. The Clutching Hand is the crime organization behind everything. Feature version of the 1935 serial. BA
W110 House of Secrets, The (36) An American inherits a house in the U.K. and off he goes to claim it. There, he is set upon by dogs, and finds an angry groundskeeper with a gun. There are people living on the estate, interlopers all, and they run him off. He also uncovers a whole lot of secrets. Gangsters, a cackling lunatic or two... but ultimately more of a farce than a horror. Why is everybody so interested in the house? Pirate treasure! Upgrade! BA
W134 Little Lord Fauntleroy (36) A Brooklyn boy is the sole heir to the Earl of Dorincourt fortune and land. To England he goes where his grandfather (who hates Americans) is ailing, but Little Lord Fauntleroy is his last living relative. A vintage adaptation of the famous novel with a score by Max (King Kong) Steiner. BA
W109 Sexton Blake and the Hooded Terror (38) The leading lady is Greta Gynt, who played against Bela Lugosi in 'Dark Eyes of London'. This time she is menaced by Todd Slaughter, and entrapped in his house of horrors where there is plenty to enjoy for classic horror fans. Sexton Blake is a pulp fiction detective low-rent Sherlock Holmes rip-off, but no matter. A Secret Crime Organization is up to no good under the guidance of their evil leader 'The Snake'. Watch out for the room of death!

DINOSAURS, LOST LANDS, SWORD AND SANDAL, PEPLUM AND FANTASY FILMS
W108 Bacchantes, The (61) aka: Le baccanti Greek tragedy almost impossible to film, but director Giorgio Ferroni gave it an ambitious go! The god Dionysus (Pierre Brice) comes to Thebes, home of his late 'mortal' mother. To ward off a drought, young King Pentheus (Alberto Lupo) is willing to sacrifice the virgin Manto (Alessandra Panaro) to the god Demeter. Dionysus demands to be worshiped instead. Pentheus spurns him, but Dionysus wins over the people with gifts and magical wine. He also wins the affections of Dirce (Taina Elg). Location shooting in Greece, colorful panoramic exteriors, exquisite costumes and authentic looking sets. Quite the spectacle, even though theatrically played, this would make it better than any stage adaptation. Simply because the sets are so amazing, and this could never be duplicated on any one stage. Also with Akim Tamiroff. LBX and English language. BA
W112 Big Mess Among the Stars, A (71) aka: Der große Verhau Outer space 2034 is run by a failed bureaucracy and greedy powerful corporations who are trying to buy up the galaxies. It's a big mess. Enter two idiot (yet enterprising) astronauts, whose ambitions are to take full advantage of the chaos. Rebel fleets try to steer clear. Influencer on the psyche of George Lucas perhaps? The special effects are effective, including animation, fleets of ships, bold and unusual color schemes, insane miniatures sort of like 'Flesh Gordon' (without the sexual innuendos), model spaceships etc. Looks to be influenced by 60's sci-fi counter culture types. Perry Rhodan, Fritz Lang and (further back) Flash Gordon. Eat your heart out Star Wars. German language with English subtitles.
6691 Charge of the Black Lancers (62) aka: Les lanciers noirs aka: I lancieri neri Lavish large budget Italian made swashbuckling spectacle with imported American star Mel Ferrer as one of battling brothers setting the world on fire with their vendetta which can only end in the death of one of them. And in the meantime his romancing of Yvonne (The Mummy) Furneaux. His evil brother joins forces with the dreaded Tartars and the invasion begins. Fantastic and Widescreen, Dubbed into English. This is simply the most fantastic print of this film out there, the Widescreen allows you to see all of the actors, and all of the action, that the full frame version drastically splices out. The colors remind of a Bava Viking film. BA
W111 Dead Mountaineer's Hotel, The (79) aka: 'Hukkunud Alpinisti' hotell Inspector Glebsky arrives at the small resort in a secluded mountain valley located in the Alps to investigate a murder. He meets some bizarre hotel guests at the 'Dead Mountaineer's Hotel'. Then, an avalanche blocks all entrances to the valley, and a man is found dead. Enter 'Lell' a friendly St. Bernard. Lell sleeps below a portrait of his dead master. What a pup! Glebsky soon realizes that the people may not be who they say they are. Somehow the filmmakers manage to make the hotel seem huge. The claustrophobia is intense, the feel of Glebsky being followed everywhere he goes, a mystery that you may solve if you see this picture. Based on a science fiction novel. The colors are sharp and numerous, almost like a Bava or an Argento influenced perhaps? A Russian film with English subtitles. BA
W121 Executioner of Venice, The (63) aka: Il boia di Venezia aka: Blood of the Executioner Sandrigo (Lex Barker) in Venice during the Inquisition, is falsely accused of treason by the wicked Grand Inquisitor Rodrigo (Guy Madison), who goes after his beautiful woman as well (Alessandro Panaro) to take as his bride. This is an entertaining swashbuckler, full of action and thrills, double-crosses and more. An evil pirate (Mario Petri, who can be seen in a number of similar films of the era) poses as the title villain, an impressively hulking black-masked Executioner who wields a gigantic axe. Panaro is a total knockout. This is an Upgrade and LBX as well! BA
W116 G.I. Samurai (79) aka: Time Slip aka: I Want To aka: Eclipse en el Tiempo What if a platoon of soldiers (including one Sonny Chiba!) from the Japanese army were to be sent back 400 years right in the middle of the feudal wars that led to the formation of the Tokugawa Shogun ate? They have to pick a side and fight, like everybody else. No long-winded explanations necessary. When they arrive, a devastating battle sequence ensues. The main battle later lasts about a half hour! Massive action and body count! Mortars, grenades and tanks shredding hordes of samurai's. The movie takes itself seriously, hundreds of extras, top-notch camera work and editing. Some musical montages with corny music. Gratuitous female nudity when some of the men go AWOL and go on a rape and pillage spree. This movie runs about 2 hours and 20 minutes and has English subtitles. BA (DVD-R ONLY - no VHS)
W133 Gulliver's Travels (39) aka: I viaggi di Gulliver From the same animator's who did the 'Superman' shorts comes the best to date cartoon adaptation of the classic Jonathan Swift tale. In response to Disney's 'Snow White..' this is a superior film for those who enjoy adventure. Sure it's a kid's film, but live a little. The colors are great, the story, timeless fantasy. BA
W119 Journey to the Moon (59) aka: Rehla ilal kamar aka: Trip to the Moon Science Fiction from Egypt that remakes 'Catwoman from the Moon' (sort of) with Ismail Yassin the funny man Egyptian film star of the century! After landing on the moon with the inventor and meteorologist, they encounter a moon man and his bevy of babes, bizarre sets, and a funky talking robot. The space ship is amazing, and a real big creation for the film. I was surprised the swearing on the subtitles. 'Idiot!' Reply: 'What idiot, you asshole!' Mutants and burned up people, some missing limbs, add seriousness to an otherwise comedic affair. The men load all of the hot women on the ship to take with them back to Earth, as well as that goofy big Gort Bot. Will they escape the dread of the moon and not end up like the cave dwelling dismembered mutants? In Arabic with English subtitles BA
W135 Long John Silver (54) aka: Long John Silver's Return to Treasure Island A color sequel (aaaaargh) of the classic, with Robert Newton as 'Long John Silver'. 'Arrgh and shiver me timbers, a land lubber never I' . High adventure in this Australian production with Kit Taylor as Jim Hawkins. Jim and Long John also up against Capt. Mendoza and Israel Hands (played by Rod Taylor in one of his first films before he came to Hollywood and struck gold!). Robert Newton was born to play pirates, the best. This is him playing 'Long John Silver' for the second time, he played Blackbeard in another, and the last thing he did was a show called 'The Adventures of Long John Silver' (1955-1956). Robert Newton lived like a pirate as well, dying of a heart attack from excessive alcohol abuse in 1956 at age 50. The show ended of course at this point. BA
W138 New Adventures of Heidi, The (78) MFTV musical. Pig-tailed Heidi (Katy Kurtzman) frolics around the mountainside and sings songs with her grandfather (Burl Ives), plays with her friends and walks her goat. But when going-blind gramps gets lost in a thunderstorm, the nuns decide Heidi is to be relocated to New York City with some truly annoying relatives. But Gramps is okay, way back home ... will Heidi make it back to him? Song after song is sung, each worse than the one before it.
6788 October 32nd (92) aka: Merlin aka: Merlin: The True Story of Magic Another 'Excalibur; styled tale of swords and sorcery. The Lady of the Lake has returned to join John Pope (Peter Phelps) to help stop the wicked immortal wizard Pendragon (Richard Lynch playing a character close to his 'Cromwell' from 'The Sword and the Sorcerer') from obtaining Merlin's sword in the stone on Halloween, which would be an end to everything (October 32nd)! Reminds of the early 1980's when we were entertained by many films of this type. James Hong is a wizard on hand to help. Filmed in Slovakia.
W139 Pied Piper of Hamelin, The (57) aka: Der Rattenfänger von Hameln MFTV musical fantasy filmed in Technicolor! Overwhelmed by rats, a medieval town hires a piper with magical powers (Van Johnson) to pipe them into oblivion by luring them to drown. But the unscrupulous mayor (Claude Rains) has no intention of paying up. The piper plays, and the children hear.... but don't look for any horror, this is a children's musical. In the Hall of the Mountain King is part of the music. Also with Lori Nelson, Doodles Weaver and Jim Backus. Van Johnson in a dual role here. Lori Nelson is best known for her roles in 'Revenge of the Creature', 'The Day the World Ended' and 'Hot Rod Girl'. She died at age 87 in August 2020 of Alzheimer's disease. BA
W131 Run for the Hills (53) A businessman (Sonny Tufts) terrified of the future because of the H-Bomb tests, takes his hot wife (Hollywood Hooker Barbara Payton) to shelter in a cave as a sort of bomb shelter. The only way they can make money is by dressing in animal skins and offering tours of their digs to the public. There is some irony in the conclusion. Big 6'4" Sonny Tufts started off well in the early 1940's, but became a drunken fool, even charged with biting women in the thigh. He died at age 58 in 1970 of pneumonia. Barbara Payton, a troubled alcoholic and high-priced hooker (when she had her looks) drunk herself to death by age 39 in 1967. BA
W137 Son of Monte Cristo, The (40) aka: Il figlio di Montecristo Dashing Edmund Dantes Jr. (Louis Hayward), the son of the famed Count of Monte Cristo, masks up to help the Grand Duchess (Joan Bennett), who he carries a torch for. Dandy baker by day, masked avenger by night, battling the evil General's forces for the good of the people. Dantes is up against Gurko Lanen (played wickedly delicious by George Sanders). Swashbuckling fun, action and adventure. The Lieutenant of the Guards is played by Clayton Moore. BA
W115 Tarzan in Istanbul (51) aka: Tarzan Istanbulda aka: Hassan l'orphelin de la jungle Can Turkey steal Tarzan and even the Weissmuller scream. Of course they can. Can Turkey blend stock footage with the actors? Yes. Can Turkey.. wait, I am having a time with one of the hunter's names spelled out in subtitles. 'Hold it Kunt, just a minute!'. Okay, I will try not to snicker. Vultures are feasting on a zebra. Lions charge. Natives Attack! Alligators versus Tarzan while a man with a speedo watches from the shore, cheering him, along with a woman in a bikini that was clearly not made for her figure. Tarzan kidnaps her like a caveman would, throwing her over his shoulder and walking away. He'll have her swinging in no time. Hey, where did Kunt go? In Turkish with English subtitles. BA
W132 Warning from Space (56) aka: Uchûjin Tôkyô ni arawaru aka: Asalto a la tierra One-eyed starfish alien monsters (that look like something out of H.R. Pufnstuf) are on a mission to save Earth. In the form of man they come, to warn us of impending doom, not from ourselves, but another planet on a collision course with Earth. At first the aliens warn not to use the latest explosive devices. Then they warn the only way to save Earth is to change course and use the explosive device. Mixed messages from the aliens aside, this is the first outer space science fiction film from Japan. When World's Collide meets The Day the Earth Stood Still. The flying saucers are pretty cool, and they had color working for them as well, unlike similar American films. BA
W106 Wolves of Willoughby Chase, The (89) aka: La strega di Willoughby Chase Nice Upgrade of the wonderfully dark children's tale. Stephanie Beachum plays the wicked governess, the sinister Miss Slightcarp, who is left to care for the Willoughby children while her parent's are abroad. The children are abused into slave labor. In one scene, a boy is crushed to death between two giant rollers. Filmed in Czechoslovakia, everything is covered in snow. The best type of children's films have good villains. This sharply photographed gruesome little children thriller has moments of brutal violence. And the wolves, yes the wolves do get their fill in the end. Go ahead, scare the children, it's good for them! Also with Mel Smith, Geraldine James and Richard O'Brien (of 'Rocky Horror...'). BA

EDGAR WALLACE FILMS
Y314 Black Abbot, The (63) aka: Der schwarze Abt aka: Edgar Wallace e l'abate nero Employees of a nobleman show up at the supposedly haunted abbey on the estate, to try to find some hidden treasure. Superior Edgar Wallace thriller that oozes classic horror attitude. A spooky estate with a haunted abbey, a hooded monk (the Black Abbott), madness, double-crosses, triple-crosses, treasure, spooky ruins and killings...... Klaus Kinski and Joachim Fuchsberger. LBX and dubbed into English BA
Y318 Door with Seven Locks, The (62) aka: La Porte aux 7 serrures face à Scotland Yard aka: Die Tür mit den 7 Schlössern Need seven keys to get the treasure in this spooky old mansion thriller that comes complete with a madman, a torture chamber, feuding heirs, random murders and lots of red herrings. Dripping with atmosphere, this Wallace stew is loaded with familiar ingredients including stylish and sometimes bizarre set design. Klaus Kinski, Heinz Drache, Sabine Sesselmann and more star. Upgrade from the version in the classic section. BA
Y322 Fellowship of the Frog, The (59) aka: Face of the Frog aka: La grenouille attaque Scotland Yard aka: Der Frosch mit der Maske This was the first of the long running 'krimi' from the Edgar Wallace stories. These were building blocks for what was to become the 'giallo'. Master criminal 'The Frog' is a campy guy in a frog mask. Most of the key elements are here. The foggy Soho underworld settings, the sleazy cabaret shows, an arch villain with his bizarre modus operandi and grotesque henchmen, the clever Scotland Yard Investigator and quite violent for the time stalk and murder killings. Nice upgrade BA
Y311 Indian Scarf, The (63) aka: Das indische Tuch aka: Il laccio rosso Strangulations! All using one of a set of distinctive scarves. When a rich man is killed, the relatives all turn up to see what they have coming. Some get more than they bargained for. They have to spend six days and nights at the mansion, plenty of time for each to become a victim of the strangler. This German film will remind you of a giallo, all of the ingredients are here, except instead of spatter blood, suffocation! The first guy is strangled before the opening credits. Secret doors leading to cupboards, a statue that holds weapons, gadgets, weird statues, a terrorizing tarantula..... and Klaus Kinski! LBX and English language dubbed BA
Y321 Red Circle, The (60) aka: The Crimson Circle aka: Der rote Kreis aka: Scotland Yard contre cercle rouge A guillotine master criminal returns to London hell-bent on revenge. His killing spree is investigated by Scotland Yard after eighteen people fall prey to his crimson circle. The killer gives a warning by leaving a red circle as his calling card. Blackmail murder and death. Nice Upgrade. BA
Y312 Room 13 (64) aka: Zimmer 13 aka: El misterio del cuarto n° 13 A razor wielding maniac is on the loose and kills a woman by the train tracks before the opening credits. Subplot, a train robbery/heist! But the deadliest threat is a maniac who is killing the sexy dancers who perform at a sleazy nightclub. Delivers two movies in one! The Great Train Robbery meets Jack the Ripper. Most of the footage takes place outdoors. The story is fairly complex, full of twists and turns, slowly unraveling with suspense. Joachim Fuchsberger, Karin Dor and more star. LBX and English Dubbed BA
5967 Secret of the Black Trunk (62) aka: Das Geheimnis der schwarzen Koffer aka: Il pugnale siamese Before the Giallo.... there was the Krimi. Someone is going around packing people's bags, and then, wearing black gloves, throws a knife in their backs. The clothes of the victims are covered in a new, dangerous drug called Mescadrine. Puzzle solving mystery as we tread the seedy streets of Soho. Join Peter Carsten, Joachim Hansen, Helga Sommerfield and Senta Berger. LBX with English subtitles. BA
Y317 Secret of the Red Orchid (62) aka: Das Rätsel der roten Orchidee aka: L'orchidée rouge From the Edgar Wallace novel 'When the Gangs Went to London'. Pre-credits sequence features a machine gun gang land slaying of a group of men in Chicago. Christopher Lee is an American F.B.I. agent who is sent to London to hunt American gangsters there who are causing trouble by blackmailing and even killing rich people. Klaus Kinski shines in a very sinister role. Marisa Mell is young and stunning. Also with Adrian Hoven who starred in the 'Mark of the Devil' films. LBX and English dubbed. BA
Y324 Strange Countess (61) aka: Die seltsame Gräfin aka: Il fantasma maledetto Secretary Margaret (Brigitte Grothum) is menaced by a man who calls her to tell her she is doomed. She has been offered another job to work for the Countess Moron. But since her life seems to be in danger, Inspector Mike Dorn (Joachim Fuchsberger) is in charge of keeping her safe. At the same time, a woman has been released from prison (after serving 20 years for poisoning people). The mystery unfolds, Klaus Kinski is creeping about and much of the film takes place inside the lavish sprawling mansion delivering gothic atmosphere. There are padded cells for the insane, one in which Klaus Kinki's character finds himself in. The less I tell you the better. Slight LBX English Dub BA
6751 Terror, The (38) aka: Monk Hall Mysteriet The robbery of gold coins is carried off by three men. The mastermind betrays his friends and they go to prison, promising to get him when they are released. Ten years later they do just that. An old monastery is now a sort of boarding house. Strange people arrive, a ghostly hooded figure lurks... people start to die. Secret passage ways, a monk's tomb, creepy organ music.. a crime thriller with elements of murky atmospheric horror. BA
6712 Wanker, The (04) aka: The Wixxer Incredible must see spoof of Edgar Wallace films. I was laughing in the first 3 minutes, so... The references and scenes, characters etc. are out of old familiar Edgar Wallace horrors of the 1960's. Gags aplenty, and even though this is homage to Edgar Wallace, you will see reference and gag bits to other films you are familiar with as well. Germany comedy is back. The butler is named Adolph Hatler, and yes, he sports a small moustache. Would you like a glass of hot pug milk? Piranha attack! Skull-mask man! Whip wielding monk! Frog Man! LBX with English subtitles.
EXPLOITATION & SEXPLOITATION FILMS

6733 America's Funniest Jokes (83) I spotted a few celebrities here mixed in with civilians. This cute blonde with a Farrah Fawcett hair dew opens with a very crude joke, delivering it naturally and without shame. The next joke is even more crude than the last. These jokes are offensive and would be considered banned today. Incest, Chinese, Gay, Gross Sex, Deaf and Dumb.... just incredibly politically incorrect. You know what the difference is between seduction and rape? Salesmanship! And that is the clean joke! These were all filmed randomly, people on the street type, and honestly, the nastiest of the jokes are told by young women. Hello America! Is it okay to laugh?
6688 Bedside Highway (72) aka: Motorvej på sengekanten Danish Comedy, kind of light on the sexuality, although there are plenty of babes around, could have used more skin, though, there is some, and a bit of hanky panky. The bigwigs want a new road, the locals do not. Several sub-plots run throughout. Very colorful world painted here, one would like to live there. LBX with English subtitles! BA
6770 Big Gag, The (87) aka: Nipagesh Basivuv Candid Camera from Israel, but filmed all over the place. Don't expect high perversion, Jesus is watching. Still manages some bizarre pranks involving cute women doing sexy things, babies that cry within the womb, inappropriate public behavior. They are a group that travels around and plays tricks on unsuspecting people. The reveals and the music played, the jingles... Wow. More like Benny Hill meets Second City than Candid Camera. There are some pretty funny moments here. The Big Gag!
6661 Bouncing Boobs (74) aka: Bottoms Up! aka: Auf der Alm da gibt's koa Sünd Uncut LBX version dubbed into English of this excellent West German Sex Comedy that would give heart attacks to (some) in our new 'mutated culture' for the sheer abundance of willing naked women! Something about a microfilm that contains some type of revolutionary formula that transforms cow manure into fuel. But don't let the plot get in the way of the numerous sexual situations. The mountains, ski lifts, inappropriate assaults done in a comic manner, gratuitous nudity, sexy women getting chased by horny men... it's like a Benny Hill goes berserk movie. The women are in control, don't worry, the men, hopelessly mesmerized and horny beyond words. Some scenes are in German, and English subtitles appear when that happens. BA
6769 Danish Connection, The (74) The story behind the movie is almost as good as the movie. Johnny Wadd director Bob Chinn was filming the Holmes porno 'Tropic of Passion' and sold the outtakes to another guy to recoup the cost and this is how 'The Danish Connection' was born, a cut and paste exploitation film with a humdinger of an ending. Danish scientists have created a male virility serum and everybody wants it (including me). Johnny Wadd is on the case (you will not see his 12 inch famous costar, this is a soft-core production). This is a spy spoof, done right, with sleazy characters with funny names, sort of like what 'Flesh Gordon' did for science fiction (though 'Flesh' much better). Rene Bond has a small part, Bob Chinn himself is on hand, Sandy Dempsey and more. Action exploitation, quite funny, priceless incorrect dialogue. BA
6701 On Consignment 4 (12) The girls are kidnapped by lesbians, and whipped. Then their wounds are taken care of, and they are told they will be forever prisoners to the wicked lesbians sexual desires. Kidnapped, stripped and whipped, and whipped again for good measure. The girl is then electrocuted naked. There are sounds of agony on the soundtrack that clearly are not coming from the actress herself. Luscious nudity of nubile young beauties, and lesbian sex, all hot women. LBX
6757 Porky's 4: Hollywood Zap (86) aka: Electric Punker Politically incorrect with lots of fart jokes. One year after 'Porky's Revenge' Chuck MItchell (Porky himself) returns in an unrelated film as 'Mr. Prideman'. A guy named 'Downer' is looking for his long lost father. Along the way, he hooks up with a homeless guy. Downer is up against his creep Uncle (Chuck Mitchell), a wicked slum lady, a kung-fu midget, and a punk rock bimbo. Everywhere he goes he seems to get dumped on (not in a literal sense but you will not get the diarrhea scene out of your head for weeks). Despair and madness, urbanization and hopelessness... and this is a comedy! Offbeat one of a kind. BA
6734 Strictly Speaking (98) A dominatrix is someone who likes to dominate somebody in a physical, emotional, and a sexual manner. 'S & M' and the joys of the whole thing, explained by a dominatrix in layman's (!) terms. Boots. crop, thigh-boot, corset, whip and leather. Yes Mistress. Yes Mistress. With Monique Parent! (a bit shorter than an hour)
6756 Swedish Bisexual Stallion (82) aka: Sueca bisexual necesita segmental aka: I vizi della signora Incredibly hot sexploitation co written by Andrea Bianchi! Mirella (sexy porn actress Helene Shirley) is horny as hell and her rich wheelchair bound husband can't help her. She falls in love/lust with her husband's secretary Simona (Marina Hedman) and they get it on. Simona also gets it on with men on the estate, in lengthy soft-core bordering on hardcore grind outs, sometimes watched with angry jealousy by Mirella. At one point while Simona is riding a stud, another stud undresses and climbs into bed with Mirella (who is in another room), and fixes her good. The husband becomes aware, and watches as Mirella makes love to Simona, and a stud takes her from behind. Later the husband watches again.... soft-core (although damn close to XXX, there is only a glimpse of full frontal male). The sex and nudity is smoking. F.L. but no English is needed. LBX BA
N17 Teen-Age Jail Bait (73) Lucky bastard John Alderman is Joey, who along with his friend Jack, stop to help damsels in distress Sue (Rene Bond) and Amanda (Kris Kross) who are having car trouble. Joey scores with Amanda in a soft-core sex sequence that borders hardcore. Jack can't get it up after forcing himself on Sue. 'Don't tell please?' Amanda convinces Joey to come home with her and rob her father's safe. They take the father and the mother (Marsha Jordan) hostage, as well as the prissy, virginal sister Linda (Sandy Dempsey). Joey is banging Amanda's willing mother in no time. Excellent soft-core trash from the director of 'Drive-In Massacre'. Rene Bond and Sandy Dempsey both died young, Bond from alcohol at 45, Dempsey from a boating accident at 26. A few glitches. BA

EXTREME HORROR & GORE FILMS
6660 Bewitched (69) aka: Embrujada Despite making another film with the same title six years later, this Armando Bo directed film that stars his wife, the magnificent Isabel Sarli, is one boobacious treat. Exotic locales, hell the opening shot is worth the price of admission alone. Argentina/Brazil, the most gorgeous locations. Madness Violence and Bloodshed is coming! Sarli is Ansise, the wife of an impotent man, who is desperate to get pregnant, which opens us to a world of erotic encounters. Sarli's breasts are so large, at this point, after seeing many of her films, they have a life of their own. Sarli sees a witch and tells her she wants a blonde baby with blue eyes. The witch tells her she is cursed, and her lovers will die, at the hand of 'Satan'? She insults and taunts her 'useless' husband. 'Come on Baby, Do It To Me'. He cannot of course. At least the 'knock her up' part. Her husband has his workers whipped bloody in the woods, this excites him, Sarli watches from behind a tree, and knows. She goes to work in a brothel.... Her husband walks in on her as she is screwing a 'client'. Will she ever have a son (her dream)? Incredible, and lots of bright nudity of Sarli, in the most fantastic of locations. In a nightmare sequence she is mounted by a hairy, horned and horny, pointy-eared Satan! The ending will freak you out! It sure got me! Holy Shit! In Spanish with English subtitles BA
6690 Blood Relatives (78) aka: Les liens de sang The aftermath of the brutal rape and murder of a 17-year old girl. Top detective Carella (Donald Sutherland) believes Doniac the Pedophile (Donald Pleasence) is responsible. The truth is ... well I cannot give up the game here. This is an excellent murder mystery from director Claude Chabrol, sort of a French Hitchcock. Lisa Langlois (of 'Deadly Eyes' and more) makes her screen debut in this. David Hemmings and more star. This is the LBX French language version with English subtitles. BA
6799 Burndown (90) aka: Incubo radioattivo A radioactive serial killer hangs around a nuclear power plant where he murders cute females who are unlucky enough to make themselves available to him. He likes to kill, and then have sex with the corpse. The focus then is on the power plant itself, investigations, hauling corpses around... When we get the kills, we see POV shots, the killer's hand gushing green ooze, clawing faces, breaking necks and then the screen freezes on the face of the victim. The aftermath is shown after the cops arrive, and they discuss it. Better than 'The China Syndrome'. Cathy Moriarty still turned heads in 1990, and does so here. The Sheriff is played by Peter Firth. BA
6720 Cave of the Sharks (78) aka: The Shark's Cave aka: Bermude: la fossa maledetta When a plane carrying valuables goes down in the Bermuda Triangle, the only solution is to hire a few brave souls to go down and retrieve it. But in the deeps of the Bermuda Triangle, there dwells an underwater race/underwater city, who use mind control to manipulate the behavior of sharks. Jaws meets The Bermuda Triangle. The flashback sequence is effective and pretty creepy. You'll know it when you see it. It involves a creepy doll, and blood. Janet Agren stars, and she is doing two brothers, although one of them finds out the hard way she is also laying his brother. The brothers are played by Andres Garcia and Maximo Valverde. Also look out for the creepy Cinzia Monreale as Emily. You'll remember her from 'The Beyond' and many others. Garcia also starred in 'The Bermuda Triangle', 'Cyclone' and 'Tintorera'. One bizarre film. BA
6663 Dangerous When Aroused (73) aka: Love Hungry Girls When an escaped convict hides out with a couple of pretty women (that might be lesbians), things get out of hand pretty quickly. He is wounded, and the first woman helps him into her place after picking him up on the side of the road. She bandages his wound, and lets him sleep. In the morning the man is awake, and using a knife to get his way. In this case, he wants to get laid. 'Either it's your twat, or hers, you take your choice' he tells her. Later, she feeds him a meal, while he wears her pink clothes. The other woman brings home a man, he watches them make love. Nudity and fairly explicit sex, but not hardcore. More like a twisted crime drama, with voyeurism, two lesbians, cheating on each other with men. But who is 'Dangerous When Aroused'? You will find out! And, Catfight! What happens next? More gratuitous nudity and sex, that's what. English dubbed Italian/French film.
W143 Deathhead Virgin, The (74) aka: La calavera Virgen An American treasure hunter finds a sunken Spanish galleon off the coast of a Philippine island, guarded by the spirit of an ancient Moro princess the 'Deathhead Virgin'! When the manacles are taken off of the funny looking skeleton, she is set free, and now has risen from her watery grave for the sacrifice of 7 virgins. Island natives begin to die mysteriously. Great underwater photography, high production values, naked chicks. Dismal and downbeat fun. With Vic Diaz ( busiest man in the Philippines, straight off the set of 'The Thirsty Dead'). From esteemed director Norman Foster. Also stars Diane McBain. Larry Ward and Kim Ramos! BA
6747 Devil Gambler (91) aka: Du mo A great action film! Opens in a large outdoor club with loud music and rooms where business men can meet, drink and dine. They clap when a rich girl in white enters the room, it is her birthday party. Fireworks, Cake. But later behind the scenes, her father is making a drug deal with some gangsters, they betray him, a bloody kung fu fight with swords and fists ensues. Her father is a bad ass! But there are too many. More gangsters arrive with pump action shot guns (and machine guns) and start blowing everybody to hell. The girl survives the bloodbath. 'I will seek the revenge myself' she determines when the police are seemingly useless. But then she is gang raped and her boyfriend is beaten senseless. She's really pissed now, full of hate, and she is bad ass kung fu, like her father! She can throw a hairpin like a knife! Quite good, and plenty violent! Cat 3. LBX and with English subtitles.
W126 Four Flies on Grey Velvet (71) aka: 4 mosche di velluto grigio A weird guy in shades is stalking a drummer of a rock band named Roberto (Michael Brandon) Roberto doesn't like it, so follows the guy into a deserted old theatre and oops, stabs him to death. But someone has seen him, and takes pictures. Roberto goes home to Mina (Mimsy Farmer). For them, the nightmare is just beginning. There is a gay private eye, a sarcastic writer, absurdities and plot twists. Also with Bud Spencer in a small role. Uncut from director Dario Argento and Widescreen English Dubbed BA
F454 Have Mercy On Us All (07) aka: Seeds of Death In 2030, weird messages about an outbreak of plague are sprinkled around Paris through the town crier. And then people start to die in the blackest of ways. But this is a serial killer doing the deeds, someone who has done his homework on plagues. The killer is using fleas contaminated by rats. Now how do we let the people know without spreading panic? This is in the same mold as 'Crimson Rivers', methodical, twisting and turning until the finale. LBX and with English subtitles. BA
6738 Hong Kong Basic Instinct: Spider Woman (95) aka: Ji jue lui Cop Edwin goes undercover at an art gallery that is owned by a girl named Kenny (Jade Leung of Black Cat 1 and 2 + The Peeping Tom). In the opening, people are looking at the 'art' and Kenny is trying to make a sale. There are a series of killings occurring, and the police are watching the gallery. Undercover cop Michael thinks the killer may be Kenny's gay friend after the guy pats his ass. Apparently the latest corpse still has a hard on. The mortician leans over the corpse and squeezes his female assistant's ass. Later Kenny talks to her shrink. Kenny has issues, but is she the killer or just split personality? One wonderfully gruesome killing during sex leaves the police a dilemma with a guy chopped up a bit. 'Sex and Death' they determine. An interrogation scene with Kenny, she spills some beans in some sex talk. After she is done, the whole group lights up a cigarette. Do not let the Spider Woman seduce and spread her legs for you, it may not end well. Sisters meets Basic Instinct. LBX and English subtitles.
6667 I Like Bats (86) aka: Lubie nietoperze A sexy Polish woman vampire, stalks her victims at night, sometimes dressed as a hooker, hanging out in a transvestite bar. Not pleased with her vampire life, she seeks help from a psychiatrist. One bald guy repeatedly tries to get with her, and is refused. Desperate, he tries to kill her and fails. He'll get his punishment later. She is attacked by a pervert in the park, and she drains him. She goes to the crazy ward full of lunatics hoping for a cure, and is subjected to hypnosis and gamma rays....... One weird Polish vampire flick. This is an excellent sharp upgrade of this Polish vampire film, an amazing picture, and with English subtitles. BA
6781 Innocent Prey (84) aka: Voyeur P.J. Soles is Cathy (sporting a big hair perm), living in Dallas, Texas with her frustrated stressed-out husband (Kit Taylor). When he doesn't come home she tracks him to a seedy hotel room where he is banging a sleazy hooker. Sad music plays as she waits outside the hotel room, then she looks in the window and sees her husband grinding away, he pulls a razor when he is close to climax and slits the hooker's throat. Cathy is upset. She sets him up and off he goes to jail. He escapes and returns, almost gets her. He is a serial killer. If you stopped the film and rolled the credits it would be a cool 42 minutes slasher, but then, she moves to Australia. There, she attracts the attention of another maniac, an awkward voyeur with a mean streak. P.J. Soles, the habitual victim. Martin Balsam and Bill Thurman also star. BA
6746 Mad Stylist (98) aka: Zhi ji sha ren fan A dark brutal film with a fully satisfying conclusion. Dee was bullied as a child, and is now a hair stylist. He hooks up with his childhood friend 'May' who used to mutilate animals to scare the bullies away, but she is still raped. They decide to kill together. When a retarded girl is witness to Dee, and even helps him when he goes after a guy in drag with a razor, he is faced with a dilemma. Dee is not sure if he can kill her, even if May insists. They capture her and treat her like a dog. As pieces of people keep turning up in various places, the police inspectors are on the case. May gets jealous. Violence and nudity ensure the Cat 3 rating! Murder and gore scenes go cartoons like 'Natural Born Killers' influenced the director. LBX and with English subtitles. Picture very good, but a few glitches from tape. Animal violence and gore so be warned.
6672 Morbid Loves of a Countess (77) aka: Amori morbosi di una contessina aka: Gli amori morbosi di una contessina Four friends find themselves at odds with one another as they are all after a hidden treasure stashed somewhere in a villa, courtesy of a rich and bored Countess, who enjoys this dilemma she has placed upon them, a 'game' if you will. Director Amasi Damiani directed this erotic mystery giallo, and look, we get Gianni Dei, Marina Hedman and Renato Polselli gal Rita Calderoni in one of her very last films before she retired (she would be in only one more). The stakes are basically, whoever finds it, gets to keep it. Let the greed take over....... Nudity and Sex, weird haunting music, nice locations with good photography, cynical, cold-hearted. LBX and English subtitles. BA
W114 Morgiana (72) Gothic Horror from Czechoslovakia with English subtitles. The story of two sisters Klara and Viktorie, one good-hearted, the other, wicked. When their father dies, he leaves all to Klara (the good one), much to Viktorie's dismay. She sets about trying to kill her sister with a slow-acting poison, and things don't exactly go as planned, and she has to kill others who indirectly threaten to expose her. The woman are painted thick with makeup like decadent aristocrats, the locations authentically ancient and magnificent, dangerous looking seaside cliff walks etc. But who is Morgiana? Why Viktorie's pet cat! Morgiana has a point of view, and we see it with her, witnessing the evil deeds of her mistress, as her mistress also talks to her. Making this film even more bizarre, the actress playing Klara, also plays Viktorie. Iva Janzurova, a very well known actress in her homeland of Czech Republic. With English subtitles. BA
W122 Mummy and Curse of the Jackals, The (69) aka: The Mummy vs. the Were-Jackal An archeologist named David Barrie (Anthony Eisley), renting a run down house outside of Las Vegas, has an assortment of Egyptian artifacts he rescued from a downed plane. Princess Akanna is also there, in a deep sleep for many thousands of years, she looks intact, without a smear in her makeup, laying there like 'Blood from the Mummy's Tomb'. Also, Sirakh, her guardian. This is Kharis and Ananka rearranged. If you are familiar with old mummy movies you know what I mean, and the director of this did co-write 'The Mummy's Curse' that starred Lon Chaney Jr. so long ago. Through the powers of Akanna, Barrie is turned into a 'werejackal' (in a wonderfully bad transformation sequence!). Meanwhile Sirakh looks like Naschy in 'Vengeance of the Mummy' (which came later). The werejackal get-up was used in 'Dracula the Dirty Old Man'. The werejackal and the mummy have a little battle in Las Vegas, the locals (not paid extras) are amused. John Carradine has two short scenes. Includes the necessary back flash sequence where we see Sirakh violating the sacred laws, and having his tongue ripped out! BA
6700 Necromancia (15) Horror from Argentina. A couple argues about the bills at the breakfast table, he has lost his job. They call cousin Olga and invite her to dinner, maybe she can help? She likes cannoli. Olga arrives. She is one weird chick. They drink Heineken and eat, while Olga tells them her credit cards are not working. Apparently Olga is their go-to girl when they need help. Olga is acting even stranger. News Flash: On the television, a bad road accident, Olga has been reported killed. Olga farts in the living room. No, make that, Olga faints in the dining room, or drops dead, although she already is. Just making sure you are listening, The couple is freaked out. Olga is now on a slab in the morgue. Necromancy. They believe Olga had come to them to give them information about the soon to be drawn lottery.... They enter into the world of the occult. Olga comes back to life. The pentagram works. Now she arrives completely naked at the couple's house and dances on the floor pentagram..... Now what? Twisted Ending. LBX In Spanish with English subtitles.

6742 Nightmares (80) aka: Stagefright Not to be confused with the anthology 'Nightmares' with Lance Henriksen, this is an Australian film, a slasher/giallo of sorts starring the sexy Jenny Neumann of the American slasher 'Hell Night' that starred Linda Blair. With a theatre setting, this movie stands apart from many for the sheer gratuitousness of it's gratuitous nudity. The kill in the first 20 minutes of a couple having pretty graphic sex that turns into a violent naked blood bath is actually pretty shocking. Neumann is Helen Selleck, an American actress who gets a role in an Australian stage production. She is a virgin, and a black-gloved killer is stalking the production and violently slicing women up with shards of glass. Heavy-breathing POV camera work hides the identity of the killer until the finale (unless you guess who it is). The entire cast of characters are obsessed with getting laid (not that there is anything wrong with that!). Watch with Pete Walker's 'Flesh and Blood Show' from 1972 and Soavi's 'Stagefright' from 1987. Fits nicely. Neumann retired after 'The Delos Adventure' in 1987. BA
6674 Paranoid, The (75) aka: El paranoico Spanish Giallo! When he was a child, John watched as his father murdered his secretary/lover. Now he is grown up, his wife is a cripple in a wheelchair (or is she?), and he is in need of some secretary action, egged on by his shrink, who may have a reason for this advice. But sleeping with them only? NO NO. He wants to kill? Maybe. Does he kill? Well, the bodies of his secretaries are piling up as it were. Dean Selmier (Glass Ceiling) stars in this psycho-murder thriller that also stars Lone (Blind Dead and more) Fleming and Veronica (Wolfman Never Sleeps) Lujan. Also with May Heatherly (the woman who is axed by the little boy in the opening of 'Pieces'). Nudity and Gore help us along the way. LBX in Spanish with English subtitles
6627 Phantom of the Ritz (88) Horribly burned in a drag racing accident in the 1950's, a young man escapes from the hospital and hides himself away in the dark places of local theatre 'The Ritz', where he proceeds to terrorize the clientele. Flash forward to the 1980's! The derelict theater remains, and so does our horribly scarred phantom. An entrepreneur has bought the place for a rock n' roll revival show. But the phantom, driven even crazier by steroids, holds a hateful grudge for the era, and plans to stop this event from taking place. It's a horror. It's a musical. Yakkity Yak, Rockin' Robin, Let the Good Times Roll, Rock and Roll Forever and many more songs featured in the special soundtrack. Deborah Van Valkenburg just one of many featured here.
6675 Psychovision (03) After a model is killed in an 'accident', her body is taken into a basement laboratory at an eye clinic. The opening scenes are so gory and realistic, maybe make sure you have not just eaten. Guts and Gore. The eyeball is removed from the body for experiments. But the new recipient is the internet! This 'Patrick-like' eyeball has super powers of hypnosis, and is hostile, vengeful, causing death. Yep. Don't fuck with the eyeball! And even if you don't, the eyeball may fuck with you! Now that we see eye to eye, let's try to dissect this film in a clearer way, 20/20. Or rather, not. Tune in to see who the eyeball kills next.......Team up with 'Headless Eyes'. This time, the Eyeball strikes back! The lethal eyeball is on the loose by the final sequences! I mean it. This is a gory mad scientist film. gore effects sometimes remind of John Carpenter's 'The Thing'. Eye transplants etc. Very colorful Italian made horror and in English language. Unreleased. Has a Not For Sale sign superimposed on the screen.
6775 Rape (76) aka: Desnuda Inquietud Not to be confused with the Brigitte Lahaie film. This is the Nadiuska film in a rare English language dub. (Remember Nadiuska? Conan's mother in the Swarzeneggar film that gets her head whacked off by Thulsa Doom in the opening sequence). Maria (Nadiuska) is suspected of witchcraft, separating herself from society, and living in a remote mountain-top cabin with her 'supposed' father. A doctor named Roger, investigating the death of the last man infatuated with Maria, falls in love her. But amorous attentions to Maria receive rebound from her with malevolent destructive energy. Maria also has the power to heal. Through hypnosis, we learn Maria is possessed by the evil spirit of a princess, she is the reincarnation, and we see a flashback sequence of her soldiers battling peasants, and her, wielding a whip. Worth hunting down because of the Nadiuska nude scenes, and the twist ending, Wow! There is no rape (although her father goes too far with her in one sequence, he does not rape her) only confusion on how to market the film. Executives: "Hmmm, let's call it rape, that sells!" There is a glitch at about 21 minutes from the source tape. Nadiuska will bewitch you with her cat-like eyes. In another flashback life, Maria is a captured slave of the Conquistadores. From the director of 'Night of the Howling Beast', the 'Kilma' films and more Miguel Iglesias. BA
W120 Razor (07) Six couples go on a weekend adventure to a house for sex and fun. They meet, prepare a feast and drink some wine, before some idiot starts strumming that damn 'If I Saw You in Heaven' song by Eric Clapton, and even sings it! Luckily it gets perverse at this point, apparently the song about a dead kid has turned them all on, and they pair off for sex. These characters have no idea that they have come here to die violently, in all sorts of brutal ways. Greek made horror gore with a death metal soundtrack (at first), and English language! The gore effects include a nasty 'male groin area' mutilation. Chains and locks, whips and saws... an extreme experience in intimate torture and death for all actors involved. LBX
A368 Sexual Desires of Eliza (82) aka: Condenada Por Um Desejo Two women have car trouble. They give their father's card to the men who help them, promising work. Later on the beach, a girl in a bikini steps on something, her father takes her inside to help her. Regina flirts with one of the new workers. They have sex, and during, she wants to be hit. The police are looking for the men. They're bad guys. One woman watches the other have sex with a man through the door. Then, a woman is beaten and raped by a river. Married Eliza is an adulteress, having sex with the men behind her husband's back, she is treacherous. The bad guy's are about to make their move. People will die. Are the good guys the bad guys and the bad guys the good guys? Sex and Violence from Brazil- in Portuguese with English subtitles.
6739 Shaolin vs. Vampire (88) aka: Baby Vampire vs. the Invincible Shaolin Kung Fu Devil Gang aka: Gekitotsu! Kyonshi kozo shijo saikyo no kanfu akuma gundan One man alone resists the belief in vampires in his town. Until his sister adopts a kid that turns out to be one that is. With the help of a female student, they attempt to defend from an evil Taoist Priest who uses hopping vampires who want to take over the territory so they can build a shopping center! A little girl becomes friends with a little vampire. This movie is loaded with special effects and action and is shot on video! LBX in Japanese with English subtitles
6732 Skin Striperess (92) aka: Shuai pi gui Chi Chi, the star of an enterprising producer who is trying to develop a sort of Universal Studios park, is pimped out unwillingly to get funding, But then Chi Chi is fried by faulty electrical wires. A black magic priest performs a ritual. Kidnap another female, skin her, and apply this fresh flesh to the charred Chi Chi. How do you like your women? Well done! The skinned corpse rises when someone pisses on her grave, possessing Chi Chi, and making her a killer who is a skin striperess killer, making death a gory bloodbath for some unlucky victims. Gore and Frantic Sex Scenes. LBX from Hong Kong with English subtitles.
6726 Skullduggery (83) aka: Blood Puzzle The curse of a medieval warlock is cast upon generations of men and a young 'Dungeons and Dragons' type role player of today is compelled by supernatural means to become a mad killing machine. He cannot distinguish fantasy from reality. Amongst the scenes in this weird movie that is set around a costume shop? A Liberace look-alike appears to be playing a church organ, a hospital murder sequence includes a smoking doctor in a gorilla suit who has just had sex with a nurse... a hot blonde with a huge python that wraps itself around her... a fat couple from Hooterville who pick up matching bunny suits... Wendy Crewson stars, right off the set of 'Mazes and Monsters' another role playing game based movie in which Tom Hanks character goes completely insane. BA
6722 Sleep of Death, The (80) aka: The Inn of the Flying Dragon 1815: France (after a brief prologue set in 1793). Wealthy young Englishman Robert (Brendan Price) is lured by an enchanting Countess Elga (Marilu Tolo) to her estate, where he meets the Marquis (Patrick Magee) and other decidedly odd characters. Robert meets Elga's husband, the sinister Count St. Alyre (Curt Jurgens), who had been thought long dead, a victim of the Revolution. Meanwhile, a series of murders is occurring in the region. On St Andrews Eve, the night when witches and vampires claim their victims, Robert makes a pact with Elga and learns the horrible truth landing himself into a nightmare. BA
L398 Snuff Trap (03) aka: Snuff killer - La morte in diretta Opens in the snuff killer's lair with a woman chained up and a leather-masked guy. Hot blonde Lauren (Frederica Garuti), who is the stepdaughter of a French politician, is kidnapped by European snuff porn ring. Her mother Michelle (Carla Solaro) goes undercover to locate her. Obviously influenced by '8MM', this is sleazier. Michelle has to engage in sex acts as she investigates, blowing one guy, letting another beat her to convince him she is into S&M, and she humps a rich playboy, except for fun this time. In the finale that looks to be grim, Michelle and Lauren are tied to crosses, fit to be slaughtered for the cameras..... Written and directed by Bruno Mattei! Nice LBX and English dubbed. BA
6743 Sombre (98) aka: Dunkle Triebe Jean is a puppeteer who like to strangle women he meets just before he has sex with them. Jean wants to love. Tries to love. But his lust takes over. And then he strangles them. Hanging with a few sisters that intrigue him, he loses control again and tries to kill them, but they escape. He has made a connection with one of the sisters. She goes back to him. The movie features a series of jump cuts that many deemed immoral and almost pornographic. Dark and brooding atmosphere with minimalist photography. Set around the Tour De France, of course this is a French film! LBX in French with English subtitles.
6754 Something Else Entirely (85) aka: Noe Helt Annet Amusing horror from Norway! When a childless couple find a baby on their doorstep, they decide to keep him. Active sexually with no results, it makes sense. But later they begin to see some strange differences in him when he gets a little older. He grows fangs, hates garlic and sunlight, and has a strange craving to bite whenever the moon is full..... Hilarious film, some nudity, more vampires..... In Norwegian with English subtitles. BA
Q206 Square Root of 3 (01) aka: Lidris cuadrade di tre Told in flashback. Three young students are trapped in the deep labyrinthine basement of a school building. Two stumble upon some type of satanic room, and a corpse hanging upside-down on a cross with nails in his eyes. Deeper in the halls, they peek through a wall and witness a satanic sacrifice taking place. The Satanist's become aware they are being watched...... Run! Endless wide hallways. 'Switch off your flashlight!' Hell is Coming! Violent and bloody. But is this all something else entirely? LBX in Italian with English subtitles.
6719 Strange Vengeance of Rosalie, The (72) aka: Una maledetta piccola squaw Before Stephen King thought up ' Misery'..... A young half-breed hitchhiker named Rosalie (Bonnie Bedelia at age 24 playing a 'minor') lures a traveling motorist named Virgil (Ken Howard) to a remote run-down shack in the middle of nowhere (New Mexico desert) and then busts up his leg with the back end of an axe and ties him to an iron bed because she wants him to stay with her forever. Later a gnarly biker shows up named Fry (Anthony Zerbe) looking for some gold that is supposed to be hidden in the region. Rosalie is one deranged little girl, and her 'vengeance' is certainly strange. Nice dark and twisted ending. BA
6707 Street of Mirrors (83) aka: Via degli specchi Francesca (Nicole Garcia) is an investigator who is married to a successful engineer. A girl has supposedly thrown herself from the balcony of her terrace. While all evidence points to suicide, Francesca uncovers disturbing new clues, and a key witness that may cancel out the suicide theory. This news is not good for Francesca.... Like an Italian Giallo as far as the murder mystery goes, but not a gore fest, and there is no stalking killer. The ending came out of left field and surprised the hell out me. I really liked this dismal cold-hearted turn of events. What seemed like a cut and dry turns into a crash and burn. LBX in Italian with English subtitles.
6630 Tainted (87) aka: The Coverup Husband rescues devoted schoolteacher/wife Kathy (Shari Shattuck) from rape but has a heart attack and dies after killing the guy. Now Kathy has two corpses to get rid of because she figures, who's going to believe her story? Kathy masterminds a coverup which is just the beginning of a long nightmare of blackmail and deception.... BA
6724 Till Death Do We Scare (82) aka: Xiao sheng pa pa Tom Savini goes to Hong and worked as a special effects artist on this obscurity! A trio of vampire ghosts, wreak all kinds of comedic havoc on their widows in this Hong Kong 'Poltergeist' influenced picture. An assortment of practical special effects gags, a bizarre now you see them now you don't group dance, and more sleight of hand camera tricks. Ghouls galore, one ghosts eyes pop out, another looks like the 'Creepshow' creep from the same year, and may be the same prop? A freaky vampire, a werewolf transformation scene, zombies and more. In Cantonese, sadly no English, but very good quality and LBX
HAMMER AND BRITISH FILMS

6772 Servant, The (63) aka: Il servo Dirk Bogarde stars as Hugo Barrett, a sinister and cynical man who plots a dark plan to achieve power in the British class warfare. Aristocratic Tony (James Fox) hires servant Hugo Barrett who seems loyal and hardworking. Tony's girlfriend Susan (Wendy Craig) does not trust Barrett. Barrett moves in his sister Vera (Sarah Miles). Tony has a brief hidden affair with Vera. Tony returns from holidays with Susan and finds Tony and Vera in his bedroom. They are lovers. He fires them. Susan splits. Tony rehires Barrett and we begin to see the true nature of this relationship as Barrett takes over..... The strong versus the weak, with homoerotic undertones. Sarah Miles is sexy, and Wendy Craig is a cold fish. BA
6763 Svengali (54) The British version of the tale about an evil hypnotist (played by Donald Wolfit, all ham and almost tongue in cheek, channeling his inner Bela Lugosi, and somehow he still pulls it off nicely) who creates a famous singer out of a young and untalented girl (Hildegard Knef). Colorful costumer, interesting classic. Hildegard Kenf would go on to many other roles most notably Hammer's 'The Lost Continent' in 1968. BA
6750 Three Weird Sisters, The (48) When a rich man announces that he will no longer pay for his elderly three sisters efforts to save a dying town, they plot his demise so they can take all of the money, and through philanthropy, set the town right. One of them is blind, another arthritic and the last, deaf. Yea, they're weird (and ugly!). They injure their brother (the guy with the money) and he is stranded in the old mansion. The old women drift phantom-like through their gloomy mansion, the town is dying because the mine has been mined out, an atmosphere of desperation and hopelessness. The finale is anybody's guess.
6794 Timewatch: Shadow of the Ripper (88) Obscure episode from the U.K. dealing with the horrific deaths of five prostitutes in White Chapel in 1888. A dark time in White Chapel's history that still to this day fascinates to endless speculation on the old whodunit question. Since this aired, there have been countless shows about Jack. Comics, Graphic Novels. Movies. And of course documentaries that claim they have finally solved the case who accuse and condemn long dead men, hanging the accusation of murder upon them with no trial, concrete proof, or living witness. This informative documentary is the first filmed of many involving Ripper scholar Martin Fido. Other scholars include Christopher Frayling.
MISCELLANEOUS WAR, ACTION, SPY, CRIME, MARTIAL ARTS, DRAMA AND MORE

6685 Adele Hasn't Had Her Dinner Yet (77) aka: Adéla jeste nevecerela Nick Carter (a character that predates Sherlock Holmes!) goes to Prague to help the police with a missing persons case and promptly runs afoul of an evil botanist with a man eating plant. It's a funny send up of pulp thrillers with Nick Carter using a variety of gadgets and wild inventions against a cartoon-ish villain. The bookish maid turns out to be the sultry cabaret dancer, seducing behind a cat mask. Some of the other plants sport big eyeballs, and the mad man plays violin for the plants, a nice touch, later he gets them to do things when he plays a flute. Fantastic late 19th century/early 20th set design, colorful, very realistic. And look, Olga Schoberova of 'Vengeance of She' has a part here. One of the coolest films out of Czechoslovakia in the 1970's. The plant (that even has a tongue!) is amazing. In Czech with English subtitles.
6686 Asphalt Warriors (84) aka: The Syringe aka: L'arbalète A French 'The Warriors' rip-off (sort of). Things start off well, reminding of 'The Warriors', as gang's face off in a deadly rumble. There seem to be a number of gangs, mostly different. A homosexual street gang (and a gay bar), a Neo-Nazi street gang, A blue-jeans cop swaggers along, trying to be hip and cool as he tries to avert a gang war in Paris, pitting Arabs against blacks (?), Vietnamese against Nazis, even street walkers. Don't expect anybody to lay down their weapons and play nice, the gangs are mean, the cops, meaner, at least when regarding the gangs. One cop sadistically shoots up a guy that has surrendered, just for kicks. The music bounces along like a giallo. Marisa Berenson is a hooker. It's about drugs, It's about turf. Asphalt Warriors! This is the rare English dubbed version. LBX BA
6694 Day by Day, Desperately (61) aka: Giorno per giorno, disperatamente Dario's (Tomas Milian) condition is getting worse and he is wreaking havoc on the rest of the family with his violent behavior. His brother Gabriele (Nino Castelnuovo) visits him in the mad house bin. Mother tries to excuse his behavior. Dario gets out and begins destroying the rest of the family. The father is in a state of stress. The church, the nuns.. you can't fix this guy. I will mention that the two sons look like they are too old to be living with their parents. Someone is due for the nest of the cuckoo. Early role for Tomas Milian, one of his first! LBX In Italian with English subtitles. BA
6689 Dear Fatherland, Be at Peace (76) aka: Berlin: Violent City aka: Lieb Vaterland magst ruhig sein 1964 in Berlin, not long after the rise of the wall that separated the city, ex-prisoner Bruno is chosen by the eastern secret agency to be sent west with a special order. However as soon as he has crossed the border, he reports to the police claiming his order was to kidnap somebody, only who he knows not just yet. The east agents do not trust him, and play a double game. Filmed in Berlin. Rare English Dubbed LBX version. BA
6793 Dracula Business, The (74) An amazing documentary from 1974 about the 'Dracula' influence. One scene I had to go back and see again. It was the filming of 'Vampyres' with Jose Larraz filming the two naked lesbian (and soon to be) vampires as they are on the bed getting shot to death. Larraz provides some physical direction, tossing actress Marianne Morris around a bit. Outside a theatre with 'The Satanic Rites of Dracula' and 'Blacula' playing. Denholm Elliot talks about his turn as the Prince of Darkness. A tour of Vlad Dracula's actual grave, and locations from the book, bewildered Romanians know 'Dracula' is their 'Mickey Mouse'. A talk with Hammer big wig Michael Carreras. Daniel Farson, the actual nephew of Bram Stoker is on hand to investigate. More (including really weird people obsessed with Dracula). Real vampire hunters desecrated graves in England during the Dracula craze of the 1960's, insane fools who really believed they were killing vampires, but they were only mutilating corpses. Great stuff, never released and what a nostalgia trip, especially the comics in the bookshop scene! just under an hour.
W128 Escape from Sobibor (87) aka: Fuga da Sobibor Jews stage an escape from a German death camp in Sobibor, Poland in 1943. The escape is led by Leon Feldhendler (Alan Arkin) and Alexander Pechersky (Rutger Hauer). It's an edge of your seat thriller that tells a true story of bravery and determination. The ending is both shattering, and uplifting. Naked women and children are led into the gas chamber, and a woman is executed simply for bringing a baby into camp. The Great Escape meets Schindler's List. Also with Joanna Pacula as 'Luka'. BA
Q941 Ferocious: Beast with a Gun (77) aka: Mad Dog Killer aka: La belva col mitra Sadistic killer Nanni (Helmet Berger) and three others escape from prison and go on a crime and killing spree. Commissioner Santini (Richard Harrison) has the duty to stop them. Nanni is one heartless, ruthless monster. After murdering a guy he deems a traitor, he then rapes and kidnaps the guy's girlfriend (Marisa Mell). Violent shootings and action, some in slow motion. One of the more sadistic, sleazy and mean -spirited crime thrillers from Italy. LBX and English dubbed. BA
6741 From China with Death (74) aka: Lang bei wei jian aka: L'ira viene dalla Cina Starts with a guy (Wu Ma) escaping from his love nest butt naked (oh no! the camera zooms in on his crack!) and chased by a women. That'll get the audience's attention! Supposedly inspired by 'Duck You Sucker'. this is essentially a buddy movie with well choreographed fight sequences. Wu Ma pioneered in the Kung Fu comedy, and was a major inspiration to Jackie Chan. His life of kicking ass (and having his ass kicked) spanned over 280 features. He died of lung cancer in China in 2014 at age 71. This is English dubbed and with all of the crazy exaggerated sound effects. Ends abruptly but is complete! BA
6664 Gangsters 70 (68) aka: Gangster sterben zweimal New alternate version of this rarest of Eurocrime, here in German language and with English subtitles + LBX! Mix up the plot of 'The Asphalt Jungle' with Kubrick's 'The Killing', toss in a few other elements, and you get this gritty, brutal, cold-hearted heist thriller. The gangsters force a passenger plane to make an unscheduled stop in Rome by scaring them with a fake bomb. The take? Precious stones, Diamonds! A brutal killing with large scissors and more, including a plethora of well-painted characters. Joseph Cotton and also hot blonde Franca Polesello!
6695 Green Devils of Monte Cassino, The (58) aka: Die grünen Teufel von Monte Cassino aka: I diavoli verdi di Montecassino German WW2 from the German perspective from the director of quite a few Edgar Wallace thrillers Harold Reini. In 1944, German paratroopers must defend the Monte Cassino area of Italy from Allied attacks. One officer fears that the priceless paintings and artwork stored in the abbey will be destroyed when the Allies commence bombing. He persuades the holy fathers to let him load the art into trucks, and transport it to the Vatican in Rome. You won't see a Nazi swastika, or hear any defeatist talk about the glories of the Third Reich and Adolph Hitler. The point of the film is I guess... Hey, maybe the Nazi's were not such bad people after all. The film is well made, and the locations are spot on but it is still Pro Nazi Propaganda, dubbed into English. BA
6696 Hector the Mighty (72) aka: Ettore lo fusto The Greek tale modernized. The updating also sees the usually stoic warrior Achilles now as a gay Hell's Angel type (Michael Forest), though not a stereotype. The warring factions involved in a big-time prostitution racket and a more modest establishment. References to 'The Iliad' are presented in creative ways, Trojan Horse and the like, if are familiar with the source material you will know, if not, still entertaining. The duel of the champions takes place at night with flick-knives and motorbikes as opposed to javelins and chariots. Director Enzo G. Castellari knows how to do it! Yes, the women, Orchidea De Santis and Rossanna Schiaffino star, along with Italian regulars. Watch as Achilles throws a car over his head! Looked real to me. Have to hand it to them, this is a pretty cool take on the classic. LBX and dubbed into English BA
6665 Hot Diamonds in Cold Blood (67) aka: L'uomo del colpo perfetto Another alternate version of a classic spy thriller. Richard Harrison is Steve Norton, a super spy womanizing man of action. Norton is investigating the theft of a cache of diamonds from a crashed plane. The opening song 'Diamonds, Diamonds' , an underwater cave lair, tied up women, chases, fisticuffs... plays like a James Bond film, and includes some tasty eye candy Rosalba Neri and Diana Lorys. This version of 'Hot Diamonds in Cold Blood' is the rare English Dubbed version, that is also 5 minutes longer than other versions. + LBX! BA
6761 Immortal, The (63) aka: L'immortelle Alain Robbe-Grillet's directorial debut is certainly a strange film (as we would expect from him). A Frenchman arrives in Istanbul, and there meets a beauty (Francoise Brion), and sees her on other occasions. She seems to be shadowed by a man in shades. Her life is ambiguously presented. She may be involved in some kind or other of prostitution, or trafficking, but he doesn't care. She is deceptive, sensuous... he yearns for her. When he is set to meet her, she disappears. He searches everywhere, but is a stranger in a strange land. Then, she comes back to him. And then...... Dream-like imagery and clues (you have to pay attention) may be pointing us to a 'Twilight Zone' type finish. LBX and with English subtitles. BA
6600 Impure Thoughts (86) Four men who attended the same Catholic school in 1960 meet again much later... all Dead and in Purgatory! Sitting at a table in Purgatory, they discuss their past (which we see in flashback, when they were kids, and aging year to year into adolescence at Catholic School). No expert on Catholic theology here, but there are some interesting moments to explore. Mary Beth McDonough is Sister Juliet, Sandra Dorsey is Sister Othilda. Impure Thoughts. This is something we all know a lot about. Starring Brad Dourif, John Putch, Lane Davies and more.
6698 Kill Rommel! (69) aka: Uccidete Rommel Germans and Brits, driving around the desert sands in authentic real tanks, and occasionally blowing or shooting each other to hell. The mission is the title. Interesting casting Anton Diffring, the go-to guy for Nazi characters, as a British Captain. Alfonso Brescia (the Italian Al Adamson) really got himself a swell picture with his use of so much military gear, and decent actors. This film is only good this way, Widescreen. When the tanks attack you get a wide shot of five tanks, squeezed it would be three at most. The comments made about the impossibility of maintaining a code of ethics in war time are mostly correct. LBX and English dubbed this print is 4 minutes longer than the version listed as #K565 BA
6699 Last Train to Berlin (70) aka: Rekvijem aka: The Last Rampage It's 1944. A partisan brigade has been surrounded in the mountains over Uskoplje. The sky is a blanket of falling parachutes and flame throwers are ready. The Germans need reinforcements which can only be brought by rail. Ty Hardin stars as a Major in this film from Yugoslavia. A war film, done in the style of the cheap Italian war films, but boasting gritty locations and manly men. What do you want? Robert Downey Jr. in black face? I know I don't. Fisticuffs, mountains with hidden machine gun men waiting to kill, bombs on bridges.... LBX and dubbed into English!

6670 Man Who Betrayed the Mafia (67) aka: L'homme qui trahit la mafia aka: Calibro 38 A drug syndicate is killing people in Paris. A top cop/detective (Claude Mann) is assigned to take them down. A crooked lawyer (Robert Hossein) who works for the syndicate is pulled to his limit on both sides. The detective lets his sawed-off shotgun do the talking when things get dodgy. Nice violent shoot out and more! Robert Hossein was in a number of great films from 1948 to 2020. He died of Covid on New Year's Eve 2020. Nice LBX upgrade BA
6786 Man Who Lies, The (68) aka: L'homme qui ment A man (Jean-Louis Trintignant) chased by soldiers appears into a village and claims to be a resistance fighter. When the villagers call bullshit he changes his story. Nothing that comes out of this guy's mouth is true. In the meantime he is trying to make time with a dead man's widow, sister and maid. The Sapphic trio of women are the key features of the film. They prowl uncertainly around rustic interiors. The mutating story of the man and his fabrications, and the meaning behind it. The falsifying effect of a memory that wishes it was something else.
6671 Master Stroke (67) aka: The Great Diamond Robbery Richard Harrison (in one of his most ironic roles ever) plays an actor who stars in spaghetti westerns who is offered an acting job. But this is no acting job, but a heist! And he is the doppelganger (after a bit of cutting) of a top executive at the diamond exchange. He needs to pose as the executive, and help these men steal a fortune in diamonds. Killer twists and turns with a great cast, solid direction from Michele Lupo with intense pacing. Master Stroke is a gem waiting to be discovered. Harrison is recruited by Adolfo Celi (of 'Thunderball' and others) wearing dark shades, incognito. Clever. Of course, I am a sucker for these 60's heist films. English dubbed and LBX BA
6673 Operation Leopard (80) aka: La légion saute sur Kolwezi aka: Commando d'assalto The mining town of Kolwezi in Katanga, Zaire, is under attack from a group of communist guerillas coming from nearby Angola. The Europeans who work for the Belgian mining company and the blacks who live in the town are taken as hostages by the invaders, who start a blood bath, shooting Europeans as well as Africans. Nice LBX and English dubbed, previously listed LBX and with English subtitles, this is the English dubbed version, so an alternate version. Take your pick! BA
6703 Prisoner Maria (95) aka: Joshû shokeinin Maria: Gekijô-ban A woman is in prison for murdering her husband's killer. Life in prison unless she performs hits for the government. The opening scene of Maria posing as a dancer in a lounge undercover to get close to her intended target, and then escaping in heels with gangsters on her tale, sets the tone for this action-packed Japanese thriller. She'll use her body and a gun, whatever it takes to get visiting time with her son, and hopefully, get a reduced sentence. There are sequels to this with Maria's further adventures. This is the first one. From Japan LBX and dubbed into English
6704 Professional Killer (66) aka: The Hired Killer aka: Tecnica di un omicidio Robert Webber stars as Clint Harris, a morose, high-priced New York hit man, who is sent on assignment to Paris to locate and kill Frank Secchy, who is making a move on Manhattan's criminal underworld and was also responsible for the death of Clint's brother. Not only does he make money, but it is also personal! He has to take a side-kick along. Tony Lo Bello (played by a young Franco Nero). Clint runs into trouble with a drugged out woman who holds the key to Secchy's location. Shootings, Big Apple footage for the first couple of reels, a twist ending, cool score, and even a nightclub scene where 'Take a Heart' the great freak beat anthem by The Sorrows plays all the way through. Also with Jeanne Valerie and don't blink that's Kitty Swan in bed with Franco Nero. Tough guy Robert Webber had a hell of a career in a number of very good films, and numerous television appearances. He died too young of Lou Gehrig's disease in 1989 at age 64. Alternate print that is LBX and supposedly longer than all previous prints by 5 minutes! BA
6676 Rififi in Paris (66) aka: The Upper Hand Gold is being smuggled into Tokyo and antiquities out of Japan. The smugglers use people with no police records, but they do not know their current accomplice is the undercover Rififi (George Raft). Local gangsters are also after a piece of the action. They blow up associates in Munich and London. Want to play huh? Jean Gabin is excellent as a violent hood, and 'Scarface' himself, George Raft, makes this one worthwhile. But add in Mireille Darc and Nadja Tiller, Christa Lang and Katia Christine, well, you have a classic French Spy Thriller on your hands. Rare English dubbed alternate version and quality excellent LBX. The other version is subtitled. BA
6788 Runnin' Kind, The (89) Joey Curtis (David Packer) breaks free from working in his father's office when he discovers the punk scene in a nightclub. It's a self-discovery film, was college it? His father is over-bearing, his mother naive. The night exploring the dark side in Shaker Heights Ohio opens up a whole new world. He meets a drummer named Thunder (Brie Howard) and before long finds himself living and working with the female band in L.A. choosing his new lifestyle. James Cromwell is Uncle Phil. 'The Screaming Sirens' soundtrack. Also with Susan Strasberg and Juliette Lewis. Brie Howard played in the female rock group 'Fanny', the first female rock group to be signed to a major label. She dated Nikki Sixx of Motley Crue briefly. Later, Sixx later married Brie Howard's daughter Brandi Brandt in 1989 (this is getting weird) before trading her in for new model Donna D'Errico in 1996 (who he then traded in for another younger woman in 2014). BA
6706 Secret File 1413 (61) aka: Dossier 1413 aka: Gli avvoltoi della metropoli This French murder mystery concerns a young woman named Beatrice who has been bludgeoned to death and dumped unceremoniously in the woods in the opening segments of the film. A private eye sets out to solve the crime, but it won't be easy! More murders, an early version of a fax machine, girls drugging men and then taking incriminating blackmail photos, fisticuffs, woman traffickers, a rock and roll band and car chases. This is an English dubbed LBX version Uncut and with an extra 20 minutes of footage compared to the other print out there. Rita Cadillac was a famous dancer and stripper at the Crazy Horse in Paris. See her in this. LBX and English dubbed BA
6800 Seed of Innocence (80) aka: Teen Mothers Danny knocks up Alice when they have sex in the loft of the barn. Alice's parent's send her to a school of unwed mothers run by a bunch of nuns who are pretty much just running an adoption racket. Danny's parents forbid him from ever seeing Alice again. Danny busts out Alice from the nun's care and together they head for New York. Vincent Schiavelli and William Sanderson show up in supporting roles. Shirley Stoler and many more also star. BA
6658 Seven Minutes Before Death (69) aka: Siete minutos para morir Opens in Hong Kong where our C.I.A. undercover man has located important documents with the names of Chinese National agents (who are also in Hong Kong and also undercover). Then, he goes rogue, making a deal with Italian mafia. He wants to ditch his wife back home and cash in, disappear. But he has a twin brother, and things get very complicated. Action, guns and killing as the race is on to prevent the wrong people from getting their hands on the super secret information. Some chop socky, knife throwing, barrel rolling, secret safes behind hidden panels, pretty girls in dresses and designer clothes, closing walls trap, a very slow helicopter chase.... George Hilton and Nieves Navarro the main stars here. LBX and with English subtitles. BA
6680 Showdown (68) aka: Le Pacha aka: La fredda alba del commissario Joss He only has six months to retire, but criminal inspector Pacha (Jean Gabin) has just found his colleague dead, a poorly faked suicide. Angry, he takes on the task of the true cause of death. Revenge is personal in this case. Fast-paced, action-packed, at times darkly cynical and even comedic, violent shootings, etc. A forerunner of the hard-boiled European crime films of the 1970's. An early scene with the bazooka and 'vehicle steal into a truck' is pretty good. When Pacha finds himself in a rich decadent hippie club/bar with bizarre naked dancing to Indian instrumental music.... he leaves with a trio of rich women clad in furs.. on to gather new information, make new connections.... The next machine gun ambush will be lethal... LBX and dubbed into English BA
6659 S-Wheel Beast, The (74) aka: The Beast aka: Il bestione Taking a break from horse pasta, Sergio Corbucci directed this cool road movie about an experienced trucker who has to work with a young Sicilian driver. The truck (The Beast) goes all around Europe, and the men bond, gaining mutual respect and trust, for the conflict to come. A game of pool gets violent, a hooker gets topless, plates of pasta (there it is), fights on the side of the road... and the proverbial secondary route, a scam, a heist, a robbery.... Unusual, nice landscapes, not quite counter culture stuff, but entertaining leads Giancarlo Giannini and Michel Constantin. Also with Dalila Di Lazzaro straight off the set of 'Flesh for Frankenstein'. LBX in Italian with English subtitles. BA
6725 Thumb Tripping (72) aka: Highway Tramper Gary (Michael Burns) and Shay (Meg Foster) hitchhike across America, recklessly placing themselves in harm's way. The wild characters they encounter build a bond between them, although the naiveté of Gary is annoying. It's a hippie road movie, a little counter culture, but also a lesson. While we don't get an 'Easy Rider' or a 'Young Cycle Girls' ending, we still learn a little of what some of these lost young people were like in the early 1970's, and maybe even what a variety of characters from that era in the 'here and now' then were like as well. When they are picked up by Smitty (Bruce Dern, in another creep role) and Simp (Larry Hankin) they find themselves in danger.
6709 Touch of Treason, A (62) aka: Les ennemis Undecipherable documents have been stolen from the Soviet Embassy due to one man's carelessness. Is he a traitor who plans to defect? Agents of French Intelligence investigate. Before the riddle is solved we will witness the fierce struggle waged between the French, Soviet and American counter espionage, all in a race to be the first to locate the documents. Instead of violence, this light-handed film seems to show the characters enjoying themselves in the bars and cafes of 1962 Paris. Espionage comedy? This Widescreen Uncut version is dubbed into English.
6710 Tough to Kill (79) aka: Duri a morire aka: Titanes de la guerra Martin (Luc Merenda) arrives in some violent African country and joins up with a team of cut throat mercenaries led by Major Hagerty (Donald O'Brien). He's really after a guy with a bounty on his head, the other's find out, and everybody wants a piece of the action, which leads to violent confrontations in the wilderness. They capture the guy, and head to the drop off destination. Who will survive? Gritty, nihilistic, totally gripping action thriller, that will have you on the edge of your seat. Directed by Joe D'Amato right after 'Porno Shop on the Avenue' and right before 'Images in the Convent'. Talk about prolific. This is the English dubbed version. If a scene has foreign language, you will see English subtitles. There are some glitches on the master tape BA
6711 Trap for Cinderella, A (65) aka: Piège pour Cendrillon aka: Non sono un'assassina A devilish conspiracy involving a victim of a fire (Dany Carrel in three roles) who awakes in a hospital, suffering from amnesia. Her identity is unknown, and she is wrapped like a mummy in bandages. Is she Dominique or Michelle? Maybe a criminal? The more into the 'flashback' past she goes, the more confused she gets. A crime mystery that will have you guessing. This was remade in 2013 with nudity and lesbianism as well as different women playing the roles. Here Dany Carrel pulls off the characters on her own. Born in Viet Nam, Dany Carrel also played a duel role in 1960's 'The Hands of Orlac'. This film is LBX in French with English subtitles. BA
S143 Two and One Half Cat O'Nine Tails in Amsterdam (72) aka: I due gattoni a nove code... e mezza ad Amsterdam A spoof of Argento's 'Cat O'Nine Tails' with the Italian comedy duo Franco and Ciccio! These guys spoofed spaghetti westerns in one film, hung with Vincent Price and Fabian in 'Dr. Goldfoot and the Girl Bombs' and many more. Didn't take long to spoof giallo! Here they accidentally photograph a murder while doing a story on a diamond smuggler known as 'The Guru'. They travel to Amsterdam and get wasted in a club, even doing a musical performance hilariously. Then, they take another picture of a murder. The killers, who are diamond smugglers, follow them all around Amsterdam. Partially LBX in Italian with English subtitles. BA
6792 Witch Hunt: A Century of Murder (15) The True Story of Matthew Hopkins: Witchfinder General - Religious zeal, paranoia and trumped up charges. For a century, they fueled brutal scourges that claimed innocent lives. The territory is Scotland and England in the 1600's. The rise of King James and the beginning of the witch hunting. The narrator picks out significant moments in the witch hunting and witchcraft hysteria of the time. Covers the time of Matthew Hopkins, Witchfinder General. Filmed accounts. Burn the Witch! + added bonus: The audio recording of 'The Stone Tape' as heard on the radio in England in 2015.
W107 Young, Violent, Dangerous (76) aka: Liberi armati pericolosi Opens with a girl named Lea (Eleonora Giorgi) spilling her guts to the Commissario (Tomas Milian) about what her boyfriend and his buddies are about to do. Then we get to it. Spoiled pretty boy grown-up punks from rich families go on a murderous crime rampage. Mean, cold and cruel, there is no end to their lack of compassion for human life as they rob and murder their way across the rough streets, trying to make it to the Swiss border. On foot in the woods, they even kill kind campers who offer to share their food with them! Call in the dogs! You have to applaud when one of the police dogs (a German Shepherd named 'Sasha') rips out the throat of one of the thugs. Nudity, violent killings for no good reason... you yourself will want to kill these wicked bastards! LBX and English dubbed. BA

MODERATE AND MADE FOR TV FILMS
6773 Bluebeard (63) aka: Landru Another version based on the true to life account, changed of course for film. Landru (Charles Denner) lures lonely women with classified ads in the newspaper, then wins them over with his seductive charm. He marries then murders them, his passion lies in their money, and only their money, even though most are quite beautiful. It's the tale of a cruel opportunist who ensnares the unsuspecting female, ending in his trial and fate. Delivered with a dash of black humor, colorful style and set design, and some beautiful women of the era (much like Richard Burton's use of popular woman as playthings to kill in 'Bluebeard' 1972). Here we get Michele Morgan, Danielle Darrieux, Hildegard Knef, Juliette Mayniel, Stephane Audran, Catherine Rouvel... From the director of dozens of classic French films Claude Chabrol and dubbed into English. BA
6785 Burke's Law (63-66) Two notable episodes (check out the guest stars!) from the series about a millionaire captain of the Los Angeles police department who investigates murders. First: Who Killed April? With Gloria Grahame, Mako, Mark Goddard and Martha Hyer. Second: Who Killed Carrie Cornell? With Michael Ansara, Jim Backus, Fernando Lamas, William Shatner and Joanie Sommers.
6777 Burke's Law (63-66) Two notable episodes (check out the guest stars!) from the series about the millionaire captain of the Los Angeles police department (Captain Amos Burke played by Gene Barry) who is driven to crime scenes in his 1962 Rolls Royce, by his chauffer, usually to a murder scene, crime solved by episodes end. Includes: Who Killed Cornelius Gilbert? With Martha Hyer, Gary Conway and Barbara Eden + Who Killed Lenore Wingfield? With Ida Lupino, Dean Stockwell, Mary Ann Mobley, Dub Taylor and more.
6778 Burke's Law (63-66) Two notable episodes (check out the guest stars!) from the series starring Gene Barry as Captain Amos Burke, investigating murders and his costar Gary Conway as Detective Tim Tilson. First: Who Killed the Paper Dragon? With Barbara Eden and Tura Satana + Who Killed Molly? With Nanette Fabray, Jayne Mansfield and Marianna Hill.
W123 Chained for Life (52) aka: L'Amour parmi les monstres Siamese twins (real-life sisters Violet and Daisy Hilton, their only other film credit is Tod Browning's Freaks). This story, they are in court, one of them has killed her husband and they cannot figure out how to punish the one, who is hooked to the other. It's an interesting question. Stranger than the movie is their real lives. Born in England, the girls were ill-treated and in a state of poverty until they obtained a lawyer at age 23 and were set free to perform vaudeville. They fell into obscurity and were found dead in their apartment in 1969 after not showing up for work at the Park 'n Shop grocery in Charlotte, North Carolina. Both women were briefly married. Can you imagine the wedding night either time? Lastly, their cause of death, listed as 'Hong Kong Flu'. No kidding. BA
6783 Christmas Lilies of the Field (79) MFTV sequel of 'Lilies of the Field' with Billy Dee Williams. He has the nuns singing immediately with his upbeat personality. He plays Homer, a vagrant laborer architect wannabe. He helps some German nuns who are trying to eke out a living in the desert. Mother Maria (Maria Schell) does not want to pay him for his work the cheap.... (darn it) nun (!) but she talks him into staying. He is a baptist. He helps build a chapel, and to help the innocent orphans (one of them is pregnant after all, and that sucker is due by Christmas!). A whole busload. Now they need an orphanage! Another feel good 'who will save the children?' film. Well-meaning, but painfully funny at times. Rachel Ward is Jenny. BA
6693 City of Unspeakable Fear (64) aka: The Big Scare aka: Cite de l'Indicible Peur Inspecteur Simon Triquet (Bourvil) is a clueless investigator who is trailing a counterfeiter and finds himself in a rural town. A killing beast roams the night, mannequins of a local saint lower hatchets and half-printed bank notes go with the wind. A mixture of genre's here, the town looking like something out of the middle ages, a mystery unfolds with surreal dreamlike intensity. What is the ancient monster that stalks this town? Is it a monster, or something else entirely? A frog monster man and living hatchet wielding mannequin... hmmm? LBX In French with English subtitles.
W136 Coach of the Year (80) Jim Branden (Robert Conrad) is a former Chicago Bears player, who was paralyzed in Viet Nam and now wants to coach. Rejected by the Bears he ends up coaching youth at a juvenile correctional school, where his nephew resides. It takes some time, and some attitudes to change, but eventually he wins them over and they actually get better at the game of football. They use the kids from St. Charles, Illinois. One of the kids is Richard Marx in his debut. He became Richard Marx the band, with a kid from 'The Walton's' on guitar Jon Walmsley (in the mid to late 80's). Robert Conrad will always be remembered for 'Wild Wild West'. He died in February 2020 in Malibu of heart failure. He was 84.
W129 Curse of Bigfoot (75) Uniquely different, it's two films in one. Bigfoot was big... Resurrect the footage of an unreleased film, add more footage, and bingo! A 'new' Bigfoot movie. In the opener (new footage), the monster stalks around a house as night comes down, much to the chagrin of a black dog. When the owner comes out and feeds the dog, the monster gets her... but this is a film study class! Another creature in the woods story is presented. And then the entire 'Teenagers Battle the Thing' comes into play, in Color! Some of the actor's from the original are brought back. A magnificent finale of special effects practicality. The monster suit is even cooler (and awful) in Color. Nice Upgrade!
6748 Devil's Commandment, The (57) aka: Lust of the Vampire aka: I Vampire Rare English language dubbed version! Set in Paris, France. A mad scientist captures and kills various young women, draining their blood, in order to keep alive the wicked Countess (Gianna Maria Cannale, wow!) who resides in the ancient castle Du Grande. While the cops investigate 'The Vampire Murders', they find suspect in the form of a junkie, who is connected to the doctor. The Countess arranges a costume ball. The beginnings of Italian Horror, inspired by Elizabeth Bathory. The film is fantastic. Riccardo Freda directs and the director of photography Mario Bava (who also co-directed!). The opening kill has a dance hall hooker-like woman taking a bath, soaping up those sexy legs, but oh no! The doctor has arrived! Atmosphere drenched in the castle that comes complete with a gothic crypt, secret passageways, pillars marked with demonic images and the like. Let us know if you need the Italian language version with English subtitles. Otherwise, this nice English language dubbed LBX version will be sent. BA
6740 Donor (90) Never released on video or DVD. If you liked 'Coma' you will like 'Donor'. Melissa Gilbert plays Dr. Kristine Lipton, working at an inner city hospital where a cover up is taking place. Middle-aged men are being used as guinea pigs and are being turned into terminally ill senior citizens by two rogue doctors. A drug enforcement officer (Jack Scalia) is undercover (and under covers with Lipton) and even though he is investigating something else entirely, stumbles into the mad doctor's plot, and helps Lipton expose them. But is reporting the evil men to the Chief of Staff (Pernell Roberts) the right move? From broadcast with original commercials, never released.
6624 Face of Evil (96) MFTV thriller from the director of 'Pet Sematary'. Wicked Darcey (Tracey Gold) rips off her fiancé and heads for New York City, killing a woman (Mireille Enos) along the way, stealing her identity, and stuffing her into a suitcase. Now in college with the stolen name, she meets Jeanelle (Shawnee Smith) and learns her father is a well known art connoisseur (Perry King). Darcey is a sociopath killer, and manages manipulation and juggling lies like a pro. She is the 'Face of Evil'! Look for Melissa Moore as a Grad Student Tour Guide.
6749 Fight For Life (87) Epileptic convulsions afflict Felice, the six year old (played by eleven year old Jaclyn Bernstein) daughter of Dr. Bernard Abrams (Jerry Lewis as the optometrist doctor in one of his rare dramatic roles). His wife Shirley (Patty Duke, who else?) is not very happy about it either. Felice flops around like Linda Blair and scares shit out of everyone at the table, smashing her face into a plate not once but twice!. Fifteen seizures a day, no hope. But wait, a drug in Europe, not yet approved by the FDA in America might help! It becomes their mission. As the doc, Lewis walks around in the snow from time to time and let's us know what is going on. You may need tissues.
W113 Haunted: The Ferryman (74) An arrogant author (Jeremy Brett) has hit the big-time with his most recent book, 'The Ferryman'. Later he and his wife (Natasha Parry) lose their way in a rainstorm and end up at a creepy in that has no other guests. The ghost of the drowned Ferryman from his novel becomes reality.... From the writer of 'The Green Man' Kingsley Amis. A bit of old fashioned horror from the director of 'Ghost Story' 1981 John Irvin.
W130 Satan's Triangle (75) Another 'Satan' inspired MFTV horror that provided quite the jolt to the senses of impressionable young minds back in the day. It literally scared the crap out of everybody who saw it, and on a moderate budget to boot. Don't read about it, you can only ruin the experience. The Triangle was a real mystery/fear in 1975. Spine tingling. Doug McClure, Kim Novak, Ed Lauter, Alejandro Rey and more star. Now... Upgrade!
9310 Shadow Dancing (88) A 'Flashdance' inspired tale with lots of music about a dancer named Jessica (Nadine Van Der Velde) who gets the gig and the performance in the long-closed Beaumont Theatre. Closed for 50 years after the on-stage death of Lila Lanuit. Jessica, treated poorly by the other players, finds an old dressing room upstairs. The dressing room of the deceased ballerina. Jessica becomes possessed by the spirit of Lila Lanuit, gaining the flaws, but also the skills of the deceased. Above the theatre, old man Beaumont (Christopher Plummer), the former lover of Lila Lanuit from 50 years ago, and maybe even her murderer, begins to take notice in Jessica/Lila. In English, but with foreign subtitles.
6744 Shadow Play (86) Morgan Harris (Dee Wallace Stone) is trapped between past and future, between the real and imagined. Trapped in a world where love and desire walk on the razor's edge of madness. On the Orcas Islands, near Washington, Morgan sees her long dead lover in a mirror. Seven years before he had leapt to his death from the top of a lighthouse. ... 'Ghost and Mrs. Muir' for contemporary audiences. Lighthouses, great shots of the Puget Sound, San Juan Islands. She has returned to write. Her ex-brother-in-law is trying to get into her pants. And her dead husband keeps appearing to her. Is this all based around the steamy sex scene.? Like a living breathing Gothic Romance Ghost Story. Will the conclusion shock you? Also with Cloris Leachman.
6752 Teenage Strangler (64) Women start turning up dead around town, marked up with lipstick. It's a mess of a movie, mixing the J.D. rebel film with a murder mystery. Bad acting, loser characters, catchy tune etc. I loved it! The era, the cars, the locations... fantastic! + Teenage Zombies (59) A female mad scientist (for a change played by Katherine Victor) on a mysterious island, uses nerve gas to turn teenagers into mindless zombies. When teenagers decide to picnic on the island, they find themselves captured and caged. Another inept film from Jerry Warren, highly entertaining for fans of this schlock (like me). Katherine Victor was in a number of excellent genre films of similar quality. DOUBLE FEATURE Both films on one DVD-R and no VHS
6684 Ten Little Indians (74) aka: Ein unbekannter rechnet ab Ten little Indians went out to dine, one choked himself... then there were nine. One little two little three little.... Indians... Now for the first time, the Uncut version of this. Anyone see the 2016 version where they ignored the 'Indians' statue's completely. The producer's were terrified that if they used any reference to Indians, people would have gone on the war path! Here in this multi-country compilation, the figurines look to be of Indian origin, with turbans. Many are called to a mansion, all with a secret crime from their past, and they die one by one, and each time, an Indian figure appears disfigured some way, missing pieces. Elke Sommer, Oliver Reed, Maria Rohm, Adolfo Celi, Richard Attenborough, Herbert Lom, Teresa Gimpera, Orson Welles, Gert Frobe and more star. Interestingly filmed in Iran, no version before or since has boasted such a stellar cast. There are a few scenes where the actors speak foreign language, when this occurs, there are English subtitles on the screen. Most of the film however, is in English language. BA
W127 Trial, The (62) aka: Le procès Josef K. (Anthony Perkins) has just been arrested and is about to stand trial. Nobody will tell him the charges. A journey through a nightmare system of a justice gone wrong, persecution for absolutely nothing, condemnation for being human and having thoughts and ideas. A world of nonsensical rules and bureaucratic red tape. A road we may find ourselves traveling in years, in months, in weeks, maybe tomorrow. Visually astounding and utterly disturbing. Orson Welles directs from the Franz Kafka novel, and a great translation to film from a novel it is. Many who wrote in the past to remind us of the dangers humanity faces were far more intelligent than the hysterical fools who influence (and even encourage) our demise now. LBX BA
6766 What Ever Happened to Baby Jane (91) Real life sisters Vanessa and Lynn Redgrave tackle the roles Bette Davis and Joan Crawford originated in 1962. Sometimes a scene for scene remake, but there are some added bits (like the inclusion of a drag singer). To mix it up they staged some events in the film differently, and of course these are modern times, and the pair in a world of video stores and prostitutes makes for a little more opportunity to imagine the past they have left behind. John Glover (known for a number of villainous roles) takes the Victor Buono role and puts a drag queen spin on it, something I must admit would have been great to see Buono do, but 1962 could not have handled it. Purists hate this film, like to compare it to the original. Also stars Amy Steel of 'Friday the 13th 2'.
6677 Witch in Our Family (00) aka: En häxa i familjen Young Maria is annoyed by her younger brother. Young Maka has a 'magic' crystal ball. Maria wants the little bastard gone. He gets into her barbie dolls and dips their little blonde heads in black goo. When Gerda the babysitter shows up, Maria gets the idea there is a reason. A witch to help rid her of her brother, Was this the wish fulfilled she asked of the crystal? 'I wish I didn't have a little brother.' was the wish. Spacing out in school, Maria has to go home early. Gerda takes the little girls on a boat to an abandoned castle and they proceed down into a labyrinth of tunnels.... Turns out the old babysitter is indeed a witch, or is this some elaborate hoax? LBX in Swedish with English subtitles
MONDO FILMS

W141 Borneo (37) aka: Bornéu, a Ilha Selvagem Inspiration for the faked mondo! The last expedition for the film-maker explorer husband and wife team of Martin and Osa Johnson. Bravely they went, into unexplored regions.. the flora, the jungle etc. They travel upriver and encounter flying snakes, various simians and apes, climbing fish and more. They are hunting monkeys. To take them back to America for literal exploitation. But there is fake 'staged' stuff as well. The 'orangutan hunt' sequence takes up most of the 2nd part of the film. Finally they capture a 300 pound orangutan. This was actually pieced together from all of their other films with archive footage. Savage Fury! Death Defying! Land of the Devil Beast!
6697 Hindu Superman (87) Krypton is doomed, and they send a baby to Earth where it lands in India and is found by a couple, who name him Shekhar. A complete and totally cheap Hindu rip-off that never fails to entertain during the over 2 hour running time, including commercials! When he is a baby, he bends a garden hose to show off his strength (what?), befuddling his new parents. Later, he kicks a ball and outruns a train. Time for a bit of dance?! Shekhar has a little Christopher Reeve curly in his hair. Of course he flies, spins around the whole planet! Michael Jackson's 'Beat It' is played during a kid break dancing sequence. The special effects are some of the worst I have seen, which makes for jaw-dropping laughs. No English, completely foreign language with no subtitles. Some glitches from master tape.
6679 Sex and Death Circle (78) aka: Ölüm çemberi Opens with the Star Wars theme music as a topless stripper gyrates on stage. Istanbul. More dancing girls, until it becomes almost comical. Move that ass mama! Now a man named Kazim is in a strait jacket and is beaten, his head is shaved. He is in the asylum. Tormented by his memories, the strip club is a place of danger. His wife is dead. Kazim is quite mad (in more ways than one). Kazim kicks ass on asylum workers and goes on the run. He repeats the names of those he is going after. as he flees. He has 'Revenge phobia' according to doctors. Watch as Kazim kicks more ass. He will not be stopped. Nor should he be! Can he save his daughter? In Turkish with English subtitles.
6765 Turkish Star Trek (73) aka: Turist Omer Uzay Yolu'nda Forget 'Star Trek: The Motion Picture'. This is the first 'Star Trek' movie. Of course not official, but better than that first Trek film (ugh!). The sequels were sometimes good, but the ones of the 2000's are god-awful. But this, a pretty funny Turkish rip, where you will see snips and bits inspired (say 'copied') from the television classic (which was big in Turkey in reruns) is a real hoot. Turist Omer (played by famous Turkish funnyman Sadri Alisik) is accidentally beamed aboard the Enterprise, and much to the dismay of Captain Kirk, Spock, and the rest of the crew, puts the show in comedy mode. Phasers, Short-skirt crew girls.... sadly no English and in Turkish only, but worth a look!

PROPAGANDA FILMS
W118 Samurai (45) A Japanese war orphan, adopted by white Californians, hears the blood-call of the Bushido. Sent to Europe to study medicine and art, he returns stereotypically squinty-eyed and toothy. Later back home he meets up with his old mentor, and together they talk of world domination (it is in their nature you see), and engage in anti-American activities. Wonderfully inept ,maybe racist. But I did not live in 1945. The idea that Japanese were dangerous right after the war was a real public belief. On the same track, the Japanese were not all together trusting of any American's living in Japan. So there is the conundrum. A time capsule. I found this picture hilarious!
SERIALS
W140 Ace Drummond (36) Ace Drummond takes place in Mongolia where International Airlines is attempting to establish a link to the Orient. A master criminal known as 'The Dragon' is attempting to stop the airline. 'The Dragon' uses a death ray that he uses to bring down planes. Ace Drummond the 'Flying G-Man of the Air' (played by John 'Dusty' King) seems to burst into song at every opportunity. There are some great flying sequences, and cliff hangers of course. Noah Beery Jr. is Jerry, very young here, would end up on 'The Rockford Files' 50 years after this. Jean Rogers (as Peggy), and one of the henchmen is Lon Chaney Jr. as 'Ivan' an oriental! BA
SOUTH OF THE BORDER

6668 Infernal Angels (68) aka: Los canallas Babe Cadena (Regina Torne) is the leader of the gang 'Infernal Angels'. She is one mean bitch. Her goal is to kill Mil Mascaras, who is responsible for the imprisonment of her man. Kadena tortures her captives in her colorful villainess lair. A weird occult ritual involves pouring blood on an effigy of Mil Mascaras. Bloody whipping, ring battles etc. Mil Mascaras, macho he-man at large, kicks appropriate ass, in his mask and dainty tights. Some pretty cool set pieces, one of the bad guys has a hook for a hand, damsel in distress dangles above certain doom below, hanging from a rope...more. Now with English subtitles.
6759 Vampiro, El (57) One year before Hammer's 'Horror of Dracula', Mexico created this masterpiece of Gothic Horror, with German Robles in his debut as the long-fanged vampire. His performance is unique, equally erotic as he is creepy. His female victim's are usually clad in sexy lingerie, and he possesses them by drinking their blood. A pretty young woman travels to the castle of her ancestors, accompanied by a doctor (Abel Salazar). A dark, threatening, broody atmosphere with swirling fog, eerie woods, stark decaying structures straight out of classic horror and vampire to bat transformations (and yes we do see the string). Fire, Crypts, Coffins, stakes in chests, Disintegration of a vampire..... This version has English subtitles and is in the original Spanish language BA
6760 Vampire, The (57) Same movie as 'El Vampiro' with German Robles and Abel Salazar in the English dubbed version that inspired Hammer to begin their reign of cinematic terror. Don't miss it! German Robles acted up until 2010. He died in Mexico in 2015 of COPD at age 86. BA
WESTERNS
6774 Apache Trail (42) Trigger Bill Folliard (Lloyd Nolan) a cheerful, black hearted villain (my favorite kind) shows up at his brother's stagecoach way station and terrorizes everybody as he tries to get his hands on the loot. Hilarity when we see Donna Reed as a hot-blooded Latina. The Apaches are on the warpath and want Trigger Bill's hide (he has stolen the sacred 'peace pipe!) William Lundigan is Tom, Trigger Bill's incorruptible brother. Ann Ayars is a head turner as Constance. This movie has a lot going on, and did not end as I expected, which was satisfying. BA
6669 Let's Go and Kill Sartana (71) aka: Vamos a matar Sartana aka: Demasiados muertos para Tex Nebraska Clay (George Martin) wipes out a gang of scum bags in self defense, but the law does not see it that way, and they lock him up. Cellmate Greg (Gordon Mitchell, crazy, and sporting a beard this time)) stages a jailbreak with his gang, and Nebraska splits with them, going after a box of gold that is hidden in a monastery in St. Virginia. The Sheriff however, is on their trail, he has made a vow, and he will stop at nothing to fulfill it. Here this obscure plate of pasta comes, in Italian language and with English subtitles! LBX BA
6681 Man with the Golden Winchester (73) aka: Son of Zorro aka: Il figlio di Zorro An animated acrobatic Zorro aids an American gunrunner in his effort to supply weapons to Mexican Revolutionaries in their effort to overthrow the current tyrant in charge (Fernando Sancho). Golden-haired womanizer Mathias (William Berger) has promised the Emperor he will stop this insurrection. Sharp bright colors and magnificent landscapes betray the low budget. Zorro is cool as hell, all in black, mask, cape and sword, jumping and kicking.... Action packed fun, a spaghetti costume, horse western, stagecoach robbery and the like. The girls are nice. Elisa Ramirez, Marina Malfatti... Ah, the reveal at the end! Great! But? LBX and English language dubbed BA
6780 Today It's Me, Tomorrow You! (68) aka: Today We Kill, Tomorrow We Die! aka: Oggi a me... domani a te! Co-scripted by Dario Argento. Bill Kiowa (Brett Halsey billed here as Montgomery Ford) goes on a mission of vengeance after being released from jail. He was innocent, and the man who set him up (the outlaw James Elfego played by the Japanese Tatsuya Nakadai) is going to pay a deadly price. He rounds up some other rough guys with skills, and off they go. Offbeat standoff in a swampy wooded terrain, bold violence, brisk pace, excellent shootouts and fantastic cinematography. Bud Spencer, Wayde Preston, Jeff Cameron, William Berger... English dubbed alternate version to the LBX BA

---
---