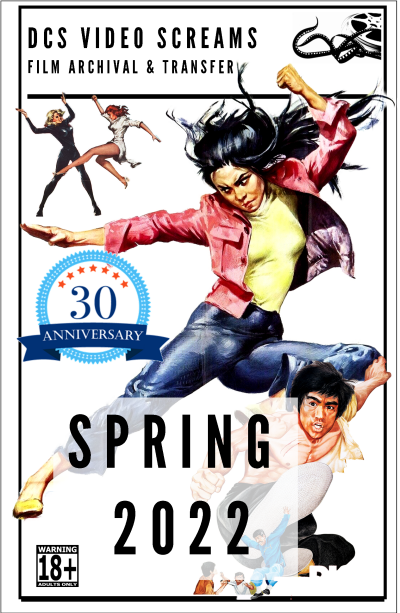 SPRING 2022 UPDATE
22860000
22860000
(`@`````````
266
263
5
110185200
110185200
BA= Color Box Art Available for an additional $3.00
FL= Film is in Foreign Language
Lbx= Letterboxed or Widescreen format
Subs= Film is subtitled
aka= Also Known As (alternate titles)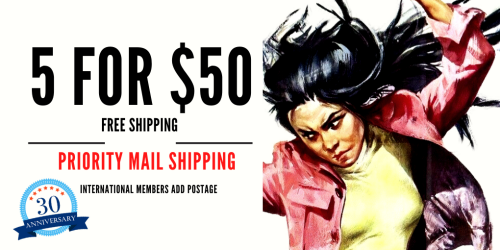 BATTLE CHICKS & WRASSLE BABES
0161 Battling Beauties (83) The sexiest craziest competition ever as an enthusiastic crowd welcomes bikini bimbos into the room, some of who have great stripper names, to roll around on a big blue mat and wrestle in oil. Dolly Roger, Sugar Rae Renee, Cactus Kelly and more. Match after match. You will be amazed at how fast this stuff goes down covered oil! Violent, Sexy Fun. You will never see so many smiling men in a room, and wish that you were there. Later we move to a ring where the girls wear huge red boxing gloves and start to pound and kick each other. Tops get torn off in battle!

BIKERS & BITCHES
0153 Arrogant, The (87) aka: Sylvia Kristel's Desires God-Complex narcissist Giovanni (Gary Graham) is attacked by his father-in-law who is wielding an axe which cuts the head off his cat. Giovanni kills him and goes off on his motorcycle. On the run, he picks up a trusting waitress named Julie (Sylvia Kristel). We soon learn that Giovanni is not a good guy. By a large lake, Julie wears a see through shirt. But Giovanni has already set his sights on another young busty woman he sees walking on the road. Sex in a nearby barn satisfies the woman, but is she still alive? Back on the road with Julie. A biker gang goes up against Giovanni. He hands them their asses. 'Good you creamed them" Julie exclaims. Later Giovanni gets bitten by a snake and Julie almost gets raped. A car follows, mystic, mysterious, we do not see the driver. Giovanni is disturbed. A bizarre throwback philosophical road movie. BA
W264 Girls from Thunder Strip, The (66) aka: Die rasenden Rocker vom Thunderstrip Dynamite action.... doped up cars, illegal whiskey, wild women and exploitation thrills. Three boot-leggin' hillbilly chicks take on some rapist/killers bikers. A lot of this was filmed on the Spahn ranch, home of the Charles Manson cult/family. The film starts with one of the girl's being assaulted. Gary Graver is the cinematographer on this, a far cry from his days with Orson Welles. Casey Kasem shows up as a federal agent and chews the scenery with a few good laughs. No mystery with the biker jackets, the same director of 'Hell's Chosen Few'. Goodtime humor, cheery banjo music and cartoonish sight gags go hand in hand with rape and cold-blooded murder. They simply do not make them like this anymore. Jody McCrea, Maray Ayres, Lindsay Crosby, Gary Kent, Jack Starrett (the king of the redneck cops, see him in 'First Blood' with Stallone), Bruce Kimball and more. Gary Kent says during filming some of the Manson Family was always around begging for food/handouts. Widescreen and nice color - Jack Starrett had an alcohol problem and died at the age of 52 in 1989 of kidney failure in California. Lindsay Crosby blew his brains out in 1989 at age 51 in California. BA
CLASSIC HORROR AND SCI-FI FILMS
W281 Bride for Henry, A (37) Sheila (Anne Nagel) is stood up on her wedding day because her fiancé is stone-cold-drunk. Henry (her solicitor) stands in, to make her fiancé jealous. Now she is married to Henry, and Henry is in love with Sheila, but Sheila is still in love with her playboy fiancé Eric. Things go off the rails as this point when Eric crashes the honeymoon. Fast talking fast happening comedy. Also with Warren Hull, Claudia Dell and Henry Mollison. BA
W270 Gorilla Ship, The (32) aka: Vengeance Rides the Sea Three people (two being husband and wife) are rescued at sea and brought aboard a ship run by Captain 'Gorilla' Larsen and his band of scurvy sea dogs. Larsen is an ill-tempered surly sot and things run along like a lighter 'The Sea Wolf' type in many ways, the 'trouble at sea' genre. Ralph Ince is swell as Gorilla, he also starred as 'Wolf Larsen' in a 1926 version of 'The Sea Wolf'. Also with Vera Reynolds. BA
W282 Gun Moll (38) aka: Gang Smashers Blaxploitation from the 1930's! To those colored men and women of the Intelligence Service who unflinchingly risk their lives in the interests of good government, this motion picture is dedicated. Their efforts have contributed to, in a large measure, toward this country, a safer and finer place to live in. (!!) Nina Mae McKinney stars as Laura Jackson. Laura is police woman working undercover as a nightclub singer. She is setting up Gat Dalton (Laurence Criner) for a fall. At one point she appears to be a gangster's moll, but doesn't really get the chance to be the bad guy killing soul sister that would come decades later. Still, the film has that 'feel' to it, that lost era haunt of forgotten performers. Nina Mae does a few numbers. When she died at age 50 in New York in 1967 at age 50 of a heart attack, nobody even ran an obit. Also starring the great Mantan Moreland as 'Gloomy'! BA
W283 Pin-Down Girl (51) aka: Racket Girl aka: The Blonde Pick-Up Women's wrestling is the front a gangster uses to hide his illegal gambling operations (and a little pimping as well). Peaches (Peaches Page) comes to work for Mr. Scalli (Timothy Farrell) and falls in love with him. Ruby (Scalli's former girl) warns her to no avail. Cool scenes of the girl's working out in a gym with minimal equipment, and rolling around on a large mat. Some of the girl's are pretty tough, and this is an example of early women's wrestling. Timothy Farrell would hook up with Ed Wood the following year for a few films, and a few more with this director Robert C. Dertano. The girls in this were one-timers. BA
0086 That They May Live (38) aka: J' Accuse aka: Io accuso French anti-war film about a man who served in WW1 and sees that future wars are approaching because we have not yet learned the lesson. (Still haven't in 2022, but I am no pacifist, and this is a longer conversation.) The man has promised the war dead that this will not happen again. Horrified as we march towards a new war he is in despair. The war dead rise and march, a kick in the gut. Is this all there is .... men killing one another? Freedom choked in dread we live. The film offers no solution, only a cry of humanity through supernatural means. I enjoyed the film, but sadly, learned nothing. This is the uncut version with English subtitles BA

DINOSAURS, LOST LANDS, PEPLUM, SWORD AND SANDAL AND FANTASY FILMS
0155 Jack and the Beanstalk (70) Directed by Barry Mahon the nudie film pioneer, making a kid's film, one of his last. This was filmed at a shuttered and abandoned amusement park (Pirates World Amusement Park). The whole thing is so bad it makes 'The Wonderful World of Mother Goose' from H.G.L. look legit. Welllll... The sets are high school play quality. The special effects are more than just practical, they are almost nonexistent. The 'giant' is the most pathetic one I have ever seen for this particular story, A burly chested loser that looks tiny against the larger furniture they created for him. The gold harp switches sizes and looks like it was made by a first grader as a school project. The scale is off everywhere like 'The Giant Claw' was infamously known for. There is music. There is fun. I cannot look away. Somebody help! BA
0143 Kali Yug: The Mystery of the Indian Temple (63) aka: Il mistero del tempio indiano Sequel to 'Kali Yug: Goddess of Vengeance'. Here our hero is a virtuous doctor and the female interest is a tinted Claudine Auger (as Amrita). Here again the wicked Indians and their lust for human sacrifice as they try to chase the English out of their motherland where they have no business anyway. But they are the British, it's what they do (did). The doctor displays a progressive view of the Hindu Indians, their temple and their ways. But the leader of temple believes it is the civilization of the English that is prehistoric. Maybe some tint face that will make some people of today squirm, could be why some of these films are forgotten today. Lex Barker returns as Major Ford. Senta Berger is Catherine Talbot. No English, this title is in Italian language only. Widescreen BA
0156 Wonderful Land of Oz, The (69) Tip and Jack the Pumpkinhead end up in the Emerald City, fleeing from his evil witch stepmother. The sets look to be made of cardboard, a papier-mâché cow adds to the hilarity. The 'Wogglebug'! The songs! The stage makeup and costumes! A pumpkin headed man arguing with a witch. I'll be fair, this is like entering a different level of reality. The casual attitude of the characters in their personas is comical, but also played straight, for real, without a camp attitude. There is also a group of young women who overthrow the kingdom of the Scarecrow! Now I am the Queen, and you must obey my laws! Throw them in the dungeon! A boy pulls a mouse out of his pocket and the girls all run screaming. They have retaken the palace! BA

EXPLOITATION FILMS
0127 Bacanales Romanas (82) aka: My Nights with Messalina Sex in the palace with a gay Cesare and horny women galore. Messalina (Raquel Evans) blanks with her lesbian servant as she waits for her husband to return. General Claudio returns alright, with VD and a young sexually innocent druid named Pijon. The oversexed kingdom talks begin. Time to make Pijon a man. They say this is the first Spanish hardcore, made after the death of dictator Francisco Franco. Ajita Wilson is giving a guy a blowjob in the first 15 minutes. The dialogue is astonishingly lewd, as you read the subtitles you will see. Claudio tells of how he was with three women when an enemy appeared, another guy. He blanks him. Now he can't stop scratching his blank. That must be cured before you blank your wife. Ajita Wilson has sex with more women and a man, hardcore XXX so be warned. You have not seen Ajita like this. More dirty talk. Bacanales Romanas is a one of a kind comedy, that just happens to have some hardcore scenes and lots of nasty words. Will Claudio be cured so he can blank his wife? Widescreen Spanish with English subtitles and Uncut for the first time.
0084 Black Emmanuelle 2 (76) aka: Emanuelle nera n° 2 The opening has our lead (this hot black chick in her only movie named Shulamith Lasri) getting whipped naked, kind of shocking. Then she is in a mental hospital and we see her psychiatrist pulling the madness from her mind, her trauma, her abuse at the hands of bad men. Not only do we see her reflections in flashback, we see other views of people who were there as well. Italy based so we get the gorgeous Dagmar Lassander and Danielle Ellison to round out the hot babes. There is also some pretty good footage of New York City filmed on the sly, including 42nd Street. Trippy flashbacks and sexual suspense. Director Bitto Albertini directed 'Black Emmanuelle' with Laura Gemser the year before in 1975. Gemser had a small role in 'Emmanuelle 2' with Sylvia Kristel, competing with this film, then was Joe D'Amato's muse for a series of 'Emmanuelle' films. This chick Shulamith has one hell of a body, and no problem with full nudity. She looks like an outcast from a blaxploitation movie, and does a swell job in her trashy role, adding sensitivity. Nice Upgrade of this Trash-ter-Piece. Upgrade! BA
0107 Convoy of Women (74) aka: Convoi de femmes Fantastic trashy western from the director of 'House of Cruel Dolls' and 'The Panther Squad' Pierre Chevalier. He employs the cut and paste method this time out, using footage from various projects to cobble together an assault on the mind. At least mine. A gaggle of sexy gals travel by way of covered wagon, and are abducted and shipped off as sex slaves in America! Rape and plenty of nudity mixes with incorrect cowboys and indians, forts under siege etc. The most splendid thing here is the women of course. Alice Arno, Evelyne Scott, Nadine Pascal (in her debut) and more. Also with Paul Muller as an English Colonel and the great Olivier Mathot as a Commandant. English dubbed BA
0051 Depraved Relations (75) aka: Les liaisons perverses A young photographer intrudes upon a mansion, entering without permission. Inside, the young wife of a businessman is alone and is surprised by her uninvited guest. He leaves, but not before mental shenanigans of flirtation. Later the photographer ensnares the young woman in a betrayal of her middle-class values. His attempts to exploit her are met with surprise as his quarry is smarter than he, and her husband...... ? An incredibly obscure sleazy soft core exploitation made in France and starring Mona Heftre and Claudine Becarrie. Dubbed into English transferred from an Australian PAL tape. BA
0166 Doin' It (83) aka: The First Time Parental pressure is on poor film student Charlie (Tim Choate)! He's being forced into a relationship with a girl... any girl! When Charlie gets into filmmaking, all the girls go crazy for him. Politically incorrect and awkward sign of the times. Some may cringe here and there with the lame jokes. But even crassness and bad taste has a place here. The main ingredient in this sexy stew would have to be the numerous pretty women involved. Krista Erickson and many more. Tim Choate was on his way to play rehearsals in 2004, riding his motorcycle, crashed and was killed at age 49. BA
0176 Dona Flor and Her Two Husbands (78) aka: Dona Flor e Seus Dois Maridos Dona Flor (The Brazilian Bombshell Sonia Braga of 'Kiss of the Spider Women') is devoted to her drunken husband but then he dies. Dona Flor spends one year in mourning. Then she realizes she needs a man in her life. She remarries and is not satisfied sexually. She misses her husband, who really lit her fire when he was alive. Now, to stay satisfied, Dona Flor will fantasize about her former husband who returns in her mind and we too see him. Now she can have sex with both of her husbands without any trouble. Is her dead husband really there, a horny ghost who will not leave? An erotic delight. In Portuguese with English subtitles BA
0134 Erotic Adventures of a Young Don Juan (87) aka: What Every French Woman Wants aka: L'iniziazione Four minutes longer, can anyone take the time and tell me the difference to S716? This would make a good double feature with 'In Praise of Older Women'. You will find a description of this film on page #106 in the Catalogue Book One. Nice crisp Widescreen In French with English subtitles. BA
0163 Head Mistress, The (68) aka: The Head Lady Mario (Victor Brandt) has a genius idea. He pretends to be a retarded deaf mute in order to get a job in the all-girl's school that house voluptuous and very horny beautiful young women. He manages to bed them, one after the other. The school's Head Mistress (Marsha Jordan) gets some lesbian action with the girls as well, as do others. It's like everybody is on sex crazy pills. A school you all will wish you were a part of. Another wonderful sleaze from the swinging sixties. BA
W279 Hedonistic Pleasures (69) aka: Naked Psyche Big-Boobies film masquerading as a documentary. First, a blonde in the shower we see it all in in full close-up. Boob to the face when it hits the camera a few times. Next a journey into the weird world of LSD. A young couple drops some acid. The same kaleidoscope effect employed with the blonde in the shower is used here. While they trip, the woman 'freaks out' in 60's hippie dance moves, finally naked, with spiral lights and wild music. Psychedelics. More large-breasted women dance. This man is having what we would call a 'good trip'. Next, a blonde surfer dude is set to photograph nude models. Yep. More delicious large breasts. Where is Russ Meyer? Blonde boy scores. Soft-core drugs and hippies moaning in ecstasy. Hedonistic Pleasures. Have some. Soft-core
0157 Helena Screw Factory, The (79) aka: A Pleasure Doing Business Attending a stag party, three men rekindle their boyhood friendship and scheme to make some scratch by manipulating a prostitute into earning. The audition/screening process is hilarious. One of the potential picks is a man. God you're a man! Yaaa... the guy goes running. Finally they find Ronnie (hot blonde Misty Rowe!). She has a perky wink wink personality.... and business is good! Some really funny moments. Conrad Bain (must have been filmed before the oh so wholesome 'Watcha Talkin' About Willis' show), John Byner, Alan Oppenheimer, Phyllis Diller, Tom Smothers and more. Politically incorrect fun for those of us who can still laugh at trashy comedy without guilt. BA
0135 Hot Bodies in St. Tropez (83) aka: A Summer in St. Tropez aka: Un été à Saint-Tropez A dedicated disco soundtrack, big hair, 80's fashions of gym shorts on some guys and one piece rompers for the girls, spectacular scenic vacation looking locations. How can you not like a film that is based solely on young perfect looking people seeking fun and pleasure? The place they go to stay unfortunately for them is run by a counterfeiter, so there is a little bit of action, chases and a plot. Sort of like how those 80's exploitation movies made over here would play out. The guys get exploited as well as the girls, lots of bare male butt, but don't worry, plenty of female skin is on display as well, and the girls sometimes go topless outside. Paradise. This is a Max Pecas directed movie after all. Nice Widescreen and English subtitles. BA
0137 Hot For Teacher (76) aka: Classe mista The new teacher Carla Moretti (Dagmar Lassander) is so smoking hot she would make anyone want to attend to her class (minus the first two letters of class). School attendance (and other things) is up, substantially. Students are climbing walls with binoculars and peeping on Aunt Tecia (Femi Benussi) as she showers. Wait! Give me the binoculars! The women have everyone running around in an oversexed state of arousal. The comedy drops down when we see just how bad some of these men are. One guy tries to rape Carla, she escapes. Later he appeals to her again, and threatens to have her disappeared if she does not sex with him! Comic hilarity ensues with heavy actress Fiammetta Baralla, her fatness (and weight) always the (big) butt of the cruel practical joke! Also with Daniela Doria of Fulci fame. From the director of the 'Schoolteacher' films Mariano Laurenti. Nice Widescreen In Italian with English subtitles. BA
W263 Hot Pearl Snatch, The (66) aka: The Perilous Pearls of Pauline In an old bar by the ocean, during Mardi Gras, an old scurvy-dog prospector hawks an old map into the hands of another guy who has just wandered into the bar. The map contains the whereabouts of a fantastic treasure trove of pearls located on the ocean floor off the coast of an island populated by hot snatch (ahem) I mean gorgeous native women. But first he tells his tale which we see in flashback, of naked women, sex, pearls and murder. A wrestling lesbian love-making session, naked body painting, a wasted stripper chick ... all told in voice-over dubbing. Choice footage of a Caribbean carnival and various girl-girl couplings, but also the murderous original map holder gets his wick dipped, before killing once again. A shoddy mess, with good color, from a scratchy old drive-in print. Luckily most of the running time is devoted to watching the various women take off all of their clothes. Bonus Trailers that match the subject matter!
0138 Hour of Fear, The (86) aka: A Hora do Medo Co-directed by Coffin Joe himself Jose Mojica Marins. In the opening sequence, a woman in the tub is butchered by the killer with a machete. You can find this twisted little film and a good description on page #163 of catalog part one. The difference is that this is an Upgrade and finally features English subtitles for the first time! BA
0139 How to Lose a Wife and Find a Lover (78) aka: Come perdere una moglie e trovare un'amante An executive returns home and catches his wife with the plumber, a laugh out loud moment. Meanwhile a wife walks in on her composer husband who has a music student in a compromising position. The milk gag with the busty women is just incredible fun. A Hindu guy has a bevy of topless beauties. A snowbound resort offers more opportunity. Put off women? Never! Show Your Breasts. mmm watermelon shaped! This an audition for milk commercial representation. How do I get that job? A happy ending for a change after a desperate chase. Barbara Bouchet, Stefania Casini and more! Widescreen In Italian with English subtitles BA
0113 Intimate Teenagers (73) aka: Schlüsselloch-Report This is just like another schoolgirl report type of film, with different stories and segments on which the female leads provide plenty of nudity and somebody gets very lucky. Often the viewer is given a 'through the keyhole' point of view which gives an obvious voyeuristic theme with zero shame. I could possibly describe the vignettes, let's just say they may not all end well. German babes in buxom abundance. English language for the first time ever!
0125 La Voglia (94) aka: Una grande voglia d'amore aka: The Desire There is something so cool and erotic about these trashy Italian exploitation films. The music in the opening is so inviting I imagine some cute little Italian number about to take my hand and lead me to the promised land. And interestingly this indeed happens as a man multiple positions a lovely woman in the first 10 minutes! It all takes place around a ski center that also has a large indoor pool. Hot women everywhere. jealousies, nudity. sex, voyeurism..... generous actress's, to hell with these Hollywood bitches who refuse to strip these days. More sex in the steam room. These are the real deal. Italian language only and no subtitles. You won't care.
0115 Love Market in Denmark (71) aka: Liebesmarkt in Dänemark aka: Giochi erotici in Danimarca Two Bavarians set off for Copenhagen after learning free love has finally arrived. It is better than expected, Foxy blondes and other beauties are available for love (ahem... that means sex). The film opens with a woman on foggy grounds, sporting a horse whip and carrying a large leash. On the other end of the leash is a man hopping like a horse! A dream, the man awakes. Cool porno shops and outdoor shots of Denmark in better times. Of course, for two slobs like this, maybe things are not as 'free' as they thought. Love for sale.... Love for sale...... Later the girl from the horse dream gets nailed by the dreamer in the hay of a barn. But does he finish? He leaves her frustrated. A comedy with plenty of nudity and English dubbed. Lots of giggling and moaning. BA
0162 Notorious Daughter of Fanny Hill, The (66) aka: Die lüsterne Tochter der Fanny Hill Kissey Hill (Stacey Walker) is a saucy 18th century courtesan. She is also the daughter of Fannie Hill. The apple doesn't fall far from the tree as she sets up her expensive whore house that caters to wealthy men. Audiences in 1966 were delighted to see so much naked flesh in color. The times were indeed a'changin'. The film has many perverted old men groping on young nubile flesh, but only men their age can truly satisfy the women. The acting in this costumer is of the Andy Milligan school of performance. Stacey Walker would continue with the same year offering of 'A Smell of Honey, a Swallow of Brine' before retiring from film completely and disappearing into obscurity. BA
0144 Offbeat, The (72) aka: Les désaxées aka: Marianne Bouquet Michel (Michel Lemoine) is a philosophical philanderer who disappoints his loving wife Marianne (Claudia Coste) with his adulterous affairs, even dragging her into sessions of lust and sex with members of both sexes. Michel's pursuits can look a lot like rape when he is with Marianne, but this is how they play. Tired of his behavior Marianne meets and beds the handsome Philippe and ponders her next best move. Statuesque Janine Reynaud (Mrs. Lemoine off camera) performs some frivolous feats as horny fashion model Francis, becoming Michel's carnal accomplice while Marianne bows out. The collapse of an open marriage. More familiar female ladies you may recognize. Michel Lemoine was also writer director here. Lemoine was on a roll with these exploitation films and had a hell of a career with many Eurobabes. He ended up in French porn using another name, sometimes linked with Olinka Hardiman. Seven Women for Satan was just a primer. This is the rare English language 96 minute version. BA
0164 School Spirit (85) aka: Der ausgeflippte College-Geist College Casanova Billy Batson (Tom Nolan) is killed in a car wreck and comes back a horny as ever ghost. The campus is loaded with unsuspecting hot co-eds and becomes his hunting ground in his search for the perfect heavenly body. His girlfriend Judith (Elizabeth Foxx) may be out of reach. He also gets involved when the corrupt college president (Larry Linville) schemes to get his hands on the fortune of a lovely young heiress. Billy finds he can materialize in the most unusual of places...... More sex comedy fun that seems to be extinct in 2022. Roberta Collins, Cynthia Harrison.... more. BA
0146 Sexy Night Report Part 2 (78) aka: Le notti porno nel mondo nº 2 Joe D'Amato directs and Ajita Wilson is the star this time out, replacing Laura Gemser. It may mine the same obscure seedy gutters of Emmanuelle and the ErotIc NIghts, but this is still certainly it's own little piece of mondo madness depravity. A woman shoots ping pong balls out of her um (blank) into a fishbowl for starters. Ajita is talking to a blonde woman and telling her perverse scenes she has frequented, which we see. Indian dance is innocent and we see it, Then the bastardized version where a gorgeous woman sleazes their sacred traditions up, sexually exciting the men in the audience. Let's dig on some hot belly dancers or a live sex show with some lesbians. Ajita sees a stone statue of a fully erect man, and makes it come to life. More naked shenanigans with elite type people in suit and tie, wives along, smiling and applauding. A man whips a woman he has bound and grinds the whip into her rear, he gets a knife and makes her ass cheek bleed and licks it off. This is all done in the name of fun! Now it is her turn! CRACK! Later Ajita is playing with a giant white plaster of paris dick. We are just getting started. What planet is this you ask? Why earth of course in the 1970's. Sorry you missed it. Nice Widescreen with English subtitles BA
0165 Stacey! (73) aka: Stacey and Her Gangbusters aka: La porno detective Private investigator Stacey (Playboy Playmate Anne Randall) is hired by Florence Chambers, a 68 year old millionaire spinster to give him the scoop on her own family to determine if they are worthy of their intended inheritance. Turns out nephew John Chambers is gay, John's wife Tish (Anitra Ford of 'Messiah of Evil') is fooling around and Pam Chambers (Cristina Raines of 'The Sentinel') the grandniece is involved with a pseudo-scientific-religious cult who wants to inherit the fortune she has coming. Stacey manages to overcome certain obstacles with her pistol and finds herself in a race car/helicopter chase. Anitra Ford and Anne Randall also deliver in the nudity department scoring an even '10' (maximum score) from yours truly. BA
0160 Stripping Telegram 'Strip-Off', The (87) Three categories: Amateur Division (females enticing one lucky man in a chair while audience responds with cheers and clapping), Men's Professional Division, and the Professional Ladies Division. Kim hits the stage, a blonde dressed as a maid. She is a telegram. Let the stripping and lustful eyeballing begin! Later male stripper's gyrate the same way, for one recipient in a chair, an older woman, who gets excited. More follows. Light music, objectification of women and misogyny with very 'happy to do it' gorgeous females. What is not to like? Around an hour
9508 Young Lady Chatterley (77) aka: Naked Young Lady Cynthia (Harlee McBride) has just inherited her aunt's estate. She finds the diary of her late aunt, and the young beautiful sexually ignorant Cynthia becomes a lust-crazed nympho. The sex scenes are unrated and above average for this type of picture. Sex for funny, and erotic sex, a tightrope dance that works well here. Tagged as 'The first X-rated movie to touch you where it counts'. Unapologetic sexy fun. Nudity and sexual situations. Unrated version BA
9509 Young Lady Chatterley 2 (85) Cynthia (Harlee McBride) returns, and once again unrated and horny as ever. Her husband is neglecting her, so she finds orgasms elsewhere. The gardener, a visiting professor (comically played by Adam West), anyone lucky enough to be considered by her nympho ways. But wait there's more. Not only do we get the luscious Harlee McBride in her last film (Richard Belzer snatched her up and married her in 1985) but this one also stars Sybil Danning and Monique Gabrielle, and other lovely ladies as well. Unrated version BA

EXTREME HORROR AND GORE FILMS
0055 After Darkness (85) Genetic Insanity that would make a great double feature with Cronenberg's twisted 'Dead Ringers'. Schizophrenic Laurence (Julian Sands) has tried to commit suicide for the third time. His older brother Peter (John Hurt) has decided to remove him from the mental institution. Peter feels responsible for the death of Jan, Laurence's identical twin. But taking on Laurence and his 'problems' may put Peter on the road to madness himself. An atmosphere of gloom and dread throughout. For a change, the film has gratuitous male nudity. Is there a gene of schizophrenia running in the family? 'Do I stand before the King?'. A trip into darkness and despair. BA
0105 Black Circle (18) aka: Svart cirkel Supernatural vinyl from the 1970's hypnotizes two sisters when they listen to the self-help ramblings, creating doppelgangers of the girls, who want to break on through to the other side. Influenced by much of what has come before and mixed all together in stew of horror. Christina Lindberg 'They Call her One Eye' herself is part of the cast! Dreamscapes that remind of Wes Craven. Body horror that reminds of Cronenberg. 'Ring' inspiration with audio instead of video. David Lynch-like doubles. Even 'Invasion of the Body Snatchers' viscera and a dash of giallo. These guys did their homework! In Swedish with English subtitles.
0170 Blood Beach (80) aka: Spiaggia di sangue The beach is unsafe. Something is sucking people down into the sand and they are never seen again. Sometimes a mutilated body is left behind, but mostly they are swallowed whole. Before Tremors.... there was Blood Beach. Some fun to be had here. Like when the would-be rapist gets his junk chewed off, and later a cascade of tumbling body parts fall onto the unfortunate Catherine (Marianna Hill). When we do get a look at the monster it resembles a giant artichoke (or something like it) of 'The Creeping Terror' variety and the incompetence of the monster in 'Blood Tide'. Top-notch cast probably had no idea. John Saxon, Burt Young and more star. Just when you thought it was safe to go into the water..... you can't get to it! BA
0128 Blood on Melies Moon (16) Luigi Cozzi returns with an over-the-top insane cosmic journey that runs over 2 hours and he is the hero! Here Cozzi mixes clips and footage of the earliest film classics (Georges Melies, Nosferatu, Metropolis) and also has long talks with director friends Lamberto Bava and others. Cozzi also goes on a horror pilgrimage to Dario Argento's Profondo Rosso Museum, The Metaluna store in Paris, and Georges Melies grave at the Pere Lachaise cemetery. Cozzi ties the apocalypse to a lost piece of Melies 'Voyage to the Moon'. Why not? He also explores the mysterious disappearance of Louis La Prince, reputably the true inventor of moving pictures in 1890. For fans of Luigi Cozzi, you will see his mind at work! You will also get to visit places you may never get to see in real life, that are very special to fans of this cinema (me included). Italian Horror and Sci-Fi cinema lovers rejoice! Widescreen In Italian with English subtitles.
0053 Coda (87) aka: Deadly Possession aka: Symphony of Evil Shattered glass as a young co-ed falls from a tower window of a music university. Kate is another student, and her husband is arrested for the murder, while the creepy music teacher (Arna-Maria Winchester) is concealing the black-gloved killer's true identity. Her search for the truth will put the killer on her tale, as more gruesome killings plague the campus grounds. It's a whodunit, made for Australian television giallo that will keep you guessing. Suspenseful chase scenes, intense stalking. A bizarre death. A telltale key. A living nightmare! BA
0133 Dark Friday (93) aka: Venerdì nero House By the Edge of the Park Revisited? Splendid Upgrade of this Aldo Lado directed giallo. High society types lure young women into a house by the sea, and begin their sick games. They like to antagonize their victims first, which they do to sadistic effect. The rich think that they are above all. These women are theirs to take. Their jaded decadence, their aristocratic entitlement, they can do whatever they want to the lower class people when they want to amuse themselves. Play toys. But when somebody dies because of them, even they know it has gone too far. Now what? Girls, be careful who you go home with. Luckily a friend is looking for them. Suspense and nail-biter moments with some frantic cat and mouse. One scene repeats for some seconds, but complete. Now English dubbed Sharp Upgrade BA
0054 Deadly Obsession (88) Below New York Gotham college there is a vast labyrinth of caves and tunnels, inhabited by rats, cockroaches and the lair of the crazed maintenance man of the college, who calls himself John Doe. A young co-ed unwittingly finds herself involved, so naturally, she must die. But something goes wrong, she is not dead. And worse, she knows who he is. Now she is the obsession of John Doe. He will end her. And anybody who stands in his way. The kills are mean-spirited and nasty, with some decent splatter, and yes, T&A. A good old fashioned stalker/slasher. BA
0052 Deadly Rivals (72) aka: Rivals aka: Sex and the Single Parent This is one screwed up movie. Little 'Bad Ronald' himself Scott Jacoby (as Jamie) is a little too fixated on his mother Christine (Joan Hackett). Sick little dude, confused. It's unnatural. Oedipal. Christine has a new man (played by Robert Klein) who soon finds out he is competing with Jamie for Christine's affections. Jamie means business though. He even strips down to seduce the babysitter Mary, and succeeds! I don't know about you, but I couldn't pull that off at age 10 (although Jacoby is 14 here in real life). Mary resists at first, and then.. Don't worry, this is not done in a nasty way, meant more to shock. Time for Jamie to see a shrink (James Karen). A weirdo movie with a horrific finale. Joan Hackett was only 49 when ovarian cancer took her life in 1983, Encino, California. BA
0076 Ekstase: Horror Trip for Satan (79) aka: Ekstase - Der Prozeß gegen die Satansmädchen From Germany and the director of 'Bloody Friday' Rolf Olsen, a late in the game 'Satan'--inspired film. In the courtroom, four young women (looking like Charlie Manson's Family, but not as ugly) are on trial for being disciples of Satan, performing human sacrifice. It started innocent enough, a seduction, some sex play perhaps? The movie wanders into Mondo territory, giving a history lesson on black masses and mainstream devil worship. Plenty of nudity and rituals lead us to demonic doings. Naked hippies galore, being evil, with a guy in a goat mask. Later, more satanic rituals and then, back to the courtroom. The girls testify in their defense. I do not speak German, but she seems to make a good point. The judge is angry. The story is told. The girls are witches who love being naked. What 'The Craft' should have been. A half-dozen horny sluts rolling around in ecstasy and masturbating on a large white rug with candles and devilish artifacts is a satanic sight to behold. Sadly, back to the courtroom. Still more sex and mondo information from the red light district. Some XXX photos so beware, this is the Uncut version. I can pretty much guarantee there is something in this film to offend everybody who sees it. Drug addicts, nuts flipping out in the psycho ward, a savage black man using a large wooden dildo and sticking it (use your imagination, or don't). Finally we see our girls performing the rite they are on trial for. Brutal! 'Kill Him!' Almost all of this film is in German language, but moments of English do happen. Beware, includes some horrible footage of various animals being shot to death. An exorcism, crazy Christian rituals, black savages torture one another, phony healing... a petri dish of pain and madness. The girls are sentenced. Mostly F.L.
0043 Female Inquisitor (87) aka: Guts of a Virgin 3 aka: Rusted Body: Guts of a Virgin III aka: Gômon kifujin The female inquisitor and her Japanese Inquisition Company are out doing what they do best. She and her gang of sexual deviants use sexual torture on people, blackmail as a source of income. They set their sights on a cheating bank worker embezzler, and his wife. Their methods of torture are fascinating, and sometimes give multiple orgasms. Drunken-eel rape, tallywacker pain, toe nail removal... you know, just your basic run of the mill torture. The 'sex bed' is something else entirely. Nudity, Torture, Sex... all in a days work. Widescreen In Japanese with English subtitles. BA
9893 Frankenstein 90 (84) aka: Frankenstein, mi amor Mary Shelly would be thrilled if she only knew how much money she made after she was dead. Another version based (however loosely, like most) on her novel 'Frankenstein'. This time, a modern day French version. Cybernetics genius Victor Frankenstein (Jean Rochefort) fulfills his family heritage destiny when he creates Franck (played by French pop singer Eddy Mitchell). He teaches Franck culture and manners, and then sets about to create a woman (Herma Voss) for him. Victor takes Franck to the theater to see an old black and white 'Frankenstein'. A healthy serving of nudity and graphic rampaging sexual appetites. The quest to satisfy the monster's carnal curiosity is the focal point of the film. A comedy with dark humor and also homage to 'Young Frankenstein', but insert killings and more graphic sexual situations. English subtitles BA
0034 Gone to Ground (78) Exciting brutal film from Australia. When a young man is savagely beaten, he takes refuge with his new bride at an isolated beach cottage. Later they are joined by his boss (who brings along his wife), and the local storekeeper. They have 'gone to ground' for an unplanned vacation to escape their would be assailants. Unbeknownst to them, a motorcycle riding killer has followed them. Their automobile is blown to pieces. The killer is determined, but why? The editing and cutting of the film will keep you guessing. Incomprehensible, challenging ... Some will die and the killer's plan for revenge will be exposed. Enjoy Your Last Days Alive!
0044 Gorgon Video Magazine #1 (89) This is exactly like watching a few issues of the magazine 'Fangoria'. Your host" Michael Berryman in 'Hills Have Eyes' gear delivering an announcement of what we are about to see like it is a WWF event. Wes Craven speaks, with clips and snips from his films and behind the scenes. KNB are interviewed! Nicotero still active with 'The Walking Dead'. Linnea Quigley is interviewed, and we see some clips of her films. Troma! Gwar! More!
0045 Gorgon Video Magazine #2 (90) Michael Berryman returns in this unreleased second edition, a screening copy, as this runs screen bottom throughout. This time we enjoy Berryman once again in 'Hills Have Eyes' gear introducing segments which include Stuart Gordon talking about 'Reanimator', 'From Beyond' and more (plenty of clips), Penn and Teller gags, Screaming Mad George demonstrates 'Curse 2: The Bite' special FX in his workshop and we see more of his cool artistic horror props and works, more clips and tales from 'Witchboard' to 'Night of the Demons'... a blast. + Zap Comics: Trading Cards.... From the days of better movies and cooler horror culture. 'Get Out' and 'Us'? Please.
0032 Great Hollywood Rape Slaughter, The (74) aka: Superball aka: The Model Killer Steve has arrived in Hollywood with plans to make a picture, and gets a job making a porno. Jaded he becomes, but Steve has ideas to incorporate his rejected script into the fuck film. So a Billy Jack look-a-like bursts into the hotel room and starts to kill the tripped out hippies..... A series of sex and violence juxtapositions that includes a shoot-out on a pier mixed in with loops of Rene Bond doing her thing. An unrelated scene has a fat man in a dress. In another scene a band is filmed with fake Linda Ronstadt. A cut and paste monstrosity that has to be see to be believed. A great double feature with 'Last House on Dead End Street'.
0136 Hideous Creatures (93) This film is dedicated to fans of 'B' and low budget movies. In 1953, on the planet Mars, there was a population problem. With the scarcity of food and the escalating cases of violence, there was no way out. Appealing to the bloodthirsty and perverse Dr. Rottenberg, the most important scientist on Mars, the terrible experiments begin on humans. Turning them into.... Hideous Creatures! Brainless beings, the walking living dead. Now time to invade Earth! Dr. Rottenberg is disguised as a human and begins the worse massacre ever to be known. Low budget, terrifying and gory, cheap like German splatter. Unintentional smiles from the cast during times you would not expect. This is the first SOV horror out of Brazil. And make no mistake, it is as god-awful as it sounds. A must. Why do I do it? A compulsion, a need for bad movies. Better than the new Batman in 2022. Yes, I would actually rather watch this. Brazilian made film in Portuguese and with English subtitles.
0112 Horror of the Wolf (73) aka: Ôkami no monshô Akira, teenager by day, werewolf by night. Now that he has fallen for the teacher daughter of some local Yakuza, what is a werewolf to do? Akira is hot for teacher. We see the origin where Akira's parent's are killed in Alaska. He watches in horror. Then back to the present, where he battles by day the local gangs, a woman is brutally raped in broad daylight... when will he be the wolf? Ah, there he is. Sex and Violence. Later the punks are engaged in another violent rape at night and our werewolf Akira arrives to defend. Akira viciously tears out a man's throat and blood sprays like a geyser..... followed by 'Wolf Guy'. (The movie before the excellent 'Wolf Guy' from 1975 #K822) Nice Widescreen In Japanese with English subtitles. BA
0114 I, Pierre Riviere, Having Slaughtered My Mother, Sisters and Brother (76) aka: Moi, Pierre Rivière, ayant égorgé ma mère, ma soeur et mon frère... Based on a true story that happened in a Normandy village in 1835 where a young man killed his family before fleeing into the countryside. Filmed in the actual area and using real life villagers (presumably descendants of the original inhabitants). A detailed re-enactment with careful attention to the period creating a bleak dismal atmosphere, but damn accurate and realistic. It is hard to imagine such a simple, yet hard life. Like an island alone in a village in the middle of nowhere. Details of the crime and trial are presented from various perspectives, including from the killer himself. Truth and history. Legends versus facts. Well made Widescreen In French with English subtitles.
0088 In the Shadow of Kilimanjaro (85) aka: S.O.S. Kilimanjaro Kenya, Africa, Drought. Ninety thousand pissed off baboons (outnumbering humans 500 to 1) seek their prey. Each baboon possesses the strength of three men. They bare their flesh-ripping fangs, eating humans alive. John Rhy-Davies plays a businessman who refuses to clear out his workers. Timothy Bottoms is the game warden who pleads with the government to evacuate everyone. The ferocious beasts are coming and no one can stop them! Filmed in Kenya. Violent death was the easy way out! Gory animal attack film, a great double feature to the great 'Savage Harvest' from 1981. BA
0188 Intruder (97) aka: Hung bou gai A wanted woman brutally murders a prostitute and assumes her identity. Later in Hong Kong, she finds a new victim who she takes hostage in his own home, waiting for the arrival of her equally crazed and murderous husband. Enough brutal violence and gore to put a smile on even the most jaded. Chien-Lien is great as a remorseless female serial killer who murders hookers, grandmas, dogs and men. Bloody and Depraved Cat 3 Fun. From Hong Kong with English subtitles BA
0141 Just Like a Cat (93) aka: Gatta alla pari Allegedly this was actually directed by Bruno Mattei, who didn't even use one of his many names in the credits. Two young women from a wealthy family have very different love lives. Nancy plans to marry Roger, while Suria and her husband James are constantly cheating on one another. Roger has a run in with Baby Ryan (played by Malu, the former adult star Ramba). Roger is aroused. Baby Ryan is really the lover of Frank, the guardian of Suria's villa. But Frank is also sleeping with Suria. Baby Ryan gets mixed up in everyone's lives. The twist into weird is when we learn Baby Ryan is actually the sister of James. Things get even stranger with the sexual setup for banishment while the others proceed with an orgy. Lots of sex and nudity with pros. Soft Core that borders on hard, Blackmail and orgasms. Nice Widescreen In Italian with English subtitles. BA
0142 Madeleine: Anatomy of a Nightmare (74) aka: Madeleine, anatomia di un incubo This is the film Camille Keaton of 'I Spit on Your Grave' infamy starred in dealing with psychological horrors and creepy dream sequences. There's a plot too. Amazing Color Widescreen photography and the naked body of uninhibited Camille Keaton in a non-rape role. Boob bouncing nude horseback riding scene and more. Keaton is stunning, the same, but noticeably younger at 27. Amazingly, the film blends in with other bizarre Italian made mind melts of the era. Wild clothes, rock and roll, parties ...... This is the obscure English language version of this film without subtitles. In the catalog #N822 this film is featured Widescreen and with English subtitles. See catalog book #1 page 175 for more details. BA
0149 Mr. Devil (19) aka: Il Signor Diavolo Pupi Avati returns and directs one his novels! In 1952 Italy, the local priest is involved in a town cover-up. Did the woman mate with the devil and that is why this demonic child with extra teeth exists or is he a freak of nature? The priest will not allow the truth to be uncovered, but somebody is digging. The mystery of the weird child is revealed later in the film, what we have in the meantime is an atmosphere of dread not unlike Avati's classic 'House with Laughing Windows'. Avati does not try to reinvent the wheel here, or be hip and self ironic. No. Instead he reaches into his roots and delivers a tale that most probably scared him as he wrote it, and tries to share his dark vision with the rest of us. The extra teeth creepy kid is nightmare inducing. He's a biter, so watch out. If you like dark period pieces from Italy..... Nice Widescreen In Italian with English subtitles BA
0082 Pinocchio 964 (91) aka: Screams of Blasphemy A cybernetic sex android fails to keep up his erection and is cast out into society lobotomized. His owners wanted him constantly erect. A homeless girl who has had her memory erased hooks up with our flaccid friend (although that may be the wrong way to say that, in his case, the hooking up part). The company that has created him has sent others to track him for disposal since he is defective. The homeless girl takes Pinocchio to where she is squatting and also begins to abuse him, treating him like a slave. Cyber-Punk Madness from Japan. In Japanese with English subtitles BA
0119 Piotrek the 13th Part 3: Baby Rosemary (18) aka: Piotrek Trzynastego 3: Dziecku Rozmaryn How could they possibly stop after Part 2? Recap! A group of fucktards came here a few years back to spend a nice weekend by the lake. They didn't suspect a masked, machete wielding serial killer to be loose in the area. Stefan went into the woods alone and was killed. They all returned the following year in search of Stefan's body. The massacre continued, with no end to tits and killings. Now, are they going to survive another onslaught of a masked serial killer in their local home surroundings? From Poland, the comedy horror saga continues.... Widescreen In Polish with English subtitles
0173 Possessed (02) aka: Duet pak gau wan Radio talk show hosts Toby and Jim get involved with the investigation into the demonic possession of a college student along with a widowed minister. The kid butchers his mom with a hatchet. The boy is strapped to a chair and the exorcism begins. The mother of a possessed girl phones in to ask for help. The girl is bound to a bed. She spits up on one of the priests. Then she hurls bloody spittings on just about everybody in the room before she starts to make things break and glass to shatter. Hell is here! From Hong Kong Widescreen with English subtitles BA
0147 Raptus (69) aka: Eros e Thanatos The unleashed eros is equally fatal to it's antagonist, the death instinct. A young man photographs a hooker in the woods. She lures him to a barn as she seduces. The local pervert looks in through the window. Next thing you know the police are at the barn, recovering the bloodied body of the hooker. The man is charged. He admits he snapped. The local conservative paper pushes for his execution. An asylum director explains two cases, one of 'The Doll Killer' and another man, a gardener, who burned a prostitute alive. We see their stories. Mad men, who needed help. Affected with madness after being exposed to unleashed eros (or something). This is a plea for leniency for maniacs, told in a way like a horror trilogy of tales. Raptus. A giallo like thriller from director Marino Girolami, who would go on to direct some great Italian crime films, and also the forever immortal splatter classic 'Dr. Butcher M.D.' (Zombie Holocaust). Fantastic and pretty twisted. The stories are good. Production values high. Widescreen In Italian with English subtitles. BA
0148 Sex and Violence (78) aka: Ensalada Baudelaire A wealthy perfume magnate and his bored yet beautiful wife, Andrea (the trophy wife) the subjects here. Can they rekindle the fire by going on an exotic yachting adventure in the Mediterranean? They are joined by a rude American rowdy, and his 'Norwegian girlfriend', who is later revealed to be a transvestite. This new couple is trouble. They tie up the husband, and the transvestite tortures and humiliates the wife right in front of him. Fans of 'House on the Edge of the Park' styled tortures will enjoy seeing the snobby wife slapped, burned, cut, forced to eat lobster guts, and eventually pissed on by her own spouse. That might rekindle something or maybe not. The gay torturers also throw out some swell lines as they perform their twisted play. 'I hate tits! They are revolting!'. Enjoyable trash that played to loud whoops for the enthusiastic 42nd Street crowds back in the... good old days? Here in Spanish with English subtitles. BA
0177 Sinthia: The Devil's Doll (70) aka: Where the Devil Toils Sinthia found her parent's making love in bed, stabbed them to death and then burned them up. Sinthia had wanted her father's love and was confused and jealous. Sinthia was 12. Now she is 18 and released, in therapy, living with her aunt and uncle. She dreams of Satan and her parent's in different scenarios. Her self projection has her spiraling into breakdown in a darkly lit naked haze. She must recreate the situation and force a new outcome. The shock ending comes out of nowhere and may make no sense but remember.... Sinthia is the Devil's Doll after all. Bunny Allister as Sinthia was in one other film 'The Curious Female', before disappearing from film forever. Also with Gary Kent and Herb Robbins as Lucifer. BA
0151 Time of Wickedness (85) aka: Ma no toki Fukashi is a graduate student who has left his wealthy family in Tokyo and set out on his own, finding a smaller place, a girlfriend, and a job where he moves around very large fish that have just been brought to port by the local fishermen. His mother finds him, she lusts for her son, sexually. Fukashi thought he had escaped, but his mother has other plans. She gets a place near him. We see flashbacks and learn about Fukashi and his mother's sordid deeds. The reason Fukashi fled in the first place is because he was caught with his mother, which humiliated him. Taboo trash Japanese style. There is something very creepy about a young man making love to his mother and saying 'Mom... Mom' as he does it, and she partially says his name in her ecstasy. Widescreen In Japanese with English subtitles. BA
FRANCO FILMS
0132 Crack For Two, A (84) aka: Una Rajita Para Dos Messengers carry microchip messages in their assholes. Lina Romay will be the expert inserter. About 80% of the film features sometimes awkward and fumbled hardcore situations. The film opens with a close-up of a female rear getting the microchip where the sun does not shine in graphic detail, and the words explain the actions about to unfold. Extremely lowbrow hardcore, even for Franco, which he directed and billed Lina Romay as co-director. But this is a Jess Franco hardcore, still better than most from the same area, the same year. Oh girl, your finger is wonderful. Please continue. Lina thinks this gig is finger lickin' good. So she does. Voyeurism and Sex. Microchip retrieval. Widescreen Now with English subtitles!
0124 Vampiresas 1930 (62) No vampires, let's start with that. Starring would be muse for Franco 'Mikaela' as Dora who is part of a group of former actors and musicians who trick a black jazz group into taking a train to Siberia so that she and her friends can put on blackface (and even cross-dress) stealing the gig (gigs)? When Franco goes to offend he is all in. Hilarity ensues. Especially when some of the guys are not only in black face, but in drag as well, a dark spin 'Some Like It Hot'. They end up on the run, keeping their black disguises (for now). A movie that would give the college crowd of 2022 mass anxiety attacks if screened in a theater. And Mikela? She was in a few other notable films that we carry, but she never took off (rebuffing Jess Franco's advances perhaps (?), though I speculate). She died in Spain at age 55 in 1991 of leukemia. Finally this Franco classic arrives in a brand new nice color version in Spanish with English subtitles. BA
HAMMER AND BRITISH FILMS
0049 Game for Vultures (79) David is an English businessman (Richard Harris) dealing with another (Ray Milland) to get illegal helicopters to export towards Rhodesia. Meanwhile an African patriot called Gideon (Richard Roundtree) and his rebels, fight against the government troops... Indirectly based on true events (too complicated to explain here). David realizes he is on the wrong side of history, but is determined patriotically as strongly as Gideon. They will have a confrontation. Joan Collins also stars. A reasonable political war thriller with brutal machine gun violence and choppy editing that runs almost two hours and does not go as you would expect. BA
0182 Never Mention Murder (65) Doctor Philip Teasdale (Dudley Foster) has hired an unscrupulous Private Investigator to spy on his wife (Maxine Audley). When he finds that she is having an affair with a young cabaret singer, he begins his plot of revenge. First to drug him so it looks like he is having a heart attack, then when he ends up on his operating table, finish him off. But the best laid plans..... From Edgar Wallace Mystery theater but he did not write this. BA
0179 No Room at the Inn (48) WW1 orphans end up in the care of a cruel old lady that is also an alcoholic. Mrs. Voray (Freda Jackson) has other children in her care who she keeps starving and living in squalor. One woman tries to help and goes to the church and even the city council but to no avail. Now what? Also with Niall MacGinnis.
W277 Shadow of Fear (63) Bill Martin (Paul Maxwell) is an oil executive about to fly to England to see his fiancé Barbara (Clare Owen), and then on to New York City. A man gives him some information that Bill must deliver to the Secret Service in London. Now he is caught up in a web of intrigue (damn that photographic memory!) and on the run with Barbara. Now a marked couple, their only chance to act as bait in an M15 plan to catch the real villains. Also with Eric Pohlmann.
0190 Strangler's Web (65) Edgar Wallace Mystery Theatre that he didn't write. The opening scene where the murder takes place borrows ideas from the pre-credit sequence of 'From Russia With Love'. The murdered woman's common law husband is found at the scene and is the obvious suspect. A solicitor with a drinking problem and a tendency to beat his wife is appointed to prepare the defense. Not a moment is wasted in this intense entry, some say one of the best of the series. Director John Llewellyn Moxey would have one hell of a career in American television MFTV movies and shows. He died in Washington at age 94 in 2019.
W276 Young, Willing and Eager (61) aka: Rag Doll Carol (Christina Gregg) has already faced abuse from her drunken stepfather, but when a customer from the diner tries to rape her, Carol's story begins proper. A trucker kicks shit out of the attacker, and Carol gets into his truck London bound. There, she falls in with the wrong crowd, including Shane (Jess Conrad, who was in 'Konga' the same year). Shane is a pop star (with his backing band 'The Dave Clark Five') and also part-time burglar. Carol is warned about Shane, but that doesn't stop him from knocking her up. Also with Patrick Magee. BA

MISCELLANEOUS WAR, CRIME, ACTION, MARTIAL ARTS, DRAMA FILMS AND MORE
0186 Americana (81) aka: The Perfect Round David Carradine shines as an American soldier back from Viet Nam in search of a purpose to his life. He finds it in rural Kansas in his determination to restore an old dilapidated merry-go-round. He also finds love in a hot woman (Barbara Hershey, Carradine's girlfriend when this was filmed in the 1970's). Not everyone is happy with him and many mock and ridicule forcing him into a compromising situation that challenges his new values. A haunting and dark little film that will make you feel melancholy. This was filmed off and on throughout the 1970's and early 1980's finally seeing the light of day in 1986. Also with Dan Haggerty and more. BA
0149 Big Time (77) Big Time Eddie Jones (Christipher Joy) is a small time hustler specializing in fake injury lawsuits. Getting behind on payments to a loan shark, he turns to robbery. This is one of the more obscure blaxploitation films and features a stellar cast. Christopher Joy was also in 'Darktown Strutters', 'Cleopatra Jones' and others. You'll remember Tobar Mayo as 'Abar' from the previous year. Roger E. Mosley may be best known as Calvin in 'Magnum P.I.'. Art Evans, Richard Kennedy and others also star. Jayne Kennedy, Miss Ohio in 1970 stars and has never looked better. She was married to Leon Isaac Kennedy at the time. With a soundtrack by Smokey Robinson! BA
0128 Bitches, The (73) aka: Les chiennes aka: Giochi d'amore di un'aristocratica Womanizer Eric (Michel Lemoine) is a male companion for hire. He accepts the offer of the rich and worldly Viriane (Janine Reynaud) to go to her castle. Viriane plans to test his 'physical' qualities. He straps Viriane to the bed and rips off her clothes, then ravishes her completely. He has earned a place for a month. Parlor games ensue with odd castle characters. Tessa (Nathalie Zeiger), Viriane's sister arrives home and sets her sights on Eric. How can he refuse? Tessa is delicious. But Viriane is not very happy. Tragic irony (and a bit of bloody violence) is in store with the twist. Many sexual encounters and nudity. Excellent Eurotrash Widescreen In French with English subtitles BA
0159 Body Beat (88) aka: Dance Academy Dirty Dancing is still all the craze in 1988... Vince lands himself in dance school where Miss McKenzie (Julie Newmar) plans to toss him out. Moon (Tony Fields) vouches for Vince. Moon is into jazz, and Miss McKenzie does not like it one bit. There are some women obviously in the dance group, and we hear a lot of 80's synth and 80's pop sounds as they prance around the studio. Tony Fields was a Solid Gold dancer from 1979 to 1984, and was in numerous videos as a dancer, so he knows his stuff. The cheesy female sung (and male sung) ballad songs will sink you back in time. Tony Fields would die of cancer and AIDS in 1995 at age 36. Also with Galyn Gorg. BA
0130 Carpathian Mushroom, The (89) aka: Le champignon des Carpathes A film director's daughter discovers a miraculous mushroom (that has sprung up at the foot of the Eiffel Tower) that has mythical healing powers. Her father wants to use it to help his Ophelia, the lead actress in his latest production who is suffering from radiation poisoning after being exposed to a reactor in the south of France. Her boyfriend wants to use it to make some money. Will Ophelia (Florence Darel in her debut) survive. Comedy fantasy drama with an interesting cast that includes Howard Vernon (straight off the set of Paul Naschy's 'Howl of the Devil'), Laura Betti and many more. Widescreen In French with English subtitles BA
0106 Chance and Violence (74) aka: Le hasard et la violence aka: El azar y la violencia Stylish, strange little entry directed by Philippe Labro. Criminologist Laurent Bermann (Yves Montad) is attacked, and finds himself in the care of doctor Constance Weber (Katherine Ross), who he falls in love with. Wrongly imprisoned after the war, he also visits his old cell which provides the current inmate with a means to escape. Later he is called upon to identify the body of his attacker. Let's not forget, a sex session with Constance, and Katherine Ross goes topless, something Jennifer O'Neill would not do, refusing the role that she was supposed to fill (as Constance). Laurent Bermann is not going to have an easy time, the absurdities of life require his being assaulted again, this time with a different outcome. A nice sequence (mean?) has a bloody shotgun to the chest (not Laurent). The last 15 minutes are amazing with a fiery finale. Come to think of it I am not sure O'Neill could have pulled off this role as well as Ross. Widescreen In French with English subtitles. BA
0190 Chinese Midnight Express (97) aka: Hak yuk duen cheung goh: Chai sang jue yuk A crusading reporter is set up by some gangsters and ends up in prison. There he begins to suffer the inhumanity of prison life first hand. Male rape, shower scenes, violence against newcomers, cavity search (and I don't mean the dentist!) corrupt guards and more. Some of the acts are more humiliating than even I expected. Better than the U.S. version. Widescreen In Cantonese with English subtitles BA
0168 Death Driver (77) aka: Hell Racer A true story about champion stunt car driver Rex Randolph (Earl Owensby) who makes a comeback after ten years off the circuit and his adventures to get back to the old Charlotte Motor Speedway and compete in the 'Motor Rodeo'. In the meantime he has other adventures as he drives around the North Carolina countryside. Earlier in his career, Rex, after wrecking several vehicles, had taken bets that he could jump five cars on a city street. He had stolen a patrol car to do the task and crashed spectacularly. Now he is back, and his latest stunt may be his most dangerous yet! BA
0041 Diggin' Up Business (89) Tesia (Ice Castle blonde Lynn-Holly Johnson) is running the family funeral home while her grandfather is away on vacation. He dies. An audit discovers a discrepancy in the amount of bodies buried so she needs dough, fast! Themed funerals prove to be a good idea. One deceased is shot through a cannon, another funeral consists of a burlesque theme where a dead stripper pops from a cake, absurd fun!. Billy Barty and Murray Langston are two workers who make pizza in the crematorium. Linnea Quigley is a ditzy make-up girl. Other eccentric weirdo customer parts are played by Yvonne Craig, Ruth Buzzi, Nita Talbot and more. The perfect film for someone who has lost a loved one. Or, maybe not.
0047 Ghosts... of the Civil Dead (88) General Industrial Prison is a 'New Generation' maximum security facility housing the most violent, unmanageable and predatory inmates. Now, 37 months into a lockdown in which all inmates have been confined to their cells, the longest lockdown in history. The judiciary commission releases a report on how this lockdown came into effect, and why. We see the horrors that led to this dark day. Dystopian rule, raw, dark brutal territory. The prisoners are pushed to the limit. Nothing is taboo. Humiliations, drug abuse, rape, agony.... all leading up to deadly revenge and confrontation with the guards. The sets are bleak, the music depressing, not a single sympathetic character. Once you have seen it, you will never forget it. BA
0154 Happening, The (67) Young grifter drifters kidnap a retired mobster named Roc Delmonico (Anthony Quinn). They want money. Roc cannot get his loyal associates to pay. It seems he is worth more dead to them than alive. Roc decides to flip his perspective and throws in with the young hoodlums. With his experience, it is time to show them how it is done. This is a pure product of a counter culture hippie America gone crazy. Anthony Quinn is amazing giving the film the best lines and ironic moments. The cast is incredible. Faye Dunaway before 'Bonnie and Clyde' looks wild and sexy. George Maharis, Michael Parks, Robert Walker Jr., Milton Berle, Martha Hyer, Clifton James.... look for Luke Askew as the second motorcycle cop. The battle scene with the army kids is priceless and you will never see anything like it made today. Great! BA
0181 Hollywood Couples: Lauren Bacall and Humphrey Bogart (15) Clips of their films and commentary from film historians. Candid interview footage, rare photos, movie posters and overall descriptions of the two as they were way back in the day.
0171 Horror Hall of Fame, The (74) Join your host Vincent Price as he guides us through an affectionate and humorous look at classic monsters. The film plays out like a talk show and Price is assisted by a hunchback and there are some skits. The real fun comes with the sit down interviews with surviving stars like John Carradine, Frank Gorshin, John Astin, William Tuttle and Candy Clark. Tuttle talks about working with Bela Lugosi for 1935's 'Mark of the Vampire'. The conversation between Price and Carradine is fantastic.
0167 Hotwire (80) Hot damn son! Time for a good old boy flick from 1980 about a cocky street smart drifter named Billy Ed Wallace ( John Terry) and a hard drinking ornery old man (Strother Martin) who are blackmailed into repossessing a Rolls Royce from a dangerous local gangster. Silly redneck car chase insanity ensues. Billy Ed falls for Callie Rose. George Kennedy in a dual role as twin brothers. Rambunctious, footloose and fancy free fun. John Terry would be 'Hawk the Slayer' the same year. Hotwire! The zaniest sting operation on four wheels! BA
0175 Joyride to Nowhere (77) aka: Baby Dolls Those days of sexy gals with their thumbs out looking for adventure are long gone. But we can still revisit them with fare like 'Joyride to Nowhere'. Beautiful high school seniors Cindy and Leah leave their small town problems behind when they take to the road. Don't forget your curling iron, you'll need it to keep up that hair style! But their troubles are just beginning. Now they have the lust-crazed 'Tank' McCall giving chase as they flee in his Cadillac that has two million dollars in the trunk! Three fast cars pursue (piloted by top automotive names Speed Stern, Ron Ross and Gary (The Fastest Man Alive) Gabelich! Sleep in a motel becomes the scene of a near orgy. The cops are looking for them. Their parent's are desperate. The film winds into wild vehicular mayhem! BA
0189 Longest Nite, The (98) aka: Aam fa A corrupt cop negotiates between two Triad leaders who have the ultimate plan to join forces. He finds himself followed by a mysterious bald-headed man who keeps getting into his business. Word hits the street that a contract has been put out on one of the Triad leaders. A dead man is planted in the cop's apartment. A film set in a very dark violent world. A nasty crime film that plays like John Woo meets Scorsese. Widescreen In Cantonese with English subtitles BA
0085 LSD is FUN (various) Let's trip together hey? First some trailers yeah? Hallucination Generation, Hippie Revolt, The Big Cube.... I'm ready now. The wall is melting! The World Tomorrow, Lsd Case Study, Hofman's Potion, Los Angeles first Love-In Easter Sunday, Intermission cartoons...... You'll be laid out on the floor like Yvette Vickers before it is all over, trust me. Damn, those hamburgers look great!
0116 Man Who Stole the Sun, The (79) aka: Taiyô wo nusunda otoko After being held hostage by a disgruntled citizen a crazy and very angry teacher steals isotopes from a nuclear reactor and builds an atomic bomb, then makes demands on the government of Japan. His ridiculous demands include baseball games get played until they end (something not happening) and 'The Rolling Stones' play a concert (they were banned at the time for drug charges). Of course building a bomb is deadly business and our deranged teacher is exposed to deadly agents. Cat and mouse ensues with his cop nemesis. The tone of the film is maybe a bit comedic, but make no mistake, it is excessively violent, nihilistic even at times. The point is, once the sense of purpose in life is lost, all bets are off, and all hell breaks loose. In Japanese with English subtitles Widescreen BA
W267 Naked Road, The (59) Driving together, a model (Jeanne Rainer) rejects the seduction attempt of a married client. They are pulled over for speeding. The judge lets him go home and get the dough to pay the fine. She has to stay behind. Another guy pays the fine, and gives her ride. Straight into captivity when she is given a knock-out drug. She is threatened with being turned into a junkie, unless she joins a 'Public Relations Racket' for one year. After, she will be freed. This is a nice way of saying, being a whore and making this 'female slaver' big bucks. Rainer would follow up with the following years 'The Touch of Flesh'. The girl was something else, she had something. She later became a best selling author. Her books are still in print on Amazon. BA
0050 On the Run (83) aka: Nowhere to Hide Filmed in Australia. Hit man Mr. Payatta (Rod Taylor) goes wherever the job takes him. In the opening, he shoots a guy who is taking a swim and a healthy splash of blood surges in the water. Job well done. Back on the home turf Harry (Paul Winfield) worries. Harry is a man Mr. Payatta helped escape from America to Australia. Harry wants out. He threatens to end Harry if he does not behave. Harry is left in charge of a young boy who speaks only French. Bad men come looking for the boy. The dogs (Hansel and Gretel) have been killed, and one of the bad guys tosses a dog's head down to show they are serious. Mr. Payatta delivers brutal violence, the boy is witness, he too must die. Harry's not having it. He no mess, splits with the kid. Mr. Payatta hunts them, even using a helicopter at one point. Rod Taylor is a great unhinged villain here, and Paul Winfield is very believable. Edge of your seat excitement, and what an ending!
W266 Playmates and the Candidate, The (64) aka: The Candidate Political satire with sleazy politicians (is there another kind?) doing what they do best. Frank Carlton (Ted Knight) decides to run for office, but is distracted by the sly and smoking hot buxom English immigrant Angela Wallace (June Wilkinson), while his campaign manager Buddy Parker has a go with delicious Christine (Mamie Van Doren, never has she looked better). Politics, stag films, abortion, and other controversial subjects come up, in the early 1960's it took real guts to talk about some of this. Corruption in Washington.. Of course. But who wouldn't fall if either of these ladies threw themselves at them? The clip from 'Steam Heat'! Maybe the movie was dumped for the interracial love scenes? Mamie Van Doren is sensual and hot making out with Mexican actor Ernesto Macias. She chews his ear, he starts to undress her and they fall to the floor.... BA
W268 Ring of Spies (64) aka: Ring of Treason No expense was spared to give this film all of the London location shooting needed. Even a brief glimpse of 'The Crazy Gang' performing at the Victoria Palace. Bernard Lee is Henry Houghton, a cash-strapped clerk who has stolen files from the safe at the Portland Naval Establishment so that the Soviets can learn all the British secrets about advanced submarine warfare. The Golden Age of Treachery well-realized. The action takes place in rustic pubs, cafes, drab offices and snack bars. There are no gadgets or glamour. Bernard Lee was also 'M' in many of the James Bond films. Also with Thorley Walters, William Sylvester, Derek Francis and more. Widescreen BA
W265 Seven Alone (74) A true story of courage. The Sager family, traveling by way of Wagon Train from Missouri to Oregon. An Indian attack is the end of Henry (Dewey Martin). Naomi (Anne Collings) dies of pneumonia. Now that the parent's are dead, it is up to the eldest, John (Where the Red Fern Grows) to get himself and his annoying siblings through the treacherous wilderness to Oregon. This is the true story of their 200 mile trek. In real life a worse fate awaits a few of them, but that came later, this is the movie account of what happened as they go on their journey. Kit Carsen (Dean Smith) shows up. Aldo Ray is Dr. Dutch. Look up 'The Whitman Massacre of 1847' and you will find more of their later true life fate. BA
0080 Terror Force Commando (86) aka: Three Men of Fire Hard, cold, without compromise, Richard Harrison, as a CIA agent (back in the days when that actually meant something). His mission is to destroy the ringleader of a famous band of professional killers who are operating in an Italian city. No more will they get away with this reign of terror. He will do whatever to take them down, kill them all if necessary with the help of a local police officer. Their justice may make the streets less safe for everyone. The terrorist leader Zero (played with appropriate wickedness by Romano Kristoff) is ready to make life hard for everybody who threatens his corrupt organization. Richard Harrison not only stars, but he wrote and directed this as well! BA
0169 Unknown Comedy Show, The (87) He wears a grocery bag over his head and delivers one-liners in a nightclub with special guests. Murray Langston is the Unknown Comic and this is his time. The masked marauder of nonstop one-liners. It's no surprise that the cat (and everything else) gets let out of the bag in this wacky no-holds-barred comedy revue. Generously stretching the limits of good taste, three young stand-up comedians run through their outrageous monologues. Inspired lunacy that includes the 'unknown beauty pageant' that Benny Hill would have loved.
W274 Wet Asphalt (58) aka: Nasser Asphalt Greg Bachmann (Horst Buchholz) is a reporter who has just been released from prison for breaking the rules. Down and out with a ruined reputation, he now accepts a job ghost-writing for a famous reporter. A wild lie is spun, and it gets bigger and bigger. The big lie, though untrue, affects the governments of Poland, Russia and Germany. Bachmann realizes his boss is behind this massive cache of misinformation. How can he expose him and reveal the truth to the world? His boss is a sly crafty son-of-a bitch. In this age of complete and total lies and confusion from too many sources with hundreds of truths and fictions, a film like 'Wet Asphalt' reinforces the necessity for those who love freedom to think for themselves and beware what the media or social media tells you. Also with Maria Perschy in her first big role. BA
W280 Why Men Leave Home (51) aka: Secrets of Beauty How about it ladies? Wonder why hubbie is out all hours and maybe nailing his secretary or God only knows who? It is because you are no longer attractive you lazy pig. Ruth Waldron (Julie Bishop) has this problem exactly (actually, she doesn't look half bad to start with, in a June Cleaver sort of way). Dr. John Waldorn (Richard Denning) just isn't attracted to her anymore. But when Ruth gets turned into a hot babe by real life make-up artist Ern Westmore, John does a double-take. Before, John was unsatisfied, and tempted by the fruit of another. Now however.... A movie that would never pass the planning stages these days. Turning his wife into a beauty however reminded me of the transformation scene in 'The Wolfman'. Complicated and time consuming. Like she could keep that up. Who could? Some cool before after scenes with other made up wallflower door mats. BA
0056 Wicked Priest (68) aka: Gokuaku bôzu 1920's, Tokyo's old town. Shinkai (Tomisaburo Wakayama) is a buddhist priest who loves gambling and women. Don't they all? A fight lands him in isolation from the other monks. He leaves to play dice in the city and helps a woman about to be raped and kidnapped. The same thugs who run the local gambling house are forcing women into prostitution. Can he convert them to good? Bloody violence includes a guy stabbed in the face by a sword. This is the beginning of his adventures. Widescreen In Japanese with English subtitles. BA
0057 Wicked Priest 2: Ballad of Murder (68) aka: Gokuaku bôzu: Hitokiri kazoe uta Shinkai returns, taking in the son of a man on the run. Then Shinkai runs afoul of a group of 'strong-arm-tactics' gangsters who are trying to take control of the profits of a gambling racket. Widescreen In Japanese with English subtitles BA
0058 Wicked Priest 3: The Killer Priest's Journey (69) aka: Gokuaku bôzu: nenbutsu hitokiri tabi Shinkai comes to the aid of a coastal village being held hostage by a group of political revolutionaries. The climax of this film features an extraordinary swordfight on the beach at sunrise. As in all the films in this series, there is a meeting between Shinkai and his former best friend, Ryotatsu the Whipmaster, a blind priest who seeks revenge on Shinkai for taking his sight in the first film in the series. Widescreen In Japanese with English subtitles BA
0059 Wicked Priest 4: Killer Priest Comes Back (70) aka: Gokuaku bozu nenbutsu sandangiri Shinkai arrives in his hometown to give his mother a proper Buddhist memorial service, twenty years after her death. During a stopover in a gambling den, Shinkai runs into his childhood friend (who is now a Yakuza gunman) who is in a dispute with a crime boss. Shinkai rescues him, but the man resents it and considers this an insult to his manhood. Later Shinkai finds himself involved in a labor dispute with vicious gangsters, and Shinkai even meets his match 'The Wicked Nun' who can fight and swindle with the best of them. Widescreen In Japanese with English subtitles BA

MODERATE AND MADE FOR TV FILMS
0181 Dark Secret of Harvest Home, The (78) Another dark MFTV film from the excellent Tom Tryon novel. A Manhattan couple (David Ackroyd and Joanna Miles) along with their sickly daughter (Rosanna Arquette) relocate to a strange timeless New England village in the middle of nowhere. The village leader (Bette Davis) tutors the newcomers in the town's ancient ways. The village is steeped in Pagan rituals, the populace inbred and weak... the need for new blood is strong. The dark secret of Harvest Home will be revealed. A fantastic little chiller that also stars Michael O'Keefe and the voice of Donald Pleasence. 2 hour version. We also have a longer version but the quality is only fair, sometimes good. This condensed version will do if you know the story.
0189 Dobie Gillis meets Tuesday Weld (59-60) Dwayne Hickman as Dobie Gillis was a regularly watched program by most of America during it's four year run and was also a launching pad for Bob Denver who was about to get marooned on an island. Here we have four episodes, two which guest star our dear Tuesday Weld. Caper at the Bijou (Weld), The Flying Milligans (this one has Yvonne Craig), The Big Sandwich (Weld) and Dobie's Birthday Party with Ron Howard. Dwayne Hickman would turn up in shows for a long while, but left to become a publicist, a Las Vegas entertainment director and later a programming executive for CBS. He died in January 2022 at age 87 of Parkinson's.
0174 Fall of the House of Usher, The (79) The ancestral home of the Usher family, long under a mysterious curse, threatens it's inhabitants with excruciating death unless the spell can be broken. Summoned, Jonathan (Robert Hays) arrives and is expected to carry out a horrifying task. Only a man not of Usher blood can effectively fight against the evil spirits that haunt the house of Usher. Roderick Usher this time played by Martin Landau. Also starring Charlene Tilton and Ray Walston. The last of the 'Classic's Illustrated' series. Creepy Dimitra Arliss as Madeline Usher was 'Dahnya' in 2000's 'Bless the Child', her last role.
0158 For Ladies Only (81) John Philips (Gregory Harrison) has just arrived in New York City having traveled from Iowa, hoping to become an actor. Not so simple. In acting class he meets Stan (Beastmaster Marc Singer) who takes him to Club Max where John learns he can make good money stripping for horny women. He is a hit and wins the championship as the best male stripper. Then he learns no one wants to hire a stripper for acting kids. Stan is already in a fog of adulation and alcohol. Will this be the same path for John? Club Max is raided by the cops. Stan starts gulping down the drugs. Things do not look for Stan. John does some soul searching. Also with Viveca Lindfors, Louise Lasser and Lee Grant.
0037 Phantom of the Opera, The (88) Paris 1890: Christine has been acting strange. She has the lead part in the new opera, and is a bit snotty. The phantom of the opera is lurking in the shadows and the catacombs, keeping her from others, lashing out at the world above. But he has a sensitive side. This is a cartoon adaptation of Gaston Leroux's classic, fit for the whole family (whatever that means these days). Before the feature, the thing with the kids and the VCR, pretty interesting. Also a few trailers for other cartoons, one before the feature, and after. A cartoon that actually sticks to the source material for a change.

MONDO FILMS
0108 Decoy Queen, The (83) aka: Nyi Ageng Ratu Pemikat Indonesian made comic book adaptation. Sastro and his army of golden men have dastardly plans for the beautiful Nyi (played by the lusty superstar Suzzanna who has just married and then escaped her evil husband). Her only hope is the handsome and totally rad Brodo (Barry Prima), a skillful martial arts fighting man who knows how to kick the crap out of people. In one scene a woman takes a huge bedpost and shoves it up her crotch. They find her impaled and bled out. So you see, this flick is not kidding. Nyi throws herself off a cliff to escape (her rapist husband) and is saved by a witch. Have you ever seen pink flamingos mate? Neither had I, until now! Bizarre, this world where large bats fly around like birds do over here. Suzzanna seduces Brodo. More special effects and fantastic sets! Indonesian with English subtitles
0109 Demon Monkey (88) aka: Siluman kera More Indonesian greatness with Barry Prima! An expedition to Lafayetta Island to study monkeys goes wrong when the lead researcher's wife Sofia is kidnapped by the ancestral spirit of the island. She is freed, but after 17 years the cursed wooden doll returns to possess her daughter. Wildly inventive gore, a bloody 'Bigfoot' like monster (presumably, the 'Demon Monkey' of the title) that leaps, knows kung-fu, takes bullets with no effect and even rips a guy's leg off. This beast man is the leader of a tribe of violent savages. The story about the island will draw you in all the way to the explosive violent climax! Widescreen Indonesian with English subtitles
0046 Gecko (0?) Two guys, a woman and a child are driving a van on a country road. A gecko is on the hood. The gecko is not one that talks. And then there were two. The music is ominous. They arrive at an isolated estate and are greeted by a hot chick and her dad. A young hip dude drinks beer while the hot chick hangs up clothes. The help? Geckos are all over the property. The little kid with the sling shot can only do so much. Later in the village... bah, who cares. Where are the geckos? Finally an attack. But it is a little kid with a small rifle, shooting geckos. A gecko latches on to a little girls arm and chomps down. Blood. More gecko hunting. Later hot chick kisses a gecko. Are they working together? A seduction. A man is strangled and another man is assaulted and chomped to death by angry geckos! F.L. madness
7396 Homoti (87) aka: Gay Turkish E.T. Poor Homoti comes from outer space but is now lost in Turkey, in fear of being discovered by the others on his home planet, and punished! Homoti meets a gay photographer who seems to realize Homoti is different somehow. James Whale's Frankenstein's lonely exile aside, Homoti is kind of protected by the man. But then a woman tries to seduce Homoti (I think). Will Homoti stay the course? Once again, one of the goofiest alien monsters you will see. Previously listed with no subtitles #S382. This time with English subtitles! - Not to be confused with 'Badi' , another copy film.
7309 Mondo Erotico (77) aka: Notti porno nel mondo Bruno Mattei presents with Laura Gemser Opens with Laura talking to us happily. She winks. 'Hello everyone! It's your old friend Emmanuelle. The show you are going to see is full of novelties. From the best nightclubs in the entire world of sex. If you can spare the time, won't you be my guest?' Filmed in the most notorious red-light districts. First, a sexy 'beauty and the beast' on the stage with a stripper in safari gear stripping down and chased around by a man in a gnarly gorilla suit. They embrace for a little monkey love as she takes to he knees delighting the men in the room. Gemser gets naked for the next scene. Naked roller skating, naked mud wrestling and a school for sex in Amsterdam. Hell, we are just getting started. The main thrust of the thing is SEX. Now in an English dubbed print. Widescreen Upgrade BA
7320 Three Supermen vs. the Godfather (79) aka: Süpermenler When a German scientist brings his new time machine to Turkey, everybody wants to use it for various reasons. It breaks down, he rebuilds it and then is kidnapped. The machine is forwarded to the ship of gangsters. The Three Supermen have now leaped into action! In this one, Nick Jordan, who played mute Superman twelve years earlier, is now a different Superman. Sal Borgese is now the mute one. Completing the trio is Cuneyt Arkin, an F.B.I. agent who also gets himself going whenever he dons a cape. Slapstick and the defiance of gravity with a silly (but catchy) score. Widescreen In Turkish with English subtitles.
7391 Turkish Star Trek (73) aka: Turist Ömer Uzay Yolu'nda An efficient Turkish spoof of the popular American television show, and the first unofficial rip-off! Available for years in varying degrees of quality, never with subtitles. This was beamed down to replace all of those crappy prints, direct from outer space. An amazing reproduction of the classic, with all of the characters you know and love. Sharp color Widescreen in Turkish with English subtitles for the first time! BA
7366 Unknown Paris (69) The seamier side of Paris, the hot side! Our camera is hot on the trail of pleasure seekers, visual and sensorial. I'll carnival bark. See: The Montparnasse nude dancer! See: Ahhm, another spectacular nude dancer! See: A French cancan with a difference! See: The Practice of Free Love! See: A woman enslaved by her own desires! The director culled some footage from other Eurocine films, and also original footage as the director prowls Paris with his camera crew. English language dubbed Widescreen

PROPAGANDA FILMS
187 Devil Worship: The Rise of Satanism (86) Teenagers across America are playing a dangerous new game. Satanism! Propaganda that attacks the culture and blames crimes committed by disturbed youth on the devil. This also has footage from England and they talk to real devil worshippers, Wiccans and witches. Occult experts weigh in, and give us the truth as they see it. Dungeons and Dragons, Heavy Metal, Ouija Board.. it's all here. We played with an Ouija Board in the 1980's numerous times. We could always tell which of us was pushing the damn thing around to make it spell something. No demons, no ghosts or resurrections....nothing. Maybe we were not worthy? We also get recollections from women who claim to have been kidnapped by devil worshippers, and they describe what sounds to me like a set from a Hammer film. Let us Prey.
C223 Little Tokyo U.S.A. (42) aka: East of Chinatown 1941: Michael Steel, a tough Los Angeles cop, investigates a series of crimes that involve the Japanese American community. The crimes are to cover up Japanese American efforts to facilitate the bombing or Pearl Harbor. The trail leads to an American spy for Tokyo named Takimura (played in yellow face by Harold Huber, though filmed in black and white, they tint his skin). Takimura shows that even American born Japanese are not to be trusted. Takimura tries to throw Steel off the case by sending a cute little vixen named Teru (Jane Duprez) to seduce him. Takimura later murders Teru, framing Steel. In the end all is sorted and the case is made for the necessity of internment camps. A movie that reflects the national paranoia and fear of the Japanese in the aftermath of Pearl Harbor.
W247 Man of Steel (67) As a wee child, the church would gather the children and force us to watch movies like this under threat of a good beating if we refused. Man of Steel was filmed in Whitehorse, Yukon, Canada and is quite stunning at times. A plus. We are supposed to be learning a lesson here, so let's see if we do. Jeff Forbes, president of 'Alliance Steel' is on a hunting trip in the Yukon with his wife and his son Kevin. Klondike Joe has recently turned to God with the help of a real life evangelist. Now it is time to convert Jeff and Kevin to save them from the fires of hell. Meanwhile, a guy in a bad black bear suit is roaming the hills, they say a 'killer grizzly'! They hunt. Later, Jeff has lost interest in the company because he has found the lord. His son Kevin however plunges down the road to hell when his girlfriend invites him to a party where they drink beer! A sure-fire way to be damned. Kevin sobers up when one of his friends gets shit-faced, puts on a dress, and falls off a roof. Kevin wants to take his girl to church. Maybe (just maybe) they can be saved from this life of sin? Did we learn anything? Maybe not but dodged the belt to live another day.
0152 When Love Was a Crime (68) aka: Kiedy milosc byla zbrodnia This Polish film is very interesting today, maybe even more so then when it was released. This is the law of 'racial purity' as established by Adolph Hitler. In Poland, foreign workers are barred from any contact with Germany. They are forced into labor for the Third Reich. Both sides face death, imprisonment or stigmatization for any suspicious contacts. The premiere turned out to be a scandal, and the director accused of being anti-Polish. The film also destroyed the film group that released it. Maybe you will see bits of our future if the people of earth continue to elect madmen (and madwomen!) all over the world. Haunting and prophetic. With Mark Damon as the American prisoner. English subtitles.

SHAW BROTHERS FILMS
W146 36th Chamber of Shaolin, The (78) aka: Shao Lin san shi liu fang aka: Master Killer The Manchu government is out of control. They raid a defenseless village and leave one man damaged but alive, and now hell-bent on revenge. First the training, then the killing. Using esoteric martial arts he will foment a rebellion against this occupying force. Top notch choreography astounds. Longer than most, and ultimately pretty deep with questions and contradictions regarding the philosophy of battle. For instance. Can a man who is driven by the need for revenge, master this particular training, that teaches the opposite? Widescreen In Mandarin with English subtitles. BA
SOUTH OF THE BORDER AND MEXI MONSTER FILMS
0126 Bullfighters, The (74) aka: Peor que los buitres aka: Das Todeslied der stählernen Ketten A Mexican biker film. The Mexican title translates as 'Worse Than Vultures'. One of the bikers has bull horns mounted on the front of his bike. They attack and rob a mining station in the desert and are pursued by vengeful lawmen. Deeper into the desert they go, even with their women, eventually running out of water. Money cannot buy water, when there is no water. Like cornered animals they resort to violence and moral degradation, betrayal.... three guys, three girls. On the run looking for water in the desert. Mesabi (Jorge Rivero, muscles bulging and wearing a Billy Jack hat) is also motorcycling around out there with a friend. He has a justifiably violent past. They meet the outlaws. Who will survive? Plenty of violence and nudity. Reminded me of an Al Adamson film, a good thing. With Jorge Rivero and more. Directed by Abel Salazar, 'The Brainiac' himself, and star of other late 50's early 60's Mexican horrors. English subtitles BA
0118 Panic in the Woods (89) The film opens with a hand trying to a crush an older woman's head. A killer is on the loose. The first two victims have been discovered near the forest. Street punks are a local problem. Later a blonde jogger in the park is assaulted by thugs who try to rape her. Luckily for her, cops on horseback intervene. They try to close the park but people will not listen. Two more deaths happen in the forest. Time to panic. At least Juanita is around to make some food. Another jogger is assaulted. Seriously this Mexican park is sort of like New York's Central Park. Only safer. Everybody wants to go the forest (it has trails!). The cops patrol on horseback. Drunken hooligans lurk about waiting to do bad things to good people. An old woman and a kid play hide and seek in the forest..... fog rolls in, the boy is lost. The cops try to figure things out on a chalkboard. Another couple is assaulted. The killer? English subtitles
0145 Satanic Sect (89) aka: Secta satánica: el enviado del señor The Devil is in the details. Here we have regulars from classic Mexican horror teaming up for new terrors of a satanic nature. German Robles is the leader of a satanic cult that talks a good deal, and convinces. He can make the blind see, and the crippled walk. He's also busy making his way through the daughters and wives of the town. He hides his perversity disguised as a kind and sympathetic man. After a black mass, he eats a girl's heart, and then nearly kills an older priest. Things get crazier in this battle of evil versus good, and gory as well. Watch Stephen King's 'Needful Things' there are some similarities. But this is better. (well) The priest punishment is blasphemy but that's how they roll so who am I to question. You will find some of these guys in older Mexican horror classics like 'Monster of the Volcano' or 'Curse of the Doll People'. I am glad they were able to get the gang back together for a serious horror film. And German Robles, the Horror Star of Mexico. He died at age 86 of COPD in Mexico City in 2015. In Spanish with English subtitles

WESTERNS
0131 Cold Killer, The (67) New version! Jose Desmet, devastated and damaged by the actions of Mr. Salazar, who years before as a judge sentenced his father to death, finally gets his revenge. He kills Mr. Salazar and then goes after his daughter, who has inherited the goldmine Desmet was working for. He also kills others in cold blood when they find out he has been selling arms to the angry indians. The sheriff and a government man are on to him. But Desmet is not only crafty, he's stark raving mad, and capable of anything. Gold! Gold! 'Hands up Desmet! You're not the boss anymore. It's all over!' Bullets will find flesh. With Dan Harrison (real name Bruno Piergentili) and more. Interesting music at times. Now, finally the Uncut version Widescreen and dubbed into English, and no foreign subs. BA
0110 Djurado (66) aka: Johnny Golden Poker Gunman/Card Player Jurado (pretty boy Dante Posani of the later 'Avenger X' and 'Kriminal') rides into town and walks into a saloon where he meets the pretty owner (Scilla Gabel as Barbara). Jurado's attraction to Barbara draws the ire of the local outlaw Tucan (Luis Induni) and his group of bad hombres. The townsfolk try to live life, dance and love, but there is always a constant threat. While they are gambling and playing, the villains are engaged in a massacre, shooting to death many of the residents of a nearby town and starting fires. Then the dirty dogs attack a stagecoach and start to murder everybody onboard. But wait, here comes Djurado! Margaret Lee is Mitzy. Widescreen and English dubbed for the first time. BA
0040 Gentlemen Killer (67) aka: Gentleman Jo... uccidi In a disputed border town, the US Army waits for word from Washington as to the rightful country it belongs, while dealing with a rowdy pack of Mexican soldier/bandits. Into the mix rides seemingly mysterious stranger Anthony Steffan, who looks like a dandy but has a few deadly tricks up his sleeve… Previous listing #7773 was full frame, this is the alternate Widescreen version for those who prefer that format. Finally, see 'Gentlemen Killer' as it was meant to be seen (unless you like full frame which we also have). BA
0140 Johnny Oro (66) aka: Ringo and His Golden Pistol A lot to the plot, here are some examples. Johnny Oro (Mark Damon, arrogant acting, dressed in black) is a bounty hunter. (Ringo.... Johnny Oro... whatever) He kills three brothers (by blowing them up!) and leaves the fourth, Mexican bandit Juanito, (who has no price on his head) alone. Juanito teams up with a band of renegade Apaches to seek revenge for the killing of his brothers. The film manages to end explosively as Johnny Oro blows the town all to hell (the last you will see of this movie set). Nice score, excellent and scenic Widescreen English language dub BA
0117 Once Upon a Time in the Wild Wild West (73) aka: Saloon Girls and the Cowboys aka: C'era una volta questo pazzo, pazzo, pazzo West Stranger City is the destination for two battling brothers, sent there by their mother to work for their other brother who runs a saloon. There they both find their place, and to each a sweet saloon girl. In the opening the brothers are engaged in battle with sticks, fighting amongst the cows like fools, then mother calls them to the table. Mother uses a large stick to control them (now we see where they get their primitive behavior!). They share a jackass for travel, but fight again before they arrive. Their brother is played by Gordon Mitchell! The girls are cute and seductive. Mother comes to town. Widescreen In Italian with English subtitles