---
HOME | SECURE ORDER FORMS | ONLINE SPECIALS | CATALOGUE | NEW ARRIVALS | CUSTOMER SERVICE | PRICING & ORDERING INFO
---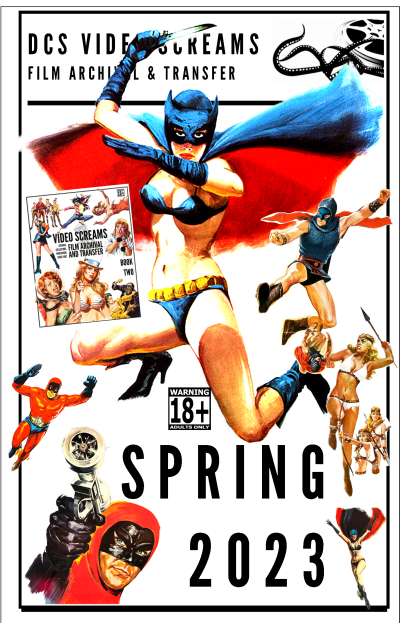 SPRING 2023 UPDATE
BA= Color Box Art Available for an additional $3.00
FL= Film is in Foreign Language
Lbx= Letterboxed or Widescreen format
Subs= Film is subtitled
aka= Also Known As (alternate titles)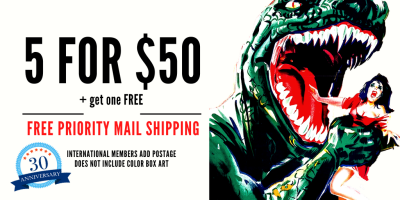 22860000
22860000
(`@`````````
266
263
5
110185200
110185200
APOCALYPTIC FILMS
W384 984: Prisoner of the Future (78) aka: The Tomorrow Man In a dark Orwellian post-apocalyptic future, a man is taken prisoner and jailed in a dark dirty penitentiary where he is constantly tortured physically and psychologically by the corrupt government without being charged with a crime. He refuses to break and take a knee. The movie is about the strength of the human will and it's capacity to overcome the worst of possible ordeals. This nihilistic vision of the future could be happening now (for some) in parts of the world, and others may not know the potential destruction our foolish world leaders can wreak upon us all until it is too late.
0891 Morning Patrol (87) aka: Proini peripolos Apocalypse in Greece from the director of 'Singapore Sling'. A lone female survivor travels through a crumbling nameless city in her attempt to reach the sea, a 'Forbidden Zone'. There in the city roam the murderous 'Morning Patrol' whose prime objective is to kill the living, a kind of 'mercy' as they see it because civilization is expired. A lonely guard in despair befriends the woman and together they try to survive. Others lurk about, murderous all. Very dark and downbeat, with the hopelessness of the dead city silently speaking doom to our horrified eyes. Great! English subtitles BA

BATTLE CHICKS AND WRASSLE BABES
E36 Beautiful Wrestlers: Down for the Count (84) aka: Bishôjo puroresu: Shisshin 10-byo mae Two young best-friend Japanese girls enter separate women's colleges. When they each join their respective wrestling teams, they find themselves pitted against each other. Soft-core sex comedy that is very entertaining and also bright and colorful. In Japanese with easy to read English subtitles BA
CLASSIC HORROR AND SCI-FI FILMS
W372 Big Show, The (36) aka: Far West Melody A cowboy star's studio man uses a look-a-like to represent him at a publicity event. This angers the actual cowboy star (Gene Autry in a dual role). A bait and switch also confuses the hell out of a few women and others. Many musicians featured. Filmed in Dallas, Texas at the Texas Centennial. Hillbilly bands, ventriloquism and blackmail. BA
0995 Black Magic (44) aka: Charlie Chan in Meeting at Midnight At a séance a man is shot dead by an invisible bullet. Whodunit? Nervous bug-eyed Birmington Brown (Mantan Moreland) 'assists' Charlie Chan (Sidney Toler) and his daughter at the murder investigation. One murder, too many suspects, too many motives. Spooky atmosphere. Moreland was a better actor than Will Smith could ever hope to be. If he just studied Moreland's genius there could be hope for his future. BA
W377 Chandu on the Magic Island (35) aka: Chandu dans L'ice Mysterieses On the mysterious island of Lemuria, the natives are hunting for Nadji, whose body contains the soul of their evil tribal goddess. The tribe uses the dark arts to transport Chandu and his family to the island as human sacrifice... Edited from the twelve part serial 'The Return of Chandu' this feature film is put together pretty well, with Bela Lugosi as the good guy for a change. If you have time to watch the serial then get that version. This however will do if you don't have four hours, but just an hour and ten minutes. BA
W348 Dishonored Lady (47) aka: Disonorata Madeleine (Hedy Lamarr) is not only beautiful and promiscuous, she is also suicidal. She tries to change her lifestyle and falls in love, but when he leaves for business, she falls back into her old ways, and also accidentally becomes a murder suspect. Gorgeous Hedy Lamarr outshines glitzy fashions and psychology and who can blame her for sharing? Margaret Hamilton, Natalie Schafer, John Loder (married to Lamarr at the time, but this film may have been the final straw, they divorced the same year), and Dennis O'Keefe star. BA
W369 High Voltage (1929) aka: Wanted The passengers of a bus are trapped in a snowstorm, taking refuge in a church building in the High Sierras. Carole Lombard (only 21 here) is a prisoner traveling with a detective to face trial. Already at the church is William Boyd as a fugitive with a cache of food he does not want to share. Early talkie features nervous actors finding their voices. Claustrophobic film with a theme used frequently in many later films.
W370 Hoosier Schoolboy (37) aka: Yesterday's Hero Sensitive teacher Mary Evans (Anne Nagel) has arrived to teach in a rural town that is experiencing a strike from the local dairy farmers, just one of the many obstacles and situations that she finds herself now a part of. Mickey Rooney plays a cynical student bad boy who idolizes his shell-shocked alcoholic war veteran father. Ann Nagel was one of Universal's top serial queens in the 1940's, and also some classic horror films. Her first husband killed himself in 1937. Penniless and down and out, abandoned by the studios, Nagel drunk herself to death in 1966 at age 51 in Hollywood, another dead star for the city to devour. BA
W371 I Cover the Waterfront (33) Julie (Claudette Colbert), the daughter of a smuggler, finds herself involved with Joe (Ben Lyon) an investigative reporter. Joe wants Julie to rat out her father who is involved in Chinese smuggling operations, spill some beans or at least a bag of rice? Some very un-pc scenes in this Pre Code film make it very entertaining to watch, more a trivial mind set of the times than anything else. Colbert even finds herself trapped in manacles and a neck restraint in a classic bondage scene. Excellent waterfront picture with a noir feel.
W376 Indiscreet (31) aka: Careless Heart Geraldine's (Gloria Swanson) former lover Jim has his eyes on her sister Joan. Geraldine is not on board, but Joan thinks she is just jealous. A sparkling musical comedy, Swanson only made a few more films before twenty years later the one she will be most remembered 'Sunset Blvd.'. BA
W351 Lady of Burlesque (43) aka: G-String Murders aka: Striptease Lady A killer stalks the building of burlesque. Dixie Daisy (the imitable Barbara Stanwyck) and the others (some, real women of burlesque) better get to the bottoms of things pretty quick before the killer gets another. Based on the novel 'The G-String Murders' penned by Gypsy Rose Lee herself. Barbara Stanwyck endows star stripper Dixie Daisy with her own memorable brand of tough class, and while she can only be filmed by the waist up (damn you Hollywood Code) she still bumps and grinds with her performance of the number 'Play it on the G-String'. A salty look backstage at a grind house. Gloria Dickson, Marion Martin and more star. BA
W353 Letter of Introduction (38) Edgar Bergen and Charlie McCarthy are always fun to watch in anything. I myself have one of these ancient dummies and I make it talk to my dog Shelby, who believes 'Hugo' is alive. Here we have Broadway players, an estranged daughter, romance, and surprise identity revelations. The dummies save the film. Adolphe Mejou, Andrea Leeds, Ann Sheridan, Eve Arden and more. Dozens of uncredited character actors include Don 'Red' Barry and Rita Johnson. BA
W390 Life Returns (35) Dr. John Kendrick (Onslow Stevens) wants to reanimate the dead and experiments on a dog. Based on a real doctor, using footage of one of the 'dead dog' revivals as it 'happened'. This footage is what they built the picture around. You can tell however the 'actor' dog is not the doomed dog we see in the experiments. A curio, but interesting for fans of classic horror/sci-fi. Also starring Lois Wilson, Valerie Hobson and Frank Reicher.
W352 Love Affair (39) French playboy MIchel (Charles Boyer) is on the same ship as Terry McKay (Irene Dunne) a former nightclub singer, later destined to meet atop the Empire State Building. This is the original version of 'An Affair to Remember' made later in 1959 with Cary Grant and Deborah Kerr. Copied bits throughout the decades in various films. Maria Ouspenskaya is the grandmother. Ouspenskaya was Maleva the Gypsy woman in the Universal Wolf Man movies. BA
E86 Road Back, The (37) A sort of sequel to 'All Quiet on the Western Front' depicting the Germans with sympathy and respect. A James Whale Production. In the film 'Gods and Monsters', Ian McKellen played James Whale lamenting the making of this film. The source material painted the Germans in a somewhat sinister fashion, and Whale filmed it that way. But the studios shredded the film at the request of Germany's Nazi Party because they were worried about overseas profits. Germans return home from WWI and find a country in disrepair. Hitler had this movie banned, despite the cuts to make Germany look good. Look for Dwight Frye and Edward Van Sloane in bit parts. The movie is as ironic as it is an historical revelation. Also with Lionel Atwill, Noah Beery Jr., Andy Devine (a German with that voice?) and many more. None of them even attempt a German accent. BA
D855 Steel Trap, The (52) aka: Panic Stricken Joseph Cotton plays a guy that has worked at the bank for many years and realizes how easy it would be to scoop up a million and get away with it, escaping with his wife (Teresa Wright) to Brazil to start a new life. But guilt takes him over..... The best laid plans of mice and men. A nail-biter. BA
W349 Tom Brown's School Days (40) Stern headmaster Arnold (Cedric Hardwicke) controls a boarding school. To our modern eyes, the notion of a master whipping a student with a birch or expelling a boy for telling a lie seems a bit extreme, but these punishments are mild compared to what came before. The cast mix of Brits and American's is interesting. A tale of a new student and a bully also figure into this film about a historical figure. Freddie Bartholomew, Jimmy Lydon and Gale Storm in her debut. BA
W367 Town Went Wild, The (44) Feuding fathers find out that their sons were switched at birth, and now one of their daughters is about to marry her brother. While this all may seem normal in 2023 in some circles, it doesn't fly in a mainstream film from 1944. Don't worry, this is a broad madcap comedy made firmly under the thumb of the censor. Wait until you hear the soundtrack! Freddie Bartholomew, Jimmy Lydon,
W350 Walk in the Sun, A (45) aka: Commando de la mort aka: Salerno playa de invasion Not a Place, but a Walk! A WWII war picture about a platoon roughing it through the Italian countryside with an assignment to capture an area controlled by the Germans. Unusual insights about the futility of war, well drawn characters etc. The 'Saving Private Ryan' of 1945, missing the 'Private Ryan' part. Dana Andrews, Richard Conte, Lloyd Bridges, Huntz Hall, John Ireland and more star. Burgess Meredith narrates. BA
E111 While the City Sleeps (28) New York's Finest: Sixteen thousand picked men who guard the lives and property of six million. Lon Chaney is no-nonsense Irish cop Dan Coghlan, a plain-clothes detective. His target is Eddie 'Mile Away' Skeeter (Wheeler Oakman) who seems to skate no matter the crime. Wise guy huh? Yes. Flapper Myrtle (Anita Page) has every man trying to get up her skirt, Coghlan tries to get her on the straight and narrow. New York looks dirty and dusty. A crackerjack of a picture. I mean, it's swell. And, Chaney 'almost' gets the girl. You know, the theme to many of his pictures, he never gets the girl, always some transgression or mutation. It's always something. This picture had two missing reels (all surviving prints are missing these reels) and runs a little over an hour. This is all that survives to date. Still, a beginning, middle and end are here. Anita Page would outlive Lon Chaney (this is one of his last films) by almost 80 years. Strange world huh? BA

DINOSAUR, LOST LANDS, SWORD & SANDAL, PEPLUM & FANTASY FILMS
0942 Aladdin (86) aka: Superfantagenio A teenager named Luca in modern day Miami finds a magic lantern and out comes a genie who has been asleep for 200 years (played by Bud Spencer!). Now the boy gets several wishes in return for freeing the genie. Luca lives with his hot mom Janet (played by the uniquely gorgeous Janet Agren) and his drunken grandpa. Mobsters want Aladdin's powers for themselves. The boy starts to wish. Bud Spencer is incredible here, and the sequences where the boy displays super powers to win are incredible. Fist-fights, punches, kicks, a drinking contest between the genie and the grandpa and much more. BA
0912 AO: The Last Neanderthal (10) aka: Ao, le dernier Néandertal Ao battles a large polar bear in one of the first sequences. Homo Sapiens attack Ao's tribe of Neanderthals, slaughtering them all, Ao the lone survivor. His wife and baby girl are now dead. Ao sets out on a journey to find his brother, who he was separated from at birth. On his journey he meets Aki, a homo sapien woman. Clearly she is out of his league, Ao being a neanderthal and all. Excellent outdoor adventure and violent at times. A boy meets girl story. Pair with 'Quest for Fire' and 'Clan of the Cave Bear'. Widescreen - In French with large easy to read subtitles. BA
E31 Apple Pie (76) A Big Apple Fairy Tale. Jacques Blinbaum (Tony Azito) is a gangster known as 'The Falcon'. In a bizarre memory he describes his experiences beginning at age 17 when he got the idea to fake his own abduction to extort money from his parents. After, he became some type of strange costumed night prowler and winds up leading a huge dance sequence in the streets of New York to the music of Hall and Oates! The main character is a manifestation of his own weirdness. Not to be taken literally, just a very strange film. Pre-Flashdance, or Fame, Irene Cara one of the street dancers. Tony Azito was known for his double-jointed marionette-style movement. He died of AIDS in Manhattan in 1995 at age 46.
W388 Beyond the Moon (54) Edited from the first three episodes of 'Rocky Jones, Space Ranger' which aired on American televisions in 1954. Cheap sets, amusing pre-feminism classic old school sexism, comic book dialogue (Galloping Galaxies!) and some pretty decent action sequences for 1954 (albeit clumsy). Beefy athletic Richard Crane is Rocky Jones and, coupled with sexy blonde Sally Mansfield (as Vena Ray) both look like they stepped out of a Wally Wood EC science fiction comic. Child actor Scotty Beckett as 'Winky', he is 25 here. Scotty Beckett another chewed up and spit out child actor, but mostly from his own self-destructive tendencies. He died from an overdose of barbiturates at age 37 in 1968.
W385 Brother from Another Planet, The (84) Outer space bounty hunters pursue a mute black guy ('The Brother' played by Joe Morton) through the streets of Harlem. Apparently 'The Brother' has crashed his ship on planet earth, and, being black and all, decides to integrate himself into Harlem where he thinks he can blend in. There is some intended message of the 'immigrant experience' in the picture with a bit of Ellis Island and New York locations. Comedy science fiction, look for Steve James as 'Odell', David Strathairn as a 'Man in Black' and 'Man being Arrested' a quick shot of Giancarlo Esposito.
E69 Castaway (86) aka: Castaway, la ragazza venerdì Gerald Kingsland (Oliver Reed) advertises for a woman to spend a year with him alone on a desert island in a survivor scenario. His girl Friday is Lucy Irvine (Amanda Donohoe) who answers and they marry, then, off they go. Things go very bad, and Lucy seems to be more useful than Gerald, thriving, using her sex to entice, and yet weakening Gerald. Two men arrive..... later some nuns land improving their situation, A hurricane strikes. A warped spin on the island dream. Escaping the madness and restrictions of civilization can be a double-edged sword. BA
0894 Catman in Boxer's Blow (93) aka: U.S. Catman 2: Boxer Blow Godfrey Ho's sequel to the outrageous 'Catman in Lethal Track' follows the same formula of addictively entertaining ineptitude. This time the Catman stuff is the subplot, as most of the film is just a mess of people beating the crap out of each other. Fights start with no reason, continuity is absent, a man is forced to eat worms, If you can find a plot let me know! Another Ho masterpiece, not for beginners. Funny dialogue, bad dubbing and plenty of ass-kicking! 'You got nowhere to hide Catman! Here Pussy Pussy Pussy!' BA
0893 Catman in Lethal Track (90) aka: U.S. Catman: Lethal Track Directed by Godfrey Ho! In a fight , a man is scratched by a radioactive cat. Now he has super powers, and makes himself a costume and sets out to fight crime. Of course expect a bumbling incoherent subplot (not that the other stuff is exactly clear) that doesn't really have anything to do with the catman angle, this involving people fighting all over the place, and starring a guy with an eye patch. A zenith of the cinematic art form. A Satanic Cat priest wields a scepter and ties a woman up with a 'Cat' cardboard poster behind him on a stage that looks like a really bad 80's heavy metal video. Better than 'Deadpool' . Bad dubbing, amazing dialogue and chop cut editing. You'll laugh until you cry! BA
0940 Dreams Come True (84) aka: Odyssee im Alptraum A young man masters astral projection enabling his physical body to lay asleep while his soul travels making his wildest (sometimes sexual) dreams come true. He also meets his girlfriend to engage in the world of dreams as well. Surreal film with cheap but oddly effective special effects. The soundtrack is memorable. Not many films about astral projection, this is one of them. Ever read Richard Laymon's 'Body Rides'? Get it! BA
W389 Evil Brain from Outer Space (50's/66) More wild madness cobbled together from the Japanese 'Starman' series to make an English dubbed feature. The evil brain of a demented dictator escapes Earth and gathers galaxy beings to help conquer Earth unleashing a horde of goofy monsters including a witchy lady and a lizard-man with long sharp nails and fangs. More wacky fun from Japan and dubbed into English.
0898 Fantasy of the Deer Warrior, The (61) aka: Da xia mei hua lu aka: The Beginning of Spotted Deer Weird and surreal fantasy film from Taiwan. Wolves attack the friendly animals of the woods (men in hairy suits with wolf heads who carry clubs). All of the friendly animals are people as well, with some kind of attachment so we know what kind of animal they are supposed to be. Before the father deer dies, he asks his son to seek revenge against the wolves. Weaving tales of folklore into one, minimalist special effects, funny flying scenes, points for the entire film being filmed outdoors. English subtitles BA
E83 Help! Help! The Globolinks (69) Screw you Cirque Du Soleil! The Globolinks are better! An amazingly colorful production with the classic science fiction alien invasion plot blended with opera and edge of your seat excitement! The Globolinks look like large moving chess pieces, who eventually are repelled by music. A full orchestra plays. Huge exterior sets resemble a desolate Scottish landscape. American soprano Arlene Saunders appears as Countess Euterpova. Coolest most bizarre opera of 1969? One of them. From Germany. Better than 'Chitty Chitty Bang Bang'! Globolinks! From Germany with easy to read English subtitles. Arlene Saunders was killed by the Covid-19 virus in 2020 at age 84. BA
0981 Incredible Petrified World, The (59) The coolest thing about this movie are the posters and pictures. It gives one the impression that it is a great fantasy film. It isn't, but who cares? First, an octopus vs. shark sequence. Then, an underwater diving bell with four people on board finds themselves lost in an underground cave system, a volcanic vent supplying the oxygen so they can walk around and explore. They meet a bearded shipwreck survivor (of course they do). The film has so many things to laugh at I'll leave it to you to find all of the absurdities. Because of this however, I found it highly entertaining. I'm easy. BA
W384 Invaders from Space (50's/65) Feature made from episodes of a 1950's Japanese television show. Back flipping, somersaulting, cart wheeling salamander men from outer space plan to take over Earth by setting loose a virus to destroy mankind. We can do that ourselves thank-you very much! Argh! I can't breath! From the Emerald Planet, Starman, who believes all lives matter, flies (with his visible harness) into action to save us foolish humans, and restore order in the galaxy. Can't we all just get along you troublesome aliens? One wacky touch has the salamander men disguising themselves as an avant-garde dance troupe. They mean to kill us with dance? They just may be here already! English dub print!

0944 Kadoyng (72) In England, a spaceship that looks like a football lands in the woods, and the alien astronaut, who looks very human, befriends a gang of kids, who are apposed to their village being bulldozed to make room for a motorway. He decides to help them by turning the site to quicksand on the big day! Charming, harmless nonsense. A fun way to kill an hour. BA
0889 Little Mermaid, The (76) aka: Rusalochka This Czech version of the fairy tale is still the best version ever filmed. Ten times better than the 2023 version! The underwater sequences make 'Splash' seem like nothing. The locations remind me of 'Game of Thrones'. The mermaid is gorgeous with her perfect face and fast-drying silver hair. Tavern sequences, sinking ships, elaborate period costumes, and a green-haired wicked sorceress, that sings her own song about her witchiness. Jousting, resurrecting the dead..... No Jamaican singing lobster, sorry. English subtitles BA
0955 Maciste against the Sheik (62) aka: Maciste contro lo sceicco The Duke of Malaga has toppled the sacred obelisk in the Northern African city of Melida before being defeated by the local sheik. They sail to Spain and kidnap the Duke's daughter Isabella... Maciste must re-erect the obelisk and rescue Isabella. Steve Reeves look-a-like Ed Fury returns, this one made right after 'The Valley of the Lions' and right before 'Ursus in the Land of Fire'. Sixteenth century. BA
W386 Morons from Outer Space (85) aka: Illegal Aliens A trio of idiots from beyond the galaxies crash-land on Earth and their popularity rises in this world of insanity. A lampoon of pop culture skewering everything from 'Close Encounters...', 'One Flew Over the Cuckoo's Nest' and even Bowie's 'Ziggy Stardust' addressing the mindlessness of celebrity worship that in 2023 seems to have reached some kind of critical mass hysteria. British ironic humor the likes of Monty Python, sometimes smart, other times silly, lowbrow fun overall. BA
0986 Night on the Galactic Road (85) aka: Ginga-tetsudô no yoru Animated! Giovanni the cat, has no time for himself. His mother is sick, he works when not in school, and the milk delivery does not arrive, Giovanni is going to nip it in the bud, and goes to look for the milk. He boards a train and meets others of many creeds and persuasions on a one way ticket to the edge of the universe. A journey in spirituality and a journey to the end of existence, many viewpoints explored, none exploited. Giovanni is in it for the long haul! Better than 'Cats'! English dubbed BA
0992 Parade of Planets (84) aka: Parad planet USSR 1984: Six forty-year-old men are cut off from ordinary life by draft for military reservists. An astronomer, a butcher, a factory worker, a loader, an architect and a trolleybus driver. An astronomical phenomenon known as the 'Parade of Planets' has a strange effect on the men. A thought-provoking puzzler that starts almost like a fantasy and morphs into a male bonding film where they are all caught up into some kind of surreal world of wondering and unsolved questions. A mind-shredder. More to ponder than a dictionary. As thoughtful as anything from Spielberg. In Russian with English subtitles BA
0890 Playing Beatie Bow (86) aka: Time Games Australian Time Travel Fantasy from the classic Ruth Clark book! Pretty young Abigail (Imogen Annesley) is chosen and transported back in time to 19th century scummy slummy Sydney for a specific purpose. Kind of cool, even if a bit cheesy. Imagine touching someone's hand and all of a sudden you are in the same town 100 years ago. Romance, high production values fantasy with a pop soundtrack song at the end. Returning to the present the first thing Abigail does is take a shower! Imogen Annesley's next role would be Jerboa in Philippe Mora's 'Howling III'. BA
E25 Princess with the Golden Star, The (59) aka: Princezna se zlatou hvezdou Princess Lada is distraught about being forced to marry the evil King Kazisvet who threatens to destroy her father's kingdom if she does not comply. In disguise, she finds work as a dishwasher in the court of Prince Radovan, who falls in love with her amidst the Cinderella bait and switch intrigue. King Kazisvet the Destroyer is coming to take Lada! Prince Radovan is not going to let it happen. Colorful costume swashbuckler fairy tale from Czechoslovakia with English subtitles. It is almost hard to believe how much time and money went into creative productions like this back in the day. BA
0921 Rogue Lion (72) aka: Makulu A new young ranger is assigned work on a reserve with huge problems. There's a rogue lion on the loose, poachers crossing the boundaries, and intruding natives. One lion attack in the movie, the most damage to anyone is caused by a hungry crocodile. A pissed off hippo overturns a rowboat and almost gets these two guys. They think it is funny. I'd still be running. The nuisance poacher's daughter is the object of the young ranger's affection. Wildlife imagery boasts the film's effectiveness, animal's eating each other etc. A lioness gets in a house and attacks the poacher. Time to move. Ken Gampu and Simon Sabela make an appearance. Some glitches from obscure tape but good quality overall.
0920 Space is the Place (74) Space Age prophet Sun Ra (Sun Ra), a shaman-philosopher, keyboardist, jester, has been lost in outer space visiting another planet for quite some time. Now he has returned as he lands his spaceship in Oakland. He declares himself 'the alter-destiny' and holds a 'myth vs. reality' rap session with black inner-city youth at a Rec center. He duels at cards with The Overseer, some kind of Satanic Overlord. He is back to rescue the black people from an exploding planet. Filmed on the same sound stage Jim and Artie Mitchell were using at the same time for 'Behind the Green Door'. It's a concert. It's a music documentary. An ensemble incorporating Egyptian mythology, science fiction, exotica, esoterica... a Midnight Movie. Psychedelic, Tribal, Afro-centric Jazz. Sun Ra was the leader of Sun Ra Arkestra. He claimed to be from another planet. After seeing this I am inclined to agree with him. He died in Alabama from stroke-related problems in 1993 at age 79, proving his physical self human after all. BA
W387 Starwolf and the Raiders (86) aka: Fugitive Alien Our hero has the strength of ten men and can stop forklifts at full speed, but one solid punch knocks him on his ass. Lampooned on 'Mystery Science Theatre' (never seen it, prefer the real deal if watching a movie, don't need somebody pointing out the humor I can see before my very own eyes and explaining it to me) this Japanese offering was cobbled together from a short-lived series and is up there with 'Swords of the Space Ark' in entertainment value and special effects. Better than any new 'Star Wars' movie (nod nod wink wink). BA
0980 Strange World of Planet X, The (58) aka: The Cosmic Monsters Scientist's try to create a powerful electro-magnetic energy generator but it rips a hole in the fragile ionosphere, causing a bombardment of the Earth by deadly cosmic rays that wreak havoc on mankind. Don't worry though, the whales are okay... er.. except on the East Coast. Alien space ships from Planet X are sent to stop the mad scientist and save the earth. People go insane, and bugs grow real big. Pair with 'The Crawling Eye' another British sci-fi from the same year, also starring Forrest Tucker like this one. BA
0943 Superfuzz (80) aka: Poliziotto superpiu Sergio Corbucci directs. Officer Dave Speed is exposed to a nuclear explosion which turns him into a kind of 'superman' much to the annoyance of his partner Willy Dunlop (Ernest Borgnine). Dave Speed can move objects simply with his mind, jumps from a skyscraper and blows a massively huge bubble from one piece of gum to save he and his friends from a sunken ship. His kryptonite? The color 'Red'! 'The Oceans' do the theme song! Also with Joanne Dru (her last picture), Sal Borgese and Marc Lawrence. BA
E38 Tiko and the Shark (62) aka: Ti-Koyo e il suo pescecane In a 'Flipper' twist, a young boy makes friends with a baby shark, rescuing it when it is trapped. He introduces his girlfriend to the shark. They have to go their separate ways. Years later, they reunite, but the shark has become a dangerous man-eater, and the world has changed. Filmed in the French Polynesia. Now with better color, so this is an Upgrade! Later remade as 'Beyond the Reef' in 1979. I would recommend both films if you liked 'Island of the Blue Dolphins'. BA
0937 Travels of Mr. Kleks (86) aka: Podróze pana Kleksa Poland and the Soviet Union created this ultimate science fiction fantasy film about a 'Doctor Who' kind of character (sort of) known as Mr. Kleks. In the land of Bajdocja, the Fairy Tale Festival is taking place. It is attacked by the dreadful and great Electronics Man whose demonic mind wants to prevent the festival. A giant beer keg floating in the ocean spills the blue ink needed. With the ink gone, so goes the festival. Unless... Like a 2+ hour music video, new wave outfits, fantasy sequences, songs and strange decadent characters/creatures. The songs get stuck in your head, especially Undersea Queen. The Robots are Coming! In Polish with English subtitles BA
W342 Under the Red Sea (51) aka: Abenteuer im Roten Meer Hans and Lotte Hass diving to the bottom of the Red Sea. One of the films that marked the beginning of professional underwater photography before Jacques-Yves Cousteau became a household name. Incredible stuff narrated by Les Tremayne. BA
K910 Venusian, The (54) aka: Stranger from Venus aka: Immediate Disaster Patricia Neal traveled to London to make this 'The Day the Earth Stood Still' film copy. A Venusian (Helmet Dantine) has arrived from Venus into the-middle-of-nowhere London with a warning to the people of Earth to dismantle all of their nuclear weapons, or else. I like the idea. The Venusian also has the ability to heal, and he does. The humans act like jerks and try to steal the space ship. The special effects are sparse, but I would still place this alongside other early sci-fi from the same era being made in England.
W381 War of the Robots (78) aka: La guerra dei robot Pair it with 'Cosmos: War of the Planets' and you get the idea, both 'Star Wars' crashing cash grabs that manage to be more entertaining than 'Star Wars'. Really, how many times can you watch 'Star Wars'? Wacky Professor Carr and his lusty assistant Lois (Malisa Malongo, hotter than any 'Star Wars' gal) are captured by silver-skinned androids with bad wigs, sent by an evil Empress so she can use his knowledge to conquer all. Ray guns that look like flashlights, cheap kitschy special effects, funny dubbing, Antonio Sabato leading the rescue team, Licinia Lentini's sizable bust, Aldo Canti (veteran of many great Italian films (our kind) who was murdered by the mob in Italy in 1990 at age 49) and of course, the lovely Malissa Longo. Directed by Alfonso Brescia. BA

EXPLOITATION FILMS
E126 Andrea the Nymphomaniac (68) aka: Andrea - Wie ein Blatt auf nackter Haut Andrea (Dagmar Lassander) is picking up around the house where she has lived with her husband for five years and notices a fractured mirror from her past. Gazing inside, we get a flashback to her days of one night stands where she just couldn't get enough. Andrea walks down her seedy path as she obsesses and indulges in her carnal lust like a bitch in heat with partner after partner, satisfying an anthology of lovers. Andrea gazes deep into the fractured mirror, a metaphor of Andrea's soiled broken soul. Dagmar Lassander is one hot girl, you've seen her, sure you have, in many great films. She will turn 80 in June 2023. English track BA
E86 Carnal Crimes (91) aka: Dangereuse séduction Elise (Linda Carol of 'Reform School Girls') is hot and horny but her husband is acting strange. What a fool! Elise seeks orgasms elsewhere. Into the bed of mysterious (but disturbed and potentially dangerous) photographer Renny (a mullet-headed Martin Hewitt) she goes. Finally, her lust is quenched. But something is wrong. She still loves her husband, right? She wants them both? She invites Renny over and puts her husband in chains. Renny makes Elise get on the floor and bark like a dog. 'Bark Bitch!'. Wait...... Surprise ending. A sexual thriller with tasty nudity and sleaze. Julie Strain and other hot chicks add to the good eye candy. BA
E128 Danish Dentist on the Job (71) aka: Bedside Dentist aka: Tandlæge på sengekanten aka: Mutti, Mutti, er hat doch gebohrt When a dentistry student stands to inherit, his aunt wants to make sure he is man enough to take it over and hires a prostitute to see if he can handle a woman, and men to watch. When other women learn that he may be the beneficiary of the estate, he soon finds he has more choices for sex than a Kardashian at an NBA convention. Maybe he should just pretend he is coming into money? The girl that really likes him thinks she has walked in on him having sex with another. Her position is threatened by others. Men watch on the sidelines, to see if he scores, to report back to the aunt. A wonderful sex comedy. In Danish with English subtitles. BA
0895 Nana (83) aka: Nana: La vera chiave del piacere Nana (Katya Berger) is ready willing and able to become the toast of the town after arriving in the brothel of a Paris village in the early 20th century. Nana is most desirable, and can manipulate almost anybody, leading many a man to ruin. Woman power film that suggests all men are horny morons who get what they deserve. Exploitation film that delivers the trash goods, but I wish Jess Franco or Joe D'Amato had directed it. Stag film's projected by the character George Melies suggest the early pioneer actually made these to finance his real work. Of course a fictional account, or is it Hugo? One entertaining scene has men on horseback and dogs hunting sexy naked women through a wooded area. When each rider catches a girl he dismounts his horse, strips, and starts a more pleasurable ride. Lots of nudity and sexual situations in this 92 minute print. BA
0916 Party Games for Adults Only (84) With your host John Byner. Trashy comedy with sexual skits and gags that usually involve some hilarious form of objectification of women. Putting them in compromising positions so we can study their anatomy. Men too. Everybody is in on it, and having fun. Absurd and gross at times, this is not as cold-hearted as I made it sound. This is made to make you laugh (and, get a load of those tits!). And, there are some game suggestions, however ridiculous. In various skits you'll find Penthouse girl Lindsay Freeman, Rhonda Shear and Linnea Quigley! One scene plays spaghetti western music while a hot blonde dressed as a cowgirl throws horseshoes at a man's ... get your mind out of the gutter!
E48 Picking Up Girls (94) aka: Man long: Man tai siu lui Father is busy chasing girls and scoring. His wife demands he screw only her. Daughter is a police inspector who loves to frisk her male perps privates. When she appreciates a particularly large package, she takes them in for 'questioning'. Younger son seduces a photo model, the girl of a gangster. A sex-starved family in a horny romp of unrestrained lust. In Mandarin with English subtitles
E49 Screwball '94 (94) aka: Bu wen nu xue tang A ghost living in an antique pot has been released by a teenage boy. To be reincarnated, the ghost must help the boy find romance. An exceptionally raunchy little un-pc piece with a group of horny teenagers. The males feeling their oats and desperate to spread them, the females feeling their sexuality, and ready to spread.... well something. Makes for some really funny moments, and plenty of nudity, with situations straight out of the 'Porky's' playbook. In Cantonese with English subtitles
E37 Sex with the Stars (81) aka: Sex Playmates of the Zodiac A very shy columnist who writes astrology is ordered to have sex with women of different signs (Virgo, Leo and so forth) to get some kickers to spice up his column. He has to bang twelve, and the deadline is drawing near. No silicone posers here (but hey, we like them too!) but more of a straight up trend-topical astro-sexual romp involving a procession of breasts and pubic hair. A movie about a guy having sex with girls born under different star signs. What's not to like? BA
E84 Siv, a Swedish Girl (71) Sexy young blonde Siv (Inger Sundh) travels to America on a student program where she is introduced to the sexy swinging lifestyle of a couple she is shacking up with. In fact the woman narrating the thing is the young hot chick that, along with her boyfriend, seduce Siv. She indicates in her narration that the last student was German, then sighs in an aroused state. The colors pop. A slice of life California 1971. Sex talk, horny masturbation and threesomes, lots of sex and nudity, soft-core brilliance. But the man is jealous, and the ending comes out of left field! Wow! (runs about an hour)
E85 There's No Sex Like Snow Sex (74) aka: Beim Jodeln juckt die Lederhose Men and women of all shapes, sizes and nationalities participate in this snow bound sex farce. A busload of pretty young women arrive in the small Bavarian snow play town and the locals have no problem getting them into their bedrooms! The girls are hot to trot and very willing, the men are more than capable in the dry-humping department, the numerous sex scenes are erotic and funny, a very pleasant place to be in 1974. Hang on, I'm booking a flight. Dubbed hilariously into English language. BA
E112 Three for One (90) aka: Eleven Days, Eleven Nights 4 aka: Tre pesci, una gatta nel letto che scotta More trashy sleaze from Italian director Bruno Mattei! Three hunky men get schooled by the same woman as she uses various names in this sex comedy. It seems each of these men taunted her in the past when she was a homely geek. Now however, she has bloomed into a sexual beauty (Martina Castel) that wants some kind of revenge on these male pigs. Using different names and disguise, she will screw each of their brains out, and make them obsessed with making her their bride. Martina Castel only made one film, and this is it. A shame, would have liked to see more of her... a lot more. Stalker alert! English dubbed but there are some foreign subtitles, not distracting or anything.

EXTREME HORROR AND GORE FILMS
E18 Anatomia Extinction (95) aka: Ton of Action aka: Genkai jinkô keisû This is the 54 minute template for the later 'Tokyo Gore Police' of 2008. A Japanese guy with dyed-blonde hair walks around town, sees a killing, and finds himself pursued. A group wants to reduce the population of Japan. They are the 'Engineers'. Much like some of these so-called 'scientists' of today who want humans to die by the millions. The Engineer has touched him, and now he starts to mutate into a one-man killing machine. This is the only way to get the population explosion under control. Practical Gore Effects = More Fun! In Japanese with English subtitles
W379 Brain Twisters (91) aka: Fractals A software company figures out a way to use the games they create to control the thoughts of those who are playing. Hell, that sounds like a documentary to me. The test subjects (code for 'unwitting guinea pigs') have a little bit of an adverse reaction, a side effect if you will. They become murderers. Again, this may just be a documentary. Can a Commodore 64 create killers? Strange Behavior meets Disturbing Behavior with a touch of (pick your favorite director of schlock). Farrah Forke stars, just a couple of years from 'Heat'. She died in 2022 of cancer at age 54 in Texas. BA
E127 Cool Lakes of Death, The (82) aka: Van de koele meren des doods aka: Hedwig: The Quiet Lakes A dark and thoughtful Dutch film dealing with female mental illness. The scenery serves the mood well with the flat watery Dutch landscape dune and sea, fields and forest and later the English countryside and Paris. Hedwig (Renee Soutendijk of 'Eve of Destruction') is a wealthy woman who strolls willingly, lustfully, into the world of prostitution, selling her wares on the streets of Paris during the 1880's. Female desire, adolescence and passion clash with a retrained and protestant upbringing. Love and death chase one another until clarity gives way through the fogginess of carnal fever dream and emerges with the path to love and happiness. Questions what we are and how we deal with it, one way or another. Restraint is self-preservation, over indulgence delivers decay and shortened life. Choose, we are free, for now. In Dutch with big English subtitles BA
E61 Devil of Love (94) aka: Yin mo bao hang Possessed by a demon and endowed with supernatural powers, Yung rapes and kills women, then resurrecting them as the undead. Yung's lover's stepchildren are in line to inherit her husband's money. They must die. This horror/sex hybrid features an abundance of sexual situations. In Mandarin with English subtitles
E65 Devil Returns (82) aka: A Dark and Gloomy Night aka: Jing hun feng yu ye A film with the balls to shamelessly lift chunks of Halloween including the soundtrack, and bits of The Omen and The Exorcist, to create something else entirely, well sort of. A serial rapist/killer attacks a woman and does what he does. But he doesn't finish the job. He is later caught and executed. She moves on, marries. The devil baby she carries is the product of the madman. She tries to abort. Bloody madness. The devil has returned. In Mandarin with English subtitles
E58 Freeze Me (00) aka: Furîzu mî Chihiro is raped by three men. They taped and sold the assault for profit. Years later she is now living in Tokyo and is about to get married. The rapists have tracked her down wanting more Chihiro. But she has other plans for these sadistic perverted bastards. One by one they will die violently at the hands of the vengeful Chihiro, and she will freeze their corpses solid for safekeeping, so they can never come back. This is done tastefully. It is excellent, and disturbing. In Japanese with English subtitles BA
E21 Ghost Money (81) aka: Ngein pak phi Thai horror from the sticks of Thailand. Grave robbing kids in a rural area stir up some gnarly spirits when they enter a crypt, open a coffin with the rotting corpse of another young boy inside, and steal the coins from his maggot encrusted mouth. They then do the other corpses, taking turns on who digs into the mouths for the coins. The coins seem to find themselves in the hands of many. Ghosts of the dead return for revenge, possessing those who have coins, making them dig, mangling their hands, freaking everybody in the village out. Or a stake through the heart of the ghoul? Better put the coins back in the mouths of the corpses quick! Widescreen Thai with easy to read English subtitles. BA
E93 Hunting Creatures (01) aka: Countdown Creatures German made splatter! Gangsters set up a rave that goes incredibly bad when leaky pipes expel gas from an experimental lab directly into the partiers path. This causes the revelers to turn into bloodthirsty homicidal zombies! Gangsters versus Zombies! This low-budget splatter actually holds together well with a fast-moving plot and decent blood-spraying grue. English subtitles
E117 Island, The (85) aka: Sang sei sin Mr. Cheung takes his students on a little excursion to a remote little island and they find out they are not alone. A weird and dangerous woman lives here, along with her three maniac sons. Oh things could have gone so well if only a member of the troupe would cooperate in marrying one of the weirdoes. He asked pleasantly enough no? Inspired in some ways by Tobe Hooper's ideas, things seem innocent enough at first, before they go off the rails. Violent torture and sadism, interesting use of locations, nail-biting suspense, and vicious retribution. Mr. Cheung must fight like a madman to kill the brothers, and save his students from any further abuse. Sometimes you have to kill to live. In Cantonese with English subtitles
E63 Malevolent Mate (93) aka: Ren rou tian fu luo After a woman brutally murders and dismembers another woman, she sets the body parts on fire, and her face gets a taste of flame. Now in police custody, she will tell us what lead to this violent act, as she explains, we see her past play out. A wealthy restaurateur's wife is missing, and his mistress is the suspect. The police will 'gently' persuade a confession through methods of sadistic torture. In Cantonese with English subtitles BA
E20 Mysterious Death of Nina Chereau, The (88) aka: Rutual de Sangre Ariel Dubois (Bond girl Maud Adams) has been locked up in an asylum for twelve years after being accused of killing her friend Nina Chereau. Her shrink believes she was falsely accused, and her mind is blocking the true story of that fateful night. He wants to set up a confrontation with Ariel's mother (Alexandra Stewart). Ariel escapes, head-shrinker goes looking for Ariel, and finds her. The meeting is finally set with the mother, but after, Ariel flees once again. When he follows this time, he finds a trail of bodies, and then bad things really start to happen.... Is Ariel a modern day Elizabeth Bathory? Cool ending. English language version BA
E59 Phone Call, The (89) aka: Linea segreta Married man Michael Henderson (Michael Sarrazin) gets an itch and calls a phone sex service. When he realizes a man (Ron Lea as 'Carey') is the 'dirty talker' there to get him off verbally he loses his mind and calls him mean names. Now, Carey, the male sex line worker, wants revenge! Michael and his family are in danger as the psychotic queen begins to start trouble. Ron Lea is convincing, and sports an evil smile Anthony Perkins would have been proud of. File under the 'homosexual panic' genre along with 'Cruising' 'Basic Instinct' and many others.
E50 Potlatch (87) aka: Arhangelos tou pathous A self-destructive Greek composer with a tragic past becomes obsessed with a married woman named Aphrodite. He must kiss Aphrodite on the lips before his birthday to avoid his own suicide, giving himself another chance, and keeping his dead love Iris alive. He will be the final sacrifice to himself, or to Aphrodite? Only she can give her permission, and only he can keep his word to himself, and his deceased beloved. English subtitles
0961 Prey of the Chameleon (92) A female serial killer thriller. Alexandra Paul plays a sheriff whose former fiancé returns after leaving her at the altar two years previous. Daphne Zuniga (using a few names here), having escaped from the asylum, is the chameleon, a killer of her lovers, arriving in the same town. Fast-paced and intense, with bleak parched desert locations and some surprising bursts of violence. Zuniga's amazingly disturbed, sometimes pitiable, emotionally unstable killer, really fleshes out what we have all seen before. More female serial killers! Girl Power right? James Wilder, Lisa London, Julie St. Claire, Don Harvey and Red West also star. BA
E16 Samurai Reincarnation (81) aka: Makai tenshô 350 years ago, Christians were slaughtered/decapitated, a lone samurai denounces god for ignoring the pleas of his believers, selling his soul to the devil, resurrecting himself and others, for violent bloody revenge. They begin to attack and kill the innocent, and only a 'special' sword can stop them! Crucifixions, rebellion, possessed peasants, savage sword fights in the ablaze and superb arena of death.... what an ending! Sonny Chiba! In Japanese with large easy to read subtitles BA
E17 Sara's House (87) aka: Dom Sary Young Sara Braga kills her lovers in her large house with the help of her servant. Sara, a fucked-up kind of succubus, maintains her youth through sex, and the servant is really a demon who is satisfied with these sacrifices to continue the practice. One man is on to Sara, and intends to marry her, but to deny her sex, thus lifting the Satanic goings on. But his idea is theoretical, and he is not sure it can work. Based on a short story from one of Poland's most famous horror writers. Some pretty creepy horrific moments. Like a period tale right out of Edgar Allen Poe. In Polish language with English subtitles
E19 Satan Place: A Soap Opera from Hell (88) Good S.O.V. horror with every movie cliché used to bring this collection of redneck vignettes to life. A man kills his wife and stuffs her down the garbage disposal in the first story 'Disposable Love'. He is such an asshole... but she returns from the dead for revenge! Gory! Trailers to movies that don't exist like 'Bathroom Bullies', 'Pretty Girl Floyd', MIssouri Mop Massacre', 'Nursing Home Revenge' and more. A couple of those sound like they would make good 'current' movies. A Satanic wrap-around for the tales. This is like something you would have found on VHS in one of those back rooms at the video store in the early 1990's. The good old days.
E33 Streets of Death (88) Tommy Kirk S.O.V. about a couple of student filmmakers who are actually serial killers busily creating snuff films for peanuts. Not capitalists, last I heard a good snuff film would go for big bucks in the 1980's. (Um, kidding?) Violent, strangely Erotic and also mean-spirited at times, like they used to make them, good for the right mood, but the laughs come hard with the unintentionally hilarious dialogue. Tommy Kirk plays an alcoholic ex-cop who wants back on the force to catch the killers. Death by power drill? Check. Hooker: 'Why don't we discuss this over a cock tail? Your cock, my tail.' Classic.
E47 Sudden Fury (97) aka: Furia Gore David Warbeck stars in this, his last (well, besides 'Razor Blade Smile'), a bloody action film about battling drug dealers and the lengths they will go to be king pin of the trade. A powerhouse of savage insanity, sadistic torture and plenty of squib-work shots, and a hilarious sex scene with our troubled hit man and a drug addled hooker. David Warbeck, no stranger to blood, delivers an over-the-top performance. Low on dialogue, high on action and gore. Peckinpah eat your heart out! An outrageous bloodbath. David Warbeck died of cancer in 1998 at age 55 in England.
E60 Sweet Murder (90) Before 'Single White Female' there was 'Sweet Murder'! Shy wallflower Lisa (Helen Udy) needs a roommate and gets one in Laurie (Embeth Davidtz, one of her first). Laurie may seem innocent, but when she is bad... watch out! How hard will it be to seduce her new roommates boyfriend? Hint. Not very. Who will she kill and how many must die to satisfy her cruel nature. What is her motive? Insanity or lust? From the director of the Cameron Mitchell film 'The Demon' Percival Rubens, this also filmed in South Africa.
E81 Tattoo (81) aka: Tattoo: il segno della passione One sexist misogynistic atrocity and you'll love every minute of it. We cannot really add to catalog description. Great acting! On one note, Bruce Dern claims he may have 'slipped it in' on accident during filming. Whoops. This print is sharper so...Upgrade! BA
E62 Three Days of a Blind Girl (93) aka: Maang lui 72 siu si Mrs. Ng (the beautiful busty Veronica Yip!) is now temporarily sightless after an operation. When her husband goes away to work for a few days, she finds herself at the mercy of Sam (Anthony Wong), who takes advantage of her blindness to entertain his darkest sadistic desires. A wild ride that takes the basic premise of 'helpless blind woman' a bit to far, making it one of the better 'menacing the blind hot chick' movies out there. Wong in fine form, another nutcase maniac type character. In Cantonese with English subtitles

HAMMER AND BRITISH FILMS
E96 Billy the Kid and the Green Baize Vampire (85) A musical about the game of snooker based on a famous snooker match between Ray Reardon and Jimmie White. At the time, Snooker Tournaments were all the rage in U.K., over here in America, we call it 'Pool'. That's right, the 'Green Baize' is the green-top of a pool table. Starring Phil Daniels of 'Quadrophenia' as Billy the Kid and also Alun Armstrong, Bruce Payne and many more. This film has a small cult following.
X687 Doomed Cargo (36) aka: Seven Sinners Harwood (Edmond Lowe) is an American private detective in London and Caryl (Constance Cummings) is an insurance investigator, both trying to find a killer whose method of homicide is to either cause train wrecks that kill, and also to place bodies in wrecks to cover up his crimes. The film makers were given permission to smash an old locomotive and carriages into a lorry on branch line that was no longer being used. Spectacular. Good B mystery. BA
0976 Easy Money (48) Four short stories that revolve around honesty, and dishonesty in the football pool winnings (a sort of lottery regarding the game of cricket). In four segments we see how the winnings can effect people's lives, in both positive, and, negative ways. Many stars feature here are a few. Jack Warner, Guy Rolfe, a young Petula Clark and more. BA
0975 Hornet's Nest, The (55) A jewel thief hides his latest heist in a deserted barge, and then is arrested. Two models buy the barge, and with the help of two little old ladies find the loot. Now what? Paul Carpenter, June Thorburn, Marla Landi and more star. Marla Landi was a stunner in 1959's 'Hound of the Baskervilles' as a femme fatale.
E97 Nam Angels (89) aka: Angeli della vendetta Brad Johnson (his first film after 1 'Dallas' episode) stars as Army Lieutenant Calhoun. Calhoun and his men are ambushed in Viet Nam and some of his men are taken prisoner by a tribe who are led by a white mercenary (played by that wild Mohawk biker guy from 'The Road Warrior' Vernon Wells) they see as their god. They are all expendable, just like 'Rambo'. Calhoun recruits some of California's 'Hell's Angels' members, motorcycles and all, to help him bust them out before everybody gets blown to kingdom come. The Losers meets Rambo. Filmed in the Philippines. Brad Johnson, always very healthy looking and in good shape, died from COVID-19 complications in Fort Worth, Texas in February 2022, only 62 years of age. BA
W335 Nightingale Sang in Berkeley Square, A (80) aka: The Biggest Bank Robbery Right out of prison Pinky (Richard Jordan) is forced into a bank heist by his former criminal acquaintances. David Niven, Elke Sommer and Gloria Grahame in one of her last films. BA
0956 Only When I Larf (68) Richard Attenborough, Alexandra Stewart and David Hemmings pull off a heist in New York City in the pre-credits sequence. Very clever and well done! 18 minutes into the picture, the credits finally begin. Back in London this trio of crooks plan their next escapade. A love-triangle develops as the young protégé (Hemmings) tries to take over from his old mentor (Attenborough) and steal his girlfriend as icing on the cake. Great locations, well shot and slick caper comedy. There's a double and then a triple cross! Also with Calvin Lockhart and Melissa Stribling. BA
W341 Penny Gold (73) aka: Esrarlı Ölüm A detective stumbles upon a rare-stamp swindle while investigating a murder. Old fashioned murder mystery with Francesca Annis as twin sisters, one alive, one dead. James Booth and more in this crime drama. Even though his part is small, this is the first film of John Rhys-Davies. BA
0506 Phantom Ship (36) aka: The Mystery of the Marie Celeste A ship comes to port with no one on board. Then, we see a fictional theory of what happened as the crew is killed one by one by a mysterious killer. The crew includes Bela Lugosi and Edmund Willard among others, all possible victims, or killers. Atmospheric horror mystery from Hammer films, surprising that Bela Lugosi was in a Hammer film before who you would expect. The actual Marie Celeste was found adrift and in good condition with it's cargo intact on December 4th 1872, deserted in the waters of the Atlantic near the Azores Islands with not a soul aboard. Dumb pirates I say. They forgot the booty! Arrrr. BA
0957 Please Sir! (71) Spin-off feature film from the popular television show. Trouble-making students are to go on a field trip. You cannot control them. Upon arriving at the camp for instance, the student's are tucked in and the tired teacher heads over to the local pub to find some of the little buggers already there before him downing pints in the back room! The composition of stereotypical opposites adds to the hilarity (some race-based or other un-pc stuff), and that is okay with me by god in this world of twits and whiners. Trigger happy here, which makes this even funnier. BA
0967 Q Planes (39) aka: Clouds Over Europe aka: Nubes sobre Europa Quirky British Secret Service Agent Tony McVane (Ralph Richardson) tries to discover who is using a secret weapon to steal experimental planes. Laurence Olivier, Valerie Hobson and more star. BA
X724 Reach For the Sky (56) Group Captain Sir Douglas Bader served in WWII with no legs. He lost them in the early 1930's doing aerobatics, flying too low. That didn't stop Sir Douglas. Hell, it didn't even slow him down. Here in this biopic made when he was still alive, we see his story. Some may question his values and beliefs in today's age but the facts remain, without this type of man, we would have lost WWII. Stubborn and determined. Even with no legs he performed higher than 85% of our youth of today who have no such handicap (except in their heads). Bader had a 'can do' and 'will do' approach, a steadfastness never say die attitude. Are the great men behind us? BA
6061 Risk, The (60) aka: Suspect Scientists at a research laboratory struggle to release their findings on germ and bacteria warfare. They are quickly silenced by the government, who I suppose only support the creation of killer viruses, not the cure for them. It's a low-budget affair filled with excellent actors doing fantastic characters. Ian Bannen is great as an armless veteran, Donald Pleasence a dodgy local in the pub, Thorley Walters as one of the comedy relief cops and Peter Cushing as an eccentric, frustrated scientist. BA
0953 Rotten to the Core (65) Out of the slammer, four crooks are distraught to learn that their loot has been spent by the now deceased man known as 'The Duke' on paying for nursing home care (as told to them by The Duke's widow Sara (Charlotte Rampling). He has left them all a job opportunity however. But is 'The Duke' (played by Anton Rodgers) really dead? Of course not! One hilarious caper film! Also starring Thorley Walters, Eric Sykes, Ian Bannen and many more. Widescreen BA
0965 Seaside Swingers (64) aka: Every Day's a Holiday British Invasion music as teens find love, friendship and music. The cast is more than capable with John (The Great Escape) Leyton, Ron (Oliver) Moody and Michael Ripper (the Hammer man). Also bizarre performances from 'Freddie and the Dreamers', 'The Baker Twins' and 'The Mojos'. Throw in a busty Liz Fraser to liven things up. BA
0974 Serena (62) Patrick Holt plays Inspector Gregory of Scotland Yard investigating the murder of an artist's wife and the disappearance of his model which coincided with the murder. But when the artist goes to identify the body, it is not his wife. His wife Anne (Honor Blackman) shows up, the mystery deepens. Influenced by the noir classic 'Laura'. (about an hour long)
W354 Way Ahead, The (44) aka: Immortal Battalion When war was declared, David Niven was one of the few British stars in America that went back to serve in 1939 (as part of the rifle brigade). Surprisingly effective violent and gritty war picture from 1944. Men from different backgrounds are drafted, go through training, their transport torpedoed, and they fight a small-scale defensive battle among the ruins of a village in North Africa. Very creative and 'real looking' little bits throughout. An example of a flag-waving British propaganda film for a change, and one that inspired many to fight the bad guys. Great characters. David Niven and many more. BA
0962 West of Zanzibar (54) aka: A l'ouest de Zanzibar Late colonial view of East Africa. In times of drought, an African tribe works for an underground gangster, killing elephants for their ivory. Game warden Bob Payton (Anthony Steel) ignores the natives, and goes after the big game (the gangster). There is some stock footage but also some fantastic location filming in Zanzibar and Tanzania. Nothing to do with the Lon Chaney film from 1928. BA

MISCELLANEOUS FILMS SPY, ACTION, MARTIAL ARTS, WAR AND MORE
0897 Bad Blood (81) aka: The Shooting Seven policemen are viciously murdered by Stanley Graham, a farmer gone rogue in New Zealand, who then takes to the bush country, pursued by Maori trackers and the angry and vengeful police. Not to mention the vigilante hit squad. Stanley and his wife Dorothy had been outcasts in the small village community due to their rude antisocial behavior, and literally persecuted by the corrupt law and government who have come to seize his land. Stunning locations and jaw-dropping moments of brutality. It is quite possible that some may see Stanley's point. From the director of 'Harry Potter and the Goblet of Fire' Mike Newell. BA
0970 Bear Island (79) This murder mystery set on the remote Norweigian Bear Island never looked better than now in this new Widescreen version with sharper pictures and color. Great cast too (see main catalogue in miscellaneous section). BA
0919 Beyond Kilimanjaro, Across the River of Blood (90) aka: Mal d'Africa Sergio Martino action! Tony La Palma (Richard Hatch) cannot escape his past as he tries to help the animals of Kenya, warding off poachers and the like. He is wanted for murder back in New York City. It doesn't help his situation when the head poacher has his eyes on the same woman that he does. Richard Hatch displays his acting chops well, throwing himself into the action as if this were the latest Hollywood blockbuster, a real kung-fu Marlin Perkins! Through a futuristic device known as 'a fax machine' the mob is informed where La Palma is by the poacher, and we see what happened to La Palma in flashback back on the streets of New York where he sports a porn star moustache. With the beautiful Eleonora Brigliadori as Giulia. Daniel Greene, James Mitchum, David Brandon and more star. BA
W356 Borderline (50) aka: Poison blanc Feels like I'm going to lose my mind. Undercover agents (one male, the other female) infiltrate a drug-smuggling ring in Mexico. Where are these guys when we need them? The lead drug dealer Pete Ritchie is played by Raymond Burr. Who were you expecting? Pablo Escobar? Well, yes. A romance develops with the undercover agents, but drugs and death is the game being played, will they survive? BA
W360 Carnival Story (54) Another love triangle in circus-world this time with Willi (Anne Baxter) who has just joined and learned the diving trade, marrying the man who trained her (Lyle Bettger). But Willi can't pass up another man who has caught her eye ( the unfortunately fated Steve Cochran) and starts carrying on behind her husband's back. A recipe for disaster under the big top, carnival lights... something. One bizarre scene has Bettger's character having his blonde locks lovingly styled by a midget, there might be something going on there? BA
W329 Christmas Memory, A (66) ABC Stage 67: Truman Capote's classic story, used in the end of 'Trilogy' this tale, here in very good quality. Depression era Alabama finds young Buddy spending time with his aunt (Geraldine Page) raising money to make fruit pies. Narrated by Truman Capote. A must watch Christmas Classic for those who appreciate the feelings of the season as they remember them with nostalgia. (A little less than an hour long)
E52 Days of Hell (86) aka: Afghanistan Connection aka: I giorni dell'inferno In Afghanistan enemies hold a doctor and his daughter hostage. Time to send in the mercenaries to rescue them. Italian mercenaries. But there is treachery afoot! The American government is colluding with the Russians to make sure they fail. The doctor has some incriminating evidence on the manufacturing and use of chemical weapons. Brutally violent, lots of action, and unintentionally funny in parts. Directed by Tonino Ricci, the guy who brought us 'A Man Called Rage' and many more. English subtitles + Japanese subtitles BA
0914 Exit the Dragon, Enter the Tiger (76) aka: Tian huang ju xing David (Tiger) Lee (Bruce Li) travels to Hong Kong looking for answers. Who killed Bruce Lee? Casually mixing fact with fiction, the only thing that really matters are the numerous fast-paced action sequences proving once again that Bruce Li was every bit as good as the original. Lots of kicking and punching as Tiger dispatches numerous henchmen as he makes his way for a final confrontation with the Baron. It's a good one too, the final battle on the rocky angry wave splashed terrain is a sight to behold. Nice Widescreen and English dubbed BA
0918 Flodder (86) aka: Welfare Party After living for years in a stinky toxic dump, poor slob family 'The Flodders' are given a house in a rich neighborhood. The family disrupts everything in the neighborhood, bringing their uncivilized uneducated ways to the streets, much to the dismay of the locals. They make their beautiful house look like a dump in just a few days, terrorize the handicapped, stalk the young female tennis players... In an experiment to reform 'The Flodders' into outstanding citizenship, instead they expose the worst in the rich people of the neighborhood. A social satire that is pretty realistic, quite mad, and raunchy. The picture has been cropped maybe a bit too wide, the English subtitles are huge, white and easy to read. Better than 'The Burbs'! BA
E94 Goodbye, Norma Jean (76) aka: Young Marilyn aka: Die Marilyn Monroe Story Misty Rowe in the role of a lifetime playing Marilyn Monroe. In some scenes she's a dead ringer. Larry Buchanan directs, continuing his cycle of 'real' usually 'tragic' figures from the 20th century. This film, also known as 'Young Marilyn', follows her early years as she endures rapes, forced lesbian sex and oral sex in the classic casting couch tradition. A reality. Monroe is played as a bimbo mostly, but she was smart in real life, getting in over her head with some very powerful men, nothing like that here is shown, this is her beginning. Interestingly, many involved with the cover-up of her murder probably loved this film because it never went there. If there is a hell, they certainly burn there now. This is okay, and like I said before, some scenes she is a dead ringer, in other scenes, not so much. BA
W364 Home Town Story (51) aka: The Headline Story An historic exhibit, with a sprinkle of propaganda. Blake Washburn has failed in politics and has returned home to become editor of the local paper. Unscrupulous as hell, like most people who have this gig, he begins to manipulate the news, going after corporate corruption. If he doesn't see an issue, he creates one. This way, he can try to destroy a politician, and then make another bid for office himself. Alan Hale Jr. (the Skipper!) has his hormones in over drive here. Also with Marilyn Monroe in a small part. BA
W357 Indiscretion of an American Wife (53) aka: Stazione Termini aka: Indiscreción de una esposa While visiting relatives in Rome, Mary (Jennifer Jones) meets and has an affair with Giovanni (the tragic Montgomery Clift). Now she is tasked with the dilemma of going back to her husband, or staying in Italy with her lover. A dramatic telling. If you like these two thespians, you'll love the film. Also with Richard Beymer. BA
0887 Jive Turkey (74) aka: Baby Needs a New Pair of Shoes Blacks versus the Mob in a violent turf war while the cops are watching and ready to close in. A black weapon is a guy in drag who seduces a few guys and knocks them out, takes off her/his high heels and goes into a bloody stabbing frenzy on a guy's face. A game of Russian Roulette between the two King Pins ends in a bloody strangling. Set in the 1950's, but modern cars and styles throughout. Bloody ending. BA
0874 Kung Fu Superman! (74) aka: Little Superman aka: Sheng long huo hu xiao ying xiong Set in WWII. Chinese patriots vs. Japanese Kung Fu! Top secret documents are sought by a Japanese Colonel. Pang (Bruce Leung) is hired to keep the documents safe. Pang is spring-loaded, jumping, kicking and whipping ass throughout the film. Many recognizable faces, the fight scenes are both long, acrobatic and brutal. Turn up the sound for fast-paced action violence! The final confrontation amongst the angriest and most aggressive fights I have ever seen! Widescreen and English subtitles BA
W358 North Star, The (43) aka: Armored Attack! In the Ukraine, a small city is faced with Nazi invasion in June 1941. This is U.S.S.R. Ukraine. Soviet. The people of Soviet Ukraine are depicted as good, the film of Stalin's world featured as good and positive, In 1943, we were allies, Russians helped us defeat the Germans. Later, this film was considered subversive for giving any sympathy or apathy to the invaded people of Ukraine region, because they were under Soviet rule. They succeeded in 1991, and now we like them again so I am told. This film is pretty hard hitting. Many people die. Dana Andrews, Eric Von Stroheim, Anne Baxter, Martin Kosleck and more star. BA
0987 Oriana (85) French woman Maria (Daniela Silverio of 'Battle of the Amazons') inherits a remote, South American hacienda owned by her aunt Oriana (Doris Wells). While preparing an inventory of the property, she recalls the summer she spent there as a teenager. We see the past in flashbacks, her aunt the young Oriana, her illicit romance with an adopted stable boy, and the violent response of her dictatorial father. Puzzle pieces link together and join the flashbacks solving the mystery of the hacienda. A haunting film. English subtitles
W332 Rat Fink (65) aka: Wild and Willing aka: My Soul Runs Naked From the director of 'The Sadist' from 1963. Lonnie Price is a wannabe rocker that will use anybody to further his dream. Riding the rails, he stops off and seduces and robs a housewife. Later he encounters a young up and comer and sets him on fire, and steals his act! Unbelievable this guy. Broken hearts death and despair he leaves in his wake. He is the 'Rat Fink'! Schuyler Hayden is fantastic in the lead role as the title character, so detached from humanity, kind of spooky. Hayden would die in a plane crash in California in 1978. He was 37. BA
0883 Rebel High (87) High school in Canada is taken over by the students. If you ever wanted to make a bow and arrow in woodwork class, here you go. The principal wears a battle helmet. The film is played for laughs, to entertain, opening with a hilarious reggae song to set the mood. This is a story about a high school, full of dope smokers, beer drinkers, hooky players and assholes, and those are just the teachers, the less said about the students, the better. Like a long 'rebellious teenager' video with some pretty funny lines. BA
0999 Red Snow (52) aka: S.O.S. Alaska Eskimos in western Alaska are only miles from Russia's Siberia. Atomic blasts are coming from Russia's side. Our side uses men of Eskimo background to investigate. A mixture of location footage with the Eskimo people, stock footage, and studio footage (what, you didn't think Guy Madison was going to go to Siberia did you?). Entertaining, professional, cheap product (love that Arctic-rear projection screen). Watch out for the polar bear! Also with Mala, Carole Matthews and Gloria Saunders. BA
0886 Return of the Tiger (77) aka: Da juan tao Chang Hung (Bruce Li) and his female partner (Angela Mao) get involved in taking down rival gangs of drug dealers. The leader of the heroine ring is known as Paul the Westerner and is played by Paul L. Smith (who also fights hand to hand in the exciting finale, including an extended battle with Bruce Li!). Fantastic action! Angela Mao looks fantastic and beats the crap out of a bunch of her enemies. The theme song will get stuck in your head. One of the best from the faux Bruce Li, his own man at this point, surpassing the output of the original Bruce Lee. Widescreen
E4 Road to Shame (59) aka: Girls Disappear aka: I vampiri del sesso Beatrice (Estella Blain of Jess Franco's 'The Diabolical Dr. Z') sets out for a rendezvous, behind fiancé Pierre's back, but he is privy to her actions. Pierre follows and is assaulted, but when you are down, get back up! Pierre stumbles upon headquarters for human slave trade, and Beatrice is danger! They drug the women and..... Shocking for 1959, offending many. The action takes place in a single night's time. Gangster's, jazz score, twists, fights.... BA
0901 Run Chrissie Run! (84) aka: Moving Targets A suitcase filled with money... A terrorist bent on revenge... A paid hit man on the hunt.... Yesterday, none of this would have seemed possible for a fifteen year old girl and her mother. Until her mother's secret past hit them like a ton of bricks, driving them from their peaceful home, now running for their very lives. Luckily mama's got a bad ass shotgun. Some Mad Max rejects in a jazzed up car drinking beer and eating chicken add to the fun. Australia! BA
0954 Scarlet Dove, The (61) aka: Tulipunainen kyyhkynen Doctor Olavi is on vacation with his family. His wife Helena receives a letter, Olavi gets it first. A letter from his wife's lover. He follows his wife and sees her meet with a man in an empty stadium. Olavi leaves in despair and meets a woman. She is very pretty, and they spend the day together. When he returns to the stadium he finds Helena has been murdered, and he is the prime suspect. A psychological thriller that will keep you guessing to the end. Shrill shock piano, exciting shocking finale... but wait! A surprise! From Finland with English subtitles
0899 Sergeant Klems (71) aka: Il sergente Klems Sergeant Klems (Peter Strauss) as an ex-German soldier who deserts and joins the French Foreign Legion, later deserting again and joining with the Moroccan leader Mohamed, training them how to kill his own people and operate weapons. Now that he has become a sort of 'Lawrence of Arabia' character, joining them in their fight against Imperialism, can Sergeant Klems find redemption? I've got news for you. He doesn't want redemption. Based on the true story of Josef Otto Klems, a German soldier who later became Chief of Staff to Abd-el-Krim. Klem was eventually captured and shot for desertion in 1926. This is the first movie Peter Strauss would star in after 'Soldier Blue'. In some ways, similar thematically. Propaganda? Definitely. The Pro-Allah position is the reason this film never took hold in the states. Good picture quality, but there are some glitches on the master. BA
W365 Smash-Up: The Story of a Woman (47) aka: A Woman Destroyed Right after 'The Long Weekend' swept the awards, along came this similar tale, although with a female protagonist. Angelica Evans gives up her singing career to support her crooner husband, and his partner. Her husband has no time for her, and in despair she begins to drink herself to death. May be based on Bing Crosby's first marriage. Downbeat but dazzling, with Susan Hayward in the lead role. Also with Marsha Hunt, Lee Bowman and Eddie Albert. BA
W359 Snows of Kilimanjaro, The (52) aka: Sneen på Kilimanjaro After having just saved a young man from a hippo attack while on safari, Harry Street is dying from an infection. Harry Street (Gregory Peck) writes of his life, which we see in flashback. Various women and adventures in Paris (Montparnasse), Spain (during Civil War), and Africa. The women include Gene Tierney, Anne Francis, Ava Gardner and Susan Hayward. I'd say he's done pretty well for himself. He faces death with a superficial devil-may-care attitude. The cinematography is stylized and colorful. Inspired by the real life exploits of Ernest Hemmingway. BA
E54 Stripper, The (62) aka: A Woman in July aka: Woman of Summer Lila is an aging showgirl performing on Madame Olga's stage. When Ricky (Robert Webber) splits with the dough, Madame Olga (Gypsy Rose Lee) fires Lila (Joanne Woodward). What now for the poor stripper girl? A play turned into a film. Marilyn Monroe was supposed to play Lila, but somebody had her murdered ( we all know who). Michael J. Pollard is 'Jelly'. Also with Richard Beymer, Carol Lynley, Claire Trevor and more. BA
W343 Studs Lonigan (60) aka: Blue Jeans 1920 Studs Lonigan (Christopher Knight in one of two films he ever starred in) is determined to escape the South Side of 1920's Chicago. Even a hundred years ago people were trying to get the hell out of there! The film a combination of three books, this sort of a muddled mess, enhanced by the characters and seeing these actors so young in their roles. Studs mother has enabled him, his two no-good buddies (Frank Gorshin and Jack Nicholson!) are no help.... Also with Venetia Stevenson. BA
0875 When the North Wind Blows (74) aka: The Snow Tigers 19th century. Trapper Avakum (Henry Brandon) befriends Siberian Tigers and lives with them in the frigid snow-bleached Siberian wilderness after an expedition to hunt and kill the beasts go awry. He is chased and almost eaten by a large hungry bear, saved by the interference of his wolf dog pet Truska. Avakum also has a lynch mob on his trail, blaming him for the man killed by accident. Man and nature adventure that reaches levels many of this type never achieve. Also starring Dan Haggerty as 'Tsezar'. Wolves, bears, tigers oh my! A cold shoot. One of a kind. BA
W344 Wild Ride, The (60) Jack Nicholson in his first big bad boy role. Johnny (Jack) is an amateur dirt track rider when he is not making trouble or partying. He kidnaps his friend's girl and kills some cops. Johnny is on the road to hell. Watch Jack Nicholson experiment with his craft showing a range of emotions, he's new at this, and it is fascinating. BA

MODERATE AND MADE FOR TV FILMS
0950 Acts of Contrition (95) aka: Original Sins Jonathan (Mark Harmon), a call-in-radio talk show host in Boston, listens as people tell them their deepest darkest secrets. No wonder then that a killer is calling, telling him about his latest victim. Jonathan becomes a pawn in a deadly game, and their is a twist! Also with Ron Perlman and Julianne Phillips.
E42 Circle of Children, A (77) Mary McCracken (Jane Alexander) begins as a volunteer in what she soon finds is a very 'strict' special education classroom. Little Brian (Matthew Labyorteau) speaks fluent gibberish, sort of like a few young folk I know (and they graduated college). Everybody thinks Brian is hopelessly retarded. Jane is talented, and begins to understand Brian. A film about special needs kids that will warm your heart. It could possibly. Rachel Roberts is Helga. Also with Todd Bridges, Kyle Richards and more. Rachel Roberts was married to Rex Harrison from 1962 to 1971. One day when she was 53 years old, Rachel swallowed some lye and alkali, washing it down as a chaser to a handful of barbiturates. The acidic effect of the poisonous agent immediately flung her body through a decorative glass screen. Her gardener found her cut to ribbons in a negligee sprawled out on splintery glassy glitter.
A215 Curse of the Blood Ghouls (62) aka: Slaughter of the Vampires aka: La strage dei vampiri aka: Le Massacre des vampires In the period of the two Renato Polselli vampire films comes this offering from director Roberto Mauri. Italian vampire version of Dracula' in many ways. Dripping with Gothic romantic atmosphere, seductively eyed voluptuous women with heaving bosoms, frilly-vested Don Juan types, and of course, Vampires! All you need if you dig an old 'Creepy' or 'Eerie' tale. Fangs for the Mammaries! BA
0929 Dangerous Intentions (95) Beth Williams (Donna Mills) is a battered wife who has suffered years of abuse from Tom (Corbin Bernsen), her sick and twisted husband. Tom is finally arrested, but when he is released he begins to terrorize Beth by stalking and threatening her. Someone throws a Molotov cocktail through Beth's window. Corbin Bernson is an excellent psychopath.
W323 David Cassidy: Man Undercover: Pilot Disc 1: (78/79) Cop David Cassidy (as officer Dan Shay) goes under cover in the local high school to bust the narcotics dealers. The cast here is pretty good. Gloria DeHaven, Dewey Martin, Don Stark, Stefan Arngrim, Dee Wallace and many more. The series was next, each episode had little David Cassidy trying to play a tough guy, and failing miserably. But the series was still good, if not unintentionally hilarious at times, the special guest stars keep things very interesting. After a life of alcoholism David Cassidy died of organ failure in 2017 in Florida at age 67.
W324 David Cassidy: Man Undercover: Disc 2 (78/79) 1. Running the Hill: Dan Shay (David Cassidy) suspects Lt. Mitchell (Joe Santos) may have gone off the deep end and is a vigilante. Christina Hart, Simon Oakland, Alan Vint and Wendy Rastattar as Joanne, wife of Dan. 2. Baby Makes Three: Dan Shay under cover at a college where a black market baby-making racquet plays out. Randi Oakes and more.
W325 David Cassidy: Man Undercover: Disc 3: (78/79) 3. Cage of Steel: Shay (Cassidy) goes under cover in a maximum security prison to nab a crime boss who influences crime outside the walls. David Cassidy would not last 5 minutes in a maximum security prison, but he pulls it off here, somehow. Cast includes Frank Converse as 'El Lobo'! 4. Deadly Convoy: Dan Shay after shady bikers. David Cassidy faces down Ed Harris. Also with Paul Koslo and Gary Graham.
W326 David Cassidy: Man Undercover: Disc 4: (78/79) 5. Flashpoint: Shay hunts a serial killer who is murdering prostitutes. Meanwhile Caryl (knock-out Heather Thomas) has just arrived in town. Look for Bobbie (Deadly Spawn) Bresee as a hot blonde, Marianne Marks (Chesty Young Thing in Russ Meyer's 'Up!'), and Christopher Stone. A very good episode. 6. RX for Dying: Dr. Dewhurst (Barry Nelson) is giving illegal prescriptions to teenagers. Ed Nelson and Kristine DeBell of the porn 'Alice in Wonderland'.
W327 David Cassidy: Man Undercover: Disc 5: (78/79) 7. Firestorm: Shay hunts an arsonist. 8. Shay hunts an arms dealer. Jenny O'Hara and more star.
W328 David Cassidy: Man Undercover: Disc 6: (78/79) 9. Nightwork: Shay gets close to a madam while undercover, much to the chagrin of his wife Joanne. 10. Death is a Close Friend Too: The series ends out almost like a 'Baretta' episode with Shay investigating a bank theft and befriending a junkie and a prostitute. Rita Taggart and Lana Wood! That was it, Ten episodes and then it was cancelled. It was fun while it lasted!
E22 Deadly Lessons (83) aka: Schoolgirl Killer Slasher films in full swing at theaters, so this MFTV was rushed into production. No nudity or explicit gore, but many schoolgirls are murdered in various ways, by an unknown stalker. Stefanie (Diane Franklin) arrives at the boarding school and is bullied by some girls, but makes friends with Marita (Ally Sheedy) and the stable boy Eddie (Bill Paxton). The school is run by Miss Wade (Donna Reed in her last film) and Wade's lover the teacher John (David Ackroyd) who is also screwing the teenage girls of the school and everybody knows it. Det. Russ Kemper (Larry Wilcox) is sneaking around observing all, with a chip on his shoulder. Ally Sheedy gets tied to a chair and her mouth taped shut. Faux Giallo/Slasher that really seems like one in the final reel with revelations.
0966 Fade In (73) aka: Iron Cowboy The same year of Burt Reynolds 'Deliverance', he also starred in this botched MFTV that boasts some brilliant photography mired in a muddled plot. Rob (Reynolds) is a hunky rancher that falls for an attractive assistant film editor named Jean (Barbara Loden). She is there to film, but what happens to their love when the filming ends? A movie is being filmed and real life actor shows up including Terence Stamp who makes a stars entrance, roaring past lines of wannabes in his sports car, one of those wannabes being Rob. You'll also spot Joanna Pettet, Ricardo Montalban and Sally Kirkland.
0924 Gone in the Night (96) Cindi (Shannen Doherty) and David (Kevin Dillon) are accused of killing their little girl in 1988. At first, it is just an abduction. But the media starts to spin lies, as they do, about damn near everything. They even bring sexual abuse into the unfounded allegations. The newspapers and the news media do this to spice up ratings, and newspaper sales. This film is about how the 'system' tries to beat the couple into submission, and the lengths to which these corrupt bastards who run our 'legal' system are willing to go. On the other hand... did he do it? Based on a true case. A real nightmare. Also with Ed Asner. This is epic– over three hours on two discs (counts as two selections)
0926 Have You Seen My Son (96) Final film of actress Anne Francis. Lael Pritcher (Lisa Hartman) is looking for her son, who has asthma and has been kidnapped by her ex-husband Mike (Jameson Parker). The bastard has fled to Mexico, and that's exactly where Lael goes. Some of the Mexicans are not too keen on helping her, but luckily, some are. Apparently the law is no help as Lael bumbles her way through the film. A white water raft chase is the highlight. Also with William Russ.
E2 Invasion of the Saucer Men meets the Eye Creatures (57/67) Cabbage-headed midget aliens from outer space stalk swingin' hot-rodding teens who just want to make out at Lovers Lane. The creatures (designed and built by monster maker Paul Blaisdell) have claws of venom that can detach, and sport an eyeball. At one point a saucer man meets a bull. Great monsters! Frank Gorshin and Gloria Castillo star with many more. + The Eye Creatures (67) Remake of 'Invasion of the Saucer Men' directed by Larry Buchanan. The story is the same, the aliens completely different. No contempt was spared in this remake. You can pick it apart all day. I loved it. John Ashley's last film before heading to the Philippines to make his big splash.
E3 It Conquered the World meets Zontar the Thing from Venus (56/67) A giant alien carrot/cucumber with big teeth from outer space (created by monster maker Paul Blaisdell) is brought to earth by a mad scientist (Lee Van Cleef) who wants help erasing mankind of feelings and emotions. The bat creatures are amazing. Better than the last 'Jurassic Park'. Beverly Garland gives a career performance. Peter Graves also stars. + Zontar: The Thing from Venus (67) Remake of 'It Conquered the World' with John Agar. Same plot, different alien suit. The alien-bat monsters look like rubber lobsters. Zontar has come from an alien planet.... to enslave mankind! Watch them both! .
0931 Lethal Vows (99) Ellen Farris (Marg Helgenberger) has come to believe that her husband Dr. David Farris (John Ritter) murdered an earlier wife of his, and will stop at nothing to prove it. Especially since she is starting to display the same symptoms that ended the life of the woman who came before her. A solid suspense yarn, with Ritter playing against type convincingly portraying one evil dude.
0930 Lightning in a Bottle (93) Rich drunken Charlotte (Lynda Carter) causes an accident (when drunk off her ass) and an innocent man dies. He also takes the fall and is blamed. Charlotte befriends Jean (Dee Wallace), the wife of the man killed, a woman of modest means. Charlotte learns the truth and wants to confess, while her husband Duane (Martin Cove) wants to leave well enough alone. Jean thinks she has a new friend, and totally flips out when she learns the truth. Pretty good. Also with Matt McCoy and Stuart Whitman.
E41 Long Journey Back (78) Celia (Stephanie Zimbalist) is injured, losing a leg and her memory. Her father (Mike Conners) and mother (Cloris Leachman) struggle with this new daughter, trying to help Celia cope, and themselves as well. When the train hit the school bus, Celia also lost her best friends. Somebody call the F.B.I. already (her pops you know, maybe?).Things are tough. This is another one of those films that shows us how the human spirit can persevere through trauma. Based on actual events.
E56 Long Road Home (91) If you liked 'The Migrants' or 'Angel City', you'll love 'Long Road Home'. Man's inhumanity to man in the crop pickers world of yesteryear. A migrant family led by Ertie Robertson (Mark Harmon) and his wife Bessie (Lee Purcell), struggle to survive in this world of greed and strife, where your worth is determined by your bank account, and desperation leads you to be abused, because you have mouths to feed. Hell for the kids, and coming of age Jacob, who is 15 and sleeping with his 13 year old girlfriend Clara (Vinessa Shaw). Some very cruel men run things. Unionization style politics bust into the plot around half through.
0905 Mad Bull (77) Professional wrestler 'Iago the Mad Bull' (Alex Karras) struggles with the loss of his wife and son. He meets Christina (Susan Anspach) and falls in love. Meanwhile he is stalked by psycho Coley Turner (Tracy Walter). Disco infused cage match finale must be seen to be believed. Imagine if Rocky Balboa was being stalked by a weirdo, this is what the film makers were going for after the recent success of 'Rocky'. Mad Bull Karkas, he don't mess around. Karras would get the 'Webster' gig years later. A few other names in the cast include Regis Philbin, Ernie Hudson (as 'Black Bart'), 'Stryker' himself Steve Sandor and more.
E67 Moonlight Boy (93) Comatose for the last thirty years, the moonlight boy's tortured spirit wanders the spirit realm between heaven and hell. There just over your shoulder, he's here. Wanderings bring moonlight boy to himself, and those who hover above his vegetative-state form, the family who tends to his broken body with their feelings of hope. It's a 'person doesn't know they are a ghost' storyline told with beautiful images and poetic dialogue, and in the spirit realm, cartoon characters interact with moonlight boy. English subtitles
0932 Murder in New Hampshire: The Pamela Smart Story (91) 'To Die For' with Nicole Kidman from 1995 was the cinematic treatment of this true story. This is the made for television version with Helen Hunt in the role of the sociopathic evil woman that slept with a high school boy (Chad Allen) and parties with other high school kids, and then manipulates them to kill her husband. Pamela Smart has life in prison with no parole. Good. As for the shooter William (Billy) Flynn, he was paroled on March 12th 2015 on his 41st birthday. Ain't that sweet.
0928 My Son Johnny (91) Anthony (Corin Nemec) is terrified of his sadistic out-of-control gangster punk, bully brother Johnny (Ricky Schroder). His mother Mary Anne (Michelle Lee) sees only greatness in Johnny and will not listen. Shit is going to hit the fan. Actually a hard-hitting film in the vein of 'The Death of Richie' from 1977 as far as familial problems are concerned. May hit too close to home for some who survived abusive siblings. Also with Rip Torn.

E116 No Prince for My Cinderella (78) The one with Teri Nunn of 'Berlin' fame as a split personality, one being a hooker! David McKay (Robert Reed) is a cop trying to find her. I found it damn weird watching Robert Reed running around like Harry O or Jim Rockford, but he does alright. In the opening, McKay wrestles little Scott Baio, a runaway, apparently retrieval of wayward teens his specialty. The cast includes Michael Biehn, James Olson and many more. This was the feature length pilot for the short-lived series 'The Runaways' which lasted a few seasons, actually a pretty good show.
E39 Nobody's Child (86) Marlo Thomas is Marie Balter. Confined in a mental institution for 20 years after a suicide attempt at sixteen she is finally off the drugs that kept her helpless, and goes to college and falls in love. Out of the cuckoo's nest and into the cuckoo's nest, well, maybe not so much then. Clue. We like 'free speech' here, otherwise we could not do this. Our catalog would be twelve pages without it. This is based on Marie Balter, she lived this nightmare, and dedicated her life to helping the mentally ill after she graduated, and of course, wrote a book about her terrifying real life experiences. Also with Kathy Baker.
E40 Not My Kid (85) Young Susan (Viveka Davis) is a teenage girl from an upper-class family who falls in with the wrong crowd and starts doing drugs. Her father (George Segal) tosses Susan into rehab after she is involved in a car crash. Her mother (Stockard Channing) is aghast. Susan raises teenage hell in rehab, even escapes. Can she be rehabilitated? Used in some school classes in real life, met with laughter and ridicule by modern teens, still, I lived through these times, and saw friends die, saying no to drugs is not a bad message, but a good one. And these days? Drugs are like playing Russian Roulette. Okay, so there are some laughs (spot the boom mic) and yea, it's a bit melodramatic, but there is heart. Also with Nancy Cartwright, Chad Allen, Josh Hamilton and Shawnee Smith. At a glance look for Oliva d'Abo as a student.
W334 Private Matter, A (92) In 1962, Sherry Finkbine (Sissy Spacek) has four kids and is a regional presenter for 'The Romper Room' kid show. Sherry is told by her doctor her fifth child may have birth defects and recommends medically necessary abortion, her choice of course. She has it (the abortion). She is fired from her job. Her husband is fired. Suddenly television cameras are on their lawn...... The authorities ? Wait and see. Her decision divided the nation. We are still divided over 60 years later.
E55 Right to Die (87) Euthanasia bummer realistically played. Emily Bauer (Raquel Welch) is diagnosed with A.L.S. (Lou Gehrig's disease). She starts to degenerate, her body becomes her prison. Bob Bauer (Michael Gross) is her husband, a hopeless task. A brave role for Welch, although a very downbeat one. Also with Bonnie Bartlett, Joanna Miles, Diane Salinger and more. Raquel Welch was the stuff of male fantasies for over 30 years. Especially poignant now this film, she died in February 2023 of cardiac arrest at age 82.
0998 Secret of the Black Widow (63) aka: Das Geheimnis der schwarzen Witwe Edgar Wallace influenced murder mystery listed before as #R878 and English subtitles. This is the English language dubbed version.
W345 Terror, The (63) aka: Lady of the Shadows aka: The Haunting An officer in Napoleon's army named Andre (Jack Nicholson) finds himself in a seaside castle. The Baron of the place is Boris Karloff who has a henchman played by Dick Miller. Andre is seduced by the long dead wife (Sandra Knight) of the Baron. Jonathan Haze is also around as Gustaf. There's a witch too. We all know how this ends, and for a movie that only took four days to film, it is still better than any new Marvel movie. BA
E13 Vampire's Lover, The (60) aka: The Vampire and the Ballerina aka: L'amante del vampiro Sharp looking English language print of this excellent atmosphere-soaked Renato Polselli directed horror. The picture is loaded with scantily clad Italian babes that ... well. They are young dancers (but not too young if you know what I mean) and they find themselves rehearsing in the house of a doctor, near a dark creepy castle. Perfect for the old vampire couple inside, who need fresh blood to make/keep them young. Eroticism dominates throughout the film which is also drenched in Hammer-like moody-gothic, campy-cool antics, and actual violent horror! The leggy amply-bosomed cheesecake Euro-babe thrust factor hits a TEN on the hot meter. Scary looking vampire! Big Fangs, Nice Cleavage, Great Legs! Filmed in a real 14th century castle. 88 minute Uncut version BA
E43 Violation of Trust (91) aka: She Says She's Innocent A trio of teenage girls get into a catfight (well sort of) and one of them is killed (a fall, but how?). The two girls make a pact to keep this to themselves. We find the deceased was also pregnant. The police are closing in. Katy Sagel is the mother of one of the girls faced with the dilemma of standing by her daughter who seems to be guilty, but is she? She does her own investigation.... The final revelation is a surprise.
Q606 Virgin Spring, The (60) aka: Jungfrukällan aka: La source Sweden in the Dark Ages. 14th Century. Naive Karin is a virgin sent by her parent's (the father is Max Von Sydow) to deliver candles for the Holy Virgin. She is accompanied by the pregnant young Inger, who resents Karin, and has set upon her a pagan curse. They meet some peasant goat herders on the road. Karin is brutally raped and murdered. The goat herders seek food and refuge at the nearest living quarters. The parent's of the murdered Karin. The parent's get revenge. The template for Wes Craven's 'The Last House on the Left'. An unintentional release of rape and revenge horror from director Ingmar Bergman. Nice job. BA
0979 What's Up Hideous Sun Demon (58/83) Spliced and changed for comedic effect a reworking of 'The Hideous Sun Demon'. Sun tan lotion has caused the change this time, with redubbing and new voices (including Susan Tyrell as 'Bunny'). Up the comedy cred with Jay Leno doing the voice of 'Ishamel Pivnik'. (He's sorry though I bet.) Names like 'Peckerwood' and 'Dr. Foreskinian' give you an idea of the humor. If you loved 'The Hideous Sun Demon' then you'll enjoy this reworking/homage.
MONDO FILMS
0888 Turkish Jaws (83) aka: The Desert aka: Çöl Badass Cuneyt Arkin is Kemal. After kicking and fighting, Kemal is off on a boat, his enemies are also on board. Kemal has nightmares of being tortured. Hot bikini babes board the boat and are netted. Catch of the day! A near rape in the woods. Fast road action! More violent fights in flashback. Soundtrack rips off Led Zeppelin and Survivor's Eye of the Tiger, Psycho, Jaws and Enter the Dragon (to pretty cool effect all). About 67 minutes into this 76 minute movie, Arkin finds himself adrift on a piece of debris, and having to fight the funniest monster shark I have ever seen! Now time to swim back for revenge in an action-packed bloody showdown with all hands on deck! Shootings, stick through the neck and more! Cuneyt Arkin rules here A+! Simply incredible! English subtitles
0913 Turkish Shining (88) aka: Someone's Watching Me aka: Biri Beni Gozluyor A writer takes his wife to an isolated island hotel where the previous guy murdered his entire family. This was certainly inspired by Kubrick's 'The Shining' but while he had 19 million for his haunted classic, the filmmakers here had only 19 dollars. Still most of the film is acting, and the Turkish guy Ufuk does go nuts pretty well. Ufuk is a pretty funny name as well. Ufuk? she asked. Well, yes I suppose. His wife is a doll, and she uses an axe to try to stop her husband (and protect her son), who has clearly lost his mind. Some of the scenes are total copies of the original. This time however, help comes by boat instead of snowplow. The ending however is a complete wild card! Big easy to read white subtitles.
SERIALS
W331 Amazing Exploits of the Clutching Hand, The (36) When a scientist develops a formula that makes gold, he is kidnapped by a madman with a maniacal laugh known as 'The Clutching Hand'. A famous detective and a reporter experience traps and other obstacles over five hours running time! Yakima Cannut, the greatest stunt man of all time is on board, so you know you'll see things no Hollywood actor would have the balls to do these days. Except maybe Tom Cruise. (15 chapters on two discs– counts as two selections NO VHS) BA

SOUTH OF THE BORDER AND MEXI-MONSTER FLICKS
0939 Angels and Cherubs (72) aka: Ángeles y querubines Here's a mind trip from hell for you, or heaven if you prefer. Adam and Eve the true story. Bible passages are used. The loss of paradise. Life and death in constant struggle. An effigy burned at the stake. I get brought to the stake. I search for my lover who is also condemned. I find him in the embers. The wretched Martina is already in hell. For impudently practicing fornication. The ardor of those who offend the creator will be eternal. The reading of the tarot, a funeral and a wedding , a naked vampire seductress. Paradise! Paradise! Now for my college thesis. English subtitles
W336 I Am the Son of the Roost (78) aka: Soy el hijo del Gallero Lazaro suffers the loss of family, dedicates his life to being patient so he can take his revenge. Lazaro wears a pancho and sombreo, riding a horse, the dark avenger. Rodeos, cockfights, bull fights and more. The 'Yellowstone' of Mexican movies! In Spanish only and no subtitles BA
0919 Island of Lost Souls (74) aka: La isla de los hombres solos Rene Cardona directs this one, from a novel, in the tradition of 'Papillion'. A woman is raped by a slimy land owner. Her husband goes berserk and hacks the guy to death with a machete. Now he is stuck on a prison island of brutality. The General of the island declares the isle a 'free republic', and threatens to castrate anyone who tries to escape. A ship comes, a battle ensues. Two in the water, oh no a shark! Very colorful and delivers some incredible action! Beatings, whippings and rape. Dubbed into English BA
W339 Moor of the Cumpas, The (77) aka: El Moro de Cumpas Two horses are part of the largest event in Aguaprieta, a race decided in just 450 rods. In Spanish with no subtitles
0903 Queen's Swordsman, The (61) aka: The Happy Musketeers The Stinky Little Skunk and the Big Bad Wolf in their final adventure! Wolf and Skunk find a little girl in the forest, and take her back to their cave where they live as partners (?). They have a pet crocodile ( a real one!) and a milk cow. They hunt with bow and arrow, and sing and dance around in their spare time. Meanwhile at the castle, word has arrived from Carmelia the Cruel, with plans of treachery and attack! Revenge for the refusal of the Princess to marry her son. Stinky Little Skunk and Big Bad Wolfie join the battle in the service of the King, both swashbuckling with the best of them! Better than 'Puss in Boots'. A torture dungeon, sword battles aplenty, snakes, great locations. From the director of 'The Whip Against Satan'. Wonderfully absurd.
W337 Red Mare, The (73) aka: La Yegua Colorada Mendoza took over the Hacienda Las Maravillas, owned by the father of Contreras, which will lead to his fall and perdition when all is on the table for a single race. In Spanish only and no subtitles
W338 Sorrel and the Rosillo, The (66) aka: El Alazan y el Rosillo Color. Rosendo returns to San Fernando and finds his old friend has swindled the entire region. He proposes to use his thorough-bred horse to win races and win back the properties for the peasants. Also with Wild Flower. In Spanish only and no subtitles
WESTERNS
0941 Dirty Outlaws, The (67) aka: El Desperado Steve (El Dorado) masquerades as the son of a blind man, home from the Civil War to steal 75 grand, hidden in a muddy ghost town, from his faux patriarch. But along the way Steve comes to terms with himself. Maybe he will not take the loot , instead choosing to fight to protect, and kill the outlaws who can never change in violent shoot-outs. Greed in the Mud. Rosemary Dexter is Katie. Widescreen and English subtitles BA
0884 Vipers Shed Their Skin (74) aka: Guns and Guts aka: Las viboras cambian de piel A corrupt sheriff is hiding out in old monastery. El Pistolero (Jorge Rivero) is a hired gun, the sheriff, a loose end. El Pistolero must finish the job (and get the gold!) and enlists the aid of others setting out to do just that. All Pistolero wants is to settle down with his Chiquita (the beautiful Zulma Faiad). Strip poker, nudity, fights, shootouts, and a blow everybody to bits ending. Mexican Taco Western. Widescreen BA
WIP FILMS
E32 Excessive Torture in a Female Prison Camp (76) aka: The Woman's Great Escape aka: Yeosu daetalok A Korean family is terrorized and subjugated by the Japanese occupation of Korea in WWII. The mother and daughter are tossed into prison where they fight to survive the abuse inflicted upon them by their captors. Some would-be executions, near rapes and other torments, but this is a more sentimental take on the genre and has no nude shower scene, which may disappoint some. Still, the action and peril persist, and the finale is explosive. Widescreen with big easy to read white subtitles.
0927 Prison of Secrets (97) Lynn Schaffer (Stephanie Zimbalist) gets railroaded into a ten year stretch in a woman's correctional facility. Once there she finds the usual things one finds in a women in prison movie, as the corrupt officials use the women for pleasure and profit. Keep in mind this is a made for television movie, so no explicit sex or shower scenes. The women are farmed out to turn tricks and constantly raped. She becomes a crusader for justice. Based on a true story that resulted in the shake-up of a woman's prison where twenty male guards were fired and two convicted for sexual abuse.

Video Screams' errors and omissions policy: We try to list all titles correctly and completely with pertinent information. Occasionally we goof up— If this happens— let us know.
Our policy has always been 100% customer satisfaction and we'll make it right! In the event a title is listed incorrectly due to a typographical error and/or the title is discontinued Video Screams shall have the right to refuse or cancel any orders placed for title.
Video Screams may refuse or cancel any order whether or not the order has been confirmed and your credit card charged.
If your credit card has been charged for the purchase and your order is cancelled, Video Screams will immediately issue a credit to your credit card account in the amount of the original charge.
Titles may be discontinued at any time without notice. Placing your order assumes acceptance of terms of membership.