---
HOME | SECURE ORDER FORMS | ONLINE SPECIALS | CATALOGUE | NEW ARRIVALS | CUSTOMER SERVICE | PRICING & ORDERING INFO
---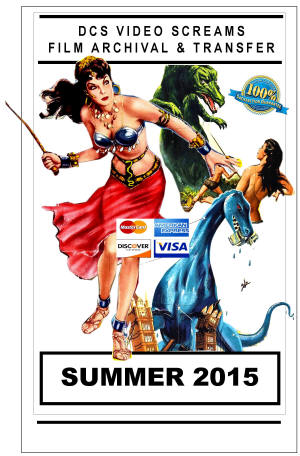 SUMMER 2015 UPDATE
BA= Color Box Art Available for an additional $3.00
FL= Film is in Foreign Language
Lbx= Letterboxed or Widescreen format
Subs= Film is subtitled
aka= Also Known As (alternate titles)
22860000
22860000
(`@`````````
266
263
5
110185200
110185200
CLASSIC HORROR, SCI-FI AND MORE
{Choose any two CLASSIC titles to create your custom double feature for $14.00 on VHS OR DVD-R!}
M804 Alrune (30) aka: Daughter of Evil aka: Alraune aka: El último experimento del Dr. Bricken Remake of the silent version and again starring Brigitte Helm (Metropolis and more). Her performance here seems more demonical and sexually charged than in the silent version. She plays an artificially created woman, who takes down men by the dozen with her sexuality. When she realizes just what she actually is she feels remorse resulting in tragedy. Pretty racy stuff for 1930. Also with Martin Kosleck in his third film. Kosleck, who escaped Nazi Germany with a Gestapo hit squad literally on his heels, ironically made a career out of playing Nazi's in many films. In German language and with English subtitles.
R485 Battle Taxi (55) aka: Operation Air Rescue aka: L'Escadrille du Suicide Capt. Andrews commands a helicopter rescue unit that flies wounded soldiers out of battle areas, and to rescue pilots that had to ditch their aircraft in battle. Directed by 50's monster director Herbert L. Strock and starring Arthur Franz, Marshall Thompson and Sterling Hayden. BA
M893 Beauty Parlor (32) Pre-Code drama of the plights of young women in the depression, fast moving and pretty racy for the time. These woman want so badly to hang onto their virtue... but sleazebags at every turn in life, and what a hard life it is... Barbara Kent (who lived to be 103 dying in 2011) stars alongside Joyce Compton.
R448 Dangerous Intruder (45) An actress named Jenny (Veda Ann Borg) is struck by a car while hitchhiking. She ends up in the mansion home of a man that may or may not be a killer. Strange characters in the house add to the mystery. A dark and compelling classic. Picture can be a little shaky at times from film print.
M786 Death and the Maiden (36) aka: Ferryman Maria aka: Fährmann Maria A beautiful young drifter (Sybille Schmitz) comes to a small village and battles death himself to save the man she loves. Spooky German made horror later remade by the same director as 'Strangler of the Swamp' in 1946.
R406 Forbidden Street, The (49) aka: Britannia Mews aka: Affairs of Adelaide A rich woman (Maureen O'Hara) in Victorian England, marries a poor artist (Dana Andrews) from the wrong side of the tracks. Later she finds herself the victim of a blackmailing plot. A creepy old street woman, blackmail, puppetry, cackling hags, some tasty dialogue, and an odd moment when Dana Andrews character invite's his lady love's little brother to bed. Huh? BA
R482 Killer on the Loose (36) aka: Killer at Large A master of disguise poses as a wax figure to rob a safe of it's jewels. Of course he has other disguises of deception as well. A wax museum and a mad killer! Mary Brian, Russell Hardie and more star. The villain laughs like a maniac when he kills. Look for Lon Chaney Jr. as one of the grave diggers. Pretty cool oldie that runs just under an hour.
M869 Rasputin, Demon with Women (32) aka: Rasputin, Dämon der Frauen A tiny village is visited by healing miracles, courtesy of one 'Rasputin'. Later he is taken to heal the Czarina's sick son. Wild drunk and womanizer, Rasputin is sent home... Later he is betrayed and .... The script has an added touch of historical accuracy in that an actual acquaintance of 'Rasputin' assisted with the script, using manuscripts and records he himself had kept. With the great Conrad Veidt as Rasputin. Simply put, an excellent and forgotten German production. With English subtitles.
R449 Scotland Yard Investigator (45) At the outbreak of WW2, the Mona Lisa is relocated to London for safekeeping. A German collector (Eric Von Stroheim) is determined to steal it, even if that involves murder! Well paced thriller with the Teutonic Terror Stroheim in one of his typically diabolical roles. BA
M894 Secret Sinners (33) When a wife finds out that her husband has fallen for a chorus girl, she figures that if he can stray so can she, so she starts looking elsewhere. Pre-Code fun with Sue Carol and Natalie Moorhood.
R509 White Shadow, The (24) + OTHER RARE SHORT SILENT FILMS. In Paris, a wild girl becomes possessed by the soul of her twin who died while saving her life. This runs 42 minutes and is incomplete, but has title cards explaining what is missing. This was co-written by Alfred Hitchcock and he worked on all aspects of the film, this being his earliest surviving work. Before The White Shadow however, there are well over 2 hours of other rare and very cool short silent films: Ride on a Runaway Train (21), Happy-Go-Luckies (23), Strong Boy preview (29), Upstream (27), Birth of a Hat (20), The Love Charm (In Color!) (28), Won in a Cupboard (14), The Active Life of Dolly of the Dailies (14), Stories from American Newsreels (21), Andy's Stump Speech (24) Hilarious!, Virgina Types (26) and finally The White Shadow. Over 3 Hours on one DVD-R, no VHS.
DINOSAUR, LOST LANDS, SWORD AND SANDAL PEPLUM AND FANTASY FILMS
R484 12:01 (93) aka: 12:01 - Un minuto dopo mezzanotte A man is trapped in a time warp where he must live each day over and over again in a 'Groundhog Day' type of plot. But here, he must witness the death of a woman he adores every day, meaning every day he is trying to save her. With a well constructed plot and engaging characters, this one is pretty popular and well liked. Jonathan Silverman, Jeremy Piven, Helen Slater, Martin Landeau and more star. Widescreen
M782 79 AD (62) aka: Anno 79: La distruzione di Ercolano aka: Les derniers jours d'Herculanum Intrigue at the Roman Emperor's court prior to it's destruction by Vesuvius. Persecuted Christians, gladiators, killings... culminating in the destruction of all! Grand spectacle Widescreen with striking colors, costumes and characters, all going about their business, not knowing of their ultimate date with death. One match has men on rafts surrounded by fire, fighting in 'giant rubber alligator' infested waters. The women are striking with the redheaded Jany Clair, Mara Lane and Susan Paget. Brad Harris is being crucified with dozens of others when the volcano finally erupts. Not to be missed.1 Hour and 47 minute version. BA
M805 Definitely Maybe (83) More bizarre science fiction from Hungary! Scientists on the verge of major discoveries find their efforts thwarted by some unseen force from beyond that seems to be sending a plethora of distractions. Is there an ominous force with nefarious intentions, or could it be something more natural stalling the progress of mankind? With English subtitles.
M854 Escape from Galaxy 3 (81) aka: Starcrash 2 aka: Giochi erotici nella terza galassia aka: Space Trap If you have seen the hilarious Caroline Munro sci-fi 'Starcrash' then you know what to expect. Multi-colored starscapes, a pitiful hammy villain, amazingly idiotic outfits, dumb dialogue, cool special effects, awesome space battles and a major space babe in a skimpy outfit (Cheryl Buchanan as Princess Belle Star, you'll remember her from 'Zombie Holocaust' and others). Belle Star and her boyfriend hide on a strange planet called 'Earth' and learn from the natives (this being 'kind'a primitive man' Earth) how to make love (with nudity and sex). But wait, the evil ruler has found them.... Excellent Widescreen Upgrade! BA
M756 Fall of Rome (63) aka: Il crollo di Roma aka: Les derniers jours d'un empire Same title, different movie, this time directed by Antonio Margheriti. A Roman emperor, who has flipped to Christianity, battles against those who would slaughter his fellow believers when the Emperor Constantine dies and the Christian hating new Emperor takes over. He takes refuge in a barbarian camp, then, returns to Rome as a gladiator defending Christians from certain doom. A devastating earthquake takes down Rome. Despite the religious overtones, this is not a religious movie! So don't worry. Amazing Widescreen Upgrade and English language dubbed. BA
M757 Green Inferno (73) aka: Tarzan and the Mystery of the Jungle aka: Tarzán y el misterio de la selva Hiding in the jungles, a Nazi war criminal deals weapons to the local natives. Agents from world governments (disguised as a priest and 4 nuns) investigate. Adding to the fun is a wild jungle man with a crazy Tarzan yell. Lots of people die in this jungle action from Spain. The film's director Miguel Iglesias directed Paul Naschy in his next film 'The Werewolf and the Yeti'. BA
R404 Island Princess, The (54) aka: La principessa delle Canarie aka: Tirma Spanish Conquistadors, on conquest of the Canary Islands! Upon landing, one of the leaders of the expedition (Marcello Mastroianni) meets and falls for an island girl (Silvana Pampanini), without realizing she is the island ruler's daughter. The native's are hostile and attack the Armada, who, naturally, retaliate by torching an island village. Wild and colorful fun but no English. F.L. BA
M775 Kerim, Son of the Sheik (62) aka: Il figlio dello sceicco The Middle East 1860's. The evil Omar seeks to become leader by killing off his enemies and marrying the unwilling Fawzia (Cristina Gaioni, wow!) Gordon Scott (pretty badass here) is Kerim, who tries to stop him, but (at one point) gets flogged by Omar for his troubles! Also with Gordon Mitchell. Astonishing sharp and colorful Widescreen print, just amazing scope of this sword and sandal classic. English dub and no subtitles. And let's not forget Moira Orfei! BA
M763 Kidnapped to Mystery Island (64) aka: I misteri della giungla nera aka: Mystery of Thug Island aka: The Snake Hunter Strangler Three year old Alda, daughter of the British captain McPherson, is captured by the Indian sect Tukh, to use to reincarnate the god Kali. Hidden in the vast underworld of caverns, she watches over human sacrifices, all the while doubting her vocation. 15 years pass before her father locates her, and with the help of a snake hunter (who has fallen for the now super-sexy and grown Alda played by Ingeborg Schoner). This jungle adventure is a remake of the 1954 film 'Mystery of the Black Jungle' that starred Lex Barker. This version stars Guy Madison. Elaborate costumes and set designs, cool Kali statue, a fight in a flooding underground chamber, and of course battles. Now in beautiful Widescreen version, dubbed into English and no pesky subtitles. Reminded me of a colorful Hammer movie (except the dubbed voices). BA
R508 Kin-Dza-Dza (86) This is like an advanced 'cyber-punk' film. It's about a lot of people and social structures on the planet of 'Pluke' that has a lot of similarities and parallels to our society here on earth. Technology however is far more advanced. Incredible and freaky Russian science fiction that must be seen to be believed. Like a long story out of 'Heavy Metal' magazine. Dealing with humanistic topics like social hierarchy, lowest common denominator, human resilience and so on. Primitive special effects pulled off well. Runs over 2 hours. Widescreen and with English subtitles.
M883 Last of the Vikings, The (61) aka: L'ultimo dei Vikinghi Cameron Mitchell plays a Viking who, along with his brother, returns to Norway only to find their father has been murdered and his throne usurped. They will avenge! Cameron Mitchell was on a 'Viking' movie roll back in those days. This is an excellent Viking film from the director of 'Goliath and the Vampires'. Interestingly, many lament Mitchell having went from huge Hollywood blockbusters, to B-movies. I however think his best work is in the lesser known titles, like this one. Nice color and Widescreen Upgrade! BA
M809 Salammbo (60) aka: The Loves of Salammbo aka: Salambò In the Third century a horde of barbarians is hired by the city of Carthage to fight against the Roman empire. But the city is unable to pay as promised, so the barbarians make trouble by stealing the sacred veil of Carthage. Too much more in the plot to even begin to explain. Salammbo is played by super hot Jeanne Valerie. Colorful sets and costumes. Widescreen and English dubbed. There are some scenes in Italian language only as this version is longer than the American version. BA
M887 Secret of the Black Falcon, The (61) aka: Il segreto dello sparviero nero aka: Le secret de l'épervier noir An important document in which England and Spain are interested is robbed by pirates. The English send 'The Black Pirate' and Spain sends their best, one Captain Herrera (Lex Barker). They work together, but ultimately they find themselves forced to fight one another. Barker was on a roll here with these Euro-Swashbuckler films. Nice Colorful Widescreen Upgrade! BA
M801 Seventh Continent, The (66) aka: Sedmi kontinent Here's a cool fantasy film from Czechoslovakia. Kids find an island, a new continent! They flock from all over to join the other children on the island. Soon there are hundreds of kids of all races playing in their new world. The adults are perplexed. There are two birds who appear to be made out of paper, a magic map, circus performers, and more in this unheard of classic fantasy. LBX and with English subtitles.
M871 Slave Queen of Babylon (63) aka: Io Semiramide aka: Sémiramis, déesse de l'Orient The story of the evil scheming Queen Semiramis (played by Yvonne Furneaux, ironically she was in 'The Mummy' from 1959 as a supposed reincarnation of 'Ananka' mummified Christopher Lee's sweet obsession) of Babylon in around 810 B.C. She is an unscrupulous wicked woman with ambitious goals, and her plotting and manipulation sweeps away her opponents, giving her ultimate power. Amazing Widescreen Spectacle with Brilliant Color. Upgrade! BA
M781 Solaris (72) aka: Solyaris A psychologist is sent to a station orbiting a distant planet in order to discover what has caused the crew to go insane. Very deep science fiction, magnificently photographed, slow and yet mesmerizing, intense and haunting. The most import life keys can be found within ourselves. If you have the time to absorb this thoughtful tale, you will never forget it! Warning: Brain Required Before Viewing, so if you have any idiots about, you may wish to clear the room before starting. Now in a 178 minute version, Widescreen and with English subs. BA
M764 Sword of the Barbarians (82) aka: Sangraal, la spada di fuoco aka: Barbarian Master aka: Das Schwert des Barbaren When a swordsman's wife is murdered by followers of the evil Goddess Rani, he vows vengeance upon the cult and journeys to the Ark of the Templars to attain a magic crossbow with special powers to help him defeat the evil. More 'Conan' clone fun with the same guy from 'Throne of Fire', 'Iron Master' and 'Gunan' Italian bodybuilder Pietro Torrisi, whose career reaches back to early 60's sword and sandal flicks. Amazing schlock! Also with the sexy Sabrina Siani and more. Plenty of nudity. The best print ever, LBX, English dubbed, and no subtitles. BA
M873 Teodora (54) aka: Theodora, Slave Empress aka: Teodora, imperatrice di Bisanzio Teodora (Gianna Maria Canale, who made her mark in many sword and sandal films before retiring in 1964 at the age of 36!) a royal courtesan and former slave girl, marries the Roman Emperor and assumes the throne as Empress of Rome. Excellent and serious period piece in brilliant color and directed by Riccardo Freda (he married Gianna, and when you see her you will know why!). The gigantic sets were built on Rome grounds intended for an International Fair in 1943, which never happened because of the war. There's even a huge chariot race obviously influential to 1959's 'Ben Hur'. Lions and leopards escape and attack in the finale! Incredible, and although there are flaws (that spear is tucked under that guy's arm, and he falls dead) it is still one of Freda's best, and a must see for fans of the genre. Upgrade! BA
M751 Three Swords For Rome (64) aka: I tre centurioni Three dismissed Centurions take refuge in the city of Messe where eventually they find themselves locked up in prison. Once freed, they are now instructors of the royal guard. Soon, they will have to defend the takeover of the kingdom. With Roger Browne, Lisa Gastoni and more. Incredible Widescreen print in Italian language and with English subtitles. BA
EXPLOITATION FILMS
M784 Baby Love (79) A Queen of sorts in modern times in a sexually sleazy kingdom has a plan to literally auction off (for marriage) her sexy virgin step-daughter named Baby Love (Violette Lafont in her only movie). Baby has other ideas though, like seducing the Queen's lover. Loads of nudity, masturbation, whipping, lesbians, orgies and more. From director Rino Di Silvestro, the guy who brought us 'Werewolf Woman' and more). A totally sexy acid trip of a film. LBX and with English subtitles. BA
R539 Bellboy and the Playgirls, The (62) aka: Mit Eva fing die Sünde an Francis Ford Coppola's second directed film. This bellboy is after more than just big tips. Lingerie and nudity, with black and white, and then color 'naked sequences' in this 'nudie' comedy. Lots of boobs. When this came out in 1962 it was in 'Adults Only' smoke filled theaters for the 'raincoat' crowd. My how times have changed. June Wilkinson, Karin Dor and more star. Some glitches. BA
R540 Confessions of a Sex Maniac (74) aka: The Man Who Couldn't Get Enough A young architect plans to design a building after the 'perfect breast' and searches for a perfect model throughout London. Ava Cadell, Cheryl Gilham and more star. + Confessions from the David Galaxy Affair (79) David Galaxy gets laid would be a more apt title as this politically incorrect cad coaxes women into sex with the absurdist of lines. Mary Millington plays an heiress named Millicent Cumming who has had sex with hundreds of men but never achieved orgasm. (Seems like her name should have been Millient NoCumming) David Galaxy gets her off, just another of his many conquests. Hmm, yea right. Also with Diana Dors and lots of eye-candy. Mary Millington killed herself at age 34 the same year this was released. + some trailers. So there you have it. A British Sex Comedy Double Feature. DVD-R only. No VHS.
M791 Has Anyone Seen My Pants? (75) aka: Jagdrevier der scharfen Gemsen A fat little Texan inherits a hotel in Heidelberg. He discovers it has been run as a brothel for years and manages to wind up in situations where he loses his pants quite frequently as there are many young sexy babes around. English dubbed German sex comedy that delivers plenty of nudity and sexual situations. BA
M793 Ladies Doctor (77) aka: Il ginecologo della mutua aka: Gynecologist in Public Service Yet another raunchy sex comedy from director Joe D'Amato! Gynecologist fun as a new doctor takes over a practice and finds that he has a ridiculous amount of horny patients on his hands. We all know nothing gets a woman more sexually excited than their gynecologist. Right? I mean he's already at third base before he's started you know. I guess that is the attitude the director has in mind here. Nice sharp upgrade and with English subtitles. With Paola Senatore and even Marina Hedman (both who went on to porn), Fulci chick Daniela Doria, even Lorraine De Selle and more!
M776 Laura: Shadows of a Summer (79) aka: Laura, les ombres de l'été Laura (Dawn Dunlap, who had a short but interesting career, the last film she was in was as Lana Clarkson's sexy little sister in 'Barbarian Queen') is having her sexual awakening, and she is attracted to Paul, the former lover of her mother Sara ( Bond girl Maud Adams). Paul too is smitten, as Laura reminds him of a younger Sara. Tastefully done arty erotica, with bizarre music and dreamlike scenarios. Directed by a famous photographer so very 'picturesque'. Widescreen and with English subtitles.
M777 Lulu (05) Leon picks up a woman (Lulu) walking the road, and a man he accidentally hits with his car. Once home, he falls madly in love with Lulu. But she is unpredictable and he is suspicious that she may just be boinking everybody in sight! But is there more to this tale of a bunch of over-sexed rich people in a giant house? Will he be able to ditch this evil little vixen before she is the death of him? Nudity. Widescreen and with English subtitles.
M760 Luxure (76) aka: Sweet Taste of Honey Laure is heartbroken after her husband leaves her for another woman... She goes to their favorite hotel to kill herself... But then she overhears through the walls the neighboring couple having sex and changes her mind and has sexual fantasies and adventures instead... Erotic soft-core version of this excellent Max Pecas directed film starring Jess Franco regular Karine Gambier. Excellent quality LBX and with English subtitles Since the hardcore close-ups are cut from this version, it runs about 78 minutes. The XXX version listed in the XXX section is English dubbed.
M812 Pleasure Island (79) More genuine Euro-sleaze set in exotic locales loaded with horny babes and white slavers. Plenty of sexual situations and nudity.
M779 Sexy and Not Yet 16 (68) aka: ...und noch nicht sechzehn Rosy isn't 16 yet, but she's growing up fast. She escapes the protectory and finds shelter at singer Helen's. But she is taken advantage of by a shady man that makes her have sex with men so he can blackmail them later. Sleazy little film with a fairly dramatic and action packed finale. With English subtitles.
M780 Should a School Girl Tell? (69) aka: Josefine - das liebestolle Kätzchen Schoolgirl Josefine (Barbara Capell) learns that she can pretty much get her way with her sexuality. A gym teacher is molesting his students, and she can manipulate the jury with her charms to have the case dismissed. She beds the prosecutor, and many others, mainly just to get sexy new outfits. Barbara Capell is hot stuff, she was in 'The Werewolf versus the Vampire Woman' just a few years later. This is dubbed into English and runs under 70 minutes.
M841 Tomboy (85) Before Betsy Russell starred in numerous 'Saw' films, she played in this sexy comedy (with plenty of nudity) as a budding race-car driver who finally meets her racing idol who she has to compete with in a race. Also with the stunning Kristi Somers and Cynthia (Cave Girl) Thompson. BA
EXTREME HORROR & GORE FILMS
M875 Abortion (66) aka: Datai A crazed gynecologist attempts to rid the world of sexual problems by separating sex on the one hand and reproduction, which he feels should be left to artificial wombs. He truly believes in his theory. Bizarre, controversial and entertainingly different take on the 'mad doctor' genre. Widescreen and with English subtitles.
R462 Afrika (73) When a woman found shot to death in an Ethiopian hotel room turns out to be a young man, flashbacks during an inquest reveal the back story. The savagery of colonialism and the stigma of homosexuality amidst war-torn Africa. The opening sequence has a soldier mutilating the breasts of a woman and then shooting her in the groin with a machine gun. Then he shoots another woman to death. This is some cold and sadistic stuff here. Director Alberto Cavallone was also responsible for other twisted Italian made offerings, so you know what you are getting here! Filmed in the hell of Ethiopia. With English subtitles.
M876 Bad Girls (92) aka: Cattive ragazze In Italian language only and no subtitles. The only film directed by Italian gossip queen Marina Ripa di Meana. Like a sleazy soap opera by John Waters, mixed with some Russ Meyer, with eighties looking styles. A recently divorced woman ( Eva Grimaldi) falls in love with a sort of gigolo/stripper man. The couple is menaced by the crazed mother of ex-husband (played by Anita Ekberg), and also by the stripper man's ex-girlfriend (Florence Guerin)and her lesbian dwarf side-kick (''Ewok' Debbie Lee Carrington!). Absolutely amazing! Also with Kid Creole, Burt Young (who seems a bit confused), and Apollonia of 'Purple Rain'. Sex and nudity. F.L.
M851 Bloody Sect (82) aka: Secta siniestra A young woman pregnant with the Anti-Christ is terrorized by a cult of Satanists. Filled with diabolical sleaze, shocking bursts of gore and a nice macabre atmosphere this is one not to be missed. A Spanish 'Rosemary's Baby' of sorts with eyes gouged out, a fountain of blood is regurgitated, and of course an unlucky woman is fertilized with the Devil's sperm. Plenty of nudity too! The gore may remind you of Fulci! Nice LBX print in Spanish language and with English subtitles.
M768 Blue Christmas (78) aka: Burû Kurisumasu When UFO's appear on earth, everyone who sees them has their blood turn blue. The blue-bloods are persecuted by the rest of mankind, eventually being rounded up into concentration camps. Bizarre and obscure Japanese science fiction. Uncut 2 hour and 13 minute version. With English subtitles.
R453 Cada Ver Es... (81) aka: Each View Is... Here we have a real death documentary filmed in a Spanish Insane Asylum where the elderly Mortician resides and prepares corpses for burial. Graphic gory autopsy footage with skulls sliced open, dead baby autopsies and more horrors. Genuinely creepy and very disturbing stuff-of-nightmares here. Will make you think twice about donating your body to science. Very low sound, good quality picture.
R469 Cuidado, Madame! (70) A maid snaps and goes on a killing spree, killing her employers with knives from their kitchens. Bizarre Brazilian made madness. F.L.
M770 Dark Friday (93) aka: Venerdì nero Two wealthy men and a woman lure some girls to their beachside home so they can abuse and terrorize them. Aristocratic punks display their mean-spirited narcissistic and entitled privilege as they manipulate people of lesser life circumstance, eventually leading them to murder, just to impress each other. But maybe they do have feelings, but just didn't know they had to cross the line before they would feel them. Mean-spirited and tragic. In English language and with Portuguese subtitles.
M879 Dark Side of Love, The (84) aka: Fotografando Patrizia The sexual relationship between a successful woman, and her brother, an introverted, hypochondriacally motivated youth, who is also a pornophile. Turns out this is a pretty perverse storyline with anonymous sex, voyeurism, infidelity, and even incest. Director Salvatore Samperi knows his way around a Eurotrash set as you will realize with this offering. Plenty of nudity - Widescreen
M863 Deep Mourning (77) aka: Luto Riguroso aka: Vedova di giorno amante di notte Weird rare film from director Jose Ramon Larraz, the guy who brought us 'Vampyres', 'Symptoms' and more! Repressed sexual desires haunt a family that lives in the isolated countryside of Spain. Eerie, claustrophobic and very erotic. With English subtitles.
R446 Defilers, The (65) aka: Les provocateurs For kicks, two sadistic and horny young men kidnap a young blonde woman (Mai Jansson) to be their sex toy. They keep her in a graffiti sprayed basement, and when she refuses their sexual advances they beat her mercilessly. Classic trash! For Jansson, this would be her only film credit. BA
M787 Demon in the Brain (76) aka: Il demonio nel cervello Car mechanics on the Mexican border start to fantasize about women, money and murder when a suitcase of money is found in the car of a rich customer... Not to be confused with 'Devil in the Brain' that Kier Dullea film. This is an obscure Italian made thriller. Christiana Borghi LBX and with English subtitles
R456 Devil Design (79) aka: Gui tu Chinese supernatural horror and fantasy flick about a mad and ancient warlord killing relentlessly to keep his kingdom. Spirit's attack the living, heads roll, battles and more. With English subtitles. BA
M752 Devil Fetus (83) aka: Mo tai A jade vase bought at auction by a young housewife morphs into a vicious sex-crazed monster. Horrible things happen to the couple, and her corpse manages to give birth to a monster infant. Can the Tao priests stop it? Old school gore includes a skin shedding split and other cool gags. There is much more to this incredible fun horror (with a crazy downbeat ending) from Hong Kong, now in a great Widescreen upgrade and easy to read English subtitles. This version takes different scenes from the Hong Kong laser disc (some sexual, some blood) not included in the actual DVD release. BA
R466 Devil Strikes (77) When an evil woman puts a young girl under a spell.... all hell breaks loose! Crawling dismembered hands, attacking snakes, lizard and bug puking scenes and more madness follows. With English subtitles. From Hong Kong
M880 Diary of an Erotic Murderess (73) aka: La encadenada aka: Perversione aka: El diario de una asesina A beautiful young gold-digger (played by the almost impossibly sexy cat-eyed Marisa Mell) sets her sights on an aging millionaire. Using her sex she seduces him and soon finds herself sharing his mansion with him. She murders him so she can then marry his mentally retarded son, and of course gain control of the fortune. Things will end badly. This 94 minute version sure beats the cut to ribbons U.S. release version that runs 84 minutes. This one is Widescreen with a bit of a scratchy grindhouse look to it. In Italian language and with English subtitles. BA
M858 Drifter in the Rain (68) aka: Vagabond in the Rain aka: Vagabundo en la lluvia Three women, of different backgrounds, go to a large house by the lake (owned by one of them played by Christa Linder). As tensions rise within the house, and a storm rages outside, a trampy drifter, upset and frustrated with the world, has made his way into this scenario as well. When he tries to rape one of the women, she slashes his face with some broken glass and runs. He gives pursuit.... Sharp colors and with English subtitles.
R543 Drive-In Trailers 101 (various) Trailers Galore! Includes: Scream and Scream Again, The Mysterious Island of Captain Nemo, Wonder Women, The Werewolf vs. the Vampire Woman, Venus in Furs, Dr. Phibes Rises Again, Theatre of Blood, The Velvet Vampire, I Drink Your Blood, Night of a 1000 Cats, The Cheerleaders, Son of Blob, Screams of a Winter Night... many many more running 2 hours!
R451 El Invernadero (83) A plant loving stalker/creep/picture-taking 'peeping tom' type guy rescues an actress from a bad relationship and before you know it they are going out. But she will be his destruction as she gets him killed when her past catches up with her. But he's not dead, and now wants revenge! Or is he dead, and it is his 'beloved' greenhouse 'plants' after the perpetrators? Rare and weird Spanish film. F.L.
M754 Enigma Rosso (78) aka: Virgin Killer aka: Trauma aka: Red Rings of Fear A detective (Fabio Testi) investigates the rape and murder of a teenage girl and focus's on the three girlfriends of the victim, who call themselves 'The Inseparables'. Decent giallo set in an exclusive girl's school where the curriculum includes mass orgies, gory retributions and murder. Another suspect is played by Jack Taylor. Plenty of gratuitous sleaze in this lurid shocker. Now in a splendid Uncut Widescreen version and also English dubbed. BA
M755 Erotic Escape (85) aka: Fuga Scabrosamente Pericolosa A rich fugitive kidnaps the daughter of a rich farmer in the countryside. He will force her to submit to rape and he will treat her poorly until she builds up enough hatred to fight back. Another sleazy film from director Nello Rossati, the guy who brought us 'The Cat in Heat'. This Eurotrash comes Widescreen and with English subtitles.
R455 Eurocine 33 Champs (12) Love Life of the Invisible Man, Two Female Spies with Flowered Panties, Maniac Killer, The Man with the Severed Head, Diamonds of Kilimanjaro, Hitler's Last Train, Helga, She-Wolf of Spilberg, Cannibal Terror, Zombie Lake, Golden Temple Amazons and many more made by a single company. Eurocine. Lots of clips, interviews and more on this company and it's films. Simply excellent. French language and with English subtitles. Widescreen
R542 Gore Gazette Trailer Disc (various) Trailers for the following: The Frozen Dead, When the Screaming Stops, Godzilla on Monster Island, Dracula vs. Frankenstein, Up From the Depths, Incoming Freshman, End of the World, Horror of the Zombies, Squirm... more... almost 90 minutes.
M790 Hand that Feeds the Dead, The (74) aka: La mano che nutre la morte Super Sharp Widescreen Upgrade of this Klaus Kinski mad scientist movie. Not to be confused with 'Lover of the Monster', which is basically a monster film, this an 'Eyes Without a Face' type. Both films are similar, and done by the same director. They even share some of the same footage. But they are different films. Director Sergio Garrone follows Franco's lead there. Here Kinski enlists the aid of his Igor-like helper to kidnap all of the half-naked local women in order to transplant their flesh on his injured wife. Incredible Gothic Horror/Gore type here, LBX and with English subtitles. BA
M758 House of Assassins (88) An orphan returns to the home of his family after WW1 and finds that his family history is soaked in blood, and in order to find redemption and break the spell he must get revenge for the death of his parents. The mysterious and hostile villagers give him trouble. Very nice recreation of this era. Bewitchment complete with needles and dolls, a castle with ferocious dogs, an old witchy woman, and all the time three masked marauders, three letters and three women revolve around our hero and develop the ultimate solution to the mystery. Widescreen and with English subtitles.
M774 I, the Executioner (68) aka: Minagoroshi no reika aka: Requiem For a Massacre A young male teen gang member targets 5 women who sexually abuse a mentally disturbed friend of his. His friend has killed himself. These bitches are responsible, and all must die! He has appointed himself as judge, jury and executioner. Sordid and nasty bit of work. In the opening sequence he is torturing a woman. Of course, consequences follow. Widescreen and English language dubbed.
M806 Killer Love (02) aka: Dark Labyrinth After researching a 15th century serial killer, a young woman (Kari Wuher) uses her expertise to out-wit a modern day monster man (that looks like a Billy Idol clone) that is driven by the same desire for blood. From the director of the 'Bound Heat' films.
M865 Killing of the Dolls (75) aka: El asesino de muñecas Cool psycho thriller with dolls, mannequins and giallo elements with bizarre hallucinations seen by the main character creep who gets off on murdering sexually active women. With some sweet bloody murders (including decapitation) by scissors, knife, axe... Our killer is an effeminate sissy-man who also likes to mutilate dolls and run around in shorts, even acting a little gay. Creepy, disturbing and twisted little Euro-Horror. Also with Helga Line. Now, finally, an immaculate Widescreen print with sharp colors and English subtitles.
R463 Kuwait Connection (73) aka: Wolves Don't Eat Meat aka: Zi'ab la ta'kol al lahm Here's a violent Egyptian made crime thriller with loads of nudity! A hit man is double-crossed by the mob and tries to escape the hit put out on him. Bloody shootouts, plenty of nudity (oh, but I said that), fist-fights, torture, explosions and more. And with English subtitles! A real oddity for sure! If a film like this were even attempted to be made in Egypt today, the filmmakers and actors would all be executed.
M794 Last Harem, The (81) aka: L'ultimo harem George Lazenby plays a Prince and oil fields heir who seems to have one of the last harems (of discontent wives). He marries yet again, but this time he plans to stick with just one woman, his new bride Sara (Corinne Clery). His harem is jealous and Sara winds up dead. He vows to punish all of his wives unless the killer confesses. The women talk about the old days and we get to see the Prince as he is on the hunt for his harem women. Plenty of nudity and sexual situations. Downbeat ending. LBX
M759 Like a Pack of Wild Dogs (76) aka: Come cani arrabbiati Two young men and a girl run wild robbing, raping and murdering. Sordid and sleazy crime thriller with more violence and nudity than usual. The film doesn't hold back showing them at their sadistic best, and they gloat as the incompetent cops fail to neutralize them. Paola Senatore stars (she would go on to a brief career in porn). Finally a nice Widescreen Uncut version with English subtitles. BA
M884 Love and Death on the Edge of a Razor (73) aka: Giorni d'amore sul filo di una lama When the son of a wealthy businessman (Peter Lee Lawrence) meets a beautiful woman named Lidia (Erika Blanc), he pursues her through the streets of Venice and a romance develops. When on a business trip he learns Lidia had been killed. But he thinks he spots her later.... The mystery deepens.... Also with Ivana Novak. Rare giallo type in Italian language and with English subtitles. BA
M807 Love, Vampire Style (70) aka: Beiß mich, Liebling aka: Bite Me, Darling A new mailman riding around on his little yellow motorbike is a chick magnet! Let the T&A begin! BUT WAIT! A descendant of Count Dracula returns to the same ancestral village to take revenge on the people who destroyed his ancestor. And that mailman really pisses him off apparently. It takes some time, but eventually the fangs come out and the bite is on! The quality is bad for the first twenty minutes or so, and there are occasional glitches. Sound is good. Dubbed into English.
R474-M795 Lust For Revenge (76) aka: Kaftes diakopes After the kidnapping of their young daughter, a couple pays off the culprits with false currency. They retaliate by raping and murdering the kidnap victim they had returned. The couple vow revenge and track the kidnapping killers, intending to eliminate them one by one. Shootings, stabbings, necks get snapped, throats are cut, strangling and more. Perfect Greek made Revenge Thriller. With English subtitles.
M761 Madness: Eyes of the Moon (71) aka: Madness - Gli occhi della luna Three men escape from a mental hospital. One is caught, another killed by a car, the last actually gets away. He takes refuge in a country house. A substantial group of young partiers arrive and people start tripping on LSD. He spies upon them from above. If he could only get his hands on one of these sexy hippie chicks..... With Thomas Hunter. Nice LBX and with English subtitles.
N77 Malefique (02) aka: Maléfique Four prisoners occupy a cell. One night an ancient occult book is found through a hole in the wall. It was owned by a former prisoner from the last century who dabbled in black magic, and used this to escape They decide to study the dark arts and use what they learn to do the same. The fate of the former cellmate is revealed, and a dark horror is about to be unleashed which will bring unanticipated consequences to them all. A dark, intense and claustrophobic French made thriller, LBX and with English subtitles.
M890 Mausoleum (83) aka: Grabmal des Grauens This was released numerous times here in the states. Thing is, all of the prints are cut! There is a scene in the first 10 minutes where a guy stumbles out of the tomb and he blows his top, but it only shows smoke coming from his head as he drops, and does not show the gore as his head pops at the top and squirts blood upwards. Here is the UNCUT VERSION with that scene intact! As far as the film... classic 80's horror/gore with a possessed Bobbie Bresee and Marjoe Gortner as her doomed husband who gets bitten to death by her killer breasts in the film's most memorable scene. Of course there is more, but we all know about this one already, don't we? BA
R471 Most Disturbed Person on Planet Earth: Part Two (14) Extremely Gross Vile and Offensive clip disc that really will warp your mind. There are such scenes of obscene death, gross sexual fetishes, disgusting gag inducing moments etc. Be prepared to be offended. Not responsible if this disc drives you or anyone who views it into a state of depression, suicide, homicide, or genocide. You have been warned.
M885 Nothing Underneath 3: The Last Parade (11) The third part of the trilogy originally starting with 1985's 'Nothing Underneath'. Robert E. Grant stars as a fashion designer with 3 problems. One is his terrible secret. Two, someone is killing his models. Three, Inspector Malerba is on the case. Strange giallo long on mystery and colorful photography. Vanessa Hessler and other stunning Italian beauties star. Widescreen and with English subtitles.
R454 Nude Odeon (78) A couple years before filming the iconic 'Zombie Holocaust', director Marino Girolami directed this twisted mondo-type flick with plenty of sex and nudity, a light-hearted attitude, creepy natives, island savages, more sex... In Italian language and no subtitles. Widescreen
M797 Passionate Lovers (82) aka: The Ambitious Lover aka: I eromeni A man in deep debt with a very rich wife falls for a sleazy dancer and decides things would be better for all if his wife was dead. When you see the chick he's trying to score, you almost can't blame him. But you know it will be another Greek tragedy. Sleazy Greek thriller with super sexy Maria Jose Cantudo, Ajita Wilson, Andreas Barkoulis and Claudia Gravy (indeed). Plenty of sleaze and nudity of course. With English subtitles.
M808 Pimps, The (76) aka: The Panderers aka: I prosseneti A Count and his wife are running high-class whores for rich clients with unusual requests. One guy likes to torture, a stage director has an elaborate fantasy and even an ambassador wanting a girl (Cicciolina) to act as his old flame. Kind of like a 'Fantasy Island' for horny rich people. Things get really weird for these young girls who unwittingly let themselves be abused. Also with Stefania Casini and Sonja Jeannine (who strips naked for the rich scum, lies on a table and says the following). 'I'll be your food. Eating of me will bring you some of my youth. Everything of me you'll discover will be yours!" It gets even stranger. Twisted sleaze from director Brunello Rondi, the director of 'Arabella' and many more. With English subtitles.
M867 Play Motel (79) A reporter and his girlfriend investigate deaths surrounding a hotel where several prominent people go to have sex. A little bit giallo, a little bit trashy sleaze with plenty of skin, sort of like a Jess Franco flick! There is a 'peeping tom' on the premises clicking photos for blackmail purposes, a black-gloved killer, and a whole lot of really hot dames. So get a giallo, substitute more sex and skin for the ultra-violence... and you get 'Play Motel'. Ray Lovelock stars with a bunch of hot women, and others.... Widescreen and with English subtitles.
M799 Porno Esotic Love (80) aka: Sexy Erotic Love aka: Les amours exotiques d'Emmanuelle Joe D'Amato recycles about 40% of his 'Black Cobra Woman' and comes out with this by adding some hardcore footage and filming on the island locales where 'Porno Holocaust' and 'Erotic Nights of the Living Dead' were filmed (with many of the same performers) and then adding a bunch of new scenes filmed in Hong Kong. Laura Gemser stars. Now LBX and with sometimes confusing English subtitles! BA
R495 Puritan (05) Victorian inspired Modern day supernatural film noir, set against the backdrop of White Chapel, mediums, and the work of a supposed Pagan architect. Multi-layered plot in this Gothic Chiller, and an ending you won't see coming! David Soul, Nick Moran and more. Widescreen
R467 Rape! The 13th Hour (77) aka: Reipu 25-ji: Bôkan A sleazy rapist breaks into women's homes and sexually assaults them. He hooks up with another guy who watches him in action. Later they get in trouble with a homosexual gang after he forces one of them to do oral sex on him. Heads cracked open, rapes, beatings and stabbings. Some twisted stuff from Japan here! Widescreen and with English subtitles.
M833 Reborn (81) aka: Renacer A television evangelist manipulates an Italian woman (for financial gain of course) who is showing signs of stigmata. With Dennis Hopper putting in another typically insane performance and also Michael Moriarty.
R447 Scum of the Earth (63) A young woman is blackmailed into modeling in the nude for a photographer who is in league with a teenage gang who sells the pictures for profit. H.G.L. sleaze and look for much of the same cast that he used in 'Blood Feast'!
M857 Sexomania (74) aka: Sex Mania An adulteress flips out suicidal (after slutting out with numerous sex adventures with men and women) and has weird flashbacks, some she recounts to a shrink. Tormented by her worthlessness and infidelity, she finally escapes with her lesbian lover.. or does she? This IS a Greek Tragedy after all. With English subtitles.
M830 Shadows in the Storm (88) Thelonious Pitt (Ned Beatty) is a day-dreaming businessman who takes a vacation in the Redwood Forests of California where he meets a hot woman named Melanie (Mia Sara). They kill her husband. But someone has seen them and is blackmailing them. Or is her husband really alive? And if that's not enough, this is the only movie I can remember with Ned Beatty that he has a sex scene that does not involve him bending over and squealing like a pig. Also with Michael Madsen.
R536 Some Like it Violent (68) A hardened gangster likes to philosophize, and has clearly seen the Cagney movie 'White Heat' one too many times. He likes to chop up store mannequins with a machete. His misogyny is demonstrated by how he treats women as well. Rape and sleaze in this soft-core black and white roughie.
R544 Spiked Heels and Black Nylons (67) A cop's wife gets hooked on drugs and goes to work at 'Club Lesbo'. When the cop raids the joint, there she is. Things get out of hand. Narrated by a devil mask on a wall. Lesbians, prostitution and plenty of soft-core nudity. At one point a chubby guy is making out with a hot topless blonde on a bed and when he takes his shirt off he has boobs. He is a She! What used to be a shock is now considered normal. The devil mask narration goes for the horror angle. With Bill Thurman. Followed by sleazy trailers and more nudity. Color BA
M810 Suite 16 (94) aka: Aconteceu na Suíte 16 An aging playboy (Pete Postlethwaite) self-confined to a hotel suite, wheelchair bound, his body a pale shadow of his former self, hires a young hustler/stud (Antonie Kemerling) who is in hiding from the cops. His job? To screw hookers in the next room while the old guy tapes and watches the action. But his requests get darker and eventually he wants his employee to murder so he can watch. Twisted little thriller. Lots of sex and nudity. Kemerling killed himself at age 44 in the Netherlands in 2010. LBX
M888 Swamp, The (73) aka: O valtos Crooks flee with dirty money in a plane. The plane ditches in a swamp. Can a large group of people (ten) work together to get the money and split it amicably to change their miserable lives for the better? Of course not. Nudity and violence. With Vera Krouska (who was in 'Death Steps in the Dark' a few years later.
M811 Third Eye, The (66) aka: Il terzo occhio A young count (Franco Nero) that lives with his dominant and jealous mother goes into a downward spiral of madness when his fiancé dies in an accident. But was it an accident? The housekeeper kills the mother, and the count takes up to murdering young women. After several years of killing, the sister of his deceased fiancé shows up, looking exactly like his lost love. Amazing Sexy Gothic Horror Giallo type, bridging the gap of what was to come. Franco Nero was 'Django' the same year. Joe D'Amato remade this under the title: Buried Alive aka: Beyond the Darkness. Now Widescreen and with English subtitles. Upgrade!!
M839 Twisted Obsession (89) aka: El sueño del mono loco aka: The Mad Monkey Daniel Gillis (Jeff Goldblum) agrees to write the script for some unbalanced producers and a director. He falls deep into a world of greed, lust into sexual obsession, insanity, dark humour and heroin. No one is to be trusted (except Goldblum's character of course). Decent Dark and Twisted Indeed. BA
M803 Ulvetid (81) Cool little psycho-thriller from Denmark! A married couple living in the country are dealing with a miscarriage. They invite a young woman to stay at the house. (Bad idea, ask any woman) This woman has a thing for wolves and soon several wolves are hanging around. Nice tension and dread in this atmospheric and rarely heard of thriller. With English subtitles.
M877 With a Cold Heart (71) aka: A cuore freddo aka: Una mala mujer Former hippie girl Silvana (Rada Rassimov) gets bored with her rich businessman husband, and gets involved with hippie types. She pretty much serves her poor husband up on a platter for a ruthless beating, and gets brutally gang-raped for her trouble. Silvana shows herself to be one wicked bitch by the time the credits roll. The hippie types despise money and mass consumption, and look like wimps. Widescreen and with English subtitles.
M766 Without Knowing Anything About Her (69) aka: Senza sapere niente di lei A murder of a woman, and a life insurance scam sends an insurance agent on a covert mission so the company does not have to pay out. He falls for one of the daughter's of the dead woman and the truth slowly begins to unravel in this giallo type Italian made thriller. With Paola Pitagora and Philippe Leroy star. LBX and with English subtitles.
M767 Yakuza Law (69) aka: Yakuza keibatsu-shi: Rinchi - shikei! From the 'Joy of Torture's series! Told in 3 parts, the first taking place in feudal Japan, the last set in the late 1960's. All deal with betrayal and punishment within the Yakuza system. Incredible acts of brutality include fingers removed, eyeballs and tongues cut out and sword slashes resulting in fountains of blood. In the last segment, the modern day Yakuza get creative: dragging victims by helicopter, encasing them in cement, and crushing them in car compactors. Sexy babes also involved in the nastiness. Lots of fun! Widescreen and with English subtitles.
FRANCO FILMS
M564 Don Quixote (66) Orson Welles project finished by Jess Franco! Welles' vanity project (a hobby really) cobbled together for modern audiences. Don Q. (Francisco Reiguera) and Sancho (Akim Tamiroff) take on modern society, wandering the roads of Spain to protect the weak and accomplish good deeds. Lots of 'fish out of water' scenes. Dubbed into English.
M730 Sadist of Notre Dame (79) aka: El sádico de Notre-Dame An ex-priest (played by Jess Franco himself!) escapes from an asylum and goes on a killing spree. The most cohesive and sharp version of this film we have available. Also with Lina Romay at her 70's hottest. This is the 1979 re-edit with mixtures of various versions. Released in a butchered version by Wizard Video in the 80's that ran 79 minutes, this one runs 95 minutes, is Widescreen plus English dubbed. Warning: XXX scenes as well.
HAMMER AND BRITISH FILMS
R444 Bridal Path, The (59) On a small Scottish island, a ruling is made by the elders that no more first cousins will be allowed to marry in order to stop inbreeding and all that comes with it. This complicates Ewan's (Bill Travers) plan to marry his first cousin. Hilarious film with excellent Scotland locales and some laugh out loud moments. Visually amazing. Bill Travers went on to be in 'Gorgo' next, and later 'Born Free' and even the excellent 'Ring of Bright Water'. Widescreen BA
R488 Challenge For Robin Hood, A (67) aka: Robin Hood, der Freiheitsheld Hammer! This version of Robin Hood features a number of twists with first rate costumes and cinematography courtesy of Hammer studios. Operating on the Norman and the Saxon feud with all the requisite swashbuckling shenanigans we should expect. Widescreen BA
M878 Dark Places (73) aka: Das Grab der lebenden Puppen A spooky old house (once owned by a mental patient) holds a stash of hidden cash. The house is now being taken over by the Asylum administrator who has inherited the place (played by Robert Hardy straight off the set of Hammer's 'Demons of the Mind'). Looking to get the loot as well is Dr. Ian Mandeville (the late-great Christopher Lee) and his sister Sarah (Joan Collins). Add Herbert Lom and Jane Birkin to the mix and you get a well made, and at times even chilling, forgotten thriller.
R405 Don't Panic Chaps (59) Charming farce about British and German soldiers peacefully sharing a little island in the Adriatic in 1943. That is, until the beautiful Elsa ( Bond girl Nadja Regin) washes ashore. Blimey! What a war! The battle of the sunbathers. Also with Thorley Walters, Dennis Price and more. Widescreen BA
R492 Floods of Fear (58) aka: Froid dans le dos Two inmates working to shore up a dike during a severe flood are swept away in the current along with a guard and others. Three survive and wind up in an isolated house that holds a flooded interior, and a frightened woman (Anne Heywood). Decent effects and an intense drama unfold. This film remains underwater, literally, for all of it's running time. Also with Howard Keel, Cyril Cusack and more. BA
R443 Freelance (71) aka: Con Man A small time con artist (Ian McShane) sees a gangland hit and chases the guy. They have a standoff and both walk away. Now he has to try and pull off business as usual, and in the meantime watch out for the guy he saw commit the hit. McShane is 28 in this, and excellent. It is easy to see why he eventually became so popular later (Deadwood...more). This film also has some great background shots of the west end of London during the very early 70's. This cool gangster film also stars Gayle Hunnicutt. Deleted scene included at the end of the film where McShane and a friend sexually share a woman. Nudity.
R489 Green Man, The (56) aka: Une bombe pas comme les autres Alastair Sim is Hawkins, an assassin who blows people up. They must be pompous ass jerks, this he truly enjoys. The film is farcical in the best tradition of British farce with some laugh out loud scenes. Also with the hysterical Terry Thomas and look for the immortal Michael Ripper in a small role. BA
R483 I See a Dark Stranger (46) aka: The Adventuress A young Irish woman hates England so much she becomes a Nazi spy. Deborah Kerr is a wild, feisty and bewitching Irish Rose in this one as she plays the villainess who hates all things 'English' with relish. Also with Trevor Howard.
M820 Lamb (85) A priest (a young Liam Neeson) slowly losing his faith, attempts to help a miserably unhappy boy named Owen. One of the coldest and downbeat films produced in England in the 1980's. The bleak depressing atmosphere builds you up in despair and the ending sucker punches you in the gut. Nice.
R537 Return from the Ashes (65) aka: Le démon est mauvais joueur Maximilian Schell plays a young wicked gold-digging man who seduces a French, older widow (Ingrid Thulin). Technically, they are close to the same age. His goal is to get his hands on her fortune. Eventually his plan... backfires! Also in the house is the stepdaughter (played by Samantha Eggar). Eggar was nominated for an Oscar the year before for 'The Collector'. Controversial for the bathtub scene. BA
R481 Spring and Port Wine (70) aka: Place aux jeunes A stern father and a lenient mother deal with the ups and downs of their four children's lives in working class Bolton. Good realistic look at working class Victorian Northern England, the period and locales used to maximum advantage. James Mason, Susan George and more star. Widescreen
R480 Train of Events (49) aka: Liverpool-expressen A train disaster is told as four short stories to give character studies of the people involved, how it will affect them, and how, eventually, they will deal with it. Laughter, Love, Suspense and Thrills in a film of a Fateful Journey that will not end well. 'Compendium' films were popular in the late 40's, the most successful being 'Dead of Night' in 1945. Valerie Hobson, Jack Warner and Peter Finch are just a few of the actors in this one. BA
MISCELLANEOUS FILMS
SPY, ACTION, MARTIAL ARTS, COMEDY, DRAMA AND MORE
M848 7 Golden Women Against Two 07 (66) aka: 7 donne d'oro contro due 07 Mark Davis (Mickey Hargitay as Secret Agent 07) is after a Nazi treasure buried somewhere in the Mediterranean waters. The clues to where is hidden in an authentic 'Goya' painting. Problem is, there are six replicas of the same painting, held by different women. Con men, spies and art dealers, and lovely Euro-chicks throughout, including a large catfight (after which, the girls are showered with gold dust that literally makes them all... GOLDEN!) Maria Vincent, Luciana Paoli, Patricia Mendez and more star. Amazing Sharp Widescreen English dubbed Upgrade!
R493 Acting on Impulse (93) aka: Roses Are Dead The aggressive actress Susan (Linda Fiortino), star of many erotic thrillers, feels stalked by her fans and has a fight with her producer. On one shoot she returns to her hotel, not knowing her producer is dead in his trailer. She meet a man named Paul and begins an affair, and the stalking starts again.... Loads of cameos! Also with Nancy Allen and Adam Ant, Paul Bartel, Isaac Hayes, Don Most, Zelda Rubenstein, Miles O'Keeffe, Casandra (Elvira) Peterson, Dick Sargent, Mary Woronov, even Brinke Stevens as a waitress!
M783 Arturo's Island (62) aka: L'isola di Arturo aka: L'île des amours interdites Arturo is a young man (at 15) who is living alone on a populated island. His mother died, and his father is always away. One day his father returns with a woman of 17 that he makes his bride. Arturo lusts for her, as she is actually much closer to his age, than to his fathers. Rejected, he falls into the bed of an island prostitute. Later he finds out his dad is also seeing a man (a man that Arturo has a violent confrontation with) on the island, and is bisexual. Will Arturo escape this island situation and head to the mainland on his own? Widescreen and with English subtitles. BA
X232-R401 Bastards (06) aka: Svolochi In the Soviet Union, 1943, a group of teenage convicts are secretly trained for a guerrilla mission to stop the actions of a German army group called "Edelweiss".... The film's release caused controversy in Russia, where some deemed it "state-supported anti-Soviet propaganda" Russian made Widescreen and with English subtitles. BA
M785 Blonde from Peking, The (67) An actor (Claudio Brook) is hired to impersonate the husband of an amnesiac woman, who used to be the mistress of a Chinese missile expert. He's no spy or agent, simply in it for the money. Extremely feisty women here include Mireille Darc, Francoise Brion, Giorgia Moll and more. Also with Edward G. Robinson. Widescreen BA
R472 Blue Jeans and Dynamite (74) aka: Bloody Sun aka: La dynamite est bonne à boire Men are brutalized in a South American copper mine by a corrupt leader. Forced into slave labor, an escape is planned. The leader has a beautiful wife (Claudine Auger). When the escape plot is hatched, it may cost everybody more than they expected. Rape, beatings, torture and fights. Also with Christopher Mitchum
M829 Blunt (87) The story of Anthony Blunt (Ian Richardson) the fourth man in a notorious 1951 spy scandal. Well done, all scenes exude the essence of the era. Anthony Hopkins (as Guy Burgess) delivers attention to the detail of language, phrases and words spot on for the period. The obvious social context is not lost, and the story moves along at a fast clip, never boring. (part of the Screen Two Series)
M827 Choices (81) aka: Dilemma Partially deaf guy fights against prejudice as he struggles to stay on the high school football team despite doctor's recommendation to stay out of the sport. His girlfriend is played by Demi Moore (in her debut). Seems to me chasing a 19 year old Demi would be more interesting than playing football. Still... If you were that age back then, it's a nice time capsule of simpler times.
M843 Cold War Killers, The (86) The Ministry of Defense is sent to investigate the discovery of a British Air Force plane from the Cold War Era found submerged in a pond with the dead pilot still at the controls. What they discover is a secret that raises some serious questions about the Russians and some secret negotiations with Nazi Germany during WW2. Terence Stamp stars. BA
M814 Dear Mr. Wonderful (82) aka: Ruby's Dream Joe Pesci plays a bowling alley owner and a singer that dreams of making it big in Vegas, but really doesn't have the talent to be a success. Pesci croons his Rat Pack type tunes with confidence aside his bowling customers. (Young Joe Pesci was a singer that actually had an album called 'Little Joey Sings'!) The place is losing money. King Mobster (played by Frank Vincent, the same guy that helps club Pesci to death in 1996's 'Casino') plans to torch the place. Downbeat and gritty. With a cameo by Tony Martin and if you keep your eyes peeled you'll see a few other notables briefly.
M836 Delta Force Commando (88) Latin American Revolutionaries attack a Puerto Rico base and make off with a nuclear bomb. Send in tough guy Captain Samuel Beck (Fred Williamson) to track down the bad guys and retrieve the weapon in the jungles of Nicaragua. Bo Svenson, Brett Baxter Clark and Mark Gregory ( straight off the set of 'Thunder 3')! Many people hate this movie, but for 'Z' movie action cheese, it is exactly what you would expect...fun! BA
M824 Dog Day (84) aka: Canicule French made film about a fugitive (Lee Marvin) on the run from the law, who holes up in the country, holding a farm family hostage until the heat cools off. Little does he know they have even darker attitudes and inclinations than he, and shit will definitely be hitting the fan. The opening shoot-put sequence is a homage of sorts to Sam Peckinpah. The rest of the film boasts a decent body count as well. Also with Tina (Ginger) Louise. An odd but entertaining mess of a film for Marvin, and one of his last.
R494 Emma Hamilton (68) aka: Le calde notti di Lady Hamilton Emma (Michele Mercier), a young shepherdess, leaves her sheep behind and follows an artist, relocating to London. Her new job is a model, eventually, socialite. A little nudity, some lesbianism and dramatic situations in this colorful costumer set in the 19th century. When her lover goes to war, we get some ships on the seas action. Also with Richard Johnson, John Mills and Nadja Tiller. BA
R468 Gambling For Head (75) aka: Do ren tou A man is obsessed with avenging the brutal death of his younger brother at the hands of corrupt casino gangs. Gory eye-ball gougings, stabbings, people impaled, fight scenes, and heads do roll! Uncut print and in English language! BA
M896 Girl Merchants (57) aka: Sellers of Girls aka: Marchands de filles A young French woman travels to South America for a job offer and ends up a prisoner in a slave camp for women run by a sadistic gangster. The Big Whorehouse is like a Latin-styled department store of female flesh with a long que of horny men stretching outside. Nice downbeat violent ending. BA
R445 Glenrowan Affair, The (51) Excellent (for 1951) Australian film on the outlaw 'Ned Kelly' (and his gang), whose legend outlived his life. Later Ned Kelly was revisited with Mick Jagger in the lead role, and still later with Heath Ledger. So this is like an Australian western loosely based on true characters and events, filmed in Australia.
R478 Glory Brigade, The (53) aka: Brigata di fuoco aka: La brigade glorieuse During the Korean War, Lt. Sam Pryor (Victor Mature), volunteers his platoon to escort Greek troops to perform a reconnaissance mission behind communist lines. Mistrust between the Greeks and the Americans is the least of their worries. Lee Marvin and Richard Egan also star. Action packed high-body count war film. One special effects guy died while working with dynamite on this film. BA
M832 Hard Knox (84) aka: L'école des héros Life in a military school lead by seasoned professional and hard ass Knox (Robert Conrad), who has been grounded and reassigned to whip the failing school into shape. Every stereo-type and cliché available to this type of feel good dramady with a big competition (against a rival academy), bad boys learning how to channel their energies, wimpy boys gaining courage, jokers who become serious, adversaries who become friends...etc. Conrad was born for roles like this. With Red West and more.
M828 Hazard of Hearts, A (87) aka: Les hasards de l'amour Romance story with luxurious and spectacular scenarios set in a British High class setting with a convoluted Dickensian plot. Diana Rigg (and her selection of high-society hats) is the evil mother, a young Helena Bonham Carter stars, along with Stewart Granger (in one of his last roles), Christopher Plummer, Anna Massey, Edward Fox and more.
M826 Hunk (87) aka: Uma Troca dos Diabos A computer nerd makes a deal with the devil (James Coco in one of his last performances) and gets a new studster hunk body so he can score with O'Brien (Deborah Shelton, who's last film up to this point was 'Body Double'). Look for Brad Pitt in a background shot at 16 minutes or so, and this is his film debut, even though you barely see him. This movie is pretty funny at times, and is loaded with some strange homo-erotic moments. Also with Hillary Shephard and more. BA
M815 Intimate Agony (83) aka: Doctor in Paradise Dr. Kyle Richards (Luke from General Hospital and star of 'Blood Sabbath') is a whistle blowing doctor taking over a practice on an island of rich white people that have managed to spread a Herpes epidemic amongst themselves due to rampant promiscuity. He encourages the carriers to contact their lovers to 'spread' the news. This disturbs Tommy (Mark Harmon), because it will certainly put a stop to his booty calls. Marsha (Judith Light) is embarrassed. Sobering, sometimes amusing account. Before the AIDS epidemic, there was this. Also with Robert Vaughn.
R506 INXS: Never Tear Us Apart (14) Epic 3 hour Australian movie about Australia's own INXS. Fleshed out characters and well-acted performances all leading up to depressed Michael Hutchence's death from accidental sexual suicide. Well made and fairly devastating. With Luke Arnold (John Silver in 'Black Sails') as Hutchence, Damon Herriman (Justified, Battle Creek) and more. DVD-R only, no VHS.
R476 Jamaica Run (53) aka: Courrier pour la Jamaïque Land dispute in Jamaica must be resolved by diving a 100 year old ship wreck to try to find legal information on who owns what. Treasure, murder, adventure, twists and turns, and unpredictable character changes in this studio bound programmer (although there is also much location photography as well in Jamaica). Arlene Dahl stars along with Ray Milland and Patric Knowles. Arlene Dahl (who is still kicking at 90 years of age in 2015) is the mother of Lorenzo Lamas. Color BA
M813 Madonna and the Dragon, The (90) aka: Tinikling ou 'La madonne et le dragon' Two photographers (one being Jennifer Beals!) covering the people's revolution in the Philippine's run into big trouble when soldiers want the film of atrocities they have filmed. Gritty and action-packed, and even some brutal scenes! Directed by Samuel Fuller (his last!). This movie has Japanese subtitles but is in English language. Also with Luc Merenda and Patrick Bauchau.
R504 My Old Man's Place (71) Two soldiers (Michael Moriarty in his first film, and William Devane) return from Viet Nam, both with serious PTSD. They decide to go to the family farm owned by the father (Arthur Kennedy) of one of them. A psychotic sergeant (Mitchell Ryan), who also did tours of Nam, joins them. This character driven drama is well acted, with scathing dialogue. Personalities collide, and violence erupts. One of the first film's depicting how the horror's of Viet Nam affected some men. Widescreen BA
R487 Orion's Belt (85) aka: Orions belte A compelling Norwegian film with excellent locations about a scraggly freight boat crew who get entangled in something almost 'X-Files conspiracy' sinister. This Cold War story is gritty and believable, beautiful and unsettling, even sad. A real sleeper and highly recommended. BA
M847 Patriot, The (86) A pissed ex-Navy Seal (Greg Henry!) finds himself in the position to defend the world from international terrorists who plan world destruction. Patriotism outweighs his anger as he springs into action. Tagline: One man stands between unstoppable terrorists and unthinkable destruction. Also with Simone Griffeth, Michael J. Pollard, Leslie Nielson and now dead drug addict Jeff Conaway. BA
R477 Pickup Alley (57) aka: Interpol aka: Police internationale A sadistic heroin smuggler (Trevor Howard) plays a game of cat and mouse with a New York cop (Victor Mature) out to avenge the death of his sister. They recruit sexy Gina (Anita Ekberg in her prime). Also with Andre Morell. Excellent British Dope Thriller. Destitute, Anita Ekberg died in January 2015 at age 83 after a long illness. Hammer's John Gilling directs. BA
M840 Portrait of a Showgirl (82) aka: Retrato de una bailarina Caesar's Palace in Vegas is the setting as three woman trying to be dancers form a bond in their uncertain world of ups and downs. Notable for the great Las Vegas scenery. Many of the big hotels of that time are long gone, and Vegas used to be a town with magic and charm. Lesley Anne Warren, Rita Moreno, Tony Curtis and more star.
M868 Professional Scum (76) When a couple of retired mercenaries meet again, they decide to take advantage of their past skills and rob a casino. They use as bait one of their girlfriends. They pull it off, but with the death of the casino owner the cost. When it comes time to split the loot, they fight. Double -crosses and backstabbing.... and the vengeful son of the casino owner figure into the rest. Murder for loot, greed, and a spectacular downbeat ending that will have you say 'Wow!". In Greek language and with English subtitles.
R534 Quiet Thunder (88) aka: Trueno silencioso Quiet Thunder takes place across the African plains. A hard-drinking womanizing bush pilot and a voluptuous senator's wife become the dark continent's most hunted big game after they are witness to a political assassination. Filmed in Africa and America posing as Africa. With Wayne Crawford and June (V) Chadwick. BA
R533 Rabbit Test (78) aka: Un tipo muy especial Lionel's (Billy Crystal) life turns around when he has a one night stand on top of a pinball table and becomes the world's first pregnant man. I knew it! I really don't want to know how he got knocked up. Incredibly politically incorrect with jokes about illegals, fat people, midgets, and more. With a cast that includes: Michael Keaton, Joan Rivers, Billy Barty, Jimmie Walker, Sheree North, Alex Rocco, Doris Roberts, Imogene Coca, Paul Lynde, George Gobel, Roosevelt Grier, Roddy McDowell and others. From a time when we could poke fun at everybody, including ourselves, without having to give a national apology for it. BA
M856 Ring of Death (69) aka: Un detective aka: Die Klette Franco Nero plays against type as a confidently corrupt police detective with no moral fiber whatsoever. On the trail of a killer he comes across the mysterious Vera (Florinda Falkan), who may be involved. The final twist you will not see coming! This colorful superb Widescreen Upgrade is amazing! There is an assortment of Euro-babes on hand in this one. Some English subtitles when Italian language is spoken, the rest is dubbed into English. BA
M834 Saigon: Year of the Cat (83) Two westerners (played by Judi Dench and Frederic Forrest) meet a short time before the fall of Saigon, and experience the insanity of the event first hand. Forrest of course had worse problems in 1979's Viet Nam classic 'Apocalypse Now'.
M825 Scandal Sheet (85) aka: Tödliche Schlagzeilen A tabloid magazine publisher who delights in destroying celebrities (played by Burt Lancaster), begins his assault on an aging alcoholic actor (Robert Urich) who is trying to recover, by hiring the hurting actor's close friend (Pamela Reed) so he can force her to get the dirt on him, and put the final nails in the actor's coffin. Dark, deep down and dirty world of trash tabloids that everyone should be ashamed of supporting if you do– that is... Also with Lauren Hutton and look for Frances McDormand in a small role. BA
M816 Second Sight: A Love Story (84) aka: Die zweiten Augen Elizabeth Montgomery plays a woman who has been blind for 20 years. She gets a Labrador helper dog and forms an incredible bond with the animal, has a surgery to regain her sight, and falls in love with an art dealer (Barry Newman). Some say this is Montgomery's best role, but for me, the dog steals the show in this tear-jerker.
M849 Seven Men and One Brain (68) aka: 7 uomini e un cervello aka: Criminal Affair Dopey crime caper set in Argentina with a bunch of singing crooks led by Ross Simpson played by Rossano Brazzi. He is a master criminologist and author, wanting to pull off the perfect crime. The gag is playing an indoor opera house and sending sleeping gas. When all the rich snobs pass out, the crooks go out and loot their jewelry, breathing through air tubes. Super colorful and with Barbara Nichols, Helene Chanel, and Ann Margret (smoking hot in this). Widescreen and great quality
M895 Shadow of Treason (63) Steve (John Bentley), newly arrived in Trieste, saves Tina from being shot in her own nightclub. She hires him as a bodyguard/detective. He finds out that her father was blackmailing a group of traitors. They are after a treasure map. The trail leads to Africa and beyond.... Neat locations with a lion attack, caves and more.
M831 Shaker Run (85) Shaker Run shows more of the New Zealand countryside than 'Lord of the Rings'. As an added bonus, there are fast V-8 powered cars speeding through it. Judd (Cliff Robertson), a cantankerous professional American driver blasts across bridges and down roads 'Mad Max' style in a modified Trans Am while outmaneuvering the secret police who are chasing him in sinister black V-8 pursuit vehicles. There's a whole lot more to this violent action flick. With Leif Garret (who goes through a wall!), Shane Briant of Hammer movies and Lisa Harrow. BA
M845 Somewhere, Tomorrow (83) Before she was busy having 'Sex in the City' with multiple partners Sarah Jessica Parker was in some made for T.V movies and a crappy show called 'Square Pegs'. In this she is trying to deal with the loss of her father to a plane crash. A young man, also killed, is still around on earth as a ghost-like dude and together they fall in love. They try to figure out why he is still around... Or are they both dead? Neither? Tear-jerker fantasy film that is loved by many. Beware, Sarah Jessica Parker sings a few songs. Just a friendly warning.
R500 Three (69) aka: Noi tre soltanto Two college friends, traveling in Europe, find themselves rivals for the attentions of a mysterious woman (Charlotte Rampling, a stunning beauty at 23). Young love and simple times before the responsibility takes over all of our lives. Beautiful locations include Italy. Sam Waterson stars. Widescreen. BA
M846 Time to Die, A (82) aka: Seven Graves for Rogan aka: Zeit zu sterben A WW2 vet sets out in 1948 to avenge the death of his wife at the hands of some brutal men. He targets six unlucky and not-so-glorious bastards. Four Germans, one Hungarian and one Sicilian. Nudity. Rod Taylor, Eddie Albert, Rex Harrison and Raf Vallone star. BA
M823 Toby McTeague (86) Good old-fashioned coming of age story with courage, honor, respect-for-elders, and the great outdoors. (Sounds like a fantasy film for today's culture) Sled racing Huskies, life-learning lessons, and more, set in snow bound Canadian scenery. Well worth it for some wholesome goodness and a bit of humor and maybe even a little camp value. BA
R475 Ton of Grass Goes to Pot, A (72) aka: The Big Score A group of friends plan to smuggle a ton of marijuana from Mexico to the U.S. by way of hot air balloon. Rival biker gangs, Nazi flashback sequence, Stoned Out talk, the Fuzz and other hippie happenings too groovy to comprehend straight.
R490 Tru (93) Robert Morse is Truman Capote in a one man show. Actual Capote quotes and ramblings masterfully done. (from American Playhouse Series)
M837 Tuareg: Desert Warrior (84) aka: Tuareg - Il guerriero del deserto Before Mark Harmon was a household name playing Ted Bundy in the excellent 'The Deliberate Stranger', he starred in this desert based action film directed by Italian director Enzo G. Castellari (this being his next film following the excellent 'Escape From the Bronx')! Tuareg (Harmon) helps a fugitive. But when soldiers come and violently take him they break Tuareg's code of hospitality. Wearing a scarf across his face, he turns into a one-man army dispatching villains left and right across the Sahara desert landscapes. Plenty violent and also starring Aldo Sambrell and Claudia Gravy to name a few.
M844 We Think the World of You (88) aka: Il più grande bene del mondo A gay guy named Johnny (Gary Oldman) goes to prison, leaving his beloved dog Evie (played by 'Betsy' the dog) with his poor parents who have no idea how to deal with the creature. Enter Johnny's ex-lover Frank (Alan Bates) who tries to help Evie. Evie steals the show. And the award goes to 'Betsy' the dog. Weird drama that shows how a cool animal can bridge the gap in societal differences.
MODERATE AND MADE FOR TV FILMS
M818 Agency (80) aka: Gli altri giorni del condor A mysterious millionaire buys an ad agency and starts to replace the people with their own, who place propaganda in the commercials of selling product to manipulate the viewers. A man is wise to them, and when he tries to inform is killed. Conspiracy with sinister politics and nefarious intentions. Science fiction? Hmmm. This stuff is happening today. Lee Majors, Valerie Perrine, Robert Mitchum, Saul Rubinek and more star. BA
M850 Amador (66) After murdering his girlfriend, the weird and dark man named 'Amador' joins his family in Torremolinos where he gets involved in an assassination, and falls in love with a woman. A strange and dark Spanish made film. LBX and with English subtitles.
M835 An Act of Love (80) aka: Un acto de amor A motorcycle accident leaves one brother paralyzed and the other guilt ridden. Early exploration of euthanasia (the 'act of love' in the title) with some interesting moments. Ron Howard and Mickey Rourke (in one of his first roles) star along with Robert Foxworth and Mary Kay Place.
M861 Black Vampire, The (53) aka: El vampiro negro A remake of Fritz Lang's 'M' from Argentina! If you enjoyed the spooky way Fritz Lang implied 'horror' with Peter Lorre and his actions, this one is a bit more revealing, but never gory or ultra-violent, just disturbing in imagery and content. This is about a child-killer after-all. Bouncing back and forth in time with his trial (legal this version) we get a detailed look at the killer, and his victims, as well as the screaming women who lose their minds whenever they witness something. Excellent. With English subtitles.
M853 Edge of Fear (64) Bizarre Spanish made psychological horror Gothic mix. In a large estate house a family gathers to learn there has been a death threat to the patriarch. People start to disappear and terror starts to spread among the remaining inhabitants of the house. Weird stuff directed by the writer of 'Mad Foxes'. Widescreen and with English subtitles.
M882 Hand in the Trap, The (61) aka: La mano en la trampa A rich family, having lost their fortune, are now living humbly making dress for the rich that are still around. Relative Laura comes to visit, and soon finds that this old dark house, and her blood family, hide terrible secrets. Secrets that caused their downfall. Secrets that could not be hidden for long. Much like the Gothic psychological 'horror' films of the era. Dark, downbeat and creepy. From Argentina, so Spanish language and with English subtitles.
R465 Head, The (59) aka: La femme nue et Satan aka: Die Nackte und der Satan Uncut import version with extra brief nudity in this obscure German horror film about a obsessed scientist who keep's a dog's head alive. When he dies, his assistant cuts off his head and keeps it alive so he can learn how to give a new body to his hunchbacked girlfriend. English language dubbed, with one small scene in German. Great! BA
M773 Hyena of London (64) aka: La jena di Londra The time, 1883, the place, London. The serial killer called 'The Hyena' is finally caught and eventually hanged. But his body disappears before it can be buried, and the murders are starting all over again. Along the lines of the 'The Blanchville Monster'. Old dark house scenarios and a spooky moody atmosphere set the tone. This Italian Gothic Horror comes Widescreen and English language dubbed. BA
M778 Mysterious Rider, The (48) aka: Il cavaliere misterioso Casanova's brother is imprisoned in 18th century Venice under false accusations. He must retrieve a letter and undertake a perilous journey to Russia. Excellent Italian made period film from great director Riccardo Freda with a sinister underground brotherhood, an alluring transvestite lady spy (Gianna Maria Canale) and a notorious nymphomaniac Empress. Swordfights, a bear hunt in the snow, even a grisly torture scene. Riccardo Freda would go on to great films of which we carry many. With Vittorio Gassman, Maria Mercader, Yvonne Sanson and more. This is an excellent sharp print with English subtitles. BA
M796 Nightmare (61) aka: Efialtis Greece's answer to 'Psycho', or even Castle's 'Homicidal'! A woman receives threatening phone calls from a woman who used to be married to her brother. Things escalate into terror with cinematic themes like 'split personality disorder', a creepy house with a long staircase, and a domineering mother. There's even a stabbing on the stairway and the guy going down a little like Martin Balsam! Effective Greek made chiller/thriller that fits nicely sandwiched within the similar films of it's time. With English subtitles.
M819 Train Killer, The (83) aka: Viadukt Based on a true story. For real, not like the claims made by many movies today that they actually happened, but of course did not. A supposedly normal man (Michael Sarrazin) plots to sabotage the Orient Express. His goal is to blow it off a bridge for maximum carnage. Made in Hungary for European television this film boasts nudity, violence and some excellent train crash effects.
M765 Vendetta of Lady Morgan, The (65) aka: La vendetta di Lady Morgan When Lady Morgan (Barbara Nelli) marries Sir Harry Morgan after the death of her boyfriend, she doesn't know he is having an affair with a sinister housekeeper (Erika Blanc), and they plot to kill her and steal her inheritance. But when she dies, Lady Morgan returns as a vengeful ghost, aided by her living Uncle, to set things right. This obscure Gothic Horror from Italy also stars Gordon Mitchell. Now in a nice Widescreen version with English subtitles. Upgrade! BA
M821 When the Bough Breaks (86) aka: Verschwörung des Bösen A child psychologist and a private eye investigate 'The Gentlemen's Brigade' that is run by a fraudulent Reverend who helps runaway children get on their feet, but secretly they put the youngsters on their backs, as they are a rich group of pedophile lawyers, judges and politicians that get their kicks raping kids. Richard Masur and Ted Danson star as the good guys. Interestingly, they both played child molesters in unrelated films.
MONDO FILMS
R452 Secret Africa (69) aka: Africa segreta Sick and twisted African practices including adult circumcision rites, a jungle asylum, new born tattooing, blood rites, whipping, water torture, blood drinking.... or as they say in Africa.... 'it's a Tuesday.' Too harsh? You go there and live then... Note: There is a logo near the bottom of screen that stretches across. F.L.
R457 Seruling Naga Sakti (89) Battle drenched fantasy horror kung-fu with outlandish sequences. Such as a man getting his head chopped off, which then takes flight laughing, brains getting splattered, faces blown off, gory impalings and more atrocious fun. Hell why not? Widescreen and with a logo near bottom of the screen. No subtitles so F.L.
M870 Shocking Africa (82) aka: Africa dolce e selvaggia What do you want? Well, here is what you will get! A brutal and prolonged flogging of a mentally ill man by Muslim elders of a village. Sacrifice of various animals including chicken and antelope (don't blame me). Circumcisions done on little kids with the guy doing the cutting having the shakes like a drunk going through the DT's, a shaman sacrificing a fowl by ripping it's beak off, a woman shoving a 6 foot snake up herself to help her fertility..... sick, pungent, disgusting, gross, illiterate .... SAVAGE AFRICA! Still behind civilization by hundreds of years in many areas. English narration and Dutch subtitles. More 'Ouch!" and 'Ugh!' moments than any sane man would be comfortable with. Horrifying!
M859 Vampire Woman, The (67) aka: Vampir, Zan-e khoon-asham A horror film from Iran of all places. You would probably get executed in Iran if you tried to make a film like this today. A perfect example of how Iran is so behind the rest of the world. This black and white film looks like it was filmed in 1930, which probably makes it seem like classic horror. Apparently there is a haunting by a female vampire Jinn like creature. This fanged female warns the man she loves that she will murder any woman he tries to be with. Widescreen and with English subtitles.
NASCHY FILMS
M881 Dying in Crime (68) aka: Agonizando en el crimen Sandwiched in-between a few werewolf films. Paul Naschy managed to be in this thriller from the director of 'Frankenstein's Bloody Terror', the same year. A sex/maniac killer is on the prowl in Madrid, and it is up to a police inspector (Naschy) to find the killer (who has a penchant for dismembering his victims). Spanish language, LBX and with English subtitles.
SOUTH OF THE BORDER AND MEXI-MONSTER FILMS
R460 .38 Especial (92) A tough cop hunts a deranged psychopathic mama's boy who's raping and mutilating his female victims. His mom is a religious nut that sometimes beats him! Super sleazy Mexican made crime-slasher fun. F.L.
M852 Crying Woman, The (33) aka: La llorona The 1933 version of this Mexican made horror and with English subtitles! One of the earliest made Mexican horror films surviving. The horrors of the ghostly wraith wailing woman, a manor setting, a mysterious cloaked figure, secret rooms and passages, murder attempt on a pagan altar, flashbacks to the Inquisition, suicide and more. Cool for classic horror fans.
M798 Phantom of the Covent, The (34) aka: El fantasma del convento When a group finds themselves lost in the forest at night, they meet a monk who offers to take them to the ancient monastery where his Order lives. They are in for a nightmarish night! Simply dripping dark atmosphere in this early Mexican chiller. And now with English subtitles so this is an Upgrade from the previous print!
R459 Santo versus the Evil Brain (61) aka: Santo contra cerebro del mal aka: The Evil Brain Gangsters capture a silver-masked police agent and take him to a mad scientist's lair where he is brainwashed and put under hypnotic control. Others are being brainwashed as well, including a bank officer who robs his own bank. The first 'Santo' film? With English subtitles. BA
M874 Seven in the Crosshairs (84) aka: Siete en la mira Ultra-violent Mexican fun as a punk-rock/road warrior looking bunch of bikers terrorize a small town and it is up to a badass sheriff (played by Mexican star Mario Almada) and his trusty whip, to stop them. He will kill them one by one until the final showdown with their leader. In Spanish language and with English subtitles for the first time!
R461 Yako, Cazador De Malditos (86) aka: Yako - Der einsame Rächer A band of mountain rednecks rape and murder Yako's pregnant wife while they are out camping. Yako will have his revenge! Nudity/Rape and violent revenge is the name of the game. F.L. BA
WESTERN FILMS
R502 Canadian Pacific (49) A surveyor for the Canadian Pacific Railroad must fight fur trappers who appose the building of the railroad by stirring up an Indian rebellion. Shootouts and cowboys and Indians action filmed in Cinecolor in a Canadian National Park. With Randolph Scott, Jane Wyatt, J. Carrol Naish and more. Excellent Indian attack, and some 'real' Indians are used as well... uh... um ... er.. native Americans. BA
M862 China 9, Liberty 37 (78) aka: Amore, piombo e furore Condemned gunman Clayton (Fabio Testi) is given a last minute reprieve on condition he murder rancher Sebanek (Warren Oates) for a corrupt railway company. Clayton can't go through with it. Sebanek's wife (Jenny Agutter) finishes off her husband (so she thinks) and runs off with Clayton. Sebanek then, still alive, teams up with Clayton's equally angry employers and goes after the pair. Speaking of a pair, Agutter bares her assets, and that too. Sexually explicit and violent fun. Also starring Sam Peckinpah himself! Amazing Colorful Widescreen version. BA
M769 Coffin Full of Dollars (71) aka: Per una bara piena di dollari aka: Showdown for a Badman aka: Nevada Kid There's a frontier feud on the border of Mexico. Outlaw Hagen (Klaus Kinski) burns down the farm of the Hamiltons and kills the whole family since they killed his brothers. The Nevada Kid (Jeff Cameron) however is not killed, and it was his family that just got torched. He gets help form a sensitive bounty hunter (Gordon Mitchell) to get revenge. Together they murder bandits so there are lots of killings. Also with Jack Betts and yummy Simonetta Vitelli. Sharp colors and English language dubbed. BA
R498 Domino Kid (57) aka: Einer gegen fünf Rory Calhoun is 'The Domino Kid', who upon returning from the Civil War sets out for vengeance against the five renegades who murdered his father. Calhoun is a bastion of cool and hardness, quick on the draw and lobbing dominos around to announce to his prey they are about to be dealt with harshly. Widescreen BA
M889 For a Few Dollars Less (66) aka: Per qualche dollaro in meno Amusing parody of 'For a Few Dollars More' written by Bruno and Sergio Corbucci. A bank clerk and his cousin 'a general' join forces to track down a Mexican outlaw. The last film from Italian director Mario Mattoli. Amazing Widescreen Upgrade and English dubbed. BA
M855 Hellhounds of Alaska (73) aka: Die blutigen Geier von Alaska Visually amazing tale about a fur trapper (Doug McClure) battling the elements, and also robbers when a gold shipment is ambushed. Also a young boy bound to a sled in need of medical attention ends up his responsibility as well. Stunning location photography. murderous Indians, scalping, McClure battles in the snow with an Indian Chieftain with mountainous backdrops... more. This is pretty cool, and a must for McClure fans. Remember that full frame release of this on VHS and DVD? Throw them out! Amazing English language Widescreen Upgrade!
M792 Kill the Wicked (67) aka: Dio non paga il sabato aka: God Does Not Pay on Saturday Dark grim and eerie western about a criminal gang holed up in a ghost town. They capture and torture a couple who make the mistake of passing through. Pretty violent and downbeat. This was remade as 'Matalo' in a crazier offbeat 'of the times' type version. This one is more weird western, with incredible locales. With Larry Ward, Rod Dana and more. Widescreen and English dubbed. BA
R501 Man From Del Rio (56) aka: La pistola non basta Mexican gunfighter Dave Robles (Anthony Quinn) outdraws the town's outlaw-turned-sheriff, and is invited to fill the dead man's shoes. He plans on a big score, but soon realizes the town looks down on him and wants nothing to do with him socially. They just want him around because he's a tough guy and can protect the town. Whit Bissell and Katy Jurado also star. BA
M753 Rojo (66) aka: El Rojo In the opening scene, the family Sorenson, traveling west, is brutally slain by Indians by bow and arrow. On the site of the killing, a town, Gold Hill grows up. Years later, El Rojo (Richard Harrison), the last surviving Sorenson who was not among his slain family, arrives. He finds that maybe things known about his family's death may just be falsified somewhat, and the true cause will lead to vengeance. Quite excellent Widescreen and English dubbed.
M872 Taste of the Savage (71) aka: Eye For an Eye aka: El sabor de la venganza A vengeful widow (Isela Vega)hires a professional killer (Cameron Mitchell) to train her son so that he can hunt down and kill the men who murdered her husband. The quest for revenge soon becomes an obsession. Blood, Gunfights, Rape and Nudity. Pretty shocking and bloody downbeat finale. Uncut at 86 minutes. BA
R473 Wicked Die Slow, The (68) A guy frames his brother for a rape and leaves him to die at the hands of a bounty hunting preacher. Along with a gang, they then roam the countryside, sadistically terrorizing and murdering female victims Vicious brutality towards women, nudity with big breasted women, blood and gore all on a modest budget. For some reason this little known gritty little western, reminded me of the XXX 'A Dirty Western'. But this is not a porno, just a really cool and obscure sleazy western with some extremely cold and shocking scenes of violence. Uncut 96 minute version
W.I.P. FILMS
M864 Hotel Paradise (80) aka: Orinoco: Prigioniere del sesso Girls kept prisoner under appalling conditions to dig emeralds for an evil tyrant, and be sex slaves to the guards, are rescued by revolutionaries disguised as soldiers. Excellent quality Widescreen version dubbed into English. Rape, violence, lesbians, torture, whippings, near-hardcore sex, shootings and more, all in a jungle prison camp setting. Also with Ajita Wilson. This is an alternate version of this film running 87 minutes. We also carry a lesser quality version that features even more explicit material. BA
---
---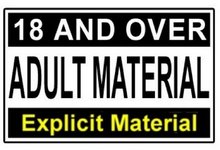 XXX, X-RATED AND ADULT FILMS
Video Screams does NOT offer the following types of films or material: Child Pornography (including but not limited to underage actors in adult films), Snuff Films or Bestiality Films. Please do not inquire about these types of films– we do not offer or know of anyone who does offer these illegal films.
All actors portrayed in the films offered by Video Screams are of legal age and are acting of their own free will. Any reference to "schoolgirl", "young", "girl" does NOT indicate age of actress or model involved.
Any reference to rape or torture indicates a simulated act- no actress or actor was harmed in the making of these films.
By ordering, you declare that you are 18 years of age or older. If you are ordering any material marked 21+ or XXX in catalogue or any subsequent updates or catalogues– you declare that you are 21 years of age or older. You believe that this material does not offend the standards of the community in which you live.
All models, actors, actresses and other persons that appear in any visual depiction of actual sexually explicit conduct appearing or otherwise contained in this update were over the age of eighteen years at the time of the creation of such depictions.
R409 50 Ways to Lick Your Lover (89) Kimberly Kane, Veronica Doll from the Netherlands, Tina Gordon, Rachel Ryan and more + Getting Personal (85) A prostitute named Wanda marries an immigrant to get out of whoring. But Wicked Wanda has more schemes in mind as well as she corrupts the morals of all around her. Great downbeat story, hot sex! Nina Hartley, Colleen Brennan, Sharon Mitchell and more star. + Gang Bang Lust 2 (8?) Ginger Lynn takes on three guys at once. She teases and talks dirty to them first, before taking them every way imaginable. Followed by more hot scenes. Almost three and a half hours in total. Plays straight through with chapter stops every 10 minutes. No VHS on this selection.
R410 Breast Stroke 2 (80) Tamara Lee, Lynn Lemay, Trinity Loren and more star. Super hot 80's sex. Peter North's character is married to Trinity Loren's. She stares at other men and fantasizes, and has sex with another woman behind his back. He has sex with another blonde behind her back. Trinity Loren was one hot large breasted blonde babe. She died of a drug overdose at age 35 in 1998. + Girl on the Run (85) Kimberly Carson plays a young girl named Dorothy from Kansas. (No, she does not have a dog named 'Toto'!) She is hitchhiking across the land to be with her boyfriend, experiencing sexual adventure with every stop. Lilli Marlene also gets in on some action. Dorothy will be more experienced by the time she reaches her boyfriend! Double feature. DVD only.
R413 British Boobs (various) a series of clips with Beautiful Brilliant Busty Buxom Bosoms from Britain (say it 5 times fast now!) with happy chics sharing their bodies with you the viewer, playing with their boobs and having a grand time. Smile!
R427 Brooke Does College (84)Young ladies want to learn about sex by experiencing it first hand. So they do! Brooke Fields stars (as herself!) along with Laurie Smith, Sharon Kane, Cody Nicole and more. With some hot bonus trailers. Some glitches.
M789 Christy Canyon Rocks Her Melons (various) Sexy Christy moans with pleasure as she is serviced time and time again by different lovers in different scenes from some of her hottest 80's performances. Essential.
R440 Classic Outraged #20 (various) Have tons of these. This series is loaded with sexual situations scenes of rape and/or degradation of women. The first scene has two blondes outdoors at a campfire being assaulted by a group of rednecks. Thing is, they enjoy the rape immensely. Other scenes are just downright outrageous. There are dozens of discs like this one available, and we will be listing more. Noticed some glitches in the opening few minutes. This is definitely offensive at times XXX.
R419 Club Head 2 (91) This is the club that every red blooded male would want to be a part of. Trinity Loren, Laurel Canyon, Sabrina Aset, Aja, Summer Rose and more star. Nice. + Amazons From Burbank (89) Imagine a world where men are used for everything... except sex! It is the world of the Amazons From Burbank! Women do each other while naked men stand around and watch. + Double Penetrations 2 (various) Excited women in heat take it all ways + preview of 'Dick Tales'! Over 3 hours and 40 minutes. Plays straight through with chapter stops every 10 minutes. No VHS on this selection.
R426 Cock-Tales (85) Amber Lynn stars in this classic eighties sex flick with a lean on voyeurism at it's best. She lays on a couch and dreams sexual fantasy after sexual fantasy. Also with Tiffany Clark, Ashley Welles, Satin Summer and more. Nice.
R442 Devil in Vanity (89) Kassi Nova, Sasha, Elise and more. Two bimbos persuade a man with sex, to talk with the bank's manager to stop foreclosure on their home. No deal. But when she offers to sell her soul to the devil... Ron Jeremy appears as Satan, for a deal. + Jane Bond Meets Golden Rod (87) Amber Lynn is the sexy secret agent who goes after Golden Rod who has stolen some dangerous laser beams. Lynn has never looked sexier. Also with Bionca, Viper, Krista Lane, Tiffany Storm and more. DVD only.
R435 Dirty Blondes (87) Hot blondes get it on with various lovers. Blondi (in a truly hot scene), Nikki Charm, Sheena Horne and Brittany Stryker star. If you like blondes on top of endowed males, this is the one. + Friday the 13th: A Nude Beginning (87) Jason and his sister (Amber Lynn) are in hell. Bored, they decide to compete on who can corrupt the living more. He seduces a bride, she seduces a sleazy politician. Also corrupted is a televangelist and a cancer patient, and a feminist is turned into a slut (hah!). Made during the Jimmy Swaggert confession era. Nina Hartley also stars. DVD-R only.
R424 Easy Lover (89) When a wife finds out about her husband's affairs, he goes on a sex-filled vacation as he has already been caught, so what the hell. Stacy Lords, Raven Richards, Mandy Wine and more star. + Lethal Woman Part 2: Revenge in the Alien Dimension (88) Planet Limpid is loaded with horny porn stars pretending to be aliens in weird make-up, boffing each other like there is no tomorrow. With Krista Lane, Kathleen Gentry, Tiffany Storm and more. + Lost Lovers (90) Tamara Lee, Purple Passion, Raven Richards and more star in this sex-filled tale. Some glitches. All 3 on one DVD, no VHS.
R545 Enchantress, The (85) Decent Christy Canyon sex film in her prime, taking on numerous studs and ending in an S&M room orgy. Heather Wayne, Erica Boyer and more star.
R430 Fantasy World (79) More exotic than Fantasy Island! Hotter Than Sex World! Three sailors on leave and some vacationing telephone operators find themselves in a club that delivers impossible but 'real' fantasies. With Laurien Dominque, Jessie St. James and more. + Chastity Johnson (86) Nikki Charm, Tamara Longley, Tracey Adams, John Holmes and more star in this classic eighties smut about a young perky blonde that gets into the porn business. Both on one DVD-R. No VHS.
R415 Handle with Care: The Carol Cummings Show (89) Victoria Paris sets the screen on fire with her scene with Jon Dough. Carol Cummings and Penny Lane add more fun to the proceedings as they give it up. + Cum Rain, Cum Shine: The Carol Cummings Show (87) More super hot scenes introduced by and starring Carol Cummings. Also with Ashley Winger and Elise. Cummings, Elise and Winger all in their first porno! Cummings went on to do close to 100 pornos in her 3 year stint before closing out her career in the horror film 'Psycho Cop Returns'. Elise and Winger also had a short run in the porno industry. + Porno Shorts! No VHS this is available on DVD only.
R434 Hands Off (90) Tracey Adams, Keisha and more in sex-filled romp. + Beach Blanket Brat (89) Beach Blanket Bonko as happy and horny perfect looking people have sex with reckless abandon. Julianne James, Champagne, Tianna and more get in on the action. Double feature XXX DVD only, no VHS.
R431 Have a Blower (87) Hot and hairy seventies sex film from France dubbed into English. + The Seduction of Tessa (86) French made dubbed into English. A man (sex star Alban Ceray) loses his wife in a car accident and then finds it is hard to relate to women. But he gets his mojo back eventually. In the meantime the locals are all horny and their are numerous sex scenes. Hungry, he tries oriental. She's very nice. + The Big Swallow (8?) Big-haired bimbos in heat take on all cummers. Over 3 hours. Plays straight through with chapter stops every 10 minutes. No VHS on this selection.
R414 Heather Lee (various) Super sexy brunette Heather Lee gets it on in numerous scenes and manages to climax in every one of them. At least I think she does.
R438 Heavenly Hyapatia (90) Part Cherokee Indian here comes the hottest Native American to perform in sex films ever (although she is only 1/4 Cherokee). Also with Kimberly Kane, Megan Leigh and Jacqueline. + Around the World with Samantha Strong (various) Buxom and shapely 5 foot 6 big haired blonde bombshell Samantha Strong in some very intimate and totally smoking hot scenes. She also talks to you the viewer, as she performs on a male's member, and introduces sex scenes that she participates in. Samantha dirty talks to the viewer a lot as she is done up right. Shockingly hot. DVD only.
R416 Irresistible 2 (86) A bag lady finds a magic coin and goes to a porno shop, gets a tape and goes to watch it in a strange room that is located in the porno shop. She puts the coin into a slot and is transported in time into a bed. Now beautiful, she has sex and watches others in different periods of history and strange worlds through the time traveling porno room. Much better than any 'Hot Tub' time travel film! An Adam and Eve scene, an alien bar scene, a fifties scene, a new wave scene and more. Lois Ayres, Erica Idol, Tiffany Blake, Mai Lin and more star. + Twenty Something Part Three (89) Yuppie couples come together for a reunion, and then literally cum together in assorted affairs, at a retreat in the country. Lynn LeMay, Torri Welles, Stella Star, April West and more star. + Debbie For Hire (88) Nina Hartley returns, and it is only a minute or so before she is down on Tom Byron. Lynn LeMay, Ona Zee and more get it on as well. All three movies packed on one disc at over 3 and a half hours. Plays straight through with chapter stops every 10 minutes. No VHS on this selection.
R423 Joys of Sec's, The (89) Tracy Adams, Kim Alexis, Dana Lynn, Gail Force and more star in this one that opens with a rich couple arguing because the wife (Gail Force) wants a career of her own. They do it on the floor. When a black dude friend walks in, the husband let's him do her as well, while he watches. Next, another bleached blonde bimbo takes on two men. Later couple's swap and square off for hot sex. + Kimberly Carson Gets Nasty (various) Scenes with Kimberly and anyone lucky enough to cross her path. Nasty Indeed! DVD-R only no VHS.
R420 Just Between Friends (88) Lots of very friendly friends ready to drop their clothes at a moments notice and start humping. Must be something in the water? Aja, Ebony Ayes, Dana Lynn, Nikki Randall and more, + Mystic Pieces (89) A screenwriter struggles with personal and professional crises as he tries to come up with a script for the 'perfect' sex film. Luckily there are plenty of sex scenes with hot dames like Brandy Alexandre, Trinity Loren, Victoria Paris, Cheri Taylor and Britt Morgan. + a preview of 'Hands Off'! All on one DVD at almost 4 hours. No VHS.
R437 Little Shop of Whores (87) Opens with Mike Horner as a sex shop clerk, having sex with a blow-up doll, making it make voices as they go. Alas, it deflates when he is close. Cue a goofy porno song as our tale begins. Action in the porno shop and at home with a talking dildo (instead of a talking plant!). Jaimie Summers, Blondi, Siobhan Hunter, Nikki Knights and more star. + Debbie Does the Devil in Dallas (87) Gail Force is 'Debbie'. Also with Viper, Patti Petite and more!
R433 Lunch (71) A guy has sexual fantasies (which we see him act out in his mind) with various cute hippie chick types. Lots of wet and hairy down and dirty sex! + Twins (88) Careen Collins plays twins, one good, the other bad. The bad twin seduces everyone in their social circle with the intent of destroying relationships. Also with Taija Rae, Jamie Summers, Nina Hartley and more who get some action as well. + Sex Drive (85) One of the last pornos directed by Chuck Vincent. Small town sex and hijinx. Taija Rae, Melanie Scott, Kathlyn Moore, Sheri St. Claire and more star. All 3, One DVD, Plays straight through with chapter stops every 10 minutes. No VHS on this selection.
R417 Lust Orgy 9 (various) Shorts! First 'Disco Gang Bang' then 'Winner Fuck All'. + Double Penetration 2 (various) + Pumping Irene 2 (87) Lois Ayres, Angel Kelly, Elle Rio, Brittany Stryker, Blondi and more. Horny athletic types get it on in the gym and all over the place. Um... wipe that machine off when you are finished... please? + Getting Lucky (83) Sexual fun with hot school girls graduating. Mix in the sexual comedies of the time with hardcore sex and you get this classic! Lisa Crammed Hard for the Sex Ed Finals.. and now she is graduating Cum Loud! All on one DVD! Over 3 and a half hours. Plays straight through with chapter stops every 10 minutes. No VHS on this selection.
R428 Lusty Dusty (91) Two Vegas showgirls travel to the small western town of Dusty, to spring their men from jail. With Deidre Holland, Heather Hunter (Frankenhooker and Frankenhunter), Patricia Kennedy, Madison and more. Smokin'!
M760A Luxure (76) Amazing Max Pecas directed film with Jess Franco regular Karine Gambier. She plays a woman who checks into a luxury hotel after her husband leaves her, with the intent to kill herself. When she hears a couple having sex in the next room however, it rekindles her passion for some hot sex action. Smoking hot uncut 82 minute version. Karine Gambier disappeared from the scene in 1986, but first she starred in 78 movies, many for Jess Franco and other notable directors. Look for a softer version in the exploitation section.
R411 Married Women (90) A couple has sex, then a swinging session with another couple. Lauren Brice , Mike Horner, Raven and Tom Byron star. + Anal Alley (90) A proctologist makes house calls to beautiful women. Lynn Lemay plays his wife. + She's No Angel (90) Carol Cummings, Marilyn Rose and more star in this sex-filled-fest. All 3 on one DVD . Plays straight through with chapter stops every 10 minutes. No VHS on this selection.
R403 Messalina (96) Kelly Trump is Messalina and she delivers a number of double penetrations, and is sharing the sex scenes with Olivia Del Rio as a Nubian handmaiden who gets her fair share of stiff participants. Sex-filled Roman period costumer from Joe D'Amato and English dubbed. Upgrade!
R470 Morning After... (72) An early sleazy porno, that mixes the search for a killer of women, with hardcore sex scenes! Throw in a hilariously staged fight scene and a fully fleshed out plot! Tagline: Bed-Crazy Women! A Sex-Freaked Killer! All Come Tumbling Out of the Sheets!
M762 My Nights (76) aka: The Kinky Ladies of Bourbon Street - The strangest porn ever from France! Maude visits the graves of three girls. In an extended flashback she visits each girl in the hospital (each attempted suicides). One dildos herself with dynamite, another does 4 trash men and then dies amongst the trash bins. The last girl tried to back out, but is screwed to death by Arnold and his permanent hard-on, discarded in an abandoned pool like trash. The ghosts of the women, demand Maude lives, and teach others to die lustfully. She returns to the graves as an old women, and the ghosts of the women still demand more souls to join them by sexual death. Bizarre set designs with penis models everywhere. LBX and with English subtitles.
R432 Never Enough (71) A pimp with hitchhiking girls, robs the johns who pick up the girls. Until that is, they go after the same guy twice, who they find out is a cop. Rape and sex hippie chick style! Rene Bond stars as a married woman who is raped at gunpoint while a girl does her husband who doesn't seem to mind. This version runs about an hour, unlike the 49 minute DVD release. + The Pleasure Machine (87) Cara Lott, Melissa Melendez and more star in this smoking hot 80's sex film. Double Feature XXX on DVD only, no VHS. Some Glitches.
R429 Ouija Sex (short, late 70's/eraly 80's) In the first short, a blonde and a guy are playing with a Ouija board. Within 2 minutes they are all over each other. + Groupies Galore (83) So you want to know what it's like having limos and ladies on hand to do your bidding? + Oral Angels (8?) Tracey Adams, Nina Hartley and more in a series of high moaning sex scenes + Vanessa Gets it! aka: Reunion (77) In High School they fantasized. In their 'reunion', they get it on! This is the uncut 67 minute version. It was released on DVD somewhere else at only 50 minutes! Vanessa Del Rio, Marlene Willoughby, Nancy Dare and more star. Plays straight through with chapter stops every 10 minutes. No VHS on this selection.
R441 Party, The (92) This is the type of party where you get Tonisha Mills, Heather Lere, Alex Jordan, Tiffany Mynx, Ona Zee and more! Sign me up! Also with Jon Dough. + Christy in the Wild (93) Joe (Jon Dough) and a married couple Lilly (Christy Canyon) and Mitch go cabin camping. Joe lusts for Lilly, and gets upset as he hears her moans of passion as she is having sex. He gets help from a hotel clerk (Heather Hart) and a hitchhiker (Racquel Darrian). But will he get the married Lilly? Jon Dough was in almost a thousand pornos. Even one in the late 90's where he had sex with over 101 women in 3 days. For some reason, he hung himself in 2006 at age 44, leaving smoking porno wife Monique Demoan, and a child, behind. DVD only.
R418 Sensuous Blondes (various) The best and the hottest eighties blondes getting nailed by various studs in super hot scenes. Amber Lynn, Nina Hartley, Ginger Lynn, Cara Lott and more! + More Classic Sex Shorts! DVD only, no VHS.
R436 Sex Mania (80's) About an hour of various super hot and sticky scenes of some of the hottest chicks of the 80's getting it on with lucky studs. Ginger Lynn, and more. + As Dirty as She Wants to Be (90) A Mobster takes his wife to a motel. Lots of sexual situations ensue. Patricia Kennedy, Zara Whites, Jennifer Peace and more star. + some sex shorts! DVD-R only.
R546 Sinful Pleasures (84) Compilation thrown together with excellent scenes from the hottest chicks on the scene. Christy Canyon, Ginger Lynn, Crystal Breeze, Susan Hart, Nikki Charm and many more, all tied together with a roller skating woman. Smokin'!
R407 S'Pread' Em (80's) Some of the hottest scenes ever with Seka, Lilli Marlene, Nina Hartley and many more getting what they need by male studs. + Odds and Ends: Anal Action! (80) Amazing scenes with favorites like Kandi Barbour and many more. Color vintage porn at it's best! + Rx For Sex (80's) Stephanie Rage, Vanessa Del Rio, Jacqueline Lorians and more in a series of scenes that may set the room on fire! That's right, all 3 features on one DVD. Plays straight through with chapter stops every 10 minutes. No VHS on this selection.
R425 Star Angel (86) Amazingly acted porno with not only a story, but hot sex scenes as well. When his rock star wife dies from drugs, her guilt riddled husband (Jerry Butler) finds another singing woman to try heal his guilt. He had been administering drugs to his now dead wife, unwittingly helping her die. Electrifying sex with Taija Rae, Colleen Brennan, Tigr, Angel and more. + BONUS MOVIE Carol Cummings: All American Girl!