---
HOME | SECURE ORDER FORMS | ONLINE SPECIALS | CATALOGUE | NEW ARRIVALS | CUSTOMER SERVICE | PRICING & ORDERING INFO
---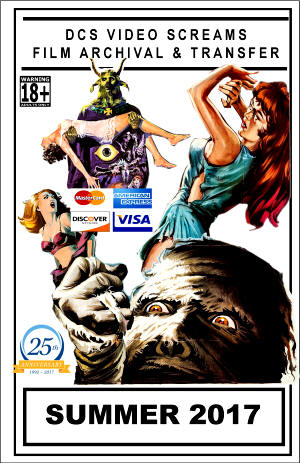 ---
---
BA= Color Box Art Available for an additional $3.00
FL= Film is in Foreign Language
Lbx= Letterboxed or Widescreen format
Subs= Film is subtitled
aka= Also Known As (alternate titles)
---
---
APOCALYPTIC

Z3 Resistance

(92) This Australian film almost seems like a prequel to the 'Mad Max' films. The collapse of society as it is taken over by an oppressive state, and, the eventual rise, against overwhelming odds, of a resistance who try to overthrow the sadistic military rulers. The military needs all of the crops harvested by those whom they control, before the resistance takes hold. Most of the film is the build-up to the resistance. Directed by Hugh Keays-Byrne who was actually in the first 'Mad Max' film from 1979 (Toecutter) and also the 2015 'Mad Max' as well!

BIKERS, BITCHES & BABES

H144 It's a Revolution Mother

(69) aka: Biker Babylon - The wild and swinging biker scene from the 1960's is featured here, delivering gnarly footage along with a Jack Webb-like narrator spouting out hilarious observations throughout, like a Mondo-Biker flick. One grimy and slimy segment reveals an East Coast Club that features a gang called 'The Aliens' . These dirty hairballs party the Jersey Shore, mix it up with the 'pigs' and urinate in beer cans.. There's also an outdoor rock festival... You want to see 1969? BA

H210 Only Way Home, The (72) Two trouble makers on motorcycles (Bo Hopkins and Steve Sandor) help a woman (Beth Brickell) change a flat tire. When her husband returns, they kill him and kidnap her. Steve Sandor's character tries to attack her, but she is frigid, and he impotent. What a pair. She cries to Bo Hopkins and has sex with him, and tells him she had an amazing orgasm. What will happen to this trio when justice comes calling... G.D. Spradlin directs (and plays the murdered husband). BA

BRITISH AND HAMMER FILMS

H48 Adventures of PC 49: Investigating the Case of the Guardian Angel, The

(49) PC 49 goes undercover into a gang of thieves who have just made off with 200 cases of export whiskey and killed the guard in their getaway. Fags and booze usually the score for these baddies. This embryonic shoe-string Hammer production that runs about an hour delivers the fast paced goods. This was the first of 33 films that Michael Ripper starred in for Hammer over the course of 23 years. Here as 'Fingers' he makes birds from paper. He gives one to PC 49, who later says 'Thanks for giving me the Bird!'.

H34 All the Right Noises (71) A married man (Tom Bell) with two children has an affair with a 15 year old girl (played by a 20 year old Olivia Hussey). A familiar theme with British films. He even takes his young lover on his marital bed when his wife is away. Not as sleazy as it could have been, but still very good. From Trigon films. Also with Judy Carne as the wife and the still very busy Lesley

-Anne Down. LBX BA

H87 Black Easter (95) Well well. Talk about a premonition! A slightly futuristic view of Germany and their racial crisis of Muslim's (!?!) A HUGE refugee camp is on the outside, and Trevor Eve as Alex Fisher, is trying to figure out the problem. Don't get me started. Also with Peter Stormare!

H50 Blind Date (59) aka: Chance Meeting aka: L'inchiesta dell'ispettore Morgan A Dutch painter (Hardy Kruger) has an affair with a married Frenchwoman who ends up murdered. Scotland Yard (led by Stanley Baker) thinks he is the killer. Intense and clever. Also with Micheline Presle. BA

H60 Booby Trap (57) After an interesting, scientific jargon

- heavy introduction, we follow an eccentric scientist who has a unique invention. A bomb inside a pen. But he misplaces the pen, and the search is on, before the thing blows up whoever finds it. Drug dealers sell drugs hidden in pens.... The lead drug dealer (Sydney Tafler) ends up with the pen... Director Henry Cass would next direct the entertainingly lurid 'Blood of the Vampire'.

H40 Brave Don't Cry, The (52) A decent downbeat film based on a true story about a mine disaster in Scotland. John Gregson, Andrew Keir and more star. Pretty intense and yet another well made forgotten film.

H25 Calculated Risk (63) Crooks plan a bank heist by digging through the basement of a neighboring structure that is long abandoned. But when they run across an unexploded bomb from WW2, they get another obstacle that may prove deadly. Tense, tightly directed and well thought out. LBX

H19 Camels are Coming, The (34) A British officer (Jack Hulbert) in the Camel Corps located in Egypt, goes undercover to investigate a gang of drug smugglers with the help of a female pilot (Anna Lee). Aerial shots of the pyramids in 1934. Maybe things were better in Egypt with British colonialism. No one wants to go there now, that's for sure.

H10 Case for PC 49, A (51) Obscure Hammer. PC 49 (Brian Reece) is on the case when a jewel heist is used as a cover for the murder of a millionaire. The murderers themselves get targeted later by their lower class drones who concoct their own elaborately vicious plan in revenge. Into this mass of immorality come P.C. 49! Michael Ripper stars as an ex

-con (again!) and also with British sex siren Christine Norden and John Sharp.

H157 Christmas Reunion (94) A story of two parallel lives in the past, the middle generation has passed away and there is no connection. A grandfather and his grandson and what their different generations had to go through which in the end is actually similar. A Christmas Favorite in the U.K. but unheard of in the United States. Actor/Director David Hemmings directs. James Coburn, Edward Woodward and more star.

H41 Don't Talk to Strange Men (62) Here's a forgotten little creeper. A man 'grooms' a young girl (Christina Gregg) over the telephone, endangering not only herself, but her younger sisters as well. This film thrives on building tension and mood, with perfect safe settings invaded with menace and the threat of danger in the shadows. When you hear and see how underage girls put themselves into the position to be chatted up by predators nowadays, this is how this same type of situation happened over 50 years ago.

H61 Face Behind the Scar, The (37) aka: Return of a Stranger

- The leading man of the story is falsely accused of murder and flees his homeland. Some years later he is facially disfigured while rescuing fellow workers from a chemical fire. He returns to England to clear his name, and get the girl he left behind. If she will still have him... With Griffith Jones and Rosalyn Boulter.

H59 Four Days (51) The bored wife (Kathleen Bryon) of a businessman (Hugh McDermott) has an affair with her husband's business partner's son. When his wife tries to poison him, her lover intervenes. Double

-crossing, attempted suicide, amnesia... lots packed into this tight tense (under an hour) British film. Kathleen Bryon would go on to 'Burn Witch Burn' and many others. Directed by John Guillermin. Fast forward. John Guillermin directed 'The Towering Inferno' in 1974, 'King Kong' in 1976. 'Sheena' in 1984 and 'King Kong Lives' in 1986.

H68 Gracie! (09) The story of Gracie Fields. Starts in the late 1930's with Gracie (Jane Horrocks) at the height of her fame as a music hall legend. She falls in love with a Hollywood guy, gets cervical cancer, is accused of being a traitor in war time and more. She survived all of it and lived to 81, dying in 1979. An interesting biography. But where is the story of Boris Karloff? Or the story of Bela Lugosi? LBX

H156 Hellions, The (61) aka: La furia degli implacabili Luke Billings (Lionel Jeffries) and his four depraved sons ride into a small South African settlement with some violent tasks to return upon the Police Sergeant Hargis (Richard Todd). Hargis tries to get help from the townspeople, and finds out he is on his own to confront the bad guys. Like 'High Noon' but more violent. BA

H37 Holly and the Ivy, The (52) A family is reunited at Christmas time after enduring a rough time through the war years. This is a modern Christmas movie made for the 1950's starring Ralph Richardson, Denholm Elliot, Margaret Leighton and more. Christmas is supposed to be a mellow time, but this family has been put through the ringer. A lost treasure, an unforgettable classic.

H85 Hunter (09) Two detectives must apprehend anti

-abortion activists who have threatened to kill two boys unless their demands are met. Sound reasonable? Told in two parts complete here on one disc. With Hugh Bonneville.

B931 Jack the Ripper (59) aka: Eine Stadt sucht einen Mörder Uncut Continental Version with the nude scenes! Jimmy Sangster of Hammer wrote the screenplay for this violent slasher from England. White Chapel of course is the setting for this, true story, with liberties taken of course, about the notorious murderer of prostitutes, Jack. Of course, this is basically speculation of the events, but the brutal murder of hookers did as we know occur. Here the filmmakers follow one of the many theories, this one, solving the case. The scenes of topless women are in French language and with English subtitles. The rest in spoken English. LBX BA

H152 Johnny Nobody (61) aka: Johnny X aka: Der Schuß aus dem Nichts In a sleepy little Irish village, an American writer Mulcahy (William Bendix) is flaunting his blasphemous atheistic views to the locals. A fight breaks out, the local Priest, cannot help him, Mulcahy puts forth a challenge. If the 'Almighty' does indeed exist, he wishes to be struck dead. He does indeed die, by a shot from the gun of a mysterious man (Aldo Ray) who calls himself simply 'Nobody'. He claims he heard a voice that said 'Destroy That Man!'. Renamed by the press as 'Johnny Nobody' he is now an instant Legend. The Trial Begins. Also with Yvonne Mitchell and more.

H42 Killer Walks, A (52) Ned (Laurence Harvey) is the bad brother, Frankie is the good brother. They live in dysfunction on a farm with their grandma. Ned despises the work, Frankie loves it. Ned, hooks up with a femme fatale and plans on murdering his grandma and framing Frankie for the crime, in order to inherit and sell the farm, using the money to start a new life with his woman. British 'farm' noir with a young suitably evil, scowling Harvey. Runs under an hour.

H155 Lash, The (34) John Mills (in an early role) plays the spoiled playboy son of a millionaire that is forced to marry a young woman from another class because he has had sex with her. He abandons her within 3 weeks and returns to his rich lover. Some back and forth results until finally his father gives him a good long overdue thrashing! Now what?

H62 Last Journey, The (36) aka: Panik på Nordekspressen A retiring train driver flips out on his last ride, holding a man at gunpoint that he suspects has been having an affair with his wife. The train is going faster faster... But he may just be imagining it (the affair), and has become unhinged as retirement is something he was not too keen on. In any event, he is giving these passengers a ride for the record books. Intense and nicely paced. BA

H86 Life in Danger (59) An escaped mental case/child killer (Derren Nesbitt) from an insane asylum creates paranoia in a small community. They gather up to hunt him down, led by the overzealous mayor, with the intention of delivering to him some old fashioned vigilante justice. Suspenseful stuff, enlivened by a great edge

-of-your-seat climax!

B998 Limbo Line, The (68) aka: Döden varnar bara en gång Vladek Sheybal is Oleg, the mastermind cold

-hearted mercenary responsible for arranging for defectors to be repatriated against their will. In this new case, he is after a ballet dancer (played by Kate Omara), but she is under the watch of British Intelligence, in hopes of catching Oleg. A cat and mouse game ensues. Also with Craig Stevens. Kate Omara was in three movies with Peter Cushing. Quality not as sharp as usual on this title. BA

H21 Mark of Cain, The (47) It's 1898 and two brothers (played by Patrick Holt and Eric Portman) have fallen for the same woman (Sally Grey), who has just left the convent. She marries one of them, but finds herself caught up in their world of chaos which leads to betrayal, jealousy, and... murder! You just cannot underestimate the impact of gossip in this Victorian setting melodrama. Excellent period detail.

H11 Message From Mars. A (1913) aka: Un messaggio da Marte A wealthy and selfish self

-centered miser of a man has one constructive thing in his life. Astronomy. When asleep he is visited by a Martian from space (just another British guy) that has traveled hundreds of thousands of miles to teach Mr. Greedy pants the error of his ways. Sort of like 'A Christmas Carol'. The first science fiction film from the U.K.? Possibly.

H211 Mr. Peek-a-Boo (51) aka: Le passe-muraille aka: Der sensationelle Einbrecher A mild-mannered government bureaucrat finds out one day that he has the ability to walk through walls! He falls for a sexy cat-burglar and hilarity ensues! A moral sci-fi of mysterious origin with plenty of oddball moments of the guy sticking his head into people's dwellings and creating mischief. BA

H94 Murder Will Out (52) aka: The Voice of Merill Four people are involved either directly or indirectly with the murder of a female blackmailer. The plot thickens with twists and turns. Directed by John Gilling. Valerie Hobson (Bride of Frankenstein, Werewolf of London) stars. Interesting since Hammer's John Gilling directs an actress that was in some famous Universal Horrors.

B995 Out of the Fog (62) aka: Fog for a Killer Who is killing blondes on 'The Flats' once a month at the full moon. Detectives on the case suspect an ex

-convict thief who lives in a nearby hostel for ex-cons (one being played by Hammer's Michael Ripper!). A swift and fun little serial killer thriller, with a satisfying finale. Also with George Woodbridge, Susan Travers and more. LBX

H212 Rare Short Fantasy and Horror Films from the U.K. - 1. The Stranger Left No Card (52) A strangely attired and eccentric acting stranger (Alan Badel) comes to town and , appearing harmless, is accepted into the community. But he has plans that are devilish in this wickedly clever short. 2. The Body Vanished (39) Reporters stop in a small village and discover that the owner of the local creepy mansion has been murdered… 3. Cross-Roads (55) Christopher Lee stars as a young man who returns from the dead to seek revenge on the man responsible for the death of his sister. Also starring Ferdy Mayne. One of the very first fantasy type roles for Christopher Lee. In one amazing close-up, his eyes are glaring with malevolence, predating the usual Dracula close-up shots. 4. The Reformation of St. Jules (49) From a story by Algernon Blackwood, and he actually delivers the tale to you himself talking to the camera! Blackwood was one of the leading ghost and horror writers of the early 20th century, and I for one was glad to hear (and see!) him telling one of his short tales. This kind of armchair reading has a long tradition in Britain. 5. Lock Your Door (49) Algernon Blackwood again, telling us this tale about a little old lady with a paranoid habit of locking her doors and how ineffective this practice is when encountering the supernatural! 6. The Signalman (76) Denholm Elliot stars in this Charles Dickens short story as a lone Signalman who is haunted by the image of a man who appears at the mouth of the railway tunnel, warning of impending disaster. 7. The Door in the Wall (56) From an H.G.Wells short story! A man is haunted all his life, by a magical door that opens up onto an alternate Garden of Eden type paradise. In beautiful color and the super Dynamic Screen Process! All on one disc! dvd-r only No VHS on this title.

H47 Rebel Son, The (38) aka: The Barbarian and the Lady aka: The Story of Taras Bulba During the sixteenth century, the Cossacks and their Ukraine homeland is ruled by Poland. The son of Taras Bulba (Peter Livesey) is sent to study under the Poles, to figure out how they can be destroyed in battle. But as these things usually go, he falls in love with a Polish nobleman's daughter. Also with Patricia Roc.

H83 San Demetrio London (43) The San Demetrio is a British merchant ship carrying 12,000 tons of aviation fuel in an Atlantic convoy in 1940. Disabled and left to the mercy of patrolling U

-Boats after an attack, the crew takes to the lifeboats. Later they see a ship! Saved! As they get closer they see it is the San Demetrio, still on fire. Now what? A true story, and released when WW2 was still raging. BA

H12 Secret of Stamboul, The (36) aka: The Spy in White A British agent (James Mason) travels to the Middle East during the war in order to spark a revolution. Go back in time and judge film's from the perspective of the year they were released and you will see a good action film here. From a Dennis Wheatley novel. Also with Valerie Hobson.

H98 Shakedown, The (60) aka: The Naked Mirror Fresh out of prison. Augie (Terence Morgan) starts a blackmail operation, fronted by a modeling agency. Hazel Court as Mildred Eyde, is sent in undercover to get the goods on the crooks. A 1960 Hazel Court can get under cover with me anytime! This is one nail

-biting British crime film directed by John Lemont who would direct 'Konga' the next year. Donald Pleasence, Edward Judd, and a young, pre-trash novel writer, Jackie Collins at age 23. BA

H18 Shot in the Dark (33) A millionaire is murdered and his relatives have gathered in his house to search for the will to see who gets what. Our deceased miser has left the will recorded on a phonograph, where he also gives clues on the identity of his killer. A sleuthing vicar arrives to help sort things out. Jack Hawkins stars. His last two films before dying at age 62 were horrors "Theatre of Blood' and 'Tales that Witness Madness', both released the same year he died.

H66 State Secret (50) aka: The Great Manhunt

- Douglas Fairbanks Jr., in one of his best roles, as a doctor running for his life in a foreign country, ably supported by Jack Hawkins, pretty Glynis Johns. and a hilarious Herbert Lom, in probably the best 'cat and mouse' type films of the early fifties out of the U.K.. Contains some excellent escape over high mountains photography. BA

H63 Suspected Person (42) aka: Es geht um 50.000 Dollar A not so innocent man discovers money stolen from an American bank and decides to keep it, heading back to London. But the actual robbers and the cops are on his trail. He takes refuge with his sister (Patricia Roc). Also with Robert Beatty and Anne Firth. BA

H88 Three Crooked Men (59) Co

-written by Brian Clemens. Three men arrive in a small town to rob the local bank, by busting through a wall besides the bank (a common theme). Well-painted characters with a myriad of motivations. Sarah Lawson, Gordon Jackson, Eric Pohlmann and more.

B944 Three Into Two Won't Go (69) aka: Auto

-Stop girl Steve Howard (Rod Steiger) gets involved with a hot young hitchhiker named Ella (young Judy Geeson in numerous nude scenes!) who ends up moving into his home with his wife (beautiful Claire Bloom) none to happy about the situation. He is sexually involved with Ella, but 3 into 2 won't go. His wife was unable to give birth. Of course Geeson's character claims she is pregnant with his child. Apparently, she keeps a little black book of her former lovers as well. In a nutshell. Married man meets, beds and impregnates a sexy young hitchhiker half his age, and we see the impact on his marriage. LBX BA

H91 Tinker (49) After WW2, boys as young as 12 were sent to work in the mines. They were taught how to handle an explosives charge and to mine and transport coal. In this semi

-documentary, focus is on the training of the young boys, and mostly one boy named 'Tinker'. Viewed with stunned disbelief, but it's real!

H13 Too Young to Love (60) A 47 year old man has been caught in bed with Elizabeth, who is a young 15 year old girl (Pauline Hahn). Elizabeth is brought to juvenile court where she reveals she had sex with a sailor, got pregnant. had an abortion, and through slut behavior now has syphilis! The man is not charged, it is the girl's fault! With frank dialogue, references to marijuana and more, when the Production Code of the U.K. was less strict, and outrage was a cinematic pull. Almost like a public service message about controlling your daughters as well. Now of course, if an underage girl seduces a man, they blame the man, in every case, and the girl is (ahem) a victim. Nice LBX.

B990 What Became of Jack and Jill? (72) aka: Romeo and Juliet '71 Uncut version from 35mm print! An obscure film from Amicus Productions. The old lady here (played by Mona Washburn) is genuinely sweet, and the villains are her lazy, amoral grandson and his sexy Lady Macbeth

-in-training girlfriend Vanessa Howard. The two plot to get their hands on the old broad's money, but instead of simply murdering her, they convince her that radical youth have taken over London, and are 'eliminating' useless old bats like her. The concepts are certainly brutal and the slight humor that embraces them is dark indeed. Vanessa Howard is cold as ice here, and hot stuff as well! Here acting career ended in 1973. She was also in 'Blood Beast Terror', 'Corruption', 'Girly' and others. She died of COPD in Los Angeles, California in November 2010 at age 62. BA

H15 Wild and the Willing, The (62) aka: Young and Willing University students pull pranks and form relationships leading to disastrous and unpredictable consequences for all concerned. In his debut first ever acting gig, Ian (Deadwood, American Gods) McShane stars as a 'working class student' out of his class when he finds himself in a relationship with two women, both above his social status. One, nice girl Josie (Samantha Eggar in her first big film role!) and Virginia (Virginia Maskell) a Professor's wife. Also with John Hurt in his film debut! Three stars in their debut here, very interesting. Virginia Maskell went mad, took a bunch of pills and was found collapsed in a wooded area, barely alive, suffering from hypothermia, she never recovered, dead at age 31 in 1968. Also with Paul Rogers. BA

H22 Yesterday's Hero (79) Fleeing 'Three's Company', Suzanne Sommers went to England to star in this opposite Ian McShane. He plays an alcoholic ex

-soccer star trying to make a comeback, she, a former fling who is now a disco star, trying to help him get back on his feet, with her boyfriend football (soccer) club chairman. Painfully bad and overlong disco throughout. A schizophrenic mix of all that is bad. An atrocity. A must-see colorful abomination. Suzanne Sommers (she looks good) singing sequences, you have got to see, sometimes theme music for McShane's getting in shape montage. Worse than bad. Look for Cary Elwes (in his debut) as a disco dancer. LBX - Upgrade!

CLASSIC HORROR & SCI-FI FILMS

H161 Armored Command (61) aka: L'espionne des Ardennes An American Army unit is trapped in a small town during a counterattack and discovers that a spy in the town is providing the Germans with information about them. With Howard Keel. Burt Reynolds (in one of his first movies) and Tina Louise (just before she got stranded on that desert isle)… Watch for the scene where Burt Reynolds (an American soldier) is mowing down Germans with a machine gun and Tina Louise (as a German chick) blows him away with a rifle and then she gets shot and killed by his army buddy. Just go ahead and add that.... Upgrade! BA

H64 Chain Gang (50) A do

-gooder crusader type newsman (Douglas Kennedy) masquerades as a prison guard and gets a job watching the chain gang. He's got a tiny camera in a cigarette lighter and documents the miserable conditions. Sadist guards, corrupt Captains etc. They find out his game and he is beaten... Fast paced. Solid. Between 1934 and 1951, director Lew Landers directed over 125 films. BA

H162 Cockeyed Miracle, The (46) A dreamer who never plans for the future dies suddenly and doesn't know it. He cannot understand why his family does not hear him. His spirit guide is his father. Together they try to arrange for the family's future security. Some witty jokes here in this different type of ghost story. Frank Morgan, Keenan Wynn, Marshall Thompson, Audrey Totter and more star. BA

H65 Human Cargo (36) aka: Contrabando humano Bonnie (Claire Trevor) and Packy (Brian Donlevy) are rival reporters on a ship, both trying to crack a human smuggling ring story. The smugglers are a nasty type, who think nothing of drowning their cargo if they feel in danger, and killing cops is not off the table either. Ralph Morgan and loads of old Hollywood types here, including Rita Hayworth. BA

H117 Kathy O' (58) Patty McCormack (The Bad Seed) plays yet another obnoxious annoying bratty little girl. She is a child star, all sweet and sugary on the big screen but one holy hellion off screen. Her Aunt manages her 'meal ticket' carefully, trying to maintain her easy lifestyle on the back of a child. But Kathy O' bonds most when exposed to a family lifestyle, demonstrated by her publicist. Maybe she is not bad, just misunderstood, and in need of love.... McCormack looks exactly the same as she did in 'The Bad Seed' with pigtails and frilly dresses, just taller. Considered a classic for Christmas by many. Color BA

H99 Moss Rose (47) aka: La rose du crime Here's a murder mystery set in turn of the century London that I had missed completely. When a music

-hall dancer is murdered, a moss rose marks the page of a Bible, next to the body. Another chorus girl (Peggy Cummins) suspects rich guy (Victor Mature) because she spotted him leaving the scene of the crime. She wants two weeks at his country estate to keep her mouth shut. Here it turns into an old dark house thriller. Toss in George Zucco, Vincent Price and Patricia Medina as supporting players. BA

H5 Murder in the Blue Room (44) aka: El crimen del cuarto azul Murder.... deals with a group of people attending a party at a haunted seaside mansion (complete with caves below). Twenty years ago, a man staying in the 'blue room' of the mansion was murdered. The room has been sealed since. They open it and the guy who stays the night in the room disappears. A quick paced mystery with musical numbers from the female group 'Jazzy Belles'. They sing 'Boogie Woogie Boogie Man' and more. I am sure this was probably somehow racy in 1944. A haunted mansion musical comedy. With Anne Gwynne (her next film would be 'House of Frankenstein'), Donald Cook, John Litel and more. Not to be confused with 'Secret of the Blue Room' from 1933. BA

H73 Revenue Agent (50) Accountant Augustis King (Lyle Talbot) discovers his boss Sam Bellows (Onslow Stevens) is having an affair with his wife (Jean Willes). He decides to narc out the company for tax evasion to I.R.S. man Steve Daniels (Douglas Kennedy). But King is killed by henchmen sent by Bellows, and Daniels investigates the company..... Also with David Bruce. Lew Landers directs.

H44 Sign of the Ram, The (48) aka: Il segno del capricorno Susan Peters is Leah St. Aubyn, the wheelchair

-bound matriarch of an English family. Through evil and manipulation, she destroys lives and dictates rule all around her. It takes awhile for her family members to recognize her nasty malevolence. She is so clever, but her nastiness comes to the surface as she spirals out of control.... In some ways, it reminded me of Hammer's great 'Scream of Fear'. Also with Alexander Knox. Susan Peters would only make one more film. Permanently paralyzed from the waist down from a hunting accident in 1945, she lived with a bullet lodged in her spine. From then on, she could only play cripples. She died from pneumonia, chronic kidney problems and starvation from anorexia nervosa in October 1952 at age 31. BA

H72 Sin Ship, The (31) A lecherous ship captain (Louis Wolheim) sees the error of his ways through a religious female passenger (Mary Astor) not knowing that she and her husband are not ministers... no...not even married, but are bank robbers on the lam. Louis Wolheim died the same year this was released in 1931. This would be his last film. Stomach cancer at age 40. BA

B997 Speed Spook, The (24) aka: Le fantôme de la vitesse An auto racer (Johnny Hines) finds himself tangled up in the mystery of a supposedly 'haunted' car that speeds through town, driverless, and disappears before anyone can catch up to it. There are reasons, and a plot! Like an ancient 'Scooby Doo' episode. Also with Faire Binney.

H137 Step Down to Terror (58) aka: The Silent Stranger Charles Drake is Johnny Williams Walters, a serial killer who murders wealthy widows. Pursued by the police (Rod Taylor being one) he travels to visit his mother who he has not seen for years. Johnny has a split personality, he can be sweet, but he can also be an evil sadistic murderer! (And before Norman Bates!) Charles Drake plays the psycho killer to the hilt and is actually chilling in the role. Suspense. Also with Jocelyn Brando, Marlon's older sister. BA

H154 Stolen Death (38) aka: Varastettu Kuolema Set in turn

-of-the-century Helsinki with some German expressionism used to tell the tale of Finnish resistance fighters smuggling arms to overthrow the Tsarist occupiers of Finland. Beautifully atmospheric and dark. The revolution starts slowly with pamphlets, moves onto arms building and graduates to an armed conflict. With English subtitles! + Finland at War (1939-1940) BA

DINOSAURS, LOST LANDS, SWORDS AND SANDAL, PEPLUM AND FANTASY FILMS

H115 Caxambu!

(67) John Ireland plays the leader of a gang who steal a bag of diamonds in South America. They take a diamond cutter and his wife hostage and steal a plane in order to escape. But the plane crashes in hostile jungles, populated by murderous natives. But the greed vibe is rolling as well, and they not only have to look out for being the next victim of the savages, but also, each other! With one of the funniest plane crashes on film. In one scene a man battles what looks like a 4 foot gator. Poor thing. (Deodato swears he was nowhere near the set!) Plays like a missing link between 'Back from Eternity' and the wave of Italian Cannibal films. One guy stumbles into quicksand. Bye bye. Head on a pole. Captured by the natives, poison darts and more. Nice color.

H122 Fury of the Pagans (60) aka: La furia dei barbari aka: Toryok, furie des barbares A cruel barbarian named Kovo, assaults and kills Toryok's (another barbarian from a neighboring tribe) wife, then flees to Rome. Kovo returns two years later, and finds Toryok has moved on with new babe Leonora (Rossana Podesta), a fugitive from Verona. Toryok is trying to unite the clans, but evil Kovo, sought for death by Toryok, is still causing troubles. I read this was cheap crap, but what I see is excellent set designs, hot babes doing a barbarian dance with battle axes, fires, large scale battles etc., then finally the big battle between Kovo and Toryok! Decent Widescreen English dub. BA

H139 Golden Horde, The (51) aka: Dschingis Khan

- Die goldene Horde The princess of Samarkand (Ann Blyth) and Sir Guy of Devon who is an English Knight (David Farrar, whose last role was as 'Xerxes' in the 1962 version of 'The 300 Spartans'), confront the armies of Genghis Khan. Lots of action and Death Valley locations. Also with Richard Egan and the ill-fated Peggie Castle who drank herself to death at age 45. Color BA

B938 Hagbard and Signe (67) aka: The Red Mantle Stunning from the opening shot of a vast landscape with a small settlement nestled around bright blue waters, we are introduced to Hagbard and his brothers, who have a dispute with a rival clan, responsible for the death of their Norse King father. After battles and disagreements, a truce is drawn. Hagbarn falls for Signe, the daughter of his enemy. Signe's former beau, enraged with jealousy, breaks the truce, setting up Hagbarn as the one responsible. Northlander swords swing, beach duals, wolf hunt, dynamic Viking action, amazing cinematography, excellent performances, violent battles, nudity and romance.... This is one fantastic and seemingly forgotten Icelandic Viking Saga! LBX and with English subtitles. BA

B982 Kashchei the Immortal (45) This film is based upon Russian legend and folklore. In the largest building of the village, the beautiful Marya is waiting for her bridegroom, the mighty warrior Nikita. But all of a sudden the village is attacked by the barbaric armies of Kashchei the immortal, bringing destruction and death. They really torch the place! Marya is abducted, and Nikita finds only ashes at the site of the home. But thanks to a doll

-sized wizard, Nikita is given 'The Cap of Darkness' rendering him and anyone he touches, invisible for a time. Cool monster looking sets and statues and fantasy land visuals, flying carpet, really cool special effects, and Kashchei himself, an emaciated vampire looking buzzard faced man with a cool vampire looking outfit. Somehow 'The Thief of Bagdad' has wandered in to this Russian fantasy. A perfect film! With English subtitles!

H132 King of the Vikings (60) aka: El príncipe encadenado Thirty years have passed since the Viking ships last ploughed the dark seas. The Vikings themselves, having submitted to the rule of King Gudrun of Denmark, roam the land in scattered tribes.... competing with one another for supremacy. Colorful and action packed, with real castles and locations! Antonio Vilar, Maria Mahor and Paul Naschy in his debut (in a minor role)!!! English language dub.

B954 Kingdom of Crooked Mirrors (63) aka: Korolevstvo krivykh zerkal A Russian 'Alice in Wonderland'? Touches of 'Wizard of Oz'? Sort of... Unavoidable comparisons as this film is about a young girl that suddenly finds herself in an alternate world populated by ruthless royalty, who aren't shy when it comes to executions. There's also a cat, though used differently here, more as a pet. This land of madness and mirrors corrupted by evil reflections may be inescapable.... Can they save the boy who is sent to the Tower of Death? A proper Russian Fantasy film with elaborate and colorful costumes and wild imaginative set designs. With English subtitles. BA

H123 King's Pirate, The (67) aka: El pirata del rey Opens with Lt. Brian Fleming (hamming it up Doug McClure) getting a classic bare

-chested flogging by the ship's brute man. This is a tongue-in-cheek swashbuckler that delivers the entertainment goods for fans of this genre. It knows what it wants to be and sets out to do just that! No 'Black Sails' but what is? McClure is devilish sly and witty, and his female interest played by Jill St. John, looks better than she ever has since, except maybe in that Bond film. Wow, eye candy! Some of the other cast members are familiar faces as well. Torin Thatcher, Mary Ann Mobley, Guy Stockwell and more. BA

H140 Legions of the Nile (59) aka: Legions of Cleopatra aka: Le legioni di Cleopatra aka: Roman emperor Octavian rules the empire from Rome, while his rival Marc Antony has been taken by Cleopatra (Linda Cristal) as her lover and seized the Eastern part of the empire, ruling it from Alexandria. Octavian, with greater army forces, plans an attack, while Antony and Cleopatra gather allies. Both sides prepare for the big battle. Amazing scale sets and locations look like 'Ben Hur'. Hundreds of extras. Killer color Widescreen. Mostly English language, with some scenes in foreign language and with English subtitles. Sharp Color.

H113 Mars, God of War (62) aka: The Son of Hercules versus Venus aka: Marte, dio della guerra aka: Venus meets the Son of Hercules Nice Widescreen print with the opening theme song! The god 'Mars' (Roger Browne) assists a King in defeating an African army. White Privilege. Remaining on Earth, Mars falls in love with the human girl Daphne (played by the stunning Jocelyn Lane), but she is forced to become a Priestess in the temple of Venus. Epic battles, colorful costumes, bizarre watercraft, magical mystical events, elaborate dungeon torture chamber and of course, for gods sake, the Gods! Colorful! LBX English dubbed version (The last English language print had a few problems as some of you pointed out. Free to anyone who has not had their disc replaced if they ordered it prior to 08/2017. (Just ask with any order) Otherwise, finally a sharp Widescreen English dub with no weird Zooming picture. BA

H130 Queen of Babylon, The (54) aka: La cortigiana di Babilonia aka: Sémiramis, esclave et reine Hairy chested Ricardo Montalban (as Amal) and sex siren Rhonda Fleming star in this sweeping large scale sword and sandal almost

-epic action potboiler. Amal is trying to topple an evil tyrant king in ancient Babylon. Large scale battles, Fleming is nearly burned at the stake, and the people's entertainment arena currently features an alligator filled pit (swimming pool?). Uncut 110 minute version! Print a bit better than previous print so, Upgrade! BA

H164 assault of the Sabine Women, The (62) aka: El rapto de las sabinas aka: Shame of the Sabine Women The Sabine tribe battles Romulus in the early days of Rome after the Romans steal their women and make them their sex slaves. This one of three films based on this tale. 'Romulus and Remus' which is serious 'The assault of the Sabines' which is silly, and this one, which is also serious. With frequent genre Mexican actress Lorena Velazquez (she played the Queen of the Vampires in 'Santo against the Vampires' and many others) and more. A Mexican sword and sandal, with the main muscle man played by American Lex Johnson. F.L. only on this title. Not to be confused with the Roger Moore film. BA

H119 Revenge of the Mercenaries (62) aka: Il capitano di ferro Furio (Gustavo Rojo) known as the 'Captain of Iron' returns home to a burned out village leveled by a German Usurper (Mario Petri) and vows revenge. Swashbuckler with pillaging mercenaries, evil villains and authentic costumes and also Barbara Steele. Petri gets to wear fabulous designer leather

-wear, while Barbara gets ravaged by a slimy one-eyed hunchback plus a climactic battle sequence, then, a spectacular sword fight between Furio and the Usurper! A violent death. What's not to like? Not to be confused with 'Rampage of Evil' 1961 . Color is a bit smeared/tinted reddish. English language dubbed with foreign subs on the screen. This was Barbara Steele's first film after 'The Horrible Dr. Hichcock'. A few glitches.

H136 Sea of Lost Ships (53) aka: La mer des bateaux perdus Coast Guard action and adventure in the Frozen Atlantic, with stock footage, as daring men gamble their lives to risk the dangers of the brutal seas. Some scenes shot aboard the USCG Eagle, the Coast Guard's midshipmen's training ship. A ship loaded with passengers gets stuck on a giant iceberg and needs rescued. Disaster and Peril in the Ice! The polar bear footage is incredible. John Derek, Barton McClane, Wanda Hendrix, Richard Jaeckel and more star. A few glitches. BA

H127 Sea Pirate, The (66) aka: Surcouf, l'eroe dei sette mari aka: The Fighting Corsair A thrilling swashbuckler about a famous Corsair (Gerard Barray) against the British navy, set during the Napoleonic wars. They really filmed this on the sea, with big battles on the ship decks and flashing swords aplenty. Our 'Sea Pirate' (Barray) wants to marry his sweetheart, but her father is against it. He flees on a ship and creates a pirate crew of plunderers, that also crusade for good, helping others. Plenty of action! This was a huge hit in 1966 overseas. Directed by Sergio Bergonzelli who went on to direct quite an eclectic bunch of films. Also starring Antonella Lualdi, Gerad Tichy, Terence Morgana and more. Upgrade and English dubbed Widescreen of this title.

H75 Seven Cities of Gold (55) aka: Die sieben goldenen Städte The Spanish seek to conquer the land in California and find the gold in the hills in 1769 while missionaries strive to convert people for the Catholic church and establish more Catholic missions. A colorful adventure, but don't go looking for historical accuracies. Richard Egan, Anthony Quinn, Michael Rennie, Rita Moreno and more star. LBX BA

H1 Slave of Rome (61) aka: La schiava di Roma At the time of Caesar's conquest of Gaul, a Roman tribune named Marco (Guy Madison) falls in love with the daughter (Rossana Podesta) of a Gallic Chieftain. This of course triggers a conflict as Marco is supposed to wipe out her tribe. This has always been one of the tougher sword and sandal films to locate. Although there are others with similar titles, 'Slave of Rome' stands on it's own merits of worth, with beautiful colors and Widescreen photography. There's even a female sword battle. Also with Mario Petri and Giacomo Rossi Stuart. Widescreen and English language dubbed. BA

H141 Sword of Ali Baba, The (65) aka: Les exploits d'Ali Baba The Arabian Nights prince (Peter Mann) turns thief and returns with his gang for his princess (Jocelyn Lane). .. This one reminded me more of a 1940's type, except with sexier women wearing less, colorful battles, treasure in a cave that opens it's rock walls with a secret command... You get the picture. Gavin McLeod as Hulagu Khan, Peter Mann as Ali Baba, and his prize at the end Jocelyn Lane as Princess Amara. BA

H16 Taffy and the Jungle Hunter (65) aka: Taffy, cazador en la jungla Right out of a storybook adventure! A hunter (Jacques Bergerac), who captures wild animals for zoos, takes his son and his son's widowed governess along on his latest jungle expedition. The boy (from the Ron Ely T.V. 'Tarzan' show sidekick Manuel Padilla Jr. as 'Beau') runs away with a chimp and a baby elephant. Together, they share many exciting escapades dodging lions and other perils. Nice color, cool film for fans of this type. The jungle film. Also with Hari Rhodes. Manuel Padilla Jr. also starred in a few 'Tarzan' movies with Mike Henry as 'Tarzan'. He dropped dead at the young age of 52 in 2008. BA

H153 Where's Willie? (78) aka: Computer Kid Little Willie Wade (Marc Gilpin) is an 8 year old genius. He has invented a hand held computer that can control any electronic device in his small town. Especially cool is him pointing it at the clock in school and making the time move up... Ridiculous yes, but who remembers staring at that clock in school and wishing they could make that happen!? He can control the traffic lights, give a city a blackout... you get the picture. A child's wish? High I.Q., and power over adults. Also with Guy Madison and Robert Clarke. Gilpin was one of the kids in 'Jaws 2' his next film in his very short career. BA

EXPLOITATION FILMS

B974 Desire Under the Sun

(78) More erotic soft-core, this brought to you from Canada and France, and dubbed into English! With porn star Dominique Saint Claire (see her in 'Shared with Strangers' among others in the XXX section). Basically rich types get together and everybody pretty much bangs everybody else in a swinger type fashion. Insatiable sex-crazed nymphos in heat with lots of nudity and sex.

H143 Ganja Express, The (78) aka: Prostituição e Droga A drug smuggling operation goes bad in this ambitious soft

-core feature which stars real porn stars in serious acting roles. Colorful with loads of nudity, an orgy, but also a serious story with action and violence! in the climax Jamie Gillis and his girl are out at sea while a plane is trying to get them, Gillis is shooting at it... crazy and downbeat. English language with foreign subs. Excellent quality.

H77 Good Little Girls (71) aka: The Granddaughter's Model aka: Les petites filles modèles Two daughters of a sexually liberated Countess (aka: SLUT), a mother and daughter who have befriended them and now live with them, and an S&M

-fetish daughter of their lesbian neighbor all seek relations with a doctor and a local young man. Includes the whipping scene. A very very sexy film with plenty of nudity and sexual situations. Good Little Girls. Indeed! With English subtitles. BA

B953 Hot Girl Juliet, The (81) aka: La caliente niña Julietta A woman visits her former lesbian lover who is stuck in a loveless marriage and they take up boffing where they left off. The husband and his best friend are also having affairs with each others wives.... Now the girls want to seduce the other wife... or something. Lots of soft

-core sex. With the incredible Eva Lyberten as Silvia. Andrea Albani as Juliette, and more! Andrea Albani starred in 'Mad Foxes' and 'Madame Olga's Pupils', in fact 29 features in all from 1980 to 1984. But then she disappeared and turned up dead in 1994 at age 33 of acute meningoencephalitis (a brain/spinal cord infection)! In Spanish only and LBX. BA

B979 House of Pleasure, The (94) aka: La casa del piacereAn older man takes his young wife (Irina Kramer) to his friend's house in the Far East for their honeymoon. There, she is aroused by Lin, the owner of a silk farm. Nervous, she wants to go home. But her husband may have other motives to keep them put! Irina masturbates and then gives in to the temptations of the flesh. With a camera filming the action, her husband watches her have sex with the other man from another room, then sets up her next encounter, turning his wife into a whore. Joe D'Amato directs familiar theme and this is dubbed into English.

H147 How Funny Can Sex Be? (73) aka: Sessomatto Love, Sex and Marriage in racy tales set in 1970's Italy with a bevy of beauties! Just a few of the stories... Two Hearts and a Hut : A couple tries to have sex in their crowded hut, while their 13 (!) children are also in the hut... comedy ensues. The Guest: Hubby cannot get it up unless his wife acts slutty in front of another man, then he gets excited... much more... each story features the delicious (Italian Wet Dream) Laura Antonelli, and this is basically her film, she steals the entire picture. Tasteless and incorrect fun! LBX and with English subtitles. BA

B956 In Love with Sex (73) aka: The Models aka: Donnez

-nous notre amour quotidienAfter being assaultd by a creepy guy, Beatrice (Paola Senatore) desires the company of sexy women. Naked Lucretia Love, Alice Arno and plenty of nudity and sexual situations are the result of her libido explosion! Sexy soft-core lesbian sex... but will Beatrice be able to have sex with a man again without going ice cold? With help, yes! LBX and English language dubbed. BA

H216 La Pretora (76) aka: My Sister and I Lucio Fulci directs Edwige Fenech! First the facts! Miss Fenech is featured nude in well lit scenes. Nice. Here she is in a dual role (see the aka:), double the Fenech, double the fun! Magistrate Viola is targeted by her rivals who hire her twin sister (prostitute and dirty magazine model) to set her up by impersonating her in lewd manner. Will Viola follow the rule of law, or will she ditch the bench? LBX but in Italian language only with no subtitles. But you know the plot! BA

B986 Nurse on Call (72) aka: Nurses Report aka: Krankenschwestern

-Report aka: Sesso in corsia German made and English dubbed 'Report; film with amusing narration in between sexual antics with lovelies that include Ingrid Steeger, Elisabeth Volkmann and Doris Harden. Elisabeth Volkman went on to quite a career and voiced Marge Simpson of 'The Simpsons' the German language version. BA

B988 Romeo and Julia (82) aka: Honeymoon Swedish Style aka: Pilska Julia på bröllopsresa! Romeo and Julia are spending their honeymoon on the French Riviera. They are so horny, they are boffing on a remote beach area in the first three minutes. They awake to find they have been robbed, and start to hitchhike, her in her wedding dress (her only clothes) and him in his underwear! Picked up by some Camero driving drunken rednecks, Romeo passes out, and the men all have their way with the very willing nymphomaniac Julia! Still later, they find themselves in a live sex show, and then they are swinging with a couple... Their lifestyle of random and frequent sex with strangers starts to put a strain on their 'marital bliss'. She rides into the country on a bike and lures four bikers, strips, and does them all, they all pass out exhausted, except Julia! She's looking for more action! Is this all really happening? English dubbed trash from Sweden with Dominique St Claire as Julia.

B967 When Women had Tales (72) aka: Quando le donne avevano la coda When several witless cavemen stumble upon a very hot woman (Senta Berger looking so good you could pass out just looking at her) they decide to have her for dinner (as in "she" is their intended meal!) . But she convinces one of the cavemen of a better way she can be used. A game. Sex! First of all, the soundstage where they made this complete with lagoon

-like pool is magnificent, and I wouldn't mind living there (minus the cavemen though). Okay, the cavemen get into all kinds of illiterate mishaps, sort of like 'The Three Stooges' behavior. Senta Berger is the star here. The antics of the cavemen will either make you cringe, or laugh hysterically. Widescreen Upgrade Uncut European release dubbed into English. BA

B968 When Women were Called Virgins (72) aka: Quando le donne si chiamavano 'Madonne' It's the Middle Ages in a nice little village on Italy. Edwige Fenech is an adulteress/nymphomaniac cheating on her husband when he is away, she manages to talk her way out of being burned at the stake. This sequence is hilarious, and even thought provoking! Meanwhile 3 young men arrive in the village with the goal of seducing and having sex with three beautiful girls. Elaborate costumes, gorgeous women, bright vibrant colors, plenty of nudity, lesbians (sort of), and sexual situations.... One guy, disguised as a nun, tries to get laid, it works! By the end of the film, no virgins in sight! Great quality LBX and with English subtitles. BA

EXTREME HORROR & GORE FILMS

B927 Beast in the Shadows (77) aka: Edogawa Rampo no injû When a writer of suspense novels in 1930's Japan may have been the catalyst for the death of a wealthy industrialist...... Multiple murders, red herrings, and sadomasochistic sex are mingled together in this ground

-breaking killer mystery, a departure from the usual samurai type directed by Tai Kato. A truly downbeat tale, colorfully photographed. With Tomisaburo Wakayama and Yoshiko Kayama. English subtitles.

B928 Càlamo (76) A young, mentally unstable seminarist, confronts hippies, sex, and the overall moral decay of society while at the same time giving in to his sexual desires with beautiful women as well. His darkest side comes out when he sexually forces himself on a woman, and even watches with fascination as she is assaulted by some bikers. The fate he eventually is delivered is quite extreme. Includes the bloody outdoor miscarriage sequence, while three men look on, disrespectfully and horrified. With Paola Montenero who's first film was Bava's 'A Bay of Blood'. LBX and with English subtitles. BA

H24 Deadlock (70) Set in a desert

-like landscape with all of the characters sweating in the sun double-crossing each other into oblivion. Homage to Leone's westerns, especially 'The Good, the Bad and the Ugly'. Two guys have pulled a heist and hole up in a small mining town where a few people live. It's a tough movie, with no happiness at all, with hard-hitting violence. You'll love it! With original music from the German 'Pink Floyd; known as 'Can'. Mario Adorf, Anthony Dawson and Mascha Rabben star. Amazing LBX Upgrade! BA

H103 Devil Curse (88) aka: Meng gui zhou Devilish doings when a witchy woman bewitches a man to prevent other women from having a go at him. Mixed with martial arts and kung

-fu and the obligatory wizard, wicked rituals, nudity and sex. LBX and with English subtitles.

H104 Distinctive (99) In the opening, a couple is pursued by something (or someone!) in the woods, that apparently catches up with them. Next, a couple is driving in a remote area, and they arrive at a large hostel. The guy there tells them that many people come here for the 'Distinctive'. A strange group of beings that occupy the area. People misbehave, blaming things on the unseen 'Distinctive'. Can the 'Distinctive' possess normal people and cause them to commit crimes, even murder? More people arrive....... Walks in the woods reveal.... the 'Distinctive' are very real! LBX and with English subtitles.

H167 End of Innocence, The (77) aka: El fin de la inocenciaA student, expelled from school for her behaviour, moves into the house of her uncle, a man with sadistic tendencies…. Jose Ramon Larraz directed this one soon after 'Vampyres' and 'Symptoms'. With Paca Gabaldon. In Spanish language only.

B991 Hyena in a Safe, A (68) aka: Una Jena in Cassaforte Four robbers meet up in an isolated castle (with sprawling grounds and various fountains etc.) to split up diamonds left there by their deceased boss. The stones are kept in a massive safe, and only all of the five keys distributed to each of the robbers will open it all at once. One guy will not produce his key (he wants half!), and he has also brought his stunning girlfriend along. Soon greed, betrayal and mistrust rule the night. Nice murder scenes (spinning screaming death screams), beautiful women, zoom lens etc. will remind you of a Bava film, or maybe a Franco film. Snazzy, jazzy, colorful women wear. Cristina Gaioni is stunning in this, as are the other women. Yellow = Giallo. Excellent. With English subtitles.

H108 Hypnosis (99) aka: Saimin Strange suicides are occurring in Tokyo, with unexplainable reasons. A female athlete runs until her legs fracture, a groom strangles himself at his own wedding, The only clue and similarity these incidents share is "Green Monkey" is uttered by the afflicted ones as they die. Who is this 'Green Monkey'? And why is he hypnotizing people to do themselves harm? LBX but no subtitles on this title from Hong Kong.

B951 I Am the Ripper (04) Young people are attacked by a murderer in a cloak and skull mask. He is the title character! These guys throw in everything but the kitchen sink here. After a massacre, the lone survivor starts hopping around with his kung fu skills, which ultimately are no match for a hefty blade! Later John Woo or even 'Matrix' inspired bullet ballets, fisticuffs, kung fu swordplay, fast

-flying and more insanity with metal masks and sorcery. I swear one guy even looks like King Diamond, make-up and all! Finally a sexy witch woman appears..... A real mind trip here! With English subtitles!

H49 Isabel (68) Genevieve Bujold stars and drifts through the Canadian countryside to weird music and even weirder encounters with oddball characters sprinkled with moodiness, confusion and hope, tension, misery and awe. Visiting her uncle's farm she seems to be groping with her past and the fear and apprehension of her future, as she sees ghosts and apparitions that may or may not exist. Finally a nice sharp Upgrade of this bizarre film. For fans of Bujold, who was quite captivating back in the day, this is a must! . BA

H101 Jungle Killers (88) aka: The Jaguar Project Cut and paste much of the footage of 'The Mercenary' from 1983, add new scenes, and this is what you get, a whole other movie! (Sort of). Jungle Killers is an absolute revelation of what can be accomplished making another film, out of another film! New scenes of English speaking actors are integrated into the saga of 'The Mercenary'. Comprehensible? You tell me. Excellent quality LBX, and English dubbed mixed with English spoken. Simply incredible and hilarious, and yes, still quite violent!

B932 King of Kong Island, The (68) aka: Eve, the Wild Woman aka: Jungla 2000 aka: Eva, la Venere selvaggia Forget giant monsters and the idea this is a children's film. It's not. Bimbos with guns, a naked jungle woman, violent shootings, graphic gory surgery more... It basically plays out like a safari film meets mad scientist in the jungle type, complete with a topless jungle woman. Our mad scientist is experimenting on apes in the deep jungle trying to create an army of simian slaves, and as a side project, woman are experimented on as well.. No Kong. No Island. Just good old fashioned Eurotrash fun. Especially the slow motion scenes of our naked jungle girl.... Filmed in the real jungle too. Beefcake Brad Harris stars with voluptuous Esmeralda Barros and Marc Lawrence. Monkey suits, underground cave headquarters complete with cages and more. This is widely available on box sets in an 84 minute full frame version in dreadful quality. This one is English dubbed, LBX, 88 minutes, and very good quality! BA

B983 Lyumi (91) A raincoat wearing werewolf monster stalks the woods of a Baltic region. A little girl in red is sent to visit her grandmother.... The hunter searching for the monster is convinced the creature will be the end for us all. This, another bizarre and surreal oddity from Russia, mixing fairy tale with some slice of modernity. With English subtitles.

B969 Mania (74) Horror rarity from director Renato Polselli! A deranged scientist, who has a twin brother, dies in a laboratory fire. The dead scientist had suspected his wife of cheating on him with his brother, now that he is dead his brother tries to take his place. Or is it the scientist back from the dead to torment his cheating wife? He was after

-all, conducting experiments on some type of reanimation of tissue through electric waves. Or is this all in her mind, has she gone mad? Frenetic bloody insanity from Polselli with plenty of nudity, screaming dialogues and cutting violent scenes for brutal effect. Some similarities to 'Delerio Caldo', and it was partially shot at the same elaborate villa complete with basement torture chambers, secret laboratories and a labyrinth of tunnels. Death, stabbings, disfigured killers and burned faces, beatings etc. The soundtrack features 70's acid rock, gothic organ music and barking dogs. Twisted violent insanity. This new nice alternate version also runs 82 minutes, 4 minutes longer than the previous choppy F.L. print. Great stuff, don't miss it! Upgrade of the twisted Renato Polselli film, finally beautiful LBX and with English subtitles! BA

B933 Nightshade (72) aka: Nachtschatten With many similarities to the 1932 film 'Vampyr' comes this weird German haunting horror. This is a mood piece, and builds on a mystery. A boring music publisher travels to a remote village where he intends to purchase the house of a recently deceased man. The widow of the house seems unstable, deep in a foggy state of grief. At night, the man is plagued with nightmares that have the widow placing flowers on his grave instead of the grave of her dear departed. .. Ultimately a tale of doom and despair about losing a loved one and living in darkness and gloom, dreaming of oblivion. With English subtitles.

B925 Two Faces of Fear, The (72) aka: I due volti della paura aka: Coartada en disco rojo Colorful hospital set giallo about a surgeon named Roberto (George Hilton) who is married to Elena (Luciana Paluzzi) who owns the clinic where they work. Michele, another surgeon, is thinking of leaving because his girlfriend (Anita Strindberg) is still hot for Robert, whom she bedded previously. Michele is murdered and Inspector Nardi (Fernando Rey) is on the case. More a murder mystery than an all out blood

-spattered giallo (although there is some graphic surgery footage), but a damn good one. Tense suspenseful moments and a surprising finale. LBX and dubbed into English. BA

B943 Velvet Dreams (88) aka: Sogno proibito Laura (Kathy Shower, Playboy Playmate of the Year 1986) is the writer of erotic novels, and she falls for gambling sex addict Paul (Brett Halsey). Soon Laura finds herself sinking into a world of brutality and assault that may just be scenes from her erotic novels and part of her twisted sexual fantasies. Her horny mind is blurring between fact and fiction. Will she escape her sensual nightmare? Italian made sleaze filmed in English language. Plenty of nudity and sexual situations. LBX BA

H17 Visions (95) aka: Visioni

- Another obscure and erratically twisted sex and nudity drenched erotic/giallo- like thriller from Italy. Nightmares, white-masked cloaked men sexually torturing women in dungeons with knives before the blade cuts deep, lesbian sex, straight sex, some gore etc. What is real? What is a dream? Loads of nudity with beautiful Italian women including Marina Suma. Shock ending. F.L.

H112 Web of Silence - A.I.D.S. (94) aka: La ragnatela del silenzio - A.I.D.S. Leandro Lucchetti directs a controversial and frank subject (his last). Marco Di Stefano is Walter. He tells his wife on the phone he is busy with work and hangs up the phone, then we see he is naked and having passionate sex with a hot young woman. Later at a party he is trying to pick up even more women. He begins to feel ill, but this doesn't stop him from humping a sexy brunette! Later his wife tries to get a rise out of him. Finally, he ends up bed-bound, dying of A.I.D.S.... Now his wife is getting a blood test. Meanwhile, his girlfriend is out spreading the disease. Quality not as good as usual on this obscure title. In English language.

B966 Wedding in Blood (73) aka: Les noces rouges A tale of adultery and political skullduggery in provincial France. Two married people, both in loveless marriages, are having an affair. The man, his wife is sickly, and when she dies allegedly by suicide, suddenly, suspicion accelerates. The truth is far more sinister. The daughter of the adulteress hears all and sees all, and will be instrumental in things coming to light. The main village setting and surrounding locales make for a foreboding atmosphere. Stephane Audran stars. LBX and with English subtitles.

H208 Wheeler (75) aka: Psycho from Texas Wheeler has had a tough time of it. Being raised all grubby and poor, watching his whore mother service male clients... Now he has grown into a repulsive adult, hired to kidnap a rich oil Baron by the greedy son. The most famous scene involves a barmaid (played by a 17/18 year old Linnea Quigley in her debut!) who he forces to take off her clothes and dance for him while he pours beer over her head. Then he forces her to dry hump the corpse of a man he has just killed! Priceless! Oh, yea, the kidnapping goes awry and all hell breaks loose. Set in rural Arkansas. BA

H3 Your Sweet Body to Kill (70) aka: Il tuo dolce corpo da uccidere A man, henpecked by his wife (Francoise Prevost) has numerous fantasies about murdering her. When he receives an anonymous letter with information about his wife cheating on him he decides it is time to turn his fantasy into reality. When he finally does the deed he accidentally leaves evidence that ends up in the hands of Elena (the beautiful Orchidea de Santis). A dark, sometimes comical and different type of giallo. Nice LBX and now with English subtitles! BA

B978 Zigeunerweisen (80) aka: Gypsy Airs aka: Tsigoineruwaizen An astonishing series of outrageous, chilling and nightmarish images in this strange Japanese film. Set in 1920's Japan, saturated with decadence and nihilism, here we have a desperate group of four, drawn together by unseen strands of fate, on the road to madness spinning on their own fears and desires. Aochi, a scientist in a seaside town, discovers Nakasago, a former classmate, full time vagabond, mistreater of women, and maybe... a serial killer. During their reunion they both fall hard for the beautiful local geisha Koine. But when Nakasaggo marries, and then abandons, eerie Koine

-look-alike Sono, the men's mutual obsession for Koine escalates into paranoia and treachery, spiked with undercurrents of witchcraft and the sinister presence of supernatural denizens. Well over 2 hours. In Japanese language and with English subtitles.

FRANCO FILMS

H166 Los Blues de la Calle Pop

(Aventuras de Felipe Malboro, Volumen 8) (83) Felipe Malboro, a private eye, is contracted by a girl to find her boyfriend who has disappeared…. A loving homage to 1940s private eye cinema (such as THE MALTESE FALCON and THE BIG SLEEP) filtered through a 1980s MTV-style lens…. Antonio Mayans and of course Lina Romay writhing around… LBX and F.L. - BA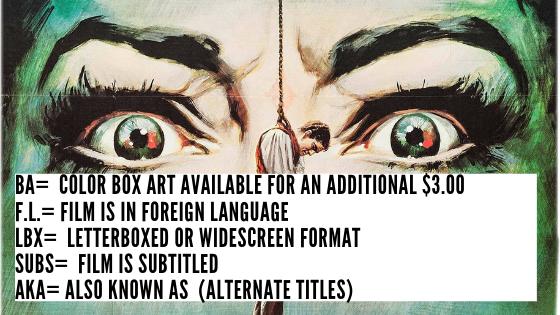 MISCELLANEOUS FILMS SPY, ACTION, WAR, DRAMA AND OTHER

H185 36 Crazy Fists, The

(77) aka: San shi liu mi xing quan When a peaceful shopkeeper is killed by Manchurian gangsters for not paying protection money, a weak young man goes to Kung Fu masters to learn the arts so he can later get revenge. The masters turn him away at first because they think he is too weak, but with the aid of other students and some drunk guy, he manages to get it done through years of dedicated training. Fight scenes choreographed by Jackie Chan! English language dubbed.

B946 Ace of Aces (82) aka: L'as des as Nazi

-Germany Comedy! Can I even say that? A French boxing coach (Jean-Paul Belmondo) on his way to the Summer Olympics in 1936 Germany, is asked for his autograph by a little Jewish orphan who is in danger. Nazi Germany, not a safe place for our little Jewish friend. He risks his one shot at Olympic glory to save Simon, braving impossible odds in action-packed roller coaster style, with the Nazi's nipping at their heels! He even comes face to face with Hitler himself! Belmondo steals the show with endless stunts and action scenes. With actual footage of the 1936 Olympics mixed with black and white fake footage of Hitler reacting! The film though, in color, in a nice sharp print. Unforgettable. LBX and with English subtitles. BA

B926 Adolescent, The (79) aka: L'adolescente Details the pureness of pre

-WW2 life in the French countryside mingled with the coming of age for a young girl named Marie. Her mother and father are constantly making love, awakening Marie's curiosity. When Marie's father angrily splits to assist a relative attend to his harvest, Marie becomes interested in the town's young Jewish doctor. The doctor treats her like a child, and disappears into the woods for hours at a time with her mother! With the help of her grandmother (Simone Signoret) she tries to navigate through these times of her budding body amidst familial complications. Will her parent's reconcile? Will Marie lose her virginity? Will the Jewish doctor get his ass handed to him by the vengeful father? The answer to these questions and more! LBX, in French language and with English subtitles.

B964 Adulteress, The (53) aka: Thérèse Raquin Therese (Simone Signoret) was forced to marry her sickly cousin at a young age. One day she meets Laurent (Raf Vallone) and falls in love. Betrayal, treachery, passion and death in equal doses ending in ironic karmic destiny. A bleary downbeat tale, vivid and brooding, A Euro

-Noir, with a cold, stunning Signoret... slow but alive, spinning into Raquin ruin. Excellent. With English subtitles. BA

H56 Bang! Bang! You're Dead! (66) aka: Our Man in Marrakesh A quirky caper that mixes spy

-guy (Tony Randall mixed up with scheming villains and femme fatales), a Hitchcock-like 'wrong man accused' thriller, and a 'whodunit' mystery amongst the main players. Schizophrenic and all over the place fun. It's a spoof, It's a comedy. It' everything 60's, and more! Herbert Lom is a bad guy, Klaus Kinski a henchman, Also with Senta Berger and Terry Thomas. BA

H184 Blood of the Dragon (71) aka: Zhui ming qiang aka: The Desperate Chase One man... One Weapon.... One Hell of a Movie! The White Dragon must get a list of names of all rebel supporters to Prince Ma Tung, the leader of the rebellion, so he can better organize his strategies. Naturally the evil Prime Minister opposition wants to get his hands on the list, so he can kill his enemies easily. The Prime Minister also wants to kill White Dragon for the humiliation his father suffered when White Dragon kicked the crap out of him.... Battles, jumping, chains, swords......English language dubbed. BA

B970 Bruce Lee versus Gay Power (76) aka: Bruce Lee against the Fairies aka: Kung Fu Contra as Bonecas Finally with English subtitles! Bruce Lee battles banditos who wear 'loud' shiny colored flamboyant clothes, and they have the tendency to break into little dances on a whim. Be clear though, the bad gang seems to be raping peasant girls and they also have their own in

-house stable of occasionally topless whores, so maybe they are just fashion conscious straight guys that like to dance? Kind of like many young men today. Exactly. Some surprisingly violent scenes. By the way, most of you know, but this is not really Bruce Lee. I enjoyed this fake gay's versus kung fu guy (and his numbchucks) flick. The Bruce Lee guy looks kind of like a young Joe Perry from Aerosmith! Loads of action, hilarious sounds, and some slow motion. Incredible. In Portuguese language and with English subtitles.

H121 Caper of the Golden Bulls, The (67) aka: Il carnevale dei ladri Stephen Boyd plays Peter Churchman, retired bank robber, living the good life in Pamplona, Spain. But he is pulled back into a life of crime by a former flame (Giovanna Ralli) and her shifty boyfriend. They want him to enlist a gang to pull a bank heist in Pamplona, while the annual 'running of the bulls' is the distraction! Hence the title. Stephen Boyd's girl (the delicious Yvette Mimieux) is unaware of his actions. It is so hot the men pull the heist bare

-chested, coming in through an underground tunnel. After the heist, they all take a shower together! Shirtless Boyd, huffs and puffs that torso. Mimieux pouts and looks sexy. Also with Clifton James and more. Interesting heist oddity. Filmed in Pamplona. BA

H129 Cobra, The (67) aka: Il Cobra aka: Le Cobra Disgraced treasury agent Mike Rand (Peter Martell) teams with his boss to halt a Red Chinese plot to destroy the free world by flooding the market with opium and turning everyone into addicts. Rand manages to bed Anita Ekberg along the course of the way... She's hooked but, she looks good so... Dana Andrews also stars and is involved in quite a bit of action here. Nice locations and a cool final quarter in an industrial complex. Also with George Eastman and Elisa Montes. Nice sharp LBX. BA

H114 Dayton's Devils (68) aka: I diavoli di Dayton An organized crook assembles a group of similar types (which include ex

-cons and misfits) to plan a heist by robbing the payroll of an Air Force Base. They pull it off and the main problem is the people they made deals with in the getaway part of the plan. No honor among thieves. A great cast! Rory Calhoun, Leslie Nielson, Eric Braeden, Bo Hopkins, Mike Farrell, Bruce Glover and Lainie Kazan (in her first movie). Also with Georg Stanford Brown. BA

H128 Escape to Mindanao (68) George Maharis, Nehemiah Persoff, Vic Diaz and more star in this WW2 film about 2 P.O.W.'s held prisoner in a jungle camp run by the Japanese who break out with their captor's decoding device and try to reach freedom while be slowed by an opportunistic sea captain, his pretty daughter, and a black marketeer. Plenty of action for a MFTV film. Sharp Color.

B929 Eye of the Spider (71) aka: L'occhio del ragno Antonio Sabato plays Paul, a criminal who has spent time in prison in Austria, after being abandoned by his friends following a heist gone wrong. He escapes with the help of Professor Kruger (Van Johnson) who wants him to carry out another robbery with Kruger's girlfriend Gloria (Lucretia Love)... Paul is to blackmail his former associates... But he is more interested in revenge than money, primarily for his former boss (Klaus Kinski). Now in a nice LBX English language dubbed version! Klaus Kinski and Antonio Sabato star. BA

B976 Getting Even (89) aka: La vendetta Yet another film with this title. Looks like a lot of people need to deliver some payback! This is an Italian made New York lensed urban crime action trash sleaze from the director of 'Bloody Psycho' (and more) Leandro Lucchetti. Just read that last line fast! This is the uncut version from Japanese tape so although English, there are Japanese subs and fogged pubes in some of the nastier scenes. When a Viet Nam vet (Harrison Muller in his last film) is put back into service to track down a psychotic killer (who is cutting up hookers with a ceremonial knife) by his former CO (who is now a New York city police detective) they suspect the killer may be one of their platoon members. There are snips and bits that are more violent then other versions. Pure bloody battle and action 'Rambo' stuff.. Richard Roundtree, George Ardisson and more star. According to IMDB, parts of this were edited from 1984's 'The Violent Breed'. LBX

H120 Great Gang War, The (69) aka: 5 figli di cane aka: Bootleggers A group of gangsters escape from prison and attempt to destroy a rival organisation holed up in a convent in Mexico…. George Eastman stars LBX and English dubbed. BA

H6 Guerrilla Girl (53) aka: La guerrillera It's WW2. A sexy but deadly woman, joins the Communists and helps to fight against the Nazi takeover....while her relationship with a man on the other side is compromised. Shocking! Brutal! Violent! Well, that is the Tagline. Dark and downbeat. BA

H26 Hand of Death, The (76) aka: Shao Lin men John Woo directs! This is the first film that Jackie Chan, Sammo Hung and Yuen Biao appeared in together. The Shaolin Temple has sent a warrior to murder a traitor who caused the death of many compatriots. Bruce Lee costar James Tien makes a memorable turn as the main villain. Uses many themes used in the blood

-soaked Woo films. The last twenty minutes are golden. Above average martial arts mayhem not to be missed. LBX and English dubbed. BA

H109 Hired Gun, The (75) aka: Der Gorilla aka: Profession garde du corps Young Marco Sartori (Fabio Testi) an undercover police officer, gets the job as the bodyguard of a shady underworld guy who is being blackmailed by some dangerous criminals. He becomes caught up in a kidnapping plot with his boss (and his wacko brother!) and things get rather complicated. Decoy, subterfuge, tied together with spectacular car chases (French Connection inspired) fist

-fights, and more. A nice and violent Italian crime film here. With the menacing looking Al Lettieri (he comes to a bloody end here) . Littieri was the main heavy in 'The Getaway' with Steve McQueen just a few years earlier, and went toe to toe with Charles Bronson in the classic 'Mr. Majestyk' in 1974. This would be his last action film, he died from a heart attack at age 47 the same year. LBX and F.L. with no subtitles. BA

H76 Huk! (56) aka: Huk! il grido che uccide Greg Dickson (George Montgomery) returns to his family plantation in the Philippines to sell it after Huk guerillas have killed his father. This place is no longer stable, let alone safe! The family there wants to hold it off from the rebellion and plan to stay. The action scenes are spectacular. The Filipinos extras really threw themselves into their roles with reckless abandon! The scenes where the canoes are heading toward the ferry transporting civilians to safety.... ! Also with Mona Freeman. BA

H95 Hunt the Man Down (50) aka: Seven Witnesses After finally getting their man after twelve years in an unsolved murder case, the hunt for the seven witnesses becomes the next problem for the prosecutors, who have only five days to present them to a jury or they will lose the conviction. Gig Young, Lynne Roberts, Mary Anderson and more star. BA

H181 Iron Fist Adventure, The (72) aka: Kuang feng sha Ti Si

-guan (Yu Wang) is Captain of the 6th Brotherhood, and he will engage in many battles with guns and swords, riding on horseback. This movie is chock full of bloody battles, be it groups, or man to man combat in varying outdoor terrains. The final battle between clan leaders is amazing. English dubbed

H36 Jaws of Death (77) Documentary adventure with amazing photography. This one actually stars Arthur Franz (Atomic Submarine, Sisters of Death... more) as the Correspondent. A group of researchers attempt to communicate, film and swim with killer whales in Alert Bay. A pretty cool large squid, sharks and more in excellent underwater scenes. Underwater photography guy with the accurate name of Stan Waterman also worked on 'Blue Water, White Death', 'The Deep' and others. Not to be confused with 'Mako: Jaws of Death'

H92 Karate, the Hand of Death (61) An American karate student searches for a loved one in Japan. The first martial arts film? Maybe. The fight scenes are some of the worst you will see in any kung fu movie, ever. Which pretty much makes it a curio, and yet also an interesting precursor, albeit a bad one, of the evolution of the martial arts film. BA

B984 Man With Silver Eyes, The (85) aka: L'Homme Aux Yeux D'Argent Thierry, a man fresh out of of jail after a 15 year stay, returns to his home town. He has done his time, and he is the only one alive that knows where the stolen loot is hidden. He finds his loot is not as easy to retrieve, and needs to tunnel it out from where he buried it under a tree. A ruthless detective, familiar with Thierry from fifteen years back, doesn't think justice was served. He is watching Thierry, along with his equally nasty partner, a man obsessed with abusing little girls. LBX and with English subtitles. BA

B985 Mistress, The (62) aka: The Swedish Mistress aka: Älskarinnan First film from director Vilgot ('I am Curious Yellow' and others) Sjoman. Bibi Andersson is the girl torn between her boyfriend and her new lover, the married older man (Max Von Sydow). This is uncharacteristic behavior for the girl, but she can't help it. Her boyfriend catches her. She reacts: 'Don't hit me. Or hit me. You of all people have the right to'. He cries and falls to her feet. This is one of the reasons she is having sex with Max. Her boyfriend is pathetic and weak. She on the other hand, is disgusted with herself. Artistic, passion

-filled drama with interesting shots, and an unusual ending. LBX and with English subtitles. BA

H125 Money Jungle, The (67) aka: La giungla del denaro Geologists from five different industrial companies are murdered. A trouble

-shooter is hired and he finds himself in a deadly crime conspiracy. The prize is one particular field that will be leased to a private industry by the state. The killers are the ones who are out to get the lease for themselves. Of course. Wild swinging dance parties, Don Rickles, Edy Williams, Lola Albright, Leslie Parrish, John Ericson, Dub Taylor. Yet another forgotten obscurity. BA

H111 Nick the Sting (76) aka: Gli amici di Nick Hezard Young con man Nick (Luc Merenda), leads a sting operation against Robert Clark (Lee J. Cobb), motivated by revenge as Clark ordered a hit on a friend of Nick's who is now deceased. This ends up being even more of a detailed plot than the overrated 'The Sting' film with those two American actors.... Newman and Redford. This also features Valentine Cortese, Luciana Paluzzi and Dagmar Lassander, William Berger and more. Action with style and gusto directed by Fernando Di Leo, a real pro with this stuff. Not as sharp of a picture as usual, but still pretty good, and dubbed into English language as well. BA

B958 Octopus, The (98) aka: Le poulpe A seedy private detective that acts a lot like a gangster is known as 'The Octopus'. He's out collecting money, sometimes forcibly. But someone is killing the people he is collecting from and it seems a conspiracy is afoot! He will have to call in his sidekick Pedro! The bright spot in his life is his hot bisexual girlfriend Cheryl (Clotilde Courau, who spends most of the film either naked or in skimpy clothes!). Sordid sex, action and comedic bits, marinated in booze and sweat. LBX and with English subtitles.

B934 Operation 100 Dollar Gang (65) aka: Murder in Manhattan aka: Mordnacht in Manhattan G

-Man Jerry Cotton (George Nader) and his partner, are on the case of the $100 gang. These neighborhood extortionists are also killers. Ten year old Billy has witnessed them murdering a local Italian restaurant owner. Now the gang is trying to snuff out little Billy as well. Luckily, Cotton is on the case. Who is the kingpin of this organization? LBX

H126 Rolling Man (72) aka: El Hombre Perdido aka: Terroristien panttivankina Another star

-studded Movie of the Week! Lonnie (Dennis Weaver) is upset because his wife is tramping around with another man. A car chase ensues, a wreck, now a dead wife! Four years later Lonnie gets out of prison, but now his children are missing! Seems like people keep passing them off to other people! Time to roll! Lonnie scores with a sexy waitress (sultry Sheree North) during his adventure, runs across a young Donna Mills more than once, talks to local mechanic (Slim Pickens) and eventually has a gun to Don Stroud's head! Will he find his missing boys? Also with Jimmy Dean, Agnes Moorehead and more. BA

H96 Sailor from Gibraltar, The (67) aka: Il marinaio del Gibilterra This film is a showcase for Jeanne Moreau, who plays a wealthy woman searching through sailing the world over for a sailor she was once in love with. A drifting bored Brit (played by Ian Bannen) hooks up with Moreau, after ditching his clingy girlfriend (Vanessa Redgrave). The heat is on, fireworks ensue. Maybe she has found what she was looking for all along? This is an odd and sometimes pretentious mix of ramblings and ideas from arty people, but also well photographed, dreamy and hypnotic at times as well. Orson Welles, John Hurt and more star. LBX BA

B961 Season of Monsters (87) aka: Szörnyek évadja After the suicide of a renowned professor, friends and colleagues join the police in investigating what drove the man to his demise. Surreal and engaging Hungarian film with conversations on existentialism and philosophy, nudity and sexual situations, pretty cool and out of control outdoor photography with helicopters and explosions, even a guy on fire in the climax if you can figure out why. Interesting, maybe confusing, but the visuals are pretty mind

-blowing as we try to decipher the mind of director Miklos Jancso (most famous of Hungarian directors) and writer Gyula Hernadi. LBX and with English subtitles.

B996 Seven Times Seven (68) aka: Sette volte sette Watch what happens when a group of prison inmates escape and infiltrate the Royal Mint to print their own cash! The catch is, their plan has them sneak back into prison and pretend like they were never gone in the first place! The last five minutes is worth the price of admission alone. With Gordon Mitchell (as Big Ben), Lionel Stander, Erika Blanc, Terry

-Thomas in a bit part, Adolfo Celi and more. Dubbed into English language.

H133 Shadow Over Elveron (68) aka: Schatten über Elveron A sleaze ball of a sheriff (Leslie Nielsen being delightfully wicked here) knows the secrets of everyone in town, and, despicable man that he is, uses these to keep the entire town in check. Enter local physician Dr. Matthew Tregaskis (James Franciscus) who is trying to clear a local youth of a murder charge, and comes up against the evil sheriff. With James Dunn, Shirley Knight, Don Ameche, Franchot Tone, Jill Banner and more. You may remember Jill Banner as Virginia in 1967's 'Spider Baby'. She had a brief career, dead at 35 in 1982 after a drunk diver wrecked into her car, ejecting her onto the road head first, coma, then death.

B962 Shock Troops (67) aka: 1 homme de tropFrench resistance fighters in WW2 attack a German police station to liberate some of the prisoners, fellow resistance fighters. Once liberated and back at camp, they realize that one of their numbers is not with the group, and suspect he is a spy. They decide to shoot him, and off into the woods with his assassin he goes. He convinces his assassin to let him go. Later, he sees the Germans have the fighters surrounded. A real cool guy, he goes back to warn them before all battle hell breaks loose. Excellent and violent practically forgotten war film. The last scene is on an iron bridge over a mountain gorge. Unforgettable. LBX and with English subtitles. BA

B942 Sons of the Godmother (73) aka: Tutti figli di Mammasantissima aka: All Sons of the Saintest Mother aka: Italian Graffiti It's Chicago in 1929. Two crime families battle for supremacy. One group is ironically dedicated to the Virgin Mother, despite their criminal inclinations. The other group operates out of a Salvation Army soup kitchen. When a wily Sicilian arrives on the scene.... things start to fall into place and get more chaotic as well. Hilarious colorful gangster stuff, with comedy gags galore. Ornella Muti and many more star. Totally worth it. LBX BA

H118 Storm Over Tibet (52) aka: Sturm über Tibet Set during WW2. The outdoors scenes of this picture were filmed in the Karakoram region of the Himalayas at altitudes ranging up to 24,000 feet. The ritual dances were filmed at the Buddhist Monastery of Lamayuru. This ends up being like a lower rent version of 'Lost Horizon'. The location footage is real, integrated with Hollywood footage of stars Rex Reason (in his debut leading actor role), Diana Douglas (the mother of Michael), Strother Martin, William Schallert, Myron Healey and more. Quite an adventure tale. BA

H93 Super Kung Fu Trailers Part 2 (various) Over 30 more trailers that will kick your ass! Hi

-Yah!

H182 Thundering Ninja, The (87) aka: Ninja Invasion The C.I.A. and a Ninja Organization are engaged in a fiery and violent duel over plans for a missile. Exploding ninjas! Incoherent plotlines! incompetent direction! Patchwork editing! In other words, lots of fun for the 'bad kung fu' movie fan! While most of the ninja's are dressed in black... watch out for the Red Ninja! English Dubbed. BA

H51 Ticket to Die, A (66) aka: Agente Segreto 777

- Invito ad uccidere A top secret organization is after Lewis Jordan (ex-secret agent 777 played by Tiziano Cortini) after they learn he has potential control of a formula that could lead to a nuclear disaster. Low on dough and canned for health problems Jordan plans on selling the formula, once he figures it out. This one skips the camp, and is a bit higher on seriousness. Also with Helene Chanel and Claudie Lange. Good action, and cold-hearted at times. BA

B989 Trap, The (66) aka: I pionieri dell'ultima frontiera aka: La trampa Finally a nice LBX print of this great Oliver Reed film. What an adventure! A fur trapper (Reed) arrives in a Canadian village after three winters and takes a mute girl (Rita Tushingham) as his unwilling wife, back into the wilderness to live with him. Their relationship is tested time and again, frightened mouse girl and rugged mountain man. Wolves, the elements, amazing outdoor locations etc. A great frontier wilderness survival tale is told here. And even if the wolves are German Shepherds, they still are effectively menacing in the big battle, couple versus wolves! . Battling a mountain lion, Reed gets caught in one of his own traps! LBX BA

MODERATE AND MADE FOR TV FILMS

B971 Companions of Baal, The

(68) Told in seven parts and in black and white. Now finally all with English subtitles! Death traps, bad guys in robes and weird metal looking masks, caves and secret panels, hypnotism and more in this dark French serial that plays out like a long Edgar Wallace type thriller mixed with the serial format. English subtitles make all the difference here! This two disc set is an upgrade- dvd-r only - counts as two selections

B972 Dead Body in Central Park (69) aka: Dead Body on Broadway aka: Todesschüsse am Broadway aka: Il Quartiere dei piu'violenti George Nader as Jerry Cotton for the final time. Starts out in black and after about 5 minutes the credits role and it's in color! A device that seems to say 'Hey look gang, this one is in color!". After an F.B.I. agent is killed by the mob after he makes off with 5 million dollars of gold in a robbery gone bad, Jerry Cotton is called upon to fight this bunch, and to locate the missing gold. Now nice LBX and English language dubbed. Upgrade! 4 minutes longer than the last print. BA

B973 Death and Diamonds (68) aka: Dynamit in grüner Seide George Nader is Jerry Cotton! In this one he is called in to impersonate an English safe cracker, in America, to work for a crime boss. Jerry manages to make off with the loot himself. Not only is there an incredible stunt filled finale. there is also a oh so very nice sequence where sexy Silvia Solar horsewhips a blonde German chick. Nice. Nader jumps a lot, defying the law of physics, of course all of the action flicks made currently feature invincible humans. Bright colors, laughable rear screen shots, good fun. LBX and dubbed into English. BA

B939 Edelweiss Inn, The (59) aka: Sursis pour un Vivant People check into a mysterious inn, isolated and perched high in the snowy mountains, where, they have prearranged to have themselves murdered, silently, without them knowing when the time actually will end for them particularly. A sinister hotel keeper takes care of the residents, and when you hear the ominous music, someone is killed. They hear the music, and all fear if it is their turn to die. A bit like '10 Little Indians' except this is suicide. Henri Vidal and Dawn Addams are a man and woman in this situation, that fall in love and decide they want to live. Canceling their contracts will be troublesome. With the inn only accessed by gondola.... A satisfying conclusion. Also with Howard Vernon. With English subtitles. BA

H134 Hijack! (73) Two veteran truckers (David Janssen and Keenan Wynn, a great team!) are hired to haul a top

-secret cargo from Los Angelas to Houston. But there is a terrorist group that does not want the shipment delivered and the ride will be rough as they face hijacking attempts, using zig-zag routes whenever they are not battling road attacks. Excellent driving action here, on par with 'Duel' from 1971, not to mention nail-biting suspense! You have to love it when David Janssen's character just hauls off and punches (the right) people in the face unexpectedly! (Which he does more than once here.) Lee Purcell also stars (looking Prime-Time Rib) and William Schallert.

H116 Hunted Lady, The (77) Framed for a murder she did not commit policewoman Susan Reilly (Donna Mills) is on the run, hunted by her own co

-workers. She has one goal in mind. Find the real killer, and clear her name! Were they going for a series here (see conclusion) like maybe a female version of 'The Fugitive'? Lots of familiar faces here. Robert Reed, Will Sampson, Geoffrey Lewis, Jenny O'Hara and many more. Obscure MFTV.

B952 Invisible Man. The (54) aka: Tômei Ningen In this sci

-fi, Japan invented the secret of invisibility and planned to use this against us in WW2 but, we blew them to hell and won the war. So now nine years later... an invisible man commits suicide, upset that he cannot fight for his country... This gives gangsters an idea. Dress up in bandages and pretend they are invisible men, robbing banks, trafficking drugs etc. What they don't realize and are about to discover.... a real invisible man is about to rock their world! A survivor from the original experiment. This is the other sci-fi film from Japan in 1954, with some of the special effects from the same people that worked on 'Gojira'. This film is like an excellent film noir meets sci-fi, with nods even to Cagney's 'White Heat'! With English subtitles.

B957 Murderer Knows the Score, The (63) aka: L'assassin connaît la musique... A musician is desperate to compose his own symphony. He moves to a big country house for peace and quiet, and starts a relationship with the woman who owns the house (Maria Schell). But now her father has moved in as well! Being a carpenter, his only interest is building boats. Lots of noise. He is going to kill the son

-of-a-bitch. And there will be more murders.... A black comedy. LBX and with English subtitles. BA

H142 Night of Terror (72) A Syndicate killer relentlessly pursues a pretty young teacher (Donna Mills) who doesn't know what he's after, although he has already killed twice to get it! Chuck Conners. Agnes Moorehead, Catherine Burns, Peter Hooten, Martin Balsam and more star in this 'cat and mouse' Movie of the Week Thriller which won a Prime Time Emmy. Intense suspense and action. BA

H53 Playgirls and the Vampire, The (60) aka: L'ultima preda del vampiro Five beautiful showgirls find themselves stranded in the rain and take refuge in a creepy old castle. The owner, Count Gabor Kernassy is a nobleman, and a vampire! Of course one of the girl's is stricken with a case of the old déjà vu. It seems she is the reincarnation of "Margherita", the Count's long dead love, and he not only wants to drink her but… Nice gothic settings and quite racy for 1960. One scene has a bare

-breasted vampire babe, includes strip-tease scenes etc. Large fangs, and blood. One of the first to mix Gothic Horror with in your face Eroticism. With Walter Brandi as Count Gabor. The previous year he was 'Herman' in Renato Polselli's classic 'The Vampire and the Ballerina'. Uncut. Amazing. BA

B941 Sleeping Car Murders, The (65) aka: Compartiment tueurs aka: Vagone letto per assassini Six people travel in a railroad sleeping car from Marseilles to Paris. Upon their arrival, a woman is found dead in one of the berths. Okay, which of the other five is the killer? But wait, the suspects are now also being murdered one by one. When it gets down to the final two, they scramble to solve the case and prevent their own demise! An excellent suspense thriller with Simone Signoret and many more. LBX and with English subtitles. BA

H138 Snatched (73) The sexy wives (Sheree North, Barbara Parkins and Tisha Sterling) of three men, Howard Duff, Leslie Nielsen and John Saxon) are kidnapped by a man (Anthony Zerbe) and held for a 3 million dollar ransom. But since Tisha Sterling is cheating on her husband Howard Duff, Duff don't want her back. Sheree North's character needs her insulin. Robert Reed is the cop trying to help. Or is he? Double crosses, suspicious motives and just when you think you have it all figured out.... A nice little MFTV. with a great cast and plenty of suspense, fairly downbeat. Also with Frank McRae and Bart La Rue.

B965 Trap Snaps Shut at Midnight, The (66) aka: Um Null Uhr schnappt die Falle zu Beefcake George Nader as Jerry Cotton once again! This time a big shipment of nitroglycerine, enough to blow New York city to hell, mysteriously vanishes. Cotton and the underworld are racing to see who can find the deadly liquid first! With a dangerous heat wave on the horizon, better find it quick before a disaster! Plenty of action and intrigue here. George Nader was a friend of Rock Hudson, and a very closeted homosexual. He retired from acting in 1974 after an eye injury, and already outed by the tabloids years earlier, then wrote a science fiction novel called 'Chrome' featuring gay robots! Unbelievable! LBX

B945 Twelve Months of Summer (88) aka: Sommarens tolv månader Construction workers meet to do a special project for one year, for ten years salary in one far off place. Blindfolded, they are brought to a place where summer is year round. No one is allowed to leave or they forfeit the gig. But as they build odd funny buildings in a holiday like setting, things start to get weird as the camp gradually changes from a Disneyland to a nightmare of paranoia and hallucinations. Yes, there is something very wrong in paradise. A pretty haunting Swedish film that will get under your skin. LBX and with English subtitles.

B940 Violin Case Murders, The (65) aka: Operation Hurricane aka: Schüsse aus dem Geigenkasten aka: Agente segreto Jerry Cotton: operazione Uragano The first of the George Nader starring 'Jerry Cotton' films. Here he infiltrates a gang of crooks posing as a musical band. Jerry Cotton of course, was Germany's answer to James Bond. The violin case is actually a machine gun! Plenty of action. Set in New York City! Nice LBX upgrade!

MONDO FILMS

H198 Khoon Ki Pyasi Daayan

(98) More Hindi Horror! A man is told by a Tantric that he improve his sex drive and manliness if he kills two girls. He kills one girl, but her ghost prevents him from killing the other girl… Loads of atmosphere. F.L.

H199 Chudail No.1 (99) Opens like a scene from the opening of Wes Craven's 'Scream'! A woman is harassed on the phone by the killer or killers, and she opens her door and a loved one is tied to a chair. This is Hindi Horror so you can expect some borrowing from Western cultures here and there. Things get even stranger as the film progresses. F.L.

H200 Daayan (98) A man kills his new wife, and then buries her. A witch raises her from the grave as a ghost/zombie. She can also change into a monster. starts to kill other men. It's up to a good priest/wizard to stop her…. F.L.

H201 Shaitani Atma (98) More Hindi Horror with all the fixings including monster

-faced horror, some pretty busty women, bearded villains and all you could hope for from this type! F.L.

SOUTH OF THE BORDER AND MEXI MONSTER FILMS

H160 Book of Stone, The

(69) aka: El Libro de Piedra - Governess/teacher Julia comes to work for a bourgeois family that live in a large property in a wooded area. Her charge little Sylvia has problems. Not the least her relationship with a 10,000 year old statue of a little boy in the garden that Sylvia claims asks her do to things. Her father is justifiably freaked out and her new stepmother is afraid of the statue.... both however are terrified of Sylvia herself. This ends up being a real scary and creepy Gothic Horror, the stuff nightmares are made of. Nice. With English subtitles.

H107 Chebelo and Pepito meet the Monsters (73) aka: Chabelo y Pepito contra los monstrous Boy Scout kids bail on their troop campsite to look for treasure in a cave. What they encounter is a gorilla, which proceeds to battle a living mummy, and then Frankenstein's monster comes crashing in..... oh, and a cave pond spawns a 'Creature from the Black Lagoon' type... Later Dracula and the Wolfman show up as well. Could these monsters be under the control of space aliens? Nice monsters, totally ripping off Universal designs in some cases. Mexi

-Monsterific! F.L.

H100 Mexican Monsters on the March (various 50's and 60's) A loaded montage of most of the best Mexican Monsters in scenes of monsterific madness. See the female werewolf bloodily claim a victim, a Frankenstein monster, The Brainiac, Creatures under the Earth, Outer Space and more. Of course, we have most of these films complete and with English subtitles, but this is a great background party disc for Mexican monster lovers. F.L.

H165 Reventa de Esclavas (54) Doctor's are talking about teaching. Switch to an all girl school class, where the girls are singing and dancing waiting for their teacher. He arrives, the lesson begins. He passes out on his desk while reading a book about ancient Egypt. Later they are all in a lab with a mummy that starts to wiggle it's toes. It turns out to be a dancing young Egyptian woman! She tells her story of her life in ancient Egypt (which we see in flashback). There is a twist coming at the end, and you don't have to know Spanish to get it. F.L.

WESTERNS

H215 A Reason to Live, A Reason to Die

(72) aka: Una ragione per vivere e una per morire This was released in a 92 minute Blu-Ray. This is the 115 minute version of this film that has been cut to hell in so many other versions. A group of convicts doomed for execution, are drafted to go on a near-suicide mission and attempt to recapture the Missouri Fort Holzman. If they are not killed, they will no longer be executed. They change the plan a little…. Action packed greatness with Telly Savalas, Bud Spencer and also starring James Coburn. A Spaghetti Western 'Dirty Dozen' type! LBX and with foreign subtitles, but in English language of course. BA

H89 Charlie Cobb: Nice Night for a Hanging (77) In this pilot for a perspective pilot for a series Clu Gulager stars as a private eye in the 1870's who is hired to deliver a dying California rancher's long

-missing daughter to him, despite numerous efforts to thwart the plan by the rancher's greedy new wife (Stella Stevens, who wants everything when her husband dies), his top hand, and a crooked sheriff. Ralph Bellamy, Blair Brown and more star.

H70 Dawn at Socorro (54) aka: Amanecer en Socorro Brett Wade, gunfighter by trade, finds out he has tuberculosis, and plans on hanging up his guns. But first he has some last minute gunfights and action to get out of the way, not the least one involves helping a beautiful woman (Piper Laurie) who needs special assistance only his type of resolve can handle. Also with Mara Corday and Kathleen Hughes. BA

B937 Go Away! Trinity has Arrived in El Dorado (72) aka: Scansati... a Trinità arriva EldoradoCo

-directed by Joe D'Amato! This hilarious tale pits a con man/magician (Stan Cooper aka: Stelvio Rosi) against a ruthless bandito kingpin and his gang of colorfully costumed pistoleros. Not your usual shoot-em up, Cooper's character has to use elaborate plans and schemes to stay one step ahead of the bad guys, which he does! Even managing to catch the film's top senorita in the act of removing her clothing! Colorful and entertaining. Nice LBX English language dubbed.

H135 Journey to Shiloh (68) aka: La brigade des cow

-boys Seven friends head off on a cross-country journey to join the Confederate army. Full of ideas of moral glory for the war effort, their naive notions are rudely interrupted by the prejudice and snobbery they encounter on the road. The horrors of war will change them all. Kind of a metaphorical mirror for the (raging at the time) Viet Nam war. Now the cast! The Seven.... James Caan, Don Stroud, Harrison Ford, Paul Peterson, Jan Michael Vincent, Michael Sarrazin and Michael Burns! Watch as they all ride into situations that change everything they thought they knew. Opens with a theme song and bookends with a song that describes what happened to each character as the credits roll and we see them with an American flag flying, you know all patriotic-like. I don't know, I'm speechless after this one, but was certainly entertained… BA

B960 Montana Trap (76) aka: Potato Fritz aka: Masacre en Condor Pass In the 1850's Montana, Potato Fritz is a cranky man who is trying to grow potatoes smack dab in the middle of Indian territory. The Indians keep burning down his cabin, and he keeps rebuilding it! Meanwhile a group of settlers are trapped in a small town in the Rocky Mountains. A transport of money was ambushed, wooden crosses everywhere over supposed dead soldiers... the loot still missing.... conflicts nonstop... Potato Fritz will surprise them all! Hardy Kruger, Stephen Boyd, Anton Diffring and David Hess from 'Last House on the Left' as a hairy bad guy! Sharp print and English language! BA

H74 Raiders, The (64) aka: I temerari del West Wild Bill Hickok (Robert Culp), Calamity Jane (Judi Meredith) and Buffalo Bill (Jim McMullen) help a Texas rancher fight the railroad. I guess this film, taking huge liberties with 'real' history, contains the equivalent of the western version of Marvel's 'The Avengers'. Entertaining even if ridiculous with tenured actors all. Brian Keith stars doing his best John Wayne. Also with Michael Burns. BA

H131 Reward, The (65) aka: Sieben reiten in die Hölle Two men try to bring a posse together to pursue a fugitive (Efram Zimbalist Jr.) who has escaped into the desert with his girl (Yvette Mimieux). Stark, bleak landscapes. Once they capture them they find there is a $50,000 reward. Still out in the wilderness, the posse starts to do the math of how much each of them gets. Less people, more money! Greed takes over, death and disaster ensues. Also with Max Von Sydow, Gilbert Roland and Henry Silva. This is a pretty cool variation on the 'greed' themed western. Be warned though, much of the dialogue is in English language sure, but a lot of the dialogue is also in Spanish with no subtitles. BA

B994 Stranger... Make the Sign of the Cross! (68) aka: Straniero... fatti il segno della croce! Frank the Bounty Hunter (Charles Southwood) is after the bandit Carson (Jeff Cameron) because Carson's gang is a goldmine of desperados wanted by justice for bundles of green in reward money! An interesting bunch of characters including Fabio Testi and Joe D'Amato as 'Willie' yet another henchman! The hero has a gun hidden inside his water canister, and a cripple has bullet shooting crutches! English dubbed Upgrade of this one! BA

H71 Taggart (64) aka: Taggart

- 5.000 dollari vivo o morto Kent Taggart (Tony Young) guns down the son of a powerful local rancher who had led a gang that attacked his camp and murdered his parent's. The dead son's dying father sends hired killers to track and kill Taggart (now on the run). Fleeing through Apache territory, he comes to the aid of an old man and his daughter who are trying to defend their gold mine from marauding Indians. With Dan Duryea and David Carradine (in his first movie role!) as bad guys. LBX BA

B992 Thunder Over El Paso (72) aka: The Godless Ones aka: Sentence of God aka: Yo los mato, tú cobras la recompensa Fast

-paced action from the director of 'So Sweet, So Dead' the same year Roberto Bianchi Montero! Tough guy Roy (actor Antonio Sabato) joins forces with Sam (Chris Avram) and this four-fisted duo of surprisingly vicious black hatted heroes go after a big greasy pistolero boss and his gang of cutthroats who nabbed $200,000 in gold bars. Offbeat locations, sexy Euro-damsels, and a healthy bone crunching quota of violence with shootings, torture, beatings and the like. These heroes would water board somebody without thinking about it, and the only difference between them and the bad guys, is the good guys get laid! Jaw dropping gorgeous Pilar Velazquez wow! Her line: 'I'm 18 and I know what I like.' would have worked on me too. LBX and English language dubbed! BA

H2 Treasure of Pancho Villa, The (55) aka: Le trésor de Pancho Villa In 1915, an American adventurer (Rory Calhoun) joins the supporters of the Mexican Revolutionary Pancho Villa. Gilbert Roland as Castro, another fiery revolutionary, has these parts well under control, and even him saying the word 'gringo', it can't be said better by anyone. Shelley Winters figures into the love interest, although this is a tale of betrayal and redemption. Watch for a brief scene with the saucy Lita Baron as 'Birdcage Flirt in Plaza'. Widescreen BA

H172 All the Way (75) A novelist in a rural area is busy writing while his wife (Georgina Spelvin) longs for the big city lights (and nights!). Her husband cheats with gap

-toothed Katie (Cindy Bell) while Spelvin has sex with Pharoh Amos (who looks like Chuck Berry). Cheating, making-up, sex in a barn... all primitively lensed. Title is missing (about 5 seconds)

---
---