22860000
22860000
(`@`````````
266
263
5
110185200
110185200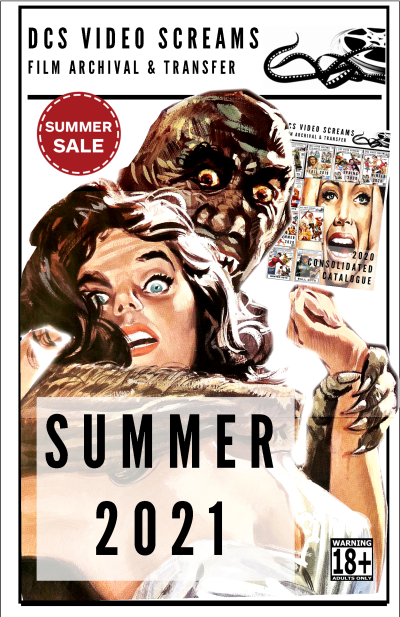 BA= Color Box Art Available for an additional $3.00
FL= Film is in Foreign Language
Lbx= Letterboxed or Widescreen format
Subs= Film is subtitled
aka= Also Known As (alternate titles)
APOCALYPTIC FILMS
W174 Gladiators, The (69) aka: Gladiatorerna In some alternate future, big battles between countries in conflict has been replaced with each country sending in a squad of highly trained commandos in a sort of 'capture the flag' scenario. The generals from the opposing forces (along with their allies) watch from a control room, where the conflict is played live world wide (with the exception of some countries). The supercomputer controlled arena is operated by technicians from neutral countries. The teams try to kill each other in the best way possible, that is how you earn points. This surreal, dark, mean-spirited science fiction, goes places few have gone before or since regarding political systems. World leaders manipulating and using human beings as pawns in games of death. You know, Tuesday. When there is foreign language, subtitles appear, otherwise mostly English language BA
W181 Seed of Man, The (69) aka: Il seme dell'uomo A young couple finds a bus stopped on the road. Everybody aboard is dead. A plague has ravaged the populace. Ominous helicopters fly watching, a checkpoint on the road, a lab. The couple is interrogated and checked. A beach house quarantine. They watch the world burn on television. A zeppelin hovers. They make a giant SOS in the sand. It leaves. Men wearing masks (like we are so used to seeing in 2021) riding horses appear. The couple needs to reproduce. The world needs new inhabitants. Seed of Man. But our young woman does not like the bleak environment and cannot get into the mood. Enter a woman who is a bit older, who is more than willing to fill the sexuality/pregnancy gap. A little arty, but still an interesting look at what some saw as a potential future of mankind. In Italian with English subtitles. BA
6822 Terminal (74) Not to be confused with 'Terminus' or 'Terminal Man' . It's the future as seen through the lens of the past. A world gone wild. It is now. The radio reports that rapes in open areas are down. Yay! Opera has survived. William Berger is Rudolph, a publisher, who is on the list for an assassin's bullet, or some form of elimination. His son is having sex with his stepmother, Rudolph's current wife. Rudolph stalks the man in black (his would be killer) and assumes the identity of the man, even screwing the woman of the house, who acts like nothing is wrong as long as he keeps giving her some attention. Wink wink. Plenty of nudity but a very strange disjointed film. A future existence that seems not that very violent, but a bit uppity and arty, with no thoughts of God or science. Light on the science fiction, heavy on the mystery. Debra Berger and Mirella D'Angelo also star. LBX In Italian with English subtitles. Some glitches on the master print.

CLASSIC HORROR AND SCI-FI FILMS
Y360 Crime Doctor (43) aka: L'incubo del passato The Rathbone 'Sherlock Holmes' series aside, this is the best 40's series of similar fare. Here in the first film of the series we have the origin story of the 'Crime Doctor Ordway' played by Warner Baxter. Phil Morgan is dumped out of a speeding car by gangsters and left for dead. Unbeknownst, Morgan had squirreled away a load of dough. Now he is in a hospital with amnesia, and starts a new life with a new identity. A reformed good guy. But the gangsters spot him and remember... and when he is whacked in the head, so does he. Warner Baxter was the first American actor to win an Academy Award. He died of pneumonia in May 1951 at age 62 in Beverly Hills. DVD-R only BA
Y359 Crime Doctor's Courage, The (45) Dr. Ordway (Warner Baxter) gets drawn into the murder of a fortune hunter on his way to California for some needed relaxation. He supposedly committed suicide in a locked room. (sure he did) But a trap door is discovered, but not by the cops (of course not). The man's previous wives died mysteriously, there are multiple theories of how. Lloyd Corrigan is on hand as a fumbling carpenter. The plot also revolves around Spanish dancers (played by Anthony Caruso and Lupita Tovar) who may or may not be vampires because no one has ever seen them in daylight. + Crime Doctor's Warning (45) An artist who has blackout spells is accused of killing one of his models. Dr. Robert Ordway the Crime Doctor is on hand to help solve the case. Descending into the bohemian world of the artist, models and paintings, psychoanalysis and creeping in the dark. Directed by William Castle! DVD-R only BA
Y356 Crime Doctor's Gamble, The (47) Dr. Ordway (Warmer Baxter) is vacationing in Paris (while there, giving a lecture), and of course gets tangled up in the investigation of yet another murder case. A (apparent) manic-depressive knife thrower (never a good combo) allegedly killed his father with a letter opener during an argument. Things get even more dense with the mysterious theft of art copies. + Crime Doctor's Diary (49) Dr. Ordway's (Warner Baxter) last case. This one has a call-in jukebox bar, where customers request a particular record to be played. There is murder and a framed man, another whodunit, with a very tired Dr. Ordway (Warner Baxter was reportedly suffering bad arthritis at the time and would be dead within two years). Also with Robert Armstrong. DVD-R only BA
Y358 Crime Doctor's Manhunt (46) Dr. Ordway (Warner Baxter) helps a young woman (Ellen Drew) with her husband's amnesia, something he himself knows a little about (see first film). He treats her fears and her husband's confessions. He manages to remember. Then the man is murdered. Who wanted him to stay quiet, and why? Twist ending. + Just Before Dawn (46) Crime Doctor Orday (Warner Baxter) injects a diabetic with a bottle from the patient's bottle, and the man dies. It was filled with poison. More will die before Dr. Ordway gets everything figured out. Martin Kosleck costars in this one, the next film he would do was 'House of Horrors' with Rondo Hatton. DVD-R only BA
Y357 Crime Doctor's Strangest Case, The (43) A young Lloyd Bridges plays a man whose wealthy employer is found dead of poisoning, and the evidence (as it is) points towards him. Is he a psychotic killer that just snaps from time to time, or is this something else? Crime Doctor Ordnay (Warner Baxter) is on the case! + Shadows in the Night (44) Crime Doctor Ordnay (Warner Baxter) is visited by a mysterious woman (Nina Foch) at 3 AM in the pouring rain. She is confused about her suicidal dreams. He goes to stay with her at her spooky house by the ocean where he meets an assortment of odd characters and guests (including George Zucco as a (gasp!) sort of mad scientist). DVD-R only BA
K863 Grand Exit (35) aka: El gran final Is the arsonist a man or a woman? That is the job of dashing insurance inspector Tom Fletcher (Edmund Lowe) to find out. Brisk dialogue moves the plot along quickly as the search for the factory burning serial arsonist bounces along to a smooth fiery finish. Fire by phone? Maybe a first. The building fires are real stock footage, adding realism to the proceedings. Ann Sothern and Onslow Stevens also star. BA
9177 Great Gabbo, The (29) aka: Der große Gabbo Erich Von Stroheim in his talkie debut as an egotistical ventriloquist named Gabbo. He talks to 'Otto' his dummy not only on stage, but when he is alone in his dressing room he talks to Otto as well. Otto talks back. The goddamn dummy is alive. Or is he? Is Gabbo sane? Mad? Bad? Or all three? The answers will come, along with some old songs from the twenties you never knew existed. Betty Boop sister Marjorie Kane stars, musical numbers crowded with teens hopping about in a wild assortment of fantasy costumes. The first mentally ill ventriloquist movie. BA
C827 Hands of Orlac (24) aka: Orlacs Hände Conrad Veidt's lanky figure and stylized approach to acting perfectly suits the character of Paul Orlac, who, while on tour, is in a train crash, which destroys his hands. The hands of a murderer are grafted on to replace his mangled ones. Now the hands seem to have a life of their own, and Hans may be going mad. This was later remade with Colin Clive and Peter Lorre, and still later with Mel Ferrer in the lead role. This however the first surviving adaptation of the tale. BA
W178 Hound of the Baskervilles, The (37) aka: Der Hund von Baskerville German version now with English subtitles! One of two films found in Adolph Hitler's bunker by the Allies in 1945 after Hitler ate a bullet (or did he? I have it on good authority 'They Saved Hitler's Brain' those Madmen of Mandoras! A less celebrated Holmes here as Dr. Watson takes up the running. Drenched in gothic noir atmosphere, the first 30 minutes telling the back story, and the current plight of the Baskervilles family on the moors, the impact, repercussions of the past. The hound howls. Bruno Güttner and Fritz Odemar The night is dark, the wind blowing through the tall trees. Terror is afoot. Nice.
7002 Hound of the Baskervilles, The (39) The definitive Sherlock Holmes played by Basil Rathbone. The definitive Dr. Watson played by NIgel Bruce. This is a decent version of the Sir Arthur Conan Doyle story (class, I know you have all read it). Is this the best version? Probably as far as the 1930's goes. I am partial to the 1959 Peter Cushing version I must admit. But I enjoy all of the Basil Rathbone films as well. Christopher Lee even tackled the role later, but not in a Baskerville tale. Who doesn't want to be Sherlock Holmes? Me. He never seems to get laid. And 'Watson, the needle!" is kind of disturbing. I digress. Sherlock Holmes and Watson investigate the legend of the supernatural hound that is stalking the moors surrounding the Baskerville estate, thirsting for Baskerville blood. Also with John Carradine BA
X533 Lady and the Monster, The (44) aka: Monster & Tiger Man The first filmed version 'Donovan's Brain' the novel by Curt Siodmak. The brain of a millionaire is kept alive after death. The brain starts to use telepathy to control and get things done. But the man Donovan was good. His resurrected brain, is bad, and wants to punish people. Eric Von Stroheim, Richard Arlen and more star. Curt Siodmak would continue to make bank from his novel. 'Donovan's Brain' was made in 1953 (starring future Mrs. Ronald Reagan, Nancy). 'The Brain' was made in 1962 and directed by Freddie Francis. Curt Siodmak contributed much to the horror genre. BA
7025 Man Beast (56) An expedition heads to the Himalayas, to search for one of the party's brother, who has gone missing on another such adventure. In the higher regions, they encounter Yeti's. They then find themselves in shock when they find one of their party is actually a mad scientist who has been cross-breeding Yeti's with humans and is (gulp!) half-Yeti himself! (Keep your pants on buster!) Pure Schlock that provides enough depravity (stock footage, bad acting) and death to make it all worth the trip. BA
7024 Man From Cairo, The (53) aka: Crime Squad aka: Dramma nella Kasbah International collaboration. Mike Canelli (George Raft) is an ex-G.I. who finds himself in Algeria at the same time an old friend is investigating the theft of French government gold. He finds himself in the middle of it when his friend is killed. The female lead is played by the beautiful Gianna Maria Canale. Also with Irene Papas and Massimo Serato. He Took a Desperate Chance for a Fortune in Gold... and a Beautiful Woman! To see Gianna Maria Canale at her most luscious, try any one of the numerous sword and sandal films she starred in. There are like 13 or 14. Irene Papas is still out there somewhere as I write this, about to turn 95 in September 2021. BA
7023 Man in the Attic (54) aka: Der unheimliche Untermieter Whitechapel 1888 London. Jack the Ripper is on the loose, butchering prostitutes. A pathologist named Slade (Jack Palance) takes an attic room in an old Victorian house. His landlady (Francis Bavier) begins to suspect he may be Jack the Ripper. Her niece Lilly Bonner (Constance Smith) however, is infatuated. This is a remake of 'The Lodger' from 1944 starring Laird Cregar in the role Palance occupies here. Ireland born Constance Smith then went on her long troubled journey. Failed marriages, drugs, alcohol and suicide attempts. Despite this, she soldiered on, stabbing a partner and enduring a few prison terms. Her last decades were ripe with despair and doom, in and out of hospitals until, at the age of 75, her long trek ended as she died a drunken alcoholic on a street in Islington, London. Not too far from Whitechapel? (See what I did there) BA
S12 Meet the Wildcat (40) aka: Cara de Gato Cat and mouse game played between a magazine photographer (Margaret Lindsay) and the suave Ralph Bellamy who may or may not be the 'Wild Cat' a notorious art theft criminal on the run. All kinds of situations ensue, south of the border, down Mexico way. Short on serious plot, long on silliness and action adventure. BA

DINOS, LOST LANDS, FANTASY FILMS, SWORD AND SANDAL, PEPLUM AND MORE
6856 Attack of the Moors (59) aka: I Reali di Francia aka: The Kings of France The border of Spain and France is in jeopardy. The heir to the throne has been kidnapped and is being held for ransom. Battles between Spanish gypsies, French nobility and Arabian infidels. There must have been a mix-up in the casting department the day that Chelo Alonso was cast as an Arabian princess while Liana Orfei was given the role of a feisty Spanish dancer/fortune teller. She is so beautiful it will make you dizzy. Great battles scenes and outdoor action! This is a new Widescreen version, sharp and colorful, with English subtitles. BA
7009 Captive Girl (50) aka: Tarzan vs. Flash Gordon (okay, I just made that up) aka: La laguna della morte The 4th film in the Jungle Jim series starring Johnny Weismuller. This time he duels it out with Buster Crabbe who is one of the villains! Jungle Jim travels to India and finds a white blonde jungle girl with a pet tiger (finally a tiger appears in the country it actually lives in!). The girl (Anita Lhoest) was a swimming champion from the 1940's, this, her only film. Maybe the best Jungle Jim movie posters feature her with her tiger, like Sheena. Buster Crabbes is a treasure hunter. John Dehner as a tribal witch doctor. Unintentional camp, stock footage and more. Crabbe and Weismuller competed back in the day. The blonde Anita Lhoest, dated a married Clint Eastwood, who knocked her up. She had an abortion. When you see her, you'll understand why he couldn't resist. She died at age 69 in California in 2000 of pancreatic cancer. BA
7017 Creatures of the Jungle (54) aka: The White Orchid William Lundigan stars as an archeologist in Mexico who is reluctant to take a female photographer (doll-faced Peggy Castle) on an expedition to a remote part of Mexico. Once they are underway, he finds he must compete for her affections with the group's guide. Harmless iguanas pose a threat, as well as sandstorms and excessive heat. Shot on location. Love triangle, jealousy and Aztecs. Color BA
6909 Dinosaurs of the Movies (various) With talks snips clips trailers and more... this documentary covers early Willis O'Brien up to the 1970's with some cool monster-behind-the-scenes footage on the set of 'At the Earth's Core'. + Three bonus shorts: Gertie the Dinosaur, The Dinosaur and The Missing Link and Creation.
7020 Force on Thunder Mountain (78) Strange lights are emanating from the top of the mountain. A boy, his father, and a dog trek through the wilderness. They have to fend off a grizzly bear and a mountain lion. Herons, beavers... an alien. A what? Powerful gusts of wind come from nowhere and destroy their camp. They are nearly crushed by a falling tree. Are they being watched? Separated from his father, the boy comes across Om, a bearded old man who claims he has lived on the mountain for a thousand years. Grizzly Adams meets E.T. BA
6861 Hawk of the Nile (50) aka: Lo sparviero del Nilo Filmed in Egypt with an Italian cast. Young Leila (Silvana Pampanini) leaves Paris (where she was educated), returning home to Cairo to collect her inheritance. Her cousin dishonestly administering the various land properties, manipulating, to help others (and more importantly, himself) as certain owned territories are rich with sapphire deposits. The second part is the solution as an Egyptian Robin Hood type (see title) with bits of Jules Verne's 'Michael Strogoff' for good measure (the dashing hero's mother). Nice quality In Italian with English subtitles BA
6908 History of Science Fiction (90) A compilation of scenes from science fiction films dating from 1950's to 1990. Rocky Jones, Space Rangers, Space Patrol, Flash Gordon, Lost in Space, Voyage to the Bottom of the Sea, Land of the Giants, Star Trek and then into the 70's... etc..... Fun for fans of science fiction television. + Giant Monsters Attack! Trailers! Trailers!! Trailers!!! of Classic Giant Monster Movies! All together this disc is over 2 hours.
6872 Japanese Tarzan (55) aka: Brooba aka: Buruuba aka: Blooba Safari organizes, along with a woman. Stock footage rhino charges. Japanese butterfly collector man screams like a girl as the stock footage rhino gives chase. Now, a meeting with tribesmen, real African natives, shot on location. Konga appears (dead-ringer for 'Konga' gorilla suit) Blooba (Japanese Tarzan) battles 'Konga' and rescues Jane (presumably, what is a Japanese name for 'Jane'?). Back home, Blooba and Cheetah (same guess) wait for Jane to awaken. Jane falls in love with Blooba, quick. The most he-man she has seen. Meanwhile some Mondo style tribal group dancing, Alligator attack, Native Attack, and Blooba calls in the lions (he has that skill you see). Stock footage mixed with real location shooting. Look for Woody Strode in an early role as a gibberish speaking native Chief and George Barrows as KONGA GORILLA (of course!) wearing the same suit from "Black Zoo"! No English sorry Japanese only
W176 Machine Kills Bad People, The (52) aka: La macchina ammazzacattivi What a plot! A smart demon gives special powers to photographer Celestino, who mistakes the demon for a saint!. His camera can rid the world of evil doers in his small Italian town. Celestino is not a man with bad intent, nor one seeking revenge on anybody..... But when the town leaders show their true colors... Celestino puts his camera to use. But will Celestino go too far? Let me at that camera! Santa, are you listening? Hilarious fast-paced morality play. In Italian with English subtitles BA
W182 Man Who Laughs, The (66) aka: L'uomo che ride Different than the 1928 version. A boy named Angelo, kidnapped by gypsies, has his face deformed so they can use him as an attraction, a smiling face that stays that way. A gnarly countenance. Grown now, and sold to a company of traveling 'artists' he falls in love with a blind girl. When Angelo thinks the blind girl is killed, he strikes back with violent revenge. But is she dead? Jean Sorel is 'The Man Who Laughs'. A costumer with good action, nice location work sets, our hero gets laid (always a good thing) and pretty violent at times. Interesting use of masks. Lisa Gastoni is Lucrezia Borgia and many more. BA
W175 Man-Eater (57) White Hunter ran for 39 episodes from 1957-1959 in England. I am not so sure a show about a gun-toting white hunter will be hitting the airwaves anytime soon. Too bad. Here we have a feature film, cobbled together from episodes of White Hunter. After much talking, they manage a jungle expedition, riding along and reacting to stock footage. But where are they going, and why? What exactly is it they are looking for? The guy on expedition with Hunter is a drunk, and shows weakness for the sauce. His wife tells Hunter that her husband can't deliver his manhood (Magda Miller), so she wants Hunter to give her a go when her husband passes out. But John A. Hunter has morals. Later the drunk husband thinks a tree is alive. Is it the mighty 'Tabonga'? Later, finally some lions. This is hilarious, especially the scene where the lion attacks Magda Miller, and how it plays out. Rhodes Reason as John A. Hunter. Patrick Holt also stars.
7008 Mark of the Gorilla (50) Nazis (posing as zoologists) put on gorilla suits (to try blending in) as they search for Nazi gold that was hidden during the war in this 3rd Jungle Jim outing starring Johnny Weismuller as Jungle Jim. French actress Suzanne Dalbert plays a supposed African princess named Nyobi, with Trudy Marshall as the kindly young woman who is running the nature preserve that the Nazis infiltrate. Onslow Stevens is the lead Nazi villain. The gorilla suits are obvious and sometimes hilarious. As usual stock footage includes animals who don't even exist in Africa, but who cares I suppose. Certainly nobody in 1950. These films are not to be taken seriously, just good fun. Suzanne Dalbert killed herself in 1970 with drugs at age 43 in Paris. Upgrade! BA
6865 Monday Begins on Saturday (65) aka: Ponedelnik nachinaetsya v subbotu Science Fiction from the Soviet Union. Set in a fictional town in northern Russia, where highly classified research into magic occurs. A Soviet Hogwarts? No too far off. A mockery. A hint of things to come. A satire of an inept administration, a dishonest bigger-than-his-britches scientist (oh my) and numerous equipment failures. A fairy tale for future academics. In Russian with English subtitles
6980 Sinbad and the Caliph of Baghdad (73) aka: Simbad e il califfo di Bagdad Returning from a sea voyage, Sinbad finds himself stripped of his home and possessions by the evil Caliph, who (it turns out) is his look-alike. The Caliph gets his kicks shooting sexy harem women with his crossbow. Sinbad falls in with some rogues, all finding themselves on a slave ship on the high seas. On this ship, the beautiful princess Scheherazade is being transported to be the bride of the Caliph. Sinbad falls for her. The adventure has just begun! Nice Widescreen English Dubbed BA
6801 Three Superboys in the Snow, The (77) aka: Babanin Evlatlari An Italian/Turkish production! Con-men/robbers get themselves thrown in jail so they can get close to a former bank robber to learn where he has stashed his loot. Meanwhile a gang of sleazy gangsters have the same goal. After breaking out of jail, the film escalates into sound effects filled exaggeratedly hilarious fight sequences (one in a Turkish bath!). The three male leads may not be dressed in red (they were trying to attach themselves to the series here but...) and no matter, they can fight and scrape, stunt and kick like the real superboys/supermen. In one sequence, they are in drag to fool the other guys... man they sure changed fast (as they rundown stairs). There is a little nudity too (doesn't hurt any production) and hilarious English dubbing (ah and finally a ski sequence). BA
6949 Vengeance of the Space Pirate (82) aka: Arcadia of My Youth aka: Waga seishun no Arcadia English dubbed early anime. Captain Harlock turns his back on Earth. Earth has sided with the invaders, and they want full compliance, no rogue elements like Harlock's group. Harlock and his loyalists are exiled from Earth, and since this is a science fiction cartoon, it is entirely possible to leave. Don't read too deep, an introduction to what would come later. Upon my honor, to do my duty. Harlock is a rogue pirate pilot in his quest to duel with Commander Zeda of the Illmidus alien race. BA
6892 World of the Unknown (78) First class documentary that explores the concepts of demonic possession (showing us some scenes from 'The Exorcist'), extraterrestrial contact (I'm still waiting), psychic powers and ancient civilizations. Narrated by tough guy Robert Conrad, who I might add, sounds kind of like Rod Serling (who at this point, was dead). Really, kind of a Mondo film, but we threw it into here like more of a 'In Search of...' type. Bogus surgeons, phony quacks, clueless shrinks spouting baloney, liars, fakers, bamboozle shamsters, mentally ill morons.... yea, go ahead and believe it you want to, you putz. The ancient civilization segment is at least interesting in a quasi-science kind of way. But more liars talk and tell wacky stories. Spoon bending. Under an hour

EXPLOITATION FILMS
6803 Big Love, A (95) aka: Innamorata Open credits sex scene. You know we are in for a good time! Carlos hears his brother boning Marisa, driving him crazy. Marisa hooks him up with her niece Giusy (Malu) to try to get him laid. Set around a beach villa, others get involved in the sexual shenanigans taking place. Like Marco the gardener, and a tourist who is camping with friends on the shoreline. The women are smoking fucking hot in soft-core smut from director Nini Grassia, master of such trash. 'Please stop it! Please stop it!" she cries. He obeys. 'Why do you stop?' she asks. Voyeurism and lots of soft-core sex with full moaning. In Italian with English subtitles. BA
6812 Emmanuelle 7 (93) aka: Emmanuelle au 7čme ciel Sylvia Kristel's last film as Emmanuelle, this time assisting a former schoolmate overcome her sexually abusive past and get around to living life again. She and Sophie (Caroline Laurence) had went their separate ways earlier in life. Opens with a hot and sexy shower scene with two beautiful girls, being watched by a man, who comes into the shower and tries to get some. A nun catches them screwing! But wait, this is a virtual reality trip with Emmanuelle and Sophie, revisiting their past, with a 'Matrix' style program. This is a science fiction Emmanuelle. Emmanuelle is trying to help Sophie get horny again. Sophie was raped in a freezer meat room by some bad guys (which we see in flashback). Now they use this program to indulge in sexual fantasies, getting Sophie back in the swing of things. LBX and damn near hardcore, but decidedly soft-core because no close-ups of the naughty bits. English dub. Better than 'The Matrix'! BA
6990 Emmanuelle, Queen of Sados (80) aka: I mavri Emmanouella aka: Sexy Moon One of the more obscure Laura Gemser films. Known here from a VHS release back in the 1980's 'Emmanuelle's Daughter', this is the version with the Queen of Sados title. Whether there are differences, I am not sure. But Laura gets down and dirty once again, bordering on hardcore, but just not quite. Here she hires a hit man to kill her abusive husband, is betrayed by said hit man, and all the while is trying to keep her daughter from harm (or worse!). This one was made in Greece by Greek director Ilias Mylonakos, getting in on a little piece of the Emmanuelle action (as in $$). Also with Gordon Mitchell, Gabriele Tinti and more. BA
6813 End of Innocence (76) aka: Annie aka: La fine dell'innocenza Annie Bell stars as 'Annie'. She is picked up from her boarding school by her 'father'. But no, he is her benefactor, maybe her sugar daddy! Off to Hong Kong they go where her (ahem) 'father' gets arrested for currency smuggling and Annie finds herself in the company of jaded libertines, much like in 'Eugenie' from Jess Franco, but she makes other friends and has other adventures as well. Annie Bell started with Laura Gemser in an 'Emmanuelle' movie and also was featured in 'House by the Edge of the Park' and 'Cross of the Seven Jewels' (among others respectively). LBX In Italian with English subtitles. BA
6859 First Desires (83) aka: Premiers désirs Nudity galore, and the ladies are 18+ so don't worry. Three beautiful young women are stranded on an island when their boat wrecks. On the island, they meet young men, all wind up naked frequently as the camera lovingly explores their tender young coming-of-age bodies. Of course, it is a film by David Hamilton, the man who brought us the wonderful 'Bilitis' and others. The guy had an appreciation for nude (of age) young women, so if this makes you uncomfortable this is not for you. He dresses up his ladies and makes them maybe look a little younger than they actually are, in the 'Lolita' type of fantasy he is known for. English subtitles. BA
6947 Goofballs (87) Filmed in the Bahamas. When a man makes off with a heist and flees to Barbados to manage a golf resort, the mobster boss (named Mr. Weasel) sends a couple of his goons to the resort, to retrieve what he believes to be rightfully his. But they have to enter a golfing competition to keep cover, and they suck. Meanwhile there are all manner of wacky characters (including Arabs and a failed funny man) about. A movie with a lot of balls. The comedy misses the mark most of the time, which oddly seems to add to the appeal of the thing. The 'Pussycat' song performance is like something out of 'The Gong Show'. BA
6818 Italian "The Way We Were" (73) aka: One More Time Before Leaving aka: Ancora una volta prima di lasciarci Lava lamp opening clues us in to the era. A wrecked marriage couple talk about their relationship which we see in flashback. We see them meet at a party, make love etc. The wife is played by the beautiful Barbara Bouchet, a reason to see this. She cheats on her husband with a studly Achilles type, he on the other hand cheats on her with a sexy assistant. They seem to be okay with each other still in the flashback sequences. But then she is marching around with a feminist group, always spells trouble for any couple. She runs off with some hippies and is almost gang-raped (or is she actually?). Her husband has another woman and is unfulfilled. The couple meets again at a party later.... Italian language only and no subtitles. Some glitches occasionally on the master print. BA
6817 Naked Bodies (83) aka: Corpi nudi aka: Nude Strike aka: Cuerpos desnudos Kind of porno, but really a drama with some porn scenes. Luciano the photographer is wheelchair bound, watches porn to pass the time (there is XXX here so be warned) and soaks in depression. His girlfriend Ines (Rosy Navarro) tries to make love to him and this makes him angry because he maybe cannot get an erection. Luciano has flashbacks/day dreams to the good times, and we see him make love to Marisa (Marisa Mell). Ines masturbates when she is alone. Luciano persuades his friend Mario to have sex with Ines. Luciano watches porn in the other room while Ines has sex with Mario. Later Mario rapes Ines in the same room as Luciano! At this point the only pornography is what we see Luciano watching. But this changes as Ines goes hardcore with her friend and then even gets nailed by Mario as Luciano watches. Bleak ending. Includes some cool trailers. In Italian with English subtitles. BA
6935 Pink Tush Girl (78) aka: Momojiri musume: Pinku hippu gaaru Horny Japanese School Girls. Ya gotta' love 'em! (Yes, all 'of age'). After her first sexual experience with her boyfriend, Yuko is dumped. She did not enjoy it, and it was awkward. Yuko runs away from her Tokyo home. Her friend Rena follows, trying to find Yuko, but always a day late and a dollar short. Yuko is discovering her sexuality at this point, screwing every man she meets. Wait until you see the scene where we learn how she got the nickname 'Pink Tush Girl'. Nudity, Sex, High production values...LBX In Japanese with English subtitles
6869 Private Lesson, The (75) aka: Lezioni private Carroll Baker is Laura, the new schoolteacher in a Provincial Italian town. Her older than they seem pupils sneak around, spy on her, and get pictures of her naked when they peep into her bedroom. Steep in the lust of the young (remember the first 10 minutes of 'Pretty Maids All in a Row'?) the young man should be pursuing the cute young girls around, who have also reached puberty. But Carroll Baker is pretty hot, and while playing piano he peeks up her dress. One gets the impression she likes the attention. But these young men are creeps. They pretty much terrorize and exploit her. Serious, things go differently than you would expect. This is not a comedy. There is a sort of remake of this called 'Hot Dreams in School' from 1979 listed on page #54 of the 2020 consolidation. The Private Lesson is Widescreen - Upgrade
7015 Rented Lips (88) aka: Labios de alquiler A sleazy producer talks two fledgling filmmakers (played by Martin Mull and Dick Shawn) into finishing up a dirty movie for him called 'Rented Lips', under the condition they then get to do a 'real' film. . Of course, they stray from the assignment (artistic license) putting in their own two cents, making it into a dirty movie 'musical'. This movie is hated by everybody, some would say with good reason. But for addicts of bad taste such as myself, why not? BA
6845 Series Rose 4 (86) aka: Série rose 4 aka: Softly from Paris 4 More Erotic Tales from France, dubbed into English. These tales all take place in the Middle Ages and feature comedic tales ripe with sexual situations and a whole lot of nudity from the female players. 1. The Rose Leaf Turkish House 2. The Love Potion (directed by Harry Kumel) 3. A Well Deserved Punishment (this one from director Walerian Borowczyk). Loose light-hearted lusty fun. A kind of updating of the Canterbury Bawdy Tales types from the decade before.
6851 What's Up Nurse (78) aka: L'infermiera specializzata in... Doctor Todd (Nicholas Field) arrives at his new hospital placement and notices quite a bit of hanky panky going on about the place. Laugh out loud, crude at times, sexist, insulting fun. We could all use a little more of this. Barrel-scraping perhaps in the low brow Benny Hill vein, but please any day over the comedy of today. In the opening, the doctor is on a train reading a book. Across the aisle is a smoking hot blonde in a dress, sweet sweet legs. She too is reading a book. 'The Story of O'. She is aroused and starts to squeeze her breast, catches him watching. In the train loo they get stuck. Lots of nudity. Derek Ford directs. BA

EXTREME HORROR AND GORE FILMS
6918 Afternoon Affair: Rear Window (72) aka: Hirusagari no joji: Uramado Ayuko comes home to find her rich boyfriend peeping (with binoculars) at people in the building over the way, having sex. She is overcome with lust and they start to make it. They want to get a better place and better telescope equipment so they can spy on people and get turned on. They need it. It is their way to sexual ecstasy. But her lover doesn't get her off, and he leaves. He is her sugar daddy. She brings home a new guy and they get it on. Then she goes to her sugar daddy and wants money to help her new lover out of debt. He won't do it. She reveals to her neighbor she peeped on her having sex with another man. Now Ayuka is blackmailing her because she wants money to help her lover. Her neighbor is forced into sex with yet another guy to get the money.... What a mess, how can it end? Voyeurism, sex, nudity and betrayal. LBX In Japanese with English subtitles BA
6804 Bloody Camp: Shewolf of Spilberg (77) aka: Helga, la louve de Stilberg Helga (Malisa Longo) rules in an unnamed Banana Republic, running a prison for women like 'Ilsa' ran a Nazi camp. Helga uses her position of power to satisfy her perverse sexual urges, having sex with a man, or a woman, whenever she wants. Fascist uniforms are not Nazi, but made to look similar, her sadistic guards are rapists, and sadists, forcing themselves upon the sexiest of the inmates. Helga pleasures herself as she watches a rape. Leather whips, military stock footage, dungeons, a war battle finale... Helga struts around, looking fantastic, and acting mean as you would expect from a Shewolf. Two women escape, they catch one, meanwhile Helga is beating a woman in the dungeon, we see the other escapee running..... LBX alternate version of 'Helga: Shewolf of Spilberg'. BA
6920 Castle of De Sade (82) aka: O Castelo das Taras The female students have arrived from San Paolo to an old castle in the remote village of Ave Marie. The perfect environment for our research. They are so sensuous and horny the atmosphere resurrects the sexual sadist Marquis De Sade, led by their psychology professor Lucy (Esmeralda Barros), who has a hidden agenda. De Sade takes possession of a local priest, making him do very bad things indeed. Namely getting these nubile young ladies out of their clothes and serving them up for his own sexual gratification and painful perversion. One sex scene gets violent after the nude man chases the naked woman down, starts to hump her again, and then cuts her head off! Sex, full frontal male and female, occult rituals and deviltry, pagan statues... To my master lurking in the darkness, come to me. I request your possession..... For fans of satanic horror, this Brazilian horror delivers the goods, and more nudity than most. Barros was also in 'King of Kong Island' and others. This was her last film. She died in 2019 in Rio De Janeiro of Parkinson's disease at age 75. In Portuguese with English subtitles
6806 Ceremony of the Senses, The (79) aka: La cerimonia dei sensi Inspired by Pasolini's 'Salo' but this is director Antonio D'Agostino's personal twisted vision. It's a nightmare dream, blasphemous to the believer, offensive to the atheist, an indictment of totalitarian fascism. A car accident victim in hospital spins out in his mind as a sort of Messiah, fighting the corrupt worldly machine. He himself becomes a danger to the powers that be, political, legal, and religious. Repression, corruption and depravation are the order of the day, as acts of orgiastic excess are the norm. A re-telling of the Bible? A parable? A warning perhaps? The graphic and grotesque scenes are some of the nastiest, and cannot be repeated here. This is the new Uncut 110 minute version in Italian language with English subtitles. Don't expect to ever find this at Walmart. BA
6921 Chez Nous (78) aka: With Us Lalia swims naked with large eels in a tank as a performer. She simulates masturbation with the eel (without the eel's consent) as part of her performance. Later, toweling off, she rebuffs a potential suitor. He doesn't like it, and strangles her to death. The man flees into the streets of Sweden (where this was filmed). The man goes to the newspapers to try to create an alternate story. The journalists (remember those?) investigate by going out in the field, where they discover other things that need to be looked into. An intelligent big budget film that looks pretty damn good with the Swedish setting, and pretty sleazy too, especially when we learn more about how the eels are used. A total "what the fuck" ending. LBX In Swedish with English subtitles BA
6878 Crackdown Mission (88) aka: American Commandos 5: Fury in Red Godfrey Ho strikes again with a cut and paste that must be seen to be believed. In the opening a guy is getting it on with a hot chick. She gives him a ? and he dies, then she marks him with lipstick. The investigators had me in stitches. What we have here is a female serial killer who is helping devil worshippers who are trying to bring Satan back on planet Earth! They wear weird blue sleeveless shirts with bizarre symbolism, have strange streaks on their foreheads and chins, and trouble shoot their plans as they choose the next woman they want to kill. A mentally unbalanced and beautiful mute young woman is next on the roster. Some cool fights and shootings mixed with a dose of horror (sort of). Priceless. BA
6923 Dark Doors (74) aka: Asesina Obsesión After a terrible accident, a young psychotic girl named Emma (Susanna East who's next film was 'Captain Kronos: Vampire Hunter') stays in psychiatric hospital. Emma is released by the hospital after she is involved with a lesbian nurse. She then murders the nurse and then her husband is slashed to death. Her mother tries to hide her... yep... she gets slashed too! The climax in a huge gloomy mansion is great with some good stalk and slash moments. Some gory and giallo-like stabbings, nudity and a grim atmosphere make this obscurity worth checking out. Also with Perla Cristal. From director Jose (Vampyres) Larraz. Spanish horror listed before as 'Emma, puertas oscuras'... THIS PRINT is a few minutes longer and Widescreen! BA
6887 Depravacion (82) Victor returns home and his woman jokingly pulls a gun on him. Ha Ha. They drink booze. They have a very complicated love-making process as you will see, soaping up, dressing sexy and then. But the other naked girl... is she a sex phantom? And what is with the topless horseback riding from the first girl? She does the worker and the man in the barn. I may be in over my head trying to figure out the plot. After nailing the sex phantom (okay, not a phantom, but a flesh and blood vixen) another woman (a blonde this time) is exposing herself under the supper table. Hell why not? Now she is naked and an orgy ensues, then a beating. Somehow, my eyes are still glued to the screen to see what happens next. Now Victor is watching his woman getting it on..... Jose Gras is Victor, he was in Fulci's 'Conquest' next. Things eventually get dark in this film when the killing starts..... LBX and in Foreign Language only with no subtitles. A very dark skin flick. Francoise Perrot and Concha Valero spend most of their screen time naked and having sex with somebody or another. F.L.
6828 Diamond Flash (11) Five women are linked to a mysterious character known as 'Diamond Flash'. Each of these women are of a different environment, each with their own set of issues and problems that need solving. A dark fantasy thriller that can be unsettling at times. The female cast are not superheroes. Violeta is looking for her missing daughter. Elerna has a strange secret. Lola wants to settle her debts from her troubled past. Juana is searching for true love, a difficult thing to find in Madrid (where this takes place). And Enriqueta, a woman that just needs someone to bring her laughter. Diamond Flash? Here comes the wild card. Downbeat woman movie. LBX In Spanish with English subtitles. BA
6810 Dog Called... Vengeance, A (77) aka: The Dog aka: El perro Aristides (Jason 'The Exorcist' Miller) is being held prisoner by a South American dictatorship in a remote prison camp. We see what happens in the pre-credits sequence to those who are foolish enough to escape. They are hunted down by a guard and his killer German Shepherd. Aristides is run ragged across the countryside, the dog in relentless pursuit, with the armed sadistic guard not far behind. This is a solid thriller, with an unexpected conclusion. Fantastic. Now for the first time in a new LBX version with the title 'El Perro' on the screen. The old English release was known simply as 'Vengeance'. This is not only sharp LBX, but English language dubbed as well! The dog will stop at nothing. Also with violent and bloody shoot-out finale. After going through all that I was kind of devastated with the ending of the film. BA
6815 Hiding Places, The (69) aka: Los escondites Orphaned Jorge has arrived at his grandmother's huge house and property in the country. First though, Jorge kisses the graves of his parents and claims he has absorbed their spirits. The grandmother is wicked, and starts to see Jorge as a reincarnation of her dead son. Her other son lives there as well, fooling around with the maid, and beating the maid when she messes around with a local. Grandfather reveals why he married the tyrannical grandmother. Meanwhile another family member is locked up in her bedroom (a daughter) because she went loco after her lover was killed eight years back. Jorge learns more about the spirits from his mad aunt........ In Spanish with English subtitles.
6927 House of Ripe Apples (71) aka: La casa delle mele mature The opening credits play over an image of some type of painful institution shock therapy. The brother is after Judy's share of the company money, or he will not sign a release from the sanitarium. Medical malpractice and everybody shady as hell? Of course. She gives in and is free. She hooks up with her gal pal Marisa. Meanwhile some bump and grind soft-core sex and what looks like a decadent party of some kind led by Erika Blanc. Madness. Nudity. Drugs? Back to the nuthouse. Escape! Running across the countryside, dressed in white hospital clothes. More soft-core sex! Flashback to childhood rape. Maybe this is why she is mad? Nymphomania. Off the rails one of a kind with a downbeat ending. This was previously listed in foreign language with no subtitles. This version is uncut and With English subtitles for the first time.
7014 Immortal Sins (91) aka: Vengeance with a Kiss An ancient Spanish castle is the inheritance of Mike (Cliff De Young) and his wife Susan (Maryam D'Abo) and in they go. Unbeknownst to them, the castle comes with the prerequisite curse. Diana (Shari Shattuck) has been stalking the corridors of the castle at night for centuries, seducing the men in the family, an ancient curse that remains active into present day. We see flashbacks. Erotic demonic horror with plenty of nudity from Shari Shattuck. You may remember her from 'Tainted', 'The Naked Cage' and others. Filmed in Spain where they have real castles. BA
6884 Impakto (96) Young nanny Doray takes a job watching baby Junjun and weird things begin to happen almost immediately in the big old creepy house. The mother of the child is too old and weak to be of any use to the child. Doray fits the bill. Junjun comes with special instructions that seem pretty simple at first. The mother says she will take care of Junjun during night, Doray, the day. Clear the room by six she tells Doray. Remember my orders. Naturally this means something horrific and supernatural must occur. Maybelline the cook tells Doray that she will not last. There seem to be many servants/helpers about. The father of Junjun practices medicine from the large residence. He feeds his patients to Junjun, who apparently becomes a murderous flying killer beast baby in the night. Amazing Filipino Horror with English subtitles.
W158 In a Glass Cage (86) aka: Tras el cristal This Nazi horror is the extreme compared to 'Apt Pupil'. Klaus was a Nazi medical torturer during wartime where he committed the most appalling atrocities on young boys. Now he lives in hiding, and his demons having resurfaced, tries to kill himself but lives, now on an iron lung. The wife and daughter hire a young man to nurse him. This young man has found the diaries of Klaus, and now knows all of his secrets, and, has a few of his own. Unsettling horror, disturbing, jarring. Unforgettable and nightmare inducing. It's like stepping into somebody's grotesque dirty nightmare. Hard to handle for the weak, the jaded however, who have already seen 'Salo' and similar fare, this is one of the darker ones. LBX in Spanish with English subtitles BA
6836 Insomniac on the Bridge (85) aka: L'éveillé du pont de l'Alma An academic peeper (Michael Lonsdale) meets a prize-fighter/hunchback on a bridge. They have one thing in common. Insomnia. The peeper seems obsessed with a young couple who walk the shores. The woman is pregnant. Peeper and hunchback rape the pregnant woman on the bridge when no one is looking, with the Eiffel Tower in the background. The woman throws herself into the Seine. She will return in spectral forms. The ex-boyfriend starts a new relationship... but are things as they seem? Philosophical discussions lead to irrational conclusions disconnected from realities of existence. If you can piece together the meaning.... In French with English subtitles
6928 Internal Darkness of Monica (76) aka: Death Haunts Monica aka: La muerte ronda a Mónica Monica (Nadiuska!) shoots her husband's blackmailer but he won't stay dead in this 'Diabolique' influenced thriller. Monica starts to go mad. A psychological giallo and all of the Euro-babes get naked (Nadiuska and future porn star Karin Schubert to name two). Nadiuska was hugely popular because she looked a lot like Sophia Loren, and had no problem showing us all her goods. Karin Schubert also has a lesbian scene with Barbara Rey. Casual. The creeping camera slithers around the house, lingering glimpses in corners of rooms building on the anxiety of Monica's crumbling mind. Nadiuska is so good in this film she later went mad in real life, and last reports have her (after being homeless and forgotten) in a mental institution in Madrid. This film is finally available Widescreen and with English subtitles. BA
6929 It's Not Good For a Man to Be Alone (73) aka: Il Chiodo nel Cervello aka: No es bueno que el hombre esté solo Martin is a widower who has replaced his dead bride with a life-like mannequin. He sleeps with it, talks with it etc. Things are going along just fine until his prostitute neighbor Lina (Carmen Savilla) sticks her nose into his business when her daughter tells her she has found Martin's secret. Opportunistic Lina will expose him unless he let's Lina and her daughter move in. Martin is a working man and has money. By now Martin has a new addition, a mannequin resembling his dead wife's sister. Lina and her sleazy pimp lover complicate Martin's wife. Lina is taking over and demands Martin get rid of his 'dolls'... the unbalanced Martin thinks of his options. Martin gets revenge. Creepy, cool, weird and sort of amusing. Widescreen In Spanish with English subtitles BA
6964 Knife, The (91) aka: A Grande Arte aka: Exposure Knife culture is a big deal in Rio de Janeiro as pacifist American photographer Peter Mandrake (Peter Coyote) finds out when one of the women he is photographing is murdered by a knife-killer/rapist. Peter will avenge her, and his travels to confront her killer will take him on a journey through South America where he will learn not only the knife culture, but the art of knife fighting as well, becoming involved in an underworld, whose rules he must adapt to, or die. Manliness, justice, tragedy and revenge. BA
6913 Lost & Found #10 (various) More Madness (and some surprises). No list this time, we figure if you made it this far, then number 10 (the last in this set) will not disappoint. Oh the humanity! May contain adult material
6912 Lost & Found #9 (various) More Madness (and some surprises). No list this time we figure if you enjoyed these up to this point, then these compilations will blow your mind as well. Collect them all! May contain adult material
6883 Many Taboos of Life Mix Disc (various) A gory blood-soaked mess.... truly disturbing footage... some real life scenes of violence and death... creepy Japanese CGI Hardcore with tentacle rape... some created art that wriggles and moves that must have been created by the minds of disturbed people... some fascinating characters react to the madness of the world around them. Vandals destroy innocent buildings with paint, fight clubs... vomit..... bad dancing... Abandon all hope ye who enter here. Adult Material
6838 Mask of Murder (88) aka: La mascara asesina In a small village in Canada, Chief Superintendent Jonathan Rich (Christopher Lee) along with Superintendent Bob McLaine (Rod Taylor), are on the trail of a razor-wielding woman- killing serial killer. Mask of Murder borrows bits and pieces from various slasher/giallo films that have come before, but with an unusual team of Lee and Taylor up to bat to catch the killer. The killings are quite bloody, the settings (filmed in Sweden) are quite atmospheric. Did you know Canadian police use machine guns? Valerie Perrine is Rod Taylor's adulterous wife, Marianne. Does Rod Taylor's Bob sniff the panties of his cheating wife? You decide, and let me know. BA
6839 Mirror Bursts, The (74) aka: Trompe l'oeil A pregnant woman (who is a restorer of paintings) is insecure and restless, dealing with some random amnesia in her mind, blocking something unpleasant. Opposite her house lives a mysterious man who seems to be watching her, making her even more paranoid. Could he be the link to her confusion? Her relationship with her husband (Max Von Sydow) is difficult and adds to the tension. The mirror is broken, and she does bleed. All of this revolves around an art technique that uses realistic imagery to create the optical illusion that the depicted objects appear in three dimensions. Fantasy with a dash of horror, and an ending that will blow your mind. The secret of the illusion is the illusion of the secret. In French with English subtitles
6932 Morianna (65) aka: Morianerna A strange family, led by their bossy rich old sadistic patriarch (who looks like Boris Karloff) living in a large gothic house. He wants to leave it all to charity. His family has other plans. One night the old man is attacked and he disappears. Now you see him, now you don't. And then, you do again. The nephew is a psychopath. His attorney is a swindler. Dead or alive who knows? It is about who outwits who to come out on top. The party reveals what's what. Fascinating Swedish thriller, with sleaze, ample nudity (from voluptuous perky blonde Lotte Tarp) , greed, bizarre horror touches and near rape. The subtitles are explicit for 1965. They are dumping a body and one man says to the other. "Don't be so fucking nervous. That won't help us." Tagline: Only Sweden Could Shock Like This! Of course English subtitles BA
6816 Mortem (10) Described as a cross between 'Mull Holland Drive' and 'Persona', Two women are the main characters, they play too as well, in some erotic ways. Together the women race along on motorcycles across the countryside in the opening scenes. Finally they arrive at some large house in the country. Two other sexy women are inside waiting for them. Spooky, nightmarish, surreal and very weird, filmed in a stark crisp black and white, like an old horror movie. 'Nightmares' with David Hemmings meets 'Castle of Blood'. Witchy. LBX In French with English subtitles.
6866 My Lovely Burnt Brother and His Squashed Brain (88) Italy. It takes 10 minutes to get started. A woman has a brother who wears a white KKK hood because he is damaged from fire. He wears it because the car that hit him was black. This passes as a 'joke'. She injects her brother with urine. Now he is a brain dead zombie, ready to do her bidding. She has enemies and she sets him loose to kill them, dressed as a Klansman. Good thing they are white Italian guys, otherwise I don't think we could get away with this. Gory and quite offensive. He puts big weird fish into a woman's bubble bath for another kill. Finally the reveal as the female detective in punk gear closes in. Phallic symbolism, gory spattered kills before your eyes, garage punk band and music, and English subtitles for the first time. The whole thing runs just over an hour, there is some type of strange video store opening scene before the movie.
6830 Mykonos Illusions (78) aka: Erotic Nightmare aka: To symblegma After an intense sex session (filmed by a pornographer) with an excited client, Suzan has had enough of being a plaything. She shoots and kills her abusive pimp boyfriend and escapes away to the island of Mykonos where she hooks up with a young swinging jaded couple. When Katia is eyeballing Suzan, mesmerized as she is, with that music playing... hauntingly erotic... They dance and party at the local club. But blackmail is about to make Suzan's life take a turn. Jane (Island of Death) Lyle shows up (in one of only three films she ever appeared in) according to the listing, but I couldn't spot her. This almost went into the XXX section, but the film is more an erotic thriller, but yes, there is hardcore (just a tad), so be warned. Suzan is played by Patricia Donaldson, who was in barely anything, but somehow was in a Brad Pitt/Jolie film in 2005 (Mr. and Mrs. Whatever). Beautiful locations, voyeurism, nude beach.... Katia tries to rape Suzan. No! No! Suzan pleads. Go Away! Go Away! Will Suzan be able to live a new life and leave the debauchery behind? A twist (and betrayal!)! There is something so 'bohemian' about this world in Greece 1978. Loose, a little sleazy... Fun! From Greece dubbed into English language (with foreign subtitles). The full 1 hour and 40 minute version!

6868 Please Don't Eat the Babies (83) Two young girls (named Sugar and Boobylee) in bikinis, vacationing in the Far East, are kidnapped/lured off on a treasure hunt to an island where it turns out they'd been years earlier when they were children. There is more to the plot, but the story is what happens on the island when they meet a kindly (?) cannibal family. Weird as hell. Mix Humongous with American Gothic. Dark and scary second half of the film. Kirsten Baker is Candy, straight off the set of 'Friday the 13th Part 2'. Hank Worden is Gramps Jebediah. The female cast in bikinis is a plus, and some topless! From Japanese Laser Disc! Also known as 'Island Fury' in the U.S. This is the uncut version!
6936 Porno Killers (80) aka: Le porno killers Two sexy female assassins are dispatched to Italy for a hit. But before they leave New York City they play with their boy toys. Hardcore (inserts?)so beware! Kind of reminded me of a 'Johnny Wadd' film with a serious crime thriller plot sandwiched inside hardcore sex, or better yet, a Jess Franco or Renato Polselli film. The girls are like how we could only wish 'Charlie's Angels' would have been. Carmen Bizet (of 'Patrick Lives Again') Thelma and Louise meets Rabid Dogs, throw in Vampyres (the gals lounge around naked a lot, a plus!). Keep in mind, the women supply loads of nudity and soft-core, but probably had no idea the film would have hardcore sex inserts added with girls that looked like them. In one scene, they have an encounter with two misogynist homosexuals, one played by Mark Shannon in his debut. No matter, this cut and paste from the director of 'Night of Violence' and many more is a nice slice of Italian made trash. Widescreen and FINALLY with English subtitles! BA
6844 Scream... and Die! (73) aka: The House That Vanished aka: L'ombra dell'assassino For the first time, the complete 98 minute version. Jose Ramon Larraz strikes again with libidinous, scantily clad women, old creaky dimly lit houses and an elusive sexually 'unusual' psycho who is murdering shrieking, innocent women. Giallo inspired but includes foggy gothic atmosphere and candle lit cleavage amidst the stalk and slash. As far as sleeper 'killer-on-the-loose' horror films go, this is one that many may have missed and comes recommended. Exactly what you would expect to see on a triple horror bill at the drive-in in the 1970's. This would be Larraz's lead in to great films like 'Symptoms' and 'Vampyres'. The nudity from virtually all of the female stars doesn't hurt either. Andrea Allen, Judy Matheson and more star. BA
6930 Sensivitŕ (79) aka: Kyra: House By the Edge of the Lake aka: Kyra: La signora del lago Spooky horror from Italian director Enzo G. Castellari. When Lilian was a child, she was out rowing with her mother in a lake and is dropped off on shore. Then, a hand comes from the waters and drags her mother under the murkiness. Flash to the future. Lilian (Leonora Fani, who was in 'Giallo a Venezia' the same year!) returns to the area on a motorcycle. There, she is attacked by a robed man with an axe and is spied upon by a doppelganger. She revisits the site on the same row boat, now moss covered and slimy, and explores the region of archaic gothic misery looking for answers. Creepy cats, ghostly nuns, séance ritual, madness, sex and nudity, amazing old castle-like buildings and more..... With Vincent Gardenia, who may have all the answers! The locals think she is a witch! UNCUT director's version of this film and in English language. This is an alternate, 96 minute version of Kyra, unlike the butchered 78 minute version. Some mark on picture blocks message on screen, small and barely noticed. This is Widescreen and in original English language or dub, with English subtitles when somebody speaks in Italian.
6871 Sexual Play (69) aka: Seiyűgi The film begins in a lengthy free-love orgy that takes on the form of 'play' rape, being performed by a bunch of politically apathetic students. Later the four males actually kidnap a girl, and brutally rape here. But when one of the boys falls in 'love' with the rape sex toy woman (aww, ain't that sweet though, I guess you could say it was love at first rape!), she gets him involved in another step into radicalism making firebombs with her revolutionary brother. The raped woman seems to reciprocate his love...... Widescreen in Japanese with English subtitles.
6939 Shinjuku Maria (75) In a bar, a man and a woman discuss Shinjuka Maria, a young hooker who is sitting alone in a corner. There, she has an interested customer. Off they go then. The women leaves the bar and follows. She is a reporter you see, and Maria is her new story. Through the dark seedy streets, armed with a camera, she will spot and study the young prostitute. Meanwhile, Maria engages in various 'humpings' in the nearby hotel. She only has sex with young men. The scenes with the reporter are also sexual in nature. Going home, she has sex in the shower with her man. Later in bed she says 'Bite me, bite me will you?' to the same man. Later Maria falls in love, but still later lies still while an old man licks her bottom. Later Maria and her lover attack and rape the reporter, then they kill her, and are on the run with detectives on their trail. One sleazy film, loaded with nudity and sex. LBX In Japanese with English subtitles
6847 Shock: Diversăo Diabólica (84) Latin American Strangler in Portuguese with English subtitles! After a party, the band, along with their girlfriends, stay the night, unaware a maniac is lurking. A flavored brand of rocky new wave, sex/nudity and death. The party is already ending. The musicians have paired off with their lovers in various places for sex. The first kill is the strangulation of a girl in a car. She struggles and kicks, dies. Another man is brutally strangled, the others hole up to wait out the night. But somebody is playing the band's drum set up. Badly. One thing for sure- the drummer is not the killer. Strobe light suffocation is excruciating. Next up, he wants to fondle naked breasts as he kills.... Blade through a rat. Who will survive? 'Shock' ending, sort of. In Portuguese with English subtitles
6889 Shocking Suicides #1 (various) These people have all had enough so they end it in various ways... so in the darkest reality, this is real death, compiled from dozens and dozens of filmed suicides. If watching this gory shocking mess will make even one person from making the final fatal decision then it is a good thing to have out there. Suicide is messy business, and not fair to do in front of people because it traumatizes they who see it.
W163 Stepsisters: Hands of Blood (74) One sister is having an affair with her brother-in-law. They plan to kill the other sister. Or is it the sisters planning to kill the brother-in-law? There will be kills and blood will spill. Things are not altogether sane in this creepy old mansion. Very impressive rural setting and the indoors of the house are real, not cheap sets. Shock finale? You decide. Love the house. BA
6834 This Answering Machine Does Not Take Messages (79) aka: Ce répondeur ne prend pas de messages An extremely paranoid man withdraws from society in an attempt to elude the angel of death. He paints his apartment black, keeps all doors and windows closed.... We see grim pictures, an inspiration to his phobia, an influence. He talks to himself, giving us insight into his wrecked mind. Dressed up like some half-assed Claude Rains Invisible Man, day to day becomes an excruciating exercise in obsessive compulsive behavior. The subtitles repeat, I suppose intentionally, even though he is obviously on a rant of some sort, but other times more clear intentions are realized with the titles. Eventually he paints himself into complete darkness. A truly bizarre French film with English subtitles.
6874 To Die...To Sleep...Perchance to Dream (76) aka: Morir... dormir... tal vez sońar The ghost of a man returns to his mansion and remembers moments of importance, the memories infecting us all with missed opportunities, wounds of regret, ultimately gloom and doom. The periods we see in memory span 1915 to 1966... his death. Another ghostly vision of the afterlife that includes neither heaven nor hell, but an alternate existence of memory and longing, several women falling through his grasp. His soul speaks and talks of his experiences, then we see the past play, which is the entire movie. Downbeat and Haunting. Widescreen In Spanish with English subtitles BA

FRANCO FILMS
6825 Cocktail Special (78) aka: Wet Lips A pretty young woman of mixed race named Eugenie enjoys her body and the bodies of others when she visits her friend Martine (Carole David). The servants will do the carnal initiating. Ana (Nicole Valin) will prepare the special cocktail, an aphrodisiac that will drive everybody into a sexual frenzy. Clinical wet hardcore from Jess Franco that also stars Lina Romay and Karine Gambier. In French with English subtitles Sharp Upgrade
6809 Devil Came from Akasava, The (71) aka: Der Teufel kam aus Akasava Soledad Miranda stars, shortly before her death, in this production that was filmed back to back with 'Vampyros Lesbos' and 'She Killed in Ecstasy'. The prize that several parties fight over is a kind of radioactive 'energy stone' that can turn metals into gold, and people into mindless zombies. Miranda plays a secret agent in the disguise of a nightclub dancer. Some Edgar Wallace influence (including actors) make this one like a Krimi-style James Bond send-up. Patchy confusing zoom lens fun from the master of all that is good and bad, Jess Franco. Horst Tappert, Ewa Stromberg and even Jess Franco himself star. And let's not forget Howard Vernon! LBX English language dubbed for the first time. This is the Rare English dubbed alternate version! The other version we have is one with English subtitles. BA
6846 Sex is Crazy (81) aka: El Sexo Esta Loco Mrs. Foncesca (Lina Romay) puts on sex shows with the disco ball overhead and strobes lights flashing. Aliens (painted green naked men and women) impregnate a woman with an accelerated fertility system so she can have 600 babies at a time, every hour (no babies though thank goodness, It's a sex show remember). The naked woman lying on stage is humped and humped. Masked spectators clap. So, real aliens get a peek, and decide they want in on the action. One of the craziest of the Jess Franco sex comedies, and that is saying something! the aliens are in human form, some with cheap Halloween masks. Franco's film zooms Lina's naked body constantly. Colorful, tons of full nudity from both male and female, soft-core sex, beachy locations, horny characters... Finally a sharp upgrade with English subtitles

HAMMER AND BRITISH FILMS
6895 Amicable Fear: A Tribute to Amicus: (various) Three tales no wraparound. Talk of the Devil: Campy story about a man who makes a deal with the devil with his soul so he can marry the woman of his dreams (the beautiful Suzan Farmer). A twist! + Gothic British Horror short called The Shadow of Death: Starring Barry Stokes (that alien guy in 'Prey' that ate the lesbians). A dark castle (Warwick Castle, real location) is the setting for a chance encounter between two strangers, both on a quest for a precious diamond hidden somewhere under the floorboards. Mystery, discomfort and malevolence + another short! Mrs. Amworth (78) Another rare Horror Short from England! A vampire stalks a quiet English town (complete with church and cemetery). The vampire is not your run-of-the-mill buxom bird, but a charming lady with a creepy smile. Owes a little to Sheridan Le Fanu. Starring Glynis Johns, Derek Francis.
6972 Armchair Theatre: A Room in Town (70) A wife finds her husband has rented a room in town, and she goes there and finds one of one her husband's married friends there, with a young woman. The young woman leaves, and the wife seduces her husband's friend, stripping naked and getting into bed. Her husband is also cheating. Dawn Addams, Cheryl Hall and more. + The Leftovers (72) Another Armchair Theatre. Things get awkward when a woman accidentally spills the beans on a male friend's expenses fraud. Ann Bell and Anton Rodgers stars.
6966 Big Chance, The (57) Bill Anderson (William Russell) takes off with the funds in his charge after his wife suddenly leaves him. Beginning again in Panama, that is the plan. He finds himself on the run with a beautiful girl named Diana (Adrienne Corri) who is fleeing her husband. Two peas in a pod you would think. But Diana is a wild woman, and his troubles are just starting. Regrets, Bill's had a few. Maybe he can change things back to the way they were?
6905 Derby Day (52) Various characters (some with money to burn apparently) are on their way to the horse races, and we meet them, as well a woman and her lover who have just killed her husband, and a working class couple excited about their first outing to the Derby. All very English with fine performances from Anna Neagle, Michael Wilding... and look out for Michael Ripper as the 1st Newspaper Reporter! BA
6946 Hammer Shorts (various) Hammer would produce shorts as well we all know and here are two of them as it were (or was). Thora Hird as Vera Watson, struggling to keep her family of gamblers and spendthrifts on the straight and narrow in the short 'A Clean Sweep' from 1958. Then we have (this second feature in color, the first in black and white) 'A Man on the Beach' from 1956 directed by Joseph Losey with a screenplay by Jimmy Sangster. A man in drag (Michael Medwin) robs a casino, is shot in the arm, kills his partner in crime (Michael Ripper), wanders the beach and finds a shack where he meets a blind man (Donald Wolfit) inside. Here, he just may find his destiny....... Michael Medwin would live to be 96, just passing in 2020 of undisclosed causes in England.
W177 Inside the Room (35) The diary of a dead woman holds clues in a series of murders, in which the victim's are found with a torn page from the diary on their dead corpses. An amateur sleuth (Austin Trevor) is called in to help and goes to the estate of Sir George, who ends up being the next victim. But there are many guests about the estate, and quite possibly, one of them is the killer. Decent old dark house styled crime thriller.
6882 John Gregson: Remembering John Gregson ( ) Born in 1919. Died in 1975 at age 55 of a heart attack. This British documentary regarding all things John Gregson contains a wealth of information for film fans of this mostly stiff-upper-lip player from back in the day. Family speak and remember, notable clips of scenes from some of his films etc. + Talking Pictures with Sally Geeson: This episode features ... Sally Geeson, star of such fare as 'The Oblong Box', 'Cry of the Banshee', she was a maid in 'Witchfinder General' some 'Carry On' etc. With clips from some of her films as she sits and talks about her career.
Q846 Kraft Mystery Theater: House of Mystery (61) A shadowy lady welcomes a couple into the orchard cottage they are interested in buying. In flashback, the woman tells them the sinister happenings of the house, and the fate that befell the former tenants. The film will send a shiver, some comparing this to 'The Innocents' or 'The Haunting' as least in the shiver down the spine department, this shorter and on a smaller scale, but of you like classic horror, it is there. Vernon Sewell directs this, and later directed 'Burke and Hare", 'Blood Beast Terror' and 'The Crimson Cult'.
6945 Mrs. Pym of Scotland Yard (40) Character from the Nigel Morland novels, the only time Mrs. Pym would make it to the screen. His books are still available, though long out of print, and quite expensive. Here we meet Mrs. Pym (Mary Clare), an eccentric female detective, not unlike what Agatha Christie would make so popular. Here we have murders, spiritualism, sexism and a medium (adding a bit of spookiness to the proceedings). The murders are linked by the members of a 'psychic club'. The killer uses a vacuum cleaner. What?
Q841 Mutiny on the Elsinore (37) From the Jack London novel. Prepared to sail out of Glasgow, people are waiting on a four-mast ship for a passenger, a writer named Jack Pethurst (Paul Lukas). When he arrives and they are off, Jack soon realizes this ragtag gang of vagabonds working on the ship may be the death of them all. The captain is killed. Sailors plan a mutiny. Plenty of action, atmosphere and thrills! Jack London died at age 40 of uremic poisoning brought on by acute nephritis in 1916, California. He lived a life of near constant adventure. BA
6897 Play for Today: A Photograph (78) A couple receives a photograph in the mail of two girls sitting in front of a caravan, befuddling the couple. Who are these girls? And why did somebody send this photograph to them? The mystery deepens. Infidelity? Revenge? From the Award Winning Series, this episode stars John Stride and Stephanie Turner. Features a surprisingly grim ending.
6899 Play for Today: Panda's Fen (74) On the cusp of adulthood is young Stephen, in the idyllic English village of Pinvin. The posh English school has given him a classical and religious education and a role in the Cadet Force. Stephen goes through rites of passage both spiritual and sexual. Know Thyself becomes Discover Thyself. He encounters angels and demons, conflicting forces, alternative histories and a final encounter with King Penda himself. Stephen realizes that the world cannot be grasped from a singular simplistic point of view. but in the multiple identities that resonate within oneself and those in the communities surrounding them. Stephen also realizes he may be a homosexual. Bold and imaginative for 1974 television. Very English.
6898 Play for Today: Rainy Day Women (84) WWII. Charles (Game of Thrones) Dance stars as Captain John Truman, an officer who has been assigned the task of investigating in a small village whether or not the rumors of 'German Spies' lurking about in the area are true or not. What he does find is misogyny and mistreatment of the women, by the male villagers. Turns into a man-hating female nightmare vision of what the writer probably thinks of men who live in 'rural' areas. These farmer types are afraid of smart 'hard-working' women, mistreat them, and are okay with mass murdering them if necessary. Are they? Of course, if the occasion calls for it. Just in time for tea I hope?

MISCELLANEOUS FILMS SPY, ACTION, MARTIAL ARTS, WAR, DRAMA AND MORE
6854 Agent X 1-7 Operation Ocean (65) aka: Agente X 1-7 operazione Oceano The revolutionary formula this time involves the manipulation of the oceans. To direct catastrophe at will. Who holds this power will have other nations on their knees. Special Agent George Collins (Lang Jeffries) must get into the mix, and save the world. Somebody has to do it. In Italian language with English subtitles for the first time! Also with Aurora de Alba of 'Frankenstein's Bloody Terror'. Major Upgrade! Widescreen In Italian with English subtitles - Super Sharp Colors BA
6967 Best Legs in the Eighth Grade, The (84) The sexual revolution was over. This under an hour special deals with life choices, responsibilities, temptations and new chances. Mark (Tim Matheson) starts to rethink his relationship with Rachel (Annette O'Toole) when he runs into a flirty childhood friend named Leslie (Kathryn Harrold). Jim Belushi is Saint Valentine, the spirit of romance. Mark: 'Alright, Saint Valentine in black leather' Saint Valentine: What'd you expect? Some fat little fairy floating around in lace?' This is the type of humor we're talking about. Like a long skit, runs under an hour. Vincent Bufano is after Leslie as well, so Mark better make up his mind. A gym setting for a lot of this. But what does Saint Valentine have to say about it?
6857 Blood is Redder Than the Sun (66) aka: Chi wa taiyô yori akai aka: Akamoru: The Dark, Wild Yearning Anti-authoritarian depiction of one particular disgruntled youth, repelled by the hypocrisy around him, and the inability to perform in the adult world, which leads to big problems. Sex, Rape, Violence, Nudity... High production values. Dead serious stuff... the Japanese were ahead of America in this type of film. Black and white with color tinted sequences to ignite the whole thing. At one point they start to trash a city block "Wreck it All! Wreck it All!' they shriek. Rising above, becoming stronger than mass hysteria and mass ignorance is where the keys to free thought exists. He could unlock that door. But one youth is taking his cues from a killer, who is trying to get him to...... LBX In Japanese with English subtitles
6879 Brave Platoon, The (87) aka: American Force: The Brave Platoon A group of American rebels battle government forces in this amazing action film penned by Godfrey Ho himself! Apocalypse Pow! Lots of running, killing, and blowing things to hell. Villagers in peril, fire, stunts... and the angry opposition army increasing their efforts to destroy the enemy. Patrick Frzebar of a number of these types is on hand here, as well as Danny Ng and Ridley Tsui! Phillip Ko, a prolific star of hundreds of films, is behind the camera directing on this one. BA
6885 Commando Invasion (86) aka: Crossfire Don't worry, the plot does not get in the way of the action in this Viet Nam violent war thriller. The main guy is an American Commando (Paul Vance) who is occupied with killing off random Viet Cong after being betrayed by his own men and left for dead, with a handful of diamonds. His superior (a General played by Gordon Mitchell) think he is innocent (or does he?), not a murderer but instead of court martial, a return to Viet Nam, where he captures the real betrayer, navigating through dangerous territories of violence and death to deliver him to justice. Blam Blam Blam Kaboom! Also with cutie pie Tetchie Agbayani (of 'Gymkata'!). BA
6826 Cop Killer (83) aka: l'assassino dei poliziotti A movie every Harvey Keitel fan should seek out, a dry run for 'Bad Lieutenant', but not yet unhinged. He plays crooked cop Fred O'Conner in the streets of New York who co-owns a luxury bachelor pad with his partner (played by Leonard Mann), bought with dirty money. The city is going through a series of cop killings, and paranoia is rampant. He gets paranoid when a punk starts stalking him (Literally! John Lydon, yes Johnny Rotton of 'The Sex Pistols'!). He claims to be the killer and the mind games begin. This terse, claustrophobic oddity is enlivened considerably by Ennio Moricone's score. Unusual Italian made crime film... Fantastic New version of the film also known as 'Order of Death' this time a version that runs 1 hour and 54 minutes. The other in comparison runs 1 hour and 40 minutes and is full frame. This is an alternate version of the film with 14 extra minutes. LBX! BA
6807 Cross (87) aka: Zwei gnadenlose Profis One reviewed this as "crude and violent" as if this was an insult. Hah! Quite the contrary, a recommendation! Five violent villains have escaped from asylum (you'll get just how bad these kidnappers are in the open sequence) and kidnap the family of tough cop Cross (Michel Sardou), who in turn teams with a hit man (played tongue-in-cheek by Roland Giraud) to stop them. A vengeful ex-con is behind this plot, and they subject their victim's to cruelty. Menacing performances from the crazies build an uneasy tension. Cross is cross. Don't cross cross. Cross will kick ass, he doesn't need any names! LBX In French with English subtitles.
6921 Diary of a Schizophrenic Woman (68) aka: Diario di una schizofrenica A sometimes moving account of a disturbed young woman. I tell you, this girl is wacko. I'm talking cuckoo's nest bat-shit crazy. Personality disorder, anxieties, eating disorder, delusional.... So what do you do with somebody like this. Lots of love and understanding of course. I kept hoping for her head to start spinning and maybe a little profanity and projectile vomit. But this film is a little deeper than that, the filmmakers are serious (and intellectual!). I liked it when she wandered off. She's on the loose, and self destructive! The film was loved by critics, and even got an award for best screenplay. Picture has some glitches from time to time. It's time to drink mummy's nice milk. In Italian with English subtitles.
6811 Dream of the Butterfly (94) aka: Il sogno della farfalla Thierry Blanc is young actor Massimo, a powerhouse of the theatre stage. One a director gravitates towards, to fulfill their vision. To place Massimo in a play, about himself, Massimo, the ultimate in pretentious narcissistic self glorification. But Massimo is having anguish and despair issues, and has renounced natural expression of speech in any conventional way, disillusioned. Diva Massimo's mother steps in to help with the script. Hopefully in a way that everybody can understand. Noticed a few glitches but very good quality. Bibi Anderssen and more star. LBX In Italian with English subtitles.
6842 Electric Jellyfish (70) aka: Play it Cool aka: Denki kurage Come of age Yumi is raped by her mother's loser boyfriend while her mother is busy at work as a bar hostess. Yumi is a (was a) virgin and the attack is vicious and totally uncalled for. Her mother comes home and Yumi reveals him to be rapist. All hell breaks loose, and mom kills boyfriend with a big knife. The mother ends up in a prison for women. Back home, Yumi plays solitaire. An arrangement is made for Yumi to work off her mother's debt. Yumi is looking for love, but all the men seem to only want one thing from her. But she gets a good job. Doing what? Yumi is a doll, twenty year old Mari Atsumi, whose first film was a Gamera movie. LBX In Japanese with English subtitles. BA
6886 Final Score (86) aka: Indonesian Death Wish Christopher Mitchum stars as Viet Nam vet Richard Brown who has settled in Indonesia after the war in this excellent violent revenge (also filmed in Indonesia). When he finds his wife and son murdered "I'll find whoever did this and, so help me God, they'll pay!". For me, that is all I need to know to watch the movie. The attack on his family is harrowing, his wife gang-raped (then shot), his son blasted, maybe a little overlong and cold-hearted, but that is how we set up for the retribution. We want the perpetrators to die, and to die violently. He'll get them, one by one, even making an awesome 'kill list'. Making the world a better place, one kill at a time. Mix The Exterminator with Death Wish, throw in more violent kills. Bingo! BA
6925 Goldsnake: Suicide Mission to Singapore (66) aka: An atom bomb the size of a ping pong ball is the reason this current genius scientist has been kidnapped in Singapore. Everybody wants him. Macho American agent Kurt Jackson (Stelio Candelli) is off to Singapore to locate him before the bad guys do. He has helpers (and gadgets), and of course these films are not complete without some lovely ladies on hand like porcelain pretty Japanese actress Yoko Tani and Italian beauty Annabella Incontrera. One of the more obscure from the spy vs. spy genre. Available here Widescreen and a rare English dubbed version. BA
X491 Good Luck, Charlie (62) aka: Bonne chance, Charlie aka: Pugni, pupe e pallottole Eddie Constantine is Charlie in this spy thriller. Almost twenty years after the end of the war, Charlie gets a call from a friend who has located a Nazi who has been hiding out in Greece. His friend had been tracking this Nazi for decades. But some are opposed and Charlie finds that the Nazi's philosophy and arrogance have hit closer to home than he thought. Eddie Constantine said in his German biography that this was his best and favorite film. Since he was in over 125 features, that gives you an idea of how highly he regarded 'Good Luck, Charlie'. BA
6877 Green Dragon Inn (77) aka: Qing tian jian piao xiang aka: Bruce is Loose (but don't let that fool you!) - I couldn't find Bruce. But what I did find was pretty good. When the son of a rich and powerful man murders a family, he is taken to be executed with a group of fighters. But they must constantly combat the family's henchmen, in harrowing old school kung fu fighting. I must point out that there is no Bruce Lee, Bruce Li, or any other Bruce-like guy, that alternate title was a ruse from distributors to get people to come on board. Lo Leih of 'Five Fingers of Death; does show up to help fight however. Pretty violent, and English language dubbed BA
6860 Handle With Care (67) aka: Silenzio: Si uccide Rodd Dana (a man with a short but fairly distinguished film career) stars as Secret Agent Mark Roberts, sent to shut down an arms smuggling ring. Not the greatest choice, but he has luck on his side, and ladies at his call. Various locations and dashes of humor color the proceedings quite nicely. International adventures abound! Finally an upgrade of this rare title. The print is not the greatest (full frame with some type of foreign subtitles, but English spoken) but a much better print here from previous. BA
6926 Highway Racer (77) aka: Poliziotto sprint Maurizio Merli plays a speed-crazy rookie cop who loves a good chase. But his car is shit. Time for an upgrade! His superior, a legendary driver amongst the force, knows that the recent bank robberies are down to an old racing enemy of his. He warns him not to get drawn into a chase.... Of course, he will! You would expect with that title there would be plenty of high speed car chases and stunts, crashes and mangled metal. And you would be right! Hope that stuntman was paid well for letting that car nail him. Quarry showdown! A great car action film, much better than 'Smokey and the Bandit' the same year (I think). You'll find this somewhere listed but this is the alternate ultimate version, Widescreen and 5 minutes of extra footage running 1 hour and 41 minutes! English dubbed and directed by Stelvio Massi. ba
6904 Human Jungle, The (54) aka: Giungla umana The city is plagued by juvenile delinquents, petty theft and various law-breaking activities, murder, unsolved crimes.... The police department are demoralized. Police Captain John Danforth (Gary Merrill) has arrived to turn this ship around, bust the lawbreakers and get things back in order by empowering the police to (gasp!) enforce law and order and do their jobs. They start to arrest the hell out of people. The newspapers turn on him, the lawyers, the people of this 'human jungle'. He realizes the people hate the cops. His case is not helped when a rookie accidentally kills an innocent bystander. What a mess. Oh, this is not a new movie? 1954 folks. Jan Sterling, Paula Raymond, Chuck Conners and more star. BA
6973 Iron Ox, the Tiger's Killer (74) aka: Angry Fist aka: Tie nu fu hu aka: Bruce Lee: Chen l'immortale The 'Five Tigers' are responsible for the death of a master. Our hero is Iron Ox. Or is he? His girl is not happy about his violent ways. He and his kind have made too many enemies! Badly dubbed and plenty violent with multiple kung-fu fight locations. BA
6814 Ivory Coast Adventure (65) aka: Gentleman from Cocody aka: Le gentleman de Cocody aka: Donne, mitra e diamanti A plane full of diamonds has crashed in the jungles off the Ivory Coast. Competing criminal gangs arrive for the search. A member of the diplomatic core of France named Jean -Luc (Jean Marais) falls in love with a spy who poses as a huntress of rare butterflies. Cool location shooting at the actual Ivory Coast as Jean-Luc stays one step ahead of his competition in locating and securing the precious stones. A time when filmmakers could fearlessly enter dangerous areas and make good movies. This is sort of like a James Bond film. LBX In French with English subtitles BA
6924 Killers, The (77) aka: Gli uccisori This crime/mondo has never been available in English before now. A wanted man flees to Venezuela. Looks like the reasons he fled are true, he has what he has been accused of stealing. But did he kill to get it? There is some disturbing animal cruelty footage of various animals being slaughtered. The Muslims and the camel gave me a nightmare. In the jungles we see a weird lizard alligator , a leopard (which kills and starts to eat a baby deer that looks like Bambi). I cannot even identify some of these weird animals. Gordon Mitchell and other bad guys make their move. All of this is spliced together with a strange animal eating another animal. Beba Loncar is almost raped. Betrayal! Murder! A brawl! Interpol? Back Stabber! There's that goddamn weird animal again. In Italian with English subtitles BA
7001 Last Ninja, The (83) Made for Television action! A test pilot for a series that never materialized. Mako is the mentor/trainer of Kenjiro Sakura (Michael Beck) his adopted son. Kenjiro is an art dealer, and a ninja on the side (when a ninja is needed). Terrorists (lead by main villain Richard Lynch!) hold a group hostage on the top floor of a tall building. Time for Michael Beck (oh I mean Kenjiro) to pack his throwing stars and get climbing. He has super powers, and when he talks as a ninja he sounds like he is holding a microphone, but I didn't see one, nor the speaker cabinet. Nancy Kwan plays his adopted sister. John Larroquette as an Army Officer. You wouldn't be blamed if you mistook Michael Beck for Andy Gibb. He certainly looks like him. 'The Warriors' star was just off a couple of post apoc flicks. Richard Lynch deliciously despicable here.
6962 Last of the Knucklemen, The (79) After a work day mining, a group of men engage in drinking, brawling, talking mean and swearing, gambling... you know, how men used to act back in those days. Rusty dusty outback. Conflicts with the men are inevitable and the stand-off between 'Tarzan' (played by Gerard Kennedy)' and 'Pansy' (Michael Preston that Mick Jagger looking dude from 'The Road Warrior') is only one of the problems. A kung-fu bank robber has joined the team of uncouth rebels. Work, Drink, Gamble, Drink, Whore, Sleep... Repeat! Apparently, these men are typical of Australian outback and portrayed realistically. Steve Bisley (Goose in 'Mad Max' also stars). An Aussie classic Widescreen. BA
6931 Mad Heart, The (70) aka: Le coeur fou aka: Follia dei sensi Serge becomes infatuated with a pyromaniac nut job named Clo (Ewa Swann). Clo burns down the asylum. That is one way to escape! The rest of the film is a 'couple-on-the-run' type. Pyromania reigns supreme, and this free-spirited couple will be faced with a showdown with the law. The relationship is fraught with tension and conflict, she endlessly babbling while he, frustrated by his infatuation, goes along with her every whim, no matter how misguided. Clo really is insane. Widescreen In French with English subtitles
6840 Mussolini: The Last Act (74) aka: The Last 4 Days aka: Mussolini ultimo atto Fascist Benito Mussolini (Rod Steiger), Hitler's close ally, in his last days as he tries to flee Italy as his empire crumbles around him. Franco Nero is an Italian officer assigned to kill Mussolini. The paranoia and confusion of Italy falling apart in 1945 is stunningly brought to life. Henry Fonda is Milanese Cardinal Schuster, who is more concerned with Mussolini's fate than the murdered innocents and suffering endured through his dictatorship. Mussolini's lover Claretta is played by Lisa Gastoni. Rod Steiger is brilliant, an irreplaceable actor. The film is English language, there are moments with English subtitles when a foreign language is spoken. An excellent war time drama about the end of a very flawed leader. As far as tyrants go, the cycle continues in the 21st century.... somewhere... everywhere..... Now the uncut version of 'The Last Tyrant'. This new version is 33 minutes longer than the previous version, and a nice Widescreen. BA
7021 Night of the Sharks (88) aka: La notte degli squali From the director of 'Cave of the Sharks' Tonino Ricci! This is the one where Treat Williams teamed up with Janet Agren, an unusual pairing in cinema. Like if John Wayne teamed up with Tura Satana or Jimmy Stewart starred in a John Waters film... something. After killing his brother, gangsters are now after David (Treat Williams) because he now holds the CD that reveals their illegal activities, and he must die as well. David is a shark hunter. He lives in Mexico (this was filmed in the Dominican Republic). His life is ripe with peril. Will he be killed by sharks, or by the thugs? Janet Agren is Liz the spy who sleeps with David and tries to talk him into giving up the CD. Paco (Antonio Fargas) is always on hand to help on the sea. Janet Agren is killed by a shark in a spectacular sequence. Bloody water, and we even see her drug to the ocean floor. Now David is really mad. Jungle action, shootings, and great underwater photography. Also with Christopher Connelly as a priest. Some versions cut out all the good stuff, not this one, uncut 90 minute version. This was Christopher Connelly's last film. He died of lung cancer the following year at age 47. Also with John Steiner BA

6881 Ninja Ultimate Challenge (86) aka: Challenge of the Ninja aka: Ninja Destroyer Godfrey Ho directs (and of course, cuts and pastes!). Jewel thieves, treachery and betrayals. The sadistic Red Devil and his team of ninjas are responsible, and one kung fu man teams up with a vengeance seeker (who too is after these creeps) to stop their reign of terror. What we get are fights and more.... fights! The opening motorcycle gang fight is pretty cool, but unfair. Michael Wong kicks some ass. One kidnapping scene was a direct plot lift from another unrelated ninja film. Some cool training, a near rape of a woman and a battle with a dog. Lots of action! BA
6933 Oil: The Billion Dollar Fire (76) aka: Cuibul salamandrelor aka: Des Teufels verlorene Söhne Sahara desert is the location of a massive oil well fire that is out of control. This was filmed in Bucharest, Romania. A special team is assembled to put the fire out, led by manly man Stuart Whitman. But politics play a big part of the solution, as they always do. There are some pretty buxom dancing girls in a club, so it is not all oil and dirt. Ray Milland as a convincingly slimy corporate type employing saboteurs that infiltrate the operation. Sixteen years before that debacle in the Middle East with the burning oil fields. Incredible international cast includes Woody Strode (in a cut off jean jacket and a cowboy hat), William Berger, Gordon Mitchell, Paola Senatore, Tony Kendall and more. The film is in English language, with some English dubbing as well. Some foreign subtitles BA
6819 Passionate Thief, The (60) aka: Risate di gioia A Toto film that also stars Ben Gazzara and Anna Magnani! New Year's Eve in Rome. Three in solitude, thrown together. Magnani as a blonde film extra named Gioia, Toto as a petty con man and Gazzara as an incompetent thief. The film uses the time honored technique of having the audience identify with the characters, have sympathy for them even, and then watch everything go wrong for them in quite hilarious situations, plans usually ruined by Gioia. Well made, decadent even, witty and not overbearingly silly like some comedies of the era. Laugh out loud moments. LBX In Italian with English subtitles BA
6870 Professor, The (86) Ultimate Cut aka: Il camorrista Solid gangster drama along the 'Scarface' line and loosely based on facts. Ben Gazzara is the lead in this rags-to-riches-to-comeuppance tale of gangsters, politicians crime and corruption. Gazzara as the Professor is cold and evil with zero redeeming qualities, but we also see why and how he evolved into this monster. Plenty of violence and blood so perfect for lovers of mob type films. This version runs 2 hours and 44 minutes, is Widescreen, and has English subtitles. BA
6880 Rage of the Dragon (79) aka: Mission for the Dragon aka: Maegwon A kung fu student (here played by Dragon Lee) finds out that his father has been murdered and ups his training game so he can exact sweet revenge. Carter Wong plays the lead villain. This Godfrey Ho film is so action packed you don't have time to breath. Grave-robbers, spooky music, training and fighting with exaggerated sound effects that are way over-the top at times, hysterically funny dubbing that will have you rolling on the floor..... Dragon Lee hailed from North Korea, and made a bit of a career kung-fu fighting in various features, some using the Bruce Lee name, like 'The Clones of Bruce Lee' for instance. Colorful action-packed fun! BA
6894 Rapist Beware! (90) Self Awareness ... Self Confidence.... Self Defense and Offense. It's a self defense video by a black belt karate expert on how to fight off a rapist! The rapist attacks because he sees a vulnerable person. Many of the techniques recommended are shown, thankfully, nobody shits themselves (although they suggest it as a deterrent)... Grossing out your attacker is discussed. A pretty blonde agrees that breaking wind or crapping all over and wiping the poop on her arms and face is a good idea, or claiming she has AIDS or an infection. Anything to stop the attacker. More... Under an hour
6911 Scene Stealers, The (61-62) Ed Wynn and Buster Keaton wander around the sets of movies and shows, stealing the scenes. They wander into a 'Bonanza' episode (disguised as Indians!). Lorne Greene and Dan Blocker (in character) interact with them. It becomes literally a show with a lot of stars, and we cannot locate this on any of their film/show listings. There is also song and dance, it is the 1950's after all. Jimmy Durante, Rosemary Clooney, Jackie Cooper, Abby Dalton, Ralph Edwards, Fabian, Nanette Fabray, Fritz Field, James Garner, David Janssen, Eartha Kitt, Jack Lemmon, The Limelighters, Dorothy Provine... Brought to you by the March of Dimes. Very obscure
6974 Shaolin Kung-Fu Mystagogue (77) aka: Da mo mi zong Ming Rebel Patriots battle the Ching Dynasty troops in a violent clash meant to overthrow a wicked regime. Brutal battle ensues and also a unique weapon called 'Floating in Blood' is put into play. BA
6940 Shipwreckers, The (59) aka: Les naufrageurs 1852: Famine on a remote island is blamed on young Moira. Paranoia has taken over the populace. Yann believes the only way the islanders can survive is to wreck passing ships and harvest their contents. Moira, wracked (not wrecked, but close) with guilt, sinks a ship on her own, leaving just one survivor named Gilles. Children take a ruined fishing boat out, harpoon a shark, get pulled, the boat is swamped, and they all drown. They sink ships by blinking lights, luring the ships who are helpless in the fog, straight into the rocks. Widescreen coastal locations magnificently filmed. Widescreen In French with English subtitles. BA
6941 Skin of a Torpedo (70) aka: Misión Torpedo aka: La peau de torpedo aka: Only the Cool aka: Children of Mata Hari Network of spies engage in the deadliest game ever devised by man. This is one of the premier ambience spy films at the tale end of the sixties, with a serious and less campy tone than the usual. Dealing on both sides of the espionage fence with emotional repercussions and death seen as honor, even if suicide pills are used, and they are. Of course the good guys versus the bad guys is on display, But something else entirely as well. Klaus Kinski, Stephaney Audrain, Lilly Palmer and more star. Widescreen version in French with English subtitles. BA
6848 Sometimes... Like a Prostitute (78) aka: Toki ni wa shôfu no yô ni Mako wants a baby. Juro does not want a baby. ( for the record, 'I' do not want a baby either) Juro cannot give it to Mako and watches her pleasure herself with sex toys. Mako is frustrated. When Juro finally gives it to Mako he ends up in hospital. Juro leaves hospital, brings home a crazy girl who is playing guitar in the park, gives her a bath. Mako drops off the girl at the hospital. Juro freaks out. Mako wants to tell Juro that she has become pregnant. Twisted sick and perverse soap opera. Gang rape, beatings, wild colorful parade with fireworks, Mako has sex with another man and more. Juro walks into a costume (sex) ball and finds Mako getting screwed. LBX In Japanese with English subtitles BA
6943 Tough One, The (65) aka: El aventurero de Guaynas aka: Gringo, getta il fucile! Dan Casey O'Hara (John Richardson, who just died of Covid in January 2021 at age 86) is an adventurer who has just arrived in a South American country, where he falls for two beautiful women (played by Gloria Milland and Evi Marandi). One is good, two, better. Casey is a thief who sometimes uses electronic artifacts to deceive. Later he kills the henchman of a nasty tyrant (Eduardo Fajardo) and is locked up by an astute commissioner. In prison he meets Lobo (Fernando Sancho), an imprisoned Revolutionary. When Casey escapes, he returns with help to free Lobo before he is executed by firing squad. Casey is really here to find the emeralds and precious gems, the location of, known by his father, who is imprisoned in a jungle prison. By helicopter.... out of room here. Things go wrong. Double-crosses, adventure and more. Widescreen and English subtitles. BA
6875 Twice a Woman (79) aka: Twee vrouwen Divorced Laura (Bibi Anderson) age 41, meets Sylvia (Sandra Dumas) age 21. They begin a sexual affair. Sylvia moves in. Love is in the air. They go to the theater. They dance at a club. But then ex-husband of Laura macho man Alfred (Anthony Perkins) comes sniffing around.... Sylvia leaves. Laura has stress, looks for her everywhere. Finds her shacked up with Alfred. And what happens next...? Sandra Dumas in her only film role is impressive (and topless at one point). She should have been in more. Anthony Perkins is dead serious and quite good as the womanizer he wasn't. Shock ending I didn't see coming. Wow. Widescreen BA
6890 War Without End (86) aka: Commander 3 aka: Wild Weasel - Kommando ohne Wiederkehr Cambodia battle action as Captain Ted Wilson and his 'Lickin' Chicken' platoon's test plane (they call 'Wild Weasel') goes down into the jungles. 'Lickin' Chickin' head off into the jungles to find out who shot them down and this jungle excursion includes all the machine-gunning faceless nameless enemy soldiers, hut blowups and guard tower falls that we expect from the director of 'Phantom Soldiers'. Robert Marius and Paul Vance star. Robert Marius was a man of action and was in a number of these type films. He was only 49 when he died in Florida in 2008. English with Greek subtitles. BA
MODERATE AND MADE FOR TV FILMS

W180 Famous Ghost Stories (61) A one-off TV pilot for a proposed series with Vincent Price as your host! They take the Bert I. Gordon movie 'Tormented', edit it some, have Vincent Price narrate the story and voila! Famous Ghost Stories! Of course Vincent Price himself appears in the early sequence, and we get Richard Carlson and Joe Turkel (who later ghost bartended Jack Nicholson in 'The Shining') as a few of the stars in the story, along with little Susan Gordon and Lugene Sanders. When the story is over, we return to Vincent Price, in a crypt-keeper like role but as himself, tongue in cheek.
7022 Incubus (65) Just one year after this came out, William Shatner was cast as Captain Kirk in Star Trek. Kia (Allyson Ames) is a succubus, helping doomed men along their road of perdition by sucking them dry. But this poses no challenge to our demonic nymph. She longs for the chance to corrupt a good man. A man with a good soul. To lead such a man into the bowels of hell, this would truly be delicious. She stays with Marc (William Shatner) a good man, who has already faced death with honor and courage. But Kia falls in love with Marc. This will not do. An Incubus (played by Milo Milo) is conjured by Kia and her evil sister Amael. The Incubus starts on Marc's sister. Filmed in Esperanto language, this has English subtitles. Milo Milo, a Yugoslavian who plays the spooky Incubus, shot and killed Mickey Rooney's estranged wife, and then blew his own brains out, the same year this came out. His only other film credit was 'The Russians are Coming, the Russians are Coming'. This movie is sinister and eerie with great spooky atmosphere.
6986 Longstreet (71) The pilot to the James Franciscus show where he plays a (mostly) blind detective/insurance investigator type. An explosion kills his wife and blinds him (this is the origin story). He becomes obsessed with catching who did it. He gets help from his Braille teacher Nikki Belle (Martine Beswick). Although he is blind, he has Columbo-like powers of perception that almost seem magical. Also with Bradford Dillman and Martin Kosleck. James Franciscus was in a number of very good films like 'Valley of Gwangi' the apocalyptic 'Beneath the Planet of the Apes' and 'Killer Fish'. A life smoker, he died at age 57 of emphysema in L.A. in 1991. Longstreet the series would run for 23 episodes, Bruce Lee in four of them.
S453 Lottery, The (69) From the short story by Shirley Jackson. An annual tradition in this modern small town involves a drawing amongst the villagers. It's tradition. But you really don't want your number to come up. You will find out why. I remember seeing this in film study back in the day, and it had a positive effect on me. The dark nature of the short story is right up my alley. This is from a film, and the thing gets caught a few times so there is a glitch or two. Ed Begley Jr. and other familiar faces star. + The House Nobody Wanted (53) From the Pepsi-Cola Playhouse. Newlyweds move into a house where a murder had taken place. It seems the former occupant, a woman, was killed for her fortune, which was never found. The bride begins to wonder about her new husband (Craig Stevens)...... Another short suspense thriller from the distant past.
7026 Macumba Love (60) aka: Macumba l'isola dei vampiri Filmed in Brazil.... J. Peter Weils (Walter Reed) plays a noted expose writer who is looking into a series of unsolved murders apparently caused by a voodoo priestess, while simultaneously romancing local heiress named Venus (Ziva Rodann of 'The Pharaoh's Curse'). Could she be....? His daughter shows up for a honeymoon with her new husband, joining into the peril of the place. Venus is on the prowl. A sexy voodoo romp, clearly out of place for 1960. Full of natives, sexuality and voodoo, plus scenes that had to be cut from most prints. This is 86 minutes, presumably uncut. Bloodlust of the Voodoo Queen! BA
7018 Prison for Children (87) aka: Bad Boys 2 Juvenile prisons are supposed to protect and rehabilitate confused youthful offenders. This deals with what happens when someone (Raphael Sbarge as John Parsons) who runs into habitual trouble gets thrown in with the youthful monsters of society that have committed far greater crimes. Not only that, but the facility is dangerous as hell... stabbings and gang rape are the norm, and this is a boy's home. Nothing graphic, but heady stuff for a MFTV (PSA?) for the time, brutal even. Enter John Ritter as the superintendent of the place. Sbarge was already 23 when he played a teenager here. Josh Brolin in one of his first films.
6952 Return of Charlie Chan, The (73) aka: Happiness is a Warm Clue Ross Martin is Charlie Chan, investigating the murder of a wealthy Greek business tycoon aboard a yacht. 70's updating of the Charlie Chan tale, with an aging Chan, played by anybody that is not Chinese, is the preferred way to enjoy a Charlie Chan film. Watch in a double feature with John Wayne as Genghis Khan. Chan in a Hawaiian shirt driving a dune buggy is as we first see him. Leslie Nelson, Don Gordon, Louise Sorel, Soon-Tek Oh and more. So Polish Ross Martin has a Chinese daughter, a Hawaiian son and a South Korean brother, an amusing mixture that would have the village idiots of today in perpetual outrage mode.
7018 When the Dark Man Calls (95) Julie Kaiser (Joan Van Ark) plays a famous radio talk show host who is stalked by the man who was convicted 25 years ago of killing her mom and dad. due to her testimony. Julie thinks maybe she was wrong, and that also, maybe, the real killer is after her as well. Either, or both? She has flashback sequences, and even visits the abandoned house where it happened (so long ago) and finds.....? She has steamy sex with a detective (James Read) to keep him on the case (and her!), but he is only a secondary character. Not bad thriller chiller, and a twist, so don't ruin it. Chris Sarandan, James Read and Geoffrey Lewis star. Cape Fear meets Someone's Watching Me.
MONDO FILMS

6919 Little Eye-Witness, The (72) aka: Yumurcak kücük sahit This kid lives in a world of fantasy and is basically ignored because he is unreliable with truth. Not only is he a trouble-maker, her is a little liar as well. And not innocently. When he sees the neighbor and his wife murder someone, nobody believes him when he talks about it. But his neighbor's know that he knows, and plan to dispose of him. Turns into a game of cat and mouse in this Turkish Boy Who Cried Wolf type crime thriller. What is really a surprise for an obscure Turkish film? This is dubbed into English. 'Don't sweat it baby, you'll spoil your makeup'.
6850 Turkish Bad Seed (63) aka: Kötü tohum They did it. A Turkish remake of 'The Bad Seed' 1956 version. Is it a campy comedy like the overrated Hollywood film? The little girl has brown hair, and kisses major ass like the goody two shoes she isn't. In school, she is seething when a boy she sits next to wins the prize for penmanship. She breaks her pencil. No one sees. The teachers love her. She is crafty, sneaky... dangerous. The boy drowns, and her mother finds her with the prize the (now dead) little boy won. A little darker perhaps than the original. And a pretty cool ending, clearer and more obviously righteous, music and all. No annoying cast call at the end either. In Turkish language with English subtitles BA
6853 Turkish Godfather (76) aka: The Flying Superboy aka: Baş belâsı Is there a 'Superboy" and does he fly? Well, sort of. Not exactly a boy, but a man, and he uses a hang glider. Someone is impersonating a gangster, doing his collections, taking the money. Of course it is Alberto Dell'Acqua (using his English pseudonym Robert Widmark) using numerous names here, convincing the people who must pay protection money that he is the nephew of the Godfather. Disco dancing, hot babes, cold-blooded/somehow lighthearted killing and numerous action sequences. They capture him and give him a choice. The gun or a dive from a 20 story building. He jumps! Straight into a pool below. On the loose again. Little does he know that the girl he is dating is........ English dubbed and foreign subtitles
SOUTH OF THE BORDER AND MEXI MONSTER FILMS

W179 New Invisible Man, The (58) aka: El hombre que logró ser invisible English language dubbed Mexican invisible man movie. Plot resembles 'The Invisible Man Returns' from 1940. When a man is sentenced to 99 years in prison, his scientist brother (not even slightly mad) smuggles his new invention into the prison. A serum that makes you invisible. His brother, now unseen, walks out of prison a free man, set to make fools out of the police, and prove his innocence. But that all too familiar side-effect of invisibility, creeping insanity, rears it's ghastly, unseen, head. BA
WESTERNS
6827 Degueyo (66) aka: Für Dollars ins Jenseits Danger City is attacked by Ramon's (Dan Vadis) bandits, searching for rumored treasures (which they do not find!). So, they either kill, or take hostage, all men of the town, threatening to kill them if the women and children do not cough up the loot. And, also, they will have to face Ramon, who will attack and kill with malice! Four men, searching for Ramon, agree to help the citizen's of Danger City. Muscleman Vadis is astonishingly vile and sadistic in this and is a pleasure to watch as he deals evil, mean-spirited and bloodthirsty. With Giacomo Rossi Stuart, Aurora Bautista and more. This is the 98 minute LBX version (was listed previously as B688, that version is about 4 or 5 minutes shorter, we found this version to be more complete.) Nice Sharp print too and English language dubbed. An upgrade! BA
6829 Dynamite Joe (68) aka: Joe l'implacabile Finally a Widescreen version of this and in excellent quality! This Antonio Margheriti directed classic as it was meant to be seen! A surprise really, quite the spectacle blending the pop culture of the times. Bond meets Wild Wild West meets (the later) Duck You Sucker. Rik Van Nutter is Dynamite Joe. Joe is hired by the government to transport a shipment of gold through dangerous territory. Joe has a passion for three things that start with the letter 'G'. Girls, Gold and Gunpowder! Look for many of the usual tropes of the spaghetti, and extravagant production values all around. The female lead Betty, is played by Halina Zalewska. Her last film was 'Police are Blundering in the Dark'. Sadly she burned alive in Rome in 1976 at age 36 due to a tragic fire. This Dynamite Joe is Widescreen and English language dubbed with no subtitles. BA
6843 El Puro (69) aka: La taglia č tua... l'uomo l'ammazzo io Splendid Upgrade of El Puro. Robert Woods as our hero who is hunted by a band of very stupid family killers seeking a reward/bounty. El Puro is drunken and uncaring, inactive. But when Cassidy (Kinski look-a-like Aldo Berti) beats Marie (Rosalba Neri) to death in a brutal sequence, El Puro goes a little mad when he finds her dead body, snaps out of the haze. Time to kill. Great sets and bright sharp colors, violent shootings, an excellent showdown. Redhead Lisa Seagram as the bar owner is stunning, as is Neri. El Puro is a man with a name, and you will see (and hear) Eastwood spaghetti influence. This uncut version of El Puro runs 1 hour and 44 minutes, mostly English Dubbed, but some moments in Italian language have English subtitles. BA
6835 His Name was Sam Wallash, But They Call Him Amen (71) aka: Era Sam Wallash... lo chiamavano 'Cosě Sia' aka: Savage Guns This is the version with the original title. A slimy bandit kills the owner of a tavern for ratting him out. Sam Wallash (Robert Woods) sees the killing, and also the murder of his brother, who interferes in the 'execution'. Sam has a strange malady 'dooraphobia'. The fear of doors opening or closing. Makes for some unique moments. Gordon Mitchell and Peter Martell show up as gunfighters using their real names! Maybe this pasta is a little overdone, but the wild bullet spraying, weird slow-motion shots, and kitchen sink oddball additions make it one to check out. This version, with the Sam Wallbash title, is full frame and has Greek subs. There is another version available with the title 'Savage Guns' that may be a slight LBX
6863 I Can Die But Not Return (72) aka: Ölmek Var Dönmek Yok Choppy abruptly starting Baklava Western from Turkey (of course) speaking of, why is their favorite dish not... turkey? Maria (knock-out Feri Cansel) hooks up with bounty man Jesse, who helps her in pursuit of the bandits (after rescuing her from a hanging). She wants revenge. He wants the money. The dictator General type is sadistic and brutal, killing indiscriminately with no hesitation. Jesse and Maria know when they catch the bandits they may be able to take the money that Maria almost was hung over. Check out Feri Cansel, Turkish star of 133 films. She was brutally murdered in 1983 at age 39 by her boyfriend in Turkey. English subtitles. Since this is from an old PAL vhs, there are glitches and imperfections from time to time in the print, but quality otherwise is good. High body count. Unusual, pretty serious.
6837 John the Bastard (67) aka: John il bastardo John Richardson is John the Bastard, a sort of 'Don Juan' of the west. He cons people, and finds his way into the panties of every beautiful woman he encounters. They usually submit and melt before him. John is not only a bastard. He is a 'lucky' bastard. A strange subplot about Mormon persecution in the western territories, but don't let that distract, unless you are Mormon that is (may you have many wives my friends). So John, the horny lucky bastard that he is, gets a bit distracted when he learns he is a 'real' bastard, son of a wealthy Mexican landowner. Shootouts and the works, the full plate of pasta here. Martine Beswicke also stars (she met Richardson the year before when they were both in Hammer's 'One Million Years B.C., and they married for six years). Magnificent Widescreen Upgrade! Also starring Gordon Mitchell and more. Finally on a sad note. John Richardson succumbed to Covid - 19 January 5th 2021. Just two weeks away from his 87th birthday. BA
6867 One Damned Day at Dawn... Django Meets Sartana! (70) aka: Quel maledetto giorno d'inverno... Django e Sartana all'ultimo sangue A nasty gang of bad guys (that includes villains and Mexican bandits) holds a small desert town in fear. Enter the inexperienced Jack Ronson/Sartana (Fabio Testi) and coming to his aid bounty hunter Sartana (Jack Betts or if you prefer, Hunt Powers, these guys and their pseudonyms!). Can they terminate this horde of outlaws? Hardcore Italian western fans will relish this non-stop no-holds-barred orgy of gunplay and violence jammed into ninety bullet-blasting minutes. Simone Blondell also in this, quite a good looker I'll say. Now, Widescreen English dubbed BA
6907 Return of Jack Slade, The (55) aka: La rosa gialla del Texas Jack Slade Jr. (John Ericson), son of a famed gunfighter, is hired by a Pinkerton detective to hunt down and kill a gang of marauding outlaws who have been robbing trains. Things go awry and Slade ends up joining the gang.... Mari Blanchard is impressive as 'Texas Rose' the somewhat good girl mixed up with bad boys. Neville Brand is good as the villain, 'Sutton'. The camp of the outlaws swarms with young beautiful cheerful girls (one, a young Angie Dickinson). Shoot-em-Up and Kissin'. Also with Max Showalter. Mari Blanchard was in 'She Devil' from 1957 and 'Twice Told Tales' (with Vincent Price) in 1963. She died at age 47 of cancer in Los Angeles, 1970. Jon Ericson had one hell of a run, dying at age 93 in New Mexico, May 2020. Pneumonia Upgrade! BA
6823 Seven Pistols for a Massacre (67) aka: Sette pistole per un massacro Will Flaherty (Craig Hill) is detained, tried and convicted for a robbery he had nothing to do with. Out of prison he hunts for the true villains, finding himself in a number of confrontations. saloon brawls, shoot-outs with body counts.... Excellent alternate version LBX instead of the other version on offer that is full frame. BA
6906 Stage to Thunder Rock (64) aka: Duello a Thunder Rock Barry Sullivan stars as Sheriff Horne. He is hunting outlaw bank-robbing brothers. He kills one, captures the other, losing their horses in the process. They must walk back to the stagecoach depot. The father of the sons is after Horne. Another gunfighter is hired to counter. All pretty routine stuff for a western, but brought alive by a stellar cast. Lon Chaney, John Agar, Keenan Wynn, Scott Brady, Anne Seymour, Marilyn Maxwell and more. When we first see Lon Chaney he is pouring booze in a cup and drinking, a perfect role for him at the time. Morgan Brittany in her film debut. BA
6824 Ten White Men Killed By One Little Indian (74) aka: Blood River aka: Dieci bianchi uccisi da un piccolo indiano A little Indian boy named Condor is witness to the massacre of his tribe by marauding white men. He runs into the forest when the rape begins. The land is taken. Much later Condor (now a grown man played by Daniel Martin) is on the war path, back for revenge, and to reclaim his land. Abel (John Ireland) one of the bad men who took the land, has a son that he wants to marry to a half-breed named Katherine (Rosalba Neri). She however only has eyes for Ringo (Fabio Testi, who uses violence on Katherine and she likes it, as long as he swears to get rid of Ben, Abel's son). But where is Condor? He is conspiring with the Indian spirits... well what the hell? An ending unlike any I remember. Condor does get even, make no mistake. LBX In Italian with English subtitles. BA
6849 To Die For a Dollar in Tucson (64) aka: Per un dollaro a Tucson si muore Part of the beginning of the spaghetti western! Outlaws are after a stagecoach of gold that is supposed to be arriving in Tucson, and they will have violent shootouts with anybody and everybody that gets in their way! Lots of hard riding in various terrain. One scene has the big fat guy fighting with another guy, and the camera keeps switching to expressions of the horses that are watching! A woman rings the dinner bell outside, they quit fighting, and the next shot the horses are eating grass as the rowdy men go in to chow. Unique touches like this are entertaining, as is this early oater. Benito Stefanelli stars along with many others, he was also in 'A Fistful of Dollars' and many many more. In Italian with English subtitles BA