---
HOME | SECURE ORDER FORMS | ONLINE SPECIALS | CATALOGUE | NEW ARRIVALS | CUSTOMER SERVICE | PRICING & ORDERING INFO
---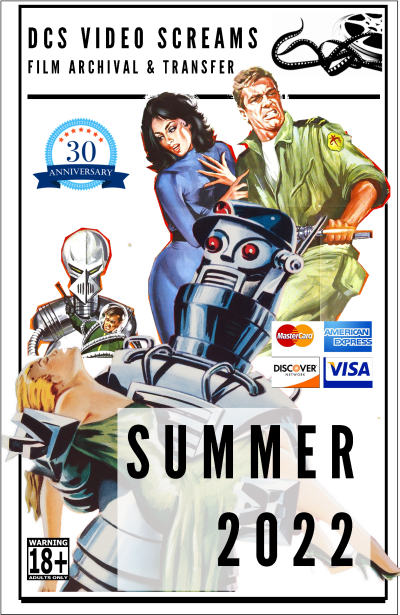 SUMMER 2022 UPDATE
BA= Color Box Art Available for an additional $3.00
FL= Film is in Foreign Language
Lbx= Letterboxed or Widescreen format
Subs= Film is subtitled
aka= Also Known As (alternate titles)
22860000
22860000
(`@`````````
266
263
5
110185200
110185200
BIKERS, BITCHES AND BABES
0424 Great Ride, A (79) aka: Nightmare Tracks Two young championship winning bikers take on the challenge of riding from the Mexican border to Canada without touching a paved highway. They have encounters with various characters. In an off-road chase a young boy is accidentally killed. Our biker buddies find themselves hunted, the moving target of a vengeful father, equipped with computer tracking gear, high-powered rifles and an ominously awesome off-road truck. Some of their route is federal land and illegal to trespass through. Perry Lang, Michael MacRae and Michael Sullivan star. BA
0408 Hog Wild (80) aka: Go Hog Wild Tim (Michael Biehn) gets kicked out of military school, comes home and finds nasty bikers (known as 'The Rustlers') are menacing his high school. Tim falls for the gang leader's girl Angie (Patti D'Arbanville) and wins her heart. The nerdy high school kids will get the ultimate revenge on the slimy bikers. Biker leader Bull (Tony Rosato) and his motley crew of losers harkens back to the beach movie days of Eric Von Zipper (as played by Harvey Lembeck way back). The bikers are that stupid. Also with Matt Craven, Gil Lasky and more. Early role for Biehn. BA

CLASSIC HORROR AND SCI-FI FILMS
P495 Big Boss, The (41) As a young man he watched as his sheriff father was killed while trying to stop a lynch mob. Now Bob Dugan is a man, and also a state legislator, fighting for anti-lynching laws, the end to the chain gangs, and the destruction of the politics driven by money scene. Of course over 80 years later we know this idea failed, but it makes for a swell picture. His adversary is the 'Big Boss' Jim Maloney (Otto Kruger). The love interest, the sexy Sue Peters (Gloria Dickson). Hot blonde Gloria Dickson was napping when her Hollywood house caught on fire. She was trapped in the bathroom and perished at age 27 in 1945. The cause was thought to be a discarded cigarette. BA
Y576 Big Caper, The (57) aka: Le grand coup Kay (Mary Costa) and Frank (Rory Calhoun) pose as husband and wife for months as part of their plan to knock over a bank. Flood (James Gregory) has the plan. Kay and Frank begin to enjoy the simple life, but the caper is set in stone. The other bad guys are vicious monsters. One in particular is a crazed drunken pyromaniac with explosives. As usual, things go off the rails. BA
0257 Black Diamonds (40) aka: El halcón negro Reporter Walter Norton (Richard Arlen) is assigned to be a war correspondent in Europe. First though, a trip to his small hometown. His father is a miner, and is killed in a cave-in. Walter investigates and finds that conditions are not safe. Disaster! Doomed to Death in a dynamite-loaded mine! Also with Andy Devine, Kathryn Adams and Paul Fix. BA
0259 Call of the South Seas (44) aka: South Sea Quest Kendall Gaige (Allen Lane) washes up on a small French Polynesian island to the tune of Hawaiian music. Princess Tahia is the island Princess that wins his heart. Gaige had arrived to gain the confidence of an American embezzler who is living large on the island with his loot, and then to bust him and take him back for prosecution. Will he, or is the Princess too much of a distraction? The funny part is the Hawaiian music throughout, as if all islands have woman with flowers around their necks that sing and sway around to Hawaiian music, and only Hawaiian music. BA
0260 Cargo to Capetown (50) aka: S.O.S. - Cargo en flammes Kitty Meller (Ellen Drew) is the object of attention of oil tanker captain Steve Conway (John Ireland) and the ship's engineer Johnny Phelan (Broderick Crawford). A story of adventure on the high seas as a battered oil tanker on the way to Capetown faces hurricane, fire, and an out of control mutinous crew. Also with Edgar Buchanan and Ted de Corsia. BA
0261 Classic Horror and Science Fiction Trailers (various) Over two hours of trailers from a couple of combined sources will keep you entertained for, well, over two hours, that's two as in 2. Did I mention this runs over TWO HOURS? (DVD-R ONLY)
0263 Cobra Strikes, The (48) Michael Kent (Richard Fraser) is another hard-boiled reporter investigating the mysterious murders of some important people. No clues. No motive. But three dead men prove it is murder. Could it be about a fortune in jewels? Right under their noses the turban wearing oriental house boy named Kasim, could he be the killer? A poisoner is on the grounds, and this has elements of an old dark house meets noir. Scratchy old film print runs an hour. Another version was cut to a 30 minute format for television. This is the uncut 59 minute version. BA
Q842 Corsair (31) Young John Hawkes (Chester Morris) clashes with his girlfriends' gangster-like father, who is also his boss, at his Wall Street job. To prove his point and get his revenge, he becomes a modern day pirate, stealing liquor from illegal shipments at sea. Heiress Alison Lloyd (Thelma Todd) is the boss's daughter. From 1926 to 1935, Thelma Todd was in 126 features (many of them shorts). She was known as 'The Ice Cream Blonde'. She died in 1935 in her car from carbon monoxide poisoning. But the cops were corrupt and did not even investigate her boyfriend Roland West who confessed to killing her on his deathbed in 1952. It was found out the cops knew, and did nothing, only revealing the truth after the killer Roland died. He must have had some dirt on them as well. Thelma Todd was 29. BA
0264 Dark Horse, The (46) aka: Kelly Is My Name George Kelly (Phillip Terry) has just returned home from the war and heads back to the hardware store to get his old job back. George finds himself running for alderman against his will. A talk-fest centered on local politics. Naturally the powers that be have chosen George to run with the expectation of him falling into line with the entrenched corrupt system. But George has his own ideas. He is the dark horse. Ann Savage and more star. BA
0266 Daughter of the Tong (39) F.B.I. agent Ralph Dickson (Grant Withers) infiltrates San Francisco's Chinatown to get the crime boss known as 'Carmey' ( played by Evelyn Brent sporting a black wig). She's about as Chinese as I am. Will he escape the clutches of the Tong? Grant Withers appeared in over 200 projects between 1925 and 1959 and was Loretta Young's first husband. Depressed because of failing health he wrote a suicide note and ate a bunch of pills in 1959 North Hollywood. Grant Withers, dead at age 54.
0271 Devil's Hairpin, The (57) aka: La curva del diavolo Stock car racer Nick Jargon (Cornel Wilde) retired after he nearly caused the death of his brother on a hairpin bend. Now he runs a nightclub, and still boasts that he was the best. Truth be told, he is afraid to race again. Talked into it, he builds a new race car and finds himself in the same situation on the hairpin bend..... Also with Jean Wallace (Cornel Wilde's wife at the time) and Arthur Franz. BA
0272 Doomed to Die (40) The last of the Karloff Mr. Wong films. James Lee Wong (Boris Karloff) is called in to investigate when a shipping magnate is murdered. Wong is every bit as smart as Mr. Moto or Charlie Chan, he just doesn't use the stereotype talk of the other two. Some Chinese government bonds were stolen that predate WW2. Mr. Wong dodges bullets, dead bodies, and constant questions of his competence. He will prove them wrong, and solve the case. BA
0262 Flight that Disappeared (61) aka: Flight That Vanished A plane is suspended in another dimension as an interplanetary council weighs the fate of Earth. They have taken some scientists off the plane to discuss the invention of nuclear weapons. What once seemed over the top in the morality school of 20th century science fiction, turns into a reality play for the 21st. I am surprised Rod Serling had nothing to do with this. One Step Beyond the Twilight Zone to the Outer Limits. A morality play. A Day the Earth Stood Still inspired science fiction. Craig Hill, Paula Raymond and John Bryant star. From director Reginald Le Borg. From broadcast and very obscure BA
0276 Frankenstein meets the Space Monster (65) aka: Operation Frankenstein Camp schlock classic filmed mostly in Florida. NASA space capsule is shot down by Martians. On board was a cyborg, known now as 'Frankenstein'. The crash has damaged his face and he looks like a mutant. A Martian princess and her bald right hand man (an hysterically hammy Lou Cutell, looking like Uncle Fester) are here on earth to kidnap women to repopulate their planet. The aliens have a secret weapon, a ferocious beast that really is pretty effective looking in a Paul Blaisdell sort of way. The final battle is something to see for bad movie lovers. Rock n' Roll Wackiness from 1965. BA
0274 Frankenstein's Daughter (58) aka: La fille de Frankenstein Frankenstein's grandson continues the experiments of his grandfather in 1958 Los Angeles. His 'wonder drug' turns Trudy (Sandra Knight) into a gnarly-toothed beast. The other creature is more interesting, one ugly broad/dude. Teenage romance and drama aside, this has a few grisly moments for 1958. Blood on some of the victims, mangled body parts and a dismembered hand. The climax features a grisly acid to the face meltdown. John Ashley stars and also Harry Wilson as 'The Monster'. This may be the first transgender monster because Frankenstein's daughter is clearly a man. The make-up guy was not privy to the assignment, and they were too cheap to change the mask. Just call her Frankie. BA
0258 Three Musketeers (50) Robert Clarke as D'Artagnan and John Hubbard as Athos both do justice to their roles. This was actually produced in 1950 as part of Magnavox Theatre and is the first hour-long film made specifically for television.
0280 Woman Eater, The (58) This green new deal man-eater of hydra triffid monster will only devour the sexiest of female victims. Doctor Moran (George Coulouris) has brought the homicidal bush-tree home after discovering it in the Amazon jungles. The ropey tentacled fern beast secretes a liquid that supposedly can bring life to the dead. A diaper wearing native helper named 'Tanga' worships the woman eater, and falls for a girl destined to be plant food. Dark, downbeat, and a little sleazy for 1958. BA

DINOSAURS, LOST LANDS, SWORD AND SANDAL, PEPLUM, FANTASY FILMS AND MORE
0300 Ark of the Sun God, The (84) aka: I sopravvissuti della città morta In the temple of a sacred cult, their lies a scepter, the ornamented staff used for ceremonial occasions by the ancient god Gilgamesh. Rick Spear (David Warbeck) a wisecracking safecracker is hired by a rich British Lord (John Steiner) to go to Istanbul and steal the damn thing. Because that is what we do (just ask 'Indiana Jones'). A set-up. Now he is blackmailed and tasked with locating the legendary lost treasure of Semiramis, Queen of Babylonia, and the most coveted artifact of all.... the Ark of the Sun God! Danger, disaster and deadly opponents as we trek through the desert and the wilds. Spear: Fortune Hunter. Willing to walk through hell for a price. Great fun from director Antonio Margheriti. BA
0282 Beyond the Blue Horizon (42) aka: Mabok, l'éléphant du diable A pissed off killer elephant is one of the highlights of this jungle adventure full of campy dialogue and wild animals galore. Dorothy Lamour is Tama, a wild jungle girl. Richard Denning is Jackra the Magnificent, a faux Tarzan. Tama may be the rightful heiress to a fortune. She has a cave in the jungle with her own swimming pool. The elephant goes on a rampage, smashes one guy with his foot, and tosses another man like a rag doll as each man screams as they die. The battle between the tiger and the elephant is impactful. Lamour is lovely in her sarong. BA
0283 Constantine and the Cross (62) aka: Costantino il grande The Roman Empire in the 4th century was a battleground for rival Caesars until finally peace and order came about. Then, the first Christian Emperor Constantinus (Cornel Wilde) started his rule after many battles, installing the Christian religion in all ways which include much violence, and banning Paganism. Trouble with Pagan purists who prefer the old ways. Massacres on the battleground or in the arena, torture in the dungeons, with the aftermath of battles and even rapes. Belinda Lee stuns as Fausta in one of her last films before her death at age 25. BA
0285 Cosmos: War of the Planets (77) aka: Anno zero - Guerra nello spazio Made the same year as 'Star Wars' but looking like something from the sixties. A hotshot captain and his able-bodied crew are sent on a dangerous mission to investigate a mysterious signal deep in outer space. Once there, they find themselves at odds with a malevolent robot which has enslaved it's creators. The robot has sent a message into space, to lure a crew to work on the malfunctioning circuit board. Nods to 2001. There is also a space walk gone wrong and incredible special effects, again with a 1960's feel. Some of the space suits reminded me of Japanese alien wear from one of those Tokyo movies. Organ music saturates the soundtrack, the space effects sound like a video game that somebody left on. John Richardson is on board, along with Yanti Somer, Aldo Canti and more. Aldo Canti was in a number of Italian films, starting with sword and sandal classics. He was found shot to death in Rome's Villa Borghese park in 1990 at age 48. BA
0286 David and Goliath (60) aka: David e Golia In Jerusalem, evil King Saul (Orson Welles) gets a visit from the prophet Samuel after losing the Arch of Alliance in a war against Asrod (Furio Meniconi), King of the Philistines. Prophet Samuel informs King Saul that God is not very happy with him or his people because their ways are abomination. A new King is coming from Bethlehem. Enough with the bible lesson. David arrives and is sent by King Saul to confront Asrod, who pits David against the giant known as Goliath (almost 7 foot high Aldo Pedinotti). They use a little tricky camera work to make him look even taller. Scantily clad dancing girls a bonus. BA
W310 Deathquake (80) aka: Jishin rettô Tokyo is hit by the big one (after some character development). Things get good when the quake hits. People fall from high-rise windows to their doom, planes crash, buildings topple, fires, floods, a broken dam..... A great double feature with the American 'Earthquake'! Now the 2 hour 6 minute version with English subtitles. Known as 'Megaforce 7.9', 'Earthquake 7.9', and others, all cut versions, this is Uncut for the first time. If you need the cut all to hell English dub, just ask. But you may prefer this Uncut version. BA
0305 Doll, The (62) aka: La Poupée Unbelievably racy political satire that blew minds in 1962, making fun of fools who are in charge of some fictional dictatorship located in South America. A revolutionary impersonates the assassinated dictator (the Polish actor Zbigniew Cybulski in a dual role). While this is happening, a scientist is creating a cyborg of a top industrialist's wife to counter the revolutionaries. The wife and her double are played by a Canadian female impersonator (Sonne Teal), making this a very early gender bender presentation. Controlled remotely by her husband, the cyborg wife will be used to lead the rebels to their reward, failure. Still relevant today, and very bizarre. Super sharp Widescreen features huge scenes of extravagance and some very avant garde jump cutting. France/Italy collaboration. Cybulski was creamed by a railway train in Poland 1967. Dead at 39. Teal was in a tourist plane that crashed into Mt. Fuji, Japan in 1966. Dead at age 37. Widescreen and English subtitles.
0332 Drakut the Avenger (61) aka: Revenge of the Conquered aka: Drakut il vendicatore Returning to his country after the wars, the gypsy Drakut (Brooklyn born tough guy Burt Nelson) comes to the rescue when he sees swashbuckling horsemen attacking the coach of Princess Irina (Wandisa Guida) who misleads him, telling him she is only the handmaiden of Irina. The gypsies are having a feud with the local kingdom. Nicholas the king rules like a dictator, taking his cues from the wicked Grand Duke, Atanas, who is manipulating to have the mother of Drakut, burned at the stake as a witch. The brutal burning rivals 'Witchfinder General' and culminates in a vicious battle. Drakut thinks Irina is partly responsible. He finds out the truth about Irina..... Colorful and huge costume spectacle. Widescreen BA
0333 Dream of Zorro (75) aka: Il sogno di Zorro Italian made Zorro spoof with Franco Franchi as Zorro. Paco (Franchi) fantasizes and dreams of being Zorro. When the real Zorro is killed in battle, he gets his chance. Zorro is due for a huge appearance, and Paco fills the bill! Although there is more to the plot development, which also has some drag dressing and outrageous comedy situations. Paco is tricked into the Zorro role, after being called a "fag" by Zorro's woman (the incredibly hot Paola Tedesco). An outrageous comedy, a period piece, an absurd swashbuckler on an epic scale. Follow this with 1981's 'Zorro: The Gay Blade'. Widescreen In Italian with English subtitles BA
0287 Falcon, The (81) aka: Banovic Strahinja Based on an old epic Serbian song, 14th century medieval theme. Ottoman invaders attack Serbia and take the wife of Banovic Strahinja (Franco Nero) a Serbian noble. Banovic Strahinja embarks on a quest to find and rescue his wife at any cost, despite doubts of her faithfulness. Franco provides the face of familiarity as the lead in this film that features Yuogslav/Croation actors. Knights, castles, obsessive love and honor betrayed conspire together to make this an adventure of mythical proportions. BA

0334 For the Love of Poppea (77) aka: Per amore di Poppea Poppea was one popular character in 1970's Italian films. Here we have a Poppea comedy played for laughs, with two more of Italy's famous funny men. Two bumbling fools of the praetorian guard infiltrate the kingdom in drag, and are then offered up to Poppea as two of the ugliest companion ladies ever. But the drag act doesn't last, and the intrigue of the palace is quite plentiful. Wacky antics include some sword play, fast motion, light nudity and authentic locations and structures that give these pictures that 'real' factor. Some very funny lines, and scenarios. Poppea is played this time out by Maria Baxa. Widescreen and English subtitles BA
0335 Great Leaders, The (65) aka: I grandi condottieri aka: Los jueces de la Biblia Bible stories yeah sure. But wait, check this out. Gideon is sent to free the children of Israel and to condemn their worship of false idols. Destroying the altar to the god Baal... etc. The meat is the second story. Samson! Mainly because the stunning and delectable Delilah is played by Rosalba Neri! Before this film of two biblical men is over you will be witness to beautiful landscapes, men whipped tortured and beheaded, Pagan monster statues, the toppling of pillars by the blind Samson and more! Samson is played by 6' 6" Greek actor and olympic gold medalist Anton Geesink. The collapse of the Pagan temple (killing everyone inside) is a highlight. Amazing Widescreen BA
0293 Herod the Great (59) aka: Erode il grande The passion and the power in the pagan court of one mad king of the past, King Herod of Judea (Edmund Purdom), husband to Miriam (Sylvia Lopez). There are so many lies and betrayals tossed about even Shakespeare would be jealous. The story is a grim drama of Herod killing off his own family. Augustus observed that no one worry about any threats to Herod's family. He soon will have finished them all off himself. Yanked from the bible, this is pretty much a sordid costumer that really seems like a stage play. Purdom is excellent. Lopez is stunning, and already one foot in the grave sadly, as she died in 1959 at age 26 in Paris of leukemia. Decades later Edmund Purdom would try to build a woman from parts he has collected after chain sawing his victims in the great 80's slasher 'Pieces'. BA
0291 H-Man, The (58) aka: Bijo to ekitai ningen Japanese H-Bomb testing in the Pacific opens the picture. Unusual because of then (sort of) recent Nagasaki and Hiroshima bombings that fried Japan and won America the war. A ghost ship drifts into the harbor, a man goes missing... and a mysterious liquid creature whose very touch dissolves its prey. The creature reminds us of 'The Blob' a mass of goo that oozes and slimes turning bodies into deflated piles of mush. The creature knows what it is doing because it was formerly a human. This is a tale of revenge. Watch 'The Blob' and 'X the Unknown' to complete your night of creepy goopy monsters. BA
0290 Hundra (83) aka: Hundra l'ultima amazzone Laurene Landon is Hundra, a female Conan. Her tribe was wiped out by nasty warriors, exactly like the beginning of 'Conan'. Hundra is smart, and sexy, but first, she is a mighty warrior. One who swears vengeance and makes it her mission to slay the killers of her tribe. Hundra is an archer, a swordswoman and all woman. Fantastic blood and battle sword and sorcery. Hundra prefers a horse between her legs (to ride, not screw, get your mind out of the gutter), but now she must also seek out a suitable male so her tribe does not become extinct. Hundra is a perfect tale of violent action and adventure. Laurene Landon's got the stuff and did most of her own stunts. Filmed in Spain (like much of Conan). Widescreen BA
0292 Hunt for the Golden Scorpion (91) aka: Caccia allo scorpione d'oro Umberto Lenzi wrote and directed this violent jungle action. In the Amazon, the 'Golden Scorpion' is tucked away, and worth about ten million dollars. Enter a map carrying Indiana Jones clone named Tom Maitland (David Brandon), who is captured by corrupt troops and thrown in a cell, charged with drug trafficking, claiming he no longer has the map. Everybody wants to know where the 'Golden Scorpion' is, so they can cash in. Mary (Christine Leigh) and her travel friend Jim Foster (Andy J. Forest) arrive, looking for Tom. What follows is plenty of fighting, shooting, explosions and action-packed mayhem. Village assaults, fire fights, and an outrageous villain named McDonald (played by Dennis Bourke using an English accent mixed with a Scottish flavor that doesn't always work). Umberto Lenzi only made one more film after this before retiring, This was his last journey into the jungle.
0289 Hunters of the Golden Cobra, The (82) aka: I cacciatori del cobra d'oro American soldier Bob Jackson (David Warbeck) teams up with stiff upper lip Captain David Franks (John Steiner) to track down the ancient relic known as 'The Golden Cobra'. In the tradition of Indiana Jones, we get perilous mountains, explosions, car chases, plane crash, creative use of miniatures to obliterate, everything we could expect and want from director Antonio Margheriti. If the artifact falls into the wrong hands it could have serious instability in the world, not to mention potential 'magical' repercussions. Tired of Hollywood excess? Try this rough and tumble rip-off, made to make a buck sure, but also made to entertain! BA
0341 Magnificent Robin Hood, The (70) aka: Il magnifico Robin Hood Jorge Martin is Robin Hood in this Spanish/Italy collaboration directed by Roberto Bianchi Montero. Prince John (Frank Brana) wants to pass off Robin Hood as the murderer of a Saxon nobleman who was killed during the battles that liberated King Richard the Lionheart. A very colorful Robin Hood, filmed in areas that seem like it really happened, using still standing structures that must be hundreds of years old. Swashbuckler action, and Jorge Martin makes a charismatic Robin Hood, well, he's magnificent! Brawls and arrows! Antonella Murgia is Alicia. You may remember her from others we list. Widescreen BA
0230 Messalina (60) aka: Messalina Venere imperatrice Belinda Lee stars and this is already in the catalog as #M458. This is an alternate version high definition Widescreen in Italian language and with English subtitles. Incredible! BA
S977 Nonexistent Knight, The (69) aka: Il Cavaliere Inesistente An allegorical fantasy written by Italian writer Italo Calvino first published in 1959. A tale that explores the adventures of Agilulf, a medieval knight who is the example of everything that a knight should be. Valor, piety, faithfulness, chivalry. But he exists only as a robotized man, an empty suit of armor. The story explores virtue, the integration of society, and ultimately, the question of one's identity. The Nonexistent Knight is filmed as a mixture of action and animation as they attempt to bring the story to the screen. No English. Italian language only. BA
0364 Robin Hood: Justice of the Forest (76) aka: Storia di arcieri, pugni e occhi neri Ignoring any historical facts, a film made for fun, with all of our favorite Robin Hood type characters. The new addition, a Chinese friar who adds a kung fu element to the Robin Hood legend, the director already employing this formula in 'Robin Hood, Arrows Beans and Karate' a few years earlier, with the same guy Iwao Yoshioka. In the woods, Lady Anne playing damsel in distress, is rescued. She is hiding from the Baron of Nothingham and his henchmen. Off to the convent. They kidnap her brother. Robin Hood takes her to his forest hideaway. Robin Hood and his men attempt a rescue at the castle. Alan Steel (Sergio Ciani is his real name) still muscular is Robin Hood in one of his last films. Victoria Abril is Lady Anne and in the exact same year she was Queen Isabella in 'Robin and Marion' with Sean Connery. Victoria, Tie Me up Tie Me Down. Wow! Widescreen English dubbed. BA
0316 Robin Hood: The Invincible Archer (70) aka: Robin Hood, l'invincibile arciere Norman Lords are oppressing the Saxon masses in King Richard's absence. Robin Hood (Charles Quiney) is a Saxon archer fighting back with his band of merry men. Others rally against Robin and the forests are ripe with battle, culminating in the castle attack finale. Swashbuckling. horseback riding, archers letting arrows fly into their enemies, damsels in distress, swordplay, cool lair and waterfall....and the funniest damn Robin Hood hat ever. Sharp color Widescreen English dub BA
0345 Secret Seven, The (64) aka: Gli invincibili sette Sword and sandal thunder in the Fourth century influenced by Akira Kurosawa's 'Seven Samurai', ah or say 'The Magnificent Seven' (American 'Seven Samurai'). Athens has come under the control of the powerful Sparta. Patriots hidden in shelters located in the mountains fight for freedom. Leslio (Tony Russel) enlists a group of prisoners to carry out his plan after he helps free them. The seven rebels are faced at every turn by hostile armies. Our heroes attack men who terrorize by posing as tax collectors. These bastards have been brutalizing villages and lining their loincloths with pilfered riches. Later, the seven throw a valuable treasure from a tower. Later in an enemy court, Leslio, posing as an architect, meets his old flame Lydia (Helga Line). A gatling gun type weapon, battles, a catapult.... Nice Widescreen English dub BA
0191 Seven from Thebes (64) aka: Gli invincibili sette A few centuries before Christ, the city of Thebes was suffering under the political and military domination of Sparta. The oppressed people coveted freedom. A revolution begins. In the opening the villainous Spartans slay a young girl and her father. The conversation turns to how their women are being raped, and now is the time to make a move against tyranny. Revenge for blood. The rebellion is known by both sides. For the first time Widescreen! This version of 'Seven from Thebes' is Widescreen and in Italian language with English subtitles. You can find the other version in Catalogue book #1. BA
0279 Zamba (49) aka: Zamba the Gorilla A plane crash in the Congo separates Jenny and her 8 year old son Tommy. Jenny is separated by hunters, Tommy is rescued by Zamba, the large jungle ape that rules his region. Jenny and a safari go into the jungle to search for Tommy. Zamba is not having it. Zamba is Tommy's parent now. Ray Corrigan is Zamba. Tommy is played by an eight year old Beau Bridges. BA

EXPLOITATION FILMS
0297 Agony of Love, The (66) aka: From Lady to Tramp Barbara (Pat Barrington) is unhappy in her unexciting marriage. Her husband has no time for her. What. Do I have to draw a picture? Barbara rents a room and starts to make bank. As a bonus she has fun for a change, with all kinds of very appreciative men, which is what she wants, to be loved, if only for a moment. Who cares if she is a head case. She's got great tits. 1966, so the panties stay on and the tops come off, and maybe women get slapped around a little. If you want to see more of Barrington's twins, see 'Orgy of the Dead' (written by Ed Wood) and Russ Meyer's 'Mondo Topless' among other belly dancing roles. Pat Barrington died of lung cancer in 2014 at age 74 in Florida.
W300 Call Girl (95) aka: Nighttime Lover Diandra (Meilani Paul) is a failed photographer (anybody?). Joining an escort service is the answer to her problems. Rich guys pay for extravagant little fantasies. She walks at first, maybe not cut out for this gig? When she returns to her photography, now she has a new cool style after her erotic experiences, finally making her critics take notice. She will fulfill your every desire! Or will she? Plenty of sexual situations and nudity.
W298 Cinderella (77) Cinderella (Cheryl Smith) is granted super erotic powers by her fairy godmother in order to land Prince Charming. Effective in both erotica and satire. Cinderella's stepsisters prance about half-naked, demanding she spin a wheel that activate dildos for their pleasure. What the Prince slips Cinderella was not a slipper. In his blind-folded orgy, one woman was the perfect fit! Now the Prince must travel to every hovel, and see which maiden was 'the one', sex with all of them until the perfect fit is once again found. Loads of nudity, and the longest version of this film ever! Directed by Michael Pataki! Previously available in an 89 minute version. This is the one to get. Uncut 97 minute version! BA
K720 Complicity (95) aka: L'intesa Erotic trash from Italy! The thrill is gone. A man does the hot wife with his mate, pushing her off on another man so she can share her experiences with him so he can also get aroused. He is not gay, just enjoys the sexual pleasure his wife experiences as a turn on, even surpassing his own pleasure. Things go even further and eventually get out of hand when he can't deal with it. And to the next conquest to keep the fires burning at home? With American porn star Zara Whites. From a story by Pier Paolo Pasolini and directed by trash director Antonio D'Agostino.
0195 Dear Wife (77) aka: Cara sposa Alfredo (Johnny Dorelli) has just returned from prison after serving five years. He is welcomed in the old neighborhood, and an old female friend who wants to have sex with him is disappointed when he cannot get it up. 'I wasn't expecting all of the positions in the book' she says 'but at least one!' 'This is a dog's house' Alfredo replies. She answers 'We could have done it doggy style!' His wife Adelina (Agostina Belli) however, has taken up with a taxi driver who works hard and stays out of trouble. This is Alfredo's reason for dysfunction. Adelina finds herself drawn to Alfredo as they begin to meet in secret and rekindle their lust. But is it possible to have an affair with your own wife? The old neighborhood is a swell place to return to, Alfredo wants his wife in her rightful place. Seeing as she is Agostina Belli, can you blame him? Nudity. In Italian with English subtitles BA
0196 Don't Pull on My Tights (78) aka: Tire pas sur mon collant Star and director Michael Lemoine directs this spirited disco-flavored sexcapade about a couple of very cute girls who score a trip to Marrakech where they want to go 'where the boys' are and lounge by the pool. Mistaken identities and sexual pursuits amongst the playful cast which includes Janine Reynaud in her last film appearance, the always reliable Franco favorite Olivier Mathot (also known for his porn film roles) and some damn fine looking woman who are not shy taking off their clothes for the storyline on occasion. Wild parties, motor biking, dancing, colorful, exotic locales etc. Widescreen and English subtitles. BA
0221 Emmanuelle 4 (84) Sylvia Kristel is really not in this much, but rather a replacement, a cute Swedish blonde name Mia Nygren. A very nice song 'Emmanuelle' sounds like 70's pop. Emmanuelle likes to masturbate and watch others. Or fantasizes it all... or both! The most erotic Emmanuelle of all. The style of the first movies is lost, but this has an odd early eighties magic. Also with Patrick Bauchau. Uncut alternate version (with hardcore) of the Sylvia Kristel classic. The other version runs 89 minutes. This version runs 102 minutes and is dubbed into English language. You will find this in the exploitation section without the hardcore scenes.
0197 Erotic Secrets of a Welcoming Bed (73) aka: Les confidences érotiques d'un lit trop accueillant Go-go dancer Dominique (Olga Georges-Picot) bumps into a former lover and takes him back to her place to bump into him proper. Her circular bed, a relic from the flea market, seems to have been following her for quite some time she explains, confusingly explained with a series of vignettes where the women are not played by Olga Georges-Picot, but other actresses! Dominique seems to have some sort of psychic link to the sexual past of the bed apparently. There are quite a few girls that star in these like Nathalie Zeiger and Anne Libert. Since this is another film directed by Michel Lemoine, we also get Janine Reynaud of course. Nudity and sexual situations. Olga was to throw herself from her apartment window in France in 1997 at age 57. Widescreen and English subtitles. BA
Y92 Gina: The Foxy Chick (70) aka: Golden Gate Payoff Soft-core trash about a hooker named Gina who is sick and tired of screwing everybody, mostly black guys, just to pay off the debts of her gambling addict boyfriend. As close to hardcore as it gets. Ends in an orgy with Gina enjoying every minute of it. Come to think of it, she enjoyed all of the other men as well. +
9513 Goin' All the Way (81) This kid needs it, Bad! His girlfriend won't put out. He is still a virgin. But there are other possibilities. Nice, clean, middle-class suburbia of Southern California with all of the jocks, babes and misfits. Classroom gags, bimbos and aerobics in spandex. Naked showers... and oh. Some butch chicks trap a guy in the shower room and shave his head. Later a guy reaches up a girl's skirt and then realizes it is a guy! Politically incorrect fun from an age when nobody gave a damn and everybody could take a joke. Well, almost everybody. I would like to formerly apologize to some teachers and even some students of my high school. It was funny at the time, what can I say? Eileen Davidson in her debut! BA
F717 High Finance Woman (90) aka: Wallstreet Woman Tara Buckman (of 'Night Killer') is stockbroker Brenda who sleeps around to get insider trading information (take that Martha Stewart). She meets Alex (Charlie Edwards of 'Hitcher in the Dark'), a journalist that offers to do a story on her. Brenda reveals she is an expensive escort for her 'clients'. She gets engaged to Alex. They break up. She starts screwing Albert. Surprise. Albert is Alex's father. Then Albert dies and leaves all his money to his mistress. Brenda! Great D'Amato trash with a cameo from Laura Gemser as a prostitute, never one worried about her reputation. Buckman is hot stuff! BA
0200 Lesbian Schoolgirls and Their Place of Perversion (83) aka: Colegialas lesbianas y el placer de pervertir The marriage is not working out for Mary. Mary is frigid because she is a rape victim. When her husband gets it on with her, she is screaming inside and remembering the assault. When her niece and her niece's girlfriend come to spend vacation time at the house, Mary finds a new way of sexual pleasure. A sexual pleasure that does not involve men. The husband is not very happy, and feels guilty about not satisfying her. But maybe there is another for him..... Sex and Nudity Uncut version. Concha Valeria, Andrea Albini and Jennifer James star. Hot colorful and sexy with a somewhat misleading title as men get laid here frequently in soft core sex scenes. Widescreen and English subtitles.
0355 Like a Bitch In Heat (76) aka: Come una cagna in calore aka: Una mariposa en la noche aka: A Butterfly in the Night Can you believe the American title for this film is 'A Butterfly in the Night'? I like the original title better. It makes me feel like I am doing something wrong by watching it, which appeals to me. Jorge (Armando Bo) is in love (as you too will be) with Yvonne (Isabel Sarli), a streetwalker/stripper. Jorge is always there to lust to her gyrations. Jorge kills her pimp and takes her home to Pampas, Argentina. There he has sex with her constantly when he is not breaking in wild colts. Yvonne doesn't need breaking in, that door closed many years past. Jorge is injured when the wildest colt on the ranch throws him. Injured and depressed Jorge dies. The men blame Yvonne, and plan to gang rape her as punishment. But then.... Plenty of nice Isabel Sarli nudity. In Spanish with English subtitles BA
0201 Little Saints Touch It (74) aka: Les petites saintes y touchent aka: Giochi d'amore alla francese 'Seven Women for Satan' star and director Michel Lemoine uses a lot of the same crew for this one, another sexy romp this time featuring a series of vignettes as a bunch of boarding school girls having a reunion swap stories of their sexual experiences. Set designs are second to none, the colors and outfits dazzling to the eye, the girls, exquisite, with clothes on or off. Joelle Coeur and a number of Euro-babes you will recognize from other films. Fantastic Widescreen and English dubbed. BA
0219 My Wife is a Beast (88) aka: Mia moglie è una bestia The open is set in the time of the prehistoric man. Then in present day... Ad man Gianni goes on vacation (without his wife) in his attempt to get away from it all for a bit as his job is getting to him. Leaving Milan, he heads to a snowy mountainous region. He climbs into a cave area and finds a beautiful frozen cave woman (Eva Grimaldi). He breaks her free and voila! Instant hot chick! And free! Gianni will now educate 'Huc' into the ways of civilization. His kisses warm her into full compliance. She licks his face. Good start. Plenty of nudity from Eva Grimaldi, and some cool fish-out-of-water type scenarios. To her, the snow machine plow looks like a wooly mammoth... etc... Now, if you'll excuse me I am putting on my snow boots to do some climbing. Maybe I'll get lucky! Nice Widescreen In Italian with English subtitles
0206 Other Canterbury Tales, The (72) aka: Gli altri racconti di Canterbury aka: Les autres contes de Canterbury Even though we call them this, these tales do not belong only to Canterbury. Irresistible bawdy tales with a comic bent taking place hundreds of years ago in Italy. Decamerotic? That is the ticket here. Punch yours and be transformed back to a place that only looks medieval. Each tale from a different author, all involving people trying to score. The stories are presented to us by two traveling wanderers telling each other the tales. Peasants, priests, harlots, monks..... Cold-hearted comedy at times. Imagine a town over the hills and far away from Witchfinder General era England. Some Nudity and Nice Widescreen English language dubbing BA

0256 Rollicking Adventures of Eliza Fraser, The (76) aka: A Faithful Narrative of the Capture, Sufferings & Miraculous Escape of Eliza Fraser 1836 Australia. An untamed land filled with pioneer settlements and penal colonies. Eliza Frazier (Susannah York) and her husband shipwrecked. Hounded by escaped prisoners, chased and captured by aboriginal savages, hunted by mounted police... just a few of her 'adventures'. Eliza is the object of every man's loins, but only the fortunate few will find their way to her heart. This is her story of rollicking escapades/sexcapades. Excellent period picture with plenty of nice scenery. Also with Trevor Howard, Bruce Spence and more. BA
W297 Secrets (71) aka: Quadrangle Four angles on love in the movie that's open to everything! Raoul (Per Oscarsson): Longing to recapture his one lost love with every woman. Jennifer (Jacqueline Bisset): Being faithful was easy... too easy! Allan (Robert Powell): The loving husband, but not with his wife... and Beatrice (Shirley Knight): Sex wasn't her only fear... just her greatest! This is Jacqueline Bisset's most erotic movie with plenty of nudity. The last version was 83 minutes. This version is 86 minutes. BA
0329 Shudder on the Skin, A (05) aka: Un brivido sulla pelle Soft Core. While traveling abroad, George meets a taxi driver named Arianna (the very hot Margarita Milan). Later he spots her in the toilet. He has to have her. The next few days will be a merry-go-round of lust, temptation and more than a little insanity. George observes Arianna in a lesbian bath, which features multiple hot tubs full of horny writhing vixens. He pairs off with a brunette, but still has it for Arianna, bad. The masseuse rubs George's naked backside but then.... a large man jumps on his back and roughly massages with hard chops! In all of these situations, Arianna is driving him from place to place. Finally in the taxi she goes down on him, wipes off her mouth after and they kiss. What now? Sleazy sexy fun from director Bruno Mattei. This is in fact one of the last 10 films he made in his last few years of life when he had a creative spree of sex and gore. He was 73 when this was made. He died in 2007 at age 75 of a brain tumor. Widescreen in English
0232 Sleazy Uncle, The (89) aka: Lo zio indegno This Italian sex comedy is also a character study on aging. Is your ticket still valid to do the deed? Vittorio Gassman is the sleazy uncle named Luca (he does not live on the second floor) of the title. He just cannot stop himself from hitting on women and trying to bed them. In the opening credits he is harassing a young woman 30 years younger than him in a theater, so you kind of get a pervert vibe right away. The uncle ends up having to stay with his nephew Riccardo who soon learns his ways of lust and the pursuit of young women is all Luca cares about. Luca even passes out blood test certificates to women he wants to bed to prove he is 'clean'. Riccardo begins to want to live like Luca, living life to the fullest. Is that so bad? Ladies get ready. Here I come with my best lines! 'Come, let me show you my eagle's nest!'. By the way the little dog is my favorite. Stefania Sandrelli and more star. Widescreen with English subtitles BA
6490 Steigler and Steigler (80) aka: Desperate Moves aka: Il Rollerboy Andy Steigler (Steve Tracy) is a nerd with uncontrollable hormones who has left his small hometown in Oregon to pursue his dream in San Francisco. A woman he gets involved with has him way out of his league. Andy is a real wimp. He tries to get his wimp wiped out by weirdo disc-jockey Cosmo ('The Jefferson's' Paul Benedict in a gay stereotype role). Andy finds the California experience and especially the California women like totally awesome and unbelievably unpredictable. Eddie Deezen stars as 'Red', wonder what old Eddie has been up to lately.... ? Christopher Lee as Dr. Carl Boxer. Steve Tracy, the star of this film, also appeared in eleven episodes of 'Little House on the Prairie' the same year. He died of AIDS in 1986 in Tampa, Florida. He was 34. BA

EXTREME HORROR AND GORE FILMS
0218 Beyond Death (86) aka: Más allá de la muerte A man poses the question. Is there life after death? He introduces our story. It begins in Germany 1945 as Nazi's machine gun and shoot a group of Jews in a pit. Fast forward to 1986. Dr. Moser is to kill Jewish Dr. Hamerman who was used by the Nazi's in the past so he knows a lot about a current Neo-Nazi occultist organization. Too much. He must die. But what is supposed to be a killing, turns into infatuation when Dr. Moser dives into the explorations of life after death with Dr. Hamerman. The goal is a near death experience. Maybe getting a peek at what's next. The Neo-Nazi group is impatient and sends another to finish the job...... Fits into a class by itself with science fiction, occultism and the supernatural, crime, Nazi ..... Nice Widescreen and English subtitles BA
0347 Castle with the Gate of Fire (70) aka: Scream of the Demon Lover - Also available as 'Blood Castle' in full frame and missing about 4 minutes at 93 minutes. This version is Widescreen with English subtitles and at 97 minutes, the longest version we have seen. Proves the 'Blood Castle' print was not complete. See description in main catalog.
0350 Devilish Nymphs (78) aka: Ninfas Diabolicas Two short skirt wearing hitchhiking girls on the road to nowhere. They've come from hell. They will ruin and bewitch a man into lust and murder. When he is with one cavorting about or having sex, the other knows it through telepathy. These are the devilish nymphs. On the ground sirens who will wreck your path and lead you straight to your doom. Downbeat shocker ending, and maybe even a little amusing. Finally, a version with English subtitles for the first time! Would pair great with 'To Be Twenty' from the same year, similar, but a contrast. In Portuguese with English subtitles (just reminding you)
0351 Don't Open the Door for the Man in Black (90) aka: Non aprite all'uomo nero Lory feels sorry for a suicidal girl she is treating named Francesca., the daughter of a recently deceased actress. Francesca is sleeping with an older man, her dead mother's lover. Francesca is pregnant and has an abortion. Later Francesca kills herself. Lory gets upset when the police will not listen to her suspicions. Lawyer Andrea helps Lory investigate, and hopefully find the killer. When they find one of Francesca's friends, she too is killed. The killer attacks again, this time Lory is the target. Giallo mystery from the director of 'Death Laid an Egg' Giulio Questi. In Italian with English subtitles
0307 Falling Body, The (73) aka: Fall of a Body aka: La chute d'un corps Marthe (Marthe Keller) is alone in her apartment building after her husband leaves on business. From the apartment above, she hears noises in the night. Later a man tries to talk his way in to her apartment. She says no, but the next scene they are both naked, awakening to the sound of a woman who has fallen from above and landed on her balcony. Looking down is a man named M. Nansoit (Fernando Rey). The doctor is on the way. Now what? This French thriller directed by Michel Polac looks to Roman Polanski for inspiration, at least that is how it looks. Fernando Rey at his sinister best, a guru of sorts delivering Marthe into a coven of elitist witches who begin to fill her head with rubbish. When the end credits roll, you will feel the Polanski vibe morph into David Lynch territory. Widescreen In French with English subtitles BA
0412 Full Moon (99) aka: Plenilunio A stressed out alcoholic police Inspector arrives in a small town investigating the death of a little girl. He meets the girl's teacher, and they spark, she too is lonely. Now another girl is dead, so he better get to work, juggling this new relationship opportunity with finding a disturbed killer. His wife is in a mental ward, and the teacher, well her husband left her some time back. Some disturbing scenes as the killer claims victims. Excellent Spanish thriller Widescreen and English subtitles
0445 Grimm's Fairy Tales for Adults (69) aka: The New Adventures of Snow White aka: Grimms Märchen von lüsternen Pärchen aka: Divagazioni erotiche Uncut version alternate print with English subtitles for the first time in these pages. Surprisingly faithful to the Brothers Grimm in some very gory sequences, the only film that has been actually, although it does go off the rails, like when the cannibal men try to rape Cinderella (Gaby Fuchs). The wicked stepsisters cut off part of their own feet in order to fit the slipper! Snow White flees into the forest and the woodsman tries to help. Snow White is assaulted by a horny talking dog and then a talking bear just about rapes her! Gruesome, gore, nudity.... some even gag inducing (the hilarious and gross scene with the dismembered corpse)! The best adaptation of Brothers Grimm, ever. This is the original version, there are some minutes in German language only, but this is mostly subtitled in English When this film came to America, it was turned into a sex comedy, missing the extreme sequences. Marie Liljedahl will knock your socks off! There are others sure, but I am out of room. Widescreen and mostly English subtitles BA
0401 Hanoko of the Toilet (98) aka: Shinsei toire no Hanako-san Japanese schoolgirl horror! On the heels of 'Ringu'. A young girl attends a new middle school. Later she learns this is the same school her sister mysteriously disappeared from eleven years earlier. Luckily for her, she makes new friends. They will all need each other when they realize the horror they all must now face. Don't go to the bathroom? Could it be Mr. Hankey gone rogue? There is a door in the mirror. But there is no door. Where does it lead? What nightmare will unfold? Widescreen and English subtitles
0399 Harry and His Geisha Girls (78) aka: Femmine calde per sssupermaschio bollente aka: Ikenie no onna-tachi A woman arrives by plane... Two women spy on Harry Reams as he suds up in the shower... Now the doctor talks to the two women, about a penile implant for the man. He opens a case of large penis models, they point at one excitedly. Mr. Harry freaks out when he finds out what he is there for. Later, large sausages are consumed for dinner. Mr. Harry tries to convince his lover he is plenty enough big, but when he falls asleep she is off with another woman, and a large dildo. Harry comes out of surgery with a giant freak penis. The women are excited. Now what? Obscure comedic soft-core, with hilarious use of music and phallic symbolism. Widescreen and Japanese language only. BA
0339 Holy Place, A (90) aka: Sveto mesto Walking travelers in the 19th century come upon an isolated farmhouse and ask the old woman who lives there if they can spend the night, lest they be set upon by wolves. What happens next is too crazy to get down here in this reworking of 'The Vij'. But I will tell you some. Misty moonlight, spooky cobwebs, howling wolves, cackling crones and scary church crypts, a witch who rides men, an erotic painting, hair turning white overnight, sepia-like flashbacks, nudity, lesbianism, incest.... Hah. A nice Eastern European adult scary fairy tale from Yugoslavia. English subtitles.
0311 Hunter's Diary (64) aka: Ryojin nikki Honda has left his wife behind in Osaka to lead his double life in Tokyo. In his apartment, he records his sexual pursuits in his diary, his 'Hunter's Diary'. Sex is his game. But the newspaper is reporting killings and Honda realizes the woman that are being killed were his past sexual conquests. Now he lives in fear as the women he has made love to are killed one by one. Another adult entry from Japan that was ahead of the times. Widescreen and no English subtitles

0325 La Bella e la Bestia (77) aka: El castigo del placer Twisted sexual 'Decameron' styled tales from director Luigi Russo. The first tale 'The Slave' tells the tale of a sex-starved Queen who demands power for a day from her King. Once given, she subjects him to degradations. Lots of nudity as naked women march in before the Queen as she lusts after them on her throne, they swarm her with their naked flesh, delighting her. She makes the King crawl, and rides him like he is a horse. Then the Queen has sex with a hung black man in front of the King for her pleasure and his humiliation. Now the next day has arrived. Her power is rescinded. She is removed. Next... well let's just say the next tale gets beastly... The film has loads of nudity and sleaze, perversion. Lisbeth Hummel stars in two of the tales. You can also see her in her debut 'Immoral Tales'. Oh, another tale is called 'The Whipping'. I wonder what it is about? Widescreen and Upgraded it also has English subtitles. BA
0357 Meatgrinder (91) A fashion designing woman, naked nourished on American films, grinds stop-motion King Kong and stop-motion Rambo through a hand-held meatgrinder in the opening of this trashy exploitation action horror from Russia. Lots of guns blazing here with various gangs blasting their way through whatever stands in the way. Later a villa is under siege by a group of miscreants, while inside to defend is the woman, only the woman, and she is armed. As they try to get to her, she will begin to take them out one by one. After all, she has seen Rambo, and knows a thing or two about killing. There will be blood. Pretty impressive, with splatter and nice landscapes. English subtitles Not to be confused with the 1990 film or 2009 film with the same title.
0359 Moments of Pleasure and Agony (83) aka: Momentos de Prazer e Agonia The teacher Marilia (Rossana Ghessa) has relocated to the country. Sensitive farmer Rodolfo (Anthony Steffan) wants her and has her. But so do some of her female students, Marilia leans towards lesbianism. Marilia's former lover Renata has followed her, and Renata's blind husband, who doesn't know when his wife is getting down right close to him! Marilia really has stirred up the loins of many. It's a real shame that some who have slept with Marilia, must violently die. Lots of nudity. much of the lesbian sexual nature. A log splitter sequence is brutal and quite fun for trash film buffs like yours truly. Graphic Violence and Sex Now with English subtitles and Widescreen! What more could anyone want? Giallo from Brazil!
0360 Murdered Young Girl, The (74) aka: Charlotte aka: La jeune fille assassinée aka: Una vita bruciata Charlotte (Sirpa Lane in her debut) is one dread and doom little dame, in search of the ultimate sexual experience. Charlotte wants to be killed at the moment of her orgasm. Any takers guys? Charlotte sure is hot. I think though, I'll pass. I'm no killer. So will Charlotte find a soulless twisted little rich kid to oblige her? Will he even go that extra mile after she is murdered and cut out her eyeballs to make it look like a ritual killing? Maybe. Just maybe. Heavy handed and arty-farty at times, bohemian sexy, the film finally kicking you in the nuts in the final act. Also with Roger Vadim (who also directed), Anthony Steffan, Sabine Glaser and more. It seems Finland born Sirpa Lane was doomed from the start. She started with this in 1973 and ended with the sordid 'Exciting Love Girls' in 1983. Along the way, 'The Beast' and others, mostly pretty dark and sleazy stuff. Roger Vadim envisioned her as 'the next Bardot'! I'll bet he said that to all the girls. Sirpa Lane died of AIDS in 1999 at age 47. Widescreen and English subtitles BA
0203 Mysterious Death of Nina Chereau (88) aka: La mort mystérieuse de Nina Chéreau Do you believe it is possible for Elizabeth Bathory to still be alive, butchering and bathing in the blood of virgins to stay eternally young? A psychiatrist tries to help a woman (Maud Adams) who is in an asylum, accused of murdering a young girl. She escapes and he goes to search for her, finding out more about her in the process. Her mother wants nothing to do with her. There is something horrifying to discover..... Dread inducing atmosphere, a great film for a rainy afternoon. Maud (Octopussy) Adams stars along with Alexandra Stewart and Scott Renderer. This film has English subtitles and is also English dubbed. Nice Widescreen
0362 Offensive (16) Bernard and Helen (Lisa Eichhorn) inherit a house in the french countryside, under the condition they live there in the house for twelve months. But crazed psycho teenagers, plugged into their devices and completely soulless with zero compassion, feral monsters, go all 'Straw Dogs' on the situation. Ahh the generation we have created. You'll root for the old folks when they are finally pushed too far after living a hell of harassment, and start to fight back. Right or wrong? Bah! Survival is all the matters, no matter how corrupt governments try to regulate our basic instincts as humans to simply survive. Kill them all! And I hope they do, the worthless little bastards. Insanely violent fun! Get ready. Excellent Widescreen
0416 Phantom Brother (88) Five years ago a fiery wreck wipes out the Evans family- leaving a sole survivor, young Abel. Now, Abel lives in the house with his 'Deliverance styled' adoptive family, who want his inheritance. But Abel's dead brother and other family members, who are also dead, are also haunting around. Will Abel's dead brother get the girl? Will visitors die? How about the greedy hillbillies? Horror spoof from hell for anyone who has relatives that interfere. It kin happen to you!
0414 Photo of Gioia (87) aka: Le foto di Gioia aka: Delirium Working as models for the adult magazine 'Pussycat' becomes deadly when a twisted psychopath begins to slaughter them. The beautiful Serena Grandi is 'Gioia'. Gioia owns and operates 'Pussycat'. She is also a former model. The killer is obsessed with her. A weirdo in a wheelchair talks dirty to her on the phone. What a creep! Could he have something to do with it? Lamberto Bava directed this giallo which also stars Daria Nicoldi, Sabrina Salerno (oh my) and George Eastman. Serena Grandi is fantastic, so is Sabrina, catch her videos somewhere, she has CD's on Amazon. This is probably where Janet Jackson got the idea for the "boob malfunction" stunt. BA
0417 Playgirl Killer (67) aka: Portrait of Fear Obsessed with a beauty he can paint but not possess, an artist goes mad at a country lake when his model will not be still. He uses his spear gun to kill her. You are still now. He finds employment at a mansion as a handyman. He kills, and kills again, creating a grotesque museum of victims in the walk-in freezer. Playgirl Killer! Paint it red for passion, red for rage. Throw in some more red for his beautiful and bloody victims. He was their lover. He was their killer. In the end, he became their victim. Spoiler? BA
0413 Plutonium Baby (87) aka: The Mutant Kid Poor Danny. When his mother carried him in her womb, she was affected by the radiation poisoning put upon her by depraved scientists. Now Danny is a plutonium baby. (a radioactive bunny sock-puppet muppet) They now live in the woods, Danny and his mutated monster mother. An encounter. Mother is killed. Flash forward ten years. Danny's grown up, and has a lady who he makes sweet love with (close your eyes). Danny wants revenge for the death of his mother. But Danny is also being hunted by the scientist that buried his experiments in radioactive waste drums. BA
0410 Po Ma Hill Murders (93) Intense sex and violence! A young woman and her grandpa are out jogging in the hillsides when they come across a dismembered corpse. They report it to the authorities. Later a woman is gang raped by punks and her boyfriend is beaten bloody. Could these brutal hooligans be the one's responsible for the slaughters? A flashback reveals another gang rape, a blonde this time. Brutal Cat 3, with a possibly made up title. Widescreen and English subtitles
0409 Reincarnate, The (71) aka: The Dark Side A dying lawyer is the continuation of a line of 'reincarnates'. Needing to pass his memories to a 'successor', he finds a candidate, a sculptor. In the darkness, the Sekana cultists choose their next innocent victims. The young sculptor will gain eternal life, if only he will submit to the perverse rituals that defy all that is holy. Find out who will survive in the chilling climax of 'The Reincarnate'. My Memory is Eternal! BA
0207 Sadismo - Aberrações Sexuais (83) Joana is a cripple waiting for an operation who has plenty of time to fantasize. She has amnesia and lives with her niece in a sort of hotel set-up, where they can spy on couples in other rooms. Joana's man is fresh out of prison and ready for anything. Where is the line between reality and fantasy? This one goes off the rails with full intent to disturb with rape and disturbing situations. A woman descends into madness like 'A Woman's Torment' meets 'Repulsion' with a huge dash of sexual depravity ending in violent bloody shootings. Time for the surgery! A happy ending? X-Rated so avoid if you are sensitive. The director Fauzi Mansur would go on to direct 'Ritual of Death' and 'Satanic Attraction'. Now finally with English subtitles for the first time! BA
0419 Scarab (83) aka: Scarafaggi assassini Murphy (Robert Ginty) investigates the murder of a number of influential and political people, left always with a scarab-shaped amulet on their dead bodies. Khepara (in the body of Rip Torn) an Egyptian god, has returned. No sense, No logic. Dancing around naked girls, sacrifices and snakes, incest, white foamy vomit ...everything needed for a night of viewing with the family. One cool scene has a gorgeous gal about to have sex who suddenly transforms into a gruesome mermaid-pig monstrosity. This film fell under the radar and is practically forgotten. BA
0211 Thomas the Possessed (70) aka: Thomas e gli indemoniati Pupi Avati directs his second feature! When a theatrical company has a séance to see into the future on whether or not the play they are about to debut will be successful that is to be held in a strange town with maniac acting people, gets more than they bargained for when the warnings come to pass. A boy named Thomas appears. Or does he? Back and forth, supernatural atmosphere, bizarre crazy characters..... 'A man must be like a werewolf, biting and not kissing' one lectures to an audience. This proclamation sends females into an orgiastic frenzy. A train trip to some surreal level of hell? Soundtrack by the same guy who did 'The House with Laughing Windows' Amedeo Tommasi. Pupi Avati himself hated this film, his second directed feature, but there is enough here to interest the lovers of bizarre Italian cinema. Edmund Purdom, Mariangela Melato, Anita Sanders and more star. Nice Widescreen and English subtitles.
0212 Unnaturally Born Killer (96) aka: Nightmare Girls An alcoholic director of low-budget trash keeps getting carried away with every hot woman that he films for an audition, killing them. Maybe he's a madman. He blacks out. But hey look! It's all on video! Maybe he can make this into something profitable. Snuff films? Yes! In this nightmare scenario, he interacts with a mannequin, makes out with it even, and moans as he wet kisses it. An old piano rendition of 'Let Me Call You Sweetheart' plays in the background. Sweet decapitation there. Nightmare sequences include pissed off victims wanting revenge. The chick who does her thing with an American flag backdrop is a highlight. (Before he chains her up and stabs her death, ripping out her guts with his bare hands)
0421 Unpublicized Case: Human Sausages (94) More twisted Cat 3 gore and horror! A hooker is killed in the night. A butcher who is deep in debt, kills his roommate for calling him a cripple. Best way to dispose of the body is to make some sausages out of it. Naturally. In the meantime a crazed pimp is killing hookers who want to leave.... Two unfinished films spliced together to make one film. The result, a sordid, sloppy, sleazy mixed bag of perversion! English subtitles
0213 Valencia Poisoner, The (85) aka: El Caso de las envenenadas de Valencia Terele Pavez plays the infamous Spanish maid Pilar Prades, a down on her luck spinster who goes off the rails when she uses arsenic to kill her friend and employer out of envy. Spite? Both? They give her a time trying to get a confession, and ultimately use a garroting for execution as the picture goes to credits, even though the executioner is against it because he has never carried out a death sentence on a woman. I seem to recall Paul Naschy's character receiving a similar fate in the excellent 'Garden of the Frenchmen'. A particularly nasty way to die, but very practical and effective, and quick. An effective retelling of an actual event. Should use this execution style here to save money, and time. Too much drama, kill the death row inmates already for God's sake. I mean, you know, if they are really guilty of a heinous crime. From the director of 'The House Without Frontiers' Pedro Olea. In Spanish with English subtitles.
0422 What Waits Below (84) aka: El secreto de las cavernas fantasmas Deep caves in central America serve as bases that use radio technology for some kind of sonar transmitter system. Deep cave spelunker anthropologists oppose this militaristic intrusion but Major Stevens (Timothy Bottoms) has an eye for Leslie (Lisa Blount), the cute young spirited blonde caver. Maybe they can work together. But wait. Two soldiers have just gone missing, and dark shadows close the search party into a ghostly labyrinth. Albino cave dwellers lurk below and attack, stalking their prey through body heat. Obviously inspired 'The Descent' films of this century. Would be a great double feature with another obscure cave horror 'The Strangeness'. BA
0400 Yakuza Graveyard (76) aka: Yakuza no hakaba: Kuchinashi no hana The economy is in the toilet, economic stagnation has threatened the financial security of many organized crime families. Now each crime family is encroaching on rival territories. The police are concerned. The strongest of the underworld giants are moving closer. A new cop on the scene will use Charles Bronson Dirty Harry tactics if necessary, letting the Yakuza know this new cop on the block means business. But matters take a turn when he falls for the sister of a criminal, and realizes his department is just as dirty as the Yakuza! . Widescreen In Japanese with English subtitles. BA

HAMMER AND BRITISH FILMS
254 1984 (54) BBC Live TV Productions. This is the earlier version with Peter Cushing. Similar but different than the 1956 version which is #Q289. Both versions also feature Donald Pleasence. Peter Cushing is excellent as Winston Smith, the man whose job it is to rewrite history. Hell. People are doing exactly that this very moment. All that we know now will be erased within 50 years, and no one will remember what we know now, then. Every few centuries history is rewritten into new realities and taught as fact. This is a transitional period that we actually are experiencing in this century. How long how short we see is our window in time to observe before we enter another realm. This time, the new shift will be catastrophic to the America of the 20th century, and even more lethal, to the 21st. But in the future, who will know? Unless..... ? Pretty faithful to the source material, Orwell warned us. The Ministry of Truth? Hah!
K136 Alias John Preston (55) Newcomer to the small town of Deanbridge in England, John Preston (Christopher Lee) has loads of dough, and buys a farm and also a local business. He even is put on the charity council board. Preston has a super-intense personality and makes a play for the local hot bird Sally Sandford (Betta St. John) even though she is committed to another. Preston has nightmares that will not stop. A new psychiatrist arrives in town. Preston becomes a patient, and tells him of the nightmares. A horror. A mystery. An early Christopher Lee movie before he was fitted for fangs. Also with Patrick Holt, Sandra Dorne and more. BA
Y818 Boy, a Girl, and a Bike, A (49) A love triangle develops in a small bicycle club in London. The landowner's son (John McCallum) buys a bike to hopefully get close to a pretty young cyclist (Honor Blackman). A paean to post-war prosperity. Filmed in and around Skipton in North Yorkshire. Look for a young Diana Dors in a supporting role, and Honor Blackman at 22, some nice stuff. The race at the films end is well staged. Also with Patrick Holt.
0406 Buccaneers, The (56) This show from the U.K. ran one season only and starred Robert Shaw as Capt. Dan Tempest before he was a movie star. Recognizable faces turn up in various episodes and they include Hazel Court, Jane Asher, Anthony Dawson, Andre Morrell and many more. England's answer to America's 'Long John Silver'. Robert Shaw performs like Errol Flynn in his prime. His character is a former pirate, newly pardoned, and working for law and order and his majesty, the king. 'Let's Go A Rovin' Across the Ocean, oh Let's Go A Rovin' and join The Buccaneers!' EIGHT DISC SET $80 postage paid or counts as 8 selections with any special (no VHS)
9854 Confessions from a Holiday Camp (77) Timmy (Robin Askwith, who else?) organizes a beauty contest at the camp, which opens up to many bare breasts, some shapely derrieres, and more bush than Hampton Court Maze. But the new camp manager gets militaristic and tries to throw a wrench into how the camp is run. Racist remarks, crass gay jokes, a streaker, obnoxious childish behavior... these are the games we play in sexploitation from England in the last 'Confessions' film, arguably the best of the series. Raunchy fun. Linda Hayden returns as Brigitte, hot brunette Caroline Ellis as yummy Brummie Gladys, Kim Hardy as the camp's announcer, Nicola Blackman as Blackbird the curvy Caribbean queen (and the brunt of the racist jokes) and the buxom Janet Edis as a horny MILF. BA
0301 Demon Barber of Fleet Street (36) aka: Demon Killer of the Slums Tod Slaughter is Sweeney Todd in this early British horror, competing with Boris Karloff for the horror king crown. Based on the true legend of a madman who would slice up his customers and bake them into meaty pies, selling them on the streets of London. People have to eat. Todd Slaughter would have his tongue firmly in cheek for many of his performances, and this one is no exception. A stage performer by trade, and effective actor in films. Sweeney Todd is like watching a macabre EC comic come to life.
0267 Devil Doll (64) Uncut International version with brief nudity. The great Vorelli (Bryant Haliday) uses all kinds of tricks to amaze his London audiences. He has perfected an 'illusion' in which his dummy 'Hugo' can walk across the stage on his own. Smoking hot heiress Marrianne (Yvonne Romain) is the object of Vorelli's desire, but she has a boyfriend named Mark who knows Vorelli is sniffing around his territory. Is Vorelli evil and really just interested in Marianne for her money? Can Vorelli hypnotize Marianene into cooperating in his evil scheme? Is Hugo a living breathing being? One thing for sure, Yvonne Romain sure knows how to cut a rug as we see here. Nail-biting horror classic not to be missed. BA
0268 Devil Girl from Mars (54) The first film where an assertive female alien (Patricia Laffan) lands on earth to collect men for breeding stock, and to test some new kind of 'metal'. If she represents the women on her planet in looks, I think she could find some volunteers. On her planet, the men have been emasculated, and have no interest in mating with the women. Hmmm. Landing in Scotland, she kills the first man she sees with her ray gun. Too old I suspect. Clad in leather, she looks like a dominatrix. She wants to hand pick the men, and possibly destroy earth on the way out. Played straight, unintentionally campy. I am ready to sign up for Mars about now. Excellent. Hugh McDermott, Hazel Court, Adrienne Corri, Sophie Stewart and more star. BA
0220 Doing Rude Things (95) Running under an hour this celebration of English sex films provides another insight into an appreciation of lewd behaviors displayed throughout this wonderful genre of film. Films that would make most current so-called 'actors' start an argument about. Join then, when nudity and sexy jiggle girls were all the rage, and horny men that pursued them, heroes to the audience. Plenty of nudity and clips in the discussion. Scenes from such classic fare as 'Eskimo Nell', 'Naked as Nature Intended' (indeed!), and 'Eves on Skis' . Includes interviews with Robin (one lucky bastard) Askwith, Anna Bergman and more including Pamela Green who died on the Isle of Wight in 2010 of leukemia at age 81. I for one am very thankful that there are literally dozens and dozens of British sex comedies. Thank God for people doing rude things. These films are history, but we don't have to go the way of all this new bullshit now do we?
0277 Gamma People, The (56) aka: Les secrets du docteur Boronski Trapped temporarily in an Iron curtain country, an American journalist gets wind of what looks to be a huge story. The local dictator is experimenting on children in his castle with gamma rays, trying to create a master race of some sort. After being zapped you become either a genius or a moron. They will become slaves of the state. Exactly what world leaders want for all of us now. A classic mix of post WW2 paranoia blended with Hitlerian medical experimentation by a corrupt dictator. Although these days, believable. Some of the plots that seemed the most absurd in the past, are all too real in the 21st century. With Paul Douglas, Eva Bartok and more. BA
0397 Sweeney! (77) Television show goes the motion picture route, edgier than television a bit, although the show was pretty violent as well. Officer Jack Regan (John Thaw) and his side kick George Carter (Dennis Waterman) investigate the death of a prostitute. Her nude body left on a bed. An unknown multi-national corporation is out to ruin an oil conference in London. The hooker's body is found in the room of energy secretary Charles Baker (Ian Bannen). When her boyfriend requests investigation he and his staff are viciously slaughtered in a machine-gun attack. The bad guys set their sights on Regan, first with a frame-up, he survives, gets kicked off the force.... Excellent
0398 Sweeney 2 (78) This time our team of Regan and Carter investigate a series of bank robberies committed by a team of well-trained and heavily armed bad guys who fly in from Malta. The bad guys lead a communal lifestyle with their wives and families financed by thrusting sawed-off shotguns into the faces of terrified bank cashiers and taking hostages. A young woman is killed in the raid that opens the film. Dirty cops, action, and darker in tone than the first movie from 1977. John Thaw, Dennis Waterman, Denholm Elliott, Anna Gael and more star.
0298 Zeta One (69) aka: The Love Factor Tigon films competed with Hammer and Amicus with films like 'Blood on Satan's Claw' and 'Witchfinder General'. Here they go the science fiction exploitation route. Going around all the details in the slow roll opening sequence which features Yutte Stensgaard playing strip poker with male lead Robin Hawdon (nice ta tas), we'll skip ahead. Aliens known as 'Angians', a race of women from outer space who kidnap women, brain washing them with kaleidoscopic optical effects, with the intent of getting them back to their planet to repopulate their race. It's all rather silly and muddled but who cares. Babes galore. Many of them show their stuff, others don't. Valerie Leon is the 'Everything But the Nipple' girl, so she says, Dawn Addams is Zeta, a year before her turn as The Countess in 'The Vampire Lovers'. Also with Anna Gael, Brigitte Skay and more. Sexy Mod Swinging Sixties. BA

MISC WAR, ACTION, MARTIAL ARTS, DRAMA AND MORE
0237 48 Hours to Acapulco (67) aka: 48 Stunden bis Acapulco aka: Time for Action An ambitious young man is recruited as a bagman for an industrialist espionage job, revealing secrets and playing the dangerous game, in a naive attempt to gain wealth and create his place in the world of the jet-set life. The movie is certainly different on how they film the story, the interaction between the characters sometimes just focus on the listener and other peculiarities. Music includes Cher, Johnny Rivers, and The Ventures. French New Wave? French German Cinema hybrid? Christiane Kruger is always a welcome sight. Also starring Dieter Geissler who went on to produce 'The Never Ending Story' series. Widescreen
T668 Alexa (88) aka: Alexa: A Prostitute's Story Alexa (Christine Moore) is sensuous. Alexa is for sale. Dwelling in a world of kinky sex, illusions and violence, Alexa wants out. But her pimp is not having it. A scriptwriter is dong a story of ladies of the night and falls for Alexa. Can he help her escape this life of sexual servitude? Ruth Collins is already taking off her robe in the open, Good news. 1. Plenty of gratuitous nudity with hot chicks. 2. See 1. You may remember Christine Moore from 'Lurkers', 'Prime Evil' and 'Thrilled to Death'.
0324 Armaguedon (74) aka: Quel giorno il mondo tremerà Maintenance worker Louis Carrier (Jean Yanne) inherits a large sum, financing his new career as a master criminal, naming himself 'Armaguedon', sending threats to world leaders. His dim-witted helper Albert photographs him with famous people as Carrier begins wearing various disguises. Then the photos are sent to the police with notes indicating he can end any of these lives in the pictures at his command. Interpol brings in Dr. Michel Ambrose (Alain Delon) to catch Armaguedon. Ties into real life happenings and other films with the marginalized rejected by society type of person who seeks revenge through violence. You may feel a little sympathy for Carrier, even if he does kill a hooker while wearing a scuba suit. Major upgrade here. Widescreen and English subtitles BA
0219 Blood Letting, The (71) aka: The Contract aka: La saignée aka: Kan akacak When a Frenchman named Thomas is witness to a double mob hit in New York, he flees back to France. The hit is pretty cold-blooded and violent, a young couple shot to death. The mob knows who he is however, and they send Flaggert (Gabriele Tinti) to silence him. For good. Whack! The opening scenes where the Frenchman runs through the streets of New York and the subway makes New York City look pretty cool. The cops capture his girlfriend (a 20 year old Patti D'Arbanville) and smack her around and practically drown her in a sink trying to get her to talk, accusing her boyfriend of murder. Good guys. Sure. Just as bad as the mob! Worse, legal bad guys. But sometimes you have to crack a few eggs.... This though was not one of those times. Thomas finds himself hunted in France. Gabriele Tinti especially good here, conflicted. A contract is a contract. A brutal finale. You simply will not believe how this plays out. Nice Widescreen English language, but when the French speak French there are English subtitles. BA
0327 Bonnie and Clyde Italian Style (83) aka: Bonnie e Clyde all'italiana aka: Les aventures de Miss Catastrophe The action flows from one gag to another as the bumbling Leo (Paolo Villaggio) teams up with the equally goofy Rosetta (impossibly gorgeous Ornella Muti) beginning their comedic rampage of crime in what the filmmakers choose to call Bonnie and Clyde inspired. Rosetta is unintentionally involved with Leo, a man many years her senior, but she is a simple girl after all, and she can't see two feet in front of her because her glasses are lost in the pursuit and crash that has already happened. Funny chases, at times both Leo and Rosetta are unaware of the chaos they leave in their wake. Colorful, hilarious, and quite a simply, a breath of fresh air. Widescreen and English subtitles BA
0328 Case of Irresponsibility, A (84) aka: Un caso d'incoscienza Set in Italy in the 1930's, a journalist's search for a missing Swedish millionaire who has gone missing after a cruise. His only clue is the mistress of a missing man, an elegant looking skirt named Elisabeth (Brigitte Fossey). The investigation takes him in many directions. Flashback footage provides more details. A period drama. A mystery. Attention to detail and spectacular set designs, added to outdoor vehicles, trains etc. delivers the 1930's quite effectively. This runs over 2 hours and comes Widescreen and English subtitles DVD-R only no VHS
0303 Charlie and His Two Chicks (73) aka: Charlie et ses deux nénettes 40-something Charlie drives a van accompanied by two young women. Town to town they go, making a meager living selling oilcloth in the local markets. Charlie proves he can cut a rug at a party complete with a band, dancing with each of the girls. Charlie is one fun guy. Leather Fonzie's try to get the girls and Charlie defends and gets knocked on his ass. The girls are very protective and attentive to Charlie. Another trader who looks to be about fifty manages to score with one of the girls after taking off with her. Charlie still has the dark-haired girl (the very hot Jeanne Goupil). Still, they search for the other, and lo and behold, they find her! Jeanne Goupil was one of the devil girls in the scary 'Don't Deliver Us From Evil' in 1971 directed by Joel Seria who also directed this, and Goupil married him in 1975. Widescreen In French with English subtitles ba
0348 Chouans! (88) The French Revolution. Widespread turmoil and terror spread through France. Peasants, known as 'Chouans' battle the revolutionaries in their desperate attempt to restore the monarchy. Sweet country life in a small rural town where everybody knows and helps each other is upended as radicalism and fanaticism spills into the populace. This isn't the usual from the period, but the little people, and how it affected them between 1793 and 1794. It is about the revolt of three departments in Brittany against the revolutionary regime of terror that had executed Louis XVI, a popular revolt, incited by the nobility and the clergy who had lost their property and privileges. Bloody confrontations. Philippe Noiret as Kerfadec is excellent, while Sophie Marceau is not only beautiful, but quite effective in her portrayal as 'Celine'. An adventure. A history lesson on an epic scale. (Sort of, the flying machine borders on fantasy film territory, but adds flavor to the proceedings. 2 hours and 21 minutes Widescreen and English subtitles DVD-R only no VHS
0313 Clan of the Nazarene (75) aka: El clan de los Nazarenos aka: I quattro del clan dal cuore di pietra A priest is loosing his faith. Prayer gets him no answers, nor does self punishment. A gang pulls a heist, gunning down the cops in the forest who dare to pursue them. The priest joins the bad guys. He challenges God to pay attention. 'I'm following the traced path, my Lord. My Innocent victims will now enjoy the privilege of your presence. If my pleas didn't reach thee. my offences may move thy hand to punish me. And any hell will be better than the doubt.' Violence and sin escalate, including sex with a woman without her consent. But she stays for more, and even joins the gang in their ocean side hideout! Some cold-hearted violent killing and a guilty suicide, the killing of a priest, the burning of a cross. An ending out of left field was quite the surprise! Antonio Sabato In Spanish with English subtitles BA
0284 Countdown to Doomsday (66) aka: Fünf vor 12 in Caracas aka: Inferno a Caracas A rich oil baron's reporter daughter has been kidnapped. She was getting too close to the truth about a drug smuggling ring. He hires a private detective to locate her. The private eye is assisted by his lovely helper. After trouble with gangsters and running about, he finally finds the girl. Strapped to a bomb. George Ardisson, Christa Linder and more star. BA
0330 Day it Rained, The (59) aka: Am Tag als der Regen kam aka: le Gang Descend sur la Ville Elke Sommar is Ellen. In the open, she carries a suitcase and hitches a ride with an old fat guy. Along with her a tired woman with a scarf, who seems to fall asleep in the back seat. It's a scam. When the man stops the car and gets out, the scarf comes off and Ellen and her accomplice drive off, stealing the car. The man gets the police. Ellen is involved with a beatnik motorcycle gang called 'The Panthers'. One man wants out, He rats on his friends. Also with Mario Adorf, Gert Frobe and more. German locations. The Sputnik prop in the bar is nice and timely. Elke Sommar is gorgeous. In German with English subtitles BA
0331 Death Comes at High Noon (64) aka: Døden kommer til middag A crime writer driving in the country runs out of gas. Walking through some underbrush in the pouring rain, he falls on his face in the mud. Looking up, he sees a house. Entering, he looks around, although it seems empty. Looks like the long dining table has recently been used, the feast not yet cleared. Glass frames are full of various bugs in another large area. In the next room, a dead man lies on the floor. The phone is dead. Upstairs? He goes up, all is dark. He gets pushed down the stairs and the opening credits begin Edgar Wallace style. Only it is not Edgar Wallace, but a Danish mystery thriller! Widescreen and English subtitles. BA
0319 Don't Trust the Mafia (79) aka: I guappi non si toccano Tony Lo Bianco (Gabriele Tinti) is an American cop who has transferred to Italy to infiltrate the mob, coming under the wing of Maurice, a 'camorra' boss, becoming his right hand man. Bianco falls for the sexy daughter of Maurice, Paulette (played by a pre-porn Paola Senatore). Bianco learns that Maurice is protected by the Italian Secret Service because he holds some incriminating evidence where an Italian minister is involved. Bianco finds the documents....... Richard Harrison also stars in this crime thriller directed by Mario Bianchi. Widescreen In Italian with English subtitles BA
0306 Explosion (76) aka: Il colpaccio aka: Big Pot Once he has escaped from prison with the help of an insurer (William Berger) who hired thugs to get him out, Mark Lemmon (Fausto Tozzi) moves to retrieve the stolen diamonds he had hidden in the sewers before his capture. The insurer of course wanted to balance his books by getting back the diamonds, but the petty thugs he hired to help Lemmon have other ideas. Suspense builds as greed turns to betrayals. But things are not always as they seem. Italy and Austria locations. The cast for this excellent Eurocrime also includes Carole Andre, Claudine Auger, Gabriele Tinti, Edmund Purdom, and more. Widescreen and English subtitles BA

0225 Fire! (68) aka: Fuoco! Somebody started the fire. We didn't. During a religious procession in an Italian village, the statue of the Madonna is riddled with gunfire. The crowd runs so as not to be hit. There in a house sits Mario the shooter. A man who is unemployed and without hope, living with his wife and little baby daughter. The police set up outside. Mario stalks around his apartment, confused and a total head case. In some strange way this reminded me a little of 'Combat Shock' but nowhere near the shocker, more psychological, a lengthy standoff. The wife is terrified. He might just kill her. But the child? In Italian with English subtitles.
0321 Five Days, The (73) aka: Le cinque giornate In the final days of the Italian revolution of 1848, chaos reigns supreme. In this scramble of confusion, a thief makes his escape from jail. Now he bonds with a baker in a series of comic episodes that mix with violence. As they travel through these days of madness in Milan, the landscape gets more grim, as the idealism of the revolution takes the way of hypocrisy, rape and murder. Dario Argento directs something different here after his giallo trilogy. Political, thought-provoking. Excellent Widescreen In Italian with English subtitles BA
0336 Havre (86) Young Lili is a woman with the mind of a child, living alone in a tough port city, trying to restore her life after the death of her lover. Lili has to put up with four dock workers, each representing an element. Fire, water, earth and wind. This is her struggle between full blown destruction and the path to self-discovery and hopefully, recovery. This is a French film if you didn't know by now. The game is played out by a youth on a computer game, this determines not only the fate of Lili, but others as well. There is also a threatening group of weirdo white supremacists that may have a little Nazi science fiction philosophy mixed in with their complex insane beliefs. Lili is with a black guy when one of the radicals kills him, she kills the killer. Another man comes and tells her she will perish by iron and fire. Surreal. Bizarre. One of a kind. Directed by actress/director Juliet Berto. Widescreen In French with English subtitles
0353 Hell's Heroes (87) aka: Eroi dell'inferno Widescreen version of this action packed Stelvio Massi directed film starring Chuck Conners, Miles O'Keefe and Fred Williamson. A Viet Nam set film featuring Sgt. Darkin (O'Keefe) who is wronged and sent to the stockade as punishment. When the building is damaged, he and the others escape into the jungle, and hopefully, freedom. Fighting your way out of Viet Nam however, proves to be no easy task. Mindless machine gun shooting, huts blown to pieces, helicopters buzzing... and Miles O'Keefe, doing his best Clint Eastwood impression. Some people call this 'Inglorious Bastards 2' but it has nothing to do with that film. Widescreen for the first time! BA
0338 Holy Cow (82) aka: Porca Vacca Italian vaudeville comedian Renato dresses as a woman before the draft board to avoid The Great War. He parades through a line of naked men awaiting medical inspection insisting when caught that he is only there to boost the morale of the troops. The commander gives Renato a choice, stick a large missile up his ass to prove his gayness, or join the company, The next scene he is on an army truck with the other soldiers. Renato meets Tomo and they form a bond, Meanwhile Marianna (Laura Antonelli) also engaged in the madness of war, does her best to retain her virtue. Funny moments yes, but also dead serious at times. Excellent locations, fantastic Widescreen In Italian with English subtitles. BA
0226 Jarabo (85) On Monday July 21st 1958, around midday, the police were notified that a corpse had been found in the Jusfer store at 19 Alcalde Sainz de Baranda Street. He was one of the owners. Later they find, the victim's associate, his pregnant wife and their maid have been murdered as well across the street. Based on the true story of an infamous Spanish murderer. The police inspector and his deputy are on the case of catching a killer. Brutal killings include a shooting in the head and a large knife plunged into the chest of the maid. The wife comes home, and the look of horror she has on her face as she is about to die is chilling. He shoots her in the head in another bloody scene. In Spanish with English subtitles
0343 Lady Liberty (71) aka: La Mortadella A satire on American life as it was in 1971. Of course all countries have some customs that are ripe for making fun of. Salami is banned for import from Italy. Speaking of customs, here we have one voluptuous and beautiful Maddalena (Sophia Loren) at the New York JFK airport, being held because she refuses to release her cargo, a large baked ham. She'll sit there and eat the damn thing, however long it takes. An obscure film. Danny Devito is Frank Mancuso in his first featured role with an actual name. Susan Sarandon is Sally. William Devane is Jock Fenner. Of course she is let loose and we get a series of story twists and situations of ironic humor. Is New York City the dream Maddalena envisioned? Widescreen In Italian with English subtitles BA
0238 Lady Wu Tang (77) aka: Fight for Survival aka: Don't Bleed on Me aka: Kung Fu Halloween A young girl is taught 18 forms of Shaolin Kung Fu. Her training is important. She is to retrieve the stolen sacred scripts of Tammo. Lady Wu Tang will endure multiple vicious battles in her quest to restore the volumes to their rightful place. A mad martial arts classic with various techniques. Dubbed into English version BA
0228 Last Trip, The (74) aka: El último viaje Drugs traffickers are spilling into Spain and have established a network with international contacts. Cold-hearted characters deliver cold-hearted truths. Agata Lys is sexier than Marilyn Monroe, and her breasts look like they are about to jump out of her outfit in the opening scene. Sorry. My first impression. Points all her own sitting way up high and all. A robbery leads to a foot chase, a shootout and a car chase. Listen, we're just trying to make a drug deal here. More action and intrigue follow in this Spanish made thriller. Things go painfully horrible for one woman. Also with Pauline Challoner who played Catalina in 'The House That Screamed'. Nice location work is jaw dropping at times. Some glitches on the master print. In Spanish with English subtitles.
0355 Le massaggiatrici (62) aka: The Masseuses aka: Le massaggiatrici - Pochade in un tempo... moderno Lucio Fulci directs! Masseuses (code for prostitutes) played by Sylva Koscina, Cristini Gaioni and Valeria Fabrizi, get in on the ground floor when two businessmen establish a center like the YWCA. Finances are tight and this is a way to turn things around for them, and no overhead! But the men, including the local politicians, cannot resist and the vice squad arrives. When the president of the Catholic Association dies of a stroke when he is with one of the girls, they must hide the body! Widescreen In Italian with English subtitles BA
0312 London Calling the North Pole (59) aka: The House of Intrigue aka: Londra chiama Polo Nord Based on truth. A British agent is captured by the Nazis and then forced to broadcast misleading messages to his allies back home (leading them into traps) in this WW2 potboiler. In color and Cinemascope largely set in occupied Holland. Moving back and forth through an international cast presided over by a paternal Curd Jurgens in one of his 'friendly' German roles. Dawn Addams arrives in Holland by rubber dingy, creeping her way in the dark of night across a beach before cutting through barbed wire still in diving suit as she carries her fancy outfit to change. Widescreen In Italian with English subtitles BA
0341 Long Silence, The (93) aka: Il lungo silenzio Italy is riddled with crime and murder. Carla is a gynecologist, her husband Marco is a judge. They need security because the people he prosecutes want him dead. Separately the couple deep dives into the corruption, bringing their information to each other at home after work every night. Marco goes on a trip and the plane explodes in midair. Now it is up to Carla to find justice on her own, amongst a group of corrupt vipers. He was killed, she knows it. Carla gets to work. Ennio Morricone soundtrack. Widescreen In Italian with English subtitles
0242 Love and Kisses (65) Based on a play and runs like an adult version of 'Ozzie and Harriet'. Ozzie Nelson directs and attempts to recast son Ricky and real-wife Kris as slightly more racy versions of their television roles. Ricky uses mild profanity and Kris does a burlesque routine. A 'sex-talk' to a clearly clueless Ricky who looks to be in his twenties is funny enough, and the scene where they work on consummating their marriage in the bunk bed is strangely uncomfortable to watch, which may or may not be the point. Ricky also performs some songs. Opens with an Elvis trailer for 'Loving You', and following the film, Ricky Nelson: The Rockabilly Years. I'm Walkin' and many more. He makes a few moves and girls scream. Some great songs, old, but vintage rock and roll with some good guitars. BA
0229 Man From a Possible War (79) The studies regarding the effects of radiation on human cells are being conducted in a research facility at a heavily secured location. In effect, with lack of atmosphere, ionized radiation is death. And so on. The scientists seem to rationalize that death is only a new beginning for people. A twisted revelation on how scientists really think about us humans. We are their lab rats. Just a step up from monkeys. A sad truth. The facility workers are massacred. Giorgio is the man in charge who survives and is followed. He finds out that another company is using his research to develop a medicine that makes humans immune to radiation and they want to sell it to the highest bidder so that they can inoculate their population and destroy everyone else who does not get the vaccine. He travels to an isolated mountainside community and finds more disturbing news. Who's next? Nice Widescreen with English subtitles
0241 Marshal of Madrid, The (71) Spliced from the short-lived television series featuring Glenn Ford as Sheriff Sam Cade, a tough but sensitive man in the sprawling American Southwest. The fictional Madrid County. His deputy is J.J. Jackson (Edgar Buchanan). Cade deals with a border smuggling ring run by an oil magnate (played by James Gregory). Also in the cast Victor Campos, Betty Ann Carr and more. Betty Ann Carr did not want to be typecast in Indian roles. Her next film was 'Cancel My Reservation'.
0202 Massacre Play (89) aka: A Human Portrait aka: Gioco al massacro After a decade long absence, Clem Da Silva (Tomas Milian) returns to visit the famous director Theo Steiner (Elliot Gould) his childhood friend. Steiner has a very large estate and lives in luxury. Da Silva believes he is the reason Steiner is a sensation, because he has stolen Da Silva's ideas. Not only that, but Da Silva also holds him responsible for his own failures. Bella (Nathalie Baye), Da Silva's girlfriend from the past, has also taken up with Steiner. A television crew shows up. including the transgender actress Rosita (Eva Robins), a producer, a stuffy critic, a pick pocket, and others, including Steiner's agent. Then to explore the underlying psychological dynamics between the two men revealing memories from the past with unexpected results. Also with John Steiner and Michael Gothard. From the director of 'A Bullet for the General' and 'Amityville 2: The Possession' Damiano Damiani.
0204 Nude Odyssey (61) aka: Odissea nuda aka: Love Tahiti Style December 7th, aboard the schooner 'tereao' en-route to Tahiti. I am 40 years old, and this is the first holiday of my life where I'll be hot and alone. I am in fact in the middle of the Pacific Ocean. Beyond India, Australia, and New Zealand. 30,000 kilometers away from my home. Today I want to document and comment on the things that I will see. The man narrating in the opening is a director who gets carried away by the exotic charm of the local places of Tahiti and especially the women! Racist dialogue, so beware. This version runs about 8 minutes longer than the previous telecine and restores all the cuts required by the censors of the time. Nice sharp colors Widescreen In Italian with English subtitles. BA
0205 Number One (73) This film exploits the underbelly of Rome through the many drug problems and sexual scandals of the early 1970's. Cold hearted fun. The paparazzi photograph the famous and the infamous as they filter in and out the cities hot spot known as 'The Number One Club'. Stevie Wonders plays on the soundtrack as the customers dance the night away. A man seems thrilled when his wife dies from an overdose, now he gets the dough! The very same hoodlums who were present for the suicide rape a man's wife because he bounced a check. Harsh. The film bounces around from crime thriller to giallo, with rape thrown in for bad measure. In the end a pessimistic and dark little slice of offensiveness sure to please lovers of Italian cinema. Large cast of sometimes familiar faces includes Rita Calderoni as the wife with bad credit. Stevie Wonder's 'Superstition' closes out the end credits.... In Italian with English subtitles BA
0314 Pleasure Pit, The (69) aka: Katmandu Oliver is a radical, entitled, lazy young man who travels to Nepal to locate his absent father and finds Jane (Jane Birkin) a cute arty hippie chick and her group of Nepal traveling flower people. Jane and her two fellow hippies believe they are living in a utopia of freedom in Nepal. Oliver wants daddy to finance his life of leisure, and unlike these three, he is materialistic. Leaving Jane behind, he's going to Katmandu. Bob Seger is nowhere in sight. Oliver finally finds his father who is broke, working for a sleazy thief. Later he runs into Jane again, who has fallen into addiction with more weird hippies. Utopia has turned into Hell. The only way Oliver can help Jane is if he steals artifacts from archeological digs. Oliver's father is sleeping with the wife of the boss, more danger. Desperate dopers, drugged out sequence, culture of Nepal and more. Elsa Martinelli, Arlene Dahl and more star. Colorful Widescreen film In French with English subtitles BA
0363 Return to the Beloved (79) aka: Retour à la bien-aimée Pianist Julien, divorced from his wife Jeanne for five years. She now lives with Dr. Kern and Julien's son in Julien's house. This would drive any man mad. But not Julien. He has a plan. He hires a man to follow his ex-wife, luring him to the grounds of the place, Julien kills him, plants evidence, framing Dr. Kern Perfect. The boy will discover the corpse while playing with his little friend. Now Julien is invited back in to the house to console his shock shook son. Julien tries to reconcile with Jeanne. But Dr. Kern still has a card to play. Excellent Widescreen In French with English subtitles
0317 Rudeness (75) aka: Lo sgarbo In Las Vegas, Salvatore is determined to move up in the criminal underworld, but anything in a skirt distracts him from his business. Thieves have a little sexpot screw him silly as they steal a drug shipment he was supposed to safeguard. In trouble now, he is sent to Sicily to lay low as punishment. There to stay under the protection of Don Mimi. But when Salvatore gets a look at Marina, Don Mimi's mistress, he loses control once again. Later two prostitutes in a bar tempt, but the socialite who has a very important husband is Salvatore's bedmate this night. Double crosses, assassination attempts, blackmail, beautiful women..... Leonard Mann, Karin Schubert before her porn career, Helene Chanel and plenty of nudity. Widescreen In Italian with English subtitles. BA
0208 Serenade for Two Spies (65) aka: Serenade für zwei Spione The obscure English language print. Spy spoofs were in style and this is a perfect example. Hellmet Lange as Agent '006' John Krim is assigned to retrieve some sort of laser device and ends up in Las Vegas after being pursued across the Nevada desert. Barbara (Werewolf in a Girl's Dormitory') Lass is on board along with a femme fatale named 'Goldfeather' played by a bikini clad Heidelinde Weis. Some pretty decent one-liners from the tongue-in-cheek John Krim, a secret agent with more charisma than the recent man who ruined the Bond franchise with his pouty woke face. The print is quite something, a super sharp colorful Widescreen that looks like it was filmed yesterday. Kind of cool seeing a Euro spy outside 'The Golden Nugget'. Krim ends up buried up to his neck in the desert. His release is something to see. After a car chase, a science fiction element arrives through some sort of bubble effects water wall followed by a comedic chase again through the desert. And then the airplane... man I'll let you see it for yourself! Widescreen and English dubbed BA
0365 Serpent, The (73) aka: Night Flight from Moscow aka: Le serpent Russian Colonel Alexei Vlassov attempts to defect to the East. C.I.A. Chief Allan Davies (Henry Fonda) interrogates him to see if he speaks truth. Vlassov has intel to expose spies from all over the world. A lot of the people on the list begin to die, one way or another as the information wreaks havoc on all of the intelligence services of the west. Which quite possibly could have been the Soviet's intention. Suicide? Yes. We all know how that works. This web of high echelon government espionage will keep the viewer guessing until the end. Who is 'The Serpent'? Yul Brynner is excellent as usual. Also with Virna Lisa, Dirk Bogarde, Farley Granger and many more. Widescreen and English dubbed, some scenes with English subtitles BA
0318 Stimuli (67) aka: Stimulantia An episodic Swedish film told in eight parts regarding personal instances of various stimulations as depicted by different directors (including a segment directed by Ingmar Bergman). One story has a hygiene obsessed couple prepare for sex but take so long there is no time for the actual act. The other tales vary, like the one where a man tries to hide a young black woman from his wife in their apartment. Eight mini-movies where your individual taste will decide which one you like best! Color and Black and White. Widescreen and English subtitles
0233 Strip, Protest, Kill! (72) aka: Quando la preda è l'uomo aka: Spogliati, protesta, uccidi! I would use the words in different order. Samantha takes a nude shower with her father. They seem to have an odd relationship. We meet Nat (the black dude in the opening) as he hitchhikes to San Francisco and almost gets run over by a car. Nat is a revolutionary. Nat is a pinko. The campus looks real and exactly like 1972 with bald Hara Krishnas and hippie types. They have a sit-in. Everybody is protesting. A full time job for many during the Viet Nam debacle. Real footage. The cops come on horses and start taking out the trash. Nat screws Samantha. Lots of nudity and more sex at a commune. They meet a weird Indian sex cult who I guess has the goal to kill everybody. When you see so many sides who are opposed to one another in a drug-crazed world, it seems to make these times make more sense. When was normal? What is normal? Directed by Italian director Vittorio De Sisti. I cannot help but consider how this whole world over here was quite bewildering for him at the time, and he ended up making a very scenic picture with various locations and countless unknown extras who most likely had no idea that they would end up in a movie.. Ennio Morricone soundtrack! Widescreen In Italian with English subtitles. BA
0210 Sunday Lovers (80) aka: Les séducteurs Four tales with some big star names, all with the focus on getting laid. First: Roger Moore picks up Priscilla Barnes convincing her he is the lord of a manor. Really though, he is an employee and the real lord is away. The next morning his ruse is in danger of being exposed. We've all been there right? Second: French businessman Lino Ventura tries to secure a high profile deal but his client (Robert Webber) is more interested in pursuing Ventura's secretary, who is not very keen on the idea. Third: Skippy (Gene Wilder) is in a mental hospital. He has a weekend out where he meets Laurie (Kathleen Quinlin) who teaches him the ways of love. Fourth: Armando (Ugo Tognazzi) cleans up his room while his wife is away and finds his book of ex-girlfriends. Calling them up and meeting them however turns into one disaster after another. Nice English dub and spoken (depending on the actor segment). Japanese subtitles not too annoying. Also with Denholm Elliot, Lynn Redgrave, Sylva Koscina, Catherine Spaak, Beba Loncar, Rossana Podesta and more. BA
0301 Tiger Attacks, The (59) aka: The Beast is Loose aka: Le fauve est lâché aka: La belva Scatenata Retired gangster Paul Lamiani (Lino Ventura) has just settled down for a quiet life with his family. The French Secret Service need him for one last mission. Paul refuses, so they frame him (as in real life, the powers that be are more corrupt than the criminals). Paul is forced to submit, which leads him into a mess of violence, betrayals, child abduction.... Sharp black and white spy thriller. Blonde bombshell Estella Blain was quite popular in France in the 1960's with her pop music videos and stars in this also. Estella Blain, distraught, blew her brains out on a beach in France January 1st 1982 at age 51. Widescreen In French with English subtitles. BA
0366 Time for Loving (83) aka: Sapore di mare aka: Gelati und Amore Runs sort of like an Italian 'American Graffiti' meets the American beach films of the 1960's (minus the terrible fake sets). Teenagers have fun in the sun in the early 1960's getting into all manner of mischief, fun, and falling in love. If you like early rock 'n roll and want to see what the scene was like in Italy at the time, from what I have read they do a pretty good job here. Riding bikes across the countryside, picnics, with very cute girls that would give many an American beach girl a run for their money! Virna Lisi is an unsatisfied wife, married to an older guy that won't touch her. Uh oh. Also with Karina Huff and Isabella Ferrari. Karina Huff starred in two Lucio Fulci films in the early 1990's. She died of cancer in England in 2016 just months after her 55th birthday. Widescreen In Italian with English subtitles BA
0323 Wedding Ring, The (71) aka: The Alliance aka: L'alliance A virginal veterinarian meets a woman (Anna Karina) and they marry. Joining her in a large house, he becomes obsessed with what lies behind the doors of a locked closet. Once he gains entrance, the suspicious items within indicate that he is not the first man that has conquered these grounds. He also notices that his supply of ether, which he uses on his animal 'patients', seems to be slowly disappearing. Exotic animals arrive by mail. The relationship sours and builds at the same time. Will they consummate the marriage? The world ends. Yes, the world ends. Now what? More mind melting madness from the directed of 'Malevil" and "Dr. Petiot' Christian de Chalonge. A truly bizarre reptile and bug filled oddity. In French with English subtitles and Widescreen BA
0234 Weekend with Helena (70) aka: Helena y Fernanda aka: Neurosis Carlos (Gerard Barray) is advised by his psychiatrist that the main reason he is depressed and experiencing nightmares is because of problems with his wife, Helena (Teresa Gimpera). Helena invites her cousin Fernanda to stay with them (played by the stunning Valerie Lagrange). Helena humiliates Carlos in front of Fernanda. Helena tells Fernanda that she really hates Carlos and married him for his money. Fernanda falls for Carlos, the poor (but now very lucky!) man. Later Carlos beats that lousy bitch Helena to death. Fernanda sees it all, and helps him get rid of the body, assuming the identity of Helena. Diabolique! The finale is a hell ride where all is revealed, and revenge is sweet. Nice Widescreen and English subtitles, but there is a glitch or two in the master print.
0246 When the City Awakes (77) aka: Quand la ville s'éveille aka: Il colpo grosso del marsigliese A young photographer has his camera at the ready when an armored truck heist occurs and he snaps away in this amazingly plotted film. The leader of the gang is on to him, and life gets very dangerous for him. Go to the cops and get nothing but trouble and maybe even get accused of something, or blackmail the criminals and make some money? I know what avenue I would go down. I have bills to pay. A solid crime flick, with an unexpected outcome. A homage to John Huston's 'While the City Sleeps'. Widescreen In French with English subtitles BA
W301 Who Do I Gotta Kill? (94) aka: Me & the Mob Failing writer Jimmy, gets a new gig from his gangster uncle. He considers this job research for a book he is writing on conspiracy plots and the JFK assassination. First hand experience should help. Especially after getting dumped by Lori (Sandra Bullock in a small role). Jimmy finds himself in deep shit and becomes a target of both the mob, and the police. Bit parts from the following actors. Steve Buscemi, Ted Sorel, Vincent Pastore, Anthony Michael Hall and many more.
0214 Without Apparent Motive (71) aka: Sans mobile apparent aka: Senza movente On the French Riviera in the city of Nice, Stephane Carella (Jean-Louis Trintignant) is in charge, investigating a series of murders that have puzzled the local police. A sniper has sniped four victims in less than 48 hours with a 22 long rifle. In the opener a tape is left behind of somebody laughing like a maniac. Those killed have one thing in common, they are all wealthy (were). But what is the other common link? Pressure builds on Carella, because we all know when the rich start to die shit hits the fan and their are actual investigations. One of the victims is an ex-girlfriend of Carrel. It's a whodunit with a merciless killer that reveals money laundering, narcotics and prostitution. Another crime/giallo. Also with Dominique Sanda and Carla Gravina. Widescreen and dubbed into English BA
0252 Young Wolves (68) aka: Les jeunes loups aka: I giovani lupi The shooting was a disaster. The lead Christian Hay would spend all of his nights in the clubs, and never knew his lines. The female lead Haydee Politoff was disgusted with him. The film? A new wave cult of youth type, disrespect for elders, hip snappy music and sloppy editing. Alain Langlois (Christian Hay) is a woman chaser, and also a man chaser (it is hinted he is bisexual), a young wolf on the prowl. He is taken care of by a princess (Elizabeth Teissier). The princess is a little older but Alain has a wondering eye, and starts with Sylvie (Haydee Politoff). Fantastic colors nice Widescreen, nudity. When Sylvie takes off her shirt Alain says "You're tanned. You look like a real black girl from Harlem'. In real life the actor Christian Hay would be dead at age 39 in 1984 France. Politoff was in a number of notable films including Naschy's 'Count Dracula's Great Love'. BA
0346 Your Turn to Die (67) aka: Troppo per vivere... poco per morire aka: Qui êtes-vous inspecteur Chandler? A diamond heist goes wrong after the fact. One man hides the diamonds and he is shot in the back. He managed to at least get the location of the diamonds info to newspaper reporter Robert Foster (Claudio Brook). Now Foster is the target of the cheated crooks. Fashion model Arabella (Daniela Bianchi) assists Foster. Sydney Chaplin as Inspector Chandler, is the tough cop. Some brutal fights ensue, chases, double-crosses. It seems there is so much deceit going on that nobody is really who they claim to be. Six sexy models are set into the plot. Tina Aumont and more. Colorful crime film Widescreen In Italian with English subtitles BA

MODERATE AND MADE FOR TV FILMS
W296 ABC Silver Anniversary Celebration 25th! (78) 25 years of television celebrated with hundreds of stars in the room. Barry Manilow opens with 'It's a Miracle' altered to fit the evening. Fireworks and we are reminded 'Coke adds life' tell that to everybody who has died of diabetes since. Commercials! These are just as cool as the show! Robert Blake, Charo, David Carradine, Chuck Conners, Vincent Price.... hundreds more! Snips of dozens of shows with presenters on stage, new and old. The first segment has Kristy McNichol and a scene from family, rubbing elbows with Fred MacMurray who shows a scene from 'My Three Sons' Two disc set over 3 hours. Counts as two selections. DVD-R only- no VHS
W293 Academy Awards 1977 (77) This was the year of Peter Finch in 'Network'. Sly Stallone in 'Rocky' and more! Ann Margret opens the show with a dance number. William Holden comes out. This is the 50th Anniversary of the Academy. The movies they talk about, the movies they feature, these are movies that most people actually went to the movies and saw! Unlike today when you have pretty much no idea what the new movies are even about, nor do you care. Movies were better. Period. Next up Richard Pryor, who gets some laughs. Then Chevy Chase! William Friedkin produced this particular show, the only time he did. Tatum O'Neal... Streisand sings 'Evergreen' and much/many many more. Hell, I might just watch this Academy Awards! Hey! I just did!
W291 Battle of Beverly Hills (80) Just like Battle of the Network Stars, except each star's team is their very own family members representing them. Dick Van Patton and family members. Erin Gray's family. Leif Garrett's family. Gil Gerard's family. Scott Baio's family. Joan Van Ark's family. Jayne Kennedy's family. William Devane's family. Ed McMahon and Richard Dawson are your hosts. The first competition pits the Gerard's, Van Patton's, and the Devane's (including a bearded William!). A lap race. More. This one off is so obscure it is not even listed anywhere. Quality varies, mostly very clear
0235 Blood & Orchids (86) Madeleine Stowe plays Hester Murdoch, the daughter of a wealthy family in Hawaii in the 1930's. A family who uses the Hawaiians to work their sugar plantation. Hester is found beaten and raped. Four young Hawaiian's find her, and they are framed for the crime. Captain Maddox (Kris Kristofferson) arrests them and they go to trial. One of them is murdered in court. Others beaten. Hester is pressured to testify against them, but breaks down. Will the wicked truth be revealed? The stink of corruption fills the courtroom. The mother of Hester (played by Jane Alexander) is not only evil, she is also an adulteress. The film proves that bias can be used to take advantage in order to avoid the truth, making the innocent and less fortunate suffer. Based on a true story. Also with Susan Blakely, Richard Dysart, Jose Ferrer and Sean Young. A suggested second title? 'To Kill a Coconut'? 'To Kill an Omao'? (A robin-like bird that does not mock)
0368 Change of Heart, A (98) Dr. Jim Marshall (John Terry) has an attractive wife named Elaine (Jean Smart), a twenty year marriage. One day on a hunch, she tracks Jim to a hotel room and finds him with a strapping built bull in a matching towel. The cat is out of the bag. Elaine flees in disgust and horror and her life proceeds to fall apart. His son finds out and in his anger attacks a gay guy, landing him in court. This and that. Right and Wrong. You decide how real it all seems in this 'gay husband shocker'. The ending defies reality, but does it? Maybe this has happened? This would be controversial today, and was also in 1998, but maybe for different reasons. Hell, what do I know? Look for porn star Sharon Mitchell as D.A. Chris Ferraro.
0372 Cries Unheard: The Donna Yaklich Story (94) This film is about Donna Yaklich (Jaclyn Smith), the battered wife of a police man (Brad Johnson), told from her stand point from jail to her son who is visiting. As a film based on a true story it works quite well. As far as the 'true story' part though, no dice. There is much information out now that discredits her account. She in real life however is free (as far as I know). This was about money. It always is. Hillary Swank has a brief part as her stepdaughter. Some say this account and film is a slander on an innocent man, and a disservice to women who are real victims of domestic violence. I tend to agree. Brad Johnson died of COVID-19 in 2022 in Texas at age 62.
0269 Devil's Hand, The (61) aka: Witchcraft Businessman Rick Turner (Robert Alda) has visions of Bianca Milan (Linda Christian) a beautiful succubus witch. Rick is drawn to a bizarre toy shop run by the suave Francis Lamont (Commissioner Gordon on 'Batman', Neil Hamilton). Bianca is too much, so sexy, any man would fall. Rick is drawn into her satanic cult that worships the god 'Gamba'. Rick gives the cold shoulder to his fiancé and takes up with Bianca. But he soon realizes he is in over his head. Will Satan win? BA
0270 Devil's Messenger, The (62) aka: La messaggera del diavolo Lon Chaney is Satan, and your host for these macabre stories taken from 13 Demon Street. A trilogy of terror unfolds. Lon Chaney enjoys himself as the Devil, laughing and camping it up. The stories are introduced and play out like 'The Twilight Zone'. Perfect. BA
9747 Get Christie Love (74) Made for Television Blaxploitation. Teresa Graves is Christie Love. Christie is a no jive-talking, no nonsense, sexy sassy undercover cop with martial arts skills. She has the wise cracking lines, and surprises bad guys when she opens cans of whoop ass. Muggers and rapists are no match for Christie. We need a few thousand Christie Loves on the subways of New York. Problems solved, Watch Out Sugar! In an early scene a potential client for 'hooker' acting Christie Love, calls her the N word when she tells him how much she costs. She replies 'N-Lover'! And this is network television. People were real once. Graves retired after the show based on this pilot failed, and devoted her life to Jehovah's Witness. Teresa Graves was only 54 when a house fire took her life in Los Angeles in 2002.
0309 Ghost Man (54) aka: Yurei otoko A creepy lunatic assists a crazed killer known as 'The Ghost Man', luring victims to their doom. The Ghost Man poses the bodies and takes pictures to add to his scrapbook. An unusual film and a landmark film for what was to come. Pretty scary for 1954, surpassing anything made at the time in the fear department. When they find one of the bodies, she has been cut in half. Killing after killing as the cops chase each new lead, always too late to stop the Ghost Man's reign of terror. Blood and light nudity. In Japanese with English subtitles for the first time!
0288 Human Vapor, The (60) aka: Gasu ningen dai 1 gô A man uses his accidental ability that allows him to turn into vapor. He will rob banks. Piece of cake. Another variation of H.G. Wells invisible man, Japanese style. He uses his loot to finance the recovery of a dancer after her stay in a sanitarium. She is a head case, A fragile artist and a homicidal lunatic. What could go wrong? He can vaporize himself at will and disappear. Gone with the wind. Talk about breaking bad. Not to be confused with 'The H-Man'. BA
0374 Indecent Seduction (96) aka: For My Daughter's Honor Based on a true story. Pete Nash is a coach/teacher at the local high school. Amy Dustin is 14. He seduces her and they start a consensual relationship, even though she is not old enough to give it. Wait until Amy's father (Mac Davis) and mother (Mary Kay Place) find out. The school loves Coach Nash, and everybody blames the little slut Amy. Her friends even turn on her. Plays out. Coach Nash is screwed. Again. Just a different kind of ... well you get what I am saying. Amy may be 14 going on 30, but she still was not legally able to consent.
0198 Invisible Terror, The (63) aka: Der Unsichtbare aka: La vendetta dell'uomo invisibile Germany's answer to 'The Invisible Man Returns' in some ways. There ends up a heavy police involvement that veers into crime thriller 'whodunit' territory. The special effects have people turn/fade into skeletons before disappearing. Interesting characters include dancing girls, a stocking -masked intruder, a chubby harmonica player and with the 'invisible man' we see some murders, knives in backs, telephone cords levitating around necks for strangulation and more. The Invisible Terror. Lock your doors! Now in German language and with English subtitles, a new sharp alternate print! BA
0239 Manster, The (59) aka: The Split A mad Japanese scientist experiments on humans in a mountainous Japanese region with a volcano in the background. His latest monstrous creation is another failure. He keeps his disfigured mutated wife (his work) in a cell. His assistant is one hot woman. Enter an American journalist, easily manipulated with broads and booze to fall prey to the scientist's experiments. He soon has an eyeball growing out of his shoulder, and then, a monstrous gnarly-toothed simian-like second head sprouts. Now a man with two heads, he goes full homicidal. His wife comes from America. She is upset. Excellent finale. Widescreen Color version (Also available in a full frame black and white print #239B) BA
W292 Other Man, The (70) Neglected wife Kathy Maitland (Joan Hackett) starts an affair with ex-convict Johnny Brant (Roy Thinnes). The biggest problem with this messy situation is that Johnny had been sent to prison by her ruthless district attorney husband Paul (Arthur Hill). Plays like a romance film with haunting music, complete with beachside montage where they hold hands, climb around on rocks and smoochy poo. Paul misses the ballet. Oh darn! Kathy worries her lover is cheating on her. Yea, and she's married. When Paul has to go to work early by helicopter, Kathy can't wait to spread her.... arms for Johnny at his place. Spoiled cheating bitch. Somebody kills Johnny! Now what?
0418 People Across the Lake, The (88) You know the tale. City slickers Chuck (Gerald McRaney) and Rachel (Valerie Harper) move to the country to get away from all of that crime and violence in the big city. So off to Lake Tomahawk, kids in tow. The lake is beautiful, the house is a lease. Things go well at first, maybe a few mild encounters with the locals, no big deal. Chuck takes a swim in the lake and finds a corpse. He gets the sheriff and the body has disappeared! The deputy spills about other mysterious happenings of people going missing. Also starring Tammy Lauren, Barry Corbin and more.
W295 Rock and Roll Sports Classic (80) I am guessing on the year, since Joan Jett and Lita Ford compete together, I think I am close. Susan Anton, Leif Garrett, Kristy McNichol, Ed McMahon, Phyllis Diller, Sandy Duncan, Barbi Benton, Michelle Phillips, Dallas Cowboy Cheerleaders, Boston (the band), The Commodores, Seals and Crofts, ELO, Freddy Fender, Earth, Wind & Fire, The Jacksons, Gladys Knight and the Pips, The Runaways, Sha Na Na, Rod Stewart, Tonya Tucker and more! Another one of a kind unlisted show! See Joan Jett, Latoya Jackson, Marilyn McCoo, Tanya Tucker and Lita Ford and Sandy West in a foot race! Sandy West wins and Joan Jett jumps on her back. Better days.
0370 Silent Witness (85) Similar to 'The Accused' with Jodie Foster. Anna Dunne (Valerie Bertinelli), a grocery cashier, and her garbage man husband Kevin (John Savage) witness the rape of Patty Mullen (Melissa Leo) by Kevin's brother Michael (Chris Nash) and his friends in a bar. Anna keeps her mouth shut because of family. She watches as Patty Mullen is dragged through the mud and slandered.... Anna may just have a change of heart. Would you defend this? Hell, I would have stopped it! Anna and Kevin were drinking, but things were damn clear. Kevin tried to stop it, but the drunken men are crazed with animal lust, growling and threatening with violence. Too bad no good guy was armed. Those men should have been shot. Anna smacks Kevin later at home. They are both destroyed.
0371 Strange Affair, A (96) aka: A Husband, a Wife and a Lover Caterer Lisa McKeever (Judith Light) is just on the verge of dumping her gambling addict husband Eric (Jay Thomas). Then he has a stroke and is helpless, but can still talk. Lisa moves in a mechanic named Art (a greasy-nailed Colin Firth imitation), screwing him while Eric is helpless, and can hear their lovemaking through the air vent. 'There's a word for a woman who loves two men' her grown daughter tells her. Art befriends Eric. A strange film. A strange affair. But these days, not so strange.
0278 Terrified (63) A masked killer buries somebody alive using wet cement in a graveyard. Opening credits begin. A college psychology student's term paper is based on how much terror the human mind can endure. Off to a creepy ghost town where he is stalked and terrified first hand by the masked killer. The killer stalks around the cemetery and scares the hell out of people before killing them. He's fast, and has a creepy whisper voice plus a disturbing giggle. But who does he kill and why? Will you have it figured out in the first 15 minutes or will the mystery simmer until the exciting finale? A really spooky location adds to the dark atmosphere. The midget is Angelo Rossitto. BA
Y778 Trauma (62) Young Emmaline was the one who discovered the drowned body of her aunt. This has had a profound effect on her life. Now she is all grown up and has returned to the family mansion that led to her trauma so many years ago. She falls for the son of the caretaker and things start to become clear. She remembers the identity of the killer. Gothic horror with all the bells and whistles. 'Dementia 13' meets Hammer's 'Scream of Fear'. BA
0251 World of Giants (59) Before Irwin Allen made miniature people a show. Right after Bert I. Gordon's 'Attack of the Puppet People'! Mel Hunter is a secret agent. His friend Bill Winters carries him around from mission to mission in a briefcase with a cute little chair inside. You see, Mel is only six inches tall. In this episode, Mel is almost eaten by a cat. Under an hour and colorized. That's right, this sucker is in color!

MONDO FILMS
0304 Desperates (73) aka: Çaresizler A woman is raped and killed in front of her screaming young son. The father comes home and finds his wife hanging in a tree. He goes on a rampage, blasting many a man to death with his guns. He becomes a mob boss, still always on the search for the men who killed his wife. The years pass. His enemies hire a clean shaven sharp dressing thug to take him out (Cuneyt Arkin) who turns out to be his long lost son. Cuneyt Arkin kicks ass once again in this Turkish crime thriller. One of the most colorful Turkish films you will see from 1973 with great use of locations. Widescreen Turkish with English subtitles.
0227 Jewel Robbers (79) aka: Lo scoiattolo A cache of specially made jewels fit for a Queen is up for auction, starting at 25 million liras. There are many eyes on these jewels. A group of miscreants are hired to steal the jewels. Things never go the way they are planned in heist films, and this is no exception. Greed rears it's ugly head! Everybody is only in it for themselves. The movers of the jewels however also know the score, and that the heist is a real possibility. Edmund Purdom and Karin Schubert star in this Turkish language version of the film that runs 15 minutes longer than other versions. English subtitles

NASCHY FILMS
W306 Jack the Mangler (72) aka: Seven Murders for Scotland Yard Finally a nice Widescreen English language dubbed version of this Paul Naschy version of 'Jack the Ripper filmed on location in England'. In the opening, a blonde hooker is painfully stabbed by the killer. Then the credits begin. In this version, killing is not enough, Jack is also a cannibal! These hookers are killed with a very distinctive blade, and a body part is taken each time. Paul Naschy is Bruno Doriani, a crippled and bitter ex-trapeze artist whose whoring wife is one of the victims, so naturally he becomes a suspect. Other suspects emerge, and this will keep you guessing. Gory stabbings Also with Orchidea De Santis, Patricia Loran and more.

SOUTH OF THE BORDER AND MEXI MONSTER FILMS
0216 Apocalypse Waco Texas (93) aka: Waco Texas: apocalipsis Only in Mexico could we get an exploitation film about David Koresh, the infamous holy man that (supposedly) killed his flock of followers in a blaze of glory in the largest killing of children in a school in American history. Many think the government started the fire that killed the children, led by Janet Reno. Never should have happened, but remember, this is a fictional account here. Koresh and his followers string up a women in a large barn by her feet where later a muscle guy cuts the rope watching her drop head first to a bloody cracked head. All in the name of God of course. Praise Jesus. If you disobey the cult's rules, you are put to death. Koresh takes the women, to their horror. He is the chosen one. Like a Manson type guy here. Only he shaves and showers. If he catches you getting any leg Koresh may just have you castrated and have your woman's (beeeeep) stitched shut. He sure can play mean guitar though. Meanwhile the authorities are closing in with the help of an escaped cult member. Points here. The guy playing Koresh even looks like Koresh! 'We live to serve God.' so says Koresh. A truly bizarre full moon dance. Finally the end, the authorities close in and start shooting the cult members (who return fire) to death. English subtitles
0354 Incredible Face of Dr. B, The (63) aka: Rostra Infernal Madman Dr. Brankovan, over 400 years old and sporting a mummy-face, kidnaps artistic and scientific members of society, straps them down, puts a special helmet on them and pushes the magic button. This device compressing their brains, extracting an amount of liquid, which he consumes, enabling him to absorb all of their knowledge, and also, to further prolong his life. He needs more or he will collapse and be finished. Dr. Brankovan also has created a mob of monsterific pasty faced zombie-men built like wrestlers, which leads to a brawl for later. The good doctor kidnaps a woman to make her his love slave. Dr. Brankovan will return in the sequel 'Huella Macabra'. Now with English subtitles on most of the film for the first time!
0322 Nine Faces of Fear (95) aka: Las nueve caras del miedo In this hotel in the 1950's, a man murdered many (including prostitutes). Now it is the 1990's and the place is your ordinary run-of-the-mill haunted hotel. A television crew gathers a psychic and a priest and enters for a night of filming. One couple is more interested stealing away for sex than anything else. The psychic is really a killer. But the wild card is the priest who gets possessed by the evil spirits, and begins a new massacre. English subtitles for the first time!
0209 Slave of Desire (67) aka: Esclava del deseo This sleazy Mexican made crime thriller really delivers the lurid goods! In the opener, a couple of bad guys enter a room where a pretty woman is asleep looking for her husband who has hidden the money. The first man rapes her, the second climbs on board for his and she pulls a gun out from the blankets and blasts him. The first rapist then shoots her dead. They believe they have been betrayed, and go in pursuit of the money (and the man that took it) at the family's estate which is located on a remote island off the coast of Acapulco. Libertad Leblanc (the blonde Mexi-femme fatale herself, what a doll!) stars in this highly controversial (when it was released) film, and is with the bad guys on the island. Libertad looks like she is about to have a wardrobe malfunction! Gather round boys! Later one of the bad men forces himself upon Libertad and she does provide nudity. 'No' she says. 'You want this' says he. After: 'You disgust me, and I disgust myself' Libertad utters as she tries to dress. Will she sleep her way through the bad guys? Is this a game of death? Sexual manipulation or a tramp in heat? I will reveal something. The murdered raped woman was Libertad's sister, and she is planning revenge. English subtitles, trashy, cool locales, and yes, brutal violence!

WESTERNS
0349 Crazy Bunch, The (74) aka: Di Tresette ce n'è uno, tutti gli altri son nessuno Sequel to 'Into the West There Was a Man Named Invincible'. George Hilton continues his role as 'Tresette'. Tresette is looking for a man in a madhouse who has hidden the key to a box full of gold. His gadgets this time in his bag of tricks include a birthday cake loaded with dynamite, a gun that fires when he whistles, and the simplest, a stick he uses to whack people over the head. Goofy spaghetti with the usual slapstick, sped-up comedy antics, even the Ku Klux Klan figure into the plot as bumbling buffoons. There is even swashbuckling in this one for a change! Widescreen and English dubbed BA
0224 Face to Face (67) aka: Faccia a faccia A teacher of history named Brad Fletcher (Gian Maria Volonte) is forced into retirement and moves away. A wanted criminal named Solomon captures him and makes him part of the gang. Maybe this is the life he has always needed, the violence, the workings of a gang at your command. Fletcher stages a takeover of the gang, ruling now with an iron fist. His character arc journey from a man of peace to a man of violence is brilliant acting. Tomas Milian as bandit Solomon plays a straight role with no humor. and delivers some great lines. Solomon is having a metamorphosis of conscious, and seeing the error of his ways. They almost become each other. This fantastic spaghetti western has another great Ennio Morricone score. Widescreen, Uncut 1 hour and 51 minute version, English language dubbed. BA
0310 Hot Snake (78) aka: Hot Viper aka: Víbora caliente Horror Western from Mexico! A bounty hunter finds more than he can handle when he kills a gunfighter who has a bounty on his head. In the opening we see how bad this man is as he rips off a woman's top, shoots her to death and then starts making out with her corpse on the dirty ground. Thing is, after slaying the evil bastard there seems to be a presence of evil in the air, and our hero may just go insane before he delivers the body to claim reward. Are others after the corpse, trying to steal his collar? Unusually dark creepy/witchy western that includes nudity, dancing saloon girls, sexual innuendos, witchcraft, snakes, the spooky corpse of the slain and more. Christa Linder provides some nice horny nude scenes. Also stars Eric del Castillo and Carlos East. In Spanish with English subtitles
0361 Naked Man, The (76) aka: El hombre desnudo aka: Balacera a muerte A violent, misogynistic western shot in snowy landscapes. In the open, a woman is assaulted in the snow, escapes and runs topless in slow motion away from her violator. She is caught but before the foul deed takes place a gunman appears, demanding the attacker strip naked. He pushes the man down the snowy hill. The naked man rolls into the frigid waters. Later a wedding party is assaulted by bandits who shoot all the men and rape the women. Gang leader Moe rapes the virgin bride before shooting her six times. Our handsome hero from before hunts bad guys, making each strip for an ass inspection before he kills them. When he was a child, his Indian mother was being raped and the young boy found a branding iron and managed to brand the ass of his mother's rapist. As an adult, he hunts the man. Other dead bad men, a bonus. Alternate version with English subtitles. Finally! Obscure Canadian/Mexican spaghetti. Get this. Helen Shaver in her film debut!
0315 Paths of War (70) aka: Franco e Ciccio sul sentiero di guerra Two Sicilian soldiers (Franco Franchi and Ciccio Ingrassia) run and hide from the arrival of republican troops, hiding in a trunk. The trunk ends up in the wild west of America. Now the men have their own wagon and are part of a wagon train. They must fight with a new army against the rifle carrying Indians, who are supplied by a Davey Crockett looking fella. The two Sicilians and their stunningly complete ineptitude may be the reason defeat is imminent. Some truly funny moments in this farcical western directed by Aldo Grimaldi. In Italian with English subtitles BA
0193 Six Shooter and The Yank (60) Pilots that never made it to network television shows. First: The Yank (60) starring James Drury a whisper away from being cast as 'The Virginian'. The opener has a Yankee soldiers marching through what looks like a burned out town that is in ruins after the war. Along for the ride is Don Megowan, John Sutton and the great L.Q. Jones. Then: Windmill (55) this maybe was not a pilot but rather an episode of General Electric Theatre. It stars Jimmy Stewart as a man who faces a dilemma concerning both his past and his future. This is a short dramatic western tale with a strong supporting cast. Barbara Hale, Edgar Buchanan and more.