---
HOME | SECURE ORDER FORMS | ONLINE SPECIALS | CATALOGUE | NEW ARRIVALS | CUSTOMER SERVICE | PRICING & ORDERING INFO
---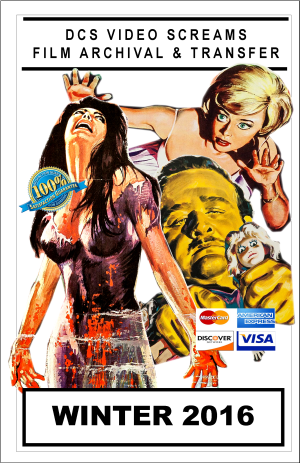 WINTER 2016 UPDATE
BA= Color Box Art Available for an additional $3.00
FL= Film is in Foreign Language
Lbx= Letterboxed or Widescreen format
Subs= Film is subtitled
aka= Also Known As (alternate titles)
---
22860000
22860000
(`@`````````
266
263
5
110185200
110185200
CLASSIC FILMS {Choose any two CLASSIC titles to create your custom double feature for $14.00 on VHS OR DVD-R! }
R873 Are You With It? (48) aka: Luna Park Milton Haskins (Donald O'Conner) ends up running a carnival with his girlfriend (Olga San Juan) after an adding mistake screws up his job at an insurance company. Still, his skills with numbers make him a natural for the carnival circuit. Song and dance man O'Conner later made a hit with a talking ass in the still funny 'Francis' films. Here he does a few routines, and even talks math with dance.
R919 Arizona Legion (39) aka: Arizonas hemliga polis This region of Arizona is lawless. Even when the criminals are captured, they are rarely convicted because everybody is afraid of them. Who are These Masked Riders? They Raid the Range... until a hard-nosed rider with a gun full of lead and a heart full of fight closes in! George O'Brien, Laraine Gray, Glenn Strange and more star. BA
R915 Border G-Man (38) aka: Texasin salainen poliisi Government agent Jim Galloway (George O'Brien) is sent undercover to investigate a shady businessman for violations of the Neutrality Act, a law that forbids the exporting of troops and war material to foreign countries. BA
R846 Colonel March Investigates (55) aka: Colonel March of Scotland Yard A feature length compilation of 3 short episodes of a Boris Karloff show entitled 'Colonel March of Scotland Yard'. Even though this is not horror, Karloff still manages to shine through with his performance.
R706 Drift Fence (36) aka: Texas Desperadoes An easterner inherits a ranch (with conditions) and finds himself at odds with a cattle rustler. Fast-paced oater with Buster Crabbe, Tom Keene and Leif Erickson. BA
R907 Gallant Journey (46) aka: Ultimo orizzonte Glenn Ford plays John Montgomery, a professional acrobat in the late 1800's who had an act concerning gliding his own glider. He also almost flew a plane before the Wright Brothers. Eventually he was killed in 1911 trying to fly an early aircraft. Janet Blair (later of ;Burn Witch Burn') plays the woman who stood by his side.
R896 Girl From Rio (39) aka: La muchacha del río A famous singer from Rio De Janeiro (Movita) travels to New York to help clear her brother, who has been charged with arson and murder. Movita was a hot little tamale, and was married to Marlon Brandon for two brief years (60-62), and was mother to 2 of his children. She died at almost age 99 in 2015. BA
R720 Grissly's Millions (45) An eccentric wealthy man is murdered, and the police set out to locate the killer as greedy relatives arrive to his gloomy mansion, hungry for inheritance. Tidy little thriller with 'old-dark-house' style horror elements and a cool climax. Paul Kelly, Virginia Grey and more star. BA
R722 Having a Wonderful Crime (45) aka: Um Crime Maravilhoso A lawyer and two newlyweds get mixed up in a mock mystery at a resort. Pat O'Brien, George Murphy, Carole Landis (super-sexy in this), George Zucco and Gloria (Dracula's Daughter) Holden star. BA
R825 Inside Information (39) aka: Politiskolens Elev A rookie cop and his girlfriend's uncle, a police captain, disagree on the methods that should be used to catch criminals. With Dick Foran, Harry Carey and Mary Carlisle. Lots of familiar faces in this one.
R835 Juggernaut (36) aka: The Demon Doctor An evil doctor (Boris Karloff) and the greedy wife of a rich man plot to poison him so they can get their hands on his money. BA + The Lady Confesses (45) aka: Ladies of the Night An estranged wife shows up after a nearly 7 year disappearance to prevent her husband from marrying his new love, and someone kills her. With Mary Beth Hughes and Hugh Beaumont. BA
R705 Law Commands, The (37) Night riders are terrorizing homesteaders, and the town doctor (Tom Keene) tries to keep the locals from forming a vigilante group. BA
R724 Man at Large (41) aka: Hombre en fuga A reporter and an F.B.I. agent try to catch an escaped Nazi. George Reeves, Elisha Cook Jr., Marjorie Weaver and more star. BA
R723 One Wild Night (38) aka: Uma Noite de Loucuras After withdrawing large sums of cash from the same bank, 4 men disappear. A crime student son of the police chief and a newspaper reporter try to uncover a probable extortion ring. Lyle Talbot, Sidney Toler, William Demarest and more star. BA
R916 Painted Desert (38) aka: Contrabando de guerra Mine disputes! Desperate men at Death Grips For Spoils That Mean Wealth For the Victors! Perilous cliffs, mine explosions, shoot-outs and more! George O'Brien and Laraine Gray BA
R848 Slime People, The (63) aka: Los ojos escamosos A small group of survivors is all that is left after an invasion by an army of subterranean monsters. In the deserted metropolis that was once L.A. - they battle for their lives. With Susan Hart. Now LBX!! Upgrade! BA
R721 Spy Hunt (50) aka: Le collier de la panthère Roger Quain (Howard Duff) is in the process of transporting two black panthers from Milan to a Paris zoo. A sexy western (Marta Toren) agent enlists his aid to hide some micro-film in the collar of one of the panthers. When the train derails however and the panthers escape, enemy agents descend upon the scene and the hunt is on. BA
R725 Straight From the Shoulder (36) aka: Johnny Gets His Gun Curt and Gail witness a gangland murder and robbery. Curt uses his talent as an artist to draw portraits for the police of the robbers, Baldy, Trim and Trigger Benson. Trigger Benson is arrested, but when Curt arrives at the courthouse to testify, Baldy and Trim shoot him, hoping to eliminate the witness..... Ralph Bellamy, Paul Fix, Onslow Stevens and more star.
R675 Street Angel (28) aka: Der Engel der Straße A woman on the run from the law finds her past catching up to her, just as she is on the verge of true happiness. Moody and atmospheric. Under the smoking menace of Vesuvius... careless and sordid Naples. With Janet Gaynor. BA
B355 Study in Scarlet, A (33) aka: Sherlock Holmes: A Study in Scarlet Reginald Owen is Sherlock Holmes this time out. In London, a secret society, led by a corrupt lawyer, collects the assets of any deceased members and divides them up amongst the group. Problem is, people from the secret society keep on dying, and somebody in the society is responsible. BA
R593 Stupefiantes (32) aka: Estupefacientes aka: Der weiße Dämon aka: Dope aka: The White Demon When an up and coming singer's career is jeopardized by morphine addiction, her brother takes on the ruthless drug dealers who are intent on keeping her hooked. Peter Lorre plays the drug-trafficker in this classic gangster German film... The same plot still plays out in films today. With English subtitles.
B343 They Made Me a Criminal (39) aka: Hanno fatto di me un criminale A boxer (John Garfield) flees, believing he has committed a murder while he was a drunk. Ad: I Am a Fugitive! I Am Hunted by the Mob! I Am Wanted by the Cops! I Am Forgotten by Decent Women! With the 'Dead End Kids', Claude Rains, Ward Bond and Ann Sheridan. BA
B349 Too Late For Tears (49) aka: Der blonde Tiger aka: Killer Bait Through a fluke circumstance, a ruthless woman (Lizbeth Scott) stumbles across a suitcase filled with $60,000, and she is determined to hang onto it, even if she has to kill! Watch as she melts down in evil obsession and greed with dire results. Dan Duryea and Arthur Kennedy also star. BA
B340 Topper Returns (41) aka: La dernière enquête de Mr. Topper Topper (Roland Young) encounters a sarcastic ghost (Joan Blondell) who insists our intrepid hero help find her murderer. An interesting early horror send-up. With Carole Landis, Billie Burke and George Zucco. BA
B332 Triumph of Sherlock Holmes, The (35) aka: El valle del miedo Holmes is drawn into a case when his arch rival Moriarty is involved in arranging a murder. Based on Sir Arthur Conan Doyle's Holmes tale 'The Valley of Fear'. The scenes in America come off quite well, and the use of a local committee of thugs and the Pinkerton Detective Agency are pretty relevant for the time. Many prefer Arthur Wontner to Basil Rathbone as Holmes. Well, here he is again! BA
R715 Two-Man Submarine (44) aka: Submarino de Algibeira The task is to get to an island behind Japanese enemy lines, to obtain the secret ingredient to an anti-toxin drug. Flag -waving fun with ex-boxer (and wife-killer) Tom Neal, Ann Savage, J. Carroll Naish (in a very busy year for him!) and more. BA
R894 Where Trails End (42) Valley ranchers need help defending themselves from bad guys trying to drive them from their home. Enter U.S. Marshall Tom Kenyon (Tom Keene) who is closing in on their hide-out. BA
B341 White Road, The (52) aka: The Green Glove aka: The Gauntlet aka: El guantelete verde An ex-soldier (Glenn Ford) and his new girlfriend comb France for a valuable relic.... which others are willing to kill for. Filmed entirely in France and Monaco with some exciting action sequences in interesting locales. BA
B334 Woman in Green, The (45) aka: Sherlock Holmes y la mujer de verde Holmes (Basil Rathbone) investigates the murders of several women, each with a finger severed off. Scotland Yard suspects a madman, but the real reason is far more sinister. BA
DINOSAURS, LOST LANDS, SWORD AND SANDAL, PEPLUM FILMS AND MORE
R726 Fair Wind to Java (53) aka: Der Rebell von Java Set at the end of the 19th century in the Dutch East Indies. The adventurous captain of an American merchant ship is looking for a sunken Dutch vessel which contains precious diamonds. But he's not the only one. Plus, there's the pesky volcano called Krakatoa that is about to blow it's top! A mini-epic with fine performances from all and quite the spectacle in the climax. Color. Fred MacMurray, Vera Ralston, Victor McLaglen, Paul Fix, Keye Luke and many more star. BA
R817 Golden Bat, The (66) aka: Ôgon batto aka: Ogon Bat aka: Il ritorno di Diavolik A teenage boy discovers that the planet Icarus is on a collision course with Earth by gazing through his telescope. He is kidnapped and put on a special task force to finish the Super-Destruction Beam Cannon to destroy Icarus. To a strange island they find the ruins of Atlantis but are then attacked by a weird drill-bit squid-shaped ship commanded by an evil being named Razu who has engineered the collision with Icarus. Enter the sleeping 'The Golden Bat' a super-hero skull faced flying guy that comes to their aid. Incredible Japanese made sci-fi fantasy now Widescreen and with English subtitles. Upgrade! BA
B368 Hu-Man (75) An actor is placed in dangerous situations and his fear will be broadcast to the television audience. The audience's response will determine whether or not he will be sent to the future, or back to the past, via a time dome, a human energy response collector. The 70's pumped out some of the most existential science fiction films of all time. Stamp's character does indeed travel time and locales, and he looks about as bewildered as I was watching it! A hypnotizing mind trip. LBX in French language and with English subtitles.
R876 Huns, The (60) aka: Queen of the Tartars aka: La regina dei tartari With her village utterly destroyed by rampaging Huns, a young girl named Tanya (Chelo Alonso) is taken by the leader of the tribe, Igor (Folco Lulli) and essentially raised as his daughter. But rather than being just any ordinary woman Tanya wants to be a warrior and because of this she is trained in archery and allowed to ride with the rest of the warriors. Unfortunately, not all of the men approve and her most vocal critics are Igor's son, Timur (Mario Petri) and the chief of a rival clan, Malok (Jacques Sernas).... Amazing New Widescreen English Dubbed! BA
B360 Invasion 1700 (62) aka: Col ferro e col fuoco aka: Daggers of Blood International cast period piece set in the 18th century. A Polish military officer is in love with a Slavic Princess (Elena Zareschi). This does not sit well with her lover, who cuts a path of destruction and death across the countryside, building a following in his wake. The showdown finds the villain dangling his Princess prize as bait while our hero and his thousands advance. With Gordon Mitchell, Akim Tamiroff, Pierre Brice, Jeanne Crain, John Drew Barrymore and more. Nice LBX and with English dubbing, and sometimes Italian language and English subtitles appear. BA
B379 Kindar the Invulnerable (65) aka: Kindar, l'invulnerabile An evil desert bandit kidnaps the son of a sultan and raises him as his own. It turns out Kindar (played as an adult by muscleman Mark Forest) is unstoppable and all powerful. Later, he falls in love with a hot woman named Kiri (Rosalba Neri). Still later he finds out she is his brother's fiancé, and the village he is next to raid belongs to his 'real' father. Kindar has 'Superman; like powers, swords, spears, rocks, nothing can stop him. Mark Forest, after starring in 11 of these Italian made 'sword and sandal' films, retired to study Opera, and went on to teach Opera in California. This was the last film he was in. Nice English dubbed and LBX. BA
R874 Knights of Terror (63) aka: Il terrore dei mantelli rossi aka: Les cavaliers de la terreur The mysterious Red Knights spread terror and death along the countryside... A soldier of fortune is hired to find and destroy the nights, but ulterior motives are in play... Tony Russel and Scilla Gabel star BA
B380 Legions of Cleopatra (59) aka: Le legioni di Cleopatra aka: Legions of the Nile Linda Cristal as Cleopatra is so sexy you will forgive the historical inaccuracies. Tavern brawls, dancing bimbos (including Cristal), battles, romance, light comedy, drama. Shut off all logic and enjoy the colorful action! Some of the cast were also used in 'The Warrior and the Slave Girl' including the dwarf. Amazing LBX English dub Upgrade! Uncut Widescreen print with 10 extra minutes of footage then other prints! BA
R869 Toto vs. Maciste (62) aka: Totò contro Maciste Sword and Sandal director Fernando Cerchio switches gears and makes a comedy with all the bells and whistles (and set designs) of the regular sword and sandal films of the era. With Samson Burke as a bumbling muscular Maciste, styro-foam rocks, chains, and a hilarious showdown with Toto in the court of the Pharaohs. A colorful laugh riot in Italian language only and with no subtitles. LBX BA
EDGAR WALLACE FILMS
R714 Death Drums along the River (63) aka: Sanders aka: Tamburi sul grande fiume A British Colonel policeman in Africa (Richard Todd) investigates a murder in a hospital up the river. Amazing color and LBX and what a hilarious crocodile attack. With Marianne Koch and Vivi Bach. BA
EXPLOITATION FILMS
R864 Charlie and the Hooker (77) aka: Mi primer pecado Poor Charlie. He attends a Catholic school but has fallen for a young prostitute (Beatriz Galbo) who practices her version of 'religion' in and around the area. Finally she has his attention and they become friends. He lusts for her and she humiliates him by taking a lover/client right in front of him. Crushed he leaves. Later feeling guilty she offers herself to Charlie... F.L. BA
R756 Erotic Adventures of Hansel and Gretel, The (70) aka: Hänsel und Gretel verliefen sich im Wald aka: The Naked Wytche Adult version of Hansel and Gretel follows the tale quite closely except with lots of naughty parts. Finally an upgrade of the English dubbed version. A West German/Canadian production. BA
B363 Erotic Dreams of Cleopatra, The (85) aka: Sogni erotici di Cleopatra From Italian sleaze director Rino Di Silvestro (his last). Erotic and nasty little Roman outing, as we would expect! Sexy Marcella Petrelli is Cleopatra. You get Rita Silva (herself a Eurotrash regular) and let's not forget Jacques Stany as Julius Caesar! Amazing quality English dubbed LBX print! BA
B389 Erotomania (74) aka: L'erotomane A powerful oil tycoon with a sexual neurosis cannot have sex with his beautiful young wife (Janet Agren) or his luscious college student mistress (Silvia Dionisio). One wonders why he would need a mistress in the first place if he has Janet Agren at home! His problem has other side effects, ear twitching erotic fantasies that cause him to just about rape his maid on the roof of his villa, while dozens of teenage girls and some nuns look on, or attack his virginal secretary while she's taking 'dicktation' (well). He even slips at a board meeting with a series of verbal sexual slips. Finally he gives in and wants his wife and mistress to experiment with other people for sex, which leads to a hilarious swapping scene. One sexy sex comedy! In English and with Greek subs.
R751 Hay Country Swingers (71) aka: Sabena aka: Beichte einer Liebestollen Tasty and hilarious West German soft-sex comedy with beautiful country girls in sexual ecstasy in a rural area complete with farms and horny hillbilly types. The tavern is run as a tavern should be run. America's boring bars could learn a thing or two here. We need uniformed buxom St. Paulie Girl types in short skirts serving beers in bars all over America! Don't we? Plenty of nudity. Karin Gotz and more star. English dubbed. BA
R805 Hot Pants Holiday (71) aka: Tropic Heat A frustrated New York housewife has an island affair with a black guy while on vacation. She's got Hot Pants. That's why it is a 'Hot Pants Holiday'! See the Love Potion Voodoo Dance! Nudity, sex and a exotic locales.
B391 Husband Report (71) aka: Ehemänner-Report aka: Freedom for Love Yet another of the 'Report' styled German sex comedies. The episodes are tied together with a reporter asking questions of people on the street, and running into marriage problems of his own. You get wife swapping, going to prostitutes, teacher/student relationship, cheating husbands and more. You also get a young Sybil Danning (she's 19 in this) and Ingrid Steeger has a small part as a prostitute. In German language and with English subtitles. LBX
R808 Night They Robbed Big Bertha's, The (75) aka: I nyhta tis listeias tis Big Bertha Hilarious hijinks at Bertha's whorehouse as some hicks decide to rob the place. Like 'Duke's of Hazard' with tits. A little banjo music, lots of political incorrectness, and odd-ball behavior from most of the cast makes this one a good-old-fashioned drive-in exploitation classic. Look for Mary Mendum (Rebecca Brooke) as Veronica. BA
B395 Schoolgirl Report 10: Campus Teasers (76) aka: Schulmädchen-Report 10. Teil - Irgendwann fängt jede an aka: Le svedesi lo vogliono così A 'morality class' at a girl's school is the setting as some of the hottest young women share their stories. Scene 1: A professor is accused of rape, but it is anything but! Scene 2: Inga is a nympho and after throwing herself at various men she is beaten and raped by bikers, before being rescued by a loving sensitive guy. Scene 3: Kati wants her boyfriend to seduce her new young stepmother to ruin her father's marriage. Scene 4: Seffi acts possessed so her boyfriend can pose as an 'Exorcist' and gain entry into her bedroom. Scene 5: Iris is working as an escort to help make money for her needy family. Then she spots her nephew..... All great sexy stories with the hottest of German cheesecake and In German language with English subtitles. BA
B370 Sex Olympics (72) aka: Praised Be What Hardens You aka: Gelobt sei, was hart macht In ancient Greece, the competitions are on! These with a penchant for a sexual slant. Some of this is quite hysterical, like when men with boners race, and one wins by, well, the boner is out in front you know, so, by a head (without being too crude)! This mixes a bit of East Germany versus West Germany as well, making this a one of a kind sexual satire that is quite unique. In German and with English subtitles.
EXTREME HORROR AND GORE FILMS
R786 Being, The (82) aka: El ser aka: Ectoplásma Once again we are plunged into the world of death and the supernatural in this horror. A woman is widowed and her house shows signs of a ghostly presence. Doctor Oliver, an expert in these matters is called to the scene. Don't miss the melting head that then explodes and more! Sequel to 'Voyage to the Beyond' also in this section filmed by the same director (who also plays Dr. Oliver). In Spanish language only and with no subtitles. BA
R806 Beverly Hills Bodysnatchers (89) aka: Flotte Jungs auf Zombiejagd A doctor and a mortician have teamed up to do re-animation experiments on corpses using gangster money. Strange characters, corpse abuse and a backfired plan in this comedy/horror hybrid that stars Vic Tayback in one of his last roles, Frank Gorshin and more. BA
R787 Beyond the Realms of Death (86) aka: Más allá de la muerte This time out we get a Nazi guy conducting sinister experiments that involve capturing the soul at the moment of death. And there is plenty of death in this including impalings and shootings. Third and final in the series that started with 'Voyage into the Beyond' all in this section. Spanish language only with no subtitles. LBX BA
B373 Black Light (92) An obscure Swedish teen slasher! Mikaela is a smart and independent girl in high school, but carries a darkness. She is in love with her teacher... but someone seems to be stalking her! The teens all look like adults, there is a haunting score, and the whole thing is very well acted. Some people think this is a partial template for Wes Craven's 'Scream'. See what you think. In Swedish and with English subtitles. LBX
B374 Charly, Days of Blood (90) aka: Charly, días de sangre A shy guy, traumatized by the death of his older brother, embarks upon a weekend with his friends where things begin to occur. Terrible things. After a disemboweled cat is found hanging from a tree near their rural chateau... Bloody axe killings follow. Violence and nudity in this gory horror film from Argentina. With English subtitles.
R882 Curfew (89) aka: Ora di sangue Two escaped brothers (in the joint for the rape and murder of a 16 year old girl) track down the people responsible for sending them to to death row, including a doctor and a judge. They have special plans for the D.A. and his family. Perfectly splendid home invasion sadistic torture and horror. A little bit 'Henry' a little bit 'Funny Games', a LOT of fun for fans of that type. BA
R707 Cursed (04) aka: 'Chô' kowai hanashi A: yami no karasu A schoolgirl is hit by a bus because she cannot go into a gloomy convenience store. The store is "cursed". What is that person doing in the cooler? Why is "666" coming up? This location seems to be trapping the souls of customers.... Nao, who works part time at a convenience store, is completely unaware of the malice of the ghosts and spirits surrounding her... She and a co-worker called Ryoko watch the world going mad around them, the birds going crazy, people getting enraged and going mad... and finally realize they have to do something. LBX and with English subtitles BA
R820 Dead Daughters (07) aka: Myortvye docheri In modern day Moscow, ghosts of three little girls who were killed by their nutzoid mother, randomly pick a person to watch over for three days. If during this 'probation period' the person they are watching has moral standards not considered of a worthy level, the three daughter ghosts murder them through supernatural telekinesis. LBX and with English subtitles. BA
B375/R785 Death Brigade (85) aka: Brigade des moeurs Max Pecas directs the film of his career! A splendid, tasteless effort, that combines gratuitous violence and soft-core sex to the highest level of entertainment! On the surface this seems to be just another gritty violent cop thriller. But it is these adventures on the vice squad that offer some of the more dark and horrific scenarios you are about to encounter. Torture, depravity and death. Manages to instill a sense of dread. Sort of like 'A Climax of Blue Power' but without the hardcore sex. In French language and with English subtitles. LBX BA
R858 Devil's Woman (96) aka: Nan yang di yi xie jiang Following a disastrous rescue mission (during which a pregnant woman was shot in the back at such close range that her fetus blasted out and hit him), SDU officer Lam begins seeing sexy psychiatrist Dr. Mary Fu in order to deal with the nightmarish visions he has been experiencing. Meanwhile, in a desperate quest for fame, struggling actress May allows herself to become the murderous puppet of an evil sorcerer (Ben Ng, essentially reprising his role from the earlier film) who is able to control her through a weird spider venom potion he introduces into her system.... Hong Kong and with English subtitles
B362 Doll of Satan, The (69) aka: La Bambola Di Satana aka: Der Satan ohne Gesicht Elizabeth (Erna Schurer) and her man visit her families castle to attend a reading of the will. The legend's of the castle ghosts are the least of their worries. Elizabeth starts to have disturbing nightmares, and a black-gloved hooded figure kidnaps her and imprisons her in the castle's still-functional torture dungeon. Could somebody be trying to cut her out of her inheritance? Now four minutes longer than last version! (90m instead of 86m.) Nice looking print LBX and with English subtitles. BA
B388 Erotic Games of a Respectable Family (75) aka: Giochi erotici di una famiglia per bene Donald O'Brien (Dr. Friggin' Butcher himself!) hates his wife so he kills her! Then he meets a hooker (Erika Blanc) and while seeing her, he also sees his dead wife everywhere....WTF? Well it's only one of the rarest of Italian thrillers and definitely worth a look! Four minutes longer than other versions which includes more nudity! In Italian language and with English subtitles. LBX BA
B413 Evil Senses (86) aka: Sensi aka: Stripped to Die A hit man, blackmailed by the mob after a hit, hides out in a brothel where he begins an affair with a mysterious woman (Monica Guerritore). A sex and violence double-cross giallo-type thriller with Mimsy Farmer and Gabriele Lavia (who also directed). Upgrade! BA
R929 Exorcism at Midnight (66) aka: Naked Evil Jamaican gangs have unwittingly released a demon that makes people kill themselves in bizarre ways. This was originally a British made voodoo film, cut and pasted with additional footage over here (with Lawrence Tierney). LBX BA
R862 Eyes of the Panther, The (89) A woman (Daphne Zuniga) is possessed by a black panther. With C. Thomas Howell. (60 minute story from the Nightmare Classics Series)
R924 Girl Hell (0?) Japanese perversion and horror with deviants menacing, raping and binding school-girl uniform dressed and 'of age' women. Truly disturbing and bizarre stuff here, no XXX, bloody revenge finale. F.L.
B376 Girl of Diabolical Sex (87) aka: A Menina do sexo diabólico In the first half, it's about a virgin that loses her virginity to her cousin while spending time at the family farm. But wait a minute bucko. In the second half we have 3 other 'cousins' violently rape and murder our girl. The supernatural twist has revenge exacted 'I Spit on Your Grave' style. Violent. Graphic. Misogynistic. Nihilistic. Disturbing. All of these things... and more! Stars Makerley Reis, Walter Gabarron, Elza Leonetti and Nelson Magalhães WARNING: XXX scenes of a violent nature. Now for the first time with English subtitles.
B404 Guernica Tree, The (75) aka: L'albero di Guernica aka: L'arbre de Guernica During the Spanish Civil War, in the town of Villa Ramiro, the local Count and his Fascist nephews, join the rebels, while other townspeople make their own decisions that will have different outcomes for all involved. Pillaging, destructive strong surreal imagery shot to shock the viewer into the spectacle that is the horrors of war. A desecration of religion, dwarfs in a bullfight and later dwarfs crucified, the horrors of humanity and man's evil indifference and extreme cruelty to man. More madness from Fernando Arrabal! LBX and with English subtitles. BA
R760 Hider in the House (89) aka: En el silencio de la noche A deranged escapee from the nuthouse (Gary Busey at his demented best!) hides in the attic of a new house and becomes obsessed with the unsuspecting family that lives there. Tremendously entertaining I must say. You'll be rooting for Busey's character. Mimi Rogers and Michael McKean also star. BA
B392 Hollywood 90028 (73) aka: Insanity aka: The Hillside Strangler aka: Twisted Throats An obscure feminist manifesto that predates 'Slumber Party Massacre' in the 'woman director POV of a psychotic killer' realm. A guy films porn loops and eventually gets other gigs, He falls for a nice little chickadee but things don't work out too well. For anyone. Some call this rarity a genius work of art. Others hate it. Either way you slice, this is one obscurity that deserves a look, as some of the ideas were later used, but more fully developed in later films. There are some nice shots of early 1970's Los Angeles including closed down strip-clubs of yesteryear like 'The Pink Pussycat'. Original music by Basil Poledouris who went on to score memorable soundtracks to 'Conan the Barbarian', 'Red Dawn', 'Robocop' and many more.
R863 Human Cobras (71) aka: L'uomo più velenoso del cobra aka: The Man More Venomous than the Cobra A gangster is after his brother's killers. Murders begin to occur. Form New York to Africa the story travels. Twists and turns in this Erika Blanc on safari giallo thriller. Easy to follow even with no subtitles. This was formerly a butchered film that had been cut to ribbons. Here we have the restored composite version with stranglings, slashings and plenty of blood. There is also an elephant hunting sequence where a guy gets stomped by a pissed pachyderm. Not only is Erika Blanc along for the ride, you also get Janine Reynaud the voluptuous redheaded knockout who worked with Jess Franco more than a few times. Great ending, did you see that one coming? F.L. BA
B403 I Will Walk Like a Crazy Horse (73) aka: J'irai comme un cheval fou The pursuit of faith and the rejection of organized religion. After the death of his mother, a man flees society into the beauty of the wilderness, and falls under the tutelage of a hermit named Marvel. He talks Marvel into joining him in civilization. This film contains many very offensive daydream sequences, disgusting even. A rejection of the institutions of western society. This film contains incest, excrement, a child execution, really strange sex and cannibalism. Another twisted brain-mixer from director Fernando Arrabal. Widescreen and with English subtitles.
B369 Kill the Fatted Calf and Roast It (70) aka: Uccidete il vitello grasso e arrostitelo A young man's infatuation with his mother transfers on to his older sister (Marilu Tolo) when his mother dies. When his older brother finds out, he plots to have his younger brother killed, as he too lusts for his sister. This sordid little tale will lead to a downbeat conclusion. An atmosphere drenched in Gothic settings and dark doings. LBX and with English subtitles. Beautiful Upgrade! BA
R866 La Ilamada del Sexo (77) aka: Sex Call aka: Dulcemente morirás por amor Argentina director Tulio Demicheli contributed many bizarre offerings to the world of cinema before his death in Spain in 1992. Here we have one of his more surreal trippy offerings in the form of a mystery that features murderous lesbians, plenty of nudity and a shock ending. This rare film is available in Spanish language only and with no subtitles so F.L.
B393 Last Dog of War, The (79) aka: O Último Cão de Guerra A group of parents hire a mercenary to rescue their daughters from an exiled Nazi that's running a prison camp, where he practices experiments with the girls in his seemingly unstoppable quest to create the master race. Nudity and violence in this, obscure and formerly missing link of Nazi films, this one from Brazil. In Portuguese with English subtitles.
R748 Le Fils du Diable (07) aka: The Devil's Child The devil has sent his son to do his dirty work and take over the planet with the help of his guardian, the keeper.... Horror from Haiti that finds a cop in a supernatural mystery that ends pretty bloody. F.L.
B381 Link (86) aka: Link, el sanguinario Student Jane (a 23 year old Elisabeth Shue) takes a job at an isolated facility/house on a remote Cornish coast to assist animal researcher Phillip (Terence Stamp). There they reside with chimpanzees and a butler, Link, who is a super-smart orangutan. Link becomes unstable and all hell breaks loose. The best goddamn killer money flick ever made. Although 'Shakma' may tie it. This is the unreleased UNCUT 110 minute version (15 extra minutes!) Some scenes in French language and with English subtitles. We're not just monkeying around here! BA
B402 Long Live Death! (71) aka: Viva la muerte During the Spanish Civil War, a man is arrested for treason. Fando, the man's son, is shocked to find his mother betrayed his father, which led to his incarceration. Then she tells Fando his father has died in prison. Fando goes on a journey to seek the truth. The world is full of anguish, harsh and horrible, ferociously dangerous and violently perverse. Grotesque torture, violent anti-war statement, biting political sarcasm and blasphemous imagery. From director Fernando Arrabel, and like the films of Alejandro Jodorowsky, quite the mindfuck. LBX and with English subtitles. BA
R895 Man, Woman and Beast (77) aka: L'uomo, la donna e la bestia aka: Spell Insanity from director Alberto Cavallone, the guy who brought us 'Blue Movie' and 'Blow Job'. There are many characters in this film. A butcher that gets his sexual kicks with big chunks of meat hanging in his freezer, an abusive countryman, a girl pregnant with her father's baby, a hippie hooker, a contented priest. Set in small Italian town, here comes a drifter, a harbinger of change. There is much sexual activity, much exchange of bodily fluids, including a particularly harrowing finale, and along the way a surreal, hypnotic, visceral and existential ride. During a weird town festival, all collides into a sexual sea of disturbing art, madness and death. Could the director be dropping acid? A truly shocking gross-out finale during a sex act will leave you speechless. Excellent quality Widescreen and F.L. - This film is mostly bizarre imagery, nudity and perverted madness. Upgrade!
R767 Murderlust (85) aka: Mass Murder A serial killer, who by day is a handsome Sunday school teacher, abducts young hookers, and when he has had his way with them, he dumps their lifeless corpses in the Mojave desert. At one point he forces a woman to go down on him at gunpoint. Not particularly bloody, but still a rare addition to the 80's slasher genre. BA
R791 Paranoia (86) Here's some violent trash from Brazil! Nasty violence and nudity in this rape-crime-torture flick. Can be truly uncomfortable viewing at times. which adds up to good old fashioned family entertainment! Wild music, sadism, home invading robbing rapists.... this one has it all! Now with English subtitles for the first time, + foreign subtitles as well!
R777 Photographer, The (74) Originally intended as a 'black comedy', this obscure and mildly exploitative serial killer thriller came and went and was forgotten. With a sometimes genuinely chilling performance from lead Michael Callan (whose character has 'Norman Bates' level "mother issues".) Sort of a mix of 'Peeping Tom' and 'Psycho'. Later remade as 'Double Exposure' in 1983. Barbara Nichols stars in one of her last films before her untimely death.
B394 Satanik (68) Dr. Bannister (Magna Konopka) is old and withered with a nasty scarred face. Luckily a youth serum is developed by a professor she knows in Madrid, a cell regenerator. Experiments on animals, proves it works, but also with the side effect of violent behavior. When the professor won't let her test it on herself, she kills him and steals the serum. Now she's a hot dame, but also a murderous monster! Finally a stunning widescreen print with Magda Konopka's nude scene intact! In Italian language and with English subtitles. Pupi Avati was the assistant director on this. Super Sharp LBX BA (also available in a decent English dubbed print - specify or this subtitled print will be sent)
R783 Savage Hunt (78) aka: C.I.A. Verschwörung From Director Romano Scavolini the guy who brought us the blood bath known as 'Nightmare in a Damaged Brain' which he made after this. An American photographer unwittingly brings footage of torture by the Greek military into the U.S.A. along with America's involvement in it. He is pursued by thugs who leave a trail of bloody murders in their wake. In the opening scene a man is having a large instrument inserted into his penis as he screams in pain. Yowch! Has foreign subs but is dubbed into English! Upgrade!
R872 Sex Crimes (92) A vicious serial killer prowls the night striking terror into the hearts of the hopeless hookers that work the streets of Hollywood. Biker outlaws, sordid political corruption and serial killer killings culminate in a fiery showdown in the desert.
B382 Sexy Cat (73) This obscure and bloody Spanish giallo type is full of so many cool touches it must be seen! An artist thinks another guy has ripped off his ideas for an erotic action comic called 'Sexy Cat' so he hires a private detective. But the artist is murdered, and bodies start to pile up in a grand old fashion with various causes of death.... spear guns, iron (cat) claws, deadly snakes, suffocation, cut throats, gouged eyeballs... and sightings of a strange figure dressed in a cat suit that may be involved in the mayhem. Beautiful LBX and English dubbed print at last! An absolute must! BA
R910 Shock Treatment (73) aka: Traitement De Choc aka: L'uomo che uccideva a sangue freddo Doctors at a rejuvenation clinic on a cliff filled shoreline discover a formula that will prevent aging. But it requires harvesting the blood and body parts of young men....Alain Delon and Annie Giradot star. Plenty of sex and lots of nudity! LBX and with English subtitles! Upgrade! BA
B383 Specter of Terror (73) aka: Deviazione Maria Perschy, straight off the set of 'Hunchback of the Morgue' steps straight into another tale of horror, this time without Paul Naschy! A maniac living in a house where he dangles baby dolls by strings and displays naked women on the walls, stalks and strangles pretty ladies. He keeps a bathtub full of acid in his creepy basement to dissolve the bodies of his victims. One of the rarest of the Spanish Horror films. Director Jose Maria Elorrieta was also responsible for 'Feast of Satan' and 'The Curse of the Vampires'. In Spanish language and with English subtitles. BA
R782 Street Warriors (77) aka: Perros callejeros A group of juvenile delinquents are on the loose committing a series of unforgivable crimes. Real kids used and most are lost or dead today. The filmmakers try to make excuses for the crimes because they grew up on the streets and were poor. The crimes they commit are too brutal for anyone to care whether they live, or they die. When they encounter older thugs that are even more dangerous than themselves...... Now this rough and tumble flick comes with graphic scenes of castration, rape, beatings and more. Uncut and LBX. BA
B398 Thirst of Passion (91) aka: Жажда страсти aka: Zazda strasti Spooky haunted house horror from Russia! A police inspector, along with the help of a doctor, investigates the mysterious death of a troubled woman who was dealing with supernatural and demonic forces. Hypnotic, spooky and mysterious as the battle for her immortal soul begins. Dripping with atmosphere straight out of Poe or Lovecraft with candles, thunder and lightning, a sinister mansion... more. In Russian language and with English subtitles.
B399 Too Beautiful To Die (88) aka: Sotto il vestito niente II Sylvia, a sexy model, is raped by a powerful businessman with the help of some colleagues, and then killed. Later, people who were present for this dark deed start to turn up dead. Flamboyant colors, good 80's soundtrack, a mixture of the giallo with the music video industry mixing it up into a violent and tasty blend of sexy beautiful woman, misogyny and violent death, images and sound. Amazing new LBX print. Upgrade!
R761 Trapped (82) aka: Baker County, U.S.A. A group of college students cross paths with a redneck in the wilderness chasing his wife's lover and wind up being hunted. The local sheriff is kin, so our little students are screwed. Sort of like 'Deliverance' meets 'Hunter's Blood'. Henry Silva is the leader of the bloodthirsty inbred hillbillies. A classic of it's type. LBX BA
R881 Unrated: The Movie (09) A would-be wannabe film-maker wants to make a movie with some hot chicks. Then, an evil book appears, summoning a plethora of monsters and evil beings who commence to go on a murderous blood-soaked rampage. Plenty of T&A mixed in with all the violence. Timo Rose and Andreas Schnaas co-directed, and with films like 'Goblet of Gore' and 'Midnight's Calling' between them, you know what to expect. LBX - F.L.
R785 Voyage into the Beyond (80) aka: Viaje al más allá The first in a trilogy made by a specialist in parapsychology. Spanish made paranormal horror about a scientist professor type investigating supernatural happenings that have resulted in some violent deaths. Nudity, exorcism, impalings and more. Rare and in Spanish language only with no subtitles. LBX
R807 Warning Sign (85) aka: Contact mortel A research facility goes into lockdown because of a contamination breach. Now locked up, we have infected zombie behavior types due to the virus, and the uninfected, who are trying to stay that way. This plot used many times since! With Kathleen Quinlan, Yaphet Kotto, Sam Waterson and more. BA
B400 Washing Machine, The (93) aka: Vortice mortale A police inspector investigates the murder of a man found dismembered and left in pieces in the washing machine of a woman and her two sisters. He finds himself drawn into a web of murder, sex games and corruption in which the plot twists and turns, all paths leading somehow to one or all of the three sexy sisters. Ruggero Deodato directs! New UNCUT LBX print in English language and no pesky subtitles. BA
R859 Wicked Ghost (99) aka: San chuen liu see Four kids screwing around with a supernatural game accidentally summon a creepy and wicked female ghost with long black hair. Our horrific villain manages to possess them one by one, and in turn they cause harm to themselves, and others. Some truly scary moments! With English subtitles.
FRANCO FILMS
B386 Alone Against Terror (86) aka: Sola ante el terror Jess remakes his own film 'The Sinister Eyes of Dr. Orloff' (sort of). Lina Romay plays a paralyzed woman named Melissa, confined to bed, cared for by her two sisters, both sisters familiar faces in Franco films. Their father was murdered when Melissa was a child. Melissa thinks her father is trying to contact her from the dead, to avenge his death by killing those responsible. In Spanish language and with English subtitles.
R887 Girls in Thong, The (87) aka: Las Chicas del Tanga Another obscure Franco this time co-directed by Lina Romay (who also has a small but essential role). Seems a large portion of the film is spent on the beach with girls in thongs, men falling over themselves to be near them etc. With Spanish film regular (she worked with Naschy and Franco!) Eva Leon and another Franco familiar starlet Analia Ivars and also ever faithful Antonio Mayans. Seems this one is about fun and free spirited nakedness, not the usual soft-core sex. F.L. BA
B366 Hotel of Love Affairs, The (83) aka: El hotel de los ligues Once again Jess Franco remakes one of his own films, 'That Certain Taste'. Three couples are having sexual problems until a porn star (Lina Romay) shows up and teaches them a few lessons in lust and yea... lust. This time though, they do it in a soft-core way. I suppose to appeal to a wider release market. Romay, gives her all, and is quite enthusiastic! LBX with English subs
HAMMER AND BRITISH FILMS
R934 Albert R.N. (53) aka: Break to Freedom In 1944, at a P.O.W. camp in Germany, the allied prisoners use a dummy prop named Albert to fool the guards and escape. Anton Diffring (who played a better 'nasty' Nazi?), Anthony Steel and more star in this British classic.
R729 Brotherly Love (70) aka: Country Dance aka: Jogo na Escuridão In an upper-class British household, a crazy alcoholic has an incestuous relationship with his sister, who is also a drinker herself. The film tip-toes around the subject matter, but the astute viewer will have no problem spotting what the hell is really happening here (ahem... see the title if confused). A tragic dark comedy. Peter O'Toole and Sussanah York star, along with Michael Craig, Harry Andrews, Cyril Cusack and many more.
R739 Glory at Sea (52) aka: Gift Horse aka: Il cacciatorpediniere maledetto The British Captain of an old 'Destroyer' ship in 1940, struggles not only with the Nazis, but his crew as well, who are slightly disgruntled in this massive bucket of bolts. Trevor Howard, Richard Attenborough, Sonny Tufts and more star. Before America joined the war effort, we gave up old ships in exchange for leases on naval bases the British had in the Western Hemisphere. BA
R728 Johnny in the Clouds (45) aka: Way to the Stars Life on a British bomber base and the surrounding towns, from the opening days of the Battle of Britain, to the arrival of the Americans as they join the bomber offensive. Excellent war drama with action and human strife. Michael Redgrave, John Mills, Renee Asherson and more star. BA
R852 River Beat (54) aka: Die Jagd begann im Hafen A London Police Inspector (John Bentley) is patrolling the river looking for smugglers, when he meets and becomes involved with a woman who is working as a ship's radio operator (Phyllis Kirk), and, who is unwittingly being used to smuggle diamonds. Cool finale chase ends in the mud at low tide on the Thames.
R912 Sea Shall Not Have Them, The (54) aka: Havet skall inte få dem During WW2, a British fighter plane gets shot down over the ocean. Now stuck on a raft they wonder if they'll starve, drown, hit a mine, get captured, or just die of thirst. Fun 'peril at sea' type. Classic British cast Michael Redgrave, Dirk Bogarde, Anthony Steel, Michael Ripper, Nigel Patrick and more. BA
R906 Touch of Larceny, A (59) aka: Hochverrat mit Hindernissen British Commander Max Easton (James Mason) takes his defection to the Soviets in order to sue the slandering newspapers for the money he needs to woo a fancy American woman (Vera Miles). Also with George Sanders as a rich nasty, snobby villain (surprise surprise) and Robert Flemyng. BA
R736 Trent's Last Case (52) aka: Ritorna il terzo uomo An armchair detective (Michael Wilding) tries to determine whether a case is murder or suicide. Just when he thinks he has solved it, complications arise. Orson Welles and Margaret Lockwood also star. BA
R918 Uneasy Terms (48) aka: Bigamie...? Cool British take on film noir with Michael Rennie and Moira Lister. Rennie is a Private Eye who is drawn into a family where 3 sisters are trying to 'adjust' their dead father's will. He finds out the poor bastard was alive when the sister's first contacted him.... Then the twists and turns begin.....
MISCELLANEOUS FILMS
WAR, MARTIAL ARTS, COMEDY, DRAMA, SPY, ACTON AND MORE
R885 Acapulco Gold (76) aka: Heroin Connection See former child evangelist Marjoe Gortner star as an ordinary Joe who gets caught up in a dangerous drug smuggling scheme in beautiful Hawaii! Framed, he seeks help from the town drunk (Robert Lansing). Definitely a drugged out doper hippie culture film with lots of madcap situations. Gortner, reliably entertaining as usual, was in 'Booby Jo and the Outlaw' (couldn't help it) and 'The Food of the Gods' the same year! Also starring in this stoned bud caper, Ed Nelson, Randi Oakes and more. BA
R798 Around the World in 80 Ways (88) aka: La vuelta al mundo en 80 formas Oddball comedy from Australia about an old man put in a nursing home while his young wife travels the world. They decide to give him a life-abroad as well, without ever leaving the house, using inventive settings, props and imitations to create Las Vegas, Hawaii, Rome and Tokyo. One of a kind Australian insanity.
R847 Blind Detective (13) aka: Man tam A cop is forced into early retirement due to retinal damage. But after witnessing a bank robbery along with a female inspector, who believes he has acute senses, they team up to solve the case. With English subtitles. BA
R785 Brigade of Death (85) aka: Brigade des moeurs On the surface a routine gritty crime thriller, it's integration of ultra-violence into the proceedings is unprecedented. Opens with a typical evening with street hookers, but then we are in the morgue gazing at corpses of nude trannies. This is a seriously bleak world! Our hero's adventure's on the vice squad are never routine, and marked by violent dread. Let the darkness take you. From Director Max Pecas. LBX and with English subtitles. BA
R810 Cage of Evil (60) aka: Kuolleet eivät puhu A detective (Ron Foster) falls in love with the diamonds, and the girlfriend (Patricia Blair), of a thief he is pursuing. He goes rogue as he was already disgruntled, being passed over for promotion one time too many. Look for Ted Knight as Lt. Dan Ivers in a brief bit. BA
R827 Catalina Caper (67) aka: Never Steal Anything Wet Swingin' rockin' teens take some time out from having fun in the sun to try to foil a group of crooks searching for a stolen scroll. Bizarre 60's time-capsule loaded with musical numbers and starring Tommy Kirk (still in the closet at the time), Little Richard, Robert Donner, Lyle Waggoner, The Cascades and more. Awkward songs, awkward dancing, awkward acting. A real piece of crap! Still, oddly compelling and highly watchable! LBX BA
R763 Cry in the Wild: The Taking of Peggy Ann (91) True story of a young woman's abduction by a deranged loner that led to a huge manhunt in Pennsylvania. David Morse is excellent as the bad backwoods guy. Brutal and entertaining. Also with Tom Atkins, Megan Follows, David Soul and more.
R851 Eternal Zero, The (13) aka: Eien no 0 A young woman and a man explore the history of their grandfather, who died in WW2 as a Kamikaze pilot. This film dives between the past and the present, and from a Japanese POV. The Special Effects are amazing. LBX and with English subtitles.
B390 Eurocrime: The Italian Crime and Cop Films of the 1970's (12) An Amazing documentary that features snips and clips from this genre and includes numerous back and forth interviews with the biggest participants alive! John Saxon, Henry Silva, Fred Williamson, Antonio Sabato, Joe Dallesandro and more! As many saw these mainly as 'The Godfather' and 'Dirty Harry' rip-offs, there is a lot more to it than that, with the Sicilian Mafia, locations, and cultural changes pertaining to Italy. This is the best documentary on the subject I have ever seen.
R792 Five Pretty Young Ladies (77) aka: Bruce, Kung Fu Girls aka: As Cinco Rainhas do Karate Five badass chicks kick the livin' crap out of male stuntmen/kung-fu fighters all over the place making the big boss's look like incompetent fools. Kidnapping and a science fiction angle also in this one. Great sound-effects and hilarious dialogue. English dubbed.
R717 Forgotten, The (89) aka: Commando oublié Held captive by their own army, Viet Nam vets must escape to clear their names. First though, they must endure a series of brutal tortures.... Keith Carradine, Steve Railsback, Stacy Keach and more star. BA
R802 Fox Style (73) A wealthy nightclub owner struggles to reconcile his country upbringing with his city environs. Blaxploitation type with Juanita (Abby) Moore, Richard Lawson and more. BA
R804 Get Crazy (83) aka: Flip Out Cool 80's rock spoof that must be seen to be believed. Malcom McDowall as an aging rocker and a huge assortment of characters and madcap situations. Would be a perfect double feature with 'Spinal Tap'! Daniel Stern, Ed Begley Jr., Lou Reed, Fabian, Robert Picardo, Mary Woronov, Paul Bartel, Dick Miller, Clint Howard and look for Linnea Quigley and Michelle Bauer as groupies + many more! This is a perfect picture of 1983! BA
R914 Glitter Dome, The (84) aka: A Cidade do Crime Al (James Garner) and Marty (John Lithgow) are two homicide cops in Hollywood, and hot on the trail of the killer of a movie mogul that was making kiddie porn in his spare time. Excellent cast of characters in deep and sometimes dark and depraved situations. Margot Kidder as 'Willie' is into rough sex. This one is worth a look! Also with John Marley, Paul Koslo, Colleen Dewhurst and more. Some glitches in opening credits.
R913 Guardian, The (84) aka: Der Wächter Martin Sheen plays a white bleeding heart liberal named Charlie (basically, himself) and Louis Gosset Jr. (John) as a tough as nails security guard that takes no nonsense, and is over-committed to the max, (much to Charlie's chagrin) hired to protect the apartment building in which Sheen's character resides. Is John an evil fascist? Charlie thinks so, and he sets out to prove it. Rape, home invasion violence and suspense. One of the best MFTV flicks to come out of the early 80's. BA
R909 Hell's Horizon (55) aka: Bombardamento alta quota Interaction among men of a bombing squad in the Korean war. Entertaining atmospheric and realistic. Killer cast includes John Ireland, Marla English, Hugh Beaumont and many more. LBX BA
R794/B378 I Kiss the Hand (73) aka: Baciamo le mani aka: Family Killer aka: Mafia War Power struggles with the new mob boss (John Saxon) versus the old (Arthur Kennedy). Death, Drugs, Dames and Dollars! John Saxon shines as a hot-headed leader, ruthless in his conviction, unstoppable in his quest for power. Beautiful Agostina Belli stars as the widow of a gangster who is shot down in the prime of his gun-for-hire life. She vows revenge on the responsible parties. English language and some scenes in Italian language have English subtitles. Not to be missed Italian crime film. LBX BA
R861 Indio 2: La rivolta (91) aka: Indio 2 La revuelta The jungles are being cleared and the Indians enslaved and slaughtered . A highway gouged into Amazon jungles brings an infection of greed that results in a revolution. A mean-ass marine named Sgt. Iron (Marvelous Marvin Hagler, real-life boxing champion of the 80's) rallies the natives who unite behind him. Action-packed jungle madness! BA
R716 Krays, The (90) True tale of twin crime-lords (one of them gay) in London's 1960's underworld, played by the Kemp brothers of the pop band Spandau Ballet. Violence and brilliant period detail make it out to be like a British almost-Scorsese type film complete with a plethora of characters and interesting situations. Billie Whitelaw also stars. BA
R886 Larga Noche de Julio (74) Tony wants to carry out a perfect robbery and get a lot of money during the celebration of the 24 Hours of Montjuic, a motorcycle race. To accomplish this, he counts with the complicity of Peter, a runner who wants to switch to professional level. Everything is carefully planned, but at the last moment a crime is committed and Peter is trapped in the house of the victim unable to get out as the gate has been locked.... Some of the race scenes were filmed at the actual Montjuïc 24h. motorcycle endurance race in 1973... Simon Anreu and Marisa Paredes stars in this Spanish..... F.L. LBX BA
R822 Left Fencer (69) aka: Lady Sazen and the Drenched Swallow Sword aka: Onna sazen: Nuretsubame katate giri A one-eyed one-armed swordswoman (Michiyo Ohkusu) lives in a small town, and owns a very rare sword called 'The Drenched Swallow'. When someone wants to take her sword.... better watch out! LBX and with English subtitles.
R860 Lola, espejo oscuro (66) Hooker Lola (Emma Penella) knows how to get what she wants from a man by offering just what a man is looking for. She is cold and calculating, greedy and evil. Men will fall at her feet. Not all will survive. In Spanish language only with no subtitles.
B410 Man on the Prowl (57) aka: Compulsión de matar A sexual deviant/killer (James Best, who went on to star as Sheriff Rosco Coltrane in 'Dukes of Hazard') poses as a handyman and sets his sights on his next victim (Mala Powers) who is unaware this mild-mannered man is the one leaving a trail of female victims all over the city. BA
R718 Manhunter (74) aka: El justiciero Pilot for the short-lived T.V. series set in the 1930's about a WW1 ex-marine-turned-bounty-hunter named Dave Barrett (Ken Howard) who goes after two Bonnie and Clyde style bank robbers who murdered his former girlfriend. Cool cast includes Luke Askew, R.G. Armstrong, Stefanie Powers, L.Q. Jones, Marie Windsor, Gary Lockwood and more. BA
B401 Men and Wolves (57) aka: Hombres y Lobos aka: Uomini e lupi A beautiful recreation of the Bygone World of the Lupari! In the wilderness, a village organizes a wolf hunt. There is a rivalry between a serious, stubborn, independent wolfer and a womanizing, more playful vagabond. The attraction here though is wolves and more wolves. While some of the scenes are set bound, many others are filmed in the great snowy outdoors with beautiful backdrop scenery and the woman are quite striking as well. Especially Silvana Mangano. In Italian language and with English subtitles. Sharp Widescreen print. BA
R897 Mr. Cinema (07) aka: Lo kong ching chuen Tracing the life of a left-wing film projectionist and his family over 60 years of Hong Kong history. The film highlights many historical happenings in Hong Kong, much like an American film will do when spanning history with one particular families reaction to events. Ambitious. With English subtitles. BA
R732 Night of the Running Man (95) aka: La notte del fuggitivo A Las Vegas cab driver finds millions in cash after his fare is murdered. Soon after, a seemingly unstoppable hit man is on his trail, who has no qualms with killing anyone that gets in his way to recover the loot. Witness's must be eliminated. Some gratuitous sex and violence. What's not to like? Scott Glenn and more star. LBX BA
R920 Night Train to Milan (62) aka: Il criminale A gritty little intriguer thriller with Jack Palance as an ex-Nazi doctor in hiding. While riding on a train, passengers remember him from the prison camp. When cornered... he's mighty dangerous! Also with Yvonne Furneaux of Hammer's 'The Mummy'. This is quite good as the genre of 'escaped Nazi's' was kicking into gear.
R813 No Retreat No Surrender 2: Raging Thunder (87) aka: Karate Tiger 2 In this violent sequel, Scott Wylde (Loren Avedon), must go to Cambodia to rescue his Vietnamese girlfriend from Russian and Vietnamese troops. Cynthia Rothrock kicks ass in this. Excellent action sequences. Jean-Claude Van Damme sat this one out. Also with Max Thayer. BA
R801 Off and Running (91) aka: Moon Over Miami Cyd Morse (Cyndi Lauper) is an actress, but her biggest part has just been a recurring role on 'Miami Vice'. When a man she is involved with is murdered, she finds herself on the run. She meets up with Jack Cornett (David Keith) and together they make quite a team as they search for the killer. Also with Richard Belzer and Anita Morris.
R793 Only Law I Believe In, The (76) A drug mix-up is the cause of a woman being brutally murdered. Whatever the cause, it will not stop an angry young man from seeking vengeance on the mob responsible! Flame-thrower barbecue, shootings, beatings and more. English subtitles.
R803 Out of Sight (66) aka: 007 1/2 agente per forza contro gli assassini dello yè yè Teenage/secret agent/musical comedy about a villain with a bad accent who wants to destroy rock and roll. Fake secret agent Homer (Jonathan Daly) is hired by a sexy beach bunny (Karen Jensen) to stop the bad guy. A wild rock and roll comedy, and even James Bond spoof of sorts! Freddie and the Dreamers, Dobie Gray, The Turtles, The Astronauts and more. BA
R797 Pursuit of D.B. Cooper, The (81) aka: Flucht auf dem Highway A speculation of what happened to the infamous D.B. Cooper (played by Treat Williams) the infamous hijacker who parachuted with the loot into the mountains and was never heard from or seen again. Throw some Marshall Tucker, Waylon Jennings, banjo pickin' and Cream onto the soundtrack, the pursuing agent played by Robert Duvall, and plenty of familiar faces including R.G. Armstrong, together and this is what you get. A good old boy 'Smokey and the Bandit' type pursuit film. Sort of. BA
R875 Ragan (68) aka: Devil's Angel A former mercenary named Ragan (Ty Hardin), who now runs his own pilot for hire business, gets an offer to fly into hostile territory for a nice sum. Tough-talkin' no-nonsense Ragan also sees some sexual opportunities with some nice tale if he takes the gig, so of course it's a go! With Antonella Lualdi, Rossella Como and Giacomo Rossi Stuart.
R799 Record City (78) Lighthearted comedy chronicling the exploits of the employees at a record store... 'Car Wash' in a record store, 'The Gong Show' meets 'Empire Records', the fever dream of a cocaine riddled comedy writer. The seventies in concentrated form. The cast is loaded with Hollywood veterans that had nothing else to do, that week. Frank Gorshin, Jack Carter, Ruth Buzzi, Ed Begley Jr., Ted Lange, Larry Storch, Tim Thomerson and more star. BA
R796 Soldier Hunting (89) aka: The Hard Way aka: La via della droga From the director of 'Massacre in Dinosaur Valley' (and many others!) Michele Massimo Tarantini. Bull (Miles O'Keefe) is the leader of a 3 man squad whose mission it is to eliminate a drug lord (Henry Silva). Dropped into the jungles by parachute they then face one obstacle after another (including a Piranha attack). Silva's drug lord character has a seemingly endless supply of goons, while O'Keefe has animals he can also use as murder weapons. Quicksand, bazookas, booby traps.... Jungle Warfare... Italian style! BA
R777 Struggle for Avengeance (71) aka: Tie zhang chuan chang tui Old-School Ultra-Violence action from Hong Kong... just as we like it! You won't find many from 1971 as bloody and vicious as this one. Uncut Upgrade comes LBX and with English subtitles so get kickin'!
R933 Tank Force (58) aka: No Time to Die aka: Keine Zeit zu sterben Daniel Thatcher (Victor Mature) is an American sergeant serving with a British Tank core in North Africa. He and most of his unit are captured by the Germans and taken to a P.O.W. camp in the Libyan desert. They escape and are pursued by angry Nazis and a nasty Arab leader. Eventually we get a 'Rat Patrol' tank action show-down. Amazing Widescreen and in color. BA
R926 That Summer! (79) aka: Sikken sommer Two girls travel to Torquay in Devon from the North of England to work as chamber maids for the summer. They meet two boys who are also there for the summer, one is who entered in the 'round the bay' swimming competition. This British made film is quite the time capsule. With a young Ray Winstone (right after 'Quadrophenia') and more.
R704 This Man Stands Alone (78) aka: Lawman Without a Gun aka: He Who Walks Alone During the 1960's Civil Rights Movement, Tom Hayward (Louis Gossett Jr.) works for the Movement, and goes back to his small southern town. The blacks there, abused by the law daily, convince Tom to run for sheriff against the segregationist racists. Clu Gulager, Marry Alice, Barry Brown, Philip Michael Thomas and Joe Morton star. A valuable historical snapshot of race relations at a turbulent time in America's history. Of course now... well...
R879 Thousand Plane Raid, The (69) aka: Alarmstart für Geschwader Braddock A U.S. air force colonel (Christopher George) convinces the allies during WW2 that a daylight bombing raid of Germany will bring a quick end to the war. An excellent film not unlike the later 90's film 'Memphis Belle' with lots of flying footage and action. Also with Barry (The Night Stalker) Atwater, Bo Hopkins, Ben Murphy, Gavin MacLeod, Laraine Stephens and more. Widescreen BA
R884 Touch of Zen, A (71) aka: Xia nü A lady fugitive on the run from corrupt government officials is joined in her endeavors by a loser painter and skilled Buddhist monks..... Epic and excellent kung fu classic and almost 3 hours long! This is on many kung-fu fans top ten list. Filmed in 69 and 70, you will be amazed at how much of this was borrowed from in later films. Look for Jackie Chan and Sammo Hung Kam-Bo in small uncredited roles. LBX and with English subtitles.
R814 Underground Aces (81) aka: A Grande Escapada The escapades of a group of zany and wild parking attendants, with loads of stars/cameos. A really fun time-capsule slap-stick romantic comedy that they just don't make anymore. With Dirk Benedict, Melanie Griffith, T.K. Carter, Audrey Landers, Jerry Orbach, Frank Gorshin, Sid Haig and many more. BA
R823 Yakuza's Tale (69) aka: Tosei-nin Retsuden A Yakuza Boss is assassinated by a rogue hit-man who's sign is a tattoo of a dragon on his back. But he is but a pawn in a much bigger game of violence, power and death with fisticuffs and swordplay. LBX and with English subtitles.
MODERATE AND MADE FOR TV FILMS
R771 Case of the Hillside Stranglers, The (89) aka: Gli strangolatori della collina Excellent casting with Dennis Farina playing serial killer Angelo Buono and Billy Zane the younger cousin Kenneth Bianchi. Between October 1977 and February 1978 they raped tortured and murdered 10 victims, dumping their naked bodies on Los Angeles Hillsides. Cops on their trail, one played by Richard Crenna. Factual and excellent dark and gritty recreation of this sordid pair, well acted and very entertaining. (On a side note, Angelo Buono died in prison of a heart attack in 2002. Kenneth Bianchi still serves his life sentence in Washington State Prison...) REAL Monsters.... BA
R762 Children of the Night (85) Fact based drama about a sociology graduate (Kathleen Quinlan) who tries to help teenage prostitutes. The film actually doesn't pull any punches, making this world of hell the teens find themselves in anything but 'erotic'. Pat Benatar's 'Hell is for Children' is the theme song. With Lar Park-Lincoln in her debut, and also starring Mario Van Peebles (as a pimp) and Nicholas Campbell.
R752 Cry For Help, A: The Tracey Thurman Story (89) Tracy (Nancy McKeon) is married to an abusive man (Dale Midkiff) who continues harassing her after she gets a restraining order. Failed by the cops and the city, things escalate to the extreme. Supposedly based on a true story. A tear-jerker feel-good story for women. Let's face it, Tracey had it coming! The settlement that is. She wins doesn't she? By the way, this is pretty brutal stuff for a MFTV movie. But clearly we will never know the true 'facts of life' in the case. Heh heh.
R753 Death Be Not Proud (75) Based on the book by famous author John Gunther about the life and early death of his teenage son Johnny (played devastatingly by Robbie Benson in an early role) who died from a brain tumor. Jane Alexander, Arthur Hill and Wendy Phillips star. Better have the hankies ready Spankie!
B364 Eyewitness (70) aka: Sudden Terror A young boy (Mark Lester) his sister, (Susan George) and his grandfather (Lionel Jeffries) live on the island of Malta in a lighthouse. When the young boy sees a killing, during martial law, he finds himself a target, but since he is like the little boy who cried wolf, no one believes him, at first. Very-well made and quite suspenseful. Now in a fantastic LBX version! BA
R775 Fatal Vision (84) A retiree spends nine years relentlessly trying to prove that his son-in-law, a former Green Beret Army doctor, murdered his wife and two children. It's an award winning courtroom shocker based on real events! Did he really do it? With Karl Malden, Eva Marie Saint, Barry Newman, Gary Cole (riveting as the would be killer), Andy Griffith, Albert Salmi and more. This is a 2 disc set and counts as 2 selections. Excellent. BA
R708 Ghostboat (06) aka: Le vaisseau fantôme A British submarine goes missing at the end of the war (WW2) leaving only one crew member (David Jason) surviving. While everybody believes it has sunken into the Baltic Sea, it returns crewless 40 years later, propelled by a force that can only be described as supernatural. The sole survivor assembles a team to solve the mystery, which leads them down the path of eerie horror. LBX
R765 Heart of Steel (83) aka: Die letzte Schicht When a steel factory that employs most of the town shuts down, a man (Peter Strauss) struggles to keep his family together as he falls into the grasp of alcoholism. Brutally depressing. Still to this day government regulations kill jobs, shut down factories, and destroy families. Forcing them on assistance so they can get their desperate vote. Dig the rock soundtrack! With John Goodman, Gary Cole and more.
B367 Hrabe Dracula (71) Very good Czechoslovakia made version of the Bram Stoker novel. The Carpathians in a nice gloomy setting, fanged and bearded Dracula, and a simple, yet effective telling, shot in black and white. With English subtitles.
R755 In Broad Daylight (71) aka: Comme en plein jour A blind actor (Richard Boone) discovers his wife (Stella Stevens) is cheating on him with his best friend, so he hatches a plot to murder them both. Suzanne Pleshette, Whit Bissell, John Marley and more star. Quality not the greatest on this one, but the only print available at this time.
R735 Karen Carpenter Story, The (89) Story of the meteoric rise and sudden fall of Karen Carpenter, who went from famous singer to dead singer after her losing battle with bulimia and anorexia. With authentic music from 'The Carpenters', unlike the recent shameful 'Hendrix' biography film that didn't even use his music! A lot to like here if you ever dug 'The Carpenters' doomy little tunes. (This is not the short Barbie comedy, but we have that too!)
R766 Last Child, The (71) In a badly over-populated future, where each couple is only allowed one child, and where people over 65 are forbidden medical care under a very draconian set of laws, a young couple, pregnant for a second time tries to escape to Canada, rather than face law-forced abortion. Michael Cole, Van Heflin, Harry Guardino, Janet Margolin and Edward Asner star.
R770 Linda (73) A woman (Stella Stevens) kills her lover's wife, then sets out to frame her husband (Ed Nelson) for the murder. Her husband escapes from prison and sets out to clear his name. Which means going up against his evil wife. John Saxon as Stevens lover is a man in way over his head. Sexy and still stacked Stevens amazing as usual and born to play these parts. She was in 'The Poseidon Adventure' the previous year.
R764 Longest Night, The (72) aka: Die schrecklich lange Nacht The daughter of a wealthy family is kidnapped and imprisoned underground in a coffin, while her family and the police search. David Janssen, James Farentino, Mike Farrell, Richard Anderson and more star. This plot device has been used seemingly dozens of times on dozens of shows since. This one, a well played nail biter.
R800 Nocturna (79) aka: Dracula auf Abwegen aka: Disco Drácula When Dracula (John Carradine) finds how much back taxes he owes, he opens up his castle as "Hotel Transylvania". His granddaughter Nocturna (Nai Bonet) books a disco band.... Can she dance her vampirism away? Yvonne DeCarlo as Jugulia Vein. Lots of weird disco music, fangs, dancing, cheesy outfits, nudity and more. BA
R774 Rape of Richard Beck, The (85) aka: Violated aka: La violación de Richard Beck Proud tough guy cop (Richard Crenna), who thinks victims 'bring it on themselves' gets assaulted and anal raped by 2 men in an alley. Oh Boy. As he goes through rape trauma therapy with Meredith Baxter, he realizes that victims are victims. His demeanor changes. People look at him differently and even his father doesn't understand. He has to go through all the crap that a woman would go through. Questions like, 'Have you had homosexual relationships before this occurrence' and more. Humiliating and sobering account of rape. BA
R784 Sadist (66) aka: Träfracken aka: Dr. Westers letzter Patient Rare Swedish mystery thriller. A doctor heads up a hospital around where a series of murders are happening. The mystery killer genre was all the rage in the 60's. Eerie music and coffins figure prominently into the plot. This is kind of like a copy of a Franco Orloff film but with more emphasis on creative outdoor photography. In Swedish language only with no subtitles. LBX
R878 Secret of the Black Widow, The (63) aka: Das Geheimnis der schwarzen Witwe A madman is shooting venom-filled projectile rubber spider darts that pierce the skin of their victims. Dark and gloomy atmospheric fun in the Edgar Wallace tradition now in an upgraded LBX print with English subtitles. Karin Dor and Klaus Kinski star.
R773 She Cried Murder (73) A model (Lynda Day George), while riding in the front car of a subway train, sees a woman get pushed in front of the train by a bald guy (Telly Savalas). She goes to report what she saw to the cops. The Inspector comes out and... you guessed it. Telly Savalas. The rest of the film is a cat and mouse as he pursues Lynda Day to permanently silence her. Pretty good obscurity.
B317 Something Wicked This Way Comes (71) Here's something interesting! A British High School film production of the great Ray Bradbury novel. Two teenage boys visit a mysterious carnival that comes to town ruled over by Mr. Dark, who claims he can make secret desires come true, but really only lures victims into servitude. Quite simply essential for Bradbury fans.
R811 Strange Case of Dr. Jekyll and Mr. Hyde, The (89) Anthony Andrews does the dual role in this version from 'Nightmare Classics'. Joining the cast is Laura Dern, Denholm Elliot, Lisa Langlois (Deadly Eyes, The Nest) and Rue McClanahan (sorry). This staged version makes Mr. Hyde look more like a Dorian Gray type, evil sure, but not the slightest bit of a beastly manifestation of the dark side of man. More a snotty evil guy that you would like to kick his ass.
R754 This House Possessed (81) aka: Das Haus der tausend Augen After having a nervous breakdown, a rock singer (Parker Stevenson) has to spend some time in a hospital. A private nurse is hired. and he buys a fantastic 'computerized' house in the country. Sheila the nurse (Lisa Eilbacher) finds the house familiar. And why is that strange old woman (Joan Bennett) calling Sheila, Margaret. Things get even weirder when deaths occur and soon it becomes clear that the house has an agenda of it's own. Also with Barry Corbin, Slim Pickens, Amanda Wyss (in her debut) and more.
B384 Where Has Poor Mickey Gone? (64) Things go terribly wrong for four youths who are ejected from a London nightclub for rowdiness. They continue their reign of hooliganism by busting into a Magic Shop where they tie up and terrorize the owner. But he deals in more than just illusion.... as our young punks are about to find out! Originally appeared in a 36 minute version as a companion to Polanski's 'Cul De Sac'. This is the UNCUT version running around 56 minutes. Sweet payoff in this one.
R757 Who is the Black Dahlia? (75) Dramatization of an actual homicide investigation. In 1947 Los Angeles, a police detective investigates the grisly murder of 22 year old aspiring actress Elizabeth Short, who was surgically cut perfectly in half and dumped. Cool, dark and sort of creepy. Lucie Arnaz is the unfortunate Elizabeth. Also with Ronny Cox, Efrem Zimbalist Jr., Donna Mills, Brooke Adams, Lana Wood, Sid Haig and many more.
MONDO FILMS
R741 Aatma (06) A doctor is responsible for conducting the post mortem on a man, but shady crooks force him (with gun to his wife's head) to falsify the report. But the spirit of the deceased is not having it, as he makes his presence known to the couple. LBX and with English subtitles.
R742 Scorpion Thunderbolt (88) aka: Território de Sangue Cut and paste fun with kung fu fighting, soft-sex, blood and gore, a murderous snake-demon monster, a baffled Richard Harrison... . need I say more? Now in a LBX English dubbed version.
NASCHY FILMS
B357 Cantabarians, The (80) aka: Los cántabros Paul Naschy stars and directs in this obscure period piece. He plays a Roman general who is in a fierce fight with the tribal leader of the Cantabarians. That being said, you know just what to expect! Battles with gladiators, adventure, and the Roman conquests that seemed unstoppable back in their times. Slightly LBX and some glitches in the last reel. In Spanish and with English subtitles. BA
SOUTH OF THE BORDER AND MEXI MONSTER FILMS
B356 Body Snatcher, The (57) aka: Ladrón de cadáveres aka: Jûjin Gorira Otoko A wrestler and a detective team up to stop a mad scientist who is kidnapping athletes and replacing their brains with those of animals to make them stronger. Grave-digging, creepy atmosphere, drooling beast-man monster and more. Interestingly, this movie was actually featured in the magazine 'Famous Monsters of Filmland' issue #1 way back when it was released! Now, finally, for the first time ever, with English subtitles.
B359 Crazy Nut, The (37) aka: El Superloco aka: The Super Madman A mad scientist who believes he can control the aging process using the power of the mind, experiments on his creation, a monster he has constructed with the remains of the dead. Bizarre Mexican horror/sci-fi/comedy hybrid obviously influenced by the Universal horrors of the 30's. Now with English subtitles!
R779 Demons of the Desert (90) aka: Los Demonias del Desierto Finally a subtitled upgrade of this 'satanic biker gang in the desert' classic with plenty of beatings, nudity, shootings and more. An evil bald guy leads the gang, and is constantly up to no good. But the law is closing in, and the final confrontation will be one hell of a shake-up!
R788 Santo and Blue Demon in Atlantis (70) aka: Santo contra Blue Demon en la Atlantida A Nazi scientist, using the lost city of Atlantis as his home base, has a plan to blow the world to smithereens with a nuclear bomb, with the aid of messages from space. Plenty to enjoy in this science fiction fantasy Santo offering, set in exotic and colorful locales. With English subtitles. BA
R789 Santo and the Fist of Death (82) aka: El puño de la muerte aka: Santo contre le poing de la mort A princess and her evil twin sister (Grace Renat in a dual role) fight over an emerald with great supernatural powers. Santo must help the good sister to prevent the emerald from falling into the wrong hands. Martial arts, women turn into snakes, weird dances, hairy monsters, bodies cut in half, voodoo and more. This was the real Santo's last film he made and he stopped at age 64. He would die only 2 years later of a heart attack in Mexico City, leaving behind 54 Santo movies. With English subtitles.
R790 Santo and the Fury of the Karate Masters (82) aka: La furia de los karatecas Grace Renat returns as both sisters, one good, one bad, both struggling to gain control of the power. More action, monsters, exploding bodies, and a slower Santo, this one of his last adventures. Colorful action-packed fun! With English subtitles.
B396 Skeleton of Mrs. Morales (60) aka: El esqueleto de la señora Morales A nice man taxidermist decides to murder his bitch wife after putting up with her insistent never-ending nagging for twenty years. Yes, this hellish marriage will end, and the audience will root for her demise! She is also a two-faced liar, making up awful stories about her husband to anyone who will listen. A dark comedy with a twist ending that will make you smile! In Spanish and with English subtitles.
B372 Whip, The (78) aka: El látigo 'The Whip' defends the treasure of Indians from ruthless thugs amidst the erupting volcano and attacks from the dreaded 'Tiger- Man'. Cool Mayan locations and endless action as our whip-wielding wizard, cracks that 'snap' on his adversaries. From prolific Mexican director Alfredo B. Crevenna. Now with English subtitles for the first time!
WESTERN FILMS
B385 Adios Gringo (65) aka: Adiós gringo After being tricked into buying stolen cattle, Brett Landers (Giuliano Gemma) narrowly escapes being lynched, after he kills in self defense. Still wanted, he sets out to hunt down the real rustlers to clear his name. Along the way he finds a rape victim (Evelyn Stewart aka: Ida Galli)) staked to the ground and finds himself pitted against another powerful foe. Fantastic Spaghetti! Excellent LBX print.
B387 And God Said to Cain (70) aka: E Dio disse a Caino... aka: Et le vent apporta la violence Gary Hamilton (Klaus Kinski) just received a pardon after 10 years in the slammer. Thing is, he was never guilty in the first place. The bastards who are responsible for his wrongful incarceration are going to pay. Oh boy. The culprit is now a wealthy land baron. Peter Carsten plays a great bad guy, and the film has such a dark tone it almost seems like a horror movie at times. The score is scary good and adds to the atmosphere of doom. Kinski rules in this. Amazing LBX sharp picture. BA
R932 Black Bart (48) aka: Bandits de grands chemins California stagecoach robber Black Bart (Dan Duryea) meets European dancer Lola Montez (Yvonne DeCarlo). Lily Munster is a knockout here. Photographed in color with some really nice looking western locations. BA
B361 Death Sentence (67) aka: Sentenza di morte aka: Django - Unbarmherzig wie die Sonne In four acts, a man doles out vengeance in ironically appropriate ways to the four men who murdered his brother. Excellent and colorful widescreen western and with English subtitles. Robin Clarke, Tomas Milian (who wildly overacts here brilliantly), Adolfo Celi and many more star. + as a bonus an interview with the director! BA
R727 El Paso (49) aka: Barreiras Sangrentas Ex-Confederate officer Clay Fletcher (John Payne) jumps at the chance to reunite with his once lady-friend Susan Jeffers (Gail Russell) when his father, Judge Fletcher, sends him on an errand to El Paso. He finds big trouble and must stray from conventional ways of the law and go vigilante. Sterling Hayden, Dick Foran, Henry Hull and more star in this color filmed tale from the trail. BA
R936 Frenchie (50) aka: Revolverlady Frenchie Fontaine (Shelley Winters.... dare I say it... sexy!) sells her successful business in New Orleans to come West. She is after her father's killer. She travels with the Countess (Elsa Lanchester). Boy, these dames. They land in the town of Bottleneck. Winters is one brassy lassie strutting around in her fancy outfits, all male eyes following. Shot in color. Also with Marie Windsor (catfight anyone?), Joel McCrea and more. BA
B377 Hey Amigo! A Toast to Your Death (70) aka: Hey Amigo! You're Dead! aka: Ehi amigo... sei morto! Postman officer 'Doc' Williams (Wayde Preston), pursues a group of outlaws who have robbed a stagecoach in Texas. The outlaws have taken refuge in a deserted mine, but Doc is not far behind. Aldo Berti is great as a psycho sexual bandit. Rare English dubbed version. LBX BA
R730 Last Day, The (75) aka: Der letzte Ritt der Daltons A retired gunman is forced to take up his weapons again when an outlaw gang starts to rob local banks. Excellent cast! Richard Widmark, Barbara Rush, Robert Conrad, Richard Jaeckel, Tim Matheson, Tom Skeritt, Loretta Switt, Harry Morgan, Christopher Connelly and more!
R908 Raw Edge (56) aka: Die Meute lauert überall In 1842 lawless Oregon, a gunfighter (Rory Calhoun) seeks vengeance when his innocent brother is lynched and his beautiful Indian wife (Yvonne De Carlo) is claimed by the local tyrant. Also with Neville Brand, Mara Corday, Ed Fury, Rex Reason (who recently passed November 2015), William Schallert and more. Color BA
R937 Rock Island Trail (50) aka: Mississippi-Express Loomis (Forest Tucker), president of the Rock Island Trail company, tries to expand his rails into the Midwest, but finds resistance of the steamship and stage-coach lines. Kirby (Bruce Cabot) is determined to stop Loomis at any cost! Also with Adele Mara, Jeff Corey, Lorna Gray and more. BA
B397 Tex and the Lord of the Deep (85) aka: Tex e il signore degli abissi Based on the adventures of the hero Tex from a comic strip. This Italian Spaghetti combines magic and mythology with six-guns and stagecoaches. Ranger Tex (Giuliano Gemma) and his buddy Kit Carsen (William Berger) are searching for 300 lost guns. Mexican bandits are the first suspects, but then clues are found that a mysterious Indian cult are the culprits. But since the Indians have a dangerous weapon that turns men to stone.... extreme caution must be part of the strategy. Nice LBX English dubbed. Upgrade! BA
R738 Warpath (51) aka: Sentiero di guerra John Vickers (Edmond O'Brien) joins Custer's cavalry regiment seeking private revenge against the killers of his wife. Some of the coolest 'cowboy and Indians' battle scenes ever filmed. Forrest Tucker, Dean Jagger, Paul Fix, Polly Bergen and more star. BA
---
---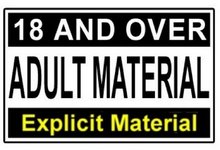 XXX X-RATED ADULT FILMS
Video Screams does NOT offer the following types of films or material: Child Pornography (including but not limited to underage actors in adult films), Snuff Films or Bestiality Films. Please do not inquire about these types of films– we do not offer or know of anyone who does offer these illegal films.
All actors portrayed in the films offered by Video Screams are of legal age and are acting of their own free will. Any reference to "schoolgirl", "young", "girl" does NOT indicate age of actress or model involved.
Any reference to rape or torture indicates a simulated act- no actress or actor was harmed in the making of these films.
By ordering, you declare that you are 18 years of age or older. If you are ordering any material marked 21+ or XXX in catalogue or any subsequent updates or catalogues– you declare that you are 21 years of age or older. You believe that this material does not offend the standards of the community in which you live.
All models, actors, actresses and other persons that appear in any visual depiction of actual sexually explicit conduct appearing or otherwise contained in this update were over the age of eighteen years at the time of the creation of such depictions.
B406 Amos Negroes Esclavas Blancas (0?) Hot white girls get what they want in this all hardcore, all action porno. F.L.
R747 Beggin' For It (9?) Lots of hard-sex action with super hot girls.... smoking hot scenes! Lil Sinderella and more star.
R840 Blue Heat (78) Mafia muscle threatens to take over a porn studio in this one with lots of au natural women! Nods to 'The Godfather' , in-jokes, Andrea Lange and more. + Sweet Wet Lips (77) A delicious compilation. In 1976, actress Andrea True released her soon to be a hit song 'More More More'. This was an attempt to capitalize on it with some hot sex scenes with Andrea and others. + Doctor's Teenage Dilemma (74) A parade of bizarre patients with a variety of sexual problems visit a 'sexologist' who gives them his brand of treatment. Super-Dong-Duper Triple on DVD-R only and no VHS.
R930 Castle of Lucretia, The (97) 2 hour and 29 minute version! Kings and Queens and other denizens of a castle engage in sexual shenanigans in medieval times. Mario Bianchi directs. Sarah Young is Lucrezia Borgia. Erica Bella also stars. The sex scenes are numerous and hot and heavy. F.L.
R855 Cinnamon Twist (93) Leena, Crystal Wilder, Teri Diver, Brittany O'Connell and more star in this hot little tale with plenty of it as well. Followed by some hot sex scenes with delicious blondes taking two men at a time. Running time almost 2 and a half hours!
R836 Dangerous (95) Porno rip-off of the Jeremy Irons film 'Damage'. Here we get Chinese/Filipino hotness Alex Dane, Julian St. Jox and Cleo Patra. Amazing. + Primal Instinct (96) aka: Fatal Instinct Porno rip-off of the Sharon Stone film 'Basic Instinct' this time with Kaitlyn Ashley. Sindee Cox and more. + Checkmate (96) aka: Indecent Proposal - Porno rip-off of the Demi Moore film where a guy pays a man a bunch of cash for a night with the wife. In this the rich guy's wife also has some heat in the game, and wants the man as well. Double the money. Double the fun! So, never seen a Joe D'Amato directed porn film? Here you get 3 for the price of one. One DVD-R no VHS.
R744 Diary of a Sex Goddess (84) Mary Tierney, Raysheena Mercado and more star. Blonde bimbo holes up in her luxury suite and has sex with women and men while others go at it in other scenes. They try to make it look like the last hours of Marilyn Monroe as she dies in her bed at the end with the screen saying she overdosed on barbiturates. + Anal Attraction (88) Bridgette Bleu, Jade East, Kassi Nova, Bionca, Trinity Loren and more fun seeking women! As a bonus there is over 30 minutes of hot sex scenes before the movies even start! No VHS on this one. Amazing.
R833 Erotica 1-4 (82) Quite simply a great bargain! See all 4 Editions with dozens of scenes with the hottest chicks around all on 1 four hour disc.
R857 Erotica Jones (85) A literature professor enjoys reading about Erotica Jones, unaware that his wife (Christy Canyon) IS 'Erotica Jones'! He expresses disinterest in sex.... hmmm and he's married to Christy Canyon? So she writes a series of sordid sexual encounters which we get to see in graphic detail of course with Christy in her prime! + Expensive Lady - In which Seka shares another woman with her man + Hot Mixed Salad.... All Incredibly Hot Sex and all little seen today.
B405 Estudiantes #2 (0?) They are young. They are students. They are ripe and ready for action. See just how ready when they let you in on their sexual encounters! F.L.
R746 Fantasy in Blue (91) Join Christy Canyon, Porsche Lynn and more in various pairings. + Make Me Sweat (89) Tom Byron makes Debi Diamond, Rachel Ryan and others get super hot. + Fantasy (79) Here's a classic! Sixteen passengers waiting to embark on a pleasure cruise reveal their sexual fantasies. Georgina Spelvin, Kitty Shayne, Dorothy LeMay, Lysa Thatcher and more star. No VHS on this title.
R899 Foxy Lady (77) Little seen roughie type with the race to rescue a kidnapped woman. Much of the action takes place on an island where she is being kept, and raped by a big black guy (Pharaoh Amos). Sandy Pinney, John Leslie and more star. From the guy who brought you 'San Francisco Ball' and many others. + Taxi Girls (79) + some XXX shorts! DVD-R only.
R923 Frankenstein (95) Dr. Frankenstein (Buck Adams) brings his dead wife (Rebecca Wild) back to life. But she comes back as a sex crazed creature whose sexual hunger knows no bounds. Of course there is tons of other sex with hot chicks as well, including Asia Carrera. After being involved in over 500 porn films, Buck Adams, having already had heart attacks in the 90's, died of heart failure in 2008 at age 53. When you see the women he scored, you kind of know why.
B407 Gorditas (0?) This isn't Taco Bell. These babes are for display only. Luckily for us, they are taken off their shelves and played with by men who can handle them. These large breasted ladies are easy to please if you got the right stuff. This is like over 3 hours. F.L.
R743 In Deep with the Devil (92) A wealthy man makes a deal with the devil so he can get more sex with hot bitches. Holly Ryder, Shanna Rose, Tiara and more star. + Field of Wet Dreams (92) XXX spoof of that popular baseball movie. If You Build It.... They Will Cum! + Tiger Lady (9?) Star-studded porno fun with loads of well... you know. All on one disc. No VHS on this one.
R868 La Soubrette Perverse (74) More from ground-breaking director Jose Benazeraf! Born in Casablanca, Morrocco, Jose had no hang-ups whatsoever (thankfully, for us!). This time out his form of porn is strictly soft-core, (but at times, damn close to hardcore). Inside a mental clinic, a sexy nurse seduces not only the patients, but other nurses as well! With a truly weird soundtrack, and lots of pretty girls, you can't go wrong with this one! Some glitches. F.L.
R867 Les Deux Gouines (75) Another incredibly strange porno from Jose Benazeraf! This one stands out (and up!) as a creative mixture of Jean Rollins and Renato Polselli with it's timely presentation of abnormal and extremely colorful sexual insanity situations. F.L.
R831 Lickin' and Suckin' (various) 3 Hours of Super Sexy Hard-Core Sex Scenes with some of the hottest chicks around at the time. DVD-R only.
R828 Looking For Love (85) An aphrodisiac plant causes a sex therapist's patient's to act out their own sexual thoughts. Which we see of course, graphically! With yummy Kimberly Carson, Karen Summer, Mindy Rae and more. + Debbie Does Dallas 5 (88) Debbie's saga continues as sexual shenanigans continue in super-hot 1980's style! Tammy Reynolds is Debbie. She was on the scene for 2 or 3 years. This is available on DVD-R only. No VHS.
R928 Loops (70's) 15 super sexy hardcore color loops from 16 mm with an audio track of moaning and groaning that doesn't match up. Lots of good stuff here!
R837 Outraged #11 (various) Continuing scene after scene of one sexual deviation of a sort to the next. Opens with 2 guys carrying a blonde down some stairs in in abandoned area and brutally raping her. Lots of rapes by knifepoint, and lots of raped blondes. Keep in mind this is all role play, no gory murder. Just violent and brutal rape. This one runs over 6 hours.
R838 Outraged #12 (various) This time out... more violent rape, some of it outdoors. You better watch out, these animals are out there! 5 and a half hours of offensive sex with (mostly) unwilling (role playing) females.
R839 Outraged #13 (various) Introducing... another Rape Extravaganza (with role playing adults) Just insane with knifepoint rape and strangling victim's during sex. Not murder though, just simulated rape galore.
R840 Outraged #14 (various) The Bedded Blondes Brutally Raped Edition! 6 Hours of Grueling Grinding Hardcore Action with Violated Bitches in Heat!
R842 Outraged #15 (various) More Crazy Outrageous Sex Scenes that remain and always will be.... Outrageous!
R843 Outraged #16 (various) There are some more color vintage grind-house looking porno clips here and there sprinkled throughout this Outrageous Outing.
R854 Party Doll A Go-Go (91) Super swinging sixties dialogues interspersed with hot sex? Interesting combination that works well due to the sexy hot raunchy gals delivering the lines like the sleazy little tramps they are before, during, and after sex. Jeanna Fine, Tianna, Raven, Bionca, Patricia Kennedy and more.
R870 Second Coming of Eva (74) Young hot Eva (one time sex-pot Teresa Svensson) is getting ready for sex. So they send her off to a girl's boarding school, where they guarantee a good clean moral upbringing will be enforced. Hah! Eva will learn and experience more sex than she can handle! English dubbed Swedish made hardcore.
R830 Sex Galore (various) First, a brother seduces a sister. Then, more short sex stories. + Cherry Buster Party + Maryann 2 and 3 + Blondie takes on the Brothers. Hours and Hours of Sex on one DVD-R and no VHS.
R900 Sexy Chocolate (9?) Various scenes from more hot and horny performers.
R745 Sinderella (95) Sexy blonde Savannah ends up winning the Prince in this porno Cinderella with a porn star studded cast! Racquel Darrian also stars. Savannah only had two more movies come out after she ended her young life at only age 23 on July 11th 1994 after an accident damaged her face. She stressed and blew her brains out. + Who Shaved Cassie Nova? (89) Shaved fetish sex fun for those who require the 'bare' essentials! + Back Seat Driver (70's) This is a retitled 70's porno with horny hitch-hiking hippie chicks and lots of humping. No VHS on this one.
R853 Single White Nympho (92) P.J. Sparxx, Crystal Wilder, Sierra and more in this porn rip-off of that Hollywood flick. This one with more 'wood' than a measly heel. + Spermacus (93) Well, costume buffoonery aside, some hot scenes with Alex Jordan, Rebecca Wild, Mona Lisa and Brazil Mercedes. Both films on one DVD-R and no VHS.
R856 Soda Jerk (92) Small diner where people looking like young people from the fifties, meet and then go off to have sex on various cheap set rooms. + Just For Tonight (92) Ashlyn Gere, Teri Diver, Heather Hart and more star in this, another diner hook-up spot setting where people meet, and then go home, just for tonight. + Anal Encounters: The Beginning of the End (91) Brigitte Aime, Stacey Nichols, Raven, Rachel Ryan and more offer up their all, and even their 'end' game!
R849 Sodomized Delinquents (9?) + Pain #31 + Gang Banged Miko Lee - All 3 XXX features on one DVD-R and no VHS. Incredible! (Or Incredibly Painful?)
R408 Stiff Magnolias (90) Very hot spoof of the Hollywood tearjerker, although like that film in title only. Debbie Diamond, Rachel Ryan and more star. + Night Trips (89) Tori Welles, Victoria Paris, Porsche Lynn. Welles character is frigid while awake, but asleep, she 'Night Trips' super-hot sex dreams. + Oral Support (89) Jacqueline, Sharon Kane, Sharon Swallow and Janet Tyler. Hot bimbo blonde in some scenes. 4 hours and DVD-R only.
R850 Sugar and Spice and Very Naughty (85) various scenes with the hottest of the hot babes of the early 90's getting what they need from lucky males. + From Holly with Love (78) Uncut 81 minute version, not the 78 minute DVD! Hot Beth Anna is Holly (she is the star of Dirty Lilly and Sweet Savage). There is plenty of plot in this hippie sex-fest and also some funny cheesy songs. + Hello Molly! (89) Molly O'Brien is Molly. Also with Lisa Bright, Crystal Cluster, Megan Leigh and more. So there it is. Three porns - all different- all Super Hot! God Bless America! DVD-R only and no VHS.
R829 Sweet White Dream (76) aka: Dream Girl - When his former partner is murdered, an ex-cop who is now a P.I. returns to his home town to investigate. He begins by visiting his partner's former lovers... and he gets lucky every time! + Dr. Juice's Lust Potion (8?) Joey Silvera and the potion that sexually stimulates all involved! A great double feature of hardcore sex movies that many have forgotten. DVD-R only.
R439 Taxi Girls Part 2: In Search of Toni (86) When the Taxi Girls take you for a ride, prepare for an 'around the world; ride! What a selection of girls here! Kari Foxx, Melissa Mendez, Shanna McCullough, Buffy Davis and more. With Dick Rambone. + Beyond Thunderbone (86) Where they Take Sex to the Max! Apocalyptic porno spoof of 'Mad Max Beyond Thunderdome' but in name only. Set in a ruined future where, apparently, people are hornier than ever! Some even possess strange powers... Candie Evans, Bionca Sven, Krista Lane and more star. DVD-R only.
R422 Tease for Two (8?) Great sex scenes. The best being Samantha Strong 'getting it' on a waterbed. Also with more tasty 80's bimbos, some taking two men at once. + Bring on the Virgins (89) Trust me brother. No virgins here. The story though has angel Gabriel (Joey Silvera) who talks with God, and gets permission to visit Earth for some hot sex with ... ahem.. a virgin! So at a table of potential candidate beauties, he asks them one by one if they are pure. They describe their first encounters (which we see of course). Finally one of them (Cheri St. Claire) is pure, and they get it on (in the film's hottest scene). All on one DVD-R no VHS.
R421 Train Rape (9?) Different women in different scenes, some wearing schoolgirl outfits, get raped by multiple men on a train. Even though this is digitally censored, you can still see pretty clearly. Watch as each girl resists her attackers before succumbing to the inevitable and the fear and dread turns to sexual pleasure as they are gang raped. Brutally Obscene.
R931 Violence in the Convent (9?) Humping nuns get down and dirty in this Italian outing. I must have missed the violence part. But wait! Afterwards a Japanese chick is gangbanged, with no fogging. Hours of fun.
R412 Wet Science (86) Erica Boyer is a mad scientist with a really strange 80's make-up in an ultra-cheap lab that creates a creature (Tom Byron). When a lost couple stumbles upon the remote laboratory lair..... Karen Summer is a nurse. Also with Candie Evans and more blonde bimbos.
R826 Wicked Sensations (80) Re-listing this one that went M.I.A. , now it's back! A goof 'porno' version of Blake Edward's '10'! And of course, more enjoyable! Annette Haven (who had a cameo in the Blake Edward's film) never looked more amazing. Diana Holt, Mai Lin and more fornicating thespians star in this 'Golden Age' classic.
---
---