---
HOME | SECURE ORDER FORMS | ONLINE SPECIALS | CATALOGUE | NEW ARRIVALS | CUSTOMER SERVICE | PRICING & ORDERING INFO
---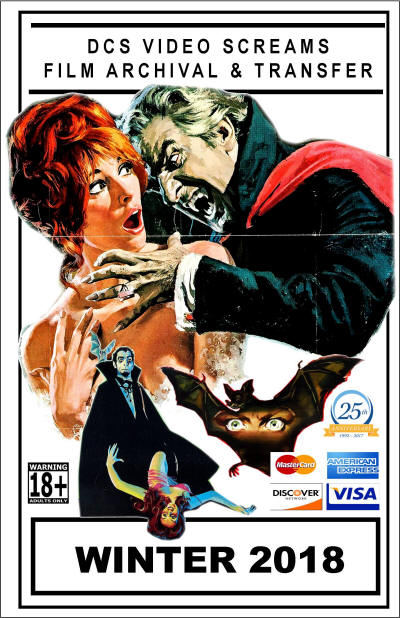 WINTER 2018 UPDATE
BA= Color Box Art Available for an additional $3.00
FL= Film is in Foreign Language
Lbx= Letterboxed or Widescreen format
Subs= Film is subtitled
aka= Also Known As (alternate titles)
22860000
22860000
(`@`````````
266
263
5
110185200
110185200
APOCALYPTIC FILMS
4260 Lawless Land, The (88) aka: Tödliche Flucht In the near-future, young love is forbidden among the lower classes. Defying this insane decree, two young lovers, Falco (Jsu Garcia) and Diana (Amanda Peterson) escape and face obstacles, torture and adventure. Will they escape the tyrannical ruling class, or face the consequences of their actions? With Leon as 'Roadkill' and Xander (Gregory on 'The Walking Dead') Berkeley as 'Ez Andy'. An awkward but positively entertaining escapade. Amanda Peterson's career went into the toilet soon after this and she (accidentally?) died from a morphine overdose in 2015 at the age of 43. BA
Z152 Prize of Peril, The (83) aka: Le prix du danger aka: Kopfjagd - Preis der Angst A futuristic society screens fights to the death as entertainment. Contestants pit their skills against each other in a fight to the death for cash prizes, while the world watches the live broadcast on television. This is the first version of 'The Running Man' although written by Robert Sheckley, not Stephen King. Not sure who came up with the story first. This one is more full blown science fiction with less flamboyant hunters and runners than 'The Running Man' although still very similar.... But the ending here, much darker, this is no comedy. LBX and with English subtitles. BA
4954 Survival Earth (85) It's 1996. Civilization has collapsed. The blame? Atomic 'accidents' and complete economic failure. A young couple and a soldier of fortune must battle packs of mutant scavengers that seem to be evolving backwards into animals. When the couple first meet the soldier, he is eating their dog! Somehow they get over that little faux pas and still team up. Inept and plain, but all to real looking for what you would expect if it really happened! This is not a CGI world. It's a real world, shot on a camcorder and filmed in Canada on allowance money.

CLASSIC HORROR AND SCI-FI FILMS
H425 Black Parachute, The (44) An imprisoned King (Jonathan King) must be rescued from the Nazi General (John Carradine as General von Bodenbach) who is holding him captive, by a parachuting hero (played by Larry Parks). Carradine excellent as usual, and literally rolling in numerous roles of note at the time. BA
Z128 Devil's Daughter (46) aka: La fille du diable A shoot-out in the city, a gangster is surrounded on all sides, he manages to escape! It's a mad drive in a drunken man's car through a nightmarish countryside. Loaded with dough he takes refuge in his hometown. Enter a nice doctor and a strange girl named 'Isabelle' (the title gal played by Andrée Clément). The doctor blackmail's the gangster, because he wants the stolen cash for 'good' causes. Isabelle is an outcast of society, so now bitter, uses men to suit her needs. She's evil (and mesmerizing) no doubt about it. And you will not predict the end of this French made noir-thriller. With English subtitles. Clément was dead by age 35 of respiratory failure. The Devil's Daughter summoned way too young. BA
H573 Flight to Nowhere (38) Dick Purcell is cocky pilot Bill Kellogg, a rule breaker maverick type who after a series of mishaps and missteps, crashes a plane in the jungle. They eventually find him shacking up with the daughter of the Chief of a clan of headhunters. Jack Holt, Lotus Long and Ward Bond also star.
H559 Free and Easy (41) A Free and Easy Father and son are dependent upon the largess of rich ladies to continue living comfortable lives. Constantly on the prowl for wealthy women, the tables may turn when 'true love' comes knocking and they begin to question their motivations... Robert Cummings, Ruth Hussey and more star. BA
H561 Ghost Comes Home, The (40) A man considered lost a sea returns home and finds himself in trouble because his family blew the life insurance money! It's a screwball comedy, and stars Frank Morgan (The Wizard) and Billie Burke (Glinda the Good Witch) as a married couple, a year after both appeared in that other iconic film. BA
H472 Graft (31) aka: La última edición A reporter (Regis Tooney) investigates the murder of the District Attorney and falls upon a plot involving a kidnapping and a crooked election. Boris Karloff as 'Terry', one of the bad guys of course! Karloff the King was shooting this movie when James Whale spotted him eating lunch in the Universal commissary. Whale saw Karloff's height and facial features and decided to test him for the role of 'The Monster'.
H560 Keeping Company (40) A real estate agent (Frank Morgan) and his wife (Irene Rich) try to advise their oldest daughter Mary (Ann Rutherford) about marriage. When her new husband has innocent dealings with Anastasia (Virginia Grey) a pretty model, misunderstandings and complications arise. BA
Z149 Lady of Death, The (46) From a tale by Robert Lewis Stevenson. The title character is a member of a strange club which arranges the 'voluntary' suicides of it's members. When a man falls in love with her, he tries to save her from her fate, even if it costs him his own life. Dreary and dark, you almost expect Jekyll and Hyde to appear on the fog-shrouded streets. Stevenson's tale 'The Suicide Club' has been used in various incarnations, each different than the next. This obscure Chile made film has English subtitles.
H589 Obscure T.V. Weirdness (1948-1950) First, a surviving 8 minutes of a 'Ghost' pilot, featuring an old mansion and two reclusive sisters. Next: The Sixth Sense: Document One: The Amazing Life of Peter Hurkas. Then: Keep it in the Family (50) These early T.V show bits reveal T.V. in it's infancy, trying to get a foothold on the imaginations of the masses, who were literally just beginning to get their first television sets, those who had the cash that is.
H564 Professional Sweetheart (33) aka: Imaginary Sweetheart Radio singer Glory Eden (Ginger Rogers) is publicized as the model of American Womanhood in order to sell the sponsor's product Ippsie-Wippsie Washcloths. In real life however Glory digs booze, jazz, gambling and men! They try to bring in a wholesome male 'Sweetheart' to distract her and make her change her ways. Includes spicy Pre-Code scenes and satirical jabs at a plethora of targets. Also with Zasu Pitts. BA
H460 Tornado (43) aka: Aires de tempestad Pete (Chester Morris) marries Victory (Nancy Kelly) who is a scheming show girl with higher goals. While her husband is hard at work at the mine, she has an affair with the wealthy owner of the mine. Meanwhile, a tornado is about to hit and quite spectacularly it does, the great leveler of all ambitions. BA
Z99 Tragedy of a Vampire (20) aka: Genuine From the director of 'The Cabinet of Dr. Caligari'! Genuine is the cold as ice exotic priestess of a cult. Her tribe is massacred and she is sold to a German aristocrat as a slave. There, the aristocrat locks away his prize, But when a young man comes calling, she has no trouble convincing him to murder her keeper, and once free she sets out to regain the adulation and worship she deserves at any cost. With some bizarre and sinister expressionistic set designs reminiscent of 'Caligari;. + The Fall of the House of Usher (28) A 13 minute short of the Poe classic. + Old Horror Trailers.
H588 Unexpected, The (52) Herbert Marshall hosted this anthology series of fast-paced thirty minutes thrillers. One of the first of it's kind. Two episodes here. Fury and Sound: A man gets revenge on his superior by putting a hidden microphone in the guy's apartment so he can project weird noises all through the night. The Emperor of Nothing: A practical joke is played on an old man who calls himself the Emperor of Biarritz. With Dan Seymour and Martha Hyer.
H466 Wolf Larsen (58) aka: The Far Wanderer Remake of 'The Sea Wolf'. Barry Sullivan as Wolf Larsen, is rather poignant in his ambivalent character: cruel tyrant and touching at the same time. A man tortured by his own demons. Peter Graves in the John Garfield role as Van Weyden, delivers a forceful performance, and is relieved to be away from battling enormous grasshoppers and a giant carrot for a change. Wolf Larsen, a worthy remake of the Edward G. Robinson classic. Also with Gita Hall and Thayer David. Upgrade! BA

DINOSAUR, LOST LANDS, PEPLUM, SWORD AND SANDAL AND FANTASY FILMS
8612 Amazons (84) aka: Comando de amazonas A group of sophisticated Amazons (with tactical talents and politically minded) from the Helena Corporation, plot to take over the U.S. government, and the male-dominated world as we know it. The man-hating woman movie seemed at the time insane reactionary stuff, now, well.... This one remains entertaining because it is played straight, so it becomes unintentionally hilarious at times. A younger Madeleine Stowe, Tamara Dobson, Stella Stevens, Jennifer Warren, Jack Scalia, William Schallert and more star. This would be the last appearance of 'Cleopatra Jones' herself, Tamara Dobson in a movie. She died of pneumonia and multiple sclerosis in 2006 at age 59.
Z115 Bunker Palace Hotel (89) In an unnamed futuristic world, an unknown date in a future reality, unwitting spy Clara ( Bond girl Carole Bouquet) arrives at the Bunker Palace Motel and is greeted by a detective android receptionist. Befriended by a bald-headed Monsieur Holm, whose main pre-occupation seems to be In the detail of kick-starting the robot servants that are in constant need of repair, bewildered Clara, delves deep into the surrounding mysteries of the people in the Motel. A disturbingly credible vision of the future. An allegory of a crumbling world in an improbable setting. With English subtitles. BA
Z116 Captain of Iron (62) aka: Revenge of the Mercenaries aka: Il capitano di ferro Furio, the "Captain of Iron", returning to his village to find it burned to the ground by German usurper Walter von Rauchwitz, who seems to be on a one-man mission to conquer 16th century Italy and assassinate the pope... LBX and 15 minutes longer than the full screen version, but some scenes are in Italian language only, but most of the film is dubbed into English language. Superb color. BA
Z125 Man Without a Face, The (75) aka: L'homme sans visage Searching for the Templars treasure is 'The Man Without a Face' (the master of many disguises). He tortures and kills Maxime without getting any answers about the treasure. The nephew of Maxime returns from a trip and teams up with his girlfriend, her best friend, and the Inspector and his team who are after the evil faceless criminal. But ol' faceless, uses some sort of zombified humans created by a mad doctor and his assistant (Gayle Hunnicutt) that wears a mask and outfits resembling the Catwoman to lure police and other enemies. As you can imagine, this is some crazy shit here from director Georges Franju. All 8 episodes on 4 DVD-R and with English subtitles. This was cut to ribbons and shown here in a 90 minute version with the title 'Shadowman' (which we also carry). Amazing and DVD-R only with no VHS. Counts as 4 selections. BA
H567 Marketa Lazarova (67) This one is simply outstanding. A lowborn Czech clan falls afoul of the King in Medieval Times. A time where the rise of brutality under the facade of Christianity batters it way through humanity with blood and violence to replace Paganism. Humanity here coming unhinged on this Godless Earth, with sweeping landscapes and fantastic battles, almost a dream-like presentation, presented in a very believable way. Fantastic Epic, and over 2 and a half hours. LBX and with English subtitles. dvd-r only- no vhs BA
3579 Sound (88) aka: Close Encounters A man hears an unidentifiable sound. He meets with a sound engineer who helps him decode the alien sound. That is exactly what it turns out to be. They are coming! Are they already here? Peter Fonda stars. Obscurity from the director of 'The Killer Reserved Nine Seats'. Quality not as sharp as usual on this title.
H578 Terra-Cotta Warrior, A (89) aka: Qin yong Qin Dynasty China 2200 years ago. Alchemists are working to make the Emperor Qin immortal and are also building the Terracotta Army from the bodies of outlaws and the condemned. The Emperor is forbidden to love and sentenced to death. But before the man is killed and used to be another Terracotta, the woman, having secured an elixir of immortality from the alchemists, manages to give it to her lover. Flash-forward to China 1930. While on location a film crew finds the the grave of Qin. guarded by Terracotta warriors. The Immortal Qin awakens..... LBX and with English subtitles. BA
6418 Treasure of the Lost Desert (84) aka: The Terrorist Eagle aka: Amore e Sangue a Esfahan Green Beret Captain Claude Servan and his team are sent to the state of Dubai on a secret mission to crush a terrorist operation led by a mysterious figure called Eagle. Because Servan was born in Dubai, he knows the countryside and is the best man to lead the attack. They discover the Eagle has hidden a fabulous treasure which he intends to barter for guns…. Bruce Miller, Susan West, Larry Finch and Gordon Mitchell star. BA
Z160 Warrior and the Slave Girl (58) aka: La rivolta dei gladiatori A Roman hero, gladiators, pretty girls, and the locals fighting off enemies in spectacular battles in this stunning sharp colorful LBX production. Listed before with a description, the notable thing here is that this new UNCUT version has additional footage with some scenes in Spanish and with English subtitles. The majority of the film however is dubbed into English. Quite the production, remember, Steve Reeves and 'Hercules' was the same year, and the muscle man beefcake peplum phase had not yet kicked in. Also predates 'Spartacus', which may have taken some cues from this one. The evil queen is killed by her own tiger. Priceless. Gianna Maria Canale (also in Hercules), Mara Cruz, Ettore Manni and more star. BA
Z161 When Men Carried Clubs and Women Played Ding Dong (71) aka: Quando gli uomini armarono la clava e... con le donne fecero din-don Prehistoric cave-stud Ari (Antonio Sabato) wins lovely virgin Listra (Nadia Cassini) after winning a pig-catching contest. But his attempts at getting her to play with his Ding Dong keep getting interrupted by stupid scuffles within the tribe. The women decide to cut off sex with the men until they stop their warring ways. With lots of politically incorrect nonsense (like the gay caveman who wants the male lead) and incredibly sexy women (Lucretia Love and Gisela Hahn) this prehistoric farce delivers absurdity with zero redeeming qualities. Sounds good to me. LBX BA
74 Women of the Prehistoric Planet (66) aka: Mujeres del planeta prehistórico A space expedition (dependable John Agar, Wendell Corey, Lyle Wagoner and more) lands in the swamp of an alien planet (cheap studio set) populated by dinosaurs (stock-footage lizards) and prehistoric humanoids. Hey, there is a carnivorous plant, a monster spider, a misleading title, truly bizarre dialogue..... quite incredible and entertaining. Spoofed on MST3K, this of course is the real deal. Great Trash! Not to be confused with 'Voyage to the Planet of Prehistoric Women' or 'Voyage to the Prehistoric Planet'. BA

EXPLOITATION FILMS
Z94 Cheering Section (77) aka: Das bringt's voll - Dufte Typen in Jeans The new girl at school draws the lust of the high school football star, much to the chagrin of the girl's father, the coach of the team. The jocks co-own a boogie van which they put pussycat stickers on indicating each of the girls they have scored with. Later the jocks wager their own cheerleaders on the outcome of a game with a rival school. It sure would be great if all of these Drive-In flicks were shown at the colleges on weekends (or anywhere) NOW so everybody would get their heads out of their asses with this insane youth PC culture gone mad. BA
H527 Diary of a High School Bride, The (59) A 24 year old law student marries a 17 year old high school senior (Anita Sands) much to the chagrin of the girl's parents and ex-boyfriend. Some punks at her high school (where she is a Senior) play pranks, and her ex-boyfriend feels he is entitled to have sex with her. This may have seemed exploitative and trashy in 1959, which is a curious thing actually. Some girls have been getting married at age 17 forever. Still manages to depict the hardships and culture shock a young girl experiences when getting married that young. BA
9512 Emily (76) aka: The Awakening of Emily aka: El ardiente despertar de Emily Set in the 1930's, Emily (Koo Stark) has left school, and is ready to be deflowered. She first discovers lesbianism, but holds back on the big deed. Emily however is desperate to lose her virginity before she is married. I have an idea she will not have a problem. Everybody in the film seems to obsessed with sex. Things have not changed much. Koo Stark was a girlfriend of Prince Andrew, before the Royal Family found out she had starred in soft-core porn. They promptly dumped her. She spends much of this film naked. BA
Z95 King Frat (79) aka: Die Wildschweine sind los! Innocent laughs? Look no further. Out of the gates 'Animal House' rip-off that amps up the lewd behavior. The boys place some dog shit in the ventilation of a church where a funeral is being held, dogs drink a farting elixir, the boy's pull more pranks and have a farting contest.... Toilet gags and political incorrectness such as spying on the chicks. A great piece of trash to force on college kids who have been screwed up by their college professors. Remember, this film was aimed at the youth culture of 40 years ago. Trust me, we have not evolved. Just because it's garbage does not mean it is not good garbage! BA
8213 Marilyn Diaries, The (90) A magazine reporter searches for Marilyn (Marilyn Chambers) with his voluptuous ex-lover (Tara Buckman). As they delve deep into the diary through the sex-drenched past of Marilyn, they learn some truths about themselves....At this point in her career, Marilyn Chambers was mainly in soft-core features. And yet she still showed up in porn later. She died in 2009 at age 56 after a cerebral hemorrhage following aortic aneurysm.
H535 Muscle (89) aka: Lunatic Theatre aka: Kurutta Butokai When a photographer of muscle-bound men beds down with the man of his dreams, he enters into an S&M subculture of pleasure and pain which culminates in him chopping off his lover's arm with a samurai sword. After getting out of prison, he searches for his one-armed obsession, and also gets involved with an S&M couple (male and female). He works at a theatre that plays movies like 'Salo'. The dismembered arm features throughout, kept in a long narrow jar with fluids. He presents the arm to the one-armed man in the climax, and the one-armed man kicks the crap out of him. But he has more in store.... and the ending will surprise. With English subtitles.
7529 Norma (70) aka: Coupe-toi les ongles et passe-moi le beurre Norma (Mady Maguire) visits her psychiatrist regularly to determine why her anxieties about sex, are mixed with nymphomania. In short, she has screwed herself frigid! Norma goes into one sex flashback after another... lesbianism, sadomasochism, group orgies and more.... A sex-filled 'Marnie' rip-off!
Z138 Web of Desire (90) aka: Eleven Days, Eleven Nights 2 Joe D'Amato directs. Smokin' blonde Sarah (Kristine Rose) has writer's block. She dumps her new husband after sex, then gets a call from her editor Jackie (Laura Gemser) and they go jogging together. She finds out a New Orleans millionaire has died and left her name in his will, along with numerous other potential inheritors. Perpetually horny Sarah heads to New Orleans to see who is the most 'worthy' heir. Ruth Collins also stars.
Z139 Woman Like Eve, A (79) aka: Een vrouw als Eva Young mother Eve (Monique van de Ven) is given a break from her duties when her husband sends her on holiday to France to chill out. There on the beach she meets Liliane (Maria Schneider) a commune dwelling lesbian feminist. Eve really doesn't get off with men. Some back and forth here and there, ultimately Eve realizes she is a lesbian and gets it on with Liliane and leaves her husband. He of course is furious! 'A dyke! A lesbian dyke!' he announces in front of everyone. The court battles for custody of the children begins. It's a lesbian love story with some pretty hot (brief) lesbian naked scenes. There I said it! Let's face it, that's what everybody is wondering, sorry. Colorful LBX BA

EXTREME HORROR & GORE FILMS
Z172 A.A.A. Masseuse, Good Looking, Offers Her Services (72) aka: A.A.A. Massaggiatrice bella presenza offresi... Red-haired Cristina is a young girl that becomes a prostitute, much to the chagrin of her father. Her first few clients are not what she expected, so she hooks up with a pimp, for better paying customers. But a black-gloved razor wielding killer is murdering her clients now... We spend most of the film ogling Cristina (Paola Senatore in her debut) getting hit on, slapped around or stripping, having sex, staring at her ass, day to day hooker stuff, you know. Misogyny Giallo with a Funky score! 'Stop Busting My Balls!' (favorite line) Paola Senatore would go on to be 'Eaten Alive' in the cannibal film, and to be taken in porno features as well playing a hardcore man-eater who can't get enough. Here though, young and innocent at 23. Or was she? Now this film comes LBX and finally with English subtitles. BA
Z111 Alcove, The (85) aka: L'alcova aka: La retape English soldier Elio (Al Cliver) returns home from the Zulu war with the smoking hot daughter of a tribal king named Zerbal (Laura Gemser). She was given to him to be his slave after he saved her father's life, and she is none too pleased to be treated as property. Back at home the soldier's wife (Lilli Carati) has been screwing around, and she is pretty racist around Zerbal. The soldier decides to make stag films featuring his wife, his secretary and Zerbal (and the gardener, why not?). The slave rises from household toy to manipulative mistress, which does her no favors in the end. Sordid and sleazy described as a Joe D'Amato film (which it is of course) for Tinto Brass fans. A masterful explosion of lustful and frenzied sex and hatred. LBX - Upgrade! BA
Z112 Assault and Rape on 69th Street (91) aka: Asalto y violación en la calle 69 An actress, known for her erotic films, is repeatedly raped on the street until finally, having had enough of this abuse, she gets revenge in a final act of shocking brutality that brings her great joy. Just look at that smile. Sleazy, soft-core trash from Argentina with no subtitles so F.L. only.
H525 Backfire (88) aka: Final Night - Die letzte Nacht A shell-shocked (but financially loaded) Viet Nam Vet (played by Jeff Fahey) has married a woman (Karen Allen) who was born on the wrong side of the tracks (if you know what I mean). Of course she's cheating on him, and trying to drive him mad (or at least catatonic!) so she can assume control of the estate! The shady web of paranoia, passion, deceit and underlying guilt never lets the story become too predictable, or comfortable, with a series of unexpected bloody breakdown jolts and some decent twists that will keep you guessing. Keith Carradine shows up as another of her lovers. The tried and true twisty type plot sleazed up nice, down and dirty! Also with Bernie Casey and Dean Paul Martin (son of Dean), who died in a plane crash before this was released while on active duty with the California Air National Guard. In this, his last appearance anywhere, he loses his head. BA
H534 Biotherapy (86) Here we have a short film running about 35 minutes about an alien that is stalking some scientists and literally tearing them apart . The first victim has his eyeball ripped from his head. The next few scientists are not so lucky.... 'Where is the GT medicine?' the masked black hat wearing alien demands. he stabs the female with glass tubes which spray her blood, then rips her tongue out. The alien reveals itself in the end.. + Tam Tam (76) A house populated by eccentrics which include an old actress, several young artists, transvestites (and more) wait for a famous author to arrive named Pedro. Most of the characters seem doomed to experience one disappointing experience or another through the course of the evening that drifts between reality and fantasy. Truly weird and bizarre transgenders, and some off-the-wall behavior make this look like an Andy Warhol project. Both Features on one DVD-R (no VHS).
Z142 Bog of Beasts (06) aka: Baixio das Bestas Despicable and cheap Heitor, abuses his sixteen year-old granddaughter Auxiliadora, submitting her to slavery and humiliations during the days, and even exposing her naked bodies to truck drivers for some quick cash in the night. A group of potheads spend their time in violent orgies with prostitutes, doping and drinking, and their mean and sadistic leader wants the virgin Auxiliadora. Trashy and Shocking, with nudity and rape! Beautifully filmed LBX and with English subtitles.
Z127 Cage, The (75) aka: La cage A woman (Ingrid Thulin), formerly spurned by her property developer husband (Lino Ventura) tricks him by setting a trap which finds him hopelessly confined to her basement. Down down down he goes! Despite everything, she professes her undying love. He insists he left her because of her possessiveness, It's not long before he finds himself in a cage, still in the basement. He falls ill.... With English subtitles. LBX
Z168 Circle of Fear (92) aka: Alibi perfetto A narcotics officer who is in the hospital recovering from an attack finds out his estate agent ex-wife has been murdered. Some suspect the Mafia, but his investigations lead to a large old abandoned house that she photographed the day she died. Inside the house he finds a burned up corpse, and clues that implicate 'The Full Moon Killer' a murderer and decapitator of prostitutes. A strange Countess who now lives in an asylum owns the place... but she has escaped.... Mob violence, sex and a female murderess (maybe?) in this later day modern Giallo type. Michael Woods, Annie Girardot and even Burt Young as a gangster! Nice Color English language from Giallo director Aldo Lado.
Z177 Clap, You're Dead (74) aka: Ciak si Muore A crew filming a horror movie with a slut diva actress (amongst others) is beset (on the set) by a gloved killer who is murdering the actresses one by one. With doses of sex and violence and some clever touches (such as the final act which involves most of the cast and crew wearing suits/masks in 'Danger Diabolik' style) which obviously make it even more difficult to pinpoint the killer. One nasty scene has a woman (played by Annabella Incontrera) assaulted in a shower, her head bashed in. Still alive, the killer pays her a visit in the hospital to finish her off. Another is strangled with a cord while taking a break from filming herself being burned at the stake! Now with English subtitles.
Z164 Death Falls Lightly (72) aka: La morte scende leggera aka: La muerte desciende ligera When a man finds his wife brutally murdered he has no alibi and under the advice of his lawyer he goes into hiding in an eerie and old nearly abandoned hotel, with his mistress in tow. There, strange things happen at odd hours. He discovers the elderly owner of the hotel has killed his wife and needs help burying her, and the strange but attractive daughter is trying to seduce him. Another obscure Giallo from the director of 'Byleth' the same year. Plenty of wide-eyed moments and nice kills (with a nod to Argento). A hippie hard rock soundtrack and nudity from the female leads delivers. One scene reminded me of 'The Shining'! Stelio Candelli, Patrizia (Amuck) Viotti and more star. The reveal will surprise you. LBX and with English subtitles. Upgrade! BA
Z164 Delitto D'Autore (74) A wealthy Countess is warned that if she gives a valuable painting away as first prize in a music competition, the only thing handed out will be death! The painting is stolen and the Countess is murdered, her niece (Sylva Koscina) kidnapped.... and the murders continue. The police? Clueless. This villa-set murder mystery Giallo has a pretty decent body count and plenty of red herrings, and a little nudity and sex as well. Another obscure Giallo. Also with the ill-fated Krista Nell, who died of leukemia at age 28 while working on 'The Bloodsucker Leads the Dance'. LBX and with English subtitles. Like a scratchy old grind house drive-in print, well worth watching for Giallo completists.
Z136 Edge of the Axe (88) aka: Al filo del hacha A white masked killer stalks people in a small town, hacking them to bits with an axe (he manages to finish off his first victim before the opening titles even roll). Some good kills, and decent cat and mouse stalk and catch scenes. Just when you start to guess who the killer is, another red herring is thrown into the mix. Of course the feckless local cops are useless. Good thing for us as more people get hacked up! The gore is nice and the axe, satisfying. Go get 'em! Jose Ramon Larraz directs one of his last films, in what looks like a North Western American town. Jack Taylor, Patty Shepard, May Heatherly (who took an axe to the head in the equally good 'Pieces') and more star. BA
Z158 Family of Vampires (90) aka: Semya vurdalakov Based on the same story as Mario Bava's 'Black Sabbath' (the Karloff tale in the film) and 'Night of the Devils'. 'The Wurdulak'. Haunting and creepy with foggy Russian forests and misty waterways, scary atmosphere adding to the unbearable building dread as we are armed with the knowledge the grandfather has brought home his undead infection. Later on the snow falls and coats the entire world they inhabit with an added threatening malevolence. Go ahead, light as many candles as you want. Death will find you. With English subtitles.
Z180 Fantasia Omicida (87) aka: Dangerous Women aka: Le Diaboliche The tried and true formula returns. A wheelchair bound heiress (due to a swing-set accident as a child) has a nasty set of servants (the chauffeur and the maid) who are plotting her murder. Takes bits from Hammer's 'Taste of Fear' and also 'Formula for Murder' among others. Lisbeth Hummel, Beatrice Palme and more star in this little known, little seen, completely forgotten Italian thriller. Nice English language dub.
Z178 Fatal Temptation (88) aka: Errore fatale Loredana Romita (as Silvia) changes from a loving wife to a scorned woman who adeptly manipulates and eliminates to suit her needs. She instantly has no problem with murder and body disposal. She kills Cosetta with a bullet to the head. Later naked, straddling lover Alessio in bed, she reveals she loves Alessio. But unbeknownst to her Alessio loved Cosseta, so he blows his brains out. Part erotic thriller, and part Giallo, with enough sex and violence to please fans of both. Nice English language dubbed.

Z97 Fear: Angst (83) A man is released from prison 10 years after murdering an elderly woman. Once back on the streets he is compelled to kill again, immediately. He breaks into a large house. Inside is a man in a wheelchair. Then a woman and her adult daughter come home. An extremely brutal, disturbing and nihilistic look into the minds and actions of a serial killer. This one may just fuck you up if you give it a chance, because he is thinking and you hear him narrate how he is feeling, how he cannot stop himself from his sadistic actions. He looks creepy as hell too, so it works on many levels. English subtitles and Upgrade!
Z179 Footprints on the Moon (75) aka: Le Orme aka: Primal Inpulse Alice (Florinda Balkan) awakens and cannot remember the last three days. She is also haunted by an old science fiction movie in her dreams about astronauts starring Klaus Kinski. She finds the torn photo of a hotel and goes there, where she is recognized by everybody, but doesn't remember why or how. Trying to make sense of her dreams/visions... the suspense builds up slowly to the truly satisfying and frightfully haunting denouement. On par with the weirdness of 'Picnic at Hanging Rock'. Also with Ida Galli and Nicoletta Elmi. Nice LBX and English dubbed. Florinda Balkan claimed she was John F. Kennedy's last lover before he was assassinated. Talk about a 'femme fatale'! BA
H524 Girl Slaves of Morgana Le Fay (71) aka: Morgane et ses nymphes When two extremely attractive women who are traveling across the countryside find themselves at the scary and mysterious castle of Morgana Le Fey, they are given a choice, neither are they much too fond of. Either become sex slaves (which includes eternal youth and beauty) for the Fairy Queen Le Fey, or rot in the dungeons of the castle. One of the women refuses this supernatural all-lesbian pact... A castle full of lesbians in an otherworld of dark fantasy. Soft-core situations and nudity. Beautiful photography, and great scenery too! With English subtitles. Upgrade! BA
Z176 House of the Blue Shadows, The (86) aka: La casa del buon ritorno As a young boy, Luca pushes a young girl (who is wearing an 'Onibaba' mask) off a villa roof while playing hide-and-seek. Fifteen years later Luca returns to the villa where his memories start to play tricks with his mind, and the locals who were once childhood friends, are now just creepy weirdoes. He sees a mysterious woman in black and becomes fascinated by a creepy looking mannequin, also... he sees the dead girl... Unsettling horror with an incredibly nihilistic finale. An obscurity, nice quality but noticed the picture shakes somewhat. Finally with English subtitles.
H507 Ice House, The (69) aka: Love in Cold Blood aka: The Passion Pit A serial killer has a very handy occupation. He works in an Ice House! What a perfect place to store his victims. His twin brother is a policeman investigating the crimes. He kills him, and takes his place in the investigation. A truly sick and politically incorrect soft-core sleaze-fest. Jim Davis and Scott Brady star. John Holmes has a cameo in one of his first film appearances. Stranglings, fratricide, frozen cadavers, nudity.... BA
Z165 Killer Reserved Nine Seats, The (74) aka: L'assassino ha riservato nove poltrone aka: El asesino ha reservado nueve butacas Another obscure Giallo. This time ten people are invited to an isolated abandoned theatre which looms gigantic in the night. These people know each other, and are linked by love/hate relationships, greed, sex, love and bitterness are their companions. The place is huge, a luxurious labyrinth. The killings begin. It's a long night's journey to day. Is the place cursed? Will anyone survive? Some good kills (one extremely impactful!) and the women are generous in the way they shed their clothes for the feasting eyes of the viewer. Cool 'Ten Little Indians' type. Janet Agren, Rosanna Schiaffino, Lucretia Love and more star. Nice Sharp LBX and English language dubbed. Not to be confused by similarly titled films. BA
Z131 Maidens of the Dormitory (76) aka: Les demoiselles de pensionnat aka: Pensionato particolare per signorine di buona famiglia Girls are captured and forced into high class prostitution by gangster thugs who run girls to make cash. The best female agent is sent by Interpol to infiltrate the ring as a potential buyer of girls. With a surprise ending. Plenty of nudity and Franco regular Karine Gambier is one of the girls. Also with Erika Cool. LBX and with English subtitles.
Z109 Murder in Blue Light (91) aka: Omicidio a luci blu In New York city, someone is murdering people in a area frequented by the poor. Prostitute Cherie (Florence Guerin) has a clientele of men with alternative pleasures, so she heats up the screen in a few scenes, catering to their perverse desires. David Hess is the detective on the case (if you can believe it) in the maze of small alleys covered by misty fog in a world where hookers wait for their customers, amidst graffiti covered walls, a world of dark sordid sleaze. And the victims... customers of Cherie! LBX and now with English subtitles! Giallo!
Z108 Naked Girl Killed in the Park (72) aka: Ragazza tutta nuda assassinata nel parco aka: Joven de buena familia sospechosa de asesinato On the fairgrounds, an old geezer goes on a ghost train and comes out the other side with a bullet to the head, leaving behind a brand new insurance policy worth millions. Insurance investigator Chris (Robert Hoffman) is on the case, as more bodies drop, including the unfortunate woman of the title. Chris goes to the mansion of pretty Catherine (Pilar Velazquez) where he meets her despicable family, suspects all. Her horny sex-charged sister Barbara (Patricia (Torso) Adiutori) is later the titular character. Plenty of T&A and a cool pre-sequence of WW2. Colorful LBX English language dubbed Upgrade with a print that blows all other prints away. BA
H594 Ninja Vampire Busters (89) aka: Zhuo gui da shi Imprisoned by a Priest after being defeated in battle, and stored in an ancient vase, a Demon is released from it's prison when the vase is auctioned off to a councilman, entering the councilman's body and resuming it's reign of horror and evil. Well sort of, this is an action comedy, but it does have some scares as well. Hilariously dubbed.
Z133 Obsession: A Taste for Fear (88) aka: Pathos - Segreta inquietudine A serial killer is wasting female models through Rome's sexual underground. The photographer (Virginia Hey of 'The Road Warrior') is befuddled, as her lesbian lovers are some of the victims. Her ex, a maker of S&M films, is a suspect since one of the victims is found bound, gagged and dead. Lesbian sex, a futuristic car and ray-guns, eighties glam art and music with MTV video-like sequences, brief bondage setups, colored lights like Argento on steroids.... When the Giallo meets the Erotic Thriller and tries to mix in some sci-fi. Also with Eva Grimaldi, Valentine Demy and more. (From LaserDisc) BA
Z169 Police are Blundering in the Dark (75) aka: La Polizia Brancola nel Buio In the opening, a hot blonde model has a flat tire and is attacked by a man with a knife, who chases her into the woods and stabs her to death (after ripping her shirt open so she runs practically topless that is). Later a journalist goes to meet another model at a villa, and finds she has been slashed to death with scissors. The crippled owner of the villa has created a device that photographs 'thoughts'. Another nice Giallo with sleaze and nudity and twists and turns, obviously Argento inspired in some ways. A surprise for connoisseurs of Euro-Trash. Gabriella Giorgelli is one hot dish. With English subtitles. BA
Z134 Porno: Situación Límite (82) Porno is the name of the leader of a band of armed robbers who take over a fancy hotel. There are some grisly murders, but mostly the setting is an excuse for tons of soft-core sex scenes with Racquel Evans and others. The robbers grab the rich from each of the rooms to hold as hostages, and get a load of every sexy scene happening. Then they force some of the hostages to.... Vulgar soft-core sleaze mixed with violence in a cool crime action story. With English subtitles. BA
Z171 Scandal in Black (90) aka: Appuntamento in nero aka: Appointment in Black Angela (Mirella Banti) is a neurotic woman who has nightmares of being raped and ravaged. She seduces men on the phone, seeking to kill them, as revenge for those dreams. In the opening a young woman is raped... then we fast-forward 15 years as a woman goes into a porno theater and is sexually assaulted with a broken bottle in the ladies toilet. Shouldn't have let men in there. Ultimately this is about a very dangerous woman, with a hateful grudge on men she must satisfy. An offensive good Giallo with twists and, gore and nudity. LBX BA
H528/Z126 Sexo Sangriento (81) aka: Bloody Sex A medium and her two lesbian friends stay at a large isolated home for the weekend (after their car breaks down) run by an insane murderess and her deranged son. This is quite the flick, mixing lesbian sleaze with satanic imagery and bloody axe murders. Be prepared for some savagery (including a painful crotch stabbing with a knife during sex). High production values and nice locations. Spanish Horror done right! Now finally with English subtitles!
Z174 Shadow of Death (69) aka: L'assassino Fantasma aka: Macabre Nice twisted thriller here, not quite full blast Giallo, but certainly fits in with the genre. A wife (Teresa Gimpera) wants her wealthy estate holding husband killed, so she and his twin brother can 'have it all!'. (Larry Ward as twins) But there are other players, ex-lover betrayers, sub-plots and slight of hands about, making this quite an entertaining ride. Well thought out with a claustrophobic setting that keeps the focus and tension on the main characters. Also with Silvana (wow) Venturelli . Nice LBX English language dub. BA
H511 Snails in the Head (80) aka: Un Escargot Dans La Tete Helen (Florence Giorgetti) is a writer who seeks treatment after a traumatic divorce. Here she meets the alcoholic painter Edouard (Renaud Verley), with whom she instantly establishes a friendly bond that soon becomes more. Their affair inspires the creativity of both equally. But when they retire to a farm, the dark shadows of the past come back for them, which holds a hard test for their psyche ... French made insanity with nightmares and madness in a mental institution. F.L. and no subtitles.
H530 Spectrum, Beyond the World's End (78) aka: Espectro (Mas alla del fin del mundo) Two scientists doing experiments deep in the abyss of a cave for three months learn that something catastrophic has occurred topside.... They are the only survivors but wait! There is a woman as well (who rescues them). She resides in a huge underground complex with a chimp and a dog. She too is a scientist. There will be nudity, and an extremely downbeat and bloody outcome for the survivors. With English subtitles. BA
Z155 Spermula (76) aka: Spermula, a Vampira de Homens Here yet another version of 'Spermula' this one however the UNCUT version at 1 hour and 43 minutes. A notorious secret society rumored to have supernatural powers, known as 'Spermula', in the 1930's, plan their return to the future to conquer the world that once exiled their advanced sexual state of debauchery. An elite force of female sex commandos are charged with the task of neutering the male population with their irresistible seductive charms. They must extract the male reproductive fluids orally, allowing the decadent human race to eventually die off from natural attrition. Udo Kier stars and Dayle Haddon is 'Spermula'. Amazing politically incorrect fun. With English subtitles. BA
Z153 Still Life (14) aka: Naturaleza muerta People start to disappear in a town in Argentina, in a land known as 'the country of barbecues'. People with something in common. All of them are linked somehow to the cattle industry. A young female journalist starts to investigate the disappearances. As usual with these things, she gets in over her head. Could the animals be in revolt and turning the tables on their captors? Animal people? An animal activist? Interesting kill scenes juxtaposed with 'man killing animals for food' footage. The motives and intentions of the one responsible will make plenty of logical sense to members of PETA. Sharp outdoors locations and plenty of gore and suspense. Shocking killings and a surprise ending. LBX and with English subtitles. BA
H533 Suicide Dolls (99) aka: Satsu satsu The first segment gives you an idea how each of these dark vignettes end (if the title didn't give it away that is). Manages to create a realistic and uncomfortable atmosphere. This is about women who commit suicide and then return to life as evil dolls! Nudity and gore. In Japanese language and no subtitles.
Z175 Sweets from a Stranger (87) aka: Caramelle da uno sconosciuto A black-gloved killer is murdering ladies of the night in Rome with a razor and a captive bolt-gun deathblow. Any stranger could be the killer, and the prostitutes take it upon themselves (something they are used to) to find the killer. Quite a bit of emphasis on sleaze and nudity although we do get some nice slashing. Nice cameo from Mario Bava regular Laura Betti as an older prostitute who is killed. A stylish Giallo that tackles social issues with the hookers as not just victims, but main characters with plenty of true grit. Barbara De Rossi (prime meat), Sabrina Ferilli and more star. Nice LBX and with English subtitles.
Z159 Vanity Serum, The (04) aka: Il siero della vanità Modern Giallo from director Alex Infascelli! When the V.I.P.'s of Italian television begin to mysteriously disappear two detectives investigate. Could the one behind it all be the powerful star Sonia Norton (Francesca Neri). Finally our female detective finds some victims chained up in an underground lair... but... things go wrong yet again, and she may just be joining them instead of helping them. Meanwhile, Sonia Norton's star shines on the network.... The perpetrator has his reasons, Houdini that he seems to think he is. The ending is a surprise. LBX and with English subtitles.
H529 Vicious and Nude (80) aka: Viciosas al desnudo Remember 'Death Scream' with Sondra Locke and Colleen Camp which was remade in 2015 with Keanu Reeves under a new title 'Knock Knock'? This is the 1980 Spanish version (sort of) of this flick, with essentially the same story, very similar. Here however we get Silvia Solar, Eva Lybertan and Adriana Vega, all sexier than any of the women in the other films. Vega and Lybertan play the hippie chicks who, after their car breaks down, go to the house of a restless writer (Jack Taylor) and proceed to seduce and terrorize him, forcing him to undergo ruthless barbarisms at their sadistic hands. These man-hating man-killing lesbian bitches may just be the inspiration for 'Thelma and Louise' when you see how they come to their conclusion. Nice and with English subtitles.
Z167 Weapon, the Hour and the Motive, The (72) aka: L'arma, l'ora, il movente aka: La proie des vierges Now LBX and with English subtitles! See full description in the 2015 Mini-Catalog on page 76. BA
H502 Winter Lily (00) The isolated and wintry Canadian bed and breakfast location is perfect for this type of slow burn horror. Clive, a young photographer, stays at the secluded B and B in the dead of winter. The hotel is run by a woman who seems a little off, and cannot stop talking about her bedridden daughter, Lily. Clive finds her diary, and becomes obsessed with her. He learns how she became the way she is, all of the wildly inappropriate behavior seen in flashback. The fool. Interfering with the situation could lead to dire consequences....
H532 Wolf Girl, The (74) aka: Lang nu She was born with wolf-like characteristics.... These only amplify as she grows into a young woman. Gory face-scratchings, throats torn open, wolves, sword swinging in fire rituals and some kung fu. Our wild child "wolfs down" small animals as well. Amazingly dubbed into English. This is one of those kitchen sink classics from Thailand.
Z166 Yellow: Le Cugine (69) aka: Die Mühle der Jungfrauen Uptight Marta Garbini (Lisa Seagram) lives and takes care of her grandfather on his huge estate. When he suddenly dies, she is shocked to learn he left it to Valentina (Caterina Barbero), who moves in with her husband Pierre. Open and free-spirited Pierre makes a play for Marta and she responds with all of her stored up passion. Valentina photographs them and laughs it off. Valentina is dead by morning. Now Marta and Pierre can be together... they are free to cross and double cross each other, even as a police investigator arrives... Sledgehammer murder and more. With English subtitles. BA

FRANCO FILMS
Z137 Eugénie (73) aka: Eugénie de Sade Eugenie and her stepfather live out in a semi-isolated mansion house in a wintry Europe. The stepfather is a famous writer with a dark perverse personality. Eugenie drifts into his second personality, giving in to his malevolent desires. Indulging in these semi-incestuous activities, they murder some attractive women along the way. Then she takes a lover, which infuriates her stepfather. Jess Franco himself also stars in this one. The camera devours every curve of Miranda, with Franco's voyeuristic eye photographing his lover, his muse, one last time. Also with Alice Arno. Nice color and English dubbed. Flashy, Hip, Smart and Demented. (formerly incorrectly listed as 'Desade 70') Let's be clear, there are many films titled 'Eugenie'. This one is from 1975 and stars Soledad Miranda as 'Eugenie', her last film before her untimely death (credited as Susan Korday). BA

HAMMER AND BRITISH FILMS
H428 Adventures of Jane, The (49) Cute blonde Jane (Christabel Leighton-Porter), is duped into helping an elderly admirer and a suave crook, in the smuggling of diamonds. This 'Jane' was a very popular comic-strip in wartime England, an entirely racy and sexy comic, leagues ahead of anything being produced here at the time. Of course the film version never reaches this level of lewdness, sadly speaking. Of note, the lead actress was the actual model for the comic-strip! A morale booster for the fighting men of WW2. Maybe past it's "sell by date" by 1949. A footnote of a blonde bombshell in her only film. With Fritz the Dog... and Sebastian Cabot.
H463 Baxter! (73) Roger Baxter, an American boy, ('Bad Ronald' himself Scott Jacoby) comes to London with his now divorced mother. He is having a breakdown, hates the school etc. His mother is a rich elitist snob with little patience for the troubles Roger is having. Roger makes friends with the beautiful model upstairs (Britt Eklund) and her French boyfriend. Roger suffers a psychotic break when he learns of the model's death and ends up in a catatonic state in a mental asylum. There he is given a speech therapist (Patricia Neal) to get back on his speak. Emotionally devastating. A film about grief and so much more. Get out the hankies. The following year young Jacoby would be the perverted 'Bad Ronald' spying at pretty girls through holes in the wall. LBX BA
H426 Best Pair of Legs in the Business, The (73) An unusually downbeat examination of a cross-dressing drag-act music hall entertainer who, unbeknownst to him, is reaching the end of his career. Ditched and betrayed by those all around him, Reg Varney paints a tragic portrait as Sherry, falling from her low perch. A departure from the numerous sex comedies being produced at the same time. While this dabbles in sexual references, it is primarily dead serious. Also with Diana Coupland and look for Jane Seymour as the beautiful Kim Thorn, she's 22 here. BA
H424 Big Money, The (56) To impress the barmaid (Belinda Lee) at the local pub, petty thief Willie Frith (Ian Carmichael) attempts to legalize his stolen cache of bank notes. Considered unreleasable by the studios, and a 'mistake'. Five years passed until another director salvaged this flick and did a bit of inserting of unrelated scenes to color it up some. Carmichael went on record wishing all prints of this film were 'destroyed'. So to sum up, shot in Technicolor, disowned by the main star and the creators, an awkward comedy by all accounts. Which makes it somewhat interesting. And we also get a twenty year old Jill Ireland as Doreen. BA
H580 Black Memory (47) Danny, when a boy, his father was hanged for murder. Returning to the town as an adult looking for work he finds the details surrounding the murder rather ambiguous. Finally he finds out what happened as he finds the answers working right along beside him (Johnnie played by Michael Medwin) in the clothing factory that now employs him. Jane Arden also stars in her debut. Written by John Gilling. Jane Arden, later a disturbed poetry writing feminist, killed herself in England in 1982 at age 55.
H483 Brigand of Kandahar, The (65) aka: El bandido de Kandahar Finally this Hammer film in LBX! The British army battles rampaging locals in 1850's India. Ronald Lewis, Oliver Reed, Yvonne Romain and more star. Directed by John Gilling. Upgrade! BA
H597 Calling Paul Temple (48) Blackmail murders on women are investigated by Detective Paul Temple (John Bentley) along with his partner Steve (Dinah Sheridan). The fiend responsible labels himself 'Rex'. Can they solve the case before the dreaded 'Rex' strikes again?
H478 Clash By Night (64) aka: Escape By Night - A mixed bag of prisoners is being transported by a civilian coach from the court to serve their sentences. Sounds like a very bad idea. Included in this dangerous group: a thief, an ex-Army Major in for fraud, a religious fanatic who took 'brotherly love' too far, a man who killed a guy that attacked his wife.... more. Of course they escape and the film turns into quite the thrill ride before the shattering fiery climax. Terence Longdon, Jennifer Jayne, Harry Fowler and more star.
H479 Cosh Boy (53) aka: The Slasher Set amongst the bombed out building sites and dark alleys of postwar London (all too real) Roy Walsh (James Kenney) and his gang of juvenile delinquents, lay in wait for their easy prey, usually little old defenseless ladies, to rob them. Roy sinks deeper into the pit of crime. With a useless war widow as a mother who provides no supervision, this is what happens. You have to love the scene where Roy, in court, acts so contrite and decent, then immediately after court he is planning his next crime! He has serious mother issues you will find out. A more worthless two-faced nasty little bastard you couldn't find. He meets a girl named Rene (20 year old Joan Collins) and treats her like dirt. Thing is, James Kenney was 23 when this was made! More 'X' Certificate excellence for bizarre film lovers. Keep in mind, Certificate 'X' basically means it was too much for audiences of 1953. Apparently things didn't go too swell for Kenney. He killed himself in 1987 at age 56. BA
H441 Courageous Mr. Penn (42) aka: Penn of Pennsylvania Here we have the story of the deeds of William Penn, the founding father of both the Quakers and the Pennsylvania colony. A complex and saintly man, many have tried to rewrite history on his accomplishments, painting Penn in a negative light. I find anyone born before 1865 is depicted as a monster these days. Some inaccuracies regarding costumes etc. are the result of a limited budget. A creaky old biography with Clifford Evans as Penn, and Deborah Kerr as his first wife in one of her first films at age 21.
H433 Dentist on the Job (61) Bob Monkhouse and Kenneth Conner are a couple of dentists who establish their own brand of toothpaste, with assistance from glamour girl Shirley Eaton. British comedy with double entendres galore, with some jokes lifted from Monkhouse's comedy act, as well as some slapstick. The gag with Shirley Eaton in a bubble bath is seriously quite funny! LBX BA
H458 Dulcima (71) Mr. Parker (John Mills) a drunken farmer, needs help with his life. Down on her luck and abused by her father Dulcima (Carol White), moves in to help. Things start to get whipped into shape and Mr. Parker falls hard for Dulcima. But she is secretly screwing a gamekeeper as well, playing both sides, unintentionally confusing the men in her life, manipulating. Mr. Parker is loaded, and she knows a gravy train when she sees one. Dulcima is basically a good girl... but well... Things will get sensitive... tragic even... and quite shocking! Also with Bernard Lee and Stuart Wilson. Carol White was one hot little number, and was also in Hammer's 'Prehistoric Women' in 1967. She died in Miami, Florida in 1991 at age 48 of liver disease after a turbulent life of shoplifting, suicide, drug addiction and alcoholism.. LBX BA
H481 Eagle Rock (64) Nice youngsters from around the U.K. are joined at a two-week climbing course by a flashy cocky teenage Londoner that thinks he knows more than the others. He of course ignores all rules of safety and promptly climbs a forbidden peak with no ropes and well... Of course with all of the idiotic death defying feats practiced today, this message of safety may just be useless information for most. Celebrating the ruggedness of the Great Outdoors!
H435 Endless Night (72) Michael (Hywell Bennett who previously menaced Hayley Mills in 'Twisted Nerve' a few years earlier) is a chauffeur with big dreams. He gets his chance when he meets and marries heiress Ellie (Hayley Mills). They move into a modern home of luxury. But the land is supposedly cursed, and their idyllic life crumbles as Ellie's best friend Greta (Britt Eklund) interferes, Michael is distrusted by Ellie's family and other dangers and obstacles arise. Is it human or supernatural? This psychological thriller features a score by Bernard Herrmann and a truly shocking and haunting ending! Also with George Sanders in damn near his last movie before he shut out his own lights. Now LBX for the first time! BA
H475 Flood, The (63) During the East Anglia floods, the story revolves around how eight children trapped in a farmhouse manage to cope by themselves as they await rescue.
H467 Friend or Foe (82) In wartime Britain, two boys see a German bomber go down somewhere in the countryside. After a search comes up empty, no one believes them. Searching on their own, they find the plane, and two Germans hiding in the woods. One of them saves one of the boys from drowning in a lake. The boys decide to help the Germans stay hidden.... Excellent.
H454 Gay Dog, The (54) Jim Gay (Wilfred Pickles) has a greyhound, this is the Gay dog of the title. Even though the dog is not "gay" per say he is a Gay by ownership. Jim Gay betrays his dog (the Gay one, his) and bets on another dog, while his friends loyal to his dog keep their bets Gay. A happy time is had by all. Petula Clark is Sally Gay.
H452 Guilt is My Shadow (50) After a botched robbery, the getaway car driver Jaimie, flees to his uncle's remote Devon farm, where he tends to abuse the hospitality offered there. He takes up with the local floozy even though he is married, and engages in as much criminal behavior as is possible. Then Jamie's wife shows up. She catches her husband in various compromising situations.... picks up a heavy candlestick and well... Patrick Holt, Peter Reynolds, Lana Morris, Elizabeth Sellars and more star.
H473 Guinea Pig, The (48) aka: The Outsider The plot tells of young Jack Read (Richard Attenborough deftly playing a 13-year-old at the age of 23!). He is a gifted boy from the working-class, who, upon winning a scholarship, receives a place at Saintbury public school as part of a vague experiment. There he sticks out like a sore thumb, and is bullied by his school mates. There will be a mentor, and hope, and perhaps some changing of some minds before we are through.
H582 Gunman Has Escaped, A (48) Co-written by John Gilling. The darker than dark subject matter is unbelievably gritty and grim for a (just) post-war film. A trio of crooks hide out at a farmhouse. The intervention of the farm family divides the group.... Nice cold-hearted violence make this one memorable in this British noir. John Harvey, Jane Arden and more.
Z124 Gutter Girls (63) aka: Thrill Seekers aka: The Yellow Teddy Bears The 'Bad Girls' in a girl's school wear a small yellow teddy bear on their uniform to symbolize their loss of virginity. Linda (Annette Whiteley) fears she may be knocked up by Kinky, her window-washer by day, pop-singer by night boyfriend. Now... abortion? A morality play and an interesting snap-shot of a (barely) pre-'Swinging London' England before 'The Beatles' changed the world and 'The Pill' changed minds and behaviors forever. Whiteley would be in Hammer's 'Devil Ship Pirates' the following year. BA

H482 Hangman Waits, The (47) An extraordinary little-known crime docudrama. The Hangman Waits is an account of a manhunt for a killer. The opening murder scene sets the stage for the story. With John Turnball as the Inspector. BA
H556 Hideout, The (56) An insurance investigator (Dermot Walsh) has a chance encounter with the sister of a fur dealer and soon finds himself embroiled in intrigue involving a case filled with cash, as well as a potential outbreak of anthrax. Guns, gangsters and fast cars in 1950's London. Also with Rona Anderson. BA
H476 Iron Maiden, The (62) aka: The Swingin' Maiden An American airline executive, together with his wife and daughter, visit Britain with a view to placing a contract for a new supersonic airliner. However two airlines are competing offering rival products. The pretty but willful daughter wreaks havoc on the proceedings. The best movie ever made about a traction engine? Michael Craig, Anne Helm and Alan Hale Jr. (The Skipper!) has a lesser role to play here as well. LBX BA
H486 Landfall (49) Coastal Command pilot Rick (Michael Denison) patrols the English channel for U-Boats. He sinks a German submarine. But whoops! It was a British sub, one of his own, that had strayed into the wrong waters! He is charged with neglect and sent on a perilous mission. Also with Patricia Plunkett.
H457 Luck of the Navy, The (38) aka: North Sea Patrol This is one of number of war films made before WW2, hinting at the coming catastrophes. It is implied that the enemy will be Germany. Geoffey Toone is a Naval Officer charged with the job of preventing the enemy from invading England by way of the North Sea. His girlfriend lives in a house that is a den for spies and fifth columnists.
H468 Lucky Nick Cain (51) aka: I'll Get You For This aka: Il covo dei gangsters American gambler Lucky Nick Cain (George Raft) arrives at the Mediterranean town of San Paola. He becomes acquainted with Kay (Coleen Gray) and is framed for murder. Together they go on the run in the Italian countryside to regroup, trying to sort the good guys from the bad, and clear things up. Also with Greta Gynt, Constance Smith and more star. BA
H488 Magnificent Two, The (67) aka: What Happened at Campo Grande? Two English salesmen travel to a South American country to peddle their wares, and find themselves in a revolution. Torez the rebel leader is killed, and the rebels recruit one of the businessmen, who looks like Torez, to take his place. Eric Morecambe in a dual role in this comedy with Ernie Wise. Boasts sexy Bikini-Clad women soldiers with machine guns! With Isobel (The Kiss of the Vampire) Black. LBX BA
H471 Man in Black, The (49) Hammer time. This early offering was a sample of things to come with their numerous psychological thrillers. This being the old 'drive the young heiress insane so we can steal her fortune' routine. There is a man speaking in a 'spooky' voice in the beginning, a man using yoga to simulate death, and the ugly stepsister and stepmother behind the crimes to drive the true inheritor of the estate mad. With Sheila Burell who would also appear in Hammer's 'Paranoiac' in 1963. Quality not as sharp as usual on this obscurity.
H480 Man Outside, The (33) There is a murder at a country house. Could it have something to do with the horde of stolen diamonds and the odd bunch of assorted characters lurking about that may or may not be who they seem? Another early and under an hour British mystery. With Henry Kendall.
H484 Man Upstairs, The (58) Richard Attenborough is the title guy. He is a total head case, and troubled with pain and insomnia in the boarding house in which he resides. Things get heated when he cannot get the gas fire lit and he freaks out, putting the whole place in danger. The cops want to take him out and the social worker wants to save him.... Hope nobody out there has a neighbor like this.
H430 Miracle in Soho (57) aka: Eine Braut in jeder Straße A single street in London's Soho resembles a mini-United Nations, where everybody from all nations gets along. We know now we are in a fantasy film. At least culturally. (Although the families of color disappear after the first scene!) This one has various characters and subplots, but mostly it's a mushfest. Notable because the doomed actress, green-eyed Belinda Lee stars. Also with John Gregson, Brian Bedford and more. Color BA
H456 Miss Nightingale (74) Theatrical-style interpretation of the life of history's most well-known nurse (played here by Janet Suzman). Covers the woman from a young girl, up until her death, proving she was more a complex character than previously perceived. Also with Robert Flemyng and more.
H436 My Brother's Keeper (48) aka: Der Mann ohne Gewissen War hero turned villain George Martin (Jack Warner) escapes from prison. The problem being he is still hand-cuffed to a small time dimwit crook named Willie (George Cole). With the police in hot pursuit, George, still cuffed to Willie, meets up with an old flame, frames Willie with a murder that he committed and more. Before 'The Defiant Ones'... see 'My Brother's Keeper'! (And hell, throw in 'Black Mama, White Mama' if you want a triple feature of awkward hand-cuffed fugitive duos!) BA
H453 Night Boat to Dublin (46) aka: Service secret contre bombe atomique The allies plan to rescue an atomic scientist from Sweden, who is being held by the Nazis for nefarious purposes. Robert Newton plays an M15 man who infiltrates the Nazis with plans of spiriting away the scientist right under their dastardly Nazi noses. It's a ripping yarn from a bygone age of trilby hats, clipped accents and British pluck. Robert Newton, Muriel Pavlow. Herbert Lom and more star. BA
H599 Paul Temple's Triumph (50) Husband and wife detective team Paul Temple and wife Steve (John Bentley and Dinah Sheridan) find themselves up against a gang headed by an individual known only as 'Z' after one of Steve's friends is murdered following the kidnapping of her scientist father. `
H587 Pop Pirates (84) Roger Daltrey manages a god-awful kid-pop-band! The Pirates (name of the band) enter a talent contest and run into some troubles with the lead singer's involvement in his Uncle's video piracy scam. + Skid Kids (72) Swanky Clark and his gang of chums take on a gang of bike thieves with the help of local police. Don Chaffey directs.
H569 Price of Silence, The (59) Roger Fenton (Gordon Jackson) has done his time unjustly, and is now free from prison. His new life and identity are threatened when an elderly visitor is murdered in his office. Turns out a former cellmate has weaseled his way into his new world, intent on blackmail. Also with June Thorburn and more. Thorburn also starred in a few Hammer film's and a Harryhausen film 'The Three Worlds of Gulliver'. She was pregnant when the plane she was on went down killing all 37 people onboard in West Sussex, England November 4th 1967. She was 36.
H429 Quiet Woman, The (51) Fleeing her husband after a miserable botched married life, a woman (Jane Hylton) buys a coastal pub where she finds herself in a whole new batch of troubles. It seems the former proprietor allowed a local artist/part time smuggler (Derek Bond) to use the pub for storing contraband. Despite this, she falls for the guy, and is mixed up with an ex of his (Dora Bryan), suspicious investigators, and then her ex-husband, now an escaped convict shows up..... Written and directed by John Gilling.
H432 Sandwich Man, The (66) aka: That Swinging City A man (Michael Bentine) with a sandwich board advertisement travels across London and encounters many personalities. Made entirely in England and on location. The occurrences of racial stereotyping would be considered 'politically incorrect' for 2017. But who cares? Film was more real and honest in the past, not posturing and preachy like many films today. In any event, a nice snapshot of England 40 + years ago, and in color. Ian Hendry, Diana Dors, Terry Thomas.... and Suzy Kendall as Sue. Color
H443 Sea Fury (58) Tugboat commander Captain Bellew (Victor McLaglen) is harbored off a Spanish village. The father of a beautiful girl named Josita (played by the lovely Luciana Paluzzi) pushes his daughter on Bellew, ignoring their nearly 50 year age difference, figuring Bellews will die soon, and she will be left well off, Abel, another captain, competes for her wares (Stanley Baker) and they fall in love. The stage is set for conflict but then a sinking freighter carrying explosives has to be towed for salvage. Look for Robert Shaw on board as Gorman and Jack Taylor as 'Donkeyman'. Nice action sequences. BA
H568 Secret Man, The (58) aka: Operazione Scotland Yard A spy is on the loose in a research station. Physicist Cliff Mitchell (Marshall Thompson) is drawn into the investigation to unmask the traitor that is apparently right under their noses. Co-written by Brian Clemens. Also with John Loder and more.
H598 Send For Paul Temple (46) aka: The Green Finger Novelist and amateur sleuth Paul Temple (Anthony Hulme) meets a newspaper woman named Steve (Joy Shelton) and together they investigate a gang of jewel thieves. The first of four film adaptations concerning the mild-mannered gentleman detective. This whole series reminds of Edgar Wallace.
H462 Sky West and Crooked (66) aka: Gypsy Girl - Brydie White is still an emotional cripple after the traumatic death of her best friend ten years earlier. She cannot recall the shooting, but no matter, she is seriously mental over it, and her mother still treats her like a child, even though she is a budding woman. Byrdie's favorite pastime is to bury dead animals in the local church graveyard. She has convinced all of the village children to do the same, which makes her a public menace in the eyes of the townsfolk, who want her committed. Then Byrdie meets gypsy boy Roibin (Ian McShane), who is very interested in Byrdie, and she in him.....This haunting film relies heavily on beautiful footage of the English countryside. BA
H434 Spaniard's Curse, The (57) An ancient curse is utilized by a convicted murderer to achieve total vengeance against those responsible for his death sentence. While a journalist investigates the initial crime, the curse seems to be coming true. Is the supernatural responsible? Tony Wright, Lee Patterson, Susan Beaumont and more star.
Z100 Straight On Till Morning (72) aka: Dressed for Death A timid and mousey woman (Rita Tushingham) hits the jackpot when she meets and falls for the man (Shane Briant) of her dreams. He seems to like her too. Great! Especially since her promiscuous friend, and her friend's mod group, have pretty much rejected her because of her modest looks. There is one caveat. Her new beau is a serial killer. An uncommonly bleak and disturbing love story from hell courtesy of Hammer studios. Shane Briant would go on to more notable Hammer films and is still active today, currently filming 'Sherlock Holmes versus Frankenstein'. + Trailer LBX BA
H477 Stranger in Town, A (57) A journalist called John Maddison (Alex Nicol) arrives in a rural English village to investigate the shooting of an American composer. The first woman he visits is the village gossip, but she is gassed to death before she can reveal anything she knows. He soon learns that there are many people with motives for murder in this creepy place.
H464 Tangled Evidence (34) When a medium is found murdered, suspicion falls upon his neice. The movie opens with a dead body on the study floor, and a house full of guests and relatives, all potential suspects. It takes the efforts of a gruff Police Inspector to get to the bottom of things. Michael Hogan and Joan Marion star.
H442 Tarka the Otter (79) This film follows the life of a real life otter, and his adventures in the wild. This film is beautiful and is pretty much guaranteed to upset you. Pulls no punches, Life can be cruel. Still if you love 'Ring of Bright Water', this has similarities. Tarka comes off as quite the valiant little creature, even fierce and savage if he has to be. That is why you too will love the little bastard. LBX BA
H431 Theatre Royal (43) aka: Glada flugan The manager of a failing theater, who is a member of a famed theatrical family, assembles his best and most loyal performers for a show that will hopefully save the theatre from falling into the hands of a rival producer. Since all of their previous shows were flops, an American comes forward with a proposal. A flag-waving message of hope. With British comedic duo Flanagan and Allen.
H465 They Can't Hang Me (55) Val Guest directs. An Inspector investigates a murder through information provided to him by a confirmed spy, who has but five days to live before he is executed for his crimes. Tagline: A Thrill-A-Minute Story Behind Today's Atomic Headlines! Terence Morgan, Andre Morell and Yolande (The Devil Bat) Donlan star.
H437 They Were Not Divided (50) aka: Trois des chars d'assaut Terence Young directs! Probably the sole movie account of a (chiefly) British tank battalion journey into France and Belgium after D-Day. Jolly good show with the typical dialogues of the Brits for the era, and a cool opening part set in a WW2 training depot of a British Guards armored regiment where recruits from many walks of life learn to survive the strict discipline and training together before deployment. Desmond Llewelyn (Q) has a part in this as '77 Jones. Anthony Dawson as Michael and Christopher Lee as Chris Lewis. BA
H444 Up in the World (56) A friendly, bumbling goofy window cleaner (Norman Wisdom) works at an English country estate where he attempts to foil some kidnappers who are after the son of the owner. The Marx Brothers inspired mayhem finale leaves an elegant hall in shambles. Wisdom was one of Britain's greatest funnymen. Also with Maureen Swanson, William Lucas and Lionel Jeffries. Even at age 85 Wisdom was after a laugh. Knighted by the Queen in 2000, he deliberately tripped as he left the ceremony. He stated later 'I couldn't help it, I did a little trip!'
H447 Vicious Circle, The (57) aka: The Circle aka: Scotland Yard joue et gagne John Mills plays an innocent doctor who gets tangled up in something nasty with no one to believe or trust and he begins to question his sanity. It all starts as a favor to a friend, he picks up a German actress, who later he finds dead on the floor. He calls Scotland Yard to report it (bad idea) and becomes the prime suspect so has to go on the run. Makes you think twice about doing the right thing. People who discover murder victims often get framed for the crime. BA
H455 Web of Evidence (59) aka: Beyond This Place Paul Mathry (Van Johnson) was evacuated from Liverpool to America in WW2 as a child. Later he returns and finds that his father is in prison, allegedly for murdering his pregnant mistress. But something stinks about the trial, and Paul starts digging into the details and searching for the truth... Also with Vera Miles a year before 'Psycho'. BA
H470 Woman for Joe, The (55) aka: Una donna per Joe To add to his profits, Joe (George Baker), the owner of some circus fairground attractions buys himself a midget. The price was low. The small man is a success and proves a worthy addition. Problems arise (but not too high) when the midget falls (but not too far) for a normal sized young, sexy Hungarian singer (played by Diane Cilento). Joe however also has designs on the lovely blonde.... Tagline: His love made him give everything. Four feet 3 inches tall. Was He Man Enough? Her love made her take everything. Was she woman enough? BA

MISCELLANEOUS WAR, SPY, MARTIAL ARTS, COMEDY, DRAMA AND MORE
Z110 Africa Express (75) aka: Tropical Express African dealing trader of goods Jack Baxter (Giuliano Gemma), along with his pet chimp (Biba) pursue cash in order to fulfill his ultimate dream. To open a gas station in Detroit Michigan. When he encounters a beautiful and mysterious secret agent woman (Ursula Andress incognito as a nun, kicks Jack's ass when she meets him, almost) who is searching for a war criminal who is now a poacher ( a scenery chewing Jack Palance as Robert Preston) he finds himself in a whole heap of action, intrigue, and big trouble! Colorful African locales and actually pretty hilarious (Go Biba!) with plenty of brawls, natives, natural wildlife, fast frenetic action sequences and more. LBX BA
Z150 Angela, Love Comes Quietly (72) Filmed in the Netherlands. When an American (Ralph Meeker) returns to his native Dutch village in the 1930's, a scandal erupts there when his pregnant daughter (Barbara Hershey) runs off with the son of the local cheese factory. Barbara Hershey flaunts her young nude body here (as she usually did when she was young thank God), at one point even making a milk-wagon driver crash, spilling canisters of milk! Okay, I would have crashed too. Well, the uptight villagers are not pleased to have this strumpet in their midst. There will be a confrontation! It is brutal! Earlier though, straight off the set of 'Boxcar Bertha' she illegally jumps a train in this one too! Later the full nude scenes prove the uninhibited Hershey is really pregnant (with David Carradine's son!). English language, and English subtitles when words are spoken in Dutch. LBX
H554 Austerlitz (60) aka: The Battle of Austerlitz In memory of the Austrian Russian and French Warriors who fell at the battle of Austerlitz Dec. 2 1805. Pierre Mondy is Napoleon Bonaparte, and here is an epic reconstruction of this battle (and the events leading up to), where he achieved his greatest victory over the Russians. This battle would not only make Napoleon one of civilization's greatest Generals, but also solidify his position as Emperor of France. Interesting cast includes Orson Welles, Jack Palance, Claudia Cardinale, Martine Carol (a nice French pastry), Leslie Caron, Rossano Brazzi and many more. Print is a little washed out. With English subtitles. BA
Z141 Bloody Friday (72) aka: Blutiger Freitag A brutal bank robbery is led by a self-centered, egotistical, misogynistic maniac (Raimund Harmstorf) who has surrounded himself with people who he can control. Ultra violent mayhem with kick-in-the-face violence and frank tough-talkin' dialogue. Blood-soaked insanity with some of the most repugnant bad guys you'll see in these types of films. Some shocking graphic scenes of sex and violence never seen until now. Highly recommended for followers of this type of ultra-violent cinema. Harmstorf, a bear of a man, learned he had Parkinson's in the 90's, and after bouts of paranoia and side effects from medication he hung himself. Dead at age 58. Also with Daniela Giordano (who is still alive and making movies). New 102 minute Director's Cut. Different than other version! BA
Z146 Bloody Payroll (76) aka: Milano violent aka: Die letzte Rechnung schreibt der Tod A violent gang attempts to pull off a robbery but things go horribly wrong as the double crosses amongst thieves commences. (Claudio Cassinelli) is a pissed off hit man out to get back at his ex-partners who left him hung out to dry. Things go crazy and this turns out to be an absolute bloody marvel of gonzoid Euro-Crime excess that must be seen to be believed. Unforgettable as a trench coat clad Cassinelli guns down cops with a submachine gun before diving into the nearby woods (near the end). Earlier, Cassinelli's skull-crushing rampage continues but he still has time to consume some whiskey and paw Silvia Dionisio's sensual body with the gentleness of a rabid hyena. Onward on his inglorious crimson quest of retribution, determined to reclaim what was taken from him, and pity who gets in his way. High octane macho violence Italian style! Nice English dubbed LBX version. Upgrade! In 1985 while filming Sergio Martino's 'Fists of Steel' in Arizona, Claudio Cassinelli was inside a helicopter when it crashed. He was killed instantly. Dead at 46. BA
H550 Cairo (63) aka: Les bijoux du pharaon A remake of 'The Asphalt Jungle'. An international jewel thief recruits an assortment of underworld characters to rob the 'Museum of Antiquities' in Cairo. Filmed on various locations in Cairo, including of course the Cairo Museum, the Sphinx and the Pyramids, as well as the villa of ex-Queen Farida. So take a tour of early 60's Egypt by watching this (cheaper and safer than going there today). George Sanders, Richard Johnson and Egyptian super-star Faten Hamama with others, and a mostly Egyptian cast. BA
Z143 Cat, The (71) aka: Le chat - l'implacabile uomo di Saint Germain An older couple have become the worst of enemies. Julien, (Jean Gabin) has transferred his affections to a cat, which drives Clemence (Simone Signoret) crazy. In their corner of the world, wrecking balls are destroying all of the old houses, a transparent metaphor. Will they reconcile, or will she murder the cat? A pessimistic film that seems like there is no hope, no light, only darkness and despair, as love fades to black. Will make your life seem like a bowl of cherries, no matter your circumstances. LBX and with English subtitles. BA
Z118 Child of the Times, A (61) aka: Un figlio d'oggi Kicks off with a gang of street thugs, menacing a cat, harassing a young couple, and throwing rocks at a street light. Directed by Enzo G. Castellari's dad (Marino Girolami), this hard-edged Italian crime flick features drugs, strippers, extortion and a killing. Some excellent down and out locations with dismal atmosphere. Italy's response to the Juvenile Delinquent films that were very big at the time here in the United States. Nice LBX and with easy to read yellow subtitles. BA
H544 Danger in the Deep Abyss (77) With the success of 'Jaws' documentaries about deep blue sea horrors began to proliferate. The first sequence here has topless (female) pearl divers (excellent underwater photography). A shark singles one of them out and attacks! He is here to kill! Next: Divers harvesting some type of red coral find out that it can mesmerize and hypnotize. Next: A guy cave diving runs into... more... F.L. and no subtitles.
H586 Dick Powell Theatre, The (62) Two episodes from this show that aired between 1961 and 1963. The Clocks: starring Joan Fontaine and Wayne Rogers. This one hosted by David Niven. A widow (Joan Fontaine) planning to re-marry insists she is being haunted by the ghost of her first husband. + Thunder in a Forgotten Town: starring David Janssen, William Schallert, Jackie Cooper, Edie Adams. Susan Oliver, Milton Berle, Ellen Corby and more (this one presented by Steve McQueen). After ten years in a Red Chinese POW camp, John Reardon (Jackie Cooper) returns home.
H510 Fiend of Dope Island, The (61) Dope island dictator Charlie Davis (Bruce Bennett) runs his island, whipping natives and friends alike anytime they displease him in any way. Since he's always drunk, the whippings are often. He has offered a blonde entertainer (sexy Tania Velia) to perform on the island. Her dance sequence and brief nudity are the best things in this film. But his true plan is to drug her, and rape her, and make her his own. He's also running a drug operation. Busy man. There is also a bloody shark attack! Everybody in this film makes you wonder if maybe an asylum was cleared out. Bruce Bennett was Tarzan in the 1935 12 chapter serial and lived to be 100. BA
Z140 Four Hours of Terror (59) aka: Kôdo nanasen metoru: kyôfu no yojikan aka: Altitude 7000 Meters: Four Hours of Terror Terror in the sky Japanese style! First we meet the flight crew. Then many of the passengers. Once in the sky, a madman pulls a gun and takes over. The widowed captain must try to save them all as this intense thriller unfolds. Many nice shots from up high, and beautiful LBX and in Color. With English subtitles.
H558 Glory Alley (52) aka: La strada dell'eternità In silly backlot New Orleans, Prize Fighter 'Socks Barbarrosa' (Ralph Meeker) suddenly runs out of the ring before a title fight and swears he'll never fight again. His gal Angela (Leslie Caron) sticks by him, but her blind father (known as 'The Judge') brands him a coward and refuses to let his daughter marry him. Socks joins the army, goes to Korea, and comes back a war hero. He finally reveals why he left boxing. Will this clear him with 'The Judge'? BA
H592 Isle of Secret Passion (82) Louis Jourdan is your host for this flick known as 'Romance Theatre'. This is a one off tale, (condensed) modified for this video release back in the day. Runs like one of those Harlequinn Romance novels, or at least the story looks like one of those melodramatic Gothic-like covers. I never read one. Have you. I doubt it if you are reading this. Dark Shadows without the monsters, in a stagey setting. With Patch Mackenzie and Zohra (Jessica) Lampert.
H575 Last Gunfight, The (60) aka: Ankokugai no taiketsu A manhood friendship between an untouchable cop and a gangster of the underworld with a heart of gold (well), who is just simply out for revenge for the murder of his wife. Night clubs, cabaret songs and brutal shooting scene in a bar shows science fiction was not the only genre in Japan in 1960. In Color LBX and with English subtitles. BA

Z130 Love on Top (74) aka: Le mouton enragé A middle-aged man (Jean Louis-Trintignant) picks up a pretty young woman (Jane Birkin). When he finds out she is a prostitute, he slaps her into submissiveness and then 'rapes' her. She ends up adoring him for it (proving once and for all how times have changed mightily since the 70's). He discovers he seems to have some seductive powers over beautiful women. This is a very dark comedy, an absurdist's delight. Death, suicide, murder, numerous jabs at politics, marriage, journalism... more. Florinda Bolkan as a bisexual power broker, Romy Schneider at her most appealing, Sexual revolution Euro trash. In French with English subtitles. LBX BA
Z132 Murders in Chicago (69) aka: Homicidios en Chicago This murder mystery begins with the seemingly accidental death of a construction worker, followed by the death of a noted publisher. The police, a coroner and a vagrant embark on separate inquests in search of answers. Meanwhile a woman is under pressure by a blackmailer who has pictures of her in bed with the deceased publisher. LBX and with English subtitles. From the director known as 'The Spanish Ed Wood' Jose Maria Zabalza.
Z151 Nest of the Cuckoo Birds, The (65) aka: The Violent Sick Bert Williams plays an undercover cop who tries to bring down some moonshiners. When his cover is blown he is forced deep into the Florida Everglades to avoid getting murdered. Deep in the alligator swamps, he winds up in a hotel in the woods inhabited by some pretty strange characters. What's up with the topless blonde? A truly bizarre concoction that starts off like a police/crime flick and then sinks into an unholy fairy tale of Southern Gothic melodrama and horror. LBX BA
H563 Odds Against Tomorrow (59) aka: Wenig Chancen für morgen Robert Ryan plays racist small-time crook Earle Slater, who must team up with Johnny Ingram (Harry Belafonte) a jazz singer with debts. Crime noir with a race conflict. Also with Shelley Winters. Written by black-listed Abraham Polonsky under a pseudonym. BA
Z162 Order of Death (83) aka: Corrupt aka: Copkiller aka: l'assassino dei poliziotti A movie every Harvey Keitel fan should seek out, a dry run for 'Bad Lieutenant', but not yet unhinged. He plays crooked cop Fred O'Conner in the streets of New York who co-owns a luxury bachelor pad with his partner (played by Leonard Mann), bought with dirty money. The city is going through a series of cop killings, and paranoia is rampant. He gets paranoid when a punk starts stalking him (Literally! John Lydon, yes Johnny Rotton of 'The Sex Pistols'!). He claims to be the killer and the mind games begin. This terse, claustrophobic oddity is enlivened considerably by Ennio Moricone's score. Unusual Italian made crime film in English language. BA
H512 Rainbow Serpent (83) aka: Haltéroflic Gay bodybuilders and drag queens engage in sadomasochism and drama as they live their lives in clubs and the gym. F.L. and no subtitles.
H577 Reluctant Heroes, The (71) aka: Los Heroes Cansados aka: The Egghead on Hill 656 The Korean War. A Lieutenant (Ken Berry) finds he and his men are surrounded by the enemy. Using ancient tricky tactics from history books he read in the past, he gets to work on using them instead of following impractical (for them in their position) protocols. Interesting cast includes Neville Brand, Don Marshal, Warren Oates, Ralph Meeker and Cameron Mitchell. BA
H500 Saviour, The (80) aka: Jiu shi zhe Inspectors Tong and Cheng are investing a psychopathic serial killer who has been raping and murdering prostitutes. With the help of a young prostitute, they follow the bloody trail to… Ronnie Yu directs. English subtitles and trailer to the film.
Z123 Scarbea (69) aka: Scarabea - wieviel Erde braucht der Mensch? A German lecher on vacation makes a wager with some locals that he can make a walking circle from sunrise to sunset to some coveted land. He is hindered by the sexy and mysterious Scarbea (Nicoletta Machiavelli). With drunkenness and sex on his warped mind, he attempts to circumnavigate the parcel of property. This story is a retelling of an ancient folk tale told by Tolstoy where the initial victim bets his soul to Satan against the land he desires. With nice easy to read yellow subtitles.
H545 Sharks and Men (76) Popular time for Sharkumentaries! Gory (for the fish) sea bound shenanigans with just about all of the movie filmed in the deep with an assortment of aquatic players usually being tortured and killed by humankind. Some pretty cool Great White Shark footage. F.L.
H427 Show of Shows, The (15) Footage culled from the past of circus performers and circus settings, which was apparently all filmed in silence, but in nice color (mostly), shown here with melancholy mood music, added for enhancement purposes. For many today, the treatment of animals in acts will make them cringe, and therefore this film would damage their fragile psyches. For most however, this is a fascinating look at a time that no longer exists, a time where new frontiers were being explored. A time in which America, was just starting to find itself. Bring on the Freaks! Essential for circus/carnival buffs.
H555 Siege of Fort Bismarck (63) aka: Chintao yôsai bakugeki meirei During WW1, Japanese planes attack a lone German enemy outpost. Japan actually fought in WW1 on the allied side. Also interesting that their historical attack and success here, ended up gaining them leverage for what would come later in WW2, to their advantage. Boom! Crash! A special effects extravaganza LBX and Dubbed into English! Incredible.
Z135 Terrorism: Could It Happen Here? (77) aka: Italia: Ultimo atto? Ahem... yes it could! Luc Merenda plays a terrorist who, along with his buddies, plots an assassination, the build-up to said hit told in flashback. Insert some real footage of riots and uprising situations to help clarity the feel of the era, some suspenseful action bits and intrigue. Amazing just a year later Italy would have it's hands full with the rise of real terrorism with The Red Brigade.... Also with Lou Castel and Marcella Michelangeli. Sharp English dubbed LBX. BA
H596 Three Wise Boys (63) Three boys with a Santa/Gifts fixation are taught the true meaning of Christmas... + To the Rescue (52) Dogs! Dogs! Dogs! The plot revolves around pedigree poodles and one particular runt that is adopted by a group of boys. When the runt is kidnapped by a sinister Frenchman, the rest is a madcap chase through the English countryside. + short British film Black Memory (48) See British section for a description of this one.
H503 Tropical Malady (04) aka: Sud pralad What seems like a gay love story between a soldier and a country boy takes a turn to the spiritual and the supernatural for the second half of the movie. They consummate nothing, and the soldier goes into the Thai jungle pursuing a spirit's path. He is caught between two worlds. He talks to animals, sees ghosts, and receives advice from a baboon. A cultural journey. LBX and with English subtitles. BA
Z154 Weapons of Death (77) aka: Napoli spara! Violent chaos with Henry Silva as a slimy underworld boss who gets a little too ambitious for his own good, robbing a money train and a police station in plain sight. Of course his nemesis Leonard Mann's character is after him. Try to keep up with the action, the violence, tons of explosions, shootouts, protracted car crashes, people on fire, mutilated faces, a Gino De Rossi patented decapitation and more. One of the most violent of the genre, and recommended. Silva kicks and wow, what a finale! LBX and dubbed into English. Upgrade! BA

MODERATE AND MADE FOR TV FILMS
Z173 Game of Crime, A (64) aka: Crimine a due A woman lives with her husband in a huge Italian villa with not only a deformed crippled brother with his own nurse (Lisa Gastoni), but also with creepy tunnel underneath full of rats. And still things are not always as they seem as the wife plots with her lover to do away with her husband, things go off the rails. As close to a 'noir' type Gothic Horror as you can get, and a proto-type for the future Giallos to come. With John Drew Barrymore (father of Drew) LBX and with English subtitles. BA
Z93 Mysterious Monsters, The (75) Peter Graves narrates this exploration into the mysteries surrounding the 'sightings' of various creatures. Using the advanced technologies of 1976 (ahem) Graves informs us ape creatures live in the woods, Yeti and the Loch Ness Monster may exist and more. Thankfully in 2017 nothing has changed and even more people are convinced these creatures dwell somewhere on earth. Makes the Earth a little more entertaining I suppose. This is pretty excellent as far as MFTV documentaries go, and when Peter Graves is selling it, you almost buy it! Upgrade!
Z157 Travis (96) Another Gothic variation of 'The Woman in Black' except this time with the ghost of a boy. Hired to sort out the estate of the deceased De Le Meir family, Jeremy Heartley is taken to the family home, there to spend the night at work. He spots a boy in the graveyard, who keeps reappearing and asking him to play. When he tries to reply, the voice disappears. An unofficial adaptation with some good atmosphere and some decent scares. This from the Czech Republic, LBX and with English subtitles.
MONDO AND HINDI FILMS
H537 Bisa Kelabang Geni (88) aka: The Poison of Kelabang Geni Here yet another Indonesian action/fantasy film. A particularly vicious female warrior, a strange monster that literally is hatched through a man's ass, and then drills through people's bodies. Then they barf up green slime! He is the warrior with the lethal rear! It's like that thing that came out of Marilyn Chamber's armpit in 'Rabid'. Throughout this film is horseback riding warriors terrorizing and killing villagers everywhere in gory graphic ways. No subtitles and LBX. - F.L.
H526 Halik ng bampira (97) Two boys are spying on a sexy woman and man who are making out, and the woman attacks the man. She's a vampire! She feasts on her victim. Plenty of violence and gore in this one. One amazing scene has the vampire woman dragged underneath a semi truck which rips her up pretty bad. But her body starts to reanimate! Run! But she really wants to be good, to be cured. The question? Will she be? And who will she infect? F.L.
H538 Pendekar Ilmu Api (89) aka: Swordsman of Fire It's a world of swords, sorcery (and a little kung-fu) with mixtures of well-known films copied and changed. Tribes of men and women are constantly fighting for survival. One warrior fights with the leader of his tribe and is exiled. He walks through all kinds of terrain and then runs into a trio of female hunters, who get the best of him. In many ways similar to 'One Million Years B.C' and others. There is a giant lizard dragon on the beach that our hero attacks with a severed medusa-like head he uses to kill the monster (like Perseus in this 'Clash of the Titans' moment! ) More insanity and gory FX moments (and a midget!). F.L. and no subtitles. This film has some picture problems from time to time, but is so obscure and cool, we still listed it.
H539 Pendekar Tangan Hitam (77) aka: Midnight Fighter aka: The Black Glove Fighter Murni is kidnapped and taken to be the wife of Datuk Benalu, but she keeps hoping that her son will free her. Her nephew, Megat, along with three others (including two bad-ass females) he meets along the way, are on the mission. They are attacked by Benalu a one-eyed villain. Old-school kung-fu battles galore, impalings, beatings, stabbings, training sequences and more! F.L.
H536 Special Silencers (79) Barry Prima stars in this Indonesian Horror/Action that is actually dubbed into English for a change! Some stunning gore effects and a kick-ass action woman (Eva Arnaz!) add to the fun! Loads of cool kung-fu battles. In the finale the heroine is tied up and they throw rats on her. Barry Prima has been hung upside-down and he escapes with a large blade and goes rolling across the floor in a barrel and hacks a villain's leg off! Then the largest battle of the film! Snakes, cool gore plant monsters ripping through flesh, plenty of action, and dubbed into English! Upgrade!

PROPAGANDA FILMS
H570 Battle of Stalingrad, The (49) aka: Stalingradskaya bitva I Some pretty heavy-handed propaganda here from the Russian government. Disclaimer! (no collusion on our part to offer this title) The goals were to glorify the Russian war effort and sacrifices that led to the demise of the Nazi's, warn the free world of the folly of opposing communism, and to give credit to Joseph Stalin as the mastermind behind Russia's WW2 victory. Incredible! Roosevelt and Churchill characters show up, but here it is clearly Stalin, and Russia who have saved the world from the Germans, at least as seen here. The battles must be seen to be believed! With English subtitles.
H574 Fall of Berlin, The (50) aka: Padenie Berlina Russia's epic scale propaganda film on what 'really' happened regarding WW2. Stalin, one of history's most feared and ruthless mass-murderers, appears as some kind of benevolent, peace-loving demi-god all dressed in white, always in control, patient, worshipped by thousands of fanatical followers, idolized by the common folk. You'll be shocked by the love he receives here. Compared to him Churchill and Roosevelt seem like senile losers, and Hitler comes across as a raving cartoon maniac. It's incredible I tell you, something that astounds, quite the contrast to our American propaganda films. In color and with English subtitles. BA
H523 Perversion for Profit (65) Before porn films were legal, the crusaders of decency were attacking newsstand obscenity, regarded by them as a floodtide of filth! This is some amazing propaganda that will leave you speechless. + Boy's Beware (61) In this P.S.A. all homosexuals are painted as mentally sick pedophiles hunting young boy's and trying to get them to get into their cars, or hanging around the public toilets looking for youngsters to molest, and even murder! Their claims are so outrageous this deserves a look and makes you think, wow 56 years ago this was a national public perception. + The ABC's of Sex Education for Trainable Persons (75) Please just stop I can't take anymore! This P.S.A is meant for professionals who work with the mentally impaired (what used to be known as 'Retarded People') meant to be a training on how they discuss sexual issues with them. And yes, things get very nasty! Look, if you have a wicked sense of humor, this may just have you rolling on the floor. I cannot tell if they are using actors as the disabled or not, This whole triple feature is just jaw-dropping!

SOUTH OF THE BORDER & MEXI MONSTER FILMS
H542 Blue Demon versus the Infernal Brains (68) aka: Blue Demon contra cerebros infernales Here Blue Demon even manages to acquire some powers, like being able to run through a solid wall and the ability to teleport. Luckily the police have him on their side in their battle with a mad doctor and his army of female brainwashed torpedo-boobed (as in large and pointy!) zombies. It's Blue Demon's version of 'Astro-Zombies'! Both out the same year! But who copied who? Nice quality and with English subtitles!
H543 Blue Demon versus the Satanic Power (66) aka: Blue Demon vs. el poder satánico This one shot in black and white is a total atmosphere drenched horror film. Opens in 1914 when a Satanist fakes his own death so he is not executed, which causes him to be buried alive! Fast forward 50 years. Grave robbers dig him up! Finally free he starts his satanic reign of terror once again from a subterranean lair, and his hiding place headquarters that look like something out of a Dracula film. First things first, the kidnapping of a pretty woman.... Blue Demon is going to have to take a break from the ring and get after this supernatural madman! With easy to read red English subtitles. BA
Z103 Cemetery of Terror (85) aka: Cementerio del terror When partiers break into an old abandoned house (by a cemetery), looking for nothing but a good time with a boom box, babes, booze, and a little black magic, they find themselves under attack from the dormant evil they have awakened, which is using the corpse some medical students have dug up. Ah, the popular theme. But is it done well? Hell yes it is! Better than some of it's contemporaries in fact. Plenty of blood and carnage, with the main evil attacker from hell being a super-human Satanic slasher named 'Devlon', plus the dead are rising from their graves in an all-out undead assault! Bloody good fun. Filmed in Texas. With English subtitles. BA
Z104 Don't Panic (87) aka: Occult Dimensions aka: Dimensiones ocultas When on his 17th birthday Michael unwittingly unlocks Satanic forces after tampering with an Ouija board, Virgil, the evil brought forth, starts to murder his friends in his dreams. But it's really happening like 'Freddy' son, and soon Michael's premonitions warn him of who's next, so maybe he can save them. There is also a sequence in a hospital where the killer stalks that reminds of 'Halloween 2'. Michael must find the demon's dagger and stop this hellish horror. Excellent mixture of horror films. With English subtitles. BA
Z105 Demon Rat, The (92) aka: La Rata Maldita In the near future, Earth is spoiled by rampant pollution. Everyone wears respirators and sunglasses to protect against smog and ultraviolet radiation. Manatees, penguins, and otters are extinct (how will we live?). A school teacher is undergoing a nasty divorce from her industrialist husband. Meanwhile, her husband's company dumps plutonium in a river. The plutonium spawns a killer mutant rat (more like a furry dwarf, actually). The rat invades the teacher's house, eats her poodle, and tries to kill her… with English subtitles
H501 Madame Death (69) aka: La Senora Muerte - John Carradine goes to Mexico for a series of horror films. In this one, he is Dr. Favel, a mad scientist. who teams up with a disfigured young woman (who has a baby lion as a pet, aww) to help her affliction, an affliction that it looks like Carradine caused in the first place in his laboratory with his hunchbacked assistant. (or maybe not) The lab by the way is pretty cool, and thousands of dollars more expensive looking than 'Astro Zombies'. Through some type of telepathy, Carradine communicates with Madame Death, who looks perfectly natural when she kills, decked out in shiny black leather, extracting blood from her victims into a bottle, presumably to stop the change. Carradine whips his hunchback when the poor guy gets into a tussle with Madame Death. She murders one of her female victims in a wax museum (complete with Wolfman and Frankenstein) then puts her in a guillotine and chops her head off! Go Lady Death! Also with Regina Torne, Elsa Cardenas. Nudity. Since Carradine was in 'The Astro- Zombies' the year before this was made, I am betting he thought he was living large in this laboratory. F.L.
H541 Rider of Death, The (80) aka: El Jinete de la Muerte A Mexican hombre with a big ass sombrero comes face to face with 'The Rider of Death' after he dies and ends up in the lair of the dead. There, he is given a chance to return to the world of the living. The Rider is a skull-faced guy with a reaper. He gives the guy a white horse. But what was the deal he made with 'Death'. It seems people are dropping like flies for one reason or another whenever he is around.... Maybe he is the Rider, and Death as well! F.L. and no subtitles.
Z107 Santo vs. La Hija De Frankenstein (72) aka: Santo vs. Frankenstein's Daughter Frankenstein's blonde daughter is busy working on a youth serum and needs the pure blood of Santo, which can repair damaged cells at an accelerated pace. They kidnap his girl as a lure, and there is also the Frankenstein monster on the loose. Catacombs, mist, skeleton corpses in coffins... and meanwhile, without Santo's blood, a certain daughter of a certain mad scientist may just age rapidly revealing her true self.... In Spanish only so F.L.

WESTERNS
H450 $1,000 on the Black (66) aka: 1000 dollari sul nero aka: Les colts de la violence Johnny Liston (Anthony Steffan) has just finished his stint in prison (after being framed by his brother, Sartana) and is returning to his hometown. Upon arrival he learns that his brother rules the land like a monster, and has even taken his former bride to be. Teaming up with his former girl's mute brother, Johnny attempts to restore order, which leads to much conflict and violence. Nice bizarre looking locations in this one. Also with Erika Blanc as Joselita. Gianni Garko is Sartana (a bad one, not the hero guy you would expect) LBX BA
Z114 Boldest Job in the West, The (72) aka: El más fabuloso golpe del Far-West A misfit band of outlaws are about to pull off a bank heist with dynamite in Sun Valley, Nevada. This one has a mean and hard edge to it with nasty characters and stark barren outdoors with a dirty environment in a muddy town, surrounded by white, rocky snowy mountainous locations. The film's cast includes horror regulars Patty Shepard, Frank Brana and Charly Bravo. English dubbed, LBX BA
H557 Canadians, The (61) aka: Al otro lado de la frontera Taking place immediately after Custer's Last Stand, the Siouz have migrated to Canada to avoid the U.S. Military, which forces the Canadian Mounties into action. Inspector William Gannon (Robert Ryan) is sent to meet with the Sioux Chief Four Horns (Michael Pate) outlining the conditions that will allow them to settle onto Canadian soil. Of course the other terms are impossible to keep, and violence ensues. Also with John Dehner and Torin Thatcher. A Canadian based western! BA
Z117 Captain Apache (71) aka: The Guns of April Morning Lee Van Cleef is Captain Apache (and sings two tunes!)! He is sent to investigate the murder of a Commissioner, and discover the meaning of the dying man's last words 'April Morning'. It is a murder mystery in a western setting. With nothing to go on, Captain Apache is involved in a tense alliance with a gun-runner named Griffin (Stuart Whitman), scores with hot chick Maude (Carroll Baker), is involved in more astounding scenarios in this comic book styled western (that opens with a summarizing montage of the entire movie complete with a cheesy as hell guitar driven song!). Also with Elisa Montes (among many more familiar faces), a starlet in more notable films. LBX BA
Z119 Death Walks in Laredo (67) aka: 3 pistole contro Cesare A gunman teams up with his long-lost brothers ( A French Hypnotist and a Japanese Kung-Fu Master) to go up against a villain (Enrico Maria Salerno) who is obsessed with the Roman Emperor Julius Caesar. He even calls himself Julius Caesar (Fuller) and has built a palace, complete with slave girls, a sunken bath and a 'Praetorian Guard'! The brothers have inherited a goldmine, and Caesar is dead set on cheating them out of it. Femi Benussi as 'Tula' just one of the many reasons to check this offbeat western out! Incredible new LBX version. BA
H509 Fair Play (72) This is the 'Manos, Hands of Fate' equivalent as a western. Bad does not condemn it enough. A young man visits his Uncle in the town of Fair Play, where the citizen's are constantly engaged in one squabble or another. A real mess. Strangely compelling, just so you can insult it and yell at the screen.
H487 Killer Caliber .32 (67) aka: Stirb oder töte! Bad-Ass Silver (Peter Lee Lawrence) hunts down and kills members of a masked gang, one by one, using 'Silver' bullets. Silver proudly proclaims that he only kills people who deserve to die, and insists on being called 'Mr. Silver'. Of course, he is a gun for hire! After killing someone in a small town, Mr. Silver is hired by the owner's of the local bank to kill the men who not only keep on robbing the bank, but have also been hitting stagecoaches, murdering the passengers on their last raid. LBX BA
H562 Law vs. Billy the Kid, The (54) aka: Verdammt ohne Gnade Billy the Kid (Scott Brady) is forced to kill for the woman he loves, and now has Pat Garrett (James Griffith) hunting him down. This other account of an oft told tale boasts rich color on a low-budget, familiar B actors and able direction from William Castle. Also with Betta St. John, Alan Hale Jr. and more. BA
H449 Lone and Angry Man (65) aka: A Bullet for the Sheriff aka: Una bara per lo sceriffo Anthony Steffan is Joe Logan, who goes undercover, posing as a guy named Shenandoah, to infiltrate a gang of brutal highwaymen. These bad bastards have the sheriff in their back pocket, and the locals have no protection. Joe Logan is after retribution and justice. But when the bad guys start to smell a traitor in their midst..... Nice LBX BA
Z121 Outlaw of Red River (64) aka: Django the Condemned aka: El proscrito del río Colorado Fleeing from Texas after being accused of murdering his wife Reese O'Brien (George Montgomery) is now the right hand man of a known Mexican bandit turned General, living in Mexico. Nice LBX BA
H459 Rattler Kid (67) aka: Un hombre vino a matar When a Yankee soldier get framed for the death of his superior, the dumbest court in the land votes to hang him. But luckily he escapes so he can track the real culprits and clear his name. Lots of havoc and gunplay ensues. Brad Harris is the town sheriff. Femi Benussi the eye candy looking typically glamorous. And let's not forget hard-man henchman Frank Brana! Directed by Leon Klimovsky pre-Naschy years. LBX BA
H565 Return to Warbow (58) aka: Ritorno a Warbow A jailbreak leads to excitement as criminals fight their way off a work detail chain-gang and go on the run to recover their stolen loot, hidden in the town of Warbow. Philip Carey, Catherine McLeod, Andrew Duggan, Jay Silverheels and more star. LBX BA
Z148 Two Brothers in Trinity (72) aka: Jesse and Lester aka: Jesse & Lester - Due fratelli in un posto chiamato Trinità Nice LBX upgrade and longer than other versions. Estranged brothers Jesse and Lester reunite after receiving an inheritance. One of them is a womanizing charming rogue (Richard Harrison) who wishes to use the money to open up a whorehouse, the other a self-righteous priest (Donald O'Brien). Forced comedy ensues as they encounter wild situations and a plethora of odd characters. When they try to claim their land they find it inhabited by a gang of strip-miners, putting their personal squabbles on hold until they can take action against these vagabonds. Interesting variation on the usual Terence Hill and Bud Spencer type. English dubbed. BA
H508 Wackiest Wagon Train in the West, The (76) 'Dusty's Trail' a comedy western starred Bob Denver as 'Dusty' and Forrest Tucker as Wagonmaster Callahan and ran 42 episodes in 1973-1974. Here are 4 episodes cobbled together into a movie with no laugh track. With Lori (Mara of the Wilderness) Saunders.

---
---
** ADULT TITLES ARE CURRENTLY NOT LISTED ONLINE.
WE WILL INTRODUCING VIDEOSCREAMSXTREME.COM IN LATE SPRING 2018 WHICH WILL OFFER ALL ADULT TITLES AND MERCHANDISE. YOU CAN HOWEVER ORDER ALL TITLES AS USUAL.
---
---