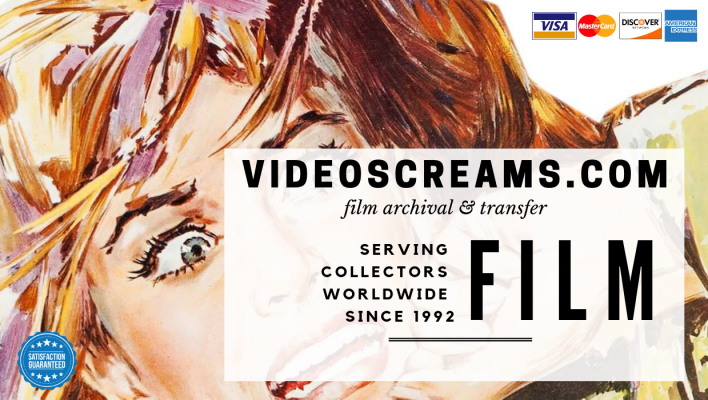 ---
HOME | SECURE ORDER FORMS | ONLINE SPECIALS | CATALOGUE | NEW ARRIVALS | CUSTOMER SERVICE | PRICING & ORDERING INFO
---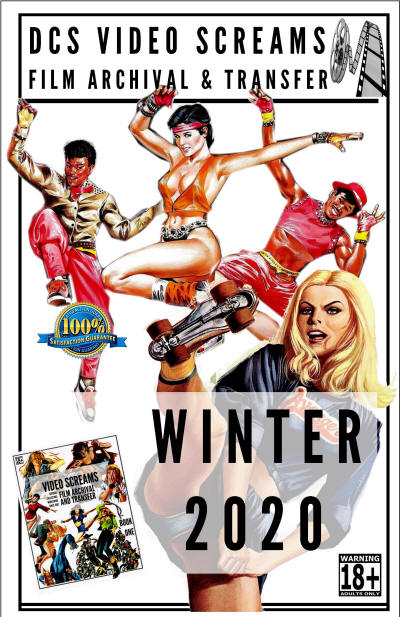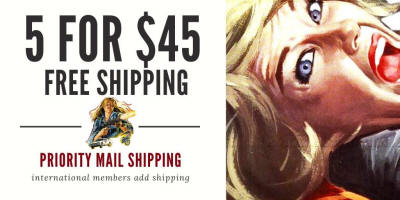 BA= Color Box Art Available for an additional $3.00
FL= Film is in Foreign Language
Lbx= Letterboxed or Widescreen format
Subs= Film is subtitled
aka= Also Known As (alternate titles)

22860000
22860000
(`@`````````
266
263
5
110185200
110185200
BIKERS, BITCHES AND BABES
5396 Blood Queen (73) aka: Little Mother aka: Woman of the Year Marina Pinares, the wife of the president of a South American country, insists on being his vice-presidential running mate in the next election. She's no stranger to assassination to get what she wants, so some suspect she'll kill her own husband after the election to become president. Becomes a hybrid of politics and exploitation. 'Double Face', 'De Sade', 'Hot Pants' these are just a few films that starred Christiane Kruger. Here she is 'Blood Queen'! Director Radley Metzger was usually more interested in hardcore than mainstream, so he manages to insert some near hardcore footage making it look like Kruger is really having sex!. Now. You can watch that crappy Madonna movie called 'Evita' (what a phony whitewash) ... or this masterpiece. Kruger is much prettier. Evita... I mean Blood Queen, gets gang banged in a strange well lit party at one point. Also with Ivan Desny, Mark Damon and Anton Diffring! They say this is based on the life of 'Evita'- which is of course disputed... But we know. LBX and English language dubbed. With foreign subtitles. BA
J907 Great Chase, The (75) aka: Karei-naru tsuiseki Sister Street Fighter star Etsuko Shihomi plays a young race car driver named Shinobu is recruited by the Japanese Secret Service. Immediately she finds herself in danger with drug cartels and Yakuza. Shiomi is an enigma in Japanese cinema. You just know she is going to open up a can of kick-ass at any time. Her martial arts skills would put any American actress of 1975 to shame. She could take on all of Charlie's Angels and not break a sweat. Not only that, she is sexy as hell. Over the top action includes a battle with the lead criminal high up on a moving gondola. And watch out for the whip wielding nun! English subtitles and LBX BA
J863 She Cat (83) aka: Meneko Aggressive lesbian Sachiko moves in on cute, young and innocent Meneko (aka: Dr. Cat!). Years later, Meneko's past catches up to her, and after a failed assassination attempt, Meneko realizes she is up against a team of brutal killers. Meneko must take the law into her own hands if she is to survive, using her 'special' skills! One of the sexiest entries. The ample assets of lead actress Ai Saotome pulling steamy lesbian sex shower sequences and action-packed gunfights in one film is enough for me! On a sad note, Saotome died at age 50 in 2010 of multiple organ dysfunction syndrome in Seattle, Washington. LBX and with English subtitles. BA

CLASSIC HORROR AND SCI-FI FILMS CHOOSE ANY TWO CLASSIC TITLES TO CREATE YOUR CUSTOM DOUBLE FEATURE $14 ON DVD-R OR VHS - SINGLES AT REGULAR PRICE.
5399 Africa Adventure (54) aka: Cavalgada de Aventuras Robert C. Ruark leads an expedition into Africa with the intent as he puts it 'to show Africa as it actually is, and some aspects of life and death'. No fraud, no heroes, no staging. Opens with lions and giraffes, water buffalo, hippos, crocs and more. Ruark's plane lands and the safari workers are picked. In the wild, savages are encountered, as well as randy wildlife, who are not too thrilled with this intrusion of men into their primitive domain. They shoot an elephant dead and celebrate. The tribe reaps the reward of the carcass. Now they shoot and kill a rhinoceros. Every time they kill, the tribes harvest. BA
5400 African Manhunt (55) aka: Sos polizia colonial aka: Attack of the Stock Footage Jungle A wanted criminal is captured and traveled through Africa on way to the coast. Along the way we are treated to numerous encounters with wild animals, native tribes via stock footage, and narration. One of those where the cast pretends they are actually in Africa, but really are in Hollywood, reacting to stock footage. One hilarious sequence has a stock footage elephant charge, and the woman runs and falls etc. (she does the exact thing later when chased by a stock footage lion!). Five minutes later she is still in the jungle, in full makeup, with a crisp clean outfit. The whole affair is pretty cheap and amusing. One amazing sequence though I must mention. A native is running from a lion and it catches him and starts ripping him up. This is real! With Karin Booth, Myron Healey, Ross Elliot and John Kellogg. BA
J992 Amazing Transparent Man, The (60) aka: El increíble hombre transparente Within the course of the 58 minute running time, you will be exposed to invisible fist-fights, an invisible heist, atomic blasts, jailbreak, anti-nuclear weaponry propaganda, and just about everybody screwing each other over. A ferocious safecracker is sprung from the pen by a nefarious former military agent where he undergoes radiation experiments, making him invisible, in order to get him to steal guarded uranium deposits. The plan is to build an army of invisible men to take over the world. Quick, to the point, and entertaining. BA
J958 Fame and the Devil (49) aka: Al diavolo la celebrità In order to gain the affections of a beautiful woman, three men make a pact with Satan. Stars Marilyn Buferd (Miss America just three years earlier) and World Middleweght Boxing Champion Marcel Cerdan (who died tragically, Oct 27 1949, in a plane crash on the way to the United States for a return match with Jake Lamotta.) He had just made a deal with the devil in a movie, then his plane crashed. I only hope he got the girl, at least for a weekend. BA
Q923 Fury of the Jungle (33) Pretty lurid island thriller, with all the standard character ingredients. Down on his luck guy drowning his sorrows in a South American jungle village (Donald Cook). A grimy guy named Taggert (Alan Dinehart) that has a thing going with washed up slut (perpetually typecast Toshia Mori), and the new girl, pure as the driven snow (maybe), the new play toy that Taggert sets his sights on. She is played by Peggy Shannon. Pre-Code BA
J929 Ghost Cat and the Mysterious Shamisen (38) aka: Kaibyô nazo no shamisen One of Japan's few surviving pre-war horror films. A kabuki-actress named Mitsue is betrothed to an apprentice shaman. But a beautiful young woman of the samurai class is led to the apprentice's house by his lost cat and she is instantly attracted to him. Insanely jealous Mitsue flips out and the cat is the first to die by her hairpin. And next... the girl. But the cat returns from the grave.... In Japanese language and with English subtitles. BA
J831 Jazz Heaven (29) aka: L'idylle de la radio Johnny Mack Brown and Sally O'Neill never really transitioned to talkies due to their deep Southern accents. Here they star together in a creaky romantic musical that does not feature jazz or heaven. But there is one interesting scene with the chorus girl dancers dressed up as a cross between the statue of liberty and some sort of pagan goddess. The flapper era, where the little short skirts (well, just above the knee) were all the rage. It's the roaring twenties again! Or is it? Johnny Mack Brown would find a home in westerns. BA
J988 Jungle Hell (56) aka: Jungle Boy Stock footage galore as a doctor in a small village in India tries to figure out why the animals are acting weird. It seems radioactive rocks are causing it. Sabu is on hand, wearing what looks like 'Depends' and nothing else, but dammit he's fit, and wants to learn, so he can help his people. Elephants are plentiful here, as well as one cool unplanned stock footage scene where a tiger attacks and kills a crocodile. The flying saucer causing this mess looks like a flying sombrero, and it causes a plane crash. Finally, Sabu puts on some long pants, and a turban!
J944 Lighthouse (47) aka: Lobo marino Connie (June Lang) loves lighthouse keeper Sam (Don Castle). But is Sam in love with her? So she marries his older man boss Hank (John Litel). Connie moves to the island where the two men work the lighthouse. Now Sam is interested. And he wants to kill Hank. How will this trio's dilemma play out in this noir flavored potboiler? Don Castle overdosed and died in 1966 at age 48. The last film of June Castle. She blew her career making bad decisions (the worst when she married a mobster). The studios wanted nothing to do with her, but she got the last laugh and outlived them all, dying in 2005 at age 88. BA
J822 Men Without Names (35) aka: Federal Dick aka: Brigade spéciale A tough as nails gang robs a mail truck and then hauls ass west, landing in Kansas. When money from the robbery shows up in a Kansas town, the Department of Justice sends agent Dick Grant (Fred MacMurray) to investigate. Of course he meets a dame (Madge Evans) falls for her, but can't tell her the truth. Meanwhile he is getting closer to the crooks.... Also with Paul Fix and Dean Jagger.
J823 She Loved a Fireman (37) aka: Two Platoons Red (Dick Foran) is done being a politician, now he is a fireman. He ends up at Company 27, commanded by Captain Shannon (Robert Armstrong in another loud-mouthed tough guy role). Red falls for the Captain's sister (Ann Sheridan) and soon realizes fighting fires is a tough job! Watch the part where a fireman falls from a speeding fire truck! Damn, that looked fatal! BA

DINOSAURS, LOST LANDS, SWORD AND SANDAL, PEPLUM AND FANTASY FILMS
J965 Adventures of Manderin, The (52) aka: Le avventure di Mandrin aka: Don Juan's Night of Love Manderin (Raf Vallone), the French army deserter, leads a gang of smugglers in Piedmont, robbing from the rich and giving to the poor just some of their activities. In the meantime he loves the beautiful innkeeper Rosetta (Silvana Pampanini), and has also come under the suspicion of the Marquis, who is a favorite of the King. Sadly no English subtitles on this one. F.L. BA
J873 Big Grey-Blue Bird, A (70) aka: Ein großer graublauer Vogel Scientists have invented a machine that will unravel the whole fabric of space and time, but all have blotted the origins of their discovery from their minds. It's the time space destruction of the world as we know it. No one can know. But the words 'a big grey-blue bird' will trigger their memories.... Gangsters bent on world domination have figured out the key that unlocks the brains of the scientists. A bizarre offering and quite different, offering existentialism and conspiracy theory sprinkled with epistemology. LBX and with English subtitles.
J877 Duchess of Avila, The (73) Alphonse, son of a great man from Spain, receives from his father a hard and virile education. Having become a young man, he leaves the family estate to join the court of the King of Spain in Madrid. During his trip, he lives a series of fantastic and wonderful adventures populated by ghosts, spirits, demons and temptresses before arriving at the supreme test: love ... adapted from the novel by Jan Potocki "Manuscript found in Zaragoza" Four disc set (counting as three selections). Directed by Philippe Ducrest. In French and with English subtitles.
J925 Extraterrestrial (11) aka: Extraterrestre What would happen if the saucer invasion began when you had finally made it into the apartment of the girl of your dreams? You get the fallout of a one night stand, lies are told to cover up infidelity. Starts small, escalates slowly, maybe using the alien invasion as just a circumstance to interrupt the love story. I guess the funniest thing about this sci-fi comedy is the fact that the four people aren't as concerned about the aliens in the flying saucer as they are about who slept with who. Seinfeld: Jerry, George and Kramer in 'District 9' as one described it! In Spanish with English subtitles. LBX BA
5422 Flight of the Lost Balloon (61) aka: Il tesoro segreto di Cleopatra Visual effects by Jim Danforth, Harryhausen's main competitor at the time. Extremely low-budget Jules Verne influenced adventure that manages to entertain in a cheesy Saturday Afternoon Matinee nostalgia trip kind of way. In the jungle landing sequence, watch for the shadow of the crane that suspended the balloon in the shot. Hysterical monkey suits, and one of the funniest 'attack by condors' ever committed to film, brown-faced white actors... more. Mala Powers is the eye candy. Marshall Thompson also stars as well as the giant of Puerto Rico, Felippe Birriel and an uncredited Charles Gemora, Hollywood's gorilla, in his last film, ending a 33 year run. BA
J993 Flight to Mars (51) aka: Volo su Marte Crash landing on Mars, an exploratory expedition seeks aid from an underground alien civilization. Cheesy, schlocky and campy as it is, one cannot dismiss. The female aliens are leggy and mini-skirted for our viewing pleasure, and the special effects are fun by 1951 standards. The meteor storm looks more like a battle to survive an attack by orange dots (this is in color by the way). Originally Aelita, a Russian sci-fi, this is sort of an American version. The space ship scenes were re-used in other science fiction movies. Marguerite Chapman is Aelita. Arthur Franz and Cameron Mitchell star. BA
J989 Frankenstein vs. Baragon (65) aka: Frankenstein Conquers the World aka: Furankenshutain tai chitei kaijû Baragon The human heart of 'Frankenstein's Monster' obtained in Germany at the end of WW2, exposed to the radiation from Hiroshima, grows into a towering 'giant' Frankenstein-Monster, and goes on a rampage. When giant rubber monster (and full-time trouble maker) Baragon starts tearing up the countryside, the Frankenstein Monster proves a formidable foe. But still, he must contend with the giant octopus 'Devil Fish' that may just be his undoing. This devilfish monster sequence, complete here, is quite spectacular, and missing from the American release version of the film. So the first ending plays, then the extended ending (with the devilfish) follows. Nick Adams stars. + more! Uncut Japanese version Widescreen with English subtitles. BA
J995 From the Earth to the Moon (58) aka: Dalla Terra alla Luna It's 1868. While cavalrymen and Indians tangle and tumble on the frontier, American inventor Victor Barbicane (Joseph Cotton) has developed an energy (he calls 'Power X'!) that will propel himself and selected crew into outer space, with the moon as their destination. Forbidden by the president, they prepare to shoot the spacecraft to the moon via cannon. The effects are laughable, but RKO was going broke at the time, and this is pure science fiction gold with an excellent cast. Debra Paget is always nice to look at, and George Sanders, Patric Knowles, Henry Daniell and Robert Clarke (as the narrator) add sci-fi street cred (is that a thing?) to the proceedings. BA
5424 Girl Diver of Spook Mansion (59) aka: Ama no bakemono yashiki Japanese girl divers seek oysters, shellfish and pearls in shallow waters. A girl from a rich family who lost their fortune to an earthquake. The ghost of her dead sister has told her where the entrance to the underwater cave is, which would lead her to the family treasure. But is this a ruse by criminals who are also after the loot? Obscure Japanese film with no subtitles and the print a bit softer than usual. LBX BA
5418 Golden Horns (73) aka: Baba Yaga Russian Fairytale with some pretty cool outdoor locations. A golden -antlered deer roams the woods, protecting the poor and the weak. Children are lured into the wilderness by forest spirits. Baba Yaga is offended by this territorial misstep, and turns them into fawns. The mother is advised by the great deer and journey's into the unknown. The last child (a boy), also enters the dangerous region, in search of his missing mother and sisters. LBX and with English subtitles. BA
5420 Golden Mistress, The (54) aka: La déesse d'or Ann Dexter (Rosemarie Stack) brings a stolen voodoo idol to treasure hunter Bill Buchanan (John Agar) who, after getting directions and certain further voodoo paraphernalia from a native, sets out, with Ann in tow. After following an underwater passage to an island, they find a Pagan tribe. The golden idol is one of many, the others at the bottom of a sacred (to the natives) burial lake. Some real Haitian location footage. Filmed in color. John Agar's next film would be 'Revenge of the Creature'. BA
5394 Gorath (62) aka: Yôsei Gorasu Special Edition 2 Disc Set Gorath is a giant meteor on a collision course with Earth. Some people think Gorath is a giant walrus. More on that later. The core theme of the movie is a world united, trying to stop the destruction of the planet. Miniatures and destruction in Tokyo! The Japanese version features a giant walrus seen here. This plot has been used numerous times, most dramatically with 1998's 'Armaggedon' (minus the giant walrus, although if they had added a giant walrus, I probably would have liked it better). Second disc is the English dubbed American version with no giant walrus in sight. The Japanese version is LBX with English subtitles. BA
5417 Gorilla Safari (56) aka: Gorilla Question: Documentary or Drama? Answer: Both. Dominated by impressive scenery and lots and lots of cool animal footage... it's the jungle tale of a white hunter and some villagers, and the fear of a man killing gorilla in the Congo. For me, I would be more afraid of the stampeding elephants (which they do at one point). This is a Swedish film, dubbed into English for American audiences, and filmed in Color in the Congo. BA
5421 Guns of the Black Witch (61) aka: Il terrore dei mari American actor Don Megowan is one of two lead pirates who fight the Spanish warlords tooth and nail. He's also got the king's daughter (Silvana Pampanini) on his side, but where do her loyalties lean? The two brothers must come together and drop their differences if they are to topple, or even thwart the king and his minions. They have even stronger reasons, past transgressions. A solid pirate action film and presented here LBX and English language dubbed. BA
5423 I Tromboni di Fra Diavolo (62) aka: Les dernières aventures de Fra Diavolo Chased by a French colonel, the brigand Fra 'Diavolo takes refuge in a convent (with his promised bride) and pretends to be Napoleon. Acting legend Ugo Tognazzi, Moira Orfei, Jocelyn Lane and more star in this Italian/Spanish swashbuckler/comedy LBX and F.L. only BA
J818 King Monster (76) aka: Mystery of the Golden Eye Starts out as a weird documentary type mondo and then gradually introduces a story of adventure. Listen as Arthur Franz, the star of 'Atomic Submarine' (and many others) narrates the plot. Adventurers search for the son of a U.S. senator. He has gone missing and is one of many believed to be lost on the island of Komodo, home of the terrible Komodo Dragons. Watch real footage as the Komodo stalks and rips apart prey. See tigers kill and eat. Filmed in the beautiful Indian Ocean and island Komodo, Jakarta and Bali. Spoken English dialogue, some of it dubbed. Were the natives feeding live humans to the Komodo Dragons? It's like Walt Disney dropped acid and went to Bali to shoot a nature movie and things went seriously wrong. The Komodo stalking a crying baby goat before it and other Komodo Dragons start to rip it apart is pretty shocking. Big bugs, big lizards......not a place I would camp. Weird as it gets. In the end, the mystery is solved. You won't believe it!
J882 Magic Sword, The (50) aka: Cudotvorni mac Serbo-Croatian made fantasy film. While out hunting, a little boy ends up exploring the ruins of an old castle, and finds a barrel, which sends a voice for a drink of water. When he pours water on the barrel he releases the evil Bas Celik. Later in life, Bas Celik, who spared him as a boy, kidnaps his bride to be, locking her in a castle. The young man goes on a quest to find the only thing that can defeat Bas Celik. The legendary 'Magic Sword' of the title. This huge production boasts mightily with castles, blacksmiths, shields and swords, dungeons.... and an epic battle! With English subtitles. BA
J948 Man in Outer Space (62) aka: Muz z prvního století A humble upholsterer is making some last minute repairs in the cockpit of a spaceship and accidentally launches himself into outer space. He has an encounter with a sometimes invisible alien and ends up back on earth 500 years later, not aged a bit! This new Earth is devoid of war or violence. He bumbles his way along, comically trying for the lovely Eve. Czechoslovakia Science Fiction. Dubbed into English! BA

J931 Monk of Monza, The (63) aka: Il monaco di Monza Another 'Toto' film starring Pasquale Cicciacalda! Italy 1630: A widower with twelve children loses his job. He and a friend disguise themselves as monks and go knocking at the castle door of the widowed marquise Florenza (Lisa Gastoni) to beg. But Florenza is the one who begs. She seeks an escape from the forced and unwanted wedding she is being dragged into with the sinister Don Egidio. Also with the gorgeous Moira Orfei. With swashbuckling nuns! In Italian language with English subtitles. BA
J961 Musketeers of the Sea (62) aka: I moschettieri del mare Tongue in cheek swashbuckler with Aldo Ray (fitted in an unbecoming wig). Pier Angeli plays a duel role of a novice and her twin sister (kidnapped as a child, and brought up as a buccaneer). Colorful real ships in the sea, rousing action, they even burn one of the real ships on the open water. Gorgeous Pier Angeli killed herself with drugs before her latest feature 'Octaman' was released in 1971. Previously she was James Dean girlfriend, and even engaged to Kirk Douglas at one time. She was 39. Her twin is still alive as of 2020. BA
J966 Mysterious Cavalier, The (48) aka: The Mysterious Rider aka: Il cavaliere misterioso In this particular epic, that dashing Venetian nobleman Casanova (Vittorio Gassman) swings into action to track down an incriminating letter, which threatens to ruin the Doge's wife and sink the Republic. His quest takes him all across Europe, to the deliciously decadent court of Catherine the Great of Russia (Yvonne Sanson). On the way, he tangles with a sinister underground brotherhood, a transvestite lady spy (Gianna Maria Canale) and the notorious nymphomaniac Empress herself. Throw in a few sword- fights, a lavish Imperial Ball or two, a spectacular bear-hunt in the snow and a breakneck chase for the border on sleighs. There's even a grisly torture scene, to remind us that director Riccardo Freda finally left the swashbuckling genre to become the first great pioneer in Italian Horror. Here with English subtitles. BA
J872 Nutcracker Fantasy (79) aka: Kurumi-wari Ningyou Japanese made version is a magical, mystical stop-motion puppet take on Tchaikovsky's classic. Remarkably similar to the offerings from Rankin/Bass (the guy's who did 'Rudolph'). Clara receives a nutcracker doll from her uncle and falls in and out of a fever-induced hallucinogenic state. She dreams of the nutcracker being attacked by an army of wild rats who are led by an evil two-headed rat.... Clara is the princess in the dream. Truly bizarre, pretty dark for children's fable, closer to 'Nightmare Before Christmas' than 'Rudolph'. English language. BA
J861 Passage, The (86) aka: Le passage The Grim Reaper has his own control room. He monitors and chooses who is to die. There is a ghost train, and a video tape sequence (borrowed for the Michael Keaton film 'My Life'). The Grim Reaper has taken filmmaker Jean Diaz (Alain Delon) by causing an accident, that has also put David, Jean's son, in a coma. Death will let Jean live, and also his son. But the terms are steep. Jean must make a film, Death's plan for the annihilation of the human race. If Jean refuses, his son dies... Surreal. Christine (Sorceress, Naked Massacre) Boisson as Catherine, Jean's wife. In French and with English subtitles. LBX BA
5419 Pulgasari (85) aka: Giant Monster Pulgasari aka: Purugasari: Densetsu no daikaiju Feudal Korea (an oxymoron if I ever heard one): Peasants rebel against evil dictator. Vicious royal guards under the King's command confiscate anything that can be used as a weapon, and force the blacksmith to make weapons for the bad guys. Under duress he builds a figure out of rice cakes, praying for it to grow and be the savior of the people. It gets blood on it and does just that. The metal-eating Rubber Monster rises to assist the peasants. A cast of thousands. Special effects Extravaganza. The politics of the thing I'll leave for others to research. LBX with English subtitles.
J865 Supergirl (71) aka: Supergirl - The Girl from the Stars aka: Supergirl - Das Mädchen von den Sternen No superhero stuff here, just to be clear. The story is about Francesca, a mysterious girl from another planet, who frustrates and flusters all men wherever she goes. A playboy picks her up and takes her to his apartment. Later at a country estate, a man falls in love with Francesca (played by Iris Berben by the way). There is another woman, a cute blonde played by Karin Thome, the director's wife and frequent star. There is a movie being made, and the intention is making Francesca into a big movie star. Jess Hahn is credible as the cigar-chomping producer Polonsky (nod to the blacklisted director?). In German and with English subtitles
5408 Sword for Brando, A (70) aka: Robin Hood vs. the Demons of Satan aka: Una spada per Brando Our dashing Hero Robin Hood (Riccardo Salvino) battles devil-worshipping villains who, not only dress up in skeleton costumes, but have their headquarters located within a crypt! They roam at night, kidnapping young girls, this sect plans to sacrifice them to some dark deity. The first third of the movie feels like pure Euro-Horror, and even lifts music from Bava's 'Whip and the Body'. A mixture of costumer, horror and swashbuckler. Future porno star Karin Schubert also stars. It's actually pretty great and with lots of action, but no subtitles. F.L. only. BA
J963 Triumphs of Michael Strogoff (61) aka: Le triomphe de Michel Strogoff Strogoff (Curd Jergens) is assigned by the Empress to protect the young Prince during an expedition. Their adventures lead to them meeting Tatiana (Capucine), not knowing that she is a spy. It's a sequel to 1956's 'Michael Strogoff' but without the subtitles, or rather, no English subtitles, this has foreign subtitles and is in foreign language. LBX BA
J856 White Slave Ship (61) aka: L'ammutinamento aka: Les revoltées de l'Albatros In 1675, the Albatross travels from England to the New World. Men and women convicts are part of the cargo, to be sold into slavery. A woman on board frees the other women convicts who then mutiny. They throw many of the crewmen in the water and shoot at them for target practice. A man is whipped, then the women are almost raped... The new captains are no better than pirates. They plan to take the women to the island of Tortuga to sell to the 'real" pirates. Here comes the storm! The finale is an all-hands-on-deck battle between the liberated women and the faux pirates! Pier Angeli, Edmund Purdom and more star. LBX with English Subs BA
J836 Wonders of Aladdin, The (61) aka: Le meraviglie di Aladino aka: Aladins Abenteuer Campy 'Arabian Nights' theme here with Donald O'Conner as Aladdin. The lamp gives him three wishes. He uses the first wish to escape from some merchants he has robbed. Then, to escape from Amazon-babes who have captured him and his loyal bodyguard, Omar. Escape? Meanwhile the Grand Vizier is planning to marry the Princess.... Mechanical dolls, a dancing flute player, Amazons. torture, a trap door to the lion's den.... Bizarre fun played for laughs. Donald O'Conner is 35 years old here, and plays the youthful Aladdin, still living with his mother. Co-directed by Mario Bava! Special effects by Mario Bava. Also had other involvement from Bava behind the scenes, giving this film it's 'look'. Michele Mercier and more also star. BA

EXPLOITATION AND SEXPLOITATION FILMS
J922 1001 Ways to Love (68) aka: Comment les séduire aka: Verführung auf Französisch Tasty sexy French film with lots of nudity from some really attractive French tarts. A prince of seducers, introduces a series of erotic sexcapades in the vein of Decameron, regarding the lengths to which men will go to seduce the female objects of their desire. But sometimes there is a price to pay for such obsession. Plenty of nudity. English subtitles and LBX BA
J910 Beach House (77) aka: Casotto Extremely strange sexploitation from Italy. Amongst the crowd on the sun-kissed sands we have a man with two penises, an all-girls swimming team who strip in unison, a couple badly sunburned and trying to have sex, and a young knocked up Jodie Foster, whose grandparent's are trying to get somebody to have sex with her so they can pin the pregnancy on him! There's also a peeping tom and some weird surreal bit with Catherine Denevue. I am sure 15 year old Foster fired her agent after this one. LBX English dubbed and foreign subtitles BA
J904 Erotica (82) aka: Paul Raymond's Erotica Total debauchery and fun with Brigitte Lahaie and others! It's an exciting look at sleazy (or classy) dance routines at Raymond's London Cabarets in the early 1980's. The women strip out of fancy outfits and the energy is infectious, athletic, inspired by the new aerobic-disco phase of the times. The women dance alone, in groups, sometimes with nude men, but dance they do. Brigitte Lahaie is a French reporter, learning how to be one of the dancers. Lucky for us she is still horny, and has soft-core sex with the luckiest she comes across. One of these sauna scenes features what might be the first on-screen erection in British film history. Very minimal dialogue, some English, but mostly just total Erotica! BA
J880 Hot Springs Massage Geisha (68) aka: Onsen anma geisha A look at the lives of geishas who work in a seaside resort town. They greet boatloads of horny businessmen, giving them pleasure and erotic bawdy entertainment (not in that order). You get a geisha house, imagine what it must have been like, and some sexy catfights are in order here... but who rained on this orgy by abandoning a baby in the residence? LBX and with English subtitles. BA
5401 Inside the Love House (83) aka: Carnival of Love Inside a mysterious carnival funhouse for adults, Joe and Tara spice up their love life with various soft-core sex scenes that at times border on hardcore. Also with bubbly buxom blonde Becky LeBeau in her debut, as well as Kristi Somers of 'Savage Streets'. Some really hot soft-core here, a real surprise.
J881 Jumpin' at the Bedside (76) aka: Hopla på sengekanten aka: Hilfe, meine Frau ist eine Hostess aka: Danish Escort Girls A man (Ole Soltoft) neglects his wife (what is he thinking?) so she does what any neglected wife would do. Joins an escort service! In no time she is up to her ... um.. elbows in satisfied customers! One, an older guy, another younger one, s ss ss stutterer. They really appreciate her. She's a treat to watch, buying ice cream, or running half naked on the beach. Hubby thinks she is working at a sewing factory. But in truth, she is insatiable, and loves to make men happy! Lots of nice ladies here! In Dutch language with English subtitles. LBX BA
J911 Love Bandit (78) aka: Amor Bandido A police inspector is not only focused on the hunt for a serial killer of taxi drivers, he's also looking for his estranged daughter Sandra, who he kicked to the curb when she displayed her unwillingness to slow her promiscuous teenage behavior. Well it just so happens that Toninho is the killer, and he has just befriended Sandra, who is now an exotic dancer/prostitute, living and working in the seamy underside of Rio. A heady mix of sex, violence, murder and police brutality, based on a real life Brazilian crime case. Portuguese with English subtitles.
J913 Maladonna (84) aka: The Untold Story of Lady 'O' Maria (Paola (Eaten Alive) Senatore) cheats on wealthy husband Osvaldo with Alessio, in the late 19th century. She becomes his sex slave. Osvaldo cheats on Maria with Claudia (Paola Corazzi) who is Alessio's wife. Scrambling to backstab and betray regarding who gets ahead of whom ensues. When they are not having sex with each other's spouses that is. Plenty of sex and nudity. Unintended consequences of sexual lust. Senatore would end her career with a bang doing porn with the nasty Marina Hedman in 1986. LBX and dubbed into English
J932 Morbosita (74) aka: Morbosidad en un extraño asunto de amor Two sisters, Julia, a money and power hungry nymphomaniac (Eva Czemerys, a woman of some notable films, including playing the mother of 'Trash' in 'Escape From the Bronx') and the other, Anna, younger and manipulative (Jenny Tamburi). Julia's boyfriend is a young architect, who has little merit. Julia wants more... More wealth and more power. A land deal with a wealthy doctor and lawyer would make that happen... But they have little interest in making the deal... When younger sister Anna comes to visit, the rich and power men Julia wants to back her boyfriend, fall over themselves for Anna's attention. Anna flirts and manipulates... Seemingly innocent. Then on the evening of a party Anna is violently raped by the two men. Julia finds out, but instead of defending her sister, uses the info to blackmail the men, with the hopes they will help her social climb and quest for wealth. The rape is pretty cold and brutal. But why is Anna going to her rapists for more sex? Perhaps she is more like her sister than we believed? Tamburi is 22 here, gorgeous. She starred in a number of giallos. After a lengthy illness she died in Rome at age 53 in 2006. Now LBX and with English subtitles!
5402 My Friends Need Killing (76) aka: Echo of a Massacre Dark and Disturbing. Memories of a massacre haunt a Viet Nam veteran. He can't take it. So he decides to hunt down all of his buddies who served with him that carried out the atrocity. He believes that they all must die in the name of justice. The most brutal scene in the movie is when he forces one guy's wife to tie up the man, then he rapes his wife at gunpoint right in front of him. Simple, cold-hearted and vicious, this forgotten sicko shocker deserves another look for 'psycho-veteran-killer' genre fans. This is from an old foreign tape and is in English language, but has some type of foreign subtitles, and the quality is not as good as usual. Did notice the running time is 76 minutes instead of the listed 73 minute running time. With Greg Mullavey and Meredith MacRae. BA
J915 Nude on the Beach (69) aka: Desnuda en la arena aka: Sexual Fury More eroticism with Argentina born sex-siren Isabel Sarli! When her husband must travel to Panama for work, Sarli cannot wait she is so sexual, and begins a series of affairs with various men, carelessly, recklessly, leading to extortion. Sarli was one hot little number, with a great body, and fan-favorite-tastic breasts. She was the first actress to be nude in Argentinean cinema, back in the late 1950's. Sarli retired from film in 1984, but made a splash in Argentinean television later. She died in June 2019 of a heart attack at age 89. This film is in Spanish language only with no subtitles. Very colorful, Amando Bo directs and he loved Sarli, the camera worships her body (you'll see). BA
J935 Sailor Uniform: Lily Lovers (83) aka: Sêrâ-fuku: Yurizoku Two high school girls (played by of age gals) discover the pleasure of sex with each other until one of them decides she wants to do it with a boy. The other girl, a true-blue lesbian, flips out, and all hell breaks loose! Plenty of soft-core action with fine looking women. A lost genre. In Japanese language and with English subtitles. BA
J921 So, So Very Strong (70) Susan and Lisa are two hot lesbians. They get it on after meeting and falling in lust at the tennis club in Rome. They get down and party, and fall in love. But Susan betrays Lisa when she acts like a dog and goes after a bone (or a guy named Fred, it's a metaphor). Time for some Johnnie Walker. After a petty slap in a luxury apartment, the trio find themselves in hot water due to their 'unnatural' living conditions. Something frees the group later, but not how you would think.... Nice and sleazy, from a confused era of sexuality, however. Who doesn't enjoy seeing a couple hot lesbians getting together? In Italian language only and no subtitles..... but I explained the plot. LBX
J998 Summer Camp (79) aka: Despelote en el campamento A camp needs fixed up so the director invites back some of the former campers from a decade ago for a free visit, hoping to trick them into fixing up the place. What 'Meatballs; should have been! Here it is a raunchy down and dirty get-your-clothes-off comedy with gags that produce a few laughs. Sometimes mean, definitely tasteless, you get the fat slobby party animal guy, the stuck-up chick, and Linnea Quigley (under the pseudonym Barbara Gold) topless. Which begs the question, why a fake name from Quigley who basically was always naked at least once during every film she appeared in back then? BA
J994 Swinging Sorority (75) Willing Young Coeds Eager To Learn and Anxious to Please! A sexy gal does the football team, another bangs a teacher for an 'A' grade. They get caught, means he has to give the other student an 'A' as well. Damn thing plays excellently like a soft-core porno, with lots of sex and nudity from some very cute women. There is a story inserted here and there when other things are not being inserted here and there. You can tell they are really having sex in some of these scenes, just not close-up hardcore, but everything else. Maybe this is why this film was so popular at my mom and pop video store in the early 1990's, nestled neatly by fare like 'Screwballs'. Some of the guys and gals were in 'Swinging Ski Girls' made the same year. My god, why did they stop! We could have used a dozen more of these films! 70's chicks were sexier and cooler than the chicks of today. Sexploitation Fun! BA
J869 Three Little Geishas (73) aka: Onsen osana geisha She is young and pretty and needs a job! It's only part time. Working in the hot springs, you know a little bit of this, a little bit of that. But things really kick in when she is needed to 'fill in' for one the hot prostitutes. Guys, try it at work. Take your hottest co-worker, and ask her if she wants to make more money, by, you know, 'filling in' for one of the other worker's who provides a particular service, like, well, sex. Gee, it's all so cute and innocent. Nice trash from Japan. LBX and with English subtitles. BA
J895 Virgins, The (63) aka: Les vierges The tale of five girls who are out to lose their virginity. They want love, and what comes with it. Sex. Perhaps some will find love, others, broken hearts, but at the very least the title of this film will not apply to any of them by the time it is over. One of the girls is a 16 year old Stefania Sandrelli! Don't be looking for nudity or sex, remember it is 1963, but the subject matter is there to throw this title into the exploitation section. In French and with English subtitles.

EXTREME HORROR AND GORE FILMS
5392 Acacia (03) aka: Akasia aka: Root of Evil A child-less couple adopts. They then get pregnant. Now they don't want the kid they adopted. The kid is weird, and obsesses over the dying Acacia tree in the backyard. He doesn't take it well when the baby is born. Then the kid just disappears.... did they kill him to get rid of him because they have their very own 'real' child now? Guilt and supernatural horror begin. Dark and eerie with a doomy score. Filmed in a strange way of storytelling, not unlike David Lynch. LBX Korean with English subtitles. BA
9872 Adventures of Electric Rod Boy (87) aka: Denchû kozô no bôken Hikari has an electric pole growing out of his back. The other boys bully and assault him because of this. A girl helps him, and they find themselves in another dimension where they face off with some vampire guys in the future, and Electric Boy even meets a future version of himself! The vampire's have a device that they are using to blot out the sun, so they can rule the Earth. But they need a virgin as a battery! But one of the vampire guys cannot control himself and sucks her blood, sabotaging their own plan and poisoning their doomsday machine. Under an hour crazy and weird insanity from Japan, from a rare VSOM tape, and with English subtitles. BA
5393 Alien 2: On the Earth (80) aka: Alien 2 - Sulla Terra 'Alien' blew minds when it was released in 1979. In seconds Italy released two rip-offs. (The other is the great 'Alien Contamination'). Cut to the chase, spelunkers in a cave come across a blue rock that turns into a monster hand puppet and then a chest burster type (except in this case a 'face-burster'). We see the victim's eyeball burst from the socket before the creature erupts. Another caver gets his head chewed off, the severed noggin (with assorted chunks of gore) falling to the rocks below with a satisfying crunch. Another guy's head explodes into a tangle of slithering tentacles.... Owes more to 'The Thing' or 'Plankton' than 'Alien' but they do lay the groundwork for the latter, explaining how we ended up in this subterranean location. BA
5391 American Scream, The (88) A family wins a free vacation to a mountain resort, where the weirdo residents kill the young people. Here comes the oh so sweet and innocent family, the kind teenage kids, who also have invited some of their friends along. The kids realize they are on the chopping block almost right away. It's a black comedy, with some decent nudity, and a couple of scenes dark, but played for laughs. Like the exploding baby and the cannibal couple eating it (yummy!) or the decapitation. Edy Williams has a small part as Greta.
J901 Angel and the Beasts (78) aka: Triangle of Lust aka: Teufelscamp der verlorenen Frauen Filmed in and around the enchanting Canary Islands, Spain. When a small engine plane has trouble, a young dark beauty has to bail out, and she makes it to a lush island, where her troubles start anew. The island is being used as a hide-out by some bad guys and their women. This new beauty is seen as a gift. Angel and the Beasts. Tons of nudity and violence. Patricia Adriana and Barbara Rey star. Nice LBX English dub BA
J990 Backwoods (87) aka: Geek aka: Fúria Assassina Kentucky woods. Hiking camping couple saves a girl from choking (the guy's a doctor see) and the papa, a Jed Clampett type, invites them to dinner at his place, and an overnight stay. In the back shed is kept the geek son, a bearded drooler who likes to bite the heads off chickens, and other demented possibly homicidal behaviors, such as, spying on our lead actress when she skinny-dips. He hisses, screeches and gargles, covered in filth, like an animal. Papa has a hard attack and dies. Now the 'Geek' will have his day! Tries to be 'Hunter's Blood' but comes off more tame. Still, a good little piece of redneck cinema. 'Do me a favor boy, say sheeet" the reply... 'Shit'. Moonshine, nudity, a neat trap involving fish hooks, shot to the face, imaginative use of a flare and a what the fuck ending. BA
5397 Beautiful Girl Hunter (79) aka: Star of David: Beauty Hunting aka: Dabide no hoshi: Bishôjo-gari A sick and twisted man has escaped prison and now has broken in to a mansion where a rich young couple resides. So he does what comes natural for him. Ties up the husband, and rapes the wife in front of him. A year later the woman has the son of the rapist. and then kills herself. At age 16 the boy is interested in the perverse and Nazi studies. He tracks down his rapist father and invites him to join him in the abuse of women prisoners he has abducted and keeps in a secret torture chamber in his basement. Excessive brutality, notorious and unrelenting, a fetish for sex, torture and murder classic. LBX and with English subtitles. BA
J985 Behind Locked Doors (68) aka: Any Body... Any Way aka: Le amanti proibite del Dr. Sex Mr. Bradley and his twisted wife are more than delighted to have Terry and Ann spend the night with them at their spooky old house. The girls had been partying hard, Mr. Bradley had rescued one of them from sexual assault, their car would not start....now they here, trapped in a palace of pleasure... or a pit of perversion!?! Mr. Bradley likes to rub baby oil on his lardy body, his wife has a whip, the handyman.... well. Terry and Ann are forced into experiments, or threatened with ending up in the basement... with the other victims... behind closed doors. More fun trash. BA
5395 Beyond Love and Evil (69) aka: La philosophie dans le boudoir aka: The Philosophy of the Bedroom aka: Desade 1976 A young man follows the object of his affections into a mansion of debauchery, sadism and perversion and realizes she must certainly be a nymphomaniac. Goes off the rails of decency. Orgies, floggings, women abused in dungeons, inter-racial sex (shocking in 1971, now, not at all), women hunted like dogs in the woods, a mad rapist, bizarre outfits, a women getting off on live squid and fish just some of the shock sequences featured here. Soft-Core Madness at the Highest Level of Controversy in 1971. Take me to the church! BA
J984 Blood of the Iron Maiden (70) aka: Is This Trip Really Necessary? aka: Trip to Terror A Russ Meyer type nudie filmmaker, drugs actresses with speed so they will lose their inhibitions and strip on cue. Meanwhile, the boyfriend of one searches all of L.A. for his abducted woman. John Carradine has a small role as crazy Dr. Goolie, and delivers a string of one-liners, some genuinely funny. The 'Iron Maiden' in the title does not make an appearance until late in the film. So summing up, not really horror, but very obscure. With Marvin Miller.
J987 Blood Voyage (76) aka: Nightmare Voyage A group of people set sail on a luxury yacht, bound for Hawaii. A wealthy doctor, his young and beautiful wife, the greedy stepdaughter, a patient who is a pretty drug addict, two crewmen, one of which is a Viet Nam vet who has nightmares, the Captain.... But one of them is a meat cleaver wielding killer.... and this will be a voyage... of blood. Some gory killings, nail-biting suspense, nice ocean footage, hot chick nudity here and there.... and twists. Better than average. Would become a genre this killer on a boat type. BA
5406 Bloody Wednesday (87) aka: Das MacD Massaker An auto mechanic, in the midst of a nasty divorce, descends into complete insanity after being fired from his job. He walks into a church singing completely naked. Committed for evaluation, later released, winding up in a dilapidated hotel. He starts talking to his teddy bear. When the teddy bear starts talking back, we know we are about to get a 'Bloody Wednesday'. What is real and what is delirium of a sick mind? One thing is for sure, the massacre that is about to occur will be VERY real! BA

J850 Blow Job (80) aka: Blow job - Trabajo de absorción aka: Sweet Tongue It's a mixed bag of gothic horror and sleaze in a bizarro world of dire circumstances. A sexually active couple is being kicked out of their hotel, when a woman from a floor above jumps to her splattery doom. More strange characters appear, including a skull-headed biker and masked dancers carrying candles. Esoteric exploitation, a rushed production, made on a shoestring by director Alberto Cavallone, after one of the producers committed suicide during filming. An emphasis on the animal side of man's nature, and the (imagined?) 'reality' of witchcraft. Nudity and sexual situations of course. LBX and now with English subtitles. BA
J845 Breakfast with Dracula (93) aka: A Vampire in Miami aka: Un vampiro a Miami In Miami, Vlady Drak rents a room in an old mansion, and gets a job as a model. The butler of the mansion recognizes Vlady as the last descendant of Count Dracula himself! The opening sequence is amazing with a vampire chasing a woman through the cemetery where she manages to chop off his hand when he tries to drag her down into the crypt/grave..... another nightmare of Vlady. Later when the fangs come out.... well, not much happens! Obscure film directed by Fabrizio De Angelis, the director of the 'Thunder' films! David Warbeck stars as well as many sexy ladies (mostly models)! This obscure title is in Italian language only. BA
J784 Broken Glass (88) aka: Glerbrot Teenage girl (played by soon to be a star 'Bjork') is taken from her dysfunctional home by the authorities and moved to a discipline oriented institution where she (and the other female prisoners) are sexually harassed. Loosely adapted from a true story. + Rebecca's Story (64) Animated sequences and imaginative special effects enhance this weird interpretation of a chapter of the 'Sargossa Manuscript' by Jan Potocki. Supernatural initiation... yellow for demons, red for Kabbalah..... Very creative. In Swedish and with English subtitles. LBX
J996A Caligula Reincarnated as Hitler (77) aka: Gestapo's Last Orgy aka: L'ultima orgia del III Reich An unlikely romance developes between a Nazi death camp commandant and a Jewish female prisoner, Lise Cohen. Shortly after the war they rendezvous at the dilapidated remains of the concentration camp they met. From here, the story is told in flashback. We discover that the camp was used to incarcerate Jewish women. These women were subsequently subjected to all manner of sexual degradation, torture and death. Lise refuses to be broken by her Nazi oppressors and, subsequently, becomes the object of the camp commandant's obsession. This leads to her being treated in increasingly degrading ways. But the commandant's obsession also offers her hope of salvation.... One of five trying to capitalize on the name Caligula. This has this strange title and is alternate to the version known as 'Gestapo's Last Orgy'. #K389. This version was a couple of minutes shorter I noticed, but with title: Caligula Reincarnated as Hitler. BA
J996C Caligula Reincarnated as Nero (82) aka: Nero and Poppea: An Orgy of Power Caesar Neron indulges himself in any known debauchery including incest with his mother when his Empire slowly declines. Plenty of nudity, lesbians, sexual situations, and some pretty over-the-top performances from the cast which includes Francoise Blanchard as Poppea and Polish porn actor Piotr Stanislas as Nero. (One of five trying to capitalize on the name Caligula.) This time co-directed by sleaze master Bruno Mattei! BA
J996E Caligula: Funniest Home Videos (64) aka: Carry on Cleo Julius Cesar returns from his three-year campaign across Europe with his captured slaves to find a less than warm welcome. His wife is mad at him, the senate is plotting against him and a war between Cleopatra and a rival for control of Egypt. While Cesar and Mark Anthony try to keep control of Rome, they also must side with the beautiful Cleopatra.... So the resourceful studios made their own version, sort of, Carry On style. Gags, laughs, and costumes and sets from 'Cleopatra'. Sidney James, Joan Sims and more star. (One of five trying to capitalize on the name Caligula.) Pinewood studios was left with many elaborate sets from 'Cleopatra' when Elizabeth Taylor had one of her 'illness' attacks and filming was moved elsewhere. BA
J996D Caligula: The Garden of Taboo (82) aka: Caligola: La storia mai raccontata The deranged Roman emperor Gainus 'Caligula' (Little Boots) Caesar (12-41 A.D.) rules Rome with an iron fist and has anyone tortured and executed for even the slightest insubordination. Mostly set during the last year of his reign, as Caligula loses support due to his brutal and crazed excess, a young Moor woman, named Miriam, becomes his lover while plotting to kill him to avenge the murder of a friend which Caligula was responsible for. But Miriam is torn between her personal vendetta against Caligula and her own personal feelings towards him despite his madness and debauched lifestyle of orgies and bloody torture murders. Joe D'Amato directs and David Brandon is Caligula. Laura Gemser, Gabriele Tinti, Michele Soavi and more star. One of five trying to capitalize on the name Caligula. This one is actually the trimmed release of 'Caligula the Untold Story'. There was a sixth film that also capitalizes on the name Caligula. It is called 'Caligula: Sins of Rome (77) and the correct title is 'Messalina, Messalina; which can be found on page #178 in catalog item number #M973. BA
J996B Caligula's Perversions (81) aka: Caligula and Messalina aka: Caligula et Messaline Gino Turini this time is the deranged Roman Emperor. He is having an affair with his sister, makes his beloved horse a Senator and gruesomely tortures conspirators to death. His other lover Agrippina wants her son Nero to eventually become Emperor - and starts plotting his death. Meanwhile, Messalina (played by the sexy Betty Roland) is also plotting away with her Mother, in order to become Empress of Rome, and brings herself to Caligula's attention as a gladiator. Caligula falls in love with Messalina, who Agrippina describes as "a cheap little trollop", but when she over hears a new plot to get rid of the deranged Emperor, she sets her lustful sights on Claudius instead, the next in line to rule... One of five trying to capitalize on the name Caligula. Also under the title Caligula and Messalina #N24, this version here has the title as Caligula's Perversions. BA
J991 Celia (89) aka: Celia: Child of Terror Little Celia (Rebecca Smart) cannot tell the difference between reality and the strong realities of life that surround her in this small village of rural Australia circa 1950's. Her family is a mess, there is plague of rabbits going on, and since her friend's family are communists, she is forbidden to play with them. But she does anyway. Naturally a child such as Celia, who has pronounced passion for whatever emotion she is in state of, would be affected by this confusing muddled world of uncertainty and dread. And when things do not go her way, she can be a bad girl. A very bad girl! BA
J981 Confessions of a Serial Killer (85) Henry Lee Lucas... meet Daniel Ray Hawkins (Robert A. Burns). This is your life. Of course we know Lucas was full of shit, but if did even a 10th of what he said (he claimed more than 200) then he would still be quite the monster. Captured, he relates his sordid crimes to investigators, which we see in flashback. He cuts a woman's throat and bloodily strangles her pre-opening credits. His confessions we see, kill after kill. dark downbeat, realistic and grim. At one point, he and his partner in crime Moon Lewton (an Otis-type) tie a woman to the bed... well. Nasty business all around here. Bloody uncut version much darker and sick than any mainstream horror of 1985. Nightmare inducing. Robert A. Burns was the art director for 'The Texas Chainsaw Massacre', 'Reanimator', 'The Hills Have Eyes', 'The Howling' and others. Diagnosed with terminal cancer in 2004, not wanting a lengthy painful death, he killed himself (Carbon monoxide poisoning in Texas). Watch this one with Michael Rooker's 'Henry' and compare. BA
5398 Contagion (87) aka: West Coast Horror One night on the road a traveling salesman stops to help a girl who is under attack by some creepy fellows. He winds out getting assaulted himself. He finds an old mansion where two sexy blondes and an old man reside. They make him promise to return. He becomes obsessed with the trio, and the possibilities of wealth and sex they represent. Slow-burn horror with some nice sleaze and violent moments, which ramp up in the second half. What is the mystery? Did he dream this mansion? Or is it real and the inhabitants ghosts? Offbeat Aussie Horror. BA
J982 Craze (74) aka: Demon Master aka: Mystic Killer aka: Craze - Il buio macchiato di rosso An antique's dealer (into the Black Arts) in England (played sinister tongue in cheek by Jack Palance) becomes convinced that by sacrificing women to an African idol in his cellar (named Chuku), good fortune will be his in perpetuity. Not to interfere with his monthly full moon jam sessions in his basement with his (?) coven of witches. Swinging England includes all the bells and whistles of the scene, fashion, music, drug references. But the real draw is the horror. Satanism and Mutilated pretty girls. Freddie Francis directs, and by god, he tried. Diana Dors, Julie Ege, Suzy Kendall, David Warbeck and more star. Uncut version. BA
J876 Crocodile Alert (06) aka: Zwei zum Fressen gern One unusual croc flick. A pregnant crocodile gets free from some bad guys and ends up in a German river. A reptile hunter and a forensic expert team up to hunt and catch the beast before the crocodile's eggs can hatch. Luckily for us, some of the film includes nudity from a lead actress... quite fetching frauleins I must say, you know, when the crocodile is not attacking anybody, a slow moment. Jennifer Ulrich and Doreen Jacobi star. The crocodile effects are a notch above the usual CGI, with some practical effects mixed with the necessary CGI. With English subtitles and LBX BA
J983 Curse of the Alpha Stone (72) A scientist merges ancient mysticism with modern-day science and creates the Alpha Stone. A stone that affects people in their sexuality. Experimenting on a gay man, the gay subject screws a department store mannequin and goes straight (if that is considered "straight" I guess). Beautiful women are helpless, jumping bare-assed into bed with whoever has the power of the stone. But strange moments include a woman raped to death.... split down the middle? Bizarre plot with shades of Cronenberg, plenty of sex, rape and graphic nudity... Primal sublime trash. A must. BA
J902 Cute Devil (82) aka: Kawaii Akuma Ryoko believes that she has psychic powers, and is responsible for the death of her boyfriend by accident. Released from the mental hospital, she becomes the governess of a murderous young girl named Alice. Alice is evil, the 'cute devil' of the title. Alice is the bad seed. The opening of the movie has a shocking murder, brutal for Japanese TV at the time. So, in the secluded house with the murderous little girl and her mother, Ryoko, who is known to have mental problems, has a hard time convincing anybody that Alice is evil. A pedophile also makes his way into the tale.... Japanese with English subtitles and LBX
J903 Day of Violence (77) aka: Operazione Kappa: sparate a vista aka: Kidnapping... ein Tag der Gewalt Two guys go on a rampage. First, they terrorize and rape a few women, one who gets stabbed with scissors. They then steal a car, and still later, take over a restaurant full of people they hold as hostages, while the cops gather outside. Sociopathic psychopaths, they use sadism and terror to inflict emotional (and sometimes physical) harm on all those they encounter! Imagine if 'Dog Day Afternoon' was done with Krug and Company from 'Last House on the Left' and you get the picture! Bloody and offensive outrageousness from Italy! English subtitles and LBX BA
J924 Degree of Murder, A (67) aka: Mord und Totschlag When a beautiful young woman accidentally kills her ex-lover during a fight (she shoots him... whoops!), she decides to cover up the deed by hiding the body. She involves two men to help her (and is 'intimate' with both of them), choosing a construction site for the disposal. This is where the deception begins. This is an alternate version of this film, from German DVD. This was filmed in German language, stars Brian Jones (and Keith Richards) girlfriend Anita Pallenberg, the music score is by Brian Jones with Jimmy Page on guitar. Of course Brian Jones would be dead soon, floating in his pool in 1969, still kind of unsolved. Witchy Pallenberg fared better and lived until the age of 75, hepatitis C killing her in the U.K. in 2017. Never released stateside. English subtitles and LBX BA
J969 Dracula Saga, The (73) aka: La saga de los Drácula The last hope of the Dracula bloodline arrives at Castle Dracula. It is his pregnant granddaughter Berta, arriving from London with her husband. Dracula's new wife Munia (Helga Line) is excited at the thought of a new heir. What Berta does not realize is that her unborn child is drinking her blood from the womb, exhausting her. Her husband Hans is weak, and falls almost immediately to the seductive vampiric charms of Munia. Also with a one-eyed mutant offspring who is whipped by Dracula for killing people, a bible quoting priest who falls from grace and becomes prey for Berta's vampire cousins and more. Lurid, Sexy and Violent Euro horror fun from director Leon Klimovsky. With trailer BA
J927 Flemish Vampire, The (07) A weird vampire film from Belgium! Frank, a vet, discovers that his daughter Anne is having a lesbian relationship - which is hard for him to accept. He decides to drive to the theater to talk to his daughter who is performing in a play called 'The Flemish Vampire'. Before he can confront her, in a theater in Flanders, during a play about demons, angels and vampires, a legendary evil demon awakens after 500 years of dwelling- what are the odds? The ultimate battle will be settled on the stage .. I have a feeling Frank will no longer care about his daughter's lesbian tendencies... English subtitles and LBX
J851 From Our Copenhagen's Correspondent (70) aka: Dal nostro inviato a Copenaghen aka: Sindrome Infernal Another Alberto Cavallone film, this one with an anti-American bent, which only goes to show, while I may enjoy Cavallone films, I don't have to agree with him! So I will review accordingly. Two cowardly American soldiers desert from Viet Nam. and hide out with pacifist types in Copenhagen. Penniless, one gets a job as a porn actor, the other, haunted by his Nam experiences, turns into a mental case, and almost kills a woman! He gets a shrink, but the shrink wants to exploit him for his tales of Nam to expose what... the truth! Which ultimately nobody could handle and still can't. His memories and realities blend together. Are these scenes of graphic torture (that include fingernails being ripped off and more) his past or his present? With English subtitles.
J908 Hard Scandal: Sex Drifter (80) aka: Hard scandal: sei no hyoryu-sha He's only in Junior High, but Yudo is already displaying signs of adulthood. He hangs at the local disco, his parent's too busy swapping partners, indulging in themselves, to pay him any mind. One day he is stealing, and a young woman helps him pull off the crime. Yudo digs this new situation. He follows her home... and then attacks and rapes her. What else will Yudo get up to you ask? Well, with a title like this, you know what to expect. In Japanese with English subtitles.
J858 I'll Never Die Alone (08) aka: No moriré sola Four female college students are traveling through rural Argentina back to their middle class homes when they find a woman who has been severely injured and sexually assaulted. They also saw "the hunters". They pick up the woman, who dies, and go to the local police. Bad idea. The police seem completely indifferent. As they leave town the women are sideswiped, kidnapped, taken out into the brush and brutally raped. One dies from internal injuries when she is severely beaten prior to the rape... This is a rape and revenge thriller like no other! . The added footage is in the rape scene, excruciatingly long, rivaling the original 'I Spit...' from the 70's. There are also additional torture shots, alternative shots etc. Better than any of the 'I Spit...' remakes. Set in the Argentine wilderness..... rough and merciless. Now 96 minute LBX UNCUT! The previous version was only 83 minutes. Now see what you missed in this excellent classic! LBX and with English subtitles. BA
J974 Incident at Raven's Gate (88) aka: Encounter at Raven's Gate Opens with the mystery being explored... then we get the full story by jumping back five days. Ex-con Eddie gets a job working on his brother's isolated farm in Australia. In no time we are in 'X-Files' territory (yes, I know this predates said show). Strange lights, personality disorders bordering on possession and other strange occurrences become the norm. Is it aliens? Truly bizarre, with interesting characters. Off the beaten track for an Australian film. BA
5410 Isle of Pan (84) aka: As Rainhas da Pornografia Two well-dressed and wealthy couples are dropped off on the shores of an isle, where they are immediately set upon by the (less well-dressed) locals, who tie them all to a tree. Later, tied to other trees, they watch as the locals cavort about (the women naked), and one woman plays the flute. Pan, the God of Pagan Pleasures and Obscene Lust (depicted as so here) runs up, hairy goat legs and all. He too plays the flute, and the locals orgy in XXX hardcore close-up. After a long orgy, Pan starts to strip our travelers, and introduce them to the lusts and pagan desires of the flesh. A blonde in sexy red Victoria Secret runs. Pan after her, madly fluting to entice with lust through the siren sounds of perversion. The party comes upon Pan having sex with the blonde in the woods, they bind him in chains and imprison him, but the flute starts... again... it is orgy time..... One twisted film with many many horny people. F.L. (Warning, this is XXX weird horror)
J848 Julia and Julia (87) aka: Giulia e Giulia A fascinating, morbid tale of love found, tragically lost, yet found and lost again. Julia (Kathleen Turner) loses her husband in a (graphic) car crash on their honeymoon. It's also about a woman who chooses to have an adulterous affair with a perfect stranger. Sublime, surreal.. the viewer is aghast pondering during and beyond the viewing. Turner is sexual here, when she was still cute, getting nailed by a naked Sting from panting to orgasmic groans. It's like an erotic 'Twilight Zone' meets 'The Hitchhiker'. Hitchcockian. Kathleen Turner, Sting, John Steiner and Gabriele Byrne star. BA
J997 Last Frankenstein, The (91) aka: Rasuto Furankenshutain Mary Shelley's classic tale is a mere launching pad for an exploration of subjects as diverse as the nature of love, desire, suicide, mass hypnosis, sex, alienation and jealousy. Into this plethora of ingredients we have our resident mad scientist attempting to create a modern Adam and Eve in the wake of a suicidal plague that is destroying the populace of the world. His experiments do not go as planned. Bolts in the neck of the monster, nice. The scenes of the bewildered monster plowing through a fog-shrouded forest at night are striking. The film is pretty serious and bleak, but this means no camp! LBX with English subtitles.
J920 Lost and Found (various) BEWARE! This clip assortment is funny, but also gets very sick pretty quick. XXX sick. But most of the clips are just so damn bizarre.... I'll list them for you. This is volume #1 so maybe one or two of these an update. Here's what you get: Guy air drumming to Metallica, Crispin Glover's Clown Video, The Teen Show Clip, Steve Vai's Birthday Surprise from a horny female fan (disgusting), Amusement Park video sing along of 'Don't Worry Be Happy', Don, the Indian Gangster, sings and dances, Osmond Brothers doing 'Crazy Horses', more from Vai girl (ugh!), gorgeous ladies of wrestling rap, Mike Awesome falls flat on his face, Lawrence Welk overdubbed with 'Velvet Underground', Mr. T's 'Be Somebody or Be Somebody's Fool', Elvis high on stage, Crispin Glover's Olivia Newton John performance, mentally challenged people dance to death metal, playground penis and vagina song (creepy), Japanese game show contestant catapulted off cliff, Decapitation, Gimmie Gimmie Octopus, Mel Gibson in Japanese commercial, Turkish Star Trek, Mexican Monsters, tall, topless, large breasted blondes fondled by little Japanese men on live TV, Kiss Japan commercial, Madonna Japanese commercial, The Spiders (a Japanese 'Surf Rock' band), more... including Crispin Glover's famous David Letterman appearance, Six Million Dollar Man XXX stop-motion action figure, Traci Lords workout, masturbating walrus, Turkish Wizard of Oz, Jerry Lewis, Penis Pump infomercial, G.G. Allen, computer animated gay porn on the beach.... We did warn you didn't we? And this is only the first one!
J970 Lost and Found #2 (various) PREPARE TO BE OFFENDED! So much I cannot describe it all. Some of the highlights? Japanese Martial Arts Fantasy Show, Traci Lords rapping, Celtic Frost Live, AC/DC Jailbreak Video, Northern Rednecks provoking each other until they puke, Glam Rock scene from 'The Apple', Fat Albert overdubbed by NWA, Flintstones commercial pushing cigarettes, Charles Bukowski kicking his fiancé in the ass and calling her a whore, XXX animated gay porn with a hard Frankenstein and his monster minions, Mr. Methane on street farting on unsuspecting victims, 10 Ways to a Stronger Erection, Exploding Rat, William Shatner performs Elton John's 'Rocket Man', Jessica Hahn infomercial.... ADULT MATERIAL
J941 Love and Death in the Garden of the Gods (72) aka: Amore e morte nel giardino degli dei A German ornithology professor (the study of birds, a fowl occupation) rents a dilapidated mansion that has been abandoned for quite some time in an Italian town. He finds some tapes, and gains knowledge of the previous inhabitants, and the terrible events that lead to it's current state. So two storylines play, the past (regarding the bloody events) and the present, with the professor. Azzura (Erika Blanc) lived here with her drunken husband, and flirted mercilessly with her own brother (Peter Lee Lawrence). In true-blue giallo style, a stone-cold, hyper-sexual, dark tale of infidelity and escalating madness, violence and bloodshed. Orchidea De Santis also stars. Deserves a look! In Italian language and with English subtitles. Finally a nice LBX version with English subtitles BA
J849 Love Hotel (85) aka: Rabu hoteru Muraki decides to kill himself, along with a hooker he has picked up, but changes his mind at the last minute. Two years later, he runs into her again. Lots of sex and politically incorrect situations regarding women. 'How many men have you fucked?' 'Women are lucky, they just have to spread their legs to make money!'. You know.... But will Muraki's tale end in tragedy? LBX with English subtitles. BA

J912 Mad Enough to Kill (75) aka: Folle à tuer aka: Zum Freiwild erklärt aka: Teufelskreis der Gewalt Julie (Marlene Jobert) is fresh out of the nuthouse, and now is the governess for a boy who has been recently orphaned, hired by the boy's uncle. Her second day on the job, Julie and the boy, along with chauffeur George, are kidnapped by sadistic hit-man Thompson (Tomas Milan). Thompson wants to kill the boy and blame it on Julie. The reasons you will find out. Milan plays this killer as calm and oh so cold, zero emotion. Also with Loredana Nusciak. Dubbed into English - LBX BA
J886 Marquis (89) aka: Marquis de Sade Certainly the most bizarre of the adaptations regarding the subject. All of the actors are strange animals, animatronics, bizarre masks and clay animation. The weird Marquis's penis is alive and has a face and a head with which he argues. There are grotesque scenes here as well. A cow/woman creature gets raped and then produces milk/blood out of her udders. Perverse and ugly, at times childish, but the over-the -top perversion sets you straight before you let your guard down. A comedy? A pseudo-intellectual art film? Creative special effects and and costumes tackling an unlikely subject? All of these. Meet the Feebles mixed with Let My Puppets Come - French language with English subtitles. Oh. it's a French film, now I get it! BA
J914 Mermaid Legend (84) aka: Ningyo densetsu Excellent female revenge film shot in a style reminiscent of Brian De Palma's style, very popular at the time. Here though, the violence is more extreme and bloody, unrestrained as most of De Palma's work was, with the exception of 'Scarface' which was admittedly quite brutal. I could go on at great length about the plot, but let's cut to the chase. Migiwa (Mari Shirato) is pissed off something fierce, and with good reason... many will die by her hand in blood-drenched fashion! She may not be a real mermaid, but she is wielding a harpoon! The raw over-the-top gratuitous finale will make your jaw drop. In Japanese with English subtitles. BA
J862 Poor Christ (76) aka: Povero Cristo Giorgio moves from the hinterlands to the big city. There, a rich man challenges Giorgio to live as Christ. He goes all out in holy detail. The Last Supper to The Passion. Fellini inspired blend of Middle Ages minimalism, futuristic Metropolis mired in absurd present. The film has been repressed, hard to find for ages. This is a very disruptive film that will alienate some viewers, divide and offend others. Evelyn Stewart, Curd Jürgens. Edmund Purdon, Rosemary Dexter and Mino Reitano as Giorgio. In Italian language with English subtitles. BA
J889 Pure Blood (82) aka: Pura sangre Roberto, a rich old man, has a rare blood disease. He survives by taking the blood (by transfusion) of young men. A nurse and two drivers are involved in a sexual crime, so the rich man's son Adolfo blackmails the trio. Now they must kidnap and kill, draining the blood of the victims so Roberto can live. But how long can this last, and what are the repercussions? Has a blood-soaked opening! A very strange film, incredibly weird! In Spanish with English subtitles. LBX BA
J843 Red Spell Spells Red (83) aka: Gong gui zai A Hong Kong film crew making a movie in Malacca, tampers with a tomb, unleashing the dreaded Red Dwarf Ghost. The creature tracks them to Borneo, where the crew stays with a local tribe and begins to kill them, one by one, by various means. The woods come alive, scorpions attack (coming out of any blood spilled), pigs are killed with a knife, a man kills a hen by eating it alive and more. Fun gore effects surpass the gooey 'Centipede Horror'. Satisfyingly tasteless. LBX with English subtitles BA
J936 School's Out (18) aka: School's Out When a teacher at a private middle school throws himself to his death in front of his students, Pierre (Laurent Lafitte) arrives as his replacement. A central clique of six talented students head off daily to a quarry, Pierre follows. They watch movies. Pierre gets the DVDs and notices they are full of endless hours of industrial animal slaughter and food processing mixed with apocalyptic imagery featuring dire warnings of man's unsustainable future. Fear the Children. This dark tale of doom is straight from the Greta Thunberg school of thought so take note! Has the world gone mad? Possibly. Funny and Scary both. In French language with English subtitles.. LBX BA
J938 Secret of the Black Chambers, The (16) aka: Le secret de la chambre noire aka: Daguerrotype A young man takes a job in a large dilapidated mansion, as a (somewhat famous) photographer's assistant. The photographer is using archaic techniques, experimenting with machines, exploring one of the earliest forms of still photography. Things from the past drift into the world of the present. Marie, the photographer's daughter, catches the assistant's eye. But is she a specter? He believes in her physical body but is she in reality or fantasy? An afterimage or a vision evoked by exposure to chemical product? Or just more simply... a ghost? In French language with English subtitles. LBX BA
5425 Secrets of Sex (70) aka: Bizarre aka: Tales of the Bizarre Sex-mad milestone of the times with the advent of feminism! A talking mummy guides the viewer through tales regarding the battle of the sexes, sometimes ending in tragedy or gruesome consequence. Comedy, spy spoof, horror and rubber dinosaurs manage to swirl their way into some of the various skits, Full nudity, male and female. Tasteless and Politically incorrect Madness that could never be made today. BA
J892 Skin 'Em Alive (78) aka: Scorticateli vivi aka: Häutet sie lebend - Unternehmen Wildgänse A financially strapped young man named Rudy goes to a war torn country in Africa to hit up his racist half-brother Franz (who is a mercenary, in a group that considers the blacks animals, and likes to kill them and rape their wives) for some cash. But natives kidnap Franz, and kill others. Rudy, who says he hates violence, must take up with racist mercenaries. Rudy wants diamonds that Franz and the others have obtained through their raids. Violence and Rape, inhumane behavior. A surprisingly racist screenplay, cold-hearted, stuff. Almost fits into the Italian cannibal film genre, but they forgot the cannibals. They don't make them like this anymore, and maybe they shouldn't! Entertaining for those of us who can see it for what it is. Italian Trash Cinema! With Karin (Burial Ground) Well and others. Directed by the same guy who later directed the equally insensitive, offensive and fun 'Rolf' from 1984, Mario Siciliano! BA
5409 Teenagers of Savage Sex (83) aka: Nymphette's of the Wild Sex aka: Ninfetas do Sexo Selvagem A couple's yacht blows up, the head of the man flying through the air and landing on the beach! The two young girls are left on the island, the daughters I suppose. There they find a young boy, a regular Crusoe, bamboo hut and all. Years pass. Now they are all of age. Adults. They walk around, and run into the guy from 'Isle of Pan' and the same village from 'Isle of Pan'! He ties the women to a tree and rapes them both. Later the blonde from 'Isle of Pan' shows up. Now, 45 minutes in and the XXX starts and things get dirty. Another guy washes up on shore.... numerous sex scenes and strange scenes. One guy gets it with machete while fighting over a sheep. The sheep is hung up, head chopped off, and two of the actors start munching out on the head. The girls join the chow down, each biting off chunks of meat. Then they rip off the skin, Meanwhile millions of dead fish wash up, and an atomic bomb blows up... but wait.... F.L.
J941 Twisted Girls (69) aka: Island of the Swedish Girls aka: L'isola delle svedesi Manuela (Ewa Green) breaks off from her fiancé and splits to a Mediterranean island where her friend Eleonora (Catherine Diamont) now lives a solitary life. Manuela and Eleonora become lovers. Plenty of sex and nudity. When the fiancé makes it to the island to steal back Manuela, Eleonora is having none of it, and she gets out her shotgun for a manhunt. But things may not turn out as she planned, and before this tragedy ends there will be two dead, not one. Silvio Amadio directs. Joe D'Amato cinematography. Excellent and colorful Eurotrash with English subtitles. BA
J866 Ultimate Ecstasy, The (73) aka: O Último Êxtase Searching for peace, a young man decides to join his friend in a camping getaway. They gear up at the local supply store, then pick up the others. Two girls, two guys. Waterfalls, wilderness, nudity, fun, and an animal in the woods that makes noise. The blonde is standoffish. Miserable weather puts a damper on things. The other couple has sex in the tent. The other wants to go. The sex happy couple wants to stay. Rain collapses the tent. An older couple arrives with a huge stocked travel trailer. Hey, where did that other chick come from? The older guy scores with the hot young blonde of the original group. His wife goes looking to get her some. But where is the ultimate ecstasy? Another strange film from Brazil directed by Walter Hugo Khouri. In Portuguese with English subtitles.
J894 Vampire of the Cinematek, The (77) aka: O Vampiro da Cinemateca Friend of Jose Mojica Marins (Coffin Joe) who actually shows up in this, Jairo Ferreira directs his first and only film. His day job in Sao Paula, Brazil was as a critic. His love of cinema shows through here. A collage of words, images, scenes from other films and obvious 8 millimeter shots. A supernatural cinematographic adventure, a visual poetic homage, the act of a true believer, an act of cinema. In Portuguese with English subtitles.
J939 Walk on the Scaffold (92) aka: Progulka Po Eshafotu A couple decides to spend some time together in the Russian countryside. They wind up at a place on the shore of a lake, a dirty and dilapidated house, the only shelter around. They sleep. The morning brings new surroundings! The house has changed into a paradise with fresh fruits and wine. Enchanted, the girl convinces the man to stay, despite his gut telling him to get out! A crazy bald scientist appears, and proceeds to tell them the story of the place. Nudity, gore and a fantastic score in this rare horror from Russia. No collusion in the obtaining of this print, though (full disclosure) we were tempted. Uncut 122 minute version in Russian with English subtitles.
J940 Wild Pussycat, The (69) aka: Kafti ekdikisis aka: Sklaven des Eros A woman whose sister is exploited and driven to suicide by a sleazy pimp plots her revenge. She seduces him, drugs him and then imprisons him in a sound proofed room. She tortures him with a large one way mirror, performing erotic acts on the other side, turning him on with no way he can get satisfaction. Her final vengeance is shocking and will still disturb viewers these 50 years later. Gotta' love it! Sound a little familiar? It should. Joe D'Amato remade this pretty much with 'Emmanuelle's Revenge' This is the LBX Uncut Version of this horrifying and erotic trash classic! Dubbed into English, this is a film from Greece. BA
J832 Zed and Two Noughts, A (85) aka: Zoo aka: Ein Z und zwei Nullen When both of their wives die in a horrible automobile accident, two twin zoologists begin an affair with the driver, who only wrecked because a pregnant swan flew into the car. The woman lost her leg, making her no less sexy to the formerly conjoined twins. They become further immersed in life and death through their morbid studies of the putrefaction of animals. Mix some Cronenberg with Peter Greenaway (the director of this) and we get what could possibly be his best film. You'll see the decay before your eyes. A car crash, doctor scientist twins with mental issues etc. Quite a mind melt loaded with striking visual compositions. LBX BA
FRANCO FILMS
J930 Last of the Philippines, The (86) aka: Las últimas de Filipinas Fleeing an attack on America during WW2, two sisters and their governess (Lina Romay) are shipwrecked on an island they suspect is deserted. But no, it is not, and we get a weird Robert Lewis Stevenson adventure like 'Treasure Island' complete with pirates, treasure and a cave, and more importantly, since this is Jess Franco style, sleaze and nudity! In Spanish and finally with English subtitles!

HAMMER AND BRITISH FILMS
J956 Boys in Brown (49) Life in a Borstals reform school where boys, many played by actors in their late 20's, all wearing short pants, plan an escape. Unintentionally hilarious. Jackie (Richard Attenborough) is a newbie. Rat-like Alfie (Dick Bogarde) is a real weasel. Borstals reform school had boys up to age 23 at the time, so this was not considered unusual. Still pretty weird if you ask me. A precursor of American juvenile delinquent stories? Also with Jimmy Hanley, Thora Hird and Patrick Holt.
J839 Carry On Girls (73) More politically incorrect saucy fun with some really nice looking women like Valerie Leon and Margaret Nolan. It's an old formula, rejuvenated for the 70's market. In a run down seaside English town, Sid Fiddler persuades the pompous mayor to hold a beauty contest in order to improve the town's image. Much sexual shenanigans follow. + Trailer BA
J841 Carry On Nurse (59) The second 'Carry On' is the first of the medical outings. Life in a ward at Haven Hospital. The patients include a boxer, a nuclear scientist and a Major. Comic situations ensue. Shirley Eaton as Staff Nurse Dorothy Denton. Naughty humor with buttock massages, busty nurses, bedpan jokes and a hilarious bunion operation. Will make you smile. Also with Charles Bronson's future wife Jill Ireland. Eaton became pregnant during filming. + Trailer BA
J840 Carry On Sergeant (58) Shirley Eaton stars in this early 'Carry On' film (the first of many). Many of the familiar faces are there from the start. However this is a kinder affair with none of the sauce of the latter films. It's about a newly-wed husband who finds out on his wedding day that he has been drafted.. I would guess 'Stripes' with Bill Murray was partially inspired by this, you'll get it when you see more of the plot. Still pretty funny, heartwarming even. + Trailer BA
J952 Daybreak (48) Eric Portman plays Eddie, a barber and part-time hangman, who meets and falls in love with a drenched world beaten woman (Ann Todd) in a London pub... He marries her and they settle on a barge.. but the specter of her past life will come to call, and the desperate, bleak downbeat tone of the film will lead us down the road to an unhappy ending. A gutting human tragedy.
J834 Don't Just Lie There, Say Something! (74) Leslie Phillips stars as a British Prime Minister who is set on stamping out obscenity and filth, all the while pursuing women at every turn in his voracious sexual pursuits. Reflects the long-standing British obsession with the sexual misdeeds of politicians. Most of the action in the film consists of people in various forms of undress. This one has been mercilessly panned for being complete rubbish. But line it up against a 'Carry On' or any Askwith and it blends in, albeit clumsily. Joanna Lumley and more. BA
J955 For Those in Peril (44) A skipper has to teach a new crew member, who is angry after being rejected by the R.A.F., the skills of handling the launch in all sorts of adverse conditions. When a British bomber crashes into a minefield, they are sent to retrieve the crew in the face of the German shores guns. Action with air and sea rescue plus real stock footage! A tribute to the Air Sea Rescue Service. David Farrar, John Slater and more star.
J959 Forbidden (49) A chemist falls for a charming woman (Hazel Court) who sells ice cream. His wife (Patricia Burke) is an adulteress, and aspiring actress (in either order). He kills his wife and buries her in the floor under his warehouse. Told in flashback for the majority of the movie. Hazel Court is sweet. Patricia Burke, cold and manipulative. An intense Hitchcockian Thriller! Michael Medwin also stars.
J844 Four Dimensions of Greta (72) aka: Die vier Dimensionen der Lust Pete Walker directed this sexy British film, with the pendulum breasted Leena Skoog as the titular character. A German lothario leaves his sexy girlfriend in Germany traveling to England to find Greta who has vanished into swinging London. He talks to her footballer boyfriend (Robin Askwith) and others, to develop various perspectives (or... dimensions!). A couple of the scenes were 3-D so there is a blue/green tint during these scenes, in which some of those old 3-D glasses that used to issue with some of the old black and white classics may be of use. Possibly. Swedish born Skoog would be dead from ovarian cancer in Sweden July 1998 at age 47. Certificate X BA
J833 Ghostwatch: Behind the Curtains (12) Two decades later, a look back at the 1992 'Halloween -Hoax' film (Ghostwatch) that scared the hell out of many when it aired.... so many in fact, that the BBC received over 30,000 calls from viewers who thought it was real... Eventually lawsuits were filed citing the extreme distress caused... This is a look back at the show's unique production and legendary aftermath. LBX (The actual controversial movie Ghostwatch 1992 is also available #C130)
J827 House of the Seven Hawks, The (59) aka: La maison des sept faucons Robert Taylor stars as an American expatriate running an unscrupulous charter schooner service over in Great Britain. A guy dies on the boat and he finds some cryptic messages taped to the man's abdomen. Investigating, he finds himself in a mess with a gang of former Nazis, and a couple of beautiful women for good measure. Nicole Murray, Linda Christian, Donald Wolfit and more. LBX BA
J826 Inadmissible Evidence (68) A snooty faux upper-class aristocrat attorney named Bill Maitland (played convincingly by Nicol Williamson) has a sexual pre-occupation for young nubile women in his office, sexually harassing them in the workplace. The film also explores taboo subjects like infidelity and sadistic behaviors to hurt others emotionally. Maitland is bored with his sexless wife, and needs to feel excitement. He takes chances, is cruel to others regularly, to experience their pain within himself, for gratification. Cold-hearted with an unexpected ending. Also with Jill Bennett and Ingrid Boulting. BA
J947 Looking Glass War, The (70) aka: Lo specchio delle spie British spies (played by Ralph Richardson and Anthony Hopkins) enlist the aid of a reckless young Polish defector (Christopher Jones) to sneak into East Germany to see if the reports they are hearing about missiles are true. He has a pregnant girlfriend (Susan George). Promised sanctuary in Britain, reluctantly he goes. Right off the bat he has to kill a German guard. Meanwhile Anthony Hopkins character struggles with the morality of his profession. Anna Massey also stars. LBX BA
J949 Man Between, The (53) aka: L'homme de Berlin Post WW2 Berlin. Susanne (Claire Bloom) travels to Berlin to visit her older brother, and starts spying on his German born wife, Bettina. Bettina meets with Ivo (James Mason). Soon over her head, Susanne winds up being mistaken for Bettina and kidnapped, held in the basement of a house.... BA
J946 Mr. Denning Drives North (51) aka: Mister Denning, asesino A British aircraft engineer (John Mills) screws up big-time when he accidentally causes her daughter's boyfriend (Herbert Lom) to die. Pretty much his fault. Now he has to cover it up! He puts the body where it can easily be blamed on an auto accident. Time passes. He hears nothing. Now the dead man's twin brother shows up (played by Herbert Lom again!).... BA
J962 Party's Over, The (65) An American girl (Louise Sorel) visiting London gets mixed up with a bunch of no-good hooligans known as 'The Pack'. What happens after a very wild party that goes horribly wrong is what led to troubles with the censor as it includes 'disturbing' scenes, at least for 1965, maybe today as well, you be the judge. Oliver Reed is is the group's leader, guiding his followers through a scene of pessimistic hedonism in the early 1960's. At one of the parties, the American girl passes out and is subjected to a bit of molestation, and abuses (such as a faux funeral) to amuse the sadistic revelers. This is Oliver Reed's movie though, and if you are a fan, this one comes recommended. The censors claimed it had a 'necrophilia theme' in 1962, causing a delay in the release, showing just how far out of touch these censors were at the time. You can see how a simple mind can misinterpret. BA
J968 Rock City (58) aka: Rock You Sinners The birth of British Rock with Jackie Collins! The music may be cringe worthy, but to dismiss altogether would be missing the point. This is the music industry struggling to catch up with American rock, and floundering horribly, all the while in reality, the dam was about to burst in just a few short years. So this is how it was, as it were, the late 1950's, music in London. Art Baxter & His Rockin' Sinners and Tony Crombie & His Rockers are obviously trying to emulate Bill Haley & His Comets.
J818 Town on Trial (57) aka: The Case of the Stocking Killer Setting: A posh London suburb. An attractive femme fatale man-teaser-pleaser is strangled. Mike Halloran, (John Mills) rule breaking detective of Scotland Yard is on the case. A list of interesting suspects and red herrings add to the fun. Things wrap up nicely with quite a suspenseful final third, keeping you guessing until the end. Barbara Bates is a doll here. LBX BA
J898 Two Left Feet (63) Made in 1963, not officially released until 1965. A clumsy British youth (Michael Crawford) is desperate to get laid. So the older woman who might teach him a thing or two is played by Nyree Dawn Porter, and the virginal good girl potential true love, Julie Foster. The title refers to the bumbling lad, who, at every turn into a potential sexual experience, his two left feet turn. Directed by Roy Ward Baker right before his run with Hammer. Look for Michael Ripper in a small role as Uncle Reg. Also with David Hemmings and Bernard Lee. LBX
J825 Villiers Diamond, The (38) Barker is fresh out of prison and out to retrieve the Villiers Diamond which he had stolen for a rich man named Silas Wade, who now refuses to pay him. He stays on as a servant, Others show up as well. They have heard of the diamond. Everybody is after it. Evelyn Ankers is 20 here, and stars as a relative of Silas Wade. She would go on to a decent horror career before retiring in 1958. She was just 67 when ovarian cancer killed her in Hawaii in 1985.

MISCELLANEOUS WAR, CRIME, COMEDY, DRAMA, MARTIAL ARTS AND MORE
J900 Adding Machine, The (69) After serving for 25 years adding columns of numbers, Mr. Zero (Milo O'Shea) is told by his boss that he is being replaced by an adding machine. Mr. Zero already lives on the periphery of life. Phyllis Diller, in a rare dramatic role, is his bitchy nag of a wife, Mrs. Zero. Later that evening, during a dreary gathering of acquaintances in their apartment, the police arrive and arrest Mr. Zero. It seems he has killed his boss. After he is tried, convicted and executed, Mr. Zero finds himself in heaven. Now what? Billie Whitelaw and more star in this, another unusual film.
J828 Bachelor Party, The (57) aka: La notte dello scapolo Five co-workers on the town, celebrating the engagement of Arnold (Philip Abbott). But some of his married friends display self-doubt and degrees of discontent about their life choices, and Arnold begins to worry and spiral a bit. Sexuality, freedom... the men react individually about things... and what is the hidden truth? Unusually realistic and thought provoking for a film from 1957. E. G. Marshall, Jack Warden, Don Murray, Patricia Smith, Carolyn Jones and more star. BA
J923 Behind the Door (82) aka: Beyond Obsession aka: Oltre la porta Set in Morocco, Tom Berenger is Matthew, an oil rig worker that falls in love with Nina (Eleonora Giorgi). Her stepfather (Marcello Mastroianni) is an ex-diplomat, in prison, for killing her mother. He is released and inserts himself back into Nina's life and we find, she has been sleeping with her stepfather as well, even before the murder of her mother! Matthew loves her, but she is under the control of her stepfather... or is she? Because much of this is not really true. What really happened to her mother? In Italian and with English subtitles. LBX
J854 Big Grasshopper, The (67) aka: La grande sauterelle Carl (Hardy Kruger) is trying to set up a kidnapping in Beirut, while simultaneously dodging an assassin who is out to get him. Now he has been distracted and fallen in love with a beautiful woman (Mireille Darc). The story spins into a story of two people from very different backgrounds who meet, and one can make the choice to change their life trajectory because of the relationship. But there is danger. And for the record, no big grasshopper in sight. Hardy Kruger is still alive as of January 2020. At 13 years of age he was part of Hitler's Youth in Germany. The first film he appeared in was one of Nazi propaganda. Years later he recounted how he 'hated' that Nazi uniform! LBX and with English subtitles. BA
J964 Calypso Joe (57) Airline hostess Julie (Angie Dickinson) has made up her mind to marry millionaire Rico (Herb Jeffries). Her former beau Lee Darling (Ed Kemmer) wants to dissuade her, meanwhile Rico' sister Astra (Claudia Drake) makes a play for Lee. There are 14 musical numbers, and the 'Legion of Decency' had issues with the finished product, offended by the film taking a few swipes at television and commercials. Because of this, the film has been hard to see. The music? Lord Flea, The Easy Riders, Duke of Iron and more. Lord Flea's performance in 'Bop Girl Goes Calypso' (from 1957 also) was the highlight of that film. Sadly he died the following year at age 27 of Hodgkin's disease in Miami, Florida. In his final days he played music for the doctors, nurses and other patients. BA
J875 Cop Target (90) Farley Wood (Robert Ginty) is getting paid to escort the rich widow (Barbara Bingham) of a deceased DEA agent who may have been dirty dealing with drug dealers and thugs. Because of this, they want her, and the island they hide out in is compromised when her daughter is kidnapped by South American slime balls, who demand ransom. The FBI tells Wood to back off but this is Robert fucking Ginty we are talking about here, with Umberto Lenzi directing! Action! Also with Charles Napier! So much better in this LBX version! Upgrade! BA
J855 Corpse for the Lady (64) aka: Cadavere per signora Laura (Sylva Koscina) is the victim of blackmail. Will she receive help from her childhood friends? (Scilla Gabel, Sandra Mondaini and Rosalba Neri!). Yes! Sort of a giallo, but with a low bar for horror, more amusing really, with some of the loveliest of the Italian starlets of the era. A bit of bait and switch and maybe Laura will get herself out of this jam? Or maybe not. A little early for a spoof of sorts on the non-established giallo rules, but the ladies make up for it! LBX In Italian with English subtitles. BA
J925 Deserter, The (70) aka: O lipotaktis A man deserts during war, he runs like the cowardly soldier he is, at full speed. He smashes his rifle and tosses it into the river. He strips off his uniform. But wait, a woman has seen him! She leads him to her home in the countryside where she, and another woman compete for his affections. One is a neglected wife (Franca Parisi of 'Atom Age Vampire'), another, a coming of age farm girl. But this is something that does not sit well with the men who bind and torture him in barn.... A witch like woman (Gisela Dali) gives a love potion to one of the woman to entice the soldier in her direction. Film Editing from Bruno Mattei, who would remake this in Italy! This is the original Greek film with English subtitles.
J934 Early Andrzej Zulawski Short Films (69) Later he would direct strange classics like 1981's 'Possession' and others, but here are some of his early works made for Polish TV. Checkmate tells the story of a brilliant chess player, who has ruined his private life because of his passion for chess. Pavoncello is about a man of 'satanic beauty' whose physical charm will become a permanent torment as he learns that Zinaida's attraction to him has been carefully stage-managed by another man in order to fulfill his own interests like in Polanski's 'Bitter Moon'. Story of Triumphant Love This last, a truly bizarre tale that borders on the supernatural involving a mansion, a strange melody, and a betrayal. In Polish with English subtitles.
J899 Five Golden Dragons (67) aka: Cinco dragones de oro Five powerful industrialists from different areas of the globe join forces without knowing each others identity! They want to control the economy of the world by consolidating power. Bob Mitchell (Robert Cummings) is an American playboy on vacation in Hong Kong who finds himself swept into international intrigue. In the meantime, the five Golden Dragons (Christopher Lee being one of them, George Raft another) are scheduled to meet. Klaus Kinski plays one of the minions of the five, and Maria Perschy and Maria Rohm star as well, along with Margaret Lee (as the bad girl). Now in a nice LBX print. BA
J871 Five Wild Girls (64) aka: Cinq filles en furie aka: Five Furious Fillies A pre-curser to 'Faster Pussycat...?'. Hardly, but interesting all the same. This French film concerns some (very cute) girls who stay at a mansion (on holiday), trying to find out where the older woman who runs the place has hidden the treasure. So they think there is a treasure. But the truth is something else. (or is it?) Early film from director Max Pecas, supplies plenty of topless footage. Subplot about a nearby gypsy camp, and even a violent rape of one of the girls. Loose ends tie up in the finale. Filmed in 1964. not released until 1966. Dubbed into English BA
J928 Frankfurt: The Face of the City (81) aka: Frankfurt Kaiserstraße I loved it! Due to circumstance, young lovers are separated. He into the service, she (Michaela Karger as 'Susanne') into the city of Frankfurt, where she is rescued from assault by a a suave businessman. But the businessman is one evil bastard, and she sees him kill a woman. Meanwhile, her boyfriend had taken an overnight leave and slept with another girl, nearby where his girlfriend is staying! She finds out. But... will you'll have to see. Karger was something else. Too bad she did not star in more films. Not as sordid as 'Christiane F.' but in some ways similar, lighter, but still with a high sleaze factor. In German with English subtitles. LBX BA
J905 Full Day's Work, A (73) aka: Une journée bien remplie ou Neuf meurtres insolites dans une même journée par un seul homme dont ce n'est pas le métier aka: Una giornata spesa bene A man is on a mission. Just like Vincent Price in 'Theatre of Blood'. But why is he on this hateful rampage, killing a garage attendant, a life guard, an actor (and others)... all in extreme brutal acts of violence, like it's personal. He has a good reason, and the final act will let you in on it. The kills are all different and intricately staged, dark, comic (again like 'Theatre of Blood' which was released the same year). There may be a message here, but this is fun, and would go great on a double feature with the Price film. In French with English subtitles - LBX BA
J847 Gambling City (75) aka: La città gioca d'azzardo aka: Gran golpe al casino Sergio Martino directs! Luca Altieri (Luc Merenda) is a streetwise gambler who starts working for a large criminal organization, gambling for their gain. But he makes the mistake of falling in love with the crime boss son's mistress. The son wants revenge. The boss wants Luca left alone, he makes big money you see. Twists and surprises lead up to brutal violence and tragedy. One of the more complex of Luc Merenda's films. LBX + Trailer Dubbed into English BA
J906 Good to Kill (54) The editor of a Paris newspaper is rich and powerful, but bored. To kill. That would be a thrill. Something new! He invites four women to his penthouse apartment. One of them will meet her death from a loose railing on the balcony. That is his plan. His first wife, his second wife, his mistress and his fiancé. He has reasons to kill them all. But there can be only one. Who Will it be? Three of the women part, and he is finally alone with his intended victim.... Things do not go as planned. In French with English subtitles
J909 I... for Icarus (79) aka: I... comme Icare A very bold film that basically tells the 'JFK' story with an alternate outcome for the killer. A president gets shot in an open car during a public appearance. They find the 'Lee Harvey Oswald' guy guilty, but one member of the jury insists on further inquiry. Surprising evidence is revealed. Unlike the later 'JFK' this doesn't play around with emotions, instead, details the conspiracy and we get to see the puzzle pieces put together. Parts of the plot can be found in many films made after this. A suspenseful, virtually unheard of masterpiece. In French with English subtitles. BA
J867 I'll See You in Hell, Friends (70) aka: Dovidenia v pekle, priatelia Plenty of nudity! A car full of characters plunges down an embankment, the driver saying 'See you in hell, friends" before it bursts into flames. We see their stories in flashback. Rita is the fiancé of Petras. She meets an old guy and sleeps with him, as well as Petras. They have a daughter, Christine. Another guy shows up and wants to bed Rita. Rita is hot stuff. Two strange women arrive, they start chopping down trees to build an ark. Rita has nightmares. Christine is crucified. The viewer is baffled. Soviet hardliners tried to halt the production, and it took decades to finish. A satirical political allegory in which the leaky Ark of Socialism drifts on a sea of falsehood, lies, corruption, and suffering. Your welcome. Let's talk about Rita, shall we? She is played by the stunning Olga Schoberova, the star of Hammer's 'The Vengeance of She'. She is a cross between Brigitte Bardot and Ursula Andress. They don't make 'em like that anymore. LBX and with English subtitles.
J817 Man, a Woman and a Bank, A (79) aka: Un uomo, una donna e una banca Light-hearted heist film that mixes comedy and romance into the proceedings and manages to pull it off with some good performances from Donald Sutherland and Brooke Adams (both fresh off the set of 'Invasion of the Body Snatchers). Will the heist be a success? Paul Mazursky and Leigh Hamilton also star. LBX BA
J884 Manhunt in the City (75) aka: L'uomo Della Strada Fa Giustizia Henry Silva is the tormented and heart-broken father David Vannucchi whose innocent 8-year-old daughter is ruthlessly killed by gangsters during a jewelry heist. Like all citizens of Milan, Vannucchi thinks that the police don't make enough efforts to reduce crime and capture criminals, so he starts his own private investigation to find his daughter's killers. His search leads to dubious vigilante organizations, sleazy night clubs and drug traffickers, but also brings him in mortal danger. His ex-wife Vera and the tolerant Police Inspector beg him to stop, but Vannucchi's urge for justice is unstoppable.... This high octane thriller is directed by Umberto Lenzi, and Henry Silva is excellent as the bereaved and vengeful father... Finally a nice LBX print and dubbed into English! BA
J859 Mysterious Mr. Van Eyck, The (66) aka: El misterioso señor Van Eyck aka: Il misterioso signor Van Eyck Excellent mid-sixties peril on a boat thriller. A man and wife have taken a man on board their yacht and they sail around the ocean, finally dropping anchor off the coast. They search for treasure. Also on board, two more guys. Later they sail again... but their is a conflict. The husband is killed. The woman is manipulating. They have to get rid of the body! Now, to dive for the treasure... or so they think! What a truly satisfying ending, reminded me of 'Shark' from 1969! Nice color and LBX + English subtitles. BA
J887 Order of Death (83) aka: Copkiller aka: l'assassino dei poliziotti Corrupt cops (one named 'O'Conner' played by Harvey Keitel) spend their ill-gotten cash on a nice New York city apartment. John Lydon (yes, that John Lydon, the singer of the notorious punk band, The Sex Pistols!) as a disturbed young man that plays a sick and twisted game of cat and mouse with Keitel's character. He convinces him that he is the most wanted cop killer that has been hunting police officers. Not taking any chances, O'Conner captures him and holds him captive in the apartment, to get to the bottom of things. But is he just being drawn into a deadly game of wits? So Johnny Rotten, Harvey Keitel, Leonard Mann, Nicole Garcia and more in this nice LBX upgrade BA
J860 Panic in High School (78) aka: Koko dai panikku When one student commits suicide another gets upset at the math teacher for his lack of sympathy. So the student steals a rifle, returns to the school, and shreds the teacher's chest. Then he holds the class hostage! Now a standoff with the police as the parents of the students bawl and stress outside. Intense! In Japanese with English subtitles LBX BA
J888 Prostitutes of Lyon, The (75) A documentary, unusual as it seems. In 1975, 150 prostitutes occupied the church of St. Nizier, a main church of Lyon, protesting the brutal torture and murder of sex workers that seems to be ignored by the police. Instead, the police fine and jail the women who report the perpetrators! Grainy black and white, and with little journalistic shaping, this gives a voice to the hookers, the ladies of the night, the harlots... the whores (I say this respectfully!) Life is so hard for them, and they'll tell you! Maybe they should have chosen another profession? With English subtitles.
J852 Quickly... Shootings and Kisses for Breakfast (71) aka: Quickly - Spari e baci a colazione Biker types have stolen jewels from a courier (hidden them in Marlboro packets) and wind up in a banana republic that is in the middle of a revolution. There is a funny scene with a kid playing with a grenade. This is Alberto Cavallone at the helm once again, no budget, but because of this, the film displays a certain flair, a style that is his and his alone. An attempt at a cute comic strip action film, with stock footage and attractive women, Sometimes balloons for dialogue are inserted in. Magda Konopka almost gets naked. Nice. Also look for Jane Avril, and the scene with Beryl Cunningham, where her mighty nipples are put into action through a revealing gown.... LBX In Italian with English subtitles. BA
J909 Redneck (73) aka: Senza ragione Telly Savalas was one busy actor in 1973. This was probably his best and sleaziest offering. Unpleasant, dark, and cold-hearted is he here, hamming it up with sadistic glee. His partner in crime is Franco Nero. They accidentally kidnap a young man (Mark Lester). Later, Nero and Lester are on the run, pursued by Savalas. Children are shot, people are raped, and there is an arc of death hanging over the whole affair. Savalas is excellent, always blaming others when he kills, including the victims! One scene has Nero and Lester bare-assed. Was this a selling point? "Hey look, it's violent, dark, grim, sick... but at least you get the ass shot!" the director says. Now LBX BA
J853 Revolution of the Seven Madmen, The (73) aka: Los siete locos Draws on two novels showing us the opulent and seedy world of Buenos Aires in the 1920's. A failed inventor settles into a life with a woman he doesn't love, and a job he hates. He's a man with no spine, very weak. He joins an anarchist society, now, one of the seven madmen. They want to destroy Argentina's religious, commercial and government center. Much of the movie takes place in the working class rooming houses, brothels and tango bars, showing us the era's political and criminal underworlds. The embrace of violent anarchy, a staple of socialist led revolutionaries. Gun up son. In Spanish with English subtitles.
J967 Right Hand of the Devil, The (63) aka: A 117 colpo grosso a Los Angeles A criminal (Aram Katcher) decides to hit the strong-room of a Los Angeles sports arena after a big boxing match, using his underworld contacts to assemble a team of crooks. He gets the chief cashier (Lisa MacDonald) loaded and gets her onboard with heist. The robbery occurs and things go straight to hell, the plans on what to do with the 250 large are shall we say... contested. The film flows along nicely with one hell of a shock ending. Seriously! Don't ruin it and tell. A dark classic. BA
J919 Rose Seller, The (98) aka: La vendedora de rosas On the mean streets of Columbia, young girls sell flowers to make enough money to survive, including poor homeless thirteen year old Monica. Ten year old Andrea chips in with her help, running out of her house after a regular beating by her mother. Painful to watch, meant to be disturbing, This is real. Some people did not like this film, the children are real people. They will break your heart. Harsh and violent, and lacking a happy ending. According to reports, of the cast of seventeen, nine have died violent deaths, including the guy that plays Monica's cheating boyfriend. In Spanish with English subtitles.

J937 Search, The (85) aka: La búsqueda aka: Die Suche After witnessing a home invasion and watching her mother sexually abused and her father murdered, Patricia grows a new perspective on life and what she intends to accomplish. She sets her sights on full and total revenge. Entering the dark underworld Patricia becomes as bleak and ruthless as those she hunts in this sinister world of brutality. Will she kill them all? Vigilantism is a very popular genre, one in which we usually get cathartic satisfaction. Will Patricia deliver? LBX BA
J957 Second Chance (53) aka: Duello sulla Sierra Madre A mobster's girlfriend (Linda Darnell) is waiting for the trial of her man, so she can screw him over big-time. Hiding out in Mexico, the time has come for her to testify. But will she make it back to America? Starts out like film noir, then turns to dreamy romance, then into a suspenseful disaster flick with a suspended cable car full of the various characters where we can appreciate the gravity of their predicament with dizzying depth. Nice color, beautiful locations, and a pretty suggestive and sexy dance scene. Jack Palance also stars. Linda Darnell was burned up in a house fire in 1965 in Illinois. She was 41. BA
J820 Sissit (63) aka: Stridspatrullen aka: The Partisans Tells the story of a mission by a Finnish army long range recon patrol operating deep behind soviet lines during WW2. Told in flashback after the fact, the soldiers revisit their past where they performed guerilla operations and engaged with female volunteers, the latter being highly controversial when this was released in 1963. The complaint was that the soldiers are not depicted as wholly heroic and noble, but as ordinary men with flaws, in extraordinary situations, and the women (god forbid) as sex objects. With English subtitles.
J864 Ski Bum, The (71) aka: Relazione intima A ski bum named Johnny (Zalman King) teaches a plethora of weird characters how to ski (sort of). It's an acid trip with plenty of jumbled (and sometimes crumbled) creative ideas. Johnny gets mired in hippie ideals vs. establishment... will he sell out? 'Echoplex' tape echo effect on the soundtrack. Yes, that is a young Jackson Browne playing guitar at the steam bath party. Also with acid drenched psyche music, popular at the time. Charlotte Rampling does that man-eating seductress bit. BA
J945 Tempest (58) aka: La tempesta Set during the reign of Catherine the Great (Viveca Lindfors) that deals with a Cossack uprising in (well) Russia of course! Some factual and well displayed accuracies cancel complaints, this is quite thought provoking. The real drawing card here is the sheer spectacle and the intensity of the battle sequences with nice outdoor colorful settings and lush expensive production design. Van Heflin travels to Italy and stars in three, this being one of them. Also with Silvano Mangano. BA
J950 Thunderstorm (56) aka: Tormenta Maria (Linda Christian) is saved from the sea by some fishermen. She's one hot little number. They take her to their small village, and lust takes over as the men fight over her. She is intoxicating, like the mythological siren. There is even a scene where she stands on the shoreline rocks and a guy crashes his boat as he stares at her. Of course this happens every day in America, except with cars. Who hasn't swerved at least once in their lives checking out a nice piece? She warns the men that she is dangerous. They do not listen. Linda Christian was picked up in a bar in Mexico. They fixed her teeth and dumped her in Hollywood where she eventually married Tyrone Power. Her nickname was 'The Anatomic Bomb'. BA
J893 Traitor, The (19) aka: Il traditore An historical film about the mafia penitent Tommaso Buscetta who flipped on them in Sicily. Covers a span of thirty years. From the debates in the halls of Palermo, to the killings in the streets, director Marco Bellochio delivers a very well done movie with all the boxes checked for what makes a good mafia movie. Offers insight into who these people really are (or in some cases 'were'), their motivations, ambitions, and the structures of the organization, headed by the commission. It becomes clear how tribal and brutal this group is, and underscores the fragility of the judicial system in Italy. In Italian language with English subtitles.
J868 Vanished by the Lake (15) aka: Le mystère du lac Lise, a policewoman, is dismissed from her job and goes back to her home to care for her Alzheimer's-afflicted mother. But the day she arrives, a neighbor's daughter goes missing. The same circumstances as when years earlier Lise's two friends went missing. Lise involves herself with the local cops, determined to get to the bottom of the mystery, and maybe unlock the keys to her past, to finally reveal the truth. If you like a good mystery set in scenic locations, loaded with twists and turns and suspects, running for hours and hours, then this is for you. Out of control complete three disc set (counts as two selections) LBX and with English subtitles.
J953 Walk in the Spring Rain, A (70) aka: Passeggiata sotto la pioggia di primavera Libby (Ingrid Bergman) and Roger (Fritz Weaver) move to an isolated farm where Roger plans to write his book. Libby gets turned on by handyman Will (Anthony Quinn) who is very interested, and since Roger is not paying her any attention.... Will she or won't she hook up with Will? Well.. .Or will an act of violence change everything? BA
J829 When the Last Sword is Drawn (02) aka: Mibu gishi den A brave samurai puts love and family first. But when samurai code and family mix together, honor and loyalty reveal how thin the line that separates the hero and the traitor. Takes place during the confusing times when the Emperor was trying to modernize Japan, the same time period that 'The Last Samurai' was set. A vast arsenal of barren landscapes, blood soaked, soliloquies given on the brink of death, a wide plethora of endearing characters, and a satisfying conclusion for each and everyone, some quite moving. LBX in Japanese with English subtitles.
J842 Your Three Minutes Are Up (73) aka: Zwei auf krummer Tour Rob Liebman as Mike, a conniving fast-talker who is fed up with society. His friend Charlie (Beau Bridges) is engaged, and a real square. They envy each other. Together they go on a (normal for the time) typical soul searching road trip. To find themselves. Marriage, a mortgage, a weekly paycheck....or footloose and fancy free? Things come crashing down. What is it all about? Downbeat. Also with Janet Margolin, Jennifer Ashley and Sherry (The Velvet Vampire) Miles. + You're the Judge (65) Cooking contest short from Crisco Oil and starring Bonnie Franklin from that awful Valerie Bertinelli show. BA

MODERATE AND MADE FOR TV FILMS
J977 Beast of Yucca Flats, The (61) aka: The Violent Sun aka: Il mostro delle Yucca Flats Joseph Javorsky (Tor Johnson) is hit by a nuclear explosion around Yucca Flats and turns into... well Tor Johnson. Angry. So angry is he that he has lost the ability to speak, and can only grunt and snarl. So angry he chases some children with a stick. So angry that he not only takes a nap, but later he actually throws a rock. So angry he wants to strangle people. Bad movie with narration, and since it was shot silent, dubbed! Horrible fun. The opening sequence features him in a sort of preview sequence, as he strangles a woman who is fresh out of the bath, and we see a little nudity there. Better than the last Marvel film.
J976 Cape Canaveral Monsters, The (60) Outer space aliens cause a car crash (actually spectacular this), killing a couple, and then take over their bodies so they can shoot missiles coming from Cape Canaveral out of the sky. Not sure what the missiles are for, but we do know the aliens are against them. They also kidnap some teenagers and control them. As the bodies fall apart (the male alien's host body has a problem keeping his arm attached to his body) you'll also soon realize this film, set in Florida, is actually nowhere near Florida. Kind of bloody at times. From the director of 'Robot Monster'.
J980 Cry of the Werewolf (44) aka: La fille du loup-garou New Orleans: A gypsy princess (Nina Foch) who can change into a wolf, kills to protect the families dark secrets. The secret that her mother was a legendary gypsy werewolf. Cry of the Werewolf doesn't follow the rules of the werewolf film, maybe owing more to Val Lewton than Lon Chaney but that's okay. It's still classic horror. She-Wolf of New Orleans! Gypsies, a Devil Doll, and a Transylvanian connection. BA
J960 Fortress of the Dead (65) aka: Seele einer Festung It has been twenty years since Frank's unit was wiped out on the Manila Bay fortress Corregidor by Japanese forces. Survivors guilt ridden, Frank returns to visit what is left of the shell-shocked site. There he meets with a former comrade, but alone must confront the ghosts of the past. Approaching a sealed door, Frank is convinced the specters of his dead military brothers wait for him on the other side, holding him responsible for their demise. Eerie horror tale, filmed in black and white, that is very effective through use of ominous atmospheric location.
J979 Giant from the Unknown (58) aka: El gigante de la isla misteriosa Tells the story of a professor and his daughter driving through the southwest looking for the remains of a giant Spanish Conquistador known for his brutality. They find him. Or he finds them. Just takes one lightning bolt and presto! He Lives Again! Resurrected from suspended animation. He goes on a rampage of killing and cattle mutilation in this rural mountain village. Great fun with a great finale. One of the last monster make-ups of Jack Pierce. Six foot- six Buddy Baer is the Giant. Another childhood favorite. BA
J954 Hand of Night, The (68) aka: Beast of Morocco William Sylvester plays architect Paul Carver, whose wife and children died in a tragic car accident, and he blames himself. He travels to Morocco and meets a stunning dark-haired female vampire named Marisa (Aliza Gur) who has a way with men. Not a blood-sucker so much as an evil being that sucks the soul and drags her male victims into darkness. The opening scene is wonderfully atmospheric and weird with the use of skulls and bloodied mechanical bats. Filmed in Morocco. Here we have this version of the film featured previously as H377, but this one is a couple of minutes shorter and has the original title 'The Hand of the Night' . Not clear on what is missing, or if this has different footage than the other version.
J978 Jungle, The (52) aka: I giganti della giungla Elephants are attacking villages in the jungles of India and people are getting killed. An American big game hunter (Rod Cameron) suspects wooly mammoths, he lost his last safari team to them, and nobody believed him when he told the tale. Especially the brother (Caesar Romero) of one of the dead. When we finally see the massive mammals, they are played by elephants with fur coats and larger than normal tusks. The ending has an unusual twist. Filmed in India and the United States. With Marie Windsor as Princess Mari. BA
J890 Sandman, The (81) Nathaniel (Donato Placido) is one romantic fool who falls for the professor's daughter, Olympia. Others tell him she has no soul. But what is that supposed to mean? Come to think of it, her singing and dancing is sort of mechanical. He is about to find out something he probably will have wished he had never known! With Francesca Muzio. In Italian language and with English subtitles.

MONDO FILMS
J918 Remake, Remix, Rip-Off: About Culture Copy and Turkish Pop Cinema (14) In order to keep up with the demand, Turkish cinema of the 1960's and 1970's leaned heavily on films from other countries for inspiration, ripping off everything they thought they could make a buck on, stealing the music, the plot, and inserting their own bits of cultural references to make it all just a little bit 'different'. This resulted in hundreds of films that vary in quality, and in some cases surpass the originals in sheer entertainment value. What they lacked in originality, they more than made up for it with their excessive use of manpower both behind, and in front of the camera. Very insightful and for fans of this genre, and those curious. Loads of cool clips and scenes from many of the best rip-offs! In German language and with English subtitles.
PROPAGANDA FILMS
T869 Anarchy U.S.A. (66) Attempts to link the Civil Rights Movement to a Communist-led global conspiracy. Using disturbing footage to make their point, the filmmakers prove to us here today, propaganda and lies have always been with us. According to our narrators here, America is being tricked into becoming a 'Soviet Negro Republic', brought on with the collusion of John F. Kennedy, Lyndon Johnson, and Martin Luther King. Meanwhile in present day America (2020), many of the schools teach children that communism is good, and 36% of youth view it favorably. It will be damn interesting to see what happens next huh?
SOUTH OF THE BORDER AND MEXI MONSTER FILMS
J879 Hidden in the Woods (12) aka: En las Afueras de la Ciudad Two sisters raised in isolation and abused horribly by their criminal drug dealing father, turn him in to the police in a violent confrontation. But their equally evil and sadistic Uncle shows up, wanting what is his, something, hidden in the woods. Rape, incest and gore, a pretty nasty film. The father chainsaws to death some of the cops that eventually capture him. Just about all of the male characters are monstrous. Remade here with the same title in 2014 and starring Michael Biehn (this other version is good too!), this is the original Chile version, in Spanish and with English subtitles. .
J891 Santo vs. Dr. Death (73) aka: Santo contra el doctor Muerte Santo is now an Interpol agent when he is not wrestling in the ring. Art thieves led by Dr. Mann do what art thieves do, and Santo is on the case! Interpol agent Susan (Mirta Miller of Naschy films and more) is sent to the doctor's castle ( Dr. Mann is also Dr. Death) where female models have been disappearing. Snooping, she and another girl are thrown into the dungeon with the other captives. Santo and another guy make their way into the castle, avoiding death traps, and free the models. Sara (Helga Line), an assistant of Dr. Death, falls into the acid pit, used to dispose of bodies. Campy, with stunts and action inspired by the spy genre (James Bond), and a little bit of horror.. Uncut 97 minute version and dubbed into English! BA
WESTERNS
J943 Crazy Westerners (68) aka: Little Rita of the West aka: Little Rita nel West Terence Hill stars along with Rita Pavone in truly the strangest of Spaghetti westerns ever made. It's a comedy. It's a musical. It's an abomination! Because of this, the entertainment factor is high! A spoof of the genre, with Little Rita facing off against Ringo, Django and others, while being helped by Indian Chief Sitting Buffalo (Gordon Mitchell in full head dress). Nothing, I repeat, nothing can prepare you for what you are about to see. Little Rita of the West. One of a kind. The color is amazing, now LBX and English language dubbed. BA
J878 Garter Colt (67) aka: Giarrettiera Colt The gorgeous Nicoletta Machiavelli is Lulu (Garter) Colt in this obscure spaghetti. Lulu is a gambler, quite good at it in fact. She is harassed by a notoriously nasty bandit known as 'Red' (played by Claudio Camaso). She falls in love with a Frenchman who wants to take her away from it all. But Red kills him. Lulu learns the way of the gun. Red is going down! Walter Barnes and Marisa Solinas also star. LBX and with English subtitles. Claudio Camaso, the villain 'Red' in this film, also starred in Mario Bava's 'Twitch of the Death Nerve' (aka: A Bay of Blood) and many others. For one reason or another... suicide by hanging in Rome September 1977. He was 43. Sexy Machiavelli, became a teacher in Seattle, Washington where she died at age 71 in November 2015. BA
J883 Man From Canyon City (65) aka: L'uomo che viene da Canyon City Red (Luis Davila) and Carrancho (Fernando Sancho) are chained and escorted through the hot desert, But they escape! Along the way to the border of Mexico they find themselves in one skirmish after another before joining others in a revolt against an evil rich silver mine owner named Morton (Robert Woods), led by Morton's wife Viviane (Loredana Nusciak). Nice production values. Directed by Alfonso Balcazar. In Spanish with English subtitles and LBX BA
J821 Man or Gun (58) aka: Fuoco incrociato Fran (Audrey Totter) is a saloon owner who manipulates a fast-drawing stranger (Macdonald Carey) who holds a growing superstitious significance to those around him. It's the gun, formerly owned by a deceased killer. Or is it the man? She needs him to wrest control from her adversaries the Corley's (who killed her father), and deliver her some revenge. All leads up to an action-packed finale at a farmhouse. Totter was a hotsy totsy in her prime. Also with James Craig. BA
J933 Ramon the Mexican (66) aka: Ramon il Messicano Ramon's brother attempts to rape Esmeralda, and is shot by Slim, who then goes into hiding from Ramon and his gang. Ramon has paid off the drunken sheriff, who has posted a reward for Slim. Ramon kills Slim's father and then rapes Esmeralda. She can't seem to get a break. This baits Slim into coming out of hiding. Esmeralda prays to the Virgin Mary, promises to be with Ramon, if Slim lives after being shot by Ramon. But Slim escapes and forms an outlaw gang.... disguising himself as a priest and attending the wedding of Ramon and Esmeralda, for the final showdown. Finally a nice English dub and LBX
J897 Sharp Shooting Twin Sisters (66) aka: A Woman for Ringo aka: Dos pistolas gemelas Spanish twins the Bayona sisters star along with the son of Errol Flynn, Sean Flynn. The girls travel the country with their 'dentist' father, who makes his living as a tooth-puller/cure-all elixir seller. The girls part in the biz is their gun skills performing feats of marksmanship like Annie Oakley. The old man acquires ownership of a ranch in a poker game, and dies. But not everybody in this town is happy the girls are now the owners. Trouble brews. Hilarious sound effects. One of Sean Flynn's last films. He foolishly inserted himself into Cambodia during the height of the Viet Nam war. Presumed captured and killed by the Viet Cong. In Italian language and with English subtitles. LBX BA
J896 White Comanche (68) aka: Comanche blanco Finally a nice LBX of this one, the only spaghetti starring William Shatner! He plays twins, both half-white/half Comanche (of course). They take different paths, and Johnny Moon is blamed for peyote-dosed Notah's violent actions. Shatner stretches, but when he is Notah it is hard to buy and quite hilarious. But entertaining. We are talking Shatner here. Still, despite these minor quibbles, the film has plenty of action and interesting scenes, and manages to have a mean-spirited edge. Joseph Cotton is Sheriff Logan. Rosanna Yanni and Perla Cristal give us something to look at. BA

---
---