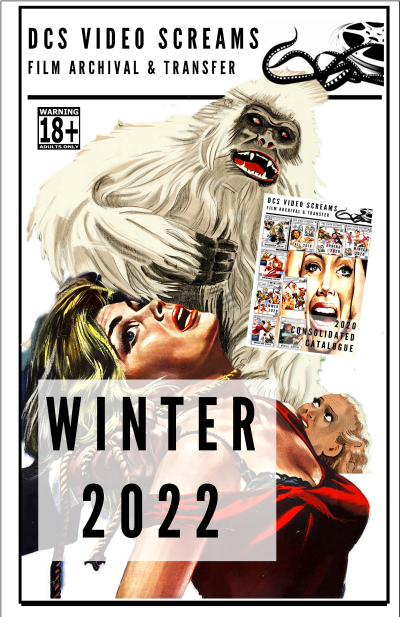 WINTER 2022 UPDATE
BA= Color Box Art Available for an additional $3.00
FL= Film is in Foreign Language
Lbx= Letterboxed or Widescreen format
Subs= Film is subtitled
aka= Also Known As (alternate titles)
APOCALYPTIC FILMS
7463 Crime Zone (88) Another dark vision of the future. People are put into categories ('sub grades') as they carry out their daily routines. Here there be strict rules, like only state-sanctioned sexual activities allowed, done by caged beauties in the House of Pleasure, cameras follow your every move, the rich extend their existence in the 'Gardens of Hibernation', there is a complete dictator state, and a brutal police force keeps order. Like Australia 2022 (so far, okay, a stretch). Two young love birds (Sherilyn Fenn and Peter Nelson) want out, and a mysterious stranger (David Carradine) offers a way. They must steal a computer chip vital to the government. Soon the lovers find themselves hunted like animals. BA
7374 House, The (76) This is the end my friends. An atomic bomb has decimated the Earth's surface. Millionaire Paul Stone knew it, and before it happened, he gathered a group into his house. His house was a spaceship which blasted off with everybody inside into outer space. Now the people find out. Apparently taking off was not an indicator. Unforgettable sci-fi drama filled with superficial sociopolitical messages and developed on the most conventional ideas borrowed from the works up to this point. The ship has provisions for six people for 40 days as they orbit the earth, waiting to return. In the meantime, sex, exercise on a treadmill, shooting pool..... a stag film? Hidden cameras expose their sexual secrets. Luckily Helga Line and Magda Konopka are two of the women! Filmed in 1974, struggled into distribution in 1976 and failing miserably to gain any ground with the populace. To bad, it is a nice bit of science fiction, and gets quite grim. Escape pod, back to earth for the survivors.... but to what kind of earth? Widescreen and English subtitles
7415 Terminus (87) Karen Allen - Listed incorrectly in one of the last updates as an Uncut English language dub. Sorry about that. This is the real deal but with English subtitles only. 1 hour and 55 minutes beautiful Widescreen and with English subtitles. If you ordered this in the past with any order, this is FREE just let us know when you order with a note telling us. Otherwise, regularly priced as one selection.

CLASSIC HORROR AND SCI-FI FILMS
7284 Brivido (41) aka: Shiver Classic Italian Horror. The music in the opening credits is so close to Universal Horror you won't believe it! Make no mistake, this is a building block for the giallo. A writer of giallo has writer's block. Hitting his deadline seems to be hopeless. Luckily his neighbor who lives in the apartment above him is murdered. Now he has a plot as he finds himself pulled into the case. A jump or two, pasta plate murder mystery style. Some glitches in master. English subtitles.
7417 Down to the Sea (36) Since the beginning of history Greek fishermen have dived for sponges in the Aegean Sea. With the discovery of the first sponge in American waters in 1853, they began bringing their ancient craft to this country, until today Tarpon Springs, Florida, is the sponge fishing center of the world. To these men who gamble their lives against shark-infested waters, against paralysis and death from the dreaded 'bends' this picture is dedicated, with grateful .....yah yah yah. A conflict in the sponge diving industry filmed in Silver Springs, Florida. Greek fishermen fall out over fishing rights. Compare to 'Alamo Bay' from 1985 for similar theme. Really good underwater photography Romance Flames on Floating Hades of Hate! BA
7448 Frankie and Annette Beach Party: Hollywood Palace 1967: One ripping show for the times with The Fifth Dimensions, Phil Harris, Original Commercials. Hot chicks in bikinis and your hostess Phyllis Diller! Like a huge magnificent High School play with Annette Funicello and Frankie Avalon. More!
7433 Get That Girl (32) Pre-Code about an heiress (Shirley Grey) being abducted by kidnappers and held captive in a horrific sanitarium by the sadistic Dr. Sandro a drug-addled mad scientist who is trying to turn women into mannequins. Stuntman/actor Richard Talmadge is the hero to her rescue. Action, Adventure, Crime and Horror mixed together! Also with the sultry Geneva Mitchell at age 25 as Nedra Tito. Geneva Mitchell's nickname was 'The Pogo Girl'. She had many failed marriages before dying of severe alcoholism, age 41 in 1949 Los Angeles.
7355 Journey's End (30) Alcoholic Captain Denis Stanhope (Colin Clive) is in charge of a unit in WW1. Drunken and afraid, he is further stressed to the point of breaking when his sweetheart's brother is assigned to the unit. This is from a very popular play, and the majority of the film is the men talking in the trenches. I have read reviews from people of the 2020's and they expect 'Saving Private Ryan' or something, do not understand the year 1930, WW1, or even the plot. Things were different in the way films were made in 1930. (Surprise!) Talkies were just getting legs. Growing pains. This was the first American-British co-production of the sound era. James Whale directs. Also starring David Manners. He handpicked Colin Clive to be the star of his next film. It was called 'Frankenstein'. BA
7432 Storm Over Lisbon (44) aka: Storm Over Lisbon aka: Tempete sur Lisbonne Republic Picture's low-budget echo of 'Casablanca' with a lot of differences in plot of course for variety. Eric Von Stroheim is a shady club owner/freelance spy. Vera Hruba Ralston is an exotic dancer while Richard Arlen is the leading man. Political intrigue, unknown alliances.... Stroheim's character 'Deresco' gets information for anybody who can pay his price. But watch out! Also starring Otto Kruger. BA

DINOSAURS, LOST LANDS, SWORD AND SANDAL, PEPLUM AND FANTASY FILMS
7392 Brazilian Star Wars (78) aka: Os Trapalhoes na Guerra Dos Planetas aka: The Tramps in the Planet War - Right out of the gate, the first Star Wars rip-off, and managing to be more entertaining! Filmed on video and blown up in 35mm so it looks completely insane! Most of the characters have Star Wars counterparts. Prince Flick is obviously a Luke. Zuco is Darth Vader. There is also a Chewbacca looking dude who had me laughing, and Princess Leia. Slow-motion fight scenes, drop-kicks.... The sound effects sound like arcade games. The music like 70's disco night in Cairo. The special effects are 'Land of the Lost' quality, and I am talking about the Saturday Morning Kid Show variety. Different aliens galore and (gasp!) dancing aliens! One funny scene our hero runs at an alien in slow motion to initiate battle, and when he jumps his crotch hits the aliens face unintentionally. This is like if Sid and Marty Kroft went to Brazil and forgot the money. The girls are pretty hot. A total blast featured here in excellent quality and for the first time with English subtitles! BA
7411 Call of the Wild: Howl, Buck (81) aka: Arano no Sakebi Koe: Hoero, Buck Remember the Japanese Frankenstein cartoon and Tomb of Dracula. This is similar, a Japanese cartoon based on Jack London's 'Call of the Wild', a variation. This is the story of Buck, a house dog who longs for a life in the great outdoors of Alaska. In the remote wilderness of the North, Buck comes to an understanding of man, nature, and himself. Pretty violent cartoon for children so make sure the kids see it! BA
7252 Dual of the Titans (61) aka: Romulus and Remus Amazing new 104 minute Widescreen version. Sergio Corbucci directed this classic joining two towering sword and sandal giants together in a serious straight action-packed spectacle. In 733 B.C. Romulus and Remus learn from their dying mother that they are destined to be the founders of the great city, Rome. An incredible production, with plenty of muscle, made all the better with the sweeping widescreen landscapes scattering with the battle sequences. Steve Reeves battles a bear in a coliseum just one of the many scenes, and the showdown with Steve Reeves and Gordon Scott is something to see. Also with Virna Lisi and Laura Solari. BA
7419 Hurricane Island (51) Color Version of this pirate film! The Fountain of Youth is sought by Capitan Maltalvo (Jon Hall) to restore the health of Ponce de Leon. Pirate Jane Bolton (Marie Windsor) and her Buccaneers want the gold. Opens with a rip-roaring battle on the beach as the Indians put up a fight for their land. Very colorful costumer set in the 15th century pitting Pirates against Indians. A who's-who of lesser known actors throughout. BA
7413 Kidnapped (78) Robert Louis Stevenson's epic adventure story is set in the turbulent years after the Battle of Culloden - a time of suspicion, treachery and oppression in Scotland. If they could have seen the future! David McCallum is Alan Breck Stewart, hero of Culloden, now fleeing for his life across the rugged Scottish mountains. Ekkehardt Belle is David Balfour, a young man who has been kidnapped and while on board a slave ship, shipwrecked and an unwilling witness to the murder of a Scottish tyrant. Catriona, daughter of a highland rebel, a beautiful girl torn between love for David, and loyalty to her father. Actors all over the place here include Patrick Magee, Ferdy Mayne, Andrew Keir, Robert James and many more. This is not a play, they are in some really great locations. Over 5 hours of adventure on 2 discs! Counts as two selection DVD-R only
7424 Lady Caroline Lamb (72) aka: Lady Caroline Lamb aka: Peccato D'Amore Everybody called it a bomb in 1972. Now you get to decide 50 years later if it is true. Early 19th century England. Decadent aristocrats everywhere As Lady Caroline, Sarah Miles is quite saucy as she embarks upon her disastrous scandalous affair with the mad, bad and dangerous Lord Byron (Richard Chamberlin). Caroline is already married to William Lamb (Jon Finch), who is always forgiving her adulterous transgressions against him. It's a bit soapy, a costumer, loads of palatial estates still standing, authentic. Liberties taken historically of course, like all films. A lot of background on the writers and directors previous works soiled expectations on this one. A cast of high caliber performers, with Sir Lawrence Olivier as the Duke of Wellington and many more. Some racism, Gothic horror bits, downbeat and well played throughout. Richard Chamberlin as Lord Byron has eye liner and a jaded heart, like a vampire without fangs. Jon Finch, just off a series of very good films, would be in 'The Final Programme' next. In true history, Lord Byron had a fascinatingly outrageous life, and died young at age 36 of malaria in Greece. Widescreen BA
7460 Magic Flute, The (94) A fearless Prince promises the Queen of the Night he will rescue the Princess from peril in this action-packed animated adventure based on Mozart's classic 'The Magic Flute'. The Queen (voiced by Samantha Eggar) gives him a magic flute and the comical birdman Papageno to assist. But the Queen may have other intentions...... Michael York voices King Sarastro. Mark Hamill voices the Prince.
7408 Many Faces of Tarzan, The (95) Take a journey through the last 70 years of Tarzan at the movies. Rare footage examines fifteen Tarzans and their uniquely different approaches to playing this very demanding character. Movie magic and memorabilia. You'll see it all, film clips, rare footage, memories and special insight into arguably the greatest film hero of all time. Tarzan! Here the most current covered up to this point is Christopher Lambert. You'll also see Buster Crabbe, Lex Barker, Gordon Scott, Johnny Weissmuller, Jock Mahoney, Mike Henry and more.
7310/7144 Poppea: A Prostitute in Service of the Emperor (72) aka: messalina 2 aka: Poppea... una prostituta al servizio dell'impero Two scoundrels are constantly on the run, scamming inn-keepers into serving them. After several misadventures they wind up in Rome and meet the nymphomaniac Poppea (Femi Benussi), who, not only enjoys milk baths, but also sampling the various men of the kingdom. Wimpy Nero is well aware of the infidelity of his horny wife, and likes to peep. Sleazy fun and quite expensive looking with gladiator games, and even an assassination! From director Alfonso Brescia. Nudity and sexual situations, of course! Now for the first time Widescreen with English subtitles. Or, if you prefer, an Italian language version with no subtitles. Specify or the English subtitled version will be sent. BA
7254 Poppea's Hot Nights (69) aka: The Erotic Nights of Poppea aka: Le calde notti di Poppea Starring the gorgeous Olga Schoberova of Hammer's 'The Vengeance of She' as Poppea! Poppea seduces the men of Rome to keep them in line with doing their bidding, working her way up through their beds to eventually become the wife of Nero himself.. Huge production includes the orgy scene. Ancient Rome made in Italy with nudity and bit of a sexual plot, complete with all of the standard costumes and sets was a departure from the usual sword and sandal films. Brad Harris, who was actually married to Olga Schoberova at the time, also stars. They were divorced the same year this was made. Also with Femi Benussi. Nice Widescreen print with English subtitles BA
7442 Shelley Duvall's Mother Goose Rock n' Rhyme (90) There's a crisis in Rhyme land! The characters from nursery rhymes are going missing. Gordon Goose, son of Mother (Jean Stapleton), and Little Bo Peep who's lost her sheep (Shelly Duvall) set out to find them. A musical from the deepest bowels of hell Dante could not even have imagined. Paradise Lost indeed. Let's get a rundown of the characters and who plays them. Three men in a tub are actually ZZ Top in a rocked up motorized tub hot rod. Bobby Brown is Three Blind Mice. Art Garfunkel is Georgie Porgie. Teri Garr is Jill (of Jack and Jill). Woody Harrelson is Lou the Lamb. Debbie Harry is the Old Woman Who Lived in a Shoe. Little Richard is Old King Cole. Katey Sagel is Mary Quite Contrary. Cheech Marin, Brian Setzer, Paul Simon, Ben Vereen is Itsby Bitsy Spider, Pia Zadora is Little Miss Muffet..... Incredible! You won't believe your eyes (or ears!). This world will remind you of Pee Wee Herman's world. Little Richard's lead guitarist is Warren Demartini of 'Ratt'. Howie Mandel is Humpty Dumpty. Bad jokes throughout that will make you laugh or cringe. Great!
7296 So Long Gulliver (70) aka: Ciao Gulliver Daniele is not happy with the news and how the media spreads lies to manipulate and control the masses, to keep them scattered about like chatty fools, putting the world in a state of hopelessness. A slightly dystopian social condemnation of the way things have spiraled out of control in a society is that is too occupied to realize the root causes. As society eats itself into madness Daniele imagines himself as Gulliver, captured by the Lilliputians. Alternating between worlds the mindfuck of Daniele will end tragically. 1 hour and 45 minute version is Uncut. Also with Lucia Bose and Sydne Rome. In Italian with English subtitles
7340 Son of the Red Pirate (59) aka: Il figlio del corsaro rosso Lex Barker as a Spanish Count who is the son of the Red Corsair (Pirate). He is looking for his long lost sister, and avenging his father's death, along the way taking a break or two for romance, dancing and music, whatever comes next, mingling and plotting with or against bigwigs (literal). An elaborate and colorful swashbuckling costumer, with a very large cast, and authentic ships and ocean locations. The female lead Sylvia Lopez looks swell. Her other notable films 'Herod the Great' and 'Hercules Unchained'. She died in Paris, France of leukemia at age 26 shortly after filming. In fact, she was dying already when acting in this, even getting an exposed back flogging and other tortures. She's a friggin' hero in my book. Nice Color Widescreen and English, uncut, a few scenes may be in French with English subtitles BA
7292 Three Supermen in Santa Domingo (86) aka: 3 Supermen in S. Domingo The last adventure for our trio, seven years past their last conflict with the Godfather. The vibe has changed a bit in this, imagine the films worldwide in 1986. It stars only one familiar Superman, the verbally challenged Sal Borgese, joined by some new, younger blood. Add in a cute blonde FBI agent and now get to the point. Dirty counterfeiters in South Africa. Almost immediately our bumbling three get into a battle with about 20 men, the camera overdoing it mightily on the reverse shots. This however turns out to have been a diversion so the bad guys can kidnap the blonde. The Supermen have to pose as Russian sailors. They use hotel rooms to change into their uniforms. Eat your heart out Superman. The drug lord uses a whip on two females. As usual, two of the three Supermen dress up in drag for infiltration purposes, joining some women on a yacht. Nice Widescreen silliness. In Italian with English subtitles. BA

EXPLOITATION FILMS
7430 Adventures of a Plumber in Outer Space, The (90) A trashy homage to the British 'Confessions...' films of the 1970's (which of course were trashy as well). A plumber gets zapped into outer space to a distant planet by Queen Azzizaz, who wants him as her mate. The outer space people include an outrageous gay man, and women with heavy blue eye shadow. The plumber beams up, still holding a plunger, and in his underwear. The woman applaud when he is stripped down, impressed with his manhood (they see, you don't). The sink plumbing scene and the sexual references will either make you groan, or laugh your ass off. Runs under one hour.
7350 Crazy Nights (78) aka: Follie Di Notte aka: Mondo Erotico aka: Follow Me Finally an English language dubbed version of the Joe D'Amato film starring former Salvador Dali companion, one-time girlfriend of Roxy Music's Bryan Ferry, gender-bending ambiguity show girl model Amanda Lear. Part musical, part documentary, join Amanda as she sings (she sounds like a dude sometimes) and dances her way into your heart... or your loins whichever you prefer. Music moves people in different ways. Much better known for erotic showmanship than her singing, which mostly consisted of her speaking lyrics in a sultry fashion, while seductively staring at the camera. Little did she know the film was never completed, but then Lear discovered it had been released as an exploitation film in Italy, with added mondo-like scenes which includes the infamous humping monks scene. Loads of nudity and girls that rate a '10'! Male and Female full nudity. A hot woman whips a chained up old man, a woman lies as if dead so a man can satisfy his necrophilia tendencies. Sex Shows..... Some XXX so Adults Only. Fascinating public shows here always involve sleaze and nudity, with enthusiastic audiences. Amanda Lear's final performance is a standout. Also with Marina Hedman - Uncut 100 minute version. BA
7324 Emmanuelle in Soho (80) London's Soho district is profiled by these Brits in the opening with incredibly bad dialogue. Leads into a ton of nudity. You'll see many familiar titles on posters in some of the scenes. The girls are all dynamite, and horny. Angie Quick is Emmanuelle. Oriental Julie Lee as Kate is also a standout. Both girls would also be in 'Mary Millington's World Striptease Extravaganza' the same year. The thrust of the story is about a young photographer and his wife, along with their friend Emmanuelle (the two girls just mentioned) trying to make it, and deciding to blackmail an adult film tycoon. Like Mary Millington, Julie Lee would die young (age 28 in a deadly car crash May 1983 England). London's Red Light District! Naked and Blue! This is an off-shoot, and alternate, an Emmanuelle in name only rip-off. Who cares, more naked chicks are a good thing! Showgirls. Strippers! Heaven! BA
7256 Fury on the Island (78) aka: Furia en la isla Don't let it bother you that this is a disconnected scattered exploitation film from Argentina, only that it is a nice display case for Isabel Sarli's competition, one Libertad Leblanc, the blonde bombshell and her accomplices (namely her tits and ass). This was the last film you could see her like this. The plot (what little of a plot there is) has Libertad (as Lili) the only hot dish on an island whose main dwellers happen to be men, who all lust for her hot body. There are other girls (sure!) and tourists (of course!) but eyes usually wander and then rest on Lili, the only blonde around (but is she a 'natural' blonde?). Lili is bedded first at the 17 minute mark, moaning sensually as a man .... wait! What kind of a sex scene is that? Seconds later she is batting her eyes at another guy dockside. Cruise ship, car chase and shootings, boats traveling around in tributaries, battles with flaming logs by bare chested men (one of whom tried to assault Lili!), dancing, Lili gets screwed on the floor of a barn, action, more killing, explosions, nudity! Now finally with English subtitles! Libertad Leblanc died in April 2021 at age 85 in Argentina of Pneumonia.
7373 Hidden Pleasures (77) aka: Los placeres ocultos Leave it to Spanish director Eloy de la Iglesia to come up with this bit of trash! A closeted middle age banker (Simon Andreu) falls in love with a young man of 18. Usually he has been just renting boys and teenage hustlers. This time it must be love, but only one-sided. The banker also has a girlfriend he brings into the relationship, so he goes both ways. Later the banker is blackmailed by a group of delinquents. The scandal reaches the bank.... Nudity and sexual situations. Widescreen In Spanish with English subtitles. BA
7262 It's a 2'-6" Above the Ground World (73) aka: The Love Ban aka: Anyone for Sex? Mick (Hywel Bennett) and Kate have six kids, and Kate has had it! No more of that then. Sex I mean. Cut off and sleeping in a separate bedroom, Mick starts to have fantasies. It's been 10 months, he doesn't believe in contraception, and Mick needs it bad. We are introduced to more sexual shenanigans amongst various players. There is an added element critical of the religious attitude towards contraception and a heavy play on sexual morality/right to choose stuff. From the team who brought us 'Percy'. Interesting cast includes John Cleese of Monty Python fame, Angela Pleasence, Nanette Newman and more familiar faces like Angharad Rees of Hammer's 'Hands of the Ripper'. Nice Widescreen BA
7268 Pink Cut: Love Me Hard, Love Me Deep (83) aka: Pink cut: Futoku aishite fukaku aishite Two cute Japanese chicks open a barber shop and call it 'The Pink Cut'. They wear super-short skirts and business is very good. When they decide to quit wearing panties, profits skyrocket further. They add special massages and cream rinses to a list of services. Now this is how you run a business! Now if we could only get buxom tavern wenches back to serve in the bars, maybe as a sort of theme. Hands off of course, but eye candy brings the bucks rolling in for all, spreads happiness, and a little swat on the rear from time to time never hurt anybody. Oops! Lots of sex and nudity. Widescreen In Japanese with English subtitles
7362 School Girl, the Devil, and Holy Water, The (79) aka: La liceale, il diavolo e l'acquasanta Gloria Guida naked, need I say more (although briefly, we still see a lot of her) in different outfits)? Three episodes. 1. A guardian angel falls in love with a mortal (Gloria Guida, I buy it!), but she prefers 'human' love. If you look like Gloria Guida, even if you dance badly it still looks good. Especially in that tight green leotard. 2. A policeman is worried about his wife when a former transvestite shows interest. He's a midget, his wife looks like a dude.... this one may confuse and is oh so wrong! 3. A dental technician sells his soul to the devil, but also wants more..... a bigger penis! A bunch of afro-headed kids dance in heaven with a white robed angel (the same angel who goes to earth and tries to score with Gloria) to some little rock song that sounds like 'Banana Splits'! Also with 'The Beast in Heat' himself, Salvatore Baccaro! Widescreen In Italian with English subtitles BA
7364 Sweet Young Thing (79) aka: Monique et Julie, deux collégiennes en partouze not to be confused with 'Sweet Young Trouble'. Another school for girls film. All of them are sex obsessed nymphos. Any young man that finds himself in the presence of one of these girls gets led off where no one can see and seduced for some loud groaning soft-core sex. Later a party, where the girls dance naked and then hump all of the men in the room. Then a guy in drag comes in and does a strip tease. Later a new female teacher arrives. Not to worry. She is a lesbian! The sex is real, just not hardcore. Dubbed into English
7365 Teenage Playmates (74) aka: School Girl Report #7 aka: Schulmädchen-Report 7. Teil - Doch das Herz muß dabei sein Sex and Nudity Galore. Incredible! See in Exploitation section in alternate English dubbed full frame. This is an 89 minute Widescreen version in German with English subtitles in great quality. BA
7286 Teresa (87) Fabulous trash from director Dini Risi. Teresa (Serena Grandi) is a widow and now is tasked with paying off the debts of her husband. In order to do this, she has to take over his truck driver job. Big wheels rollin'! Gotta' keep 'em goin'! She puts on her short shorts and gets behind the wheel. Doesn't take long for Teresa to begin an affair of lust with a friendly experienced trucker that has helped her. She has had to reject the advances of others. She pretty much has her pick. But the debts are massive, and the owner wants her to marry him to settle. Things settle alright, in an unexpected way. Teresa is smart, hardworking and not easily taken advantage of. This is Serena Grandi's film all the way. Widescreen In Italian with English subtitles. BA
7354 Ups and Downs of a Super Stud (79) aka: Love Hotel Complete Service Germano (Christian Borromeo) is such an attractive young man, all the women get deliriously horny when they see him. But every time he gets close to getting the job done, the abnormal size of his tool frightens the little nymphos at last minute. He even tries a prostitute but she too withdraws, fearing injury. Germano is sent away to a guesthouse run by his grandmother. The guest house fills with females, who start beating a path to Germano's door. He finds his reputation has preceded him. In fact his grandfather was also well endowed, and in his day, this led to many boarding house guests wanting his services as well. An inheritance! The nymphet Lucy (Lory Del Santo) will help Germano wield his sword. With Ajita Wilson as Karina (when Germano takes her someone peeps), Marina Daunia and more. Christian Borromeo would go on to star in 'House By the Edge of the Park', 'Pleasure Shop on the Avenue' and 'Tenebrae'. Nice Widescreen In Italian with English subtitles. BA

EXTREME HORROR & GORE FILMS
7346 Bali (69) aka: Romantic Encounter in Bali aka: Incontro d'amore The natives of Bali bathe naked in the waters off the coast. This is where Glenn (John Steiner) takes photos for his upcoming book. Carlo (Umberto Orsini) arrives with his wife Daria (Laura Antonelli). They have an open relationship. Glenn is caught up in the mystical side of Bali converting to Hinduism. The rituals, hocus pocus voodoo, are intoxicating, plus, two native wives, a perk, though they have jealousy within them. Daria falls in love with Glenn. Glenn kills himself after another ritual. Carlo goes back to Rome alone in a depressive state, years later seeing his wife as a prostitute... this angers him. But is it really her? Things end in a very downbeat way. The scenery in multiple locations is astonishing and so colorful you'll wish you could live there. A travelogue. A dark drama of lust and needing more. Incredible Widescreen In Italian with English subs BA
7347 Beautiful Monster, A (70) aka: Un beau monstre Helmut Berger stars as one mean man. His first wife throws herself off the balcony, his second wife (Virna Lisi) from the other building sees the whole thing. She marries him, and endures her suffering at his wicked ways. He even brings a man home, showing he is bisexual. He leaves his lover with his wife wanting them to hook up. This does not sit well with her. The tragedy of being perfect looking? The ending was a shock. A good companion piece to Berger's 'Dorian Gray'. Alternate version of B848 'Love Me Strangely'. This version runs just over 2 hours and is a fantastic English dubbed Widescreen. B848's 'Love Me Strangely' is full frame and runs about 93 minutes. This version spreads out the story considerably, and includes the brief male full frontal nudity cut from the other version. Widescreen... In French with English Subtitles.... Uncut BA
7322 Bloody Sex (81) aka: Sexo Sangriento Finally nice quality print with English subtitles. Two lesbians take a trip and stay in the home of a weird woman and her even stranger son (who is also a peeper!). The sex scenes stand out as erotic and graphic, a major plus, since the women are perfect (nice job whoever cast this one!). Things end badly in a particularly nasty knife to the crotch sequence that left me disturbed. A little more gore follows, including a freshly severed head and an axe to another. The film is sordid enough, and piled high with suspense, topped with appropriately deadly atmospheres and serious thoughtful acting. Lots of nudity too. The film ends with a quote from noted horror author Algernon Blackwood. The English subtitles set me straight finally!
7250 Crime on Teulada Street (80) aka: Delitto in Via Teulada Obscure MFTV Giallo from Italy directed by Aldo (Who Saw Her Die and Night Train Murders) Lado! I was sucked in immediately by the music composed by the great Fabio Frizzi, who also did some great Fulci soundtrack work on Zombie, The Beyond, and many more. Somebody is killing the actresses of a some type of theatre dancing girls group at the television studios. A little gore and nudity, good old fashioned late night stalking in a seemingly abandoned theatre building, corpse hiding, shot in the head (the gore), strangulation and other nice touches. Auretta (Zombie) Gay stars, Well thought out, high production. A surprise. Running time only an hour. In Italian with English subtitles.
7298 Crime, Love and Jealousy (82) aka: Delitti, amore e gelosia Florenza (Paolo Bonacelli) is a radical feminist who is in love with Fabio (Saverio Marconi) a man with low marks at University and relegated to the lowly job of Police Commissioner in lower country Milan. Seen as such by the attitudes of the plot. Florenza is enraged and calls him a dirty pig. In Milan he investigates a mysterious criminal (known as 'The Owl') who makes threatening calls, sends manipulating letters, and commits other acts that need to be looked into. Fabio is led to a socio-cultural-religious association called 'New Community' run by some young charismatic priest. But 'The Owl' is now killing people. Fabio uses excessive force and resigns. But Fabio has an intuition regarding the killer. He thinks she is a female. He is about to expose the truth. A sort-of giallo, certainly a mystery. Widescreen In Italian with English subtitles.
7323 Dawn Rapists, The (78) aka: Los violadores del amanecer Extremely violent and brutal tale of four young thug rapists on the loose... Some consider this the peak of the assault/rape films started by Wes Craven's 'Last House on the Left'. Now Uncut Widescreen alternate version with English subtitles for the first time! See mini-review in main catalog under 'Extreme'. BA
7299 Death Rite (75) aka: The Magicians aka: Les magiciens An idle rich man named Edoard (Jean Rochefort) decides to help the premonition of a clairvoyant named Vestar (Gert 'Goldfinger''' Frobe) to become reality after he predicts a certain death. The basic idea of the movie is that not only can you not change what is destined to happen, but your efforts to change it are actually part of the grand plan of fate as well, and will only help lead to the predestined outcome of any situation. Thought-provoking, clever, unusual film from director Claude Chabrol. Sadry (Franco Nero) is married to the confused Sylvia (Stefania Sandrelli). When Edoard and Vestar see Sylvia on horseback, Vestar tells Edoard that someone at that moment is wishing her dead. Flash to Sadry at a table deep in thought. Get the picture? The movie goes into uncharted territory. Is there a harder working actor than Franco Nero? Widescreen In French with English subtitles. BA
7369 Embrión (08) A Spanish remake of 'The Embryo Hunts in Secret'! A disturbed man battling the sexual traumas of his past, brings a girl to his apartment and starts smacking the hell out her. Then we see him showing an apartment to the woman. A weird montage has him masturbating, banging an anvil with a hammer.... then back to the woman being shown the flat. Unbeknownst to her, she is now a prisoner. She is bound to a bed. She talks to him and tries to reason with him. 'For God's sake, pay a whore' she cries. He feeds her. They go back and forth, there is abuse. Finally things seem almost normal. 'Do you have a condom?' she asks. Still, she is handcuffed to the bed with tape on her mouth, and he has not raped her. Both of them have changed. She calls his bluff. The only Spanish remake of a Japanese film. Widescreen with English subtitles. BA
7274 Erotic Twins, The (80) aka: La gemella erotica Patrizia Behn (of 'Play Motel' and 'Madness') plays identical twins in this Alberto Cavallone directed sexy thriller. Norma is a greedy nymphomaniac, the other, Mary, shy and emotional. The sex-hungry first sister tries to get the other into her world of risky business, with disastrous results. Psychoanalyst Tony (Warren Beatty look-a-like Danilo Micheli) is married to Mary, and sleeps with Norma, who blackmails him. Norma is screwing a black man, I guess maybe this is supposed to be outrageous, but doesn't raise an eyebrow now. Tony continues his affair with the sexually adventurous Norma. Meanwhile one of Tony's patients has slashed the throat of a blonde. Now Norma tells the black guy, who is screwing a hot blonde now, that he must kill a woman, and gives him a picture. The final 20 minutes are mind blowing. With English subtitles BA
7325 Erotik (18) Graphic Gore and Adult material. A depraved psycho harvests corpses so he can defile the rotting flesh, satisfying his sexual perversions. The masturbation sequence in the first five minutes may be the most disturbing you will ever see. Graphic gore and bloodshed, snuggling up to corpses, a naked bound male victim with a bag over his head cries, his killing filmed as our psycho hammers his head. Later he walks in the woods and stares at the rotting corpse of a dog (?). He sleeps with a rotting corpse like Nekromantik, kisses and embraces. Full Moon outside. Naked with a knife. Dismembering a corpse in the bathtub.... Italian necrophiliac horror made to gross out and offend. With English subtitles (although there is very little dialogue). Widescreen
7343 Face of Medusa, The (67) aka: Vortex aka: To prosopo tis Medousas In a remote location of Greece, our protagonists enter into self destructive behaviors brought on by a young female. She is the Medusa. A stranger decides to stay after he sees her. Previously, the brother of her boyfriend, who had sex with her, ended up dead. Death for love, love and death, or just deadly love? Both male and female frontal nudity, even the word 'Fuck' is spoken, and a lengthy sex scene. Certainly a surreal exercise in Greek erotic mystery, and only could have been made in Greece. The music is haunting and mystical. Memorable scenes include the skull on the scarecrow, face painting while bongo drums are going and an actress reattaching the leg of a creepy doll in the water. This is some wild stuff, I felt like I was visiting Greek subculture for a time here. Early Jodorowsky meets early Polanski.
7255 Fatal Nightmare (90) aka: Pesadilla Fatal Not only is Marisol blind, but now her father is murdered by a bladed black glove wearing killer to add to the complications of life. To make matters worse, the psychopath is after her now as well. The killer seems to be able to appear and disappear at will, baffling the police on the case. A detective, a psychologist... who will figure out what may seem obvious to the viewer? This is a Mexican giallo type which may surprise you. Stabbings and suicide.... more. In Spanish with English subtitles.
7275 Garden of Torture (76) aka: Le jardin des supplices A doctor in the 1930's is forced to flee from Paris after being involved in a drug scandal. Off to China where he is introduced to a new circle of jaded decadent Europeans who have created a garden of torture for their amusement. While the bored upper class torture the locals, the revolution is underway. Torture sort of seems more like some twisted sex play. Naked girls masturbate a big dick the size of a fire hydrant and it ejaculates blood. Yea, that kid of entertainment for the jaded. Loads of nudity. Widescreen In French with English subtitles. BA
7371 Gradiva (70) Not to be confused with the 2006 film with the same title. Obscure fantasy film from Italy and starring Laura Antonelli, Marilu Tolo, Gisela Hahn and Rita Calderoni! John Locke (Peter Chatel) is an art historian (researching some Casbah) living with his servant and mistress. The research seems to have followed him into the modern world. Locke repeatedly encounters an ethereal female presence in the Arabic quarter of the city. She vanishes every time. An antique dealer warns against Locke further pursuing these avenues of research. The spirits are merely playing with Locke, drawing him into a psychosexual black hole. Amazing locations. The male lead Peter Chatel also starred in the Italian Giallo 'Who Saw Her Die?' in 1972. He died of AIDS in Germany in 1986 at age 42. English subtitles
7306 Hallucinations of a Deranged Mind (78) aka: Delírios de um Anormal Nightmarish visions of Coffin Joe's subterranean world of insane unhinged satanic horror plague a psychiatrist. Psychologically damaged himself, he fears Coffin Joe has set his sights on his wife for sexual gratification. So how to cure our doctor? The others contact Jose Mojica Marins, the actor who plays Coffin Joe, to convince him that Coffin Joe does not really exist and is just a fictional character. Grotesque hallucinatory set-pieces are played full of satanic imagery and hellish behaviors to depict the insanity of the mind of the poor man. Clips are pulled from other films, making this a Coffin Joe tour-de-force of excellence and demented gory sadism. Hah Hah Hah Hah Hah! Loads of nudity and Depravity. But are things as they seem? A mind-trip. A demonic entity that attacks the dream state. Did Wes Craven see this? In Portuguese with English subtitles. BA
7327 Hard Car (89) aka: Hard Car - Desiderio sfrenato del piacere Annie (Valentine Demy) is the only witness when a woman is murdered in the office of her boss and lover 'Hector, because she accidentally sees it on tape'. Fleeing, she finds herself pursued by an SUV, driven presumable by somebody who wants her dead. Along the way on her escape she will be raped, humiliated and become a nervous wreck. After the close rape, she scrubs up and shaves her privates. Close -Up after the job is done. Just so you know what kind of film you are watching. This is a movie that profiles Valentine Demy, with loads of nudity and eroticism. But there is more. Valentine really delivers here. So in control, everybody trying to get her naked. Some with success. An erotic lesbian scene is certainly on the table (or the bed) as well. Now she has a gun, and is ready to confront the red SUV and the driver..... Nudity, Soft-core Sex and Suspense. Widescreen In Italian with English subtitles. BA
7394 In the Highest of Skies (77) aka: Nel più alto dei cieli The time had arrived for a film to come along in which a group of priests, nuns and other devout Christians, get trapped for an unknown amount of time in a very large modern elevator in the Vatican, and start to lose all inhibitions and morals, indulging in all of the sins of the flesh they have repressed for so so long. Things were going along fine until they started gorging themselves on communion wafers and sacramental wine. A priest goes after the daughter of some of the parents and starts humping her right in front of them. It's a survival movie in the cinema of the absurd made by somebody pissed off at organized religion I presume. But this is no comedy. The cannibalism is about to begin! Widescreen In Italian with English subtitles.
7410 Invasion of the Flesh Hunters (80) aka: Apocalypse domani aka: Cannibals in the Streets aka: Cannibal Apocalypse John Saxon is Norman Hopper, back from Viet Nam with a virus that turns people into flesh eaters when they are bitten. Kind of a functioning flesh eater though, not a rambling mindless zombie. Released on video in the 1980's, the distributors could not handle the gore, and they cut the film for video release. Not all of it, but enough to just about ruin the film. Still, this was the only way to see this classic back in the day, so, good memories. This is the edited version of 'Cannibal Apocalypse'. Also available Uncut. This has the 'Invasion of the Flesh Hunters' title on the screen. BA
7259 Joe D'Amato Totally Uncut: The Erotic Experience (99) Clips from his many films are shown during this extensive interview with Joe D'Amato (aka: Aristide Massaccesi). His journey is traced from the beginning of his career up until 1999. They cover the Emmanuelle films pretty well, and his friendship with Laura Gemser, the main focus on his more erotic type films, which were pretty much most of them. A fantastic profile of Italy's most prolific exploitation director. Hear him explain the faked snuff scenes he shot for Emmanuelle in America. Joe D'Amato was dead before this was released in 1999 of a heart attack. Uncut 108 minute version, not the cut 101 minute version! English subtitles.
7393 Keep, The (83) aka: La fortezza Nazi's in Romania, WW2, have to ask for the aid of a Jewish historian to help them battle an ancient demon they have accidentally resurrected when they seized a fortress that was built to keep people out, not in. The demon monster is pretty cool. The special effects creative and visually stimulating. Ian McKellen, Scott Glenn, Gabriele Byrne, Jurgen Prochnow and more star. From the F. Paul Wilson novel. Music by Tangerine Dream. Now another version, this time Widescreen 95 minutes and the best version out there as far as seeing what the hell is going on, The 100 minute version is just different because they went in a different direction for the ending. BA
7376 Killer is on Phone (72) aka: El asesino está al teléfono aka: Scenes of a Murder Telly Savalas and Anne Heywood star in the Giallo from director Alberto De Martino. This is a new version, Incredible Widescreen in Italian language and with English subtitles. The other version is English dubbed and nowhere near the quality of this one. See full description in Extreme section of main catalogue. BA
7456 Killing Obsession (94) aka: Released to Kill Albert (John Savage) is fresh out of lock up. Twenty years ago he brutally killed the mother of 'Annie' an eleven year old he was obsessed with. A mental institution has been his home. Now, against the advice of Dr. Sachs (John Saxon) he is free. Albert looks for Annie. He uses a phone book. He meets with the girls he finds and gets upset when they are not Annie. They must die. Albert cannot accept the reality of the passing of time. This seems like an unofficial sequel of sorts to 'The Killing Kind' from 1973 also with John Savage as a disturbed killer. One of the Annie's is played by Hyapatia Lee the porn star.
7329 Kiss of Death, The (74) aka: Il Bacio Martine Beswick stars in this, the most obscure of her movies. Partially written by Pupi Avati and directed by Mario (Merciless Man) Lanfranchi. Lamberto Bava is assistant director. Nara Kotosky (Beswick) brings her notoriously controversial S&M show to the stage of a theatre in 19th century Venice. Lusting after Count Guido Rambaldi, Nara conjures a plan (which involves Devil Worship and hallucinogens) to bewitch him away from his beautiful wife Elena (Eleonora Giorgi, she of many a Eurotrash). Incredible. Widescreen In Italian with English subtitles BA
7378 Love Rites (87) aka: Cérémonie d'amour aka: Queen of the Night Finally the Walerian Borowczyk's classic presented Uncut Widescreen at 100 minutes, In French language and with English subtitles. This is another version, the most complete, previously listed as #M521 full frame with English subtitles ran only 86 minutes! This is the one, all 14 minutes of previously censored footage restored!. full description is in Extreme section of main catalogue. BA
7280 Maniac Killer (87) Is it a weird cult who kidnaps prostitutes in a small French village, takes them to a torture room, and plays inquisition-styled exercises in death and pain in order to purify their souls. We also get some low-life mental defect/reject (take your pick, just don't say retarded) village idiot that captures small animals for a mad scientist to experiment on. The local pimp doesn't take kindly to the missing merchandise, and comes after the 'whoever' is behind it all. Upgrade of this Andrea Bianchi directed chiller with American stars Bo Svenson, Robert Ginty and Chuck Conners in the cast. Nudity and Blood. A surprise. Widescreen and English BA
7395 Midnight Blue (79) aka: Sexy Blue Three college girls out of a group on a tour decide against advice to detour for a weekend at a relative's posh villa. While on their private beach they are accosted by three young men... But these girls are in training for women's Olympic events: one of them throws javelins, so they have a few moves of their own in store for the vicious thugs… Amazing Widescreen in Italian with English subtitles. Previous listed as Y245 in an English dubbed 86 minute version with foreign subtitles. This one, quality sharper, and in original Italian language with easy to read red subtitles and 83 minutes. Maybe someone can tell me the difference when we lose three minutes. Let me know! BA
7263 Monstrous Corpse, A (81) aka: Korean Let Sleeping Corpses Lie aka: Goeshi All the corpses of the surrounding cemeteries rise up after the installation of a radio transmitter that uses ultra sonic wavelengths. The first film from the region that tried to get in on the Romero/Fulci/Grau type zombie film. Of course scientists are behind everything, as always, inventors of life saving drugs, and also the killers of mankind. There is no Yin with no Yang. Not as gory as The Living Dead at Manchester Morgue (these zombies prefer neck snapping), but still a worthy addition to the zombie film, sticking very close to the original in a rural setting and sometimes scene for scene. Excellent! Nice Widescreen In Korean with English subtitles. BA
7264 Morbus (83) A chemist is now a necromancer after developing a new elixir of sorts that makes the dead rise from the grave. Two prostitutes, who take their clients into the woods for sex, are attacked by flesh eating ghouls. One of them, along with her 'John' are killed. The others find shelter with a writer, who is (surprise!) writing a book about zombies. In the meanwhile, a group of bicycle riding Satanists are having an orgy when they are overcome by a horde of hungry walkers. So maybe the first Satanic Cult/Zombie film as far as the sleaze factor goes. Weird Spanish made zombie flick with loads of female nudity (and some naked Satanist dudes as well), now finally with English subtitles and Widescreen! Upgrade!
7356 Nightmare in Venice (89) aka: Ad un passo dall'aurora Eyes Wide Shut Italian version made before Kubrick's mess. Based on the same novel, and better. Rich surgeon (Gerardo Amato) married to hot woman searches for thrills. The location of Venice is fantastic, and the film has a darker tone than Kubrick's. Kubrick had more nudity in the orgy scene. But this has more of a horror element, with a large torch carrying cult, a sight to see in a boat, traveling into ancient ceiling painted structures for their evil deeds. The film is bleak, but there may be light at the end of the tunnel.....Drag queen Franco Caracciolo also stars along with Tini Cansino, Adriana Russo and more. One of Caracciolo's last films. He died of AIDS in Italy in 1992 at age 48. With English subtitles
7307 Nude Body Case in Tokyo, The (82) aka: Woman Revenger aka: Nu xing de fu chou You have to love a film that begins with a voice-over by a woman telling a sad dramatic tale, spoken over several images of Japanese women in leotards dancing all over the place. She has learned of the death of her childhood friend. The killer's want her to return something. Old friend's will help her confront the gang. There is even a scene in the strip club where someone strips to sexy music by The Nolans. This is a revenge movie with fantastic photography. Among other things, there is a woman with a hidden tube tied around her waist that holds a hidden venomous snake, and a woman strapped to a spread-eagled crucifix and then turned upside down so that a syrup of some sort oozes over her crotch inviting ants to invade. An assault and a car crash.... Widescreen In Mandarin with English subtitles. BA
7335 Omega Rising: Remembering Joe D'Amato (17) Aristide Massaccesi was his real name, he felt a new one was needed for cinema. Joe D'Amato was born. Excellent collection of interviews reflecting on anecdotes, clips and memories of one of the greatest filmmakers of all time. If you were on an island, and had the choice of all of the movies Tim Burton, worked on, or Michael Bay, maybe Martin Scorsese.... I would rather have all of the films Joe D'Amato worked on even if you combined the works of the others. This either shows my extreme bad taste, or the knowledge from years of seeing the works of Joe D'Amato that I would have a treasure trove of variety from every genre imaginable to entertain my long lonely nights on the island. The others would get old within a month combined. This documentary is a fantastic addition to Joe D'Amato Totally Uncut. Mark Shannon at almost 80 is very entertaining here telling what he remembers. Widescreen and English subtitles
7282 Pencil Murders, The (82) aka: De potloodmoorden aka: Meurtres au crayon Giallo from Belgium! Pretty ladies are being brutally killed by means of a pencil being rammed up their noses until the brain is reached and pierced. The only thing that connects the victims is that they are all single/divorced women with promiscuous slut reputations. So the hunt is on for a psycho woman hater. The language can be foul, and the screenplay, slightly racist by the current standards, or realistic (you choose). At one point our black-gloved killer attacks a black man that is taking a bath, struggling, splashing, a real hassle. Just so he can finally plunge a pencil up the man's nose. Surely there are easier ways to kill, but damn it if he doesn't get the job painfully done, that's his style, his modus operandi. Widescreen In Dutch with English subtitles BA
7357 Piotrek the 13th (10) aka: Piotrek Trzynastego Horror comedy from Poland! Horror movies are the theme here, and the copying of themes. The title alone is 'Friday the 13th' in Polish. Karolina is dreaming again. The opening is a Freddy getting her in a dream, same sweater and hat, bladed gloves. She awakes and complains to her boyfriend about her nightmares. The date is the 12th. Now Karolina, her boyfriend, and a group of friends are going to spend the weekend at Crystal Lake, where a masked killer (Jason) is about to wreck their world. Jason whacks off one guy's pecker with a machete. Then Jason chases a blonde, catches her, and hacks her up. The plot twists, Jason is not Jason, but someone else.... Widescreen with English subtitles.
7379 Piotrek the 13th Part Two: Chicken Face (12) aka: Piotrek Trzynastego 2: Skórza Twarz After a recap which covers the kills and gore of the first film...... Massacre survivors return to the forest to recover the bodies of their murdered friends. Yes, they are all morons. And yes, there is another madman, this time wielding a chainsaw, on the loose. Introducing more characters to the slaughter. Bring your daughter. On the way the gang hit a guy with their van. The victim lying in the road has a hook for a hand. 'He must be a fisherman.' one says. 'Or a pirate.' says another. They arrive at the cabin to plan their search. One of the worst plans in any slasher. This obviously is not serious, but we do get an origin story, told round the campfire, by someone in the know. Sleaze Gore Fun! Will the survivors of the last film survive this film? Widescreen and English subtitles
7359 Prophet of Hunger, The (69) aka: O Profeta da Fome Jose Mojica Marins (Coffin Joe) stars (as 'Fakir Ali Khan') in this excellent strange tale set around a carnival of the bizarre. Khan and the others do weirder gags each day to keep their audiences interested. The film is divided into three segments. Portraying hunger in the freak show reaches more dark levels of danger to satiate the morbid minds of the public. Kahn eats nails and other items like they are a delicacy. Kahn hits the road to find more spectators, and is soon seen as a mystic holy man... A guy dressed up like a lion gets whipped in the ring. Bed of Nails. A crazed laughing clown menaces the audience with a gun. In Portuguese with English subtitles BA
7381 Rape and Revenge USA (82) aka: USA, violación y venganza aka: Victim... ein Opfer nimmt Rache No USA here in this Spanish/German production. When a man is forced by a prosecutor to testify against a syndicate boss, a psychopath is hired to kidnap his wife (Pilar Alcon as Susan) to silence him. She attempts a daring escape and fails. Tossed into a ruin in chains. She is drugged so she can't move. The psychopath rapes her. She lies still like a corpse. This man first served time by slashing a woman's throat. So far Susan is lucky. Now the psychopath has killed a man with a pry bar and drowned him in a barrel. Susan tells the psychopath she may be numb when he rapes her and unable to move, but she still feels pleasure and gets off. Then she strips for some real sex with the psychopath. The other kidnapper has come back. The psychopath gets naked with a hooker in a trailer brothel and stabs her when he is on top, smothering her screaming face with a pillow for good measure. And what of horny captive Susan's fate? The obsessed madman is returning! Susan can manipulate. Action-packed suspenseful finale! Look for Pilar Alcon in Paul Naschy's 'Night of the Werewolf'. Nudity In Spanish with English subtitles. BA
7311 Reflections of Light (88) aka: Riflessi di luce Frederico (Gabriele Tinti) is disabled and in a wheelchair after an accident. The large estate is home to Marta (Pamela Prati) who says she loves him. Giorgia (Loredana Romito) is gorgeous and a lesbian, flirting heavily with Marta. Frederico misses his wife Chiara (Laura Gemser, Tinti's real life wife) who drowned. At dinner, Marta and Giorgia eye each other with lust like two cats in heat. Also with the group is the son of Frederico. Later Marta gets into bed with Frederico and rides him, he needs her on top. She resists, but obliges. He treats her badly. Marta goes to bed with Giorgia. They start a relationship. Another hot girl is introduced the son is interested in named Gaia (Luciana Ottaviani, her first film was 'Convent of Sinners' at age 19). When Marta and Giorgia roll around naked making love it is a sight to behold. No Hollywood woman comes close. What next? In Italian with English subtitles. BA
7361 Running is Sex (82) aka: Ôkami: Running is Sex A wicked predatory man who lives like a savage, feeds his every primal desire. He takes on a mate, a woman, she, fascinated by his evil. The populace? Lambs to the slaughter, not in a Bundy sense, but one in which a man who follows no rules stomps through a society of those who live by them. The film is chaotic, sexual. For instance, in the opening, he has sex with a woman, raids the fridge eating like a dog, runs down the street and bends to water and drinks like a dog, notices a woman in a skirt and the camera zooms onto his erection under his pants, he chases her down and rapes her. 'Somebody help!' she yells after the fact! He is running again, to his next foul deed. What would we do if long distance runners were rapists? No one would be safe. Eventually a mob chases him down like The Night Stalker Richard Ramirez. Widescreen Offensive In Japanese with English subtitles
7438 Sadistic Hypnotist, The (69) aka: Wanda, the Sadistic Hypnotist Wanda and Greta have kidnapped a man named Sylvester. Wanda ties him up, hypnotizes him and whips him. Then Wanda hypnotizes the lesbian Zelda, who rapes him. Then Greta rapes Sylvester as well, making her lover Wanda jealous. An escapee from a psycho ward helps Sylvester escape, they find Wanda's acid stash, and drug the women..... And now..... BA
7312 Satin Spider, The (86) aka: L'araignée de satin 1920's France : Martha (Ingrid Caven) is the headmistress of a French boarding school for girls. Her lover Solange (Catherine Jourdan) is not only off her rocker, she's a drug addict as well. Another girl has reappeared at the school and with her a personal protector. A priest tells them that he eats evil. Lesbians in the church, creepy priest, gothic cemetery, spooky night scenes walking around in dark corridors, torches, rape, murder. It's just a shout away. Catherine Jourdan and her short hair reminded me a little bit of Mia Farrow in her Rosemary stage. A bizarre midnight gathering. Lesbians everywhere, mingling with the priest and children are about, thankfully no funny business with them, although in America we were doing worse with 'Pretty Baby'. An exorcism with a nude woman resembles a satanic ritual from other films. Some picture problems here and there, but a must see. Ingrid Caven was in the 'Suspiria' remake. In French with English subtitles.
7382 Sexual Assault at a Hotel (77) aka: Hotel kyosei waisetsu jiken: Okashite! Dark, violent sleazy trash. I loved it! Ryoko is one of the most beautiful girls attending the Japanese University on an exchange program. Innocent and shy, a perfect target for Rumiko, the forceful pretty lesbian. Rumiko is shocked when she learns Ryoko is a virgin. Ryoko is lying to keep her at a distance. A man breaks in and rapes them both in a shockingly violent sequence. When his identity is revealed the film plummets downward into occult rituals, madness and death. A lot of nudity and soft-core sexual situations in this Japanese production. Nice Widescreen and English subtitles.
7383 Sisters, The (69) aka: Le sorelle Martha (Susan Strasberg) is married to impotent Alex. Diana (Nathalie Delon), Martha's sister, arrives to the household. Years before, the sisters had sexual lesbian love together. Later they all go to a photographer's party, where he shows his erotic photographs as a slide show. Decadent snotty people all at this gathering, not quite bohemian aristocrats, but close. Martha is banging another guy on the side which we see in a symbolic love-making orgasmic scene splashed in metaphor. The tearing apart of her soul... the darkness of adultery.... obsessive forbidden lust fulfilled.... you pick. Diana may want a little more of Martha then Martha is prepared to give at this stage in life. Martha hates Diana. Or does she? Dark stuff here. Susan Strasberg at her most beautiful. She died of breast cancer in 1999 age 60. Nathalie Delon at her most beautiful as well. She died in January 2021 at age 79 of cancer in France. Listed as #S412 in catalog. This version seems to be a tad longer, cannot quite put my finger on what is different. Nice Widescreen Uncut and in English BA
7360 Skull: A Night of Terror (87) aka: Don't Turn Out the Light Night of Retribution In a small Canadian town, two local cops are assigned to transport a killer (bald, he is known as 'Skull') and his two accomplices. Skull's girlfriend plays damsel in distress, they pull over, and the bad guys escape into the woods, making their way to one of the cop's farmhouse, where they proceed to terrorize his family. See full review in 2020 consolidated catalogue - This is an Upgrade! BA
7384 Stigma (80) aka: Estigma Sebastion (Christian Borromeo) has powers we can only dream about having. After the death of his father, Sebastion seems to have the power of telekinesis to kill simply by wishing death on someone. How often have we been on the road and been cut off, or yelled at by no reason by a mean asshole, threatened even, or maybe somebody has borrowed your fancy boots without your permission? Well, Sebastion has it covered. I'm wrong of course, he can't control the power. Oh if only. Read the mini-review in catalogue under the title 'Estigma' in Extreme. This print is a full 2 minutes longer and the picture is sharper. At the end of the film Sebastion attacks a beautiful bathing woman with a nifty hatchet. English dubbed. Nudity and Gore in this upgrade of this Jose Larraz horror filmed in Spain. BA
7342 Timanfaya (72) aka: Timanfaya (Amor prohibido) American born horror actress Patty Shepard stars (what an impressive body of work!) as the wife of an Ambassador, and they live in the Canary Islands. She meets a sculptor named Joven (Christian Roberts) who lives a bohemian lifestyle and wants to sculpt her nude. He is young and fun while her husband is old and dull. Joven also is a drug smuggler with the local dealer. Shepherd walks in on Joven about to put it to another cute conquest. Later she follows Joven and sees his smuggling up close. Frank Brana's character has been ordered to retrieve the escaped Ambassador's wife. Finally, things go very badly..... a twist, and escape, a chase... fantastic locations throughout the film, Canary Islands, Spain. Nadiuska makes an appearance, see if you can spot her! In Spanish with English subtitles BA
7317 Wife by Night Prostitute by Day (71) aka: Bella di giorno moglie di notte The film opens with Paola (Eva Czemerys) shooting her husband (?) in the chest three times. The rest of the film uses flashbacks and flash forwards to tell the story about how this came to pass. They were a struggling working couple. Paola is tricked by her boss Anna into running up a large debt, encouraging her to turn tricks to not only pay off her debt, but also to help her husband rise to the top. Her clients are rich men with different sexual eccentricities. Excellent production design. Czemerys played the mother of 'Trash' in 'Escape from the Bronx'. Also with muscle man Pietro Torrisi 'Maciste' worried about his penis size. Widescreen In Italian with English subtitles BA
7291 Your Sweet Body to Kill (72) aka: Il tuo dolce corpo da uccidere Alternate version. A husband (George Ardisson) has many fantasies about murdering his unfaithful wife. Diana (Francoise Prevost) is always the bitch, complaining and henpecking... so you know, he really has no choice but to end her. We know how these things go however, the best laid plans... The first part of the film is the set up. The suspense ramps up in the second act after the deed is done in the panic of retrieving the incriminating evidence. A suitcase that leaks blood. I wonder why? Unusual giallo type from director Alfonso Brescia, the guy who brought us 'Beast in Space'. Orchidea De Santis also stars. Nice Widescreen print with English subtitles. BA

FRANCO FILMS
7321 Bangkok: City of the Dead (85) aka: Bangkok Cita Con La Muerte Marta (Helena Garret), the daughter of billionaire Flanagan, is on a cruise. When oriental pirates board and kidnap Marta, Flanagan turns to Panama Joe (Bork Gordon, a Private Eye in the 'Columbo' mold) for help. Despite the title, this is not a zombie film, but an action adventure film from the prolific immortal Jess Franco. Of course Lina Romay (as Minia) is on board, scooping dope out of a bag and having a taste in the first 10 minutes. Later she tortures a girl in a hairdresser's chair. Thata' girl! Lina is one of the pirates. Tropical beachy locations, kung fu fighting (everybody was). Panama Joe shows he cannot judge character when he walks into a room while Minia, with her back to him in some leopard skin wedgie, bumps and grinds, then turns. 'You are the perfect embodiment of virginity and purity' he says. Maybe the funniest line in any Jess Franco movie. More kung fu, and Lina Romay in a blue head band! Minia teams up with Flanagan. In Spanish with English subtitles!
7388 Blood on My Shoes (83) aka: Sangre En Mis Zapatos Fresh off a plane to perform in concert, Paquita la Fina (Lina Romay) picks up a badge left outside an airport. Unknown to Fina, the badge was worn by a spy who has been kidnapped after trying to uncover the secrets of a deceased professor. But is the professor (Howard Vernon) really dead? Unaware of what the real spy looks like, a double agent sees Fina with the badge, which gets her immersed in espionage. Double-crossing spy murders, funny attempts at comedy, Fina singing, and her trying to keep the body of a dead spy hidden before an explosive final chase sequence. Unofficially adapting Edgar Wallace in some ways. The huge Ferris wheel sequence is memorable. The poster design was ripped off from the Burt Reynolds film 'Gator'. Also with Antonio Mayans. Now for the first time with English subtitles.
7349 Commando Mengele (85) aka: Angel of Death Directed by Jess Franco and Andrea Bianchi! Nazi hunter Mark (Antonio Mayans) has learned the location of Dr. Mengele (played with menace by Howard Vernon). In the jungles the commando team is sent, and the action is all over the place. In the opening alone, two men are blasted and things get bloody. Jess Franco was more interested in making a movie about Mengele and his mixing with the local natives. Jess Franco said he had met many Nazis living like kings in these remote places, and wanted to make a film where the locals in this remote area, knew who Mengele was, and dealt with him their way. But the project fell apart and Jess Franco abandoned all of his work. Enter Andrea Bianchi, the replacement director, who turns it into more of an action film (where Mengele is trying to start the Fourth Reich), using all of the Jess Franco footage, and making a more commercial story out of the thing. A strange 'Boys from Brazil' inspired mish-mash. This new print is Widescreen. Christopher Mitchum, Dora Doll, Lina Romay..... BA
7387 Jaguar (63) aka: Sfida selvaggia aka: El llanero Jess Franco directed western set in South America. Colonel Santierra (Georges Rollin) assaults the hacienda of the ruling Colonel Mendoza with his men, killing everybody inside. But the son of Mendoza, Jose (Jose Suarez), escapes, returning years later to make life rough for Santierra. Jose, known as the dreaded 'Jaguar' and his group of revolutionaries, will sabotage Santierra's every move...... Also with Sylvia Sorrente of 'Castle of Blood' and others. Nice Widescreen with English subtitles. BA
7353 Judoka's Shadow against Dr. Wong (85) aka: La sombra del judoka contra el doctor Wong Jess Franco's own Bruce Lee clone, a one off! Dr. Wong (Jess Franco) sends in his henchman to terminate Jung. The 'Judoka Shadow' of Bruce Lyn (Jose Llamas) is cast against a wall, swearing to take revenge. Meanwhile Lina Romay and Albino Graziani of the British Secret Service (?) investigates Jung's murder. Dr. Wong also wants the life of Macedo, a greedy Filipino gangster who does not want to share. But Bruce and his 'Judoka Shadow' (which does the fighting for him) interferes with Dr. Wong's wants. Dr. Wong sends in the decoy 'Honey Eyes' who sets a trap for Bruce on her motorbike Somewhere along the way, Lina seduces Bruce. Action, Kung Fu, Double Cross! ... More! Jess Franco cut and paste with edits from 'Seven to One' from 1973. Filmed on the Canary Islands, Spain. Widescreen with English subtitles. BA
7283 Sexorcismes (75) Can you stand yet another alternate version of this 'Sadist of Notre Dame' madness? Sexorcismes #N891 runs around 80 minutes and has English subtitles + XXX scenes. Sadist of Notre Dame #M730 runs around 95 minutes and has no XXX. Now, this new print, another alternate, runs 100 minutes and is dubbed into English. It includes hardcore where Jess Franco nails Lina Romay as he has her hanging by her wrists. We all know the story of the crazed ex-priest, played by Jess Franco himself, who has been let go by the church because of his radical ways. Peeking on staged 'Black Masses', he becomes obsessed with punishment for the women. He is a redeemer, sent by God to the world of the impure. Present day Inquisition revival! 100 minute alternate English dubbed and Widescreen magnificent! BA
7276 Thong Girls (87) aka: Las Chicas Del Tanga Another obscure Franco this time co-directed by Lina Romay (who also has a small but essential role). Seems a large portion of the film is spent on the beach with girls in thongs, men falling over themselves to be near them etc. With Spanish film regular (she worked with Naschy and Franco!) Eva Leon and another Franco familiar starlet Analia Ivars and also ever faithful Antonio Mayans. Seems this one is about fun and free spirited nakedness, not the usual soft-core sex. Now Upgrade quality and also with English subtitles. BA
7397 We Are 18 Years Old (59) aka: Tenemos 18 años Color - Jess Franco directed this comedy about the surreal holiday of two teenage Spanish girls, and their encounters with a strange assortment of villains, morons and new friends. Elements of Gothic Horror with a creepy castle...more. This is the very first movie feature directed by Jess Franco. He would be the director of 100's more of every genre imaginable. With English subtitles.

FULCI FILMS
7389 La Pretora (76) aka: My Sister and I Lucio Fulci directs Edwige Fenech in well lit nude scenes. Fenech plays two different roles. On one hand, she's a stern female magistrate who's prosecuting a hapless hustler who has been selling dog food as Hungarian goulash. The guy meets her giggling nymphomaniac twin sister and she screws him silly to the point of exhaustion. A plan forms. See more information in catalog Exploitation section. This new version is Sharp Widescreen in Italian with English subtitles for the first time. A visual feast for fans of a naked Fenech. BA
7285 Tall, the Short and the Cat, The (67) aka: Il lungo, il corto, il gatto Franco Franchi and Ciccio Ingrassia star in this Lucio Fulci directed comedy. They play the servants of a rich old lady who has written them into a huge inheritance. Conditions being that they care for her cat, who she believes is the reincarnation of her late husband. But the cat has been thrown out before they know the conditions of the will. They must track down that darn cat and bring it home before anything happens to it, which would terminate their inheritance. Franco and Ciccio were Italy's answer to Lewis and Martin, or Abbot and Costello, just more funny for Italian audiences since most of these films were never dubbed into English. In the case of this film, a fantastic Widescreen and with English subtitles. Also some cute girls with familiar faces you'll recognize from other films. BA
7345 White Fang (73) aka: Zanna Bianca This is the version directed by Lucio Fulci and starring Franco Nero, the hardest working actor in Italian cinema. Another Jack London variation. Klondike: 1896. A wolf dog named White Fang befriends an Indian boy and his father. Later, the dog teams up with a journalist (Nero) and an adventurer (Raimond Harmstorf), who have arrived in the small gold town of Dawson City. A priest (Fernando Rey) ... well, I could go on. But instead, here are the other actors. Virni Lisi, John Steiner, Rik Battaglia, Carole Andre... more. An amazing cast, filmed in snow bound locations. Lucio Fulci managed to get A-List actors. Better than all CGI dog movies. Great Widescreen Version dubbed into English BA

HAMMER AND BRITISH FILMS
7421 Golden Mask, The (53) aka: South of Algiers An ancient golden mask is supposed to be buried in a Roman tomb in Algeria. British archeologist Nicholas Chapman (Van Heflin) is on the way but so are other tomb robbers who are determined to get there first. Filmed in Color and in Algeria, a scenic adventure which also stars the sweet Wanda Hendrix as Anne and Eric Portman as her doctor father. Chapman will be the first on the scene and maybe even the first to find the golden mask... but watch out for treachery! Thundering Spectacle Sweeps the Trackless Sahara! BA
7446 House in Nightmare Park, The (73) aka: La casa degli orrori nel parco Comedy clashes with Grand Guignol with comedy man Frankie Howerd and the always reliable Ray Milland. Stewart (Ray Milland) is the patriarch of a wealthy family who has an isolated country house where Foster (Frankie Howerd) has been invited to perform. The house is loaded with wacky relatives and strange guests. There seems to be a killer on-the-loose. Very British 'old dark house' comedy, with a few surprises. A loony mystery in a carnival funhouse. The film is directed by Peter Sykes who also directed some notable Hammer films. Frankie Howerd died the same week as Benny Hill in 1992. Nice upgrade and Widescreen Upgrade! BA
7466 October Moth (60) The action takes place over one night at a dark farmhouse occupied by a frightened sister named Molly and her neurotic brother Finlay, played to the hilt by Lee Patterson, with perhaps a nod to Norman Bates who was pretty popular in 1960. Finlay finds an injured woman after a road accident and takes her home. Mother fixated Finlay thinks the injured woman is their mother come back from the dead. Molly wants to resolve things but it's not that simple.... This runs under an hour and is pretty intense. The bleak atmosphere sets the tone splendidly. BA
7403 Picture of Dorian Gray, The (76) Armchair Theatre Basil Hallward (Jeremy Brett) paints a portrait of young Dorian Gray (Peter Firth) that captures perfect his innocence and beauty. Lord Henry (Sir John Gielgud) is entranced by both the portrait and Dorian, corrupting him with his aristocratic views and deep rooted cynicism. Dorian Gray becomes heartless in his selfish pursuit of pleasure.... The portrait reflects the truth..... You can't go wrong with this Oscar Wilde story, every version I have seen I have enjoyed. Peter Firth would astound the following year in the misunderstood 'Equus'. Sir John Gielgud was the natural choice for a role immortalized in the 1945 version by George Sanders, although I think I would also have loved to see and hear Vincent Price as Lord Henry, that would have been something. This version amps up the homoeroticism, as Dorian Gray swings both ways.
7420 Seven Thunders (57) aka: The Beasts of Marseilles Escaping British prisoners of war hide out in occupied France. The story is set in the slums of Marseilles, where one particular district provides a haunt for Jews and British hiding out from their Nazi oppressors who are always on the hunt for them. The slums are eventually dynamited by the Nazis. There is also a serial killer dentist who extracts gold and buries the corpses in lime. This is the type of role somebody like Todd Slaughter would have played. Two narrative threads, seven thunders, dozens of Nazi's of Marseilles. Stephen Boyd is the hero, two years away from 'Ben Hur'. Anton Difffring is a Nazi (what else?). James Robertson Justice also stars. Interestingly, the famous director John Schlesinger has a minor role, as does Yvonne Romain. An unusual war time movie filmed in France. Dr. Martout was real and convicted of 26 murders (though they say he killed closer to a hundred). He was executed by guillotine. BA
7425 Spanish Sword, The (62) A King's Knight battles a Wicked Baron! While Hammer cranked out exciting color adventure films, the lower budgeted Danziger Productions floundered with crap like this. Well, I enjoyed it anyway, because I like this sort of film, even if I am insulting the picture as I watch it. Brian Clemens is the writer, that gives a little credibility... a little. The swords look funny, and I swear sometimes people die just when one of them is waved near them, maybe somebody broke wind? The switching of actors to stunt men is obvious, and the acting reminds me of an Andy Milligan film. Nigel Green as the evil Baron Breaute flogs a shirtless guy with a whip, bloodied back is seen. June Thorburn is Lady Eleanor. Also with Ronald Howard and more. Complex and entertaining despite the budget. Widescreen
7423 State Secret (50) aka: The Great Manhunt Dr. John Marlowe (Douglas Fairbanks Jr.) is pursued across the countryside in post WW2 Europe after the dictator of a small police state dies on his watch. The public cannot know. This is the 'State Secret'. An imposter has been put in place, and Dr. John Marlowe must be stopped. Helping him along the way is Lisa Robinson (Glynis Johns). Jack Hawkins is Colonel Galcon. Herbert Lom is Karl Theodor. You will spot Anton Diffring and Ferdy Mayne in small roles. An involving 'man on the run' thriller. Glynis Johns, as I write this, is still alive and in October 2022 she will be 99 years old! BA
7138 Study in Terror, A (65) Sherlock Holmes and Watson hunt Jack the Ripper. The first film to suggest Jack came from aristocracy. As far as historical accuracy, no film has succeeded, just endless speculations amidst real life evolving mutated theories, accusing various innocent men over the years of being the Ripper, never with any concrete proof. This film was made to entertain however, and delivers in a very Hammer-like way. Set designs and sharp colors seem to match the era perfectly. Adrienne Corri, John Neville, Peter Carsten, Anthony Quayle, Robert Morley, Edina Ronay, Kay Walsh and (gasp!) a young Judi Dench. BA

MISCELLANEOUS SPY, ACTION, MARTIAL ARTS, WAR AND MORE
7437 2nd Best Secret Agent in the World, The (65) aka: Licensed to Kill A Swedish scientist has invented an anti-gravity device. Together with his daughter, they plan to deliver this new technology to the United Kingdom so it can be used to disable incoming nuclear missiles. Agent Charles Vine (Tom Adams) is enlisted to make sure they get there safely. Veronica (Peeping Tom) Hurst and Judy Huxtable fill in as the Bond girl types (Vine girls?). This James Bond spoof has our spy hero having no problem killing multiple bad guys, tougher than that new guy Daniel what's his name. He kills more than a dozen people, and certainly looks capable of doing so. The opening sequence has a woman pull a machine gun out of a baby carriage and blast a gut while the two babies in the carriage look on. Teach 'em early I say. The opening song, in an attempt to mimic Bond again is sung by Sammy Davis! Lindsay Shonteff directs. BA
7294 Berlin Apocalypse (67) aka: Spy Pit aka: Da Berlino l'apocalisse A French Secret Agent (Roger Hanin) is involved in tracking down some of his missing colleagues and stumbles into the plot where the Soviet Union, East Berlin and allies scramble to distribute false documents meant to bring the countries into WW3. Peter Carsten, Claude Dauphin, Helga Sommerfeld and Margaret Lee also star. According to Klaus Kinski's book, Margaret Lee was a nymphomaniac that could never get enough with him and other women as well. They didn't call it the swinging sixties for nothing! Nice Widescreen, action and intrigue In Italian with English subtitles. BA
7459 Blown Away (88) aka: Necessity Professional model (gold-digger) Lauren LaSalle (Loni Anderson) stars as the mother who pits herself against a company of killers - led by her husband, who she has learned is a big drug dealing mobster, however a little late. Aided by a fearless pilot (John Heard) she storms her husband's Mafia compound in a desperate attempt to rescue her captive child, this, after she has already ripped him off for millions of dollars, and his name is not Burt Reynolds, although it could have been. Also with Sherman Howard as Jack Martinelli (he played 'Bub' the zombie in 'Day of the Dead').
7407 Bruce Le's Greatest Revenge (79) aka: Way of the Dragon 2 aka: La Grande Revanche de Bruce Le aka: Yan bao fu They've bullied and bloodied his friends. Slaughtered and raped his hard-working neighbors. And now they have made their deadliest mistake. Calling him a cowardly dog! When will they learn that you can push Bruce Le only so far? Join Mr. Le as he plunges fist-first into a deadly rivalry between a power-hungry union boss and the mistreated dock workers under his rule. You'll need a strong stomach and nerves of steel if you want a ringside seat for Bruce Le's Greatest Revenge! BA
7398 Coming Out of the Ice (82) aka: Le Survivant des glaces A true story of surviving 40 years of Soviet Tyranny. An American runner will not cooperate with the Russians and ends up incarcerated for most of his entire life in Gulag conditions. imprisoned and exiled in the frozen far reaches of Siberia. They went to the U.S.S.R to help build an automobile plant. The Russians see value in the son Victor Herman's athletic skills as a runner (John Savage) and will not let him go when he refuses to get in line. In the winter prison environment Herman meets Red Loon (played convincingly by stoner country singer Willie Nelson). They form a bond. He also falls in love with Galina (Francesca Annis), a more loyal woman is yet to be found. I was surprised at how good this film was, and forgotten. Also with Ben Cross. Filmed in Finland, I could feel the freezing cold from my chair. An astounding riveting saga of survival. BA
7404 Dangerous Orphans (86) aka: Les enfants de la vengeance Fifteen years ago a murder was committed, a friendship was born and a promise was made. The murder put Harry in an orphanage. Soon after, he and the only two friends he would ever have made a promise that one day they would all get even. Driven by this hate, this is their day of vengeance. From the Swiss banks of Geneva to the violent underworld of organized crime. A world of wiretaps, hired killers, million dollar deals and deadly double crosses. Murder can be avenged, and revenge, can be murder! A bullet made them orphans. Revenge makes them dangerous. Filmed in New Zealand BA
7414 Dark Tide (94) aka: Deep Terror Tim (Chris Sarandon) and Andi (Brigitte Bako) are scuba divers, and lovers, collecting highly poisonous sea snakes they milk of their venom, which is used for various serums. Richard Tyson of the then recent 'Two Moon Junction' fame is the horny half breed of the boat they hire, Captain Dak (maybe it should have been Captain Dick?). Andi is hotter than a volcano, and Dak gets into her bathing suit after a tiff with Tim, and after Dak dangles a really sweet spot in her face, taking her there. Andi was weak, and gave in to Dak, but now Dak won't quit, and even wants to share her with a boat mate. So Andi wanted Dak bad before, not at all so much now. She wants Tim, and Dak may have done away with him. Is it to late? Beautiful rape revenge filmed in the Philippines. Brigitte Bako's hottest film. Eddie Romero's son Joey was production manager. His father Eddie, directed the majority of the John Ashley horror films and even some of the W.I.P.'s from the region 20-30 years before this was made. BA
7351 Descent into Hell (86) aka: Descente aux enfers Writer's block plagues Alan Kolber (Claude Brasseur). His wife Lola (Sophie Marceau) is ignoring him. Vacation in Haiti should fix things. But once there, Alan goes on a bender, convinced his wife is no longer interested in him. She decides to have some fun with another man. Turns out she has problems of her own (we see her nightmarish memories in flashback). Later Alan is jumped by a black guy who is trying to rob him as he walks back to his room. Alan breaks a bottle and lodges the sharp end into the man's throat, killing him instantly. Alan knows how to take care of business. Lola helps him cover up. Sometimes things come back to bite you. Sophie Marceau is not stingy with exposing her naked body for the camera. Nice Widescreen and English subtitles BA
7352 Dimorfo (79) The story of a young Jewish recluse who flees from Nazi soldiers in WW2, and winds up in the home of an odd family. In the opener he tries to help a naked man who is on the run from the soldiers, then he becomes a target as well. Carried to the old house where an old woman, her psychotic son and his wife are living their lives away from the chaos. All of them try to use him in one way or another, the biggest offender being the son who sexually harasses him, and even rapes him when he is unconscious. The blonde wife seduces him. The action seems to take place somewhere in Central Europe, everything taking place in a house in the mountains. Wild Spanish film with a little female nudity (the blonde wife) but mostly male nudity. I think the old woman is a he! English subtitles! BA
7301 Erasers, The (69) aka: Les gommes A detective is shocked when he discovers that the assassin he seeks may just turn out to be himself. He has been tasked with solving a murder that hasn't happened, yet he is suspected of being the killer of the man who isn't dead. True, a murder will take place, just as it is laid out before us at the start. The only difference will be the identity of the killer. Will you figure it out before the finale? The Erasers stars Francoise Brion, Claude Titra and Georges Genicot. Also with English subtitles, without which I never would have figured this out. In French with English subtitles.
7440 Expresso Bongo (59) aka: A Singing Idol A fast-talking low- life agent named Johnny Jackson (Lawrence Harvey doing his best Phil Silvers) discovers a bongo player/singer who comes from a poor family (Cliff Richard renamed by Jackson as 'Bongo Herbert') and brings him to stardom with his wheeling and dealing talents. Of course Jackson makes/takes most of the money, always the price of fame with most musicians for many many decades. Baby-faced Cliff Richards drinks and smokes and hates his mother. Val Guest (director of some notable Hammer films) directs. Sylvia Syms and more recognizable faces from the era like Eric Pohlmann and more, including cute barely covered dancing girls. Widescreen BA
7400 Eye of the Eagle (87) aka: El Ojo del Águila In this war, if you're not the best... you're dead. The brutal honesty of 'Platoon' and the savage force of 'Rambo' are combined in this scorching Filipino action adventure with Robert Patrick (before his big 'Terminator 2' break). Sgt. Rick Stratton (Brett Baxter Clarke of 'Deathstalker 4: Match of the Titans') is the leader of the 'Eagle' team, a highly trained battalion of guerilla warriors, on a mission of vengeance! Blazing action and a ruthless bloody battle to the death. A model train, helicopters, explosions galore, flying stuntmen and a lot of people being shot in the head. Never thought I would see a film with Vic Diaz and Robert Patrick in the cast. Also starring Henry Strzallkowski, who was actually in the film 'Platoon' the previous year. BA
7279 Fearless Fuzz (78) aka: Magnum Cop - Alternate version! aka: Poliziotto senza paura Exotic dancer Brigitte (Joan Collins) helps private investigator Walter "Wally' Spada (Maurizio Merli) locate a kidnapped girl. We find out Brigitte is a femme fatale. Magnum Cop runs 85 minutes and is dubbed into English (#D163). This version has the title 'Fearless Fuzz' and is uncut Widescreen and with English subtitles. The extra 8 minutes make a huge difference. One difference is near the end when Spada makes Brigitte strip at gunpoint. For a brief moment, he does a little more with the gun as he runs the barrel against and down her naked body, actually, briefly horrific. This was too much for the censors so it was cut. This is the uncut version. BA
7271 Female Fiends (58) aka: The Strange Awakening A man (Lex Barker) is attacked by a hitchhiker and wakes up in bed with amnesia. He is told he is the owner of a large house, and a large inheritance. Confused is he? You bet! When he spots the hitchhiker, he smells a rat. What is going on here? There is a plot afoot alright (see title), but will he get to the bottom of it and recover his memory before it is too late? A fast-paced potboiler. Lisa Gastoni, Carole Mathews and more star. Nice Widescreen BA
7370 Fickle Finger of Fate, The (67) aka: El dedo del destino aka: The Cups of San Sebastian Jerry Parker (Tab Hunter) plays an American engineer who finds himself mixed up in the theft of a pair of candle holders (the 'Fingers of Fate'). It seems the crooks have used Parker's luggage to smuggle one of the holders, while the other is missing in action. The cops want Parker to help the criminals expose themselves. At the hotel there are five contestants for the 'Miss Rainbow' beauty pageant. They all have different hair colors. Parker has to get close to each one to see if the remaining artifact is in their possession. These girls are cotton candy I tell you. Tab Hunter said he switched this role with Jeffrey Hunter. He was originally in Madrid for 'The Christmas Kid', Hunter, for this one. They showed up at opposite films, and nobody noticed! As long as they both got paid! Tab Hunter is pretty good here. Also with Patty Shepard (boy did she get around), May Heatherly and more. Color BA
7447 Fireball Jungle (68) aka: Race Against Death We are barely 10 minutes in when the local group 'Mercy' shows up to perform their hit 'Love (Can Make You Happy)'. The whole film revolves around a big race and the urges of evil for one Cateye Meares (Allen Mixon) who will do anything to win. Interesting exploitation scenes include a cat fight, mentions of LSD, screeching car elimination and a bar with toilet seat barstools and urinal beer taps. When the cash register is opened, it makes the sound of a toilet flushing. Plenty of racing in this schlock which also stars Lon Chaney Jr. right before he met Al Adamson. Poor Lon looks rough here. From the director of 'Shanty Tramp'! Also starring John Russell. From a washed out print, color faded. BA
7401 Firehawk (93) A Viet Nam mission goes awry when a helicopter goes down in enemy territory. The soldiers detect sabotage and as they fight to survive a dense jungle full of booby traps and enemies, they also must find the traitor within their own ranks. Another action packed Filipino classic with Martin Kove as Stewart, a cigar chomping man of action who knows the score. His crew includes Tex (Matt Salinger) who loves nothing better than cutting down Viet Cong with his machine gun. During one of the many battles, purple smoke starts billowing from the ground and someone says 'It's a purple smoke trap!' Indeed. 'Ah, my arm's been hit!' Move over 'Platoon'. Firehawk is here. Although, no one is named Firehawk, apparently this is another mystery to solve. Also starring Terence (T.C.) Carson and again Henry Strzalkowski.
7412 Four Friends (81) Four friends from a grimy Midwestern town experience every major social upheaval of the 1960's, from the Civil Rights Movement to the Summer of Love and Viet Nam. This film knocked me for a loop a little, I never knew it existed. All notions of what was are explored, the confusion, the idealism, the hope and hopelessness, betrayal and freedom, patriotism and racism, never quite getting anywhere in the assessment, things just are the way they are. Where we were and where we have wound up. Some call this a disappointing disaster, while others call it a masterpiece. The generation gap is wider than the Grand Canyon here. BA
7305 Gangsterfilmen (74) Clu Gulager goes to Sweden and stars in a gangster film (quite literally!). Maybe more like a cold-hearted music man mixed with a gangster film. Arriving in the small town south of Sweden, Glenn Mortenson (Gulager) establishes himself as a man of the people, promising great changes to the community that will benefit all. Of course that is not going to be the case, and many see right through his facade. Mortenson is suave, a conman, and picks up some groupies almost immediately, girls at the gate fascinated by his commanding attitude. He speaks clear English, while everybody else speaks Swedish, where we get English subtitles. This other woman speaks to him in English. He hits on her, and she is confused. She senses danger. Mortenson starts the con. Later he assaults the woman from before, humiliates and rapes her. It doesn't last long, and she doesn't fight it much. 'Get up, I'll kill one of those kids if you don't keep your fucking mouth shut. Got it!'. I liked the ending. Widescreen and with English subtitles and English language.
7457 Hambone and Hillie (83) A dog (Hambone) journeys from New York City to Las Angeles to be reunited with his owner (Hillie, played by silent film star Lillian Gish). Hambone meets friends like Tucker (O.J. Simpson) and others. A canine friend lands Hambone in the dog pound! Hambone has a nice moment with Alan (The Skipper) Hale who plays a farmer. There are some intense moments against dogs, be warned animal lovers. I guess the filmmakers were not too concerned. Interesting cast includes Paul Koslo, Timothy Bottoms, Anne Lockhart, Robert Walker Jr., Candy Clarke, Wil Wheaton and more. BA
7416 Hippie Temptation, The (67) Hippies, Haight-Ashbury, LSD and more covered in this hip hippie hallucinatory trip back in time. Peter Coyote (now actor, then member of the band 'The Diggers') is here, along with his band, and some of the usual suspects we associate with the era of stoned out freaks. Golden Gate Park scenes, The Grateful Dead play Dancing' in the Streets on a flatbed truck ... more. Take me back, now! My mom thinks that where I'm living down here the hippies are a bunch of dirty, filthy, infectious people. This is my bag and I found my place here and I scream and I holler and I'm happy! Groovy! + also on the same disc! A couple of trailers in the spirit of the era. + The Summer of Love San Francisco '65-'67 + L.A.'s First Love-In Easter Sunday 1967.
7278 Hit Squad (76) aka: Squadra antifurto Bruno Corbucci directs Tomas Milian (as Nic Giraldi) for the third time. Nico is an unconventional undercover cop who is trying to bust the gang responsible for breaking and entering crimes in luxury apartments in Rome. After some slapstick and a gag where a man eats his own excrement, the film spirals into some pretty violent territory. One man is beaten to death with a spade and encased in concrete. Good stunts (Giraldi on a motorbike), violent fights with kicking and punching, a great set piece involving a train and pretty decent car chase for good measure. American import actor Robert Webber (here as 'Mr. Douglas) seems like an innocent victim. Nods to Pacino's 'Serpico' are here, as well as Giraldi's pet mouse with the same name. An incredible film, made all the better in this uncut 105 minute version. Also with Lilli Carati. Widescreen In Italian with English subtitles. BA
7258 Hour of Truth, The (65) aka: L'heure de la vérité A German engineer (Karl Boehm, the lead in Michael Powell's 'Peeping Tom') is the only survivor of a concentration camp where he worked in the counterfeiting unit. An American historian (Brett Halsey) has arrived to collect pieces of his story and find out the truth about him. The past always returns. Very relevant in 1964, explicitly references the recent capture, trial, and hanging of Adolph Eichmann whilst musing on philosophical issues concerning the nature of good and evil. A final unexpected twist. With English subtitles.
7308 Jaider's Gang (73) aka: Yankee Dudler aka: Verflucht, dies Amerika European immigrants struggle in America in the 19th century. Isolated even though they are hardworking. Distrusted, they suffer bigotry and discriminations, even though everybody else in reality are people not far removed from them as far as race goes. Desperation could lead to bank heist and a surprising treason. An unconventional western. Jaider's Gang has a conflict with the ways things are being run around here. Maybe more realistic than many others because of the depiction of Jaider's Gang. Complete with a western town, real live Indians, big guns and more. There will be death. A few historical people appear as well. William Berger, Frank Brana, Tito Garcia and many more. Widescreen with English subtitles. BA
7458 Jesse (88) No doctor is available in Meredith, California. It is a very small town. Enter 'Practical Nurse' Jesse Maloney (Lee Remick in one of her last films). She can fill in to help when people need it. Jesse is a good woman, smart, with a warm heart. She can deliver babies, set bones... she's that good! One day she gets arrested for practicing medicine without a license. No good deed goes unpunished. Now caught up in the system, Jesse will stand tall in court, with the small town standing behind her. Scott Wilson plays her husband. Albert Salmi as the Sheriff.
7261 Killer vs. Killers (85) aka: Death Command Fernando Di Leo, his last film, written and directed by. Of course he uses Henry Silva again to star (as 'Sterling'). Inside a well-guarded industrial complex, a valuable chemical formula is stored. Excellency (Edmund Purdom) sends his hired mercenaries, five in all, each with specific skills, in to the complex for the heist. Once the exchange is complete and paid for, he sends more thugs to kill the men he hired to steal the formula. Killer vs. Killers. Multiple killings and even a dismemberment open the film. Silva's character blasts several men with a bazooka, and he is so bad-ass he doesn't even need to reload! Considered low grade for Di Leo, I still give this one high marks on the action entertainment scale. Nudity. Also starring Dalila Di Lazzaro, she-goddess of a number of Italian made classics. Very nice Widescreen English dub
7331 Legion of No Return, The (69) aka: Quel maledetto ponte sull'Elba aka: No importa morir A squad of misfit American soldiers, parachute into enemy territory in order to blow up a bridge to keep the Russians from invading Germany at the end of WW2. A pasta/tortilla WW2 film directed by Leon Klimovsky and starring Tab Hunter as the leader of the group. Now how does that happen? It would be the last Italian made film of his career. He returned to America and never starred in another. Perilous adventures, relentless feats, explosive noisy violence and action-packed final scenes as the commandos wreak havoc. Nice English dubbed Widescreen BA
W253 Linda Lovelace on The Tomorrow Show with Tom Snyder: 1980 The episode opens with Snyder talking about satellite TV and access and quickly shifts to 'Deep Throat'. Then he announces that Linda Lovelace is here tonight to talk about how she was hypnotized, beaten and raped for three years, literally held captive and made to perform in 'Deep Throat' against her will. She recounts the people, the places, and the times she's lived through... as she promotes her book... 'Ordeal'. Are you buying any of this? Many did not back in the day and this was all a huge scandal in the world of pornography and even national headlines. So here is the episode. Like an episode of Ripley's Believe it Or Not, except far sleazier. Linda Lovelace died in 2002 in Denver, Colorado after a car accident. She was 53.
7377 Little Italy (78) aka: Squadra antimafia Bruno Corbucci directs! Undercover cop Nick Giraldi (Tomas Milian) travels to New York and Las Vegas to catch the dirty cop who ruined the reputation of his squad back in Italy. This has as much of an emphasis on comedy as it does the action. Eli Wallach shows up as a mafia don and is good in every scene he is in with his underlings, and final confrontation on a plane with Giraldi. The ass grab scene is hilarious. The dialogue well written. I need more sauce with my spaghetti. (She serves it you see, the girl that endured an ass grabbing so well). Milian is Milian, delivering another worthy addition to his comical and serious resume. Great locations again I must say. Widescreen and English dubbed BA
7332 Loser Takes All, The (02) aka: O hamenos ta pairnei ola From the director of 'Singapore Sling' Nikos Nikolaidis! An aging womanizing thief (played by real life Greek rock star Yiannis Aggelakas) uses women, robs and leaves them. The police beat him up. He finds himself working at a strip club as a drug delivery man, which leads to a scheme with four others that is supposed to give them all a financial way out of this hell hole. Fortunately the cops and the gangsters are as incompetent as he is. Crimes, drugs, prostitution.... the loser takes all. Or does he? 'Trypes' has music available on Amazon, the band the star of this movie represents. Nice Widescreen and English subtitles
7368 Maddalena (71) aka: The Devil in Maddalena Maddalena (the sensuous Lisa Gastoni) decides a priest who questions his faith is the one for her. Erotic tension and questions of true faith. Can it be real that a God would deny a man of faith the pleasures of a good woman? In one scene, as a blonde, she recalls being chased by a group of men for a gang rape in the woods. Or a fantasy? This is one of the reasons she has chosen a priest. And dyed her hair black, As a blonde, she didn't have more fun. The priest is hanging out with her, how long will he last before he makes his move? God help him. She is ready and willing. A fisherman is a diversion. He just about rapes her in front of the priest. The beginning is the end, The end is the beginning. You'll see. The priest becomes bitter and down with guilt/shame. He hasn't even scored with Maddalena yet! When he does the service, he sees Maddalena everywhere in the congregation, lustily eyeballing him. The ending blew my mind. Widescreen English dubbed and yes, plenty of nudity from Lisa Gastoni. BA
7453 Martin Short: Concert for the North Americas (85) Skits and shorts with Martin Short (in a variety of roles) and some of his SCTV cast members. Some still say this is the funniest show they have ever seen. I watched it and laughed quite a bit, so lighten up and go for it. John Candy is always funny. Eugene Levy, Christopher Guest, Paul Shaffer, Dave Thomas, Andrea Martin, Nancy (Martin's wife) Dolman and more. Cutting edge comedy all but gone these days.
7418 Maze, The: Etched in Acid (67) Narrated by Frank Dill… Let's talk about tripping. Young adults try to convince adults how LSD makes them better people. Two doctors talk about LSD. They have tripped over 150 times between them. They have decided taking LSD is bad. I guess maybe they figured that out after the 130th or 140th trip? Anything these guys have to say is pretty ignorant, sorry doc. Later face painting and flower children. Free minds are not always smart minds. This documentary is living proof of that. Will they reach a higher form of consciousness? Or are they now known to some of us as 'Crazy Uncle Bob'? Or 'Wacky Aunt Mary'? More drug talk from the era of psychedelic drugs and a lot of footage of the culture. The music is by 'The New Salvation Army Banned', later known as 'Salvation', who released two albums in 1968 & 1969.
7435 Miami Connection (87) aka: American Streetfighter Great fun as a martial arts rock band 'Dragon Sound' goes up against a group of motorcycle ninjas who have tightened their grip on the local drug trade. Cheesy performances of some really bad synth rock that is so awful, it's kind of good, marking a distinct flavor of the times. Dragon Sound is sick and tired of the motorcycle ninja gang, and open a can of wreck-wave crime-crushing justice. It will take every ounce of their blood and courage. An amazing 80's action film. The bright side of bad! Widescreen BA
7265 No Diamonds for Ursula (67) aka: I diamanti che nessuno voleva rubare A burly slimy beast of a man attempts to rape Ursula (Jeanne Valerie) in the opening. Her crippled uncle arrives into the situation and uses her vulnerability and weakness to weave a complex web of blackmail that will end with him becoming a very wealthy man if everything goes as planned. Ursula is not very happy. The plan is a jewelry store heist. The manager of the jewelry store is played by Dana Andrews. Aided by criminals of various nationalities, the plan is put into place. Will the greedy cripple get his way? Will Ursula really be deprived of owning any diamonds? Rare English language dubbed version. BA
7266 Once Upon a Time... a Gangster (69) aka: Gangster's Jungle aka: C'era una volta un gangster Larry (Richard Harrison) is in bad shape after his father is murdered. He forms a gang and they take over the empire of a dead gangster. The widow vows vengeance. In the meantime, another gangster has teamed up with Larry's girlfriend Paula (Ingrid Schoeller) and they want to put an end to Larry. 'Whack him' in gangster terms. Although not here. A friend of Larry's father wants to save him from his life of crime, but the abundance of sexy bad girls mixed with his bad temperament has put him on the road to hell. For better or worse. Maybe Larry will change, he's already half way there. Widescreen English subtitles BA
7336 Overthrow, The (87) aka: Colpo di stato Two American reporters/photographers (played by Lewis Van Bergen and Roger Wilson) get reluctantly involved in a government takeover in a South American country. Communists, terrorists, the C.I.A. (these days, is there a difference?) and the national army all have a play. The two men literally find themselves in the wrong place at the wrong time. Bare-chested Van Bergen is water-boarded, while Wilson, stripped to his briefs and strapped to a chair, is subjected to electric torture to the crotch. Chases, shootouts, fistfights, explosions and other actions typical of a Revolution. Born in 1938, Lewis Van Bergen ended his film career with the one two punch of 'Pinocchio's Revenge' and 'The Relic'. (1996/1997) He died at age 79 in 2018. This one is in English language with Chinese subtitles. BA
7380 Puritan, The (89) aka: La puritana aka: Act of Revenge A deceased drug addict has left Annabella (Margie Newton of 'Hell of the Living Dead' ) an audio cassette revealing all of the people who abused him, and his mother. Annabella decides to avenge him by using her striking sensuous looks and sexuality. If this is Margie Newton all I can say is wow. She has gotten even more beautiful since her starring role in that zombie film. She was only 18 then, 25 here. What we get is a lurid masterpiece of merciless revenge and gratuitous nudity, with plenty of soft-core sex. You will love the confession scene with the priest. Annabella is truly an angel of sex, and death. With English subtitles BA
7337 Scent of the Night, The (98) aka: L'odore della notte Crime in Roman slums throwback to the great Italian crime films of the 70's. Based partly on the true crimes of a criminal gang who terrorized a rich suburb of Rome with home invasions in the 1990's.The gang is led by a rogue cop, who justifies his reign of terror because he hates the rich elites, seeing them as parasites, or rather, as they see everybody else as well. Class warfare, a war no country ever wins. Helping our misguided copper in his deathly deeds are a group of crazed psychopaths. Nice Widescreen In Italian with English subtitles.
7399 Season of Fear (89) aka: An American Murder Mick Drummond (MIchael Bowen) hitchhikes a thousand miles to visit his millionaire father (Ray Wise) at his sprawling, windmill- powered ranch. There he finds himself tangled up in the dangerous web of his young, seductive, scheming femme fatale of a stepmother (the tasty Clare Wren). A twisting, turning summer of passion... and murder! Michael J. Pollard as a gas station operator and Clancy Brown as the local policeman. Don't miss Clare Wren in the great 'Steel and Lace' if you dig her skills here. Season of Fear combines steamy sensuality, breathtaking cinematography and a disturbing haunting plot. Well.... BA
7452 Secret Diary of Sigmund Freud, The (87) Bud Cort as a young Sigmund Freud in this comedic biography filmed in Serbia. Dr. Freud discovers psychotherapy, hypnotism and free association, cribbing ideas and terms from his patients, girlfriend (Carol Kane), and mother (Carroll Baker) along the way. A seldom seen forgotten film, universally panned when it came out. Marisa Berenson as Emma Herrmann. Klaus Kinski (in one of his last films) as Dr. Max Bauer. His scene with Carroll Baker is sleazy fun. A throwback that sometimes seems like a film from the 1970's.
7315 Son of the Sheik, The (78) aka: Il figlio dello sceicco Luigi (Tomas Milian) dreams of opening up his own gas station. But he is in his 30's and still living with his mother. He cannot get financing, no connections. Then one day a beautiful blonde arrives and helps all of his dreams come true. She has been sent by the Sheik. Luigi is his long lost son, and wants his son to inherit. Enter the opposition led by Hamilton Burger (a high camp Bo Svenson!). Crude bathroom gags and lots of physical comedy bordering on slapstick. The scene where Milian meets his father, who wants to check a birthmark on Milian's rear end is hysterical! Also with Kirsten Gille in the last film she was ever in. Somebody scooped that beauty up while she was still young. Nice Widescreen and English dubbed BA
7363 Star Witness, The (71) aka: La supertestimone Isolina (Monica Vitti) formerly a servant in the convent, visits her pimp boyfriend Marino, who is in prison. It is her testimony that has him incarcerated for twenty years. She later realizes she had the day of the murder wrong and retracts her testimony, leaving him now with a four year sentence. Guilty is she, at least her feelings. Marino asks her to marry him. In the prison, one man has a blowup doll, another wears a woman wig, others close dance. Isolina marries Marino. Marino goes back to jail. A cellmate gets a little frisky with Marino and he dumps a bucket of turds on him. Isolina is sexually frustrated. They discuss how they will survive without sex. A cop smuggles her in so she can have sex with Marino, and the cop has sex with her instead! Marino is angry. Sex comedy without nudity, but interesting and funny with scenic locations, and a surprise ending! Widescreen In Italian with English subtitles. BA
7317 Story of Romance and the Knife (71) aka: Er più: storia d'amore e di coltello Sergio Corbucci directs this look at early 20th century Rome. 1900: In a seedy part of town... gangsters. Nino (Adriano Celentano) loves Rosa (the astonishing Claudia Mori), but always manages to put off the wedding. Meanwhile August wants Rosa and is always rejected. When things get nasty the brother of August intervenes to settle things out with an epic knife fight. A picture of roman popular life in those days, where things were often settled out with violence. Of course, similar traditions continue in every country today. Nice Widescreen In Italian with English subtitles BA
W254 Surfacing (81) Kate's father has gone missing deep in the wilderness of Canada, and she is summoned to settle things. Kate (Kathleen Beller who was in 'The Sword and the Sorcerer' the following year) cannot accept that he is dead, so she sets out into the unknown to find him. Her boyfriend (Joseph Bottoms) suggests it, and is there to support her. Deep into the wild they go with another horny couple, hiking, canoeing, swimming, With a a slight Deliverance mixed with slasher vibe. The other girl gets leeches all over her legs and they need to calm her down to peel them off. Nasty little suckers. They find themselves not very capable in managing rapids and it seems like a survival film at this point. Kate may not like what she finds. Also with Michael Ironside as a redneck hunter. Nudity and sexual situations including attempted rape
7341 Things of Life (70) aka: Les choses de la vie Gallic passion at it's most powerful. This is your life, flashed before your eyes. In the opening, the main character Pierre (Michel Piccoli), a successful highway engineer, wrecks in a fiery crash. Now, his mind explores the past of what was. Highlights low times... we see how the last days of Pierre's life have radically changed his direction in many ways. He is having marital troubles with his wife (Romy Schneider). Complications with his son. We hear his thoughts on love, his wife, society, and life in general. Lights out, Thought provoking don't fear the reaper stuff. Widescreen In French with English subtitles BA
7409 VD (72) Cornelis (Kees Brusse) runs the family business of VD, a factory for meat, and contraceptives. He is following in the footsteps of his father, the godfather of the evil company of the Van Doorn family. In the first few minutes there is a very graphic cow killing with bright red spurting blood. It may turn you in to a vegetarian. They make some kind of birth control/hormone pill from the waste of the dead animals. Currently, VD is in crisis. They need to increase the cost of the pill to balance their profits. But a new pill is needed, with less side effects. A motorcycle accident causes a death, a guy gets it on with a woman on top of an ice box, naked group debauchery on the floor of a garage, cops investigating... A spoof, a parody, an insane mind mixer about meat, capitalism and drugs from the Netherlands. VD maybe was not the greatest name for a company though. Unless they were selling penicillin I guess. This would eliminate any embarrassing questions. In Dutch with English subtitles.
7289 Way of the Baboons, The (74) aka: La via dei babbuini Florenza (Catherine Spaak) is a very rich woman. She ditches her husband in their rich estate in Italy to go see her ailing colonist father (played by Lionel Stander) who she has never really known. Arriving in Africa she recalls her childhood trips to rediscover her joy, escorted to some beautiful locations by her guide Getulio, the film turns into a sort of travelogue. Two lions screwing may summon the call of the wild inside you. Topless native women look better than anything out of National Geographic. Floreneza wanders around by the river and watches hippos. Getulio, tries to blend in with a very large crocodile. Wait, a man is pointing a rifle at them..... Her husband arrives on a plane. A different look at Africa without horror or bloodshed with astonishing locations and wildlife filmed exclusively for the movie. Getulio's obsession with the large crocodile may be fatal. Downbeat. Widescreen and English subtitles. BA
7290 What a Way to Die (68) aka: Beyond Control aka: Sommersprossen Germany 1934: No not a war movie. This is about two bank robbers, sort of a gangster film before the Third Reich,. True life criminals steal cars, rob banks, gun down the innocent as well as law enforcement, and engage in sexual liaisons with thrill seeking babes with bad boy lusts. Cleverly obscured sex scenes. William Berger and Helmet Fornbacher are 'Velte' and 'Sandweg'. In the opening they target shoot mannequins in the woods. An escape, car theft, shootings, giant beers consumed, bloody hits and more, with a very concentrated attempt to use dozens of really nice scenic locations. A buddy film. Butch and Sundance. Nice final half hour they are hunted down like wild dogs, and they do the right thing, unpredictable, you may not agree. Also with Helga Anders and Giorgia Moll. Widescreen and English dubbed BA
7405 Wonder of It All (74) Journey to the farthest corners of the world of nature as the stunning footage of the wonder of it all reveals seldom witnessed animal behavior and incredible wilderness panoramas. How about never seen? The encounters were mostly created by the filmmakers. Bengal tigers meet up with a mean spirited bear. A baboon and a leopard. A rhinoceros meets a bull elephant. You'll see Komodo Island dragons and much much more. Wonder of It All. Deceptive but fun. BA

MODERATE AND MADE FOR TV FILMS
W257 Curse of the Swamp Creature (68) Florida Everglades, land of snakes, quicksand and danger. Opens with a mad scientist demanding his creation (a taloned clutching hand is all we see), to 'Breath! Breath!'. Then he carries a body and tosses it to the alligators. A black guy attacks him. 'Where is my brother?. The doctor's henchman comes to his aid and knocks out the assailant. 'You want your brother and you shall have him, throw him to the alligators!'. He may be a mad scientist, but he makes sure his pets are well fed. The doctor is experimenting on the locals. He finally manages to turn somebody into an amphibious creature. John Agar is a geologist that tries to stop him. Bill Thurman, Francine York and Jeff Alexander also star. Directed by Larry Buchanan. The monster is incredible, indescribable, unworthy, but fascinating in it's cheapness, like Zontar and others in Larry Buchanan films. Many Larry Buchanan films available, just ask.
7445 Deadman's Curve (78) The movie features a nice assortment of 50's and 60's cars throughout. This is the story of Jan Berry (Richard Hatch) and Dean Torrence (Bruce Davison). A lot of work went into this production based on the true tragic story of Jan and Dean. A movie of recovery from loss of hope. Jan is portrayed as an ego-maniac but there is always time to change, or is there? Jan and Dean, forgotten now, this is supposed to be a pretty accurate account, overshadowed by 'The Buddy Holly Story' which came out the same year. Wolfman Jack, Denise DuBarry and more star. Cameos include the real Jan Berry (who died at age 62 in 2004), Kristine DeBelle, Mike Love and Dick Clarke. Good tragic true tale, with a hankie ending. BA
7427 Loves of Dracula, The (79) aka: Curse of Dracula Count Dracula (Michael Nouri, recently of 'Yellowstone') is alive and well, teaching college in San Francisco under a false identity. I guess teaching as Count Dracula would give him away? Luckily for Dracula, plenty of lovely necks around for him to put the bite on. But what of Van Helsing? Michael Nouri makes a pretty good Dracula with a decent set of chompers. Coffins, bats, vampire women, crossbow, holy water, vampire den, cheesy black costume with cape, mesmerizing glamour seduction, dangerous cross ... all of the Gothic vampire protocols. Feature version of the cut and paste from 'Cliffhangers'. This one has the title as listed here, with a really cool looking color painting of vampire women that reminds me of Hammer films. This feature version is like a lost vampire movie rediscovered.
W255 Rita Hayworth: The Love Goddess (83) Movies were her life... but men were her passion! The life and times of the lusty star of the silver screen Rita Hayworth as played by the voluptuous Lynda Carter. At one time Rita Hayworth was the top sex symbol of Old Hollywood. Lynda Carter can really sing and dance, and she wears a lot of different clothes. Michael Lerner is Harry Cohn, Edward Edwards is Orson Welles, Terri Lynn is Kim Novak. Also with John Considine, Alejandro Rey and more. You will meet her five husband's played by different actors. Rita Hayworth had early onset of Alzheimer's disease at age 42 in 1960 that went undiagnosed until 1980. It finally killed her at age 68 in 1987, luckily for her, she didn't know it.
7441 Steambath (73) From the writer of 'Stir Crazy' and 'Doctor Detroit' Bruce Jay Friedman. A whole cross section of the human race wakes up in a steam room, wrapped in nothing but towels, wondering how they got there. Meredith walks in and drops her towel (Valerie Perrine) and we see her ass, and some side boob. Tandy (Bill Bixby) is appreciative. Then two gay men do a towel song and dance, waving their bottoms at Tandy, yes, you see those butts too. But what gives? They are all dead! The steam room is the gateway to the afterlife. God comes in the form of a Puerto Rican janitor. No moralizing here. Death is played merely as a transitional process. Swearing and now known as 'incorrect' slurs, well, if you are sensitive that is. From the controversial play. Edgy, but sort of cleaned up some. Valerie Perrine has never looked better. Bixby has his mighty whities on under his towel. Don't make him mad.

NUNSPLOITATION FILMS
7269 Reformatory for Violated Girls (78) aka: Escola Penal de Meninas Violentadas A penal school run by nuns has a group of new arrivals. Hot young prostitutes. Mother Superior has killed the real one and taken her place. The new regime is rife with lust and lesbianism. Later the gals in captivity all meet, and we find ourselves in familiar W.I.P. territory. Mother Superior ties one of the women to a bed and has a sweaty shirtless fat guy whip her silly. Naked showers, more beatings (under the lustful watchful eyes of Mother Superior), torture, slave labor, humiliations, flashbacks, a ton of nudity, revenge and a violent finale. Depraved fun from Brazil. With English subtitles.
SOUTH OF THE BORDER FILMS
7338 She-Wolves of the Ring (65) aka: Las lobas del ring Wrestling women film without monsters, well... okay. Loreta Venus (Lorena Velazquez), Golden Rubi (Elizabeth Campbell) and their team of luchadoras are pitted against a team of gangster female wrestlers who play to win. Kidnapping and Murder are on the mat as well. The luchadoras universe is having a week without monsters, but remains the same otherwise. Comedy relief consists of the women beating or slapping the hell out of various men from time to time. Like when one of then smacks her tubby boyfriend over and over..... Completes the puzzle piece of the missing luchadoras film! In Spanish and with English subtitles. BA
7367 Vampires of Coyoacan (74) Finally a Widescreen Upgrade of this German Robles vampire film with English subtitles! Great wrestling costumes, vampires, cool convertible muscle cars, gorgeous senoras, idiot cops.... When Mil Mascaras and Superzan finally make it to the vampire's manor, they wrestle.... midget vampires! These little ankle biters are one ornery bunch, and probably the best thing about 'Vampires of Coyoacan'. Italian babe Sasha Montenegro also stars. And of course, don't forget German Robles earlier vampire films 'The Vampire' and 'The Vampire's Coffin'! Widescreen. Color. English subtitles

WESTERNS
7348 Brothers Blue (75) aka: Blu Gang e vissero per sempre felici e ammazzati aka: Los hermanos azules Determined bank guard Hillman (Jack Palance) has made it his mission to hunt down the bank robbing Brothers Blue. Imitating homage spaghetti western that takes 'Butch and Sundance' and mixes it a bit with 'Bonnie and Clyde' add a splash of Peckinpah and Altman sauce and there you go. The violence strikes the right notes, a balletic quality to the carnage as the corruption and arrogance of youth in the wild west is laid bare. Revisionist era inspired like others late in the cycle as the genre started to fizzle out. Still, a good addition to the genre, a little dark and ghoulish at times, and a memorable film boasting high production values. Also starring the daughter of Maria Montez, Tina Aumont. Excellent Widescreen English dub
7295 Buck on the Edge of Heaven (91) aka: Buck ai confini del cielo David Hess of 'The Last House on the Left" fame in this badly looped but majestically photographed snowbound western. In the cabin set in a cold mountainous area lives Grandpa Thomas (William Berger), Dan (David Hess) and the youngster Tim, along with a Jack London styled dog, that has other canine friends nearby. A paradise. On the edge of heaven. One day Grandpa is alone and the villains arrive. He gives them food. They stab him and leave him for dead. John Savage shows up but not as the character he is described to be in other reference sources. The scenery is top notch breathtaking. Bobby Rhodes (from 'Demons') is great as one of the bad guys. Rik Battaglia and Ottaviano Dell'Aqua (worm-face from Fulci's 'Zombie' and many others + stunts or stunt coordinator for hundreds of films) also star. They do go after the bad guys by the way, and Buck the Dog is especially angry. He really loved Grandpa. From director Tonini Ricci. Widescreen, looped English slightly off, great quality. If you love Jack London, a must. Some parts of the film are heartbreaking. The villains, splendidly over-the-top wicked.
7424 Cattle Empire (58) aka: Cord il bandito A man (Joel McCrea as John Cord) is dragged by a rope tied to a man's horse. The plan is to kill him, but Cord does time instead. Apparently as a trail boss, his men tore up the town, injuring many. Once out he takes the job to move some more cattle by Haggerty (who was blinded by the violence committed by Cord's men), to beat a Baron from getting his meat to market first, and getting the coveted contract. A strong noble western with fine players all. Gloria Talbott and more. Color Widescreen BA
7272 Challenge of the McKennas (70) aka: La sfida dei MacKenna An ex-preacher, now a drifter of the badlands (John Ireland as 'Jones') gets into a deadly dispute with a powerful Mexican rancher after stumbling into a complex web of unstable family dynamics not of his making. The rancher has put an end to his daughter's boyfriend. Jones finds the body and buries it, the rancher wants him to pay, and Jones also battles his inner demons. Things go off the rails. Also with Robert Woods, Daniela Giordano and Annabella Incontrera. Amazing Widescreen and English dubbed BA
7436 Duel at Sundown (68) aka: Killer Kid: Shoot on Sight aka: Duell vor Sonnenuntergang Don McGow (Peter van Eyck) leaves his brother Larry (Terence Hill) in charge of the cattle drive. When the herd is reported stolen Don McGow feels responsible and goes on the hunt for the thieves. The trail leads to his brother Larry. One of the more obscure westerns, with most of the picture taking place outdoors in fantastic Croatian locations. Previously listed as #K36 that version is in foreign language and has no subtitles. Finally a nice print with English subtitles! BA
7251 Duel at the Rio Grande (63) aka: Sign of Zorro aka: Il segno di Zorro A dictator General imposes high taxes and terror upon the people in this collaboration between Italy, Spain and France. Enter one Don Ramon (Sean Flynn) a rascally avenger (in a Zorro mask when needed), who arrives at the bequest of his father, who he finds has been murdered by the evil local administration. The only thing left to do, is avenge his father's death, and stop the wicked General and his horrid henchmen. Set in Mexico, but filmed in Italy. Sean Flynn involved himself in the Viet Nam conflict unofficially, and is thought to have been murdered by the Khmer Rouge in Cambodia in 1970. Killed by the Viet Cong... he should have stayed home. Nice Widescreen BA
7253 Dynamite Jack (61) Antoine (played by French actor Fernandel) finds himself in Windows Canyon, Arizona, in an area under the control of Dynamite Jack. Antoine finds out he is Dynamite Jack's look-a-like. Settling down in the small town, Antoine becomes the local tax collector, eventually coming face to face with Dynamite Jack himself. Interestingly also starring Hammer's Adrienne Corri! Widescreen In French with English subtitles. BA
7273 El Condor (70) Fortune seekers (played by Jim Brown and Lee Van Cleef) approach the stronghold known as 'El Condor'. Their goal is to liberate the place of the Emperor's mythical gold reserves. They will soon learn, that only fools rush in. The huge fortress known as 'El Condor', built for this production in Spain was also used in 'A Reason to Live, a Reason to Die, and Conan the Barbarian. Cast here includes Patrick O'Neal, Marianna Hill, Iron Eyes Cody and more. Incredible Widescreen version. BA
7304 Fury of Billy the Kid (64) aka: Fuera de la ley Jack Taylor is Black Jack. Jorge Martin is Billy Carter. Leon Klimovsky directs. A crime boss tries to force Carter to sell his lands, but he and his son Billy oppose this action. Billy ends up in jail and when he comes home he finds his home burned down, his father killed, and his mother injured. Billy is mad. Real mad. Full of action, exaggerated characters, riding, double-crosses, good writing, shootouts, bloody brawls... the works. Billy Carter is not really Billy the Kid, but it sure makes a swell title. Also with Aldo Sambrell. Widescreen In Spanish with English subtitles. BA
7257 Hour of Death (64) aka: Seven Guns from Texas aka: Antes llega la muerte The thrust of the plot is the passage of a caravan through Indian territory, where the heroic leads must face down a series of human threats all with deliberate separate forms of villainy and ill will intent on doing harm to the innocent. For various reasons, these characters are brought together, where they manage to elevate this to levels of humanity amidst the heartlessness of the villains, not typical in many others. Fatalism and action, well developed characters. Robert Hundar is Ringo. Also with Fernando Sancho, Gloria Milland, Raf Baldassare and more. Nice Widescreen dubbed into English, with some parts in foreign language with English subtitles. BA
7260 Kill Johnny Ringo (66) aka: Uccidete Johnny Ringo Finally! Johnny Ringo (Brett Halsey) heads into the town of Eagle Pass. His mission is to locate and dissolve a vicious counterfeiting group, following the theft of plates from a Federal Bank. Johnny Ringo must use his skill and cunning to kill the villains one by one amidst treachery from others as well as the blackmailing and killings escalating throughout Eagle Pass. Some action scenes and scenery, with an unexpected final twist. Great score. Now for the first time, available in excellent Widescreen quality and English language dubbed. BA
7281 Minnesota Clay (64) First time Uncut, Widescreen, and in amazing quality. Cameron Mitchell is our title character, a gunslinger who finds himself slowly losing his sight, and trying to get revenge for his false imprisonment before he can no longer see. Eighteen years is a long time to spend for something you did not do. Fox (George Riviere) is still back in Minnesota's home town, as well as his daughter. Fox is the son-of-a-bitch that got him sent away, unjustly. There is also a nasty Mexican gang led by the sleazy General Domingo Ortiz (Fernando Sanchez in typical fashion). Cameron Mitchell's next film would be 'Knives of the Avenger' for Mario Bava. BA
7334 My Horse, My Gun, Your Widow (72) aka: Tu fosa será la exacta... amigo Doctor Janus Saxon (Craig Hill) and his gang, rob the Crown City bank, all of the gold dollars falling neatly into the hands of an accomplice, the quarrelsome rascal Carrasco (Chris Huerta), the Mexican bandit of the group, who takes off with the loot leaving the rest of them high and dry. Doctor Janus bides his time, waiting for revenge in his own way. Finally he sees a way. Claudie Lang, the eye candy on display here, was in a number of films. She quit the industry after her last film 'The Punishment' from 1973. A controversial film that was a complete sleaze fest, and a departure from her early resume. Yes, we have 'The Punishment' as well. My Horse, My Gun, Your Widow is Widescreen and dubbed into English. BA
7267 Paid in Blood (71) aka: Quelle sporche anime dannate aka: Les âmes damnées de Rio Chico A ruthless villain has murdered the brother of Tom Carter (Jeff Cameron). His brother had just withdrawn his bank money so he could marry Cora (Krista Nell) ), a local saloon girl. Not sure of Cora's intentions, he learns through her the identity of his brother's killer. A town boss (played by 'Dr. Butcher M.D.' Donald O'Brien) who is also trying to swindle land. Glares of ill intent, whiskey drinking, the calling out of names, gold fever, fistfights, shootouts in rugged terrain... and the real star of the film.... Krista Nell. A gorgeous broad who died way too young (at age 29 in 1975) but not before starring in over two dozen classics! Now, great Widescreen and English dubbed. BA
7314 Secret of Captain O'Hara (66) aka: El secreto del capitán O'Hara A court-martialed soldier turns around and saves the day, rescuing the fort along with the Major who falsely testified against him from an Indian attack. Action packed cowboys and indians film set just after the Civil War. The Union soldiers have their hands full here, the riding, shooting, cavalry raid stunt work and thrills keep the film at a steady pace. High body-count. Pretty brutal and well made. This film deserves a second look in this new Sharp Color Widescreen version. You can tell the scope was the intention. This shames all other versions. Marta Padovan is gorgeous. Also with German Cobos and Frank Brana. A great Spanish made Western dubbed into English BA
7339 Son of Django (67) aka: Return of Django aka: Il figlio di Django The main character is the offspring of Django, Jeff Tracy (played by Gabriele Tinti) who is just as mean, and after those who killed his father. In this nasty town filled with dangerous villains he is up against wealthy landowners Clay (Daniele Vargas) and Thompson (Pedro Sanchez), both who are feuding over business. Tracy also manages to save lusty babe Jane Grayson (Ingrid Scholler). Downbeat dark and mean spirited fun. With Guy Madison as Father Gus Fleming. New Widescreen English dubbed version looks great! BA
7316 Starblack (66) aka: Johnny Colt He has returned. His father has been killed. Curry and his gang of murderous bad men run the town. Extremely violent shoot 'em up with some pretty good stunts. Even a duel after most are already killed. Johnny Colt (Starblack) has no qualms killing all of the men of the town. He can throw a knife into a man's eyeball from 20 feet (and he does!) The prize is sweet Caroline (Elga Andersen). Is Johnny the type to stay with the hot woman, or does he do the foolish noble thing about going out to find other injustices and help others? Sharp Widescreen and with English subtitles. BA
7287 Those Dirty Dogs (73) aka: Campa carogna... la taglia cresce Rare western with a Muslim character. Army specialists team up with a blonde Muslim bounty hunter (named 'Korano' played by Gianni Garko!) in the search for stolen guns and the kidnapped daughter of an officer. Mexican Revolutionaries are the culprits. Their only hope is tracking a crafty bandit back to their base of operations. Shootouts, fights and stunts galore, with great scenery and backgrounds. Fantastic new English dubbed Widescreen version. Korano often rides under a pink umbrella, and recites passages from the Koran. Don't ask me to draw you a picture. I won't. He wants the Mexican bandit leader alive so he can collect a larger bounty. Stephen Boyd is Captain Williams and would work under director Giuseppe Rosati again in 1975's 'Left Hand of the Law'. Teresa Gimpera, Gabriella Giorgelli and Helga Line also show up. This film is listed as 83 minutes on IMDB. This is the Uncut version at 87 minutes. BA
7385 Tiger from River Kwai (75) aka: La tigre venuta dal fiume Kwai With Charles Bronson teaming up with Toshiro Mifune in 'Red Sun' in 1971, followed by Peter Cushing and Hammer teaming up with Shaw Brothers in 1974 for 'Legend of the Seven Golden Vampires... Again a mixture of cultures here. The Spaghetti western and the Kung Fu film. In Thailand, a brave young man (Tiger) prepares to travel to American to deliver the belongings of his deceased friend to his family. Jewels and a gold elephant, earned by his friend after much hard work. Once in America's wild wild west, he befriends another Chinese, and helps battle a nasty gang led by Jack Mason (Gordon Mitchell), while Sheriff Sam (George Eastman) tries to uphold justice. From the director of 'Six Bounty Killers for a Massacre'. Excellent Sharp Widescreen dubbed into English BA
7288 Tomb of the Pistolero (64) aka: La tumba del pistolero aka: Attento gringo... ora si spara! Blind Dead director Omando de Ossorio directed this western filmed in black and white in Spain. When Tom Bogarde (Jorge Martin) leaves Boston for the small mining town of Carson, he announces he is the brother of Jack Bogarde, who had been killed weeks before. Not only will he avenge his brother's killing, he may just find a new life as well. An interesting cast that includes Silvia Solar, Mercedes Alonso, Frank Brana, Tito Garcian and Aldo Sambrell. Jorge Martin just passed away in Florida: September 2021 at age 83. Nice Widescreen with English subtitles. BA
7386 Too Much Gold For One Gringo (71) aka: They Believed He Was No Saint aka: La caza del oro Nice Widescreen Sharp Colors (same as print #5931) but Dubbed into English instead of English subtitles BA

WIP FILMS
6888 Carne Apaleada (78) Berta (Esperanza Roy) plays a woman incarcerated for her involvement in a swindle. Once in prison, she encounters and experiences what we would all expect. Thieves, murderers, junkies, whores.... What follows are beatings, humiliations, cruelty, naked showers, degradation and lesbianism... which translates into fun for fans of the genre. Berta falls in love with the killer Xenta (Barbara Rey, one of the female vampires in Ossorio's 'Night of the Sorcerers'). The ruthless warden Reclusa (Tota Alba) has never learned the meaning of decency. Will Berta remain a woman or become a wildcat? We'll take her either way. This film won awards in Spain. Tota Alba also worked for Jess Franco and Paul Naschy. This was her last film. She died in Madrid in 1983. Sorry, no English here. Spanish only and no subtitles. Widescreen BA
7319 Erotic Prison (91) aka: A Woman For Everyone aka: Una donna per tutti Another tale of a woman who trusted her boyfriend and ended up in woman's prison. The pre-story described in court is incredible and very sleazy. All of the women in this prison are nymphomaniacs, except for the matron, a typical beast of a woman for such a position. The women comfort our poor victim and turn her into a lesbian. The action is near hard at times, the nudity plentiful. Rape, Humiliations... + a few very sleazy trailers follow. In Italian language and with English subtitles.
7358 Woman's Reformatory (86) aka: Correccional de mujeres Lots of nudity in this women in prison classic with high production values. The characters introduced at the beginning include a 'drugstore cowgirl', a stripper, a pick-pocket and a gangster moll whose boyfriend was assassinated while they were in bed together. The movie rushes through the 'inspection' scene and the shower scene, skips over the 'new fish' initiation scene so they can accelerate the pace into the bust-out nearly a half hour in. Of course another kind of bust out has already happened in the showers. And before the break out a woman is hanging dead in the showers. Most will fail. The women are used as prostitutes. Laura gets a chance to prove her innocence, but not before her whoring. A gun always seems to be in reach. Maybe.... Excellent sleaze from Argentina and the director of 'The Curious Dr. Hump' Emilio Vieyra. + many trailers of his films follow the main feature! BA