---
HOME | SECURE ORDER FORMS | ONLINE SPECIALS | CATALOGUE | NEW ARRIVALS | CUSTOMER SERVICE | PRICING & ORDERING INFO
---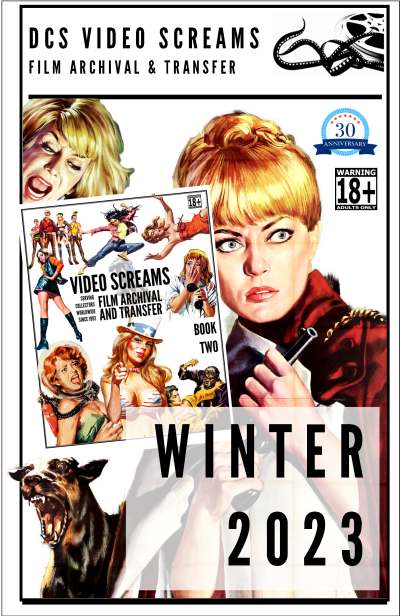 WINTER 2023 UPDATE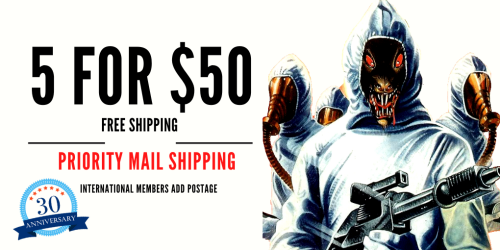 BA= Color Box Art Available for an additional $3.00
FL= Film is in Foreign Language
Lbx= Letterboxed or Widescreen format
Subs= Film is subtitled
aka= Also Known As (alternate titles)
22860000
22860000
(`@`````````
266
263
5
110185200
110185200
APOCALYPTIC FILMS
0838 Ravagers (79) aka: El planeta de los buitres Throw out your old prints unless you have to see this in full frame! This new Widescreen version is sharp and makes the film an entirely different experience. You will find more information in the Apocalyptic section of the catalog. The abandoned missile base in this movie is actually the Alabama Space and Rocket Center Museum! BA
0839 Who is Beta? (73) aka: Quem é Beta? In Brazil, the world has ended, and presumably, everywhere else as well. A lone woman walks the wasteland with a rifle. The plant life is still intact. There are people everywhere looking for water and food. She shoots at them when they threaten her. A man in a fort fires at her. She joins him in his underground bunker. They have a decent life, and when the people get too close, they target practice them, killing them. A woman joins them because they let her in. Now the three of them shoot and kill the people who want what they have. More characters appear. More of them to shoot the hungry people. Bizarre hippie-dippy-drippy apocalyptic film from Brazil with English subtitles

BIKERS, BITCHES AND BABES
0835 Run, Angel, Run! (69) aka: Corri, Angel, Corri! Amazing Upgrade of the William Smith biker movie classic.... Directed by Jack Starrett the guy who played the redneck cop in 'First Blood' that Rambo knocked out of the helicopter with a rock. See more info in Catalogue on this film. BA

CLASSIC HORROR & SCI-FI FILMS
0988 Bela Lugosi Lives! (86 and 87) Two documentaries with loads of snips and clips, comments and interviews, all about this Hungarian actor who immortalized the first sound version of what we imagine a vampire to be. But Bela Lugosi was so much more. He could elevate the cheapest of films into classic status just with his acting and voice. Hundreds of actors that had far more lucrative careers are not remembered like Bela Lugosi was (is). Two shows: Lugosi: The Forgotten King and Mondo Lugosi: A Vampire's Scrapbook.
0989 Boris Karloff Lives! (various) First, very good quality of Boris Karloff being surprised in a 'ThIs is Your Life' episode from 1956. A little uncomfortable, certainly humble, you get a glimpse of the depth of the man who was the monster of Frankenstein (and so much more). Boris Karloff and Bela Lugosi were two of the greatest actors out of the 1930's and for decades became cultural influence and popularity through the 1990's and even slightly into the 2000's before the age of nostalgia died and everybody turned into video game and CGI junkies. Also included here. A surprise episode starring Boris Karloff! What episode? That's a surprise!
0991 Charlie Chan at the Opera (36) Amnesiac Gravelle (Boris Karloff) regains his memory, escapes from the asylum, and returns to the Opera to deliver payback to his double-crossing opera singer wife. His wife does indeed die, as well as her operatic lover, but is it Gravelle who has taken things to this extreme? Or is their a possible killer slithering around the opera perhaps? Charlie Chan (Warner Oland) is on the case. William Demarest is a Sgt. with some lines that would never be allowed today. BA
0958 Counter-Attack (45) aka: One Against Seven In WWII German soldiers have a stand-off with Russian soldiers when they are all trapped together under the rubble of a large bombed-out Russian building. This film depicts Russia in a positive light as worthy allies needed to defeat Nazi Germany. That was then.... The screenwriter John Howard Lawson was black-listed, part of the Hollywood Ten and a true Marxist who snuck his Communist ideals into his writings throughout his career. Because of that, this film is also propaganda, but still a good film. Paul Muni, Marguerite Chapman and many more star. BA
0959 Dramatic School (38) Luise Rainer must work the night shift at a factory to afford attending the Paris School of Drama (oh please, they need a school for that?). She doesn't let the other students (Lana Turner, Paulette Goddard, Ann Rutherford and Virginia Grey) know what she has to do to be with them. One day strict acting coach Gale Sondergaard is giving a lesson and Luise passes out and later tells a whopper of story to explain her fatigue. Luise Rainer was a nonconformist and would not play the Hollywood game, making her one unique broad, but costing her career in the process. BA
0990 Ed Wood: Look Back in Angora (94) Remembering Ed Wood and his certain brand of inept genius was the popular thing to do in the 1990's. Kathy Wood his widow, Dolores Fuller his one time girlfriend, and Conrad Brooks were still alive when this was made, and they contribute their two cents (all they had). Archive footage and clips from his films reveal that the story of Ed Wood is stranger than fiction. + Glen or Glenda (53) Bela Lugosi and Ed Wood transvestite classic. Edward D. Wood Jr. failed in Hollywood (but did he really?) and moved on to writing and directing porn. He loved the booze and died at age 54 in 1978 while drinking in bed.
195A Indestructible Man (56) aka: L'Homme indestructible Lon Chaney comes out swinging in this bottom in the barrel production as Charles (The Butcher) Benton. Double-crossed, he is executed, and then brought back to life, now as an indestructible man. Revenge is all he cares about. Chaney plays it straight, no tongue in cheek here. I really believe he wants to kill them all. And he does. A voice-over narrates some scenes. Lon Chaney: Furious Avenger. Better than the last remake of ... well... name it. BA
0977 Monsters Crash the Pajama Party (65) College sorority challenge for young girls is to stay the night in an old creepy mansion where they find a mad scientist (and his hunch-backed assistant) turning human beings into gorillas. A film played for the old movie theatre spook show circuit where costumed actors would pretend to terrorize the audience between features. This roughly one half hour followed by trailers. Before my time but wow I bet it was a blast these Spook Shows back in the day. Lucky bastards. (less than an hour long)
0640 Mystic, The (1925) Tod Browning directs. A trio of Hungarian gypsies have been brought to America by a crook with a plan to swindle gullible fools who hope to speak with their deceased loved ones. The phony medium/spiritualist Zara (Aileen Pringle) will be instrumental in the trickery. But the gangster has second thoughts when he feels sorry for one of their victims. Similar theme for Browning. English title cards. One of the few Tod Browning directed at this time that did not include Lon Chaney.
W333 Ouanga (36) aka: The Love Wanga A white man Haiti, has chosen a white bride, angering a black female plantation owner Klili, who gets her voodoo on, summoning zombies for revenge. Klili also hits his new bride with a death curse sending the unsuspecting woman into a deep coma. Unusual race horror about a black woman lusting after a white man and deciding to put a curse on him when he doesn't want to mix races. Zombies in the 'White Zombie' vein.
0978 Pharaoh's Curse (56) The mummy of a Pharaoh takes over the body of one of the men who violated his tomb, setting a three thousand year old curse into play. He drains his victim's of their blood, getting older as he does so. Shouldn't it be the other way around? The ghoul terrified me as a toddler (this was on broadcast TV frequently back then) and the part where the arm is ripped off, ghastly fun. A minor mummy film, but well worth it for mummy movie fans. Of note, Ziva Rodann as 'Simira' a swell looking dame who may just be an Egyptian Cat God (or something). She was in 'Macumba Love' and played 'Nefertiti' on the Batman series. Rodann still alive in 2023 about to turn 90. Hmmm. Maybe she's immortal. BA
0643 Road to Mandalay, The (1926) All that survives is a 43 minute version missing some scenes but does not really affect the continuity of the movie from beginning to end. Tod Browning directs Lon Chaney who plays the one-eyed underworld hoodlum 'Singapore Joe'. His left eye is white through and through, Chaney make-up. Singapore Joe has a soft spot for his estranged daughter, and plans to save her from a union with another hoodlum. A moving film for 1926, Chaney once again proving his ability to get sympathy from the audience. English subtitles
0753 Sergeant Madden (1939) Sgt. Shaun Madden (Wallace Beery) has a heart of gold. His son Dennis (Alan Curtis) has a vicious streak and also becomes a policeman. Dennis shoots a young hoodlum caught in the act of robbery, killing him, drawing anger from a local hood (Marc Lawrence) whose girlfriend is the sister of the deceased. Dennis is framed and sent to prison where he becomes a desperate man. Escaping from prison Dennis goes on a one-man crime spree, killing and stealing with reckless abandon! His father Sgt. Madden may have to put him down. BA
0968 Scoundrel, The (35) After dying in a plane crash, an amoral man, vain, selfish, highly-educated, and disliked in life, is sent back to earth in search of just one person to shed a tear for him, before his fate is sealed for all eternity. Is their redemption after death? BA
Y561 Stolen Heaven (31) aka: Sensation in Florida A hooker and a robber plan to spend the 20 grand he has stolen, then commit suicide. Go out on a high note. Life has been hard for the both of them, they are beaten down. Now is there chance to live it up before sending themselves to hell. The cops are close to catching them. Will they spend every dime and die, or spend every dime and do the time?
F410 Strange People (33) Twelve people are summoned to a large estate on a dark and stormy night. They soon realize that they are the same members of a jury that convicted a man several months earlier. A man that was sentenced to death. This is the convicted man's house. The lights go out and a shot is fired.... John Darrow, Gloria Shea and Hale Hamilton BA
9274 Swamp Fire (46) aka: Fiamme nella jungle aka: desafiando a los Caimanes In the swamps of Louisiana, Johnny Duval (Johnny Weissmuller) has some bad PTSD he just can't shake from his experiences of war. MIke Kalavich (Buster Crabbe) tries to move on his girl Toni. Meanwhile spoiled heiress Janet (Virginia Grey) wants Johnny. The movie is packed with action and adventure. Johnny wrestles an alligator, boat crashes and a big ship wreck blazing inferno swamp fire finale. BA
X490 Swamp Woman (41) aka: Swamp Lady aka: La Donna della Palude The bloodhounds of a Police Lieutenant chase a honky tonk dancer Annabelle (real-life strip-tease artist Ann Corio), a convict and a promoter, deep into the Louisiana swamps (filmed in New Orleans). They reach the bayou cabin of Lizbet, sister of Annabelle, and fiancé of trapper Pete (Jack La Rue). Romance, betrayals and revelations as the Lieutenant gets closer. BA

DINOS, LOST LANDS, FANTASY, SWORD & SANDAL & PEPLUM FILMS
0800 Adventures of Hajji Baba, The (54) aka: Amazones Very colorful spectacle film with dozens of gorgeous babes. Hajji Baba (John Derek) helps insolent Princess Faksia (Elaine Stewart) who is disguised as a boy and is on her way to marry a man against her father's wishes. But when they meet her husband to be they discover he is rogue, and only in it for power. Now Baba must win her away from the evil man. Twenty-five year old pre-Gunsmoke Amanda Blake wielding a sword is something else. Look for a young Claude Akins as the Chief Executioner's aid. Widescreen BA
0780 Beauty and the Beast (84) Klaus Kinski is the Beast, Susan Sarandon the Beauty in the Faerie Tale Theater adaptation. Also with Angelica Huston. + Beauty and the Beast (8?) No, not Disney, but another animated version that runs under an hour. Two Beauties, Two Beasts, on one disc!
0756 Beneath the 12 Mile Reef (53) aka: Duelo en el fondo del mar Competing sponge fishermen make life difficult for a Greek-American family. So they travel to the dangerous 12 mile reef area off the western coast of Florida. Filmed in color with excellent underwater adventure. Breathtaking diving scenes photographed with excellence. Adventure and intrigue of the highest order for the year 1953. Ben Johnson, Peter Graves, Terry Moore, Robert (did he do it?) Wagner, Gilbert Roland, J. Carrol Naish, Richard Boone and more! BA
0656 California Raisins, The (89) Disc 1 - Complete Raisin Mania. Better than Taylor Swift. Louder than Bouncy (and just about as sexy) The California Raisins are here! Meet the Raisins, The Raisins Sold Out, Raisin Commercials, then the first five episodes.
0657 California Raisins, The (89) Disc 2 - Episodes 6 through 13 find our prune-faced stars raisin a little hell as their career path continues to flourish. This is some of the best Saturday Morning had to offer in the late 1980's.
0808 Crazy Jungle Adventure, The (82) aka: Im Dschungel ist der Teufel los On the verge of bankruptcy, an unscrupulous airline operator plans to crash one of his rickety propeller planes by sabotaging the oil line so he can collect the insurance. Butch Donovan (James Mitchum), the drunken bush pilot set up to fail, is not that bad a pilot, and successfully crash lands on a tropical jungle island with a rag-tag assortment of passengers. Enter gangsters and wild animals. The wild life seems friendly for a change. Adventure comedy from director Harold Reinl, the director of many Edgar Wallace films and so much more. This Crazy Jungle Adventure is dubbed into English and Widescreen BA
0715 Fantabulous Inc. (68) aka: Women, Sex and Superman aka: La donna, il sesso e il superuomo Laden with pop art references and decidedly science fiction themed with the plot of creating supermen comes this ambitious spy action that would go great with Bava's 'Danger Diabolik' on a double bill. Adolfo Celi as another super villain with his mad scientist assistant at his side. Fantabulous is an organization that is threatening a take-over plot by making a ladies man (Richard Harrison) into an indestructible 'Superman'. Conceived as a satire, maybe a farce, a lot to digest here, fits nicely into the wild sixties spy-fi of the times with colorful high production values and witty dialogue. Beautiful Widescreen print with English subtitles. BA
0807 Flight of the Eagle, The (82) aka: Ingenjör Andrées luftfärd In the year 1897 a Swedish man named S.A. Andree (Max Von Sydow) along with two other men, begin their ill-fated journey by balloon 'Eagle' in their quest to fly over the North Pole. Captured in a terrifying environment of 'too much space', our adventurous trio find their trip cut short as they find themselves aground in a frozen wilderness ripe with unforgiving terrain and hungry polar bears. Is that a ship on the horizon? A mirage? Are they doomed? Well over 2 hours. (dvd only) Excellent. Large white English subtitles that may distract some viewers but the dialogue is sparse. BA
0686 Fury of the Congo (51) aka: Jungle Menace aka: tarzan en el Congo Rare pony-like animals, a cross between a zebra and an antelope, known as 'Okongo's, feed on an obscure narcotics-filled plant, and now have a gland that produces a powerful drug. Naturally the drug smugglers are after the 'Okongo' herd. Enter Jungle Jim (Johnny Weissmuller). Here, he not only uses a bolo as a weapon, he also defeats a leopard and a massive hairy tarantula-like spider. A violent desert storm, and watch out for the quicksand! Also with Lyle Talbot and the cute Sherry Moreland. BA Did I mention all of these Jungle Jim films are upgraded?
0866 Go! God Man (72/73) Disc One! Various episodes of the show that features a giant flying red-suited super hero (with a blonde wig and cool mask) who is constantly battling giant monsters (many which you have seen before in other Japanese productions). He even battles one of the Gargantuas from 'War of the Gargantuas'! I did not see many characters or acting, just monster battles, constant monster battles. No English because all they do is fight! Great theme song. Go! God Man!
0867 Go! God Man (72/73) Disc Two! More episodes! More monsters! More Fun! Join God Man as he protects earth from hostile giant monsters! Little Japanese kids got to watch this while I was stuck with 'The Banana Splits'? No fair! Go Go God Man! F.L.
0671 Hoboken Chicken Emergency, The (84) Arthur (Peter Billingsley of 'A Christmas Story') is asked to bring home a turkey for Thanksgiving dinner. He brings home a giant 266 pound turkey named Henrietta. Things get crazy, and Henrietta runs away, climbing onto a rooftop. Realistically, Henrietta could feed a homeless shelter, but instead runs around town, is chased by children... pretty much runs amuck in a funny, non-threatening way. Character actors galore. Richard Deacon, Alice Ghostley, Dick Van Patton and more. Runs under an hour.
0816 Holy Weapon (93) aka: Wu xia qi gong zhu Frenzied sword fighting, Seven Battle Virgins and beautiful women, transsexuals, raving vampires and incredible violence all wrapped around an ancient fable. Everybody is after the legendary 'Sword of Heaven'. In the first ten minutes men are battling each other on the backs of men with wings. Simon Yam plays 'Super Sword', a baddie who transforms into an animated cleaver when his evil plans are threatened. Childish UN-PC laughs mixed with crazy practical special effects better than any CGI! Michelle Yeoh, Maggie Cheung and more! English subtitles BA
0688 Jungle Jim in the Forbidden Land (52) This time a land of giant people is sought by an anthropologist, and Jungle Jim is forced to lead the way. The Missing Link? Jungle Jim knows everything. Maybe he will run into Tarzan? The giants are a group of savages that snarl like lions and look like low-budget werewolves on growth hormones. Jungle Jim wrestles a hippo and a black panther! Pretty girl this time out is Angela Greene, one of John F. Kennedy's girlfriends in the 1940's. Who wasn't? You may remember her from 'Night of the Blood Beast'. Angela Greene died in 1978 right before her 57th birthday in Los Angeles of a stroke. BA Did I mention all of these Jungle Jim films are upgraded?
0687 Jungle Manhunt (51) Bob Miller (played by Los Angeles Rams pro-player Bob Waterfield) is a football player by trade. Now he is lost in the jungle. Also in the jungle, a mad scientist (Lyle Talbot) creating diamonds through his experiments. Jungle Jim is on a jungle manhunt. Later a shark and an octopus fight in a river, and Jungle Jim has it out with the victor. Don't ask me how an octopus and a shark found their way into an African river. Don't miss the lizards impersonating dinosaurs! Also with the tasty Sheila Ryan as a spunky photographer. Sheila Ryan was only 54 when she died of lung disease in California, 1975. BA Did I mention all of these Jungle Jim films are upgraded?
0810 Kiss of Fire (55) aka: Bacio di fuoco I love a movie set in the 17th century. Princess Lucia (Barbara Rush) escapes from the trip to claim the throne of Spain, throwing in with rough and tumble El Tigre (Jack Palance), bound for New Mexico. El Tigre and the princess in a kind of love/hate relationship. The Duke of Montera (Rex Reason) is determined Lucia return to Spain. Let the conflict play out with red-skinned Indians (namely one Pat Hogan, from the tribe of Kickapoo, who plays the Chief) some tricky mountains and other perils/obstacles. Loosely based on history. Who cares how accurate this is, it makes a swell picture. Rex Reason shines here and has a fitting end, he was in 'This Island Earth' the same year. Also with Martha Hyer of 'Pyro'. BA
0757 Mutiny (52) The confrontation between British ships with those of the U.S. in the war of 1812. Captain James Mitchell (Mark Stevens) is assigned a dangerous mission to avoid the British blockade and head his ship towards France who aided us through the war. He must pick up a golden anchor. Once the crew get wind of gold aboard.... (see title). Historic elements, maritime intrigue and pretty decent special effects. Angela Lansbury as a femme fatale. Filmed in color. BA
0763 Peter-No-Tail (81) aka: Pelle Svanslös A Swedish cartoon about a cat named Pelle who has a nub for a tail. Pelle becomes the talk of the town amongst the other cats, mercilessly ridiculed by one cat that is also Pelle's competition when it comes to the cute cat Maja. Dubbed into English, an entertaining way to spend 81 minutes. BA
0646 Planet Prince (66) Animated Science Fiction from Japan! Three episodes of 'Planet Prince' known as 'Yusei Kamen' in Japan. Decent animation, stark crisp black and white. Excellent science fiction stories with plenty of action. Episode #1 Great and Strange Explosion Episode #2 Begins the War in Space Episode #3 S.O.S. 17 Station. All three episodes on one disc and with English subtitles- no VHS
0833 Serengeti (59) aka: Serengeti darf nicht sterben Beautiful color adventure documentary filmed in the Serengeti National Park in Tanzania. Great animal footage and a thoughtful narration really gives you a sense of another world, one that is both enchanting, but also very dangerous. So dangerous in fact that one of the cinematographers of this film (Michael Grzimek) was killed in a plane crash during filming. He was 24. When you see some of the aerial shots, you can imagine how that happened. Oscar for best documentary for 1959. BA
0845 Shark Boy of Bora Bora (79) aka: Beyond the Lagoon aka: Sea Killer aka: Manidù - Uno squalo ribelle, un indigeno selvaggio, un fiore di ragazza Remake of 'Tiko and the Shark' from 1962, also a great film. A native boy named Tikoyo frees a baby shark (don't even start it) and grows up with the shark in a remote lagoon. His father dies and now inhabits the spirit of the 16 foot shark. The shark is protector of the lagoon and also friend of Tikoyo. He introduces his girlfriend Diana (Mara Jensen of Battlestar Galactica and star of Wes Craven's 'Deadly Blessing') to the shark. The scenes with Tikoyo (played by Dayton Ka'ne) swimming with the shark are real, and amazing. The photography and colorful locations are incredible. Now these days a tourist spot, the exact thing this film campaigned against. Hawaii native born Dayton Ka'ne became a refuse diver for the city and county of Honolulu, his career crashing just like Mara Jensen's did. He died in Honolulu in 2016 at age 61. BA
0708 Sheherazade (90) aka: 1001 Nights aka: Les 1001 nuits Sheherazade's (Catherine Zeta Jones in her most revealing role) escapes from a mad lustful king with the help of a magic lamp and a time traveling astrologer who lives in 1990 London and watches her through his television in this special effects filled big budget adventure that also features topless harem girls and Zeta Jones at 21 providing plenty of nudity. Sherazade speaks the line "I'm dreaming, your Majesty. But my panties are wet, even if it is a dream." Sheherazade time travels, she flies, there are pirates, there are planes, sky-diving, she drops from the sky butt naked onto Sinbad the Sailor's lap. 'I think I drank too much!' he says. Lucky bastard I says. Magnificent Widescreen upgrade with English subtitles BA
0721 Siege of Syracuse (60) aka: La batalla de Siracusa aka: L'assedio di Siracusa This print is the TWO HOUR version and runs 10 minutes longer than other version! See in main catalog for another version and choose which version you want. With alternate versions of films it is hard to call them upgrades because sometimes footage from other versions could possibly be trimmed, and other footage included so officially it makes them alternate versions of a film. Be clear, if you are a fan of Tina Louise (a triple role here for Louise) and Sylva Koscina you are in for a treat! Beautiful quality Widescreen with English subtitles. BA
0778 Sky Warrior: Eagle Man (9?) Live action superhero with a batman-looking outfit, white-masked kung-fu villains and plenty of battles, a little gunfire, leaps and bounds, and a hot chick in a skirt. It's all innocent fun. Eagle Man can jump off buildings and run in fast motion, Watch out for his deadly boomerang! Wait, that guy has a sword! F.L.
0691 Thunder Prince (87) aka: Heukryong wanggwa biho dongja aka: Black Dragon King and Asylum Baluster Young Prince Andy has vowed to avenge his father's murder. Master Soul teaches Andy the secrets of martial arts. Now he must fight Black Mantis, but Andy is beaten, and taken prisoner. He meets a beautiful young girl named Phoenix and they escape. Now the plan to vanquish Black Mantis once and for all, and to learn some very important lessons in martial arts. This is the English dubbed version of the 1982 animated film from Korea. BA
0809 Visit to a Chief's Son (74) A dog and pony show. American anthropologist Robert (Richard Mulligan) and his son Kevin spend time with a semi-savage-primitive tribe in Eastern Africa. Robert is frustrated by the lack of cooperation from his London educated helper Nemolok (Johnny Sekka) who challenges Robert's pre-conceived notions of the tribe. Nobody is eaten so they may not be so savage after all. If there are any weird or perverse customs they are held from our eyes (see Mondo section for the 'real' stuff). Beautifully filmed by Ernest Day, a famous cinematographer, his work spans from 'Lawrence of Arabia' to Tom Cruise 'Mission Impossible'. Widescreen BA
0689 Voodoo Tiger (52) aka: La tigre sacra A cult African tribe is worshipping the effigy of the Asian Tiger. Also involved in the story are head hunters, a trio of villains and an ex-Nazi hiding out as a trader who also knows the location of hidden Nazi gold. The only actual tiger in the film belongs to the beautiful exotic dancer Shalimar (calendar model Jean Dean) that escapes when the plane goes down. The tiger on the loose gets into trouble, starting fights with other jungle beasts. Another Jungle Jim adventure, that at times makes no logical sense, and does it really matter? Great Fun! The other actress this time out is Jean Byron. BA Did I mention all of these Jungle Jim films are upgraded?
EXPLOITATION FILMS
0710 American Bride, The (86) aka: La sposa americana Edoardo falls for Edith (Trudie Styler, the wife of Sting) and they marry. Edoardo also knows Anna (Stefania Sandrelli) who is married to Edith's brother Sacha (Harvey Keitel). Sacho and Anna are in a complicated relationship because Sacha is gay. Edoardo has to have Anna, and he does. The couples spend time together in Greece, Venezia. Edoardo has the best of both worlds, nailing Edith and Anna, but for how long? In English but there are some Greek subtitles BA
0832 Best Buns on the Beach (87) Important stuff here! Bodylicious babes compete in a teenie-weenie-bikini contest and all of them go topless, their asses of course very visible as their G-Strings have disappeared into the best buns on the beach, in every case. This is gratuitous trash with a little comedy and fine objectification of women throughout. The rules are explained with a bent over model and a pointer stick as he grades and critiques her ass. I had fun, as did the entire audience. Each girl prances around topless, and bends over so their asses can be judged. Porn star Blondi is one of the girls, and Debra Lamb is in the house!
0713 Cream Horn (81) aka: Cornetti a Crema aka: Cream Puffs Domenico is a married tailor for the clergy and he meets Marianna (Edwige Fenech) who he installs in an apartment and starts an affair. Meanwhile his neglected wife has some ideas of her own. Domenico's son is fat and stupid, like many of the youth of today. An incredible amount of gags and situations that will climax with some identity switches. A mad comedy from director Sergio Martino that really delivers the laughs, and some nudity! Widescreen with English subtitles BA
0733 Hot Orgasm (81) aka: Orgasmo caliente aka: Arabian Sex Story Sexy female journalist Mary Simpson (Raquel Evans) travels to North Africa for a story, and is captured by a sex-mad sheik who wants to add Mary to his harem. A disillusioned bar owner tries to save her from the sheik. The lesbian harem women bath Mary in milk, she really seems to be enjoying herself as they slobber all over each other naked. Now she is clean and ready to be served up to the sheik! There will be more than one hot orgasm! English subtitles soft-core, action, and more! BA
0734 Hot Panties (80) Listed as M921 in catalog, this is the same great slice of hard soft-core Eurotrash except now Widescreen and with English subtitles for the first time.
0849 Misty (76) Joe Sarno at the peak of his erotic art. Misty (Rebecca Brooks aka: Mary Mendum) arrives out of a storm to the local beachside inn and changes the lives of all the folks she encounters in the small town nearby. Chief among those she will affect? Artist Andrea (Jennifer Jordan), her lesbian lover (Jennifer Welles) and the man the two women share (Eric Edwards). Another key subplot includes Gretchen (Chris Jordan), her husband, and her religious fanatic aunt. Could she be Misty's long lost mother? Many of these actors appeared in other Sarno films together. Also with Fred Lincoln and Jamie Gillis. Scratchy Grind House looking film print is still an upgrade over the last. Soft-core that nears hardcore at times. Make no mistake, this is a dirty movie, but with style! BA
0738 Over-Amorous Artist, The (74) aka: Just One More Time As can be expected the main purpose is to show as many nubile naked bodies as possible. Alan Street (John Hamill) is an artist who tries to fend off sexy horny women from their constant advances because he is involved with Sue Street (Sue Longhurst). The woman are so willing and able they'll all knock your socks off! An instantly recognizable Marianne Morris of 'Vampyres' from the same year also stars. Runs under an hour, a pleasant little side trip.
0679 Pussycat Parade (60) aka: The Nudist Story aka: For Members Only Shelly (Jane Robinson) has inherited a nudist camp/club of all things. The camp must be sold to pay the taxes on the estate. The handsome lawyer tries to convince Jane to keep the club open for the clients who have kept this dream alive for so long. He invites Shelly to a little visit so she can see for herself what it is all about. Some nice topless shots, all of the women with varying appearances. Made by the 'British Sunbathing Association' as a sort of pro-nudity propaganda piece. Nothing wrong with that. 81 minutes BA
0842 Wet Water T's (87) Penthouse Pets bare their boobies for a large group of drunken young males who go friggin' crazy watching them! The babes all line up and then one by one each girl gets a righteous soaking from a small pool of water, then takes off her top and gyrates and dances like a bitch in heat. Next! Each girl a 10! Make a game of it, watch it with the boys (or the girls, nod nod wink wink) and pick your fave. See if she comes out on top! This is what 'Dancing with the Stars' should be, I'd actually watch that! BA
0853 What Sex Am I? (85) Actress Lee Grant directed this study of transgender people, and she narrates as well. With all of the talk of this subject today in 2023 you know, this is almost 40 years ago. Footage of Christine Jorgensen (Ex-G.I. becomes blonde beauty) coming back to America in the 1940's, returning as a woman. They talk to her as she is in 1985. Other footage has guys watch a woman dance and strip in a bar, but she's a he. They have no idea. Many are profiled, each with their own story. Makes one wonder... maybe little Miss Cratchet next door is a dude? BA

EXTREME HORROR AND GORE FILMS
0850 Anthropophagous 2000 (99) aka: Cannibal 2000 A murderous insane cannibal eats his wife and child, then a town of people. We see how he became this way in a flashback later in the film. Now some young tourists have arrived and he begins to stalk and eat them one by one. Faces bashed in, faces ripped off, axe to the face, disembowelments, heads ripped off..... Yes, this is one good time. We get a little soft-core sex too. English subtitles! German made splatter remake of the classic Joe D'Amato film, and to whom this film is dedicated. English subtitles
0743 Backstabbed (96) aka: Morkeleg Teenagers get together at an old abandoned mansion to play a game of murder. The object is like paintball, but instead fake knives. Plenty of room to play hide and seek. Things take a deadly turn when a real maniac shows up and starts to play the game 'for real'. Let the blood run red with gory killings! Danish film that came out the same year Craven's 'Scream' proving the slasher film was still alive and well! English subtitles BA
0852 Birds of Prey (87) aka: El ataque de los pájaros Finally the UNCUT 100 minute version of this bird splatter classic starring Christopher Atkins, Michelle Johnson and Gabriele Tinti! The last version annoyed us because it had the title 'Beaks: The Movie' in the open and was only 88 minutes long. This version has the correct title: Birds of Prey. This is not a comedy. This is a really red and bloody version of Hitchcock's 'The Birds' if it happened somewhere else with different characters. Actually better if you like graphic violence in abundance! Version 2 of this film and that is the end of it. Directed by Rene Cardona Jr. so get out the popcorn! BA
0747 Business Trip to the Netherworld (90) aka: Dao yin jian chu cha A man drives his car over an uncompleted highway and falls hundreds of feet to his doom... He returns later as a toothy vampire. Boy will they be surprised! Black magic, hopping vampire in modern times with comedic madcap situations. Widescreen In Mandarin with English subtitles
0789 Cat in the Cage (78) aka: El gato en la jaula Bruce is back home at his wealthy family estate after a stay in the nuthouse. The house nurse Susan (Sybil Danning) is now married to his father (Frank DeKova). Did she murder his mother while he was gone to take her place? Susan is plotting with the chauffeur to kill Bruce's father, and steal the entire kit and caboodle! The cat 'Samson' is upset, and is hostile towards Susan to a painful degree. Bruce's brother is supposed to be dead, but he is back. Is he some kind of creature? You tell me. Also with Colleen Camp. BA
W346 Clairvoyant, The (82) aka: The Killing Hour The hand-cuff killer is murdering people in New York. Female clairvoyant Virna (Elizabeth Kemp) draws weird pictures in charcoal of the dead victims (with cuffs on). A talk-show host and a cop butt heads on how to use her to catch the killer. But there is a major twist in the best Italian giallo sense. The scene cut from other prints is complete here in the final act, and might just confuse the hell out of you, and blow your mind at the same time. Home-erotic slasher type with elements of giallo starring Perry King, Norman Parker and Jon Polito. BA
0668 Escape from Coral Cove (86) aka: Tou chuet sam woo hoi A strange night time burial at sea by mysterious men in white robes is followed by the sight of a naked woman diving deep and swimming when suddenly a decapitated head floats from behind a rock! Bam! Enter an 80's disco sound as young people travel by car to a coastal condo they have been hired to paint. They take out a boat, have troubles, fight, and one of the cute girls is attacked by some creature and disappears in a pool of blood. This monster, a sort of seaweed creature, a beast of blood by way of creature of haunted sea type, maybe even cheaper. The girls are nice, the sun is bright, and the kills are there. In Cantonese with English subtitles
0896 Gvozdi (03) aka: Head Full of Nails aka: The Mad Killer A hit man hears voices and suffers terrible headaches when he retires to his gloomy apartment. Apparently being a hit man paid meager wages. Madness ensues in a gore-drenched LSD nightmare. Set in some crumbling future dystopia our young killer cannot shake his dirty deeds done dirt cheap as the specters from his past and disturbing images of those he has killed flash through his mind at any moment with no warning. Gory experimental film from Russia with English subtitles
0935 Home Sweet Home (05) aka: The Monster aka: Gwai muk A new high rise apartment building has been built over a burnt out slum. A new family takes a flat. Some kind of humanoid creature is lurking in the ventilation shafts. The boy is taken, the father goes in after him and is seriously injured. The police are useless. The mother has to deal with this, solve this. She may not like what she finds. The story takes a turn I did not see coming, and hits you in the gut for the downbeat emotional finale. In Cantonese with English subtitles
0678 Interactive Murders (02) aka: Woo dung saat yan si gin aka: Hong Kong 'Feardotcom' rip-off The kidnapper uploads the video clip of his victim Anna being tortured onto the internet. The killer wants one cop to be his contact point. Meanwhile a 'sixth sense' gifted woman named Shana, has phoned a psychic radio station with information she has seen in her head about the next victim...... Widescreen In Cantonese with English subtitles
0736 Libidine (79) aka: Lust A mad professor tries to merge a human with a snake's metabolism, to cure world hunger. Rape, rescue by snake and more. Anna falls in love with the deadly serpent, giving herself over carnally. Marina Hedman, Ajita Wilson and Cinzia De Carolis star in this classic Eurotrash. Listed before as #9834 in the catalog, this time however you get an upgraded Widescreen print with English subtitles. BA
E4 Loch Ness Horror, The (82) aka: Terror en el lago Ness Larry Buchanan directs this addition to 'Nessie' the legend of Loch Ness. Some fishermen have stolen Nessie's egg, and now the beast has risen to raise a little hell and eat some of the locals. With Buchanan at the helm of a rowboat, this is no 'Crater Lake Monster' but a giant prop head (that looks like a piñata) and what looks like a floating parade float as the monster. Somehow, it is not as bad as it sounds, the editing is kind of tight. Filmed in California, faux Scot accents, retired generals looking for a crashed plane from WWII, a group of kids on science camp... all excellent opportunities for Nessie mayhem. BA
0692 Love Bites (93) aka: Love Bites: The Reluctant Vampire Adam Ant is Zachery Simms, a modern day vampire with a heart of gold. Kendall Gordon (Kimberly Foster) wants to find her dream man. Zachery wakes from his crypt, the entrance is through the fireplace of Kendall's house. Zachery tells Kendall his life story, which involves Nerissa (Michelle Forbes) the woman who turned him into a vampire. Nerissa left him, and now Zachery has overslept for a hundred years. Zachery starts to fall for Kendall when Nerissa returns.... As far as romantic vampire comedies go.... this is top-of-the-line. Just don't be looking for Christopher Lee. Michelle Forbes would star in a season of 'True Blood' as a demonic monster woman about fifteen years after this. Look for Julie Strain as a jogger.
0737 Maigret sets a Trap (96) aka: Maigret tend un piège Bruno Cremer is Jules Maigret, a French investigator. His latest case is a ripper killer.. Four serial murders in the Marais district of Paris. Maigret sets a trap. Pretending to have arrested the assassin, he sends trained plainclothes policewomen out at night as bait. Maigret hopes that the killer's pride will force him to act. Episode of the long running show Maigret that ran from 1991-2005 in France...
0869 Night of a 1000 Cats (72) aka: La noche de los mil gatos aka: La nuit des mille chats This film follows the formula of 'Seven Women for Satan' and 'Beyond Erotica' where we have a rich guy luring beautiful women to their doom. In this case Hugo (Hugo Stiglitz) owns what looks like an old monastery/fortress where he keeps the heads of his female victims in large jars in a dungeon-like area. He takes a beautiful woman down there and she is horrified. 'Don't worry, they are only wax'. Like that will satisfy her! Then he strangles her. He feeds her ground-up body to the thousand cats below, and he even eats some of her meat as well, proving that he is a strangler, a keeper of severed heads, and a cannibal! Will he pick the wrong victim that puts up a fight? 88 minute version, not the 63 minute version others have listed. English subtitles BA

0750 Only a Coffin (67) aka: El enigma del ataúd aka: Les orgies du docteur Orloff Wealthy Dam Gaillimh (Howard Vernon) invites his family to his castle with plans of death for them. Upon arrival it is found he has been murdered. Still the family starts to get killed one by one, their only hope for survival is to find the killer before he slays them all. Terror and crime combine in this Spanish Giallo that provides plenty of sexy nudity which seems to be inserts of sadomasochist scenes. Plays like a lost Jess Franco film, but this was actually directed by the guy who directed Boris Karloff in 'Cauldron of Blood' Santos Alcocer. Very nice quality with English subtitles BA
0739 Parallel Corpse, The (82) aka: Det parallelle lig Hans is a loner, working at the crematory. His job is running the furnace and making a buck on the body disposal business, anyway he can. He can take payment for a coffin, burn the body, and resell the coffin on the black market. Hans is one shiftless prick. Enter his opposite Allan. A successful businessman with the mind of a psychopath. Hans has the skinny on Allan, he knows about the body. Hans will blackmail Allan. Meanwhile the cops are closing in. Who will outsmart who? Bad guy vs. bad guy. Both may get their deserved comeuppance. Or....? Widescreen In Danish with English subtitles
0873 Pin (88) aka: Pin: A Plastic Nightmare Mother is a frigid neat freak, father, unconnected and self-involved. In this world live the children, Leon and Ursula. 'Pin' is a life-sized medical school mannequin brought to life by father through ventriloquism. Leon is influenced and becomes an adult schizophrenic psychopath, his parent's now dead, he relies on 'Pin' to guide him, to protect him, to kill for him...... A morbid offbeat gem of a film. David Hewlett, Cynthia Preston and Terry O'Quinn star. BA
0814 Pituitary Hunter (90) aka: Dao nao zhe aka: Brain Theft Mad Dr. Kwok, in his attempts to cure his daughter of dwarfism, uses stolen pituitary glands from the bodies at the local morgue. Murdered victims are also turning up with missing pituitary glands. Dr. Kwok uses fresh stuff I tell you. But if Dr. Kwok is a killer, what does his lover/hooker Manna think? No matter, she is Manna from heaven, gratuitous sex scenes are also included. Who is the rabbit killer? Could it be the bullied killer dwarf? A pair of Chinese body builders perform a cabaret act in a disco. The psycho dwarf has a blade that lusts for a hooker's blood! Dwarfsploitation classic from Hong Kong! English subtitles BA
0740 Possessed Hand, The (81) aka: La mano indemoniata From 'I Giochi del Diavolo' a mini-series from Italy, each tale Satan influences a vulnerable human. Based on a short story 'La main enchanter' by Gerard de Nerval. A man has to fight a duel and asks a wizard to bestow superpowers on his hand. The magic works but the man does not pay his due which means the spell will backfire on him. In Italian with English subtitles.
0985 Profile in Anger (84) aka: Wu ming huo A successful architect named Leung is innocently mixed up with a vicious gang's accusations. They murder his fiancé. Leung goes 'Death Wish' in a violent profile in anger action-packed spree that mixes the best parts of 'The Warriors' with some thrilling fast car chase scenes that easily rival anything else from 1984. The violence gets bloody and brutal with Leung going from suit and tie to vengeful murderous madman. A must see for fans of violent action. Edge of my seat I tell you! In Cantonese with English subtitles
0675 Scream for Vengeance (80) aka: Vengeance How they used to make them. Gritty, down and dirty violent. Home invasion of a jeweler's residence and things get way out of hand with rape and murder. Later the same thugs kidnap the wrong people, one, the granddaughter of a rich senator. They fight back. The man knows his firearms! Finally a run through the woods, shotguns blasting, hunted like dogs by the last surviving scum bag who is also a psycho rapist. Shootings, an extremely brutal throat slashing/stabbing, rape, bloody bullet hits and a nice pitch fork through the chest killing done right. Killing the home invaders and rapists used to be just what we'd do. Justified. Low-budget mayhem done right. Upgrade! BA
0701 Sieben Monde (98) aka: Night Time Thomas Kromer is an author, and he suspects that he also may be a werewolf because murders seem to happen around him and he has no recollection. The film opens with a very Argento-like sequence. Thomas scores with a hot chick and when he wakes up she is a bloody mess. No wait, it's only a nightmare! Thomas studies werewolf lore and has another nightmare in the library. More bloodied bodies turn up, and then more. Is Thomas a werewolf or is there a twisted serial killer setting him up? Widescreen and in German language only with no subtitles.
0993 Snuff 102 (07) Gore/Horror from Argentina. An investigative reporter (remember those?) researches the existence of 'snuff' films. She gets first hand knowledge when she is abducted and taken to a dirty blood-splattered basement and cruelly tortured (along with some other unfortunate victims). The film is nasty, and some who have viewed complained because they thought it looked 'too real'. In fact, at a screening, reportedly one audience member beat up the director they were so offended at what they saw. There are also some shocking scenes of animal cruelty. There is a moral statement in the movie, and a twist in the end. Beware, this is rough stuff! + Trailers! In Spanish with English subtitles (The film cautions in the opening, that what you are about to see is real.)
0767 Square Root of Three (01) aka: Lidris cuadrade di tre While trying to change the results of their tests, three students sneak into school at night, then disappear in the basement mysteriously. Self-produced horror movie, played by non-professional actors. Italian Horror directed by Lorenzo Bianchini. Widescreen In Italian with English subtitles
0902 Stick, The (88) aka: Platoon Warrior Banned in South Africa! During apartheid, a young soldier is assigned to a unit of racist soldiers. After slaughtering a village of innocents who are led by a witch doctor, the spirits of the slaughtered come for them, possibly in the form of the very enemy they are really supposed to be fighting against. An attempt to capture the South African infantryman's experience of the war in Angola. A doomed mission. Apocalypse Now South Africa. Gritty and downbeat. Being banned makes it something you want to see. A haunted lost platoon. Thought-provoking. BA
0872 Swedish Texas Chainsaw Massacre (83) aka: Blödaren All girl rock band known as 'Rock Cats' finds themselves in danger when their bus breaks down in a snowy rural area. There lurks 'The Bleeder' a demented mad beast of a man hell-bent on killing them off one by one. - See catalog for more info. Now with English subtitles for the first time!
0728 Twenty Nine (69) Promiscuous young man Baird (Alexis Kanner) wakes up in a strange flat, wearing clothes that don't fit, with a hangover and a half-memory of a visit to a strip club the night before. What happened? + The Sex Victims (73) The Sex Victims: The bizarre sight of a naked woman on horseback leads an unwary truck driver into a supernatural spiral of pursuit and destruction in rural England.
0754 Vampire Honeymoon (03) aka: Wo he jiang shi du guo mi yue At a posh hotel with his new bride, a Hong Kong police detective finds their room is cursed with a female ghost. The ghost convinces the bride that her husband is cheating on her. Then, the ghost wants the detective to kill the hotel owner, it was he who ended her life so he could take ownership of the hotel. Between all of this, the policeman dreams of a rave club where he is turned into a vampire. He starts to chomp on women and drain them of their life force. Another woman, friend of a sorceress, tries to help him defeat his vampirism. Widescreen and English subtitles
0725 Weapon, the Hour, the Motive, The (72) aka: L'arma l'ora il Movente Now 104 minute uncut version instead of the previous 99 minute version. Just in, we try to get the longest prints, this is the last word on this thriller that also includes nuns that strip to the waist and whip themselves in the honor of a dead priest who was sexually promiscuous and stabbed to death in his church. Graphic throat slashing, nudity and sexual perversion. A mysterious giallo thriller made all the more special in this immaculate Widescreen Uncut version with English subtitles. You will find this title in the main catalog, but use this number #725 for the best most complete version! BA
0963 Widow's Nest, The (77) aka: Nido de viudas Witchy widowed sisters live alone in a dilapidated mansion. Maid Lupe (Patricia Neal) practices witchcraft. One of the widow's former sister-in-laws arrives with her lover. The brother is dead. The young couple tries to exploit the widows, both physically and financially. This proves to be a very bad idea. Also with Susan Oliver, Valentina Cortese, Yvonne Mitchell and more. BA

FRANCO FILMS
0765 Night of the Blood Monster (70) aka: The Bloody Judge - This is the actual 81 minute American release version of the Jess Franco classic that comes available under other titles, most of them containing footage not found in other versions. While I have not actually done the forensic work trying to figure out the specifics of what version has (or does not have) this or that, here is the one that played theatres in America in 1970. This was Jess Franco's 'Witchfinder General'. BA
HAMMER AND BRITISH FILMS
0655 Appointment with Crime (46) Martin's (William Hartnell) wrists are broken in a smash and grab gone wrong, he is left by his accomplices to be captured by the cops. The dirty dance club owner Loman runs the gang. Martin broods in prison. Finally he is released and Loman blows him off, because Martin's hands are not what they used to be, having his wrists crushed and all years earlier. Now Martin's anger turns to full-blown vengeance! Martin sets out to destroy Loman and everybody he does business with. Also starring Herbert Lom.
0707 Dial 999 (58) Four episodes of this U.K. show that ran just one season way back when. Robert Beatty stars as Detective Inspector Maguire, a member of the Royal Canadian Mounted Police who is sent to London's New Scotland Yard to learn British crime fighting methods. Fish-out-of-water Maguire is constantly on the receiving end of blunt violence from London's hooligans. With each episode running under a half hour, each is briskly paced and efficient with high production values.
0759 Idol on Parade (59) aka: Idolo en apuros The film delivers the tale of a rock and roller who gets drafted and is sent to the wrong regiment. Intended as a spoof of Elvis's army service with Anthony Newley playing a rocker named Jeep Jackson. His status disrupts and supplies endless grief to the Captain (Lionel Jeffries) and the drill sergeant (William Bendix). Quite hilarious actually, and the songs are pretty swingin' for 1958. The opening when Jeep Jackson is performing, the moves the teenagers are making as they discover rock n' roll are priceless! Widescreen BA
0639 Perfect Woman, The (49) Roger Cavindish (Nigel Patrick) has a family of means, but he is forced to work as they tighten the purse strings. Roger's new job is to escort a robot named Penelope (Patricia Roc) out for the evening. The latest in technology, Penelope looks damn perfect and full of life. But is this the real robot? Olga is the real robot. So what is the game? Hilarious British comedy. BA
0784 Project M7 (53) aka: The Net Scientists are developing a special aircraft that flies three times the speed of sound. Now who will be the test subject? The men fight over the details. This is a further development of the previous year's 'The Sound Barrier'. The highlight of the film must be the special effects and the sounds of the supersonic aircraft. Herbert Lom, Phyllis Calvert, James Donald and more star. BA
0782 Raiders in the Sky (53) aka: Appointment in London Lancaster Bomber British crews encounter obstacles and yet persevere through the dangerous challenges before them. Commander Tim Mason (Dirk Bogarde) thinks that their emotions may get in the way when they have to drop the bombs. Don't worry! Romance, tension and aerial battles. BA
0786 Tightrope to Terror (83) A family on holiday in Italy are riding a cable car high above the snow when a jet flies by and screws up the stability and boom, tightrope to terror! Color photography and pretty suspenseful British special that runs under an hour. + 4D Special Agents (81) A group of kids, who are part of the police-sponsored scheme 4D Special Agents, tackle a gang of Cockney crooks. Two British mini-movies on one disc, both in color!
0745 Trio (50) Three short stories by W. Somerset Maugham. 1. The Verger: A church verger of seventeen years is fired by his new holier-than-thou vicar when it is discovered he cannot read or write. 2. Mr. Know-It-All: An obnoxious pushy jeweler alienates all of his fellow passengers on a cruise. 3. The Sanatorium: Revolves around the lives of tuberculosis patients at an exclusive Scottish sanatorium. Two doomed lovers choose quality over quantity. Each story ends like you would not expect. Familiar faces include Naunton Wayne, Nigel Patrick, Andre Morell, Bill Travers, Michael Hordern and more. BA
787 What Next? (74) A boy's uncanny ability to foretell the future with random correct predictions gets him in a lot of hot water. + All At Sea (69) Douglas is on an educational cruise carrying a parcel to his pen pal that is thought by others to be contraband. When the parcel goes missing..... Two British mini-movies, each running under an hour and in color.

MISCELLANEOUS WAR, MARTIAL ARTS, SPY, ACTION AND MORE
0785 Arctic Fury (51) aka: Aila, Pohjolan tytär Filmed in Helsinki, Finland. I only knew the Lapland to be the grounds for wolves and wolverines, where the winter cold cuts sharp as steel and the summer presents a midnight sun. So says the narrator. We have seen what happens when expeditions head to the African regions in the Mondo type films and sometimes employ the locals. This is like 'Nanook of the North'. The harsh conditions and situations here are real. A dramatization. Beware the Arctic Fury! (not to be confused with "Arctic Fury" 1949 American film) English subtitles BA
0729 Attack and Retreat (64) aka: Italiani brava gente Another version of a great film. During the summer of 1941, Germany and its European allies invade the Soviet Union. Fascist Italy participates at the invasion. This is the story of the Italian soldiers left to fight without proper equipment or training amongst the Soviets who have already been terrorized by the Germans... stars
Arthur Kennedy, Zhanna Prokhorenko, Raffaele Pisu and look for Peter Falk as a medic.. Previously listed as #M231 and 137 minutes. This remaster cobbled together is the longest print now at 149 minutes and great quality! Other versions available, this however is the longest at 149 minutes. See more information in catalog. Full Frame with English subtitles. Filmed in black and white. BA
0751 Attack! Hakata Street Gang (78) aka: Totsugeki! Hakata Gurentai Known for it's excellent use of music and gritty photography, this is what happens when the Japanese meet the punk scene in Gakuryu Ishii's Grand Prize winning violent action. This is the one that put Ishii on the map, he would later direct 'Crazy Thunder Road' and many others. Something about how this was filmed reminds me of an American grindhouse type movie, you'll see. Inventive and exciting violent action. In Japanese with English subtitles
0760 Bastards (06) aka: Svolochi WWII: A rough and ragged group of juvenile prisoners are selected for service in deadly operations against Germany. During WWII the Soviets actually did give the 'arrested for capitol crimes' juveniles a choice to fight against the Germans or be slaughtered by their own government. Others dispute this. In any event, nothing good to say about Russia these days either. Stalin would be proud of them. The boys are put through some extreme training and then sent on a suicide mission a la 'Dirty Dozen'. Action, battles and violent bloody death. Russian film with English subtitles
0761 Behind Closed Doors (61) aka: A Porte Chiuse Olga Duvovich (Anita Ekberg) is accused of killing her wealthy husband. The paparazzi are constantly swarming, making the trial difficult. Fred Clark plays the prosecutor in this criminal comedy which is actually a covert parody of the entire judicial system. The trial runs off the rails with confusion and contradictions. The judge decrees that they all must go to the scene of the crime, a beautiful Greek island. Olga has everyone wrapped around her little finger, she can bewitch any man with her beauty. Widescreen In Italian with English subtitles BA
0677 Beyond Fear (75) aka: Au-deal de la peur aka: La paura dietro la porta The family of Claude Balard (Michel Bouquet) is held captive by kidnappers in their mansion. They've shot his mother-in-law (always looking for the silver-lining ey?) and now he must play a game of cat and mouse as the man who knew too much. His distraught wife Nicole (Marilu Tolo) pleads with Claude on the phone with a gun to her head by Guilloux (Michael Constantine) and his thugs. Will Claude meet their demands? English language dubbed version of this French film that was based on a true story. BA
0752 Cat Girls Gamblers (65) aka: Toba no mesu neko The first in a series of movies about a female yakuza has a young woman named Yukiko hunting the man who killed her father. The killer is deep into the gambling underworld and Yukiko is mentored by a professional gambler who takes her under his wing. The movie is full of suspense and eventually reaches a violent climax with a tragic ending. Widescreen In Japanese with English subtitles BA
0730 Cold Fish, A (84) aka: Coeur de hareng Paris in the 1950's underworld with the prostitutes and their protectors, rival gangs who violently fight in their quest to rule the neighborhood. Surprisingly gritty and brutal for a French television movie with a bit of a noir feel and sprinkled with ruthless cold-blooded murder and F word profanity. You will love how this all turns out!
Hélène Surgère, Anouk Ferjac and Nicolas Silberg star In French with English subtitles
0829 Dance Til' Dawn (88) aka: Senior Prom Many of the teen stars of the late 80's and early 90's are featured, preparing for prom, hoping to get the preferred date, and trying to avoid parental supervision. Tracey Gold plays the unpopular girl who gets asked out by the popular boy for prom night, kind of like 'Carrie', but not really, this is light-hearted fare with heart, although we see the stereotypical teens who may or may not have been part of your typical but now blurry high school memories. And who knows, maybe Kathy Gold's character is getting set up? Kelsey Grammer, Edie McClurg, Alyssa Milano, Tempestt Bledsoe, Matthew Perry and many more star, including the real star of the picture, Christina Applegate at 17. BA
0704 Eréndira (83) Fourteen year old beautiful Erendia (twenty year old Claudia Ohana) has sex with some old slob in the open. Later Erendi accidentally burns down her grandmother's (Irene Papas) mansion. Grandmother Amadis can only think of one way for Erendia to pay her debt. She must become a prostitute and is sold to countless men, day and night ! A dark fairy tale, allegorical, sometimes almost a dream-like atmosphere. Irene Papas as Amadis commands the screen with her strong presence of greed and apparent indestructible corruption. In Spanish with English subtitles
0844 Fear in the Dark (91) Segment full of snips and clips interviews John Carpenter, Dario Argento, Clive Barker, Wes Craven, Barbara Steele, Robert Bloch and more. It was great seeing these guys again looking as they looked at a convention I attended so long ago. Some are gone now. This is a pretty decent starter docu for those about to tip their toes into the horror genre. Runs under an hour and is narrated by Christopher Lee. BA
0716 Femmes Femmes (74) aka: Women Women Over-the-hill actresses live together in expensive Paris, struggling to make ends meet. One still tries to work on stage and television, while the other stays home sewing dresses for a client or two. They are both clearly delusional, both alcoholics, and together, they are slowly detaching from society. Filmed in black and white this experimental film stars Helene Surgere and Sonia Saviang who sometimes improvise dialogue and situations as visitors come and go. In French with English subtitles BA
0749 Foreigner's Mistress Oman: Holland Slope in the Rain (72) aka: Rashamen Oman: Ame no Oranda-zaka aka: Nagasaki Butterfly Blonde woman named 'Oman' travels from Shanghai to Japan in search of her mother. Her traveling companion betrays her to human traffickers who turn her over to a brothel. There, not only does she become a geisha, but also a successful gambler. Widescreen In Japanese with English subtitles BA
0748 Games of Maximum Risk (78) aka: The Most Dangerous Game aka: Mottomo kiken na yuugi A rough and tumble hit man is hired to rescue one of a series of CEO's. Of course along the way he has to deal with Yakuza, dirty cops and corrupt businessmen. Our hero smacks around and then rapes a girlfriend of a bad guy and she likes it, won't leave him alone after. The whole kidnapping ploy is a scam. There are bigger things happening. A very long exciting shoot-out chase scene in the second half. Gritty, violent and action-packed with hundreds of bullets fired. Widescreen In Japanese with English subtitles BA
0732 Gang vs. G-Men (62) aka: Gyangu tai G-men aka: Gyangu 4 A former gangster is brought back into play when the police need his help to bring down a dangerous gang. A young Sonny Chiba plays an eager young man who goes undercover and soon finds out he is over his head. You can tell Sonny Chiba is a rising star. Widescreen In Japanese with English subtitles BA
0772 Glass Jungle, The (88) aka: La selva de cristal Mild-mannered Cutler Irving (Lee Carnalito) drives a cab by day and practices his boxing moves by night. Mob boss Tate (Frank Scala) forces him to drive around L.A. with five million dollars in the cab of his trunk, until the time is right for delivery. The cops are wise to the doings of Tate. Cutler must cooperate because Tate's thugs have kidnapped his family. Cutler has numerous flashbacks. Cutler will have to fight back! Luckily he is quite the archer. Shot on Video BA

0645 Hiroshima (53) We all know the how and why of the two atomic bombs dropped, one on Hiroshima, the other Nagasaki. Here we focus on the people of Hiroshima. The civilians, and the impact of destruction as they try to survive, if they were not one of the 100,000 corpses that is. War is ugly, and this ravaged land was a direct result of Japan's utter disregard for any kind of civility up to this point. Game changer. Many of the thousands of extras were actual survivors of Hiroshima and knew people who died. Extremely dark stuff. 'I am become death, the destroyer of worlds'. The following year's 'Godzilla' was a metaphor. English subtitles BA
0717 Howlers of the Dock (60) aka: Urlatori alla sbarra aka: Metti, Celentano e Mina... Directed by Lucio Fulci and starring Elke Sommer now with English subtitles! Fast-paced almost without a plot musical-comedy involving the adventures of a band of friends, teddy boys, and rock 'n roll chicks whose wild fun-loving habits inspire jiving from some and harsh complaints from others. A prominent manufacturer of blue jeans decides to help the image of the youth when he engineers a series of promotional activities to chill everybody out and lighten the mood. An unscrupulous politician makes things difficult. In Italian with English subtitles BA
0735 If I Were a Spy (67) aka: Si j'étais un espion aka: Breakdown Offbeat thriller from France. A doctor (Bernard Blier) has to help the mob find one of his patients whose file has disappeared from his office. If he does not cooperate, his daughter may meet with an accident, as early as tomorrow, or possibly next week or next month. They are always watching..... Also starring Bruno Cremer. Widescreen In French with English subtitles BA
0685 Killer's Three (68) aka: La ballata dei tre killers aka: Tres asesinos Johnny (Robert Walker Jr.) is a driver for a backwoods moonshiner in North Carolina, always one tread mark ahead of the inept feds. His army buddy Roger (Dick Clark, yea, that Dick Clark) arrives to visit Johnny, and Johnny's wife Carol (Diane Varsi) and their son Tony. They conspire to commit robbery and things go horribly wrong, like always. Sort of like a half-assed 'Bonnie and Clyde' as the film draws sympathy for the 'Killer's Three' as they evade capture in their race to California. Car chases, killings and Merle Haggard as 'Charlie' provides some thoughtful singing. Quite the show actually. Diane Farsi died in 1992 at age 54 in Hollywood, California. Respiratory failure due to complications from Lyme disease. BA
0652 L.A. Vice (89) aka: Corrupción en Los Ángeles Killings in Los Angeles are investigated by black Dirty Harry type Detective Jon Chance (Lawrence Hilton Jacobs). Chance has a .44 magnum and a smart ass delivery, not afraid to shoot first and ask questions later. We need more of him. Now he is hunting for a millionaire's daughter and her boyfriend, who have been kidnapped for a ridiculously high ransom. Luckily Chance has retired Police Captain Joseph Wilkes (William Smith!) as backup. Low budget S.O.V. with rugged L.A. night filming, back alleys and strip clubs, people getting blown away with splashes of gratuitous violence. BA
0672 Lady Constables (78) aka: Fei yan shuang jiao Fierce females in flowing frocks force fear on fiendish filchers of the Five Phoenixes. Angela Mao and Chia Ling star as cops on the trail of bandit leader Chang Yi, whose gang has stolen the Five Phoenixes Night-Shining pearl. They confront him at his fortress stronghold in an all-out effort to prevent evil from dominating the martial world! BA
0862 Lady Iron Monkey (79) aka: The Ape Girl A woman brought up by apes has a natural talent for monkey-style kung-fu fighting. Older, honing her skills, she finds herself in trouble with mobsters leading to endless battles. She looks like a monkey for most of the film. Cultural appropriation? Ask King Kong if he is offended. Black Tiger Claw and more she must counter. Also in the cast a hilarious dwarf for comic relief! Lady Iron Monkey is played by Fung-Ling Chin. She has only one other screen credit for 'Mean Drunken Master' the same year! May be small picture problems but mostly good quality.
0771 LSD Crisis, The (66) What was once a crisis is now encouraged in today's culture and society. So go ahead, take a trip and get it over with (I'm tellin' ya it makes you stupid), and heed my warning. Once or twice, maybe even a dozen times in a lifetime is enough. I knew people who abused LSD and it turned their brains to mush and they all died young. Nobody that tripped constantly in the 1970's and the 1980's is alive, and if they are alive, they are probably incoherent. Sorry for the buzz kill. Let's get back to our bad trip shall we? + One Step Beyond: The Sacred Mushroom and Get Smart: The Groovy Guru - two drug-related episodes of television. + LSD-25 (67) More serious (?) insight with a classroom warning PSA. Help! The room is spinning!
0719 Mass Violation, The (68) aka: Postwar Cruel Story aka: Sengo zankoku monogatari After being sexually assaulted by American soldiers, Toshiko becomes a prostitute. A dark pessimistic fever-dream that, regardless of historical accuracy, is a testament to the bitter hatred felt by the Japanese during the American Occupation after the war. Even more radical than 'Black Snow' which has similar themes. Nice Widescreen In Japanese with English subtitles
0770 Massacre Gun (67) aka: Minagoroshi no kenjû After being forced to execute his lover, assassin for the mob Kuroda joins with similarly wronged men against his employers. The turf war begins as opposite sides fight to gain control of a popular gym. Bullets fly in a series of violent, stylish action set-pieces, some of the men will die heroically and in slow-motion. Widescreen In Japanese with English subtitles BA
0843 Murder: No Apparent Motive (84) Documentary dealing with serial killers, and criminal profilers who seem to know even less these days about killers than they knew forty years ago. No one knows what evil lurks in the hearts of some men (and in certain cases, women) but most men block evil thoughts and get on with their lives. For others it is not no simple and evil comes forth to destroy the innocent. John Wayne Gacy, Ted Bundy, Ed Kemper.... scary men with scarier deeds.
0783 Night of the Hunted (59) aka: La nuit des traqués Young hoodlum Victor (Sami Frey) works for a bunch of miscreants led by leather-clad Taretta (Philippe Clay). Scrappy Victor gets into a fight with Taretta, killing him. He receives help dumping the body in the harbor, but is spotted by the night watchman, who wants paid to keep quiet. Slight Widescreen In French with English subtitles BA
0746 Nodlanding (52) aka: Emergency Landing During the war an American bomber made an emergency landing somewhere in the south of Norway. Eight men parachuted out and each had their own experience. The ninth man died. It was up to Unit 15 and other good people to find the parachutists before the Germans. Loosely based on the people involved. Filmed in Norway. In Norwegian with English subtitles
0699 One-Armed Boxer vs. the Flying Guillotine (76) aka: Master of the Flying Guillotine aka: Du bi quan wang da po xue di zi Sequel to 'One-Armed Boxer'. Ching, master of the flying guillotine (a device he throws, it covers your head, he yanks and pop, you are decapitated!) seeks vengeance against the one-armed boxer for killing two of his disciples. Sets the vengeance angle and then introduces a series of tournament fights to the death with various weaponry and killings. There is no remorse, only brutal combat and violence with battle styles galore. Broken limbs, poked-out eyeballs and impalements. Widescreen In Mandarin with English subtitles. BA
0720 Paradise For All (82) aka: Paradis pour tous A suicidal man is cured with a new treatment known as the 'flash' which instantly transforms him into a stress-free, anxiety-free smiling man who finds new success with his job. He also displays a disturbingly terrifying insensitivity. The other people cannot stand these 'happy people', who act like something out of 'Invasion of the Body Snatchers' after experiencing the 'flash' vaccine. Join us! You won't give a damn anymore! Turns out the people who do not get the vaccine start to go mad, they must be stopped. Will they be pinned down and injected to make them compliant? This is coming in society, drugs that keep us all in line. Don't drink the kool aid! No matter what the preacher says! In French with English subtitles
0669 Pushed to the Limit (92) aka: Kickboxing - Spettacolo di morte Harry Lee (Eidan Hanzei) is L.A. Chinatown's most feared gangster and the boss of the 'Kumite' a gladiator duel-to-the-death where the prize money is high and the defeated dead are many. Mimi (Mimi Lesseos) discovers Lee is responsible for the death of her brother. She challenges Lee's champion kick boxer and lethal bodyguard, Inga. She trains like mad and gets into the game. Gladiatorial kickboxing babes in a duel-to-the-death!
0721 Soft Sunset, A (84) aka: Un tenero tramonto Frank (Mel Ferrer) Bollenstein is determined to swindle his step-daughter Nicoletta (Christiana Borghi) out of her very large inheritance by having her imprisoned in a Swiss nursing home. The money was supposed to be his, or so he thought. But he has power and influence to buy corruption, something in the 21st century we see everyday in politics. Can she be saved by her lover? Or will he die trying to save her? Or.... ? Tragic, but some last second revenge! In Italian with English subtitles
0670 Spitfire (95) Former US National Champion gymnast Kristie Phillips stars as Charlie Chase, a gymnast turned secret agent. Opening action sequence has Lance Henriksen's character escaping capture via jet-pack, flying away! Then, a cool Bond-like opening with a better song than any of the Bond films from the 2000's, complete with babes and guns. Hilarity in the opening sequence with pint-sized Charlie dodging a sabotage during competition. I'll take little Kristie Phillips over Daniel Craig any day. Not only that, but at 5'1" she could still kick his ass. Ukrainian missile launch codes are sought by Russian spies (one played by Sarah Douglas). Tim Thomerson is a journalist. Also with Brion James as yet another tough guy.
0741 Stars in the Ditch (78) aka: The Strange Visit aka: Le strelle nel fosso Directed by Pupi Avati. A beautiful woman visiting in the Northern Italian Province is the object, a prize wanted by three brothers who live in a rural country setting. Who will she choose? Each of the contenders have different skills. Tales are told by each of the brothers, and the father as well, the woman listens to each with interest. An ending out of left field, but what do you expect from Avati? Widescreen In Italian with English subtitles.
0830 Sunset Strip (93) aka: Sunset Boulevard In the spirit of 'Flashdance', Heather's (Michelle Foreman) animal instincts and dreams of lust are more than enough to land her a pole in one of the hottest strip clubs. Or so she hopes. Heather dreams of being a stripper. Heather isn't reaching very far. The men in the world are grateful for women like Heather. Tony (Jeff Conaway) runs the strip club, this may be the greatest job to have, ever! Will Heather reach the top of the heap and fulfill her dream of shaking her ass for horny old men? Nice cast of beauties includes Shelley Michelle, Lori Jo Hendrix, Michelle Clunie and more. BA
0777 Sunstruck (72) aka: The Education of Stanley Evans Stanley Evans (Harry Secombe) is a Welsh schoolteacher who relocates to Australia's outback where he believes that sun, surf and the girls, are on tap. He arrives in the one-horse town of Kookaburra Springs where he has been commissioned to run the local school year. Fantasy and reality clash with hilarious results. Widescreen BA
0705 To Kill with Intrigue (77) aka: Jian hua yan yu jiang nan Young master Lei Shao-feng's (Jackie Chan) family is executed by bandits, and he wants to know why! The convoluted plot is at times absurd, hilarious, and always entertaining. Jackie is stabbed, poked, choked, skewered, burned, scalded..... gets more than he gives for a change, although he will most likely be triumphant in the end! Silly weaponry, and even some supernatural ghost stuff thrown in for good measure. It's all over the place! English language dubbed
0813 Under Aurora (90) aka: Pod severnym siyaniyem aka: Der weiße Wolf Japan and Russia worked together on a movie and we get 'Under Aurora'. Animal rights activists steer clear, this is pretty savage. Based on the novel "Under the Aurora. 1912" by Yukio Togawa. Beginning of the twentieth century. To redeem his bride who has been sold to "geishas", Japanese hunter Genzo goes to Siberia. There he meets a new love, and he also obtains the most loyal friend Buran – half-dog/half-wolf. Friendship of Genzo and Buran saves the lives of many people, including Genzo lover's. Fur traders, dog sleds and wolves in Siberia. A realistic spiritual interaction with nature that sometimes bludgeons you over the head with bursts of violence. Survival of the fittest in a rough setting. Beautifully filmed in snowy locations, buildings where people really live in some of the most rural areas. The police suspect a man has helped a convict escape. The beauty of Spring. The dogs and the wolves are amazing, even if sometimes this is almost too real, probably because it is real, and at times can be 'Born Free' heartbreaking. English subtitles BA
0724 Utopia (78) Trippy. Julien has been painfully separated from the woman he loved. Now he searches for lost time. His friends of yesterday are no longer around. Maybe at his old school he can find his favorite teacher. He speaks a language that charms the discreet Sylvie (Dominique Sanda), but his technique offends the faculty and the parents. Julien is fired. Julien wanders and enters the sea. The classroom doors suddenly open and a huge crowd of children suddenly appears at the top of the sand dunes preparing to invade the beaches. A storm breaks, a new battle is in the works. Has Utopia arrived? Todd Rundgren is nowhere in sight. Widescreen In French with English subtitles
0742 Web of Violence (66) aka: 3 notti violente aka: Shoot & Kill Walter (Brett Halsey) in search of his missing fiancé Lisa, finds himself entangled with a gang of drug smugglers after linking Lisa to the criminal underworld. She has been kidnapped! This film does provide the spy film elements but also clearly cruises into Italian crime film territory with clipped car chases and blunt shoot-outs. Margaret Lee is sinfully sexy as Christina. Rare English dubbed Widescreen print BA
0712 World's Most Beautiful Swindlers, The (64) aka: Les plus belles escroqueries du monde Four splendid tales of swindle, from various parts of the world from various directors. The Netherlands, Tokyo, Japan, and the last France (directed by Roman Polanski, this sequence mysteriously missing from other prints of the film, but complete here). In Amsterdam, we follow the attempts of a seductive Dutch woman who entices an elderly man into buying her an expensive necklace in exchange for sex. In Paris, a con man sells a tourist rube the Eiffel Tower! More... Widescreen and English subtitles
0819 Yokohama Underworld: The Machine Gun Dragon (76) aka: Yokohama ankokugai mashingan no ryu Bunta is a machine-gun wielding gangster who pals around with gangsters and even pulls off crimes with his accomplice mother (possibly incestuous relationship)! They accidentally rob the Yakuza netting a bag full of loot. Not wise. Now the finest most capable hit men are out to blow them away! Luckily Bunta is a badass in weaponry and killing. Things won't be easy for anybody. Bunta's girlfriend wears sharp 20's era gangster and moll outfits. One of the violent set pieces is an assassination in a prison bath. Widescreen In Japanese with English subtitles
0727 You Can't Win 'Em All (70) aka: The Dubious Patriots Two former U.S. Army soldiers Adam Dyer (Tony Curtis) and Josh Corey (Charles Bronson), join a band of Turkish mercenaries in 1922 Turkey. Osman Bay, the local governor has hired them to escort his three daughters to Smyran and to protect a gold shipment that is to accompany them. Nobody is aware that Elci, a local colonel , plans to steal the gold for himself, while a rebel general (Patrick Magee) pursues all parties involved. Because of some fictitious historical events, this film was banned in Turkey for forty years. Filmed entirely in Turkey. Nice Widescreen print BA
0697 You're Driving Me Crazy (90) Low budget anthology from Canada, set inside a mental asylum. Doctors narrate the tales of three patients with very different conditions. 1. A guy believes his parents are not human. 2. An ordinary man becomes dangerous and psychotic. 3. After listening to a haunted record, a man goes berserk.

MODERATE AND MADE FOR TV FILMS
0871 Annihilator (86) Failed unsold pilot with similarities to 'The Terminator' and maybe even 'Blade Runner', mixed with the loner/drifter on the run theme. A newspaper man Richard Armour (Mark Lindsay Chapman) is on the run from life-like androids who hunt him because he knows they exist, and society has no idea. They are so life-like, how can one tell? His girlfriend (Catherine May Stewart) returned from a flight and she is not the same. At the lake in the dark she goes all terminator, eyes glowing red, he bashes her face apart, electrocutes her, she is still coming! It's scary! David Bowie's 'Ashes to Ashes' figures into the soundtrack to excellent effect. Now Richard is on the run. Many story elements that would define 'The X-Files' later play out. Brion James, Lisa Blount, Geoffrey Lewis and Earl Boen (of 'Terminator' films) star, all four of these actors now dead. Also with Nicole Eggert and Susan Blakely.
0659 Bridge to Silence (89) A deaf couple wrecks. Dad is dead. Mom Peg (Marlee Matlin) freaks. Peg's mom Marg (Lee Remick) takes Peg's normal kid Lisa (that can hear) while Peg spins out. Peg wants Lisa back. Marg wants Lisa because she has always resented Peg. Marg didn't even learn sign. Peg smacks Marg silly. Matlin's third film. Not many people have heard of it. Soppy sudsy and one of the last films of Lee Remick.
0663 Broken Promises: Taking Emily Back (93) Poor white trash couple Gary (Ted Levine) and Lily (Kathleen Wilhoite) sell their baby to well-to-do Pam (Cheryl Ladd) and Sean Chaney. Gary and Lily are homeless, and not too smart, but they are not bad, just down on their luck. Pam is ecstatic to finally be a mother. If you want to know what happens next, refer to title.
0818 Condor (85) Unaired pilot about a tough-as-nails special police agent named Christopher Procter (Ray Wise) and his suspicion/distrust/prejudice aimed at his new android partner Lisa (Wendy Kilbourne). Awkwardly together they hunt escaped criminal mastermind/female terrorist Rachel Hawkins. known as 'Black Widow'. She has stolen top secret codes enabling her to access military technology, including a fleet of helicopter drones with missile launchers. Break out the popcorn! This would have made a better series than 'The A-Team' or 'Knightrider'.
0661 Daughter of the Streets (90) Charly (Roxana Zal) is feeling neglected and is starting to get poor grades. Charly starts to party. Charly runs away. Enter a pimp (John Stamos), and now Charly is a whore. Do the math. Mom is wanting Charly home. Charly not so much. A tawdry tale soap-scrubbed for family consumption. The mother sees the light and starts a campaign to get kids off the streets. A film that really needs to be tampered with. More than a dozen scenes could be improved. Imagine if 'Hardcore' with George C. Scott were rated G. It would have sucked as bad as this does. Good for a laugh.
0714 Devil in a Bottle (81) Based on the tale 'The Bottle Imp' by Robert Louis Stevenson. An episode from Italian television. Young Keawe man buys a magical bottle for a few dollars. Inside is a little devil who makes his dreams come true. The rule is to get rid of the bottle before you die. Whoever possesses the bottle upon death is doomed to eternal hell. The bottle must also be sold for less than what you paid for it. Keawe gets everything he ever wanted and even finds love. But..... English subtitles
0822 Fire in the Sky, A (78) aka: Fuoco dal cielo Epic disaster film about a comet that is set to hit Phoenix, Arizona. The news media and the government try to cover up the threat so as not to induce panic, dooming a countless many who have no idea until it is too late. Exactly what would happen I think. Nasa control room sends rockets with nuclear warheads to blow the comet to smithereens, of course this fails. The comet will hit! The special effects are excellent for their time. Richard Crenna, Elizabeth Ashley, David Dukes, Joanna Miles and more. BA
0799 Full Exposure: The Sex Tapes Scandal (89) High-class escort girls are being murdered. Lt. James Thompson (Tony Denison) wants to do things his way. Sarah Dutton (Lisa Hartman) will go undercover at an upscale brothel that handles S&M fantasies. With Vanessa Williams as a hooker, fresh from her nude photos scandal for 'Penthouse'. She's probably just itching to strip, but alas, this is not the time and place. Penthouse studios was however. What seems like a tame made for television movie in 2023 was actually very controversial in 1989. Kind of sleazy for prime time, not that I mind! Some twists and surprises. Also starring Jennifer O'Neill (brandishing a gun that has a silencer!), John Anderson and more.
0662 Kaleidoscope (90) Three sisters who are allocated to three separate foster homes after their parents are murdered grow up knowing nothing of the others whereabouts. Thirty years pass, and now an investigator (Perry King) is hired to find and reunite them, thus revealing the inevitable well guarded dark family secrets. Jaclyn Smith, Patricia Kalember, Claudia Christian, Terry O'Quinn, Bruce Abbott and more star in this mystery.
0660 Lying Eyes (96) aka: Bed of Lies Thirty three year old lawyer Derek Bradshaw pursues eighteen year old cheerleader Amy Miller (Cassidy Rae). Derek has cake at home, and he wants to eat it too. Amy hooks up with Derek, but then learns he is married. Not only that but someone is angry with Amy. Threats and danger befall her. Could it be the pissed off wife of Derek? Amy soon learns the truth. Another sweet young thing Derek's boning is jealous of Amy.
0696 With Friends Like These... (91) A trilogy of tales in the Twilight Zone tradition (sort of). 1. A man becomes obsessed with his telekinetic car to the point where it interferes with his marriage. 2. A man living in squalor freaks when his rancid tuna casserole grows into a nasty green living creature, a disgusting version of himself! 3. A woman thinks she has found the man of her dreams through a computer dating service, but there is a catch!

MONDO FILMS
0641 Bira! Darna! Bira! (79) Hysterically cheap continuation of Darna (Rio Locsin). Darna is the Philippines version of 'Wonder Woman' in a completely different cultural setting. The difference being, Darna can really fight! She jumps! She kicks! She punches! She flies! Rio Locsin says the flying scenes were so cheap they had her lay on a table with an electric fan creating the wind effects. No subtitles on this obscure title.
0820 Captain Barbell (73) aka: Mars Ravelo's Captain Barbell Boom! Tingting has male body-builder pictures on the wall. His brothers treat him like a slave calling him the bastard son of the maid! Rejected in love by a pretty school teacher who sings to her students, suicidal Tingting sings a sad song... and then changes course when he is given the chance to become the wild and wacky superhero Captain Barbell after setting a genie in a bottle free! Tingting lifts the golden barbell that no man can lift, like the sword in the stone! Brothers jealous. Schoolteacher, turned on maybe? Later he flies, beats up a gang of hoodlums and confronts a stinky 50 foot smoking giant. Big-eared Filipino aliens from outer space begin to kidnap earth children to save their planet! Big-eared alien in tree plays a flute like the Pied Piper, the children start to come to him. Don't miss the final battle between Captain Barbell and the alien's robot! Widescreen with English subtitles
0644 Darna (91) Wow a hot chick from Hawaii named Nanette Medved is Darna in this outing! Her mother is Chinese, her father full-blooded Russian. Nanette was raised in the Philippines, so there you have it. A new Darna! An angel provides the magic stone enabling Narda to change into Darna! Narda Darna do the math...er spelling. Philanthropist Dominico Lipolico orchestrates a satanic plot with the aid of the savage batwoman Impakta and the snake goddess Valentina. Darna has her hands full! Impakta uses a teddy bear and lures a child to her doom, killing the kid! Valentina is an over-the-top disco fashion villainess. Origin story, cool villains... better than the new 'Wonder Woman'! And this time, with English subtitles.
0647 Darna at Ding (80) Vilma Santos as Darna/Narda this time (her fouth and last), keep in mind, dozens of women have been Darna, pretty much all of them Filipino chicks. Darna teams up with Ding (her superhero little brother) to battle madmen with world domination plans. An evil German scientist summons corpses from the grave to assist her carrying out her satanic plans. Popular Filipino stars provide outrageous characters in the form of an evil witch, a giant and a she beast. The subtitles that appear at random are a bit dodgy so this is listed as F.L. though you may make sense of some of them.
0648 Darna and the Giants (73) Vilma Santos as Darna/Narda the Filipino Wonder Woman with super strength and flying powers. Alien controlled giants have attacked the village. Now it is up to Darna, and her little brother Ding to save everybody and vanquish the invaders. Vilma Santos stated that the fight scenes were made up as they went along with zero planning. Another obscure science fiction Darna film with no subtitles. Widescreen
0642 Darna and the Tree Monster (65) aka: Darna at ang Babaing Tuod After starring in 1964's Filipino vampire classic 'The Blood Drinkers' as 'Rhona', Eva Montes blows up the screen in her starring turn as the famed superhero 'Darna'! Action adventure with a pretty cool monster that would give 'Tabonga' in 'From Hell It Came' a run for his money. Or maybe a stumbling creep, Tabonga was a tree stump after all. What's with the 'Bigfoot' type beast? Darna battles the tree monster, flies into the creature knocking it down with a head slam! What's next for Darna? Rare early Darna with no subtitles
0649 Darna the Return (94) Anjanette Abayari as Darna/Narda and she could easily cream 'Xena' or 'Supergirl'. The snake-haired arch-villainess Valentina is on hand to give Darna trouble. But Darna is trapped as her less badass alias Narda. She has lost her magic pearl, the one that gives her the power to become Darna. Valentina is getting away with her evil deeds. She must be stopped. The pearl must be found! The action packed opening with the super hot large-busted Darna kicks ass! She's like a female Chuck Norris! Looks like a cyclone has hit the land, men with guns etc. English subtitles
0811 Supermen Donuyor (79) aka: Turkish Superman Finally English subtitles and New Print! Outer space is depicted as what looks like Christmas ornaments dangling on strings as stars. Turkish Superman has more charisma than whoever is currently playing in the silly DC duds of the 21st century. This fantasy character only works on an absurd level. This ridiculous mess delivers that in spades. An action-packed joke of a film, played straight for maximum enjoyment! When Superman (men?) flies he is a doll held in front of the camera while stock footage rolls behind. Ripped off soundtrack music from other films. Goofy fights and more! Screw you DC! By the way audiences of the 21st century.... Superman is NOT real! English subtitles
0812 Tarkan: The Gold Medallion (73) aka: Tarkan: Altin Madalyon Sequel to 'Tarkan and the Blood of Vikings'! Tarkan was orphaned by Iranian nomads raised by grey wolves. When Attila, King of the Huns calls on Tarkan to rescue his kidnapped son, game on! The villains have sent the dead body of Atilla's bride back to him to taunt him. Tarkan and his dog are ready! After a large wardrobe department raid, so is the rest of the cast. Fights, blood, topless women, a sorceress (played by Eva Bender), weird castle traps, comical battles played straight and Tarkan's dog has a showdown with a large snake! In Turkish with English subtitles BA

PROPAGANDA FILMS
Q80 Burning Hearts (45) aka: Kolberg Germany was losing WWII, yet Joseph Goebbels insisted on creating this last stab of German propaganda to hopefully inspire the populace to defend the nation. While Germany was being incinerated by bombs, and troops were being slaughtered by the thousands, huge resources were wasted to the creation of 'Kolberg'. Tens of thousands of German soldiers were used as extras. The film is set during the Napoleonic Wars around 1807. The city of Kolberg resists as other German cities fall, they fight to the death. Imagine this was filmed as the real battle raged only miles away. Pretty amazing actually, sort of like 'The Alamo' the story, a metaphor of inspiration for many films, well, would have been if the dreaded Nazis were not behind it. Very well made, an interesting historical film. English subtitles.
W299 Dangerous Journey (61) A serial in nine parts adapted from John Bunyan's 'Pilgrim's Progress'. The story of a Christian man trapped in a city doomed by fire. Unless he can find a way to escape , he and his family will perish along with the others. The only path is a long and perilous journey to the Celestial City, a journey that presents new dangers. Demons, giants, greed, darkness and death. This is a book, a nine part tale narrated and told with pictures. Meant to save souls I reckon. Maybe It'll save yours. For me, maybe too late, but I will keep trying.
SOUTH OF THE BORDER AND MEXI-MONSTER FLICKS
0815 Chanoc and the Son of Santo vs. the Killer Vampires (83) aka: Chanoc y el hijo del Santo contra los vampiros asesinos This film was intended as an introduction to the son of Santo, as Santo is retiring. A criminal band is smuggling jewels and contraband. After being dumped in the sea, and then rescued, Chanoc and the son stumble across a clue in a graveyard. There they spot two green-face vampires out for a stroll, the criminal gang in disguise. Faux Vampires. This is the last where Santo appeared, he was to die in 1984 of a heart attack at age 66. Thousands attended his funeral. His first film was 'Santo vs. the Evil Brain' in 1961. Son of Santo El Hijo de Santo was also a professional luchadoras, but the Santo film was phasing out by the early 90's. In Spanish with English subtitles. BA
0804 Operation 67 (67) aka: Operacion 67 aka: Kin Santo's Thunderball! Counterfeiters, led by a female super-villain (Elizabeth Campbell, 'Golden Rubi' herself, but this time 'Ruth Taylor'), are out to ruin the economy by flooding it with funny money. Jorge Rivero even joins Santo as another luchadoras (wrestler), doing spy work together when they are not tossing people around in the ring. They team up to defeat the bad guys. Sub-machine guns, a bazooka, helicopters, hot tamales (babes), cool cars and an underwater battle on a scale maybe 1% of the 'Thunderball' budget. Go Santo! In Spanish with English subtitles BA
0806 Santo vs. the Killers from Another World (73) aka: Santo contra los asesinos de otros mundos Very large creatures (a cross between 'The Creeping Terror' and a giant 'Hefty' bag) are being controlled by a mad man that has created them out of a moon rock. These blobs are devouring humans, dissolving their flesh to the bone, yet leaving their clothing intact. The mad man forces Santo to battle numerous men in battles before revealing his deadly monster maker secrets. The blob eats one of the main bad guys and a femme fatale as well. Great goofy fun that only works because it is so ridiculous! In Spanish with English subtitles
0803 Santo vs. the Martian Invasion (67) aka: Santo vs. the Martian Invasion Many of these 'Martians' from outer space are hot and fully stacked Mexican senoritas' in skimpy shiny silver suits. Hot Enchiladas Santo! They want to take over. By the looks of these hot peppers, I'd let them! But wait! They want open boarders globally, no nukes, no wars, and everyone on Earth to live in peace and harmony. If we do not comply. We All Must Be Destroyed! Damn it. Above my pay grade. They love peace so much they will kill all humans if they cannot get it. Call Santo, he'll know what to do. But beware of the disintegrating third eye that vaporizes non-compliant humans! We come in peace, shoot to kill! In Spanish with English subtitles BA
0802 Witches Attack, The (68) aka: Santo Against the Witches aka: Atacan las brujas Finally with English subtitles comes this Satanic Santo full of Gothic Horror Imagery in sync with what other countries were experimenting with in the horror film at the time. Satan is on board, as well as wicked witches, a dark and gloomy mansion. delirious dreams of evil and much more. Can Santo save us all from the pain and wrath of hell? As far as classic horror Santo films goes, this one is a winner! In Spanish with English subtitles! BA
0805 World of the Dead, The (70) aka: El mundo del los muertos Nice creepy horror Santo with perfectly sinister music with a prologue that reminded me of Paul Naschy's best. Spanish Inquisition, torture chambers, priests, witch burned at the stake..... And then to the present where the witch is resurrected/reincarnated (take your pick) and raises the dead to interrupt polite society in her wicked quest for revenge. Santo will have to experience the very depths of Hades (in a spectacular red-tinted fire and brimstone sequence) in his fight against evil! Color In Spanish with English subtitles. BA

WESTERNS
0731 Court Martial (73) aka: Corte marziale aka: L'homme de la Winchester d'or When an army lieutenant is sent on a secret mission, his contact is shot and killed. He is charged with the crime and court-martialed. Knowing he was set up, he escapes to seek out the real killer and prove his innocence. What we have here is a cut and paste job from director Roberto Mauri where he takes scenes from some of his other movies, films about ten new sequences, gathers footage from unfinished projects, then stitches it all together like Godfrey Ho would do. Manages to deliver some high caliber entertainment in spite of this. Craig Hill and more star. Widescreen In Italian with English subtitles BA
0723 Trinity Sees Red (70) aka: La collera del vento Set in Valencia Spain near the end of the 19th century. Trinity (Terence Hill) will kill anybody as long as he is paid handsomely. In a small village the oppressed worker's want to start a revolution against the local land owner Don Antonio (Fernando Rey) who viciously abuses the laborers in his community. Trinity is called in to stop them, but will he find his soul and flip? We know one thing for sure, 'Trinity Sees Red'! Nice Colorful Widescreen and English language dubbed! BA
0709 Twenty Thousand Dollars for Seven (68) aka: 20.000 dollari sporchi di sangue aka: Kidnapping! Paga o uccidiamo tuo figlio Drunken ex-sheriff named Fred Leinster (Bret Halsey as Montgomery Ford) becomes involved with the wrong people who kidnap the son of beautiful widow Jane (Teresa Gimpera). Fred gets out of it and initiates actions to hunt down the cutthroats and free the child, returning him home to his mother. With the help of a foreman, Fred will be judge, jury, and executioner! A doomed journey to hell with unexpected surprises and twists, vengeance, murders and shoot-em-up violence. Beautiful English dubbed Widescreen BA
0690 Valley of Death (68) aka: Winnetou und Shatterhand im Tal der Toten aka: L'uomo dal lungo fucile Mabel Kingsley (Karin Dor) arrives at a little western town to clear her missing father who is accused of swiping government gold. Shatterhand (Lex Barker) agrees to escort her in the search that ends up being ripe with peril. Grand scenery, a hand-to-hand duel with a rival chief, slithering snakes attack, swarms of bees and fiery explosions rock the valley of death. Of course Winnetou (Pierre Brice) is also on board. Bandits capture an army lieutenant and he must endure a merciless flogging. This flogging won the number one spot in the book 'Lash! The Hundred Great Scenes of Men Being Whipped in the Movies'. Excellent adventure western with multiple countries location photography including the Grand Canyon over here, and Croatia over there... more. Incredible Widescreen and English subtitles BA
0726 White the Yellow and the Black, The (75) aka: Shoot First... Ask Questions Later aka: Samurai aka: Il bianco il giallo il nero Uncut Widescreen 106 minute version! Sakura (Tomas Milian in full Japanese man makeup) helps Sheriff Edward 'Black Jack' Gideon (Eli Wallach) to retrieve a gift pony from a Japanese Emperor that was supposed to go to the President of the United States but has been stolen by greedy army deserters posing as Indians! Weird and funny western packed with loud action. Also stars Giuliano Gemma. A film that could never be made the same way today in these 'oh I'm offended!" cry baby times. Beautiful Color Widescreen BA
0700 Whitewater Sam (72) aka: Wildwasser-Sam Keith Larsen is Whitewater Sam, the first white man to survive the harsh Rocky Mountains winter in 1820. Whitewater Sam is a legendary mountain man . A trapper, a hunter... and he has his own theme song. He also has a cool Siberian husky named 'Sybar'. After a little canoe rapids run, Whitewater Sam fights a mountain lion. Sam is captured by an Indian hunting party. Lots of really beautiful scenery and don't forget the wild life fun that includes an angry wolverine and many more. Keith Larsen starred in two obscure horror films: 'The Omegans' (68) with Ingrid Pitt and 'Night of the Witches' (70).

---
HOME | SECURE ORDER FORMS | ONLINE SPECIALS | CATALOGUE | NEW ARRIVALS | CUSTOMER SERVICE | PRICING & ORDERING INFO
---